Microspikes are essential for any alpine or winter hikers, but there are so many different options that choosing the right set can be challenging. In this guide, we break down everything you need to know about the best microspikes for hiking, plus share our favorites.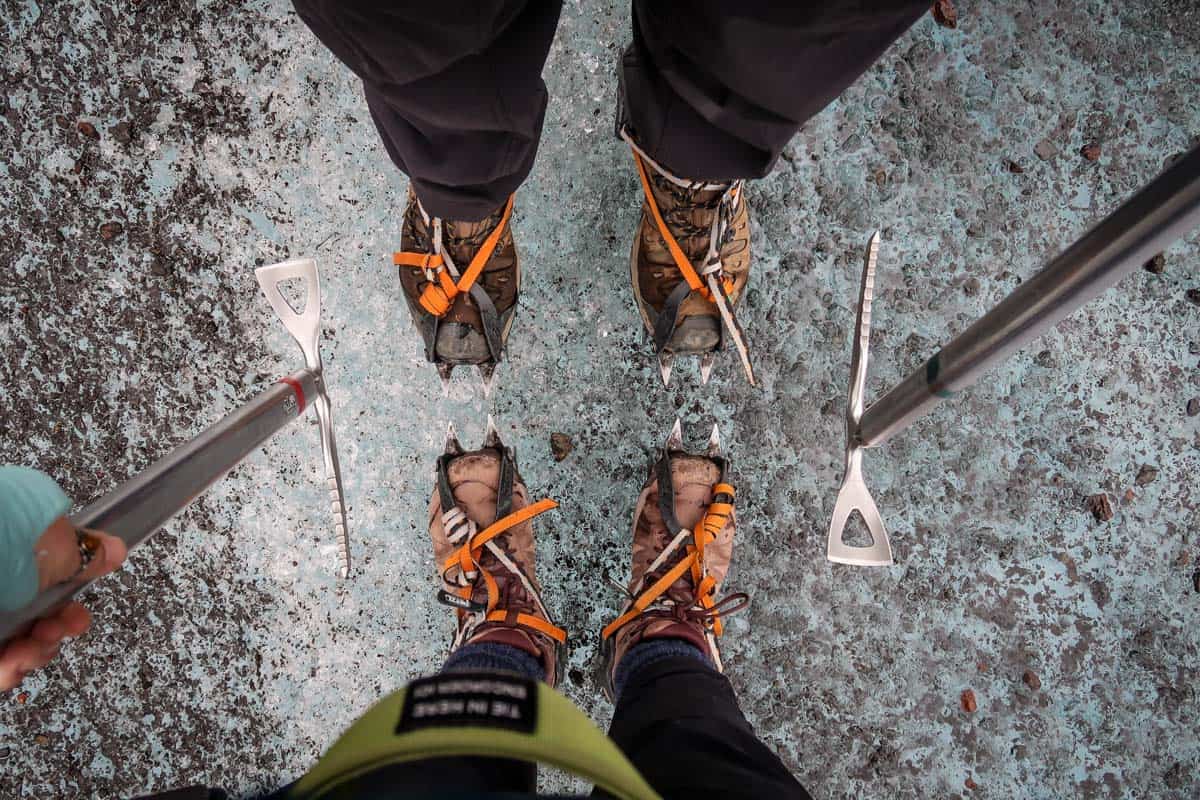 When winter weather hits and snow and ice have you rethinking your hiking plans, microspikes can save the day! Thanks to these clever winter traction devices, you won't have to worry about slipping on slick, icy terrain.
Microspikes for hiking are a game-changer, giving you stability and traction in a portable device that's easy to put on and take off as needed. Hikers who like to pack light will especially love them, because microspikes typically weigh under 12 ounces per pair. As if all that wasn't enough, even the best, top-of-the-line pairs are reasonably priced!
Convinced that you need a pair of your own? Let's review some of the best microspikes for hiking, plus take a closer look at what exactly they are and why you should own a pair.
Highlights
Other contents
What are microspikes?
Microspikes vs. crampons vs. Yaktrax
Pros of using microspikes for hiking
Cons of using microspikes for hiking
Product reviews of microspikes
Psst! Be sure to check out our guide to hiking in winter before you hit the trails with your microspikes this season.

What are microspikes and why do you need them?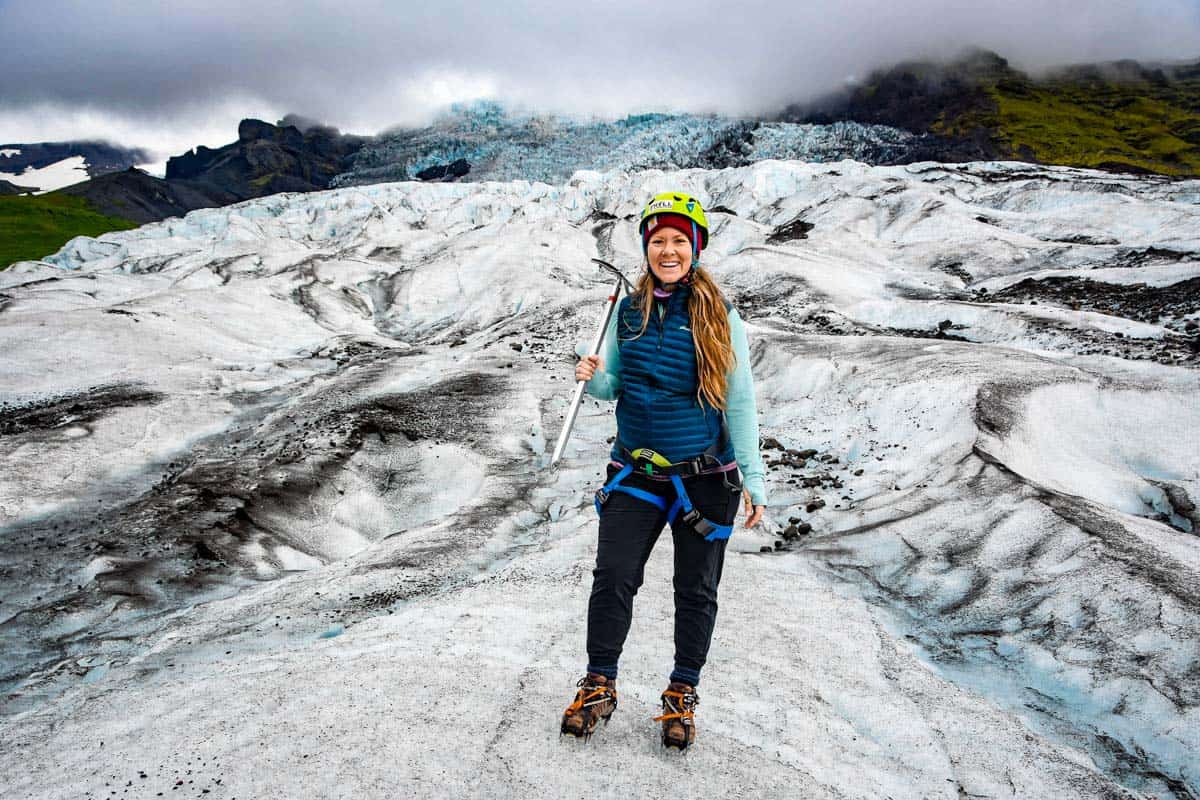 Microspikes provide much-needed additional traction when hiking on snow or ice, significantly reducing your chance of slipping or falling. Similar to snow chains for tires, they slip easily on over your boots or hiking shoes and are typically made of both small spikes and chains. Those spikes and chains grip and dig into the ground, giving you more stability.
Generally speaking, there are three types of microspikes for hiking: spikes, cleats, and chains. While the terms are often used interchangeably, they each have unique differences.
Spikes are durable, triangle-shaped metal spikes that dig into snow and ice to give you a solid grip — like little tiny axes. Cleats are usually lighter weight and a bit better suited to trail runners rather than hikers in the backcountry.
Chains are best described as metal coils that wrap around the base of the microspike and bite into the ice. They're lightweight, but not as durable as spikes and cleats.
Microspikes vs. crampons vs. Yaktrax: What's the difference?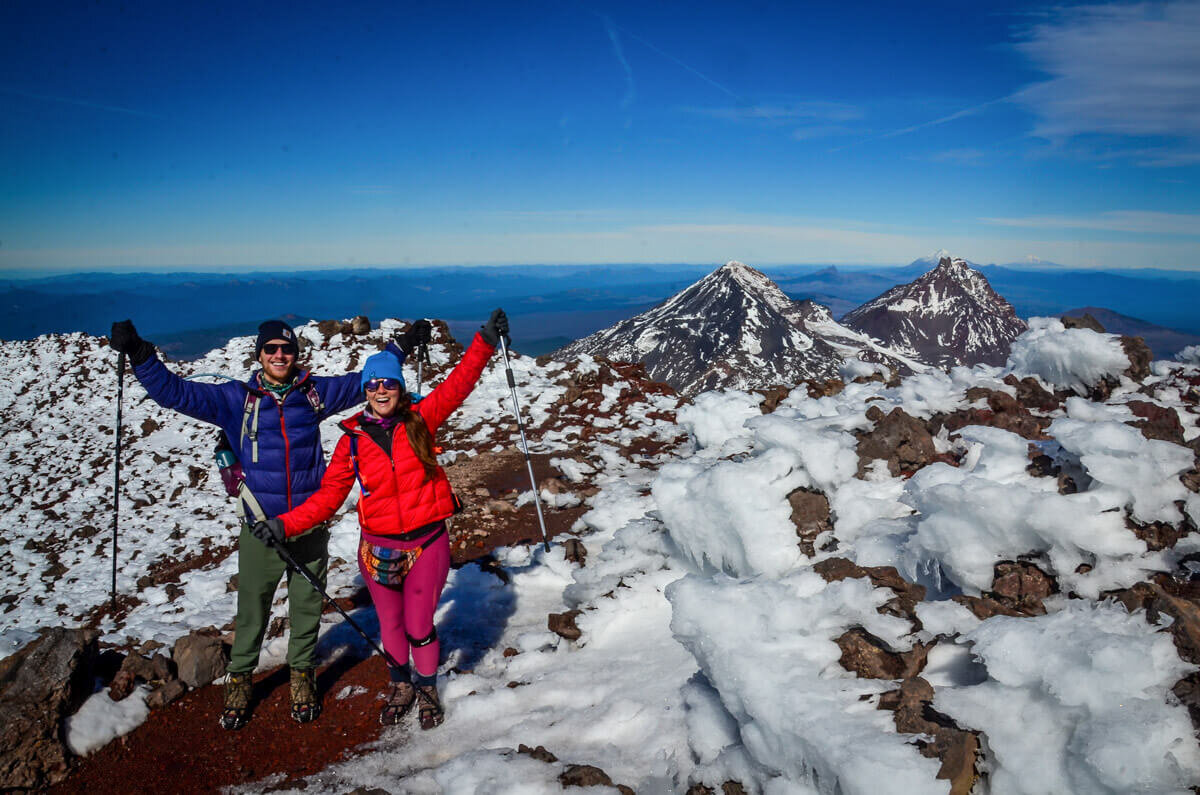 In addition to "spikes," "cleats," and "chains," there's still more terminology to learn when it comes to microspikes for hiking. Like crampons and Yaktrax, for example.
So, what's the difference between the three? Of course, they're all designed for hiking in winter conditions, but the specific type of terrain is what differs. Crampons are a must for traversing glaciers and climbing icy, rocky terrain or any steep icy conditions. They're bulkier and a bit more expensive than microspikes, but essential for any of the above scenarios.
Microspikes are the most lightweight of the three and easily slip on over your favorite hiking shoes. They help in most icy conditions, but are ideal for non-technical terrain.
Finally, there's Yaktrax. These use traction cleats instead of spikes and are more like microspikes than crampons. One thing to note is that Yaktrax is actually a brand name, but there are other cleats out there. Yaktrax is so well-known that the name is used as a blanket term.
Pros of using microspikes for hiking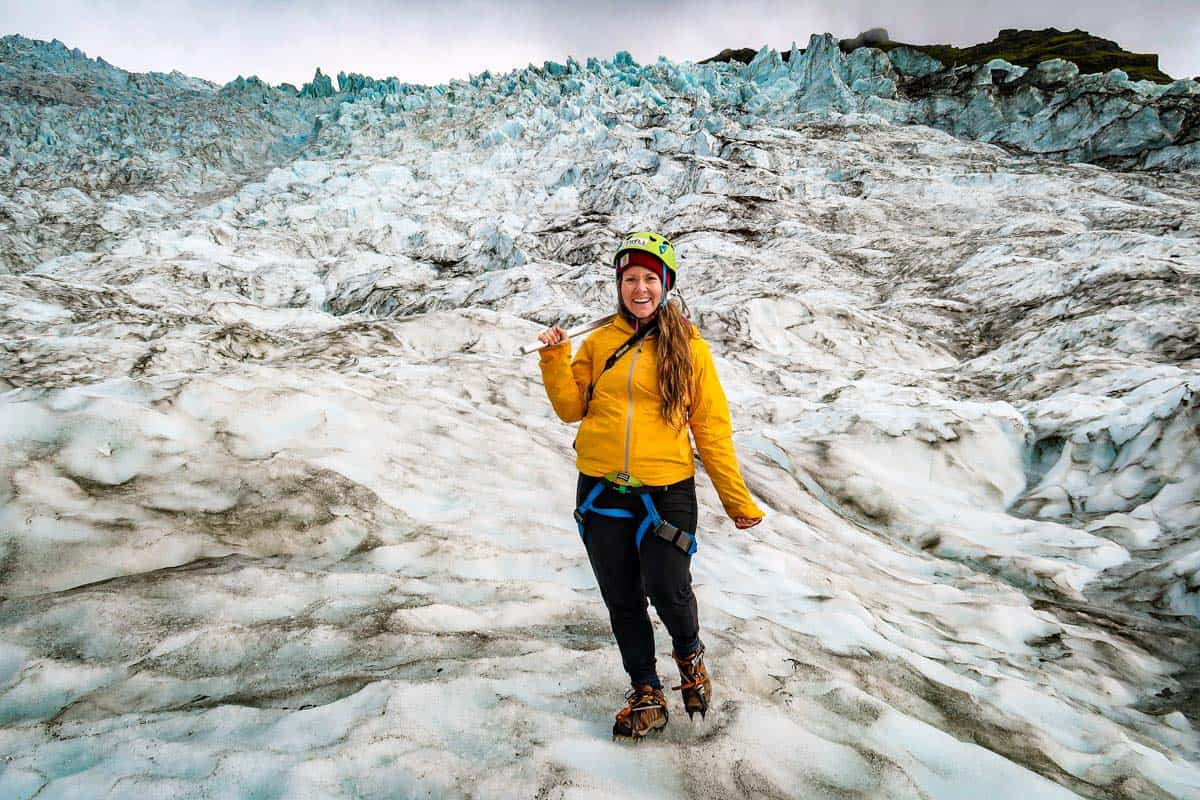 Microspikes are excellent for most hikers, providing more grip on snow and ice than cleats like Yaktrax. Wearing them can give you the confidence to hike over icy ground, not to mention make it safer! And because they're fairly comfortable to wear and not bulky, you can move quicker.
Note that while microspikes give you an extra grip your hiking boots can't, they perform best on flatter, non-technical trails.
Another benefit of using microspikes for hiking is their convenience. They're super easy to put on and take off, with a universal fit for all hiking boots and shoes. There are even microspikes specifically designed for trail runners! Plus, microspikes for hiking are lighter than both crampons and cleats and easily packable.
Cons of using microspikes for hiking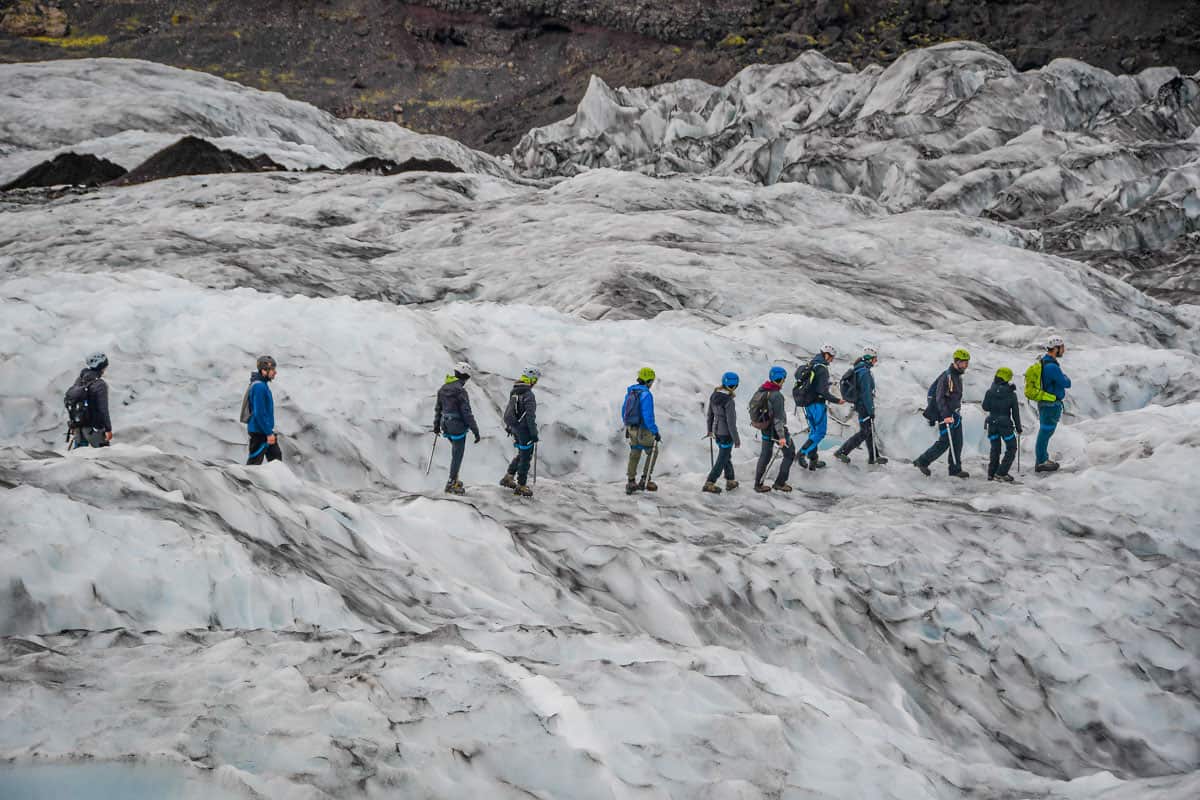 There is one drawback to using microspikes for hiking. As we mentioned, in more technical, icy terrain, like an icy set of switchbacks on a trail or a glacier, they don't offer quite enough grip.
And although it's not technically a "con," this is something to be aware of: if you don't get the correct size or don't get a quality pair, the microspikes may not fit snugly to your boots. This could cause the chains to move around or even drag along the ground, slowing you down and presenting a safety hazard.
Finally, while even the heaviest pairs of microspikes for hiking are rather light, they do add a bit of extra weight to your pack when you're not wearing them. This is minor, but still worth considering!

Product reviews of microspikes for hiking
We did the research for you and compiled all the info we could find by researching product reviews, specs and reports to come up with the list below. It is our objective to give you an honest and unbiased review of each product so you can make the decision to know which microspikes for hiking will fit your specific needs.
1. Kahtoola Microspikes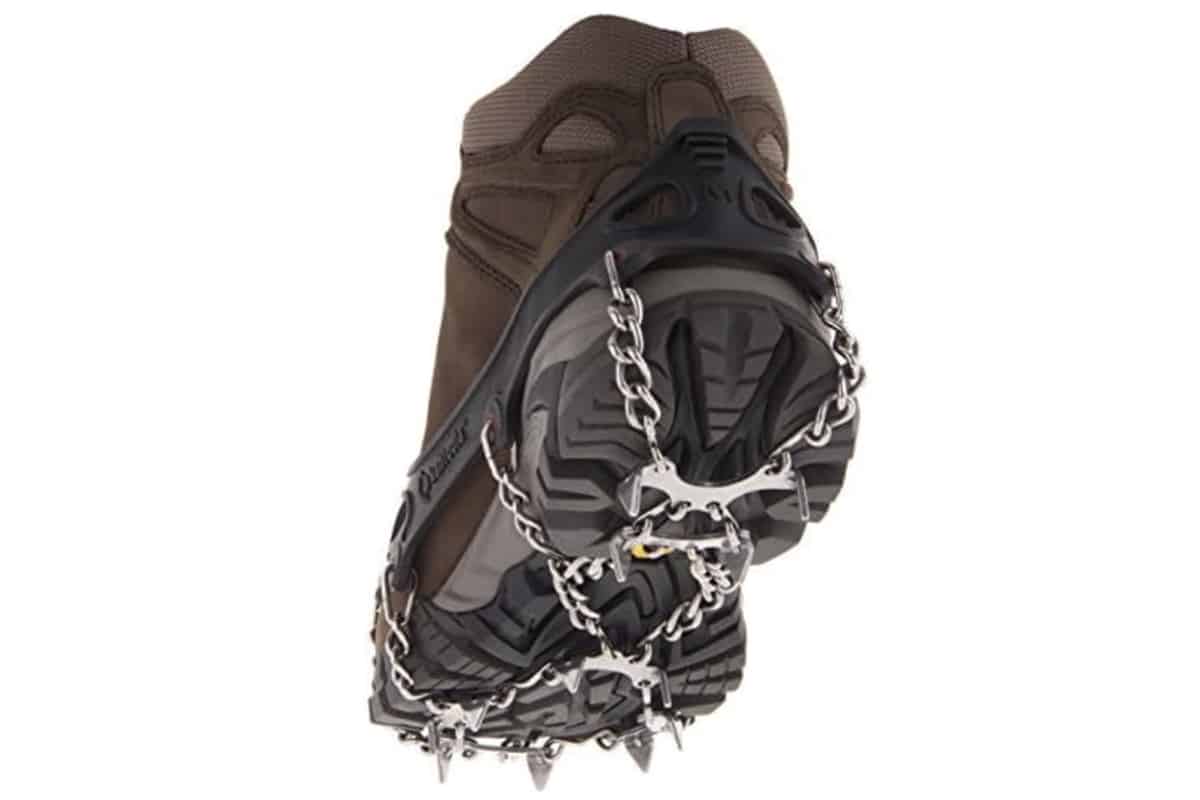 Traction: 12 spikes per foot (eight at the forefoot, four at the heel)
Sizes: S-XL for men; S-L for women
Pros: Consistently rated as the best microspikes for hiking on the market; easy to take on and off
Cons: Sizing can be an issue for some people (double- and triple-check the size chart!)
The first microspikes on the list, the Kahtoola MICROspikes, are widely regarded as some of the absolute best available. They offer excellent grip with 12 stainless-steel spikes per foot (four at the heel and eight at the forefoot), all of which are extremely durable and corrosion-resistant. They're also reasonably priced, come with a two-year warranty, and can be used hiking or trail running!
2. Hillsound Trail Crampon
Traction: 11 spikes per foot
Sizes: XS-XL
Pros: The innovative plate system distributes weight evenly and they fit great over hiking boots
Cons: Heavy, weighing in at 16.3 ounces
Although billed as crampons, this product actually fits the category of microspikes for hiking much better. Hillsound products are made to last and these boast 11 carbon steel spikes per foot. At ⅔ of an inch per spike, they give you plenty of grip!
They also have an innovative plate system that disperses weight, extremely helpful when walking in difficult terrain. Plus, the elastomer harness means these microspikes easily fit over most hiking boots!
3. Kahtoola Nanospike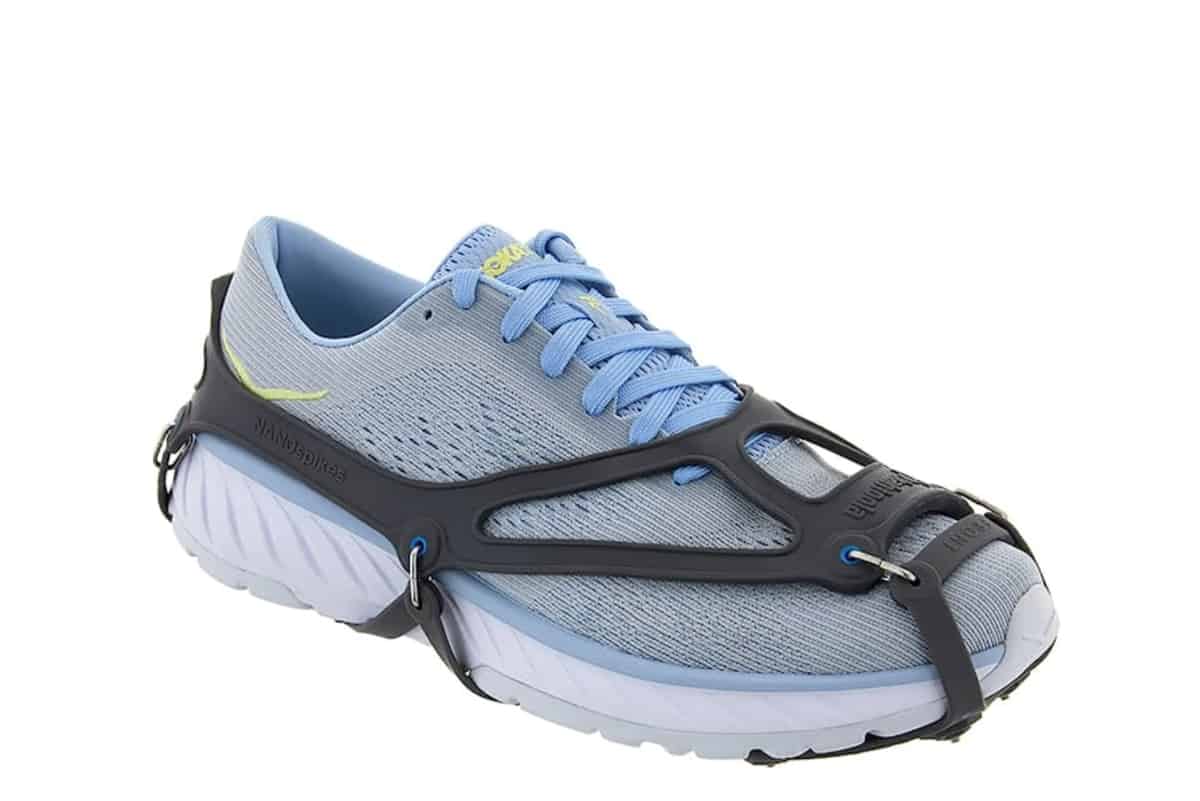 Traction: 10 spikes per foot
Sizes: XS-XL
Pros: Super lightweight at just half a pound
Cons: Sizing can be tricky; make sure to check the sizing chart before buying
These ultralight microspikes are ideal for trail running, level hiking trails, and even walking on icy pavement (a great option for city dwellers!)! With 10 microspikes per foot, an elastomer harness with reinforced eyelets, and embedded tungsten carbide tip grips, the Kahtoola Nanospike is exceedingly durable and offers unbeatable grip on icy surfaces.
4. Black Diamond Access Spike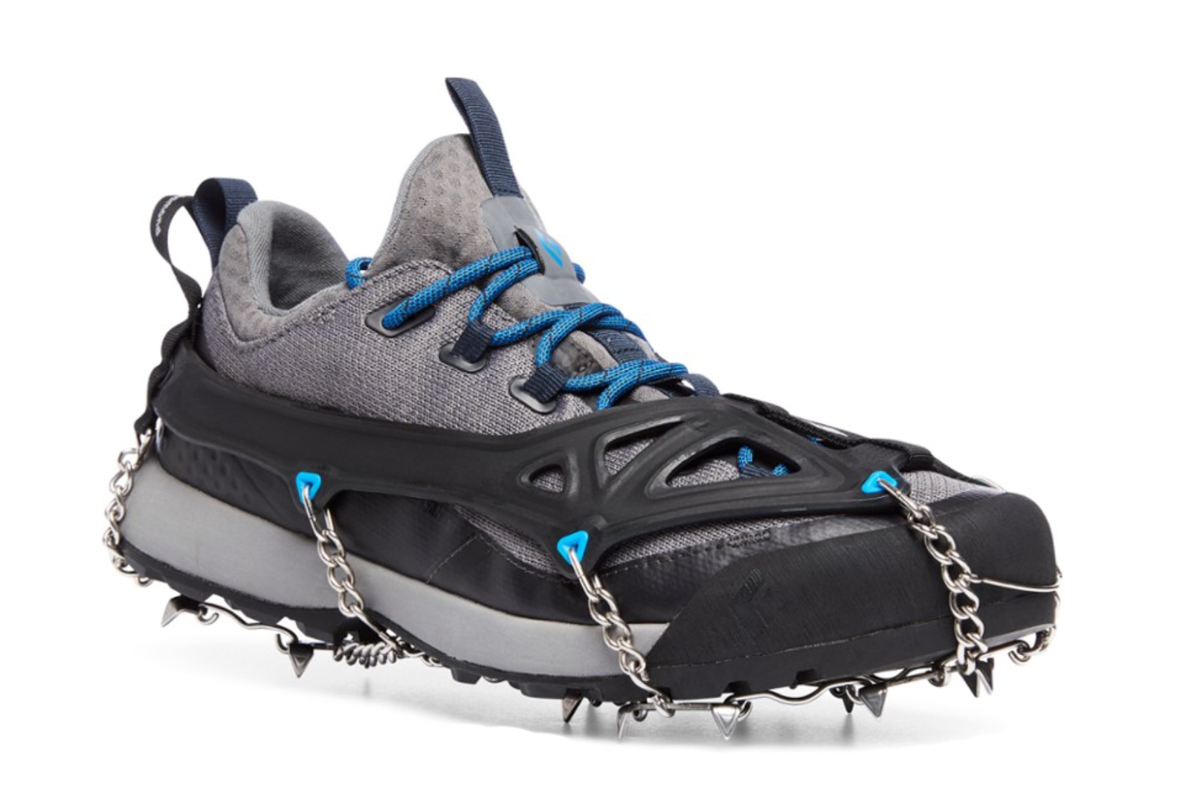 Traction: 14 spikes per foot
Sizes: S-L
Pros: Great traction on uneven terrain and the eyelets are exceptionally durable
Cons: expensive
This is one of the most durable microspikes for hiking on the market! Constructed with a crampon-like design, they provide excellent traction with 14 stainless steel spikes per foot. Each spike is around 8mm long, offering reliable grip on more technical terrain like mountains.
One of the best features is the eyelets, made with dual-density elastomers, adding to the impressive durability!
5. Yaktrax Run Microspikes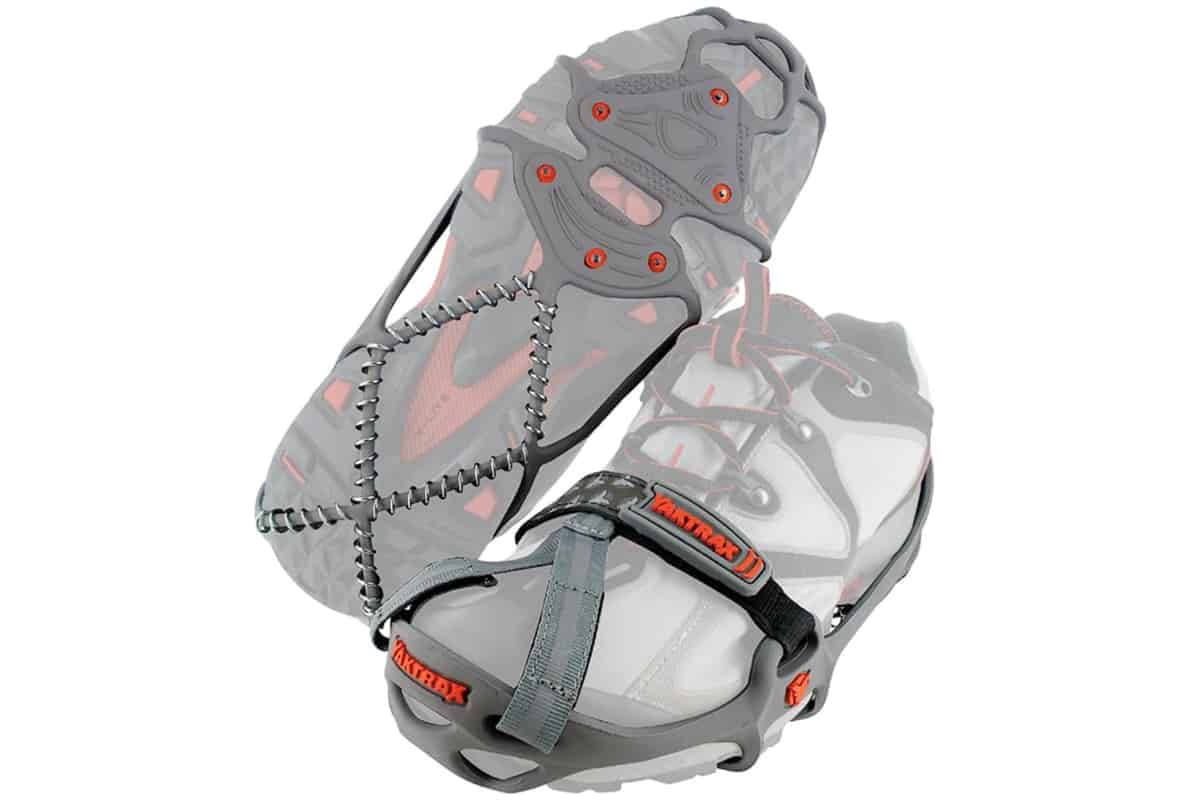 Traction: Six spikes plus steel coils
Sizes: S-XL
Pros: Lightweight; 360-degree traction; designed specifically for trail running
Cons: Some reviewers have had issues with the rubber breaking easily
Rather than microspikes for hiking, this set is designed specifically for trail running — huge for those who prefer trail runners over boots! They feature both small spikes and steel coils for added grip, with six microspikes and stainless steel coils that crisscross the bottom of each foot. These lightweight microspikes are ideal for flat, icy trails or winter trail running. The velcro strap lets you achieve the perfect snug fit and has reflective details for the dark.
6. Kahtoola Exospikes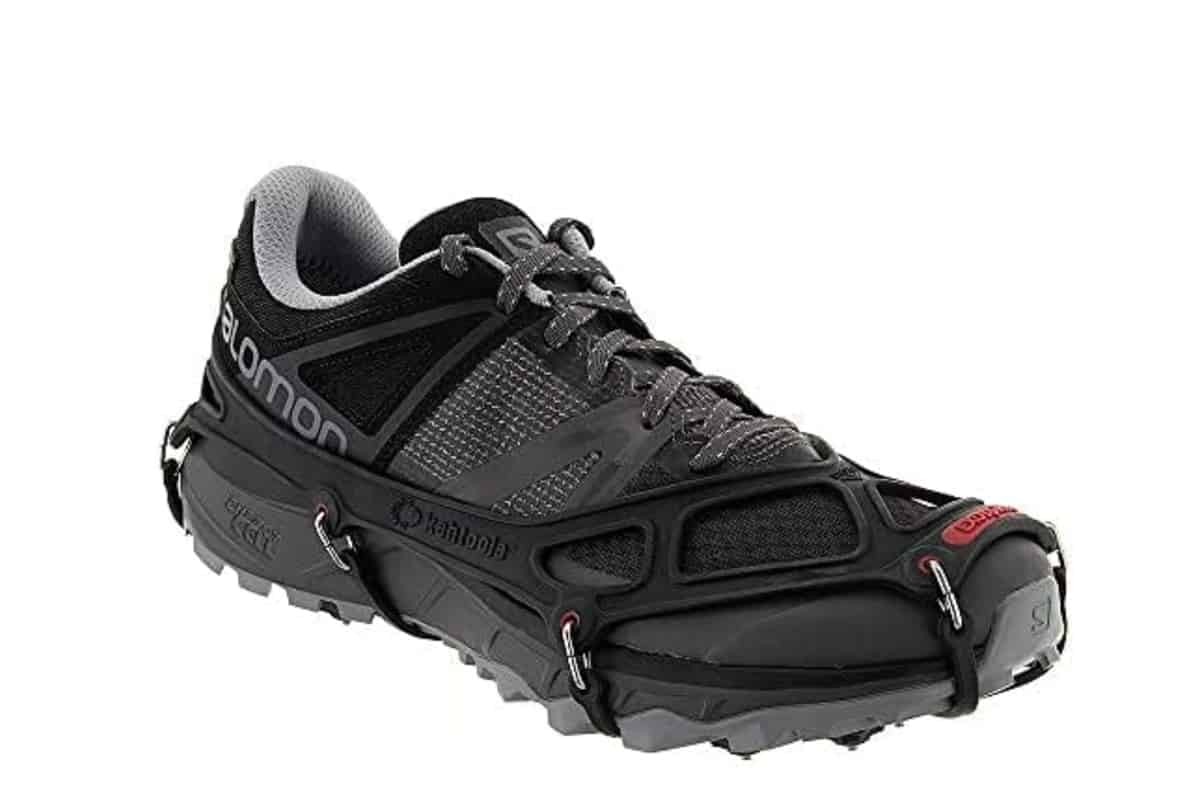 Traction: 12 spikes per foot
Sizes: S-XL
Pros: Excellent traction on a variety of terrain, and the lightweight harness is ideal for any weather conditions
Cons: The harness can be a little tricky to remove from your shoes
Another Kahtoola product, the EXOspikes have 12 spikes per foot, strategically placed to give you top-notch traction on tricky mountain trails and other icy terrain. Several high-tech features allow you to effortlessly grip slick, uneven ground, including Tungsten Carbide tips and aluminum steps.
7. Hillsound Trail Crampon Ultra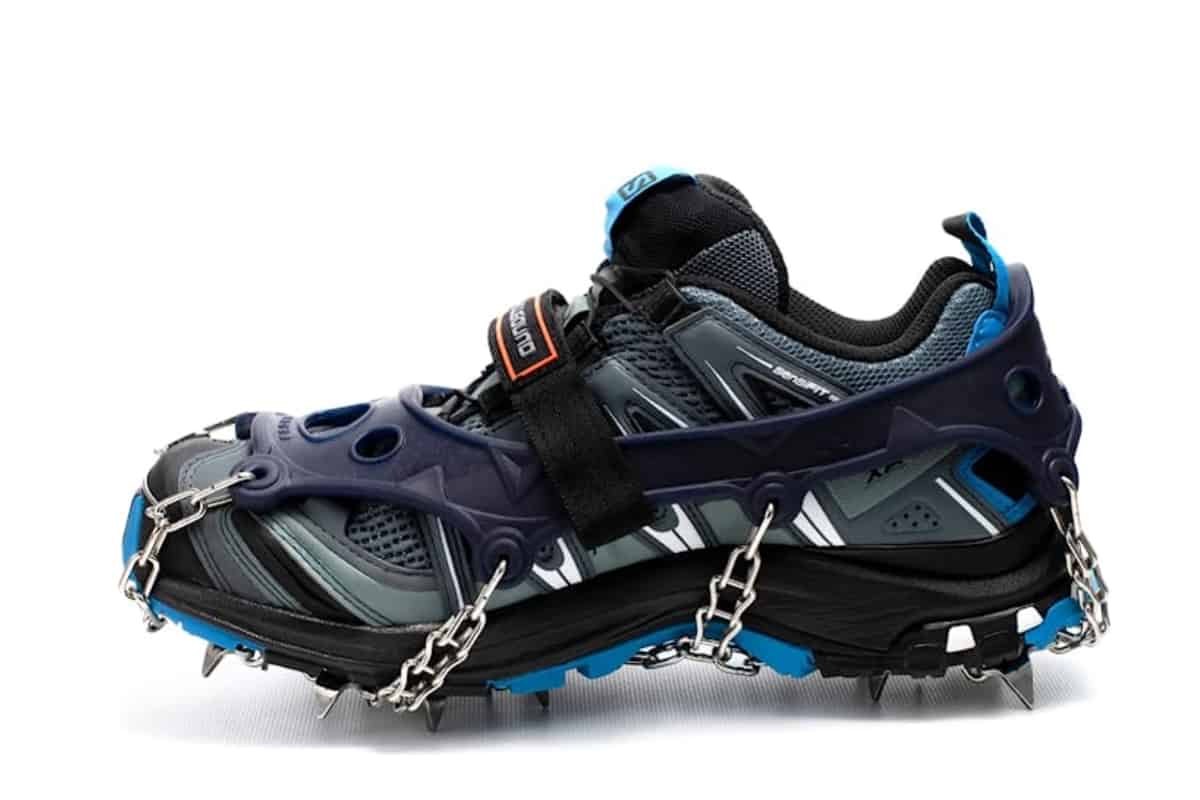 Traction: 18 carbon steel spikes in different sizes per foot
Sizes: XS-XL
Pros: A whopping 18 spikes per foot plus the included puncture-resistant carry bag
Cons: Some reviewers have mentioned that the side chains may come apart after frequent use
These lightweight hiking microspikes have an impressive 18 stainless steel spikes per foot, as well as another three 2/3 spikes on the heel. The design is best suited for packed snow and ice, providing the ultimate heavy-duty grip for icy trails.
Another nice feature with these microspikes for hiking is the puncture-resistant carrying bag.
8. Yaktrax Ascent Traction System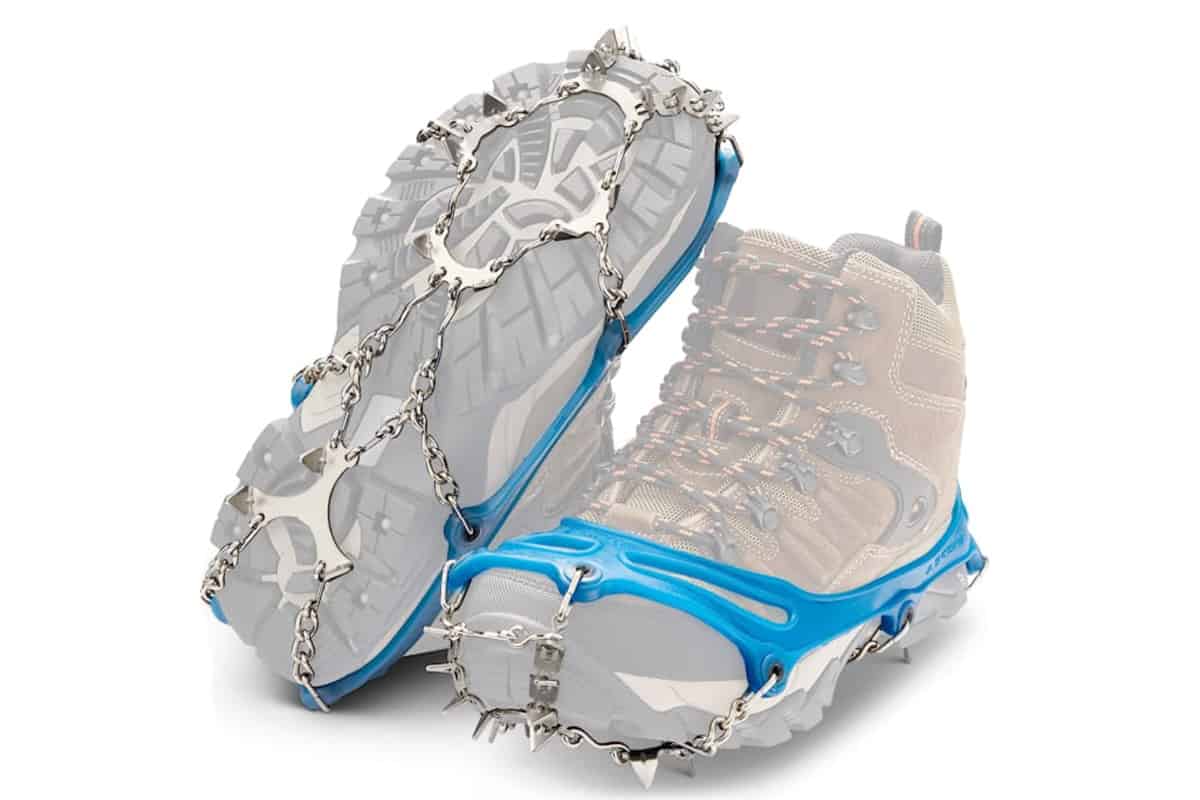 Traction: 16 spikes per foot
Sizes: M-XXL
Pros: One of the best pairs of microspikes for frequent hikers, with a durable stainless steel undercarriage and included carrying bag
Cons: Somewhat bulky and too heavy-duty for regular use in light winter conditions
Frequent winter hikers can't go wrong with the Yaktrax Ascent microspikes for hiking. They feature 16 stainless steel spikes per foot, varying in length. This combination of spikes means you'll have excellent grip on most terrain, and the three-point heel also prevents snow build-up.
9. Black Diamond Distance Spikes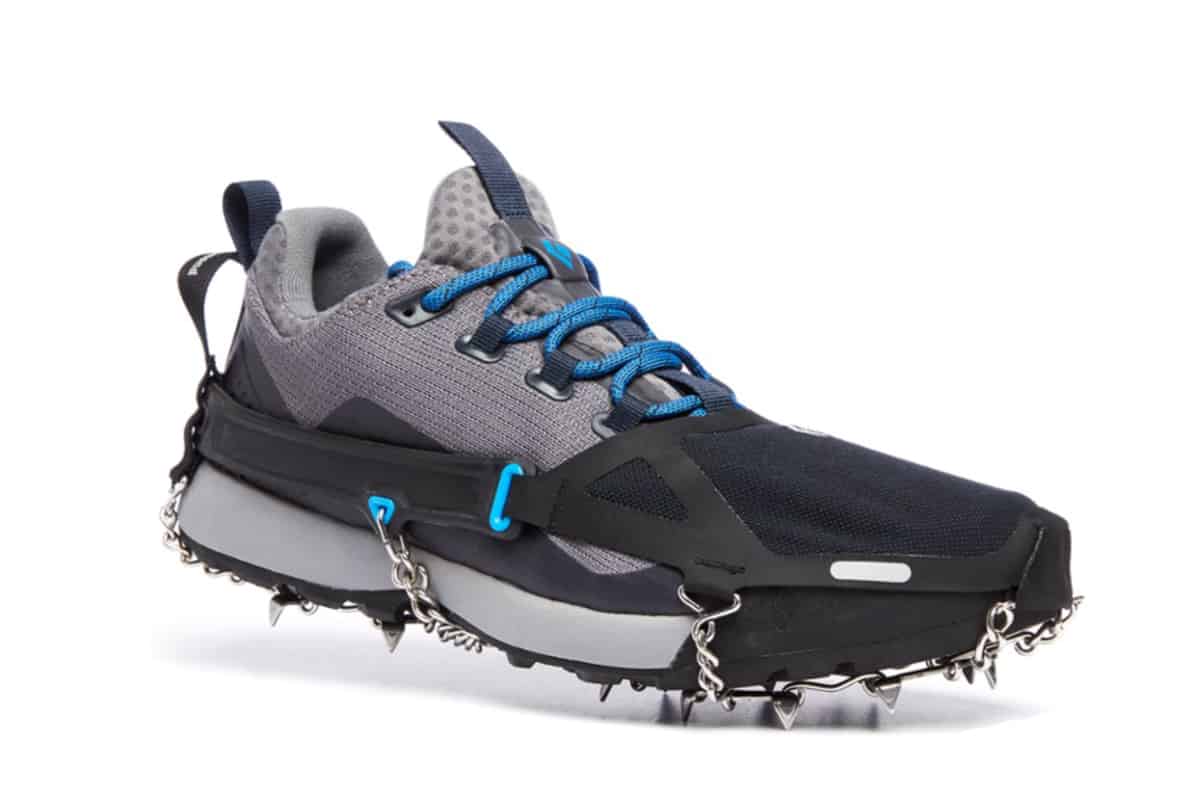 Traction: 14 triangular spikes per foot
Sizes: S-XL
Pros: Excellent traction across different terrain, plus low-profile and lightweight
Cons: One of the most expensive options
Although they're by far the most expensive on our list, we love these for their great traction across different terrain. This set features 14 triangular 0.3-inch spikes alongside stainless steel chains. They're super lightweight, weighing just 3.4 oz each (ideal for long distances!). And because they're low profile, you won't need to remove them as often on dry sections.
10. Black Diamond Blitz Spikes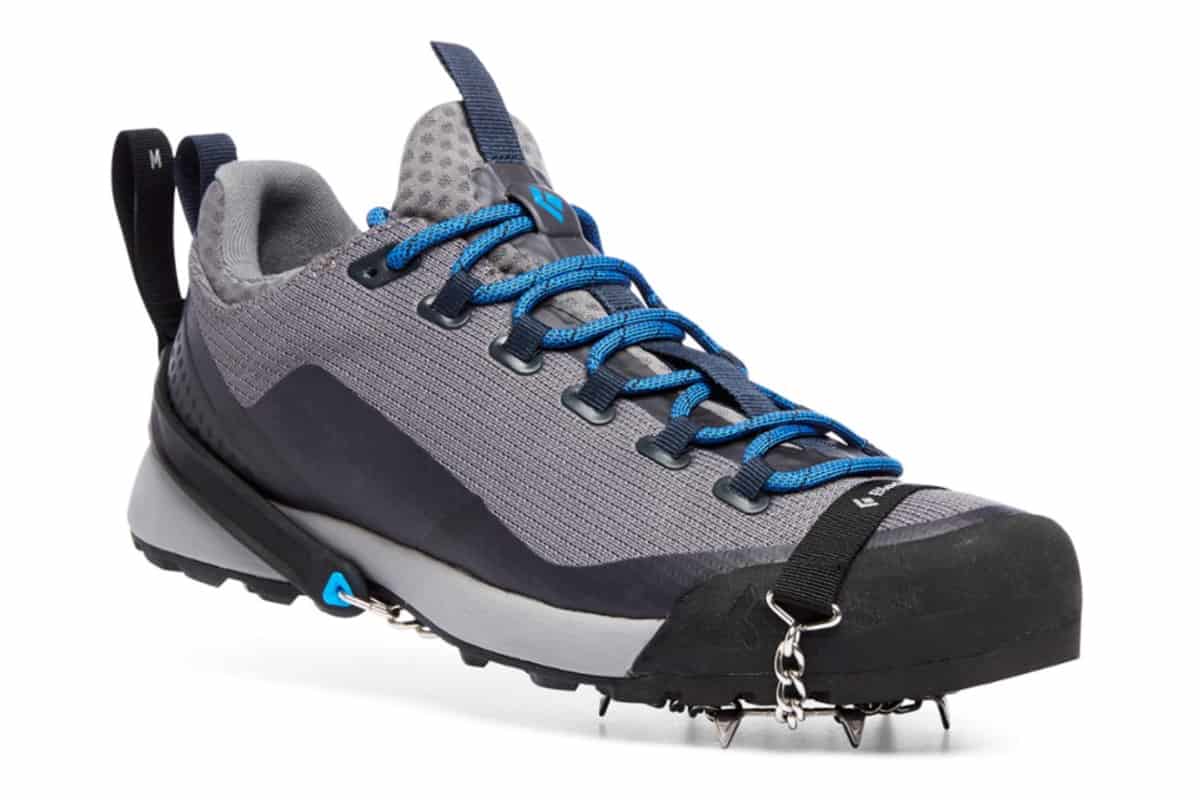 Traction: 6 forefoot-only spikes per foot
Sizes: S-XL
Pros: Ultralight and compatible with most hiking shoes
Cons: Not great for steep or otherwise technical terrain
Another Black Diamond pair of microspikes for hiking, the Blitz Spikes weigh just 3.2 ounces! Interestingly, they have just six 0.3-inch spikes on the forefoot. While that means they're not ideal for very snowy or icy conditions, they're great for transitional seasons and keeping in your pack at all times.
Be sure to grab our ultimate hiking packing list includes our must-have gear for any hiking trail!


You may also like…
Save this article on Pinterest for later!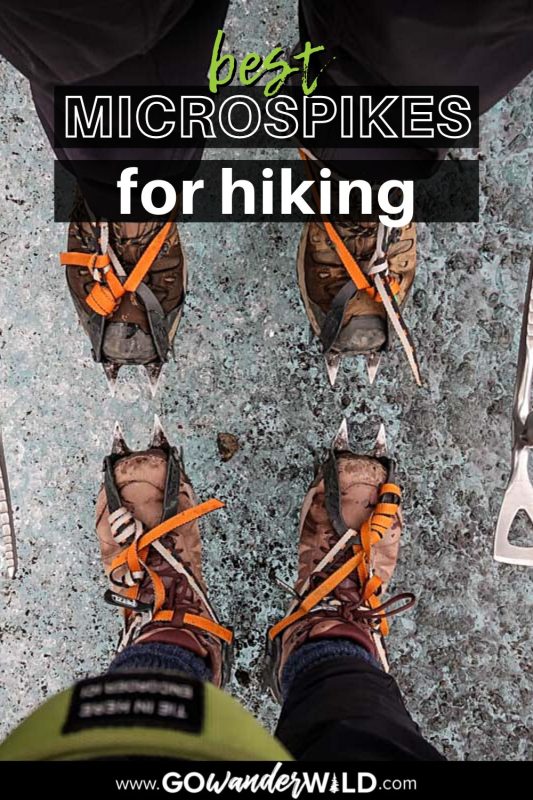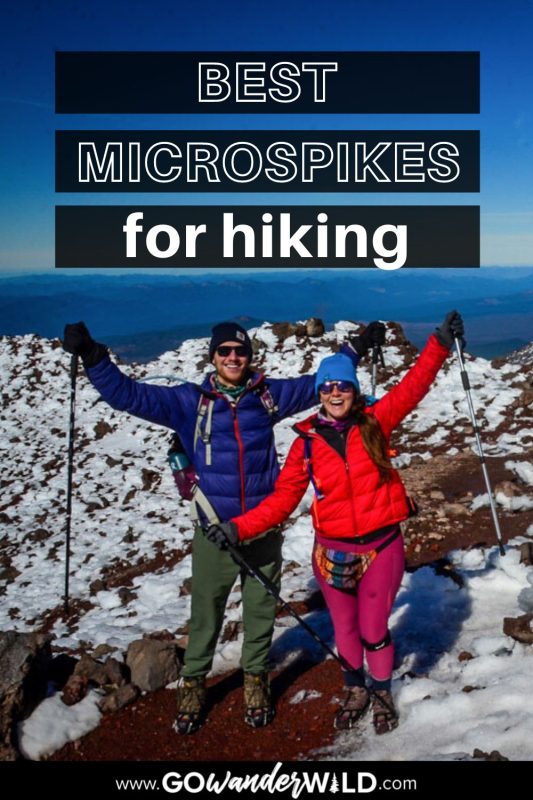 We want to hear from you!
Have you ever used microspikes for hiking? Which brand do you prefer? Drop us a note in the comment section below!