Consider visiting some of the top Oregon waterfalls, which come along with unlimited opportunities for hiking, sightseeing, camping, and other fun outdoor activities. Many waterfalls in Oregon are located along the coast and in easily-accessible state parks, making it a great option no matter how much time you have.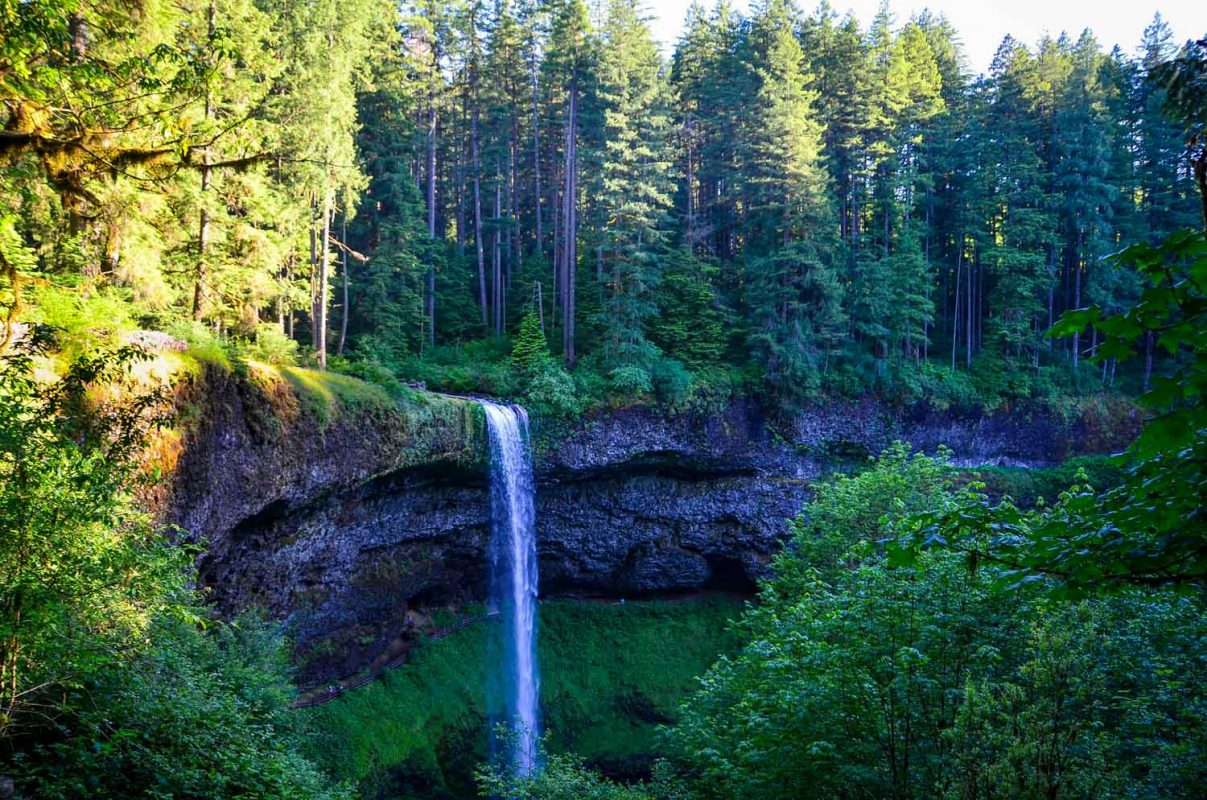 With over 200 Oregon waterfalls, the Beaver State is paradise for nature lovers — and especially water enthusiasts.
These awe-inspiring gems are nestled in Oregon's lush forests, breathtaking mountains, and crystal clear rivers, some easily accessible by car and others requiring a bit of hiking.
Whether you're a native Oregonian or you're planning a visit to the PNW state, here are 15 must-see waterfalls in Oregon.
Tips for visiting Oregon waterfalls
The best time to visit waterfalls in Oregon is from mid-fall through late spring, when snowmelt is at its peak.
Pack both a raincoat and sunscreen. Oregon is notoriously rainy, but you may be surprised with the occasional ultra-sunny day, too.
Waterfalls in Oregon are often just minutes apart, so pick a hiking trail that includes several. For example, the 7.9-mile Trail of Ten Falls loop in Silver Falls State Park passes 10 waterfalls, including the famous South Falls. 
Stay safe. Pay attention to any rules or warning signs posted near waterfalls. Never climb on, jump off, or dive into plunge pools, and only swim in designated areas. Also, wear sturdy hiking shoes. Rocks around Oregon waterfalls are often extremely slippery!
Observe waterfall etiquette. Don't litter, keep your pets on a leash and pick up pet waste, and be considerate of others visiting the falls.
Best Oregon Waterfalls
These Oregon waterfalls are some of the most famous falls in state. You'll want to make sure you pack your camera and get there early or visit during the off-season to avoid crowds.
1. Multnomah Falls, Columbia River Gorge National Scenic Area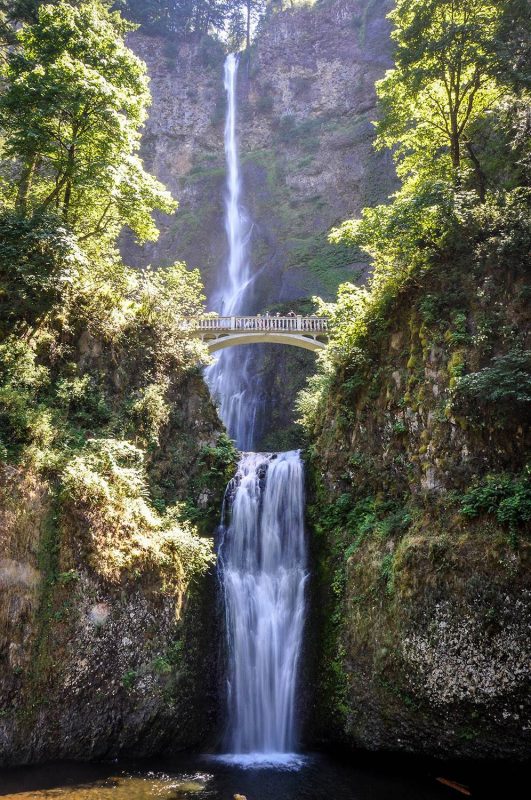 Multnomah Falls is the tallest of all waterfalls in Oregon (and one of the tallest year-round waterfalls in the U.S.!), cascading down 627 feet. The falls get their consistent water supply from snowmelt, rain, and underground springs on Larch Mountain.
At least 2 million people visit Multnomah Falls each year, coming to enjoy its magnificent views, seasonal wildflower blooms, or the hike up to the Columbia River Gorge (one of the best hikes near Portland!).
How to Get There: Multnomah Falls is a 30-minute drive from Portland via I-84. From the base of the falls, you'll hike several hundred feet on a paved trail to iconic Benson Bridge. Note that because of overcrowding, advance reservations are now required to visit Multnomah Falls.
Entrance Fee: Free; $1 per ticket for reservations through recreation.gov.
2. Tumalo Falls, Deschutes National Forest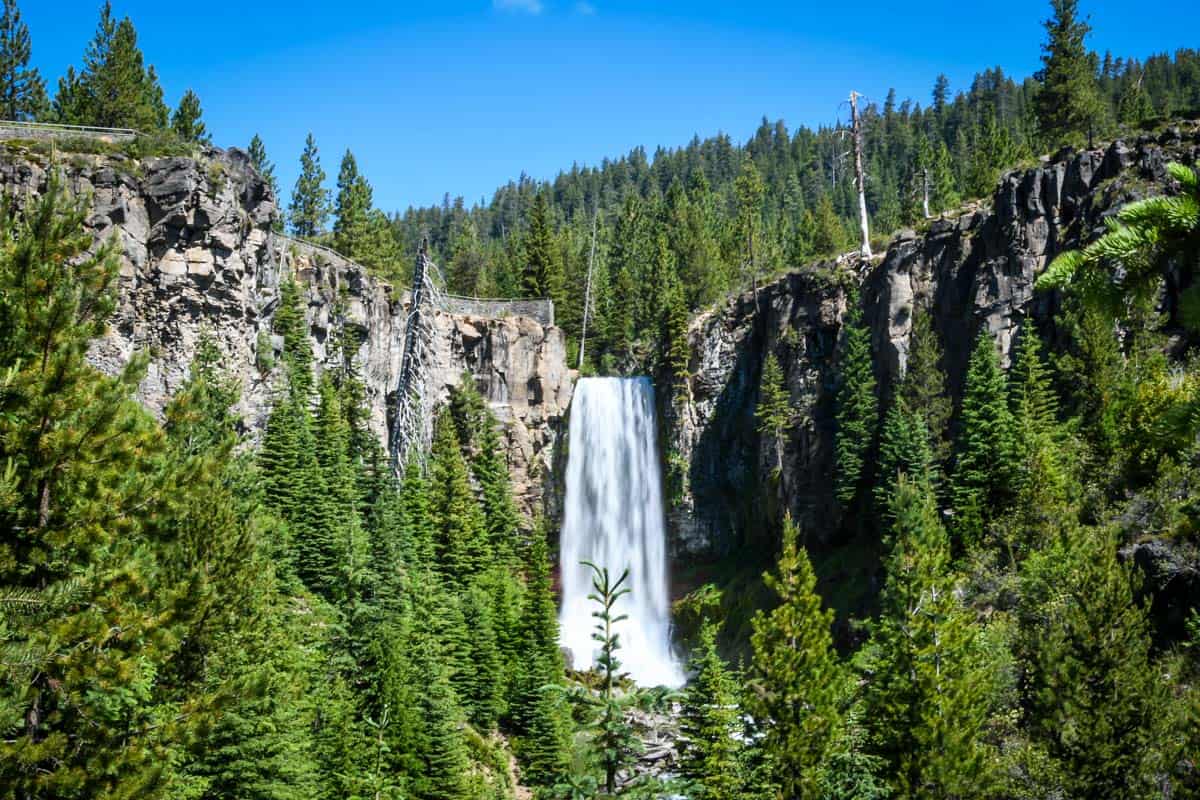 Tumalo Falls is an impressive 97-foot waterfall along Tumalo Creek, 20 miles from Bend. It cuts through an open rock face and races dramatically downstream between the pines.
These waterfalls near Bend Oregon are still healing from a 1979 forest fire, so expect vast open trails, caves, and mountains ideal for hiking, biking, and picnicking. Tumalo Falls Trail leads to a viewpoint for the falls and 10 other nearby Oregon waterfalls.
How to Get There: Tumalo Falls is 30 minutes from downtown Bend. The last 2.4 miles is a gravel road, manageable for most vehicles but note that you'll need to drive slow.
Entrance Fee: $5
3. Trail of Ten Falls, Silver Falls State Park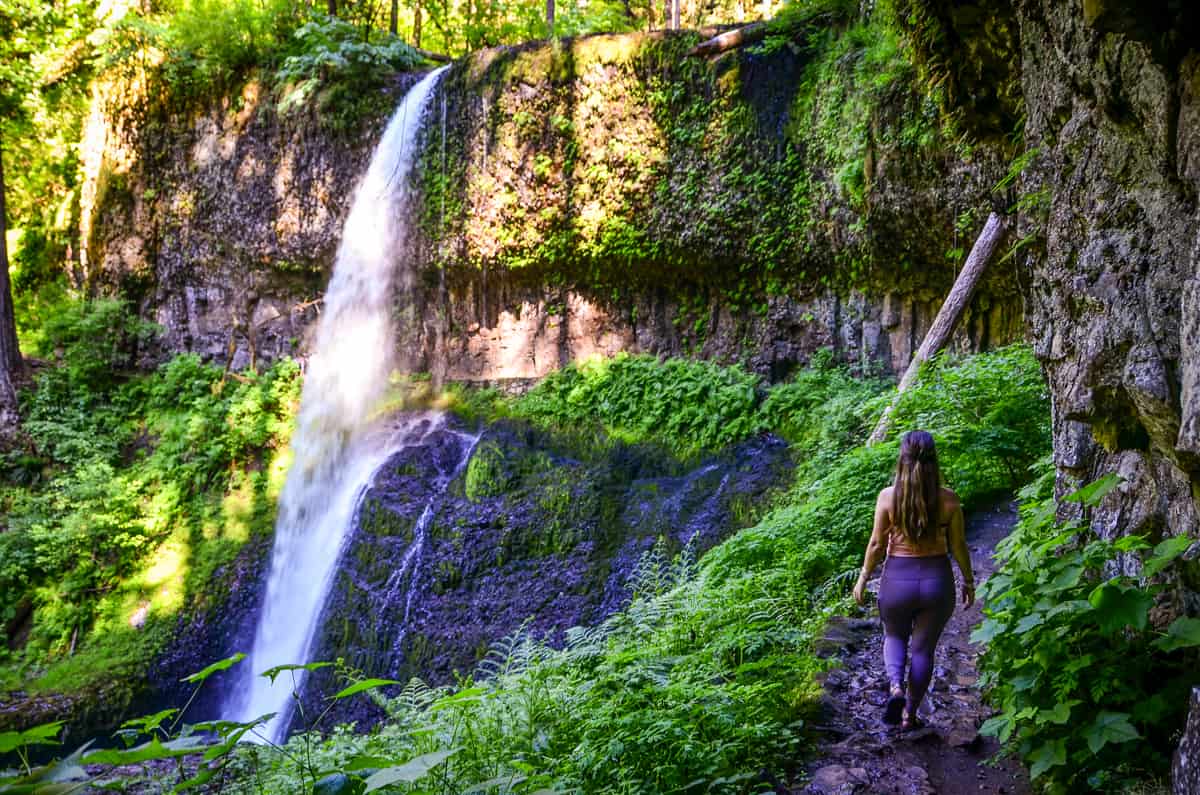 Looking for a moderately challenging day hike? Opt for The Trail of Ten Falls in Silver Falls State Park. As its name implies, the trail features 10 stunning Oregon waterfalls! They include:
South Falls
Lower South Falls
Lower North Falls
Double Falls
Drake Falls
Middle North Falls
Twin Falls
North Falls
Upper North Falls
Winter Falls
You'll start at South Falls and finish at North Falls. Along the paths between them are several spur trails, junctions, and bridges and there isn't clear signage to direct you, so we recommend hiking this trail with an experienced hiker!
How to Get There: From Highway 213, go to the Silverton downtown district and turn left onto Highway 214. Drive 14 miles to the state park.
Entrance Fee:  $5
4. Salt Creek Falls, Willamette National Forest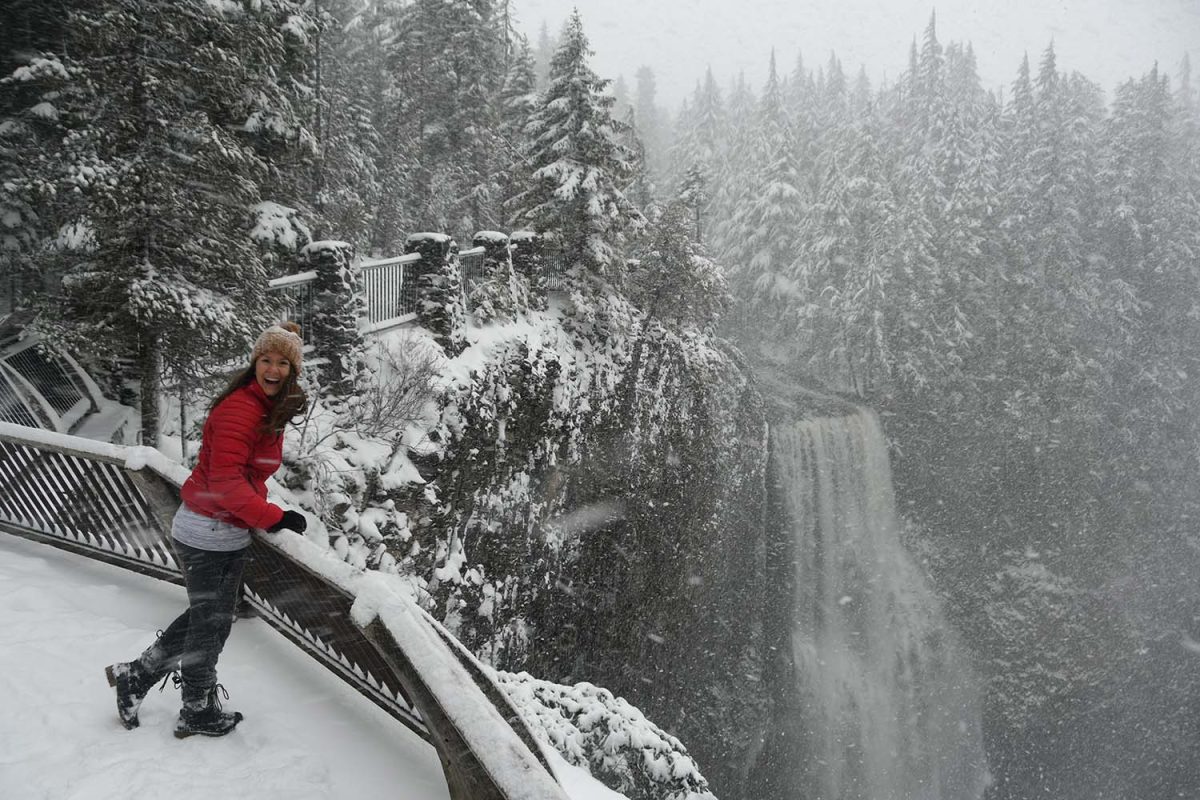 Salt Creek Falls is a tributary of the Willamette River, cascading through Salt Creek before plunging 286 feet into a gaping canyon. It's the highest single-drop waterfall in Oregon.
Visitors can view massive Salt Creek Falls from the observation point, just 50 yards from the parking lot. Note that the observation point is wheelchair-accessible, but the steep trail to the falls isn't. Nearby, don't miss McCredie Hot Springs!
How to Get There:
Salt Creek Falls is 23 miles southeast of Oakridge. Once you reach Highway 58, turn onto Forest Service Road 5893 and follow the signs.
Entrance Fee: $5
Psst! Is chasing waterfalls kinda your thing? Are you also an avid hiker? Check out these incredible Oregon waterfall hikes and see which ones you need to add to your bucket list.
5. Proxy Falls, Willamette National Forest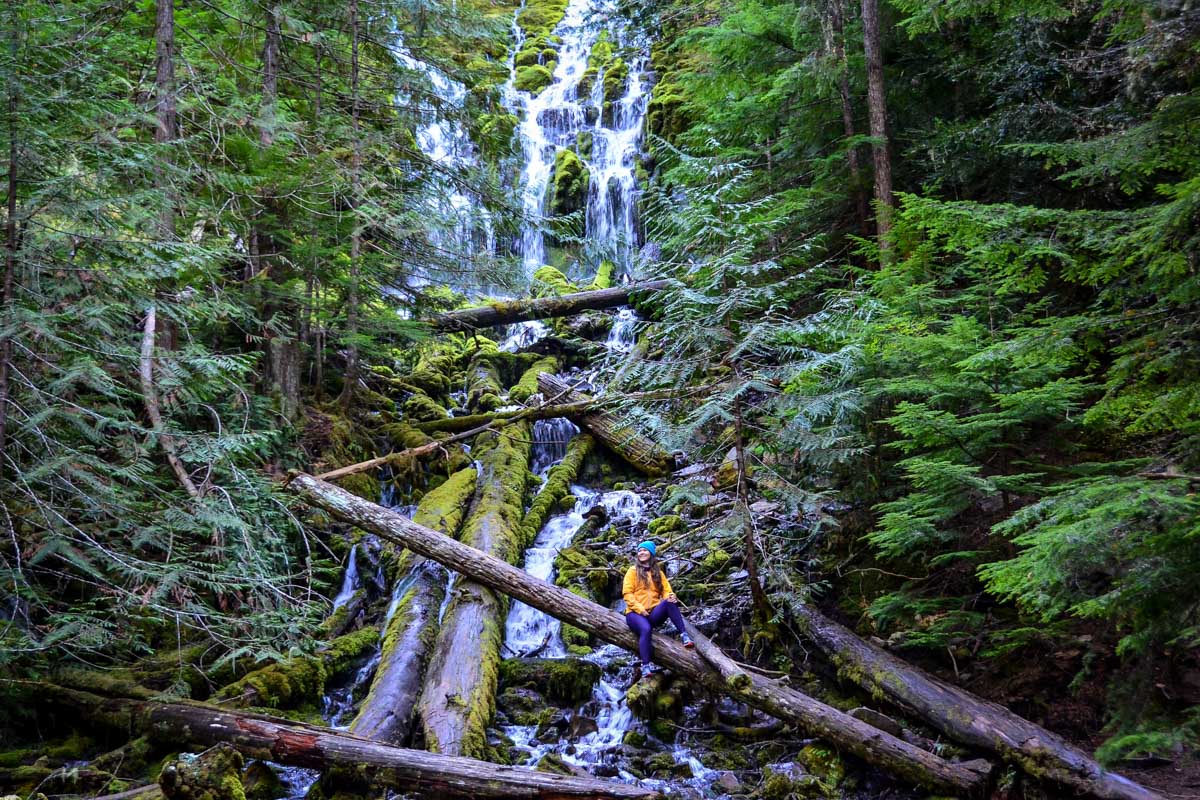 6,000-year-old Proxy Falls is 1.5 hours from Bend in the Three Sisters Wilderness. It originates from one stream that splits before dropping 226 feet to a canyon near Belknap Springs. Unique among waterfalls near Bend Oregon, there's porous lava at the base, creating the illusion of water disappearing underground.
When hiking moderate, dog-friendly Proxy Falls Trail, expect a combination of dense forest, open lava fields, and mineral-fed hot springs.
How to Get There: Take OR-242 and look for the hiker sign between mileposts 64 and 65.
Entrance Fee: $5
6. Tamolitch Falls, Willamette National Forest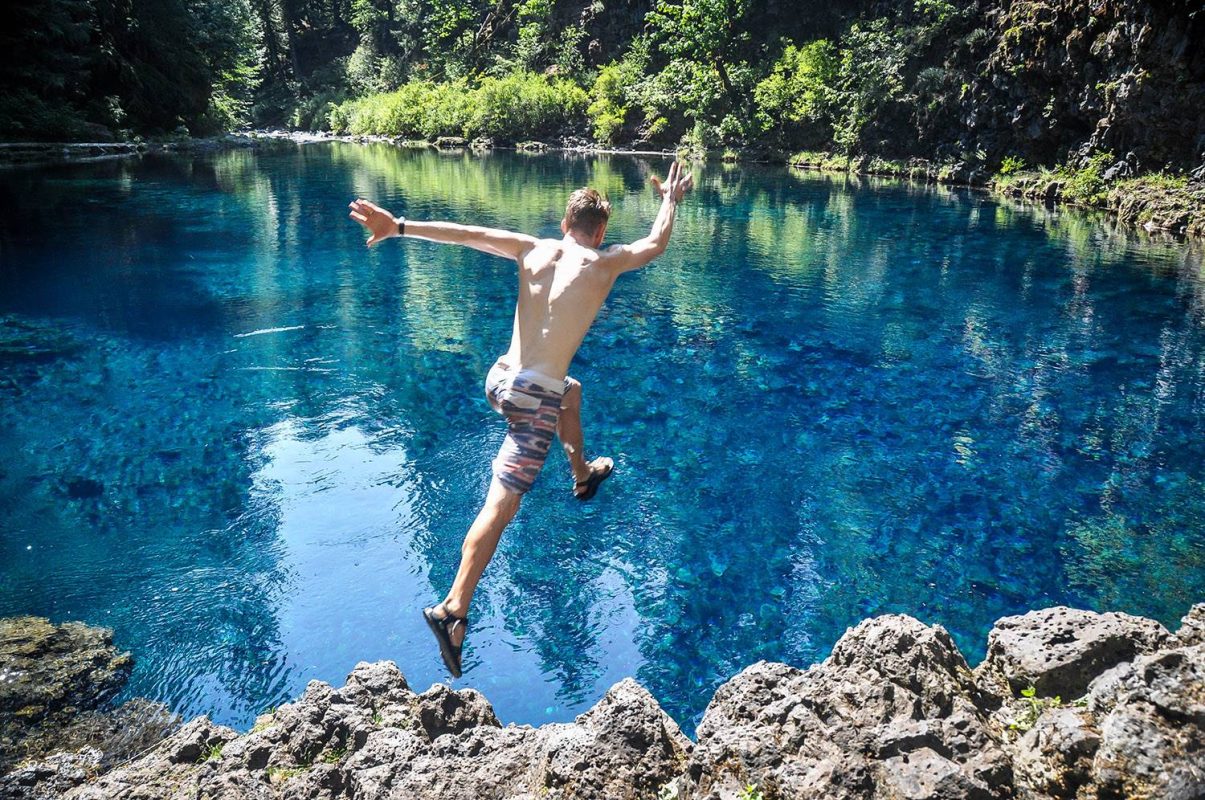 Seasonal Tamolitch Falls stands out among other Oregon waterfalls. Flowing from the McKenzie River, it's well known for the "Blue Pool" at its base.
The Blue Pool is crystal clear and so blue it looks like topaz, thanks to the water's lack of fish, mud, or other living organisms. Interestingly, the pool appears to be shallow, with the stones at the bottom seeming so close you could touch them, but it's actually 30 feet deep!
How to Get There: Access Tamolitch Falls via Carmen Smith Reservoir from the north or the McKenzie River Trailhead from the south. We have all the directions in our guide to visiting the Blue Pool Oregon.
Entrance Fee: $6
7. Toketee Falls, Umpqua National Forest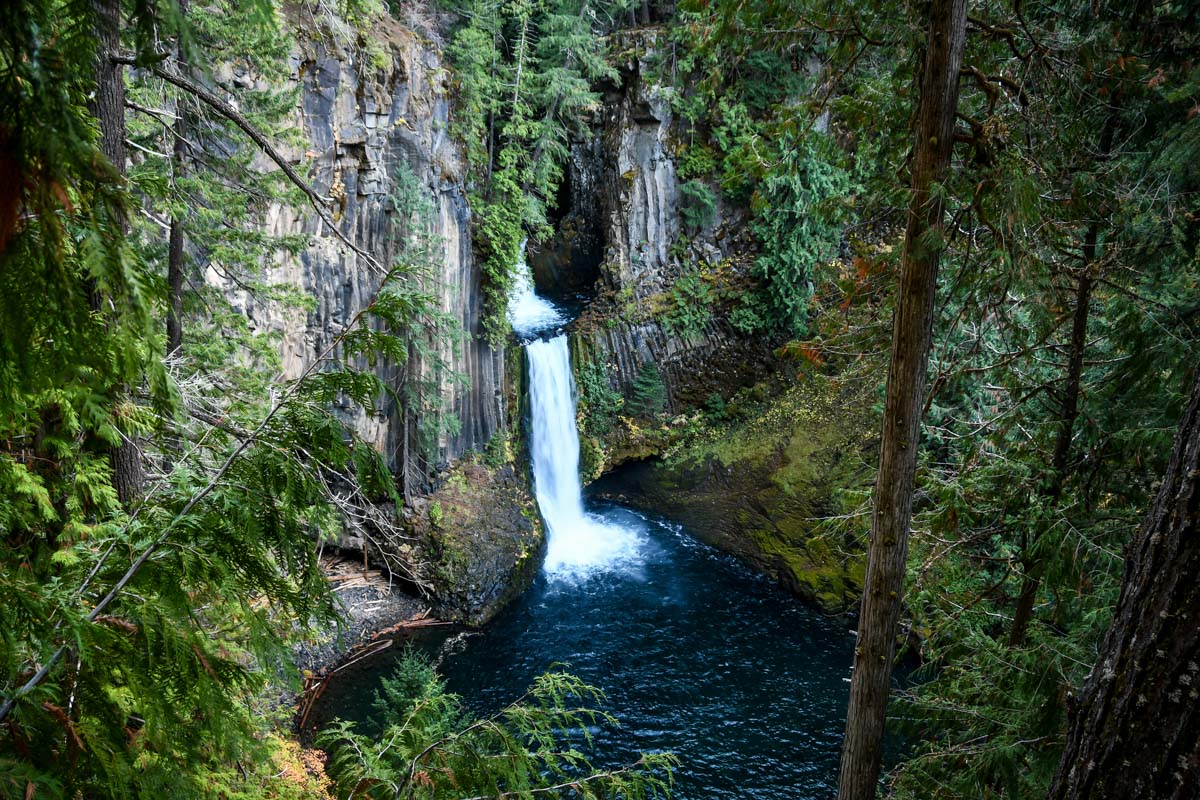 Toketee Falls is an iconic waterfall in remote southern Oregon. It tumbles 120 feet down distinctive basalt columns on the North Umpqua River, making it stand out amongst even the most spectacular Oregon waterfalls.
Since the area is remote (two hours from both Eugene and Bend), don't miss nearby sites including Crater Lake National Park and the 172-mile Rogue-Umpqua National Scenic Byway.
How to Get There: From Roseburg, take Highway 138 east to Forest Road 34/Toketee-Rigdon Road (milepost 58.6). After the first bridge, the trailhead is on your left. The hike to the falls is an easy 0.9 miles roundtrip.
Entrance Fee: $5
8. Latourell Falls, Guy W. Talbot State Park
Another basalt waterfall, Latourell Falls drops an impressive 220-plus feet. This is one of the closest Oregon waterfalls to Portland and it's also visible from the highway, making it wildly popular.
What you actually see from most viewpoints is the lower falls; to see the two-tiered upper falls, you'll need to hike the somewhat challenging and rocky 2.1-mile Latourell Falls Loop.
How to Get There: From Portland, take I-84 to the Historic Highway and head west 2.8 miles to the parking lot.
Entrance Fee: Free
9. Sahalie and Koosah Falls, Cascade Mountains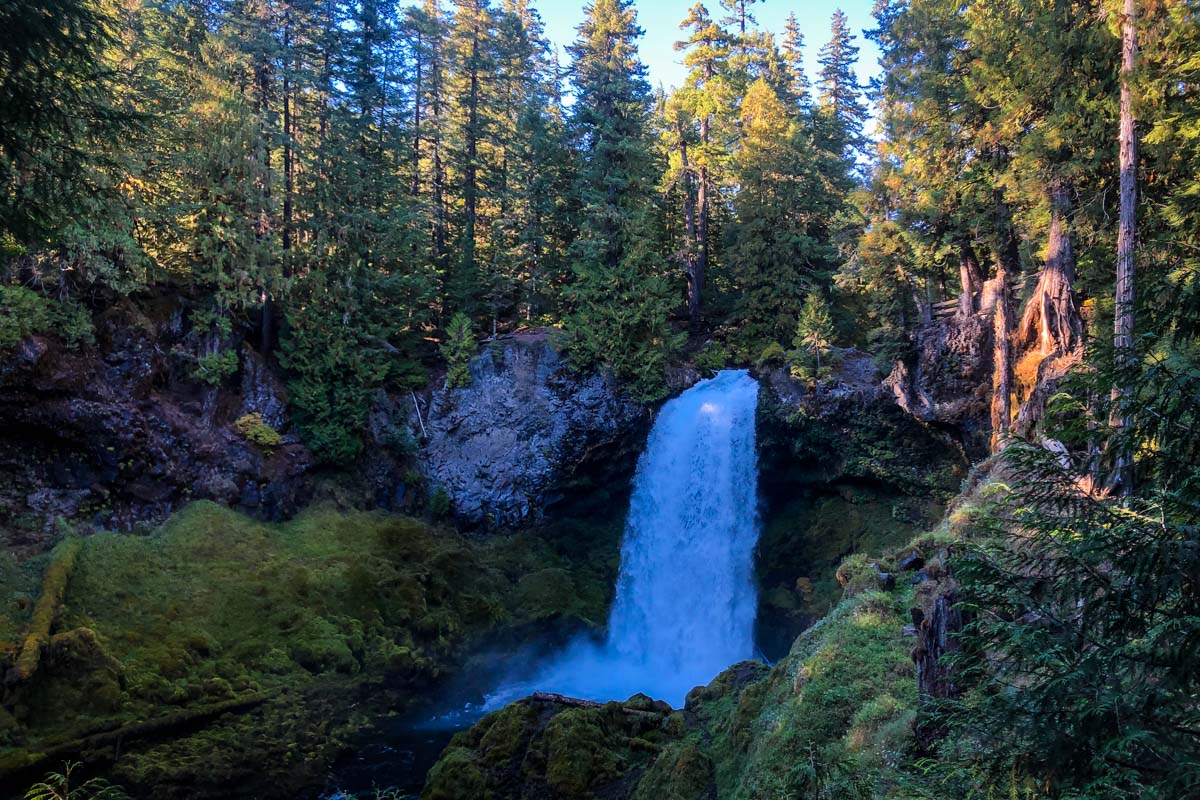 A twofer, Sahalie and Koosah Falls are family-friendly roadside waterfalls in Oregon. Whereas Koosah Falls drops 70 feet into a deep pool, Sahalie Falls consists of foamy whitewater plunging 100 feet atop a natural lava dam. These Oregon waterfalls are connected by an easy, pet-friendly 2.6-mile loop trail.
Does Sahalie Falls seem familiar? It was featured in Disney's Homeward Bound!
How to Get There: Off of Highway 26 just north of the McKenzie Bridge, look for signs for Koosah Falls. A half-mile north is Sahalie Falls, but Koosah's parking lot is bigger.
Entrance Fee: Free
10. Watson Falls, Umpqua National Forest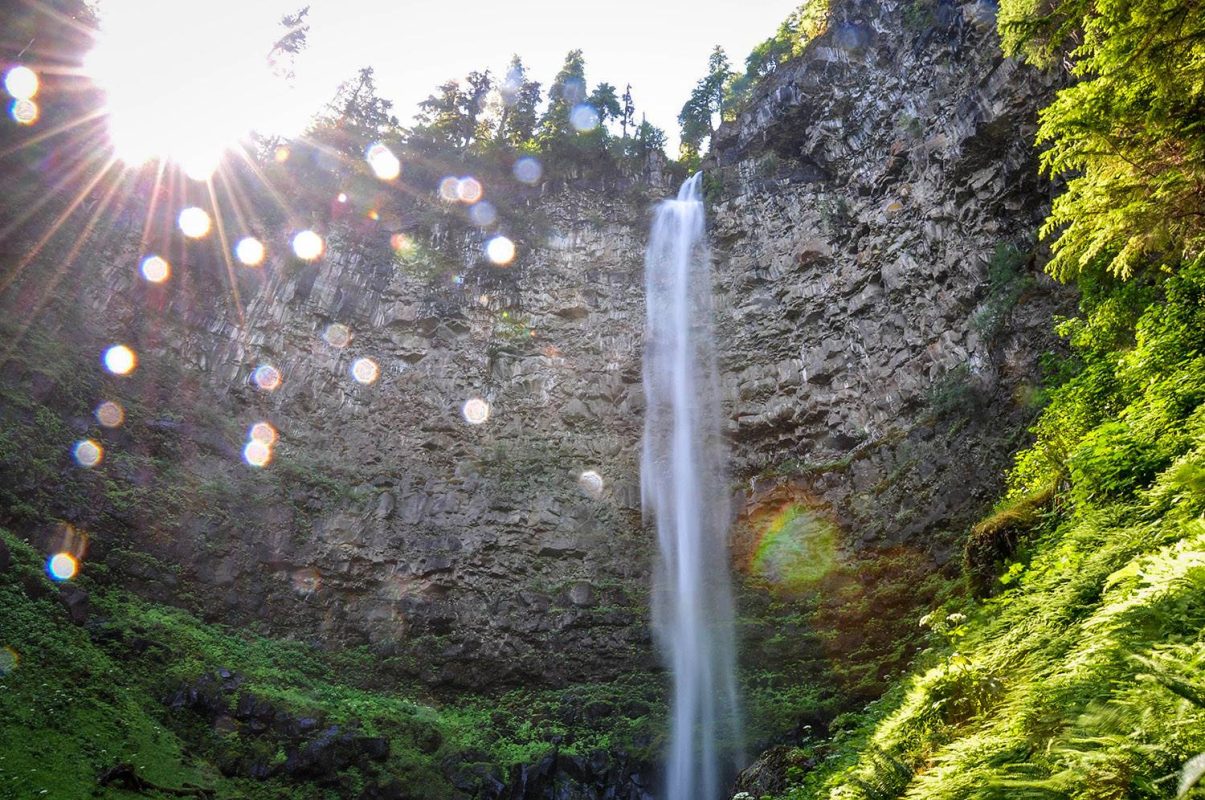 Towering Watson Falls is the highest in southwest Oregon, tumbling 294 feet over a basalt lava flow on Watson Creek. These falls are especially scenic, surrounded by lush forest, vine maples, Oregon grapes, and hemlocks.
The hike is just 0.8 miles, but it is rather steep. When visiting Watson Falls, the wooden bridge and natural stone steps make for some of the best photo ops.
How to Get There: Take Highway 138 east from Roseburg to Forest Road 37/Fish Creek Road (milepost 61.3, very close to Toketee Falls). The ample parking area is just 0.2 miles ahead on the right.
Entrance Fee: Free
11. Punch Bowl Falls, Columbia River Gorge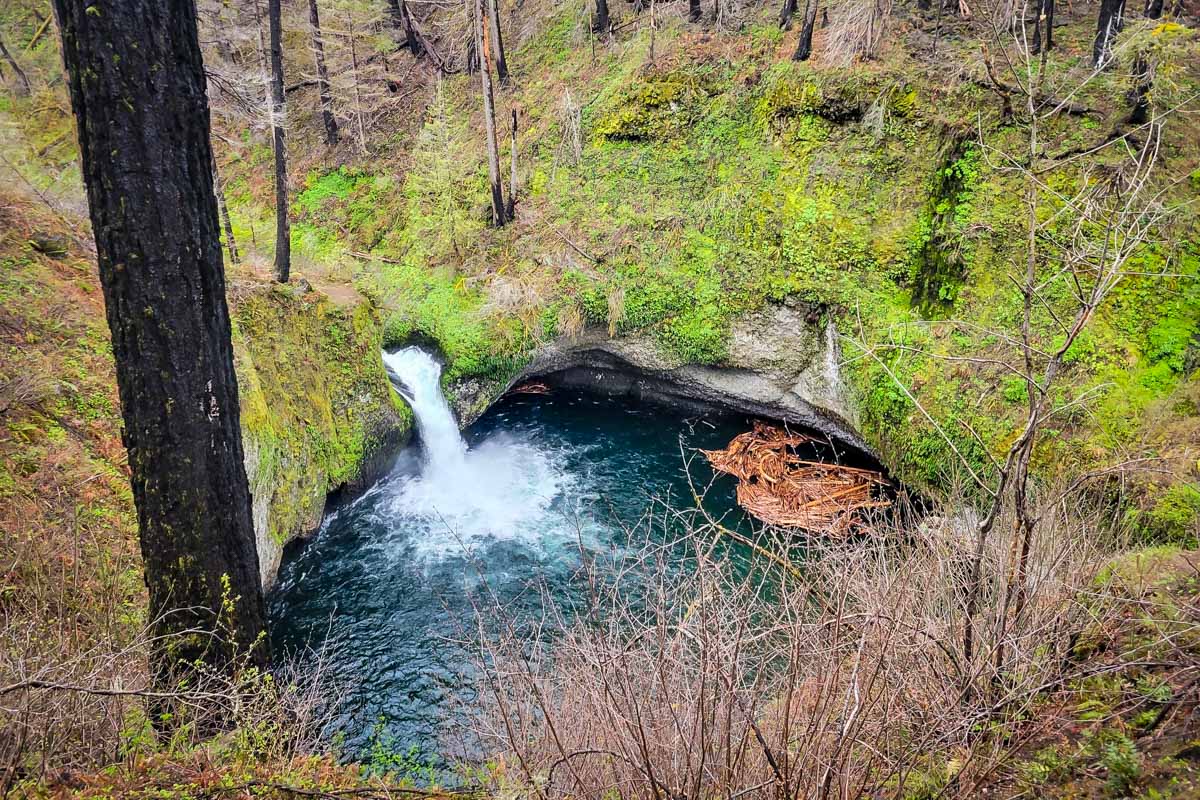 Punch Bowl Falls is widely considered one of the best Oregon waterfalls along the Columbia River Gorge. It's just 35 feet tall, but an impressive 10 feet wide and surrounded by lush, mossy green scenery. While the hike is relatively easy and pet-friendly, there are some very steep sections. 1.5 miles in, you can take a quick detour to Metlako Falls.
The Cascade Hatchery is nearby and if you visit in the fall, you may catch the fascinating spawn of coho and chinook salmon in Eagle Creek.
How to Get There: From Portland, take I-84 east to exit 41. Turn right and look for Eagle Creek Trail signs in half a mile.
Entrance Fee: A valid recreation pass is required
12. Tamanawas Falls, Hood National Forest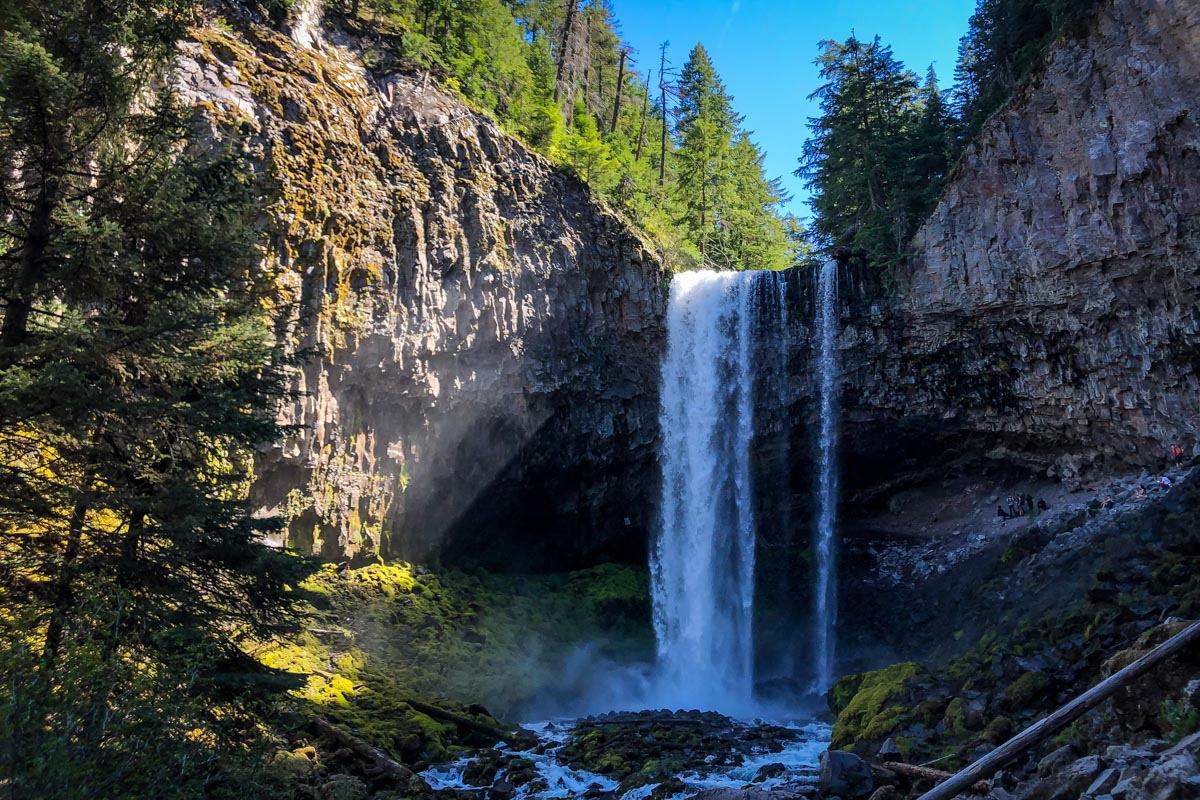 Tamanawas Falls is a 100-foot high waterfall in the Mount Hood Wilderness. It's one of the easiest waterfall hikes in the Mount Hood area, but has a huge payoff. This is one of those iconic Oregon waterfalls you can actually walk right behind!
On the eastern side of Mount Hood, Tamanawas Falls get their name from a Chinook name for "guardian spirit." While visiting, make a day trip out of it and visit some of Mount Hood's local orchards for a tantalizing wine-tasting experience.
How to Get There: 1.5 hours from Portland, Tamanawas Falls is off Highway 35 between Mount Hood and Government Camp.
Entrance Fee: $5
13. Munson Creek Falls, Tillamook County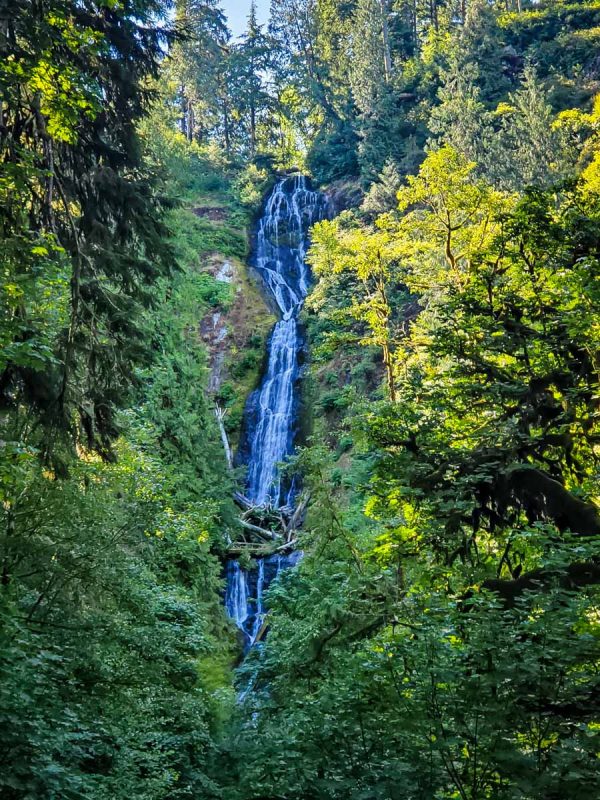 Munson Creek Falls is the tallest of Oregon waterfalls along the coast, rising 319 feet above the dense coastal forest below. Situated in Munson Creek Falls State Natural Site just outside of Tillamook, this waterfall hike is easily accessible for a quick trip and manageable for every member of the family.
The three tiered waterfalls flow from a spectacularly green old-growth forest and the easy, broad trail provides an excellent viewpoint from the base. At one time, there was a trail to the upper falls, but devastating winter storms in the late 1990s closed it permanently.
How to Get There: Just 7 miles south of Tillamook off of Highway 101, turn left on Munson Creek Road and follow the signs.
Entrance Fee: $5
14. White River Falls State Park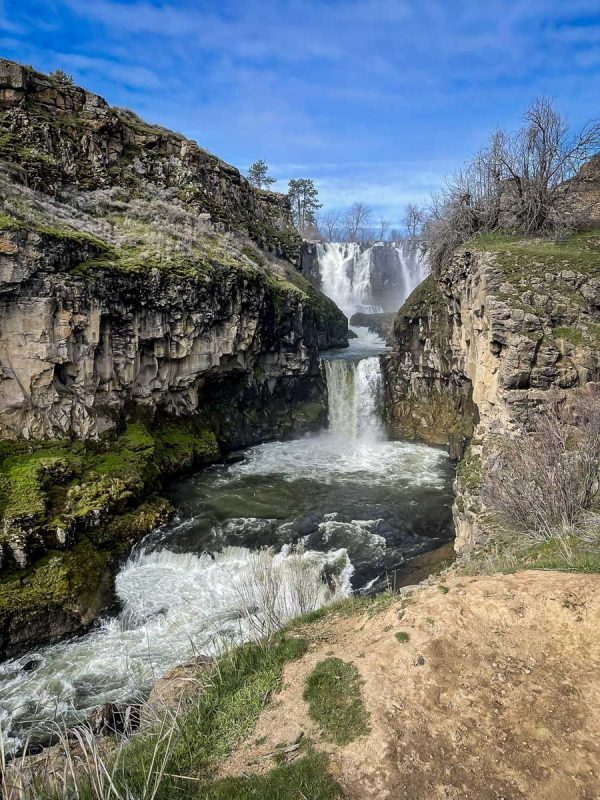 Known as Oregon's "mini Niagara," White River Falls features an impressive multi-cascade 90-foot drop over a basalt shelf. Despite being an official state park, this is one of the lesser-visited Oregon waterfalls, perhaps because of its somewhat remote location in the center of the state.
A short but steep trail leads to an old hydroelectric power plant, an interesting and unique photo-op. Go just a tad further to reach Lower White River Falls. Note that while the pool looks like a perfect swimming hole, the current here is deceptively fast and swimming is not recommended.
How to Get There: From The Dalles, take US-197 south for 28 miles to the 216. Go right and drive four miles to the state park.
Entrance Fee: Free
15. Bridal Veil Falls, Columbia River Gorge
Last but certainly not least on our Oregon waterfalls guide is Bridal Veil Falls. On the Historic Columbia River Highway, it's an easy detour when visiting Multnomah, Latourell, or Wahkeena Falls.
Bridal Veil Falls sits on the site of an old lumber mill and features two short hikes — a steep, 0.3-mile trail to the base of the falls and a half-mile trail overlooking the Columbia River and several massive rock formations including famous Beacon Rock and the Pillars of Hercules.
How to Get There: Take exit 28 off I-84 and head west for about ¾ mile to the entrance of Bridal Veils Falls State Park.
Entrance Fee: $5


You may also like…
Save this article on Pinterest for later!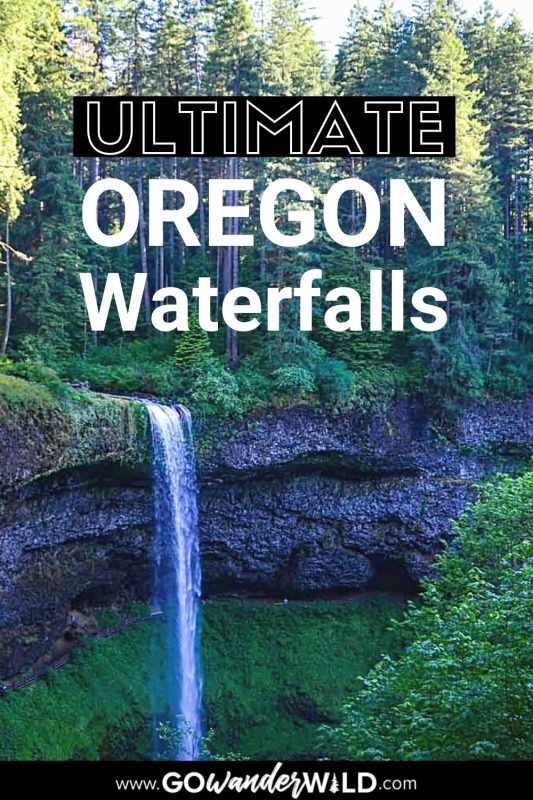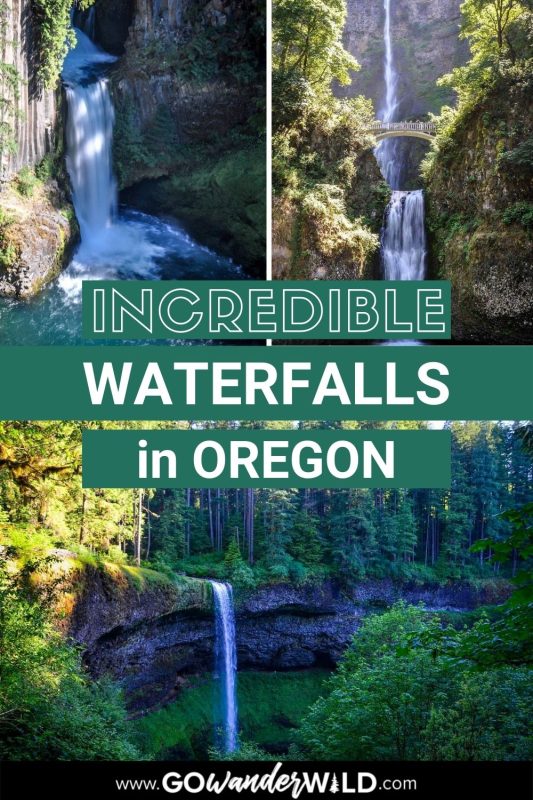 We want to hear from you!
Have you visited any of the Oregon waterfalls on this list? What was your experience like? Are you planning a trip to Oregon and want more advice? Comment below and let us know!