Stuck on what food to bring hiking, besides old stand-bys like jerky and nuts? We got you covered with this list of simple, unique hiking lunch ideas. Most of which require no cooking and minimal prep!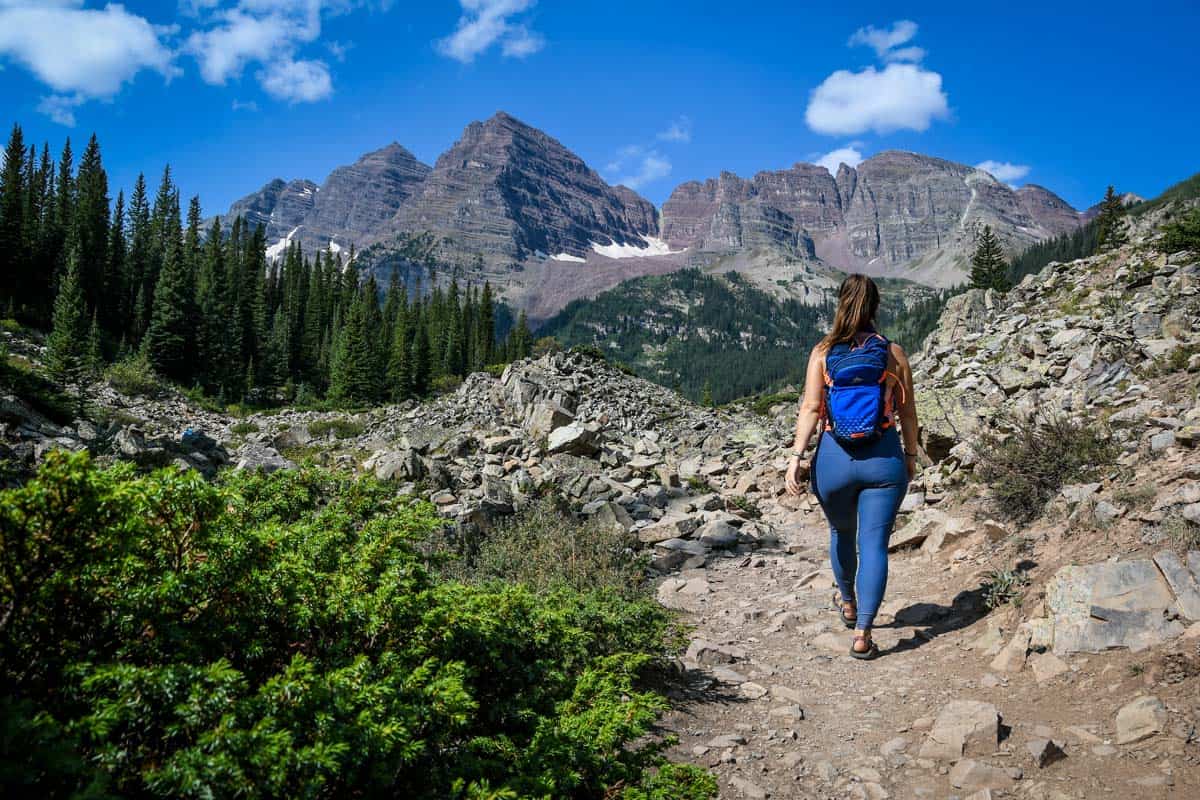 When it comes to hiking, it's all about the views…and the food! Not only does trail food taste absolutely divine, especially on long, tough hikes or when enjoyed alongside a gorgeous mountain view, but it also very literally fuels your body.
People tend to focus on hiking snacks, which are definitely essential in their own right. However, these hiking lunches can offer a more balanced and complete meal for longer trail days.
The idea is to sustain your energy with a combination of protein, carbs, and healthy fats, but also to keep it light and involve minimal ingredients and prep. With that in mind, we rounded up the best hiking lunch ideas, all of which either require no cooking or can be made ahead of time!
Psst! If you are a newbie to hiking and not sure where to start. Our friend Parker helped us put together a list of beginner hiking tips and essential info that has everything you need to know to feel comfortable hitting the trails!
1. Honey Mustard Chicken Salad Sandwhich
This simple hiking lunch is packed with a TON of protein and is versatile for a variety of other camping recipes. If you don't eat chicken you can easily swap it out for tuna/salmon. Eat this as a yummy sandwich and save the rest at home to add some fresh greens for a filling salad.
We love this hiking meal idea because you can pack it up easily in a reusable silicone bag and throw it in your daypack to hit the trail.
2. Tuna stuffed avocado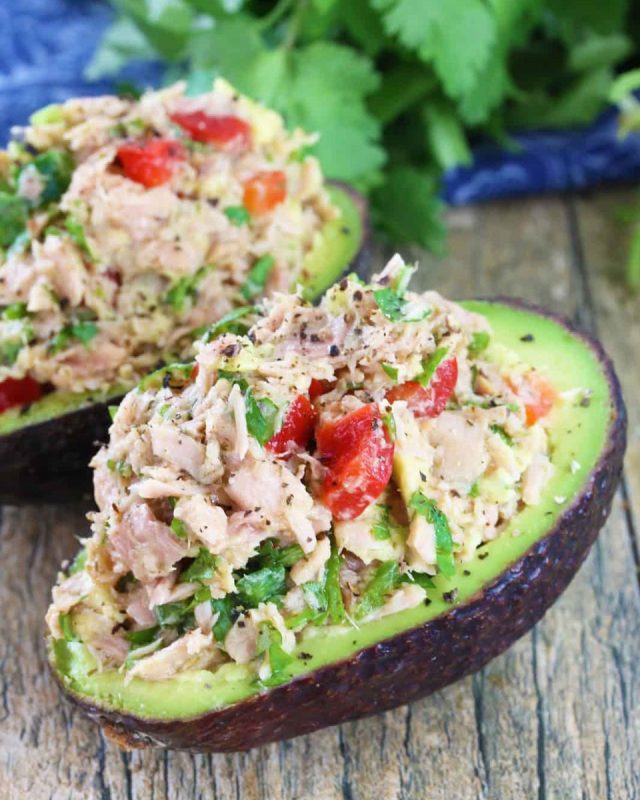 As far as hiking lunch ideas go, it doesn't get much easier, healthier, or flavor-packed than this!
Bring a ripe avocado, a packet of your favorite tuna, and any preferred condiments or seasonings ("everything" seasoning is fantastic!). Simply remove the avocado pit, creating a "bowl," then add the tuna, season, and eat!
You can easily customize this hiking lunch, adding other veggies or using flavored tuna.
2. Hiking mezze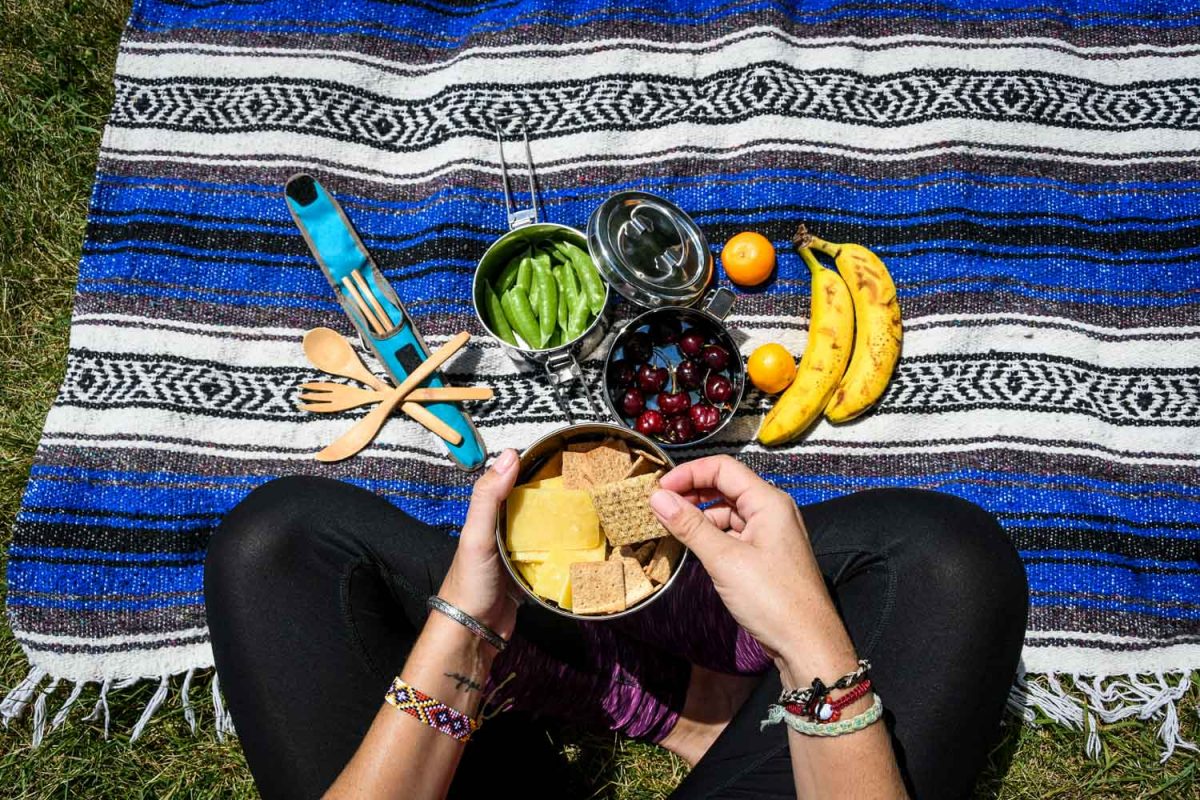 Mezze means small plates or appetizers, and it's ideal for hiking lunches. Pack a favorite bread (flatbread, pita, baguette, and crispbread-style crackers all travel well in a hiking pack), hummus or similar dip, olives, cheese, and a cured meat or two.
Not only is this an insanely tasty and easy, no-prep meal, it's also satisfying and high in healthy fats.
4. Smashed chickpea salad sandwich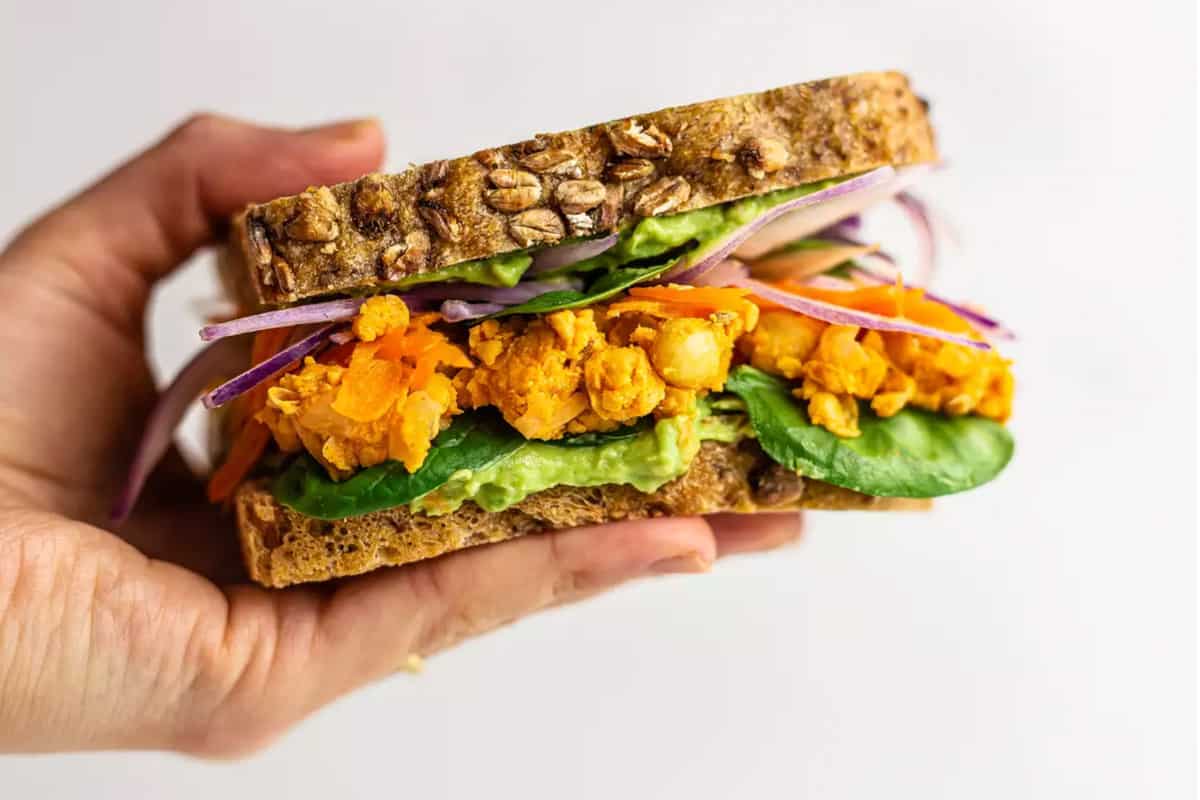 This might just be the perfect hiking lunch idea, as it's super flavorful and has an ideal balance of protein, fiber, and good carbs. Even better, it actually tastes best at room temperature!
The Mediterranean flavor profile combines chickpeas and avocado with lemon, tahini, and a variety of spices including cumin and paprika. Use your favorite bread and feel free to pile on extra veggies.
5. Bagels with lox (smoked salmon)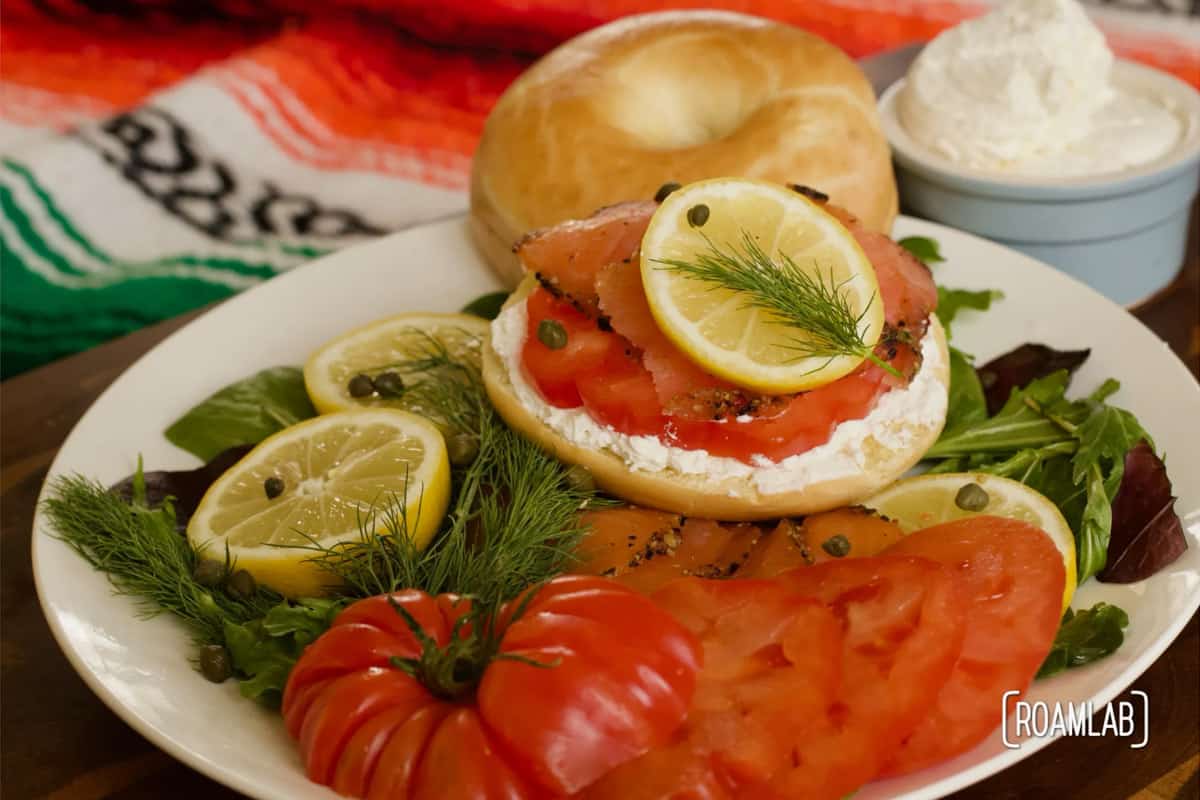 This unique flavor combo is typically associated with East Coast delis, but it happens to make an awesome hiking lunch.
All you technically need is a bagel, shmear of cream cheese, and some slices of smoky lox, but it's even better with a few capers and thin slices of red onion.
6. Easy Greek pasta salad
On long trail days, a burst of tangy flavor is sometimes all you need for a bit of motivation. This hiking lunch idea is perfectly tangy, combining feta cheese, veggies, kalamata olives, red wine vinegar, and spices.
This is a perfect make-ahead meal, but if you won't eat it for several hours, keep the dressing in a separate container until mealtime.
7. Thai chicken peanut wraps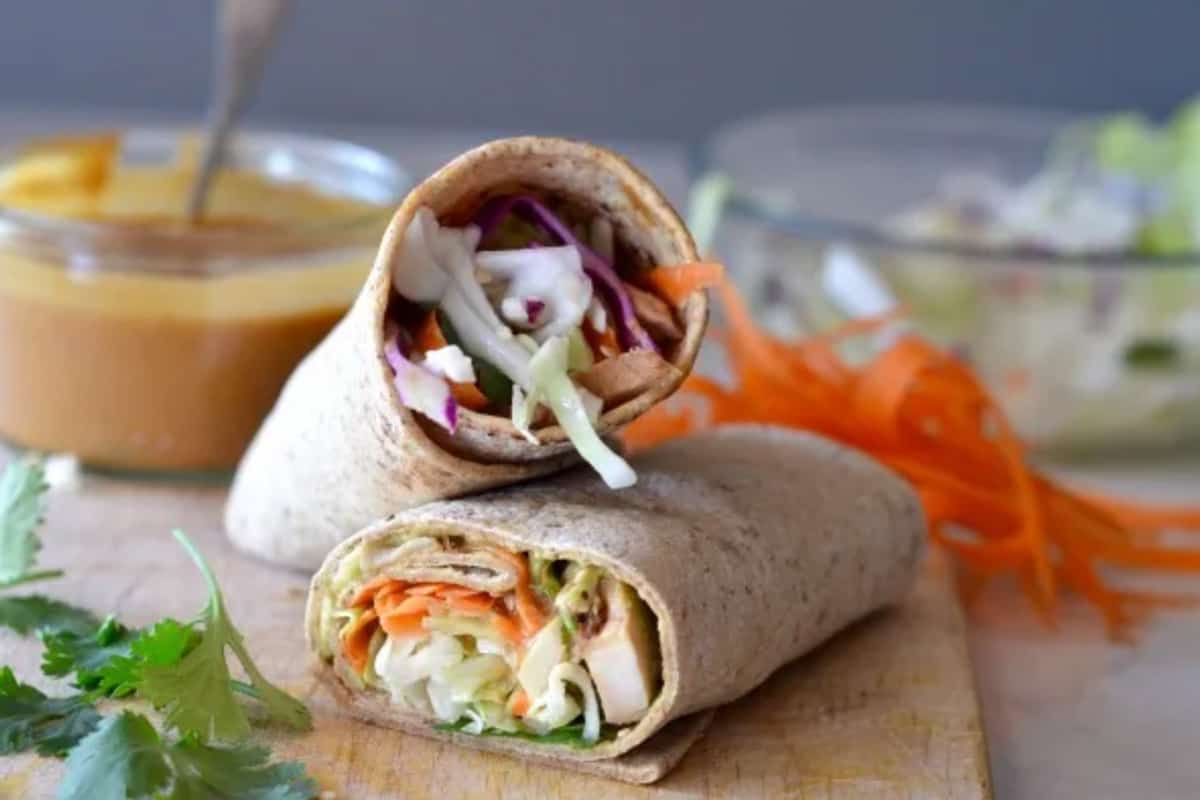 Make these sweet and savory wraps at home and wrap them in foil individually for a satisfying hiking lunch you can easily eat on the trail.
There's not a single unhealthy ingredient in these wraps, and you can easily double or triple the recipe to make a large batch (you'll want to do exactly that for the peanut sauce alone!).
To make it vegan, simply omit the chicken.
8. Savory muffins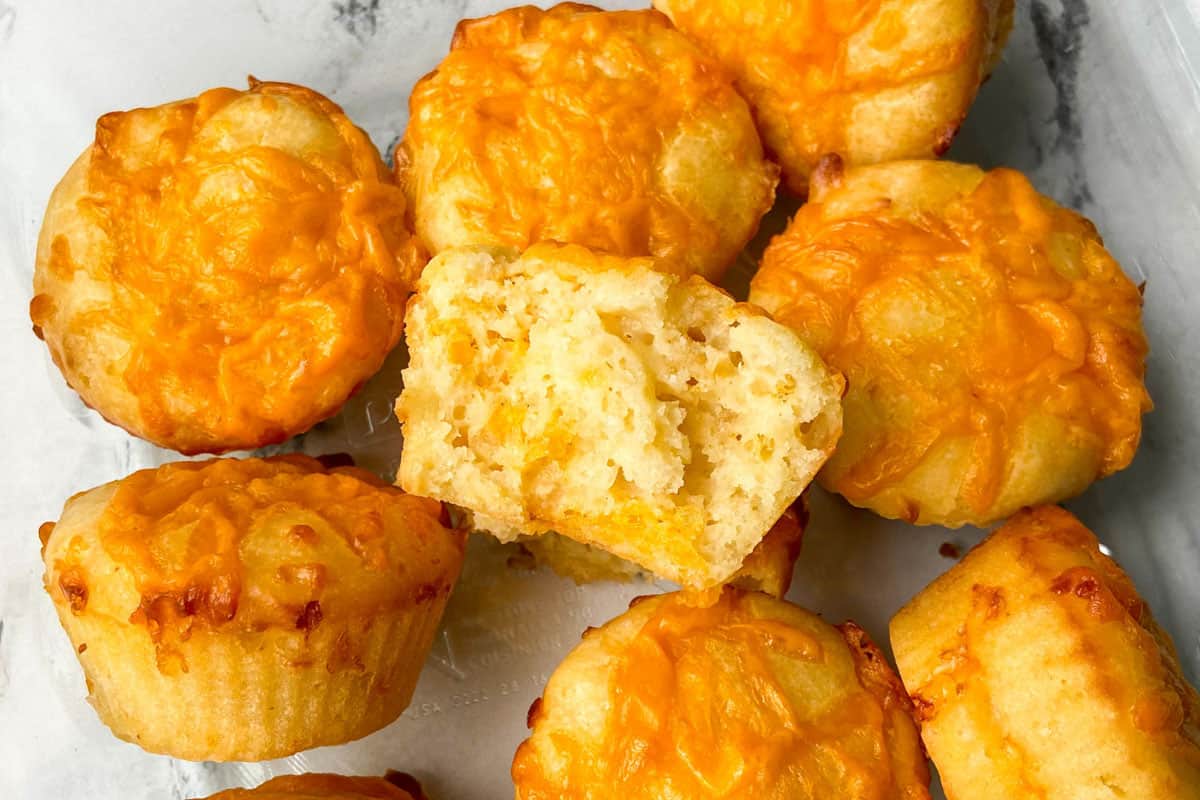 When you hear "muffin," you probably picture classic crumbly blueberry or banana nut. Delicious, no doubt, but sugary and laden with trans fats — exactly opposite of ideal hiking foods.
This make-ahead hiking lunch, however, is savory, loaded with veggies, cheese, and even meats. Great flavor combos include bacon and cheddar and feta and red bell pepper. Spinach and zucchini also blend in almost undetected.
9. Nutella, banana, and strawberry sandwiches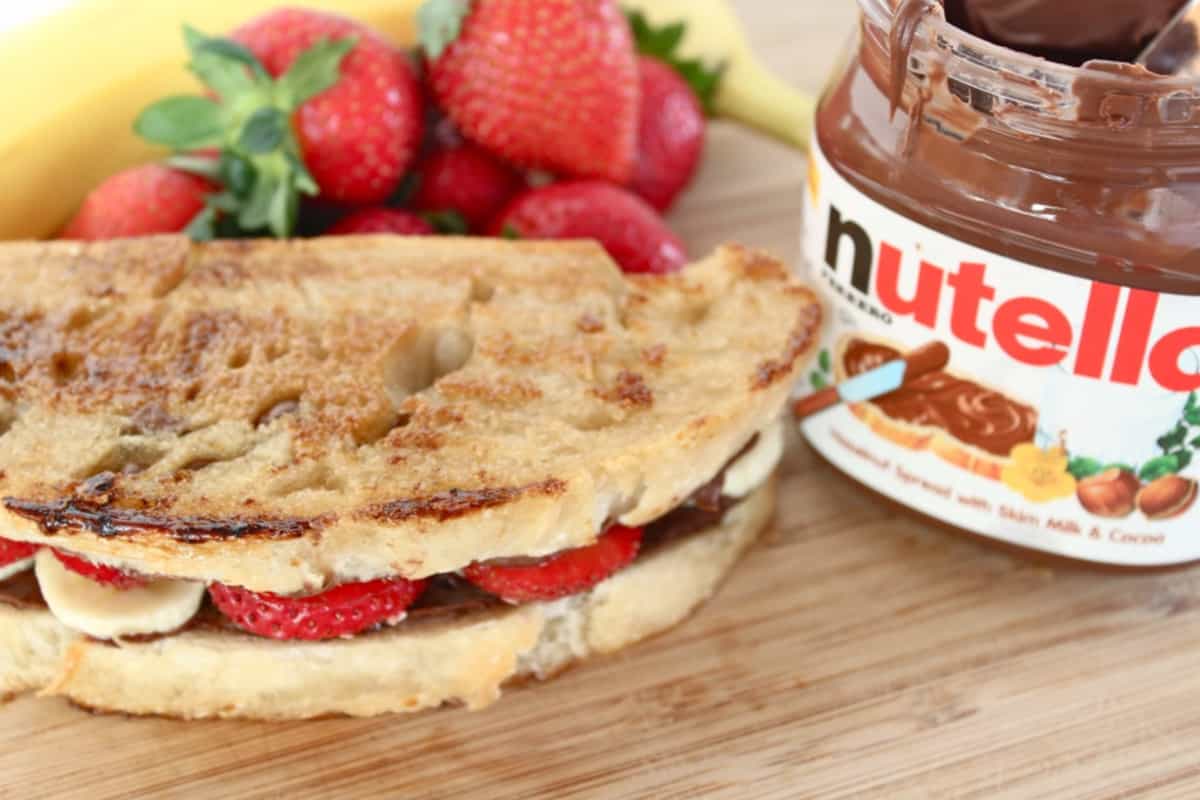 Whoever said lunch can't be sweet? This is the perfect hiking lunch for those days when you can hardly wait until afternoon and you end up eating around 10:00 am!
Top a couple of slices of hearty bread with Nutella, then add banana and strawberry slices for this sweetly satisfying meal. For an extra twist, drizzle on some honey or top with some granola.
10. Club pinwheels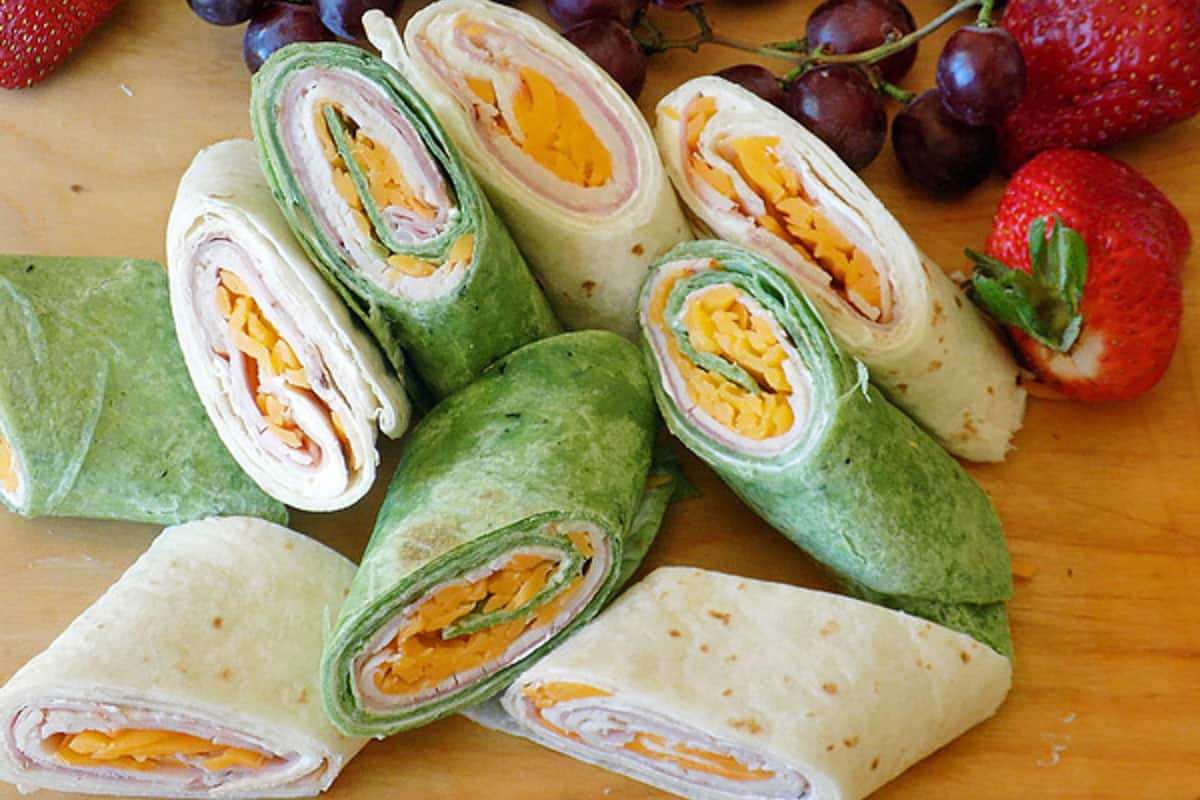 Combine the classic flavors of a club sandwich in an easy-to-eat pinwheel wrap. This recipe calls for ham and turkey, but you can add a few strips of bacon for even more protein.
The best thing about this particular hiking lunch is that you can prep the pinwheels in advance and they freeze well! Stick them in your pack frozen on your way out, and they'll be perfect by lunchtime!
11. Moroccan inspired backcountry couscous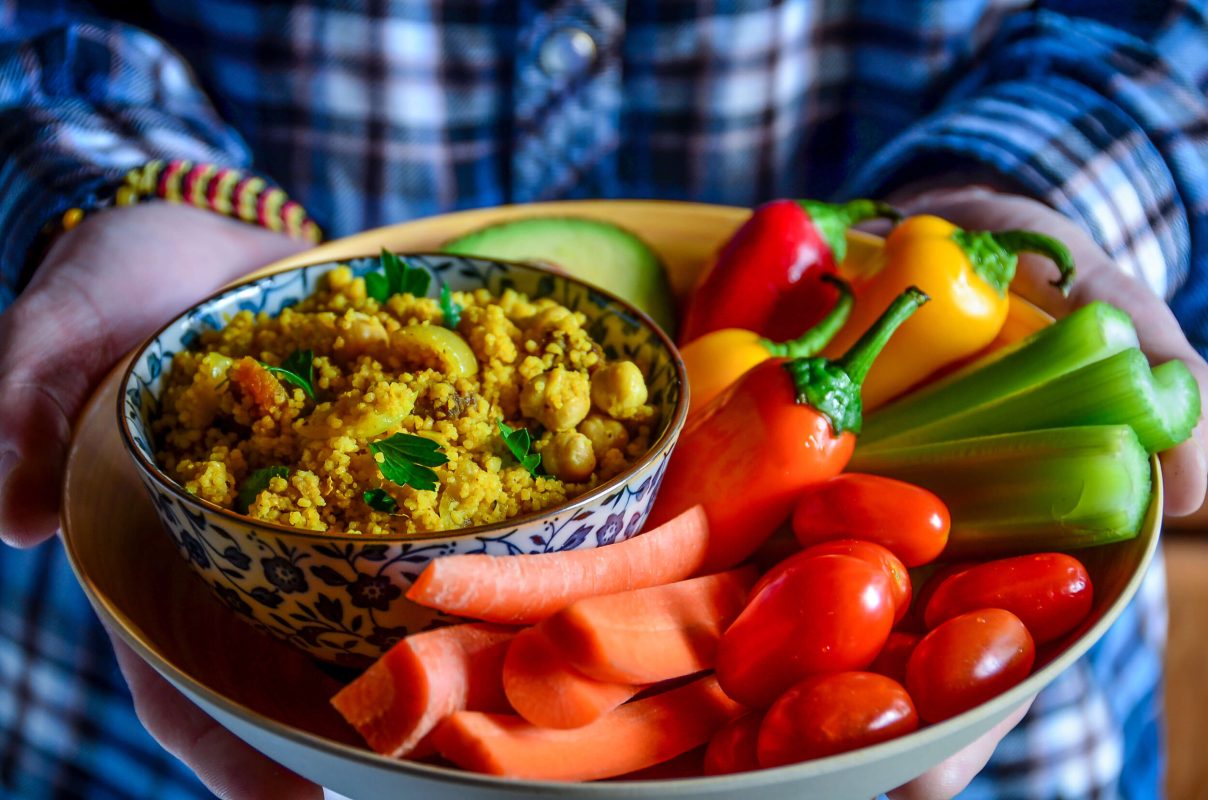 This colorful couscous salad is a perfect summertime hiking lunch idea. The proteins in this vegetarian salad will give you energy while on the trail. And of course this one is easy to mix up in advance and throw in a tupperware to hit the trails with. Bring some pre-cut veggies along as a side, and you're good to go!
12. Nut butter, honey and banana tortilla roll-ups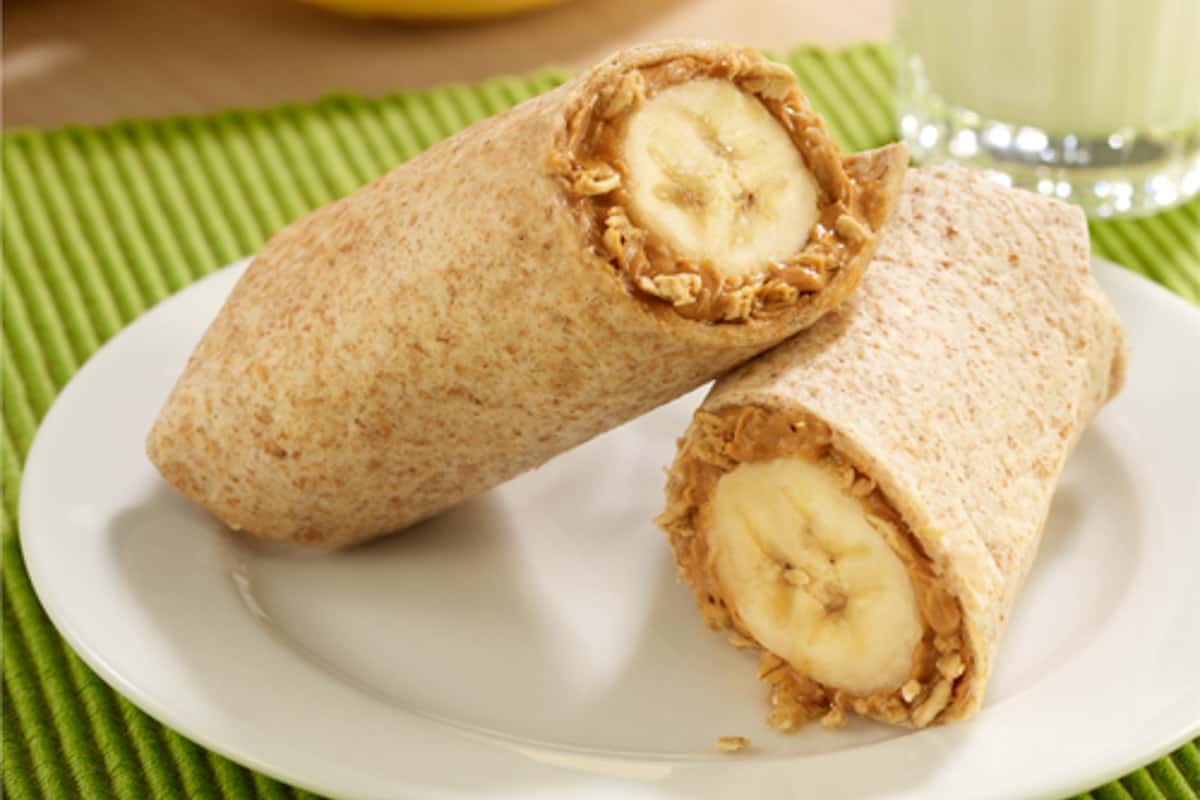 Sometimes, the best hiking lunch ideas are also the most simple. This tasty, no-bake light lunch is perfect any time of day and super easy to eat while you're physically on the go.
Because it's so customizable (pick your favorite nut butter, swap jam or Nutella for honey, or sprinkle on your favorite granola!), it's also a great option for even the pickiest eaters.
13. Asian quinoa power salad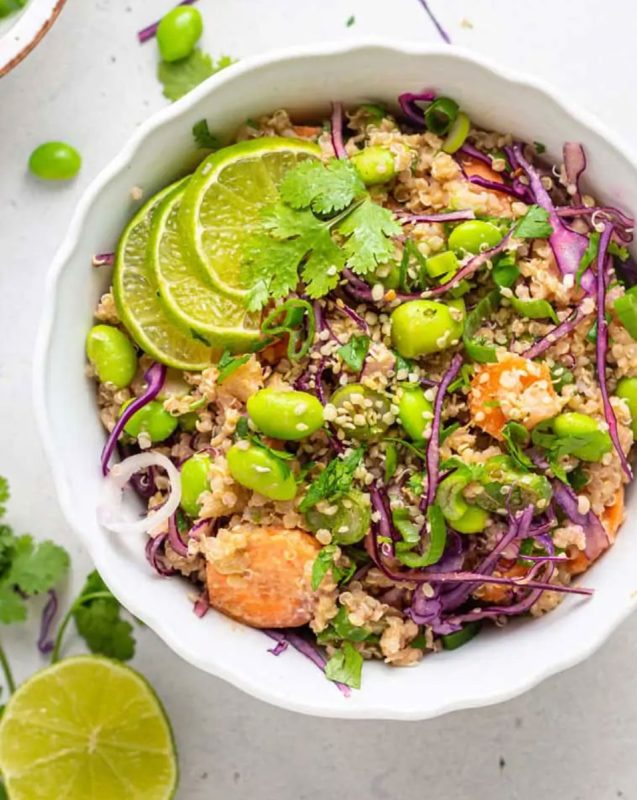 Quinoa is a superfood, high in protein and packed with healthy carbs and fats, amino acids, fiber, and more. Add some colorful veggies and tangy ginger-miso dressing, and you have one of the best hiking lunch ideas!
This salad comes together in just 10 minutes, doesn't need to be refrigerated, and can easily be customized.
14. Cucumber cream cheese wraps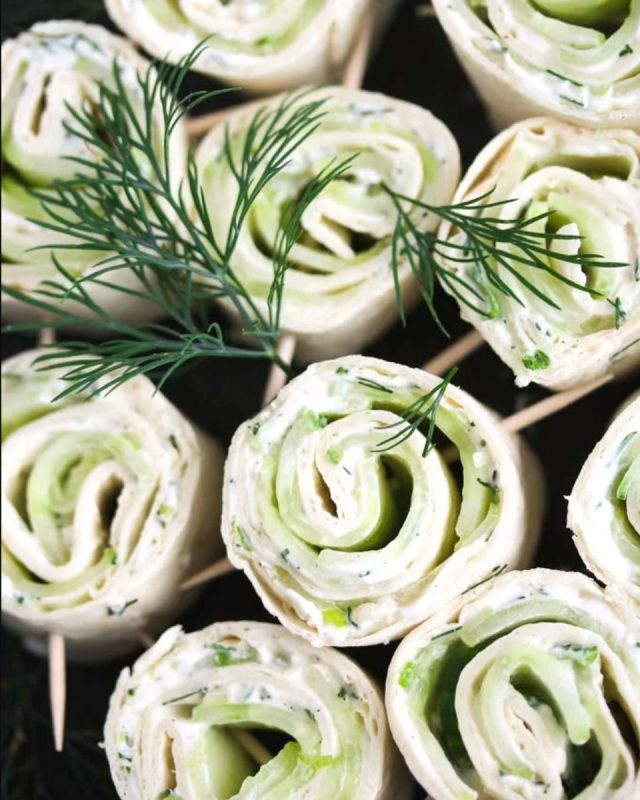 This super simple hiking lunch idea is a trail-friendly take on English-style cucumber tea sandwiches. Put into a tortilla, they become especially portable!
Simply add cream cheese, cucumber slices, fresh green onion, and dill to your tortilla, and you have the perfect lightweight hiking lunch! If you get low-carb tortillas, this easily becomes a keto-friendly meal and you can make it vegan with a dairy-free cream cheese.
15. Layered BBQ chopped salad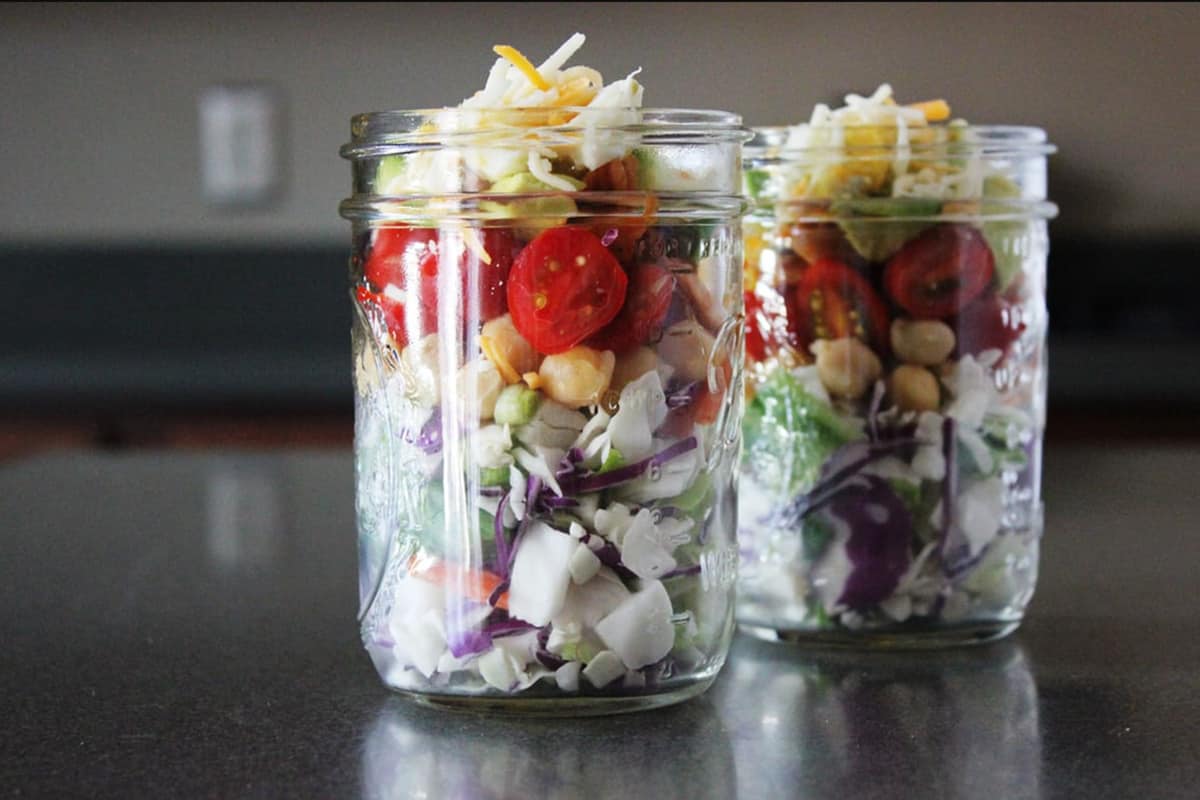 Originally a pretty, Pinterest-worthy recipe made in mason jars, this salad adapts extremely well to the trail as a great hiking lunch.
Layer all the ingredients into tupperware or stick with a mason jar if you don't mind a bit of extra weight. You could even get away with a thicker ziplock! Remember to keep your dressing separate so the salad doesn't get soggy!
16. Apple & peanut butter stackers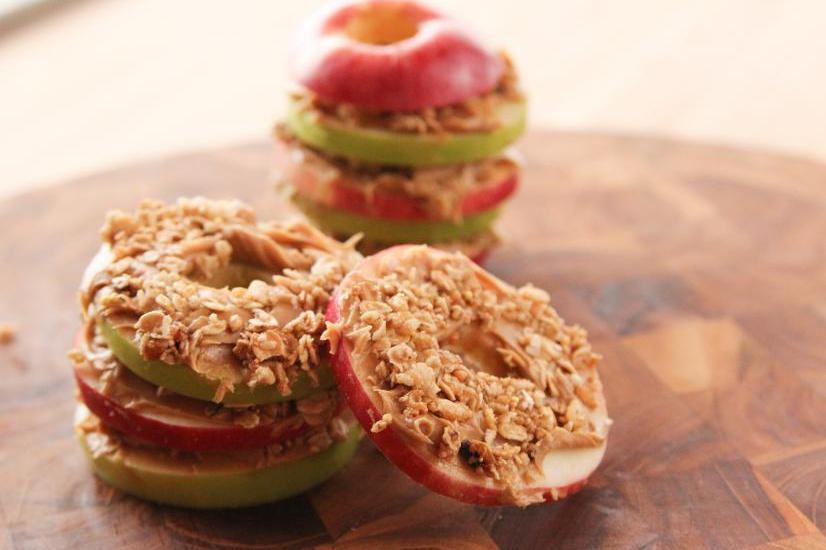 For those more laid-back trail days when you need something just a bit more substantial than a snack and also don't want anything heavy, this is one of the best hiking lunch ideas!
Apple and peanut butter stackers are tasty, portable, easy to make ahead of time, and very customizable. The combination of the apple and nut butter also provides a one-two punch of protein and natural sugar.
17. Black bean & quinoa burritos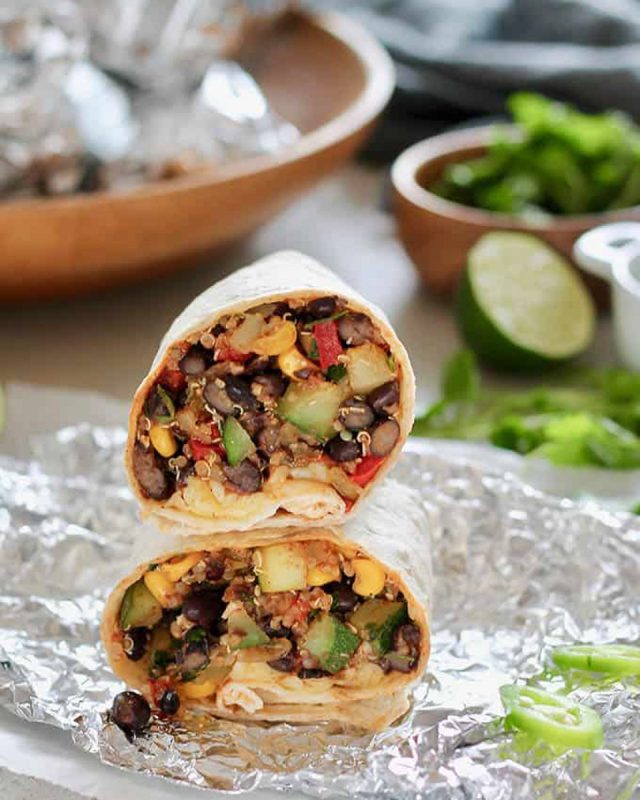 Quinoa makes another appearance in this hiking lunch idea, this time pairing up with fiber-rich black beans and tons of veggies.
Make these flavorful burritos ahead of time, wrap them individually in foil or wax paper and freeze. Pull one or two out before hitting the trail and a few hours later, it'll be perfect.
18. Trail pizza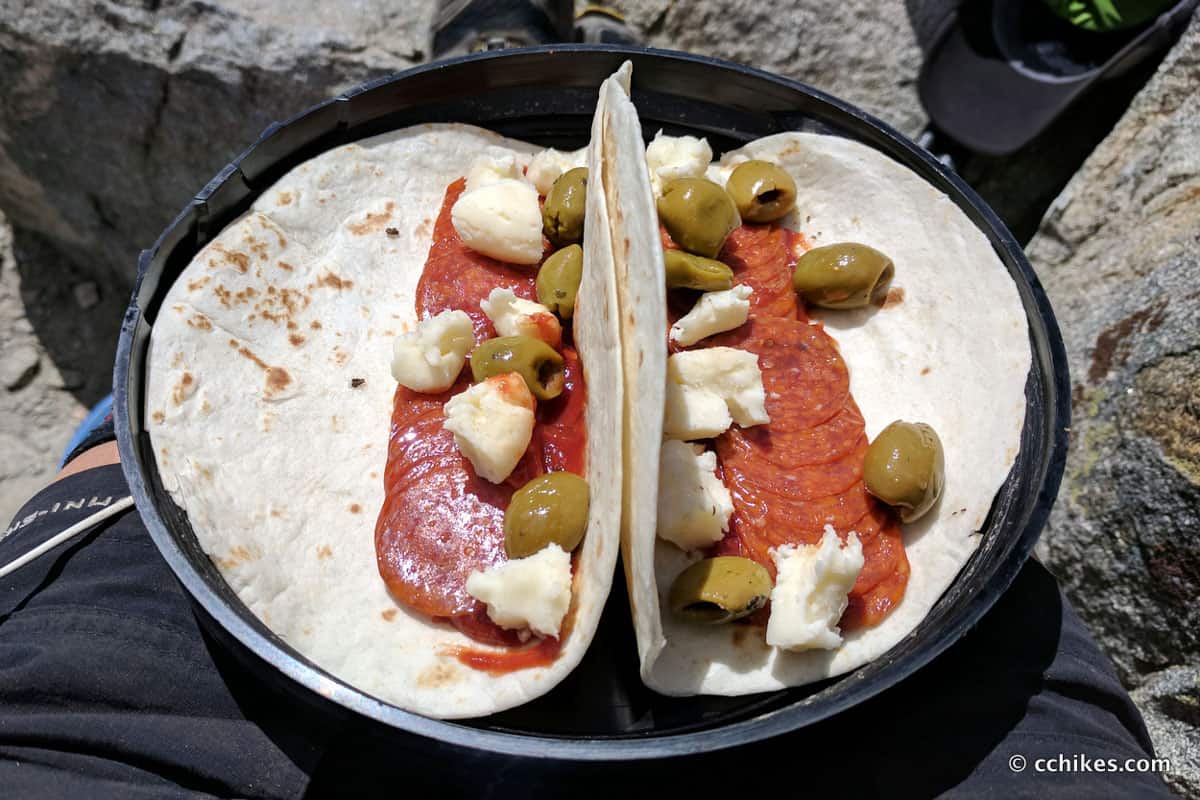 We've all been there: as the miles click by on the trail, you start thinking about food. Inevitably, those thoughts seem to wind up back at burgers or pizza, something hearty and deeply comforting. With this hiking lunch idea, you don't have to wait!
Using tortillas, packaged sauce, and your choice of ingredients including spreadable cheese, pepperoni, and veggies, you'll have delicious trail pizza in minutes, no oven needed!
19. Veggie-loaded chicken salad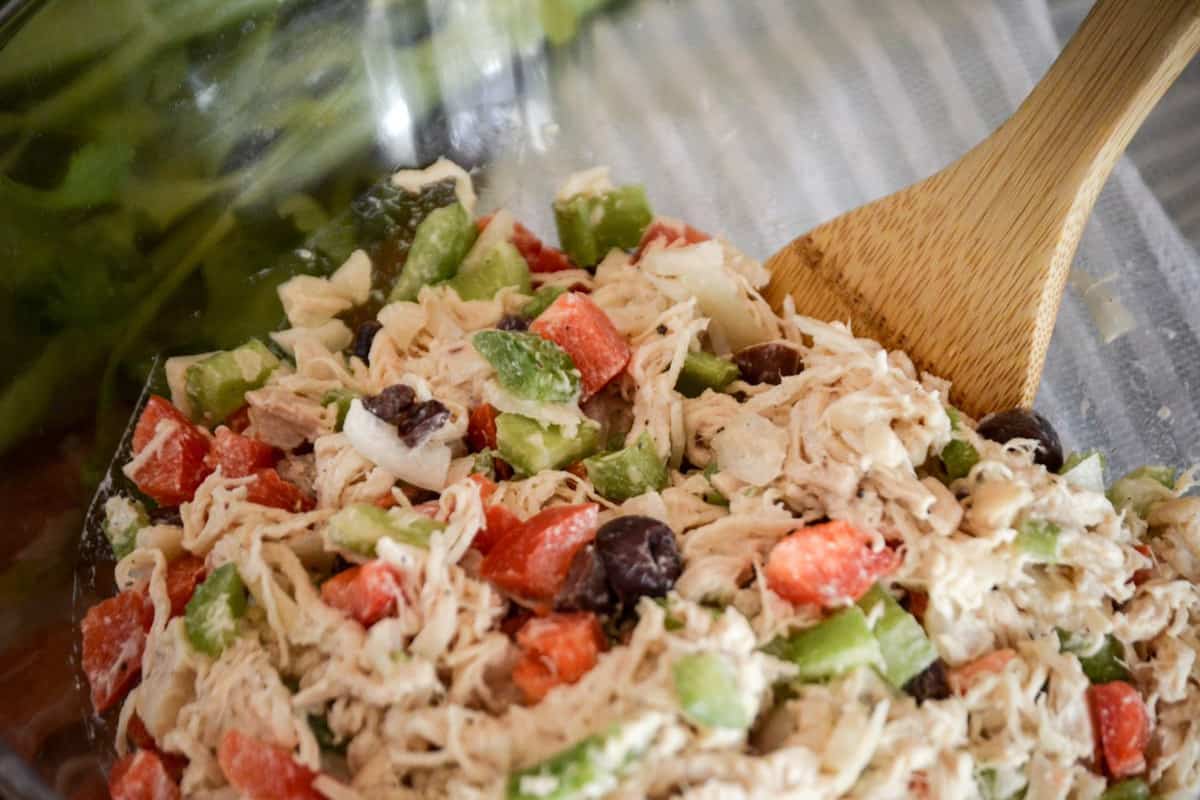 Chicken salad is a staple meal for the outdoors in its own right, but this version is loaded with a variety of veggies, making it especially good for hiking. Spinach and shredded cabbage and carrot work beautifully, but feel free to add celery, water chestnuts, or nuts for a crunch.
Pro tip: Use rotisserie chicken to cut prep time down even more!
20. Black bean salad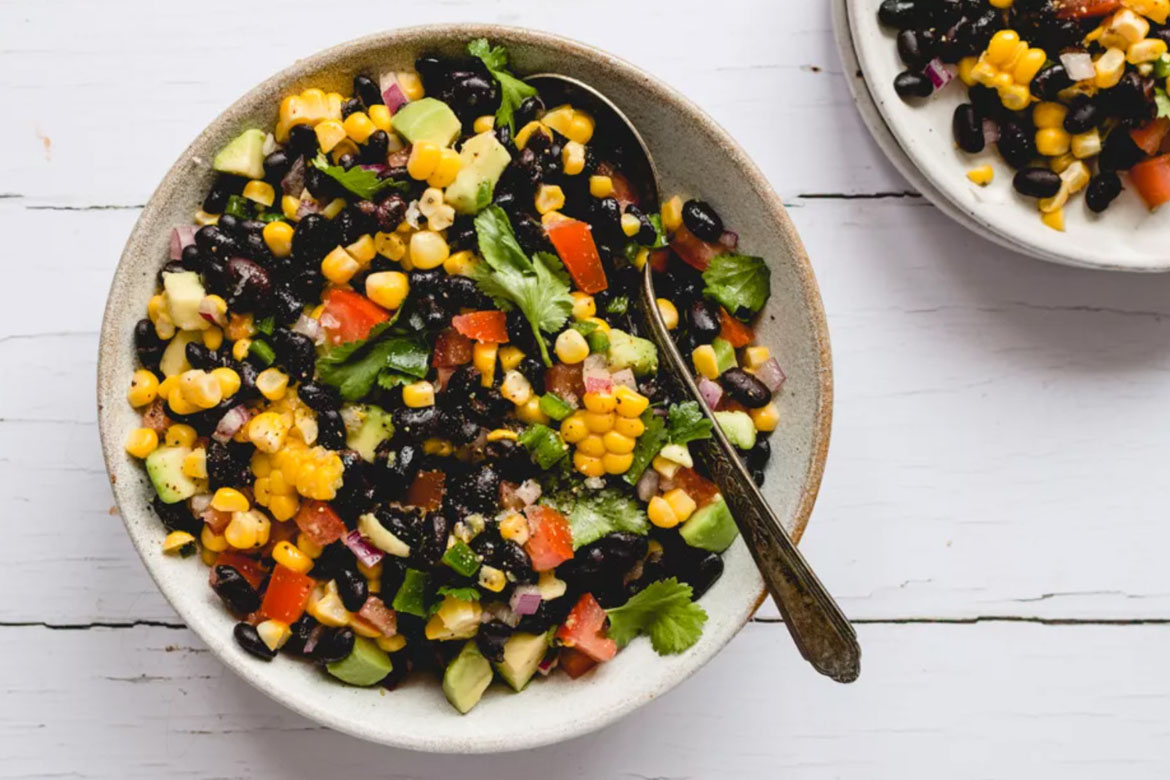 Outdoor activities can burn a lot of energy that causes the infamous hiker's hunger. In those times where you want food fast, you can prepare this salad at home and then enjoy it with tortilla chips while on the trail. It's fresh and easy to make, plus it's loaded with protein!
21. Jerk chicken bowls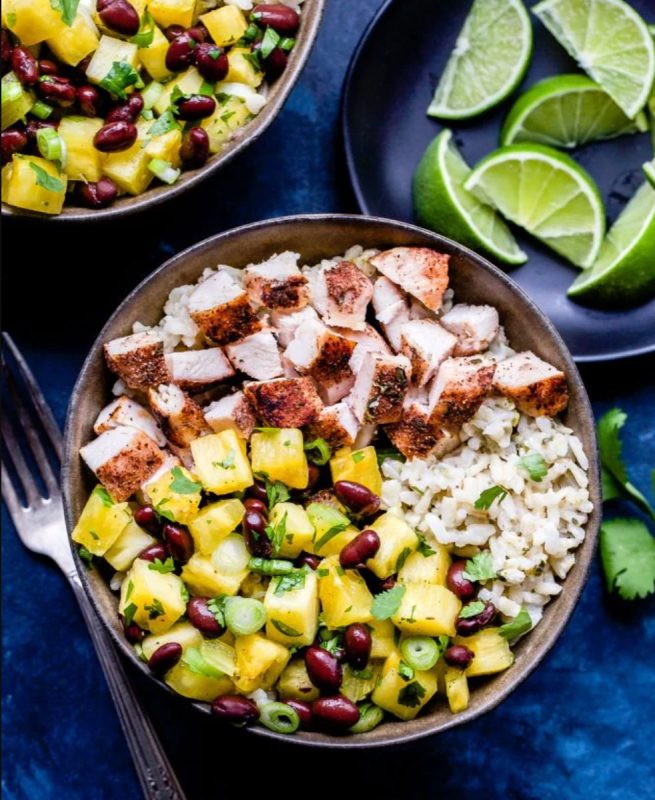 We love flavorful hiking lunch ideas that are both healthy and easy to prepare. These jerk chicken bowls can be prepped and assembled ahead of your hike and are jam-packed with protein. Serve these in a bowl or put the rice, chicken, and mango salsa into a warmed tortilla for yummy taco wraps.
22. Asian chopped salad with spicy peanut dressing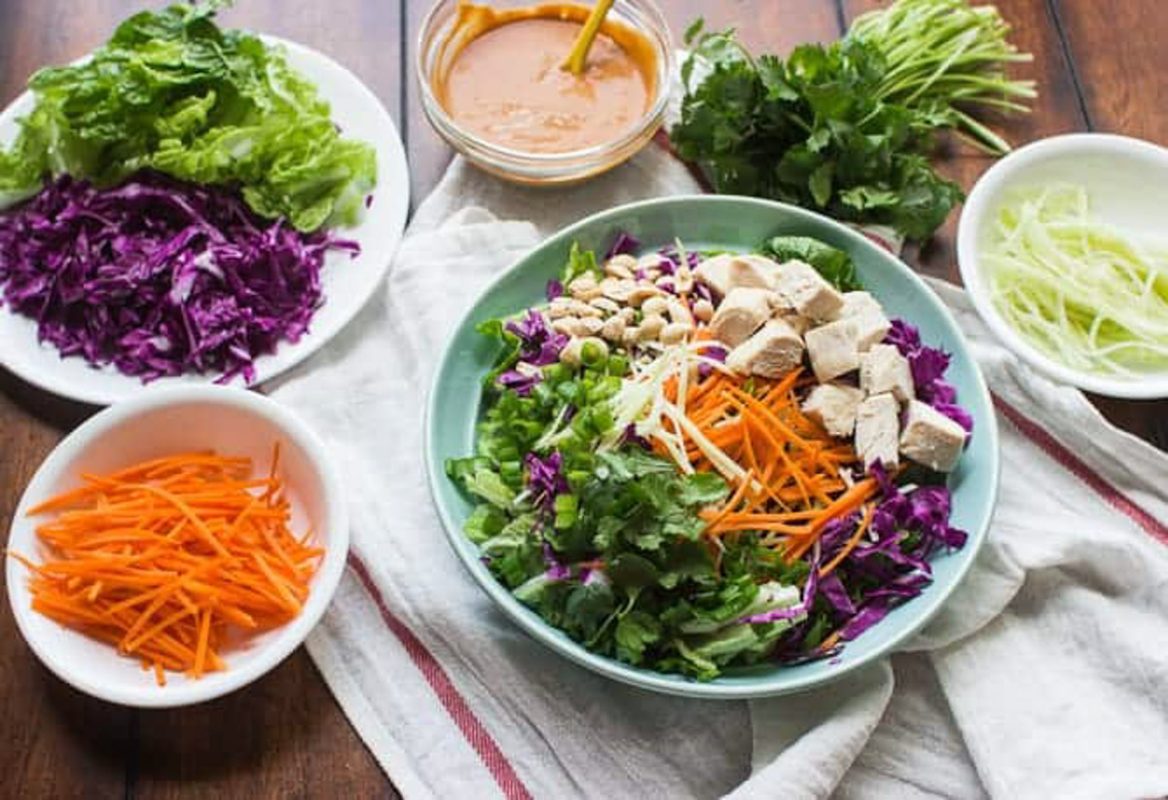 Unlike other salad recipes that will leave you reaching for snacks, this hiking lunch will have you feeling energized and satisfied. Chop all the ingredients ahead of time to put these together in under 10-minutes. The ultimate quick and easy hiking lunch idea!
23. Pesto chicken wraps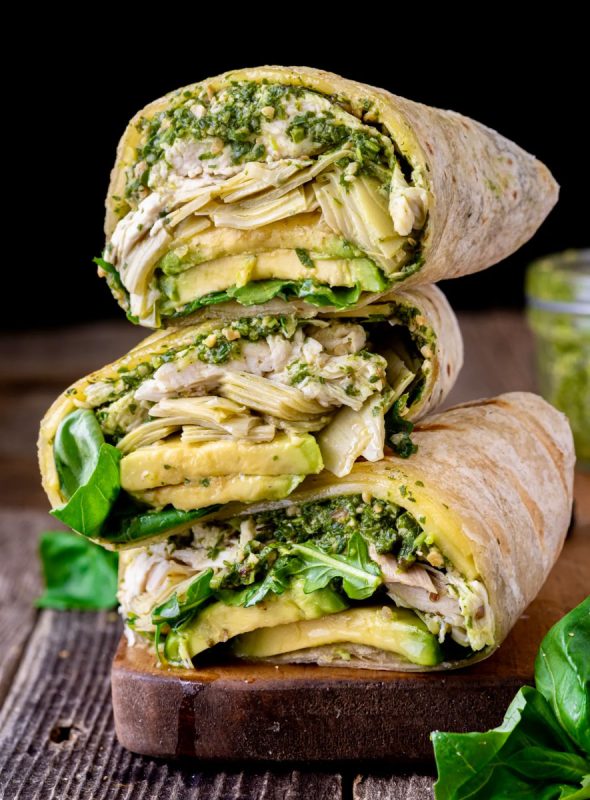 This veggie-loaded sandwich can be made in advance and easily eaten on the trail. Use hummus, baba ganoush, or another favorite dip as the spread, then pack in the veggies! This recipe doesn't call for it, but adding alfalfa sprouts gives you a mega vitamin boost.
If you're not going to eat these for several hours, bring the hummus/dip on the side, so your pita doesn't get soggy.
24. Antipasto Salad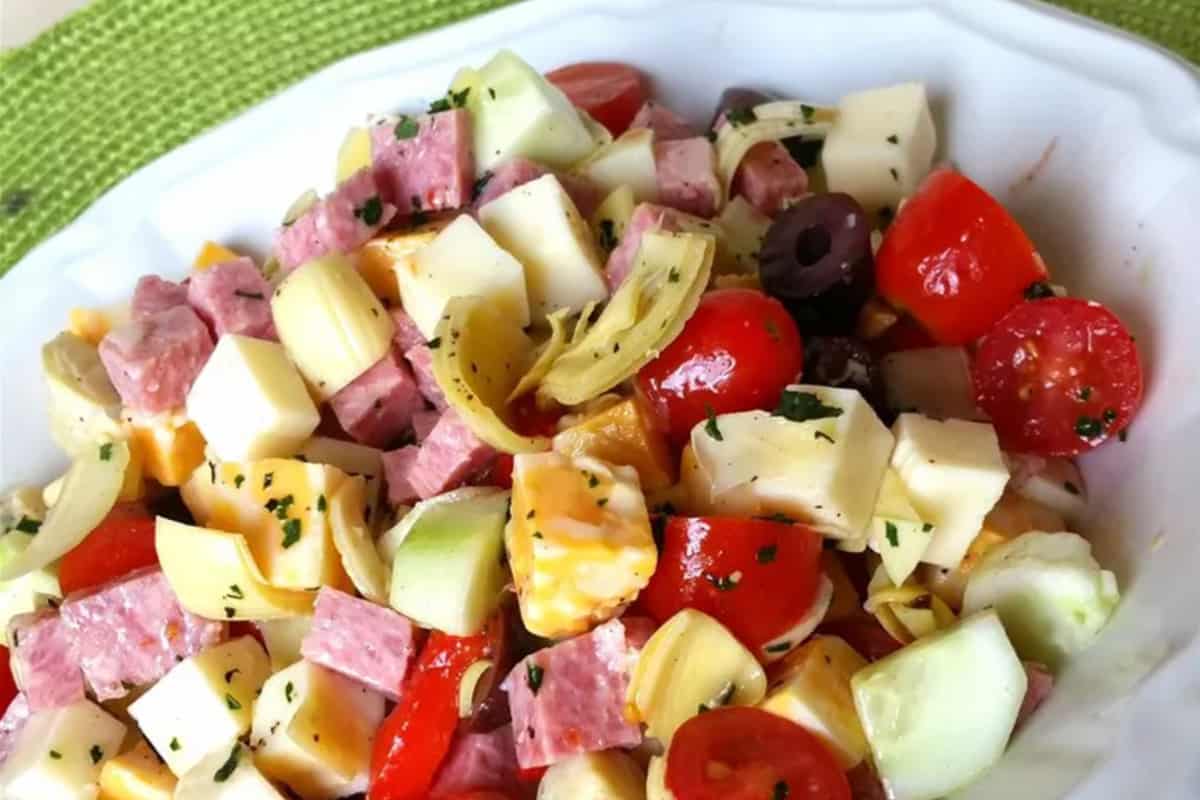 Antipasto salad, made up of a variety of deli meats, cheeses, and veggies, lends itself especially well to a hiking meal. The blend of carbs, fats, antioxidants, and vitamins is the perfect combo to give you a little burst during lunch.
25. One pot pesto pasta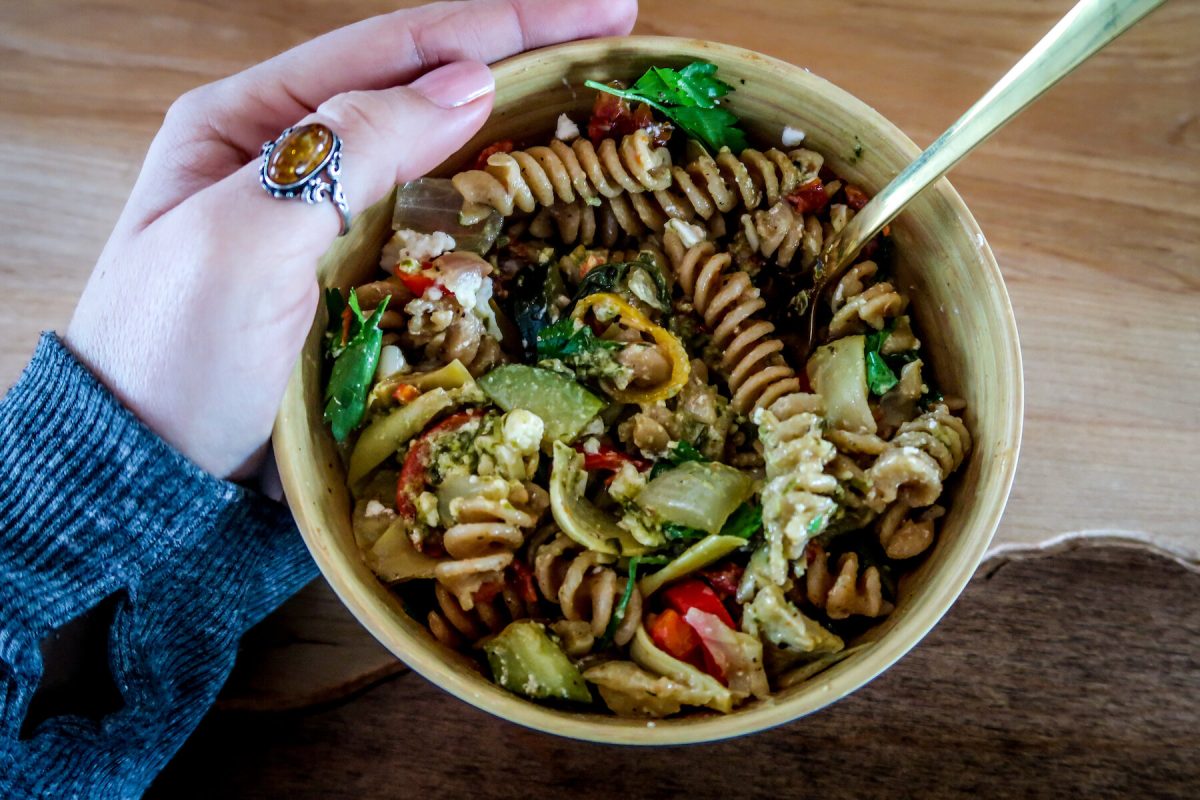 This veggie-packed, flavorful pasta salad is more filling that you would think, making it one of our go-to hiking lunch ideas. Plus, the main ingredients are shelf-stable, making it perfect for off-grid camping or vanlife. And this dish is a favorite of ours because the clean up is super easy using just one pot.
Be sure to grab our ultimate hiking packing list includes our must-have gear for any hiking trail!


You may also like…
Save this article on Pinterest for later!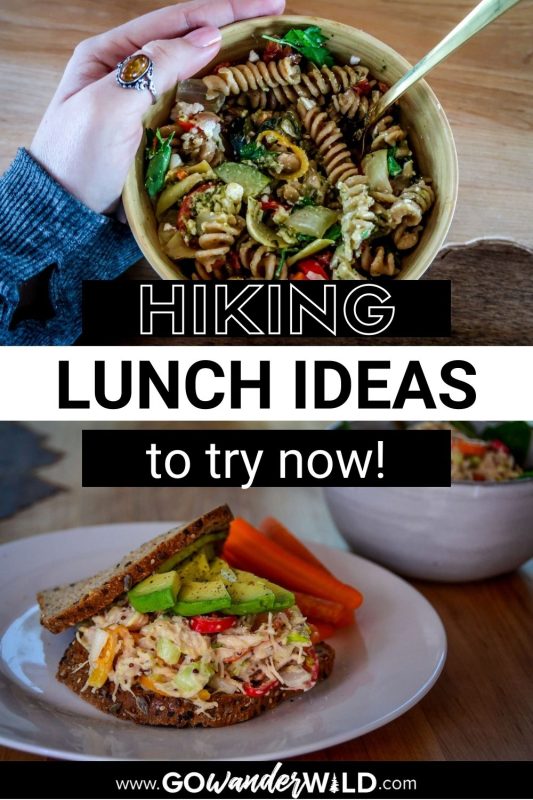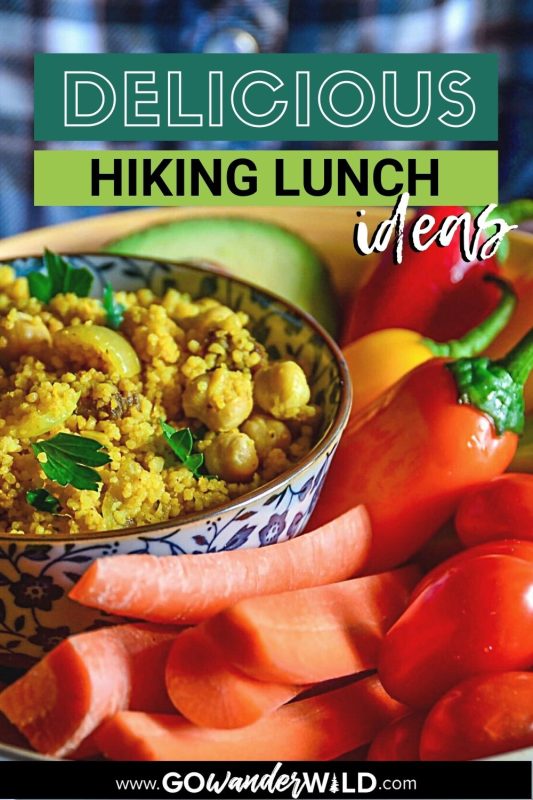 We want to hear from you!
What's your favorite hiking lunch idea from this list that you cannot wait to try? Are there any other hiking lunch favorites you think we've missed? Comment below and let us know!