There is no shortage of incredible hikes in this national park. Our advice is to figure out which hikes you really want to do, and create your Grand Teton itinerary around them. We put together a detailed list the most epic Grand Teton hikes to help you plan your route.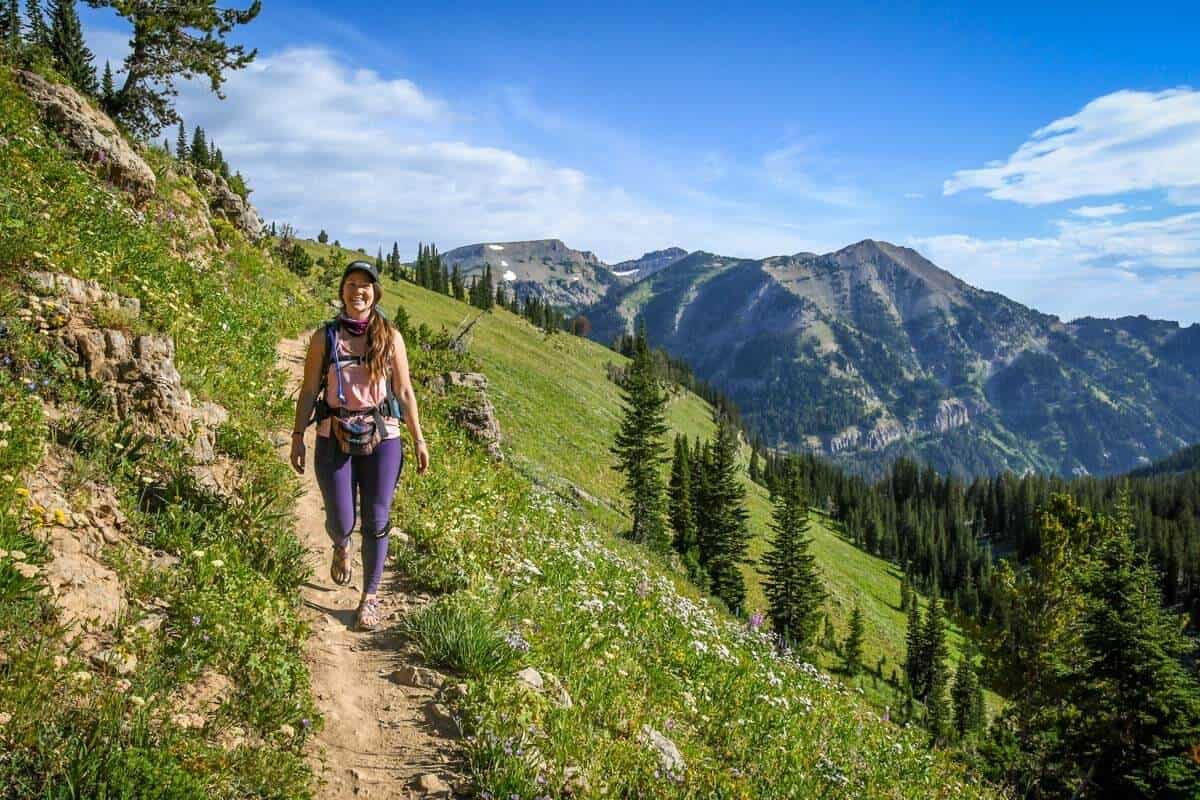 The best way to experience Grand Teton National Park is by hiking. In fact, the best views of the Teton Mountain Range are not actually in the Tetons but around them. Experience the mountains, alpine lakes and meadows and plenty of wildlife spotting this park is known for as you make your way around the park by foot.
There are tons of hikes all around the national park with trails for all levels of hikers. More popular hikes get super busy so it's good to have a plan. The off the beaten path hikes may require even more planning or backcountry permits, so keep that in mind. Our advice is to figure out which hikes you really want to do, and create your Grand Teton itinerary around them.
We've put together a list of the best Grand Teton hikes, from quick and easy loops to longer day hikes and the best backcountry routes, so you can plan out your hiking ahead of time and spend more time hitting the trails.
One more important note: If you're planning to hike a lesser known trail, be sure to carry bear spray and/or a bell because bears are common in these parts!
Psst! Check out our entire Grand Teton National Park guide on our sister site for more information on visiting the national park and what you can expect.
America the Beautiful Park Pass

If you're planning to visit more than one of the U.S. national parks, we'd highly encourage you to look into getting an annual park pass. At $35 per vehicle for the entrance fee, visiting Grand Tetons along with most other national parks in the U.S. can get expensive.
For just $80 per year, you can purchase the America the Beautiful park pass. This pass grants you free access to all of the national parks. Plus it also covers your entrance to over 2,000 natural, historical, and recreational sites across the United States.
If you still need convincing, check out our article: America the Beautiful Annual Park Pass: Is it Worthwhile?

Single-day hikes in Grand Teton
There are seemingly endless hikes to choose from in this national park, but here are some of the top single-day trails to put on your itinerary.
1. Delta Lake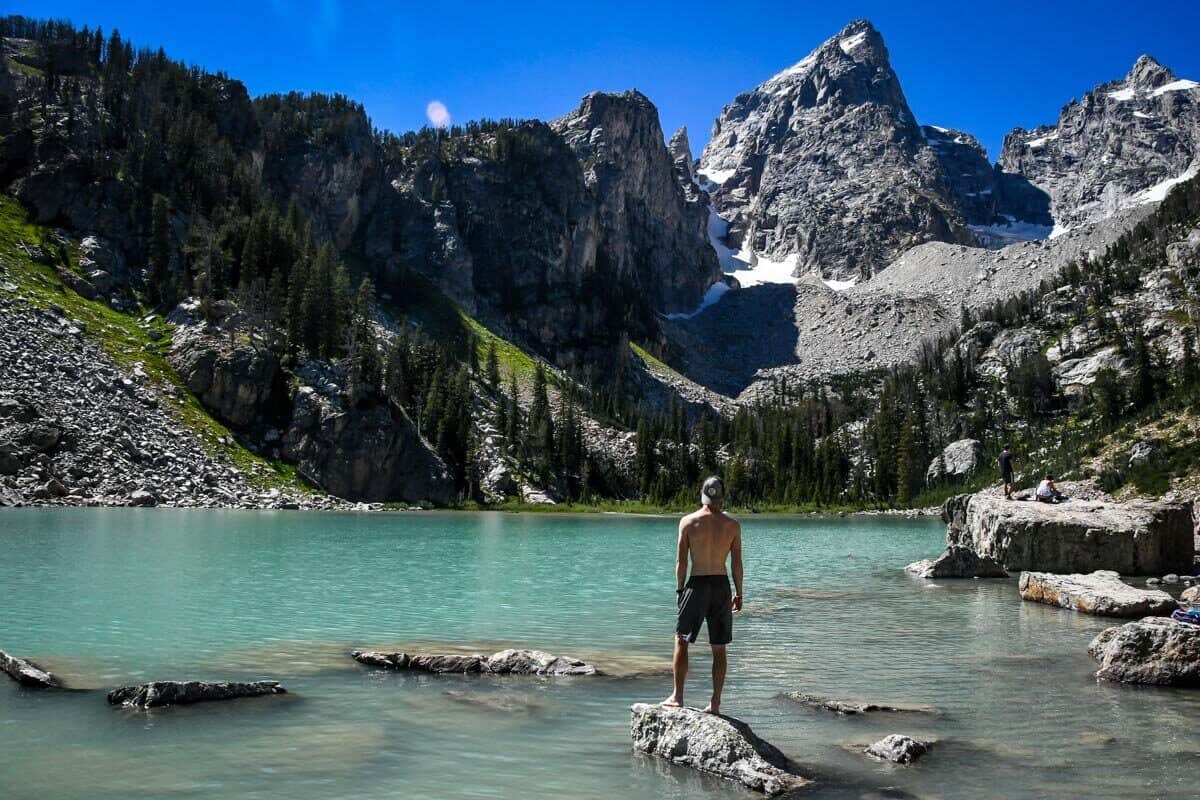 Distance: 8.8 miles, out & back
Elevation: 2,329 ft
Difficulty Rating: Hard
The shockingly turquoise water of this glacial lake is insanely gorgeous and is the perfect reward for a pretty difficult hike. A portion of the out-and-back trail is not maintained by the National Park Service, so you won't find the trail on an official Park map. You'll have to scramble over boulders and rely on cairns (those little rock towers left by other hikers) to find your way.
Don't let this trail's unofficial status deter you. Easily one of the best Grand Teton hikes, the trail is actually quite popular and we saw plenty of other hikers along the way. Be sure to pack some snacks to enjoy while cooling off your toes in the chilly water. This was our favorite hike in Grand Teton National Park (for the reward at the end!).
How to get there: Because this trail isn't on any official maps, we'd recommend downloading the AllTrails app and following the GPS for the Delta Lake Trail. Below are general instructions on how to find the trailhead.
Enter Grand Tetons National Park and make your way to the Lupine Meadows Trailhead parking lot.
Tip: We'd recommend getting to the lot as early as possible. This popular parking area fills up fast!
Begin your hike on the Valley Trail from Lupine Meadows Trailhead for about a mile or so. When you reach the first junction, take the Garnet Canyon Trail towards Surprise and Amphitheater Lakes.
Count six switchbacks and you will reach the offshoot for the Delta Lake trail in the middle of the sixth. At this junction, continue on the trail towards the Surprise and Amphitheater Lakes and finish the switchback.
Look down the hill to the north side of the trail and follow the man made steps built into the trail. At this point (around the 3-mile marker) you've officially made it to the Delta Lake 'trailhead'.
2. Taggart Lake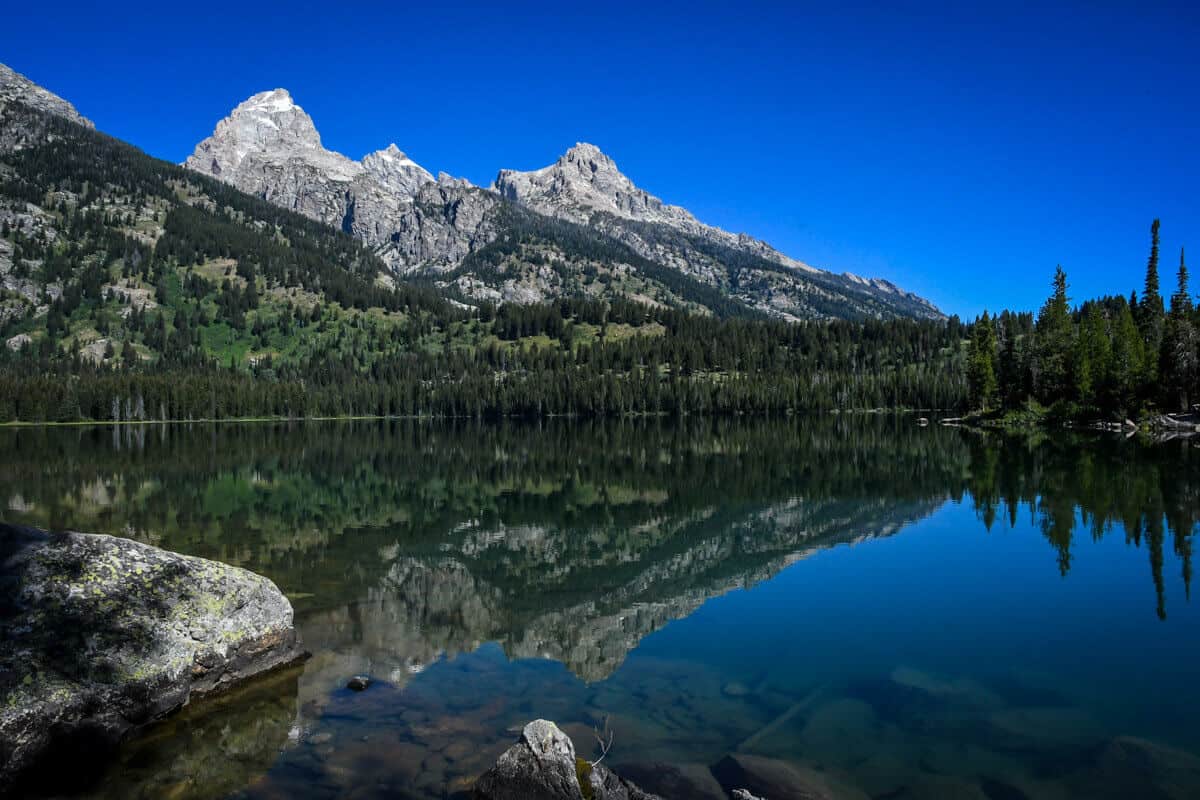 Distance: 4.1-mile loop
Elevation: 429 ft
Rating: Easy
A relatively short and easy hike, this trail offers you stunning views of the Teton Mountain Range the entire way, ending at a beautiful lake flanked by the Tetons. The trail, which follows mountain streams and leads through open fields and beautiful Aspen groves is best experienced during the fall when the leaves are turning colors. Aside from the beautiful scenery, keep your eyes peeled for moose, elk and black bear along the way.
It is possible to hike to Taggart Lake via an out-and-back trail. However, instead of returning on the same trail you took in, we'd recommend doing the loop as it gets less crowded after the lake. Hike in a counter-clockwise direction for less of an elevation gain.
How to get there: The Taggart Lake trailhead is located on Teton Park Road just about 3 miles north of the South Park Entrance.
Insider Tip: Come in the morning while the lake is calm and mirrors the mountains in its waters.
Psst! If you are a newbie to hiking and not sure where to start. Our friend Parker helped us put together a list of beginner hiking tips and essential info that has everything you need to know to feel comfortable hitting the trails!
3. Jenny Lake + Inspiration Point + Hidden Falls
Distance: 4.9-mile loop
Elevation: 590 ft
Rating: easy
Starting at the Jenny Lake Visitors Center, there are many ways to hike to these three points of interest, but we'd recommend combining all three.
Jenny Lake is the second largest glacial lake in the Park covering over 1,100 acres. While you can walk around the entirety of Jenny Lake, the best view will be had at Inspiration Point, which is located on the west side of the lake, and requires just a short uphill climb. From the viewpoint you'll have unparalleled views of Jenny Lake, Jackson Hole, as well as the Gros Ventre Mountains in the east.
Tip: Photos will be looking directly into the sun in the morning, so you'll get better shots once midday has passed.
From Inspiration Point, Hidden Falls is just a short distance away. Situated near the mouth of Cascade Canyon, these falls create a thundering cascade dropping 100+ ft. over a series of rocky ledges and are well-worth the extra effort for a visit.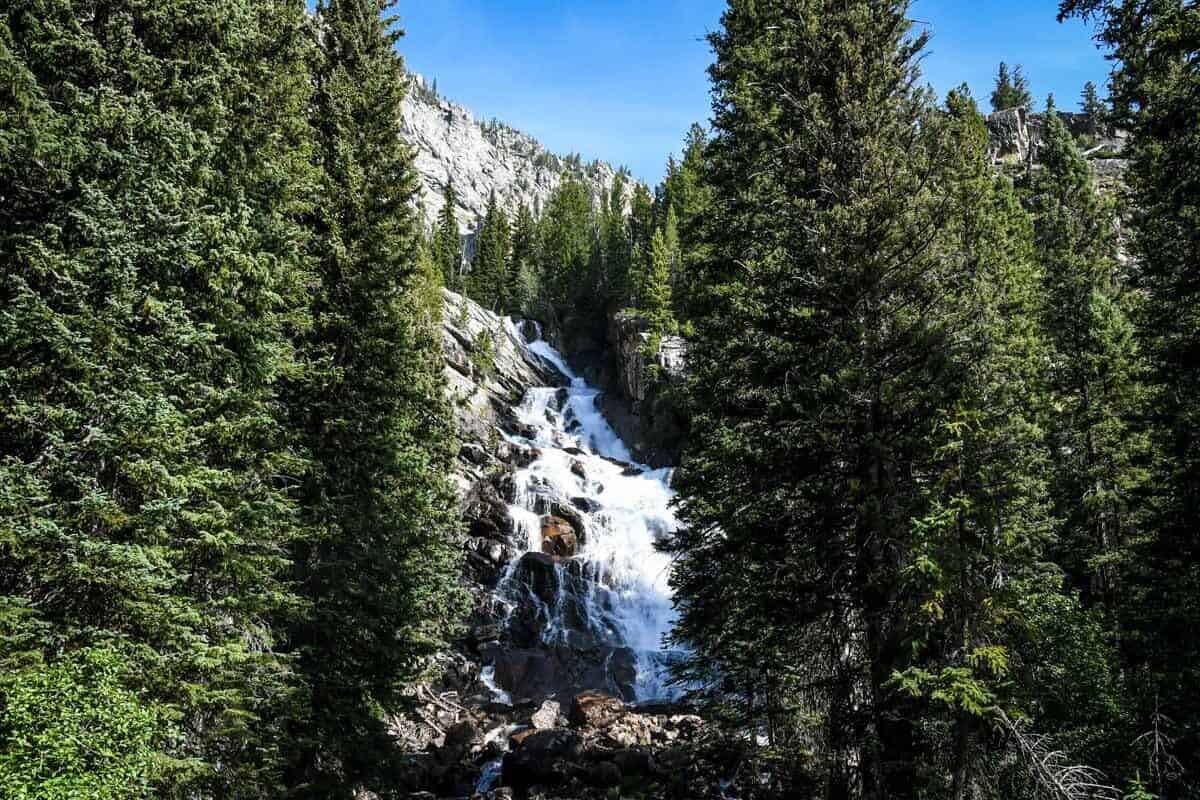 If you are feeling up for a longer hike, consider continuing on around Jenny Lake, instead of returning on the same path. Or for an even longer route, add on the Cascade Canyon Trail (below) to log some more miles and see an incredibly picturesque canyon.
Alternatively: You can take a ferry from the dock near the visitor center, which will bring you much closer to Inspiration Point, cutting off much of the initial hike. The ferry costs $10 per person for a one-way ticket, or $18 round-trip.
4. Moose Ponds Loop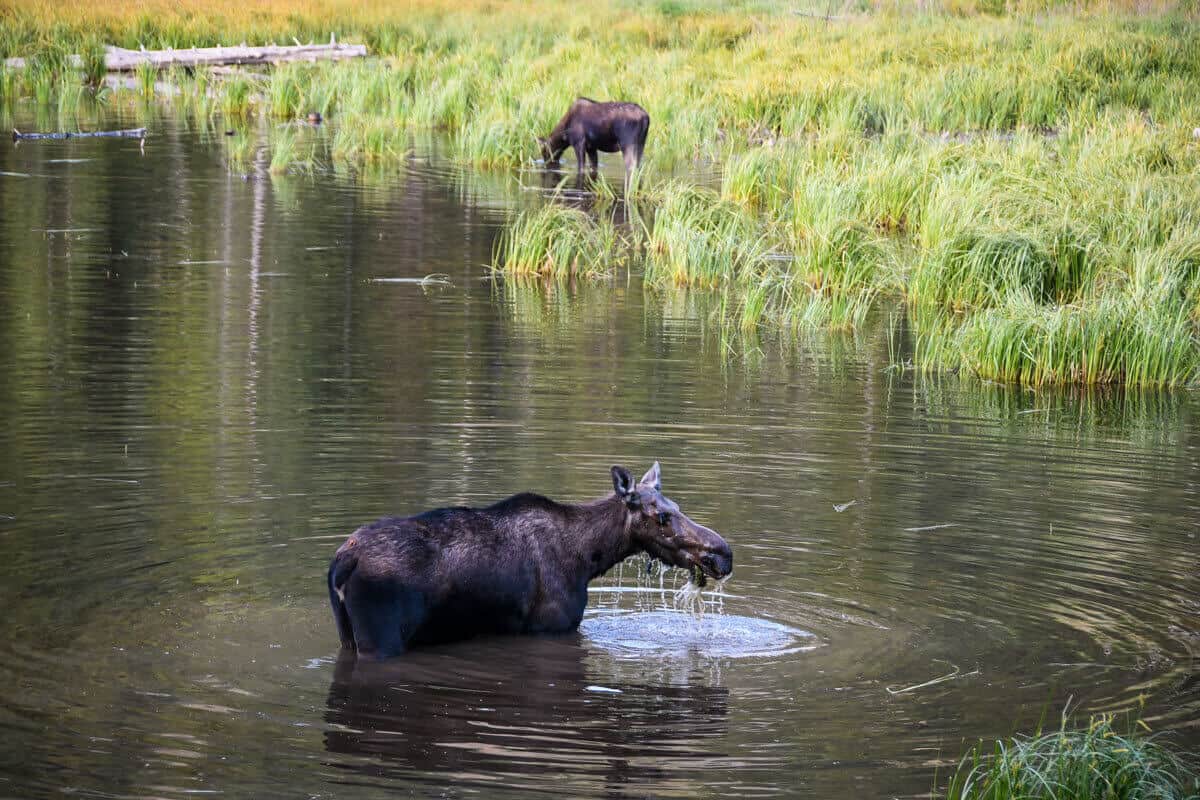 Distance: 3.1-mile loop
Elevation: 151 ft
Rating: easy
Near the Jenny Lake Trail, this short offshoot loop trail is well-worth checking out. Like the name insinuates, there are two small ponds that are popular for moose sightings. As we passed by in the morning, we saw a mother and a calf eating here, and when we returned in the late afternoon they were still there!
The nice thing about this trail is it is close to many other scenic hikes and you can actually see the moose from pretty close.
How to get there: Beginning at the Jenny Lake trailhead, follow the trail as it hugs the south side of Jenny Lake until you reach the junction for the Moose Ponds Loop.
Psst! Did you know Grand Teton is one of the best national parks to visit in winter?
4. Cascade Canyon Trail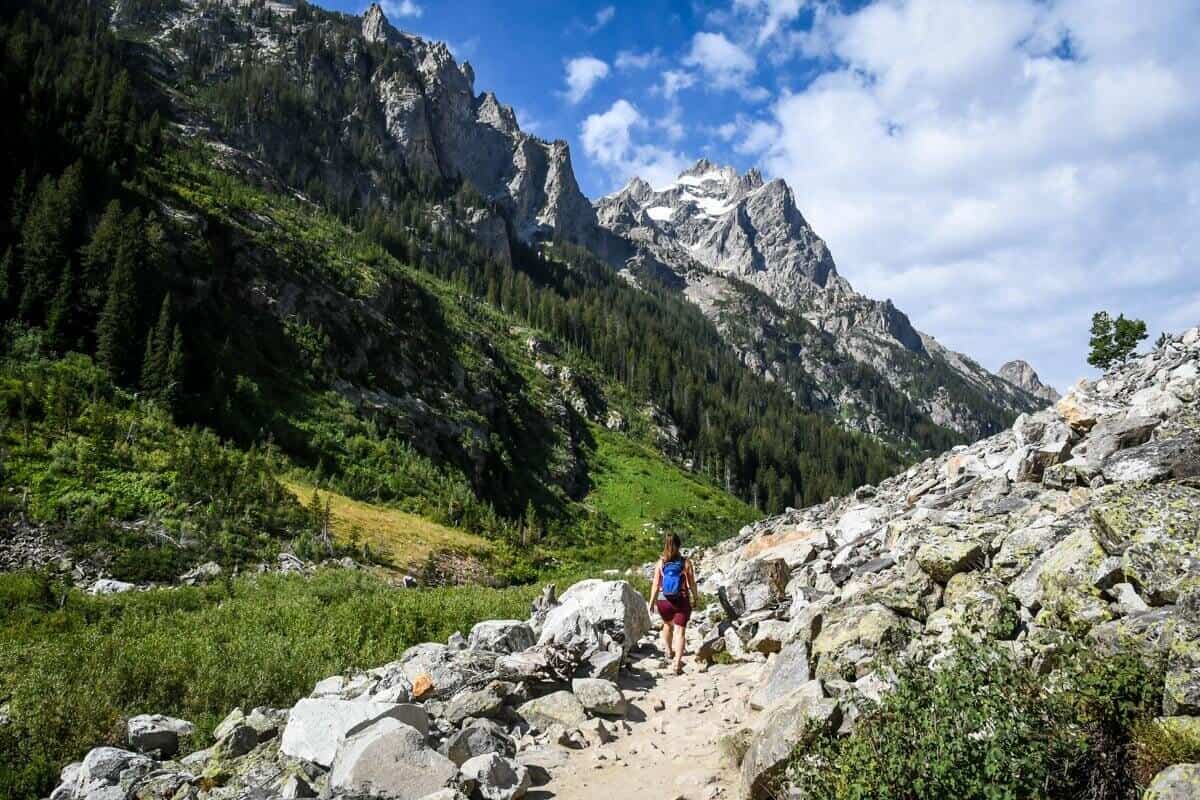 Distance: 9.7 miles, out & back
Elevation: 1,128 ft
Rating: moderate
One of our favorite Grand Teton hikes, this trail leads you through a stunning canyon, with incredible views wherever you look.
Once you've entered the canyon, the trail passes through numerous huckleberry, thimbleberry and wild raspberry patches, so it's a good idea to make lots of noise and keep an eye out for black bears on this portion of the hike (particularly near the creek). The hike culminates at the Forks of Cascade Canyon, at which point you'll turn around and make your way back out.
Psst! If you're feeling up for it, you can continue hiking beyond the Forks onto Solitude Lake, which is an additional 6 miles round trip.
While the trail is very flat, it is quite a long out-and-back from start to finish, so be sure you're up for the mileage and get an early start.
How to get there: The trailhead for Cascade Canyon is at the South Jenny Lake Parking lot and follows the trail around the south shore of the lake, breaking off at Inspiration Point.
5. Phelps Lake Loop
Distance: 7-mile loop
Elevation: 725 ft
Rating: moderate
Another popular lake hike in the Tetons, the Lake Creek/Woodland Trail Loop brings you to the south shore of Phelps Lake, which has a rock that's perfect for jumping into the clear waters! The southern shore of Phelps Lake offers incredible views of the glacial lake and the surrounding mountain ranges. Directly across the lake to the north is Death Canyon and Albright Peak. To the left of the canyon you'll see Prospectors Mountain.
Although you can take either trail, the Woodland Trail is the most direct route to Phelps Lake, not to mention hiking the Phelps Lake Loop in a counter-clockwise direction is by far the most scenic route around the lake.
How to get there: The trailhead for the Phelps Lake Loop in Grand Teton National Park is located adjacent to the Visitors Center in the Laurance S. Rockefeller Preserve off Moose-Wilson Road.
6. Storm King Summit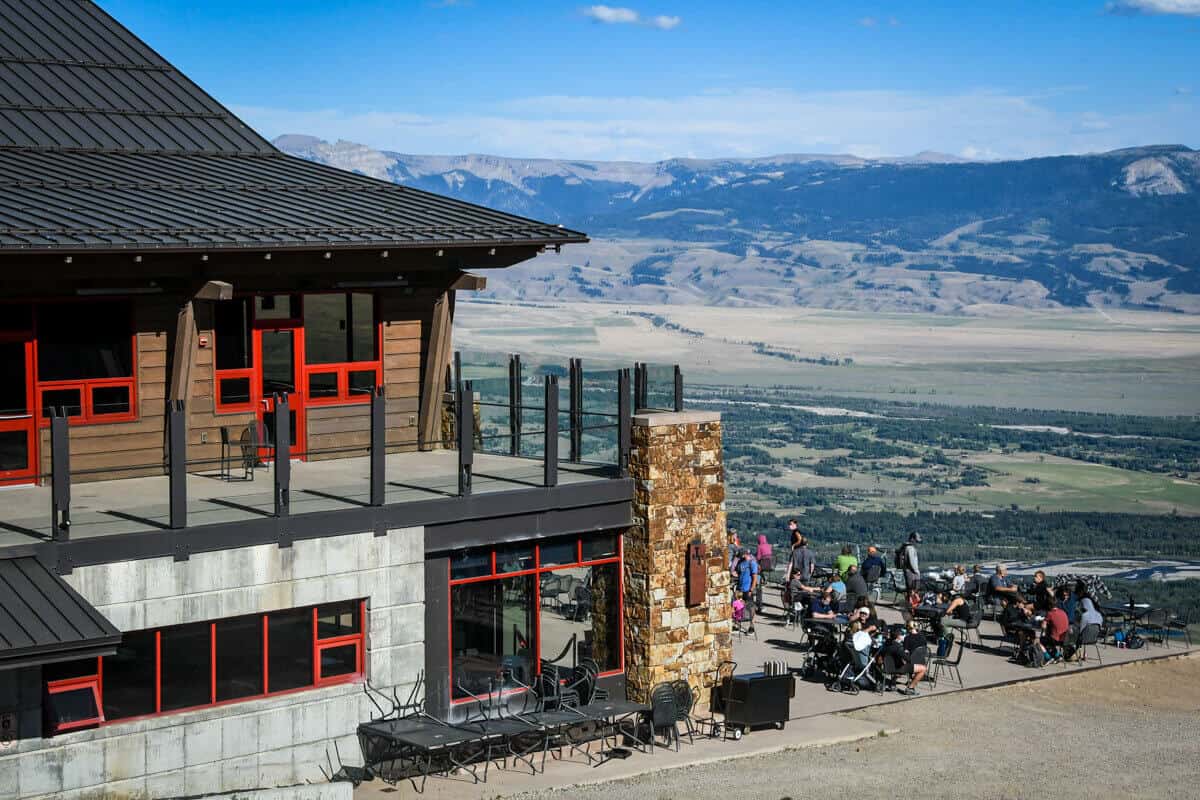 Distance: 3.8 miles, out & back
Elevation: 1,545 ft
Rating: hard
Located at the edge of Jackson Hole, this relatively short and steep hike to the top of Storm King gives you panoramic views over downtown, making this hike quite different from the rest on this list. The hike follows the Slow Trail, which is shared by hikers, dog-walkers and trail runners.
Consider packing a picnic dinner in your pack for the hike and enjoy it at the picnic table just east of the top of the ski lift. Situated in the middle of a big wooden deck, guests at the table will be rewarded with views as far as 100 miles on a clear day.
Once you've reached the summit, there is an option to take the ski lift down, which shortens the hike to 1.9 miles.
How to get there: The trailhead for Slow Trail starts at the parking lot on Storm King Avenue, just east of the intersection with Cache Avenue. The ski lift leaves from the same spot, so if you decide to take the lift down you'll come right back to your vehicle.

Multi-day backcountry hikes
Below are some of the best multi-day hikes for backcountry hiking and camping in Grand Tetons.
7. Paintbrush Canyon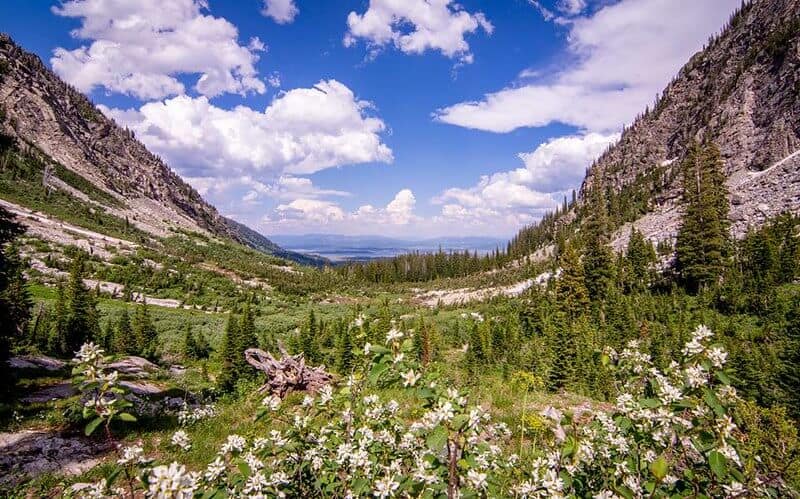 Distance: 20.4-mile loop
Elevation: 5,721 ft
Rating: hard
Located near Moose, Wyoming, this well-maintained loop trail offers plenty of activity options and can be completed in one very long day or stretched out over multiple days. In one single hike you will hit a lot of the park's highlights including Jenny Lake, Inspiration Point and Hidden Falls, Paintbrush Canyon, and the remote beaches of Lake Solitude.
Since it is a loop trail, it can be hiked in either direction. If you are stretching this out over multiple days, your direction will likely depend on where you get a campsite. The recommended direction is to hike the loop counterclockwise, so you get all the climbing done during the first half, and after crossing the Paintbrush Divide, the second half is mostly downhill.
How to get there: The Paintbrush Canyon-Cascade Canyon Loop begins and ends at the String Lake Trailhead. This parking lot will fill up early so it's best to arrive before 7:30 a.m.
Looking for campsites inside and outside of the national park? Our advice is to download The Dyrt, an app that'll take your camping game to the next level. Use this link to get 90 days of the Pro Membership totally free (no strings attached)!
8. Death Canyon Shelf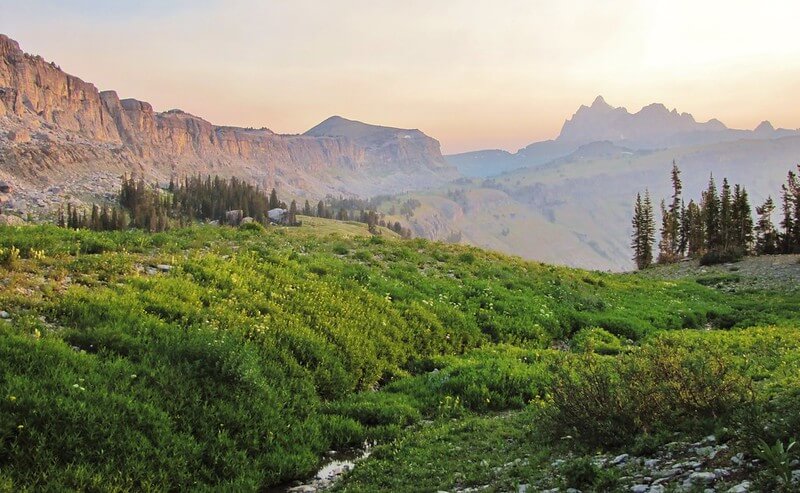 Distance: 25.5-mile loop
Elevation: 6,020 ft
Rating: hard
Not quite as popular as some of the other trails due to the very limited backcountry passes, Death Canyon is somewhat of a hidden gem. If you can snag yourself a permit to camp at Death Canyon Shelf, consider yourself lucky. Pitch your tent at the edge of the cliff looking over Death Canyon, which is said to be one of the most spectacular backcountry sites in the entire national park.
Offering classic Tetons scenery in a lake-dotted basin, this hike is best when completed in 3 days.
How to get there: The hike begins at the Death Canyon Trailhead, which is a junction off Moose-Wilson Road.
9. Marion Lake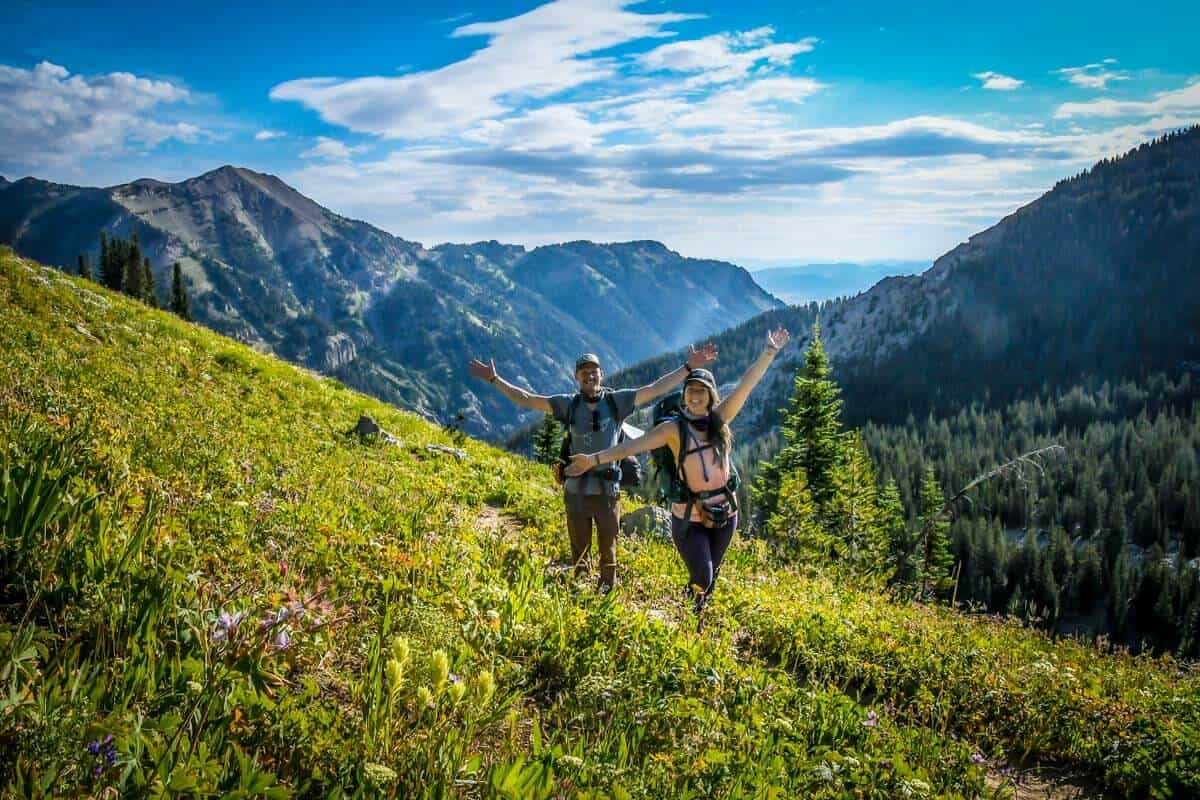 Distance: 13.4-mile loop trail
Elevation: 3,812 ft
Rating: hard
If you're looking for a short 2-day/1-night backcountry trip, this trail may be one of your only options, as most of the permits for other trails will be already reserved by those on longer backcountry trips.
We were disappointed when all the other trails we'd researched had already been reserved (even though we arrived at dawn to wait in line for permits). This ended up being our only option, and we were pleasantly surprised. We didn't cross paths with a single other hiker, and the area was filled with wildflower blooms.
This loop hike begins at the top of Rendezvous Mountain, loops around Marion Lake, then leads back down the valley via the Granite Canyon Trail. Hikers will return to the starting point in Teton Village via the Valley Trail.
How to get there: You'll first need to summit Rendezvous Mountain (an additional 4,139 ft of vertical climbing to get to the start of the trail for Marian Lake. The good news is, you can bypass the climb by taking the Aerial Tram from Teton Village. The 12-minute tram ride will have a small fee.
10. Teton Crest Trail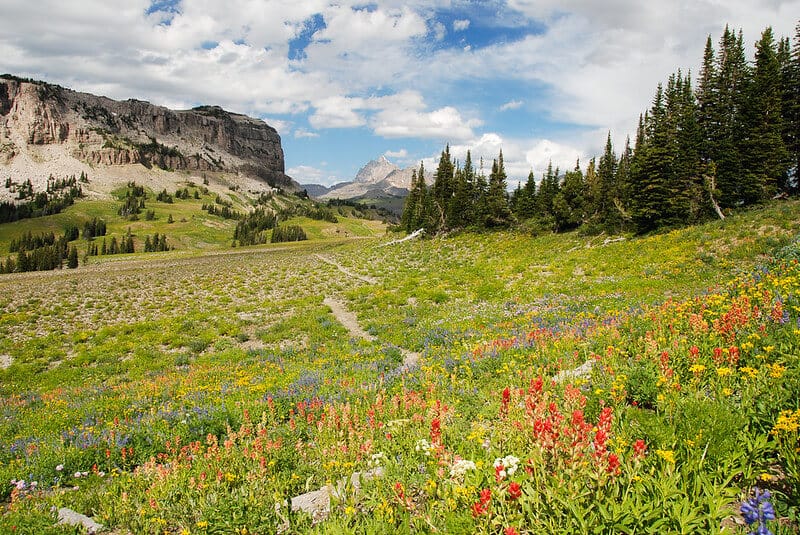 Distance: 25.7-mile trail point-to-point (option to combine with other trails)
Elevation: 3,828 ft
Rating: hard
This moderately-trafficked multi-day hike is full of stunning vistas and panoramic views, and is a great way to see some wildflowers in bloom.
The trail snakes its way through the Jedadiah Wilderness Area, Bridger Teton and Caribou-Targhee national forests, as well as part of the national park. Plus you'll pass at least three ecological zones along the way as you circumnavigate an actual glacier.
Most people complete this trail over 4-6 days. Ambitious backpackers have the opportunity to take plenty of challenging side trips (Hunt Mountain, Static Peak, Upper Cascade Canyon) and draw this trail out for up to 75 miles.
Since this is a pretty involved adventure and requires a bit of careful planning, be sure to check out a guide to the Teton Crest Trail before lacing up those hiking boots. This will ensure that you know what to expect and are fully prepared.
How to get there: You'll have to take the gondola from Teton Village to start this trail which begins by following the Cirque Trail and links up with the Rendezvous Trail and ultimately runs into the Teton Crest Trail.

Things to know about backcountry camping in Grand Teton National Park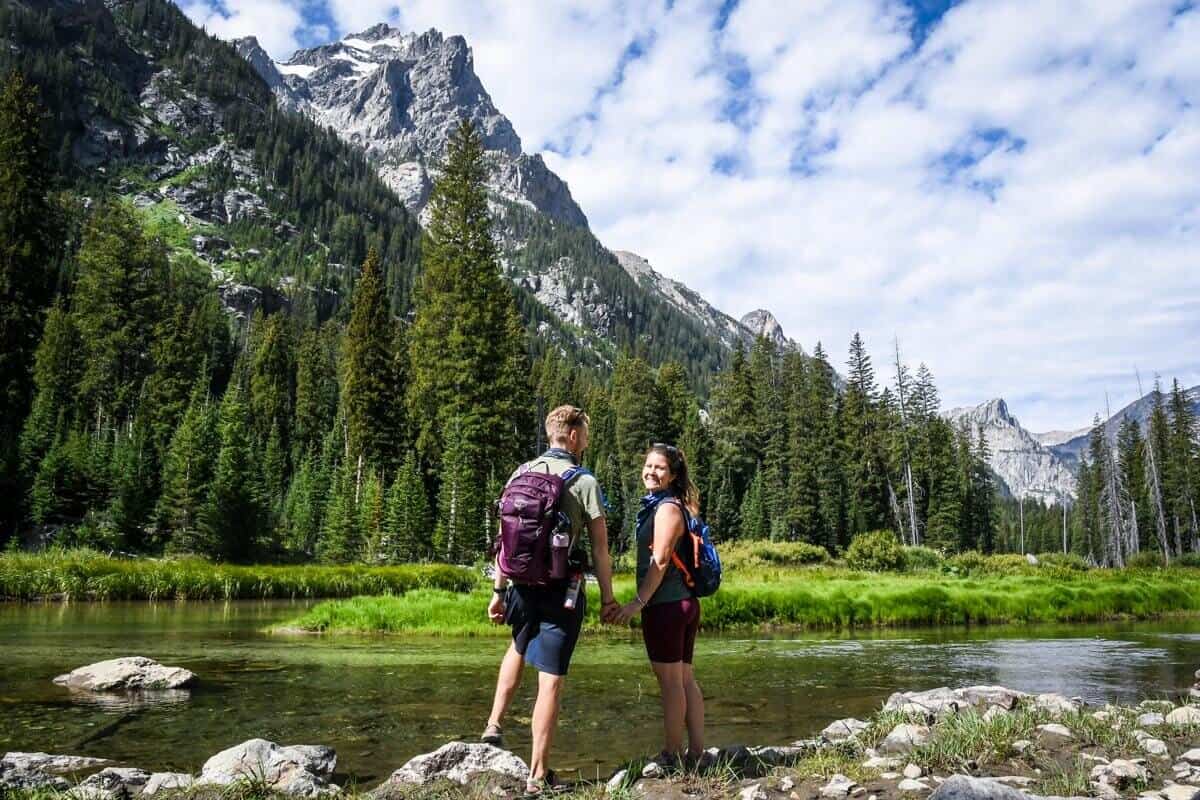 Bear canister: It's important to keep in mind that you'll need to carry a bear canister to keep all of your food and toiletries while in the backcountry in Grand Teton. You can bring your own (this is the one we have), or you can rent one free of charge at the same place you get your permit.
Bear spray: Bear spray is another must if you go into the backcountry. Additionally, some people like to carry a bear bell (especially if you're hiking and camping solo). If you don't bring a bell, just be sure to talk loudly when you're hiking on trails without crowds.
Backcountry permit: You'll need to obtain a wilderness permit if you want to do any backcountry camping in Grand Teton National Park. The fee for this permit is $45, and they are typically on sale between January and May for the summer season (so it's a good thing to plan ahead!). It is possible to reserve your backcountry permit online, but there are limited permits available and you must know your exact dates.
Alternatively, you can get your permit in person on a first-come, first-served basis. During the height of summer (July and August), there is stiff competition for these permits, so come early.
For reference, we arrived at 7 a.m. and there were 12 parties ahead of us in line. The visitors center opened at 9 a.m.
You can get your backcountry permits at the following places:
Craig Thomas Discovery and Visitor Center
Colter Bay Visitor Center
Jenny Lake Ranger Station
Wilderness permits cost $35, whether you're doing one night or five.
What to Pack for Hiking in Grand Teton National Park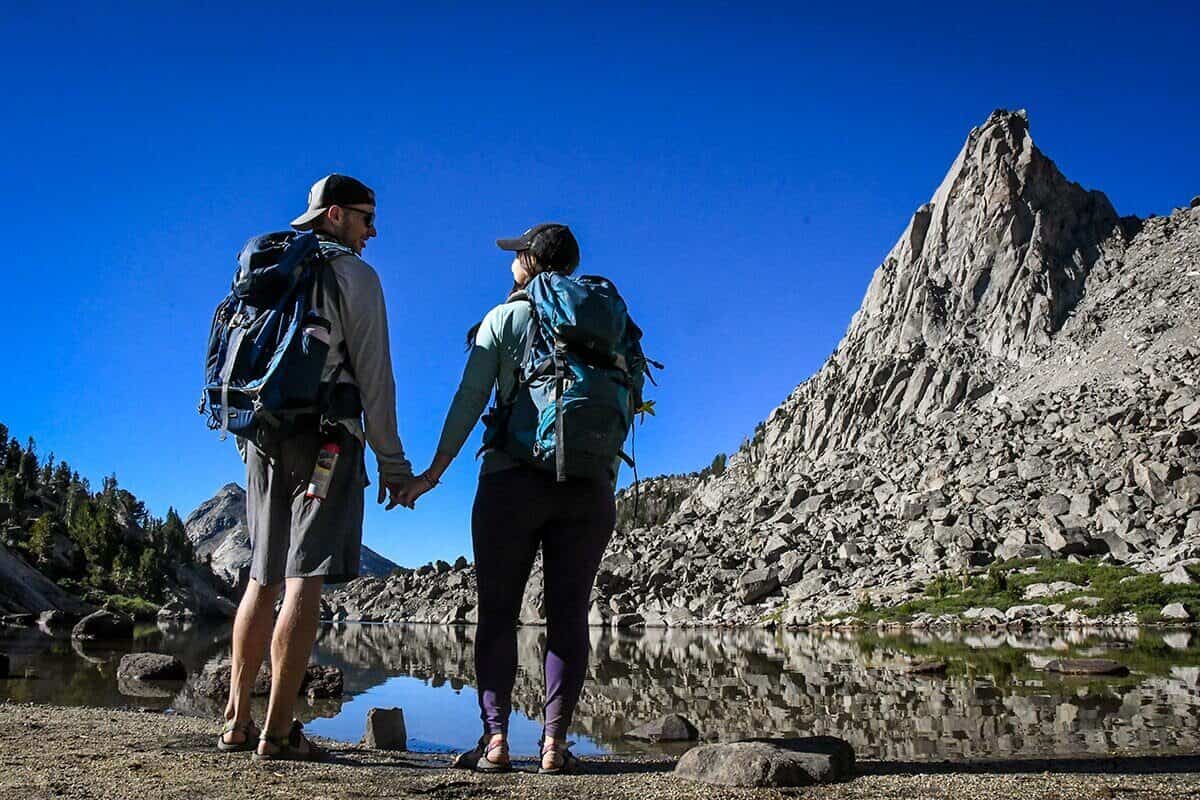 Navigation: we recommend using Alltrails+ to download the offline trail map
Hydration pack and/or water bottles
Bug spray: We prefer the natural stuff, but you do you.
Sun protection: sunscreen, sunglasses, hat
Camera/tripod (this one's our favorite for hiking)
Bear spray: It's highly recommended to carry this on any overnight hike
Hiking shoes
Comfortable hiking clothes (lots of layers!)
Rain gear: While we were lucky and didn't have any rain, we've heard that afternoon thunderstorms are not uncommon.
Be sure to grab our ultimate hiking packing list includes our must-have gear for any hiking trail!


You may also like…
Save this article on Pinterest for later!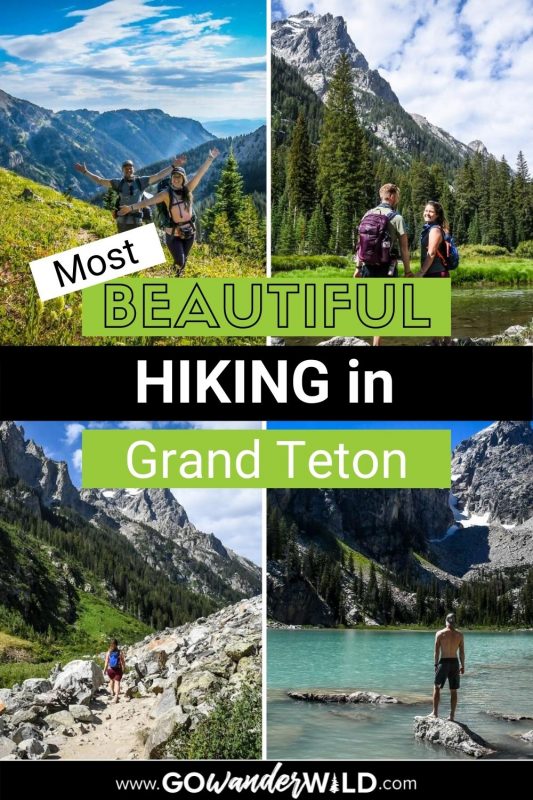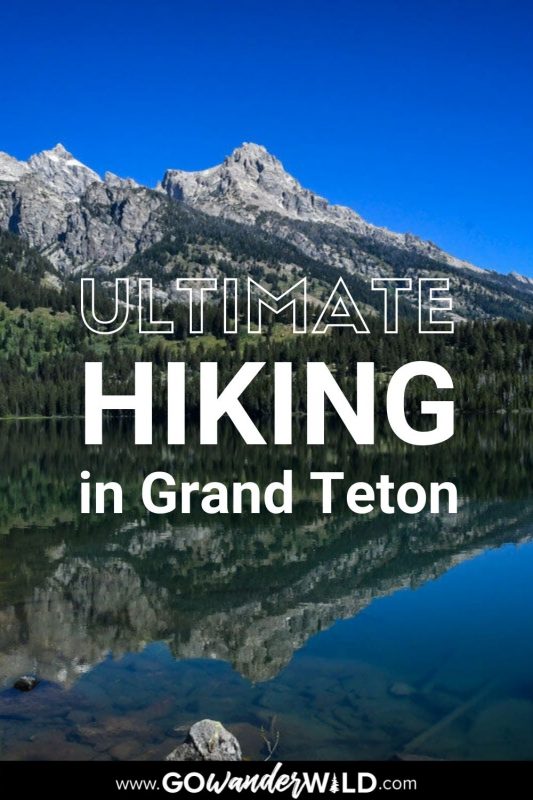 We want to hear from you!
Have you done any of the Grand Teton hikes on this list? What was your experience like? Are you planning a trip to Grand Teton National Park and want more advice? Comment below and let us know!