From traditional A-frames to tiny homes and treehouses, there's no shortage of unique accommodations in the Pacific Northwest. Whether you prefer to be waterfront or deep in the woods, these cozy cabins in Washington state are perfect for your next getaway.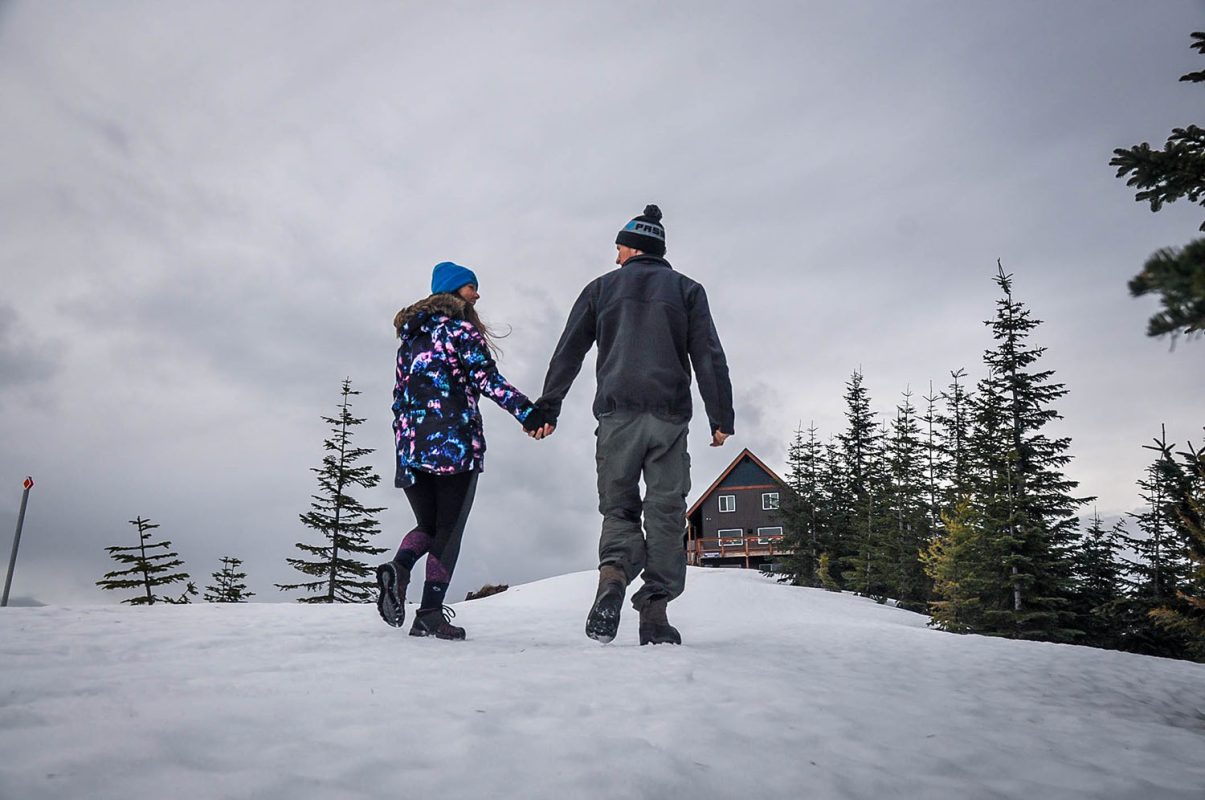 With three national parks, soaring mountain ranges, rugged Pacific coastline, countless rivers, some of the best hiking and other outdoor recreation in the country, and vibrant food, brewery, and winery scenes, there's no shortage of reasons to visit (or live in!) Washington.
One way to make your experience even more memorable is to book top-notch accommodations. Instead of a traditional hotel, consider staying in a custom-built A-frame in the mountains or a waterfront tiny home on the Puget Sound. Those are just a couple of ideas — read on to learn more about the best cabins in Washington state you can rent for your next getaway!
1. Emerald Forest Treehouse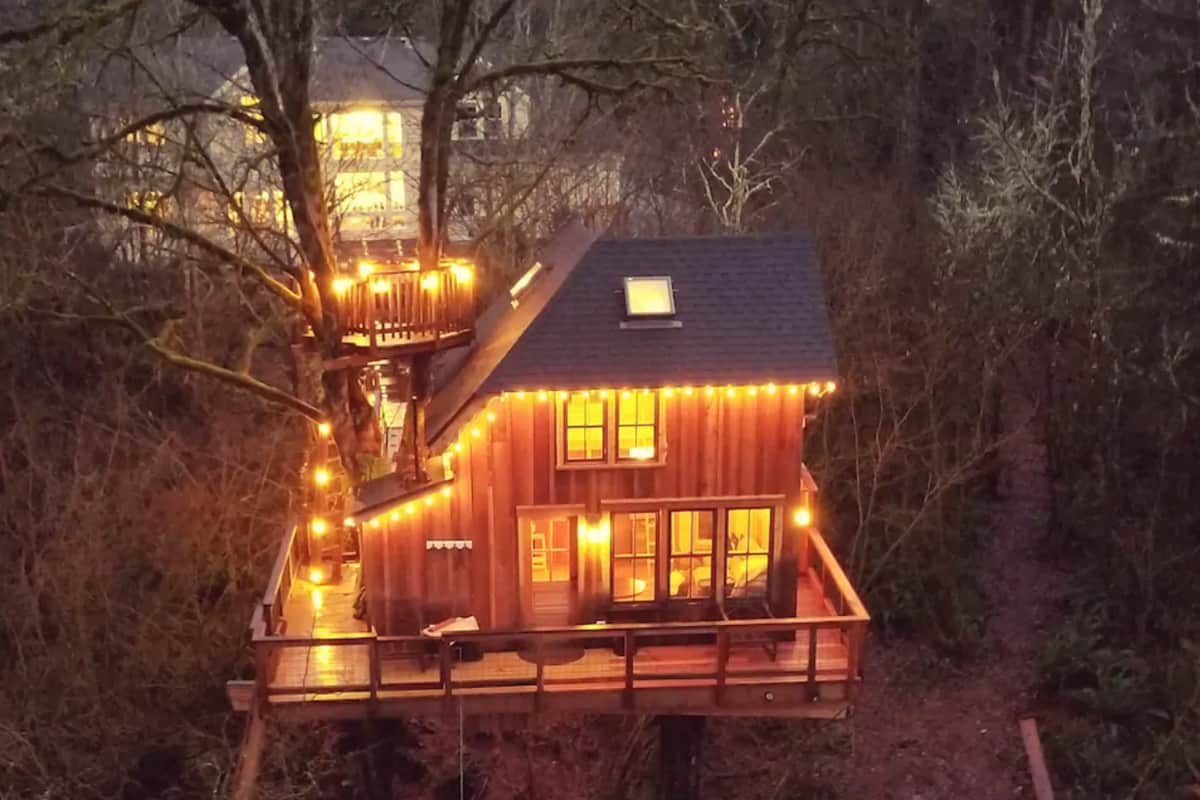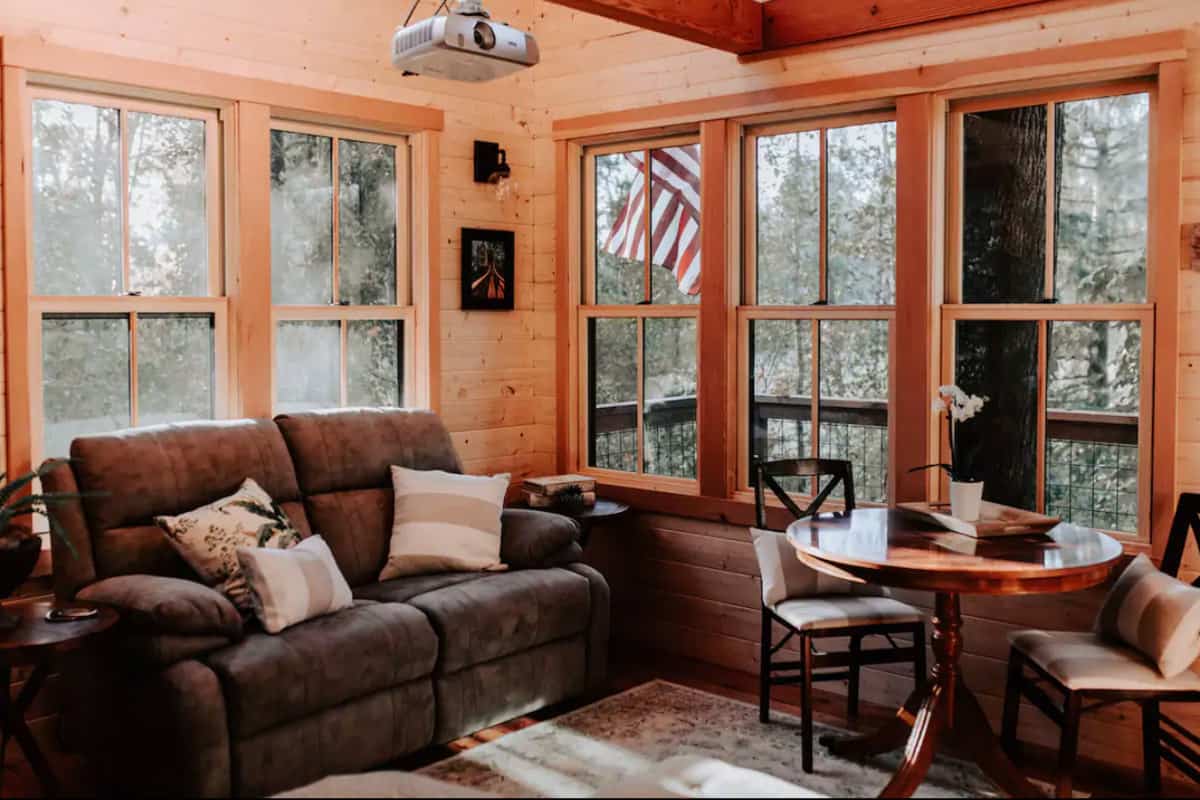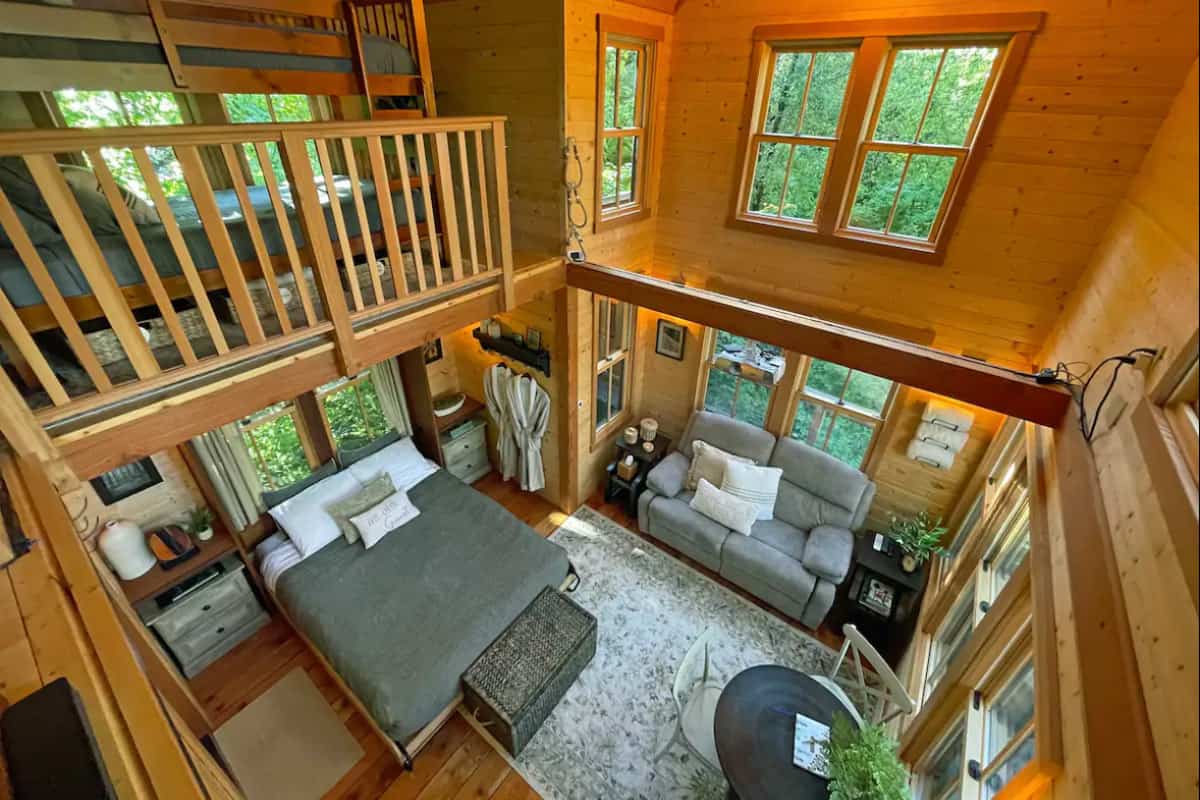 Looking through the reviews, it's easy to see why people consistently refer to this as one of the most "magical" cabins in Washington state. Featured on Treehouse Masters, the cabin is just 30 minutes from Seattle, but details like the private 30 acres, outdoor shower, hot tub, and 55-foot suspension bridge make it feel far removed.
The highlight? Complimentary breakfast served via a 150-foot zipline!
2. Tye Haus A-frame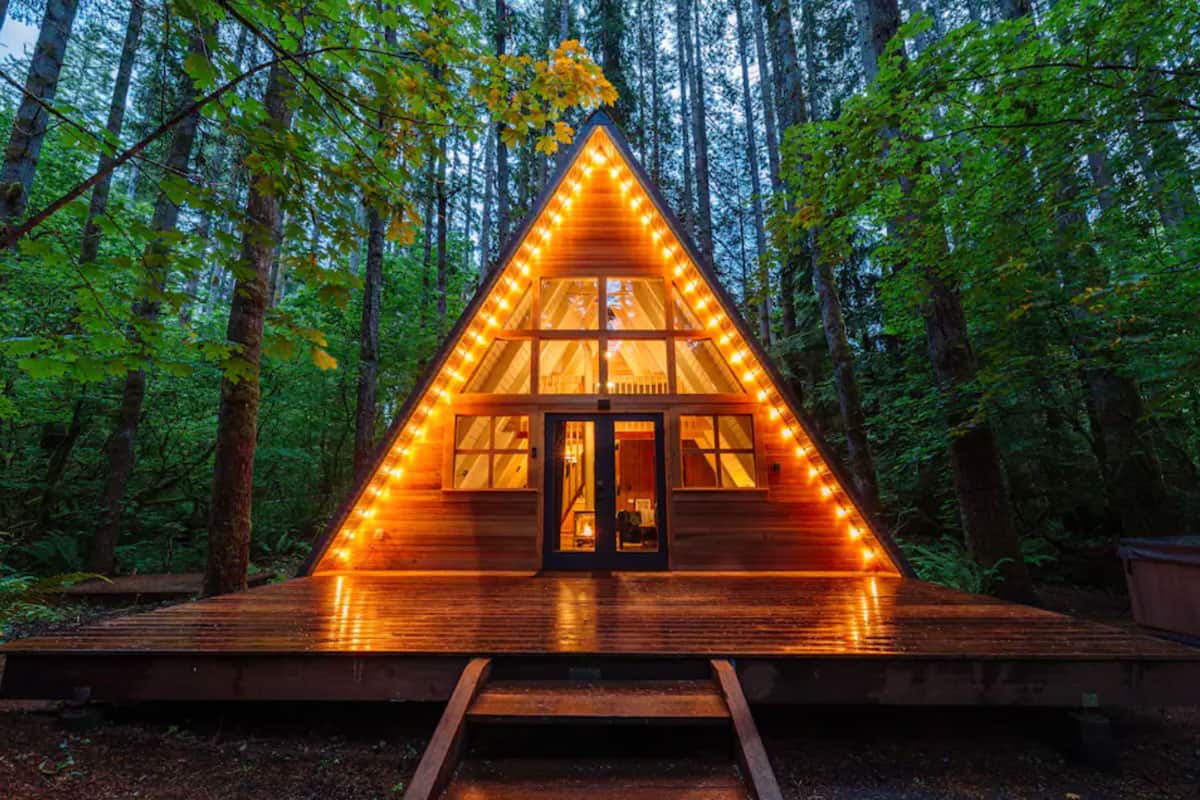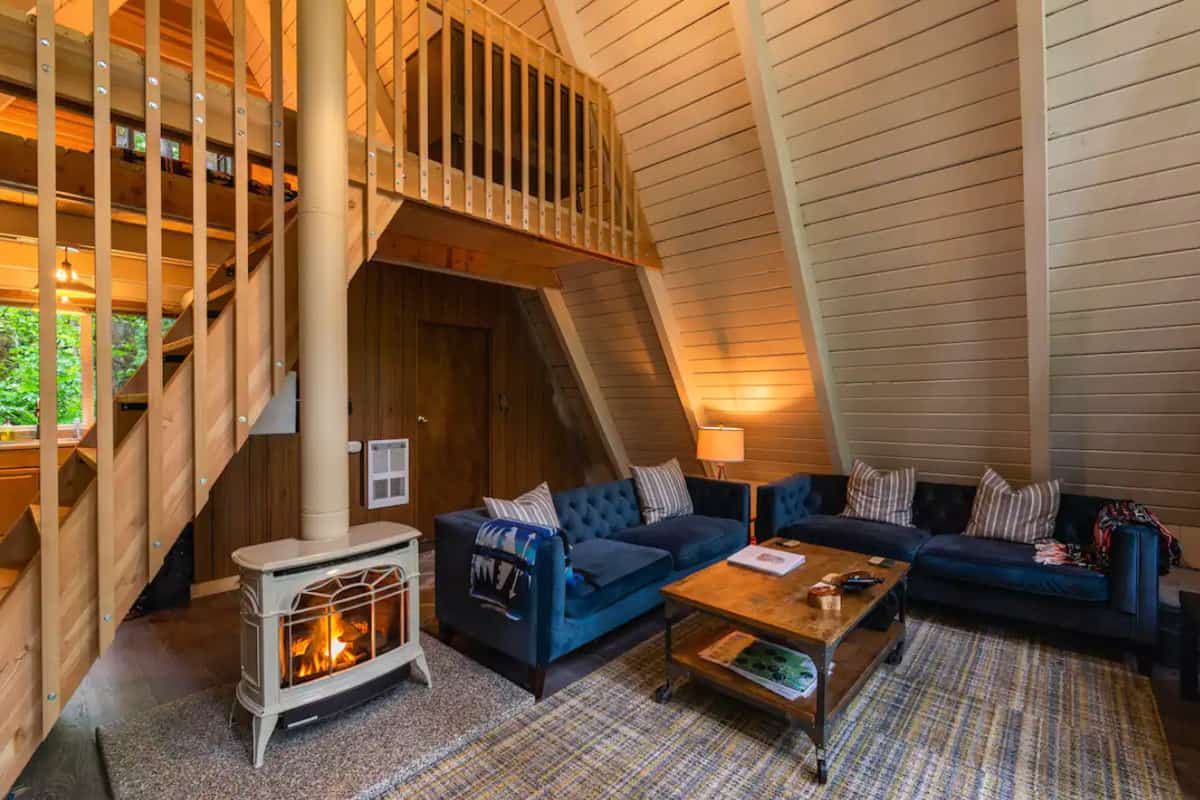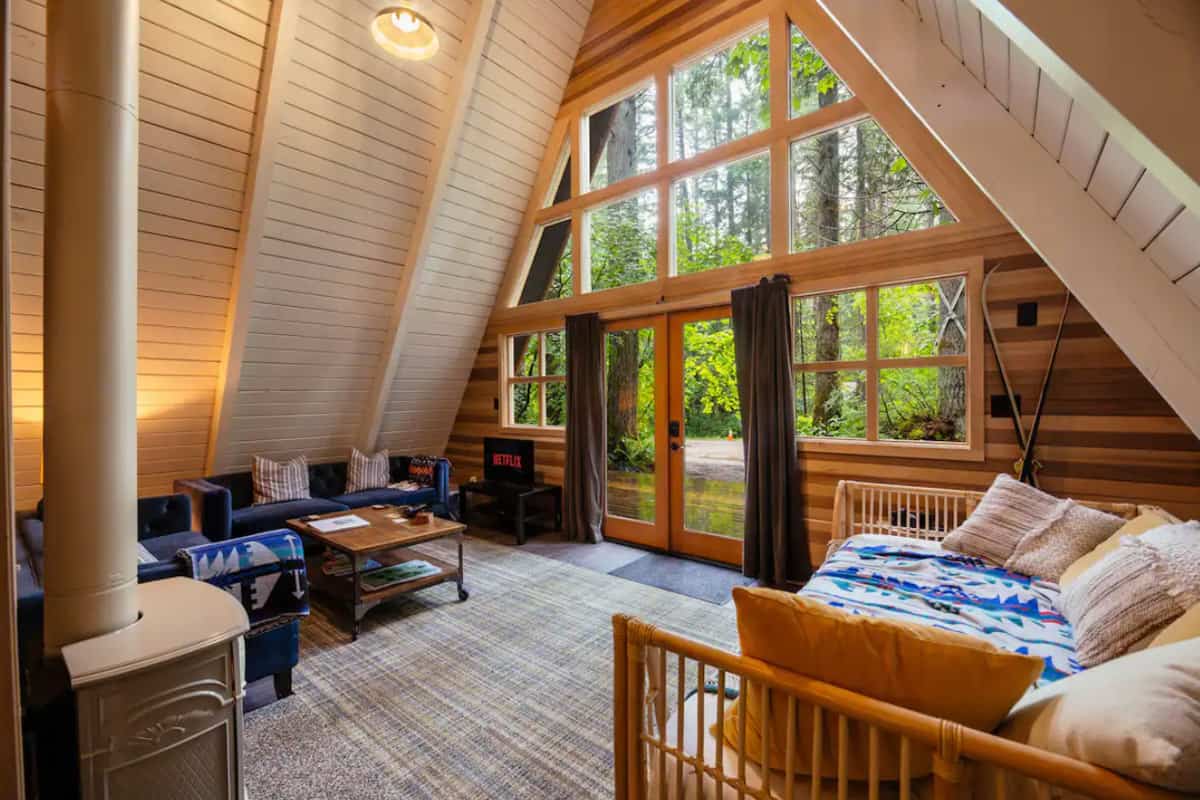 Tye Haus is easily one of the most Instagrammable cabins in Washington state! The A-frame is perfect for an outdoorsy weekend getaway, just minutes from dozens of hiking trails, Steven's Pass ski resort, and Scenic Hot Springs. At the cabin, enjoy the gas fireplace, board games, an old-school record player, wi-fi, and the enormous outdoor deck and hot tub. It's even dog-friendly, a bit of a rarity!
3. Sky Haus A-frame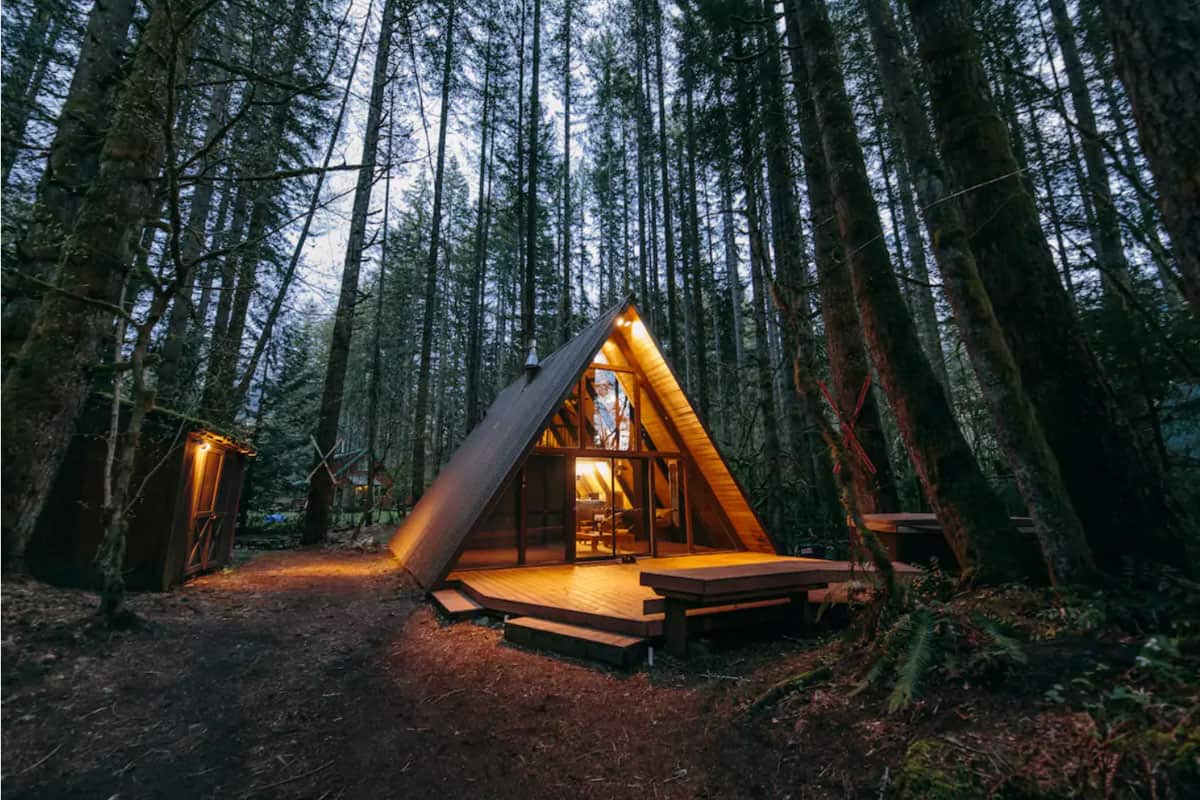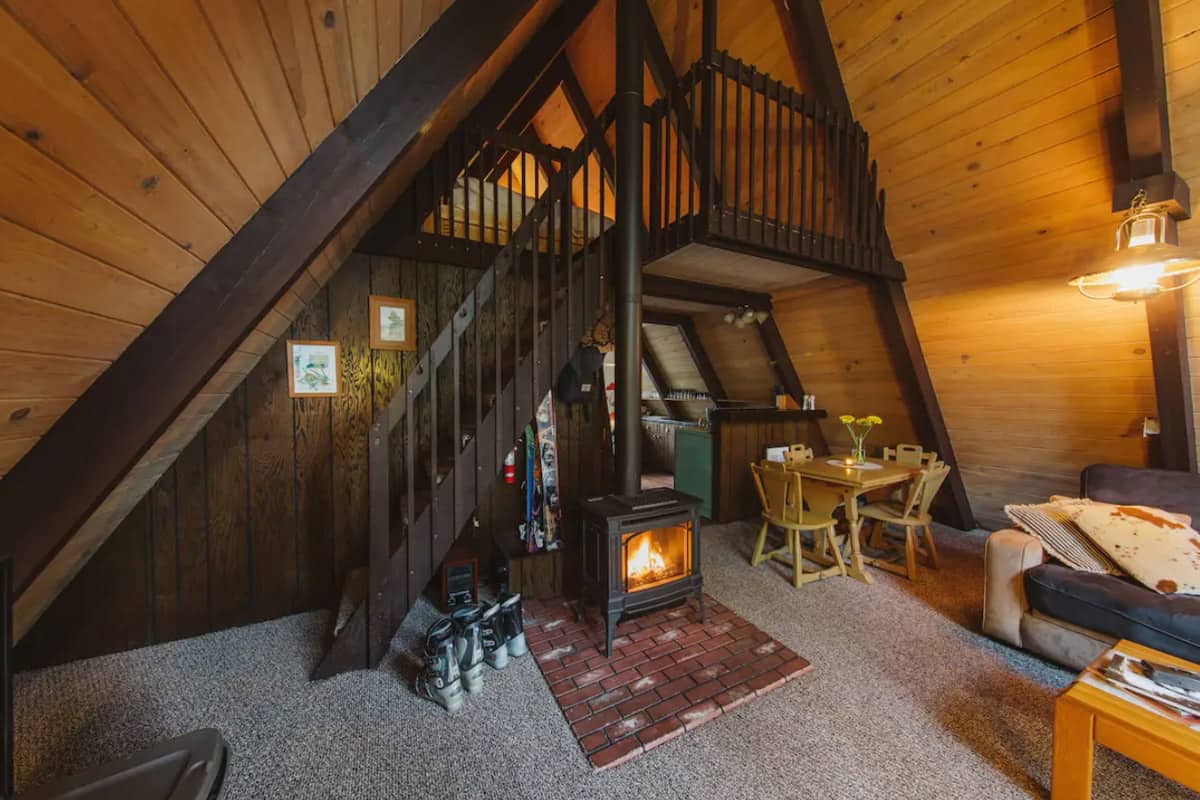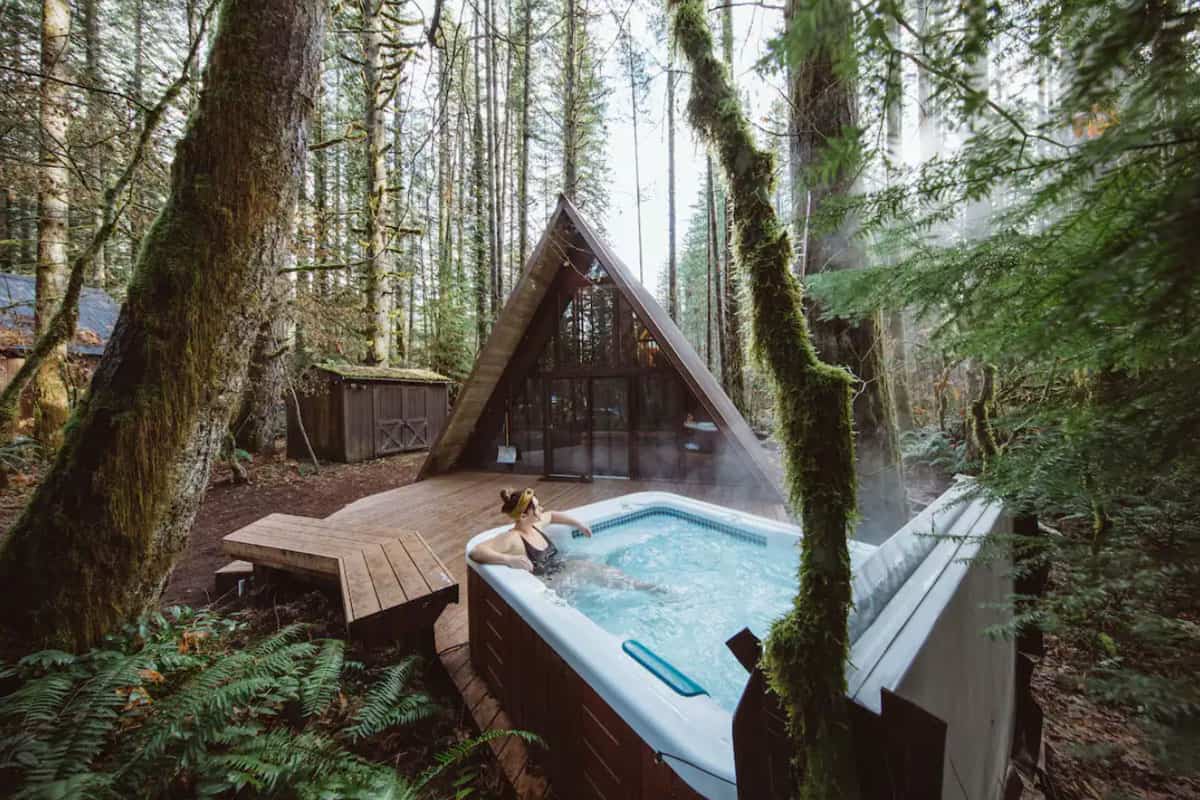 Owned by the same folks as Tye Haus (and right next door!), Sky Haus enjoys many of the same amenities but with more sleeping options. The cabin is dog-friendly and has wi-fi, a remote-control gas fireplace, and hot tub on the deck, plus four individual beds in the loft. The community also enjoys private beach access along the Skykomish River within easy walking distance.
4. Foss Haus A-frame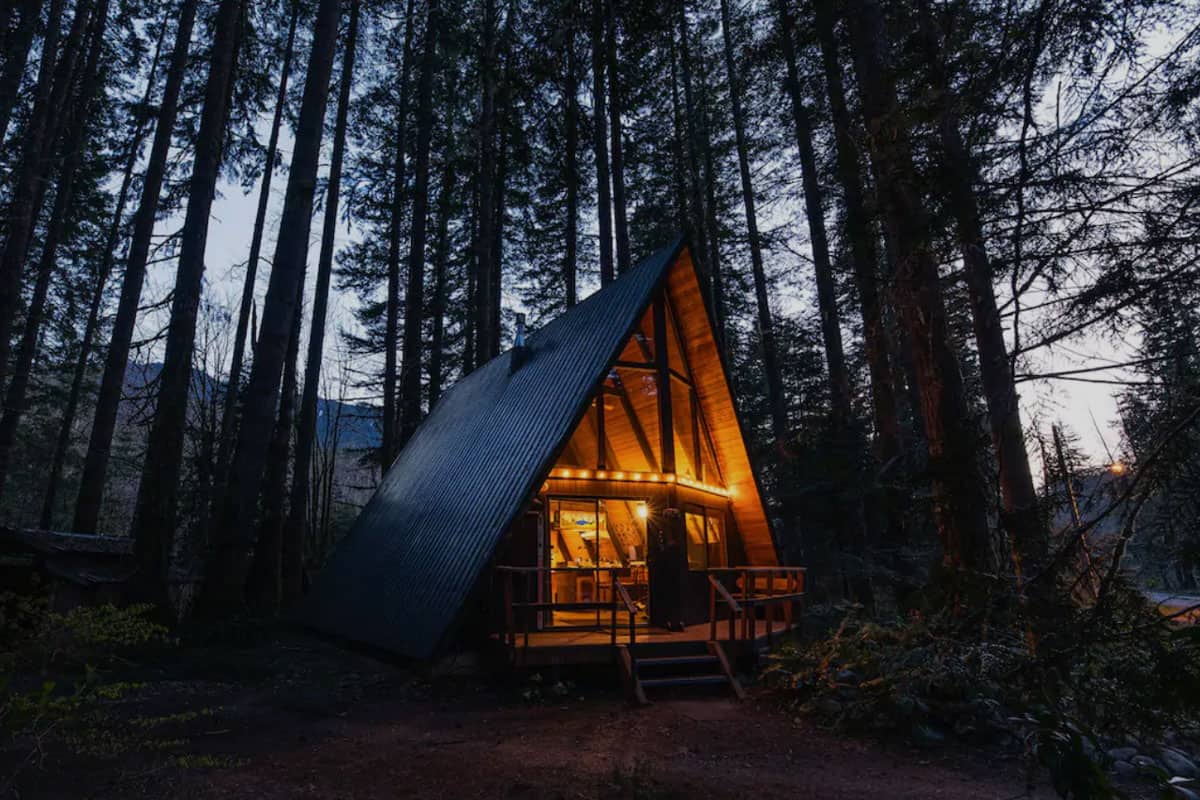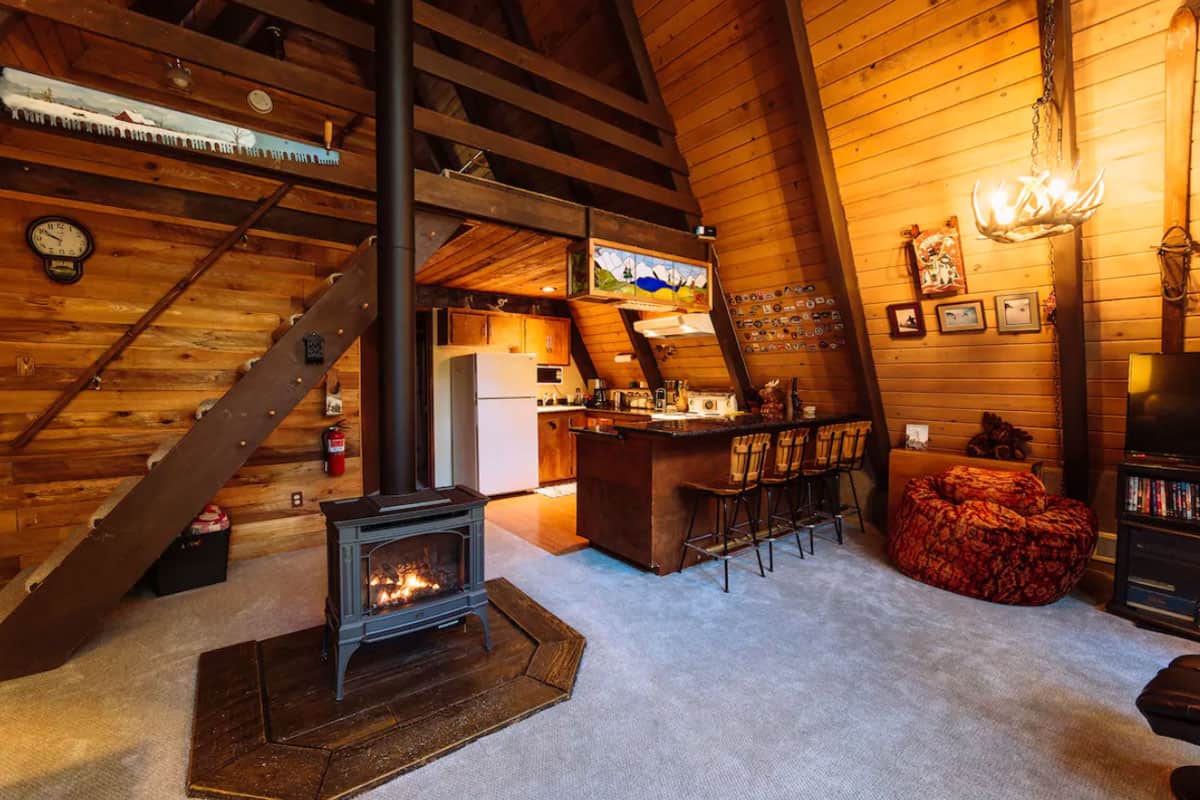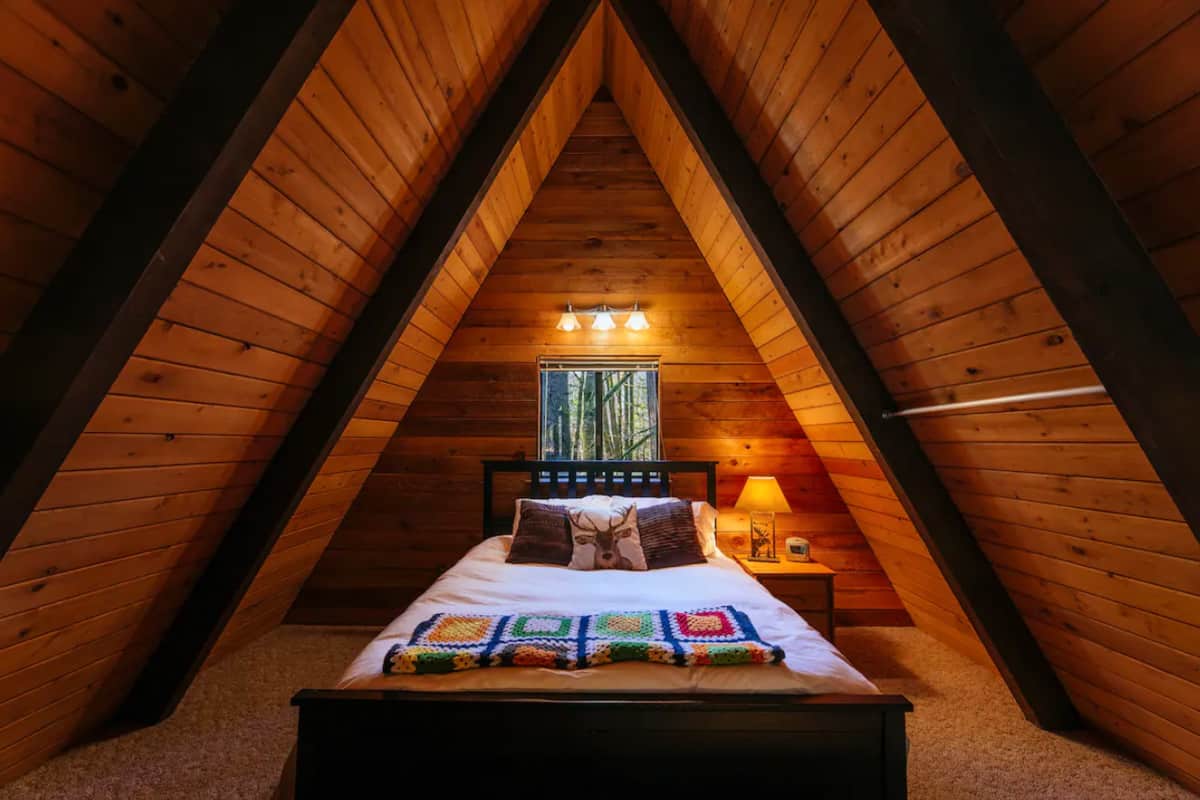 In the same private cabin community as Tye Haus and Sky Haus, this is another option for one of the best A-frame cabins in Washington state. While Foss Haus doesn't have a hot tub, it's well-stocked and loaded with charm, hand-built by the original owner in the 1970s. Lots of little details reflect the stunning area, including a mountain mural in the bathroom and beautiful stained-glass features throughout.
5. PNW Hideout Cabin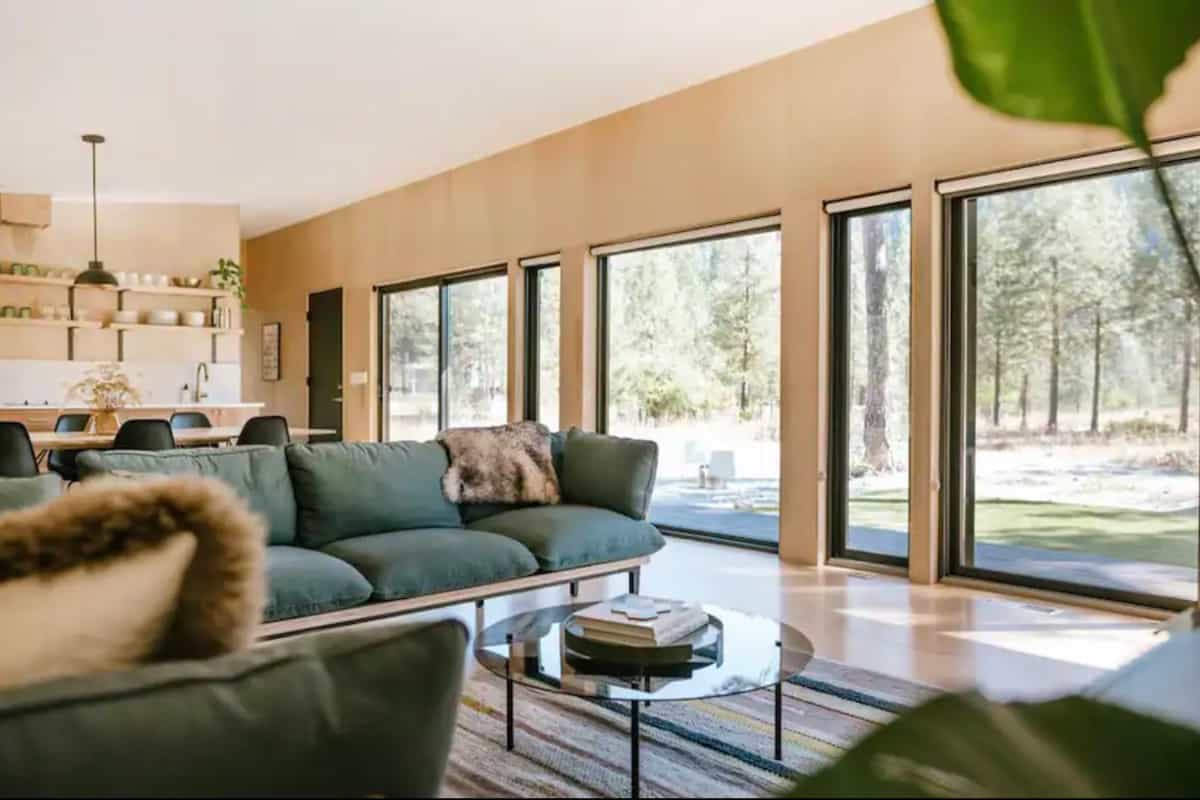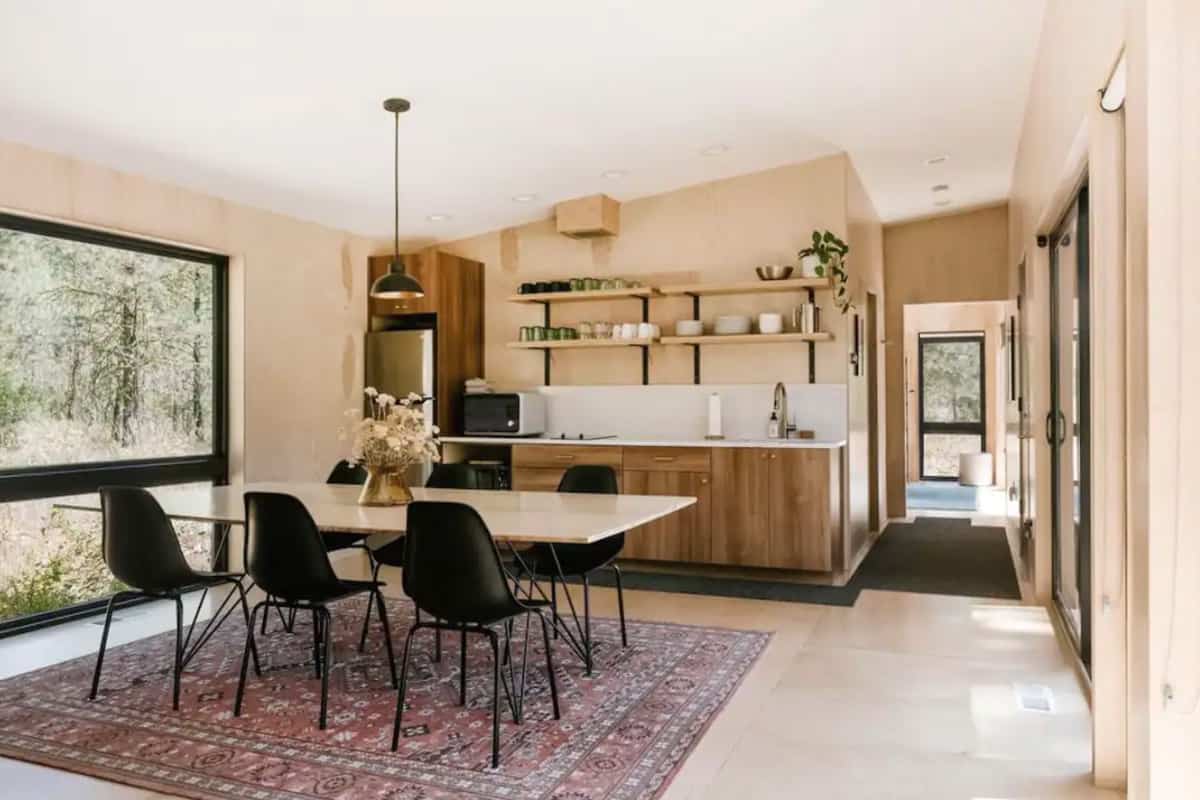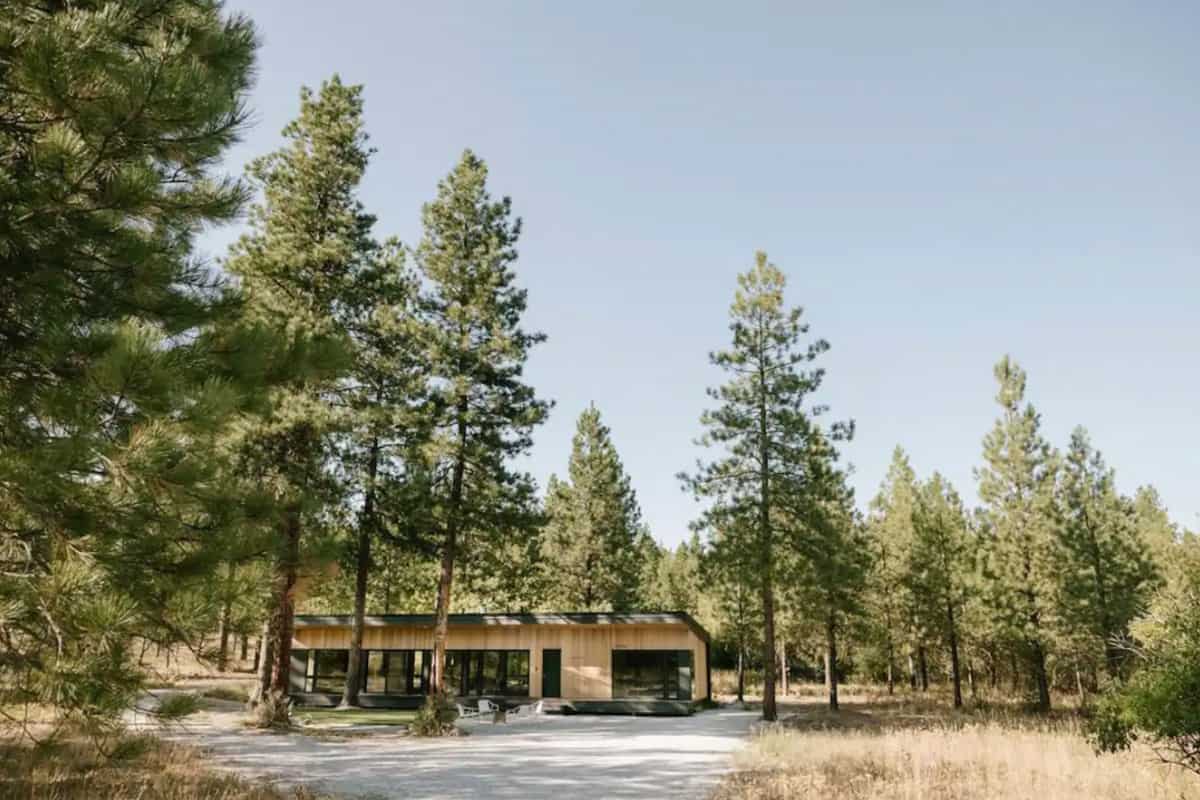 This beautiful, modern cabin sits on a secluded 2.5 acres and truly feels like you have your own private slice of the PNW, but the modern amenities offer all sorts of creature comforts. Think Alexa, fiber internet, and even an electric vehicle charging station! The kitchen, in particular, is a chef's dream, making it stand out as one of the best cabins in Washington state for foodies.
6. Canyon Creek Cabin #1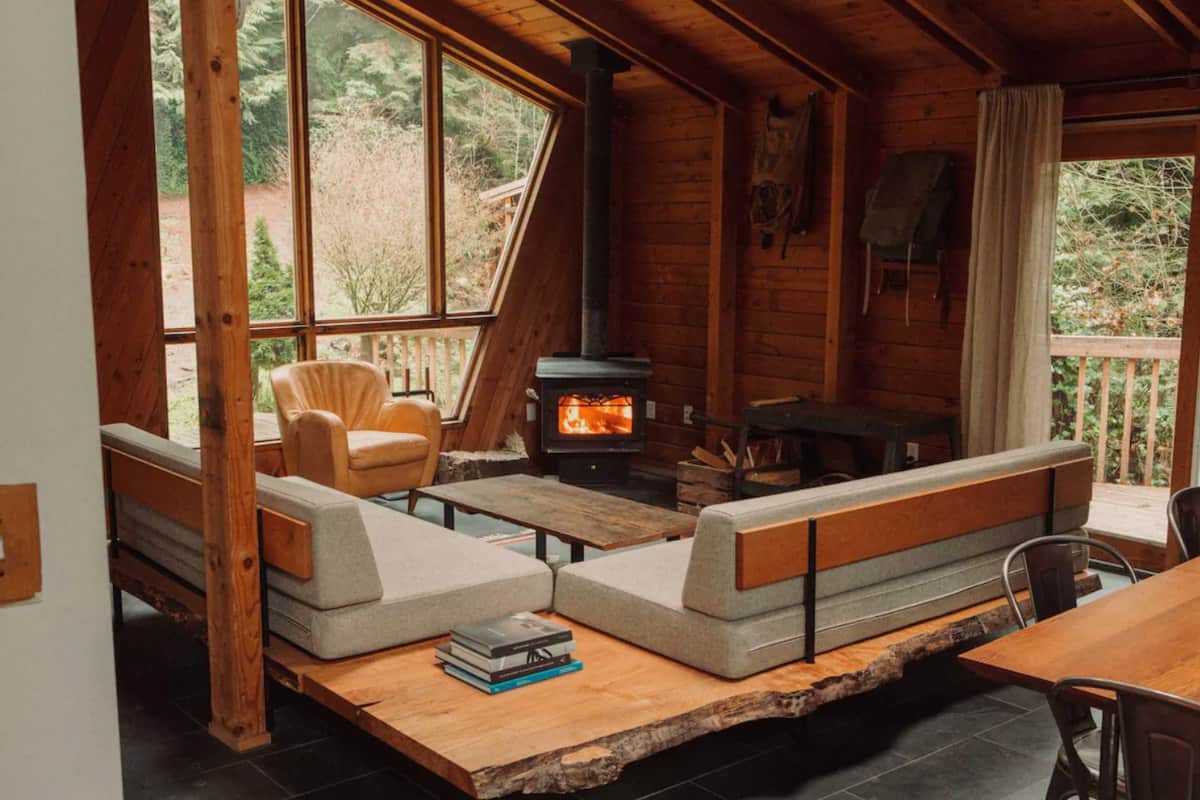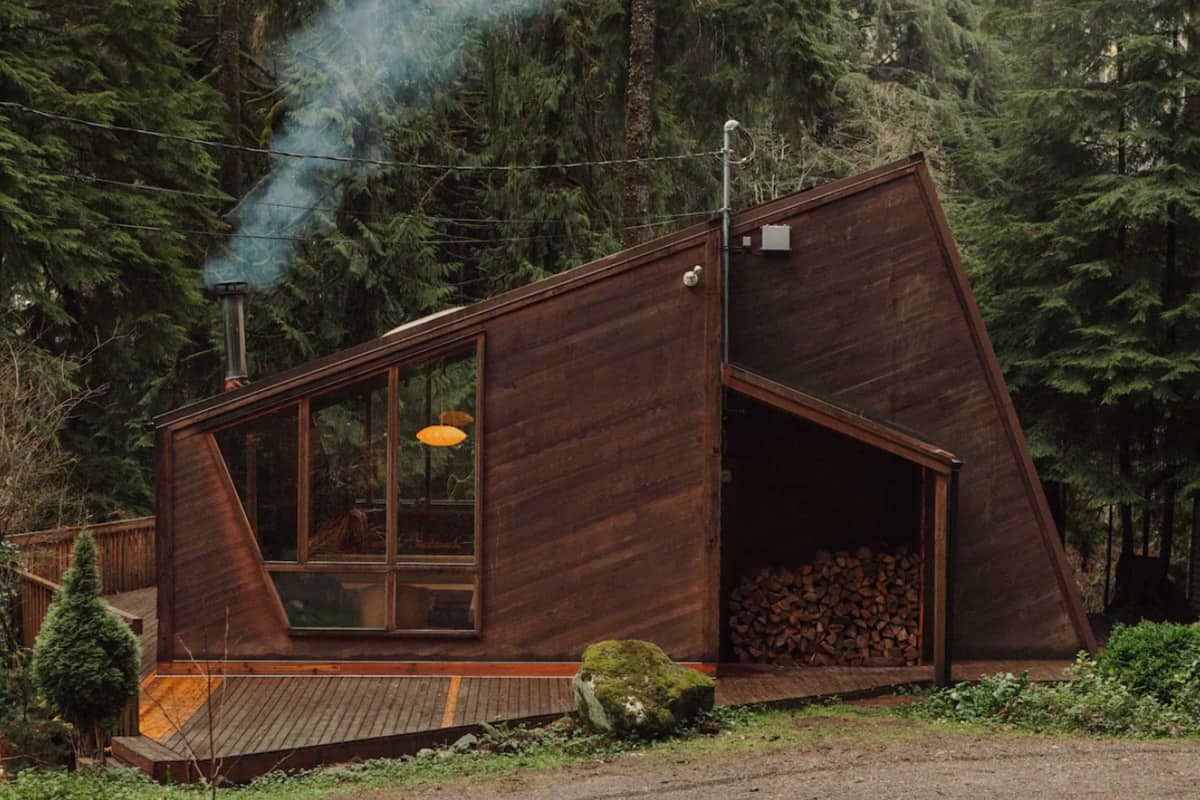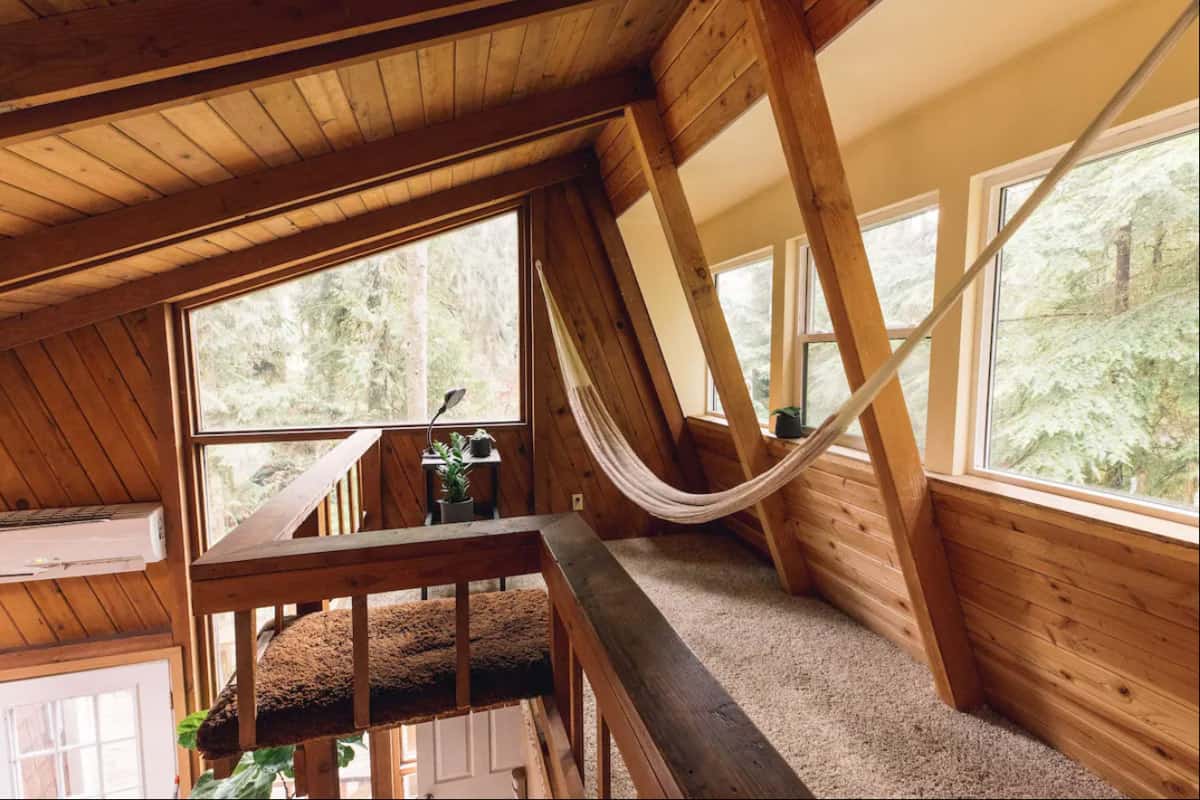 With just a quick glance, it's obvious this is one of the most unique cabins in Washington state. The asymmetrical A-frame tucked deep in the North Cascades is eye-catching, to say the least! Then factor in the striking Mid-century modern furnishings, walk-in shower, hammock loft, live-edge sofa and wood-burning stove in the living room, and the river running directly behind it, and there's no question — this is an incredible cabin!
7. Canyon Creek Cabin #2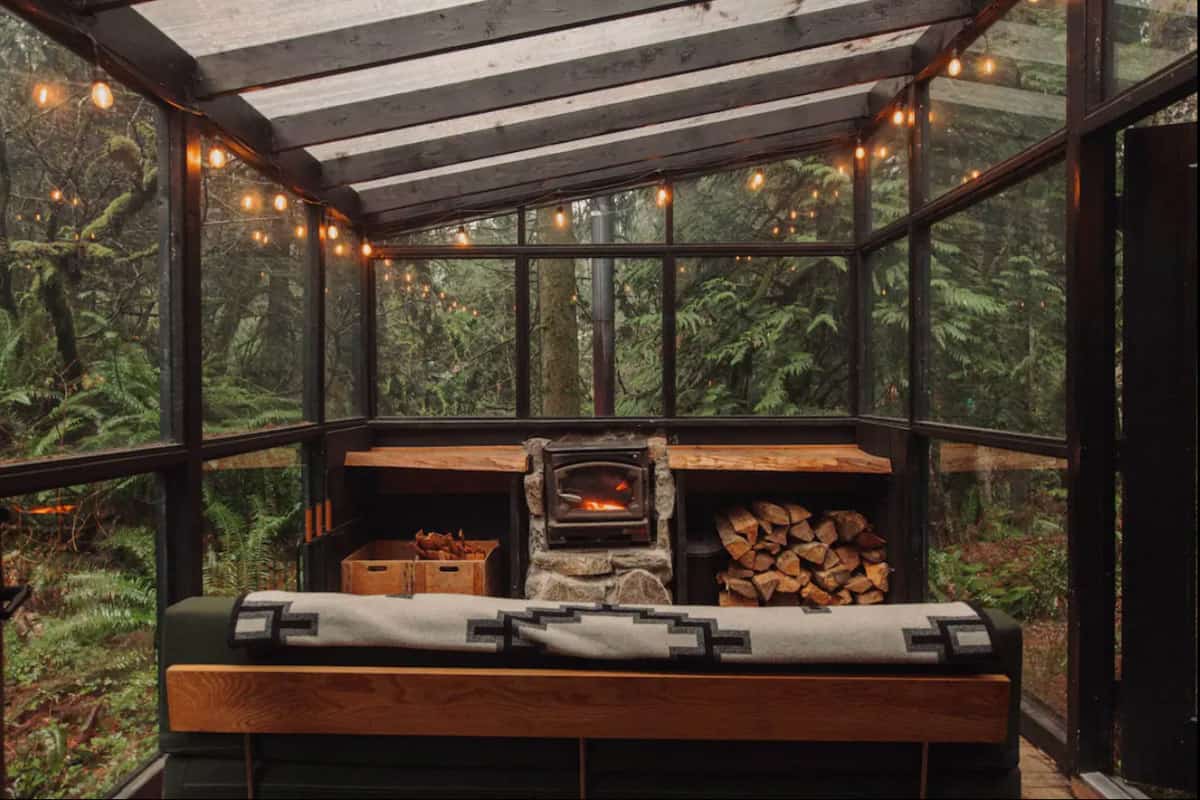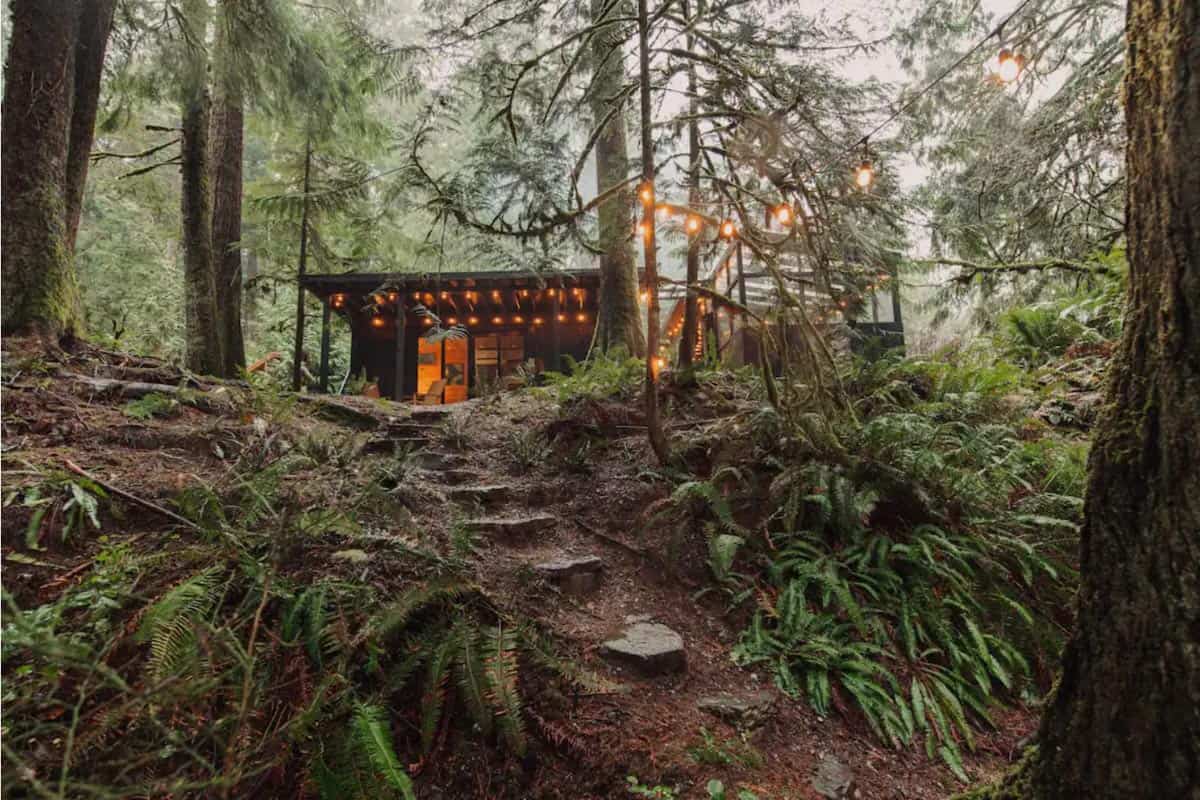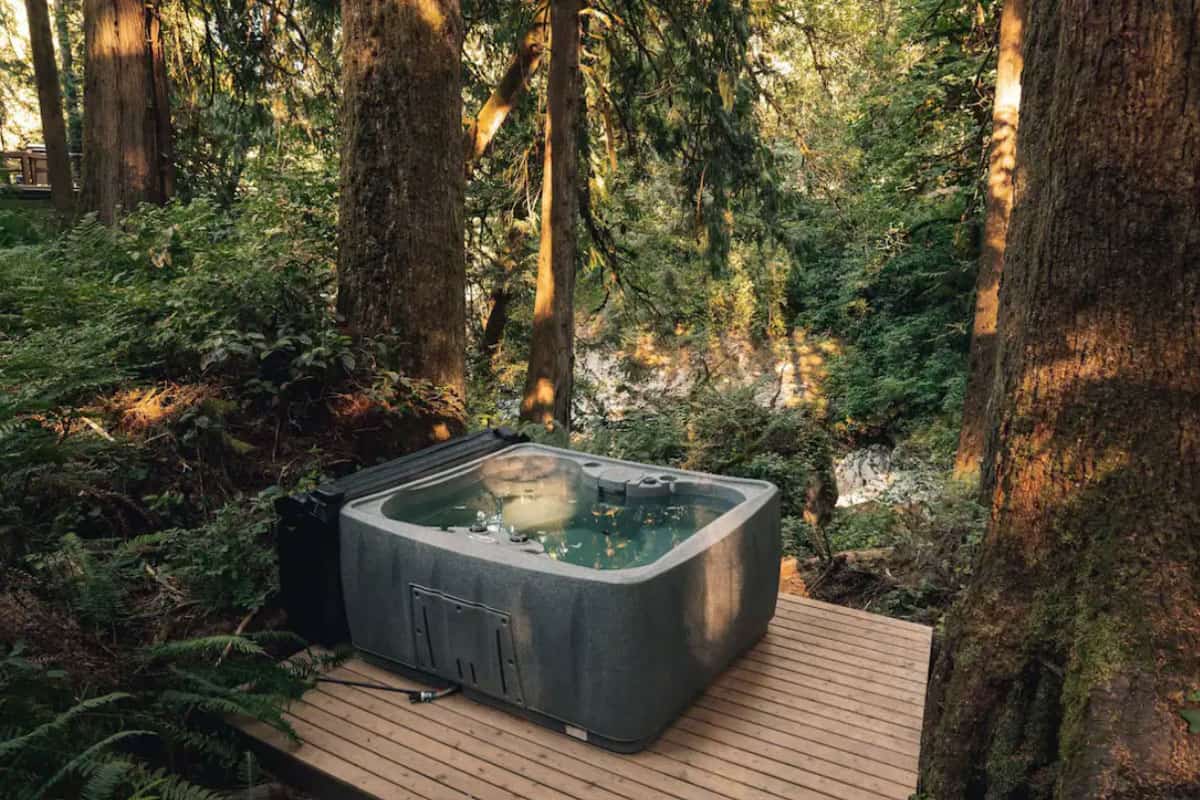 This stunning cabin is owned by the same Superhosts as Canyon Creek Cabin #1. Incredibly unique, the cozy cabin is made up of two buildings connected by a deck. The first is a small sleeping cabin with an all-glass sunroom with fireplace, and the second is a converted shipping container housing the kitchen, bathroom, and living spaces. The icing on the cake is the hot tub perched right above the river!
8. Canyon Creek Cabin #3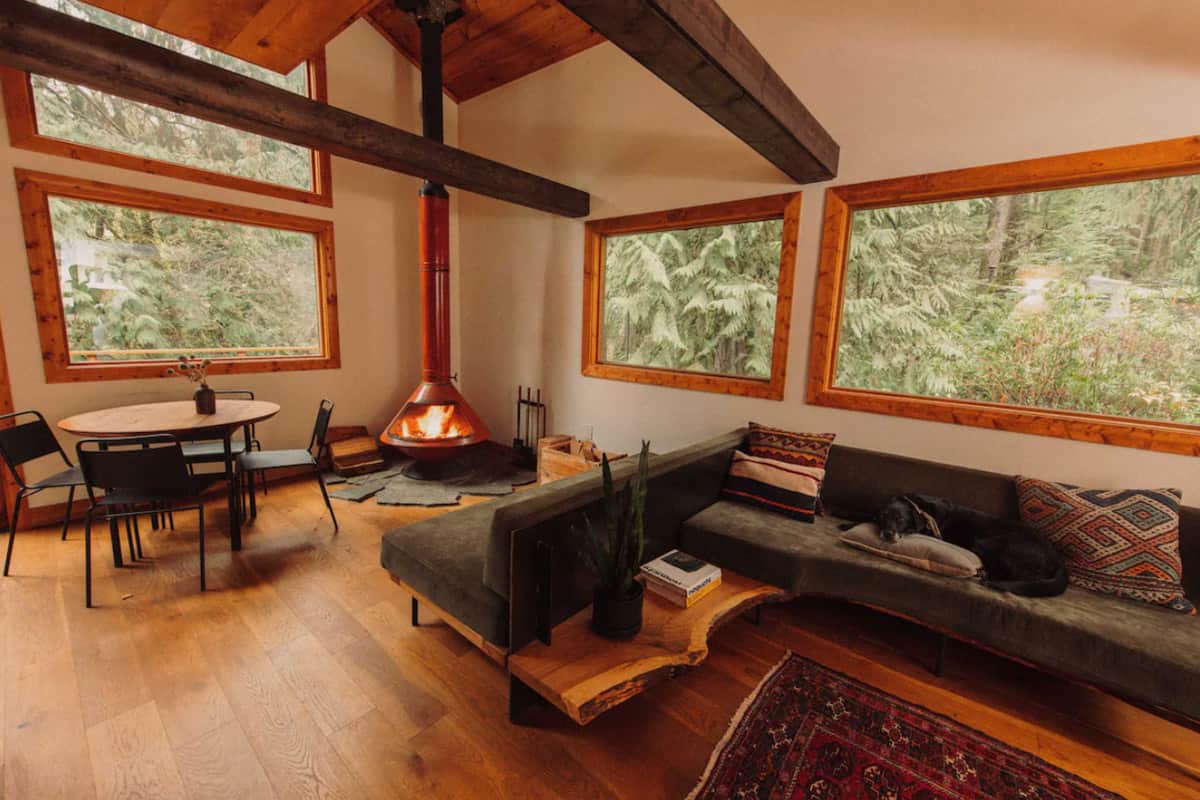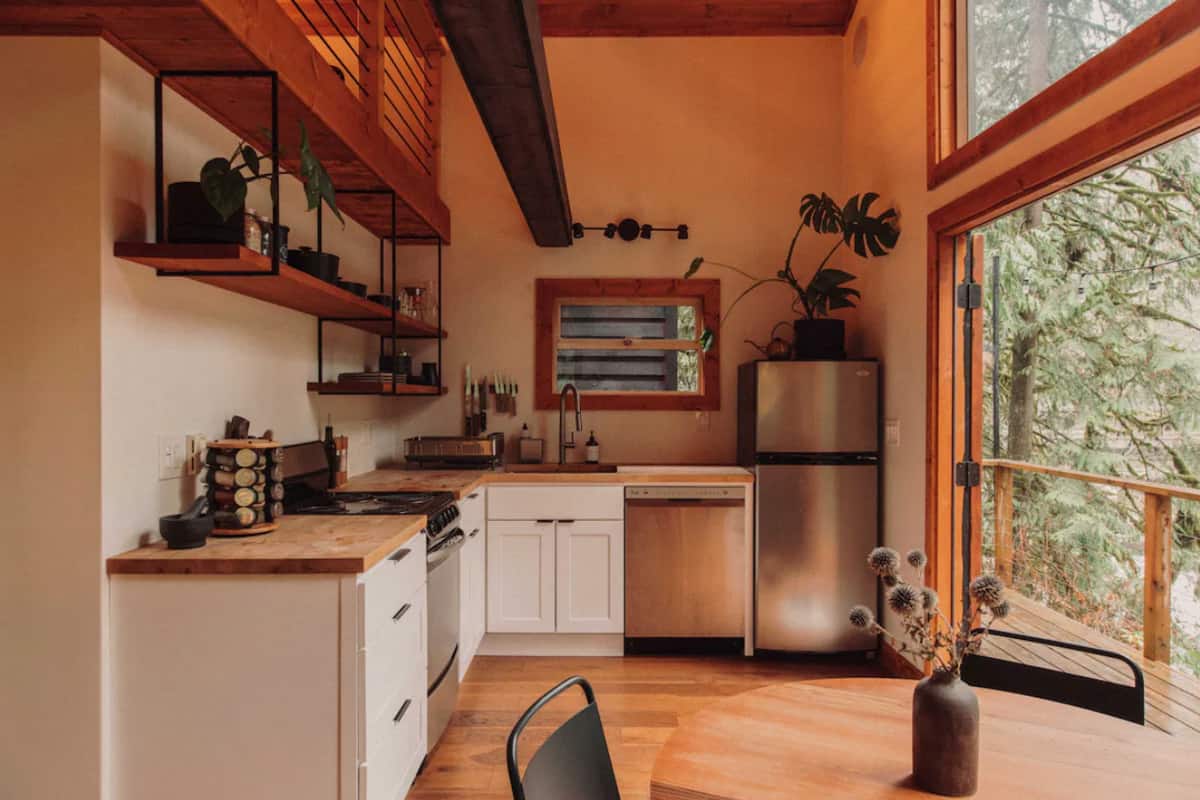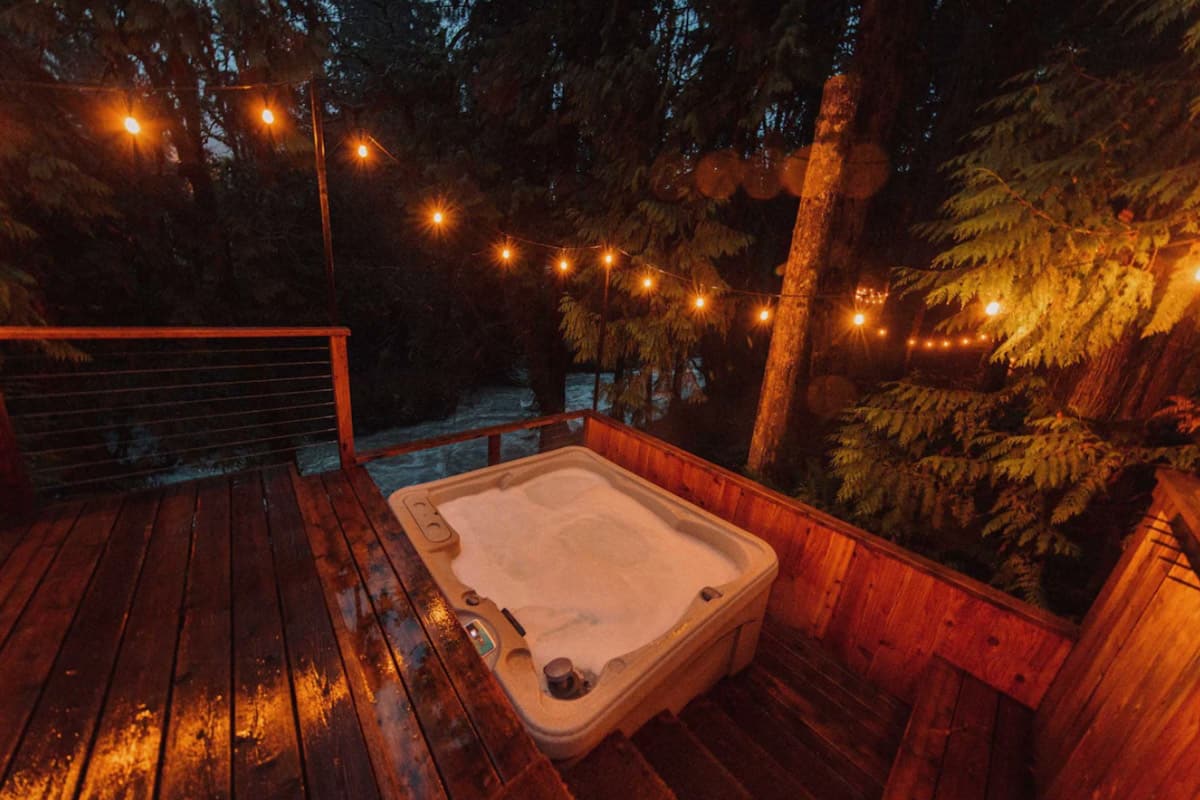 Rounding out a trio of some of the best cabins in Washington state is Canyon Creek Cabin #3, another stunner. Originally a rustic, secluded fishing cabin, the home features views of Canyon Creek from every window. In addition to the loft bedroom, there's a unique "sleep shed," a detached second bedroom off the deck, along with a show-stopping 1970s round enamel fireplace in the living room.
9. Kayakers' Tiny House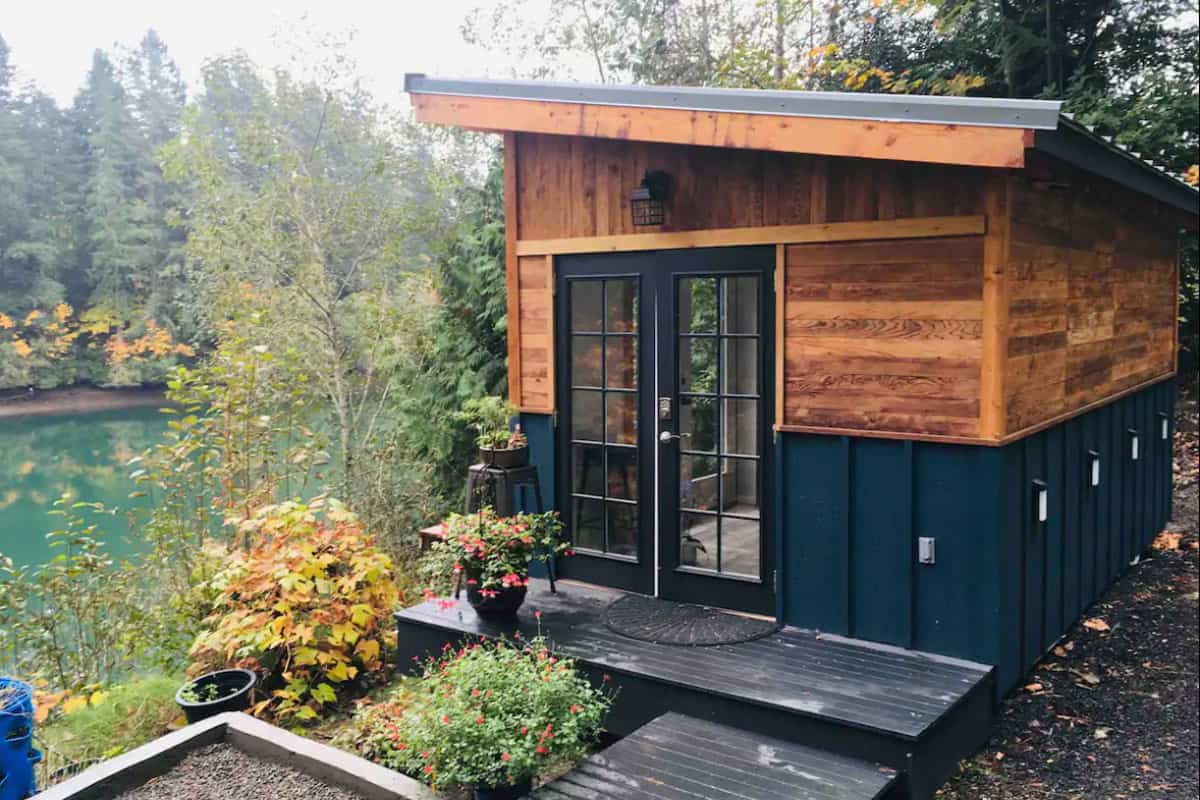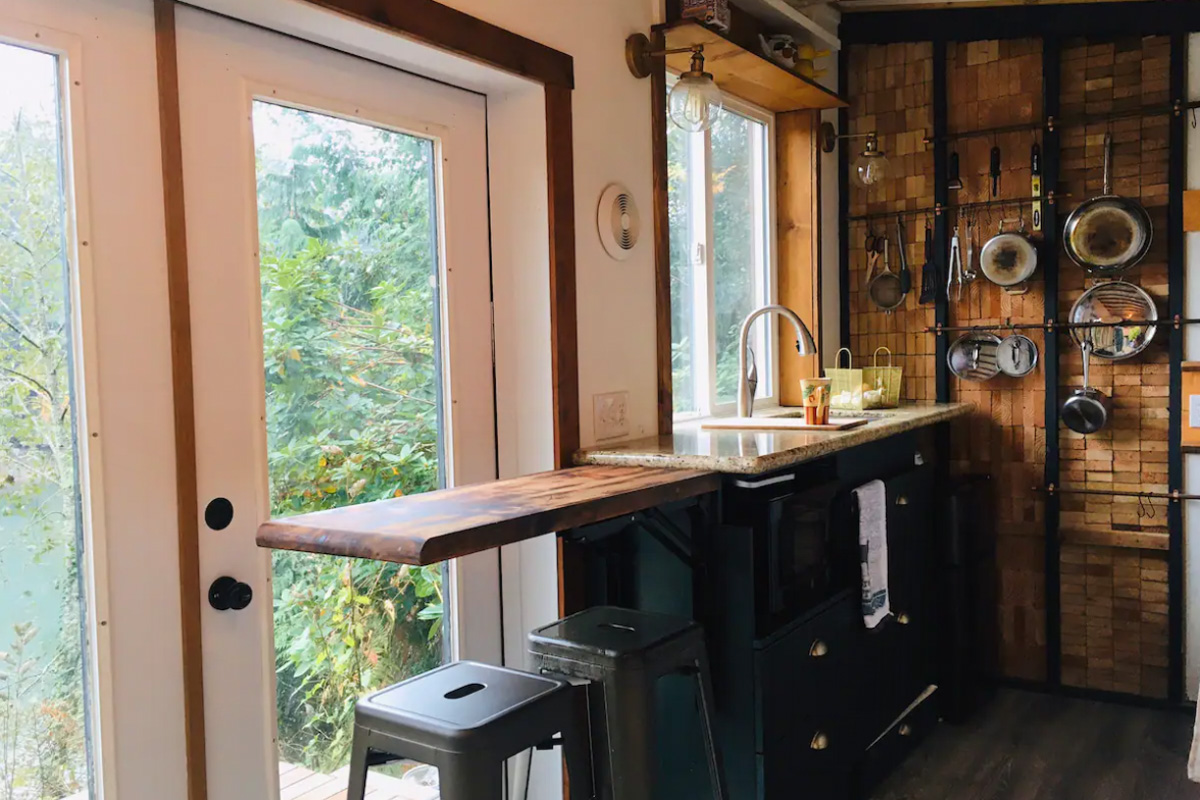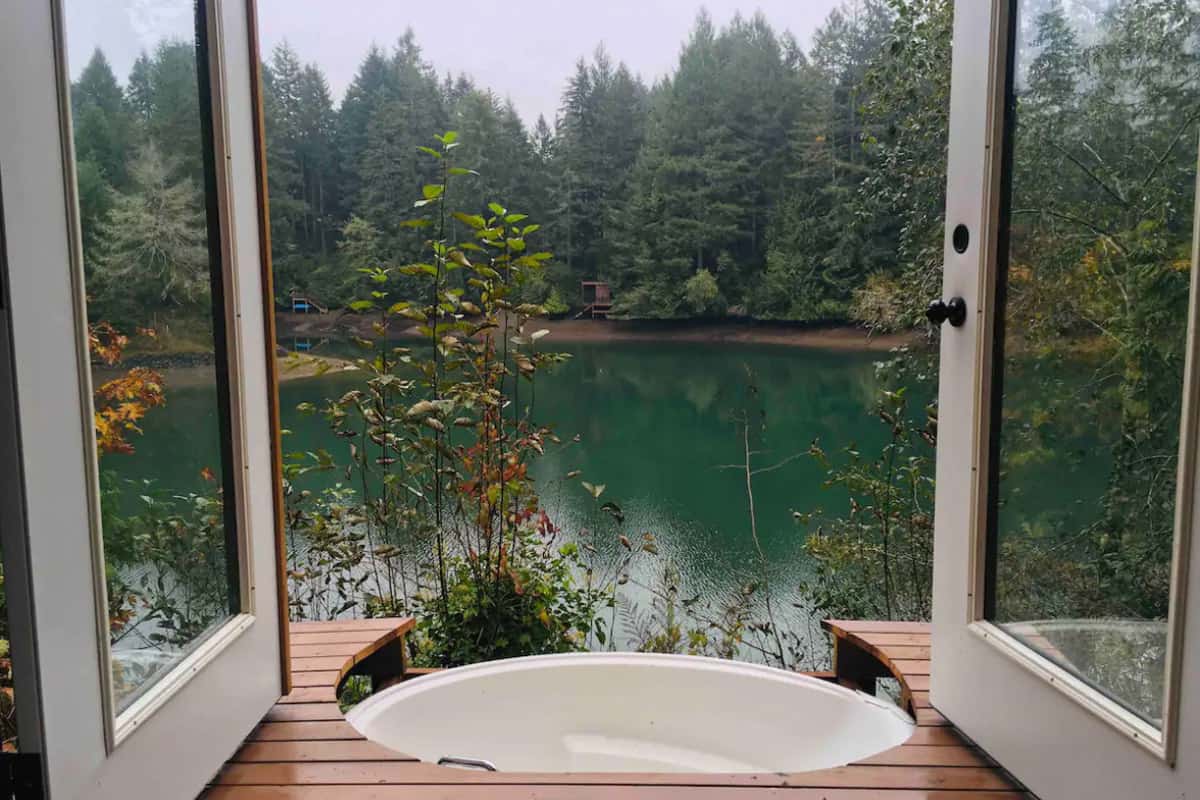 With a location literally right on a bay near Olympic National Park and an outdoor soaking tub overlooking it, it's hard to imagine many more perfect cabins in Washington state. When you're ready for downtime indoors, the 130 square-foot tiny home feels bigger, thanks to two sets of French doors, high ceilings, and clever storage.
10. Peaceful Treehouse Nestled in the Woods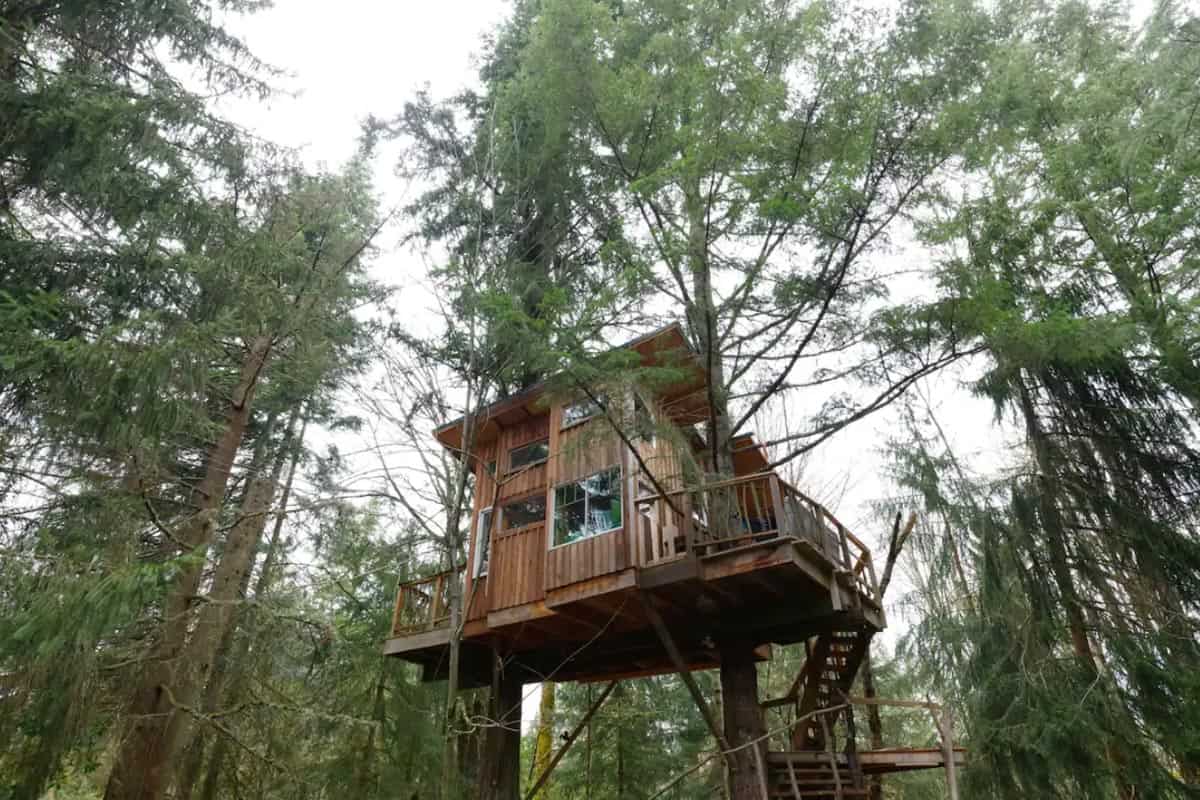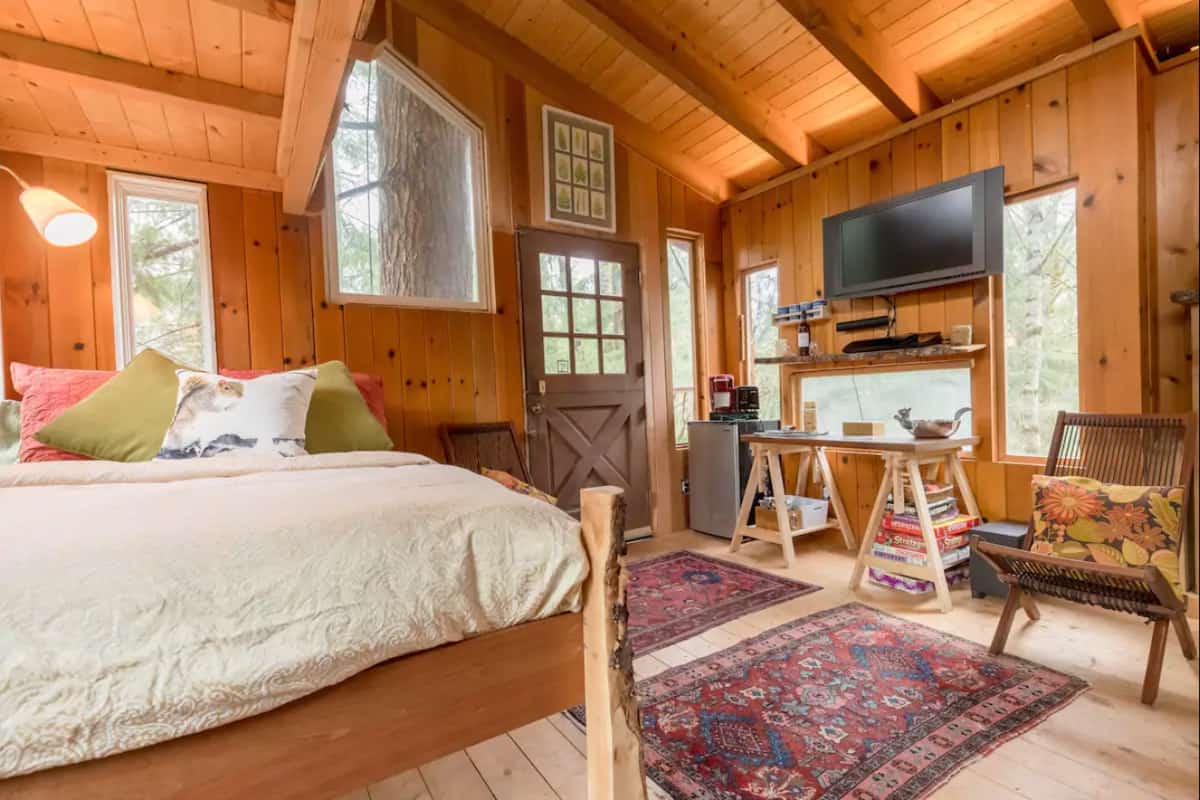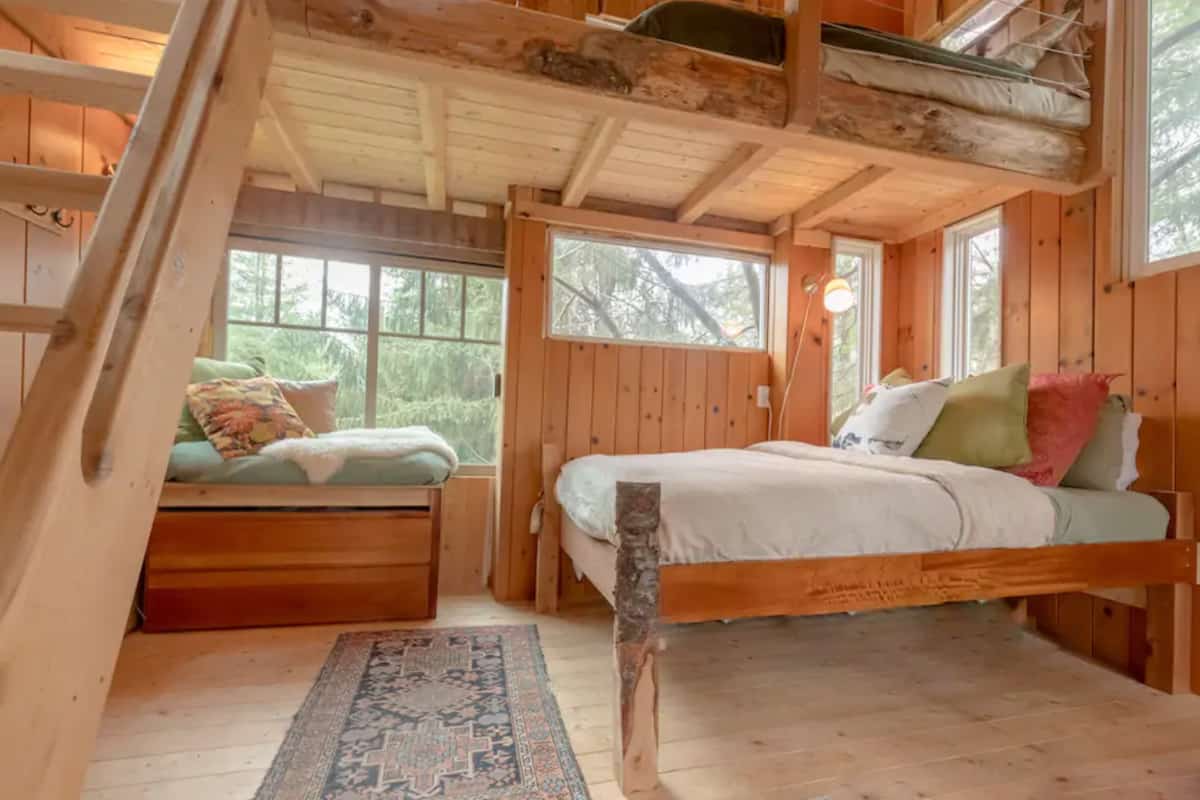 If you're looking for a truly memorable stay near Seattle, this is it! A true treehouse, it's built 15 feet off the ground between two living fir trees. While there isn't a shower or oven, it's far from rustic — this treehouse has electricity and heat! For cooking, guests have a toaster and all-important coffee supplies, plus the luxury of movies in extremely comfortable beds.
11. Tall Pines Tiny Cabin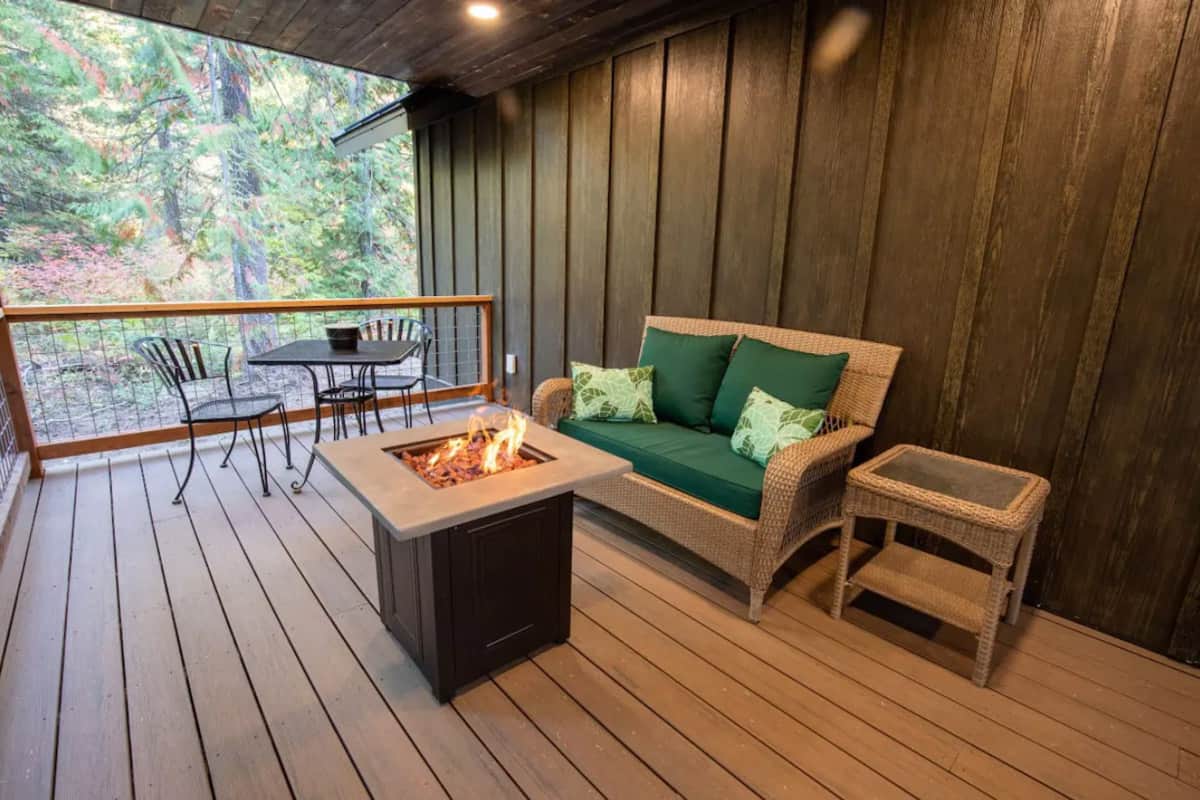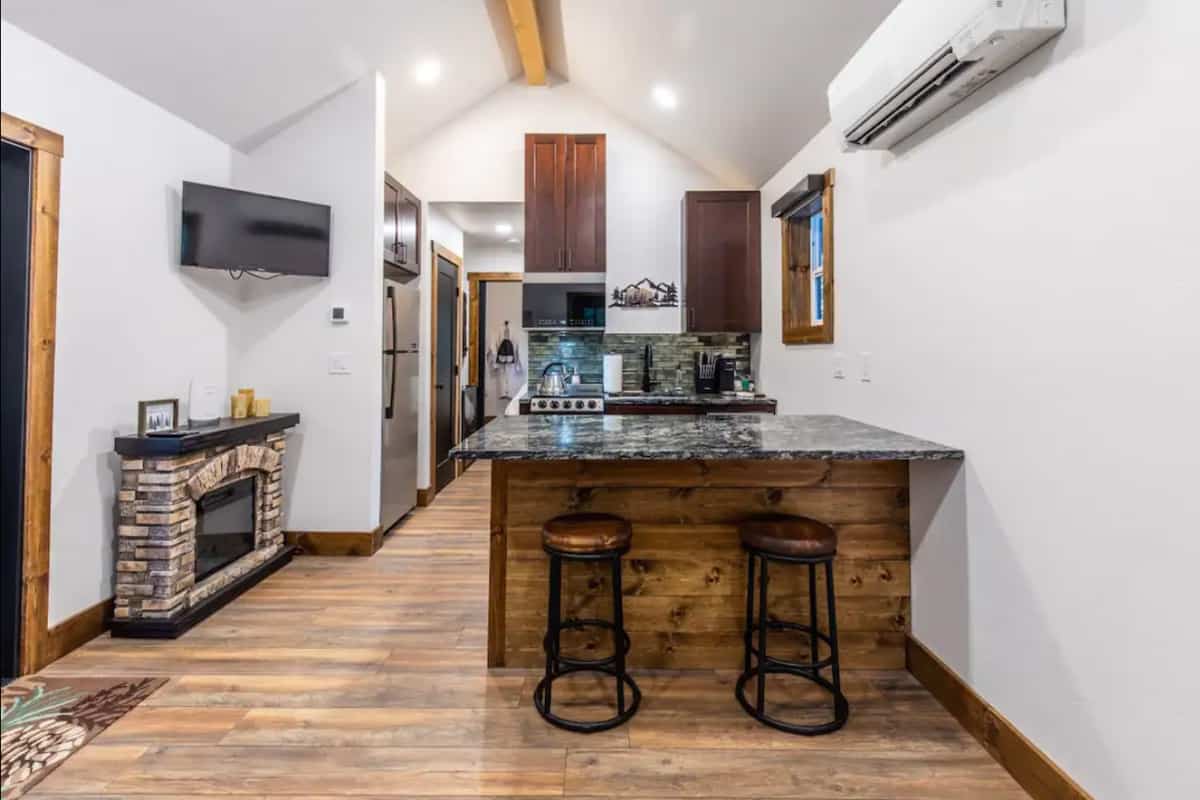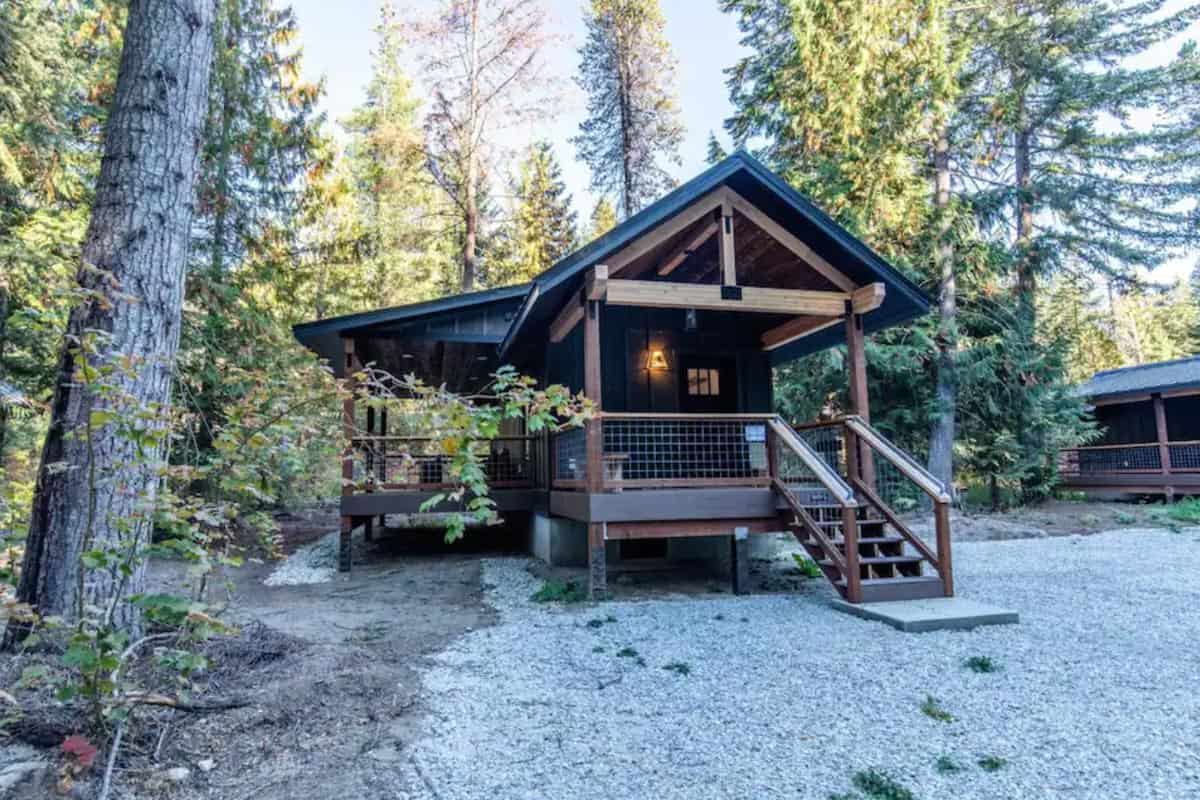 This adorable, modern tiny cabin is in one of the best parts of the state. Enjoy being minutes from Lake Wenatchee and close to downtown Leavenworth, plus some of the PNW's best hiking (like Colchuck Lake!). The oversized, double-sided covered porch allows you to enjoy The Great Outdoors even when the weather isn't favorable, and fireplaces inside and out keep you toasty.
12. Treehouse Place at Deer Ridge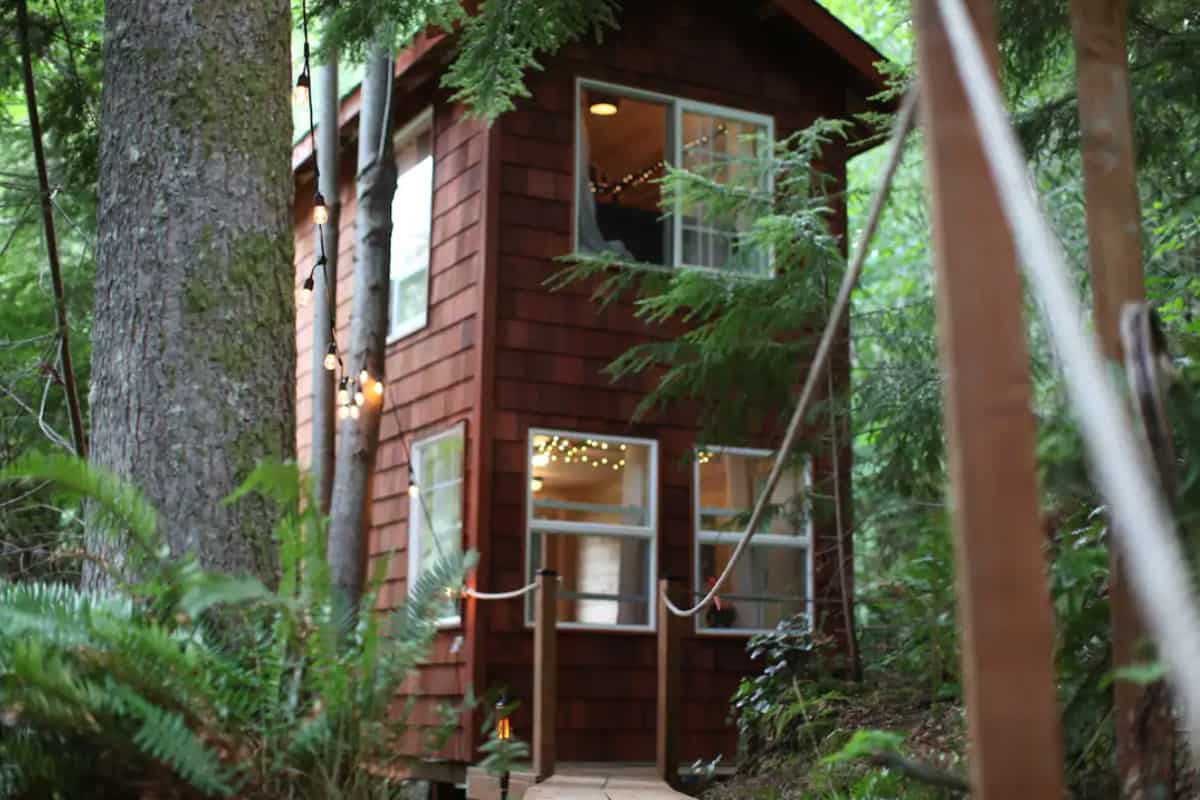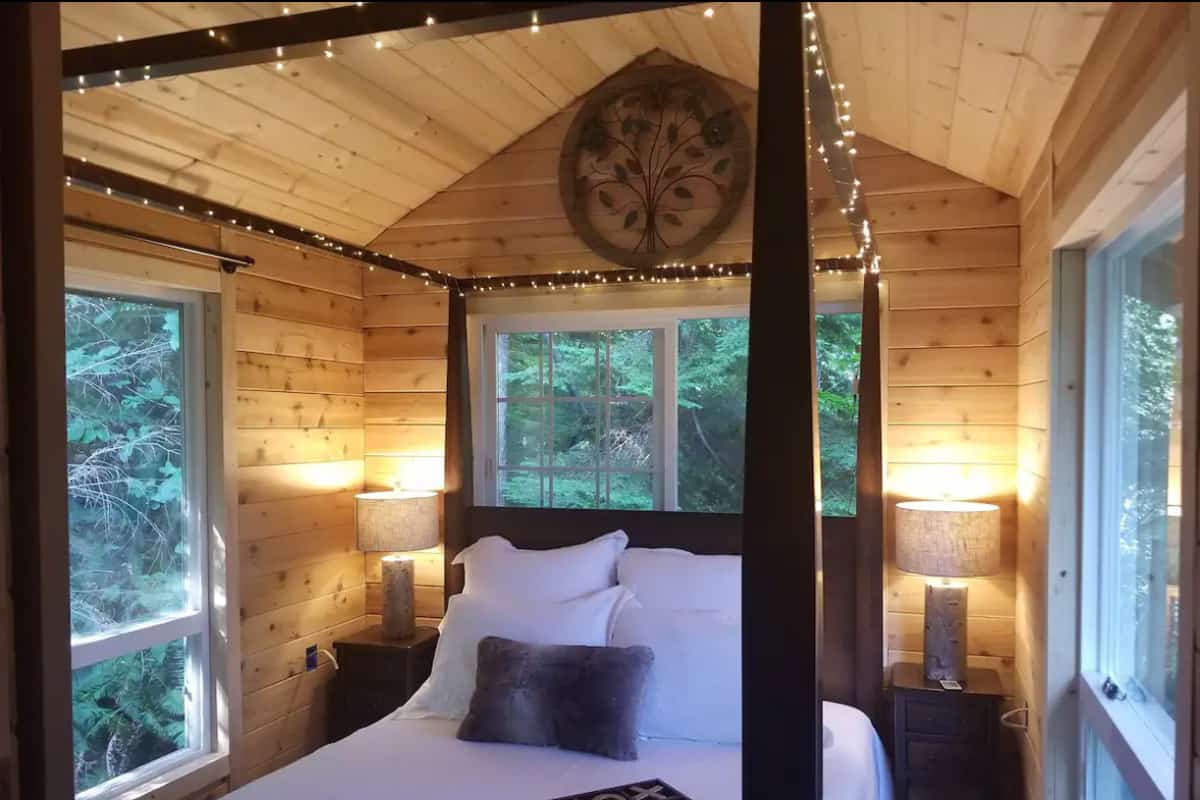 The dreamy setting of this treehouse in the lush forest makes it one of the best cabins in Washington state. That's just the beginning, though — there's a huge soaking tub and fireplace in the living room, plus a well-equipped kitchenette. A spiral staircase leads up to the bedroom, and there's even a small sleeping loft ideal for kiddos!
13. Hebe's Hideout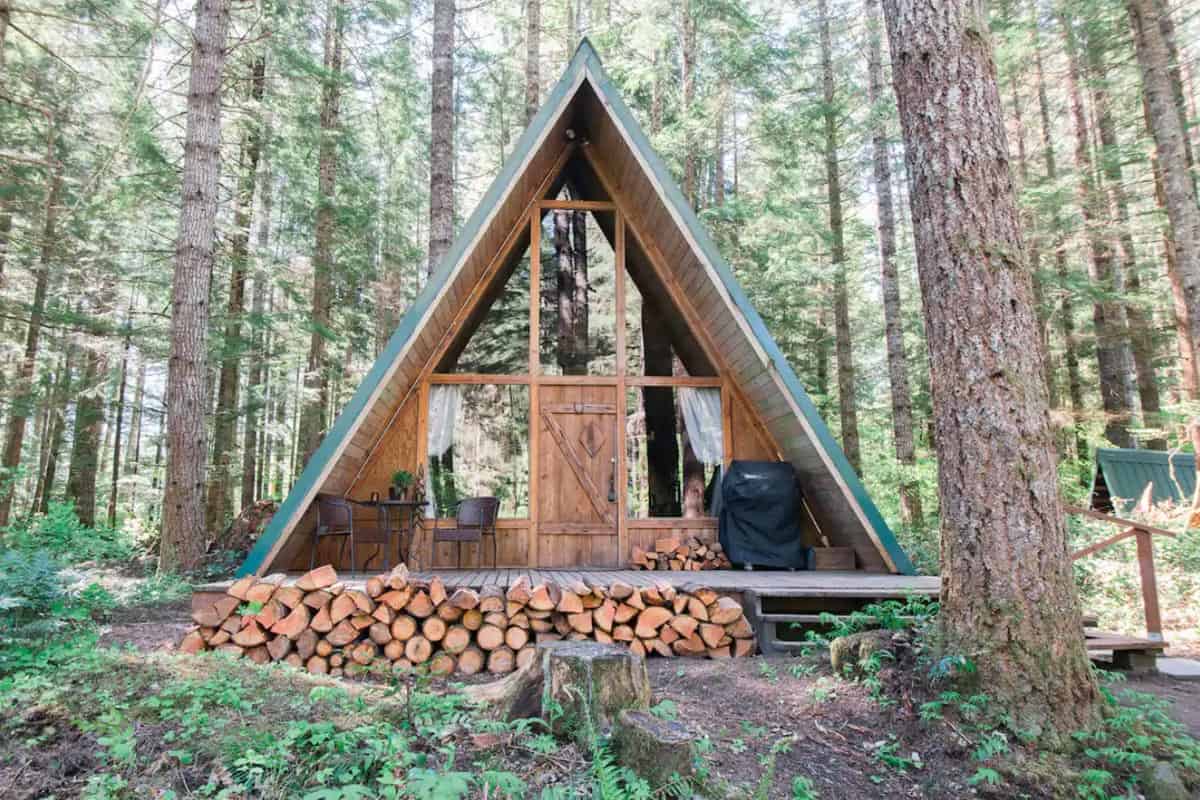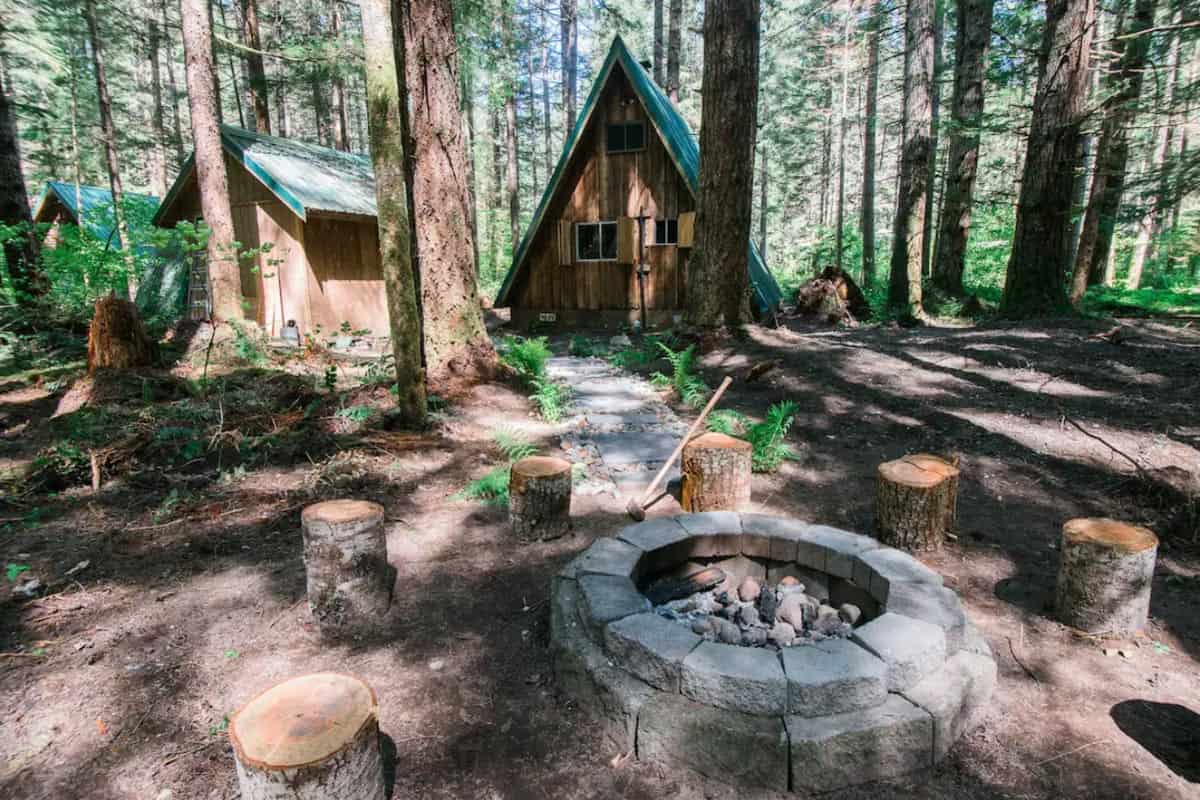 When you think of the best cabins in Washington state, there's a good chance you're picturing Hebe's Hideout. The perfect A-frame in the woods has a spacious deck, wood-burning fireplace, and outdoor fire pit — all the quintessential cabin elements! Plus, the Nisqually River is a literal one-minute walk out the back door and Mount Rainier National Park is a short drive!
14. Tranquil Leavenworth Haven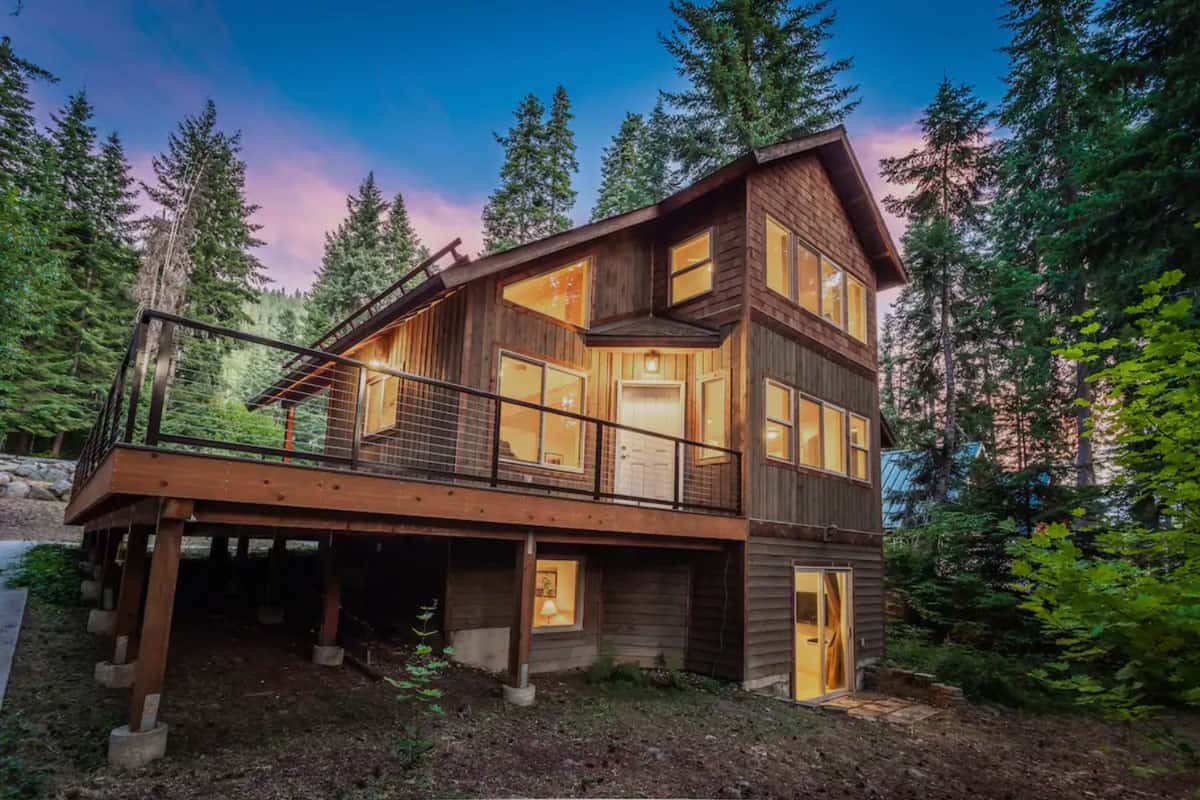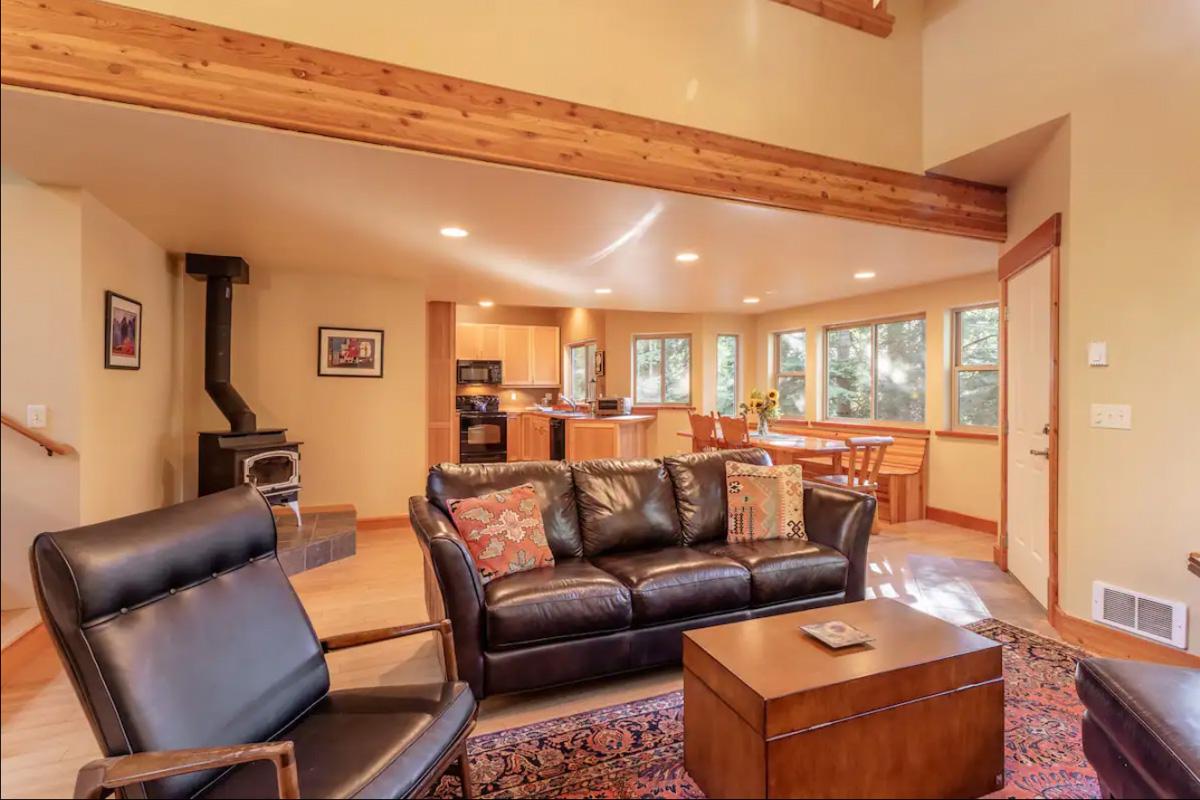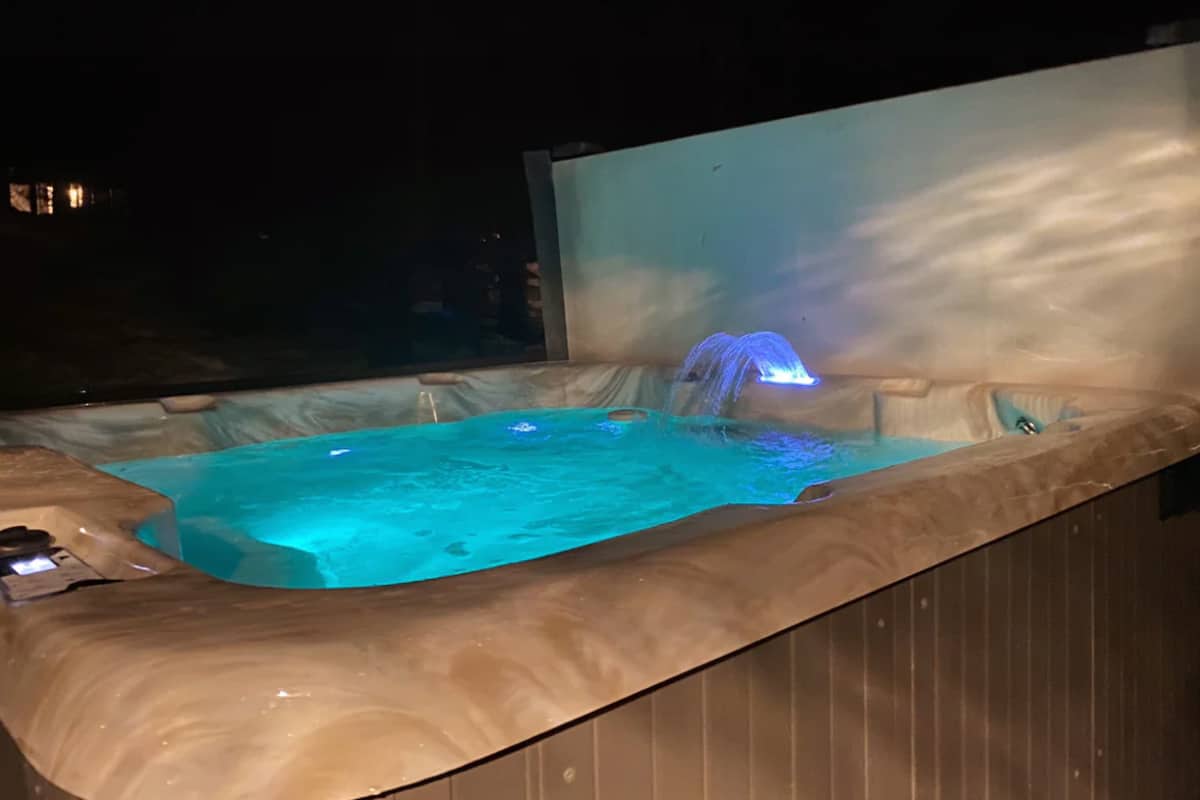 With a perfect location just outside of Leavenworth and plenty of room for everyone, this is one of the best cabins in Washington state for big families or groups. There are two kitchens (one in the basement), laundry, a reading nook upstairs for when you need some downtime, a large outdoor seating area with a fire pit and hot tub, and even a game room with old-school Pac-Man and a foosball table!
15. Wild Sky Escape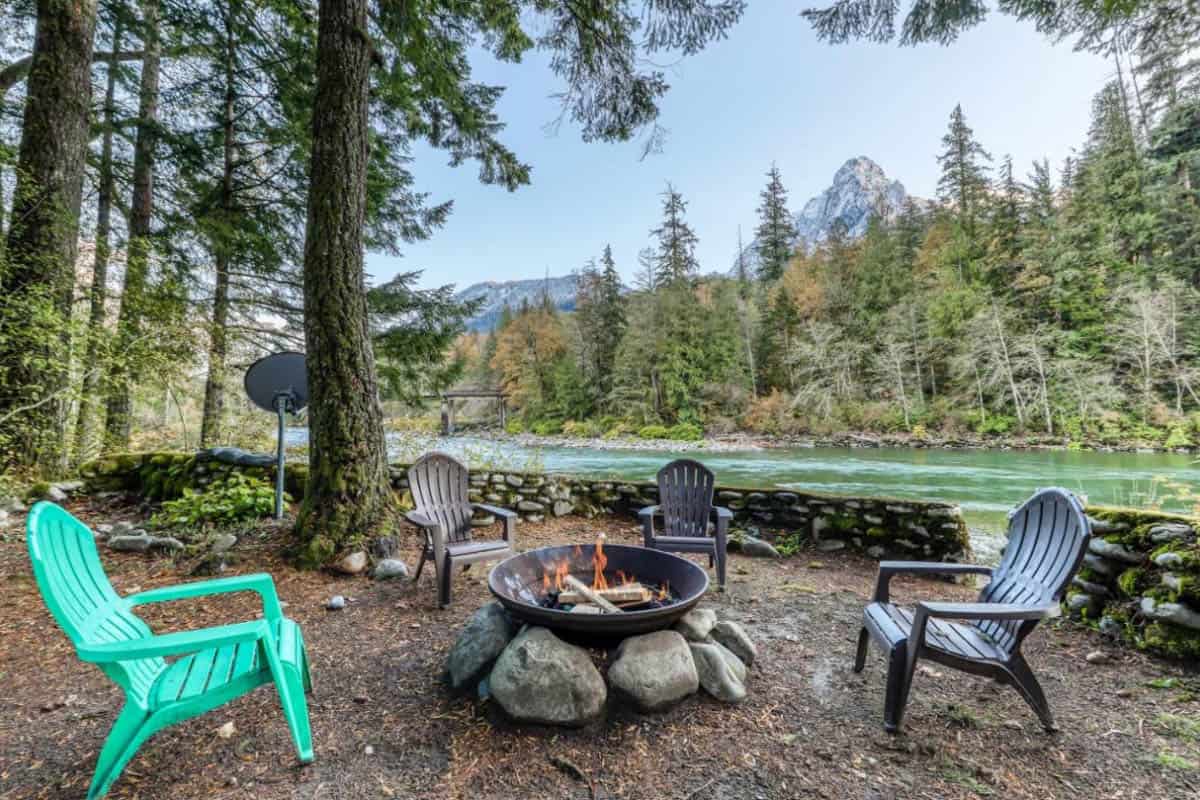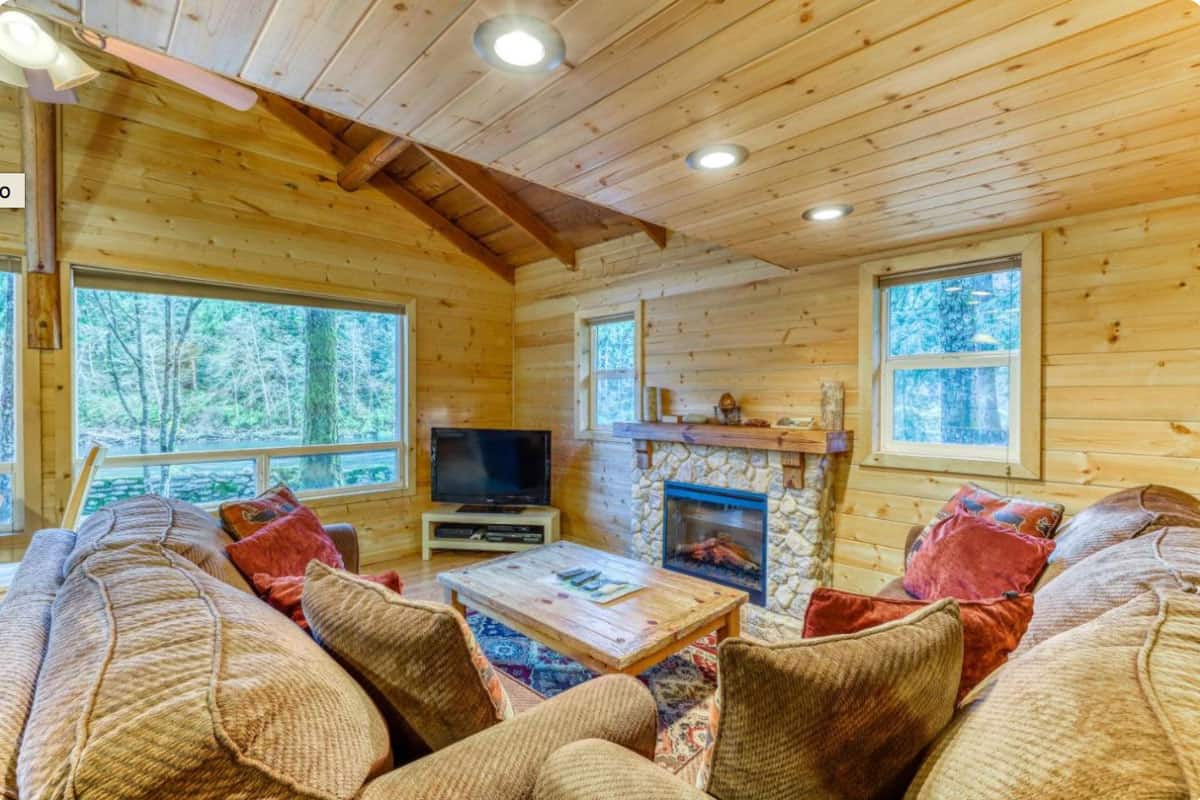 Not only is this beautiful cabin close to skiing and hiking, it also sits directly on the river! You can enjoy the fire pit or hot tub right alongside the rushing water, and hear the soothing sound from inside. A complete kitchen, plenty of seating, and wi-fi make this a great choice for a working "staycation."
16. New Modern Cabin Near Mount Rainier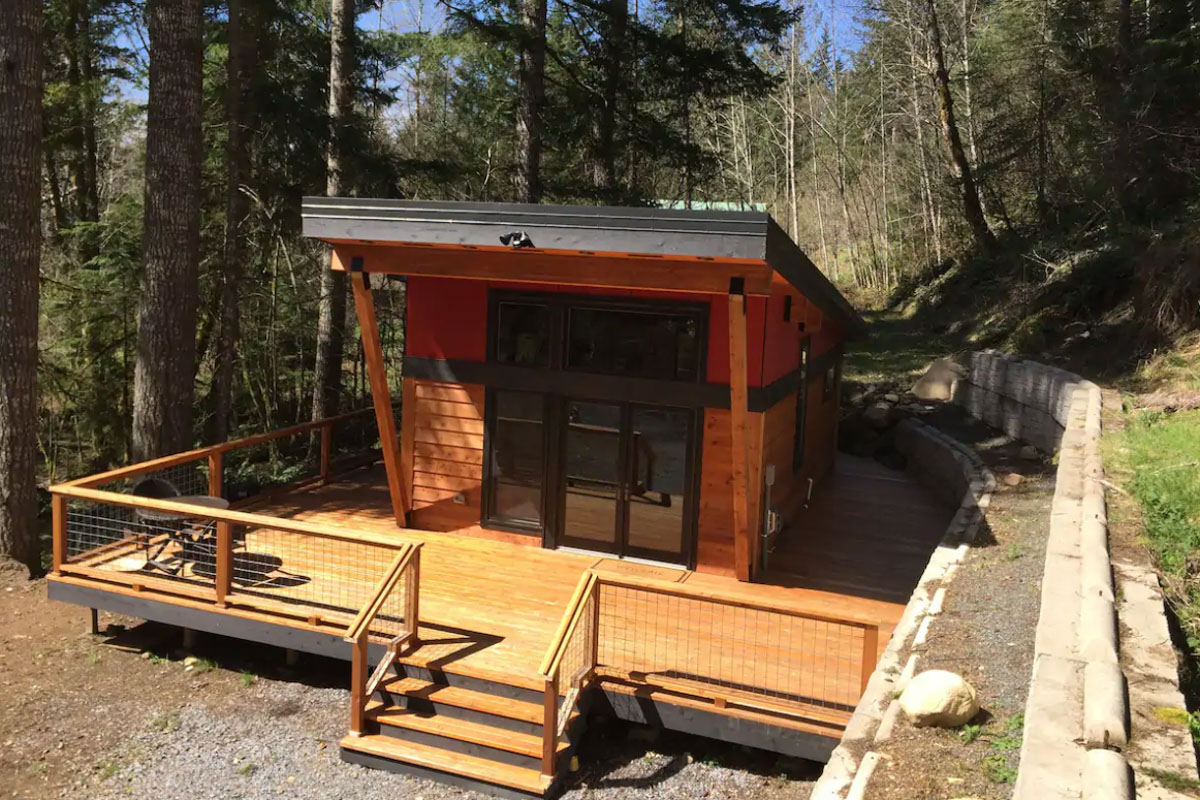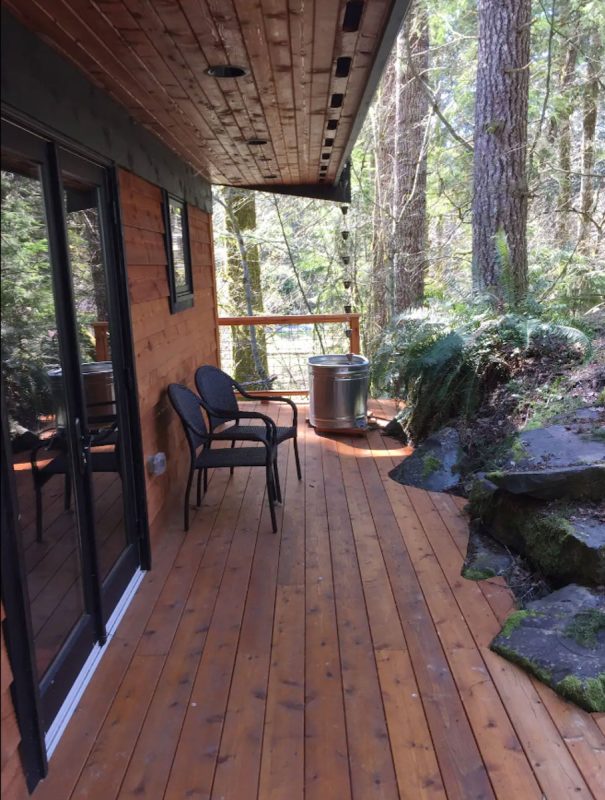 Situated right near the Paradise entrance to Mount Rainier National Park, this brand new space for two is one of the best cabins in Washington state! The roomy wraparound deck has an outdoor dining area and grill and indoors, you'll never want to leave the snuggly down-filled couch in front of the fireplace. There are even snowshoes available for guests!
17. Guten Cabin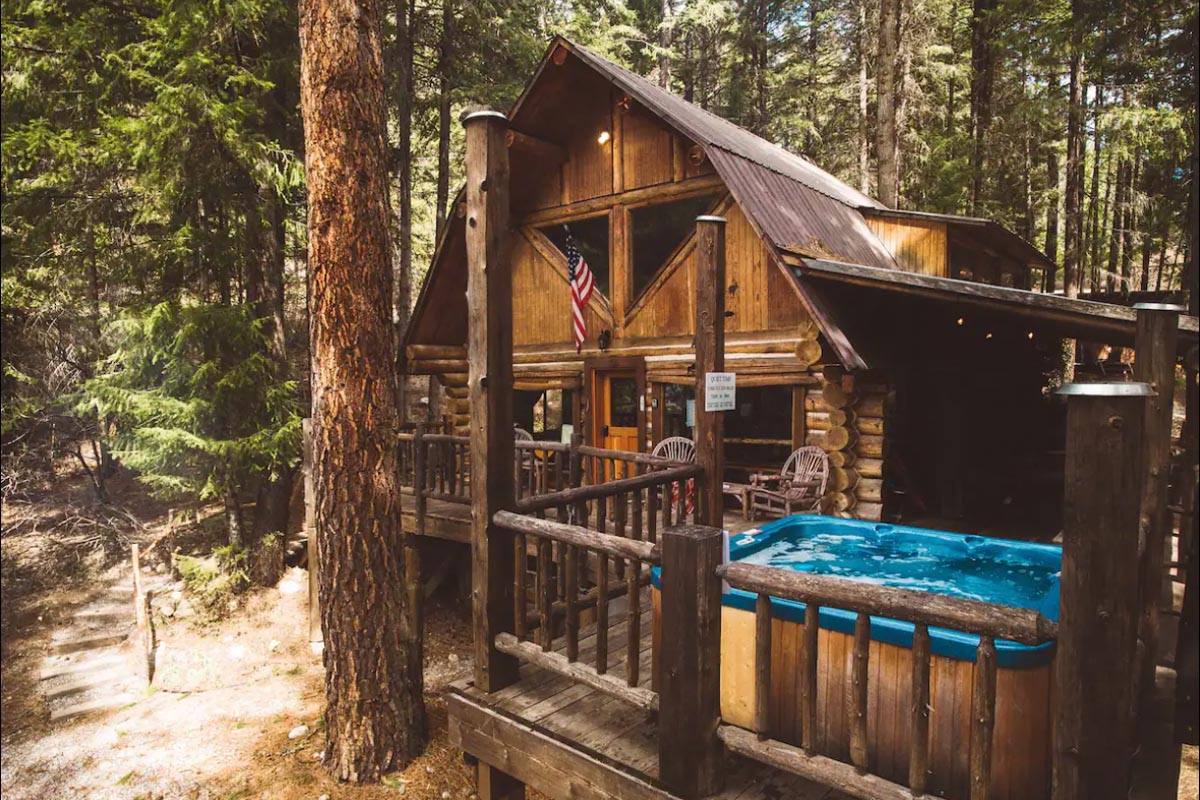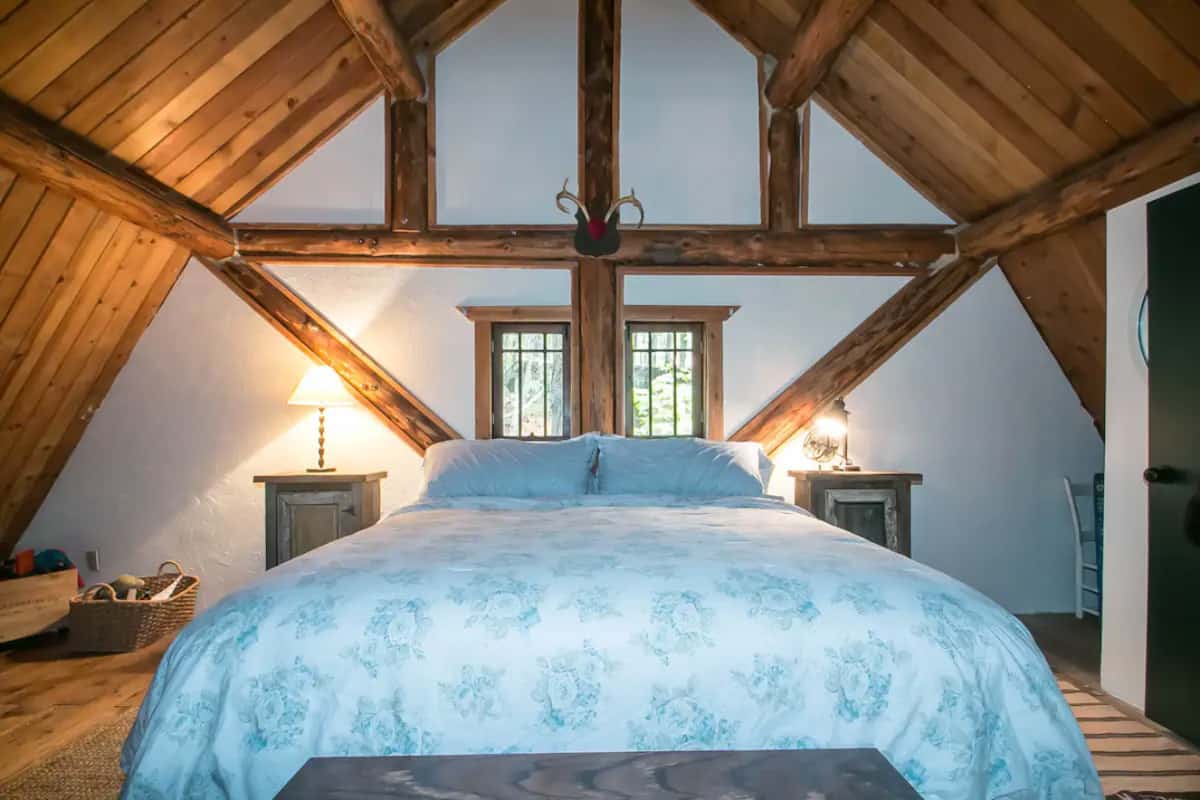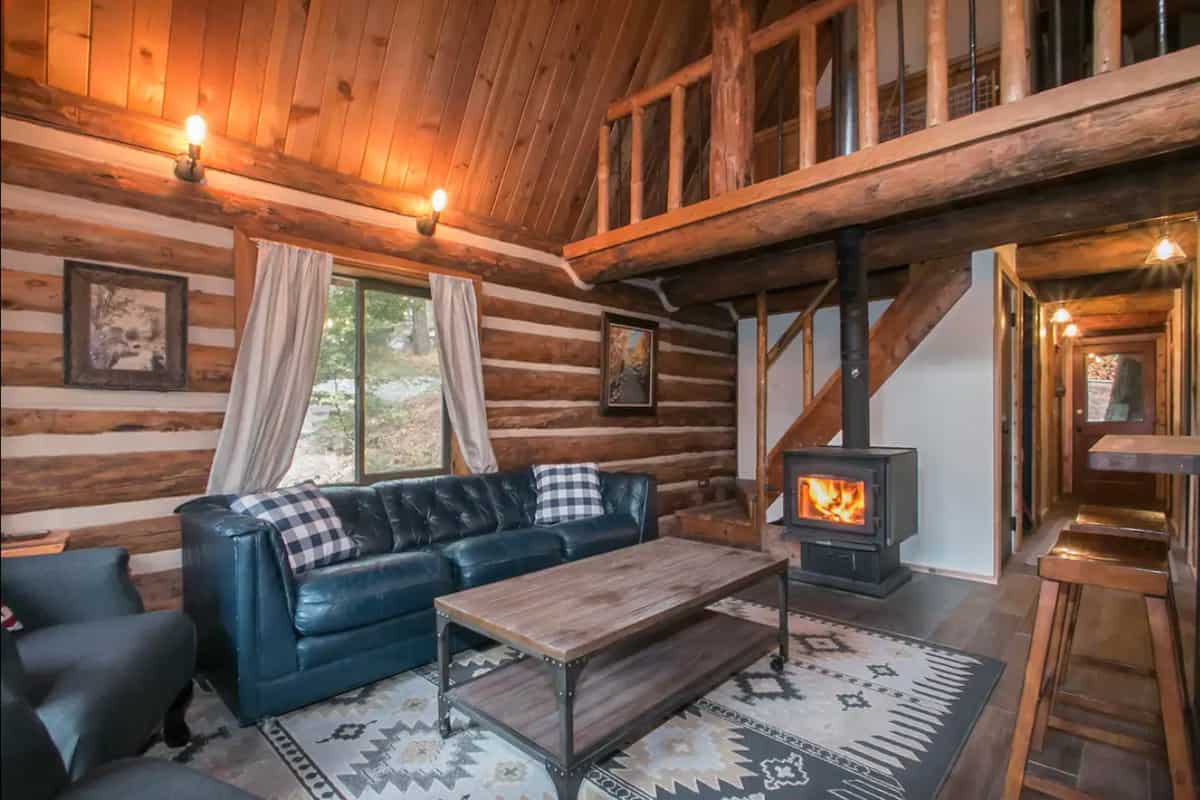 Who doesn't love an authentic, rustic log cabin? This one in Leavenworth is perfection, with picture windows, a wood-burning fireplace, heated floors, and outrageously comfortable furniture. There's a second living area upstairs plus a basement with foosball, so everyone can spread out. Foodies will love the modern chef's kitchen and outside, there's a hot tub and fire pit.
18. Puget Sound View Cabin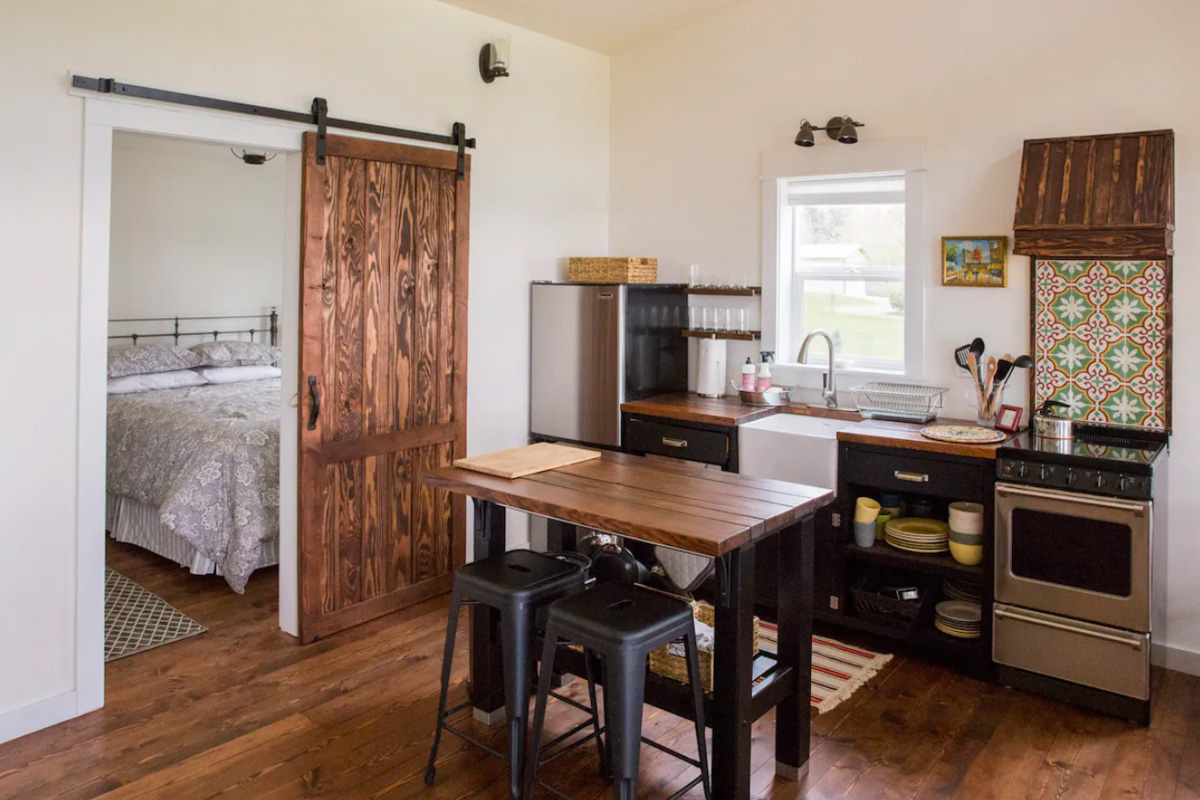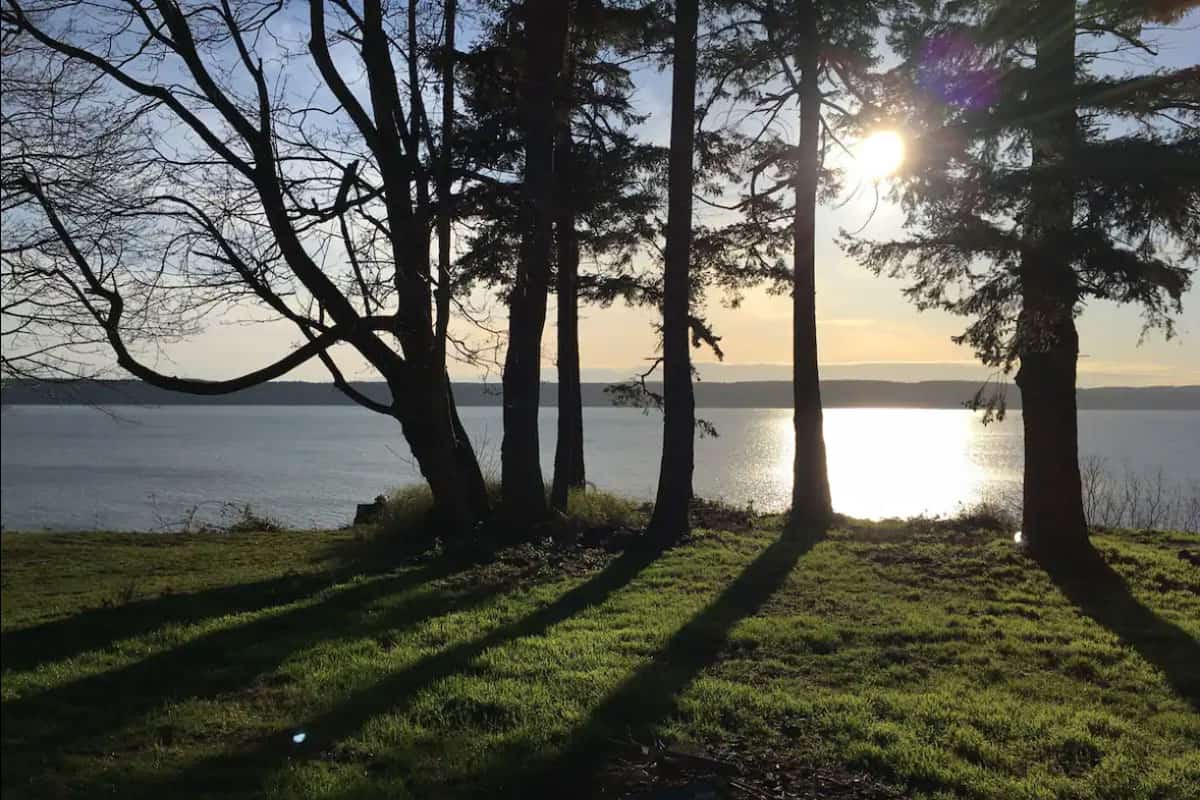 If you're drawn to the PNW's moody coastline, this is one of the best cabins in Washington state! It faces Whidbey Island and has direct access to a beach, where there's rarely anyone else! Look for the perfect piece of driftwood and watch for otters and whales, then head back to lounge in the hammock, enjoy a beachside fire, or cozy up in front of the indoor fireplace.
19. Cozy Cottage in Greenbank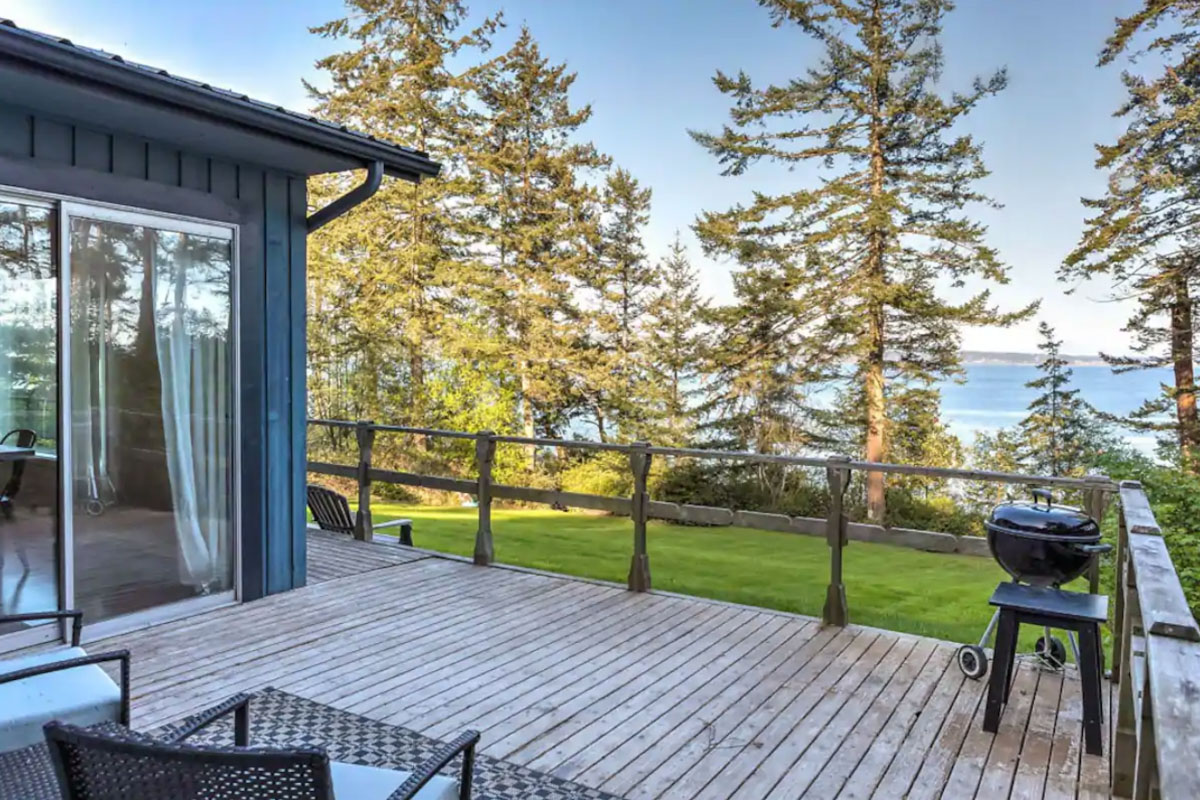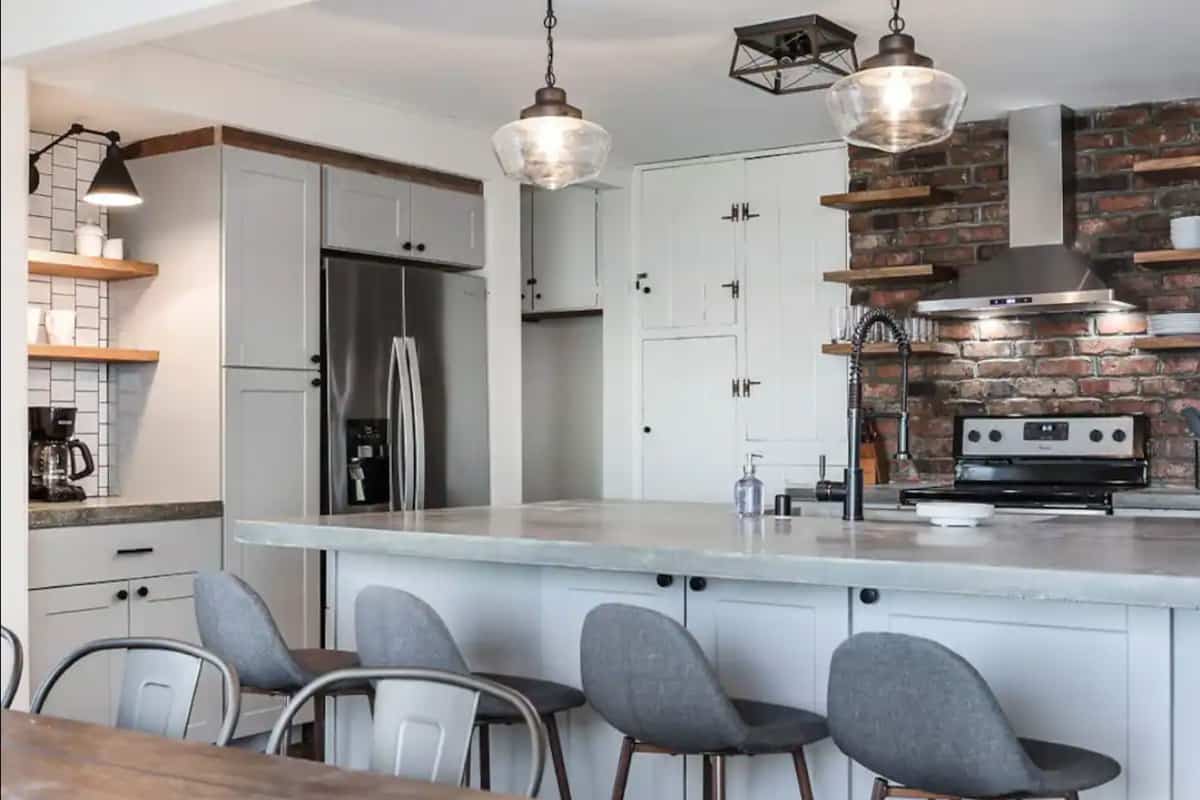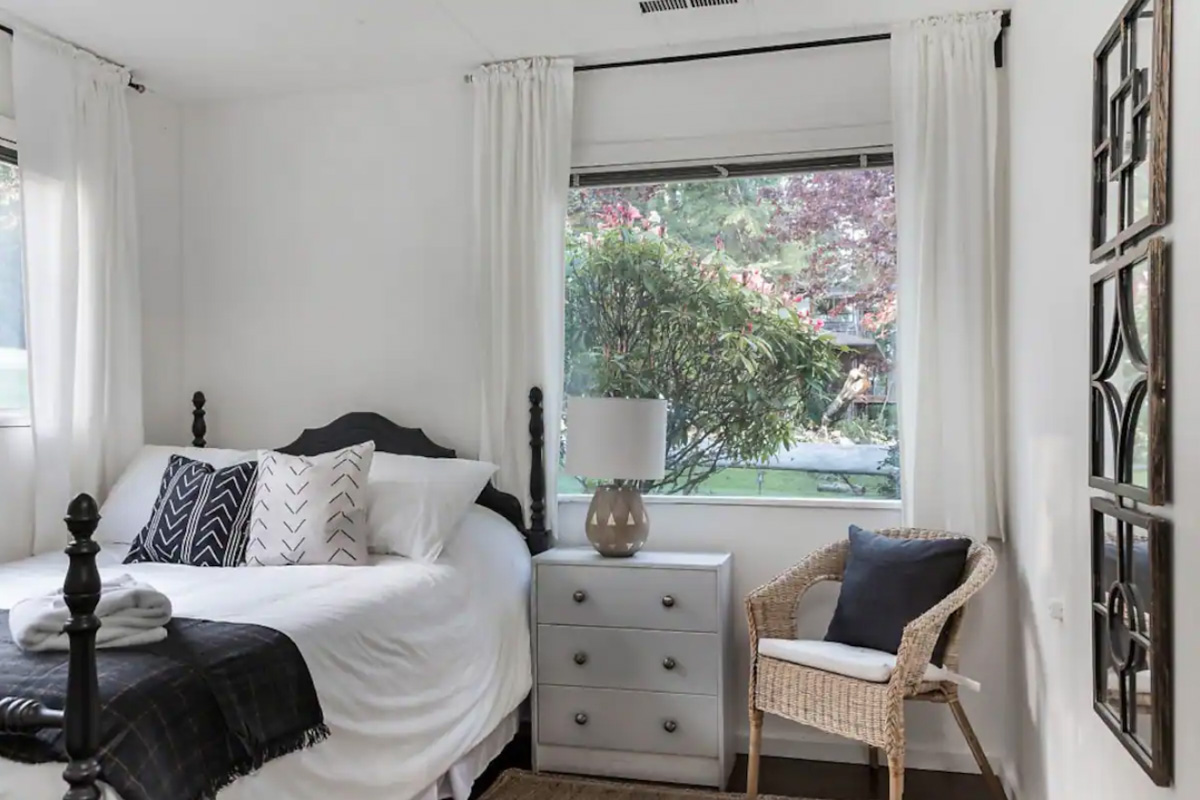 Another Puget Sound cabin, this adorable cottage sits on Whidbey Island and enjoys uber-close proximity to some of the state's best crabbing. In fact, the home has a private walking path directly down to the beach! You'll also enjoy views of the water and Mt. Baker from the huge deck and living room, and occasionally you can even spot gray whales!
20. Das Tree Haus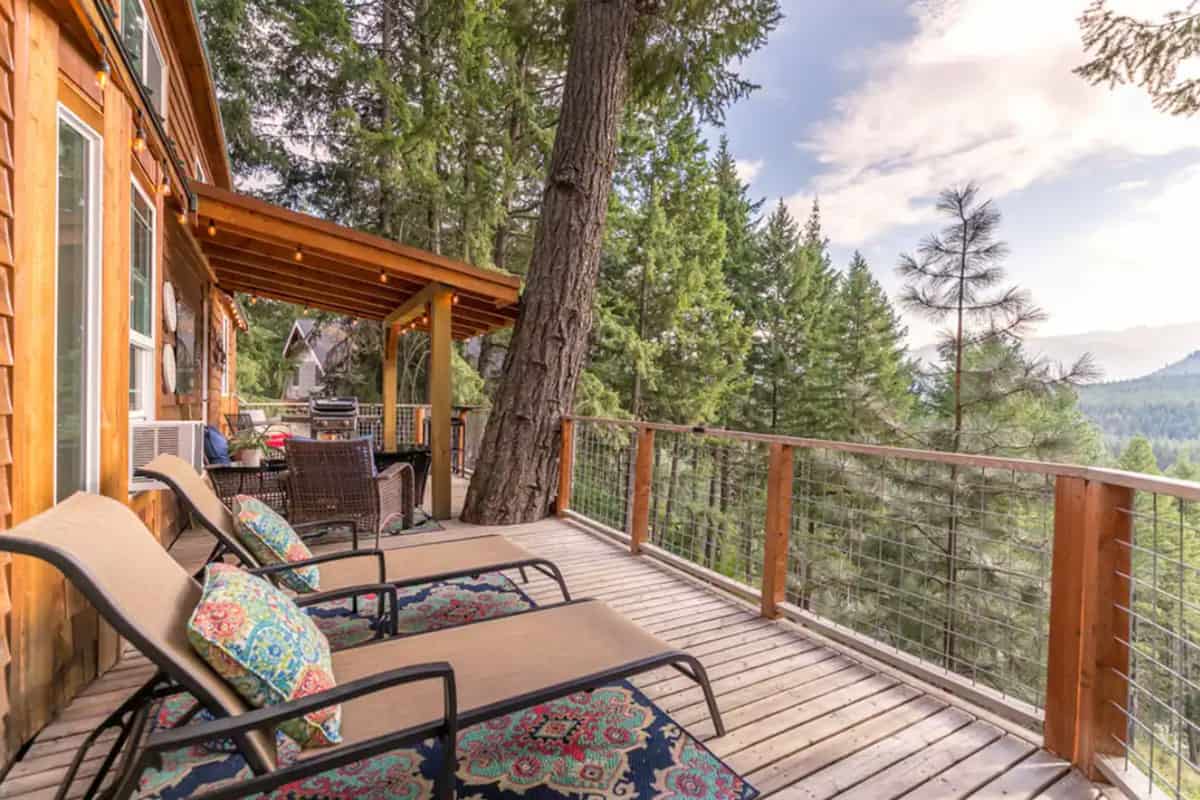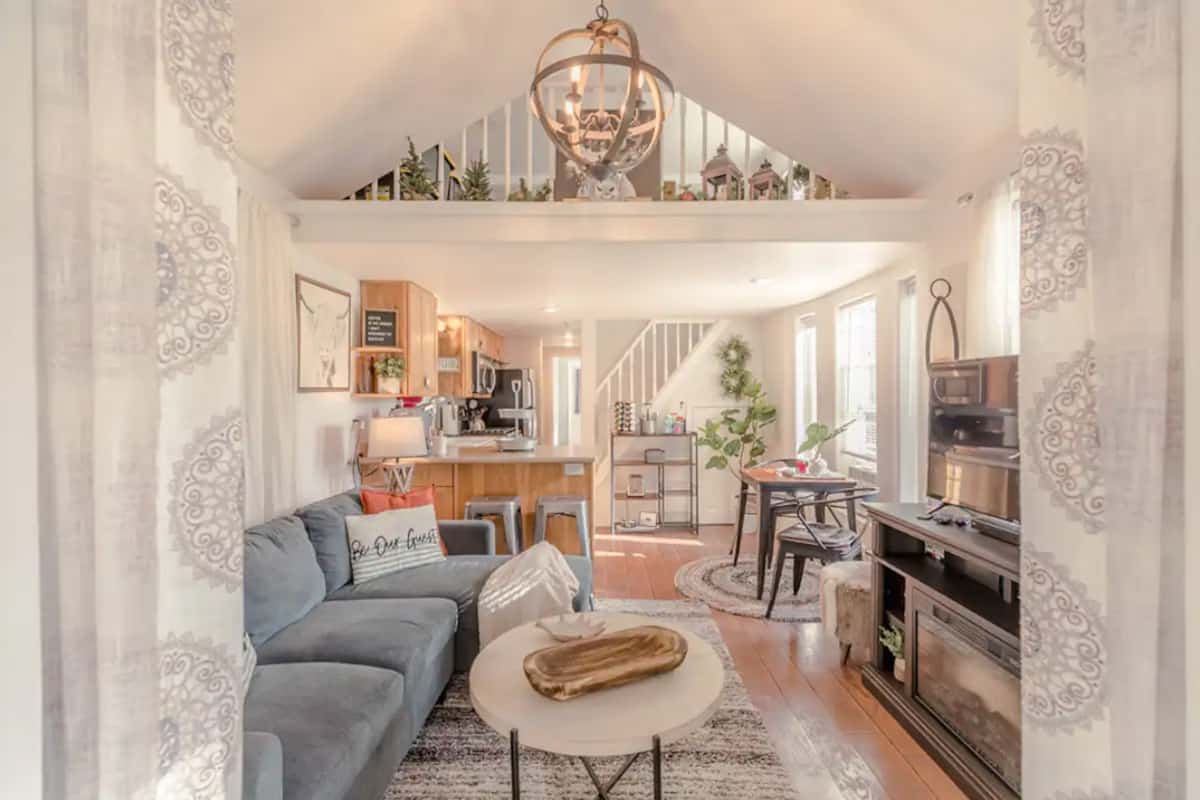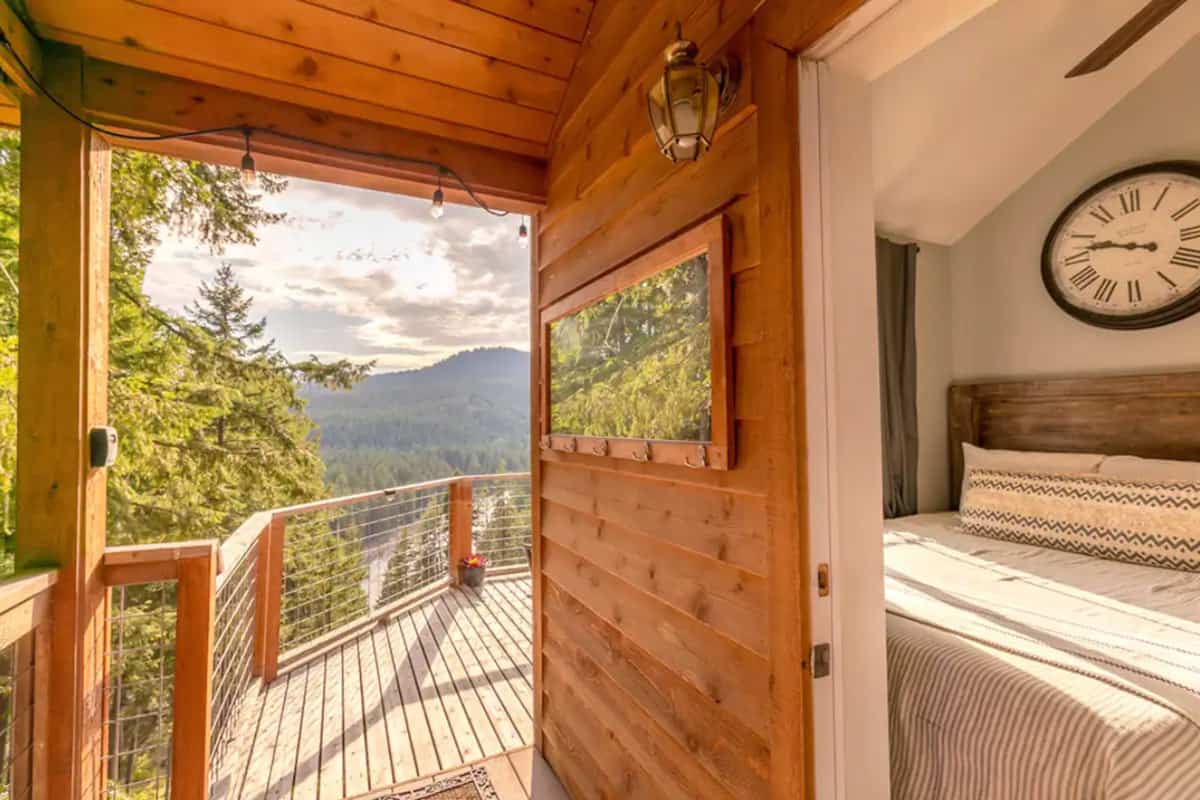 Easily one of the best cabins in Washington state, Das Tree Haus is part tiny home, part treehouse. Perched way up in the trees, you'll enjoy views of the mountains and Wenatchee River from the oversized deck (which you can even access directly from the bathroom!). Eat dinner from the grill and hang out around the fire table, then retreat to the fireplace inside.
Bonus: Spend the night in a fire lookout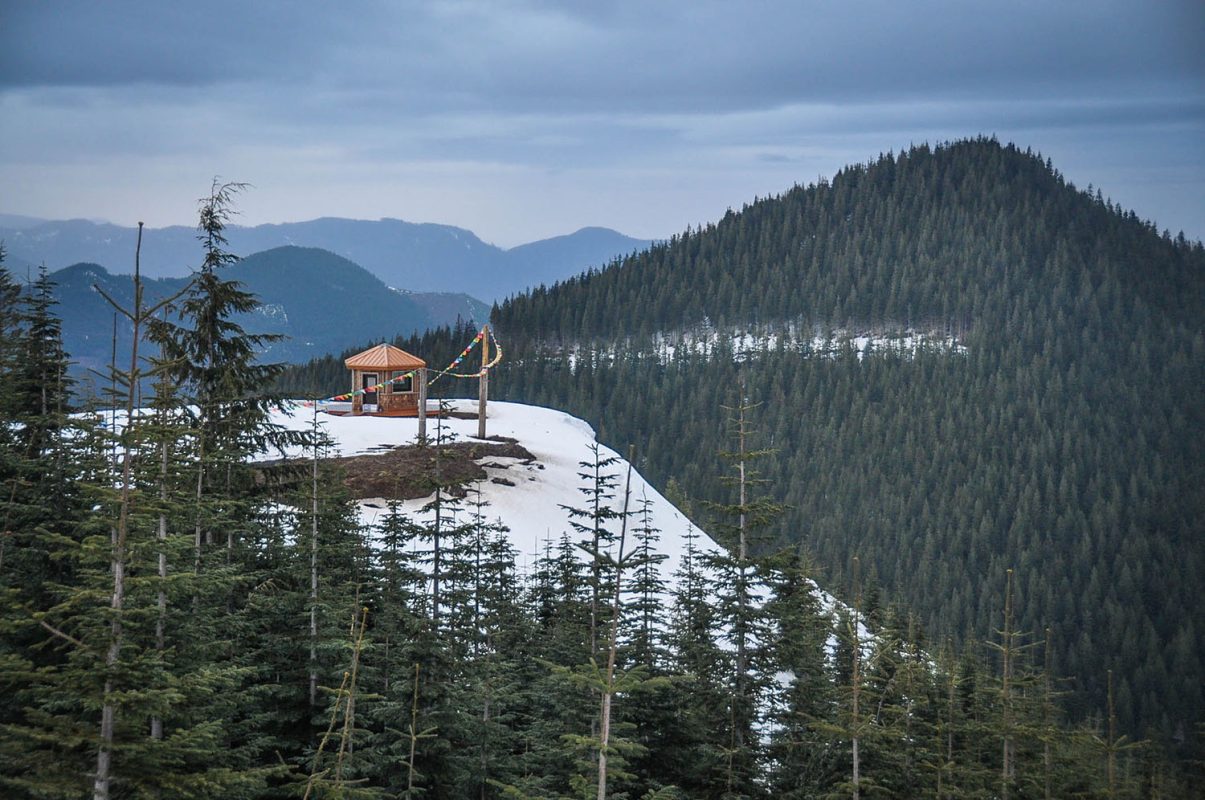 Want something even more memorable (and adventurous!)? One of the most unique things to do in Washington is spend the night in a fire tower lookout with spectacular 360-degree views!
There are nearly 100 lookouts across the state, some still operational and some not. Of those, just 15 are open to overnight stays — about half of them reservable and half first-come, first-served. As you can imagine, securing a spot in one is highly competitive, but it's well worth the effort!

You may also like…
Save this article on Pinterest for later!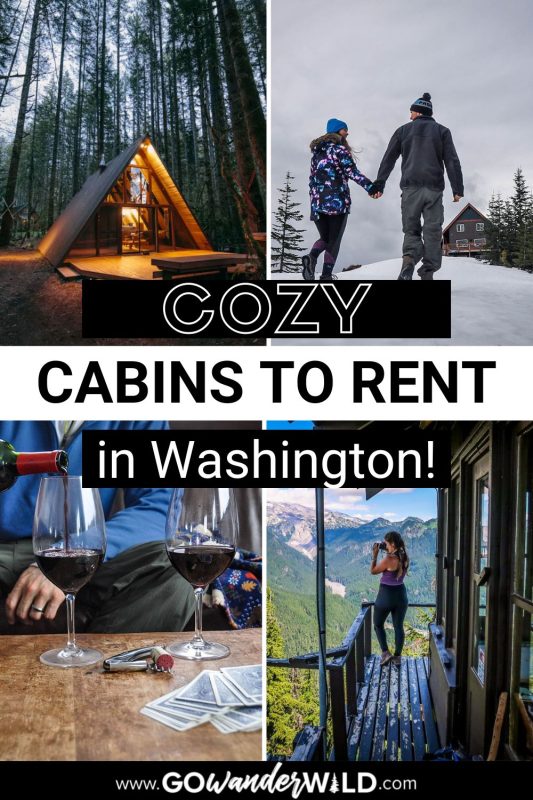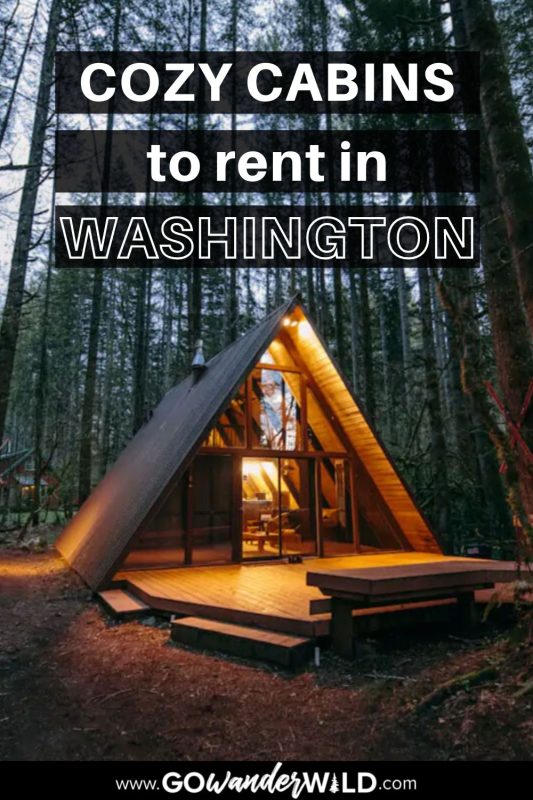 We want to hear from you!
Which of these cabins in Washington would you like to spend the night in? Are you planning a trip to Washington soon and have more questions about where to stay? Drop us a comment below and we'll do our best to get back to you!