Don't let the cold weather keep you from getting outdoors and hitting the trails. Refer to this guide for hiking in winter for everything you need to know to stay safe and be prepared!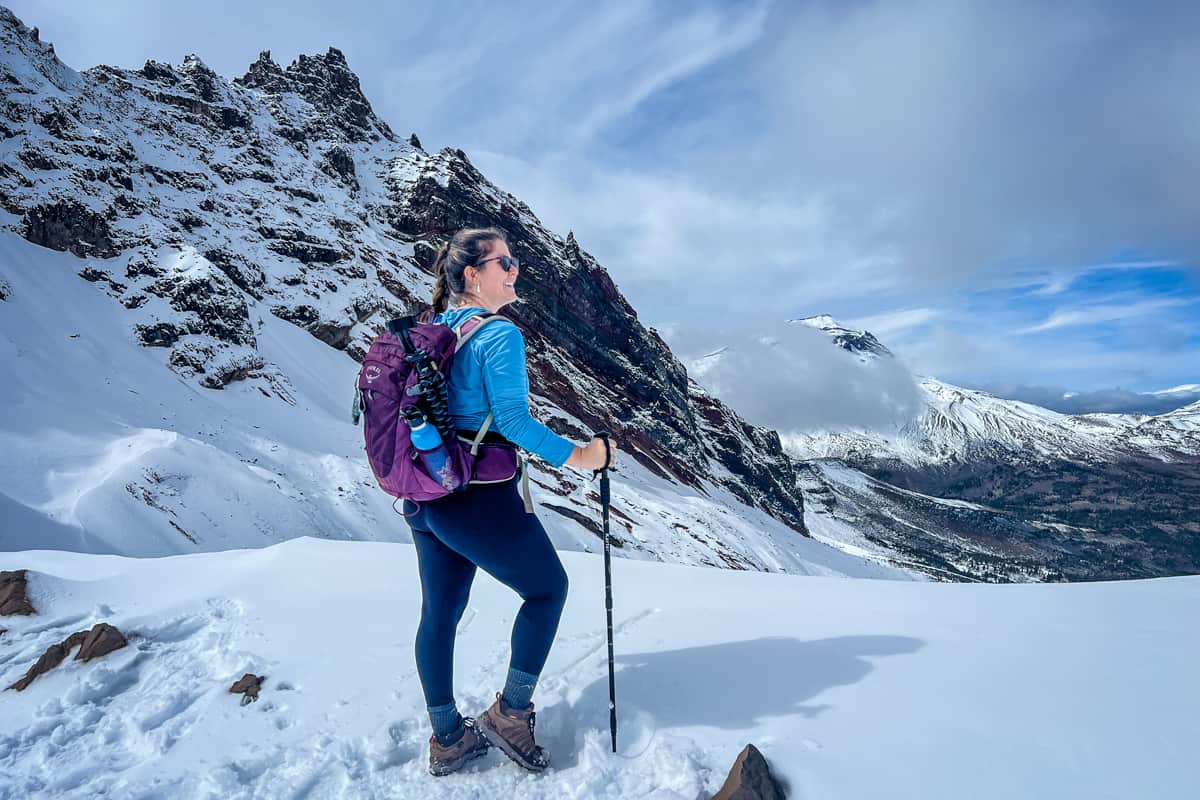 By Guest Author: Hussain Alasfoor
Hiking in winter can be intimidating, even for seasoned hikers. The cold alone can be reason enough for even the most avid hikers to turn away from the trail and opt to stay indoors with a hot beverage. However, with the right preparation winter hiking can be extremely enjoyable and a great way to get outside and spend some time in nature in those colder months.
Despite the cold, the woods are still beautiful and there's a peacefulness to be found when you're 5 miles into a trail and surrounded by nothing but snow and silence. Hiking in winter can be every bit as enjoyable as those summer hikes you cherish.
In this article I'll go over everything you need to know—from safety to preparedness—to enjoy winter hiking.
Know the forecast and trail conditions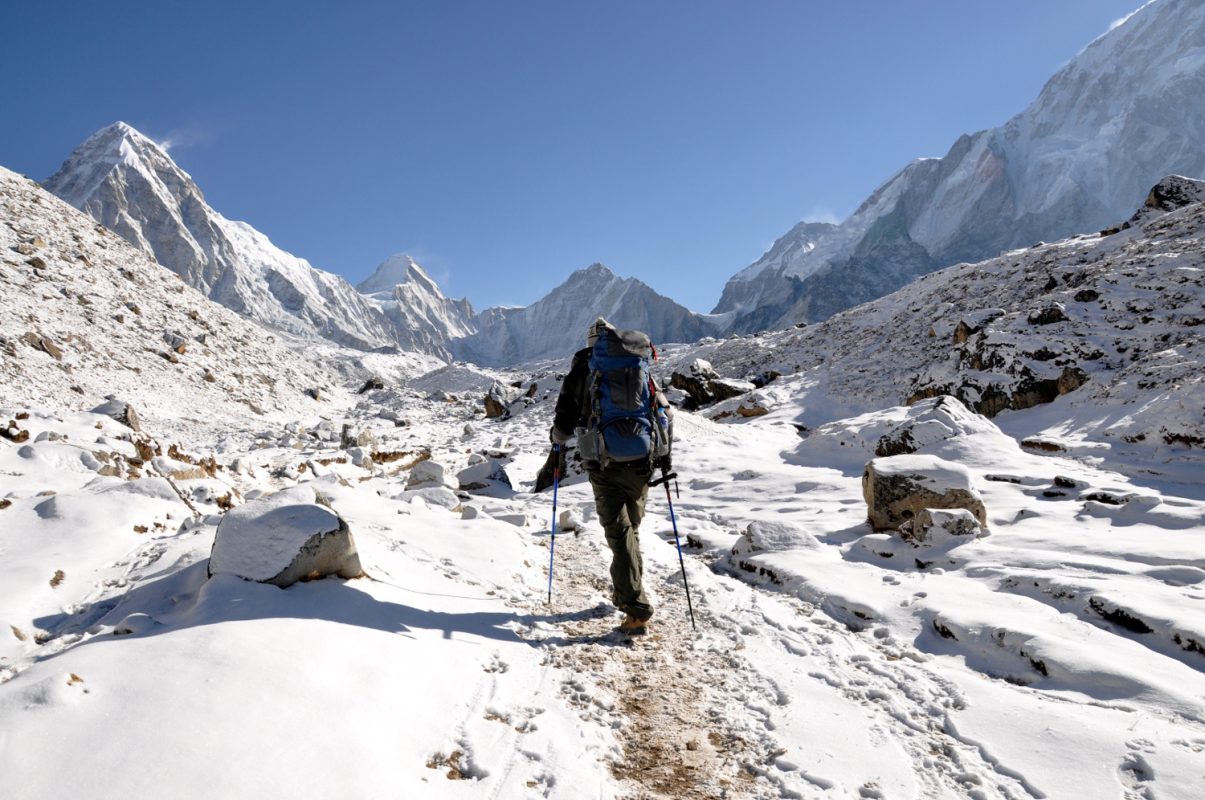 Winter storms can come on suddenly and be powerful enough to shut down entire cities, sometimes for days. If you're going to be out on the trail, then you need to be aware of what you're getting yourself into.
Keep up to date on the weather by checking your favorite weather app on your phone before you leave for your hike. You want to keep an eye out for any potential snow storms or rain storms that could make conditions intolerable, but they aren't the only things to be aware of.
You're also going to want to check on the wind speed and wind chill during your hike. You may plan to go hiking on a day that's supposed to have temperatures around 35°F, but if the wind is strong enough, it could feel as if it's only 20°F—and that'll make a BIG difference in how you'll feel on the trail.
Being aware of the forecast will prevent you from putting yourself in a dangerous situation and potentially save your life. It's a lot harder to receive help when you're 10-miles deep into a trail, and a fun winter hike can quickly turn dangerous if you're not careful.
Trail Conditions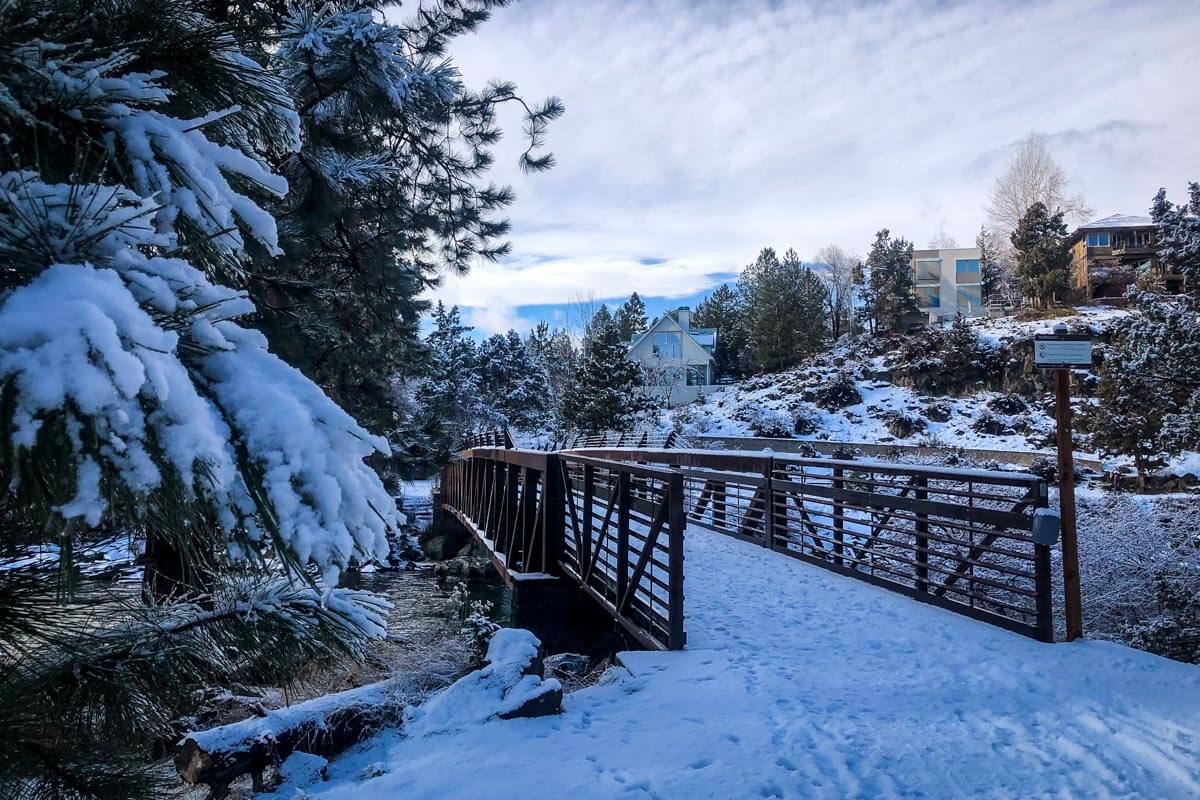 Knowing the trail conditions ahead of time is just as important as being aware of the weather forecast. You want to make sure that the trail you've chosen is actually passable and the best way to do that is to scout it out ahead of time.
Take a trip to your chosen trail a day or so before you plan on heading out. Look for downed trees, deep snow, ice, and other conditions that would make your hike dangerous.
Another option is to check the trail conditions online. If you're planning on hiking in a National Park, you should be able to check the conditions from the National Park Service website. Alltrails is another great online hiking resource where fellow hikers post recent reviews, including trail conditions, regularly.
Connect with other hikers in your area and share information. Someone may have hiked the trail that you're planning on checking out and they can let you know ahead of time if they ran into any trouble.
Hikers want each other to have fun and stay safe, so they're always willing to help a fellow hiker out.
Layering for Cold Weather and Winter Hiking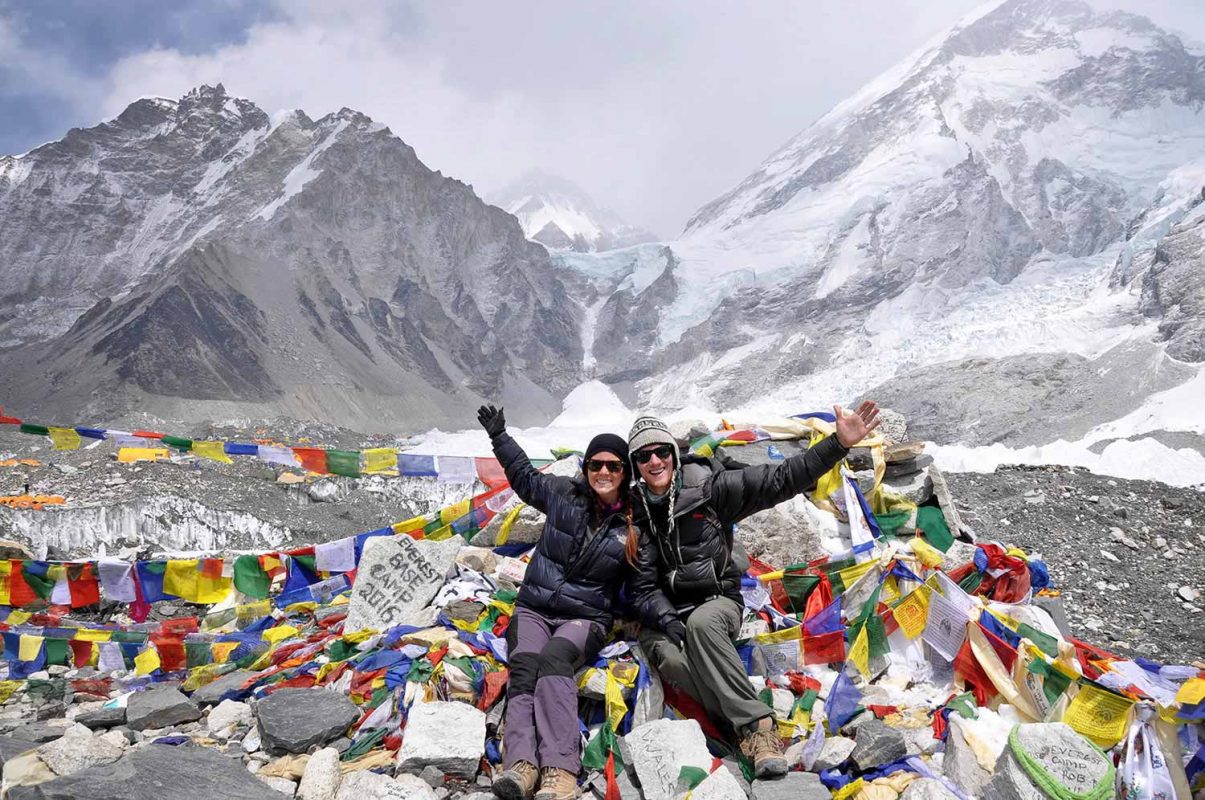 With winter comes cold weather. Depending on where you'll be hiking, you may need to consider layering up heavily. There are ways to protect yourself against the cold and biting winds you may encounter on your hike.
The first layer you put on should be a material that will hold in your body heat but is still breathable enough to prevent heavy sweating. A great choice for your first layer is wearing thermal undergarments. Use a long-sleeved thermal shirt and pants as your first layer.
Base Layer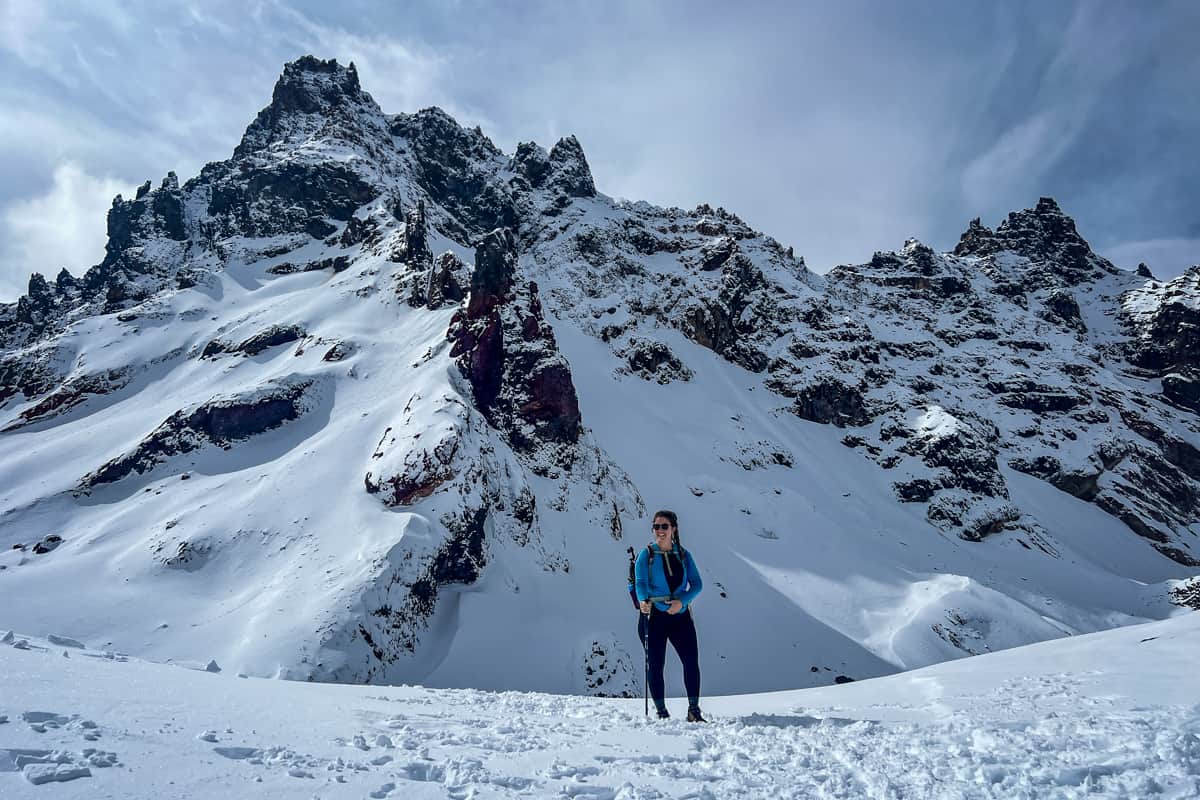 Next comes your base layer, which consists of your regular shirt and pants. There are a lot of different options for your second layer. You may find yourself more comfortable in a pair of thermal leggings than traditional pants. They also tend to weigh less than regular pants, which can be a huge benefit if you're going for a longer hike.
You should pick a long-sleeved shirt that fits comfortably over your thermal and doesn't add a lot of extra weight. Choose a shirt that's designed to keep you warm, like the REI Marino 185 Long-Sleeve Base Layer Top. A shirt like this will wick away the moisture from your body while working to keep you warm throughout your entire hike.
External Layer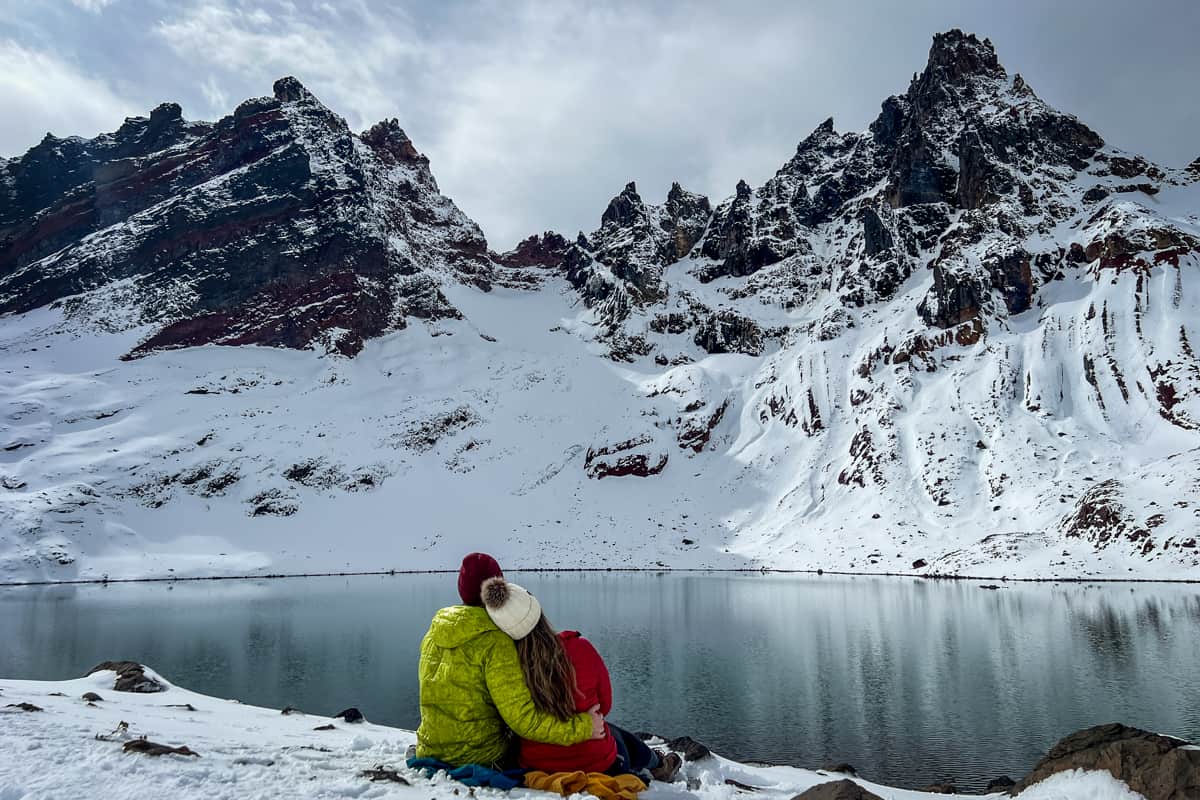 The last layer needs to be an external shell that's waterproof, warm, and easy to remove. You'll want it to be easy to remove in case the physical exertion on your hike causes you to get too warm. Removing this outer layer will help keep you from sweating too much.
Finding a jacket that keeps you warm and dry is essential to enjoying your winter hike. A jacket like the Patagonia Torrentshell 3L Jacket has the waterproofing you need and comes with other features that will help keep you comfortable such as pit zips, a 2-way adjustable hood, and storm flaps.
Psst! Read more about layering and the types of fabrics you should be looking for in our article on what to wear hiking.
Winter Hiking Accessories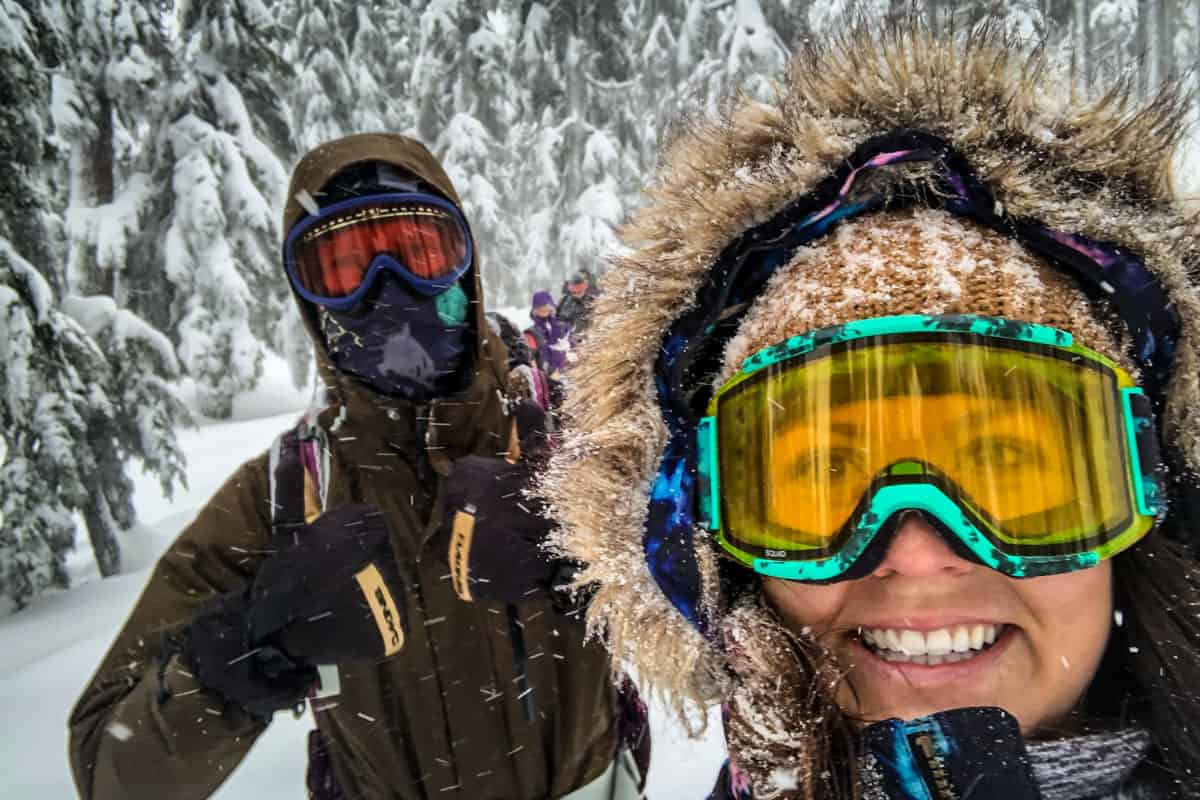 Hiking in cold temperatures doesn't have to be uncomfortable! Once you have a good layer of clothes on it's time to think about accessories.
If you're going to be hiking in an area that's received snowfall recently then you should consider bringing along a good pair of sunglasses. They'll help protect your eyes against potential snow blindness, which is essentially a sunburn on your retinas. Snow blindness can disable you from the pain and damage to your vision, and leave you stranded on the trail unless you have a way to call for help. Not a situation you want to find yourself in.
You may also want to consider a good beanie. You can lose a lot of body heat through your head, so keeping yourself covered is essential. A fleece-lined beanie paired with a thick scarf wrapped around your neck will help keep you warm and comfortable throughout your hike. And these are easy layers to peel back if you get too warm.
Just be careful not to overdo it. Remember you will be exerting a lot of energy after all. If you wear too many layers without the proper moisture-wicking fabrics, you'll likely find yourself getting hot and sweaty fast.
Not only is this a burden that'll slow you down, this can potentially become even more dangerous than being cold. The sweat won't be able to dry when you're all bundled up and can cause your core body temperature to drop.
Psst! If you're a hiking gear-enthusiast, you'll want to check out this list of coolest hiking gadgets we put together.
Footwear
Another important piece of your hiking gear is going to be your footwear. Hiking in the winter means you need something sturdy, water-proof, and insulated. Protecting your feet by choosing the right footwear will help you enjoy your hike and avoid unpleasant complications from the cold.
There's no shortage of winter hiking boots available that meet these needs. However, you're not restricted to these boots alone. Something like logger boots would work just as well for hiking in the winter, and they'll provide the same benefits as traditional hiking boots.
If you're going to be hiking in an area that's packed with snow and ice, then you may want to consider getting a pair of boots that are compatible with microspikes. Microspikes are made to attach to your boots and provide you with extra traction by digging into the snow or ice.
They can be incredibly useful for hikes on relatively even terrain, but they do add extra weight to your feet. Microspikes also aren't the best for going up steep slopes or rock scrambles so you only want to use them on relatively level trails.
Winter hiking snacks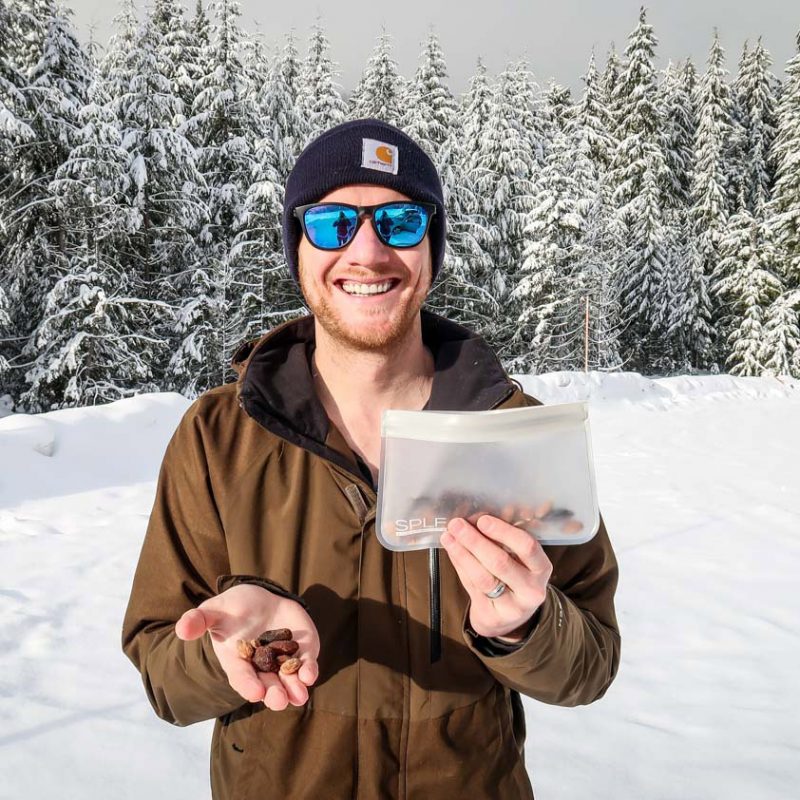 Hiking in winter can be tough, and not just because of the conditions. You'll generally need to bring more gear during the winter than you would during the summer season, and that includes food and water.
The amount of food you'll need to bring will depend on your BMI, how far you'll be hiking, and how difficult the terrain is. Generally speaking, you need about 2500-4500 calories per day. Making sure you hit your calorie count each day is important because it'll help to keep your energy up and give your body the fuel it needs to stay warm.
Snacks
Snacking throughout your hike will help keep your energy up, keep you warm, and reduce the number of times you have to stop. Bringing along some nutritional hiking snacks is the best way to curb your hunger on the trail without having to make an extra stop.
Some of the best snacks you can bring along are:
Granola Bars– Opt for bars with higher fat content. Your body needs that fat for energy and warmth. It'll also take longer to digest than something high in sugar, which will help you feel full for longer.
Fruit– Fruit contains natural sugars that your body needs to stay alert and active. Certain fruits, like bananas, also contain potassium, which will help prevent muscle cramps.
Peanut butter– Peanut butter is a great snack to bring hiking because it's high in fats, carbs, and protein. All of these things will help replenish your body and keep you feeling energized during your hike. You can put some on your granola bars and it even tastes great on some fruits.
Jerky– This is a great hiking snack that packs a ton of protein. It's small enough to fit in your pocket and doesn't require any effort to prepare, so you can pull it out and snack on it as you continue hiking.
Meals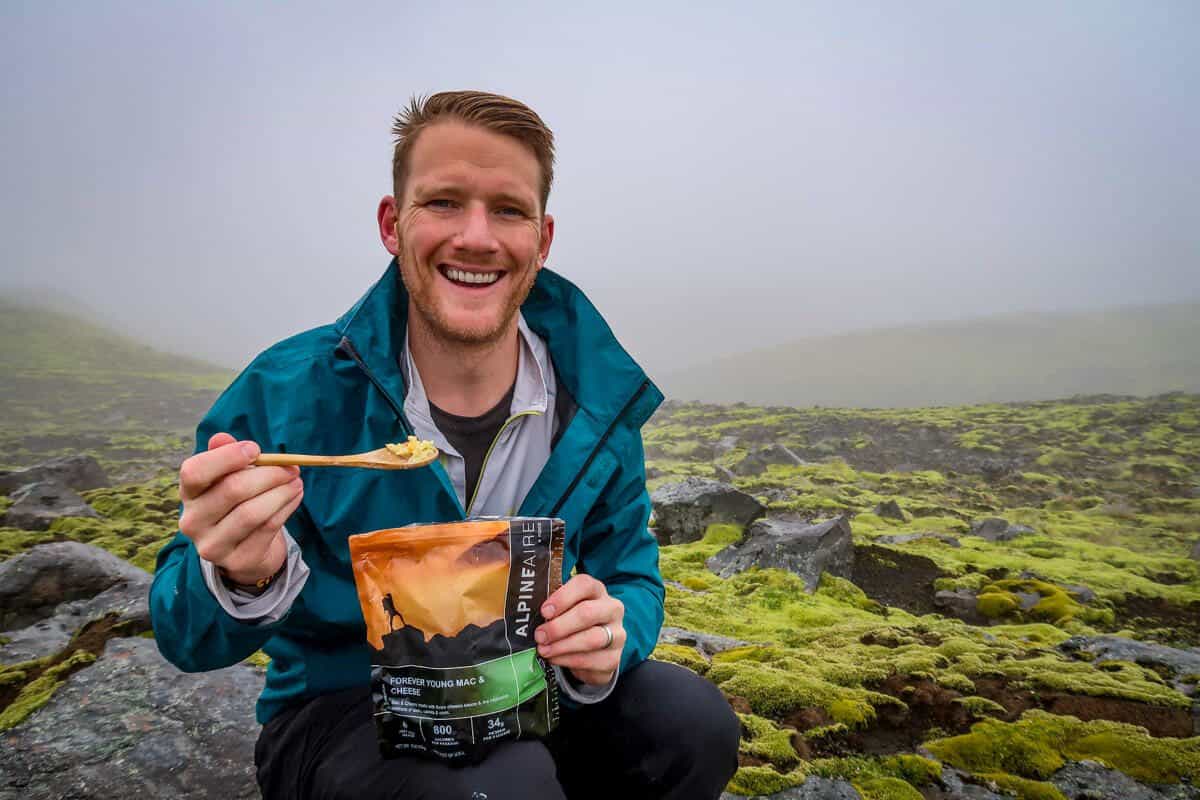 If you're planning on doing multi-day treks during winter, you'll need to think about what meals to bring as well as snacks.
Winter hiking is all about keeping your energy up and staying warm. The best way to do that is to snack throughout the day and prepare something warm for dinner at the end of your day. Look for meals that you can cook in a single pot with a jetboil. Dehydrated and freeze-dried meals are going to be your best option.
Meals that are high in calories, fat, protein, and carbohydrates will best keep you energized. Your body needs all the fuel it can get right now and you should be consuming more calories than you would be while hanging out at home.
Psst! If you're looking for more outdoor activities for winter, check out our guide to snow camping.
Know the dangers of hiking in winter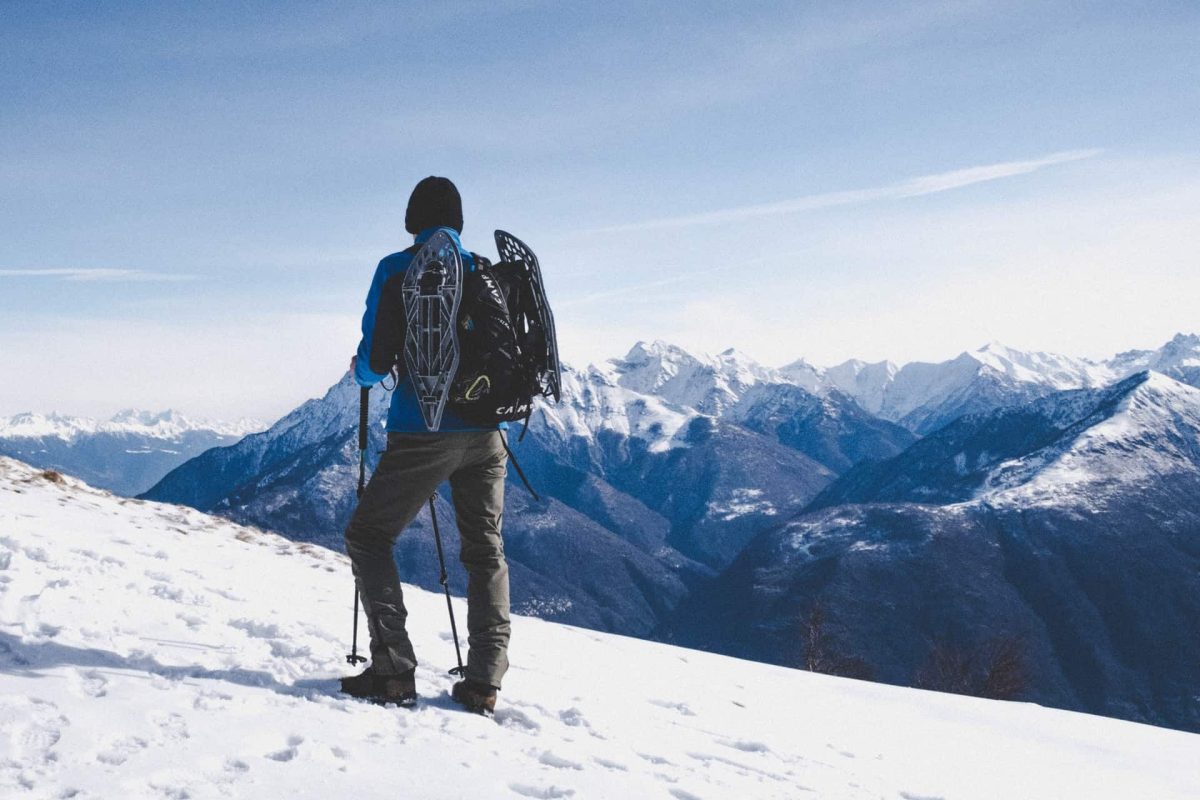 Staying aware of the dangers you could encounter while hiking in winter will help to prevent you from succumbing to them. Hiking is a great way to connect with nature and yourself, but staying safe should be your number one priority.
Frostbite
One of the biggest dangers associated with winter hiking is frostbite. When a person develops frostbite a small section of their skin, and the tissue just below the skin, freezes. Frostbite is most common on areas of your skin that aren't covered such as your nose, ears, or fingertips.
The symptoms of frostbite are pain and numbness, skin that looks discolored, and clumsiness due to joint or muscle damage. If you experience any of these symptoms it's necessary to seek immediate medical attention.
You can protect yourself against frostbite by keeping yourself covered, dry, and warm. Wear multiple layers and move at a steady pace to prevent yourself from sweating. If you're hiking in cold and windy conditions, then you may want to consider wearing a ski mask to protect your face.
Hypothermia
Hypothermia happens when your body can't keep itself warm. A person's normal body temperature should be around 98°F, and hypothermia sets in when your temperature drops to 95°F.
Some of the symptoms of hypothermia are:
Shivering
Speech impairment
Clumsiness
Weak pulse
Lack of energy
Loss of consciousness
Hypothermia is a serious medical condition that requires immediate treatment. If you suspect you have hypothermia, reach out for help and focus on getting yourself warm. Bundle up in as many layers as you can and wrap yourself in an emergency blanket or your sleeping bag until help arrives.
Dehydration
Most people are aware of the dangers of dehydration while hiking during the summer, but it can be a concern during the winter too. Biting cold winds can strip the moisture from your body and extreme colds can freeze the water you've brought with you if you're not prepared.
The best way to avoid dehydration is to continuously drink water throughout your hike. You're also going to need a way to store your water that will keep it safe from the cold and keep it from freezing.
Your best bet would be to use an insulated water bottle while you're hiking. A Camelbak or other water bladder device that goes into your backpack should be safe even in extreme weather, but having an insulated water bottle on hand can be extremely beneficial during a winter hike.
Before you set out in the morning you can heat up some water to put in your bottle. A good insulated water bottle will keep that water warm during the day. Every time you take a drink from that bottle it'll help you stay hydrated and warm as well.
Conclusion
Hiking in winter can be just as fulfilling of an experience as hiking during the summertime. There's no shortage of beautiful scenery and trails to hike during this time of year, but it does require some extra preparation.
Make sure you do your research before you head out on the weather and the trail conditions you're going to experience. You also need to focus on keeping yourself warm by layering up, bringing enough food to fuel your body, and staying hydrated.
As long as you're prepared, you'll be able to take on any outdoor adventure, even in the winter months.
Be sure to grab our ultimate hiking packing list includes our must-have gear for any hiking trail!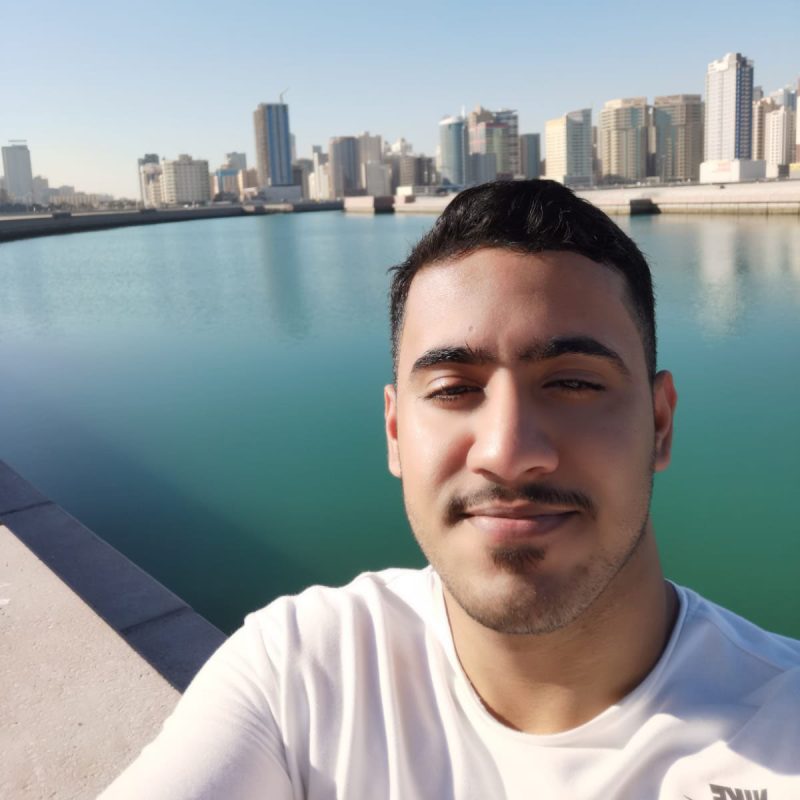 About the Author
Hussain from hikereneeds.com is a passionate hiker and traveler that loves the outdoors and enjoys what nature has to give, whenever he can he loves to write and give tips & honest reviews to help others get outdoors and just seek more unforgettable experiences. You can find him for more on Pinterest as well.

You may also like…
Save this article on Pinterest for later!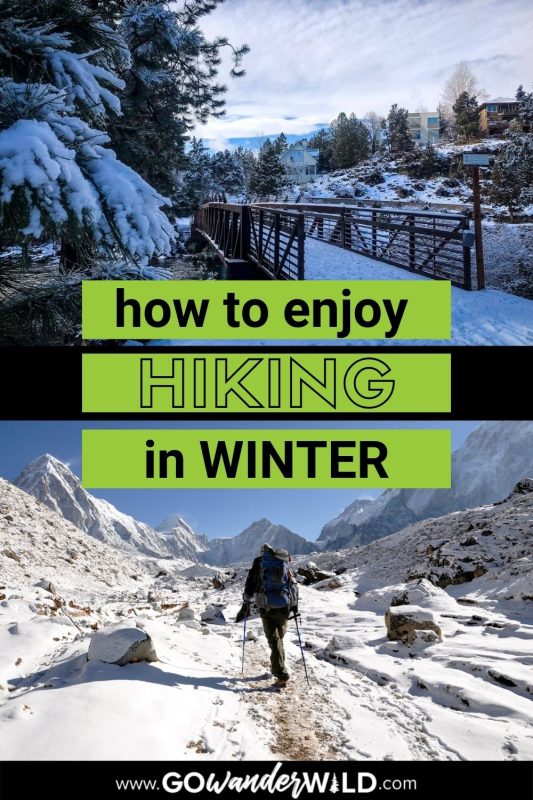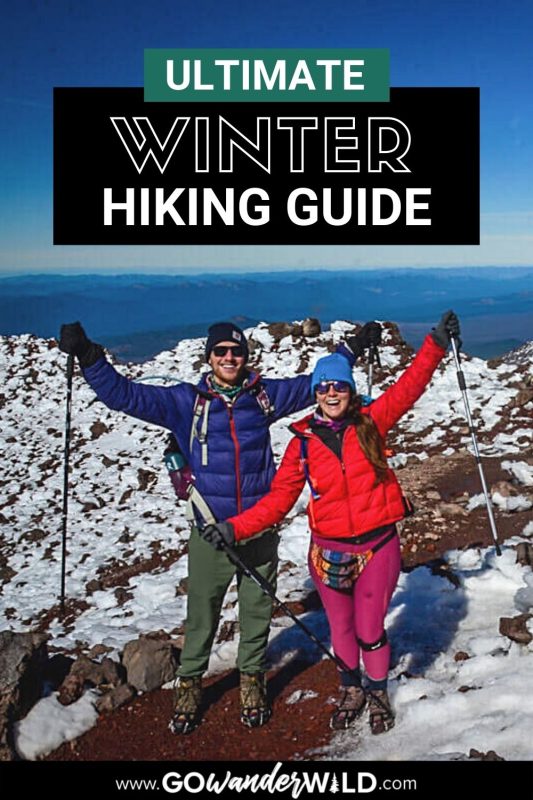 We want to hear from you!
Are you new to hiking in the wintertime and still have questions? Drop us a note in the comment section below and we'll do our best to find you the answers you're looking for!