What is snowshoeing? How do I get started with this winter activity? This guide to snowshoeing for beginners touches on everything you should know before hitting the snowy trails, including tips on preparation, what to wear, and finding the right gear.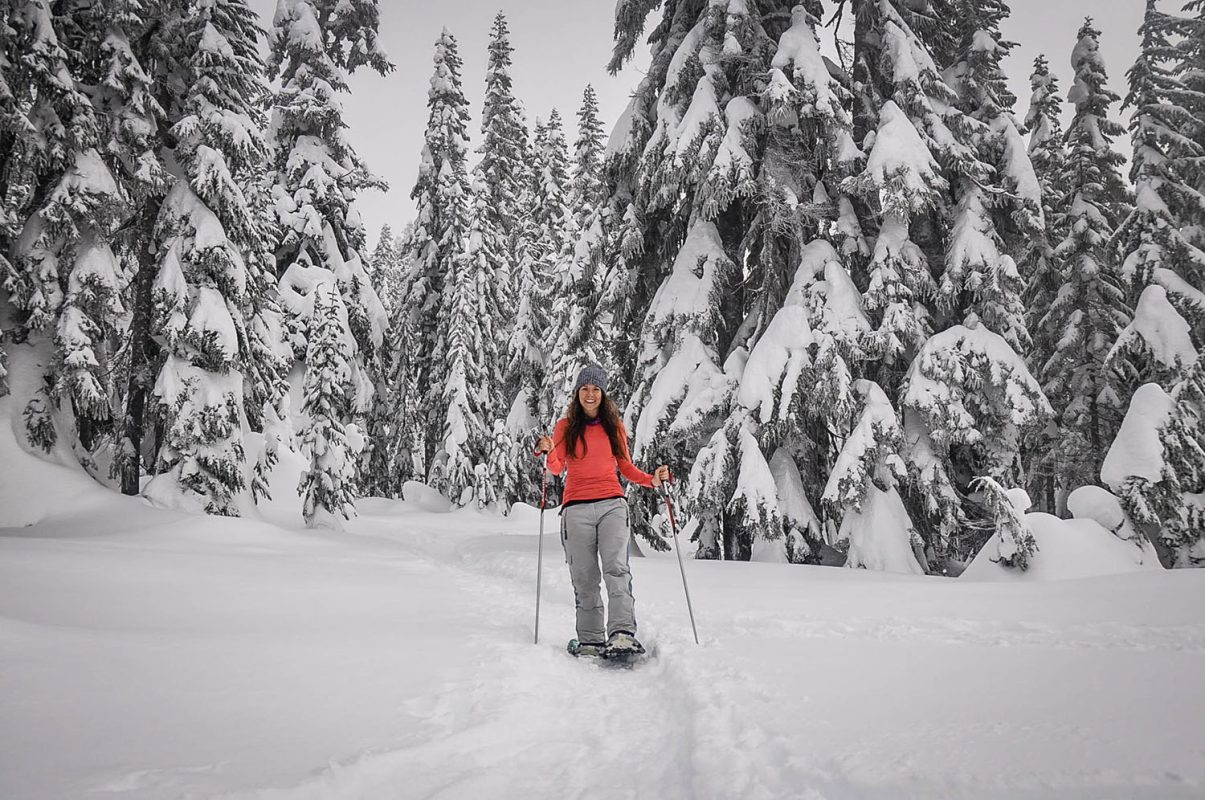 Snowshoeing is one of our favorite wintertime activities because it is easy, requires little preparation, and allows us to get to some epic viewpoints that we wouldn't be able to reach in the snow otherwise.
There's just something about being outdoors in the winter. Without the chatter of other hikers, the chirping of birds or the rushing of water, you will experience a type of peacefulness you just can't get at any other time of the year.
Here's one of our mottos we like to remember as winter approaches: If we're going to live somewhere with winters, we are going to embrace them fully!
This means we are going to do our best to get outdoors and explore even when the snow is falling. And you know what? This mindset has made us fall more and more in love with the wintertime.
We think everyone should try snowshoeing at least once in their lifetime! Whether you're looking to embark on a brand new hobby, or you're simply gearing up for a winter trip and are thinking about trying out snowshoeing for a day, we've created a guide that will walk you through all you need to know.
In this article, we're explaining all the things you need to know about snowshoeing for beginners –what to wear snowshoeing, sneaky things to pack that will make your experience so much better, some insider tips for getting started, and how to find the best snowshoeing trails near you.
So zip up that winter jacket and let's dive in!
What is snowshoeing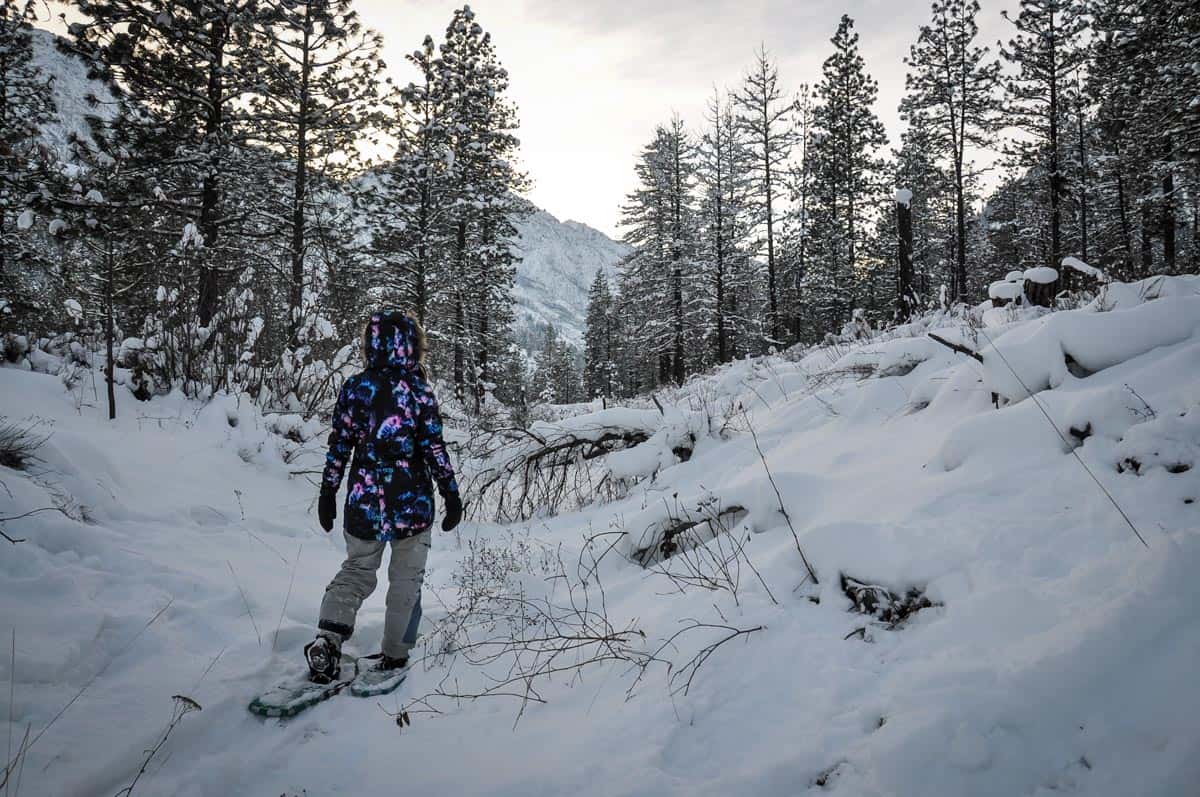 We like to think of snowshoeing like winter's version of hiking. It's a great way to get outdoors and stay active during the wintertime when all your favorite trails are covered in a layer of fresh powder.
In essence, snowshoeing involves walking in the snow with special "shoes" strapped to your feet called snowshoes. Snowshoes are wider and longer than your boots so they can distribute your weight more effectively over a larger area. This helps you walk on top of the snow, instead of sinking in knee deep.
Typically snowshoes are made with a wide frame and have straps designed to fit over your winter boots. They aren't nearly as long and don't take up as much space as skis or snowboards. Plus, you don't need any other special equipment to go snowshoeing (though ski or hiking poles do come in handy), just strap on your snowshoes and hit the trails!
History of snowshoeing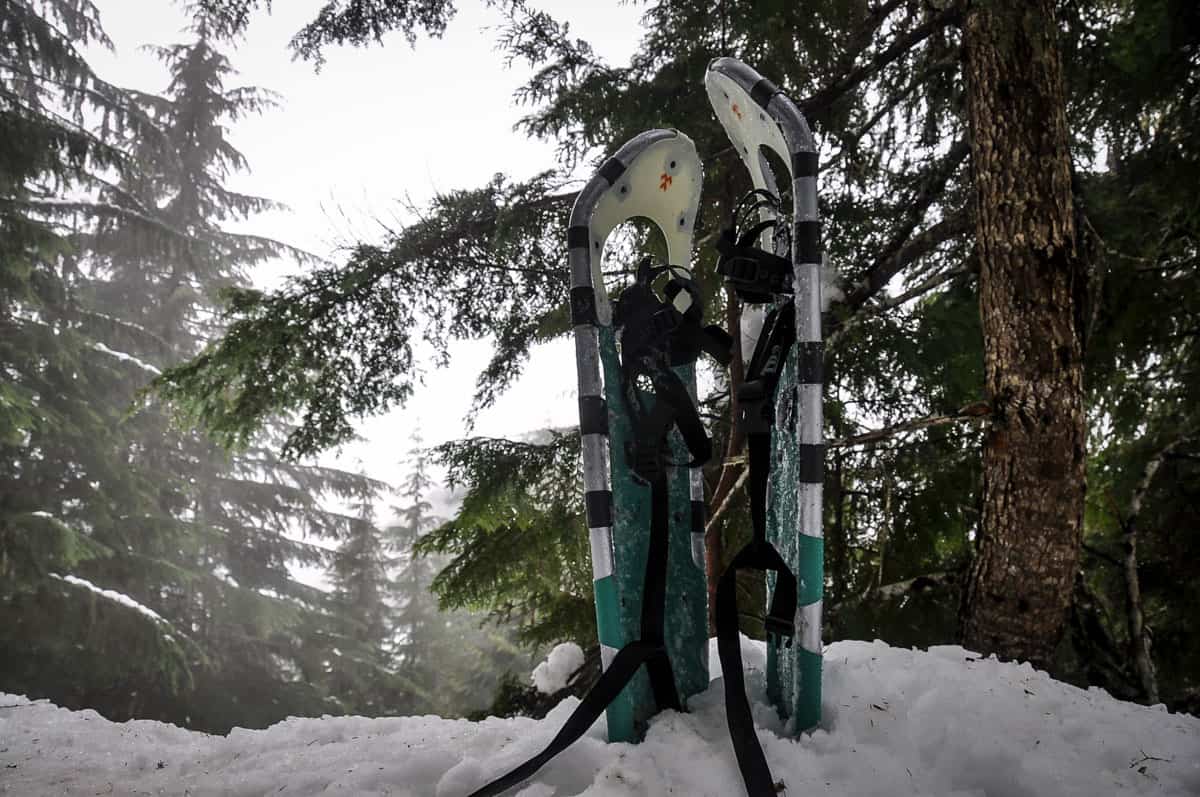 The idea of walking on snow isn't a new one. In fact, there are plenty of examples in nature of animals that are adept at walking on snow. It is believed that the first snowshoes were modeled after the tracks of a snowshoe hare, which has extra large feet to keep it "afloat" on the snow.
The exact origins of snowshoes are unknown, but historians believe they were invented in Central Asia around 6,000 year ago as an essential mode of winter transportation. However the webbed snowshoe design as we know it today can be traced back to the indigenous people of North America.
Why try snowshoeing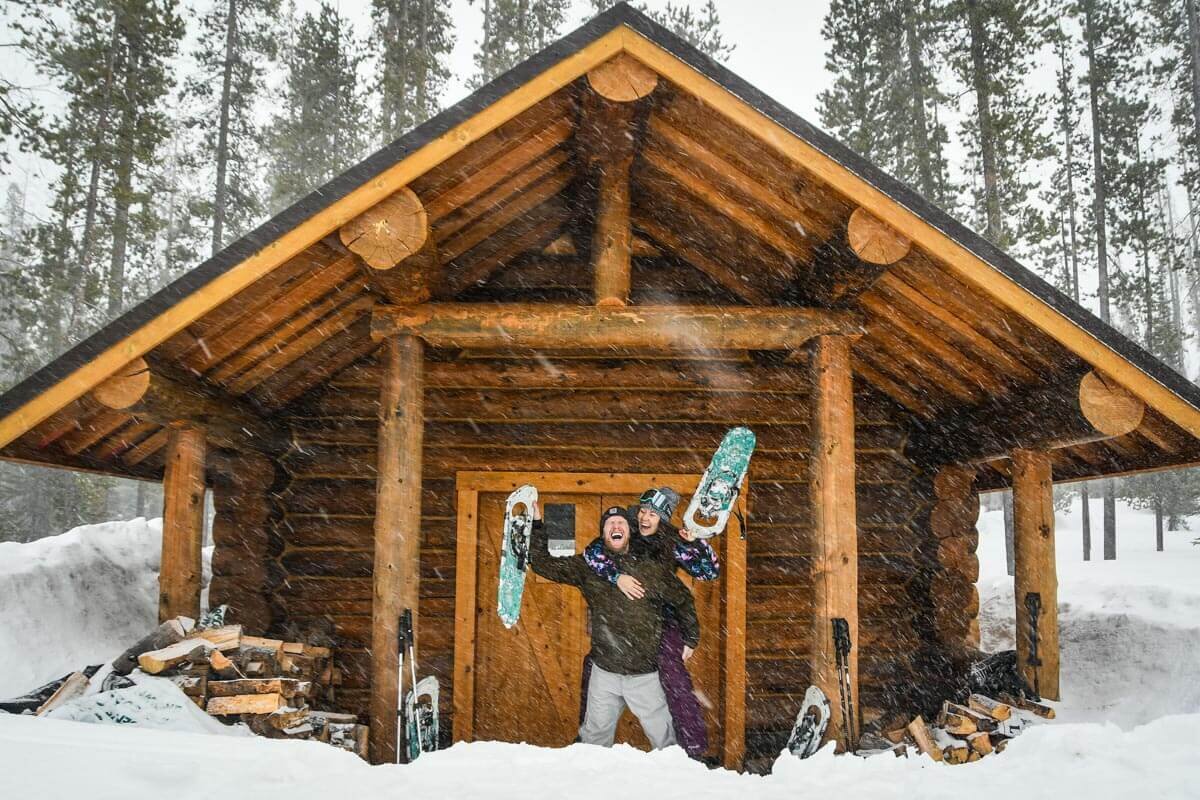 This unique sport has become a popular winter recreational activity and for good reason. Aside from the fact that snowshoeing is undoubtedly FUN, here are a few other reasons to try snowshoeing this winter:
It's a good winter workout: It is said that snowshoeing burns more calories than walking, running or cross-country skiing at the same pace.
It's a great way to embrace the season and get outdoors in the wintertime
It's relatively cost effective: Once you invest in a pair of snowshoes and maybe a decent set of poles, you don't need any other gear and you can practice anytime without paying the steep resort fees for things like downhill skiing
It's easy: There are no special skills required to learn to snowshoe – anyone with a basic level of fitness ability can do it
It can turn into a lifelong hobby: anyone from kids to seniors can enjoy snowshoeing
Psst! Don't let the cold weather hold you back! Check out our essential guide for hiking in winter for everything you need to know to hit the trails safely in the cold weather months.
Snowshoeing Tips for Beginners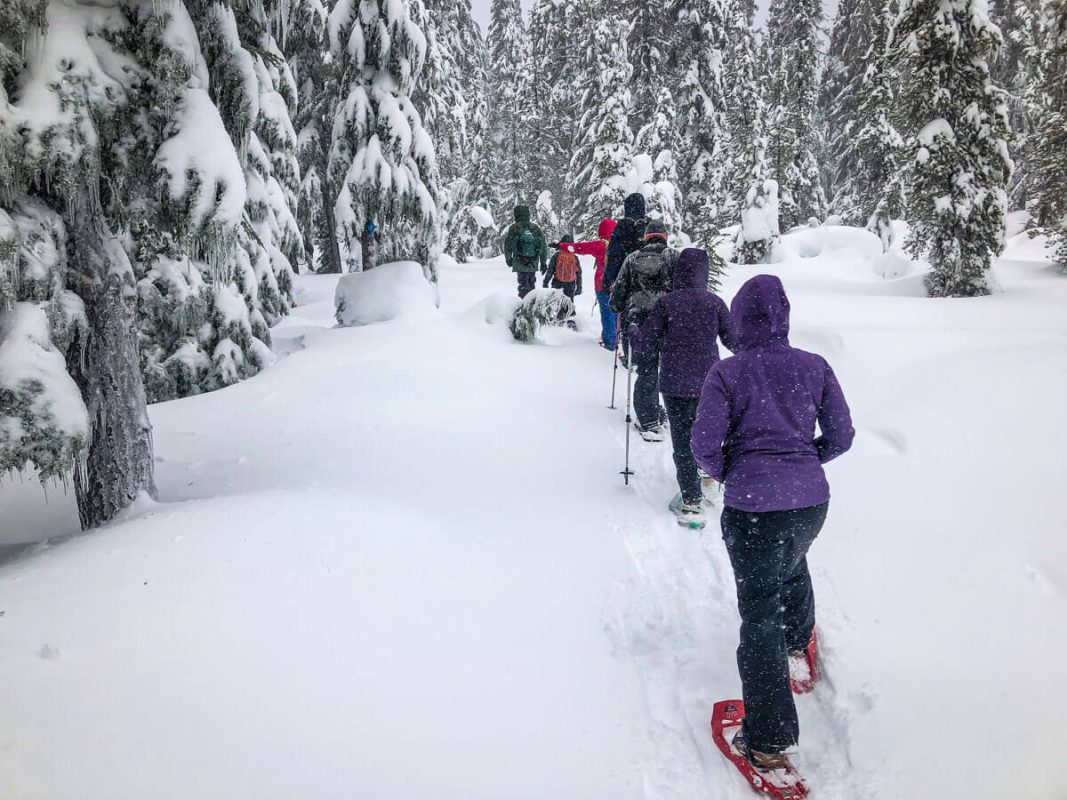 If you are a beginner or new to the concept of snowshoeing, there are a few tips we'd recommend following to get started:
Try renting snowshoes for your first time (REI or local outdoor outfitters usually have snowshoes for rent)
Start with short, flat trails
Wear lots of layers & have a backpack where you can shed them if you get hot
Bring plenty of water and stay hydrated
Avoid cross country ski trails

At many parks where you can snowshoe, there are also CC ski trails that are groomed for skis. The etiquette is that snowshoers stay off the ski trails so as to not disturb them. Sometimes there are even separate trails for skiers and snowshoers.
Tip: Are you going snowshoeing with kids? Pull them behind you in a "snow chariot".
What to wear snowshoeing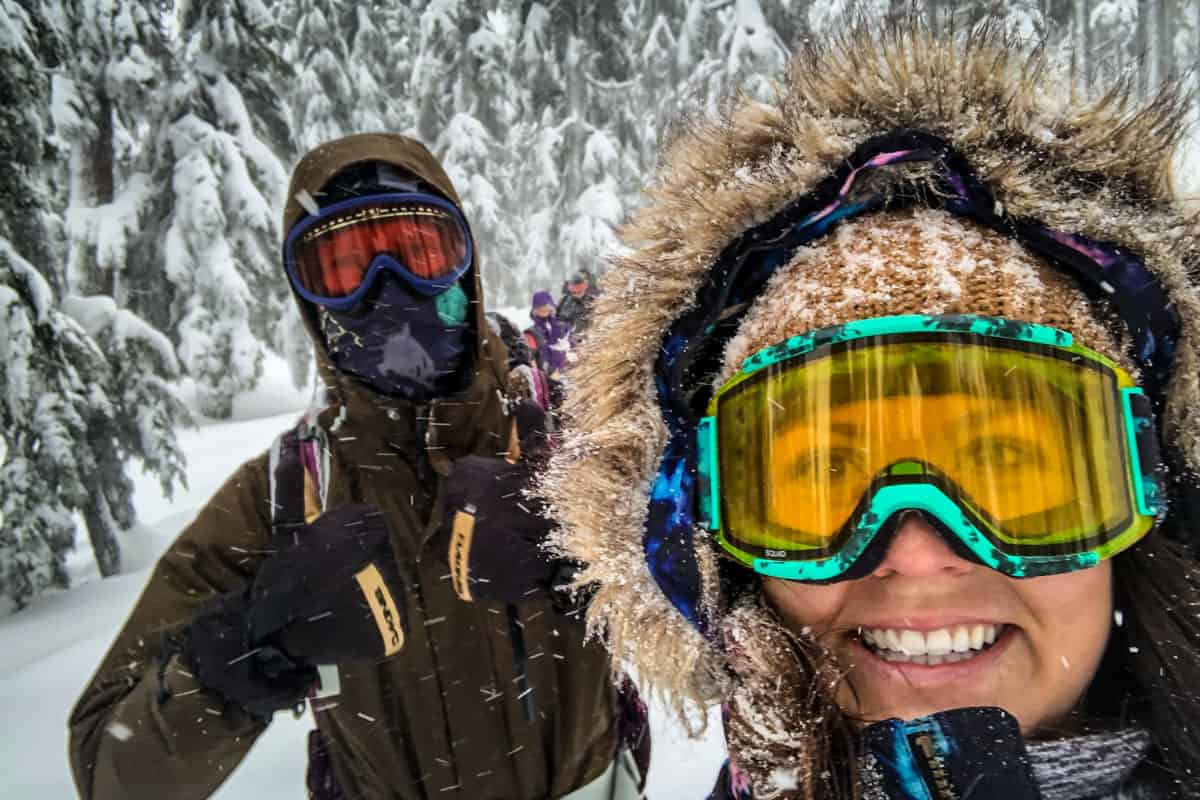 You know what they say: "There's no bad weather, there's only bad clothing." It's true! If you put in a little effort and are prepared to brave the cold temps and keep dry (super important during the winter), you're going to be so much happier than someone who just throws on whatever they have lying around.
There are two important things to keep in mind when dressing for winter activities:
Avoid wearing cotton. Cotton holds moisture and doesn't have very good insulating properties so it's not the best fabric to sweat in or help you stay warm in. Merino wool is a much better alternative for base layers like socks and shirts.
Think about the order of your layers. You want to achieve peak versatility and effectiveness in your clothes. Start with a snug base layer fitted to the skin, add a warm mid layer and an insulating outer layer.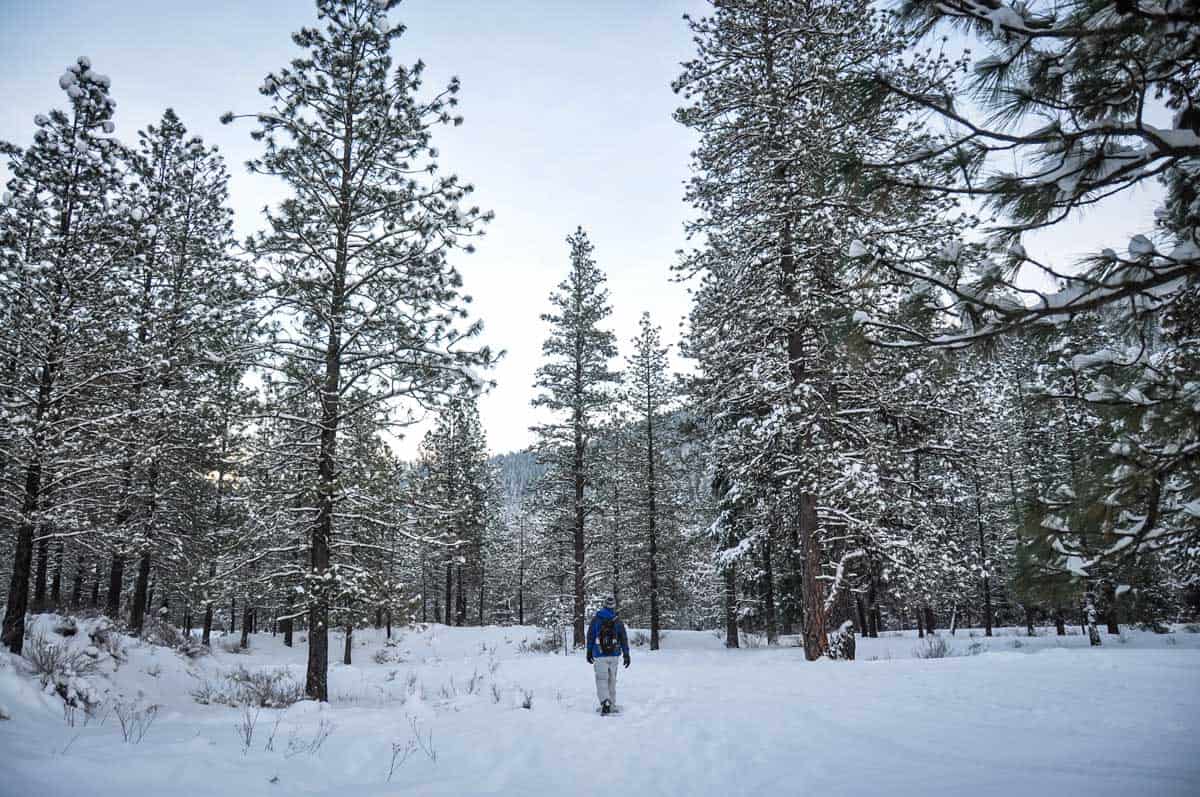 Here is a quick list of all the items you should wear for snowshoeing:
Winter boots (waterproof and warm)
Wool socks (non cotton)
Winter jacket (opt for one made with water-resistant material as it will keep you dry and somewhat protected from wind) 
Lots of layers (but also have a place to stash them when you get warm)
Gloves
Winter hat
Ski goggles (if it's snowing heavily these are super helpful)
Buff or neck warmer
Psst! If you're looking for more outdoor activities for winter, check out our guide to snow camping.
What to pack for snowshoeing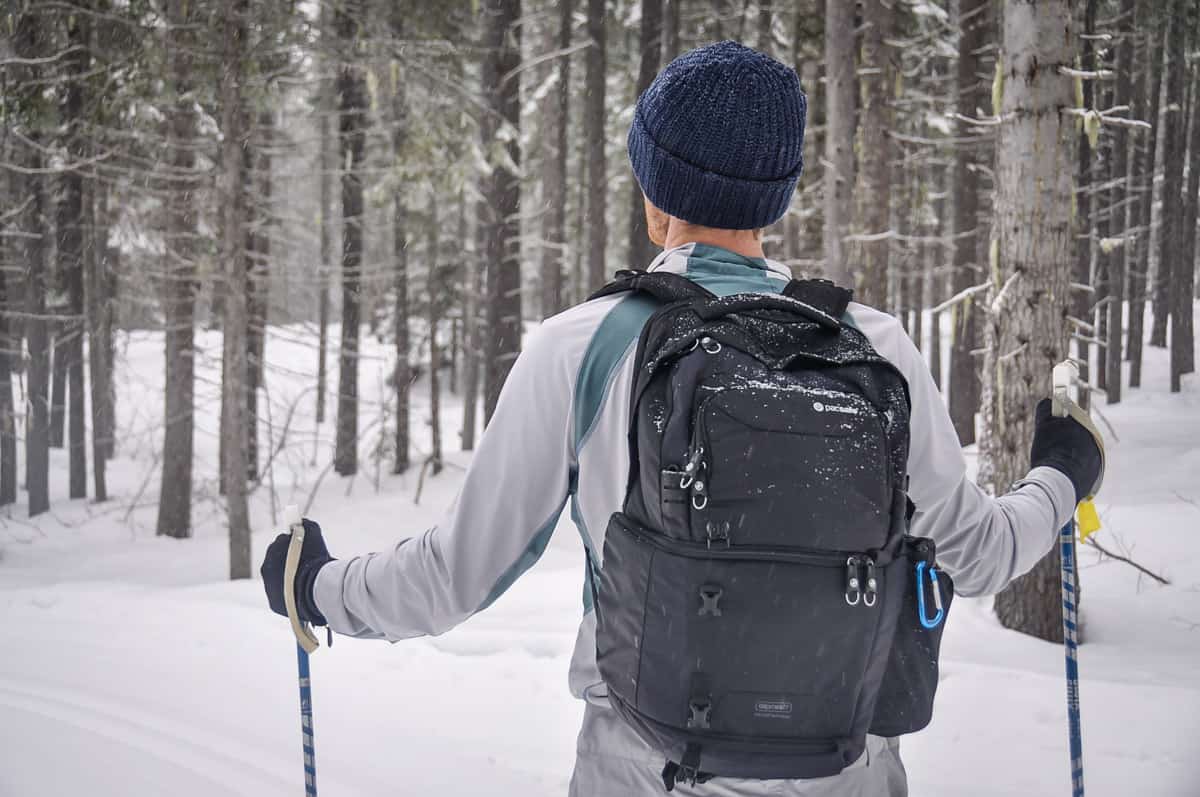 Snacks
Water (in a bladder)
Navigation (on your phone or a map)
Z-lite mat to sit on without getting your butt wet
Thermos with a hot drink!
Parking pass or permit if needed (many Snoparks require a permit, which helps pay for the plowing of the lots during the wintertime)
First aid kit is always a good idea
Headlamp (just in case you get stuck in the dark during the winter's shorter daylight hours)
Electric handwarmers (optional)
Best snowshoes for beginners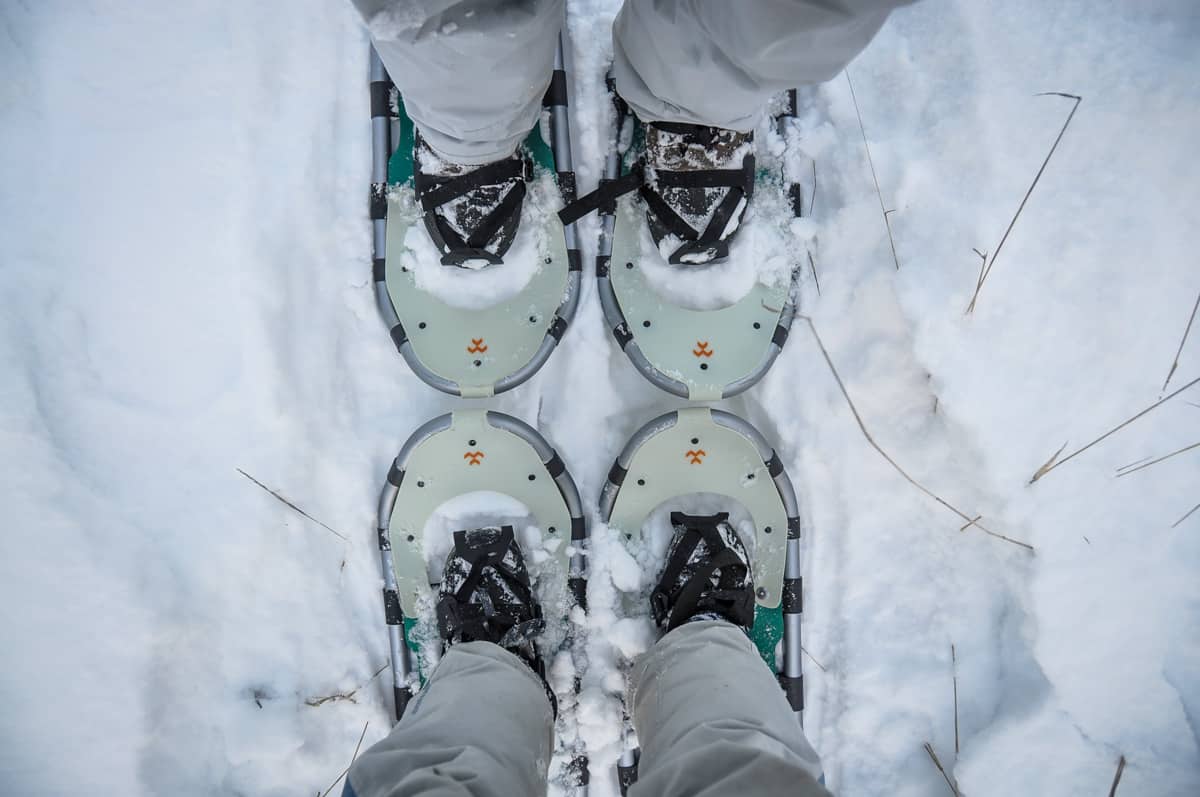 If you're just starting out, renting snowshoes for the first time or two is a great way to test out gear without a steep investment. If you're ready to purchase your first pair of snowshoes, flat terrain snowshoes are going to be your best bet for entry-level models at a good value. MSR makes excellent snowshoes for beginners.
If you're on a budget and just want to try out this hobby, search FB Marketplace or thrift stores. We've been using hand-me-down snowshoes, which are definitely not top-of-the-line like the ones on the market today. They are bulky and heavier, but they have allowed us to go on many snowy adventures. That said, since we know we love snowshoeing and do it quite often, we will likely be upgrading soon!
How to find snowshoeing near me
If you live in an area that gets snow in the wintertime, there are likely snowshoe trails near you. Here's how to find them:
Check with your local ranger station – they should have a map of the trails and can point you in the direction of routes that are suitable to your skill level.
REI or a local outfitter: These stores are often great resources for nearby trails and sometimes they even have maps.
Alltrails app has an "activity filter" where you can select "snowshoeing" and find suitable trails near you.

You may also like…
Save this article on Pinterest for later!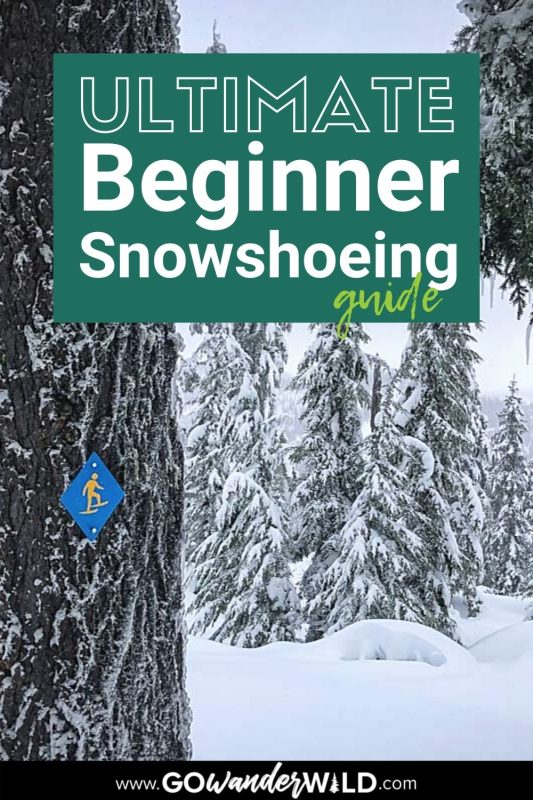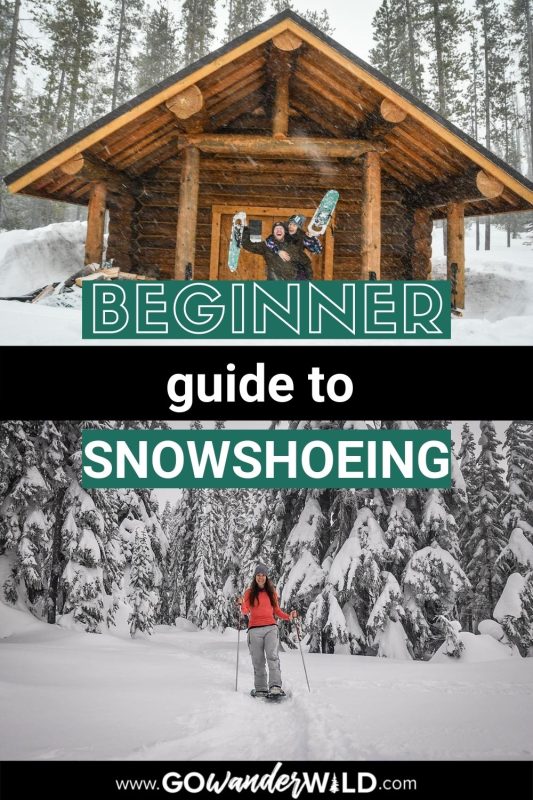 We want to hear from you!
Are you a newbie to snowshoeing and still have questions? Drop us a note in the comment section below and we'll do our best to find you the answers you're looking for!