Over the years, solitude and snowy vistas have made us fall in love with snow camping. In this guide, we provide everything you'll need to know about winter camping to have the coziest camping experience.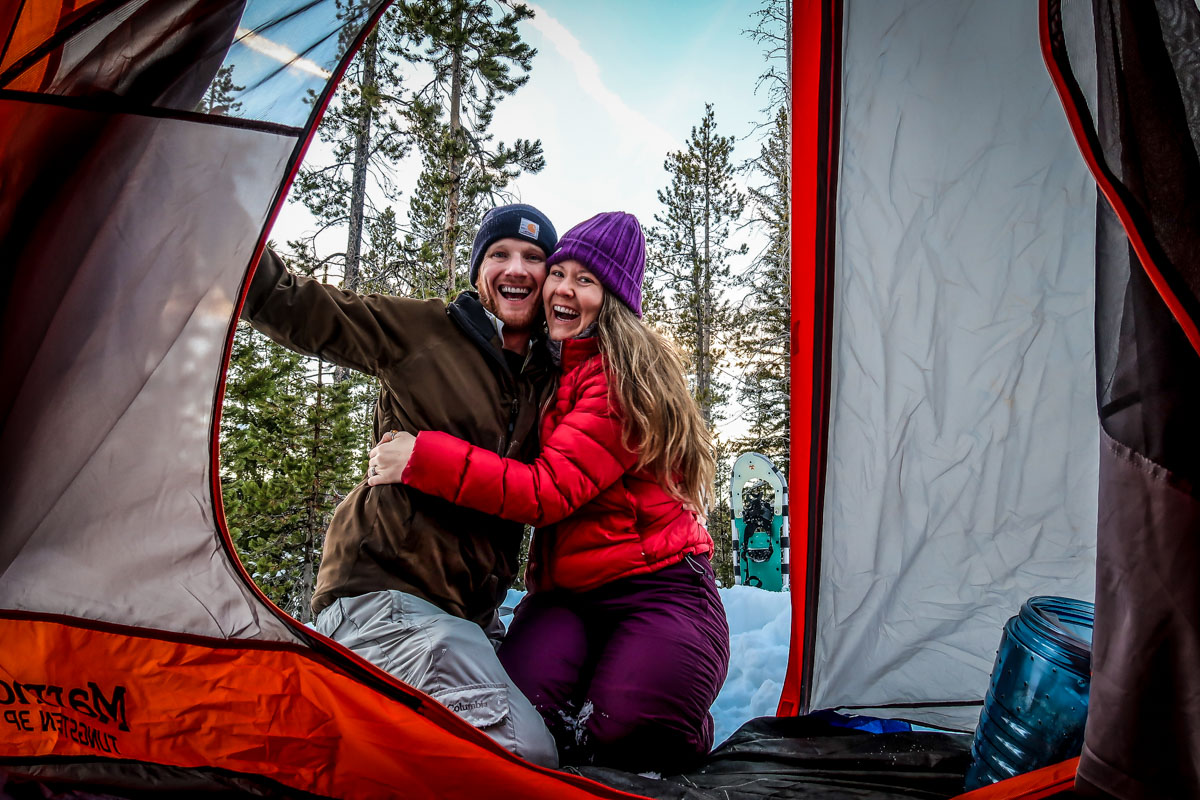 Whenever you think of the word 'camping', the first thought is a nice summer evening filled with s'mores, shorts, and fireflies. And while we love a summer camping adventure as much as the next, we've come to love cold weather camping just as much.
While snow camping may seem much more difficult to plan since trails are closed and roads may be inaccessible, we are here to prove that winter camping can be just as exciting with the right gear and our insider tips.
In order to help you plan and have the best winter camping experience, we've done all the leg work for you in providing exactly what you need to know all about cold weather camping.
Article contents

Essential gear for snow camping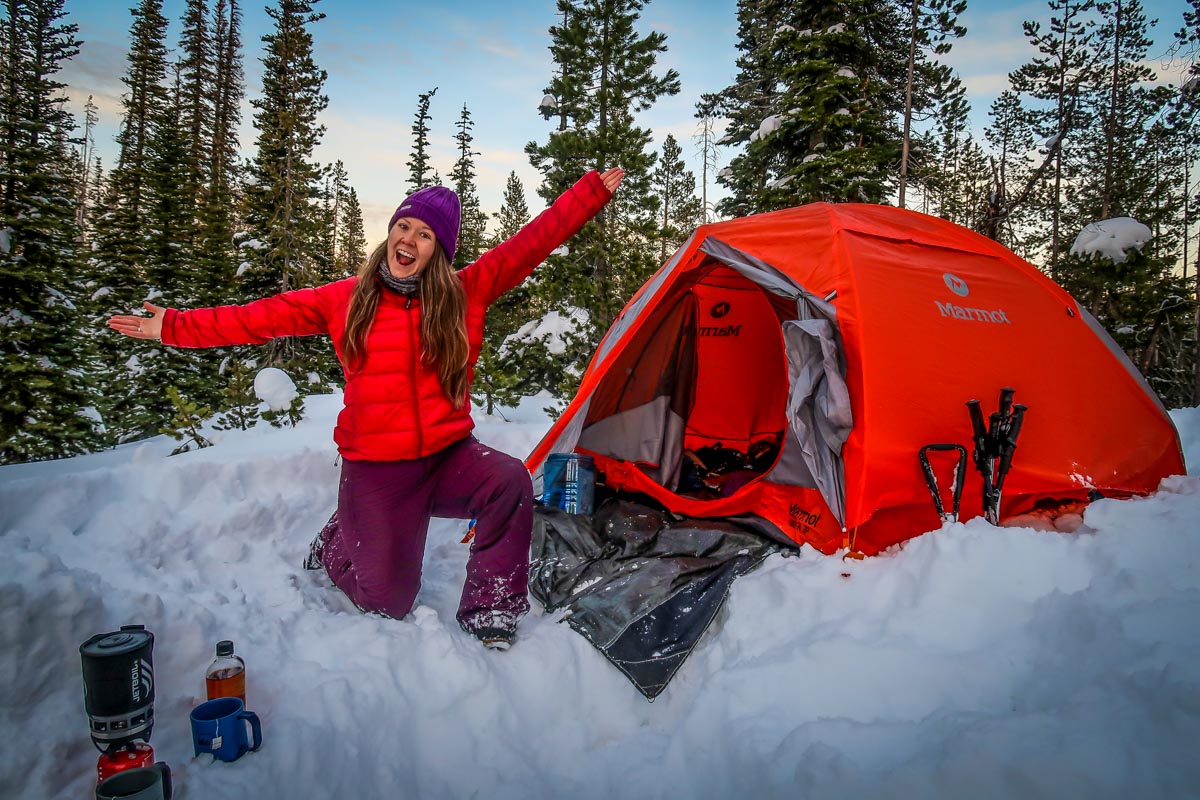 It may seem like you need a ton of special gear for snow camping, but almost all of your regular camping or backpacking gear will work great in colder conditions.
So if you already have a camping setup, you'll just need a handful of cold weather camping staples to have a warm and cozy night under the stars.
Best winter camping tent
There are a variety of different ways you can go about your tent set up for snow camping. Tent options can be separated into two main categories: 3-season and 4-season.
3-season tents are typically used from spring to fall and 4-season tents are a very popular option for winter camping. If you don't already own a 4-season tent, you can easily reinforce your favorite 3-season 2-person tent. However, in case you're in the market for the perfect snow camping set up, here are some solid options to choose from:
Best sleeping bag for winter camping
When hunting for a sleeping bag that will keep you warm and toasty on cold winter nights, you'll want to look for a bag rated at least 10 degrees lower than the temperature outside during your camping trip.
So if you check the forecast and see temperatures in the low 30s, you'll want a sleeping bag rated at 10°F or lower.
Aside from temperature ratings, the other feature that makes a massive difference is what your sleeping bag is filled with. Synthetic filling is common, but goose down is preferred by a lot of camping enthusiasts because it keeps you warmer in cold weather due to the sleeping bag's warmth-to-weight ratio.
Just remember that if a down sleeping bag gets wet, it loses a lot of its insulation abilities, so be sure to keep it dry and bring a waterproof stuff sack to pack it into.
Another great, cheap option for a winter sleeping bag on a budget is by adding a liner to the bag you already own. These can add an extra 10-30 degrees to the rating of your bag. Plus they help keep it clean.
Best sleeping pads for snow camping
A good sleeping bag is a huge key for colder conditions, but it only provides half of the warmth you need for cold weather camping. The other element for a solid sleep set up is a winter-rated sleeping pad.
Out of all the gear you'll need for winter camping, a sleeping pad with a strong R-value is going to make the biggest difference in warmth.
R-value is the measurement of insulation for sleeping pads and they range from 1.0-8.0. When shopping for sleeping pads, you'll want to find something with a value of 4.0+ since those are designed for all-season and winter use.
Hiking through the snow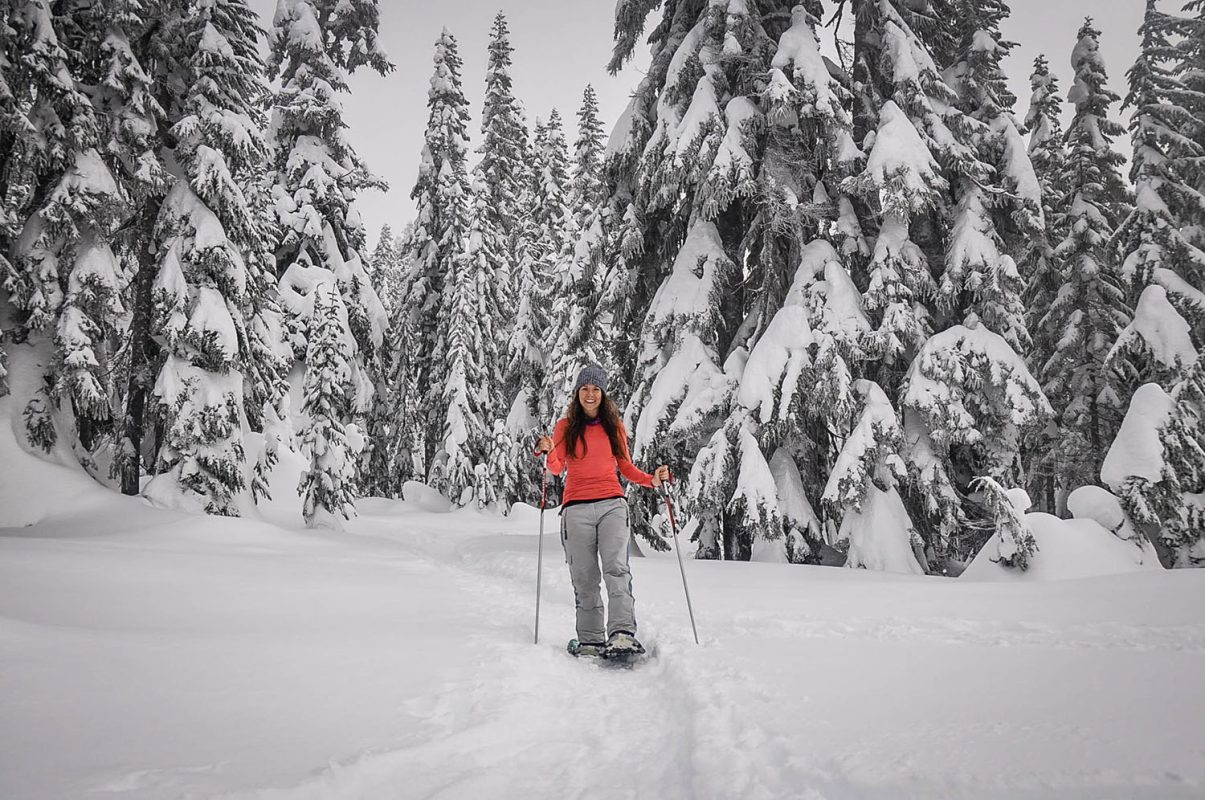 With only a few inches of snow on the ground, you can get away with your regular boots for hiking in the winter. However, if the trails are slick, you may want to consider microspikes for hiking to get some extra traction.
If you're in an area that receives quite a bit of snow, you're going to need a little more support on your feet to get around, like snowshoes, cross-country skis, or split boards.
Snowshoeing is the easiest way to navigate a snowy trail since it's very similar to regular hiking. Grab a pair of quality snowshoes, either a beginner-friendly pair or an investment pair for more adventures. We have an entire article filled with tips on snowshoeing for beginners.
If you're comfortable with snowboarding or skiing, split boards or cross-country skis are good for mellow terrains.
What to wear for snow camping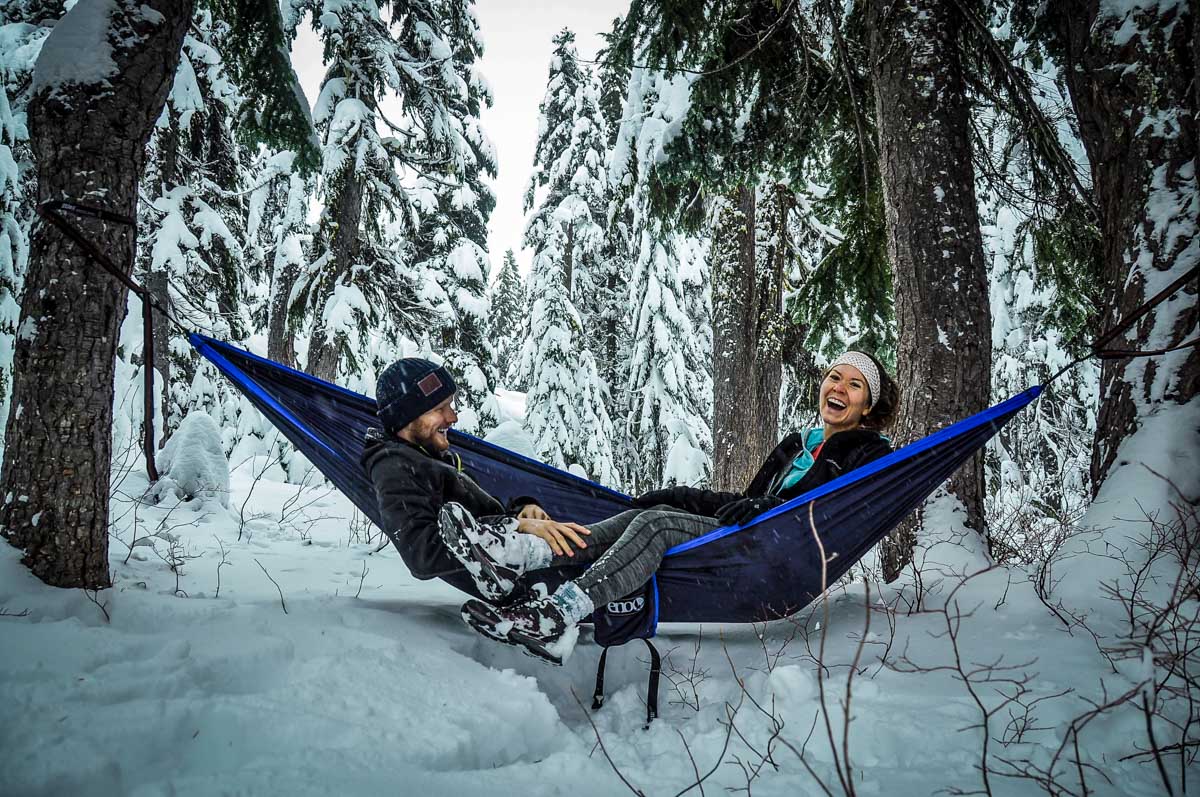 A lot of the items you bring for camping in other seasons are the same for winter camping, but with a little more emphasis on staying warm and dry.
Baselayers
Mid-layer insulation
Down jacket
Waterproof shell
Waterproof pants
Hiking boots
Thick wool socks
Gaiters (optional)
Beanie
Gloves
Buff or scarf
Check out our article on what to wear hiking (specifically the section about hiking in winter) for some more specific ideas.
How to set up camp in the snow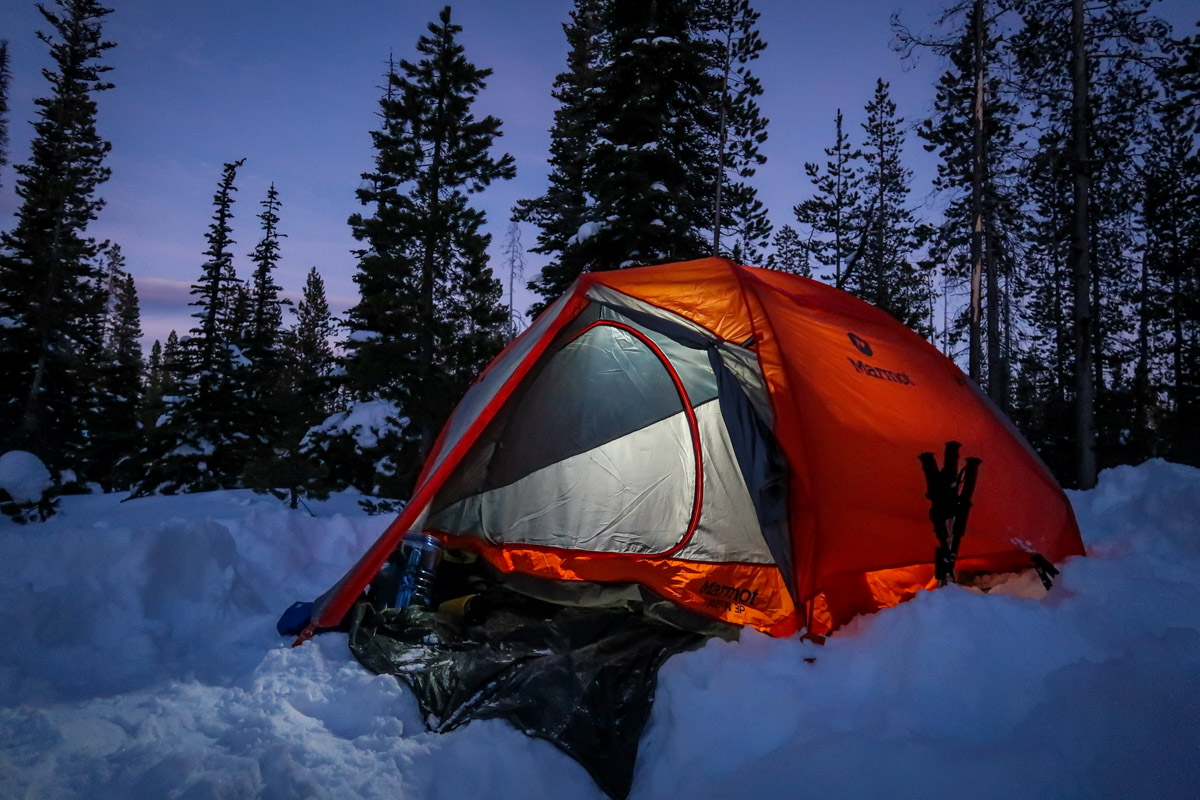 Setting up camp for snow camping is similar to camping in other seasons, but requires a tad more planning to stay safe and warm.
Things to consider
Know your water sources: Try to find a campsite that has access to running water you can use to cook your meals.If there isn't direct water access, you'll need to melt snow to get the water you need. Note that if you do need to melt snow, you'll need pack to up to 3x the extra fuel to account for melting the snow.
Shelter yourself from the wind: You can hang a tarp between trees or take shelter near a boulder or healthy trees to shield yourself from higher winds.
Choose a safe place to pitch: Scout your site before setting up to avoid damaged trees, avalanche risk, and pitching your tent on any type of vegetation.
Check for hazardous trees: Dead or damaged trees can fall or cause snow and ice to fall from the branches and damage you or your tent.
Look for landmarks: Find specific natural formations that are near/at camp so in the event of bad weather you can still locate your camp.
Pitch where the sun will rise: Aim to camp in an area where the sunrise will hit first. It'll keep you much warmer if you're not waiting for the sun to rise on camp.
Setting up your tent
If you found some snow-free patches to pitch your tent, you can set up your tent as you usually do, but if you're dealing with snow, you'll have a few extra steps before you get to wrap yourself up in your sleeping bag.
Pack down the snow: Once you find a safe place to set up camp, stomp down the snow with your shoes, then wait 30 minutes for the ground to refreeze. This is going to make walking around a lot easier since you won't sink.
Build a small wall: In the event of very windy conditions, this snow wall will protect your tent.
Avoid sharp objects: The very last thing you want is a hole your tent. Clear the ground of any sharp objects and any microspikes, ice axes, or crampons that could puncture your gear.
Use winter tent stakes: These are reinforced for winter conditions so your tent will stay in place.
Setting up your kitchen
One of the best parts about winter camping is that you can use the snow to shovel out the perfect kitchen/hangout spot.
One of the most popular ways to set up a snow camping kitchen is by setting up a tarp or floorless tent and digging out the area underneath it. Two long benches and a table make for the perfect set up for mealtimes.
Food & drink management while snow camping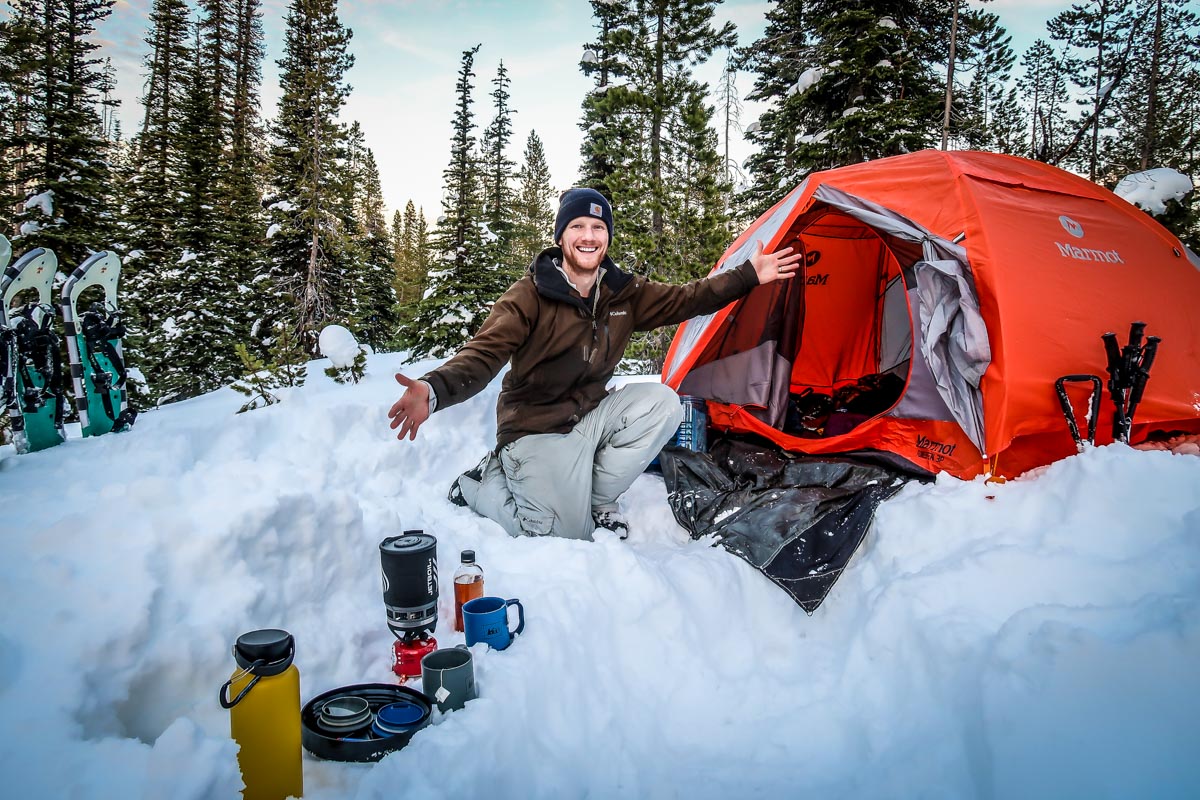 While hiking through the snow, your body burns a lot of energy, so it's important to eat well and hydrate before, during, and after your winter activities. Staying satiated will help maintain your energy levels and keep you warm.
When you're making your food checklist, be sure to opt for simple foods that will not freeze. Preparing easy camping meals will reduce the amount of time it takes to cook your food as well as the time it takes to do the dishes afterwards.
While you're hiking, instead of breaking for a long time for lunch, make a quick pit stop for something fast or munch as you go. If you slow down, your body will start to cool down, so keep things moving and pack grab-n-go snacks that have good protein, fats, and carbs.
You'll want to adopt the same practice for water and sip throughout the day to stay hydrated, even if you don't feel thirsty. Pack your own water in insulated bottles to keep it from freezing.
Tips for snow camping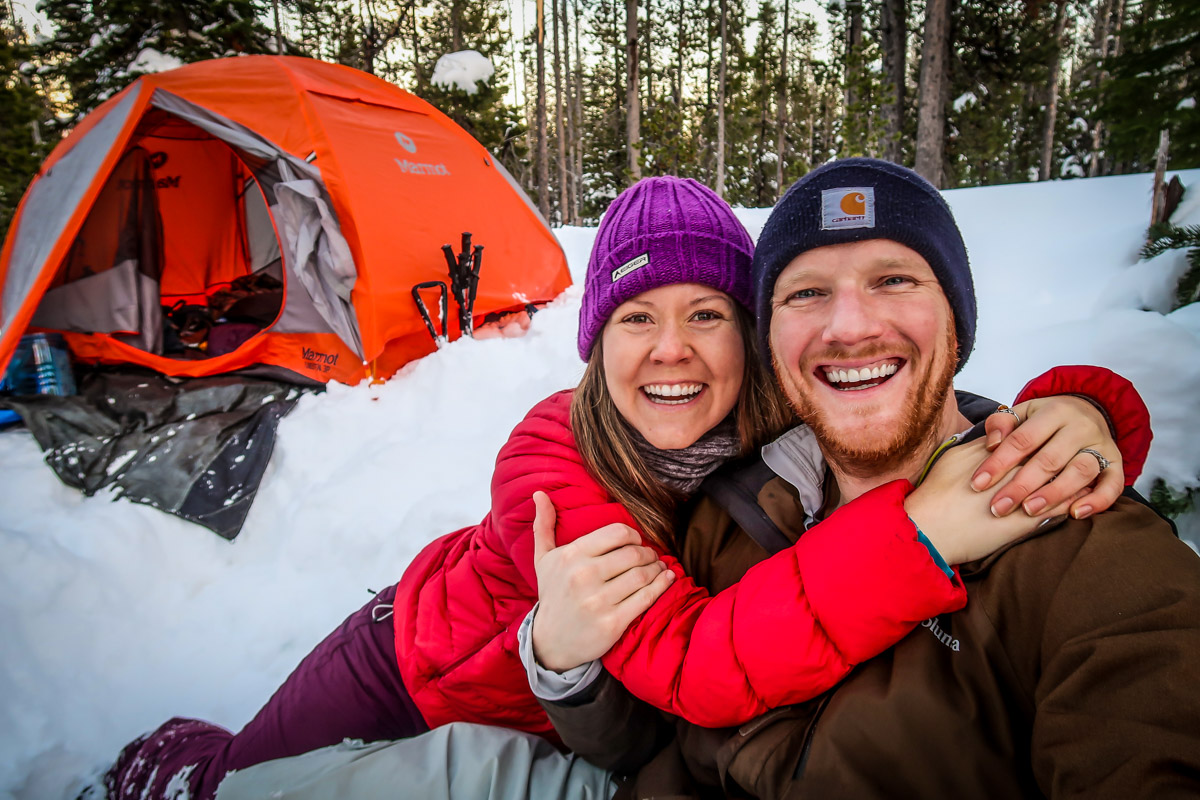 Follow these tips to assure you have the best snow camping experience possible.
Essential safety tips
Being dry is crucial to staying warm: Staying dry is crucial as being wet can increase your chances of hypothermia and cold injuries. Be sure to wear quick-dry sweat-wicking fabrics.
Prevent cold injuries: Frostbite and hypothermia are the two main concerns when it comes to cold weather camping. You'll want to keep dry and pack the appropriate clothing.
Don't try to tough it out: If your extremities start to get cold, do not try to continue without warming them back up.
Don't let your water freeze: Be sure you carry enough water with you for your entire trip and pack your water in insulated bottles so it doesn't freeze on you.
General tips
Make a hot water bottle: This is the ultimate snow camping tip. Before you snuggle into your sleeping bag, boil some water and pour it into a camelbak or Nalgene bottle. Stow the bottle at the bottom of your sleeping bag and you'll have a mini makeshift heater for your bag.
Exercise before bed: Something as simple as some jumping jacks or running around camp a few times before you get in can keep you warm in your tent all night long.
Bring the right gear: Gear that can withstand winter weather is crucial to stay safe and warm while snow camping.
Wear a hat and Buff at night: A lot of your body heat can be expelled from your head, so wear a Buff in addition to a warm beanie to keep your head warm at night.
Sleep in clean clothes: Dirt and oil can break down the insulation properties of your gear with time. Opt for a clean change of clothes before bed, especially if you've been sweating.
Fill your tent space: Bringing your backpack, boots, and other gear will help insulate the tent better and keep you warm.
Eat plenty of calories and stay hydrated: Eat hot, filling meals and avoid stopping for too long while on a lunch break. Throughout the day stay hydrated by sipping on water. Pack your favorite herbal teas and hot drinks to keep warm.
Bring plenty of layers for extra warmth: Mid-heavy weight base layers, down jackets, rainwear, beanie and gloves are all crucial to keep warm in cold weather.
Leave No Trace: This is crucial to keep the outdoors beautiful for everyone. Brush up on the 7 principles of Leave No Trace before you head out.


You may also like…
Save this article on Pinterest for later!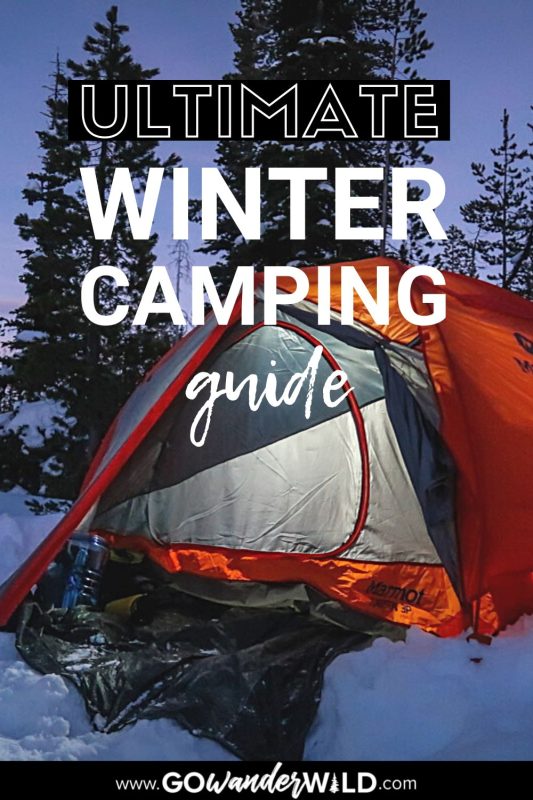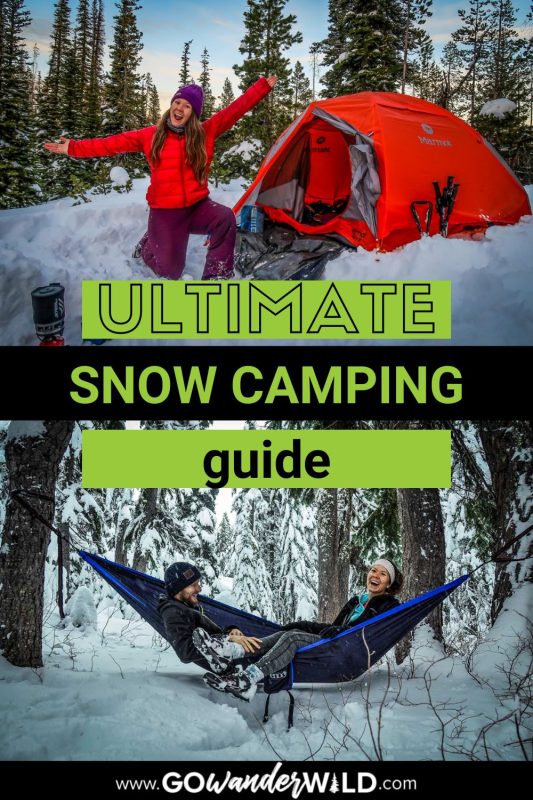 We want to hear from you!
Are you new to snow camping and still have questions? Drop us a note in the comment section below and we'll do our best to find you the answers you're looking for!