Looking for the best things to do during the winter in Bend Oregon? Wintertime in Bend is actually quite beautiful, and it's not as cold as you might think! We've got you covered with plenty of ideas of fun wintertime activities in Bend.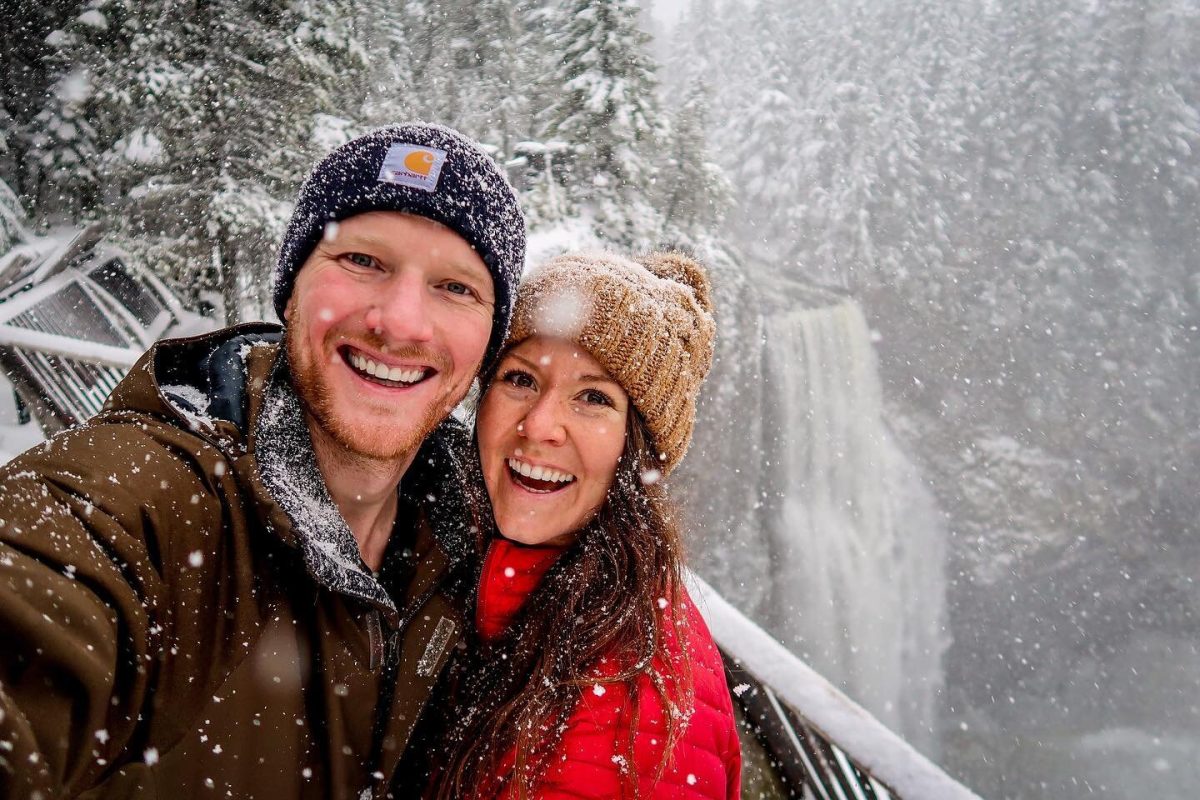 We all know Bend, Oregon as a popular destination for outdoor enthusiasts. Surrounded by snow capped peaks in Central Oregon, this small city has become a hot spot for skiing, hiking, whitewater kayaking, climbing, mountain biking, backcountry camping… you name it!
Plus the climate here is a lot more moderate than you may think. Compared to the gloomy coastal cities, Bend offers plenty of sunshine throughout the year. In fact, winter in Bend, Oregon is actually quite beautiful, with mild temperatures ideal for outdoor activities.
If you happen to be visiting Bend in the winter months and are looking for an adventure, we've got some great ideas for you! You might be surprised to find you can actually do a lot of the same activities you'd enjoy during the other seasons –you'll just have to be more bundled up!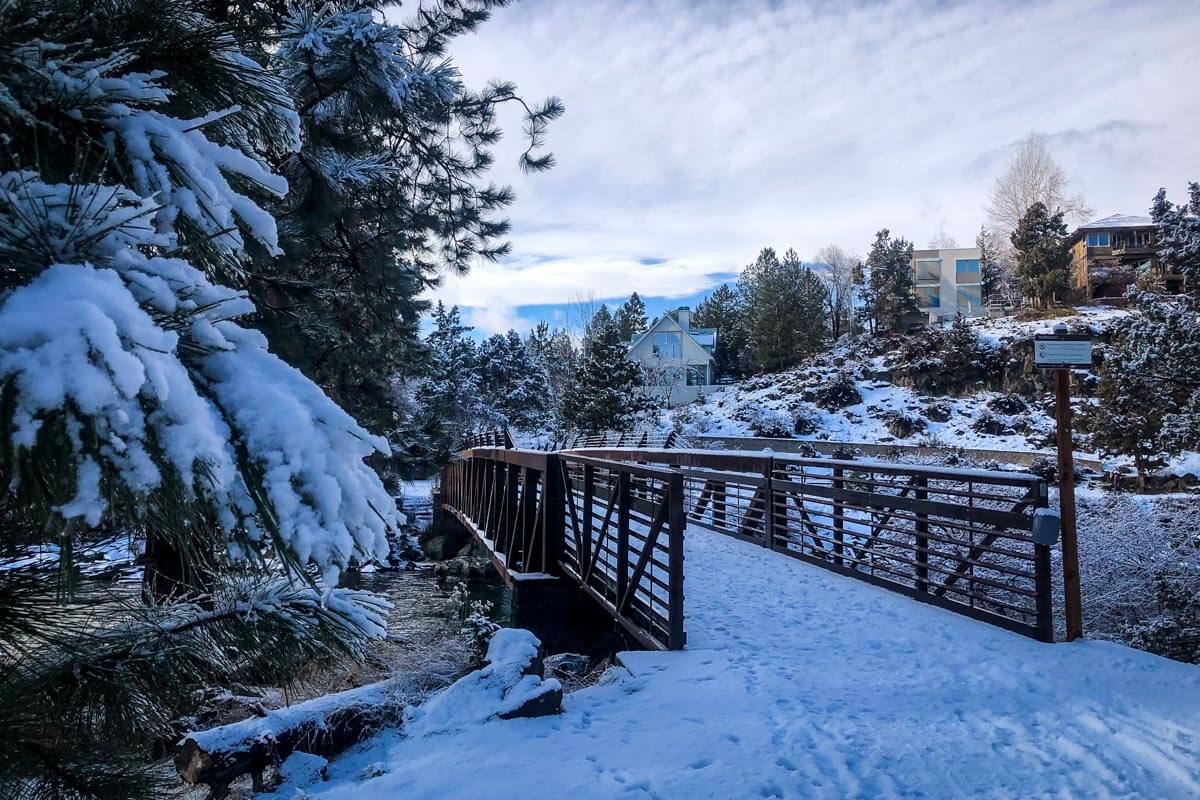 Insider tip: You may notice the town of Bend doesn't typically accumulate much snow. Even after a snowstorm, melting occurs within a day or two. However, drive just 20 minutes outside of town toward the mountains and you'll find a totally new landscape with plenty of powder for skiing, sledding or snowshoeing.
Remember to pack layers because even if it's not all that cold in town, it'll be a different story once you gain a bit of elevation.
Related: Check out the mega-guide we published on our sister site with the best things to do in Bend, Oregon for year-round fun!
1. Visit Mount Bachelor for skiing and more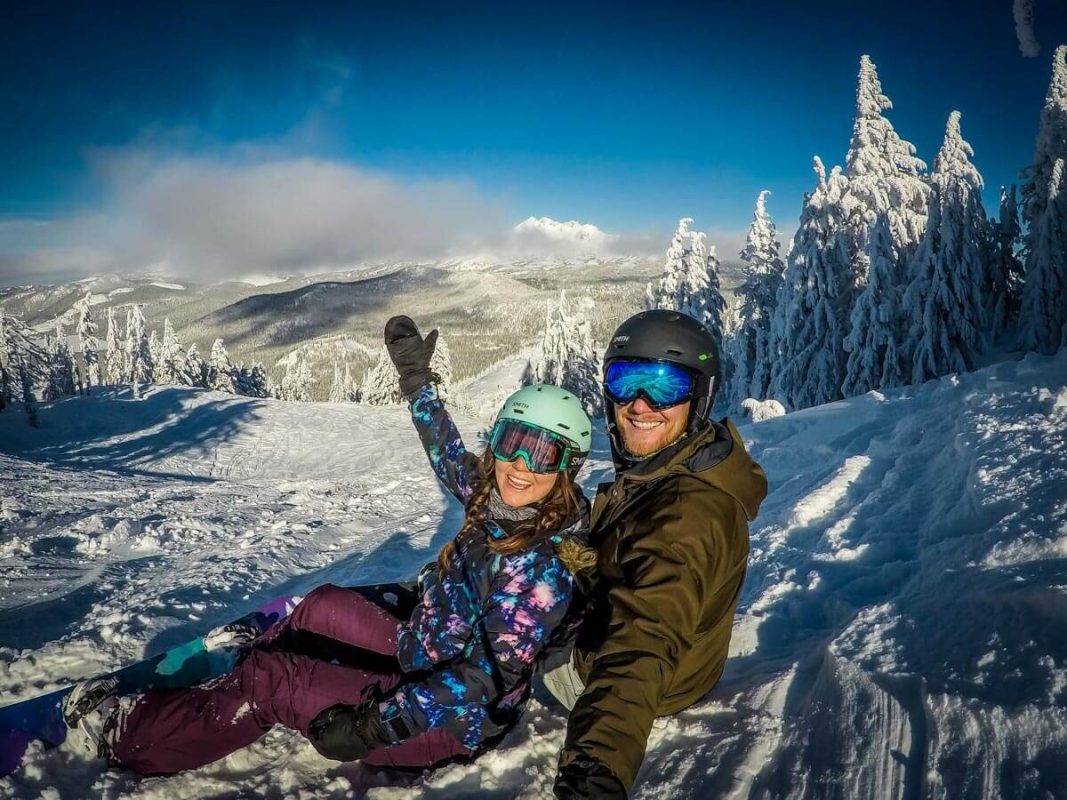 Whether it's downhill skiing or snowboarding that piques your interest, we know exactly where to find fresh powder…
The nearest ski mountain and a destination frequented by locals and out-of-towners alike, Mount Bachelor is arguably the best ski resort in the state. With over 1,000 acres of skiable area, it is the second largest single-mountain ski resort in the US (after Vail).
Located 22 miles west of Bend, it takes just about 30 minutes to reach the ski resort, making it really easy to plan a day trip.
Another perk of its unique location is the extra long ski season enjoyed at Mount Bachelor. Lifts typically start running in mid-November and run until the end of May (depending on the season, of course).
Other things to do at Mount Bachelor in the wintertime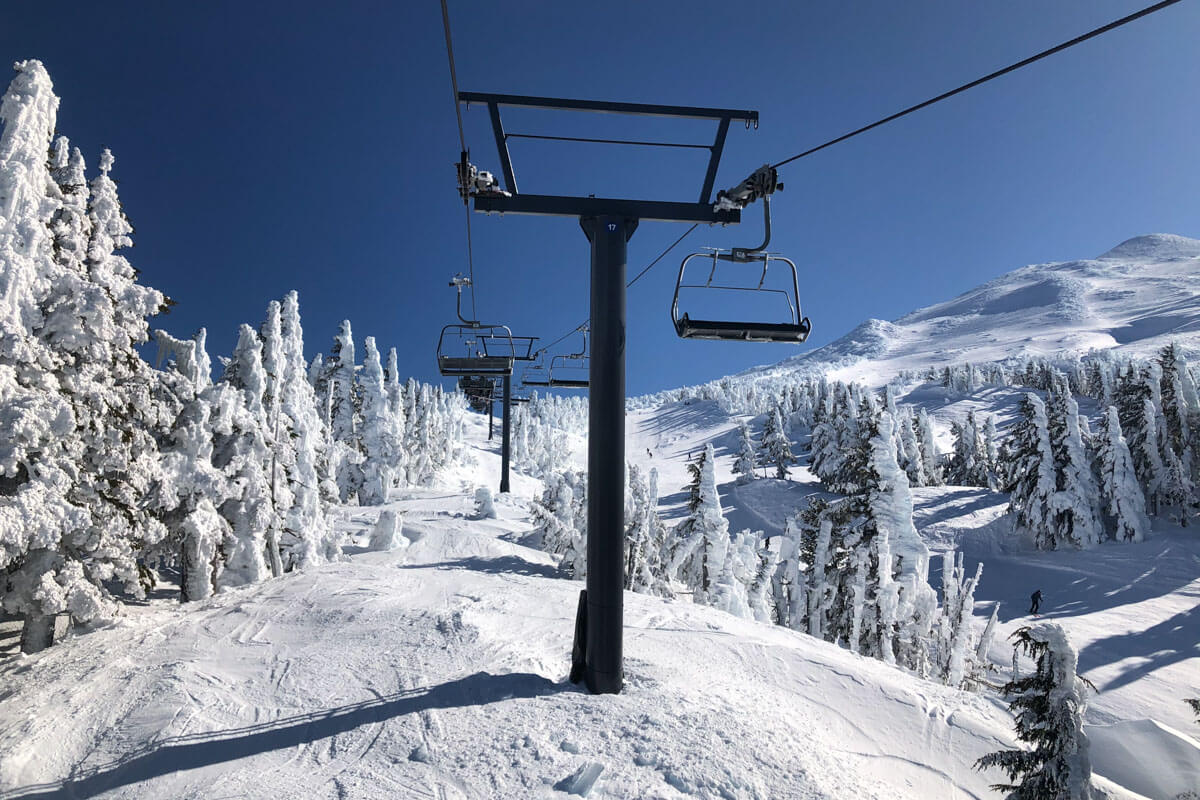 Of course skiing isn't the only reason to visit Mount Bachelor. Take a break from hitting the slopes and try something new.
Unleash your inner child at the Snowblast Tubing Park
Go mushing with the Oregon Trail of Dreams sled dog team
Ride a fat bike through the snow
Go on a free snowshoeing tour with a Forest Service Naturalist (more on that below!)
Fun Fact: It is said that this inactive volcano was named "bachelor" as it stands apart from the Three Sisters mountain range. It took me a while to get that…
2. Ski for $25 at Mount Hoodoo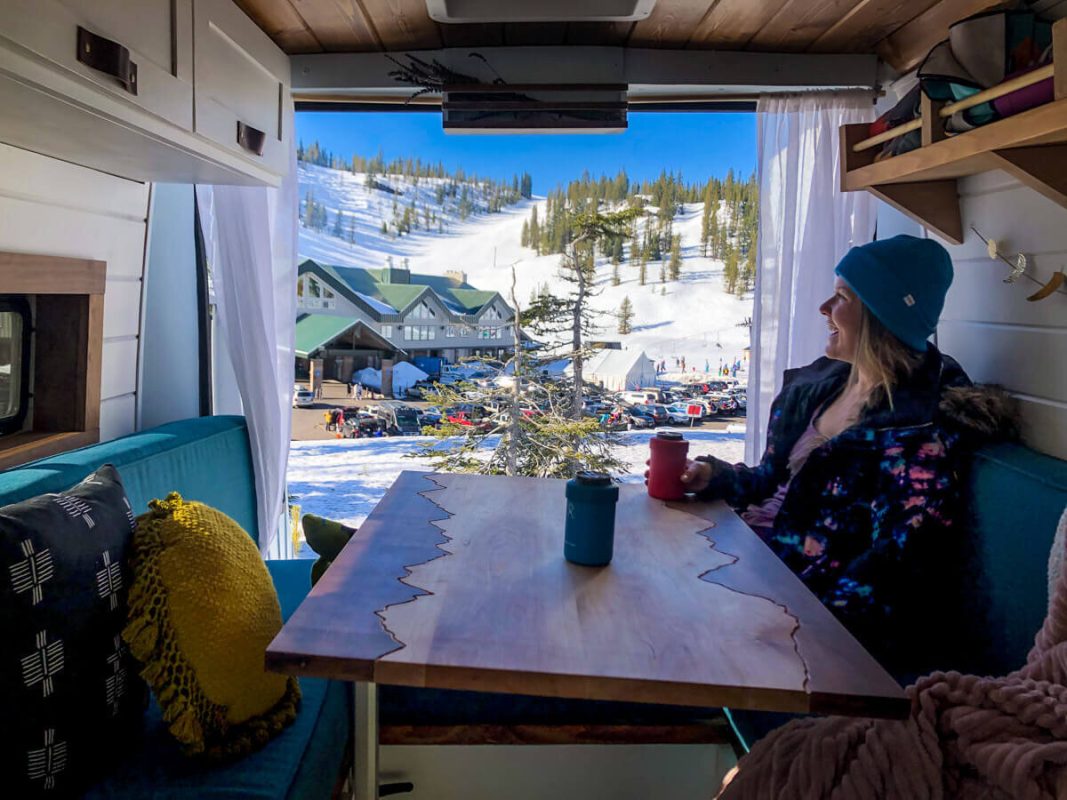 If you want to have a ski day while in Bend, but are hoping to avoid the crowds and super high price tag of Bachelor, we wouldn't blame you.
Our solution: Hoodoo Ski Area
You'll have to drive twice as far, but Mount Hoodoo, which is just under an hour drive from Bend, is a smaller mountain with a more laid back vibe. And the best part, they offer lift tickets for $25 on "Thrifty Thursdays"! That's right, every Thursday of the month, you can go skiing at Mount Hoodoo for just $25. We made it a near-weekly routine to go snowboarding at Hoodoo last winter and it was well worth the savings!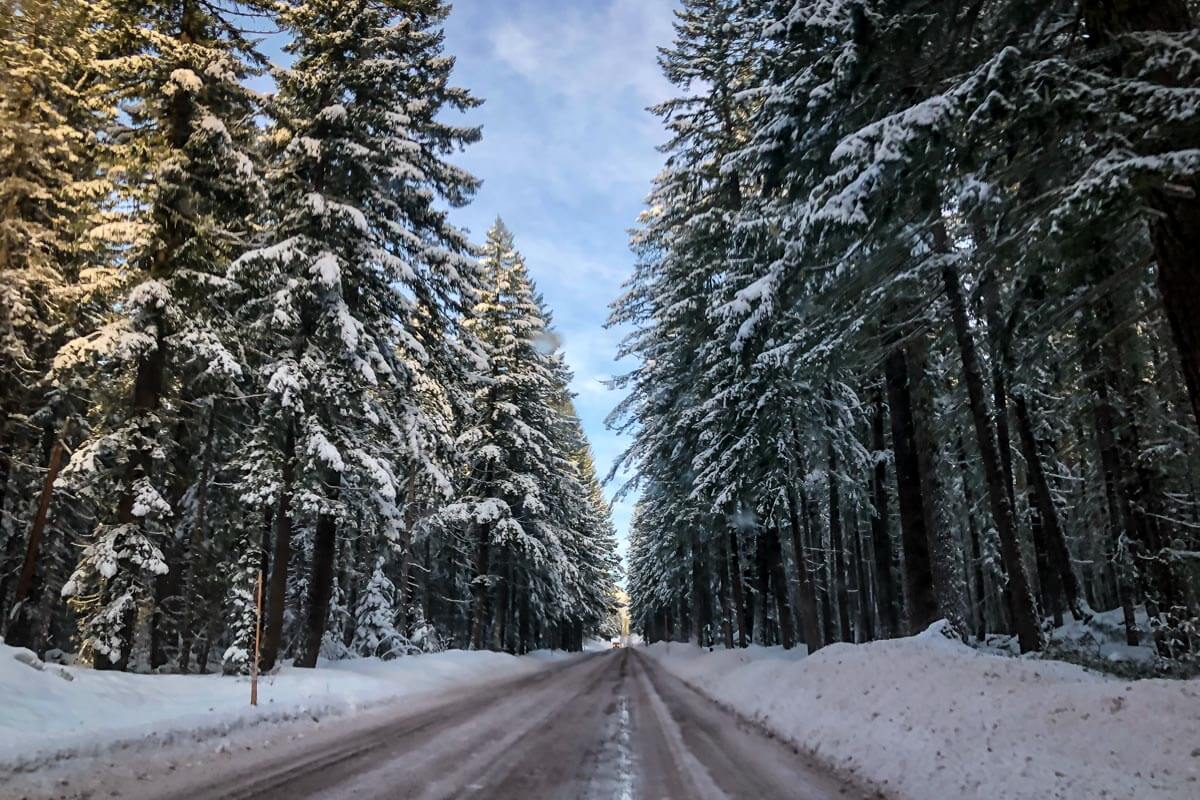 Insider Tip: After you've worked up an appetite on the slopes, hit up our favorite spot for a bite to eat. Just a bit further down the road from Hoodoo, Mackenzie's General Store serves up excellent burgers and onion rings with homemade marionberry barbeque sauce that'll hit the spot! Be prepared to have little to no cell reception on this part of the drive.
Psst! Looking for a winter getaway?? Check out these cozy cabins in Oregon you can rent!
3. Soak in a natural hot spring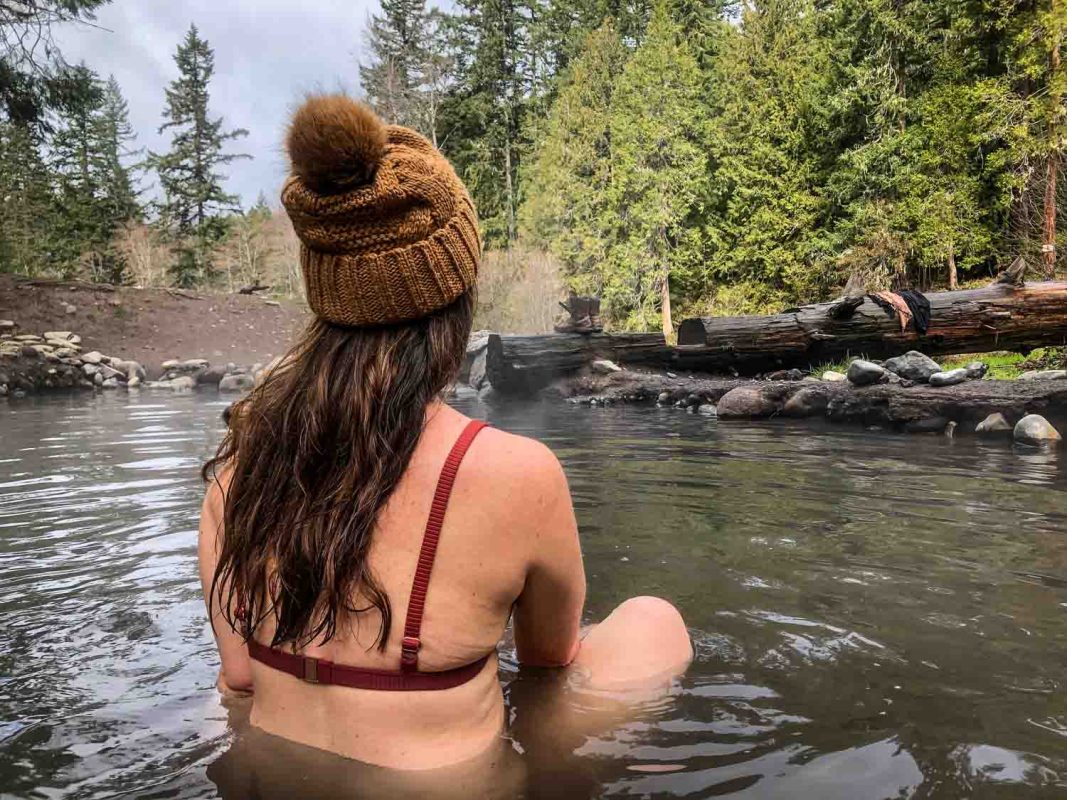 After working out your legs on the slopes or perhaps just to find a cozy place to rest, there is nothing better than soaking your chilled bones in a naturally heated pool on a snowy winter day. Oregon has lots of gorgeous hot springs and many of them are reachable from Bend.
Some of our favorites are McCredie Hot Springs, a 1.5 hour drive from Bend and Umpqua Hot Springs, just two hours south and a perfect day trip.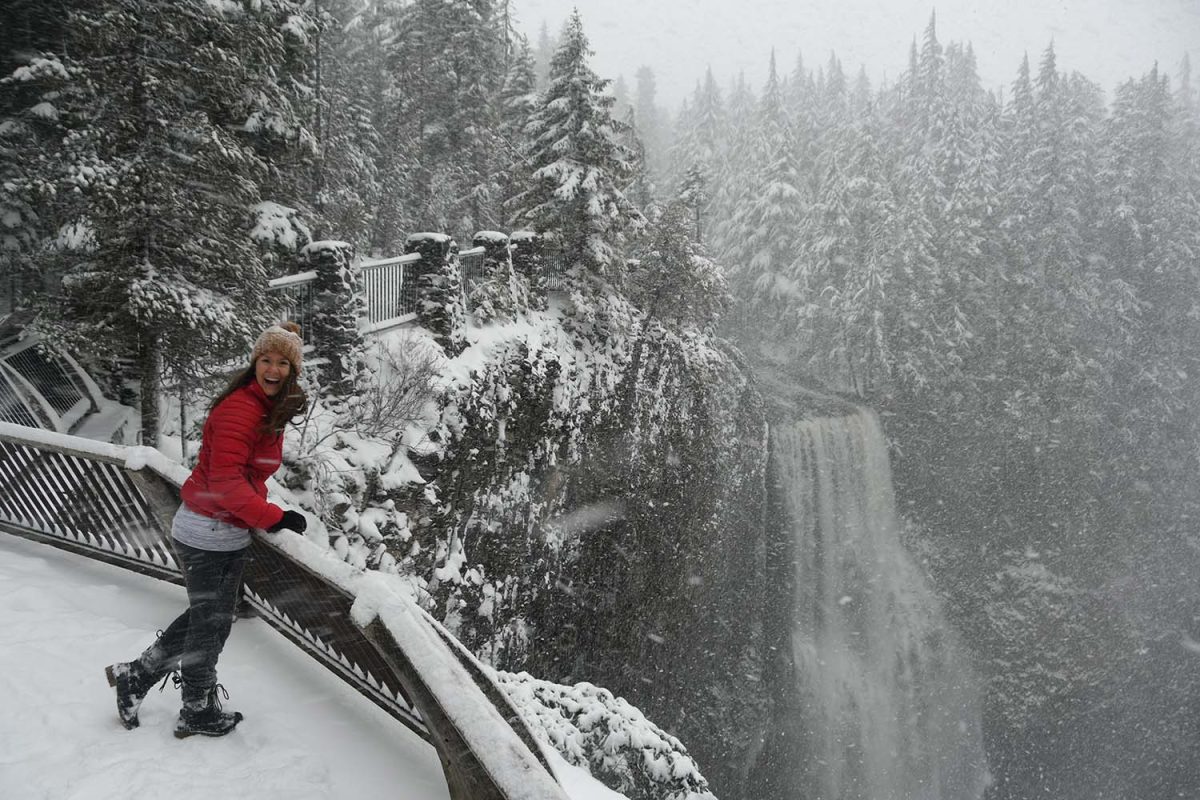 Tip: If you're visiting McCredie hot springs, be sure to make a stop at Salt Creek Falls, the second highest waterfall in the state, which is just 15 minutes up the road from the hot springs!
After a ski day at Mount Hoodoo, we love heading to Belknap Hot Springs to soak our aching legs. It costs $8 per adult, and while it's not a rustic hot spring like the ones above (it's essentially a hot pool next to the McKenzie River), it's still a welcomed relief in the winter months.
4. Go on a free snowshoe tour with a Forest Service Ranger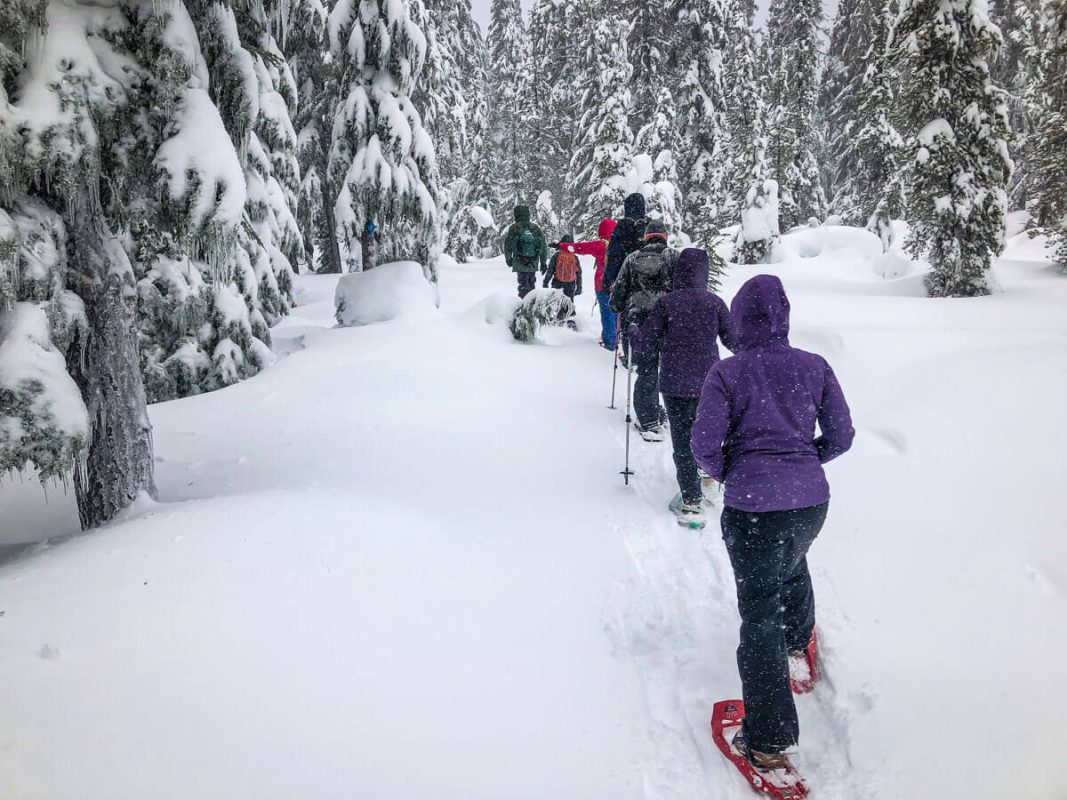 If you're looking for a fun way to survive the Bend, Oregon winter and enjoy the outdoors for free, look no further. From mid-December through late March, Mount Bachelor hosts ranger-led snowshoe tours that are free to the public.
If you've never been snowshoeing before or don't have your own gear, no worries! Even the equipment rental is free and tours are geared towards all levels of ability.
During the 90-minute tour, the ranger will point out different features of the local geology and nature. We were surprised by how much we learned!
While this is a free program, consider leaving a donation if you had fun as it will help fund their non-profit partner, Discover Your Forest, which connects people to our public lands.
How to do it yourself:
Meet at the West Village Base Area near the Guest Services building. There is a USFS hut that has signs about the snowshoe program.
Tours go out at 10 a.m. and 1:30 p.m. from mid-December through mid-March
Check in 10-15 minutes before the tour start time
Reservations are not required
Snowshoes are provided, but you can also bring your own
Cost is free, but donations are welcomed
Make sure to wear layers and snowpants in case you take an unexpected tumble
Psst! If you're a total newbie to the sport, check out our guide to snowshoeing for beginners.
5. Hit the trails… snowshoeing trails that is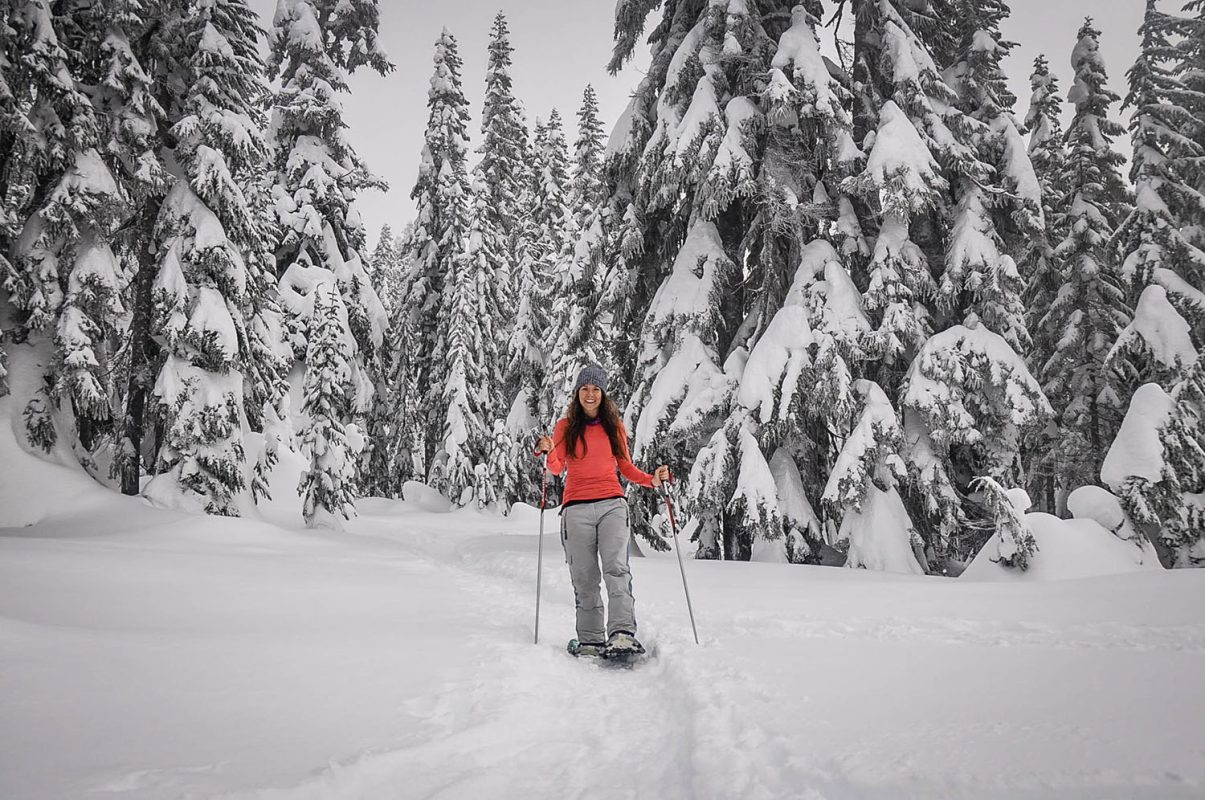 As many as there are awesome hikes near Bend, there are also networks of amazing snowshoe trails just outside of town that will make you feel like you're in a winter wonderland (even if there isn't any snow in town!).
Don't have snowshoes of your own? You can rent them from REI for $22 per day or at Gear Fix for $15 per day.
There are a handful of Sno Parks near Bend where you can strap your snowshoes (or XC skis!) on and get on the trails.
Our personal favorite snowshoeing trail is at the Swampy Lakes trailhead. Follow the snowshoe trail towards the Swampy Lakes shelter, which is just over 1.5 miles from the parking lot (about 3 miles roundtrip).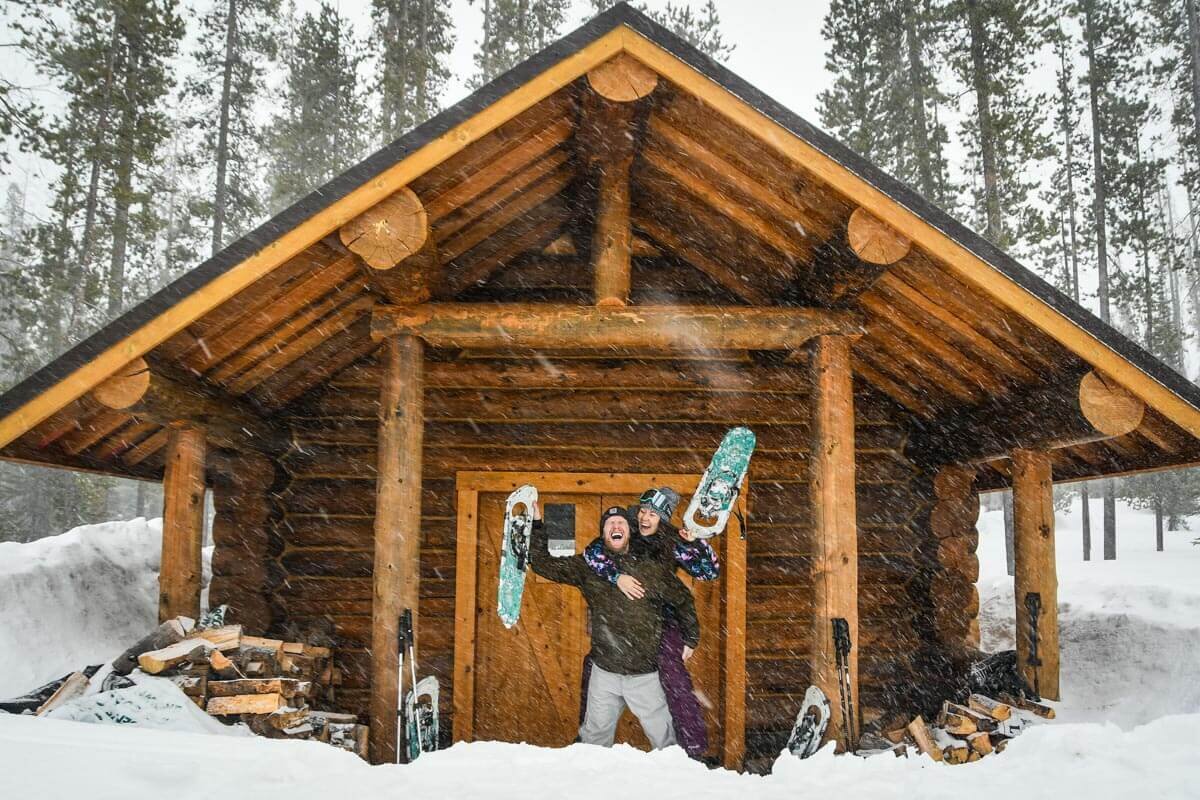 The fully enclosed shelter is a great mid-point to enjoy some snacks and a thermos full of your favorite hot beverage. There's even a wood-burning stove inside to keep you toasty warm. Depending on the day and time you arrive, be prepared to share the space with others. Take it as an opportunity to make friendly conversation!
How to do it yourself: Pick up your Sno Park Pass at an REI, ranger station or local outdoor gear shop. You can purchase a day pass for $5 or a season pass for $30. This is required to be able to park at the trailheads and it helps fund the snow plowing and maintenance of the trails.
If you don't have snowshoes of your own, you can rent them for a reasonable price at REI locations. Members get a reduced rate and don't have to pay a deposit.
6. Try out fat biking in the snow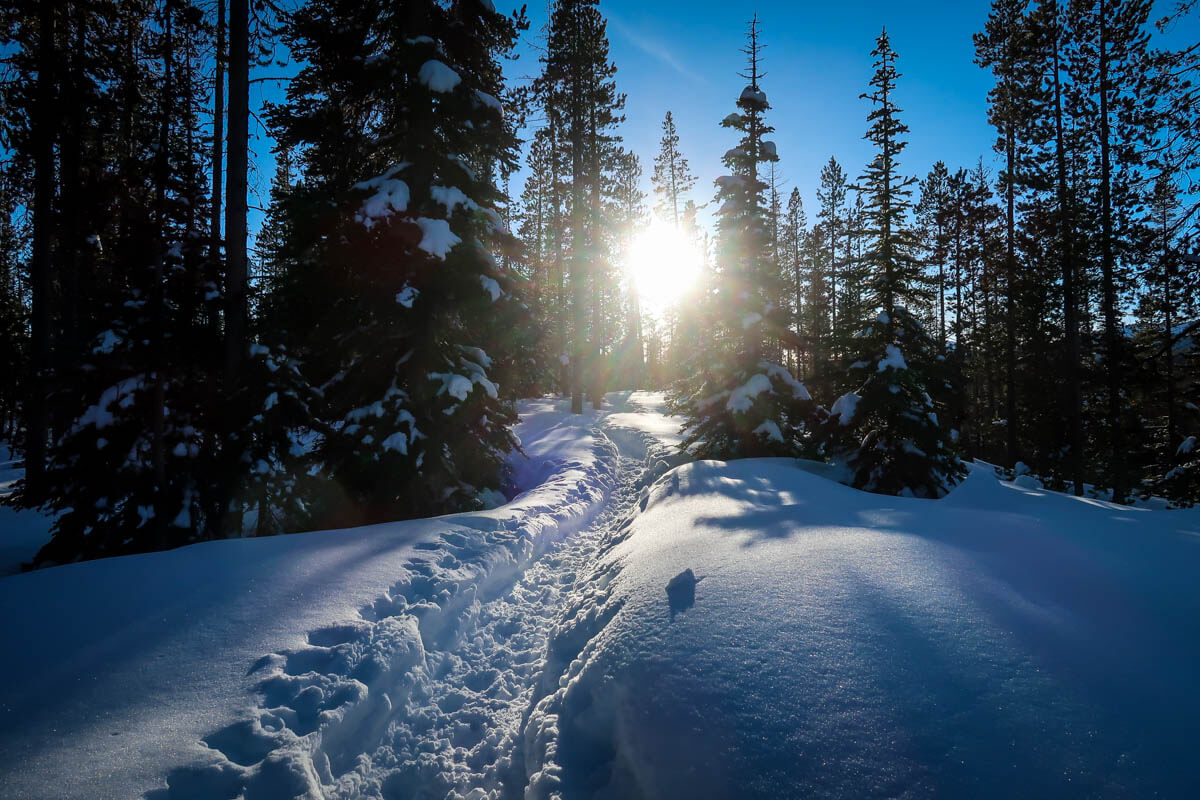 If you are a big fan of biking, you will love knowing you don't have to hang up your wheels for the winter in Bend. Head over to Wanoga Sno-Park where you'll find miles of groomed trails, perfect for fat biking over the packed snow.
If you're asking yourself, what on earth is fat biking!? You're not alone… Fat biking is a relatively new trend that's similar to mountain biking, but on softer terrain, like in the snow! A fat bike is designed with extra fat tires to handle soft terrain like sand or snow.
You can rent a fat bike at any of several local outfitters to hit the trails at Wanoga Sno-Park.
7. Cross-country ski to a hidden restaurant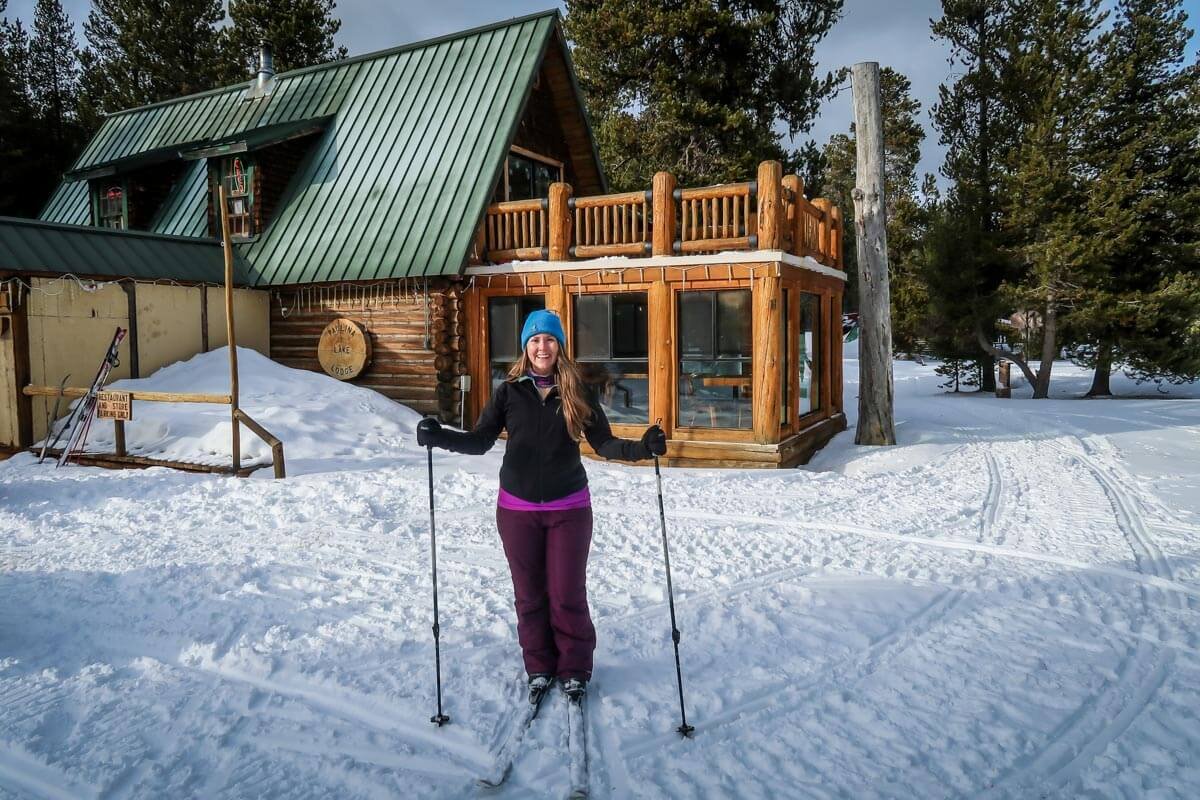 Cross-country skiing and snowshoeing in general can be super fun, but what's even more fun is when there is a special destination… like a hidden restaurant!
Find the trail to this hidden gem at Ten Mile Sno-Park. You'll follow the Paulina Falls trail east for about 3 miles. Pass the waterfall and you'll come to Paulina Lake Lodge where you can warm up with a nice bowl of hot chili or a burger and a beer before heading back in the direction you came from.
Good to know: The cross-country ski and snowshoe paths in Ten Mile Sno-Park cross by a popular snowmobile track. So be prepared to hear the occasional roars!
Psst! If you're looking for more outdoor activities for winter, check out our guide to snow camping.
8. Warm up in the Soaking Pool at McMenamins Old St. Francis School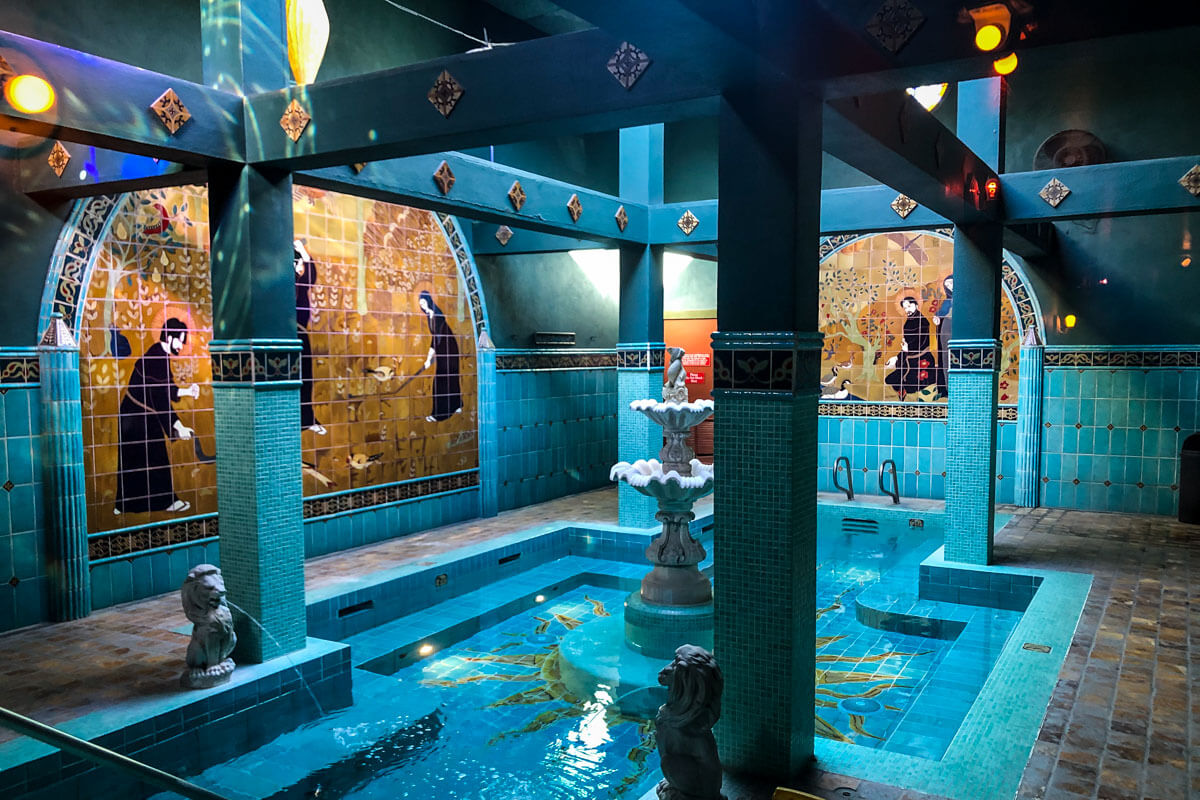 If you've never heard of McMenamins before, you're probably not from Oregon. Not to worry, we'd never heard of it before we moved to Bend, but we soon learned that this family-run chain is legendary throughout the state.
Though it is a chain with locations in Portland and elsewhere in Oregon, McMenamins is not exactly what you'd expect from a typical "chain". Each location is entirely unique, built from historic buildings (in this case an old school house) that have been transformed into an entertainment center of sorts.
The McMenamins Old St. Francis School in Bend is in the historic Catholic school in the center of town. A cozy pub and a bustling restaurant with an onsite brewery are just a few of the highlights of this location. Some of the old classrooms have also been turned into hotel rooms. You could quite literally sleep, eat and play here during your stay in Bend!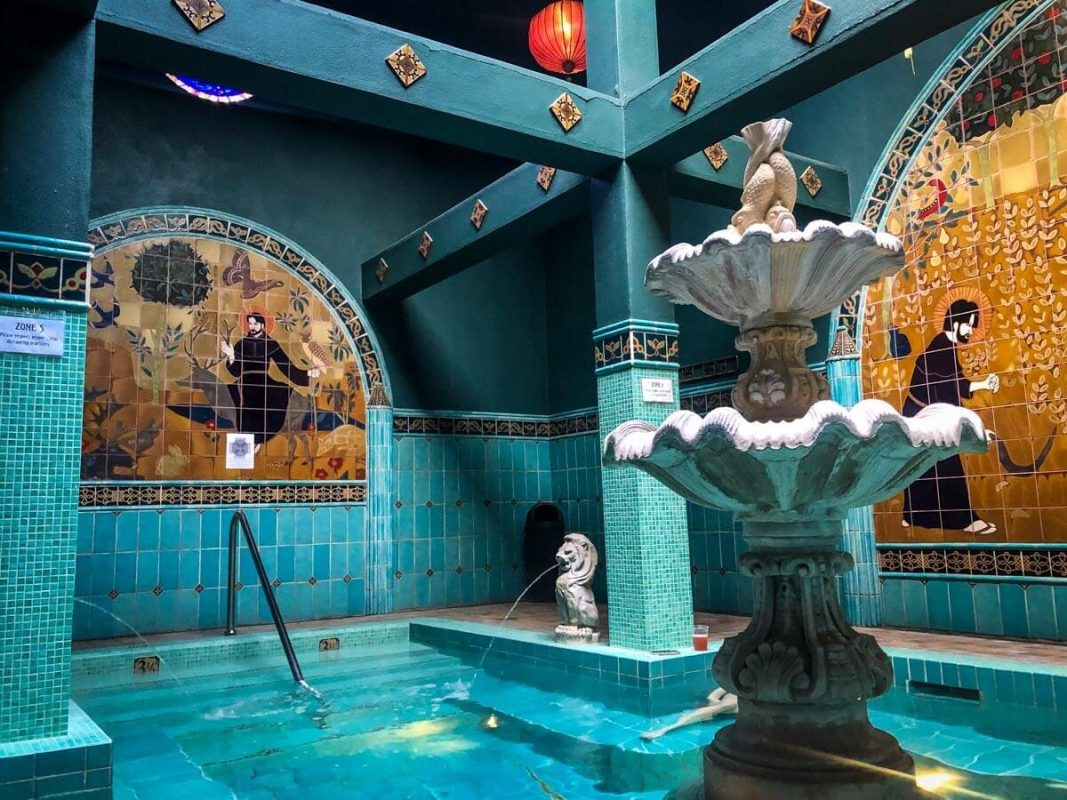 One of the best features at McMenamins for winter entertainment is the soaking pool. Situated under an open-air skylight, the chemical-free soaking pool is a particularly interesting experience when it is snowing outside. It's heated to a comfortable temperature, a bit cooler than a hot tub but warmer than a swimming pool, making it the perfect spot to relax after a day on the slopes or a long hike.
Admission to the soaking pool is $8 per adult and you'll need to call ahead to make a reservation.
Tip: There's also some other fun indoor activities in McMenamins you can try out if you want to stay warm indoors during the wintertime in Bend. They have a budget movie theater with couches instead of traditional seats, complete with a cocktail bar. Plus there is a pub, restaurant and cozy outdoor patio with firepits.
9. Pop in for Jazz at the Oxford
Head on over to the Oxford Hotel in downtown Bend to catch the talented musicians featured in the Jazz at the Oxford winter series. Every season from October to April the Oxford Hotel hosts world-class jazz, R&B and blues artists in their intimate Jazz Ballroom.
You can catch a show at 7:00 p.m. on Fridays, and 5:00 p.m. and 8:00 p.m. on Saturdays. Cozy up with your sweetheart or attend with a group of friends. The 10below restaurant which is located in the lower level of the hotel serves food in the ballroom during performances. Check their official website for ticketing information.
*2021 Note: The series was halted mid-way through the 2020 winter season, with hopes of it picking back up during the winter of 2021. Check their Facebook page for official updates and further information about resuming show times.
10. Hike your favorite trails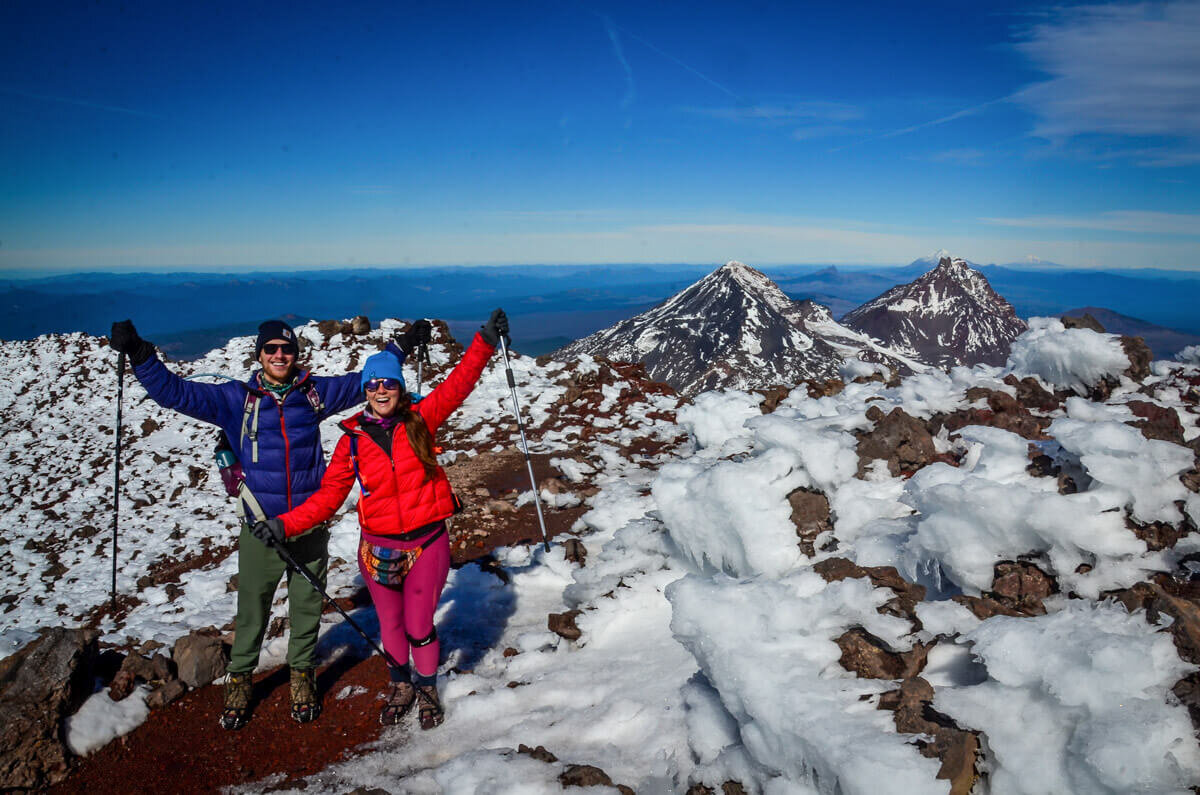 Just because it's wintertime in Bend doesn't mean you have to hang up your hiking boots and settle for indoor activities. I mean, just look at this long list…am I right!?
Because of the more moderate climate and the lack of snow accumulation around town, lots of the best hikes near Bend are still accessible during the winter season.
Take an easy climb to the Pilot Butte Viewpoint or stroll down by the Deschutes River. For some of the more challenging hikes outside of town, you may need to be prepared with microspikes to traverse the frozen ground.
Just be sure to bundle up in plenty of layers, bring lots of water and don't forget sun protection–just because it's cold out doesn't mean you can't get a sunburn!
Follow our guide to hiking in winter for more tips and essential info to get you safely out on the trails in the cold weather months!
11. Lace up your skates and hit the ice rink
There are actually two places you can go ice skating in Bend during the wintertime.
Seventh Mountain is Central Oregon's oldest outdoor ice skating rink. Located just outside of downtown Bend, they offer ice skate rentals, and daily ice sessions open to the public from 10:00 a.m. to 9:20 p.m. during the winter (weather permitting). They even have special themed skate sessions where costumes are highly encouraged.
Reservations are required ahead of time. Admission is $15 for teens and adults, $10 for kids 10 and under and includes your skate rentals. Discounts are provided for bringing your own skates and dressing in costume on theme nights.
The Pavillion in downtown Bend offers an indoor ice skating rink from October through March. They offer public open skate sessions daily and family skate on Sundays. Check their website for public open skate times. Admission costs $12 for adults with skate rental and $9 without. Plus they have 'Cheap Skate' every Tuesday night for just $6 (including rentals).
12. Catch live music at Suttle Lodge's Fireside Shows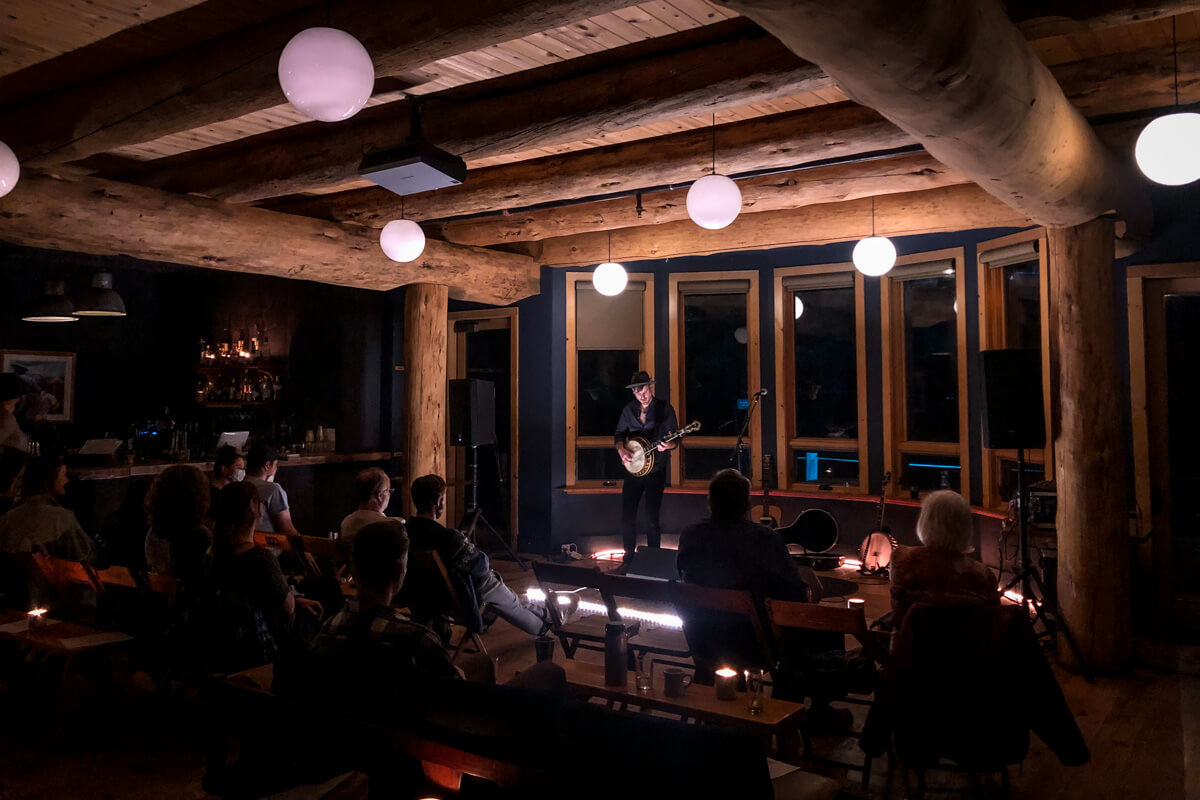 Cozy up for an evening of live entertainment at Suttle Lodge's Fireside Music Series. Situated in Deschutes National Forest, about a 45-minute drive northwest from Bend, the Suttle Lodge is the idyllic setting for an intimate wintertime live show. With wooden beams, a crackling fire, cozy couches and candles, this is the definition of hygge.
The venue also offers a great food menu and tasty cocktails to enjoy during the show. Try the sausage apple flatbread or the salmon with delicata squash and Oregon hazelnuts. My mouth is watering just thinking about it!
The Fireside Music Series takes place most Thursdays from October through May. Check their website to reserve your tickets in advance. Shows are free for guests who are staying in the onsite cabins.
13. Sleep in and go for brunch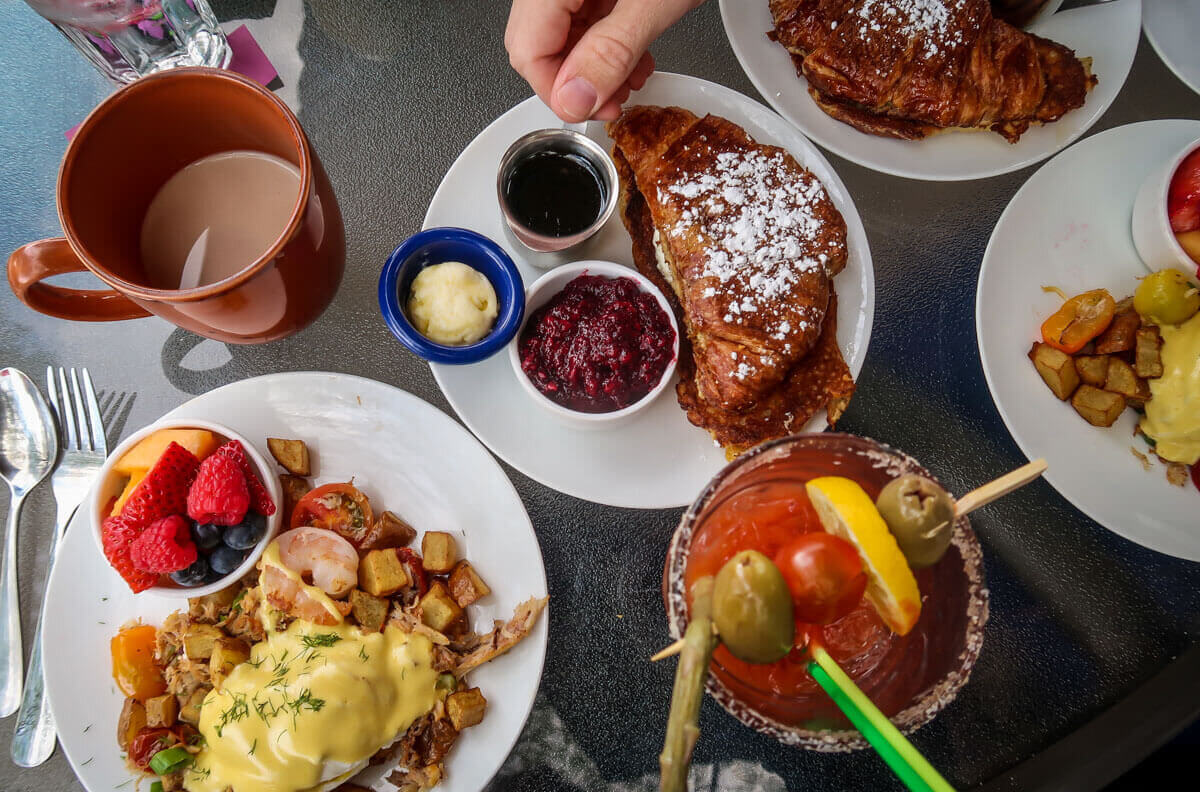 There's something about the cooler temperatures that makes you want to stay in bed longer and snuggle up under the covers… Am I right?
Allow yourself the luxury of sleeping in for just one morning, and when you're ready, hit the town to take advantage of all the great brunch options Bend has to offer. Below are some of our personal favorite places for a late breakfast and the occasional Bloody Mary.
The Victorian: With a cozy atmosphere and classic breakfast favorites, it's no wonder this cafe set in a cute red Victorian home in downtown Bend is a crowd favorite. Come prepared for a wait, especially on weekends, and order the 24-ounce "Proud Bloody Mary" to go along with your selection of eggs benedict (they serve at least 9 different varieties each morning).
McKay Cottage: Widely recognized as the best brunch in Bend, this charming little cottage serves all the American brunch favorites like benedicts, scrambles, French toast, and scratch-made pastries. Try the stuffed French toast, made with croissants and served with housemade marionberry compote that is finger-licking delicious.
The Lemon Tree: A unique establishment in downtown Bend, The Lemon Tree is serving up flavors from around the world. They put their own international spin on classic brunch staples (including their cocktail menu) so there is something new to try for everyone.
Looking for more food recommendations? Check out our local's guide to the best restaurants in Bend.
14. Enjoy a local craft beer or cocktail next to a fire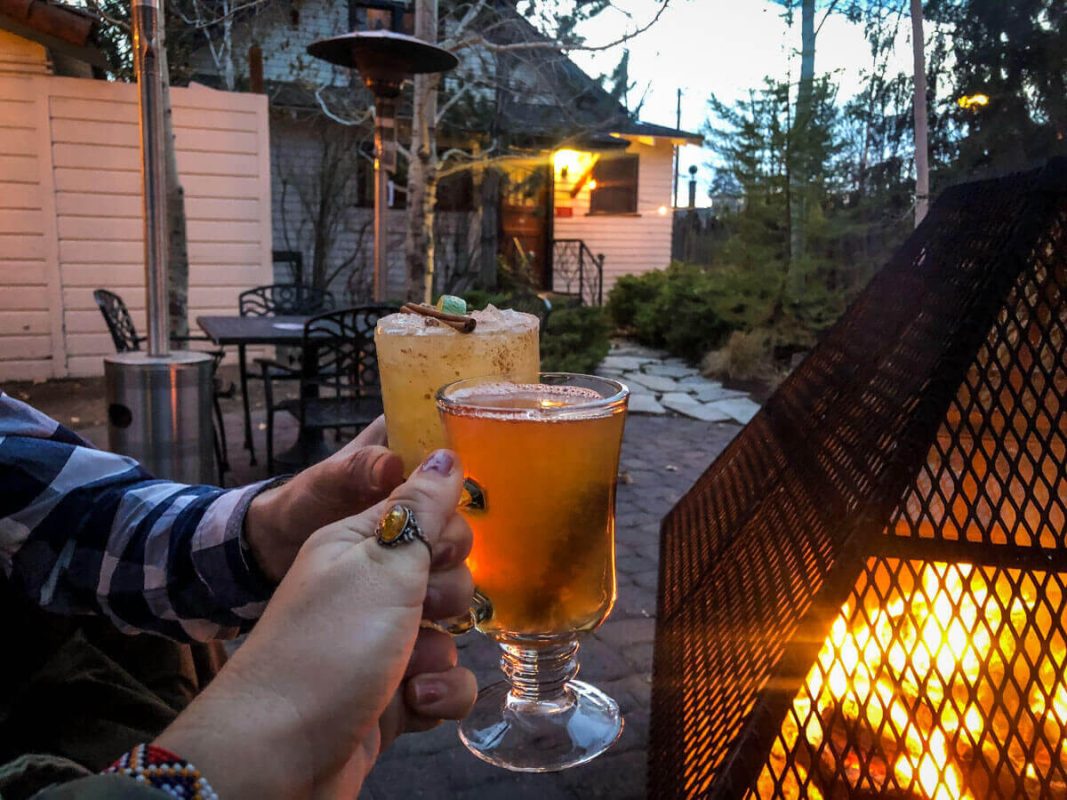 Nearly all of the local breweries and taprooms have fire pits to cozy up next to during the winter months. Bring a blanket and grab a fireside seat where you can enjoy a wintry porter or hot toddy.
Our favorite fire pits in Bend:
10 Barrel (Westside location)
Silver Moon
O'Kanes (pictured)
Crosscut
15. Try your skills at an Escape Room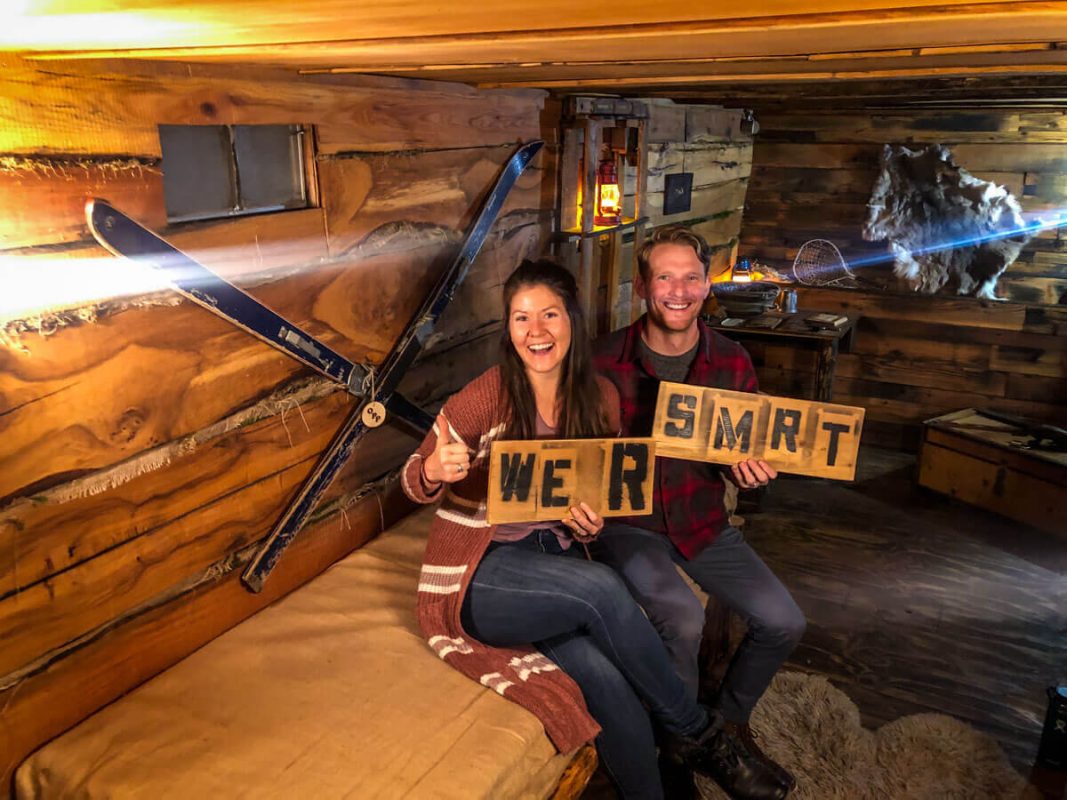 We're big fans of escape rooms so naturally we had to test out our skills when we moved to Bend. If you're unfamiliar, the concept of an escape room is sort of like an immersive detective experience. Usually you are "locked" in a single room with your partner or team (you can go with a group of friends!) and given a time limit to solve the clues and figure out how to escape. It makes a for a great rainy or snowy day activity.
There are two escape rooms in Bend, both of which we've tried. We enjoyed each of them for different reasons.
Puzzle Effect: Super well-designed escape rooms in a variety of themes and difficulty levels, one of the better (and most difficult!) escape rooms we've ever done
NW Escape on Wheels: RV transformed into a quirky escape room, conveniently located in the Box Factory, this makes a good activity between drinks and dinner
16. Take a wintery walk through Drake Park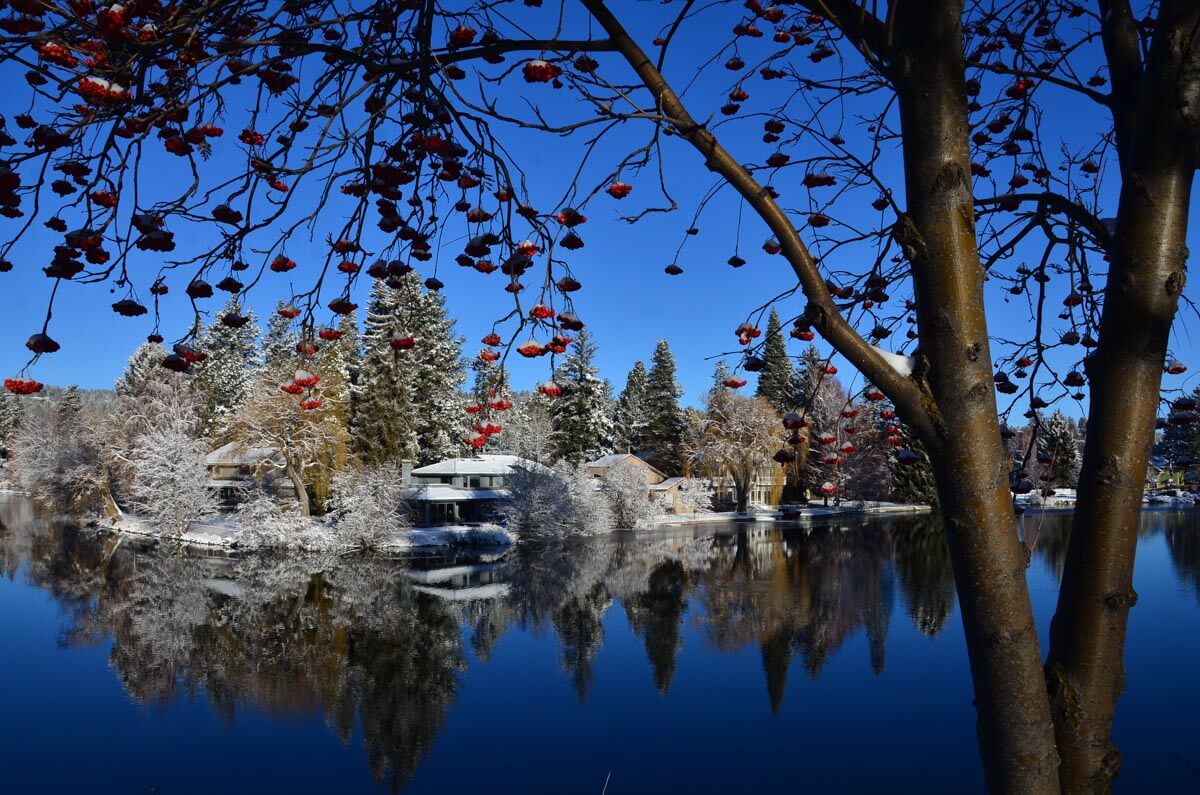 After a fresh snow (which typically won't stick very long in Bend), walking through Drake Park is a magical experience. Start at The Commons and grab a coffee to go, then make your way to the overlook just about Mirror Pond. On a clear day, you should be able to see the mountains in the distance.
Continue along the trail which will bring you right beside the river. During the summer months, this park gets incredibly busy, but it's usually very calm and peaceful during the winter.

Are you planning a trip to Oregon?
You'll definitely want to check out our Oregon Guide for more resources on how to make the most of your trip. Or read some of our favorite articles below.
Save this article on Pinterest for later!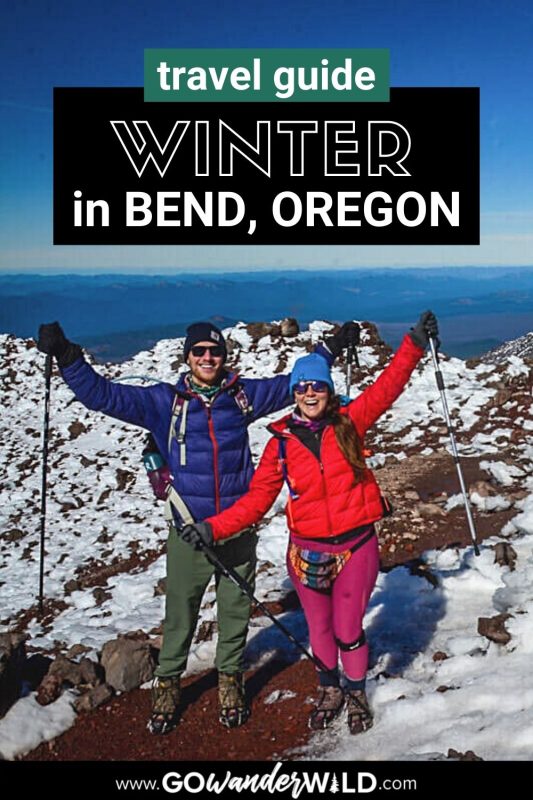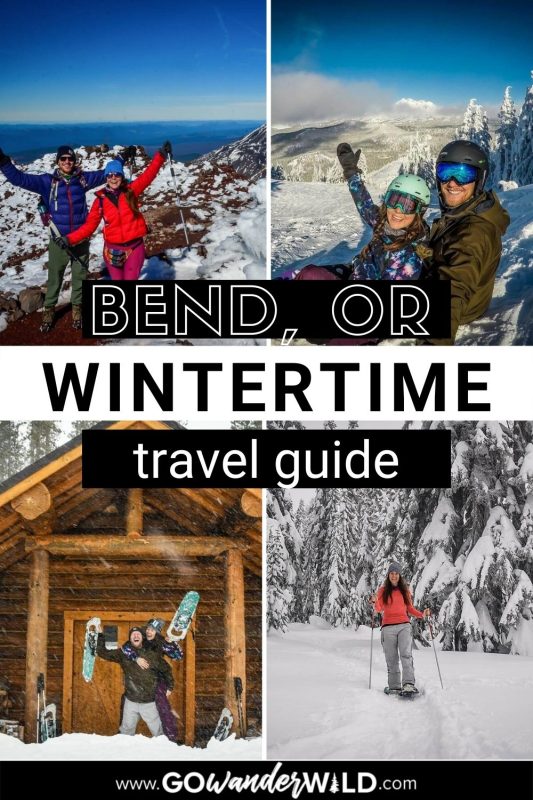 We want to hear from you!
Have you been to Bend, Oregon? What was your favorite wintertime activity? Have questions? Comment below and we'll do our best to get back to you!