Whether you're a season pass holder or you only occasionally hit the slopes, deciding what to wear skiing can make or break your experience. The keys are to layer, and to stay warm and dry, and we're sharing exactly how to do that in this guide.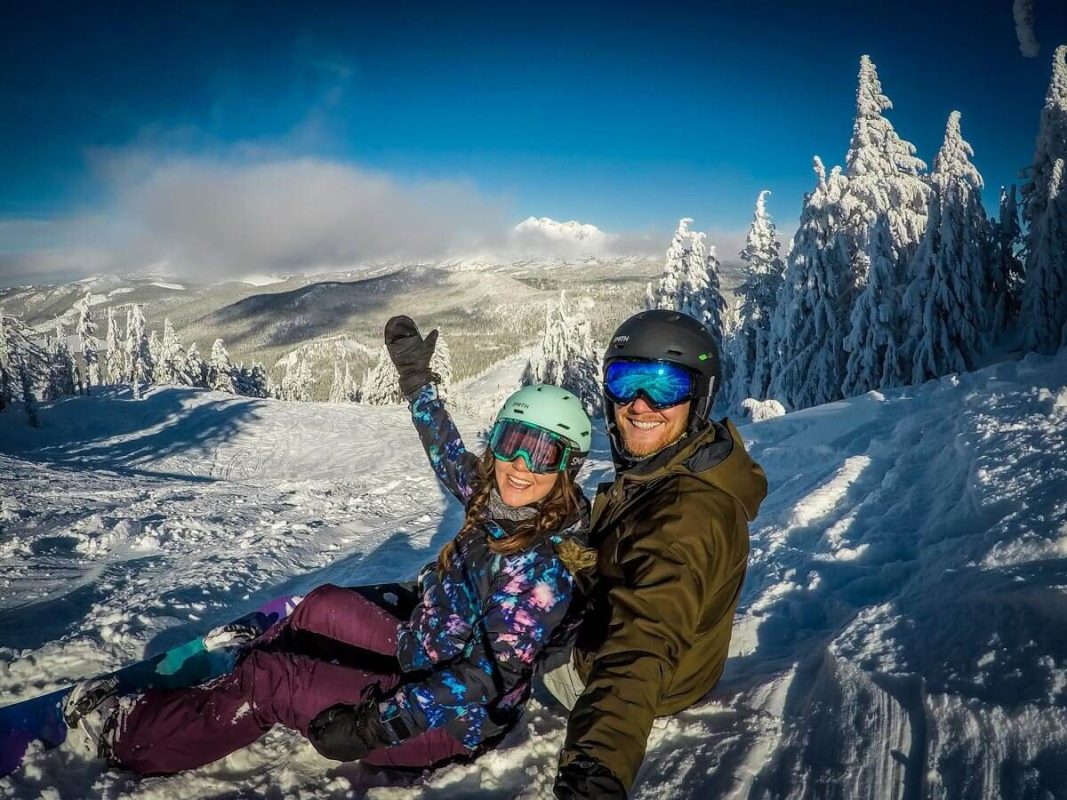 Even the most perfect powder day can be ruined by not having the right ski or snowboarding gear. No one wants to be cold and wet as they fly down the slopes!
Aside from being uncomfortable (and did we mention cold?!), not dressing appropriately for skiing can be downright dangerous. Regardless of the weather, it's key to stay warm and dry in order to regulate your body temperature.
That means you need more than just a jacket, goggles, and your skis or board. In this guide, we're breaking down exactly what to wear skiing, plus how to choose the best fabrics and properly layer.
Quick note: Throughout this article we use skiing and snowboarding interchangeably. The verb "skiing" is meant to reflect both skiing and snowboarding options. All the tips and clothing we mention in this article are great for snowboarders and skiers alike.
Article contents

Things to consider when choosing skiing clothes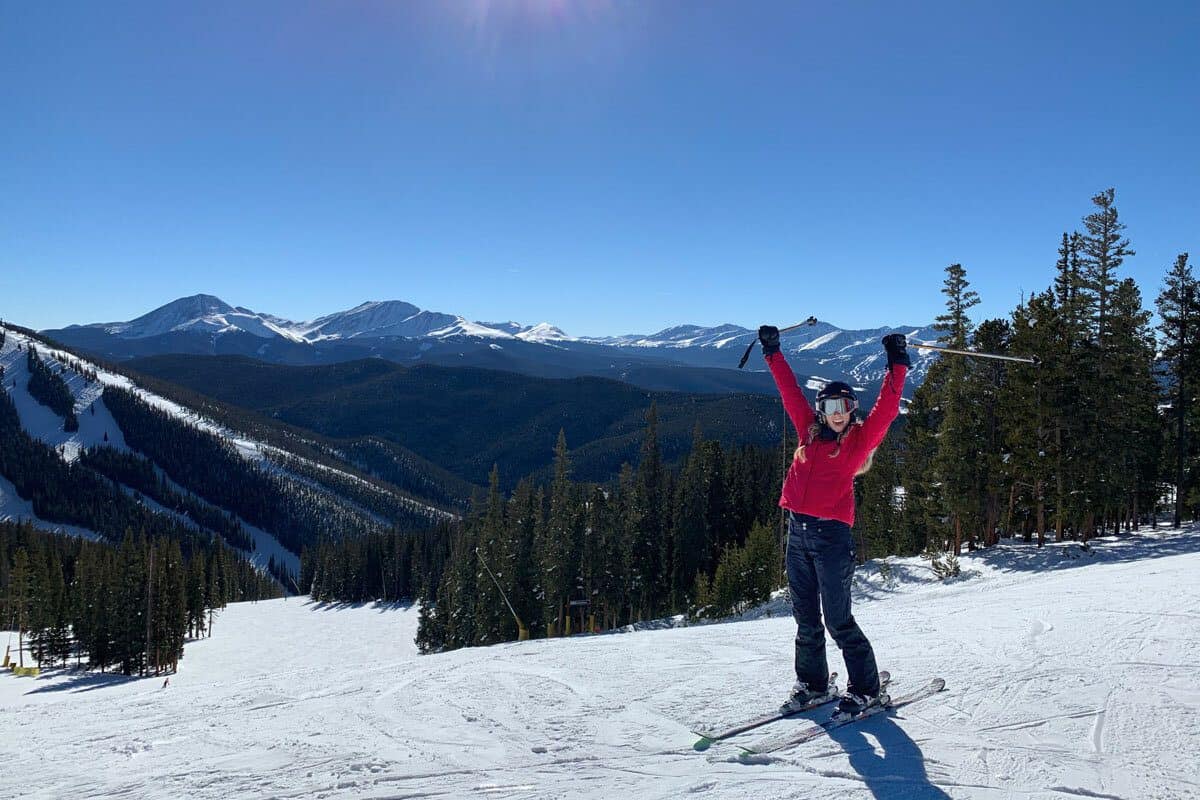 The list below goes over some of the major factors you should consider when choosing what to wear skiing.
Weather
Weather is, obviously, a major factor when considering what to wear skiing. You spend the entire time exposed to the elements!
Where you're skiing doesn't necessarily play a role, but when you're skiing and in what weather does. Skiing in December or January, or immediately after a snowstorm, will likely be significantly colder than skiing in the spring.
Cold or warm, snowing or sunny, layering is key. We go into more detail below, but essentially, add an additional warm mid-layer (like a fleece) in exceptionally cold weather, and remove it in warm weather.
Along the same lines, choose warmer, thicker gloves, socks, and a hat in colder weather.
Will you be renting any gear
Renting ski or snowboard gear or clothing may be a great option! This is especially true for beginners just getting into it and more casual skiers.
If you're planning to hit the slopes just a few times during the season, it may make sense to rent, rather than buy, bigger-ticket items such as ski boots, bibs, or a helmet. Not only can this save money, but it also allows you to test different items!
Several outdoor stores including REI rent ski clothing and gear, and you may also find shops at ski resorts or in ski towns offering rentals.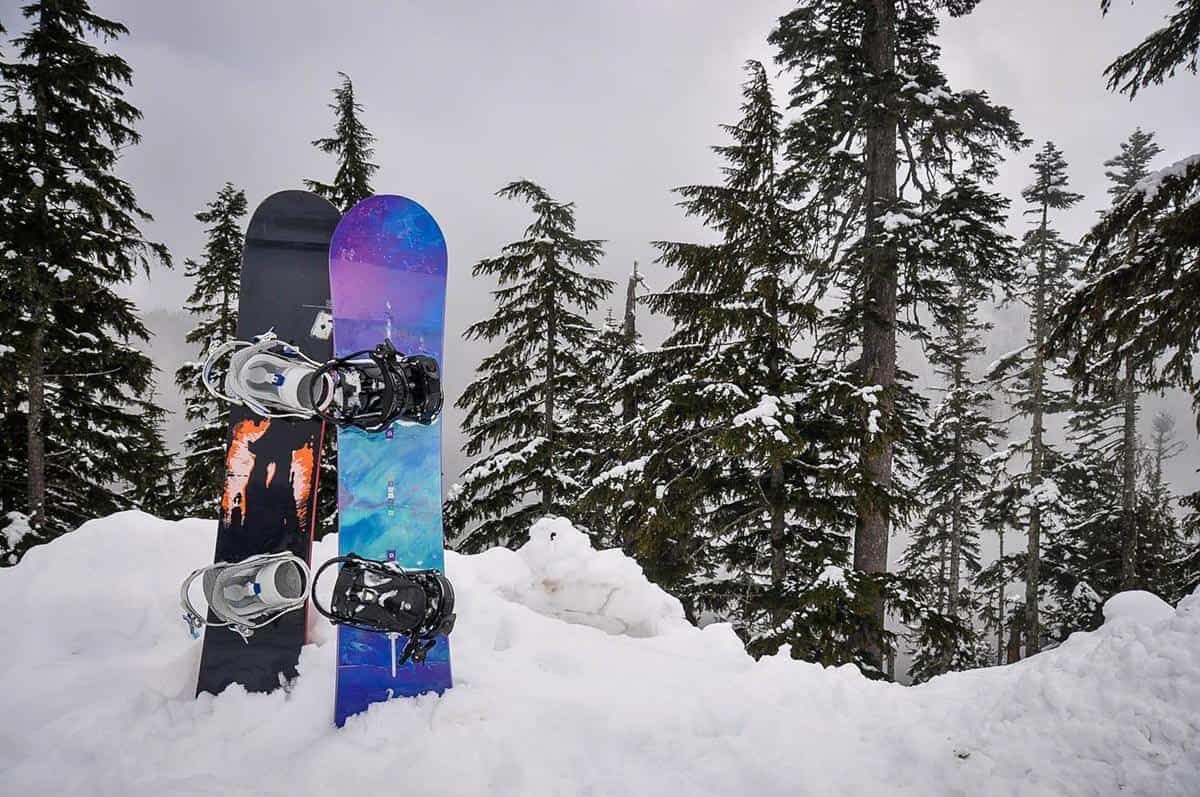 Bibs vs. pants
There are several reasons many experienced skiers wear bibs instead of snow pants. Bibs offer warmth and protection over your core, whereas ski pants stop at the waist. After a few falls, you'll understand why that's so important!
Because of their fuller coverage, many people also think bibs are more comfortable. Plus, they often include extra storage pockets.
Having said that, ski pants work perfectly. If you don't want to invest in bibs or simply prefer pants, that's absolutely fine! And if you're on the fence, consider renting bibs before deciding.
One feature worth seeking out on both ski pants and bibs is a RECCO reflector. It looks like a small, sewn-on logo, and it works with RECCO detectors used by most ski resorts and rescue squads.
Having a RECCO reflector is NOT a replacement for carrying an avalanche beacon (ideally, you should have both!), but it's an excellent, easy way to add another layer of safety.
Gloves vs. mittens
This decision is personal when deciding what to wear skiing. Mittens are generally a bit warmer, since the fingers are together rather than separated (think about body heat basics!), but gloves offer more grip and control.
One awesome alternative is to wear both! There are glove-mitten hybrids out there that can be worn together or separately, comprising a thinner, lighter-weight glove that detaches from the mitten's interior.
Whether you choose gloves or mittens, make sure they're waterproof and on the thicker side.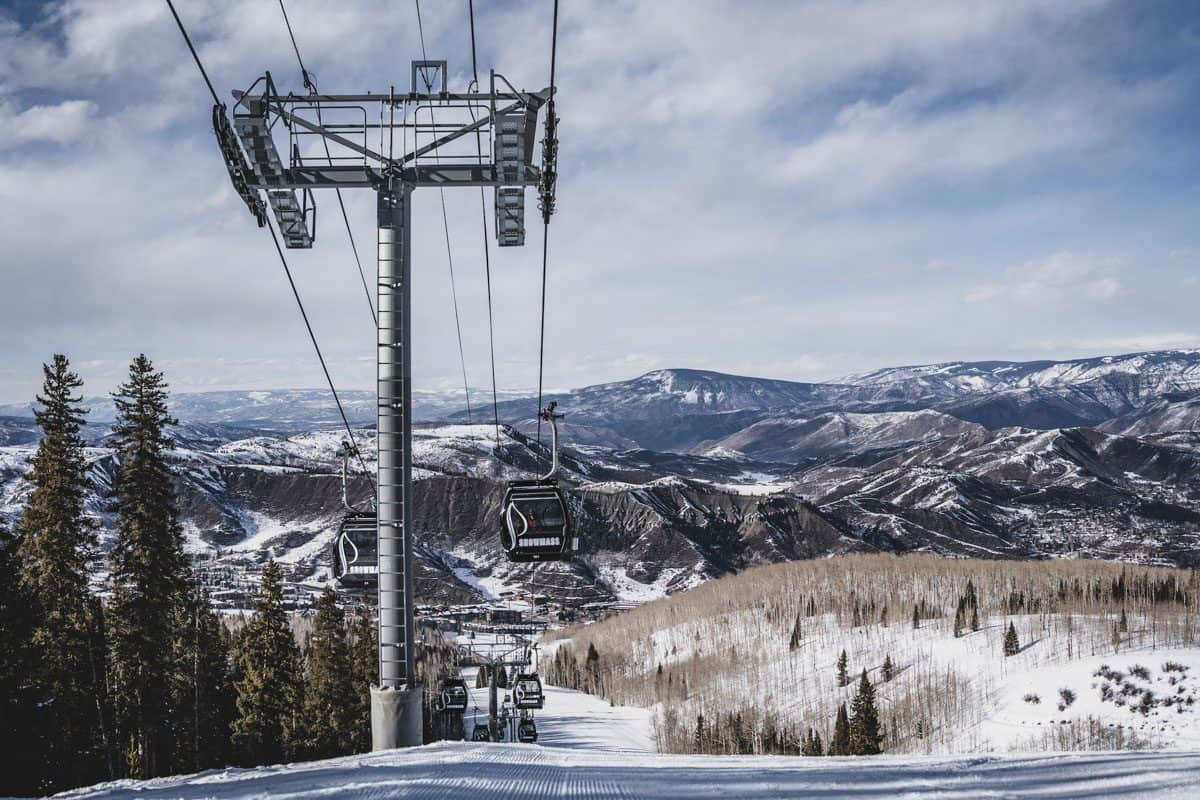 Layering
No matter the conditions, you'll always want to dress in layers for skiing and snowboarding. This way, you're prepared to add another layer of warmth, or shed a layer if you work up a sweat on the slopes.
However, the types of layers you'll want to pack are going to depend heavily on the weather and conditions where you'll be skiing.
Fabrics
There are many fabric options when deciding what to wear skiing, whether you choose casual activewear or more ski-specific clothing. Many people assume you can just wear your everyday clothes under your snow pants and jacket, but this isn't the best option.
Since skiing is a physical activity, we recommend wearing athletic clothing and quick-dry synthetic fabrics. Athletic wear is made specifically for physical activity, the synthetic fabric will wick away moisture to keep you dry and be best suited for movement.
All of your outer layers (including gloves/mittens) should be waterproof! You'll be in the snow after all and you don't want to risk letting moisture in from the outside.
And while we're on the subject of fabrics, let's discuss the best (and the worst!) materials for skiing clothes and what qualities make them so great…
Best fabrics for skiing/snowboarding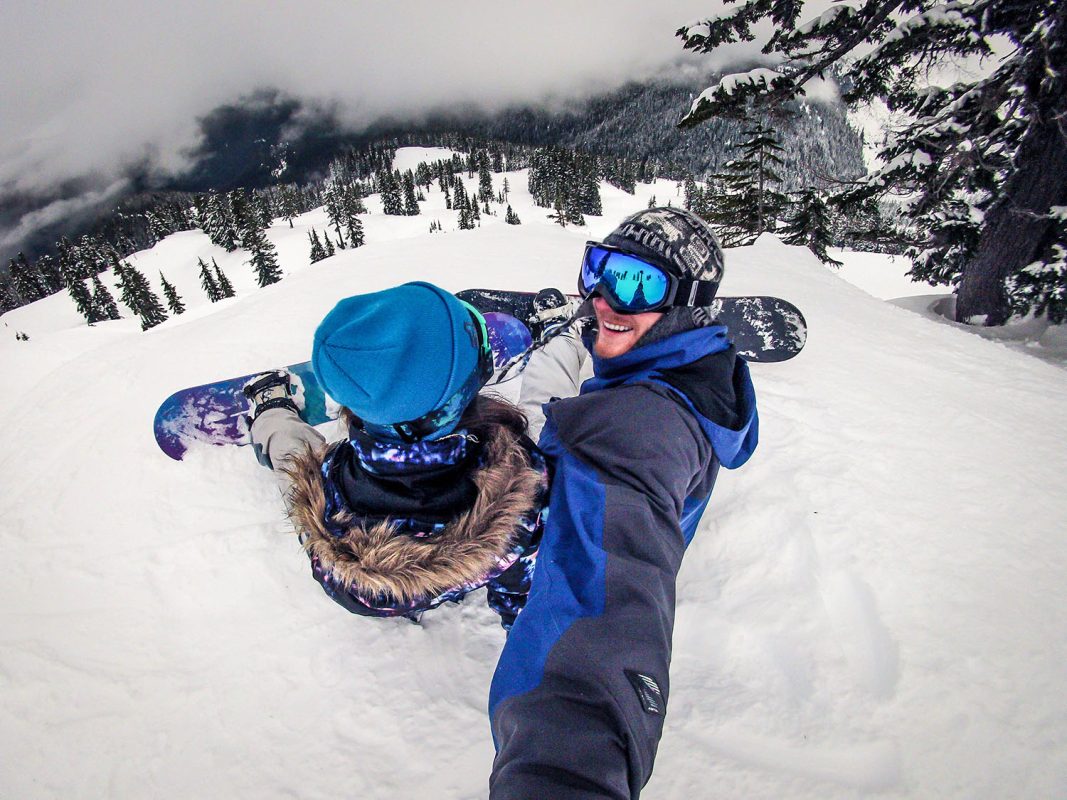 As we mentioned above, the fabric you choose for your ski clothing makes a huge difference. When asking yourself what to wear skiing, here are some of the top fabrics you should choose.
Merino Wool
This sheep's wool is perhaps the most versatile of fabrics on this list. It has so many incredible characteristics that make it a perfect fabric for skiing (and other active activities too!).
Most notably, merino wool wicks away moisture from your body and helps regulate temperature (keeps you warm in cool weather, and cool in warm weather!).
Sounds like a magical fabric, right? That's not all it's known for…
Why is merino wool so great for skiing?
Here are more characteristics that make merino one of the best types of fabric for active outdoor activities:
Non-itchy: unlike other types of wool, merino is not itchy and is hypoallergenic, making it super comfortable
Quick-drying: this is a characteristic you want in any fabric you'll be wearing outdoors, especially in cooler temperatures while skiing, because keeping dry is imperative in staying comfortable
Regulates temperature: keeps you cool in hot weather, and keeps you warm in cool temperatures
Odor resistant: here's another magical quality – merino wool absorbs odors and only releases them when it is washed. That means even if you get sweaty on the slopes, you won't stink like your friend who is wearing a cotton shirt. Plus, items made of merino don't need to be washed as often!
Durable: merino wool is not cheap, but it'll last you a long time. In fact, merino wool is said to be 6 times stronger than cotton. Now, that price tag makes sense!
UV resistant: aka natural sun protection
Renewable & biodegradable: the fact that this fabric is eco-friendly is icing on the cake
Other fabrics to incorporate into your skiing/snowboarding attire
Polyester – This flexible fabric keeps you moving and dry as it wicks away your sweat.
Fleece – Fleece has insulation properties to keep you warm in the cold while still wicking away moisture.
Nylon – This durable fabric is great because it is resistant to tears and is windproof.
Fabrics to AVOID when skiing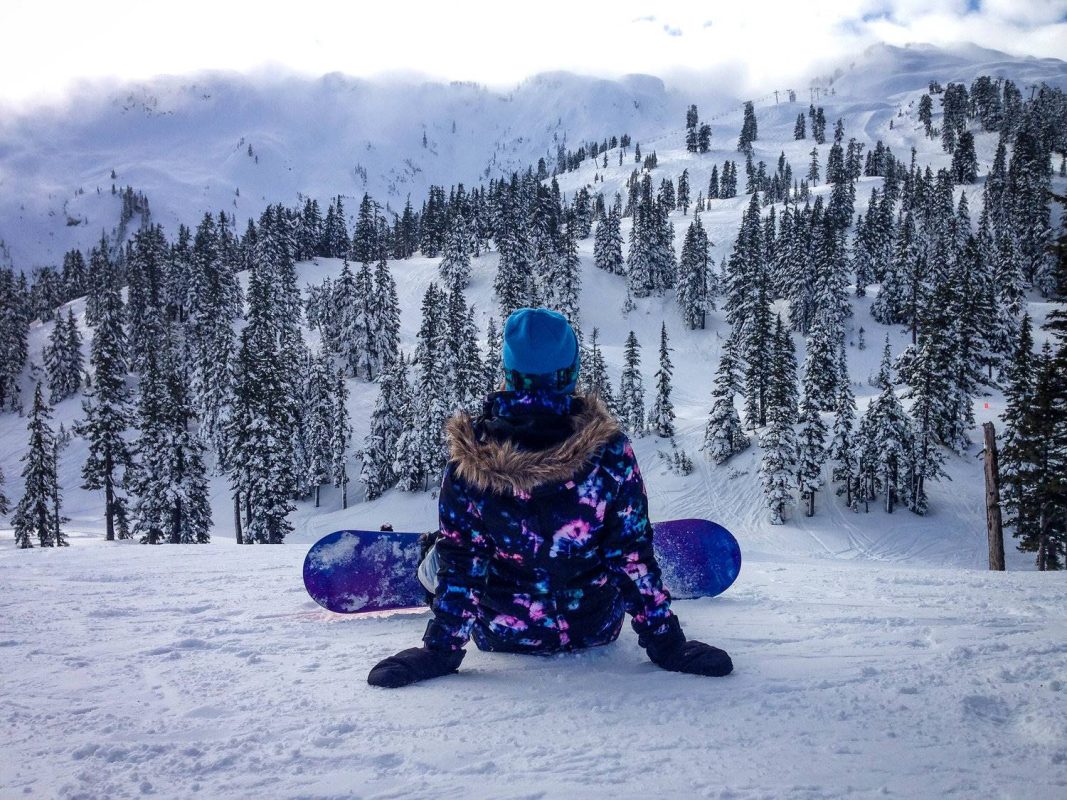 Now that you have a good idea of what to wear skiing, there are a few fabrics you should absolutely avoid when hitting the slopes.
Denim: Denim is a wonderful fabric for everyday life, but not for outdoor activities. It isn't flexible and will absorb water, too. Leave the jeans at home.
Cotton: Cotton should be avoided at all costs when getting dressed for skiing. Cotton will absorb water, weigh you down, and can lead to frostbite or hypothermia. Don't take the risk and leave the cotton at home.
What to wear skiing: A complete list
You can reference this complete list of skiing clothes when preparing and packing for your next ski trip.
Underwear
I know what you're thinking… What does underwear have to do with skiing? More than you think, actually.
Wearing regular cotton underwear is a common beginner mistake, and can lead to all kinds of discomfort. Cotton holds moisture and can increase chafing in your most sensitive places (yikes!).
Instead, opt for nylon, merino wool, or polyester to wick away moisture and keep you comfortable.
Sports bra
Similar to underwear, cotton is not the choice you want to go with. Choose a dry-fit fabric that will wick moisture and sweat away from your body and keep you feeling comfortable and dry.
Socks for skiing and snowboarding
Although it's easy to imagine them being super thick and plush, most ski socks are on the thinner side. Thicker socks actually make your boots fit more snugly, reducing circulation and actually making you feel colder!
Pick breathable socks made of wool or synthetic fabric. Like other undergarments, cotton is a no-no — it takes too long to dry.
Ski socks are extra long, designed to come up over your boots. Some may also have padding along the shin, to prevent your boots from rubbing uncomfortably.
Bottom base layer
Long underwear, AKA long johns or thermals, should be near the top of your list when thinking about what to wear skiing. This crucial bottom base layer helps keep you warm and dry, plus regulates body temperature.
Many people imagine old school union suit-type long johns, but modern-day long underwear have come a long way.
Today, you'll find them in a variety of fabrics (Merino wool is one of the more expensive, but worth it, particularly as a base layer) and weights, and you can buy them as individual pieces or matching top-and-bottom sets.
As an alternative, whether it's simply preference or you're building up your snow gear wardrobe piece by piece, you can wear athletic leggings as a bottom base layer. Like long johns, look for synthetic, moisture-wicking fabrics.
Snow pants
Two main things you want a pair of quality snow pants to be: waterproof and warm. That generally means they're insulated and have DWR treatment on the outside, to combat moisture.
Look for features like integrated gaiters to keep snow out of your boots and zippered leg vents,. Several brands also make pants that connect into their ski jackets using a zippered system.
Remember, you'll be wearing a bottom base layer underneath, so your ski pants don't necessarily need to be super thick. In fact, some people wear rain pants instead! Those won't have ski-specific features, but work just fine if budget is a concern or you're more of a gear minimalist.
Top base layer
Just like your bottom base layer, the top is an important consideration when you're putting together what to wear skiing. The biggest factor to look out for is that it's breathable, so it keeps you dry and sweat-free, and helps regulate your temperature.
Top mid layer
The main purpose of a mid layer is to keep warm. The two most popular choices are fleece and puffy jackets — lightweight, but warm.
While on the slopes, you always want to wear a base layer and a jacket, but the mid layer is more adaptable. On warm days, you may start without it, then throw it on if a storm moves in. Alternatively, as the day warms up, you may want to peel your mid layer off!
If you ski with a backpack, you may actually want to have two mid layers: a thick sweater or fleece pullover, and a lightweight puffy. Wear one and keep the other stashed away for particularly cold or windy days, or for emergencies. It's always better to have it and not need it!
Jacket
Many people think a ski jacket is the most important piece of clothing when it comes to what to wear skiing. This type of jacket, often referred to as an outer shell or simply a shell, is made specifically for skiing and snowboarding.
There are many ski jacket styles, but you can count on them all being longer, waterproof and windproof (or at least resistant), and having a hood and variety of pockets. A wide range of optional features includes underarm vents, powder skirts, and RECCO reflectors.
Consider the type of skiing you do (groomed trails versus backcountry), then decide between a lighter, uninsulated shell, a warm insulated jacket, or a 3-in-1 that includes an insulated zip-in layer.
If you prefer deep powder, spend long stretches on the slopes, or ski regardless of weather, you may want to consider a heavier-duty Gore-Tex shell.
This is one item where you shouldn't skimp — without a high waterproof rating, you risk getting (and staying!) wet in anything more than light snow. Remember, renting is always an option in lieu of a bigger ticket purchase!
Psst! Gearing up on a budget? No problem! We've put together an article with all of our tips for finding discounted outdoor gear and apparel.
Accessories and other gear for skiing and snowboarding
Now that you've gotten the clothing out of the way, there's still plenty of extras you need to think about when dressing for skiing.
Neck protection
Some sort of neck protection, such as a scarf, gaiter, or a balaclava (a longer mask that covers the neck), should be on your list of what to wear skiing.
Flying down the slopes gets incredibly windy, and having your neck covered can keep you warm. It also prevents you from inhaling a bunch of powder!
Like other ski clothes, look for moisture-wicking, breathable fabric such as wool when choosing neck protection.
Gloves/mittens
Hands and fingers are among the first body parts to get cold and the trickiest to keep warm, so finding quality warm, waterproof gloves or mittens is key.
They shouldn't be too tight, so blood can freely circulate, but you also don't want snow getting in, so look for adjustable cuffs. Wearing glove liners or a pair of lighter-weight gloves inside mittens (or a mitten-glove hybrid) is a great option.
You don't necessarily need to buy ski-specific gloves, but they do often come with nice-to-have features, like hand warmer inserts or soft finger pads that act as goggle wipes.
Hat
You may picture your favorite beanie when you think about what to wear skiing, but not so fast — ski hats are not all created equal.
The main concern is that it keeps you warm, but you need to consider some things: will you wear it under a ski helmet? Do you need extra protection over your ears? What's the climate like where you ski?
If wearing a beanie under a helmet, it should be a thinner skull cap. Those with short hair may want ear flaps. You'll also want waterproof material if it's particularly snowy or rainy at your ski destination.
Helmet
On the slopes, you'll likely notice that not everyone wears a ski helmet. However, the evidence to do so is overwhelming — wearing a helmet reduces the occurrence of serious slope-related head injuries by a whopping 60%.
If you need more reasons, ski helmets help keep you warm and keep your goggles firmly in place!
Goggles
Ski goggles offer excellent protection against sun, wind, and glare. Individual preferences, face shape, and even your helmet will impact the type you ultimately choose.
You want ski goggles to fit snugly but comfortably against your face, creating a seal, and they should be compatible with your helmet. If you wear prescription glasses, your goggles should fit over them.
You can get away with sunglasses instead of ski goggles, but that doesn't mean you should. Aside from goggles offering superior sun and wind protection, glasses aren't secured, so if you fall, you could break or lose them.
Extras
Now that you have all the basics of what to wear skiing, you can turn your attention to some optional extras. An insulated or even heated vest, hand warmers like inexpensive Hot Hands, or a scarf can also ensure you stay toasty even on extra cold days.
Boots for après-ski
If you plan to hang out at the lodge and indulge in the après scene after finishing your runs for the day, you'll need something to change into after ditching your snow boots.
Go for warm, waterproof boots that have some traction on the sole for walking around.
Tips for layering your ski clothes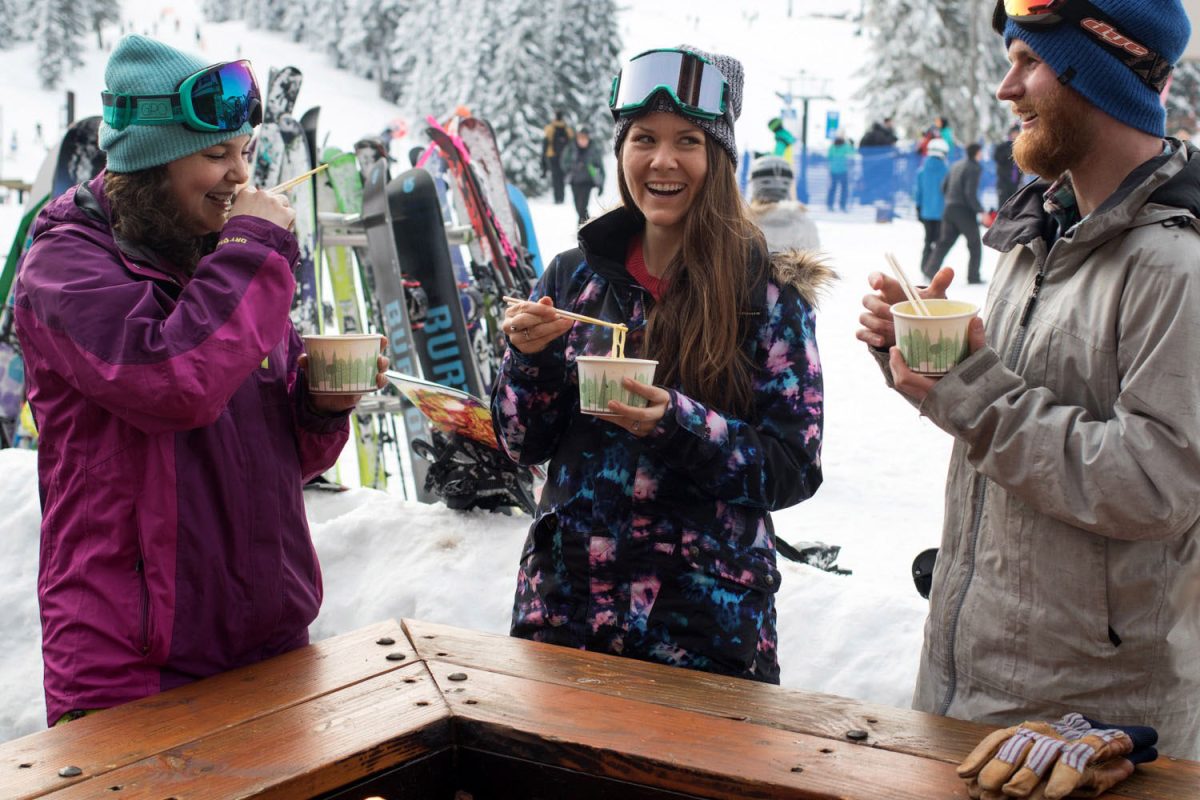 Depending on the weather and conditions on the mountain, you may need to adjust your layers.
What to wear skiing in warmer weather
On warm days, it can be tricky deciding what to wear skiing. One of the best ways to adapt is to remove your mid layer, skiing in just your jacket over your base layer. You may also want to opt for wearing an insulated vest instead of a jacket.
What to wear skiing in extra cold weather
On particularly cold or windy days, you'll want to bundle up with additional layers. This might mean packing an additional layer (think a puffy and a fleece), switching to a full-face balaclava, or tucking hand and foot warmers into your gloves and boots.

You may also like…
Save this article on Pinterest for later!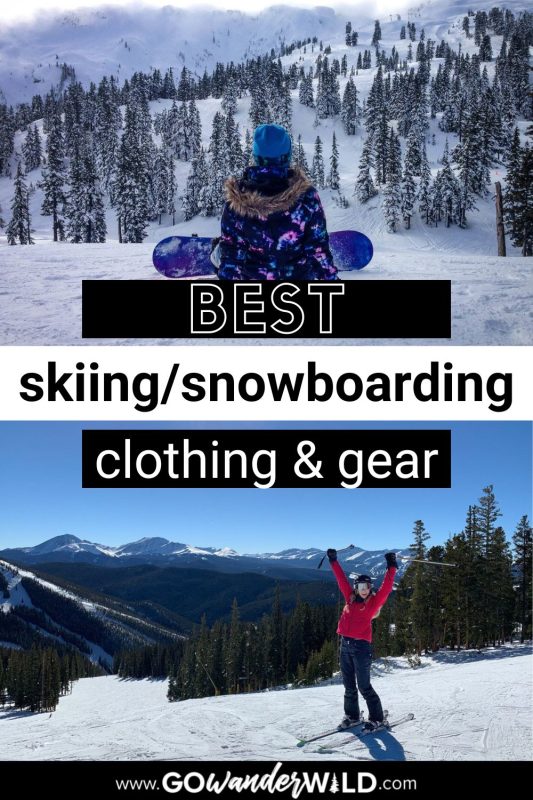 We want to hear from you!
Do you have more questions for us about what to wear skiing? Leave us a comment below and we'll do our best to get back to you!