It wouldn't be a trip to southern Utah if you didn't check out some of the best hikes in Zion! We put together this list of our top Zion hikes, plus information on how to maximize your trip to this stunning and wildly popular national park.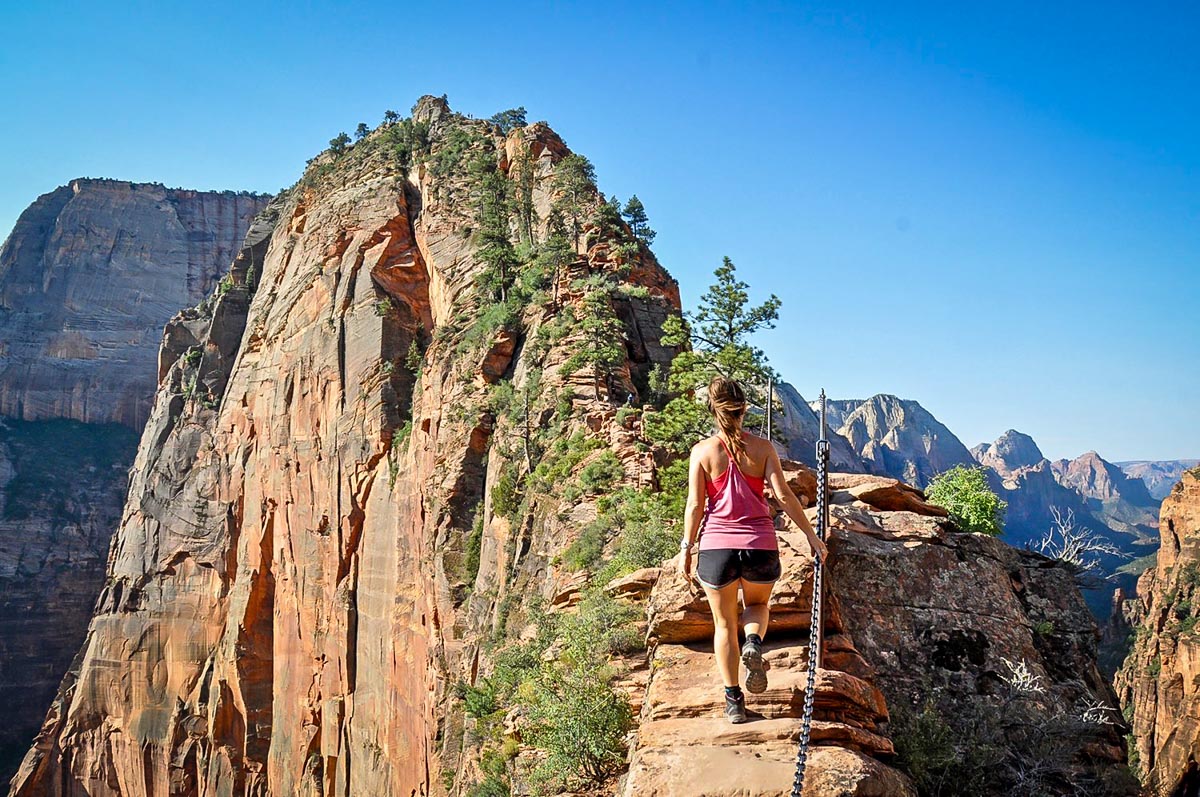 Utah's crown jewel, Zion National Park spans 230 square miles and draws millions of visitors every year. All of them come to see the famous dramatic canyons, spectacular red rock formations, sparkling rivers, and vistas that don't seem to go on forever.
While rock climbers, cyclists, and canyoneering enthusiasts alike find plenty of adventure in Zion, hiking is the star of the show. The park is a renowned hiker's paradise, with over 100 trails including the world-famous Narrows and Angels Landing. Whatever type of trail challenges you prefer, from short-and-sweet hikes to grueling multi-day treks, you'll find it here.
Highlighting the best of the best in the park, we've put together a list of the best day hikes in Zion.
Article contents
Apart from the best hikes in Zion, we've included some more information about planning your trip we think might be helpful.

Best hikes in Zion National Park
There are seemingly endless hikes to choose from in this popular national park, but here are some of the top single-day trails to put on your itinerary for Zion.
1. Angels Landing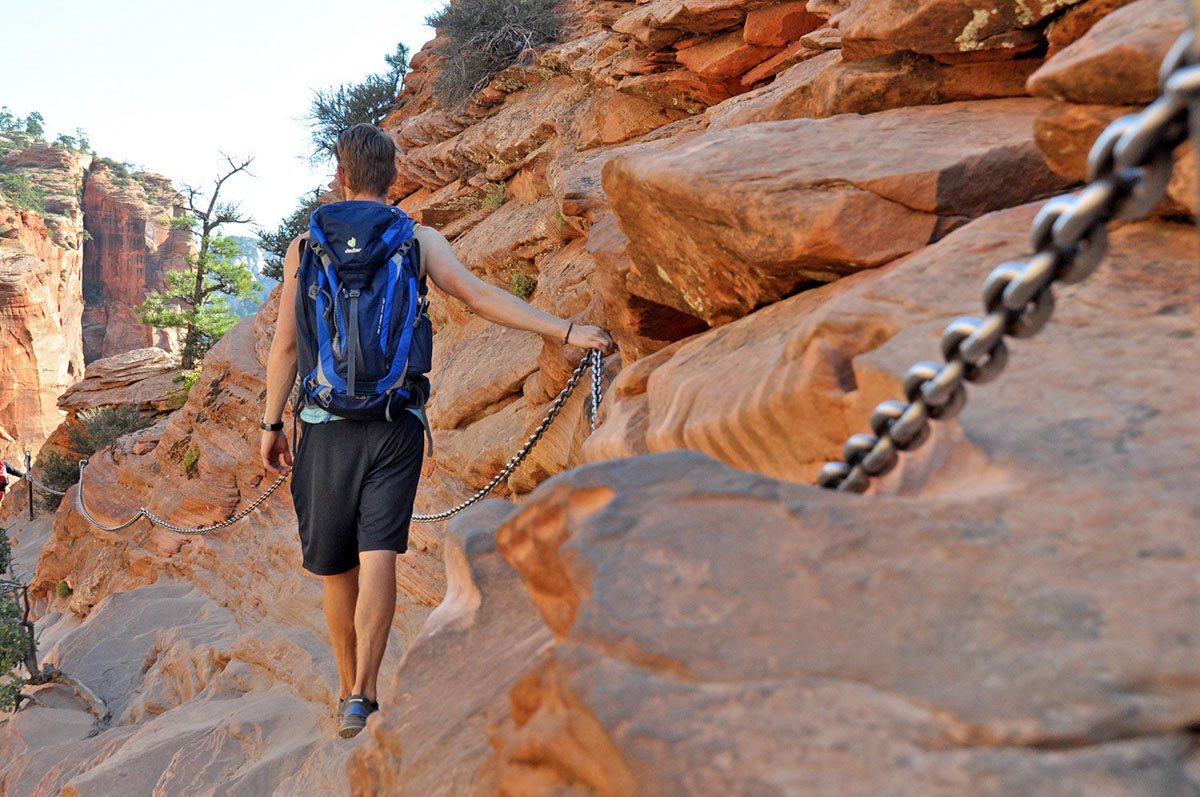 Angels Landing is world famous for good reason. This unique trail demands full attention at all times, due to the extremely narrow sections and steep drop-offs. The first two miles are paved and include two sections of grueling switchbacks ( 21 on Walter's Wiggles alone!).
Scout's Landing connects the first portion of the trail and the nerve-wracking spine of Angels Landing. Watch other hikers and have an honest conversation with yourself — this is an ideal opportunity to turn back if you think the heights or exposed trail may be too much.
Note that hiking Angels Landing beyond Scout's Landing requires a permit.
2. The Narrows (Bottom-up)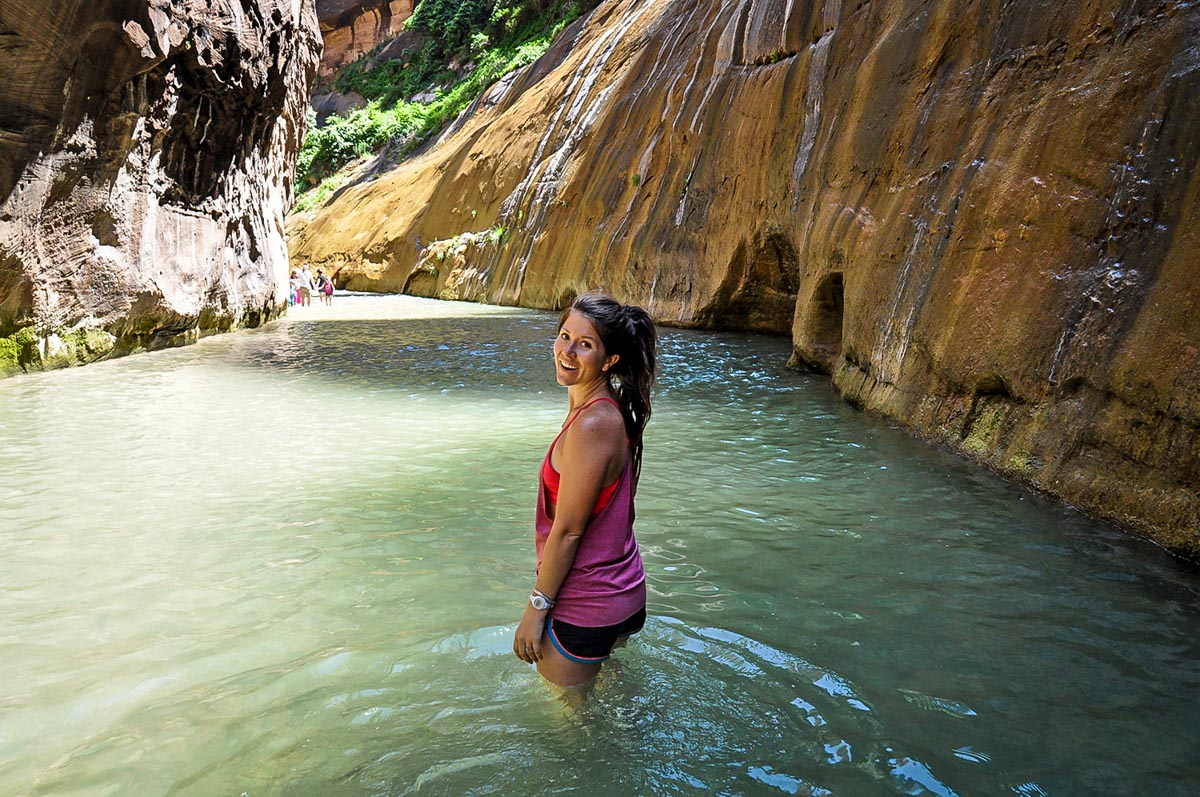 Hiking The Narrows is a truly memorable experience, as much of it actually requires you to hike through the Virgin River! Depending on recent rainfall, water levels range from ankle to chest-deep. We recommend using trekking poles and neoprene booties or neoprene pants, and there are several outfitters Springdale.
Note that we specified "Bottom-up." There are two ways to hike the Narrows, with the other being a 16-mile overnight "Top-down" hike. In order to do that, you need to obtain a permit in advance.
3 Zion Canyon Overlook Trail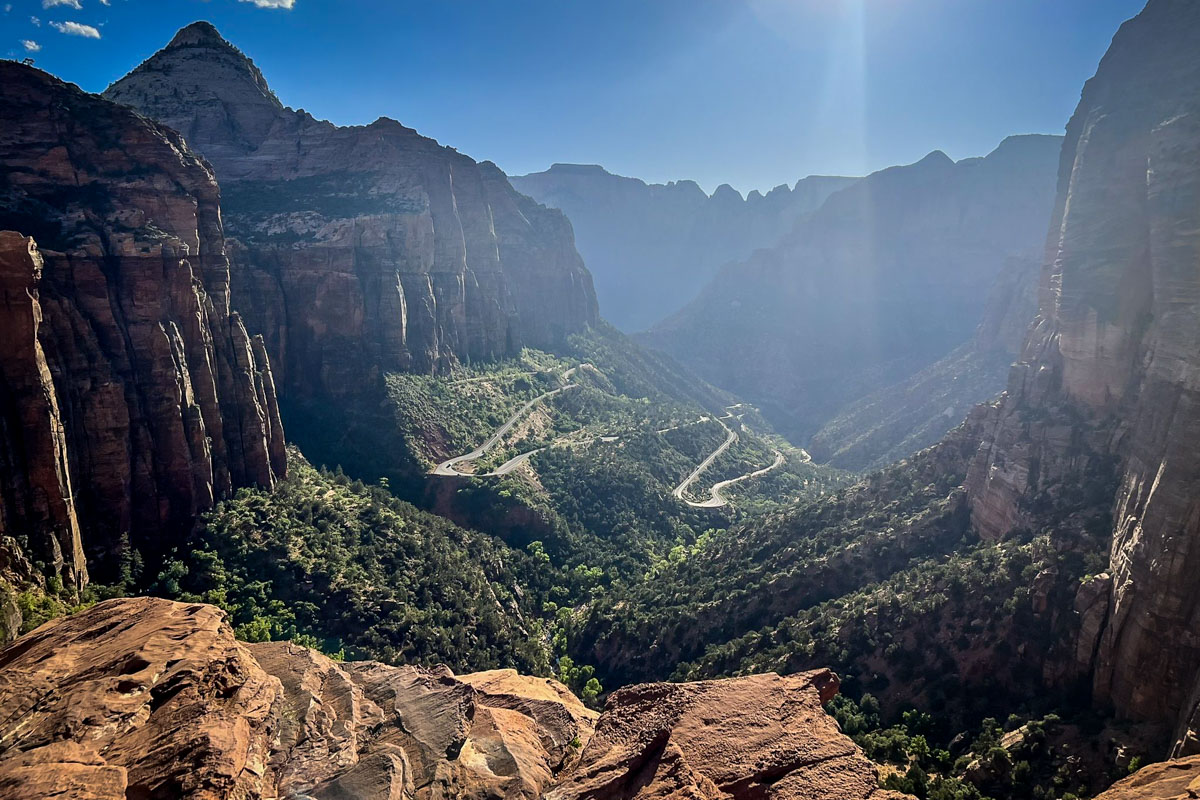 Don't be put off by the short distance — this trail comes with a massive payoff and many people consider it one of the best hikes in Zion! Enjoy a scenic, mostly flat trail surrounded by towering red rocks and sprinkled with natural stepping stones and a few bridges with railings.
Don't be surprised if you literally gasp once you reach the summit, as this is by far one of the best viewpoints of Zion Canyon.
4. Emerald Pools Trail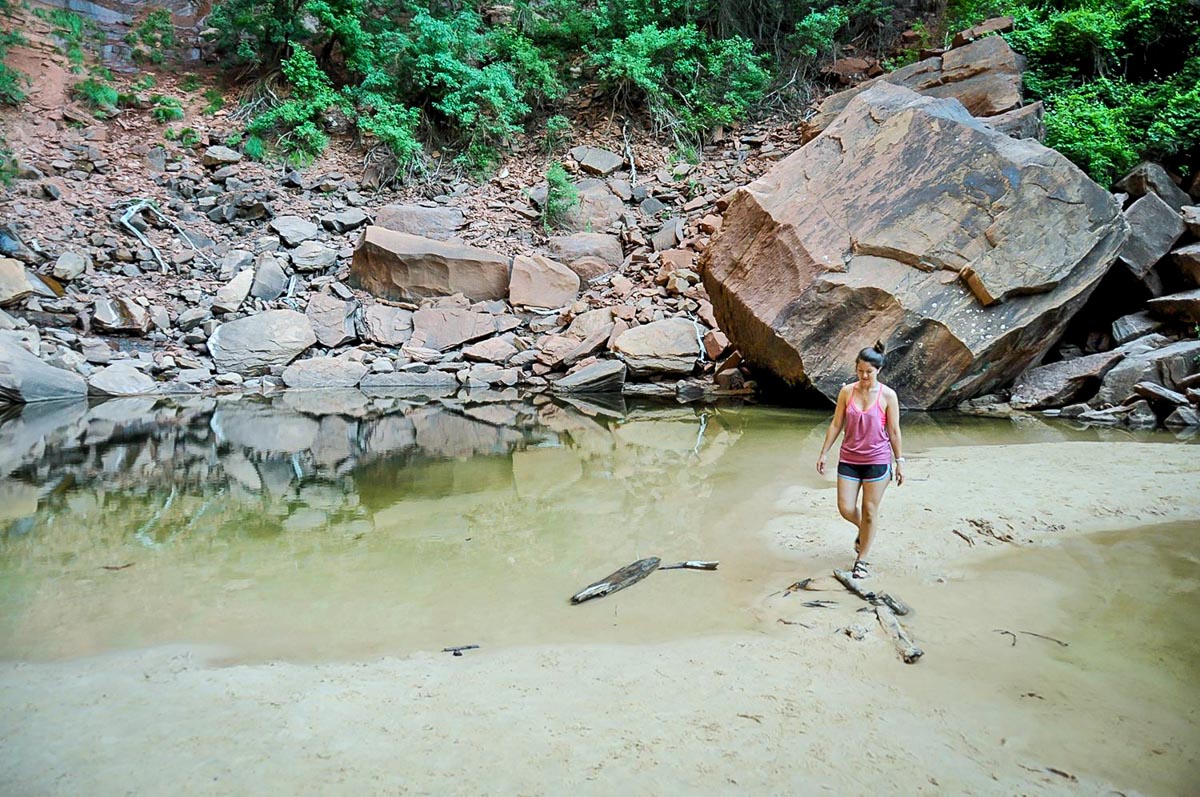 Emerald Pools is perfect for families and offers plenty of opportunities to spot wildlife, including mule deer and bighorn sheep. This straightforward loop starts on a paved trail in The Grotto, taking you first to Lower Emerald Pool and then to a rockier trail to Upper Emerald Pool.
This is one of the best hikes in Zion in the summer, as there are plenty of chances to splash in the natural pools and relax or picnic in the surrounding shaded areas.
5. Zion Grotto Trail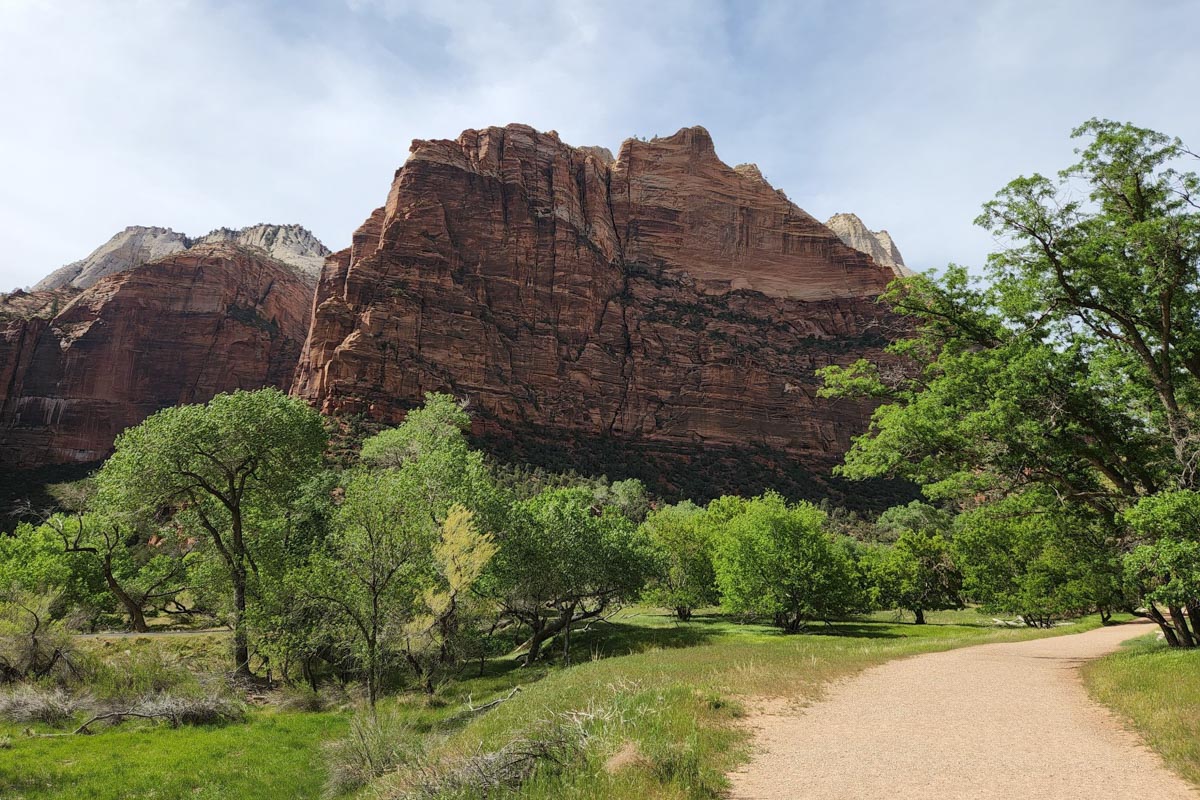 Zion Grotto Trail is just a short trail that connects two shuttle stops, but that hasn't stopped local wildlife from making the most of this particularly scenic area. Sightings of deer and bighorn sheep are common, making it an excellent choice for a quick, family-friendly hike in Zion.
The Grotto also has amazing views of Zion Canyon. As a bonus, it stays cooler here and offers a respite from the crowds, as most hikers focus on popular nearby trails.
6. Timber Creek Overlook Trail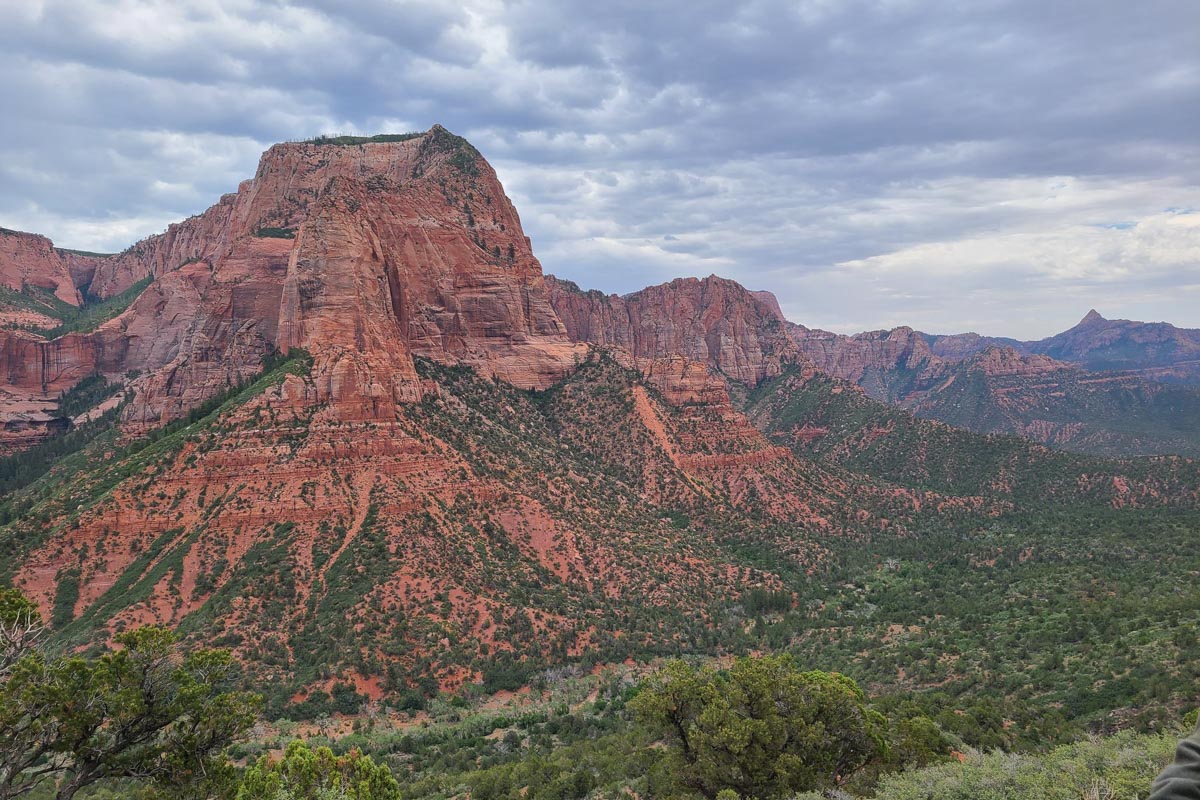 Tucked into the less-visited Kolob Canyons of the park, this is a pleasant and leisurely hike for when you're looking for something a bit lower-key.
A sandy, fairly level loop, this trail offers expansive views of several smaller "finger canyons." The trail also passes a nice picnic area and is a locals' favorite for watching the sunset.
Psst! Check out our ultimate Zion to Bryce Canyon National Park itinerary to plan an epic road trip around these two incredible national parks.
7. Pa'rus Trail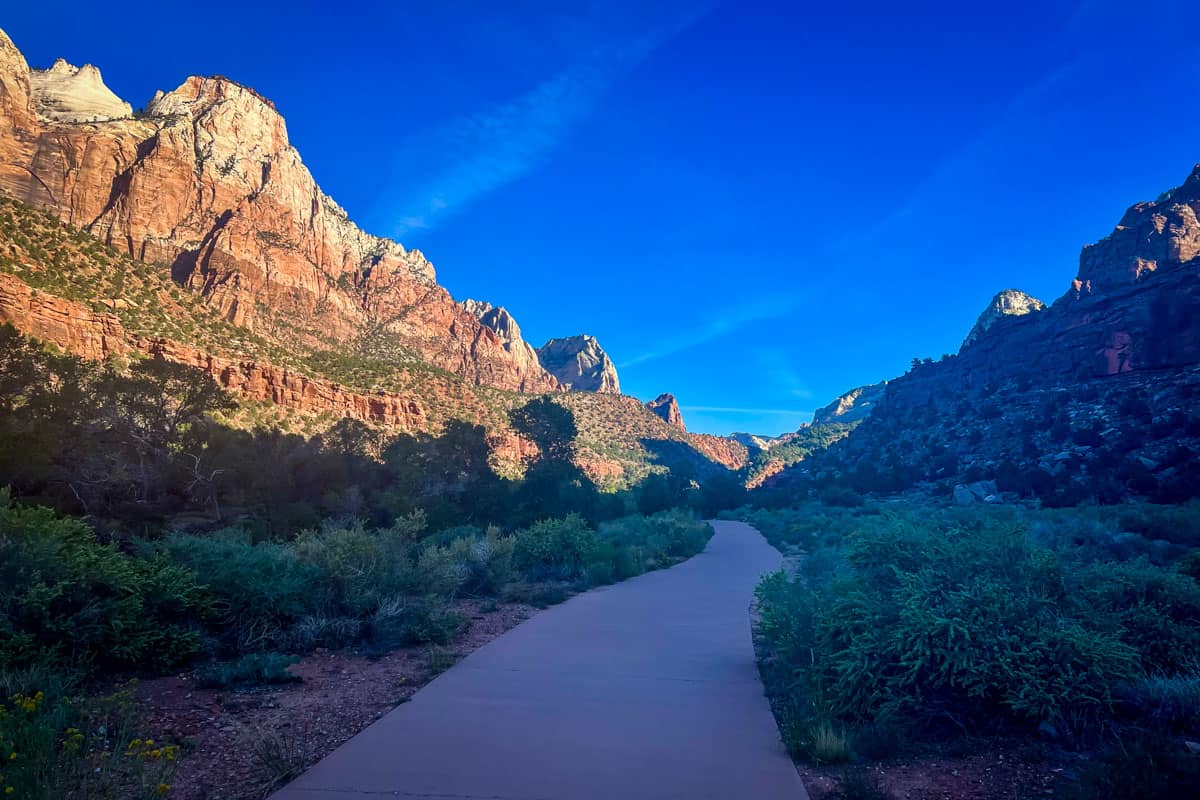 Often overlooked in favor of more popular trails, Pa'rus Trail is highly underrated. It's the ONLY multi-use trail in the entire park, open to both hiking and biking (and dogs!), and it's also one of very few wheelchair- and stroller-accessible hikes in Zion.
Enjoy the footbridges and wildflowers that make this a relaxed, must-hike trail. On hot days, you can also wade in the Virgin River to cool off, but note that the water contains a type of algae that's toxic to dogs.
8. The Watchman Trail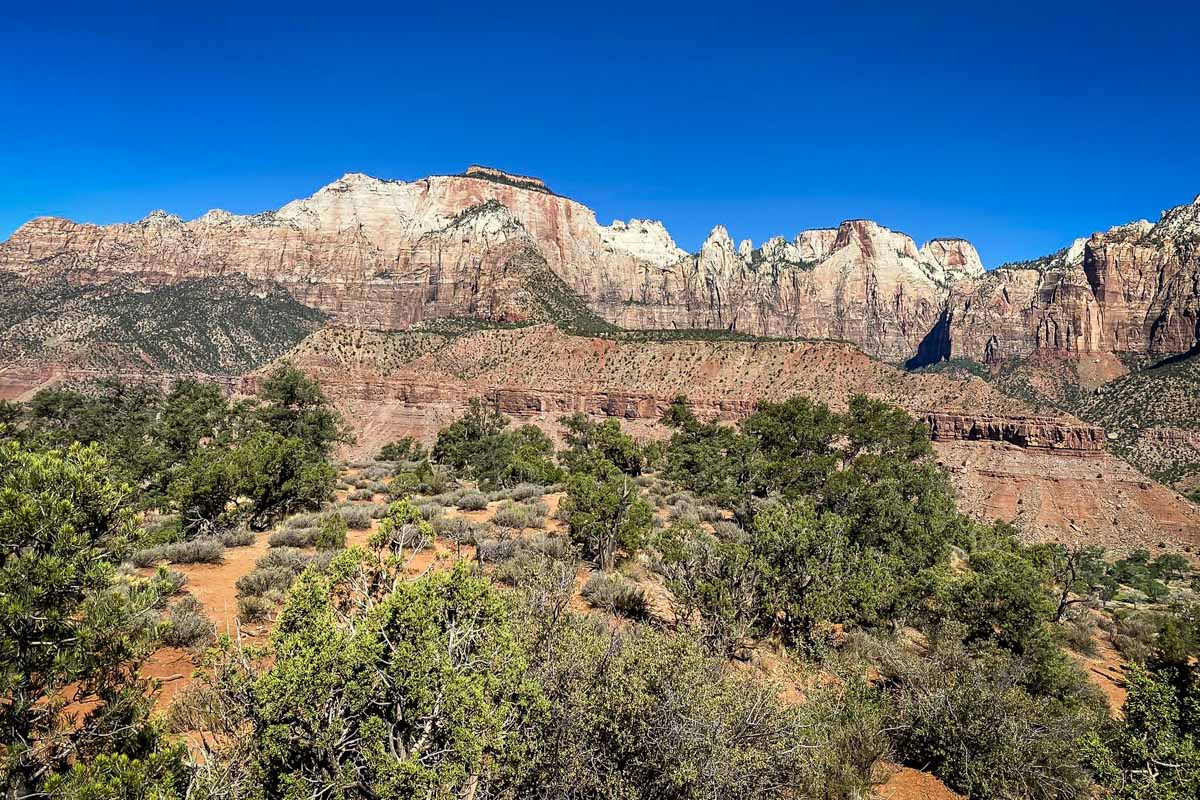 The Watchman Trail starts at the Zion National Park visitor center, near the southern Springdale entrance. It's family-friendly and fairly short, but packs enough of a punch to get your legs (and lungs!) burning just a bit.
You'll conquer a few dozen switchbacks before reaching the overlook, which has an excellent view of the visitor center and campgrounds. There's ZERO shade on this trail, but the head-on views of famous Watchman Peak are a welcome distraction.
Psst! Have more time? Be sure to check out all the best hikes in Utah before your trip comes to an end!
9. Observation Point via East Mesa Trail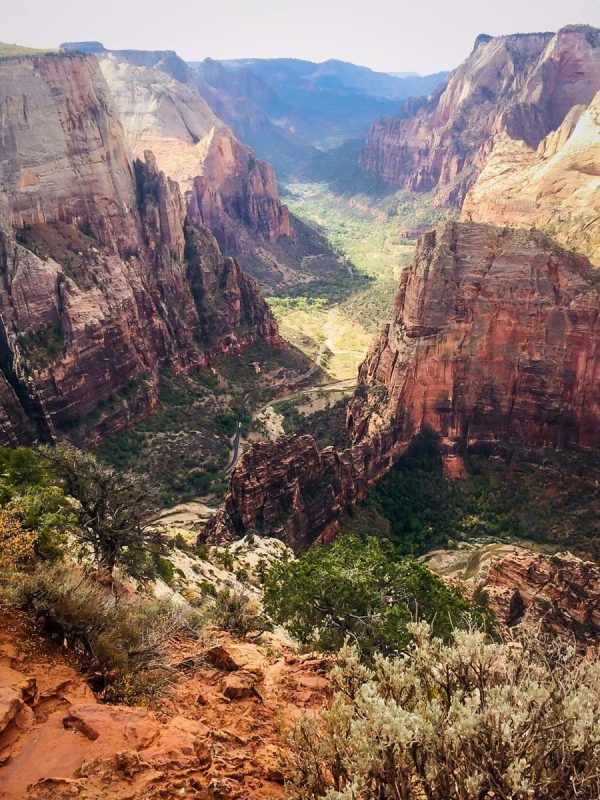 If you're looking for a quieter hike in Zion, here it is! Observation Point itself isn't "quiet" by any means, but this particular approach is. Go in from the less-visited East Zion side and follow an old Jeep trail. Note that it requires 4-wheel or all-wheel drive (part of what keeps the crowds at bay!).
The trail is well-maintained, and you'll appreciate the stunning view into Zion Canyon. Even more so than other trails in Zion, this one lacks shade, so bring plenty of water.
10. The Subway Trail (Top-down)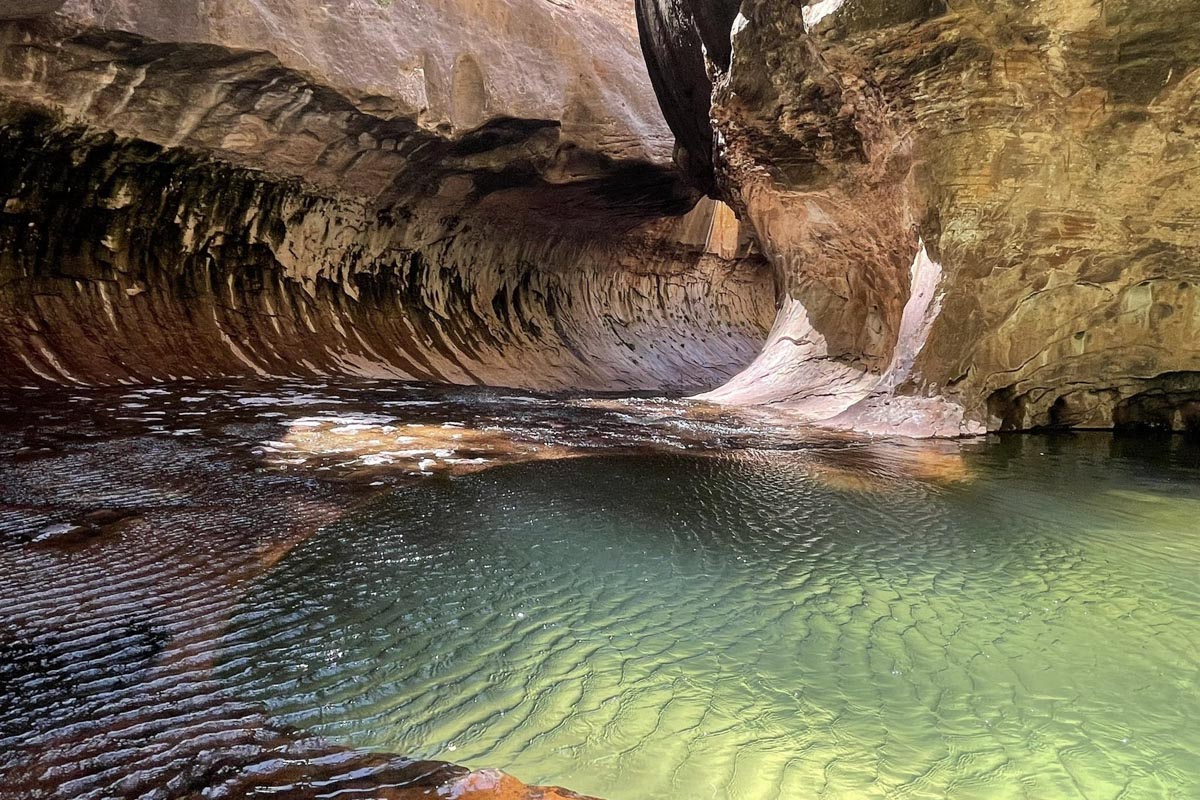 Like The Narrows, The Subway has more than one completion method. In this case, top-down is significantly more beautiful — and challenging. To be fair, it's challenging in either direction!
From the top-down, you'll experience some of Zion's best, most rugged terrain, climbing, rappelling, and swimming through slot canyons and the unique formations that resemble subway tunnels (if you hike it from the bottom up, you avoid swimming and rappelling altogether).
Note: you need a Zion wilderness permit to hike The Subway in either direction.
11. Middle Fork of Taylor Creek Trail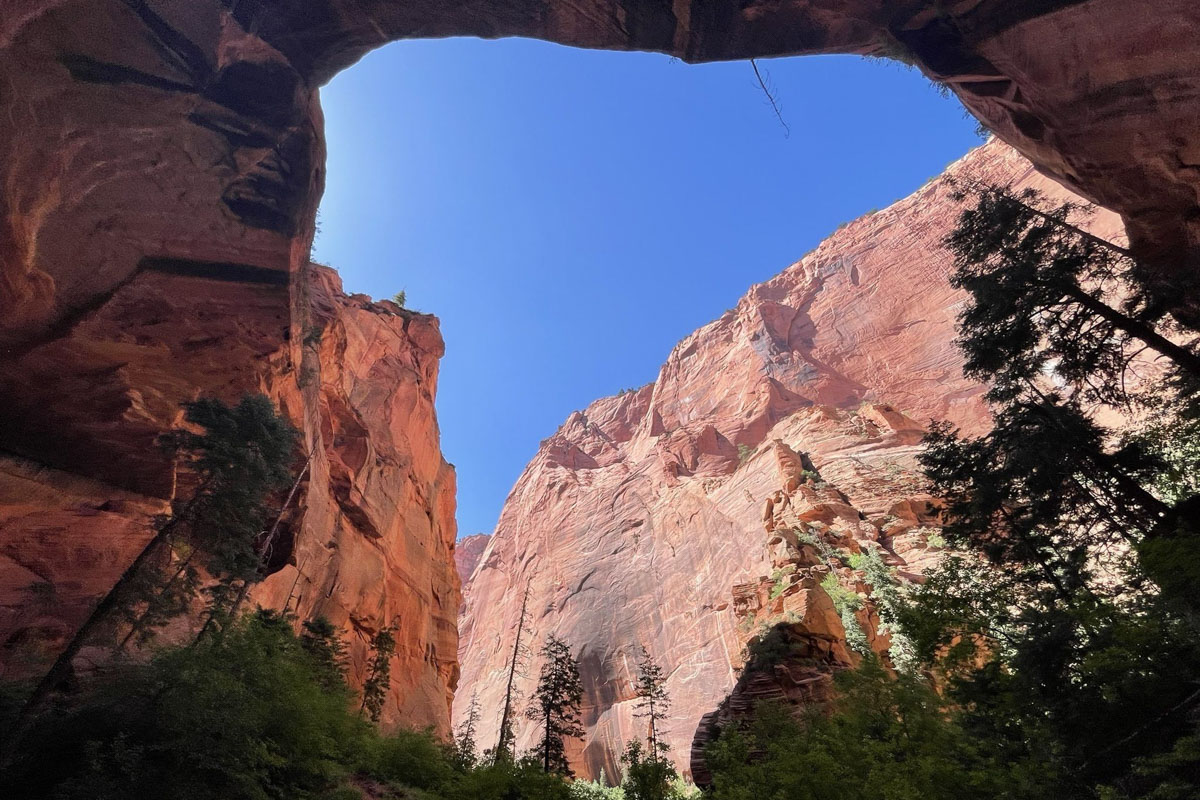 This is another hidden gem in the Kolob Canyons. The trail passes two 1930s log cabins and involves several creek crossings, so it's one of the more family-friendly hikes in Zion.
Just past the cabins, the trail gets especially beautiful as you start to go into one of the sandstone finger canyons. Where the trail ends is actually its best point: Double Arch Alcove. Try to time it for golden hour just before sunset, when the sandstone looks like it's glowing!
12. Sand Bench Trail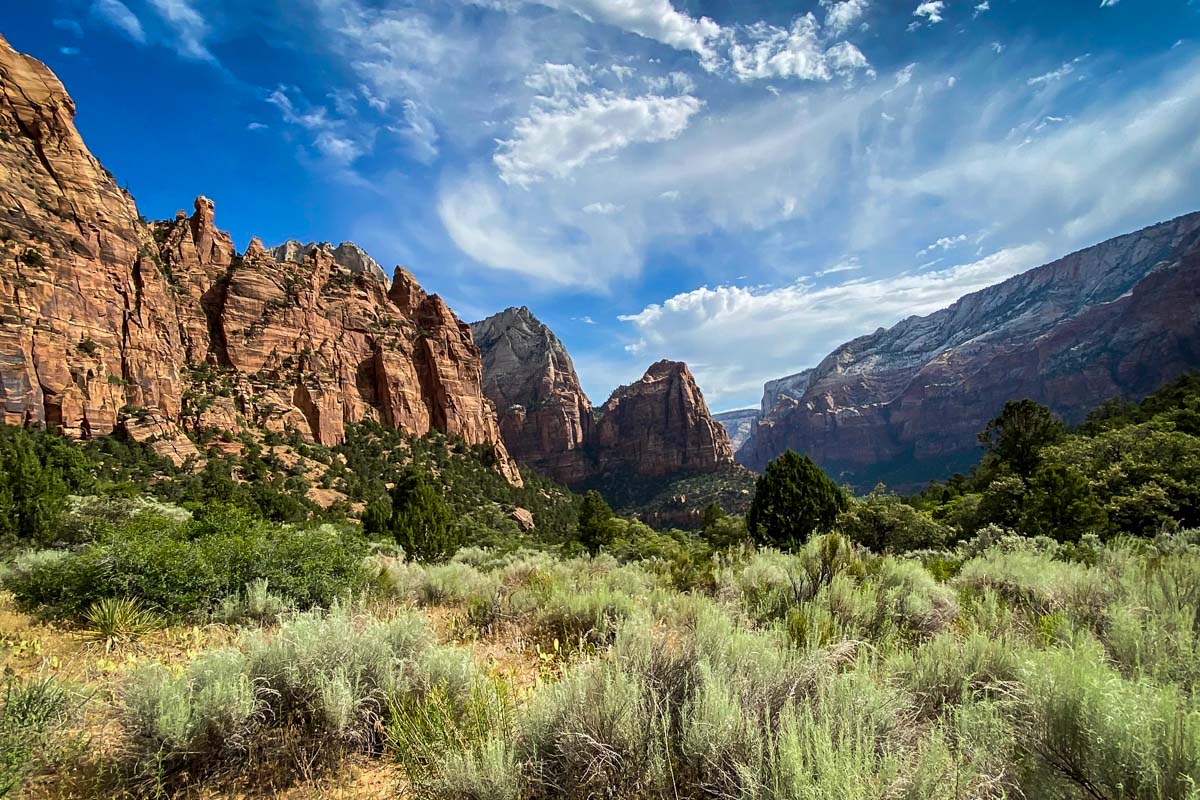 It's admittedly a little rough around the edges, but that's actually what its fans love about Sand Bench Trail. A Zion gem, this trail takes hikers over the top of what was a 1990s landslide!
It starts off at the Court of the Patriarchs shuttle stop, offering excellent views and a stream crossing. The trail then becomes desert-like and you'll have the challenge of hiking through sand, but stick with it — it gets substantially better, with epic views of the actual landslide.
13. East Rim Trail (Southern Trailhead)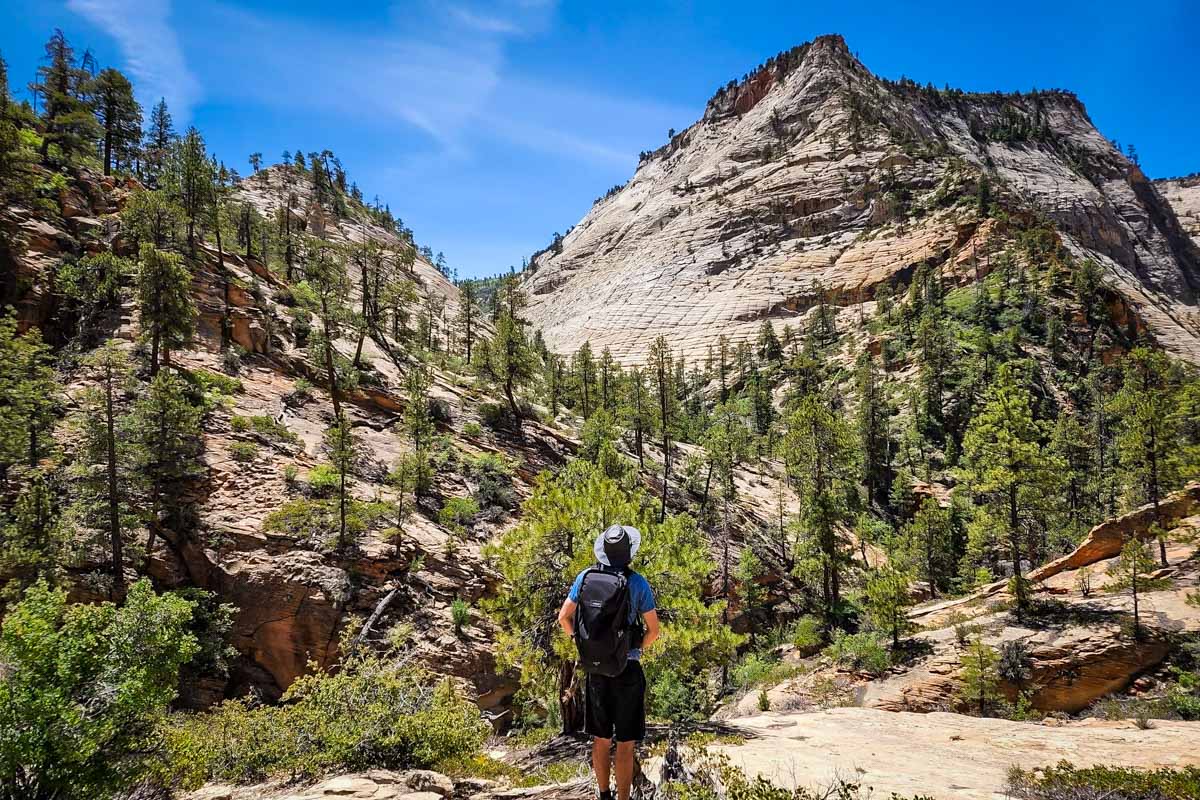 Picturesque, impressive, and peaceful — just a few words visitors have used to describe the trail. It's a sandy trek through a quiet section of the park's wilderness that shows off underrated features including Checkerboard Mesa.
If you're interested in the Southwest's impressive canyons, you'll find this to be one of the best hikes in Zion, as you get up-close to several. The East Rim Trail also takes you by Stave Spring, where, depending on recent rainfall, you may be able to fill up your water bottle.
14. West Rim Trail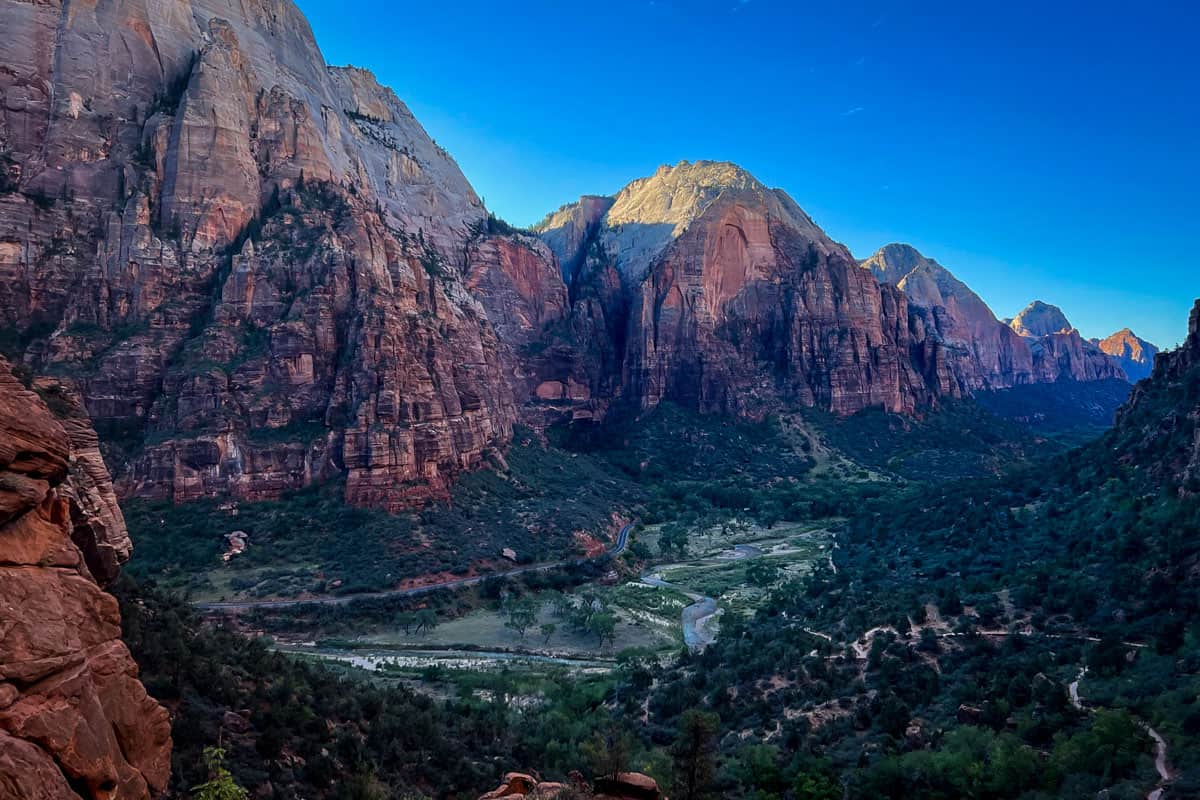 West Rim Trail is one of the best hikes in Zion, offering an immersive tour through many of the park's landscapes. Start in Kolobs Canyon, and traverse dense woods, high desert, and canyons, and finish by coming down Walter's Wiggles into The Grotto.
Note that in order to do this point-to-point, you need to shuttle two vehicles and use the Zion shuttle. We recommend leaving the end vehicle in Springdale, but be aware that the drive back to Kolobs Canyon is about an hour.
15. Lady Mountain Trail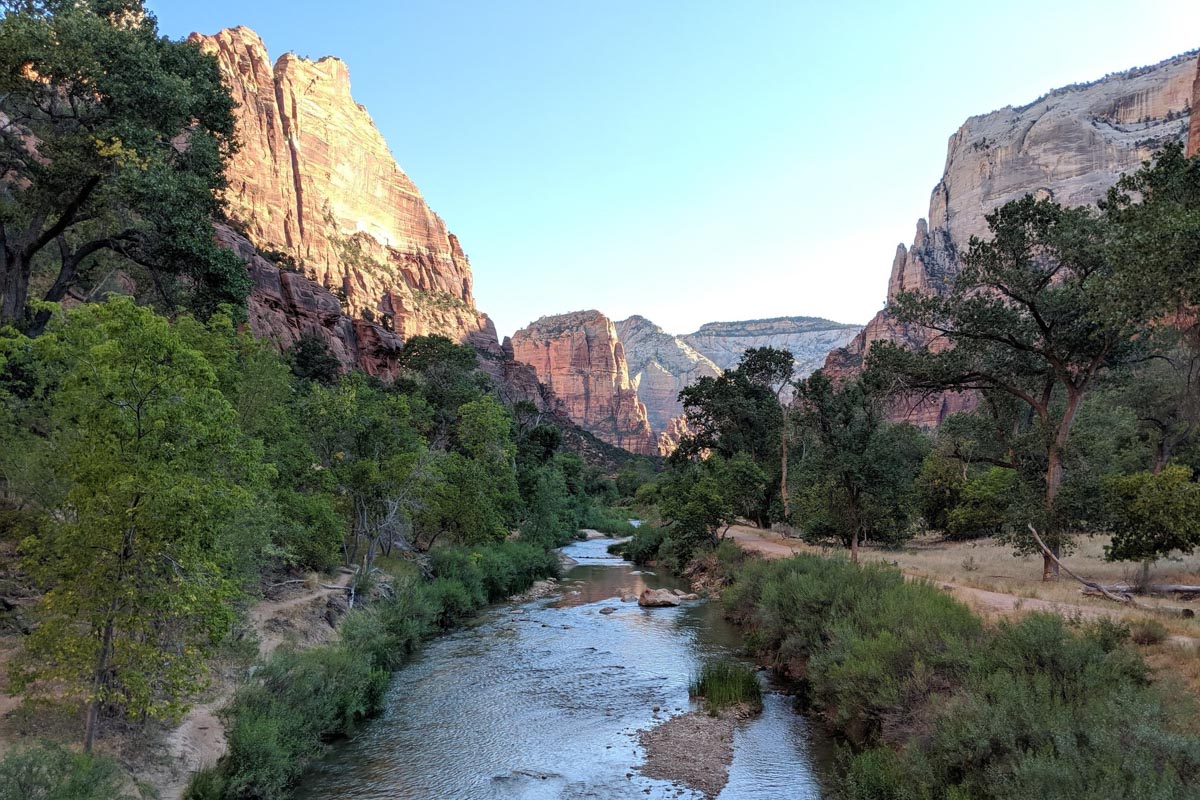 Last but certainly not least, Lady Mountain Trail is one of the most difficult and technical hikes in Zion. You'll need some true climbing chops to handle the trek up this historic trail!
Lady Mountain was the park's first official floor-to-summit trail, but it was closed in the 1960s, deemed too dangerous. While not recommended for casual hikers, plenty of experienced climbers successfully summit. If you attempt it, bring proper climbing gear and a buddy.

Best time to visit Zion National Park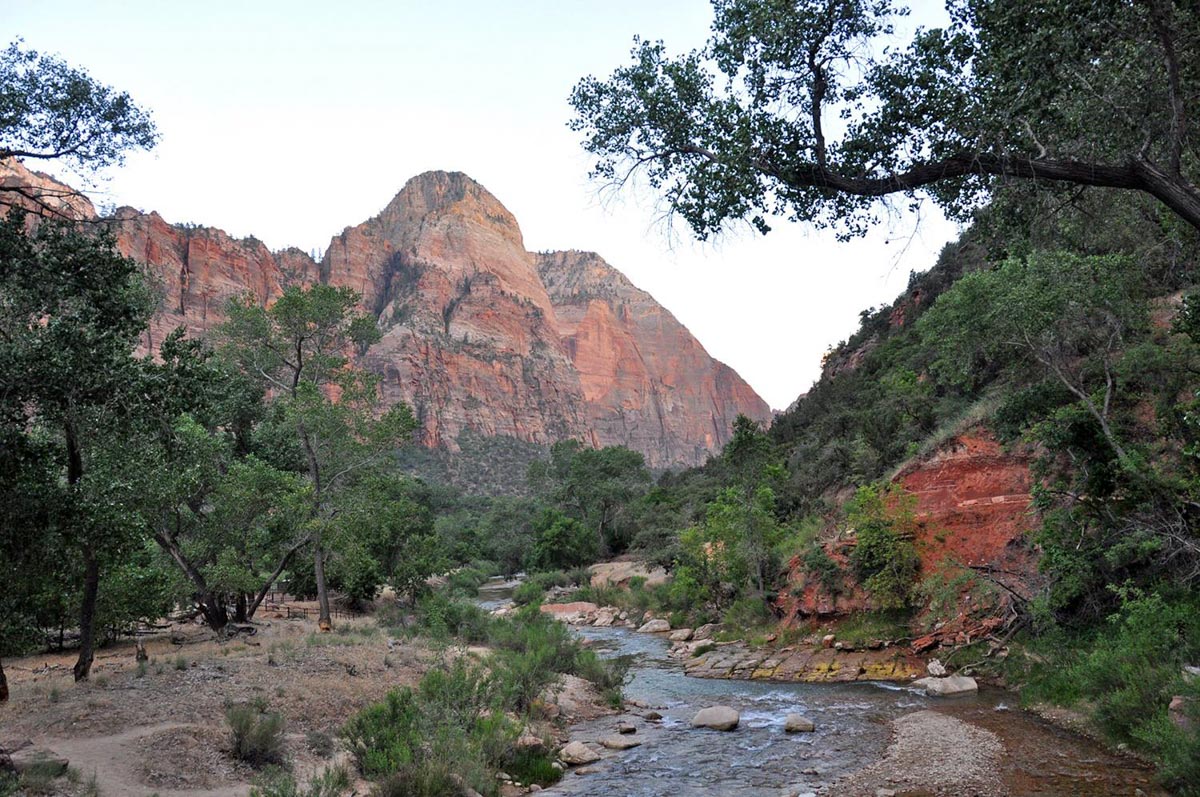 For the best experience, visit Zion in early or late spring (February or April), or the fall. These "shoulder seasons" help avoid the heaviest crowds, plus take advantage of spectacular weather. Daytime temperatures are comfortable and cool, but still sunny almost all the time.
If you must come during the busiest summer months, get to the park as early as possible. Not only does Zion get extremely crowded (so much so that entrances frequently close temporarily!), but temperatures creep into the 90s most days.
Another thing to know is that Zion is prone to monsoons and flash flooding from July through September. It can still be a great time to visit, but have a backup plan in case weather forces the park to close, as well as an emergency exit plan. Flash floods truly come out of nowhere and could leave roads or trails impassable.
America the Beautiful Annual Park Pass

If you're planning to visit more than one of Utah's "Mighty 5" National Parks, we'd highly encourage you to look into getting an annual park pass. At $35 per vehicle, entering Zion, along with most other national parks in the U.S., can be expensive.
For just $80 per year, you can purchase the America the Beautiful park pass. This pass grants you free access to all of the national parks. Plus it also covers your entrance to over 2,000 natural, historical, and recreational sites across the United States.
If you still need convincing, check out our article: America the Beautiful Annual Park Pass: Is it Worthwhile?
Psst! Check out some of our other favorite national parks on the west coast & Western U.S. that make great hiking destinations.
Where to stay in and around Zion National Park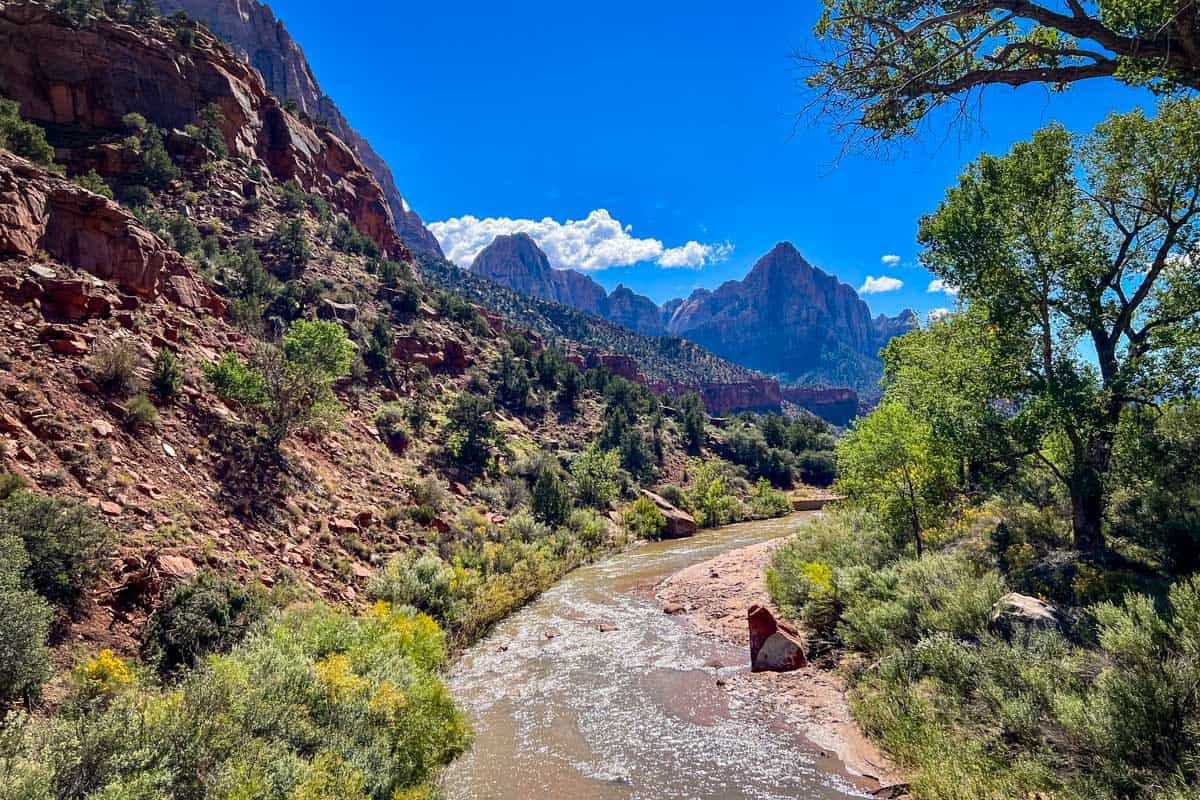 Zion becomes packed in the summer and accommodation takes some planning. Book well in advance for both camping and lodging!
Most options are clustered around the town of Springdale, just outside park boundaries. However, there are a few options inside the park.
Accommodation inside Zion National Park
Accommodation outside Zion National Park
A shuttle line connects Springdale to the visitor center, making it a great option for escaping the hectic parking situation inside the park.
Many additional campgrounds are available just outside the park. Whether you're looking for an RV site, primitive camping, or upscale facilities, use The Dyrt to find the perfect fit!
What to pack for hiking at Zion National Park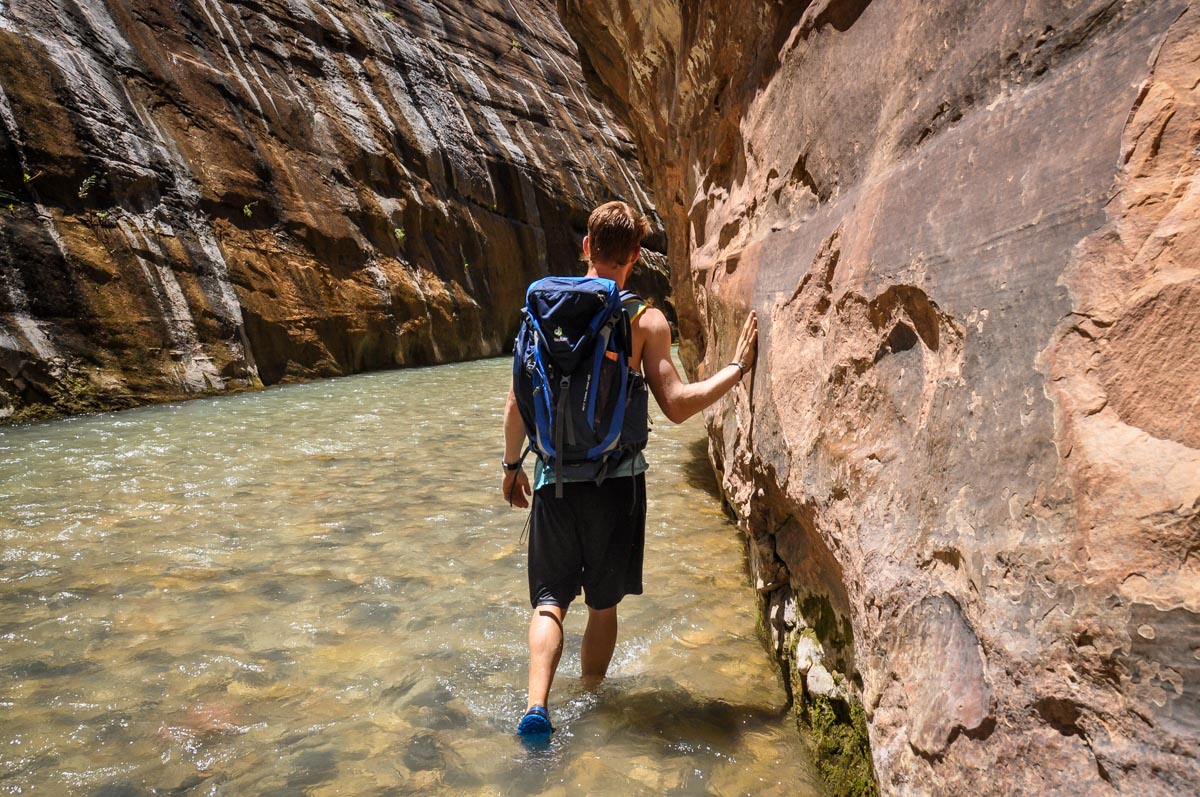 Although hikes at Zion vary tremendously and there are several easy trails, you'll still want to have some key items in your pack.
Be sure to grab our ultimate hiking packing list includes our must-have gear for any hiking trail!


You may also like…
Save this article on Pinterest for later!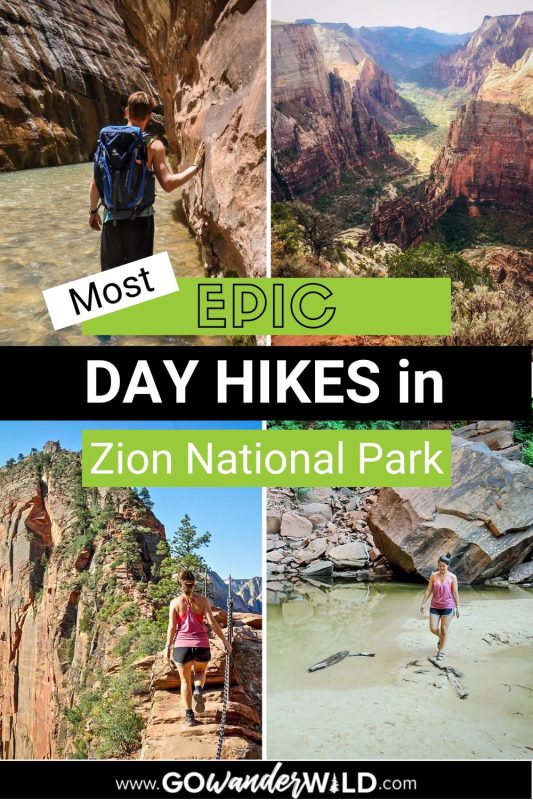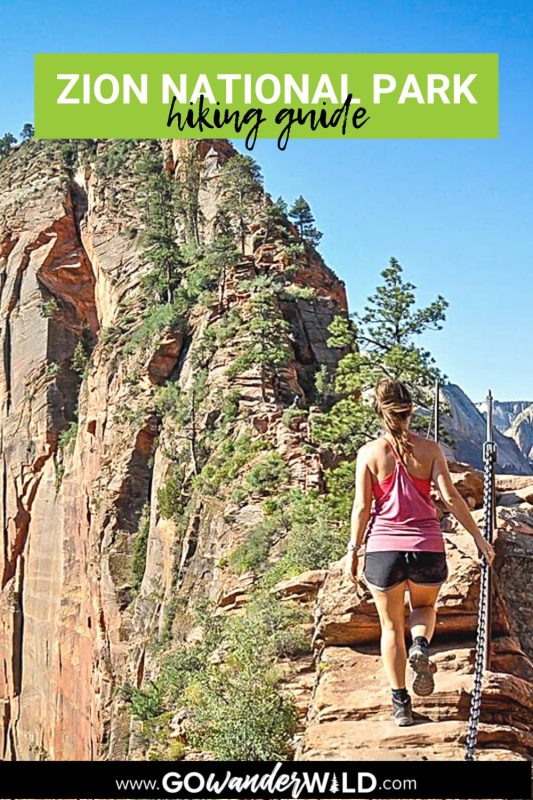 We want to hear from you!
Have you done any of the hikes in Zion on this list? What was your experience like? Are you planning a trip to Zion National Park and want more advice? Comment below and let us know!