Sometimes you just want an easy camping breakfast, we get it. From quick no-bake meals you can prepare ahead of time to elaborate dishes cooked directly over the campfire, we've put together 25 of the best camping breakfast ideas.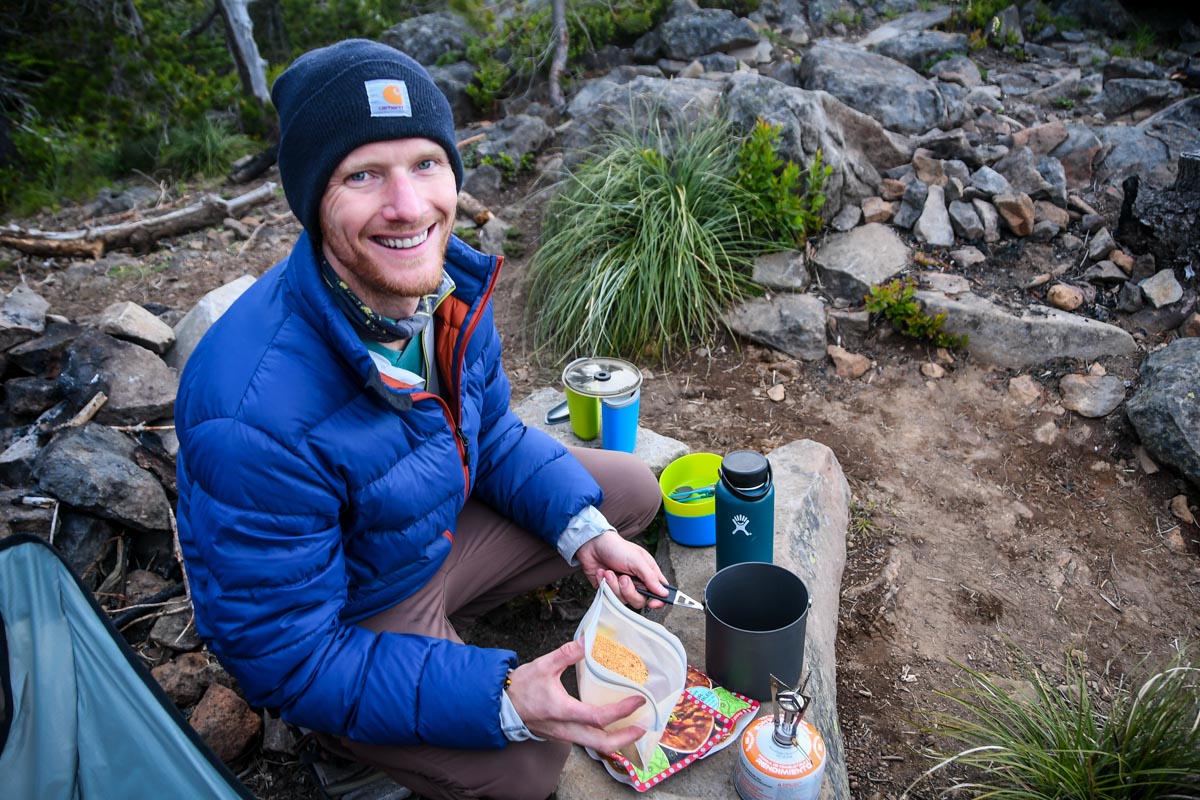 If you don't already know this about us, we are major foodies. Some of our favorite memories involve a great meal and we truly believe that you should (and easily can!) eat well, no matter where you are in the world.
This is especially true when it comes to camping and, as they say, breakfast is the most important meal of the day.
Whatever type of camping you prefer — whether it's sleeping in comfort in a converted campervan, multi-day backpacking on a remote backcountry trail, pitching a tent, or something in-between — we've put together a list of our favorite camping breakfast ideas, most of them super-simple.
So what are you waiting for, let's dig in!

Make-at-home camping breakfast ideas
These recipes can be prepared at home before you head out on your camping adventure. They will be easy to store and serve up quickly in the morning to hungry campers.
1. Make-ahead Breakfast Burritos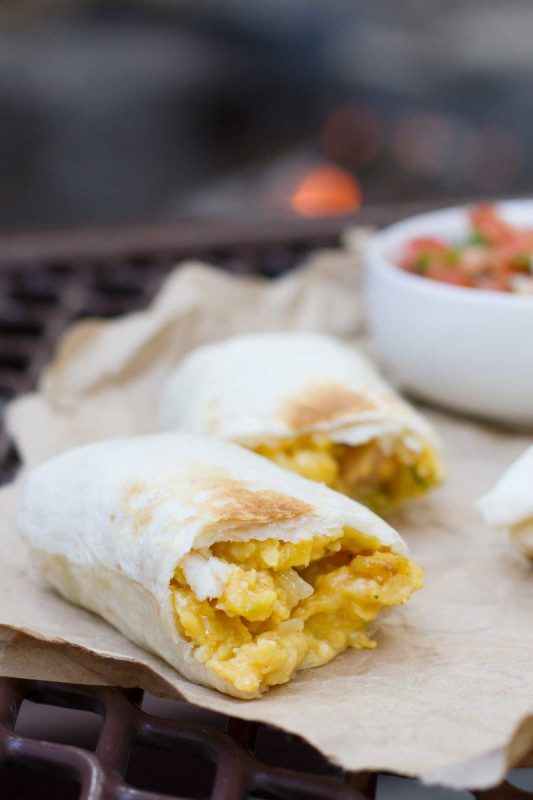 Breakfast burritos (burritos of any kind, really, let's be honest!) are almost the perfect food. Filling and flavor possibilities are endless, it's an entire meal that you can hold in your hand, and it's easy to feed a crowd. They're the perfect easy camping breakfast!
Make these at home using your preferred ingredients, double-wrap in foil, then throw near the fire for 10 minutes when you're ready to eat. If you're headed on a hike you can also eat these at room temperature on the trail.
2. Yogurt Parfaits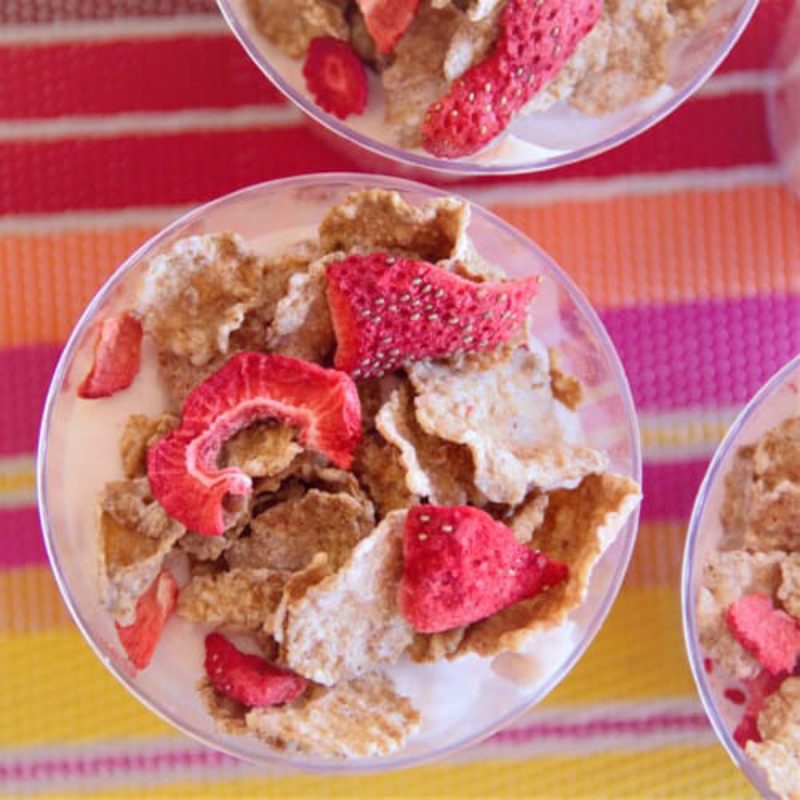 This is one of the best camping breakfast ideas and one that's also easy to overlook. Bring a tub of your favorite yogurt, seasonal fruit, and granola, nuts, or a favorite cereal, then assemble the parfaits. As a bonus, even young kiddos can make their own! Double bonus: yogurt parfaits easily double as snacks or even desserts.
3. Overnight Oats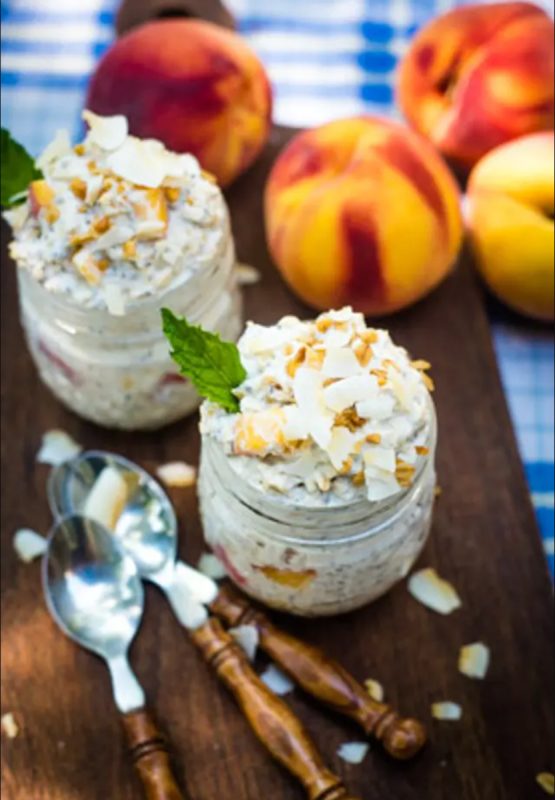 Overnight oats are one of our go-to recipes for easy camping breakfast ideas that are also fresh and healthy. Make them overnight, customizing with your preferred liquid, spices, and other additions, and then they'll keep in a cooler or fridge for several days.
We recommend using quick-cooking, but not instant, oats. Steel-cut end up a bit too chewy in overnight oats, and instant oats essentially fall apart and become mush. Regular old-fashioned oats seem to work best in terms of texture.
4. Fruit and Nut Butter Wraps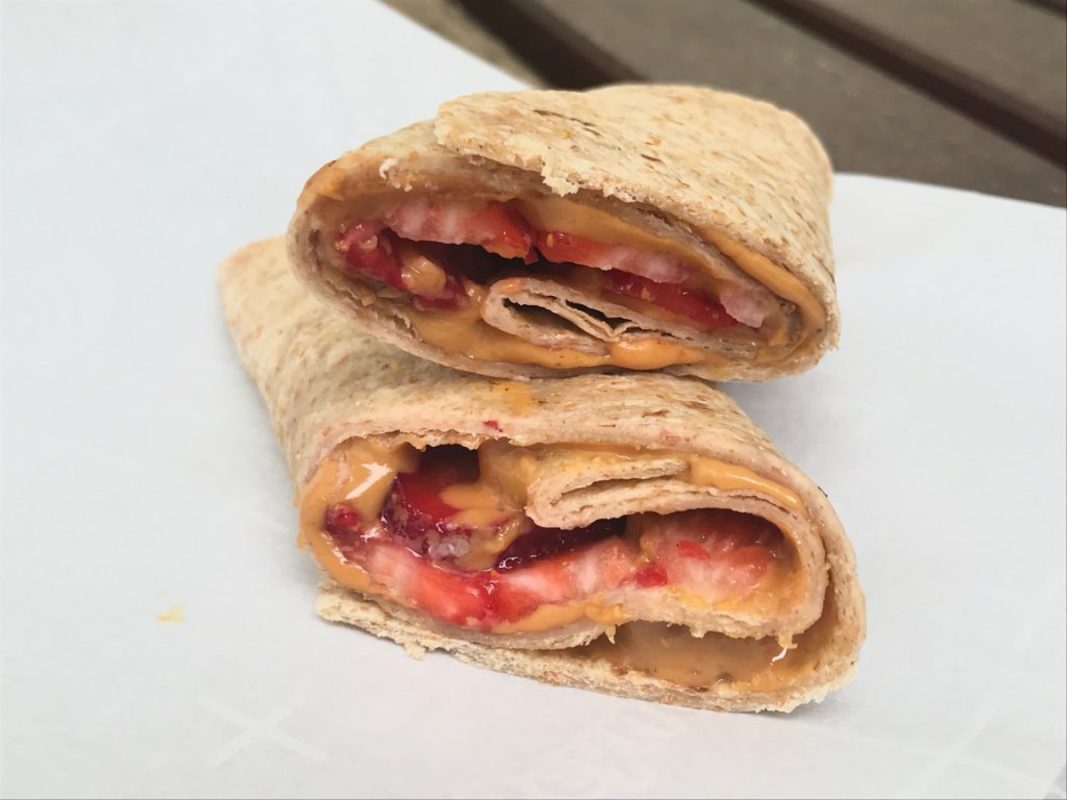 It truly does not get, well, any easier than this easy camping breakfast! You can keep it classic with peanut butter and sliced banana, but feel free to add nuts, dried fruit, or chocolate chips for an added calorie and energy boost.
Psst! Find out how to make the best camping coffee to go with your breakfast!
5. Make-ahead Whole-Wheat Pancakes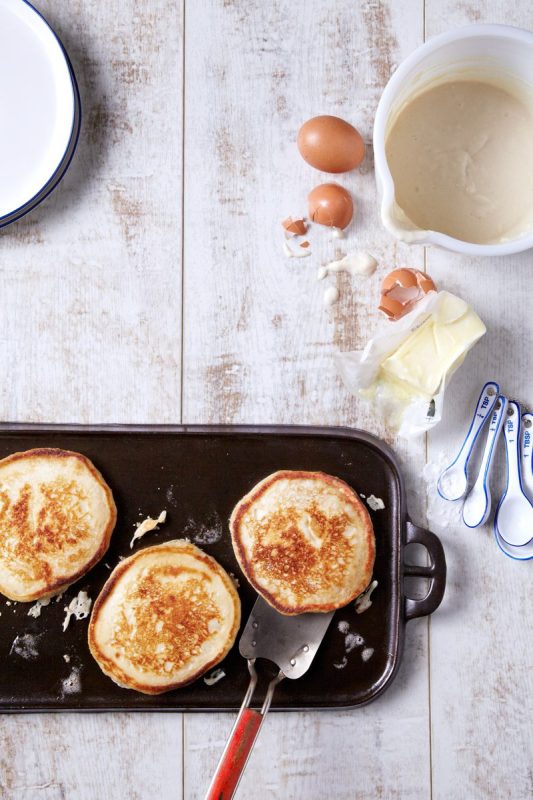 Always a crowd favorite as far as camping breakfast ideas go, this simple yet genius hack is a game-changer. Mix your dry ingredients at home, then simply add wet ingredients at camp. This recipe calls for water, but if you use a different one (or just want to switch things up), you could use milk or a milk alternative and/or add eggs.
6. Oatmeal Breakfast Bars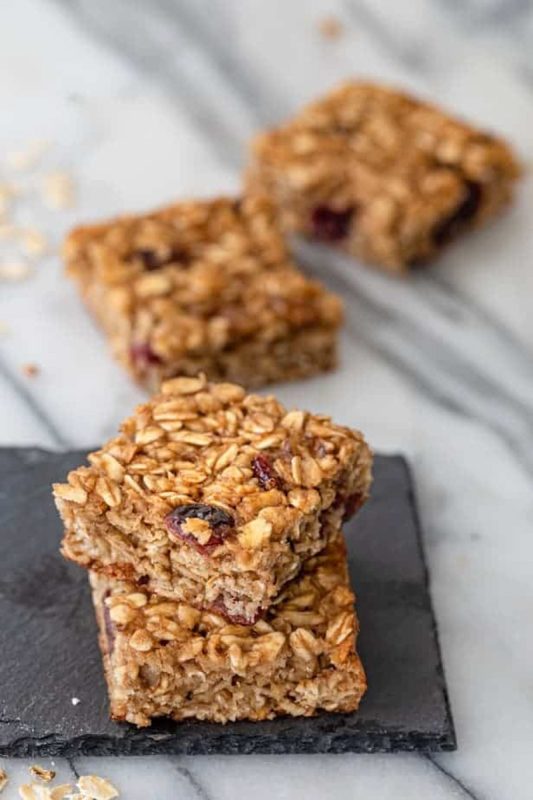 There's no denying that pre-packaged bars are super convenient…but they're also loaded with sugar and "fillers." With just a bit of prep work ahead of time, you can enjoy that same portable convenience but in a much healthier, more substantial bar! Best of all, these bars are super customizable for an easy camping breakfast or snack.
7. Make-ahead Freezer Breakfast Sandwiches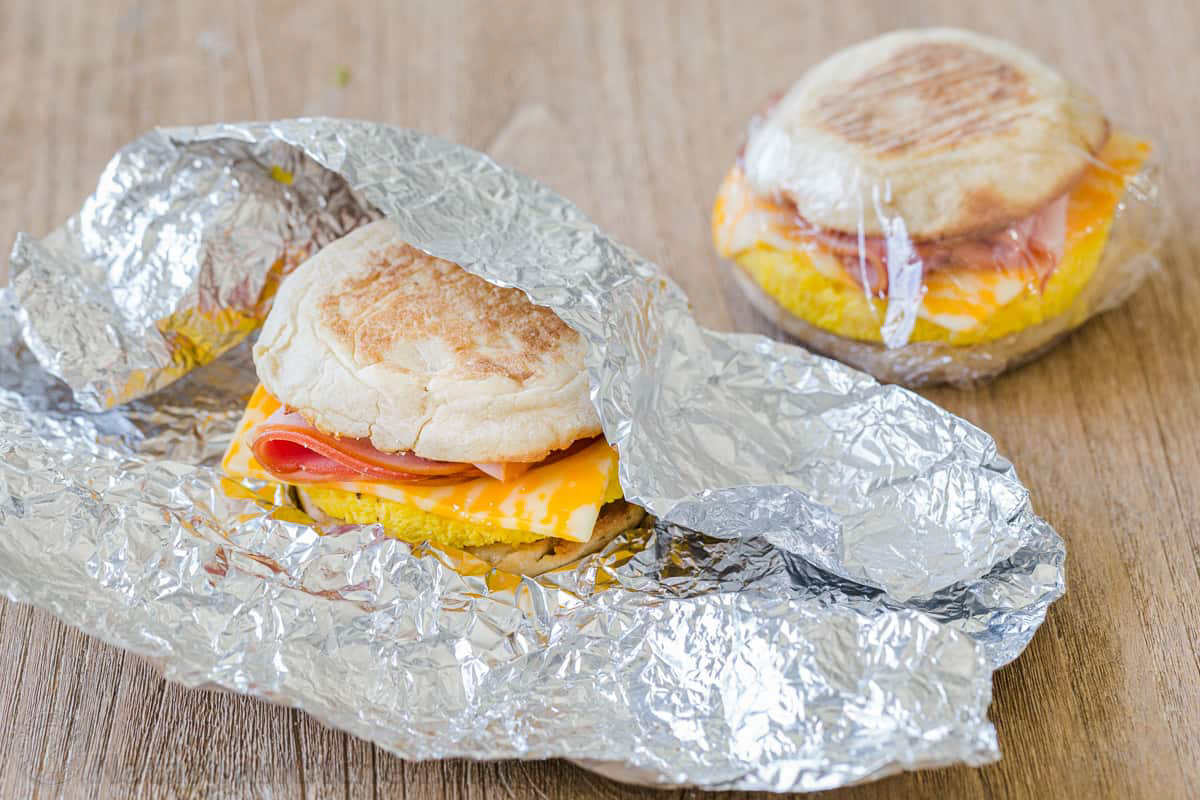 Similar to store-bought granola bars, fast-food breakfast sandwiches are convenient (and therefore tempting) choice — but they're full of unhealthy ingredients. Make these from scratch instead, swapping your favorite meat and bread. We prefer Canadian bacon or sausage patties and English muffins because they re-heat so well, but you do you!
8. Omelet in a Bag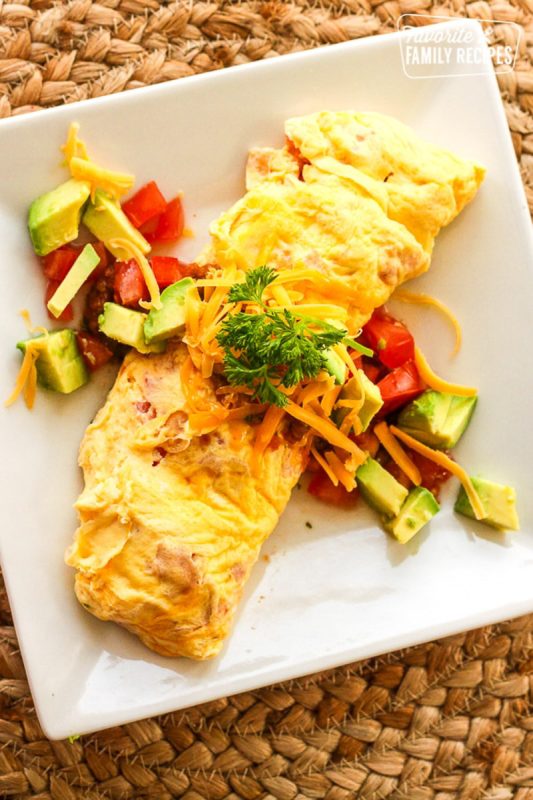 Is it omelet or omelette? We never know! Either way, this simple but hearty meal is one of our favorite easy camping breakfast ideas, and you can make it even simpler by prepping them ahead of time. Everything gets dumped into bags "wet," then you either cook the entire bags in boiling water (sous vide style!) or empty the omelets into a skillet over the fire. Have fun with it and let everyone choose their own fillings!
Pro tip: rather than open the bag and dump everything out, snip a corner off. Just make sure it's large enough to let all the toppings come out!
9. Easy Camp Oatmeal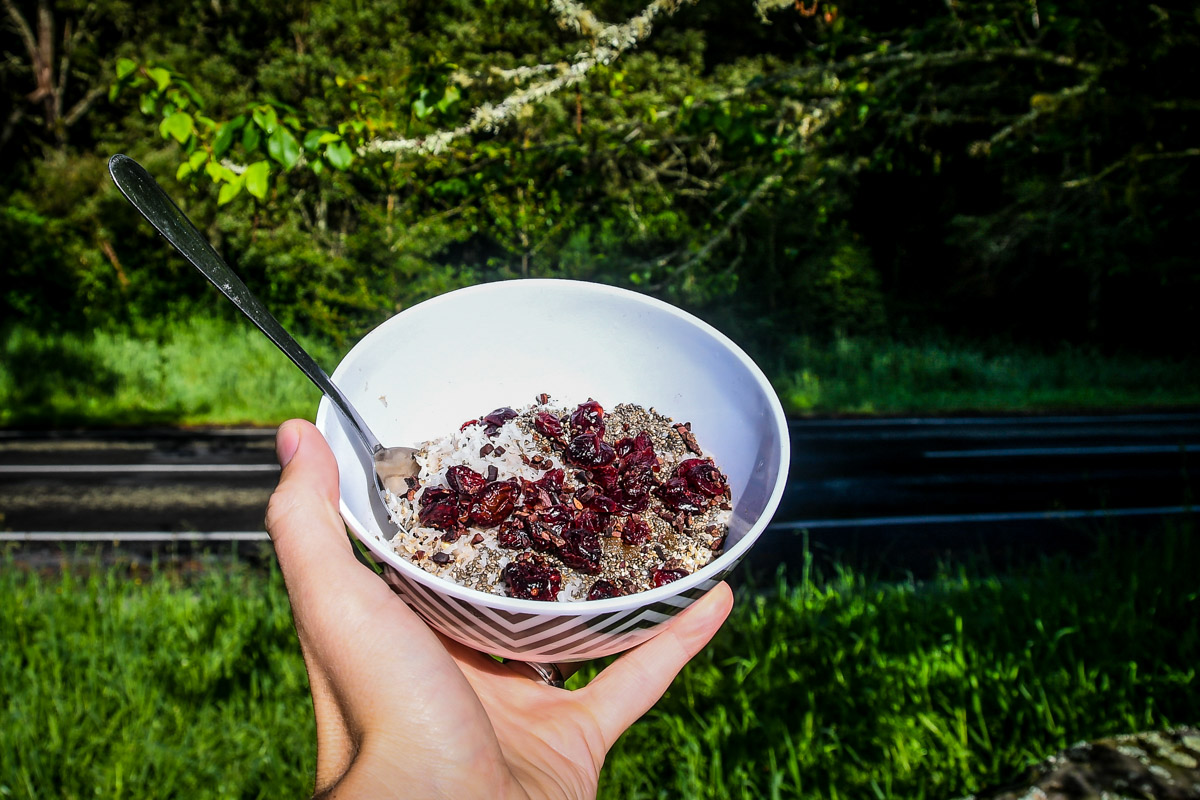 All you need to make your own instant oatmeal is some basic pantry ingredients, a few minutes, and boiling water! Combine oats, fruit, nuts, seeds, and your preferred sweetener in advance, then just heat everything with water over a campfire for this easy camping breakfast. It's super customizable, too — check out some of our suggestions for ways to jazz up camping oatmeal!

Camping breakfast ideas to cook over an open fire
These camping breakfast ideas are perfect to prepare when cooking over an open fire—no stove required!
10. Campfire Orange Cinnamon Rolls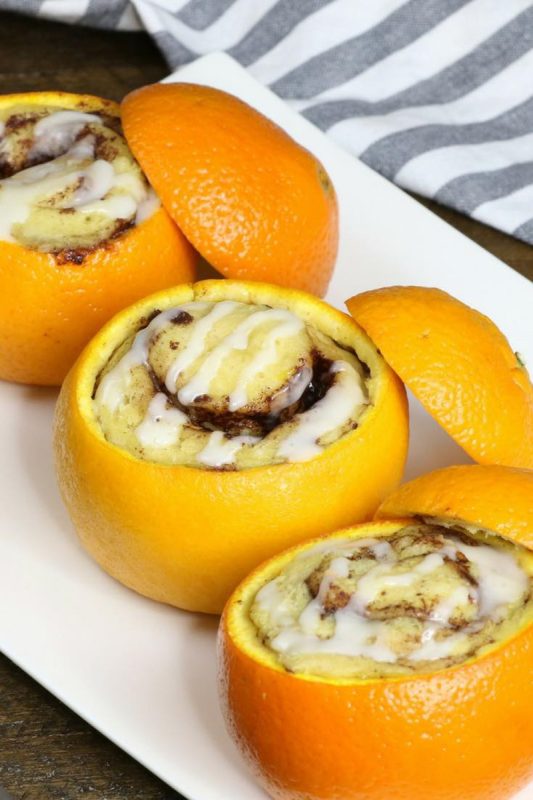 Fair warning: this easy camping breakfast idea is insanely addictive! Use refrigerated cinnamon roll dough and orange peel "shells" (you'll carefully slice off the top, then hollow out the insides) to prevent them from getting too crispy.
11. Dutch Oven Dutch Baby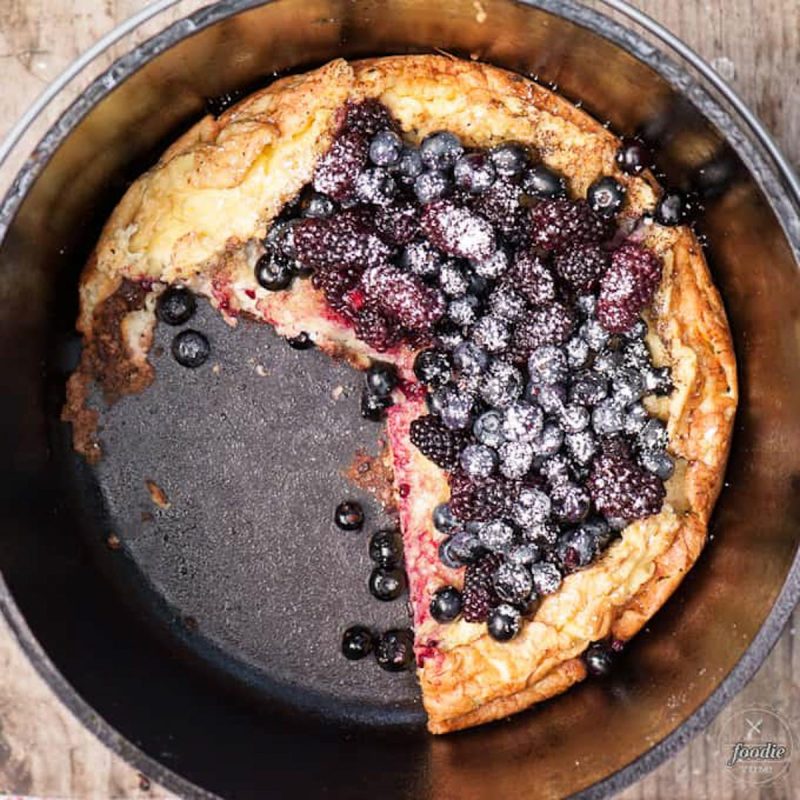 If you've never had a Dutch Baby pancake, prepare to have your mind blown. This fluffy, crepe-like pancake seems fancy but is unbelievably easy — especially in a Dutch oven over a campfire!
12. Cast Iron Skillet Breakfast Pizza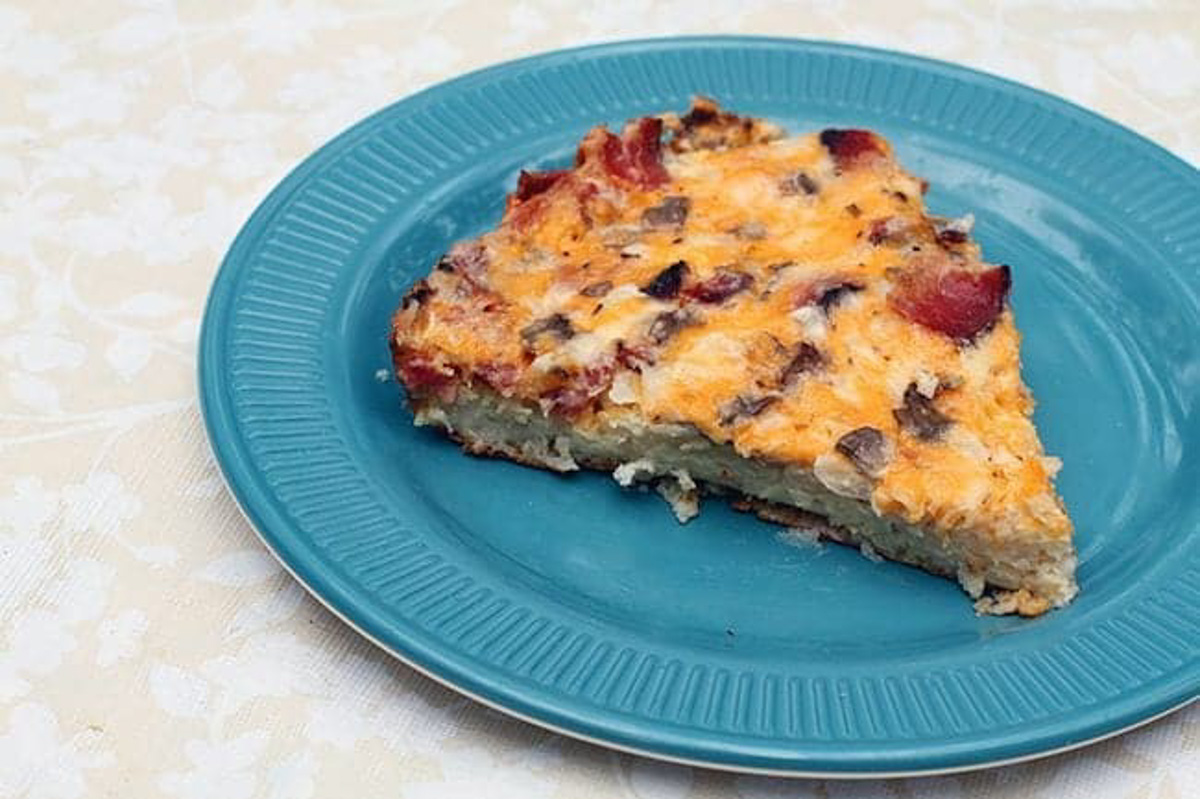 Who doesn't love pizza…at any time of day? This easy camping breakfast uses comforting, hearty flavors on top of a thick, crispy "crust" of frozen hashbrowns.
13. Pie Iron Pop-tarts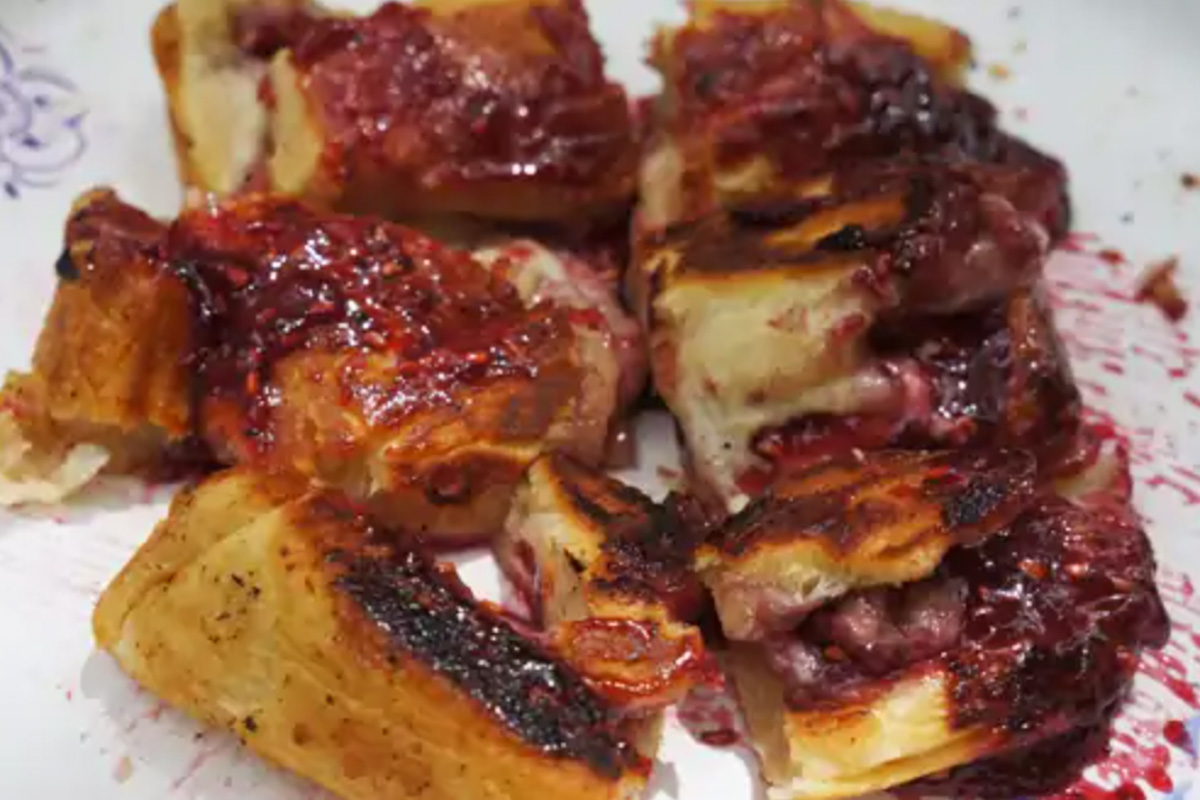 Delicious, easy camping breakfast ideas don't get much better than this! A cross between crowd-favorite Toaster Strudels and Pop-Tarts, use store-bought pie crust to create a flaky, buttery crust. This recipe calls for jelly, but get creative and try Nutella or lemon curd!
14. Steak & Eggs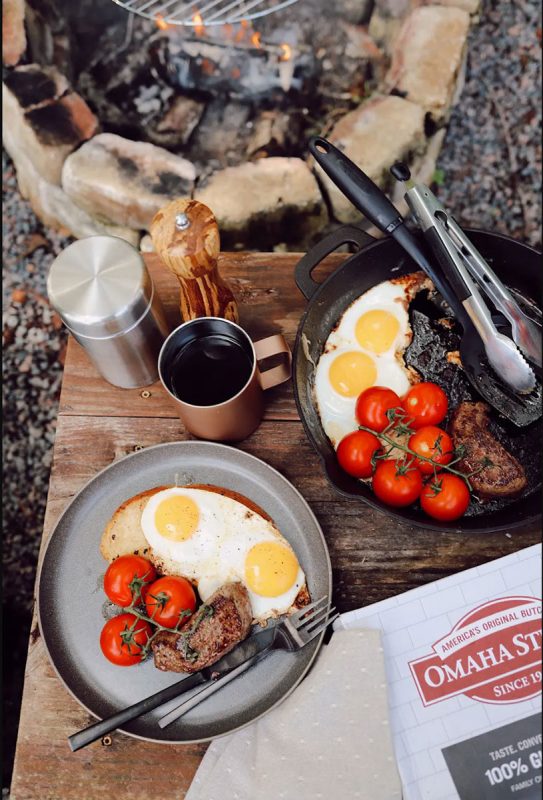 It's definitely fun to get creative with camp breakfast, but sometimes all you need is a classic. Hearty steak and eggs fits the bill, and it cooks perfectly in a skillet or on a grate over the campfire.
Psst! Follow up your breakfast with these tasty camping lunch ideas!
15. Eggs Baked in Avocados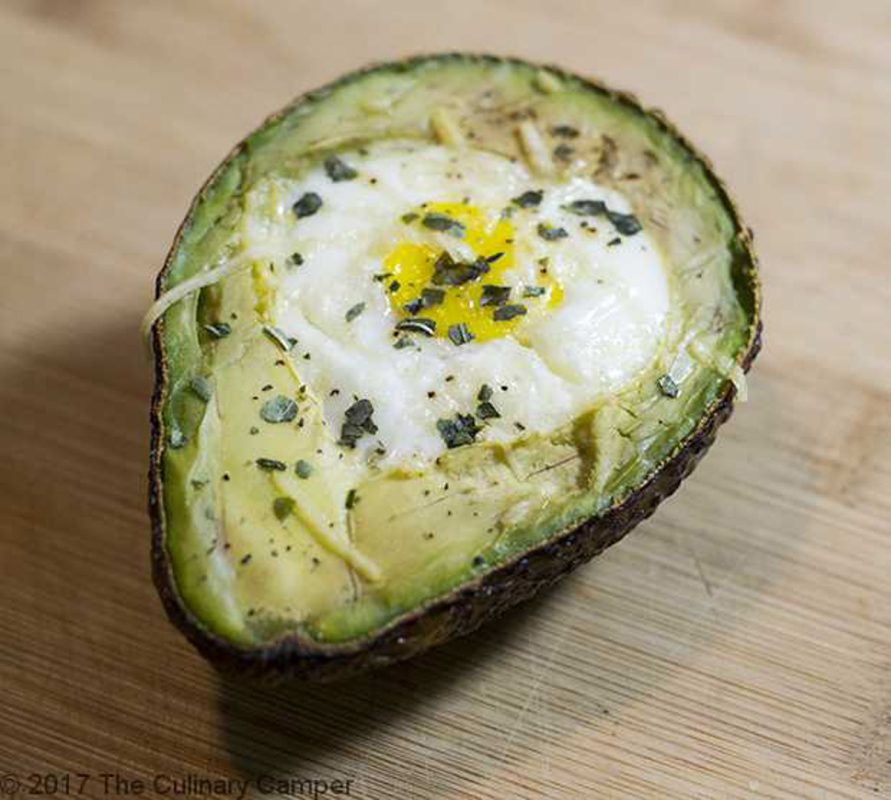 Halved avocados make the perfect natural bowls for baking eggs in a Dutch oven. We don't know who thought of this easy camping breakfast, but it's genius! This recipe is ultra-simple and you can easily add meat or toast to make it a bit more substantial.
16. Camping Chilaquiles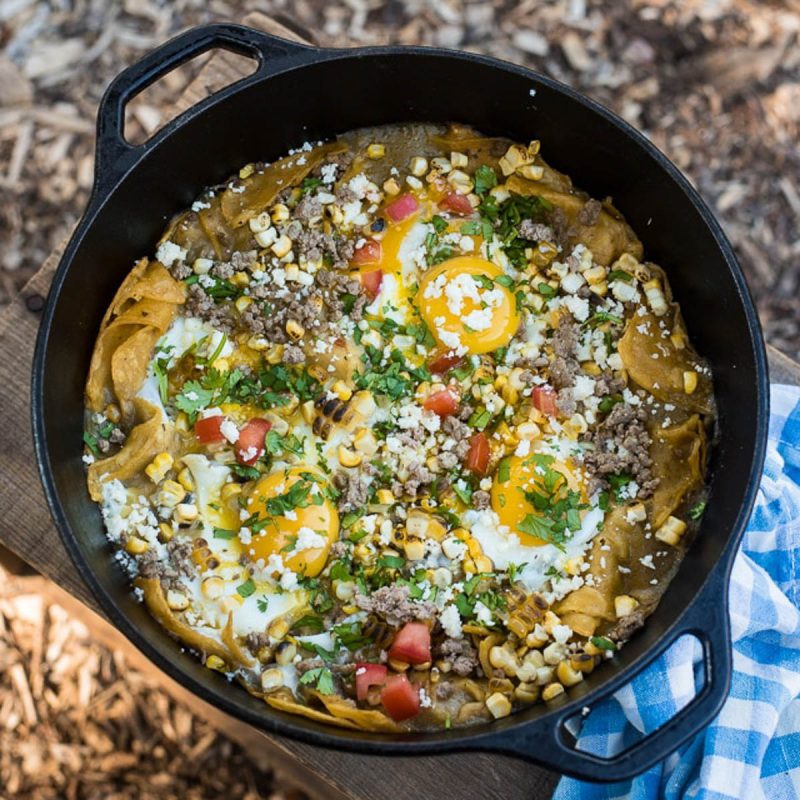 If you're a savory breakfast person and you like a bit of a kick, chilaquiles is basically the best easy camping breakfast of all time. The key is to get really good quality chips, but other than that, this recipe is a cinch to make!
17. Shakshuka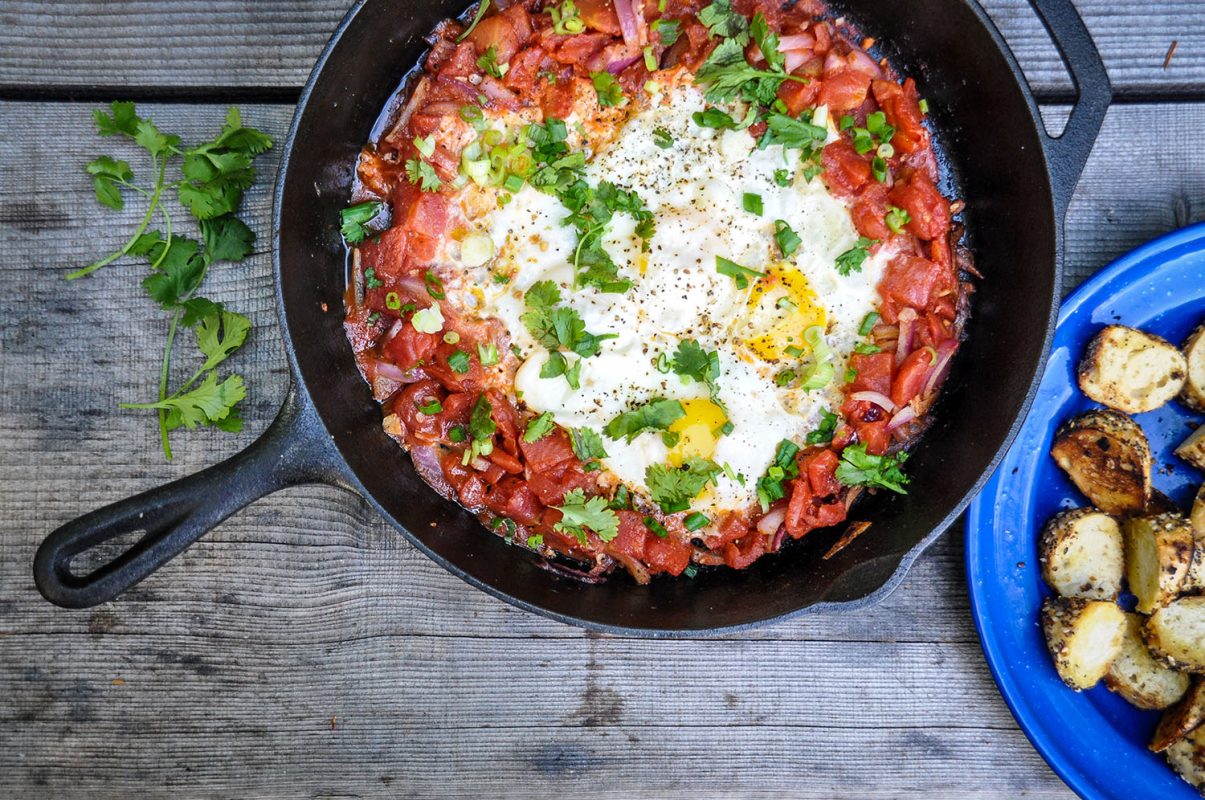 You know this is one of our favorite easy camping breakfast ideas because we've actually shared it before (it really is THAT good!)! This ultra-flavorful, ultra-satisfying dish focuses on simple ingredients that balance each other nicely, like eggs, fresh herbs, and canned tomatoes.
18. Campfire Frittata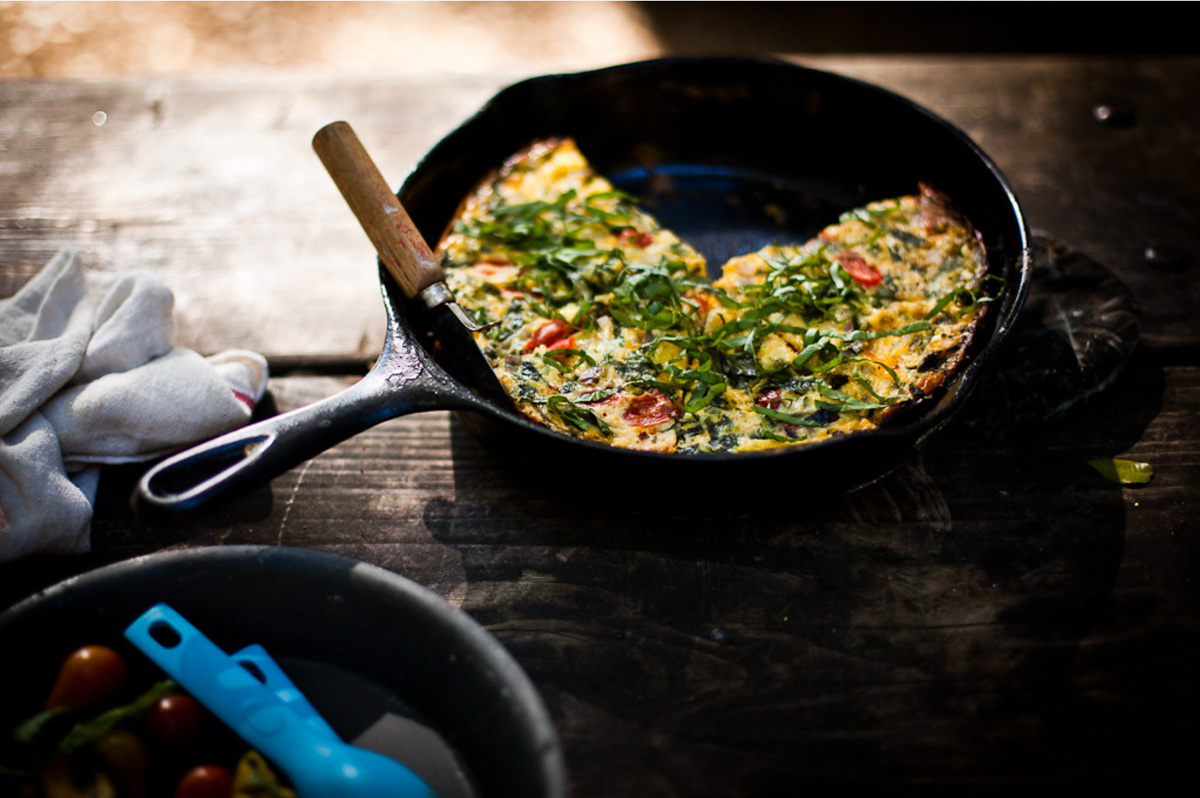 Savory, healthy, adaptable, and simple — our favorite kind of camping breakfast ideas! Load your frittata up with your favorite veggies, cheeses, and fresh herbs, then use a cast iron skillet to cook it directly over your campfire. As a bonus, this also works well in a metal baking dish on a camp stove.

Camping breakfast ideas prepared with a camp stove
These camping breakfast ideas can be easily prepared at your campsite with your Jetboil or camp stove.
19. Corned Beef Hash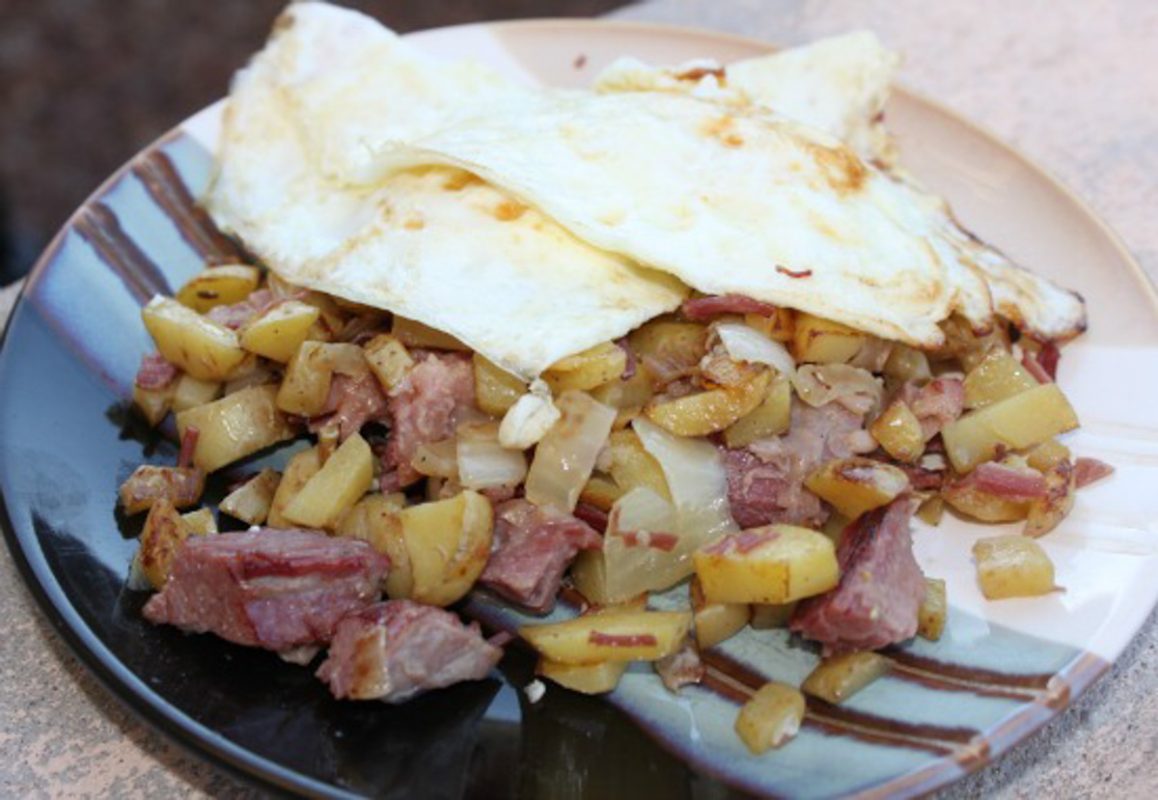 Corned beef hash is the quintessential easy camping breakfast. It's filling and delicious, easily feeds a crowd, and you can do a lot of the prep work at home. Buy corned beef from the deli to save yourself a few steps and add eggs for an even heartier meal.
20. Camp Skillet Breakfast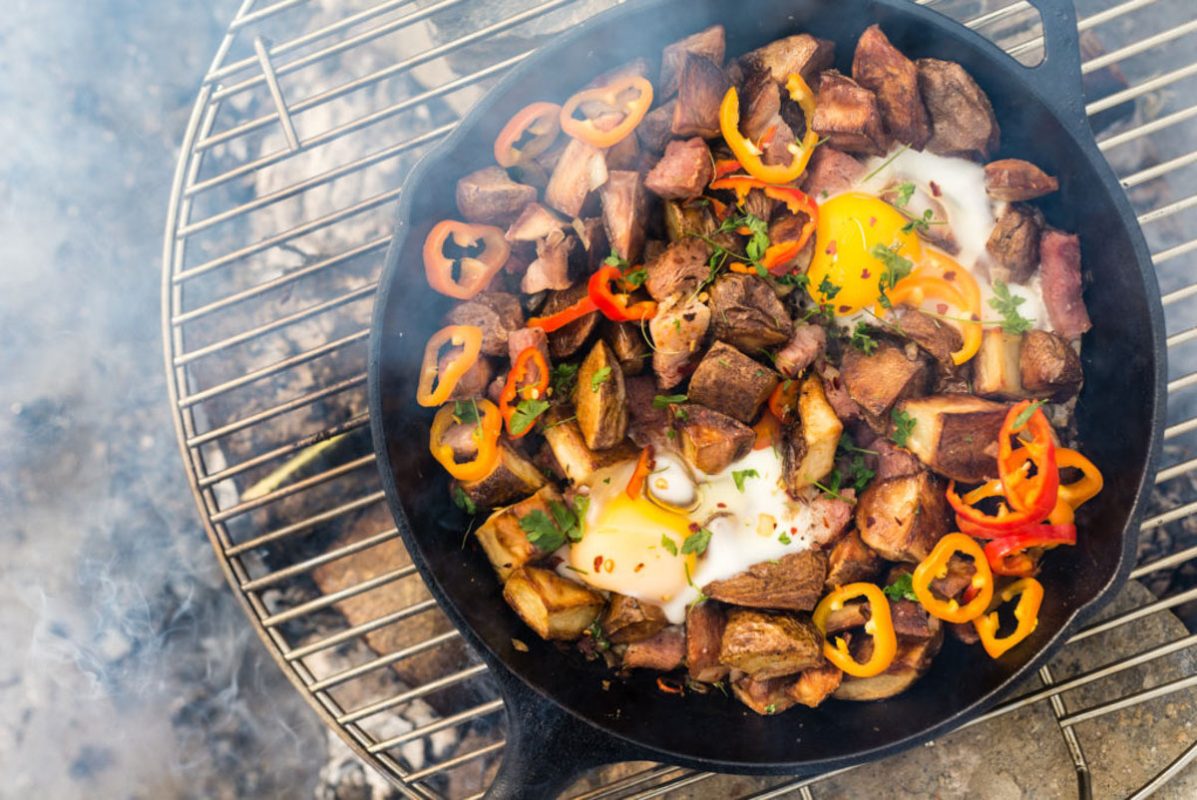 Skillet breakfasts are the best. They're warm and filling, easy to make, tasty, and customizable. As a bonus, you can often throw in leftover ingredients from other meals. Note that most camping breakfast ideas made in a skillet, like this one, can be cooked on a camp stove or campfire.
21. Huevos Rancheros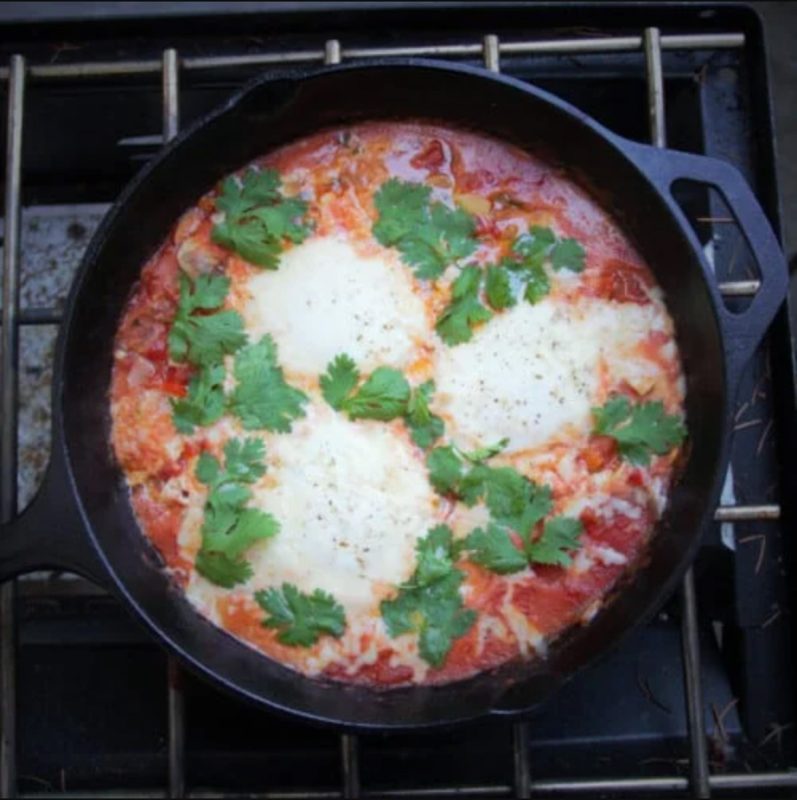 This rustic Mexican camping breakfast is essentially eggs poached in a bath of flavorful salsa with veggies. You can eat it as-is, but it's also excellent put into tortillas and topped with your avocado, sour cream, and/or fresh cilantro.
22. Breakfast Hot Dog Hash With Serrano Chilies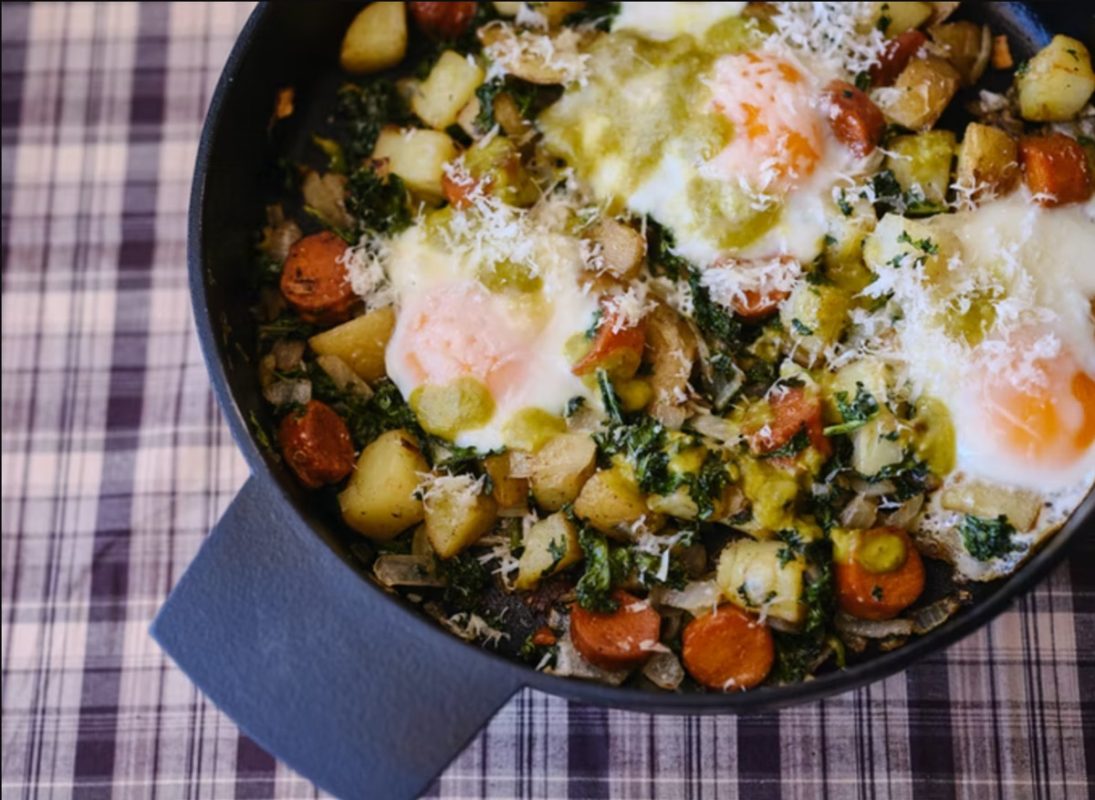 Yes, you read that right: hot dog hash. With chilies. We know it sounds pretty "out there" and it definitely isn't romantic, but it's surprisingly good and super flavorful. Plus, it uses ingredients you likely already have on hand for simple, affordable campfire dinners!
23. Breakfast Quesadillas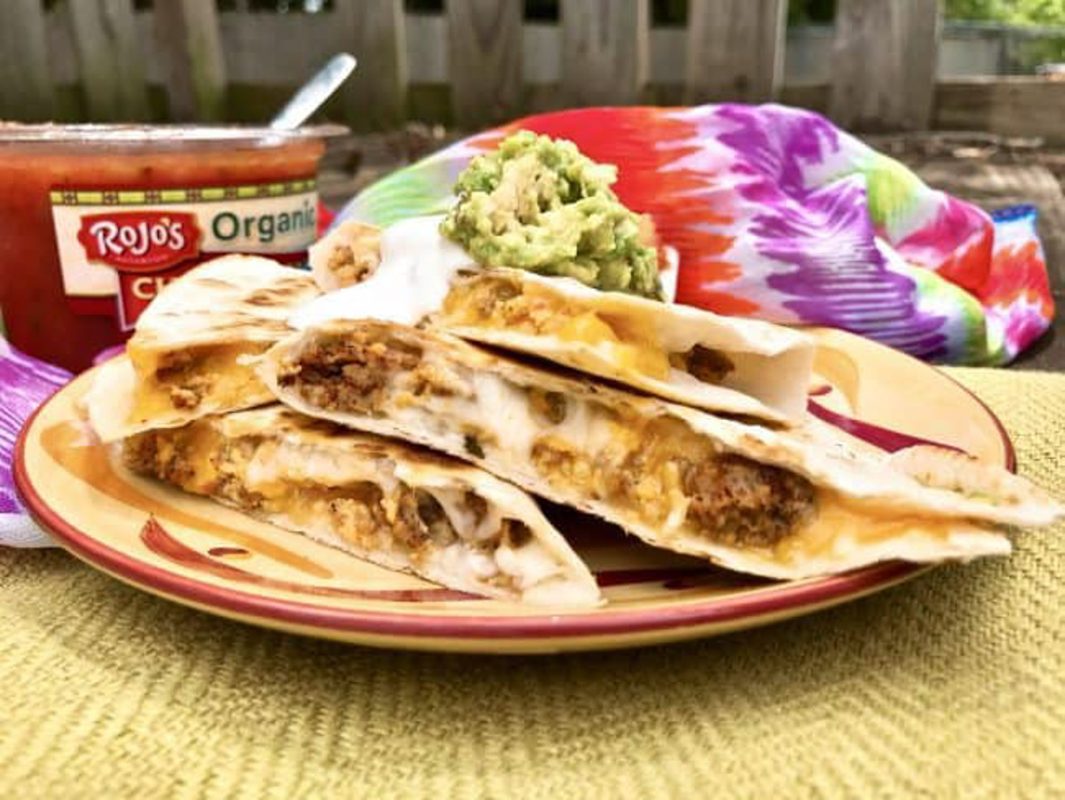 Breakfast tacos are 100% a thing, so why, exactly, are breakfast quesadillas not more popular? They're cheesy and gooey and oh-so-satisfying, all the things an easy camping breakfast should be! If you really want some extra brownie points at camp, let everyone pick their own fillings.
24. Brown Bag Breakfast
When it comes to camping breakfast ideas, it truly does not get any easier or more rustic than cooking in brown paper bags. Put your preferred breakfast meat, along with uncooked whole eggs, in the bottom of the bag, roll it up, and place it over heat.
Note that you don't want your bags to catch fire and burn, so use indirect heat. A grate or pan to keep the bag off the heat surface is best.
25. Camping French Toast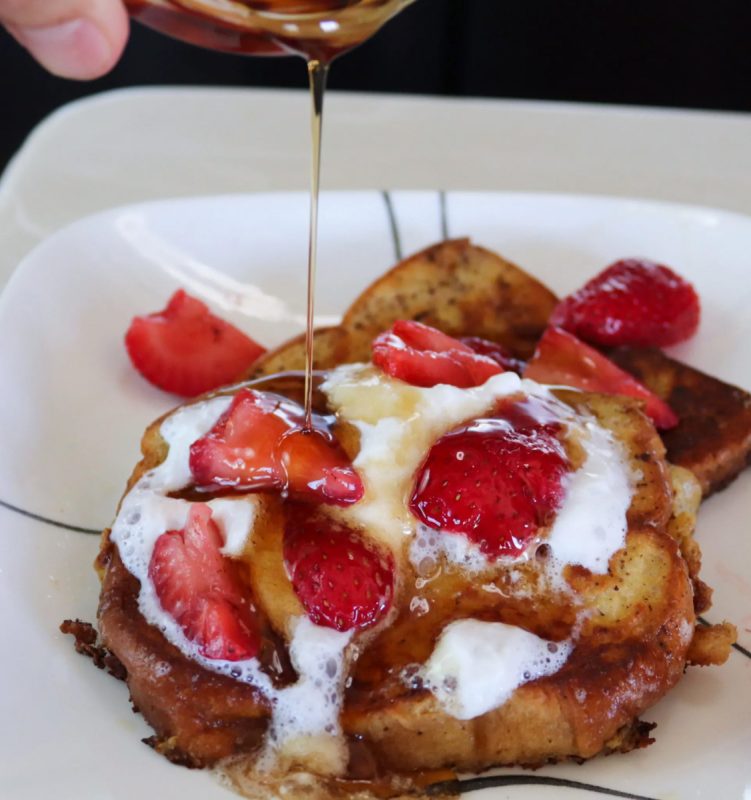 French toast somehow always feels very fancy Sunday brunch, but it actually makes an easy camping breakfast. Both the steps and ingredients are simple (be sure to spring for high-quality bread!), yet you can impress your group by adding whipped cream and fresh berries.


You may also like…
Save this article on Pinterest for later!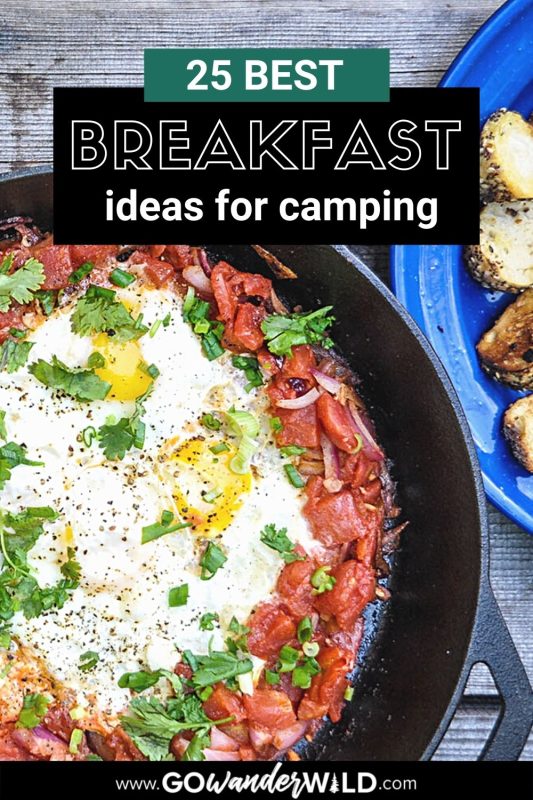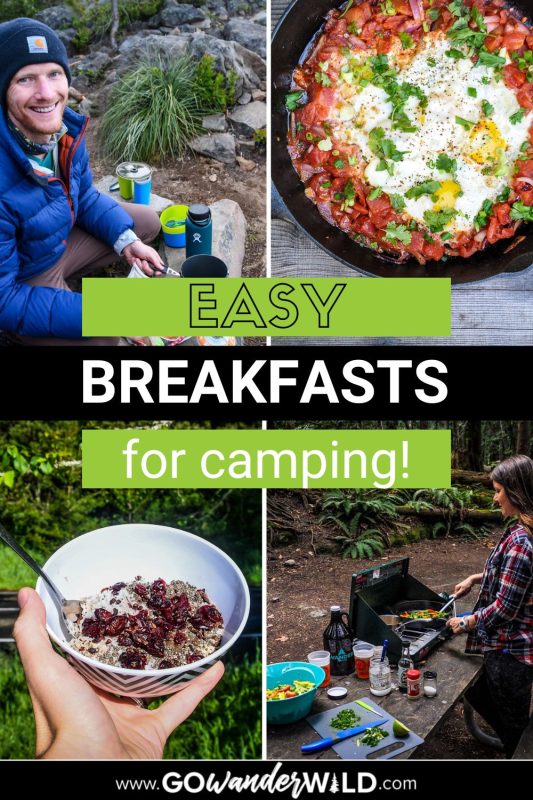 We want to hear from you!
What's your favorite camping breakfast from this list that you cannot wait to try cooking? Do you have any other camping breakfast ideas you think we should add to this list? Comment below and let us know!