We may be biased, but we think the national parks on the west coast and western U.S. are some of the best in the country. Of course all are bucket list-worthy destinations that visitors flock to every year. Use this guide to the national parks in the west to get all the information you need about planning an amazing trip out west; from the best hikes, to viewpoints, scenic drives, and more.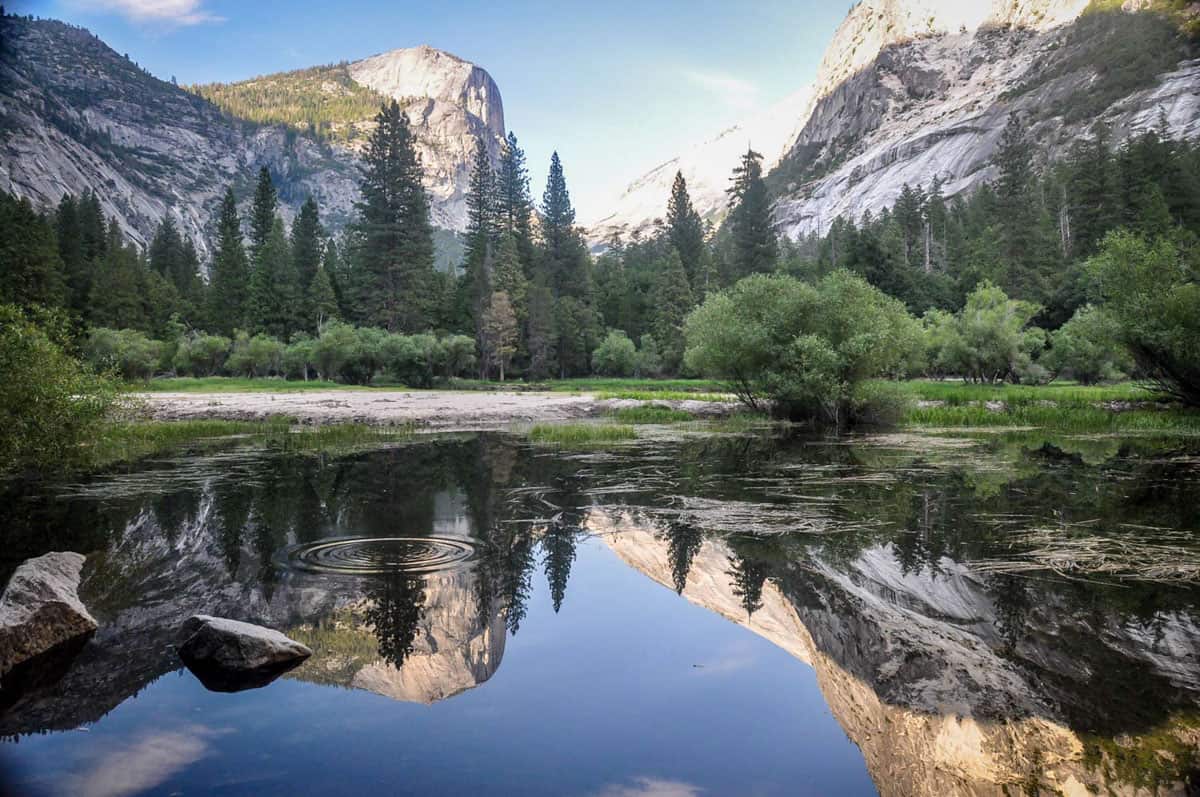 The western United States is home to some of the most beautiful, most popular and also most underrated national parks. In fact, 70% of the national parks in the U.S. are in the western part of the country.
Maybe you've heard of a little place called the Grand Canyon… Or the first ever established national park: Yellowstone. There's also the famous national parks on the west coast like Olympic, in the northwestern-most part of the country, and Yosemite in central California.
In this article we've rounded up all of the national parks on the west coast, plus some of the most popular and note-worthy national parks in the west. We haven't been to all of them (but we intend to someday!) so we asked some fellow travel bloggers to help us create this list.
We've gathered all the important information you need to know so you can plan your own epic adventure out west. We've even covered the top things to do in each park to help you narrow down which hikes and viewpoints are worth the effort.
Article contents
We've broken down all the national parks on the west coast and western U.S. in this article by state. Click on the state below to jump down to that section, or continue reading…
Olympic
North Cascades
Mount Rainier
Yosemite
Joshua Tree
Death Valley
Redwood
Sequoia & Kings Canyon
Channel Islands
Lassen Volcanic
Pinnacles
Zion
Bryce Canyon
Arches
Canyonlands
Capitol Reef
Rocky Mountain
Mesa Verde
Great Sand Dunes
Black Canyon of the Gunnison
Grand Canyon
Saguaro
Petrified Forest
White Sands
Carlsbad Caverns
Map of National Parks on the West Coast & Western U.S.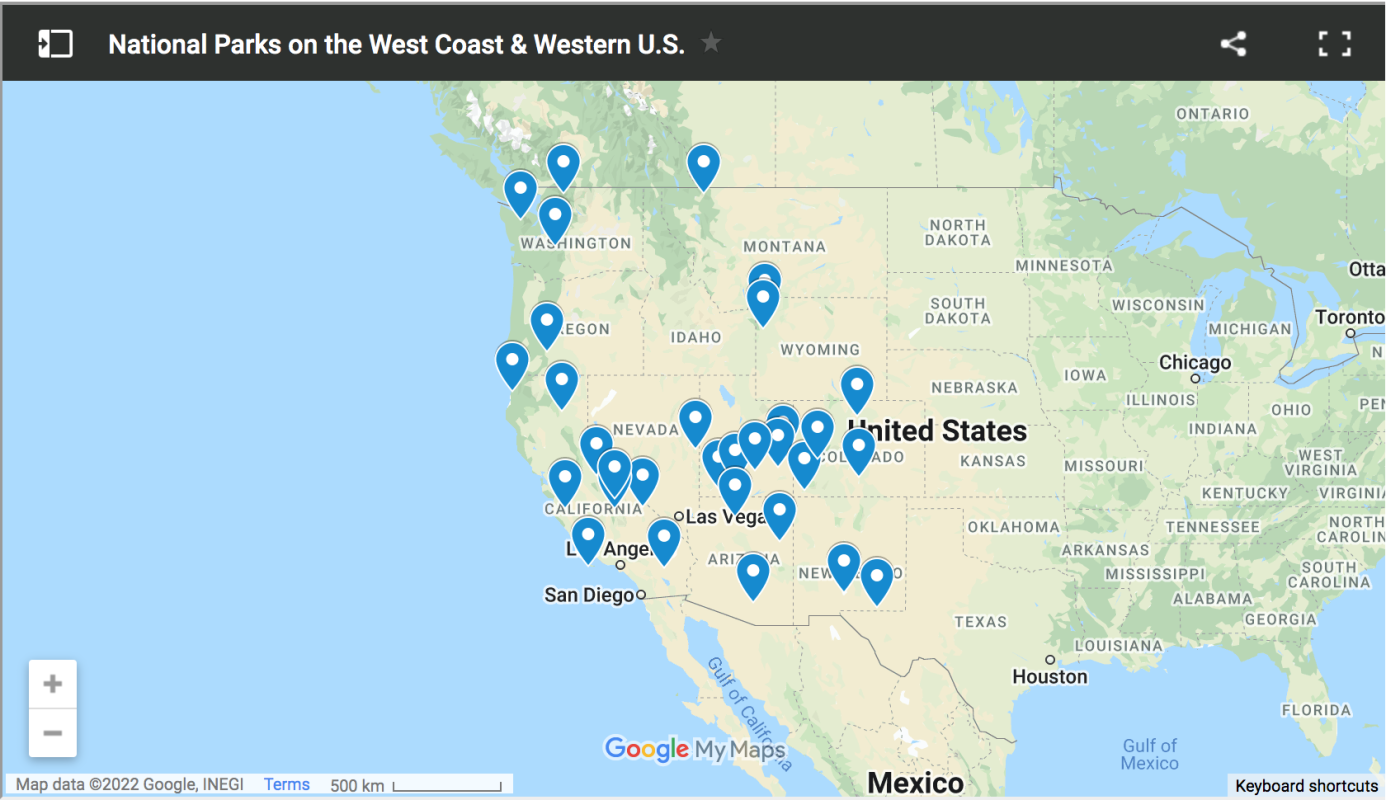 Psst! If you're looking to get out of the U.S. we put together a guide to the best national parks in Canada, where you'll find some seriously incredible nature in our neighbor to the north.

Want to try out vanlife while visiting the West Coast National Parks?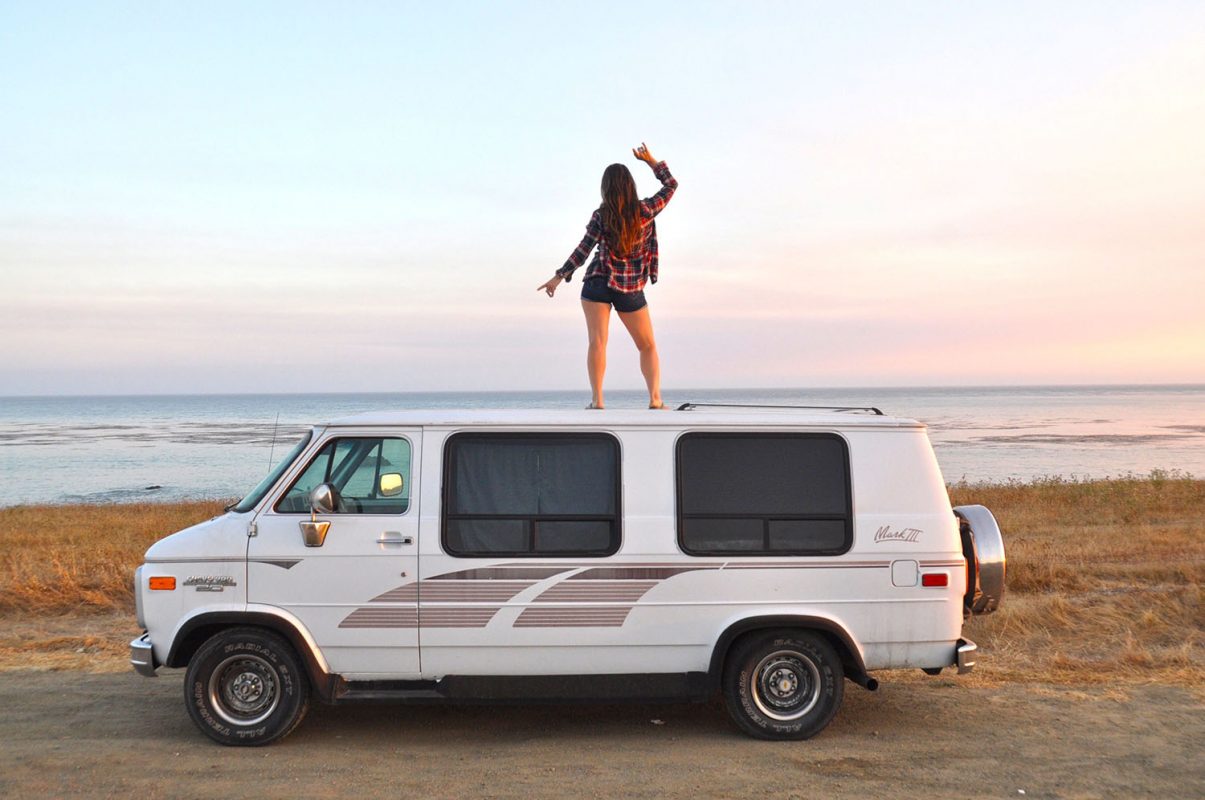 If you've been following us for a while now, you know we're obsessed with #vanlife. However, if you don't have the time (or interest!) in building your own conversion but you still want to give vanlife a test drive, we've got options for you…
Check out our list of top companies for USA Campervan Rentals, from budget to bougie, we've even included some exclusive discounts for our readers.
One company we'd recommend looking into is Escape Campervans. They have 12 different locations across North America (including Seattle) and come fully loaded with all the gear you need for an epic road trip. Plus, their rates are fair and affordable.
BONUS: We've partnered with them to give you a 10% off discount when you use our link!
America the Beautiful Annual Park Pass

If you're planning to visit more than one of the west coast national parks on this list, we'd highly encourage you to look into getting an annual park pass. Most national parks throughout the U.S. have steep entrance fees of $30+ per vehicle.
For just $80 per year, you can purchase the America the Beautiful park pass. This pass grants you free access to all of the national parks. Plus it also covers your entrance to over 2,000 natural, historical, and recreational sites across the United States.
If you still need convincing, check out our article: America the Beautiful Annual Park Pass: Is it Worthwhile?

Washington
We'll start our list of the best national parks on the west coast with Washington state, the northernmost west coast state in the continental U.S. There are 3 national parks in Washington, each with their own unique draws.
Olympic National Park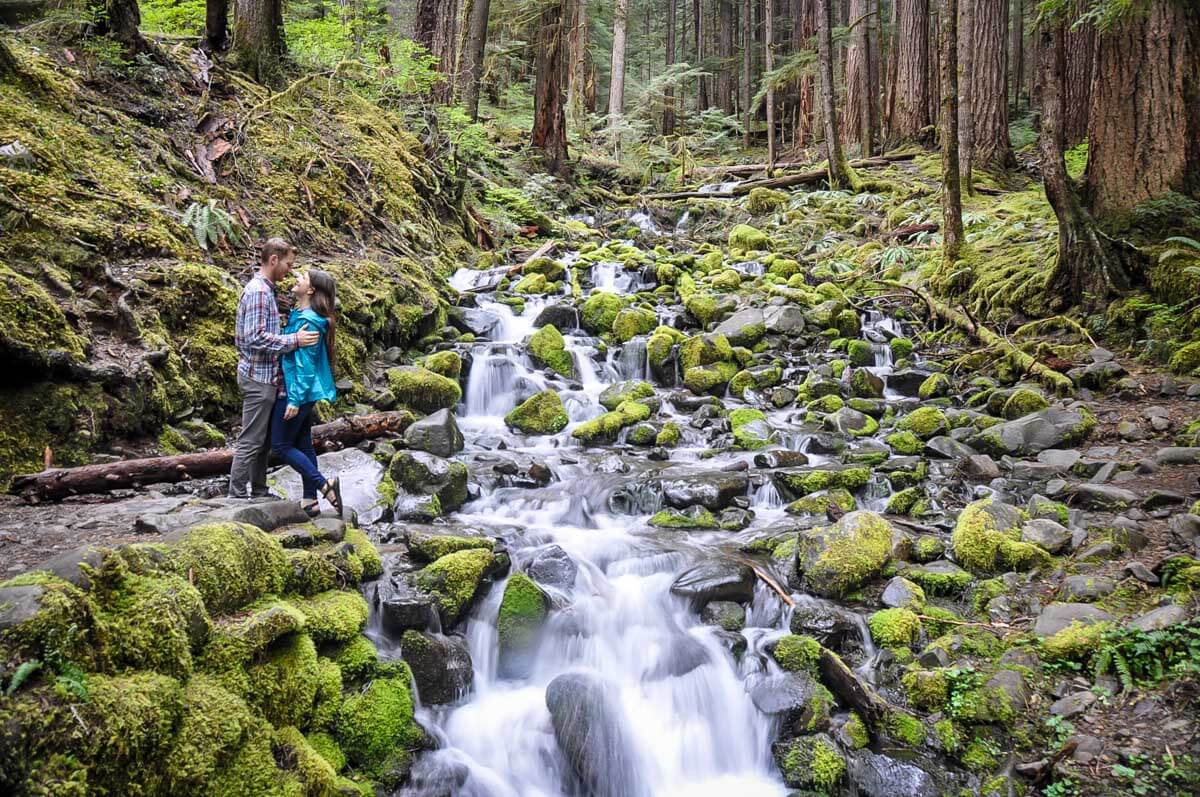 Location: Olympic Peninsula in the northwest, 110 miles from Seattle
Open: 24/7, year round
Entrance Fee: $30 for a private vehicle, good for 7 days
Established: March 1909
Area: 922,650 acres / 1,189.5 square miles
As one of the most diverse national parks on the west coast, Olympic National Park in Washington State is not to be missed!
The park covers nearly 1 million acres on the Olympic Peninsula in the northwestern-most corner of the United States. The diverse landscapes include old growth temperate rainforests, snow-capped peaks, glacial lakes, and 70 miles of wild coastline.
Due to its enormous size and diversity, you can easily spend a week discovering the different regions of ONP. However, if you only have a weekend, our best advice would be to prioritize one region.
Some of the highlights include hiking through thick old growth rainforests to Sol Duc Falls, a visit to Hurricane Ridge–whether to hike or just take in the view from the Visitor's Center, spending the night camping on Shi Shi Beach and tackling some of the best Olympic National Park hikes.
Your best chance for warm and dry weather will be to visit during the summer months, July and August. However, this means the park will also be at its busiest, so be prepared for crowds.
Insider Tip: For more ideas on things to do and all the information you need, check out our guide to visiting Olympic National Park.
North Cascades National Park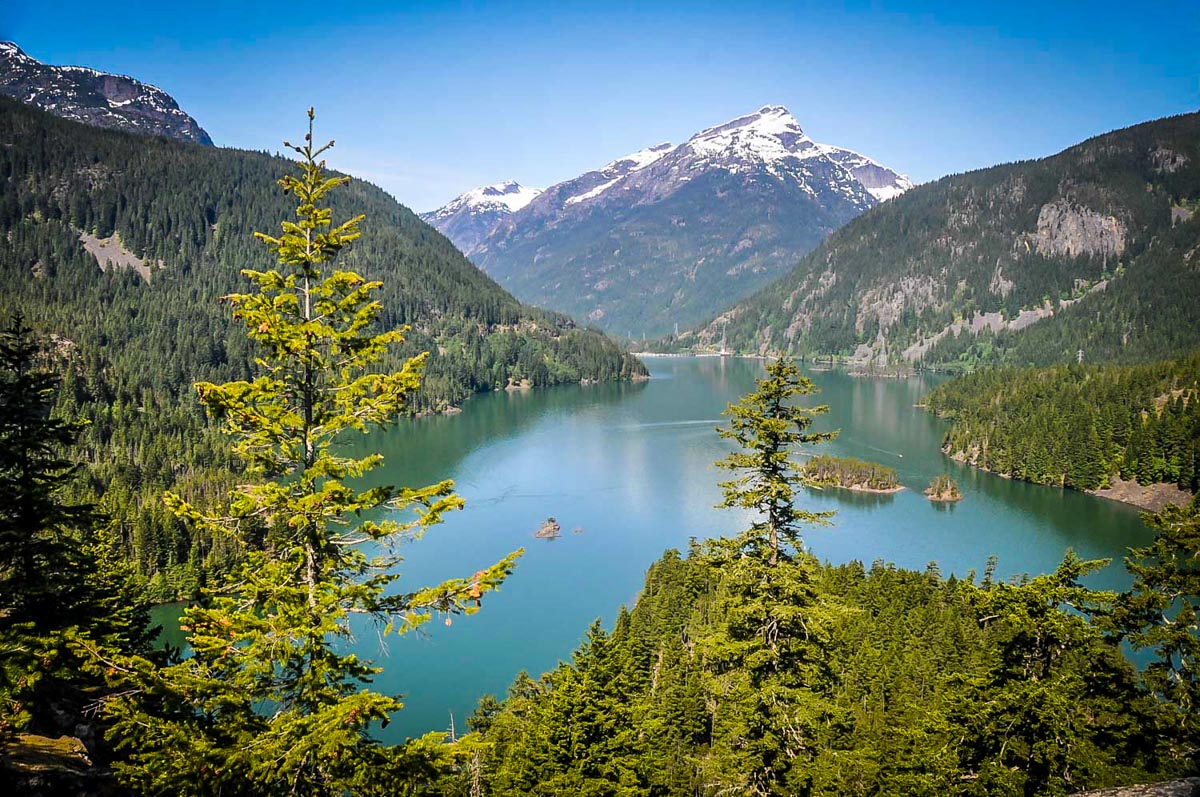 Location: North-central Washington, 110 miles north of Seattle
Open: 24/7, year round
Entrance Fee: Free
Established: October 1968
Area: 504,654 acres / 1,070 square miles
If you prefer nature without the crowds, you're in for a treat! North Cascades National Park is one of the least visited national parks in the U.S.
Nicknamed "America's Alps", you'll see the jagged snow-capped peaks of the Cascade Mountain Range, among the largest collection of flora biodiversity out of all the U.S. National Parks. North Cascades also boasts the most glaciers of any national park outside of Alaska.
Don't miss the Maple Pass Loop, one of the most beautiful trails in the Cascades, driving the 127-mile North Cascades Scenic Byway and witnessing the towering granite peaks from the Washington Pass Overlook.
In the North Cascades the snow melt comes later in the year than with typical mountain ranges. For this reason, the best time to visit is later in the summer—August and September—to ensure the roads are open and trails are snow-free.
Mount Rainier National Park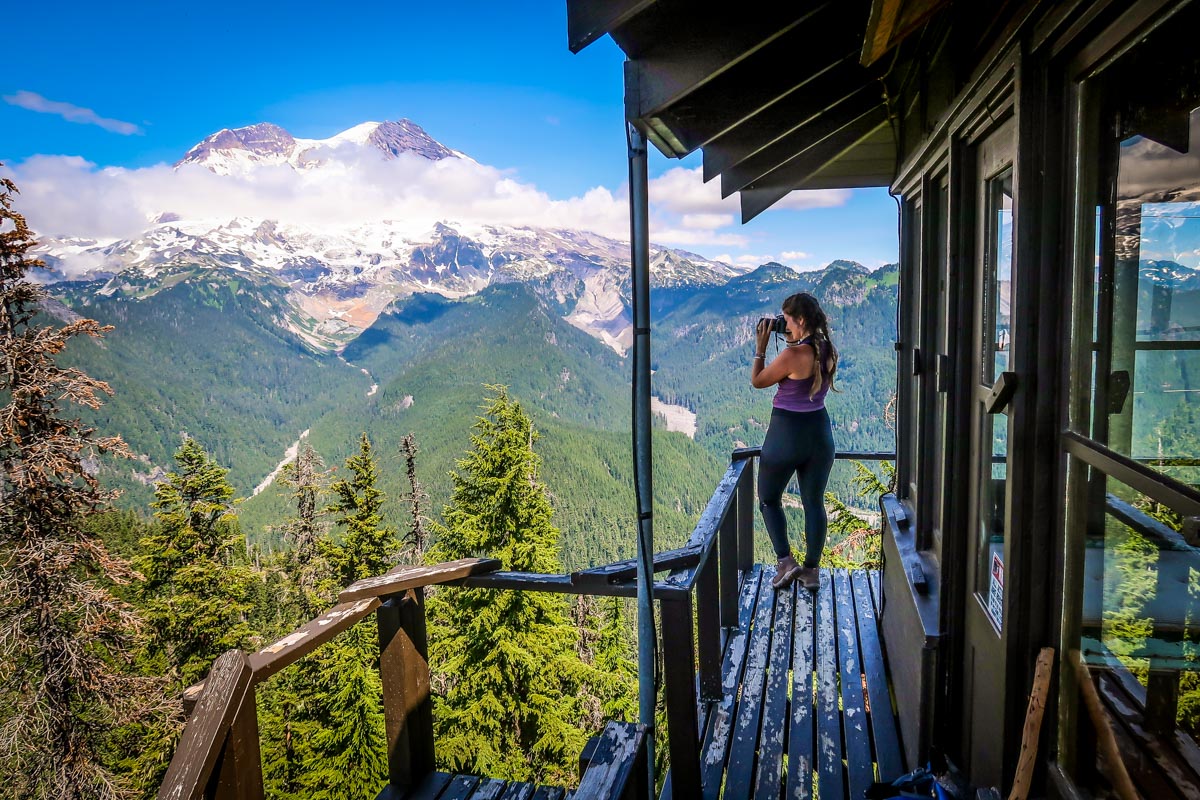 Location: Central Washington, 90 miles southeast of Seattle
Open: 24/7, year round
Entrance Fee: $30 for a private vehicle, good for 7 days
Established: March 1899
Area: 236,381 acres / 369.3 square miles
Standing at 14,410 feet, Mount Rainier is the highest volcanic peak in the lower 48 and can be seen all the way from Seattle on a clear day. However, the best way to experience its grandeur is to get up close and personal.
Mount Rainier National Park is the most visited of the national parks in Washington state and made up of 97% wilderness. Travelers, hikers, climbers, ecologists, scientists, and mountain climbers flock to this beautiful place to experience alpine and subalpine wilderness.
Experience the lush green flora and fauna, glacier views, waterfalls, rivers, and one of the best views of Mount Rainier on the Skyline Trail, one of the most popular hikes at Mount Rainier. Other highlights include the Mount Fremont Lookout hike, Tolmie Peak Trail, and Sunrise point, which is the highest point you can reach inside the park by car and has great trails for snowshoeing in wintertime.
July through October are typically the best months to visit Mount Rainier because the weather is so favorable and the trails are snow-free. If you're lucky, you can time your visit during the spring to coincide with the blooming of the wildflowers.
Psst! The National Parks feature just a fraction of what this beautiful state has to offer. Check out our guide to the best things to do in Washington state for more inspiration!

Oregon
For a state with so much epic nature to discover, it may come as a surprise that Oregon has only one national park. Despite its solitary status, we think it's one of the more underrated National Parks in the United States.
Crater Lake National Park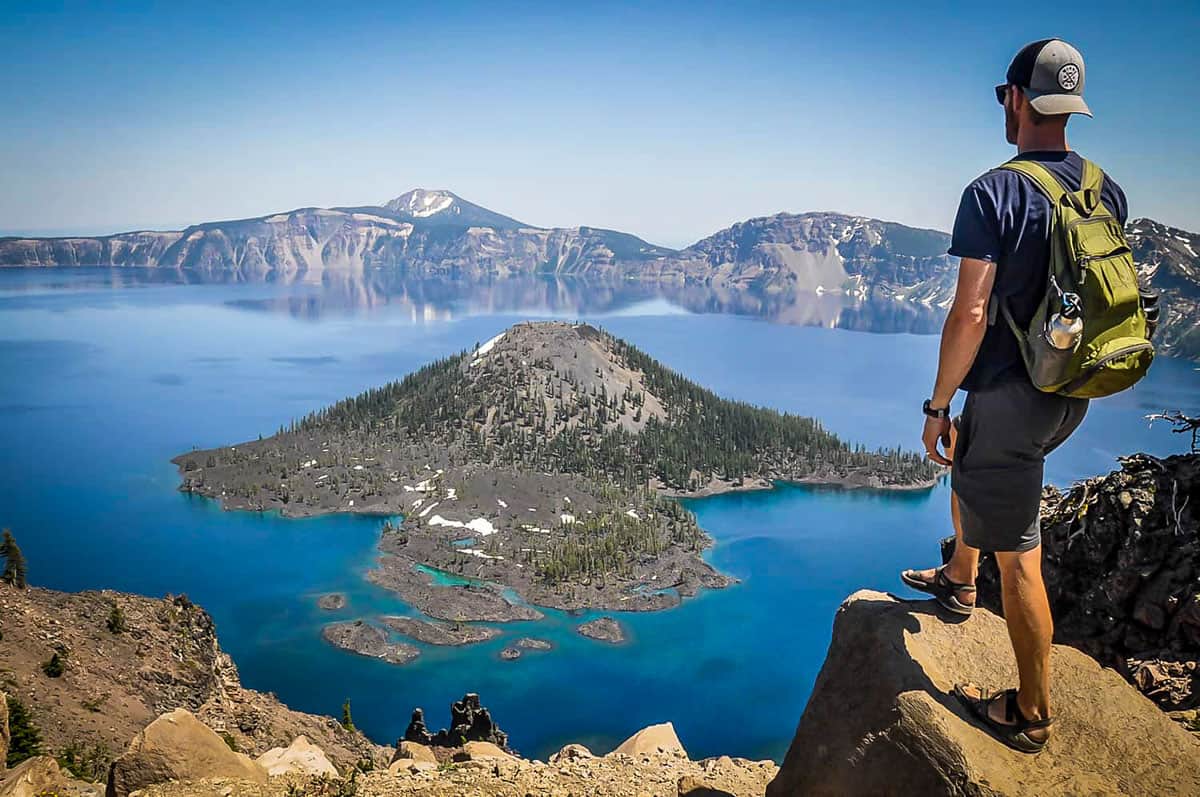 Location: South central Oregon, 250 miles south of Portland
Open: 24/7, year round
Entrance Fee: $30/vehicle in the summer (May 22-October 31), $20/vehicle in the winter (November 1-May 21)
Established: May 1902
Area: 183,224 acres / 286.28 sq. miles
Characterized by a deep blue circular lake resting inside the crater of a sleeping volcano, Crater Lake National Park is certainly a sight to behold.
Crater Lake is actually the deepest lake in America, and the 9th deepest lake in the world! Coming in at 1,943 feet, the depth is responsible for the deep blue hue of the lake. And since sediments and mineral deposits don't enter the lake, it is also one of the purest and clearest lakes in the world.
One of the best things to do is to hit the trails in Crater Lake, giving yourself access to the lake and various viewpoints around the crater. The Watchman Peak Trail is a must as one of the most popular hikes in Oregon.
The Crater Lake Scenic Rim Drive is a 33-mile loop around the crater where you can stop at viewpoints (Watchman's Overlook is our favorite) for some incredible views. On a hot summer's day, take the Cleetwood Cove Trail, the only hike with direct access to the lake where you can jump into the water!
Visiting the national park is best from July through October, when the park's roads, trails and facilities are usually fully open.
Insider Tip: If possible, get here early as the crowds can be crazy and it will be hard to find a parking spot during peak season.

California
As one of the largest states in the continental U.S. it's no surprise that California has some of the best national parks on the west coast. In fact, there are 9 in total, and all worth a visit, while some tend to outshine others.
Yosemite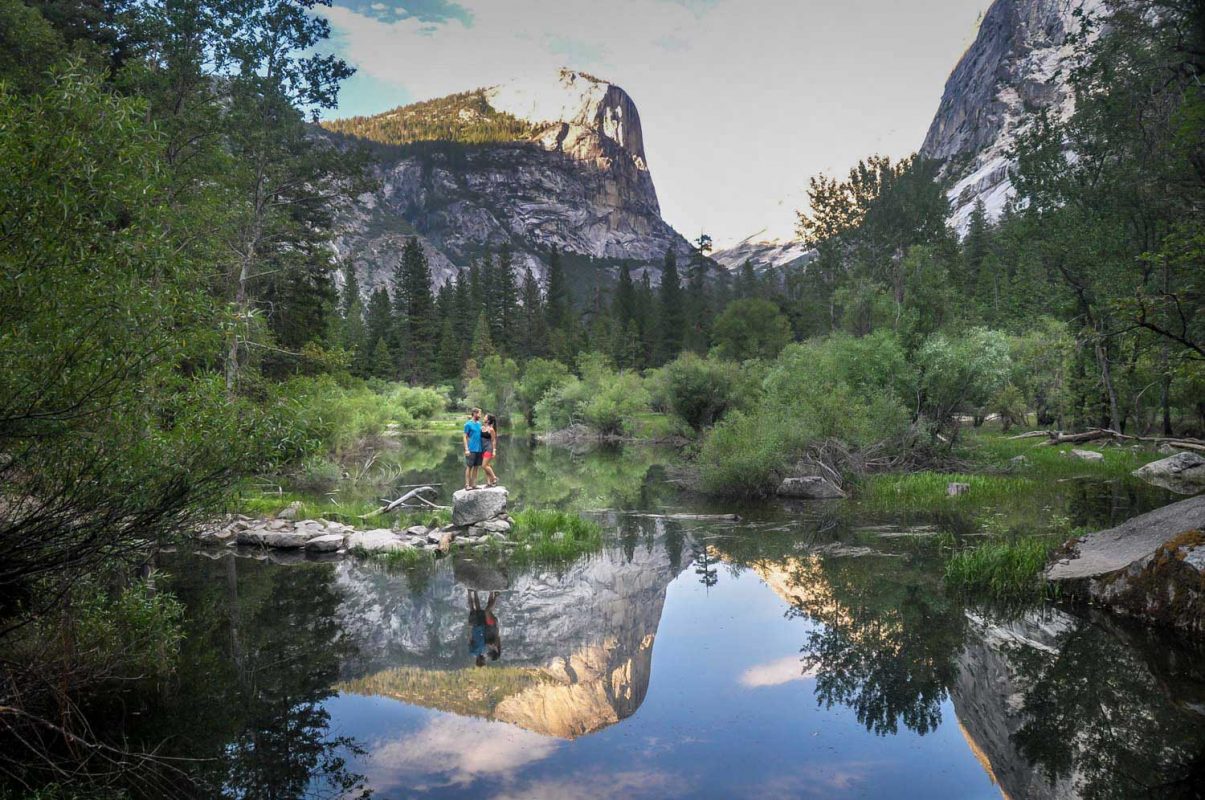 Location: Eastern Central California, 170 miles straight east from San Francisco
Open: 24/7, year round
Entrance Fee: $35/vehicle
Established: October 1890
Area: 747,956 acres / 1,168.68 sq. miles
Located in California's Sierra Nevadas, Yosemite National Park is probably one of the most recognized national parks on the west coast for its iconic "Half Dome" granite cliffs seen on Macbook home screens everywhere.
With tumbling waterfalls, granite rock formations reaching staggering heights and winding rivers cutting through lush valleys, the park is one of the most stunning places in the United States.
Visiting Yosemite is beautiful in all seasons, though the park is most popular during the months of May through October when the weather is pleasant and the trails are all open. That said, there are some unique draws to visiting during the off-season.
For a couple of weeks in February, when conditions are just right, Horsetail Falls lights up in an orange glow, known as 'the Firefall phenomenon.' This bizarre occurrence is so popular (especially with photographers), restrictions have been put in place for the number of visitors.
Other highlights of the park include hiking to the famous Half Dome viewpoint and other popular Yosemite trails. Driving the scenic Yosemite Valley Loop will take you past many of the iconic sights such as El Capital, Half Dome, Bridalveil Falls and Yosemite Falls.
Joshua Tree National Park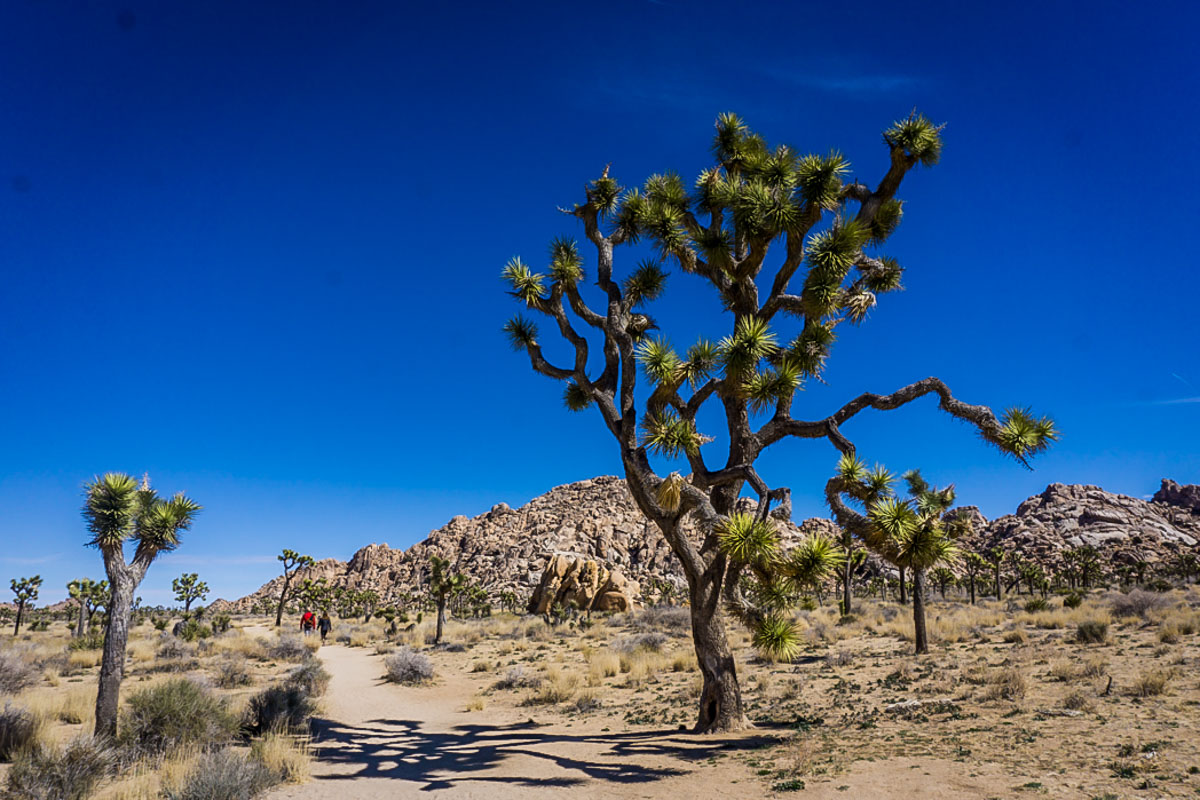 Location: Southern California, 2 hours east of Los Angeles
Open: year round, 24 hours a day
Entrance Fee: $30/vehicle, valid for 7 consecutive days
Established: 1994
Area: 795,156 acres (1,242 sq mi)
Located in Southern California, the iconic Joshua Tree National Park is unique because it includes both the Mojave and Sonoran deserts.
As you might expect, the desert gets hot in the summer, so the best times to visit are the fall and spring months. Winter can be nice too but be prepared for near-freezing temperatures.
There are tons of things to do in Joshua Tree, but the main attraction is the natural landscape and the park's signature Joshua trees. Technically, they aren't even trees – they are part of the yucca plant family.
The trees are very photogenic and there are tons of places to pull over and take gorgeous landscape photos.
Joshua Tree National Park is also known for its unique sculpted rock formations, made famous in old Western Films. Don't miss Arch Rock near White Tank Campground and Skull Rock near Jumbo Campground.
You can also watch rock climbers scaling the cliffs around the park, especially at Quail Springs picnic area or at Intersection Rock near Hidden Valley Campground.
Insider Tip: To avoid the crowds, be sure to get out in the park's backcountry on a hike. For an easy walk, try the Barker Dam Trail. If you are an experienced hiker, head to Willow Hole, an oasis in the middle of a maze of rock formations.
Recommended by: Taryn from Happiest Outdoors
Death Valley National Park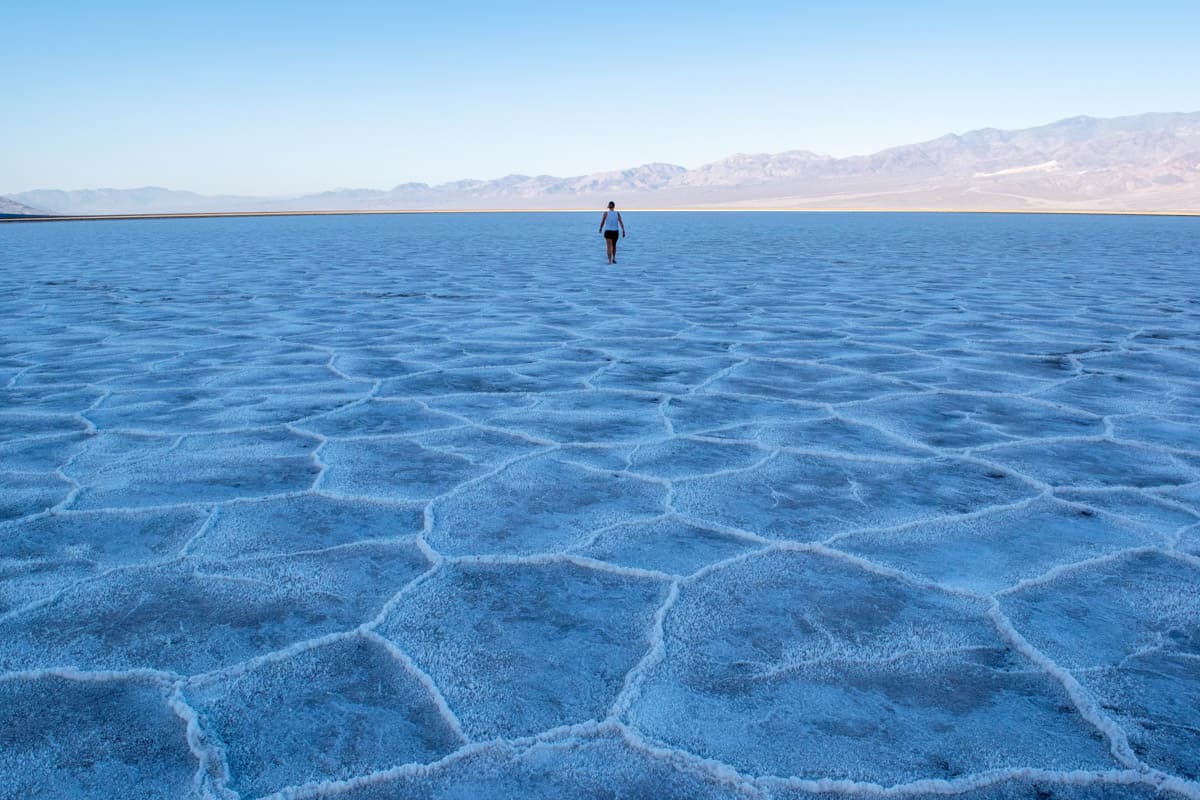 Location: Central eastern California, just across the border from Las Vegas
Open: The park is open daily all year.
Entrance Fee: $30 per vehicle, $25 per motorcycle, $15 on foot
Established: 1933
Area: 3.4 Million acres / 5,270 square miles
Not only is it the largest National Park in the continental USA (only beaten by Alaska), Death Valley is home to the hottest, driest, lowest point in the United States. This means the best time to visit is from October to April, as temperatures reach over 100 degrees during the summer months.
At the onset, Death Valley may seem like just another desert stop on your Highway 395 California road trip, but hidden gems within the park range from gorgeous salt flats to colorful mountain tops, golden sand dunes to waterfall oases. With nearly 1,000 miles of paved and dirt roads, you may want to stay at least two days to see the highlights of Death Valley's unique desert landscapes.
On day one, visit Badwater Basin, the lowest point in America, detouring for a few points of interest along the way. Then on the drive back, fork onto the one-way Artist's drive before seeing the sunset at Zabriskie Point.
Another can't-miss highlight in Death Valley is climbing the tallest dune in the golden hues of sunset at Mesquite Flat Sand Dunes. Other points of interest involve long drives to the park's remoter corners, with Dante's View being the most accessible.
The park provides many options for camping as well. The Furnace Creek area in particular is in a great central location.
Insider Tip: Fill up on gas before getting into Death Valley National Park. There are service stops at both Stovepipe Wells and Furnace Creek, but their gas prices are some of the highest in the country.
Recommended by: Catherine from Nomadicated
Redwoods National Park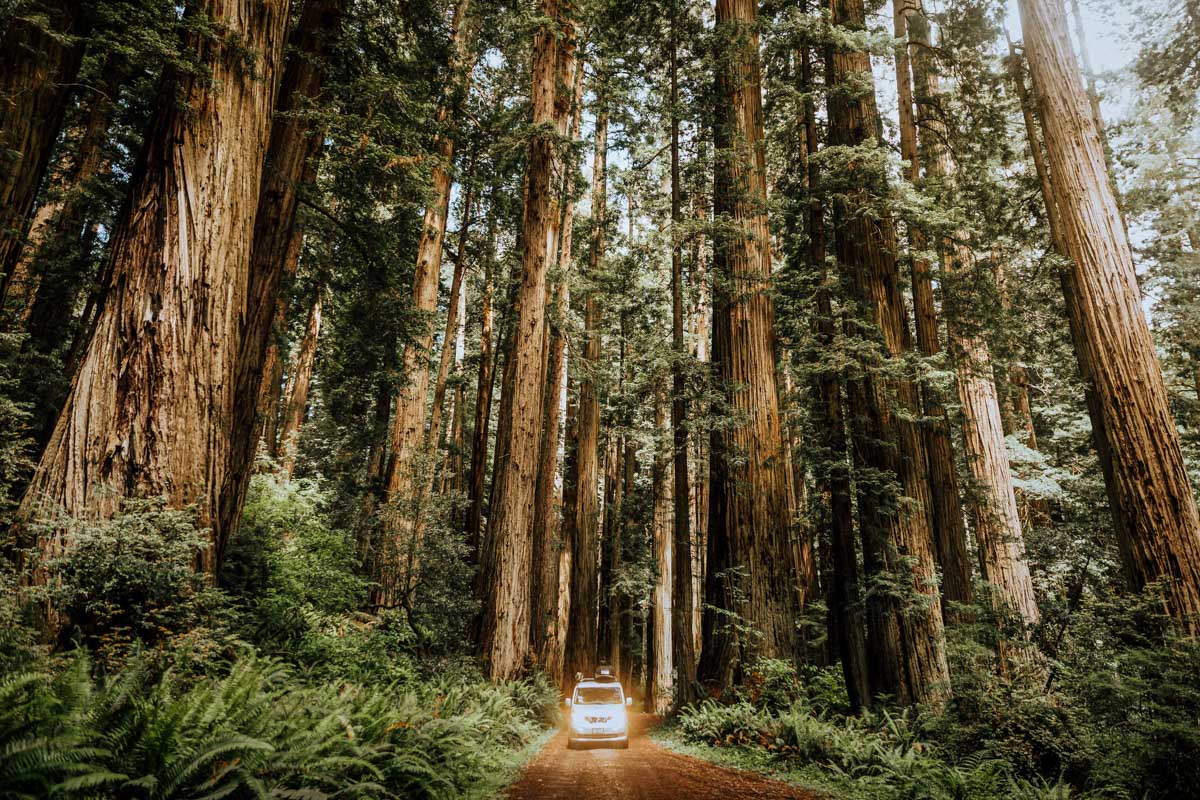 Location: Northern California coast, nearly 6 hours north of San Francisco
Open: Year-round, location opening times vary
Entrance Fee: Free! (however, Redwood STATE Parks require entry fees)
Established: 1968
Area: 131,983 or 172 square miles
If you're looking for iconic west coast national parks to visit, make Redwood National Park in Northern California a priority!
The park is open year-round, but you will find most crowds visit in the summer season. In the shoulder season (fall and spring), you'll encounter fewer crowds and have a lot of the popular hikes and drives to yourself!
Some of the best things to do in Redwoods National Park are hiking and taking scenic drives. The famous Avenue of Giants can be easily experienced from the car, with famous markers to check out along the way.
Take a walk among the giant redwood trees at Tall Tree Grove (permit needed) or Boy Scout Tree Trail.
If you are craving the ocean, head over to Endert's Beach to watch the sunset in front of the crashing waves. Depending on the rainfall of the year, some places like Gold Bluffs Beach and Fern Canyon will be accessible in the hottest months, August and September.
Insider tip: If you want to stay close to the park, the closest accommodations are campgrounds, but you need to book them ASAP!
Sue-Meg State Park is close to amenities like gas and grocery stores. Jedediah Redwoods State Park and Mill Creek Campground are located on the northern side of the park, with access to lots of hiking trails and beaches for a memorable stay.
Recommended by: Emily from The Mandagies
Sequoia & Kings Canyon National Parks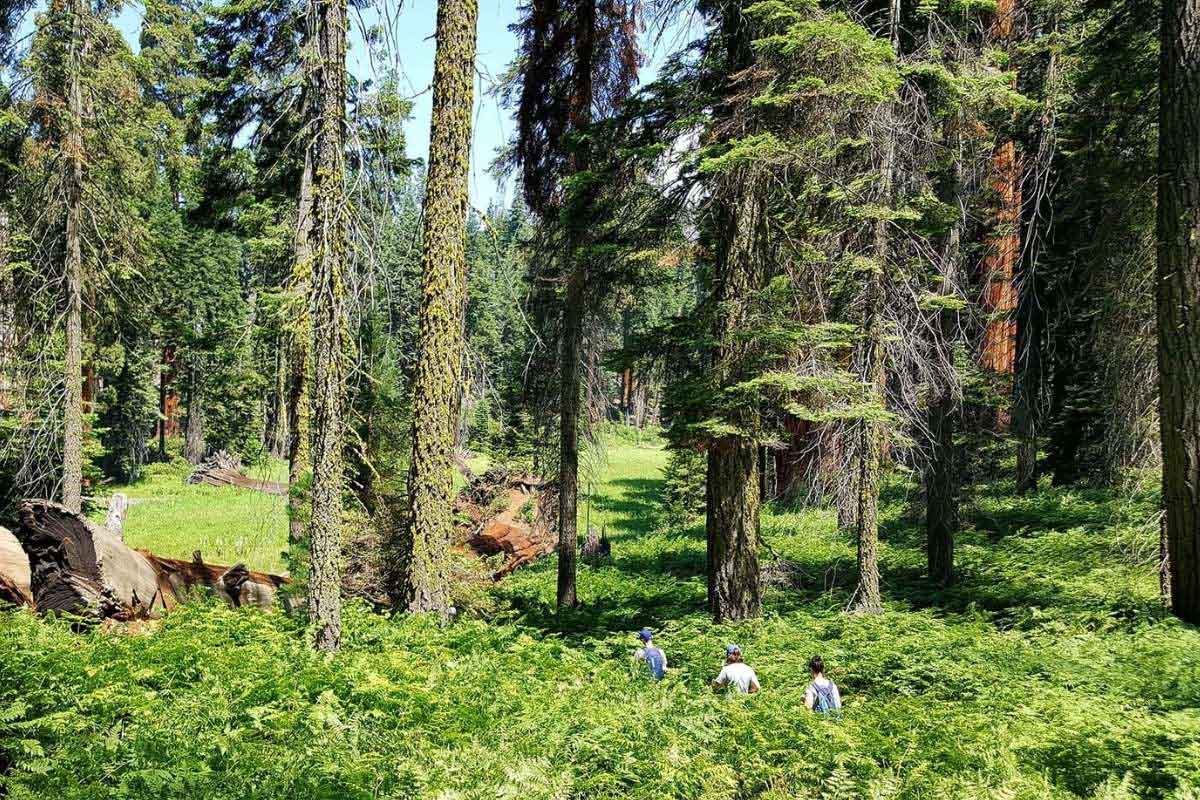 Location: Adjacent parks in Central California, 1.5 hours east of Fresno
Open: 24 hours a day all year round, though some attractions, such as visitor's centers, have select hours
Entrance Fee: $35.00 per vehicle cover entrance to both parks for up to 7 consecutive days
Established: Sequoia National Park was established in 1890 and Kings Canyon National Park was established five decades later in 1940.
Area: Combined total area of 865,964 acres / 1,353 square miles
Sequoia and Kings Canyon are adjacent national parks jointly managed by the National Park Service. Because of their proximity to one another, most visitors opt to visit both in a single trip.
In fact, if it wasn't for signage indicating otherwise, it would be almost impossible to know you were leaving one park and entering another.
With a total of 866 miles of hiking trails, Sequoia and Kings Canyon are a haven for active travelers and adventure lovers. Whether you're seeking an easy, scenic hike among the massive giant sequoias or a multi-day hike in the backcountry, there's no shortage of options to choose from.
Other popular highlights include the General Sherman Tree, General Grant Tree, Giant Forest Museum, Crystal Cave, Moro Rock, and Tunnel Log.
To get the most out of a visit, it's best to spend a minimum of three days exploring these parks. If you wish to do some long hikes, add on a few days. Lodging in Sequoia is plentiful with many campgrounds, lodges and cabins available.
Recommended by: Jenna of Up and Away Magazine
Channel Islands National Park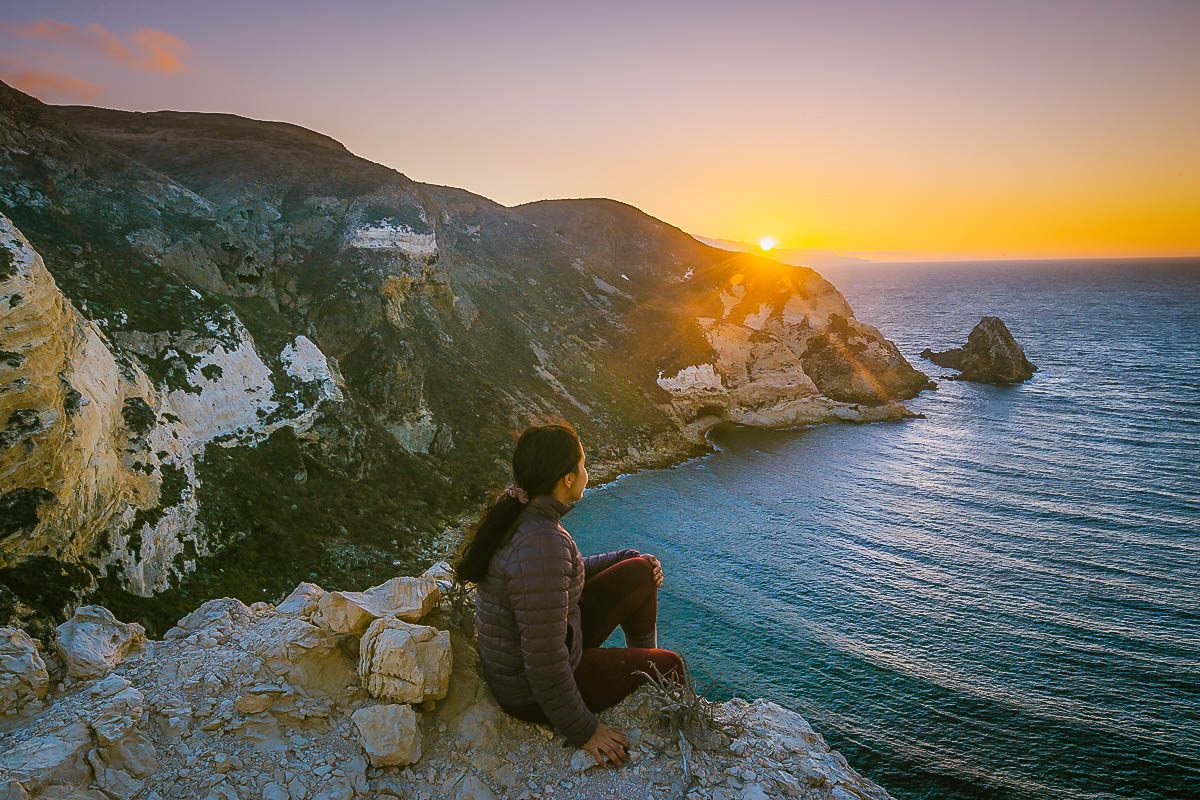 Location: Just off the California coast near Los Angeles
Open: The park is open all year. The visitor centers in Ventura and Santa Barbara are closed on Thanksgiving and Christmas.
Entrance Fee: No entrance fee
Established: March 5, 1980
Area: 390 sq miles
If you want to escape the California crowds, then Channel Islands National Park is a must-visit. This park is made up of 5 islands near Ventura, California, about an hour and a half northwest of Los Angeles. Even with its proximity to LA, the park receives few crowds due to the difficulty and logistics of getting there.
Island Packers Cruises is one of the best options for getting to the Channel Islands. The round trip transfer costs $63 for adults and will take you from 1-1.5 hours depending on your destination. You will most likely see lots of fantastic sea creatures on your way, including dolphins, which love to swim next to the boats heading to the Channel Islands.
It's best to visit this highly underrated national park from spring to fall, avoiding the lower temperatures in the wintertime.
The most popular island people like to visit is Santa Cruz Island. There are many fun activities on this island including hiking to Potato Harbor, snorkeling, and sea cave kayaking.
To get the full experience with fewer tourists, you can even camp overnight on some of the islands. This is the only way to stay overnight in the park because there are no hotels and you will have the sunset hikes all to yourself.
Recommended by: Michelle from The Wandering Queen
Lassen Volcanic National Park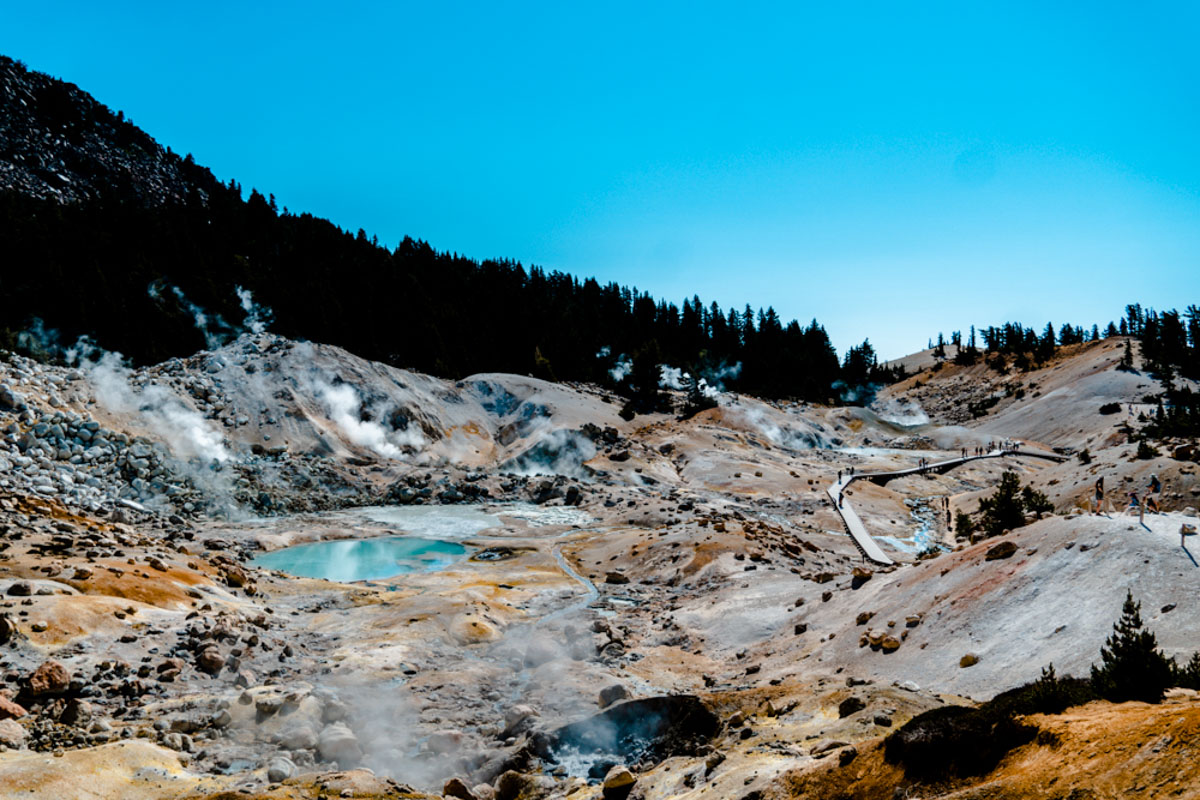 Location: Northeastern California; 160 miles north of Sacramento
Open: year round, 24 hours a day
Entrance Fee: $30/car in summer, $10/car in winter
Established: August 9, 1916
Area: 106,452 acres
Set among picturesque fields of wildflowers and mountainous landscape with the contrast of lava fields and bubbling mud pots, Lassen National Park is one of the most overlooked National Parks in California.
It may be one of the lesser visited parks (which just means fewer crowds!), but it has a ton of unique stops to offer.
The most famous area of Lassen is Bumpass Hell. This 2.6-mile trail takes visitors to the hydrothermal features of the park. It descends 300 feet into a volcanic basin where you can follow a boardwalk along the edges to view the various features.
Outside of Bumpass Hell, make sure to stop at Sulphur Works to see some boiling pots. King's Falls is another great hike that takes you to an impressive waterfall. Hang around Summit Lake or Manzanita Lake where you can swim, SUP, kayak, or grab an inflatable.
Another popular trail is the Cinder Cone trail which takes you to look at one of the volcanoes.
Its peak season is the summertime as the weather in winter is not conducive to hiking. In fact, a lot of the park shuts down for the winter. So keep this in mind when planning your visit.
Inside the park, you can opt to stay at the Drakesbad Guest Ranch ($220/night and up) or the Manzanita Lake Cabins ($76/night and up). There are also 7 different campgrounds throughout the park you can stay in.
Another option is to opt to stay in Redding, which is about an hour away from the park.
Make sure to get to the park earlier in the day as the popular parking lots do fill up and there is no park shuttle. You can see many of the main sites in just one day, however you'll want to spend two days here if you really want to immerse yourself in the experience and not rush.
Recommended by: Francesca from Homeroom Travel
Pinnacles National Park
Location: Central California, 145 miles west of Fresno
Open: Daily, 7:30 a.m. to 8:00 p.m.
Entrance Fee: $30.00 per vehicle
Established: January 2013
Area: 26,606 acres / 41.57 sq. miles
As one of the newer national parks on the west coast, Pinnacles National Park is not as well-known as some of its California neighbors.
The park's namesake and unique landscape was created some 23 million years ago by erupting volcanoes. Today Pinnacles is full of oak woodlands, steep canyons, towering rock spires and teeming with wildlife. A great place for hiking, cave exploring, California condor viewing and rock climbing.

Montana
Known as the "Big Sky" state, Montana claims a sliver of one of the most visited national parks in the country (more on Yellowstone under the Wyoming section, next). However, it's Montana's other popular national park that has our attention as one of the best national parks in the west.
Glacier National Park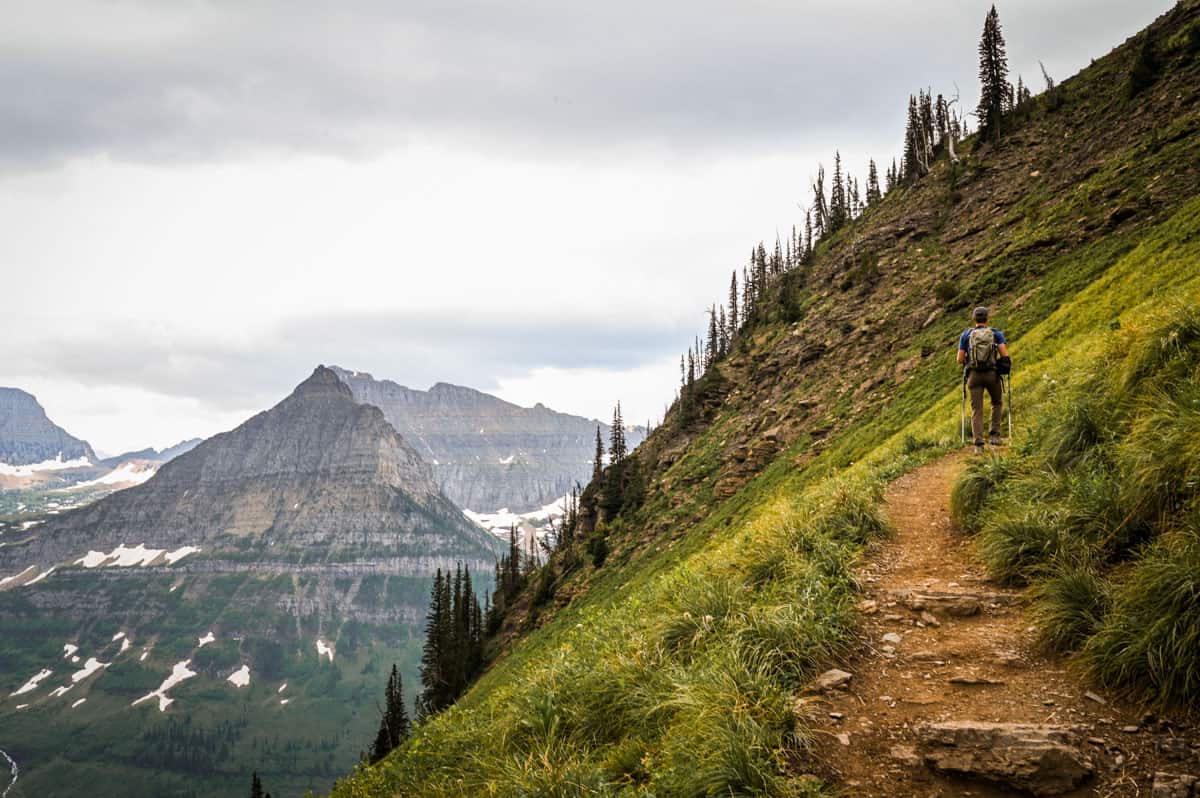 Location: Northwest Montana, 30 minutes from Whitefish and Kalispell, 2.5 hours from Missoula
Open: year round, 24 hours a day
Entrance Fee: Summer Rate: $30 May 1 – October 31; Winter Rate: $20 November 1 – April 30; Annual Pass: $50
Established: May 1910
Area: 1,013,322 acres / 1,583 square miles
Tucked away in northern Montana, Glacier National Park is a pristine forest ecosystem featuring over 130 lakes, 700 miles of hiking trails, and jaw-dropping mountain views around every corner. The park is home to an abundant population of diverse animal species, from grizzly bears and lynx to bighorn sheep and mountain goats.
As the name implies, the dramatic landscapes found in Glacier National Park were carved over thousands of years by glaciers, 25 of which still exist today. That being said, some scientists have suggested that the park could be glacier-free by as early as 2030, so don't hesitate to plan your trip!
One of the most popular activities in Glacier National Park is driving the scenic Going-to-the-Sun Road, which bisects the park from east to west (or vice versa) winding through the mountains and prairies and reaching an elevation of 6,646 feet at Logan Pass.
Our favorite day hike in the park is the (in)famous Highline Trail. Starting at Logan Pass, the trail begins along a narrow ledge above Going-to-the-Sun Road, a fear-inducing experience for anyone afraid of heights! But if you can make it past the first half mile or so, you're in for a treat, with sweeping views of lush green valleys and granite peaks visible the entire hike.
Peak season for Glacier is relatively short, lasting from late June/early July through late September/early October. The park sees many visitors during this short time frame, so expect popular trailheads to be busy and campgrounds to fill up early. The NPS has taken additional measures to help manage the large crowds, such as creating a ticketed entry system for Going-to-the-Sun Road (be sure to get your tickets in advance!).
You can find out everything you need to know about getting your tickets in advance and all the other must-dos in our guide to visiting Glacier National Park.
If you're making the trip all the way up to Glacier we'd recommend spending at least 3 full days at the park but you could easily spend a week without getting bored!
Insider Tip: Plan your trip early! Make sure you are ready to get your Going-to-the-Sun Road tickets as soon as they are released and be prepared to book campgrounds months in advance.
If you'd like to escape the crowds, try a backpacking trip! There are tons of great backcountry campsites throughout Glacier and few people are willing to put in the effort to reach them. There is nothing like spending a night under the stars deep in the Glacier backcountry!
Recommended by: Sarah & Matthew from Two Outliers

Wyoming
Wyoming is a state that often gets overlooked when it gets stacked up against its more popular neighbors. However, as it's home to not only the oldest national park, but two of the most famous national parks in the country, we think this state deserves a spot on your radar.
Yellowstone National Park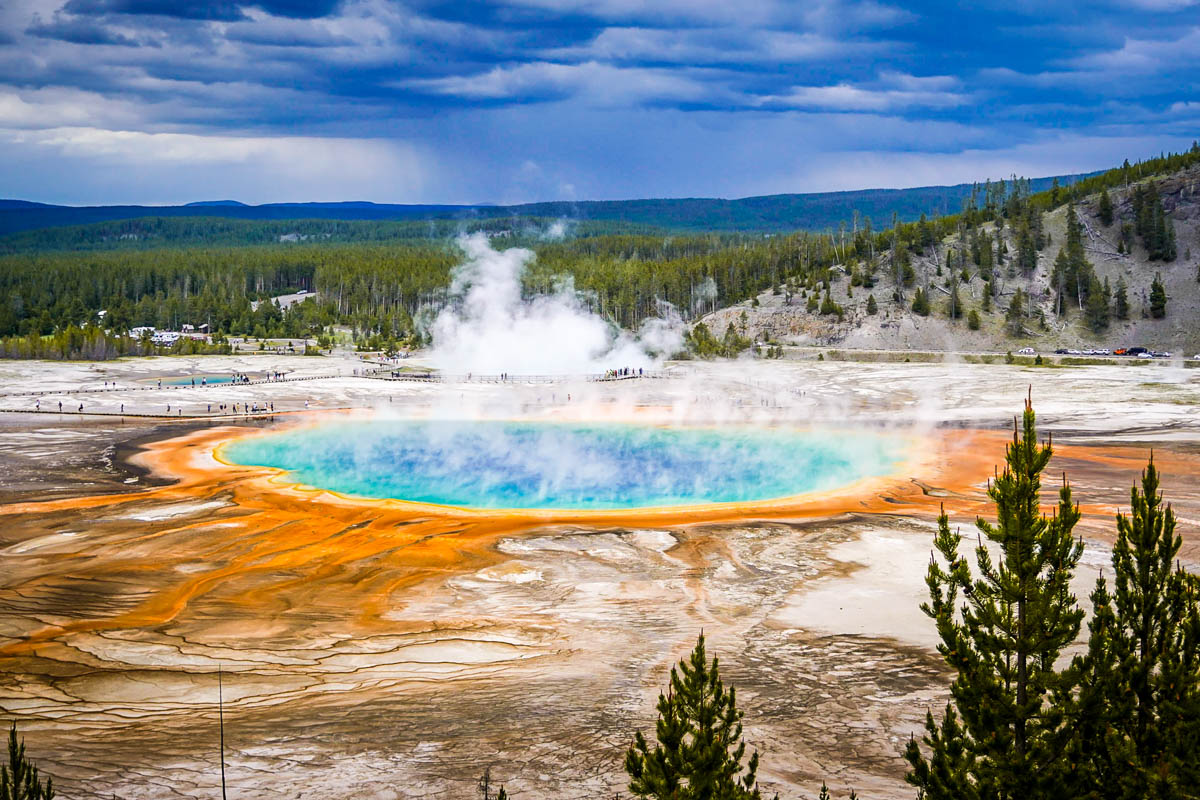 Location: The park spans over 3 states: Wyoming, Montana & Idaho, but the majority is in northwestern Wyoming
Open: 24 hours/year round, but many roads and services are closed from November through most of April, due to heavy snowfall
Entrance Fee: $35/ vehicle
Established: 1872 (the first national park in the world!)
Area: 2,221,766 acres // 3,471 square miles
Yellowstone, with its otherworldly geothermal features and abundant wildlife, feels like a different planet.
Beyond the incredible landscape, it's also an awesome park for beginners. Most of the can't-miss "hikes," including the iconic Old Faithful and Mammoth Hot Springs, are less than a mile or two along wooden boardwalks.
On the other end of the spectrum, Yellowstone has absolutely incredible untamed wilderness, with amazing (and lengthy!) backpacking adventures. The 32-mile Heart Lake Loop passes colorful hot springs, lakes, and soaring mountains, and the 68-mile Bechler River Trail showcases several waterfalls on display.
If 68-mile backpacking adventures aren't your jam, consider visiting some of Yellowstone's most famous sights instead. For example, did you know Yellowstone has its very own 1,000-foot deep Grand Canyon? The famous Lower Falls can be seen in the Grand Canyon of the Yellowstone.
Alternatively, either the Lamar or Hayden Valleys offer views of the park's bison, elk- and even wolves.
Hint: Come during the early morning hours or at dusk for the best chance of spotting the most elusive wildlife!
And don't leave the park without viewing the Grand Prismatic Spring. Not only is it the third biggest hot spring in the world, but the thermophilic bacteria create spectacular colors in its waters, from burnt orange to vibrant blue.
Psst! Check out our guide to Yellowstone National Park for the full run down and how to see all the important sights in a single trip.
Recommended by: Jessica from Uprooted Traveler
Grand Tetons National Park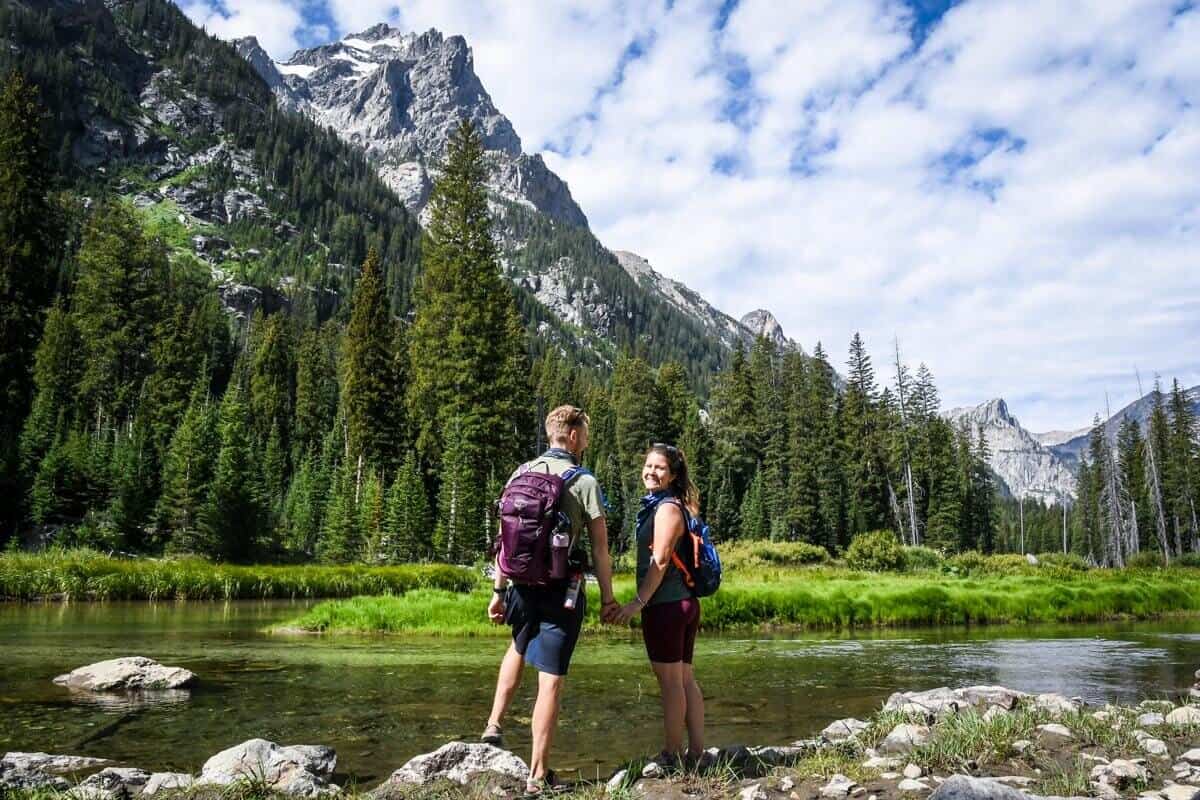 Location: Western Wyoming, 2 hours East of Idaho Falls, ID
Open: 24 hours a day, year round
Entrance Fee: $35 per vehicle
Established: February 1929
Area: approximately 310,000 acres // 485 square miles
This picturesque national park in northwestern Wyoming is made up of approximately 310,000 acres of the Teton Mountain Range and surrounding wilderness. Though not quite as famous as its northern neighbor, Grand Tetons National Park is far from off the beaten path, making it pretty darn popular in its own right.
Features of the park include Grand Teton, the tallest peak in the range, and the valley known as Jackson Hole, also a popular ski resort.
Outdoor enthusiasts flock here in the summer months for hiking, camping, mountaineering, fishing and wildlife viewing and in the winter come to hit the slopes. We even put together a guide to all the best hikes in Grand Teton National Park for all ability levels to help you hit the trails.
Psst! Check out this detailed guide to help you plan your trip to Grand Teton National Park.

Utah
The small square state in the middle of the western United States is so packed with geological diversity, it is home to five separate national parks. Known as the "Mighty 5," Utah's five national parks are some of the most unique and interesting in the country and definitely worth a stop on your Utah road trip.
Zion National Park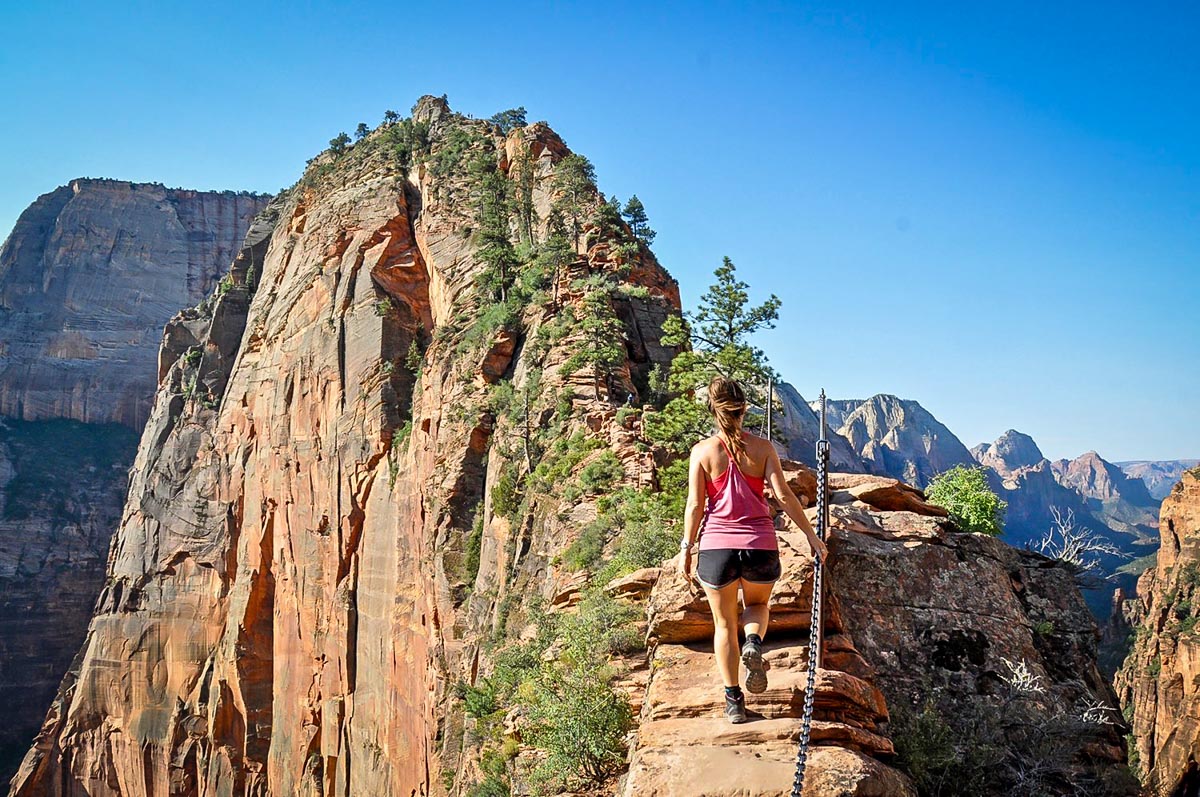 Location: the southwestern corner of the state, 2.5 hours northeast of Las Vegas
Open: 24 hours a day, year round
Entrance Fee: $35/vehicle for a 7 day pass
Established: November 1919
Area: 148,016 acres / 229 sq. miles
Easily the most visited of Utah's National Parks, Zion National Park is also one of the most popular in the country.
There is good reason for its popularity. Zion is known for its incredible pine tree dotted landscapes and red rock canyons flanking the Virgin River.
Whether you're looking to tackle some challenging hikes, or just want to cruise around chasing epic viewpoints and the occasional waterfall, Zion will leave you feeling starry-eyed.
The strenuous zig-zagging climb up Walter's Wiggles to Angel's Landing is one of the most famous hikes in the park. Known for its steep drop offs and a 360 degree view of Zion Canyon, this hike is not for the faint of heart.
Another can't-miss trek is known as The Narrows, a hike up the Virgin River that takes you through knee-deep water at times as you go deeper into the canyon. Just be prepared for a long journey. The whole thing can take up to 8 hours to traverse.
The best time to visit Zion National Park is during the spring and early summer months. You'll want to be sure to avoid visiting during monsoon season, between mid-July to September, or risk flash flooding and forgo your ability to attempt The Narrows, one of the best hikes in Zion.
Psst! If you're interested in more unique hiking opportunities, here are 10 cool Utah slot canyons you can hike.
Bryce Canyon National Park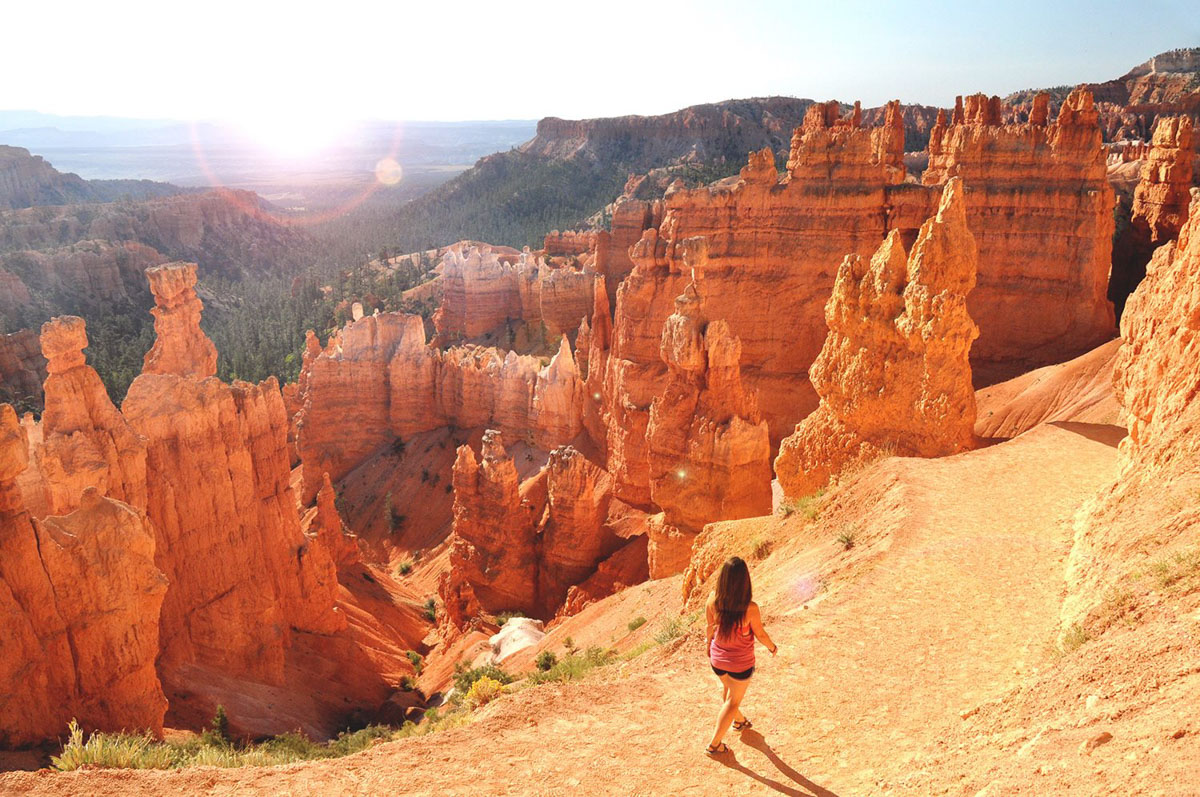 Location: Southern Utah, 4 hours south of Salt Lake City
Open: 24 hours a day, year round
Entrance Fee: $35/vehicle for a 7 day pass
Established: February 1928
Area: 35,835 acres / 56.2 sq. miles
The pillar-like rock formations at Bryce Canyon National Park are unlike anything you have ever seen before. Known as Hoodoos, these pillars were created by erosion. Bryce Canyon has the largest collection of hoodoos in the world.
The best way to experience this natural phenomenon is to get up close and hike amongst them, watching as the sun plays tricks on your eyes with constantly changing shadows.
The Queens Garden and Navajo Loop hikes are two of the best hikes in Bryce Canyon for beginners and can be combined into one longer moderate loop. Visit the iconic Bryce Canyon viewpoint during sunset to catch some of the best views.
Visiting the park during each season has its own unique draws.
Summer is a great time to visit Bryce Canyon if you want to camp, but the temps can get pretty high during the day and you should expect crowds. Spring and Fall are nice and less crowded, but be prepared for the cold weather and a chance of snow. And winter in Bryce Canyon can be magical if you are prepared for snow and cold weather.
Good to know: In the summer months, when the other parks are extremely hot, Bryce is actually quite comfortable in the mornings and evenings because of its high elevation (8,000 feet).
Arches National Park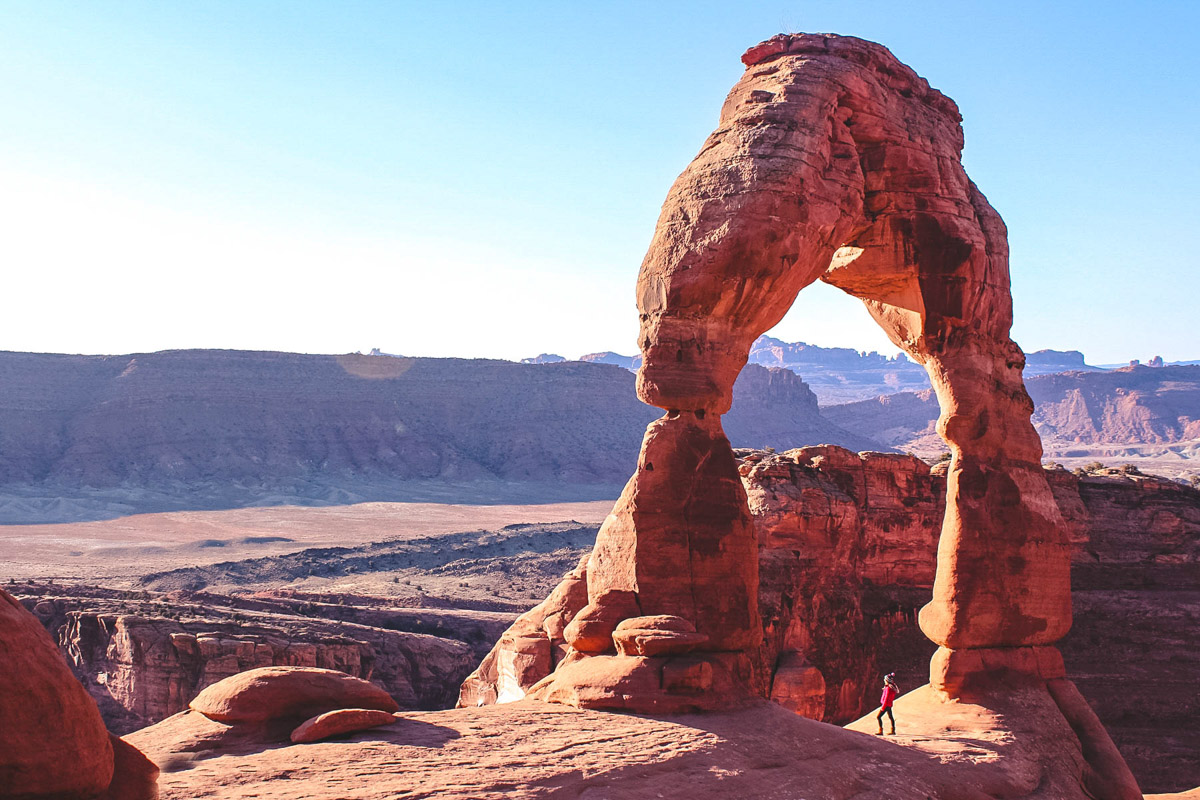 Location: Western Utah, just outside of Moab
Open: 24 hours a day, year round
Entrance Fee: $30/vehicle
Established: April 1929
Area: 76,519 acres / 119 sq. miles
Perhaps the most iconic of Utah's Mighty 5, Arches National Park is chock full of natural bridges and unique arch formations carved from millions of years of erosion in the desert sandstone.
Located just outside of Moab, Utah, this national park is popular for good reason.
Delicate Arch is arguably the most iconic sight in the park and may be recognized from the Utah license plate. There are 3 ways to view the famous arch, making it accessible to most ability levels. The Upper and Lower viewpoints are just a short walk from the parking lot, but the real magic is seen when you hike the moderately challenging 3-mile round trip hike to the base (easily one of the best hikes in Arches National Park!).
If you're really up for an adventure, visit Delicate Arch at sunset and stay well past dark when the stars come out. You won't be the only one, but after about 11 p.m. only serious photographers remain.
Other popular features of the park include the Window Section, Landscape Arch and Balanced Rock. But really, the best way to experience this park is to get out of the car and go exploring on foot to see what you can find. (Climbing is highly encouraged! – baring in mind safety of course.)
Ideal months for visiting this iconic national park would be during the shoulder season months (April/May and September/October) when the weather is expected to be more moderate than the extreme heat experienced in the summer and snowy wintertime.
A single day will give you enough time to drive the park's loop and venture to some of the more popular sights. However, if you want to do more hiking, you'll want to allow yourself more time.
Canyonlands National Park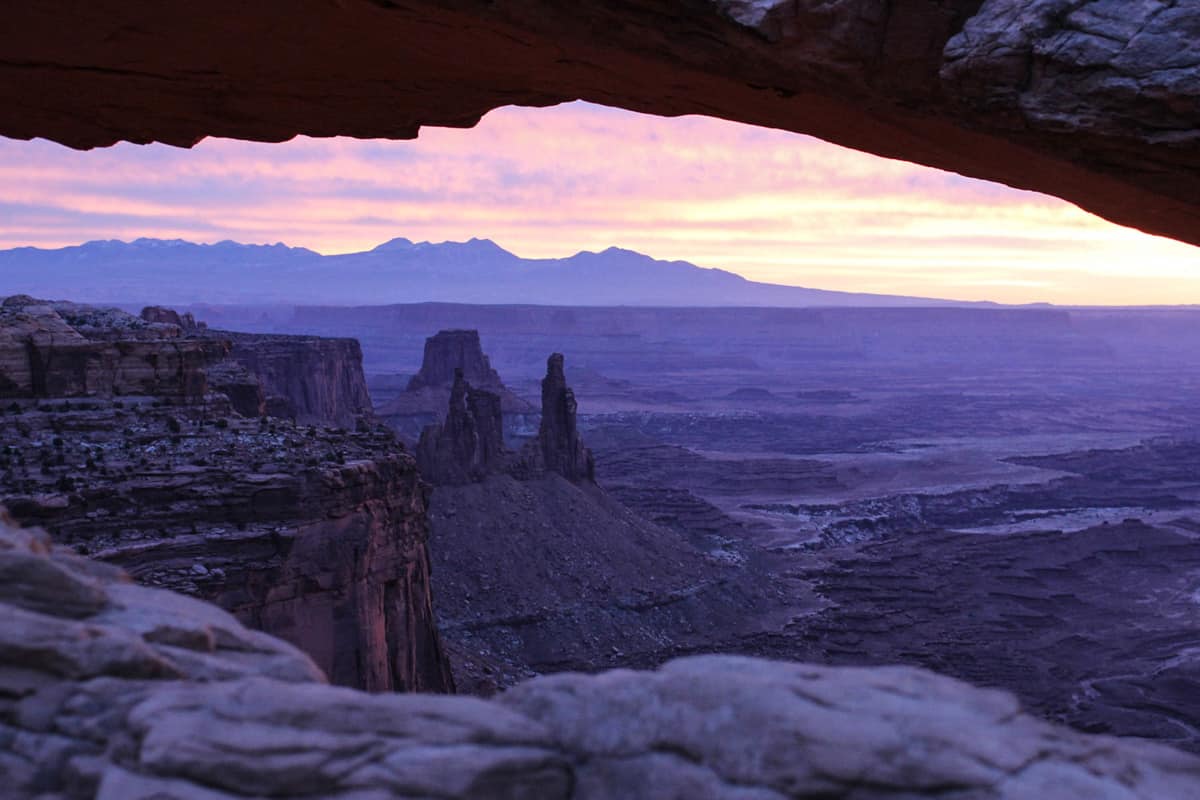 Location: Western Utah, just South of Moab
Open: 24 hours a day, year round
Entrance Fee: $30/vehicle
Established: September 1964
Area: 257,640 acres / 527.5 sq. miles
Canyonlands National Park bears surprising resemblance to the Grand Canyon, though on a much smaller scale. But it is sure to make your jaw drop.
Known for sweeping canyon views of a dramatic red rock landscape, Canyonlands is seemingly the opposite of its northern neighbor with protruding arches.
The park is easily accessible and many viewpoints can be seen from right beside the road or on a short paved hike. This allows people of all ages and abilities to take in the dramatic canyon views.
Psst! Check out our round up of the best hikes in Canyonlands for some more trekking opportunities!
Wake up early to glimpse the sunrise over the famous Mesa Arch, spend the day hiking or driving into the canyon, and be sure to catch the sunset from one of the many marked viewpoints.
If you are visiting Arches and Canyonlands, you could even do both in the same (albeit rushed) day, though we'd recommend spending a night in Moab in between.
Capitol Reef National Park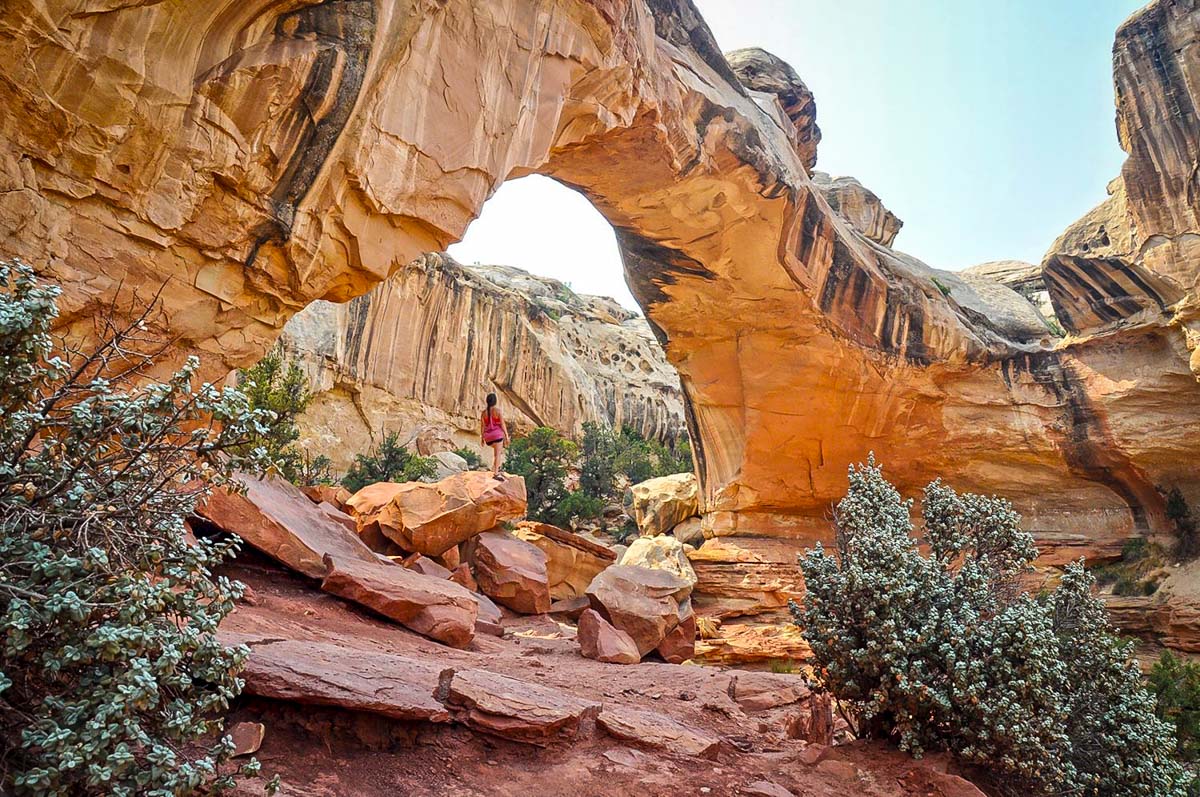 Location: Southcentral Utah, 3.5 hours south of Salt Lake City
Open: 24 hours a day, year round
Entrance Fee: $20/vehicle, $10/individual on foot or bicycle
Established: December 1971
Area: 241,904 acres / 378 sq. miles
Capitol Reef National Park feels a bit more off-the-beaten-path than the others in Utah's "Mighty 5". Being that it's not near any major cities, many visitors skip over this park during their time in Utah. But we think that's a mistake.
The landscape is out-of-this-world beautiful. Canyons, domes, cliffs and arches are all within this literal wrinkle in the earth. We think this gem of a park will surprise you!
Pick fruit from historic orchards or drive through a narrow gorge and see ancient petroglyphs and other-worldly landscapes. Don't skip the Scenic Drive, a stunning 8-mile drive with views of giant rock walls and gorges.
Psst! Check out our round up of the best hikes in Capitol Reef for some more trekking opportunities!
Capitol Reef is a great place to visit all year round. And with fewer crowds than most national parks, you'll feel like you have the whole place to yourself.

Colorado
Colorado's four national parks have something for everyone—from wildlife spotting to scenic drives, accessible hikes of varying length and even remnants of an ancient civilization.
Rocky Mountain National Park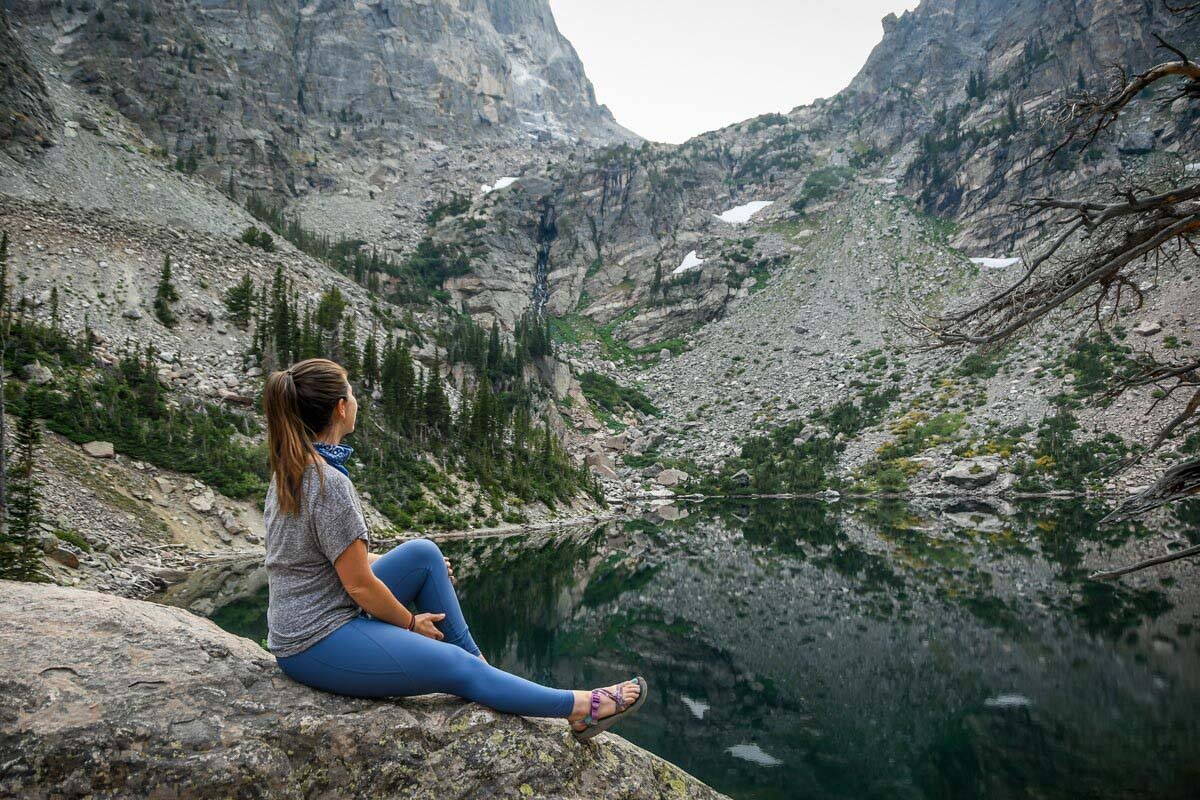 Location: Northcentral Colorado, 1.5 hours northwest of Denver
Open: 24 hours a day, year round
Entrance Fee: $30/vehicle for a day pass, or $35 dollars for a 7-day pass
Established: January 1915
Area: 265,807 acre / 415 sq. miles
If you too are a fellow National Park geek, Rocky Mountain National Park will likely already be on your radar. Spanning the Continental Divide, the park encompasses 415 square miles of protected mountains, forests and alpine tundra.
At just an hour and a half from downtown Denver, visiting this park makes for an easy day trip.
Drive the notable Trail Ridge Road—which crosses the continental divide—for wildlife viewing while passing by aspen forests, alpine lakes and vast river gorges.
Other popular activities here include hiking and climbing the Keyhole Route, which crosses vertical rock faces leading up to Longs Peak, the tallest in the park. If you have limited time in the park, we recommend hiking the easy-to-moderate Emerald Lake Trail for some stunning views.
Summer is going to be the busiest time to visit RMNP, so you'll have the best chance to avoid the crowds if you visit from November through April. However, if you are hoping to hit the trails, you'll want to go in late summer, early fall.
Mesa Verde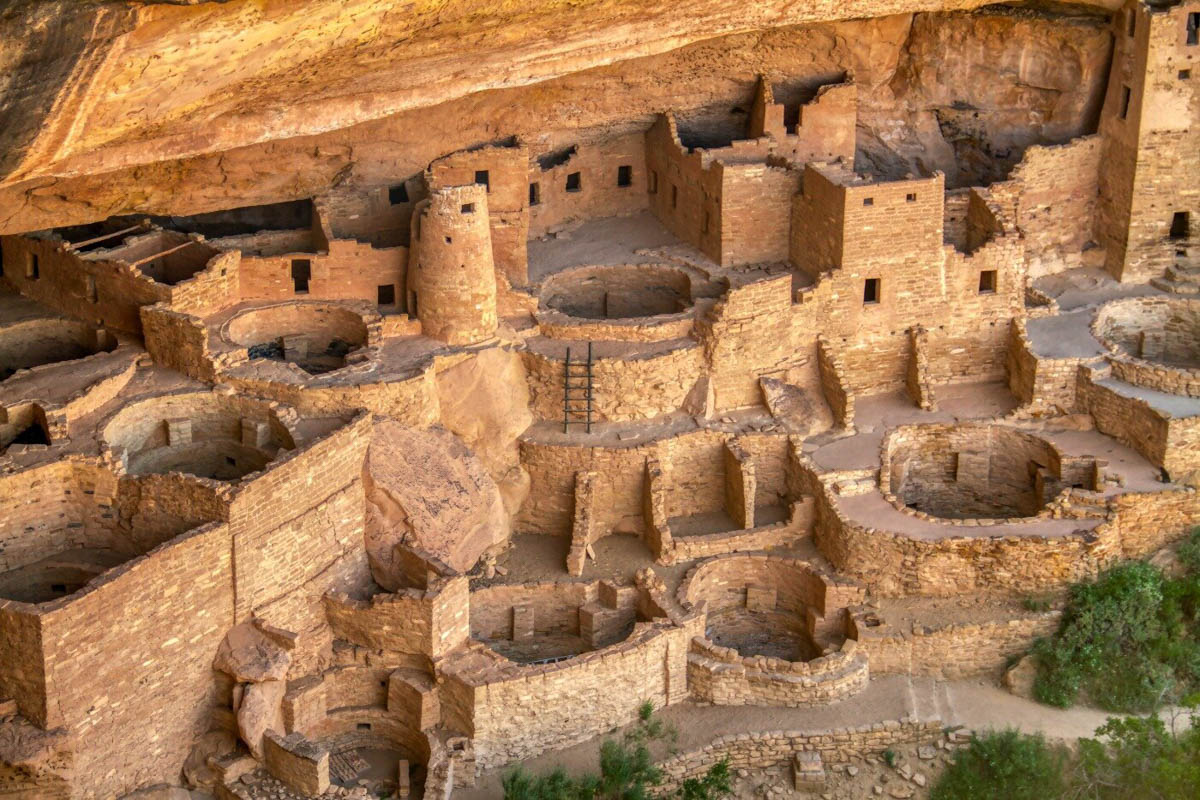 Location: in the southwestern corner of Colorado
Open: year-round
Entrance Fee: $30
Established: June 1906
Area: 52,485 acres / 81.25 sq miles
One of the rarest and most unique national parks in the west is Mesa Verde National Park. Often overlooked, Mesa Verde is the largest archaeological preserve in the United States and one of the first national parks created to protect cultural and historical sites specifically.
The best time to visit Mesa Verde National Park is during the spring and fall for ideal weather and to avoid the summer crowds. You could spend weeks in the park discovering all of the 600 cliff dwellings, but I'd recommend at least a weekend to see the highlights.
When planning your visit to Mesa Verde, be sure to make sure you reserve your tickets online for the cliff dwelling tours at least two weeks in advance. Another can't-miss inside the park is hiking the moderate 2.4-mile loop at Petroglyph Point Trail where you will discover ancient petroglyphs from over 1000 years ago.
Apart from the cliff dwellings, it's easy to see why this park was named "Mesa Verde" as the lush green rolling mesas are unbelievably mesmerizing. Especially from the 8,572 ft viewpoint located at Park Point.
Recommended by: Taylor from Nomads in Nature
Great Sand Dunes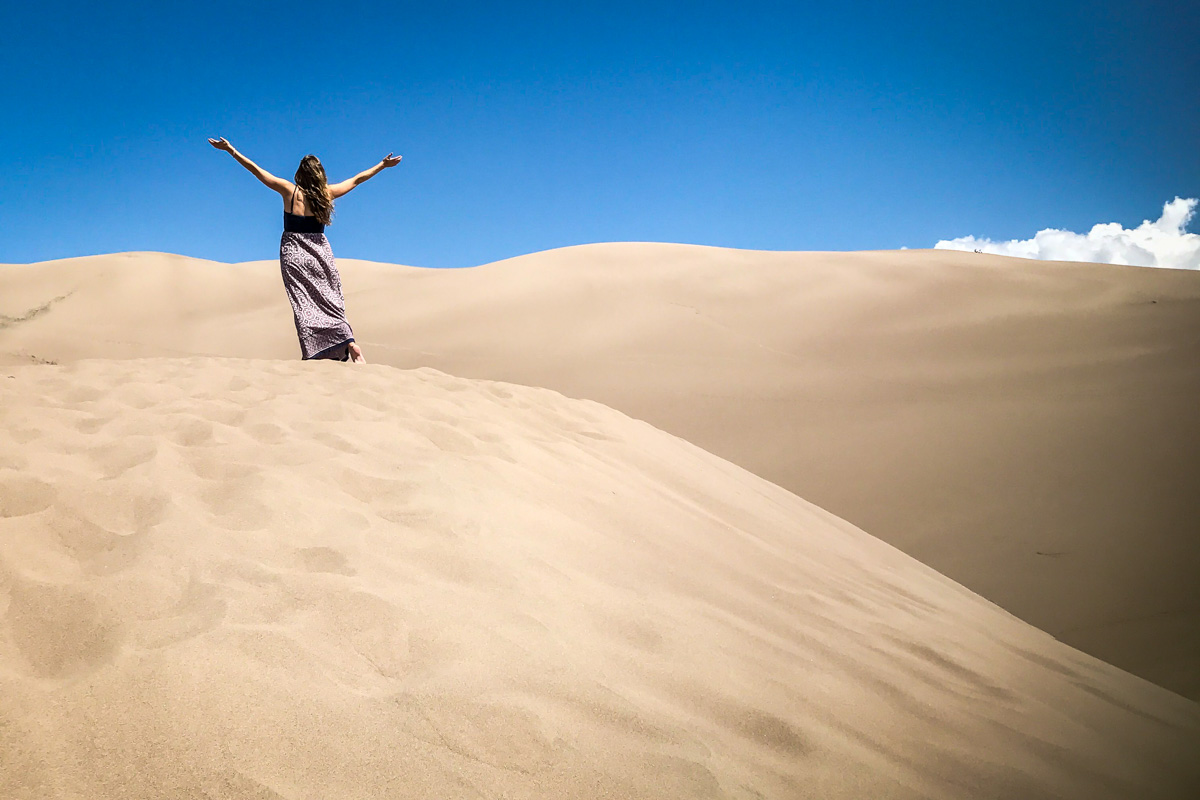 Location: Southcentral Colorado, 165 miles southwest of Colorado Springs
Open: Daily, year round
Entrance Fee: $25/vehicle
Established: March 1932
Area: 107,342 acres / 167.7 sq. miles
Shed your inhibitions along with your shoes when you enter Great Sand Dunes National Park. Home to the tallest sand dunes in North America, the best way to experience this park is to run through the dunes as if they are a larger-than-life sandbox for your enjoyment.
Placed against the backdrop of the Rocky Mountains, this national park offers more than just dunes and is in fact home to a diverse landscape of grasslands, wetlands, forests, lakes, and tundra.
If you're looking to do lots of hiking, the best time to visit Great Sand Dunes will be in late spring or early fall when the temperatures are moderate and the trails are accessible. Visit during June or July to see the Colorado wildflowers in bloom, which are especially lovely along the Sand Creek Lakes Trail.
Insider Tip: Don't skip a walk through the visitors center, where you'll learn more about the park and how the sand dunes were formed. Plus, the easiest and most direct path to the dunes is out the back door of the visitors center.
Black Canyon of the Gunnison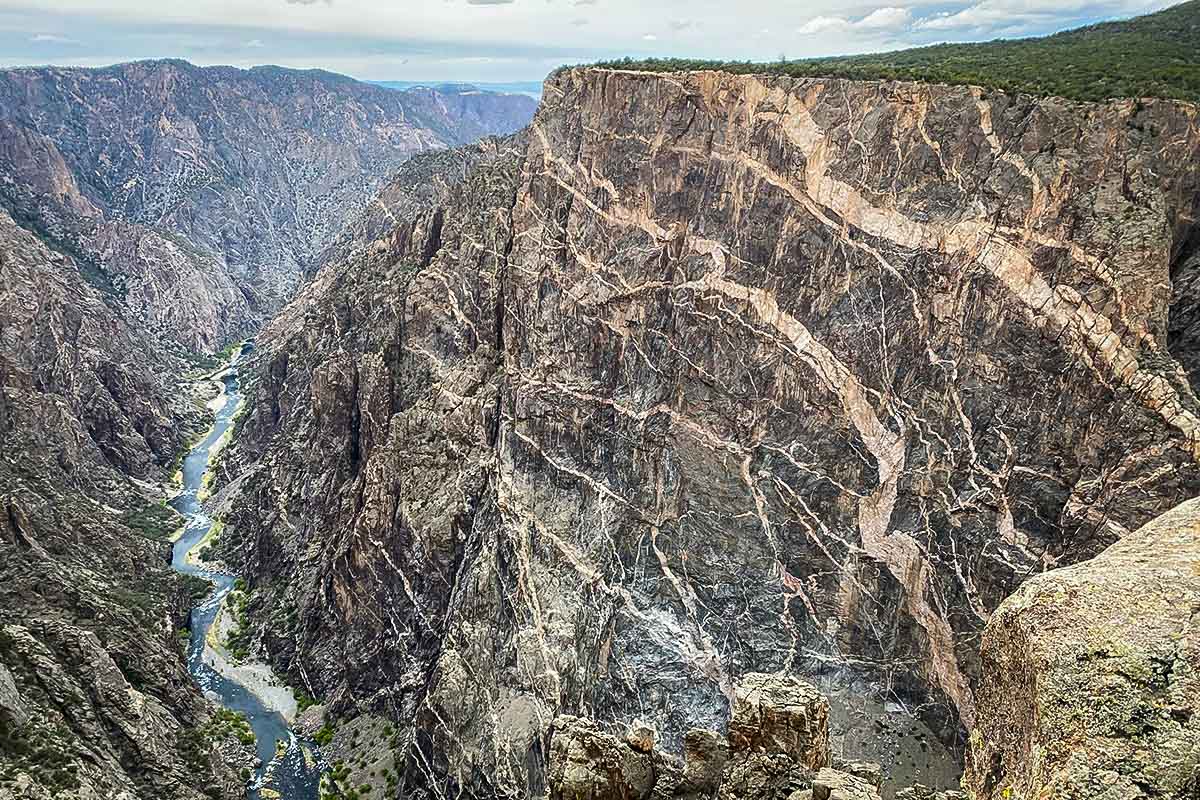 Location: Wester Colorado, 262 miles southwest of Denver
Open: South Rim is open year-round, but the South Rim Drive is usually available to vehicles from late April to mid-November. In winter, the South Rim Road is open to Gunnison Point at the visitor center. The road is open to cross-country skiing and snowshoeing. North Rim is open only from late April to mid-November.
Entrance Fee: 7-Day Vehicle Pass is $30.00
Established: October 1999
Area: 30,750 acres / 48 sq. miles
Black Canyon of the Gunnison is an underrated national park and one of the least visited in Colorado. That's a shame because the views are breathtaking and spending time here is a great outdoor adventure.
The park encompasses 12 miles of the 48-mile long Black Canyon of the Gunnison River. The national park includes the deepest and most dramatic section of the canyon, which gets its name from the fact that portions of the canyon receive only 33 minutes of sunlight per day.
BCG has two main entrances: the South Rim entrance is 15 miles east of Montrose, while the North Rim entrance is 11 miles south of Crawford. The entries are about two hours apart, so it's worth planning a visit for at least a day or two. If you have less time, choose the South Rim, as it is more impressive and accessible.
The best way to explore the park is to drive the scenic road (North Rim Drive Road and South Rim Route) and stop at all the overlooks. There are short routes that lead to some of the viewpoints.
If you have more time, you can check out some of the hikes in the BCG. The best hiking trail in the North Rim is a hike to Exclamation Point. It's only 3 miles long, but the views will leave you speechless.
The best hiking trails in the South Rim are the Rim Rock Nature Trail and the Cedar Point Nature Trail. Experienced climbers can venture down to the bottom of the canyon. But this is reserved for professionals and well-prepared climbers. There are no marked paths and the walls are almost vertical. A special permit is required for such a hike.
The best time to visit is from late April to late October, when the weather is at its best, and both parts of the park are open to the public.
Recommended by: Agnes from The Van Escape

Nevada
Nevada is home to some pretty sweet wonders of Nature. There's Lake Tahoe on the western border of California and Valley of the Fire down near Las Vegas. Plenty of these areas are managed under the umbrella of the National Park Service as national monuments or recreational areas, but surprisingly there is only one official national park in the state.
Great Basin National Park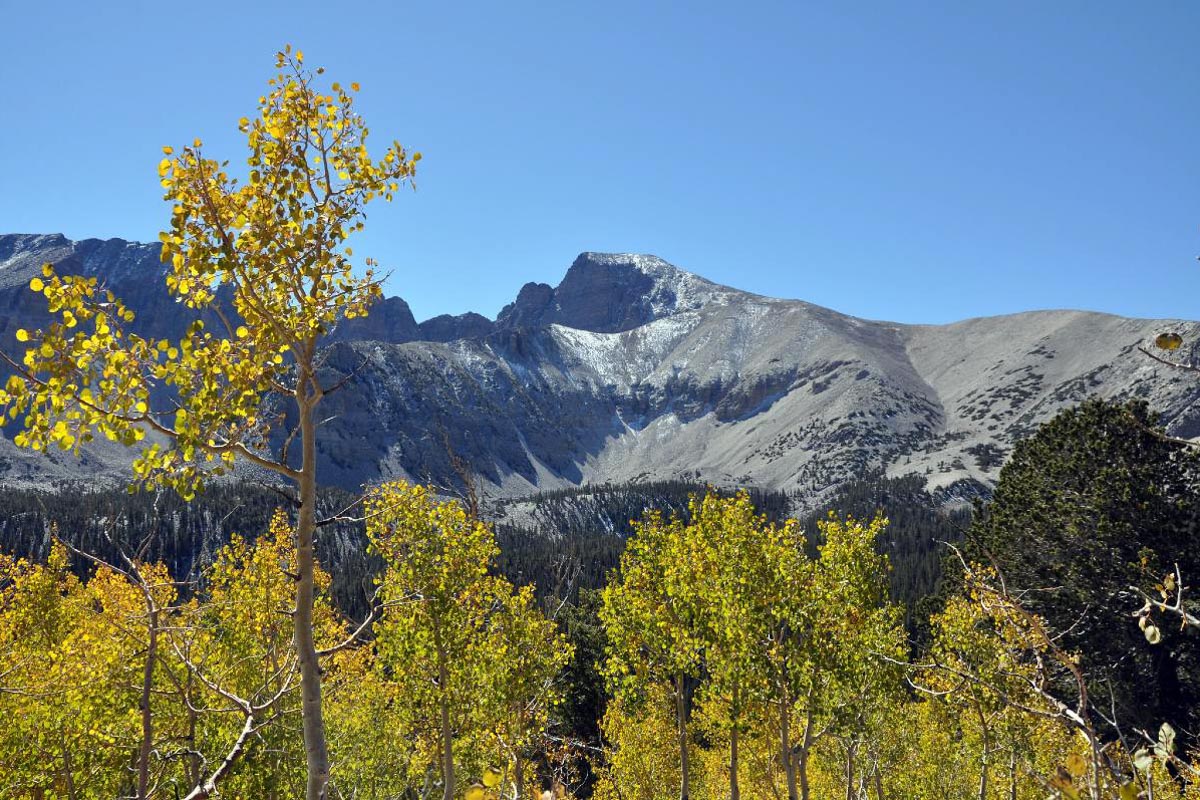 Location: Eastern Nevada, 385 miles straight east from Reno
Open: Year-round, with the exception of New Year's Day, Christmas Day, and Thanksgiving. Open at 8:00 a.m. all year, closing time varies throughout the year between 4-5:00 p.m.
Entrance Fee: Free
Established: 1986
Area: 77,100 acres
Right up close to the Utah border in central Nevada, Great Basin is easily one of the most remote and underrated national parks in the U.S. Don't let that deter you from visiting, though — this hidden gem is full of surprises and well worth a visit.
Looming over Great Basin is its centerpiece, 13,065-foot Wheeler Peak, which is snow-capped most of the year.
Aside from the mountains, you'll find a vast variety of terrain, which is actually one of the best things about this park. There's desert landscape, a raging river, ancient Bristlecone pines (the oldest living things on Earth!), and even an impressive cave system.
The Lehman Caves have several unique chambers, or "rooms," making them stand out amongst other caves elsewhere in national parks. The only way to experience them is a guided tour, so be sure to make reservations ahead of time.
Keep in mind that Great Basin National Park is remote. The closest small town is Baker, Nevada, five miles away, but the closest large cities are Cedar City, Utah (142 miles) and St. George, Utah (207 miles).
If you're flying in, book flights in and out of Salt Lake City (234 miles) or Las Vegas (286 miles).
Recommended by: Taryn from Chasing Trails Blog

Arizona
Arizona is home to the famed Grand Canyon, which is arguably the most well-known national park in the U.S. drawing millions of visitors a year from all over the world. However, there are a couple other national parks in Arizona that we think are worth a visit.
Grand Canyon National Park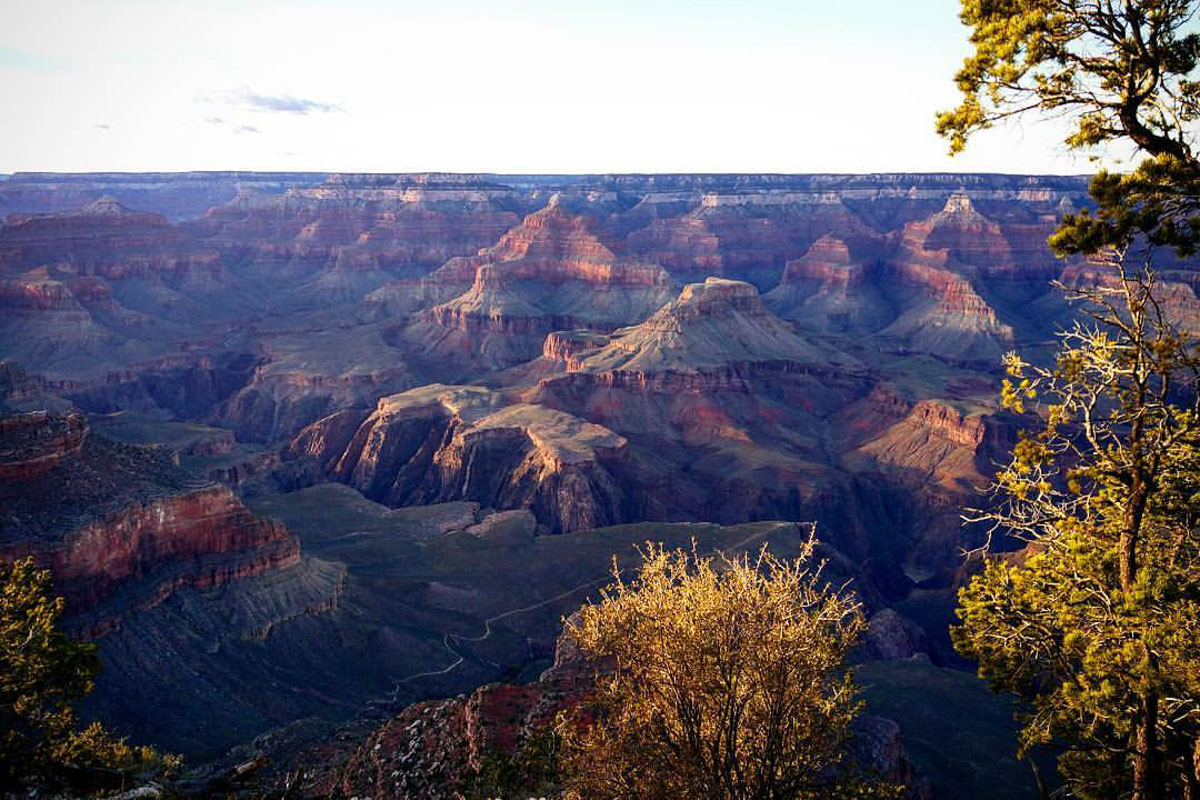 Location: North central Arizona, 3.5 hours north of Phoenix
Open: The South Rim is open year round, 24 hours a day. The North Rim is only open between May 15 and October 15, 24 hours a day.
Entrance Fee: $20 per individual and $35 per vehicle
Established: February 1919
Area: 1.217 million acres / 1,901.9 sq. miles
Probably the most famous national park in the western U.S., or possibly in the entire country, is Grand Canyon National Park in northern Arizona. Home to the majestic Grand Canyon, which features dazzling layers of banded red rock that are exceptionally beautiful at sunrise.
Being one of the most visited national parks in the U.S., the Grand Canyon is always going to be a bit crowded—particularly the South Rim since it's more accessible.
Try to visit in either the spring or fall when the park is less crowded and the weather much cooler, allowing you to tackle amazing hikes like Cape Final Trail, Bright Angel Trail, South Kaibab Trail, and Havasu Falls.
If you're looking for an easier hike that still affords you sweeping views, try the South Rim Trail. The 13-mile point-to-point trail features slight elevation gain on a well-paved path with many shuttle stops along the way. This route also brings eager travelers to the visitor center, Mather Point, Powell Point, and Yavapai Point just in time for a beautiful sunset.
To get some incredible photos, you'll want to visit some of the best Grand Canyon viewpoints: Mather Point, Yavapai Point, Navajo Point, Hopi Point and the Desert Watchtower.
In particular, Lipan Point is especially beautiful with its wide panoramic views of the canyon and the Colorado River below. Just be extra careful when walking near the edge and only do so in designated areas.
Head to the North Rim if you're looking for a bit more solitude. The North Rim receives about 10% of the visitors that the South Rim does. It's also about 4 hours away from the South Rim but well worth the drive to escape the crowds and get a different perspective.
Conversely, you could always get up before dawn to go on a longer hike since most people don't venture more than 2 miles from their car.
Recommended by: Meg from Fox in the Forest
Saguaro National Park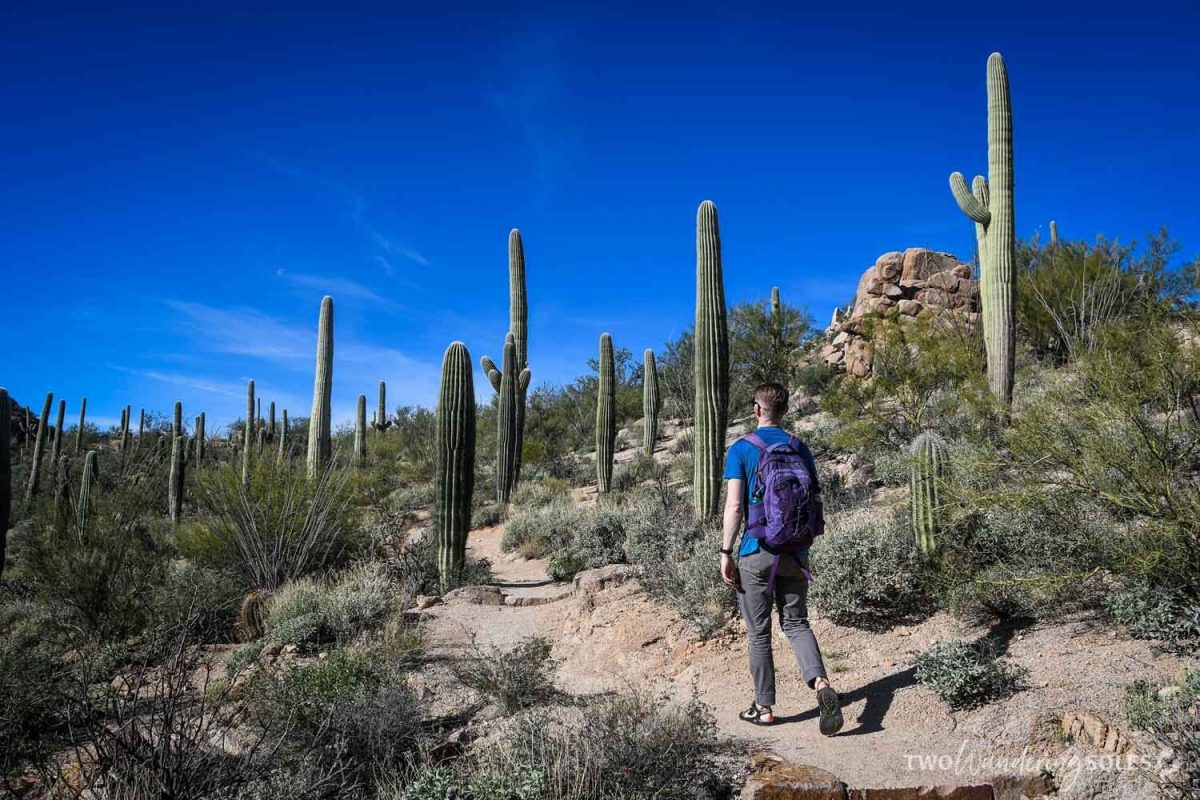 Location: Southern Arizona, straddling the city of Tucson
Open: Visitor Centers are open 9 a.m. to 5 p.m. but the park is open to vehicles from sunrise to sunset.
Entrance Fee: $25 per vehicle for a one-week pass
Established: October 1994
Area: 91,327 acres / 143 square miles
Named after the large cacti that adorn the Arizona license plate and serve as an icon of Southwest USA, Saguaro National Park is just 30 minutes from downtown Tucson, making it an easy day trip from the city.
You'll find plenty of these massive saguaro cacti here, as well as scenic views, hiking trails and petroglyphs of the ancient Hohokam people.
Split down the middle by the city of Tucson, this National Park is best discovered on foot. Luckily there are a variety of hiking trails here for all levels and abilities. The west side of the park is more densely covered with saguaro, while the east side has more hiking trails and is more mountainous.
We recommend the easy Valley View Overlook Trail (1.6 miles) and short 0.5-mile Cactus Forest Trail to start. If you have more time, try the moderate 7.1-mile Kings Canyon Trail. Be sure to start your day early and pack sun protection because there isn't much shade throughout the park.
Winter is the best time to visit Saguaro National Park as the temperatures will be more manageable than in the heat of the summertime. Your best bet is to go sometime from December through February.
Petrified Forest National Park
Location: Eastern Arizona, 200 miles northwest of Pheonix
Open: Daily, 8:00 a.m. to 6:00 p.m; however you must enter the park before 5:00 p.m.
Entrance Fee: $25 per vehicle, valid for 7 days
Established: 1962
Area: 221,391 acres / 146 square miles
Situated in eastern Arizona, Petrified Forest National Park is home to both natural wonders and archeological zones of historical significance. There are two museums here filled with paleontology exhibits and Native American murals.
Highlights of the park include Newspaper Rock and the ruined village of Puerco Pueblo. You should also visit the Rainbow Forest, which is filled with colorful petrified wood, and plenty of hiking trails for exploring.
February is a good month to visit Petrified Forest for the ideal temperatures, however the park will be at its busiest during this month. In order to catch the wildflowers in bloom, you should visit the park from March through October.

New Mexico
Often considered a gem of the American southwest, New Mexico is home to two national parks—one of which is the most recently designated national park in the U.S.
White Sands National Park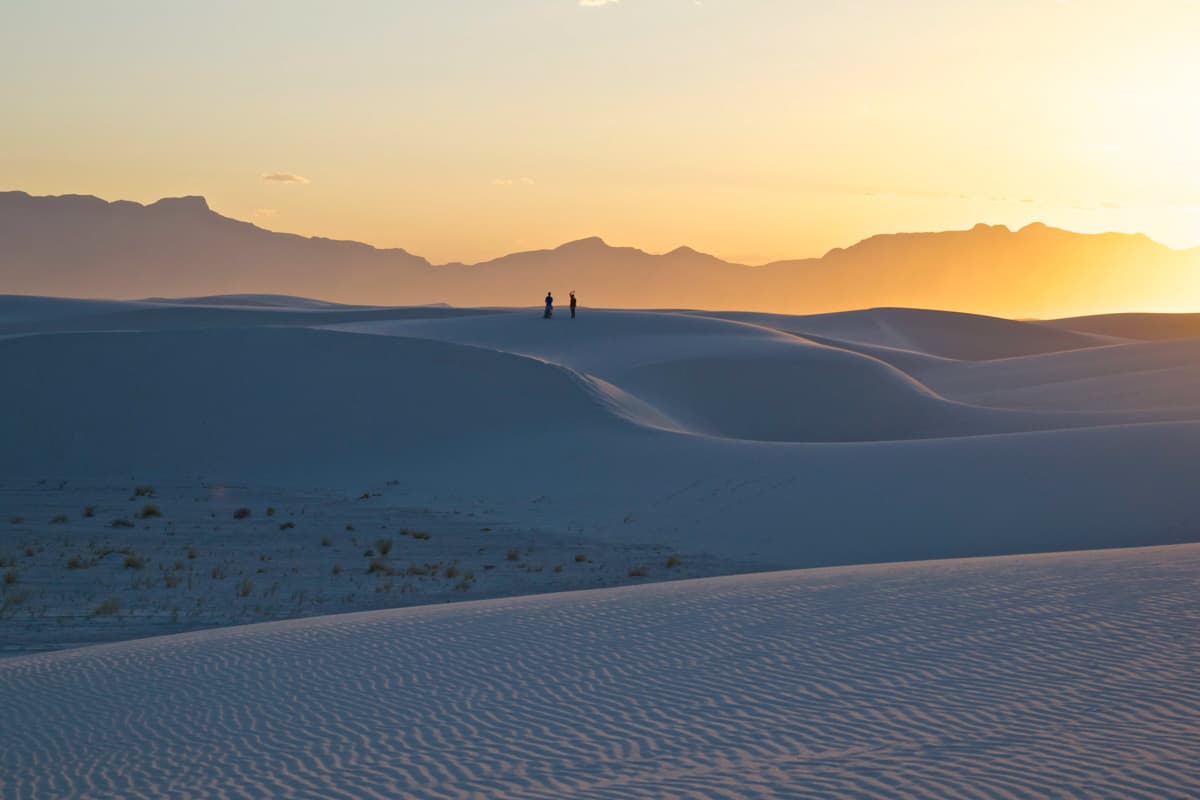 Location: Southcentral New Mexico, 3.5 hours south of Albuquerque
Open: Open daily, year round, except December 25. Gates always open at 7:00 a.m. with closing hours changing with the seasons.
Entrance Fee: $25/vehicle; $45/vehicle annual pass
Established: December 2019
Area: 145,762 acres / 227.8 sq. miles
Considered one of the greatest natural wonders in the world, White Sands National Park is truly unlike anywhere else on earth. Its unique landscape of glistening white sand is the world's largest gypsum dune field.
When you first arrive at the park, you'll wonder if you're on a tropical, white sand island or surrounded by white snow drifts. It's so unlike anything else that it's difficult to comprehend.
The park offers opportunities to go sledding, hiking, cycling, or dune driving.
The Dune Life Nature Trail is a one-mile (1.6 km) loop trail that is family-friendly and includes an elevated Interdune Boardwalk. In this area, the desert scrub community and the gypsum sand dunes meet and form one of the most diverse ecosystems in the park.
For a back-country experience, there are ten primitive backcountry camping sites available on a first-come, first-served basis. Obtain your permit at the entrance booth.
Insider Tip: The best sledding dunes are between mile markers 4-6! You can purchase sleds at the Visitor Center shop located at the entrance to the park.
Although White Sands National Park is impressive at any time of day, it's just before sunset that it is the most impressive (especially for photographers).
Recommended by: Lesley from Bucket List Publications
Carlsbad Caverns National Park
Location: Southern New Mexico on the Texas border; 300 miles southeast of Albuquerque
Open: Daily, 8:00 a.m. to 2:15 p.m.
Entrance Fee: $15 per person, good for 3 days
Established: May 1930
Area: 46,766 acres / 73 sq. miles
Located in the Chihuahuan Desert of southern New Mexico, you'll find a vast landscape of rocky canyons, cacti and desert wetlands.
While the desert is beautiful, it's what's below the surface that makes this national park so unique. The 120 limestone caves include the Carlsbad Cavern—the park's namesake—can be explored on foot and even have elevators with a wheelchair/stroller accessible tour.
Summers in Arizona tend to be swelteringly hot, so in order to beat the heat, you'll want to visit Carlsbad Caverns during the winter, spring or fall.

Alaska
Some of the most stunning national parks on the west coast may be overlooked as they are located all the way up in Alaska. The 49th state is sometimes forgotten and some may debate whether or not it's considered part of the "west coast" at all. Either way, we decided to include some of the best Alaskan national parks in this article as part of the greater western United States.
Denali National Park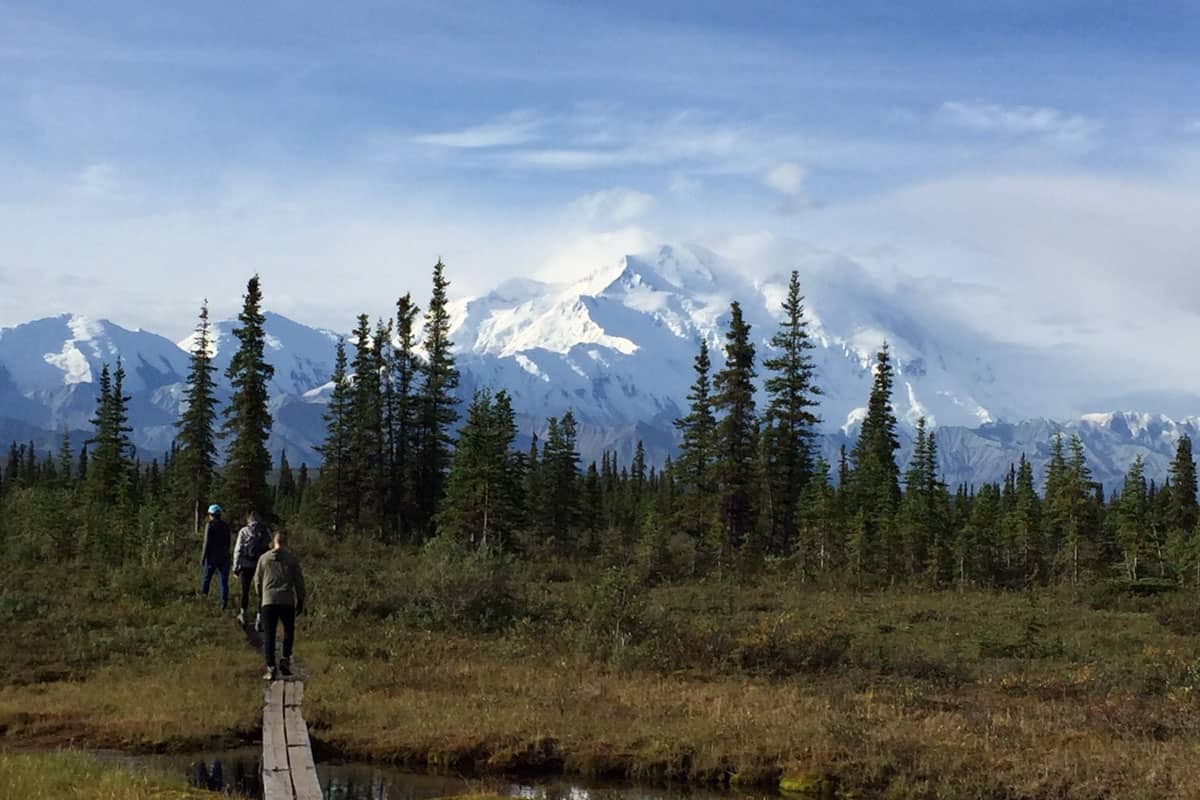 Location: Southcentral Alaska, 235 miles north of Anchorage
Open: daily, year round, though services are limited after hours (4 p.m. during winter and 6 p.m. during summer)
Entrance Fee: $15 per person; to be paid online, valid for 7 days
Established: February 1917
Area: 6,045,153 acres / 9,446 sq. miles
Denali National Park is made up of over 6 million acres of wild Alaskan wilderness surrounding North America's tallest peak, Mount McKinley. Filled with tundra, spruce forests and glaciers, outdoor enthusiasts flock here in the summer months for hiking, biking, backpacking, mountaineering and wildlife viewing.
Planning your visit from late-May through early-September is best. During this time the daylight hours are plentiful and the shuttle buses can drive visitors into the wilderness.
Kenai Fjords National Park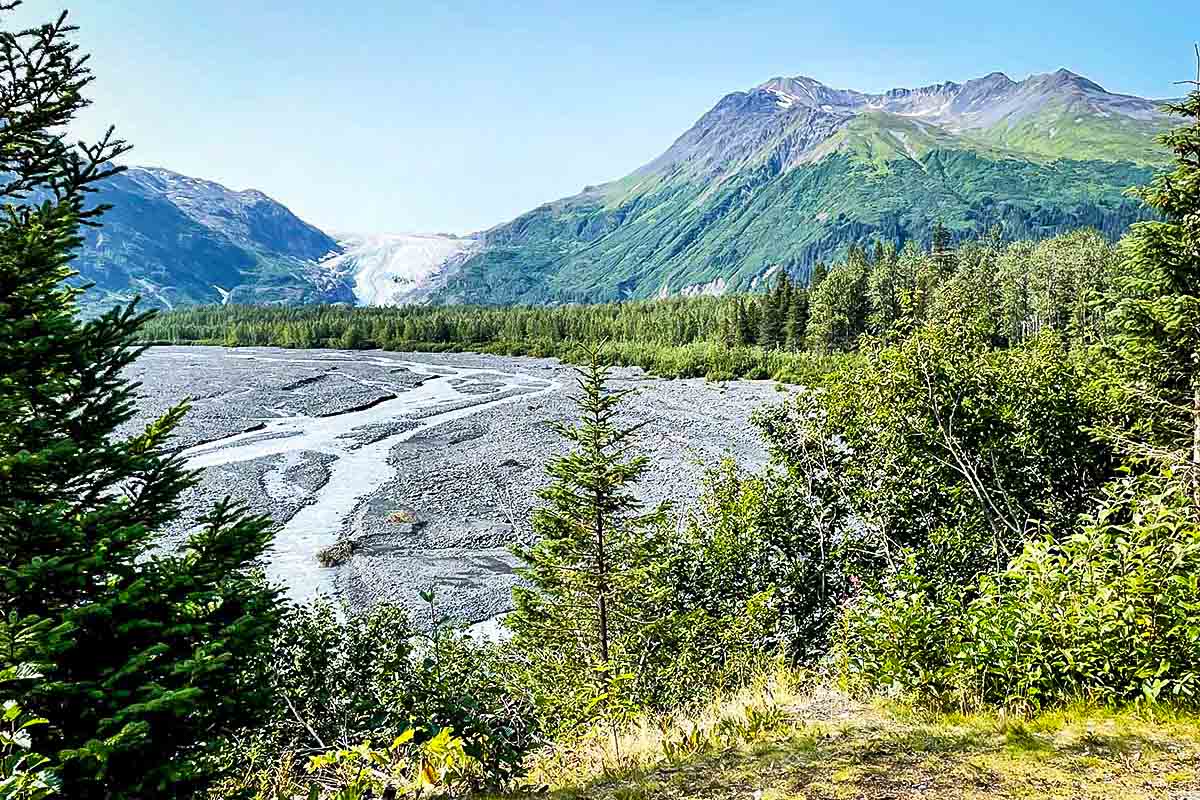 Location: Southern Alaska, 2.5 hours south of Anchorage
Open: year-round
Entrance Fee: Free
Established: 1980
Area: 600,000 acres / 1,047 sq miles
Located right outside of Seward, Alaska, Kenai Fjords is one stunning national park. The park is home to nearly 40 glaciers and about half of the land area is covered in ice!
Allocate at least two days to experience Kenai Fjords. This will allow you to spend a day on the water and a day on land.
The vast majority of people visit in the summer months, which is the best time for hiking. If you are interested in seeing whales in Resurrection Bay, your best chance is to visit in the early summer.
To reach the park from land, you can fly into Anchorage and either rent a car or ride the Alaska Railroad. The drive from Anchorage takes a minimum of 2 and a half hours but you'll want to take your time and make stops to take in the incredible views.
Most of the national park is only accessible by water and can be experienced on sightseeing cruises, kayaking excursions or from above on a helicopter. From the water, you have the opportunity to see whales, puffins or even bears fishing from the shore.
There is one road in the national park offering access to some amazing hikes. Visitors can hike to Exit Glacier, a 2.2-mile trail that will bring you up close to a glacier. For experienced hikers, you can hike the 9.2-mile trail to see an overlook of Harding Icefield. The icefield feeds the many glaciers inside the park and is incredible to see.
This unique Alaska national park is an incredible stop on an Alaska road trip.
Recommended by: Lydia from Lost with Lydia
Before you go…
Get your FREE National Parks checklist to keep track of all of the National Parks you've visited through the United States!

You may also like…
Save this article on Pinterest for later!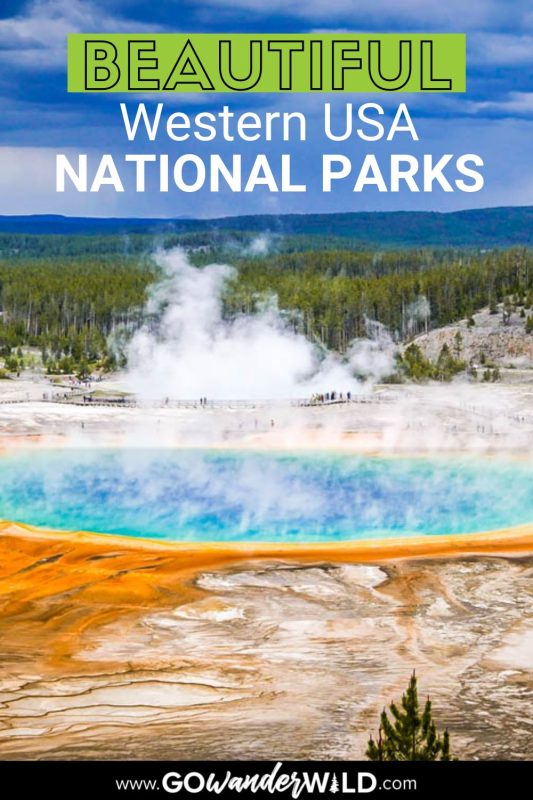 We want to hear from you!
What is your favorite national park on the west coast or in western U.S.? Are there any on this list you are dying to visit? Leave your comment below and let us know!