Central Oregon's Belknap Hot Springs is a popular year-round destination situated on the banks of the stunning McKenzie River. There are multiple ways to visit, so we put this guide together with everything you need to know to plan your visit.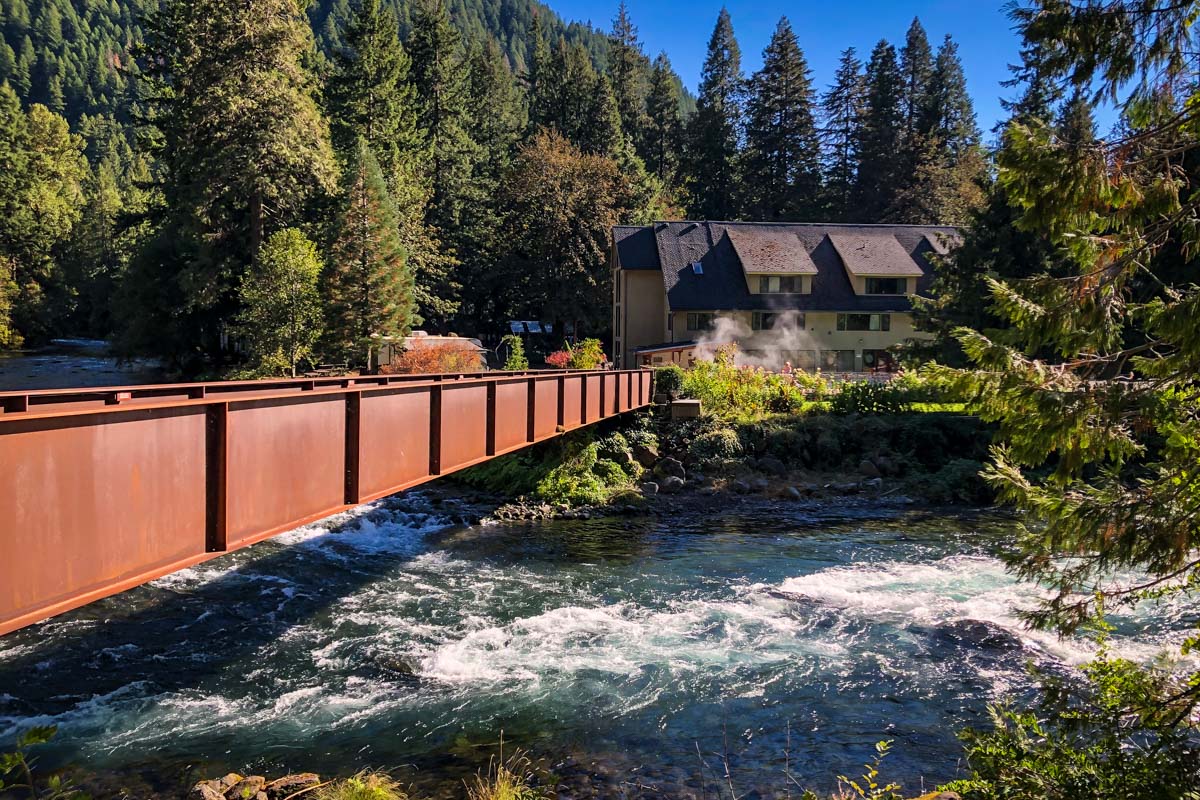 In case you don't already know this, we are sort of hot springs fanatics. There's just nothing quite like relaxing in a natural hot tub, especially when it's set against the backdrop of spectacular scenery!
There are hundreds of hot springs in the Pacific Northwest, with nearly 40 hot springs in Oregon alone (one of the many reasons we choose to live here!). Belknap Hot Springs is a unique one, nestled way off the beaten path but fairly easy to reach and offering quite a few amenities.
Since we've visited several Oregon hot springs over the years, ranging from super hard-to-find (we're looking at you, McCredie!) to some that you can drive right up to, and we happen to live in Bend, close-ish to Belknap, we put together this comprehensive guide.
Read on to learn all about visiting Belknap Hot Springs, including how to get there, what to expect, the best time to go, and much more!
Belknap Hot Springs Description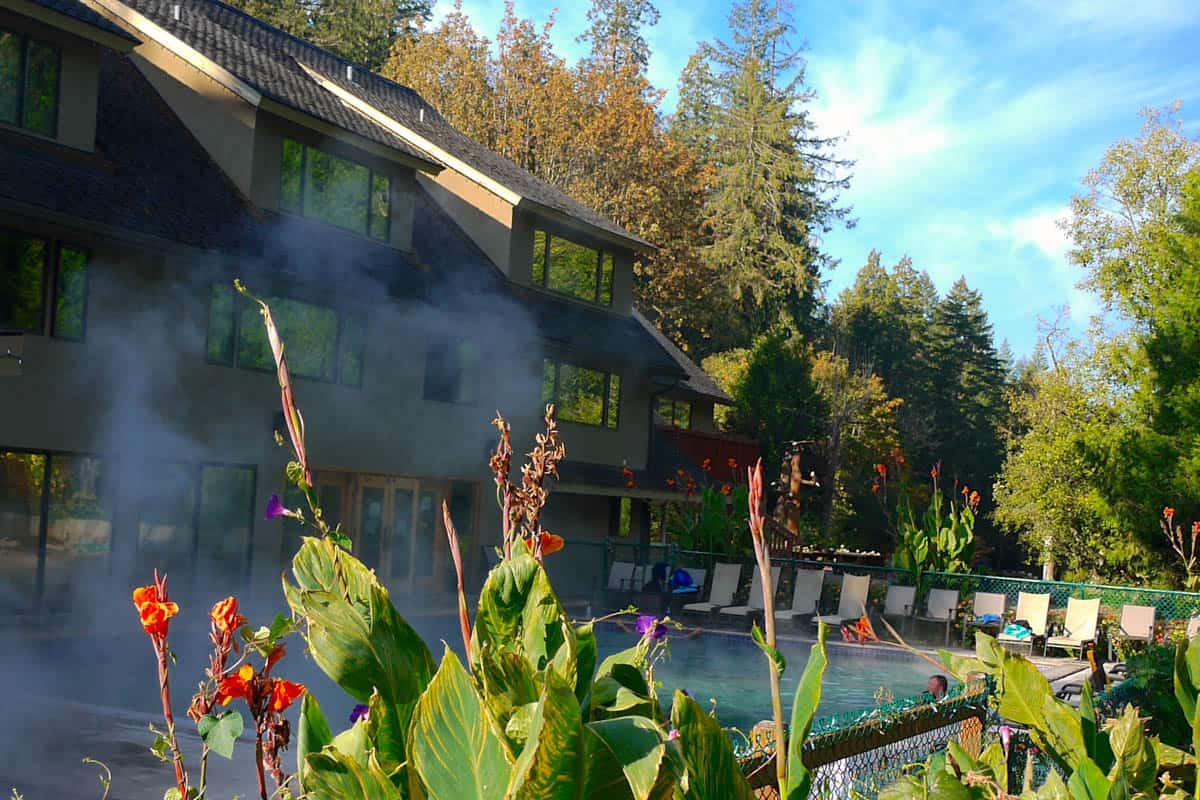 Tucked into the Cascades in central Oregon and situated directly along the McKenzie River, Belknap Hot Springs is developed, but remote enough that you still feel like you're worlds away from civilization.
While not "wild" like nearby Terwilliger Hot Spring, developed springs have their advantages!
Belknap is the last remaining hot spring of several that were developed as luxurious mineral spas in Lane County in the 1870s. The resorts catered to travelers following the stagecoach route along the McKenzie River during the Gold Rush and even attracted major celebrities, including Clark Gable.
It's easy to understand why — not only is the riverfront location amazing, but Belknap is also well-known for its gorgeous, impeccably-maintained lush gardens (including a couple of "secret" ones on either side of the river!).
Visitors will find two pools at Belknap Hot Springs, along with a variety of overnight accommodation options including individual cabins, traditional lodge rooms, and tent and RV campsites.
The larger upper pool is open to the public, while the more intimate lower pool is reserved exclusively for overnight guests.
Because of its unique combo of a remote location and developed resort, Belknap Hot Springs attracts a wide variety of visitors. You're just as likely to be soaking alongside older couples as you are families with little ones.
There's a strict swimsuits-required policy, which deters a lot of partiers (most wild hot springs are clothing-optional) and keeps Belknap more of a low-key, family-friendly environment.
Belknap Hot Spring Stats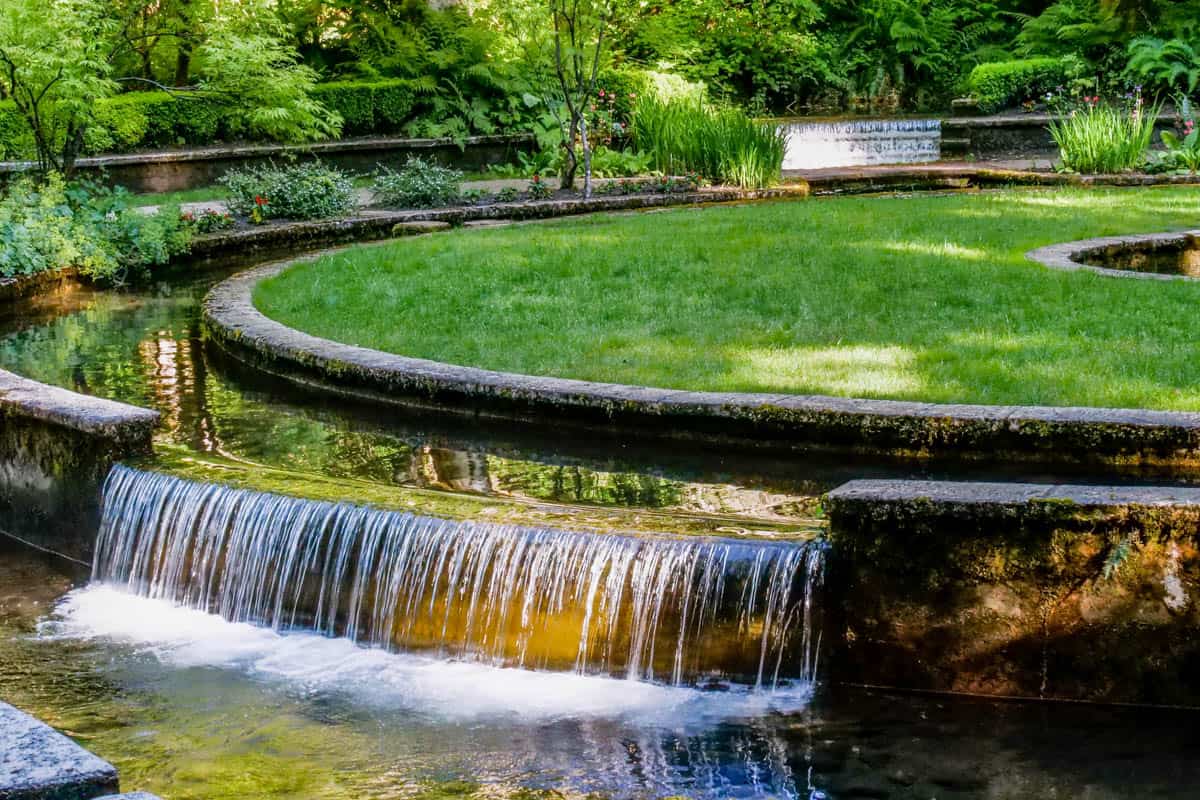 Here are all the important things to know about Belknap Hot Springs:
Location: Directly on the McKenzie River nestled in the Willamette National Forest, equidistant to Bend and Eugene
Nearest town: Belknap Hot Springs is truly remote, so even the closest town, teeny-tiny McKenzie Bridge, is about 10 minutes away. The closest moderately-sized town (which is still pretty dang small!) is Sisters, 47 miles away.
Access: Easy; developed lodge with drive-up access
Time of year: Open all year
Lodging: Rooms in the main lodge, cabins, and tent and RV campsites
Type of hot spring: Fully developed
Number of pools: 2 — one is reserved for lodge guests and one is also open to walk-ins
Water clarity: Clear, likely because the resort uses chlorine
Temperature (at source): Maintained at 92°F during the summer and 102°F in the winter
Depth: Shallow
Clothing: Swimsuits are required
Suitable for children? Children under 5 are not permitted to soak at Belknap Hot Springs
Belknap Hot Springs Rates
Access to the hot springs is included for overnight guests. If you're not staying overnight, all rates for Belknap Hot Springs are the same: $8 per person, per hour. Note that there's a firm maximum of one hour per day unless you're an overnight guest.
1-hour soak: $8 per person
Towel rental: $2 per day for walk-ins; 1 towel per day, per lodge guest included in overnight rate
How to get to Belknap Hot Springs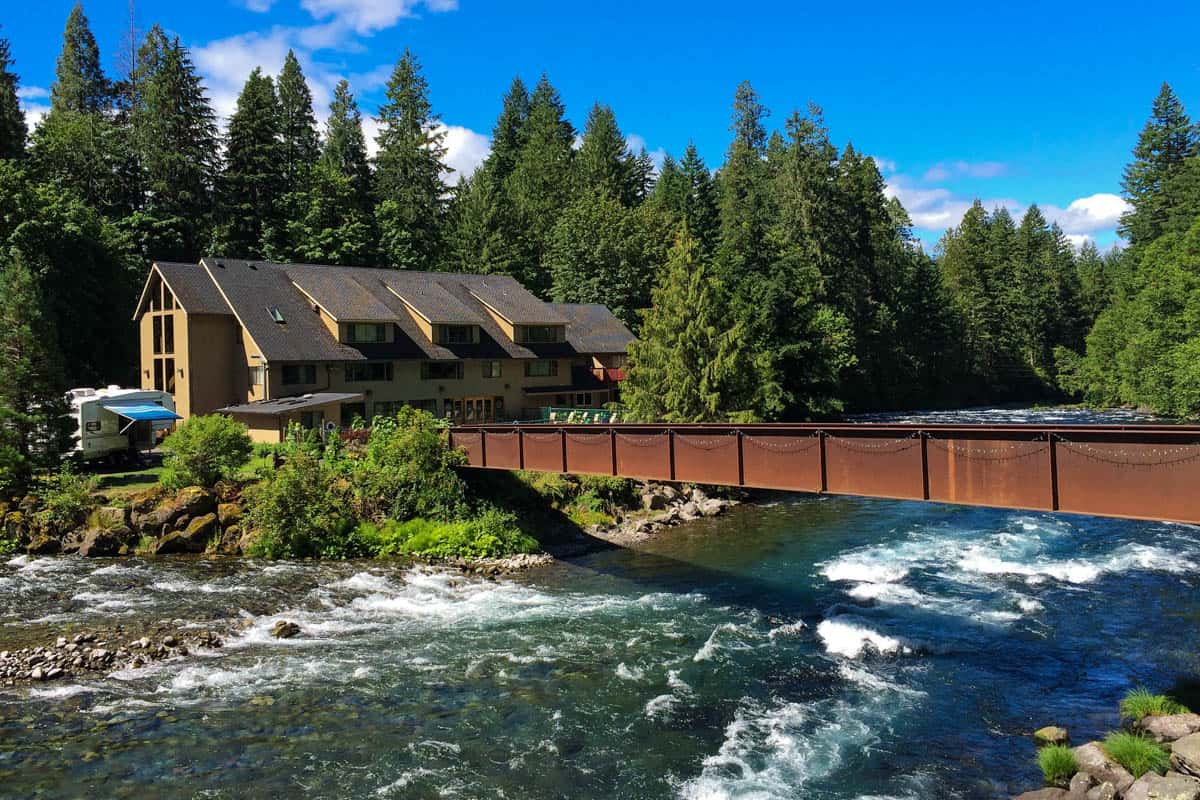 Most visitors (with the exception of those coming from the east — Bend or Sisters) will take I-5 north or south to Highway 126 in Eugene, then head east toward Springfield. Approximately 55 miles from Eugene, you'll pass the exit for Highway 242 and cross the Lost Creek Bridge. Turn left onto Belknap Springs Road and follow the signs to the resort.
Those coming from the Bend or Sisters area will take Highway 242 west 40 miles to Highway 126. Note that the 242 is incredibly winding and narrow, so drive slowly and carefully! Go east on Highway 126 for a short while, cross the Lost Creek Bridge, then turn on Belknap Springs Road and follow the signs.
Directions to Belknap Hot Springs
Distance from Bend: 70 miles, 1 hour 20 minutes
Distance from Eugene: 59 miles, 1 hour 5 minutes
Distance from Salem: 105 miles, 2 hours
Distance from Portland: 149 miles, 2 hours 40 minutes
Things to know about visiting Belknap Hot Springs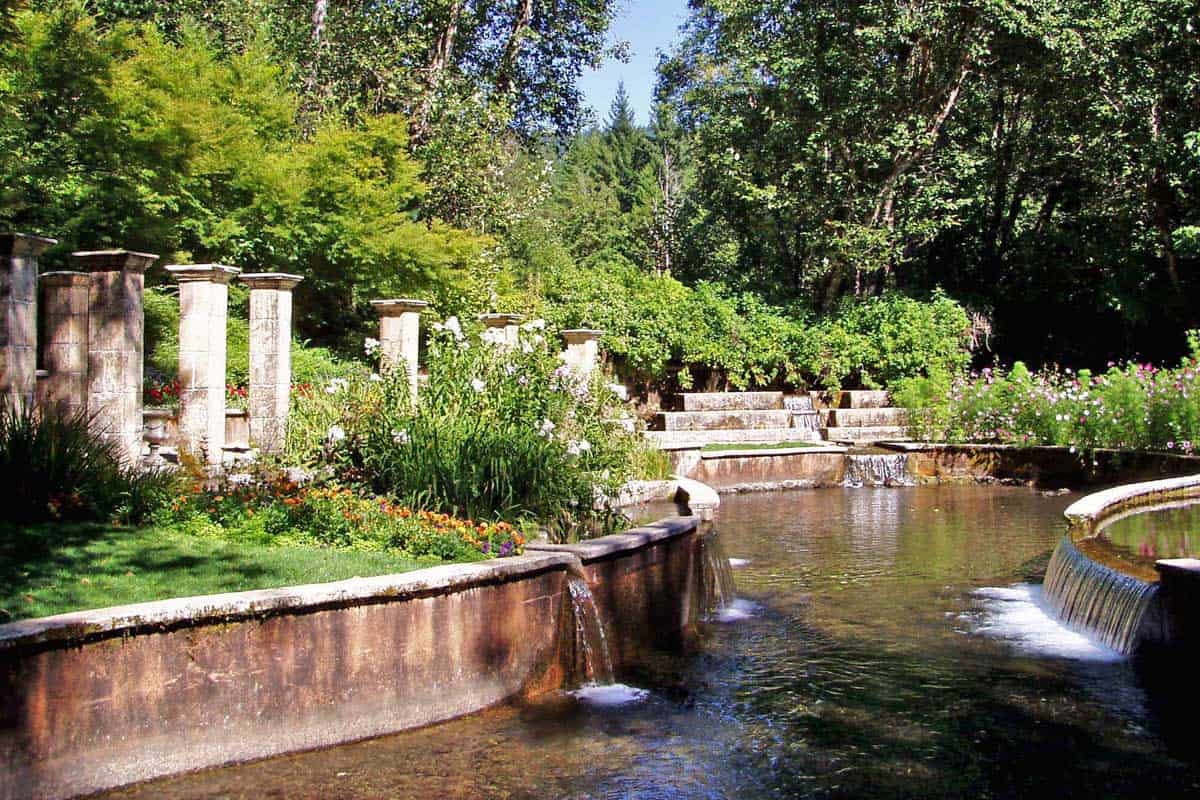 The larger lower pool is open to both walk-in visitors and lodge guests, while the smaller upper pool is exclusively for those staying overnight.
Lodge guests may enjoy the Belknap Hot Springs pools from 9:00 a.m. to 9:00 p.m. daily, but hours for walk-in visitors are 9:00 a.m. to 6:00 p.m. Visitors must arrive by 5:00 p.m. to be allowed in, and there's a one-hour daily maximum unless you're staying overnight.
Weekends and most major holidays require a two-night minimum stay.
Although the pools are open 365 days a year for overnight guests, they are closed to walk-in visitors on holidays.
There's a general store onsite, but it's very small, offering ice and a limited selection of drinks and snacks, so bring everything you think you'll need!
On summer weekends, a casual food cart serves grilled favorites including burgers and sandwiches, but note that it doesn't seem to keep regular operating hours.
Belknap Hot Springs is dog-friendly, but dogs aren't permitted in the pools or pool or garden areas, and only specific guest rooms are designated for dogs.
In addition to the elaborate gardens on the main grounds, there are a couple of "secret" gardens, one on either side of the river. Spend some time exploring the property's many short trails to see if you can find them!
Belknap Hot Springs FAQs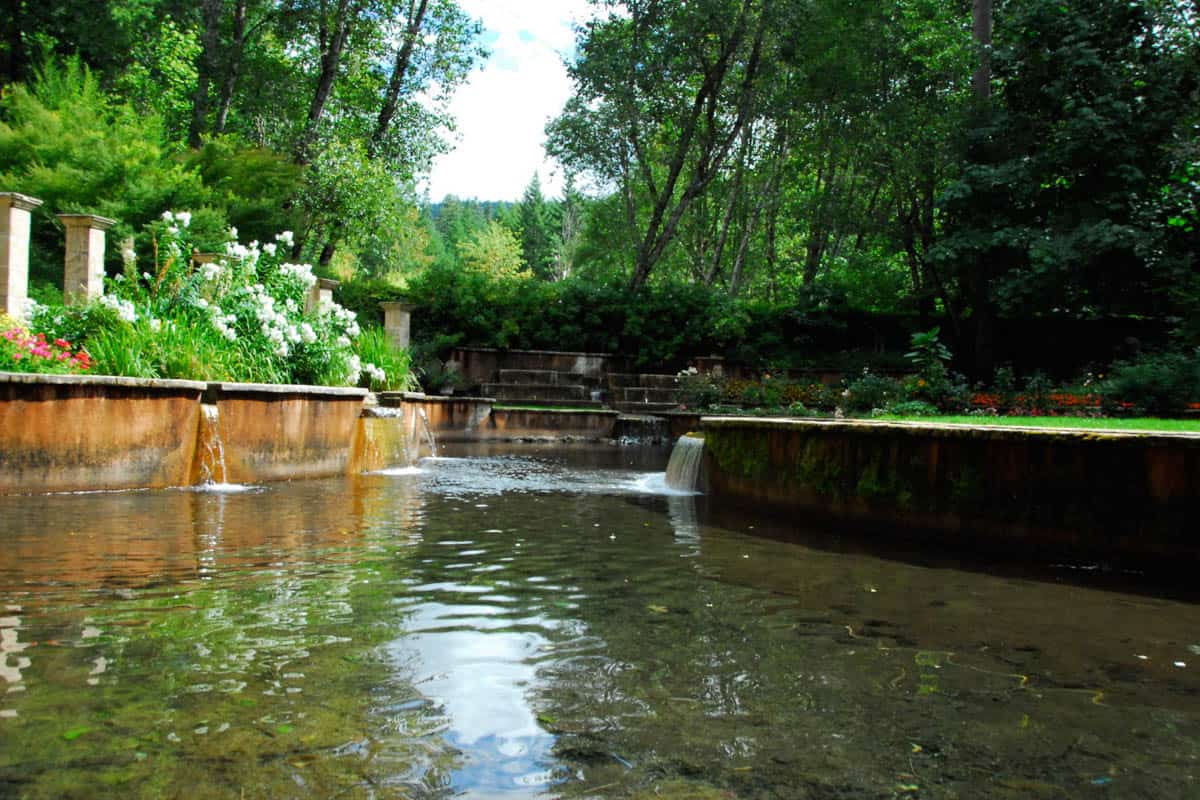 These are common questions asked about visiting Belknap Hot Springs:
How many pools are there?
Belknap Hot Springs has two spring-fed pools. The spring itself is on the north bank of the river, across from the pools, and piped over. Both pools' temperatures are maintained by Belknap Hot Springs year-round and vary slightly season to season. The upper pool is reserved exclusively for overnight lodge guests, while the lower pool is open to both overnight visitors and walk-ins.
How crowded is Belknap Hot Springs?
The lower pool, the only one open to outside visitors, is capped at 50 people at one time. While that may sound like a lot, the pool is large enough that everyone has a decent amount of room to spread out. There's also a one-hour soak limit, so even if the pool gets crowded, space opens up pretty often.
The upper pool doesn't have a maximum but is open only to resort guests, so it never gets particularly crowded.
When's the best time of year to visit?
Belknap Hot Springs is open 365 days a year, and the best time of year to visit will depend on the type of experience you're looking for. We personally think winter is the best, when everything is blanketed in snow and there are far fewer people. If snow isn't your thing, springtime is also wonderful, when the gardens and surrounding scenery come alive with colorful blooms.
Is Belknap Hot Springs worth visiting?
If you're looking for an accessible, family-friendly hot spring in a gorgeous location, Belknap Hot Springs is absolutely worth it. There are some pros and cons to consider, however.
The not-so-great parts about Belknap Hot Springs:
The main lodge rooms are outdated and in desperate need of a refresh
Many people, particularly drop-in visitors, have experienced poor and downright rude customer service
The one-hour soak limit is a bit stingy (two hours at developed hot spring resorts is more common)
The good parts about Belknap Hot Springs:
The scenery in this area is absolutely stunning, and the gardens onsite add to the ambiance
Onsite lodging, with the riverfront tent campsites in particular being standouts
The fact that one of the pools is strictly for overnight guests, keeping things a bit more exclusive feeling
For families and anyone else looking for less of a party environment, the strictly-enforced swimsuit policy keeps the vibe very low-key
Belknap Hot Springs is dog-friendly
How much time should you spend at Belknap Hot Springs?
You can only spend one hour soaking, unless you're staying overnight. If you want to spend more time in the area, Terwilliger Hot Spring is a short drive away!
What should I pack?
Bring your own food, as there's literally nothing around and the onsite store sells only snack items and a small selection of drinks. The cabins have kitchenettes and lodge rooms have mini fridges and microwaves.
We also recommend bringing sandals or water shoes for walking around the property, and your own towels. This may be just us, but we always feel more comfortable using our own, even when they're available at the hot spring. Similarly, if you're staying overnight in a cabin or lodge room, you may want to bring your own bed linens.
Things to do nearby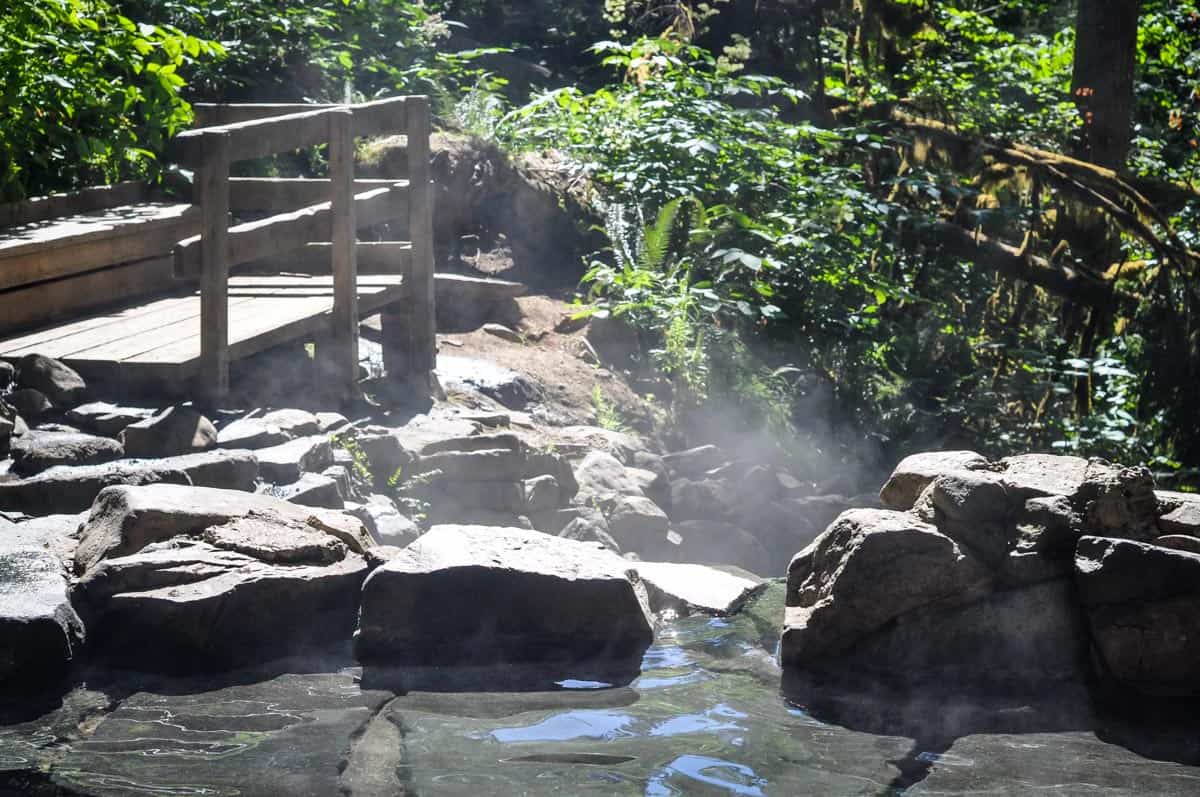 One of the most popular things to do in this area is get on the McKenzie River. It's a renowned destination for both whitewater rafting and fly fishing, and several local outfitters offer guided excursions.
The gorgeous 26-mile McKenzie River Trail also runs right along the edge of Belknap Hot Springs, offering excellent hiking and biking opportunities.
Finally, if you're as into hot springs as we are, Terwilliger Hot Spring is close by. With Belknap's one-hour soak limit, you could easily make a day of it and visit both springs!

You may also like…
Save this article on Pinterest for later!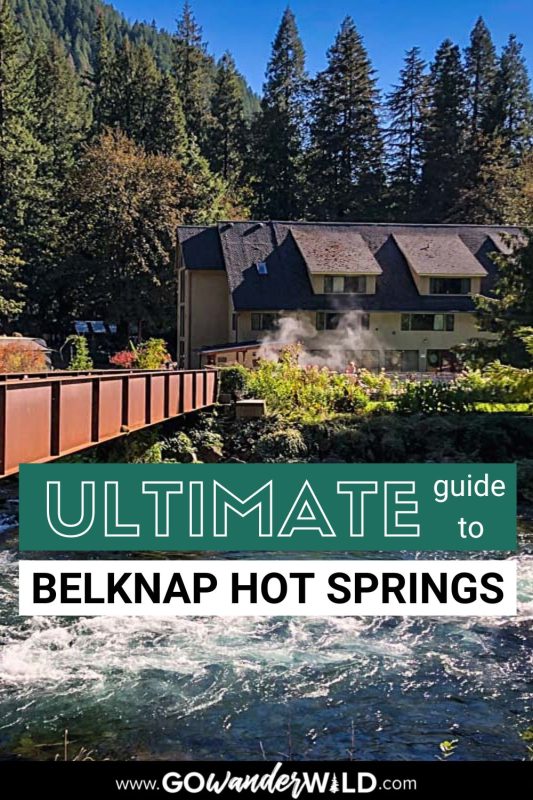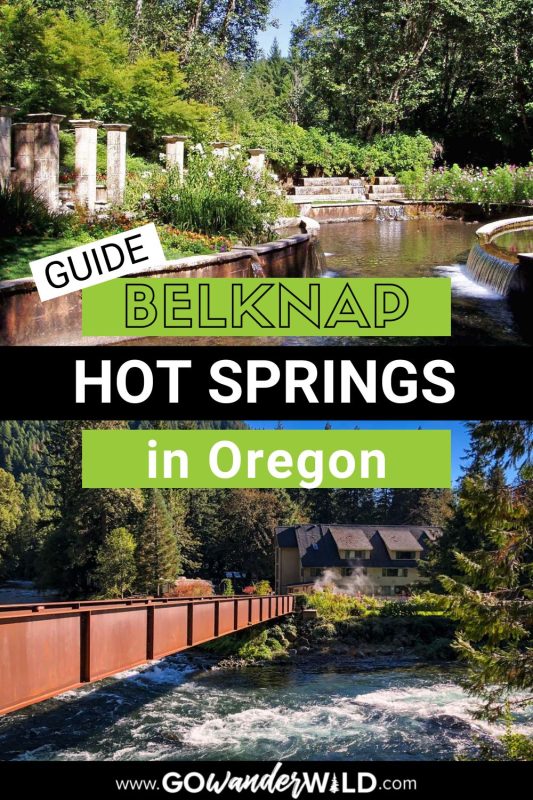 We want to hear from you!
Are you planning a trip to Belknap Hot Springs in Oregon? Do you have any other questions for us? Comment below and we'll do out best to track down answers for you!