Find out everything you need to know before visiting Terwilliger Hot Springs, also known as Cougar Hot Springs and some of the most beautiful springs in Oregon. We'll go over how to get there and what to expect from your visit, plus a few mistakes we made during our visits so you know what to avoid.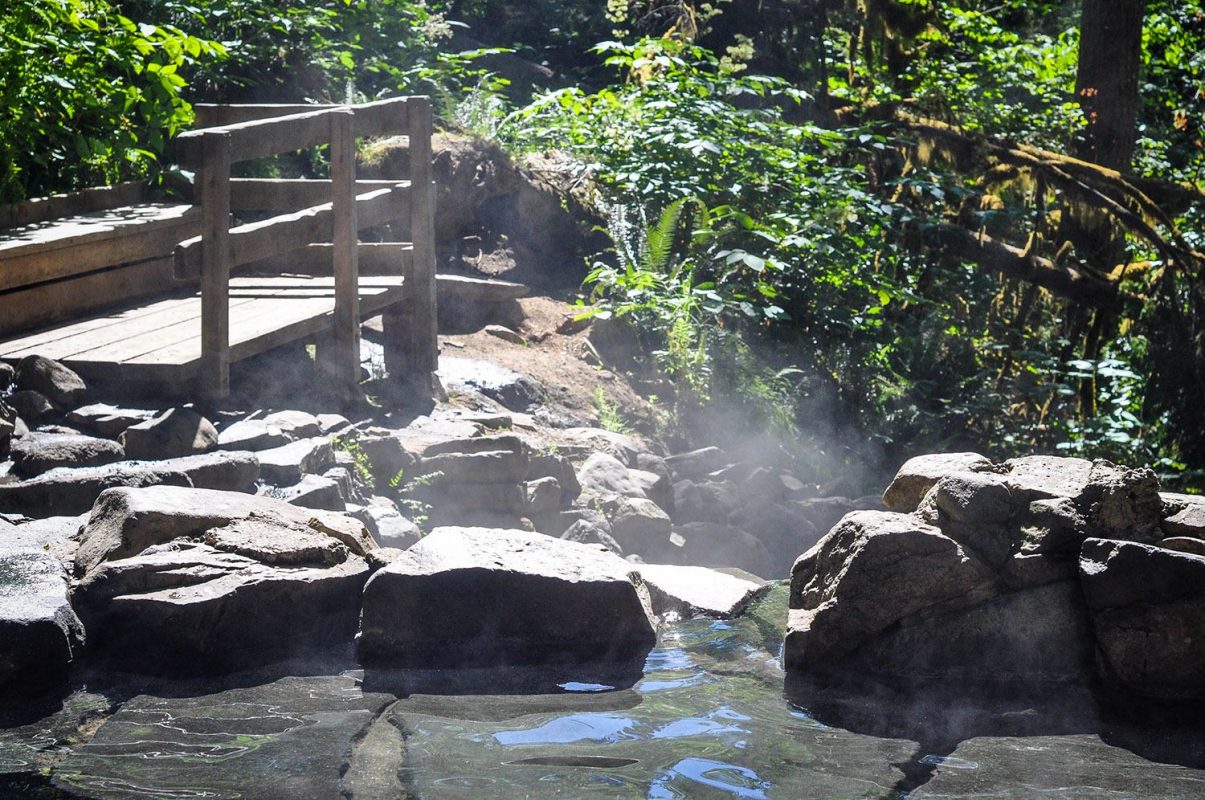 Nestled in a lush canyon in Oregon's Willamette National Forest, lies a PNW treasure: Terwilliger Hot Springs. Also known as Cougar Hot Springs, this magical spot is made up of four cascading pools set in an idyllic woodsy setting, making it a hot spring-lover's paradise.
We've been to this remote hot spring two times (most recently in 2022), and can tell you from firsthand experience that it's worth the trip. That said, there are some things you should know before hopping in the car that'll make your visit to Terwilliger Hot Springs one for the memory books.
Getting to Terwilliger Hot Springs is a bit of an adventure, but that's part of the fun! Plus, we've got you covered with all the directions and advice you need so you don't get lost.
So if you're up for a bit of an adventure, grab a pen (or open up your Notes app!) and jot down some of these tips to make sure you're prepared and you maximize your time at Cougar Hot Springs!
This article will walk you through exactly how to get to Terwilliger Hot Springs, what to bring, what to expect when you arrive, and some insider tips you won't find anywhere else.
Terwilliger Hot Springs description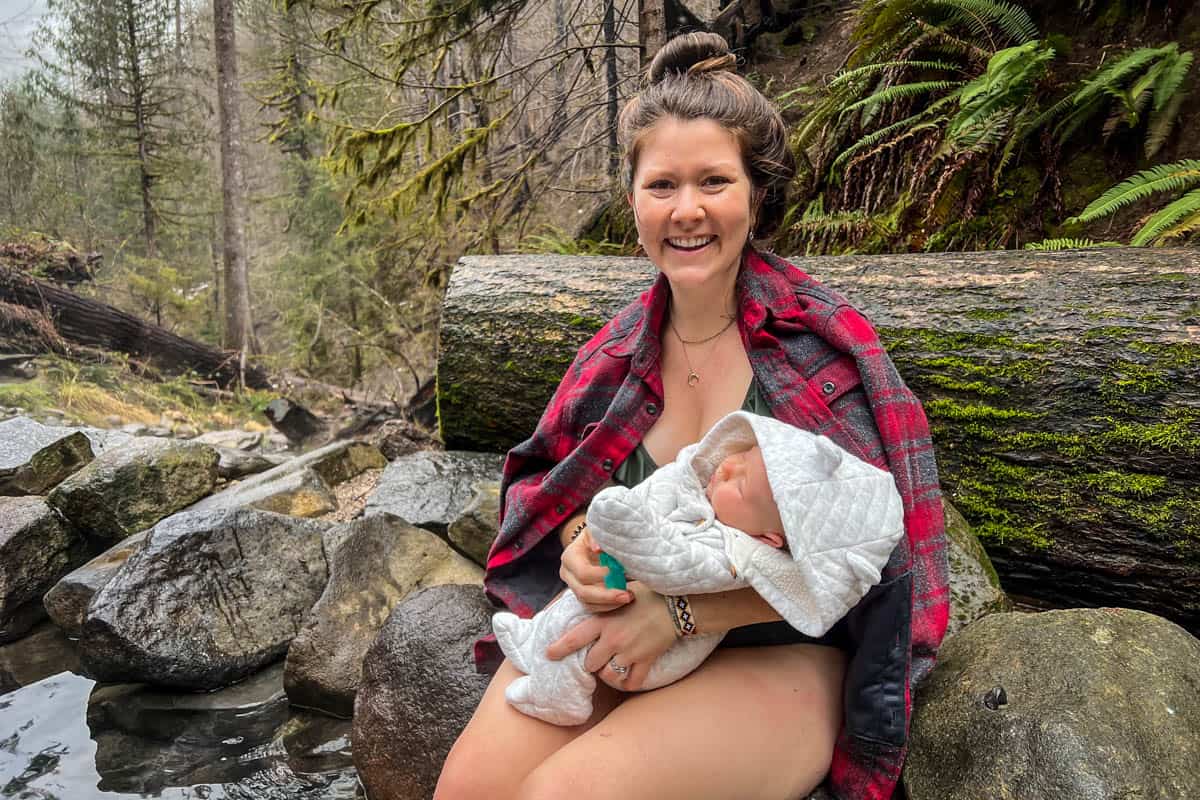 Cougar Hot Springs consists of four cascading pools which sit in a thickly wooded canyon, inviting soakers to stay and relax for a while. The top pool is the warmest and largest, and is fed by the natural hot water source. Look toward the small creek just beside this pool, and you'll see a rock carved like a cougar.
The water drains into the subsequent pools, getting slightly cooler and smaller in size. Unlike some other hot springs in the area, the water at Terwilliger is clear and clean. This hot spring was renovated in 2009 and is regularly maintained by a local group.
The water from these hot springs drains into Rider Creek, which then drains into Cougar Reservoir (the large body of water you'll pass on your drive there).
While this hot spring can draw a crowd, it still feels as if you've escaped the "real world" and have been dropped into a secluded woodsy setting. Terwilliger Hot Springs is certainly a great addition to your PNW bucket list!
Love hot springs? (We do too!) Check out our list of the best hot springs in Oregon!
Terwilliger (Cougar) Hot Springs Stats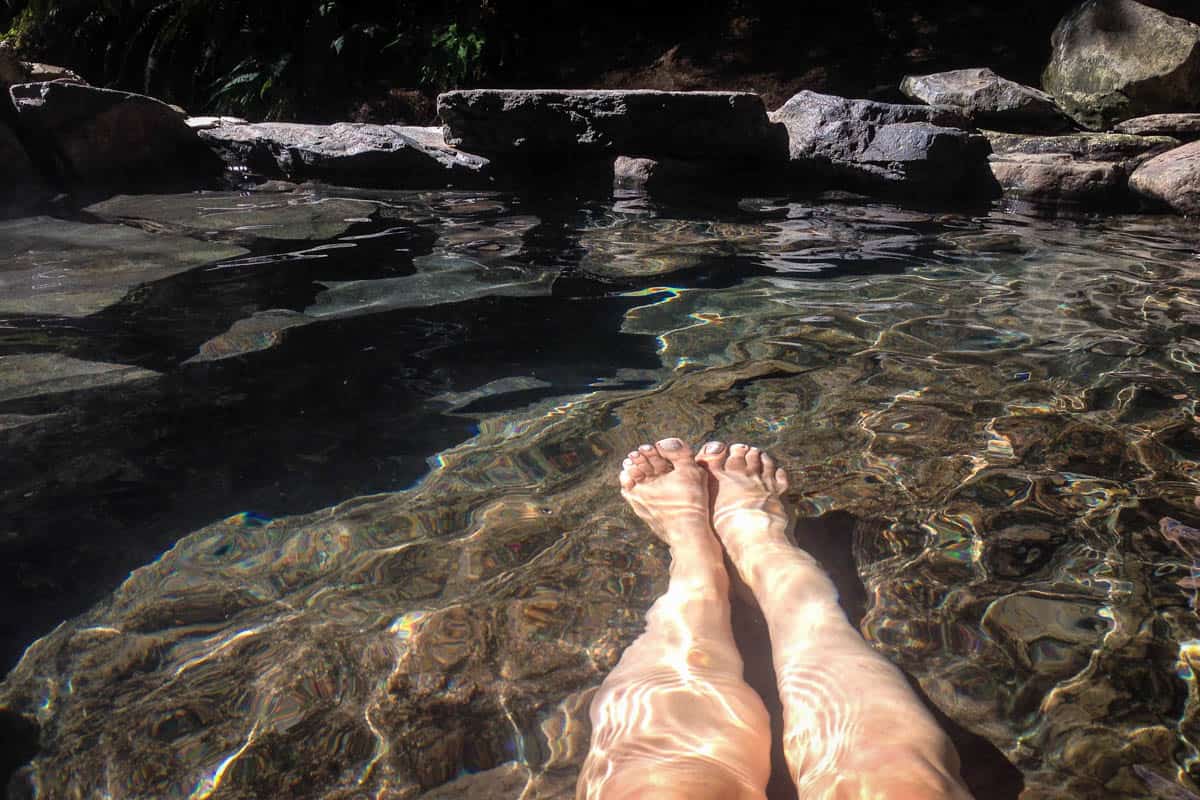 Here are all the important things to know about Terwilliger Hot Springs:
Location: in the Willamette National Forest, off of the McKenzie Highway
GPS coordinates:

Trailhead Coordinates: 44.08386856275806, -122.23291283041254
Hot Springs Coordinates: 44.08323660495977, -122.23842745217146

Nearest (small) town: McKenzie Bridge (19 miles)
Hours: Day use only (open sunrise to sunset). Closed Thursdays between 8 a.m. – 12 p.m. (noon) for cleaning.
Number of people: 50 people are allowed at a time, with a 2 hour soaking limit
Access: .8-mile hike (out-and-back)
Time of year: open year-round
Cost: $7 per person (10 years old and over); there is also an annual pass available for $60
Toilets: there are two pit toilets in the parking lot
Camping: no on-site camping allowed; but there are campgrounds nearby
Type of hot spring: mostly natural/undeveloped, though there are some man-made structures and a certain amount of required maintenance
Number of pools: 4
Water clarity: pretty clear
Temperature of pools: between 85°F (29.4°C) and 112°F (44.4°C)
Depth: the pools are quite shallow, maybe 3 feet at its deepest
Odor: we didn't notice any smell
Dogs: Must be kept on a leash and are not allowed past the "chain up area"
Clothing: optional
Suitable for children? It depends on your comfort level. Know that clothing is optional and facilities are minimal. We came here with our baby when she was 2 months old, and took turns holding her on the edge of the pools and had a great experience. Though it would be a different story for older children.
Notable Events in the area
2017 Landslide at Terwilliger Hot Springs
On December 21, 2017, a landslide blocked the road the leads to Terwilliger from the north. This road has been closed ever since, and there is no information about when it will reopen. This means that visitors must take the forest road around the east side of the reservoir, which adds roughly 30-40 minutes to the drive time.
2018 Wildfire at Terwilliger Hot Springs
On August 19, 2018, a wildfire swept through this area, damaging some of the trail and nearby area. The hot springs were closed following this fire and reopened on July 1, 2019. You will still see some of the fire damage near the hot springs.
Psst! Looking for a winter getaway?? Check out these cozy cabins in Oregon you can rent!
How to get to Terwilliger Hot Springs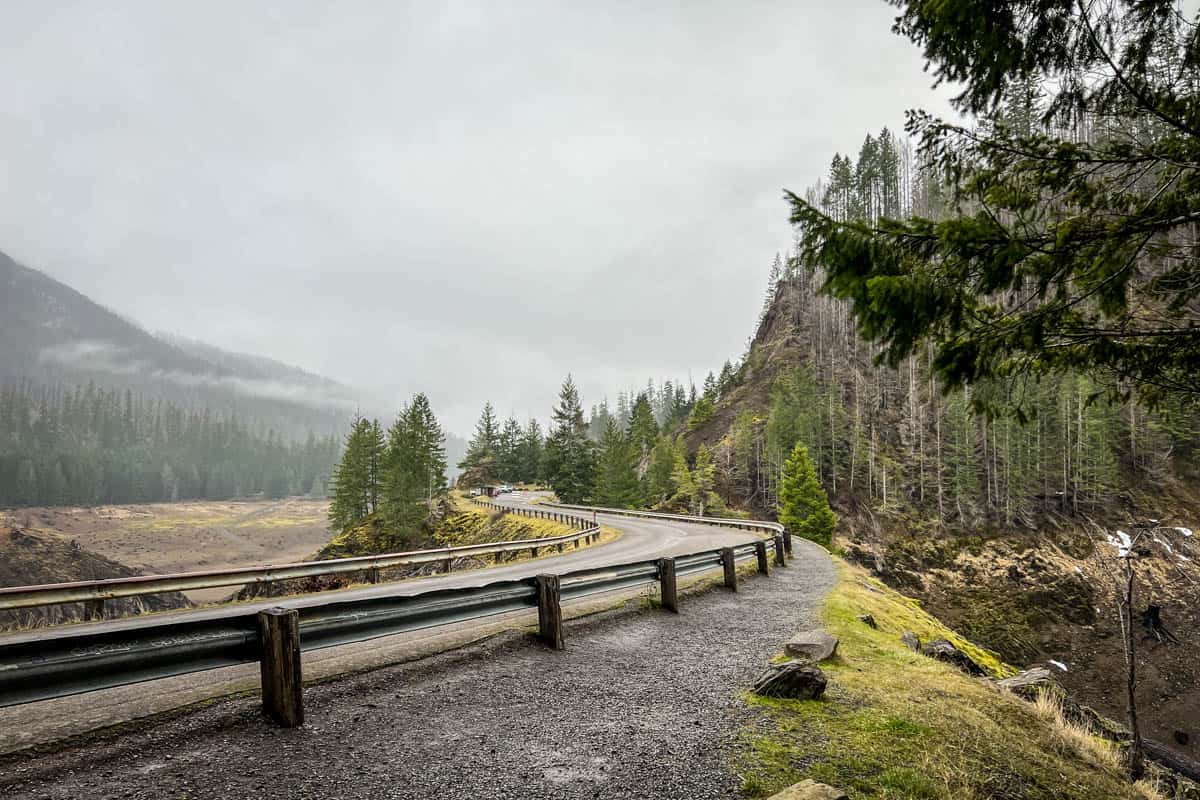 Terwilliger Hot Springs is located in the Willamette National Forest, and isn't all that close to any major towns. Once you arrive at the parking lot, it's just a .4-mile hike to the hot springs.
Below are more detailed distances and directions.
Directions to Terwilliger (Cougar) Hot Springs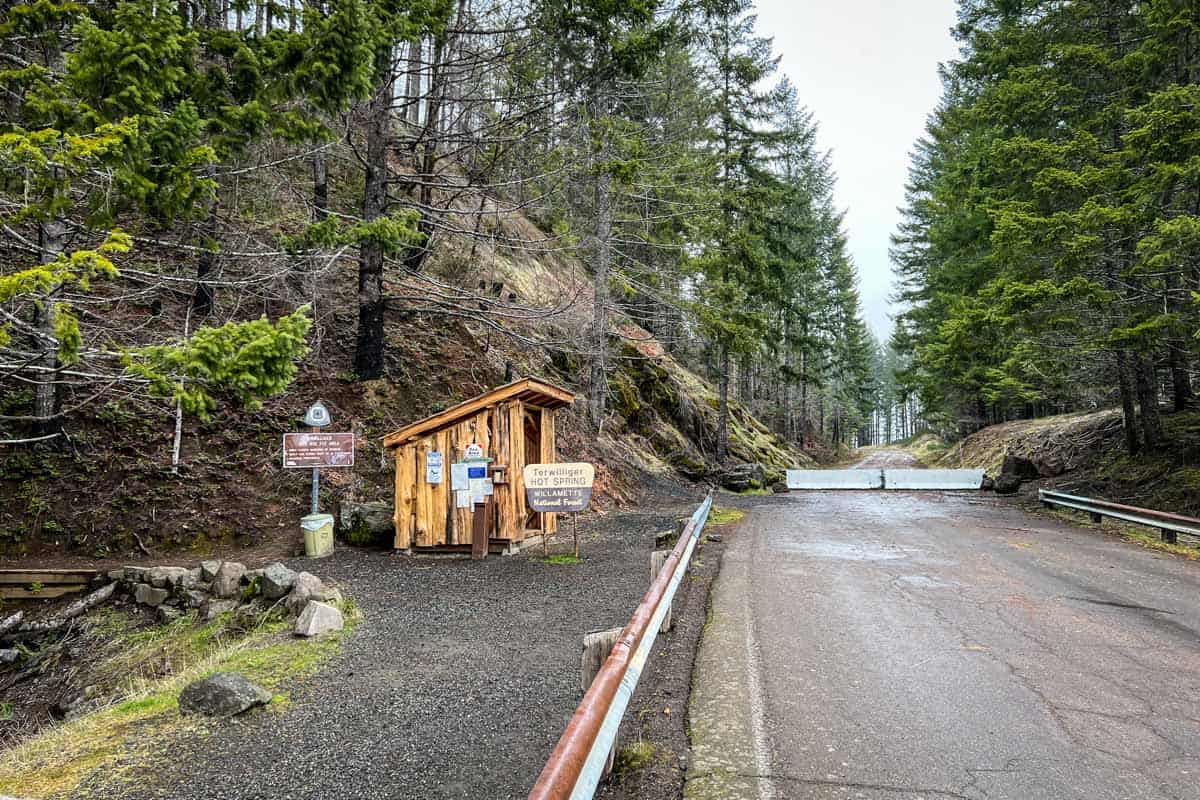 Distance from Eugene: 56 miles, 1 hour 15 minutes*
Distance from Bend: 88 miles, 1 hour 50 minutes*
*Good to know: The Forest Service road is currently closed on the west side of Cougar Reservoir, due to a landslide. This means you will have to drive along the east side of the reservoir, adding roughly 30-40 minutes to the drive times listed above. The section of forest road you will need to drive on along the east side of the reservoir is unmaintained and has lots of potholes and muddy sections. It is recommended that you drive a 4×4 vehicle or one that can handle rough roads.
Coming from the West (Eugene)
[You are driving eastbound on Highway 138 / North Umpqua Highway]
From Eugene, you will take Highway 126 eastbound.
Turn south on Cougar Dam Road and continue to the reservoir.
If the road on the west side of the reservoir is closed, you will need to proceed over the bridge and follow the road east of the reservoir. This will be mostly unpaved, but will lead you to the Terwilliger Hot Springs parking lot.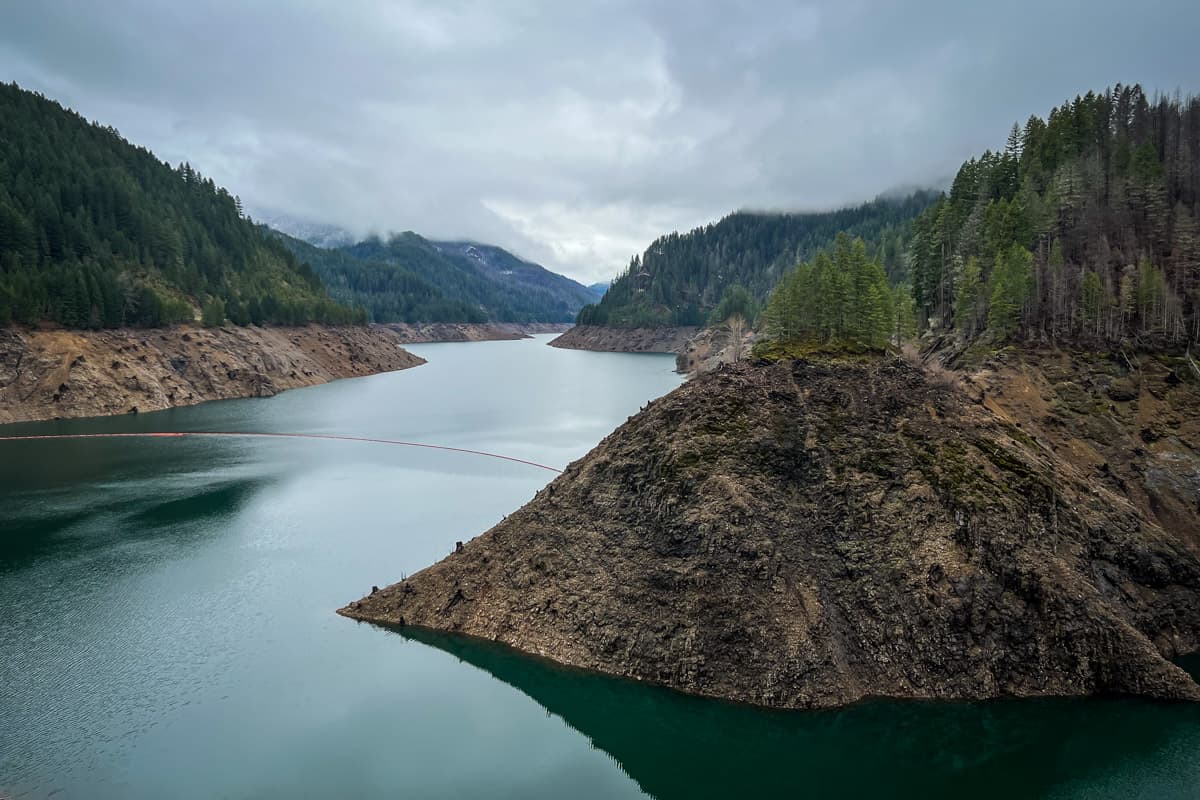 Coming from the East (Bend)
[You are driving westbound on Highway 58 / North Umpqua Highway]
Take Highway 20 through the town of Sisters and over the Santiam Mountain Pass.
Once over the mountain pass, you will turn south on Highway 126.
Follow this through the small town of McKenzie Bridge and turn south on Cougar Dam Road. Continue to the reservoir.
If the road on the west side of the reservoir is closed, you will need to proceed over the bridge and follow the road east of the reservoir. This will be mostly unpaved, but will lead you to the Terwilliger Hot Springs parking lot.
Insider Tip: At just a little more than a 2-hour drive, visiting Terwilliger Hot Spring makes a great day trip from Bend, Oregon. Just be sure to get an early start on the day to avoid the crowds as best as you can!
Terwilliger Hot Springs entrance fee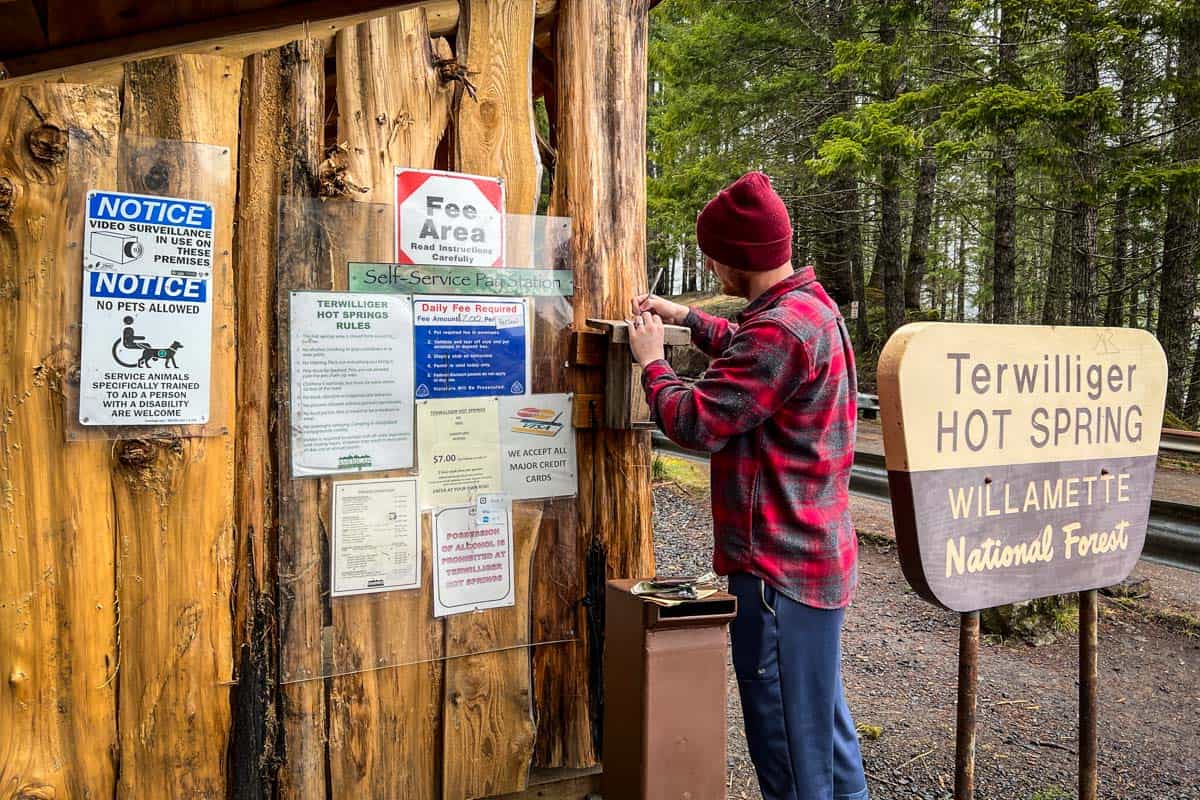 There is a $7 fee per person (10 years and older) to use these hot springs. This money is used to help maintain the pools to keep them beautiful for years to come.
As you approach the trailhead, you will see a booth where you can fill out an envelope with your license plate number and insert your payment. For this reason, it's a good idea to bring exact change. There is also a sign that says they accept all major credit cards, however, we didn't see an easy form to fill out with credit card information.
Once your envelope has been completed, you can drop it in the secure slot.
The hike to Terwilliger Hot Springs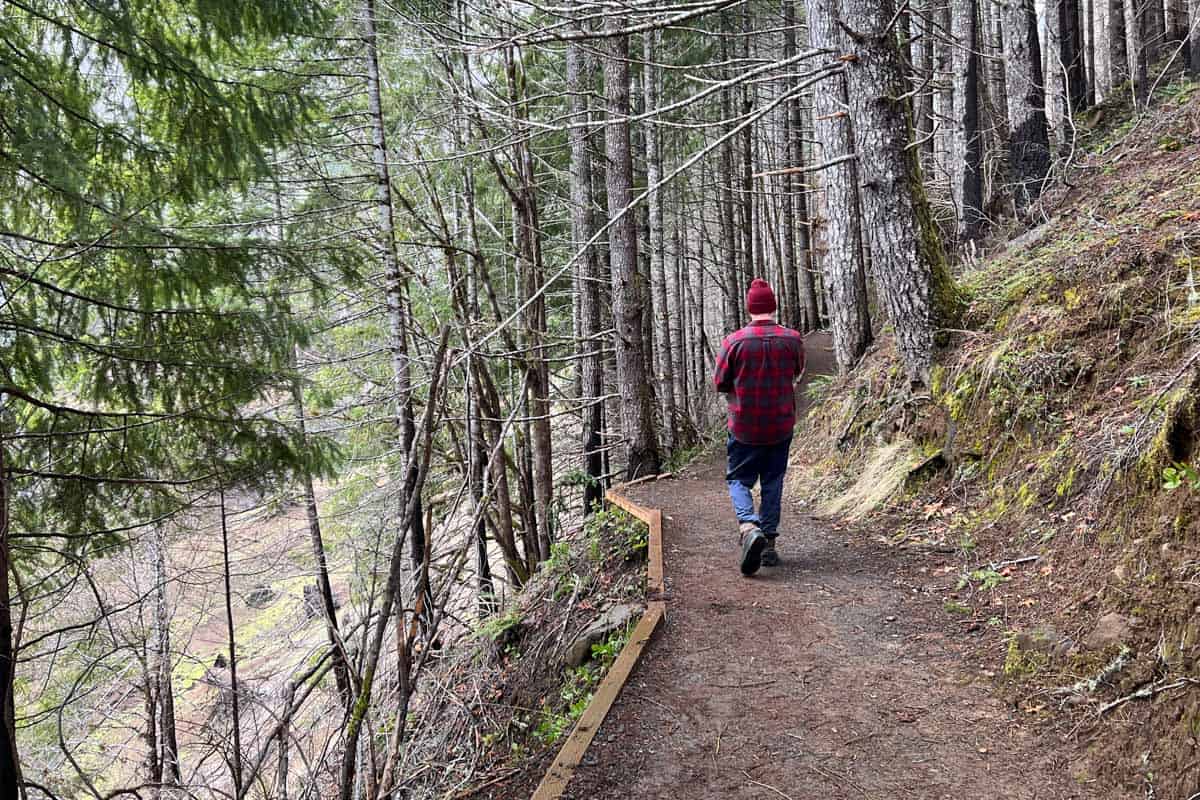 Distance: .8 miles total
Type of hike: out-and-back (this means it's just .4 miles to get to the hot springs themselves)
Elevation gain: 90 feet
This trail is mostly flat and very easy. It should take you around 10-15 minutes, depending on your pace. The trail is dirt and has some roots, and it can get muddy at certain times of the year or after a rainstorm.
The trail will bring you through some forest that was recently burned in a wildfire, but the trees surrounding the hot spring itself were not harmed.
For up to date trail conditions, check people's reports on Alltrails.
Things to know about visiting Terwilliger Hot Springs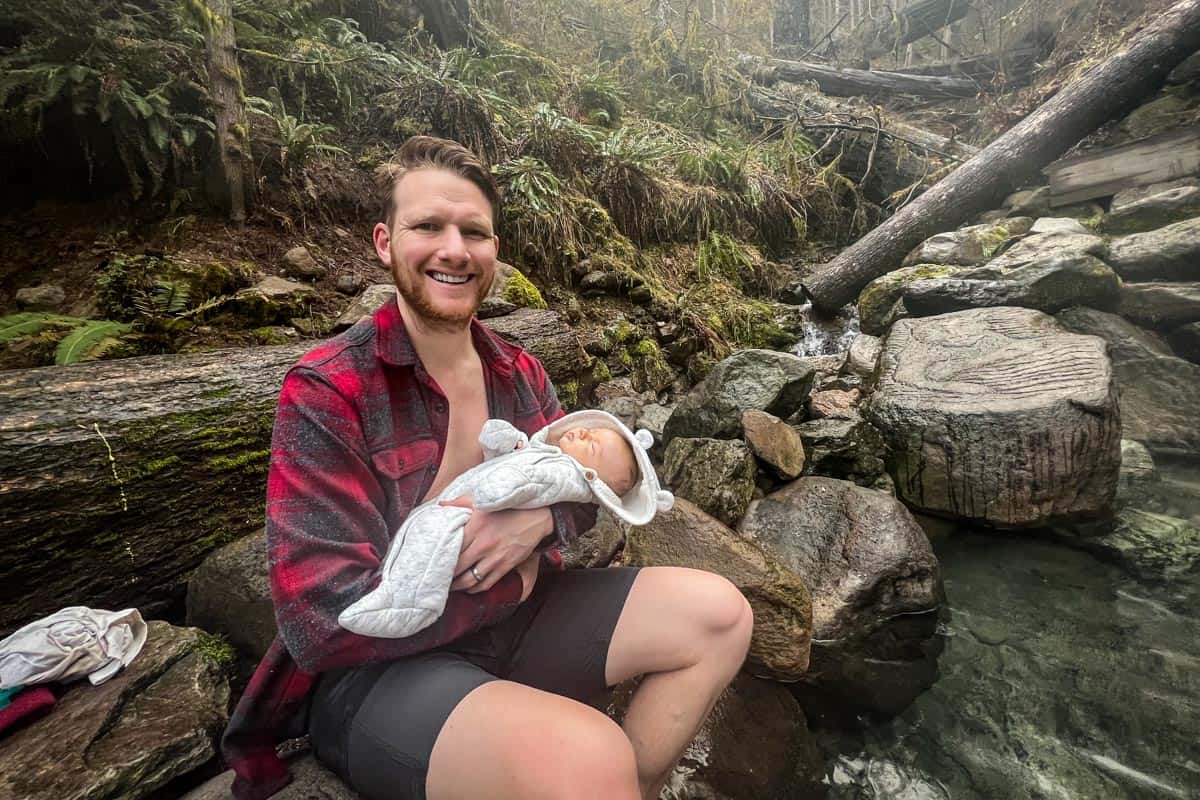 It costs money to get in. There is a self-pay station at the trailhead where you can deposit cash in an envelope. It costs $7 per person 10 years and older. Parking passes (like the National Forest Pass) are not accepted or required. All visitors must pay. The small fee helps maintain these hot springs for years to come.
It can get busy. If you want to avoid crowds, earlier in the day is better. The best way to get there early (or to stay late) is to stay nearby in a hotel or campground. (We've shared our recommendations below.)
The rules on pets are a little blurry. One sign at the entrance says: "No pets allowed other than service animals", while another sign says, "Pets must be leashed. Pets are not allowed past the chain up area".
The upper pool is usually the most crowded. And there's good reason for that: It's the largest, deepest, and warmest, as the water source flows directly into this pool. It is usually the most comfortable in terms of soaking temperature, but if you don't mind water that's on the lukewarm side, you may get one of the lower pools to yourself as they are pretty small.
Alcohol and smoking are both prohibited. Glass containers are also not allowed by the pools. Be respectful of the rules when visiting.
Expect nudity. This is common at most wild hot springs FYI.
Be careful taking photos. Since this is a clothing-optional hot springs, it's best to only take photos in parts of the pools where there are no other people.
There isn't a bathroom near the hot spring. Do your business at the parking lot, where you'll find a 2-stall vault toilet.
There is an open-air shelter for storing your belongings and changing. If you would like privacy, plan on changing at the vault toilet at the parking lot.
A short hike is required to get here. The trail is mostly flat and easy. It can get muddy depending on the time of year, so be prepared.
There is no cell signal. At the hot springs as well as on the road getting here, expect to have no cell service (Tip: download the offline version of Google Maps ahead of time!).
Carry your trash out with you. When we've been at Cougar Hot Srings it has been mostly free of litter, which isn't always the case at hot springs. Help keep it that way by packing out anything you bring in.
How many pools are there?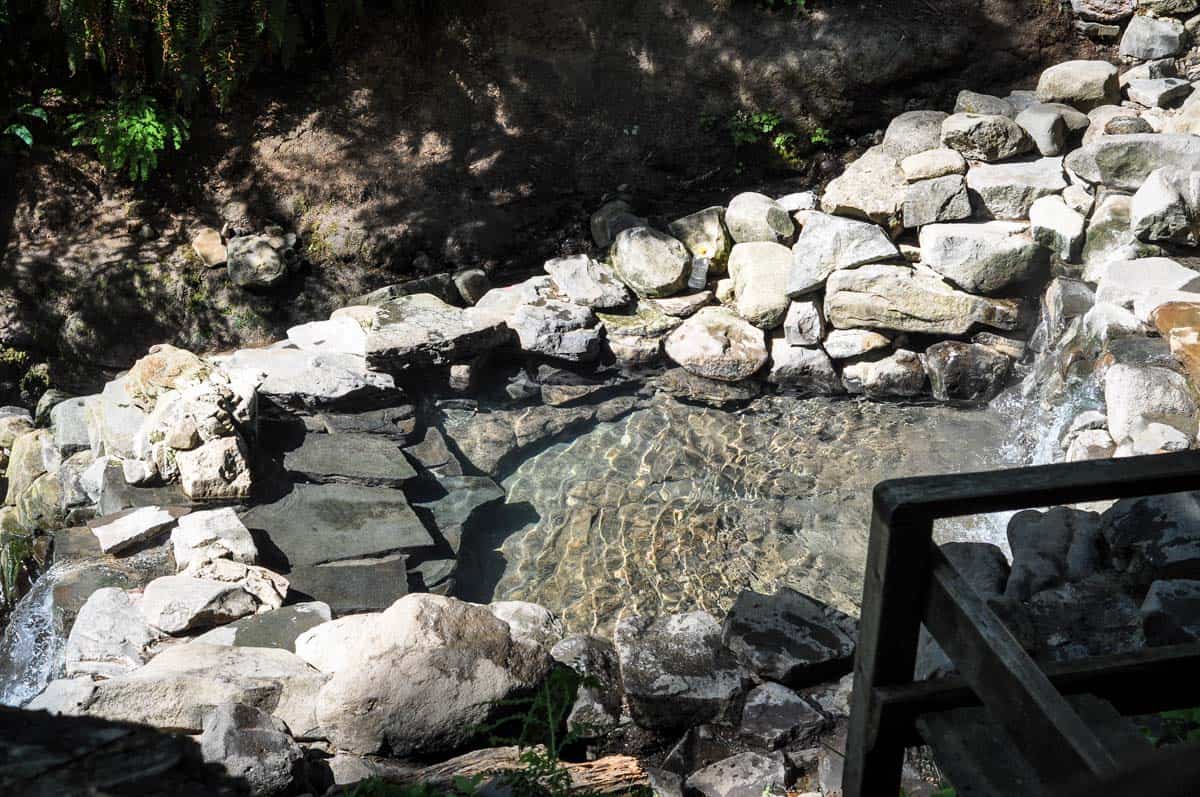 There are 4 cascading pools that flow into one another.
The top pool is the largest, deepest, warmest (as it's at the water source), and typically the most crowded.
How crowded is Terwilliger Hot Spring?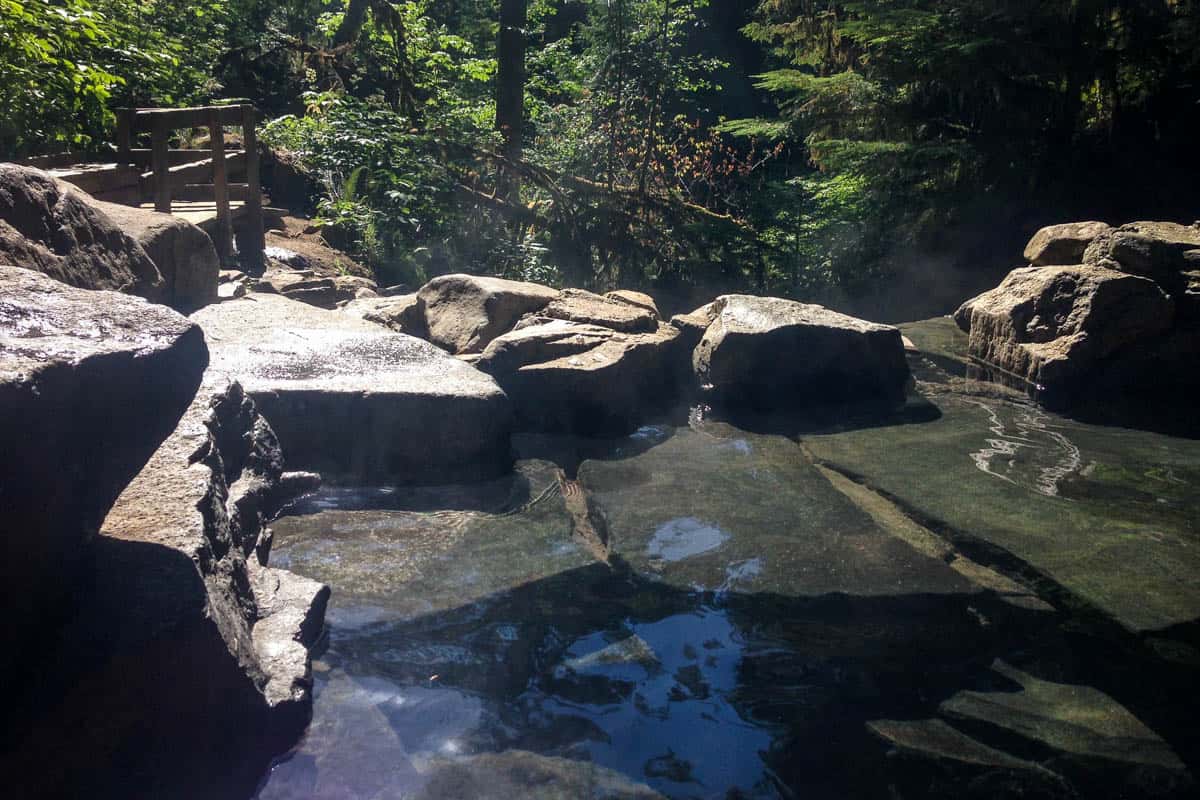 While not quite as crowded as nearby Umpqua Hot Springs, Terwilliger (Cougar) Hot Spring is not exactly a "hidden gem".
For the best chance of avoiding crowds, our advice is to come early (before 10 a.m.) or stay late and camp nearby (being prepared to drive unmaintained roads in the dark). Also, try to visit during the weekdays.
Both times we've visited (summer 2017 and winter 2022) it hasn't been too terribly crowded. During our summer visit, we arrived early in the morning and beat most of the crowds. And on our most recent visit*, we visited on a weekday in the late afternoon and shared the 4 soaking pools with roughly 15 other people, which wasn't too bad.
*It is worth mentioning that a recent landslide has closed part of the road, making the drive to Terwilliger Hot Spring a bit longer and more precarious. This likely deters some visitors, so when the road is eventually fixed, it might become more crowded.
Want another Oregon Hot Spring suggestion? Check out the lesser-known (and less crowded!) McCreedie Hot Springs.
What is the best time of year to visit?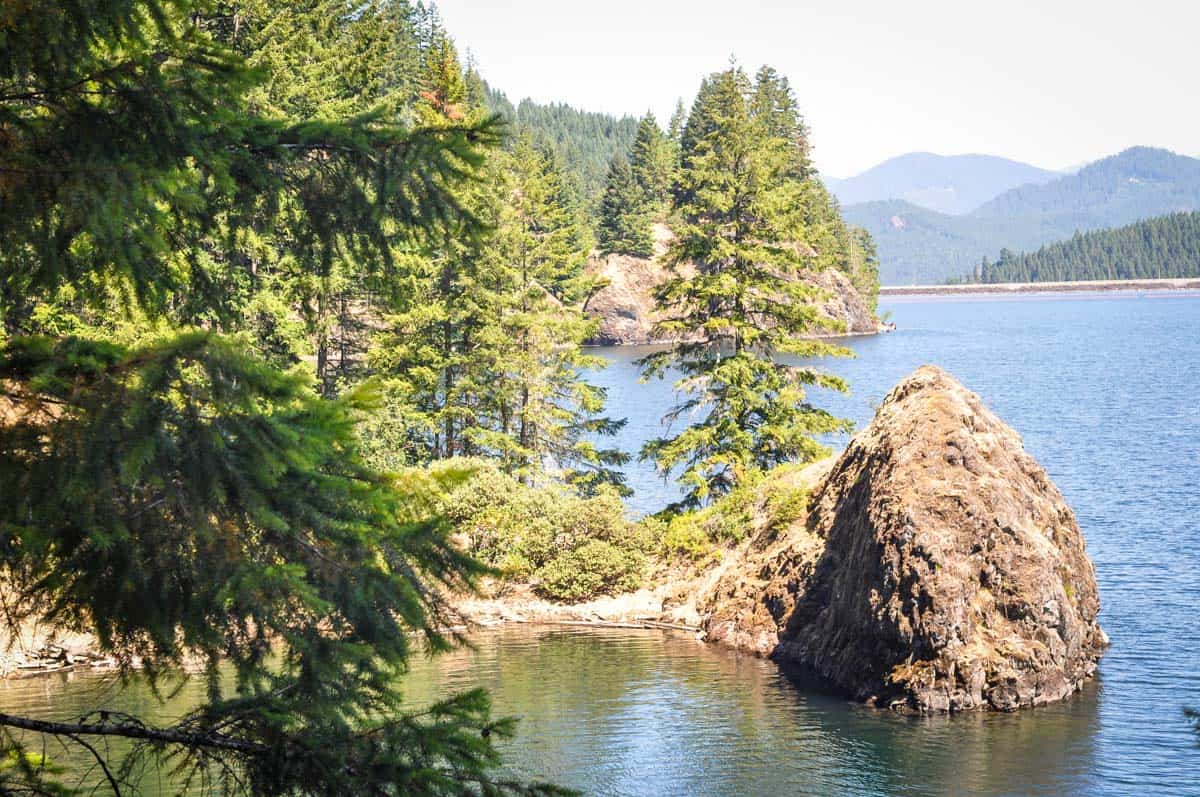 Terwilliger Hot Springs is open to the public year-round, and each season has its own draws (and drawbacks).
Summer is beautiful but can get crowded. Plus, with hot summer temps, soaking in a hot spring isn't always the most appealing.
In fall and spring, the chill in the air can make the hot spring more appealing.
Winter is typically a less crowded time to visit Cougar Hot Springs; and being that this area stays pretty mild in terms of temperature, it usually isn't too snowy (if at all).
Does the water smell?
Some natural hot springs have a sulfur smell, but we didn't notice a smell at all at Terwilliger Hot Springs. The water is also very clean, especially compared to some of the springs in the area, like Umpqua Hot Springs for instance. This is likely due to the fact that this hot spring is cleaned weekly*.
*Terwilliger Hot Spring is closed each Thursdays from 8 a.m. – 12 p.m. (noon).
How much time do you need there?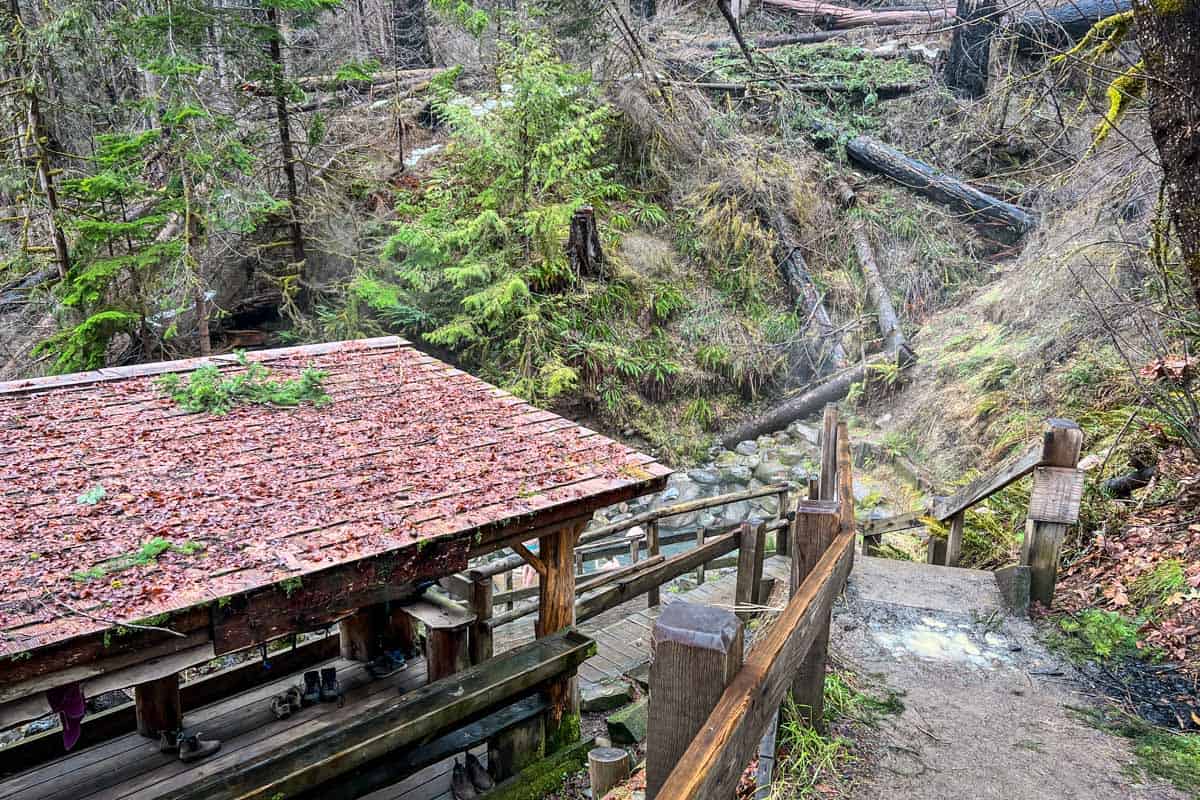 According to the signs posted at the trail entrance, visitors can only stay 2 hours at the hot springs. There are only 50 people allowed at a time, so this is meant to reduce crowds.
It should take roughly 10 minutes to the hot springs from the parking lot, and the same amount of time to return. You may also want to factor in time needed to change.
Keep in mind that getting here requires a bit of time (especially as the Forest Road on the west side of the reservoir is currently closed, meaning visitors must take a 40-minute+ detour around the body of water.
We'd recommend allowing between 1-2 hours for soaking, plus time spent hiking, changing, and driving.
Where is the closest gas station?
It's a good idea to start this adventure with a full tank of gas, as it is a bit remote. But in case you need to fill up, there is a Chevron gas station located on the McKenzie Highway, not too far from the turnoff to the Cougar Reservoir.
What to pack for Cougar Hot Springs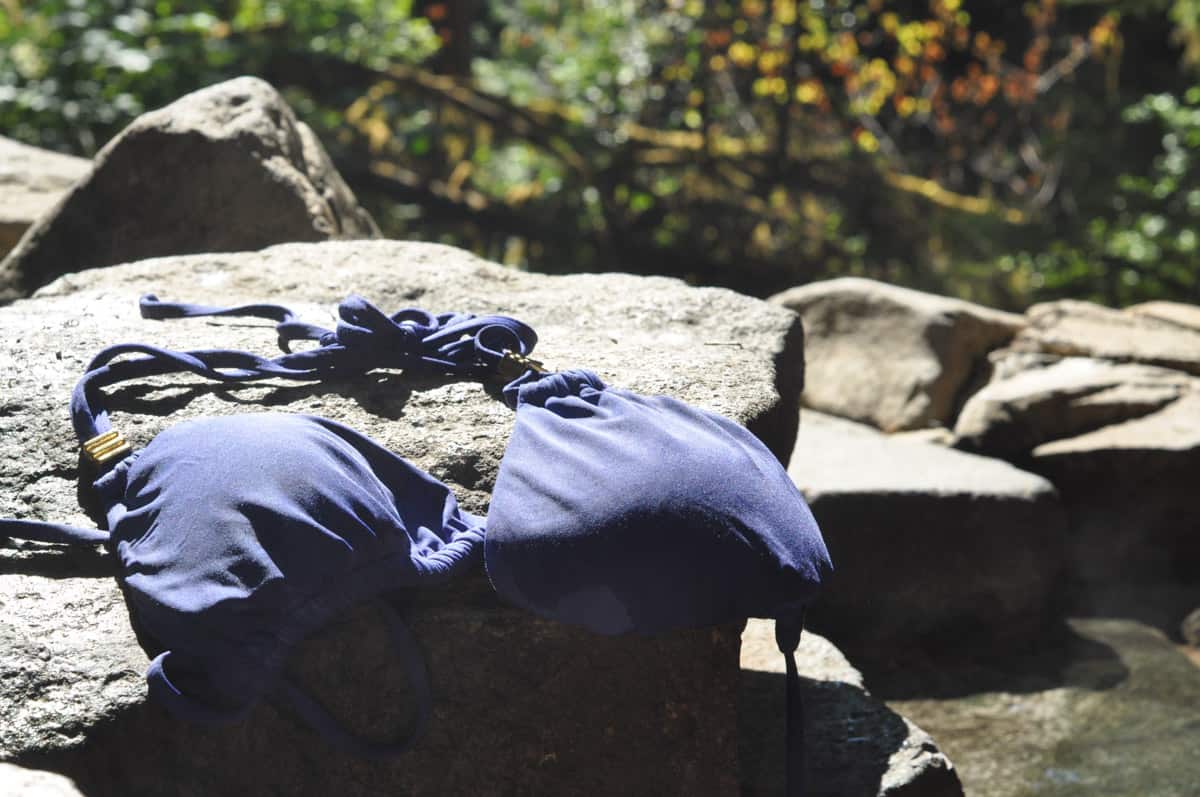 Drinking water (you'll want to stay hydrated while soaking!)
Towel and/or sarong
Shoes that are fine for walking through mud but are easy to get on and off

Our suggestion: Chacos (or similar hiking sandals) are a great choice as they are waterproof, good for walking on the trail, and are easy to get on and off.

Bathing suit, if that's how you feel most comfortable
Clothes that are easy to change in and out of
Dry bag to keep valuables from getting wet
Snacks (as long as you don't leave anything — and I mean ANYTHING! — behind)
Bag to keep your trash
Leave No Trace and Hot Springs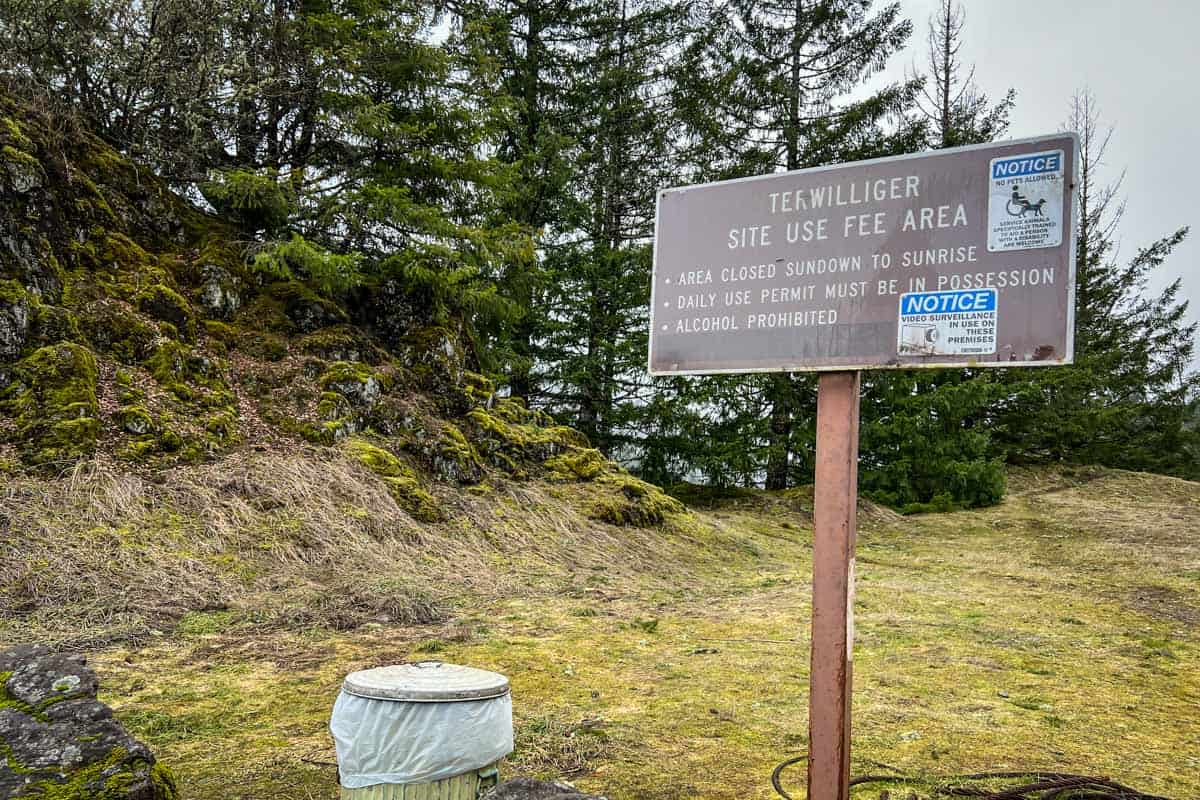 When we've visited Cougar, it has been very clean, which isn't always the case at hot springs. Let's do our best to keep it that way!
There is no trash bin near the springs, so pack out everything you brought in. Yes, that includes fruit peels or nutshells.
Why? While biodegradable, they are not native to this environment, and wildlife should not be consuming them or drawn-out near people. Don't put the animals in harm's way by leaving anything behind.
And if you want to be extra amazing, pick up any trash you see and pack it out to keep this place beautiful.
Read more about the 7 principles of Leave No Trace.
Where to stay nearby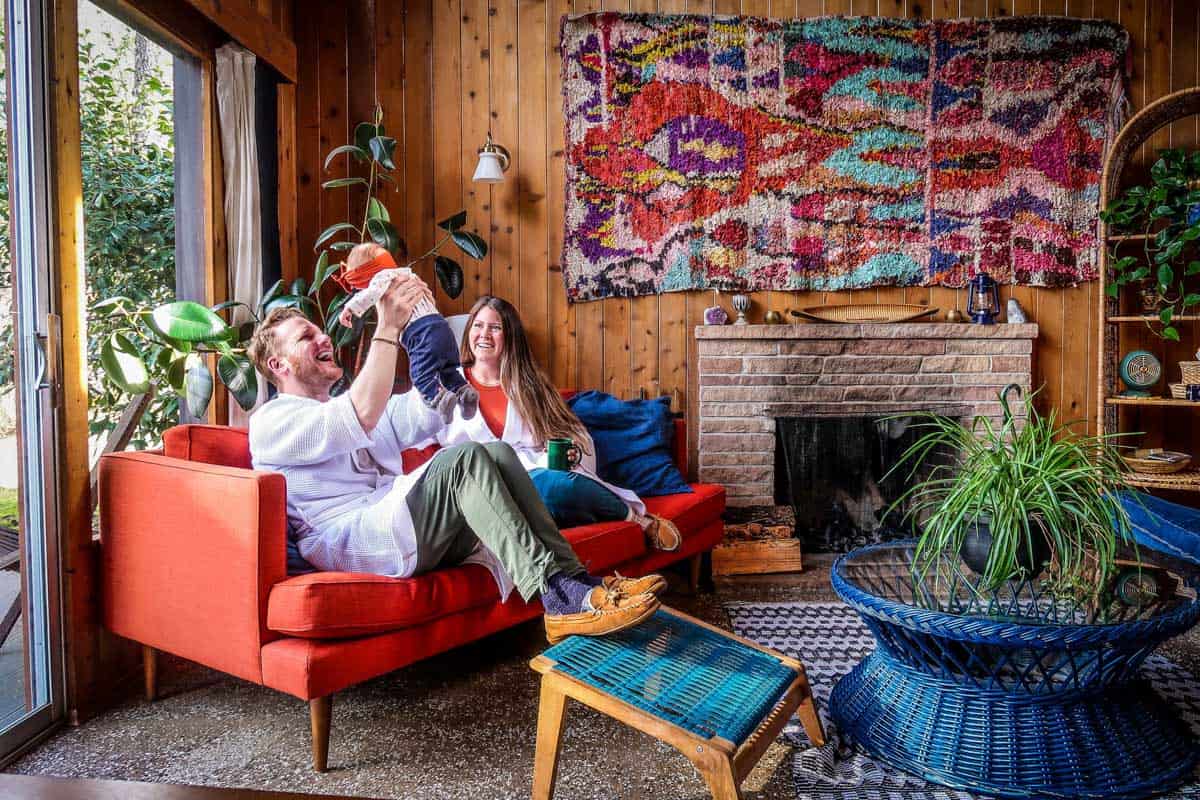 Loloma Lodge: We highly recommend staying at nearby Loloma Lodge. Choose from glamping tent pads, riverside cabins, or regular campsites. This is a stunning woodsy location just beside the McKenzie River.
From Loloma, it is just a 12-minute drive to the reservoir. If the west side of the forest road is still closed, it should take about 50 minutes in total to get to Cougar Hot Springs. If the road is open, it should be around 25 minutes total.
Campgrounds: There are other campgrounds nearby, the closest ones being:
Where to eat nearby
While somewhat remote, there are a couple of good eating options in the area:
McKenzie General Store: Burgers, pub food and a beer garden (sometimes there is live music here).
Takoda's Restaurant: American comfort food in a no-frills atmosphere. Their pulled pork potato nachos are excellent (and we've heard good things about their pulled pork sandwich)! If it's a nice day, the outdoor seating area is nice.
Have more time in the Willamette National Forest?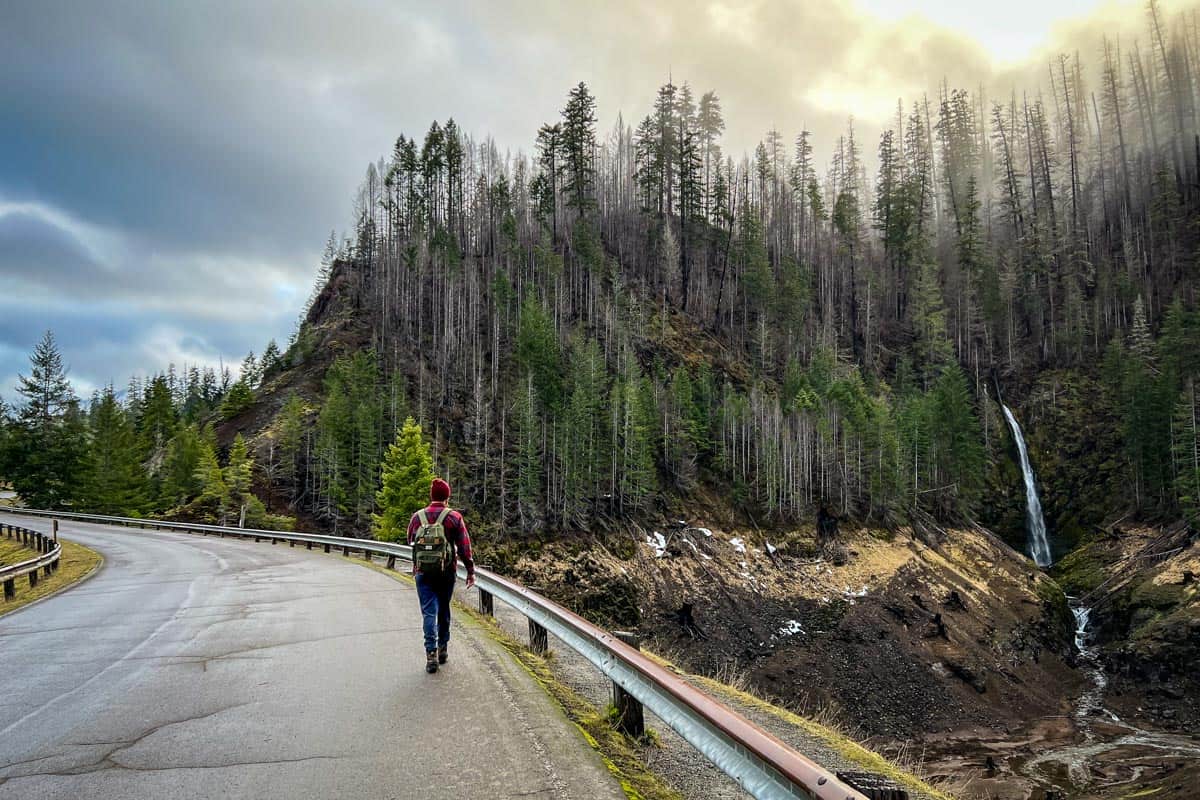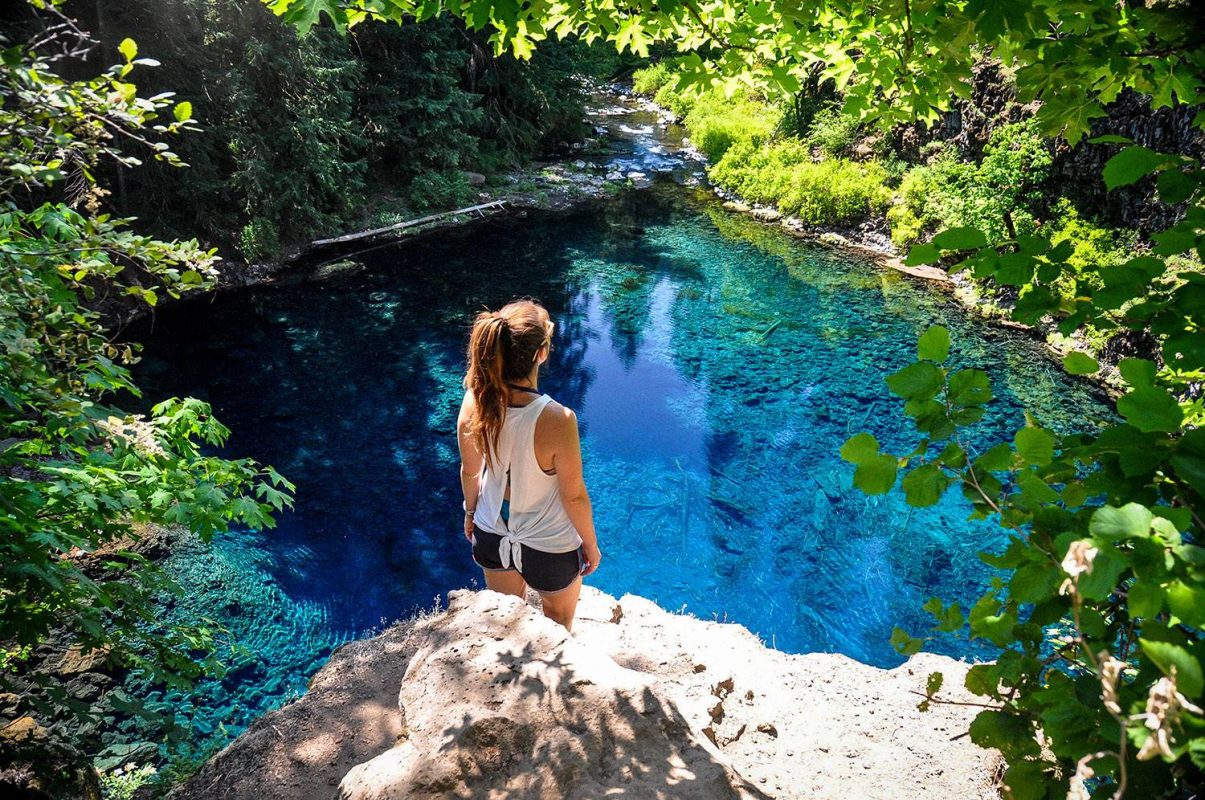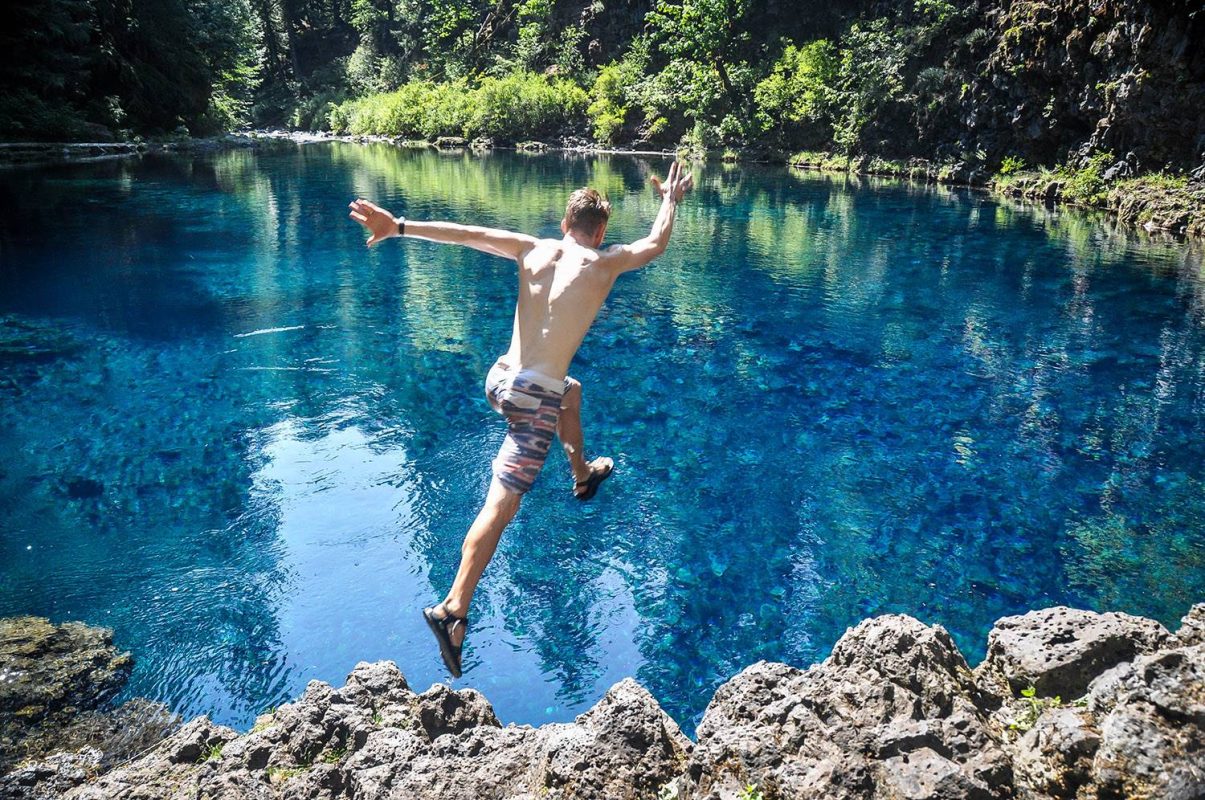 There is so much to see! We love this area and have spent days exploring the nearby trails and waterfalls. Here are a few of our favorites:
Tamolitch Blue Pools: Hike through an old growth forest to a shockingly blue cold spring
Belknap Hot Springs Resort: Historic lodge on the McKenzie River with a fully-maintained (pool style) hot spring. Entrance is $8 per adult.
Sahalie and Koosah Falls: Waterfalls that are close together
Proxy Falls: Stunning waterfall (one of our favorites in Oregon!) located on the Old McKenzie Highway. (Closed in the wintertime)


You may also like…
Save this article on Pinterest for later!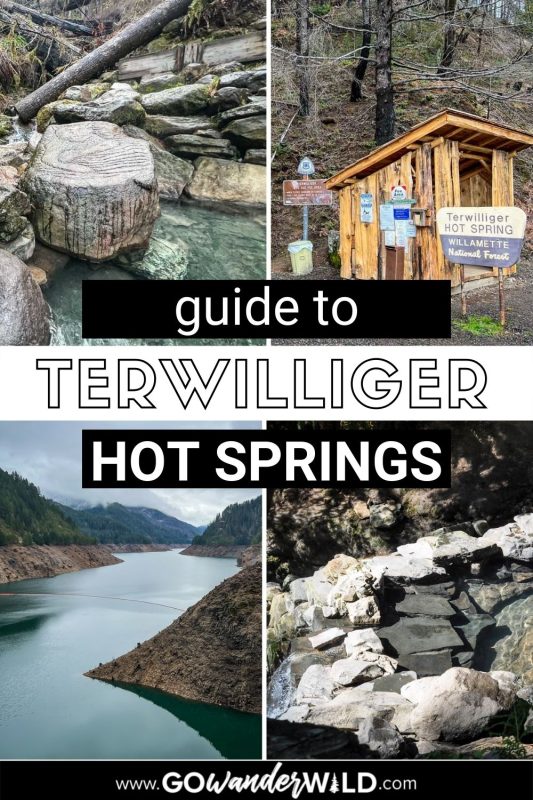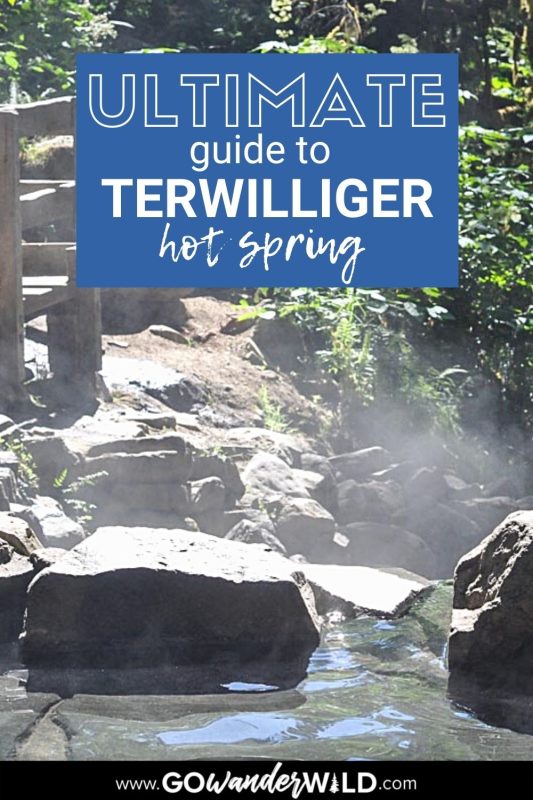 We want to hear from you!
Are you planning a trip to Terwilliger Hot Spring in Oregon? Do you have any other questions for us? Comment below and we'll do out best to track down answers for you!