Tom Dick and Harry Mountain packs a tremendous punch: astounding views of Mount Hood, a loop around pristine Mirror Lake, and a not-too-challenging trek to get there. This guide goes over everything you need to know about hiking this stunning trail.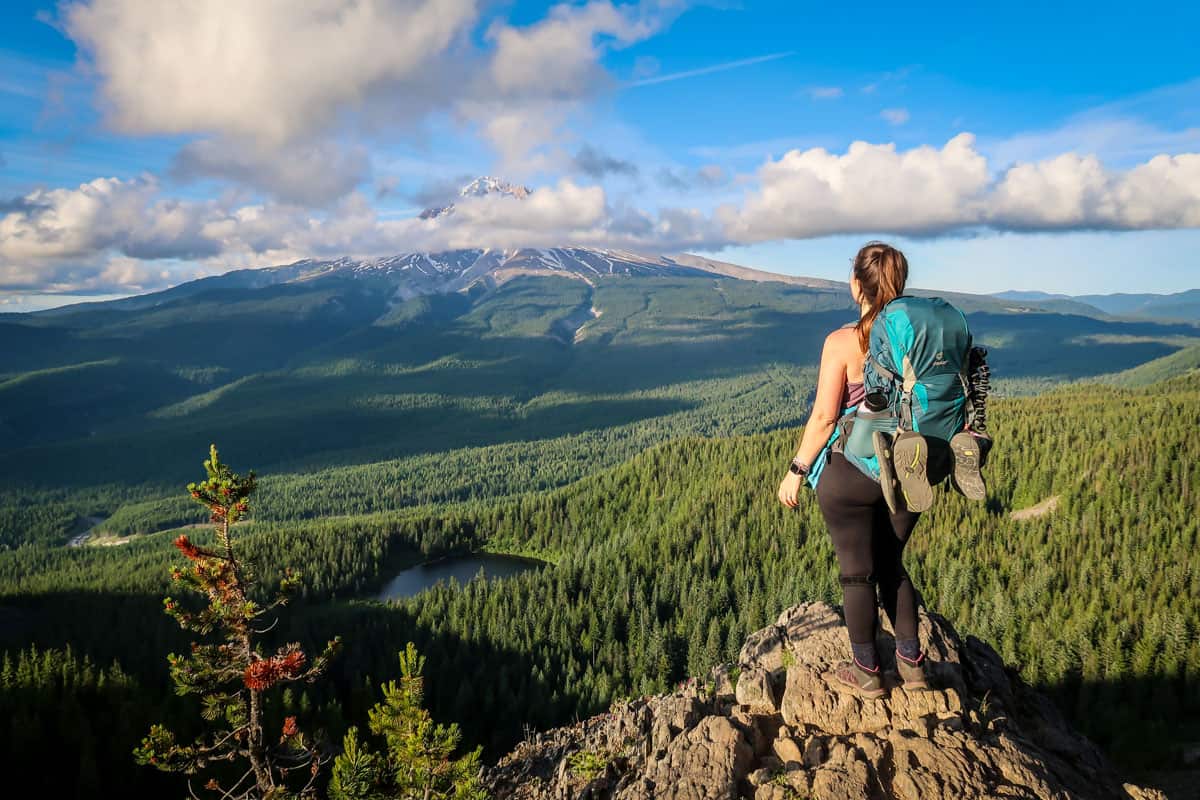 Mount Hood is, in our humble opinions, a pretty underrated piece of the Pacific Northwest. Often overshadowed by the nearby national parks, like Olympic and Mount Rainier, this national forest is truly a gem.
With a variety of trails, ranging from short and easily accessible to those that make excellent backcountry camping trips, Tom Dick and Harry Mountain is one of the best Mount Hood National Forest has to offer.
We spent a magical night on this trail, watching the sunset and waking up with the sun and can't wait to share our tips for doing this trail yourself.
We've collected lots of photos and tips to help you plan your own backpacking trip or day hike on the Tom Dick and Harry Mountain trail.
Article Contents

Tom Dick and Harry Mountain hike at a glance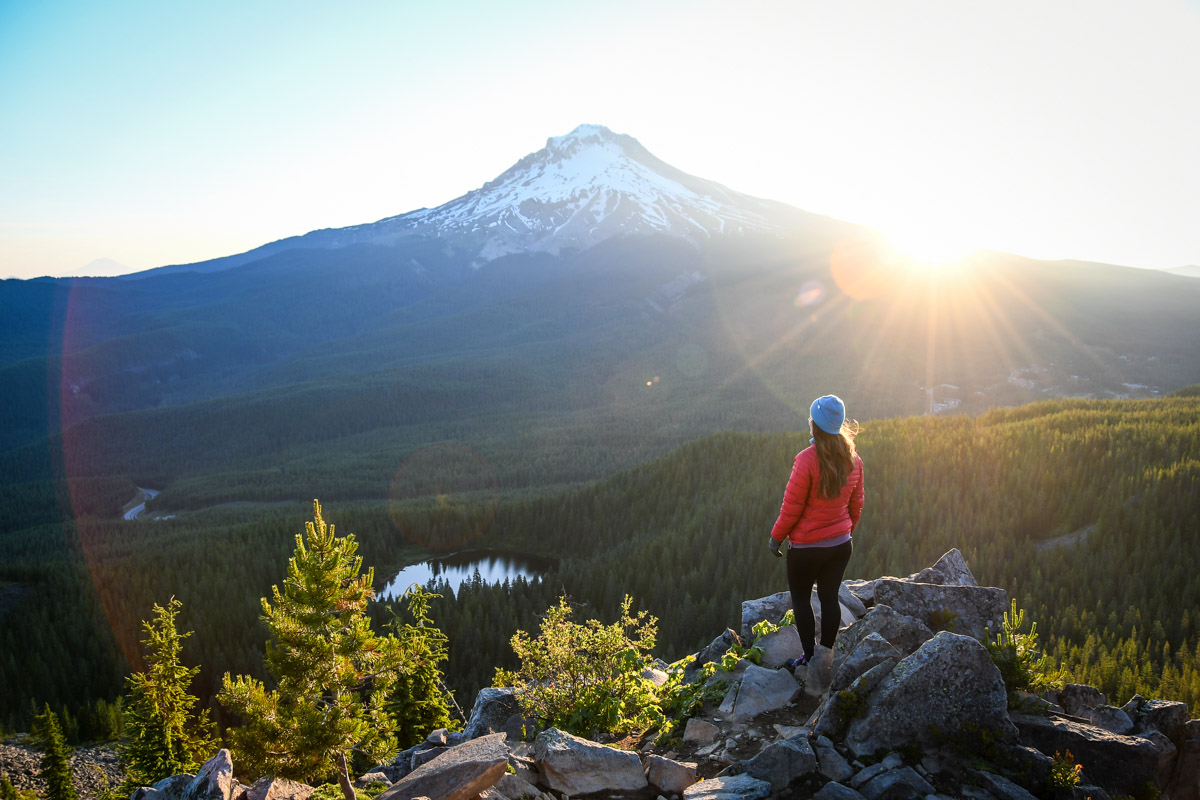 Location: Mount Hood Wilderness in northwestern Oregon
Distance: 9 miles, out-and-back
Elevation: 1,709 feet
Difficulty Rating: Moderate to challenging, mostly for the distance
Timing: 4-5 hours
Pets: Leashed dogs allowed
Permits: Northwest Forest Pass or America the Beautiful Pass
Hiking Tom Dick and Harry Mountain delivers some of the best, most up-close views of iconic Mount Hood (and on especially clear days, Mount Rainier and even Mount St. Helens!). The mountain is adjacent to Mount Hood, so it feels like you're truly right there!
The route includes a loop around Mirror Lake, with its pristine reflections, and ends at a rocky ridge with an absolutely breathtaking view of Oregon's most famous mountains. Traveling a challenging but not especially formidable trail, it's easy to see why many consider Tom Dick and Harry Mountain one of the best Mount Hood hikes out there.
We love the varied terrain and scenery on the trail — there's beautiful dense pine forest, babbling creeks, the renowned Mirror Lake, and a lofty rocky ridge at the end. As a bonus, Tom Dick and Harry Mountain doesn't necessarily require thigh-burning or heart-pounding; it's easy to take it slow on the trail and there are several spots to relax along the way.
Add in a handful of incredible rustic campsites and the mountain's proximity to Portland (just one hour and 15 minutes away), and this area makes for the perfect place to slow down and enjoy over a weekend or a nice day trip.
Things to know before you go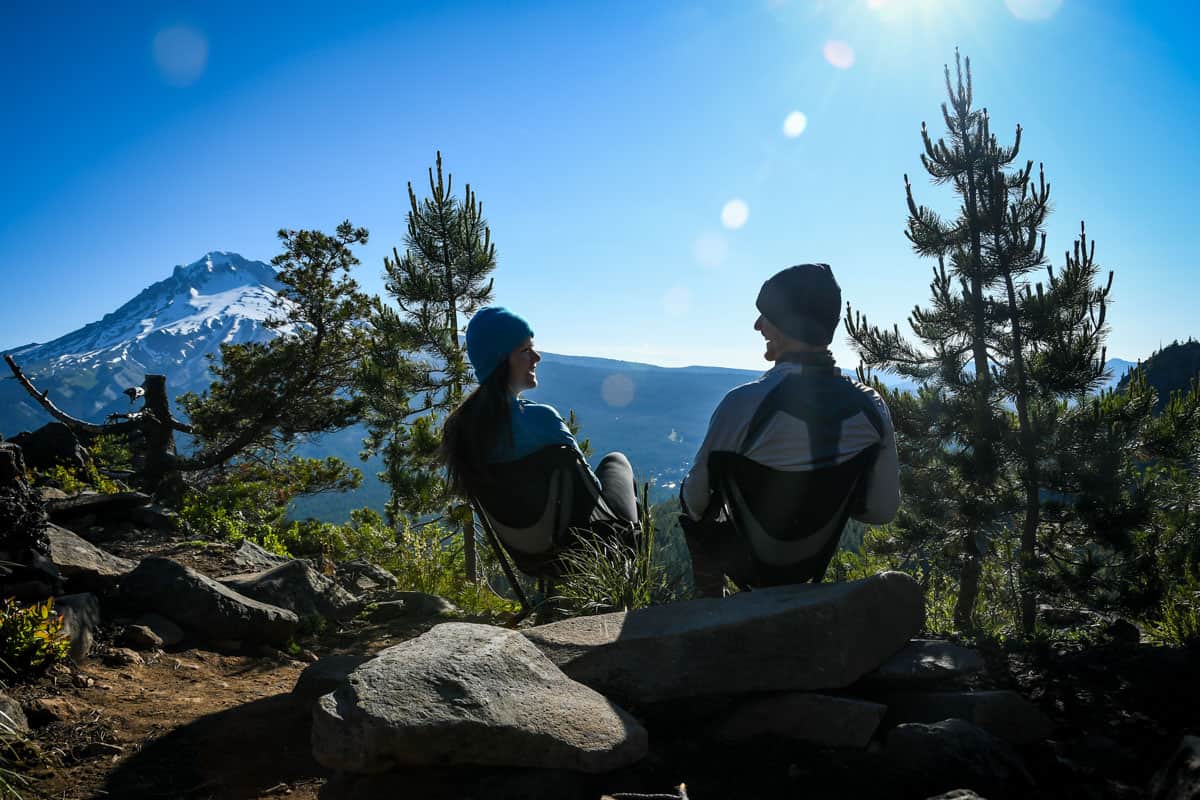 Before hiking Tom Dick and Harry Mountain, there are several details to consider regarding how to prepare, camping options, and trail pointers for the best experience.
Best time of year for the Tom Dick and Harry Mountain hike
Late summer and early fall are definitely the best times to hike Tom Dick and Harry Mountain. The trail isn't typically clear of snow until mid- to late-June and heavy snowfall usually starts up again in October, although the exact timing varies slightly from year to year.
We personally love visiting Tom Dick and Harry Mountain in late July and early August, when the hillsides are covered in wildflowers!
Keep in mind that Mirror Lake is wildly popular among Oregonians and visitors alike, so the best time of year to visit also happens to be the busiest. However, most people don't continue past the lake to the summit, so there's really no need to worry about crowds near the trail's best viewpoints.
Tom Dick and Harry Mountain is situated directly next to Mount Hood Skibowl, a popular winter sports destination. Since the trailhead departs right from the sno-park, this hike is more accessible in the winter months than many others in the PNW.
We wouldn't recommend going all the way up to the summit at higher elevation, but Mirror Lake is a stunningly beautiful winter wonderland when everything is blanketed in snow. Plus, few people get out on the trails in the winter, so there's a good chance you'll have it all to yourself!
How long does it take to hike Tom Dick and Harry Mountain?
The Tom Dick and Harry Mountain hike takes most people about 4-5 hours round trip.
With Mirror Lake and several jaw-dropping viewpoints along the route, you'll want to factor in some extra time for relaxing and simply taking it all in. There are some excellent picnic spots on the lakeshore, and the trail's rocky ridges have some epic spots to sit down and enjoy the view.
If you'd like to savor the natural beauty of this area even longer and not feel rushed, consider camping on Mirror Lake and spreading the hike out over two days. Not only is the lake an absolutely stunning spot to overnight it, but camping also allows you to make a more relaxed ascent to the summit. (More details on exactly how to do that below!)
How difficult is the Tom Dick and Harry Mountain hike?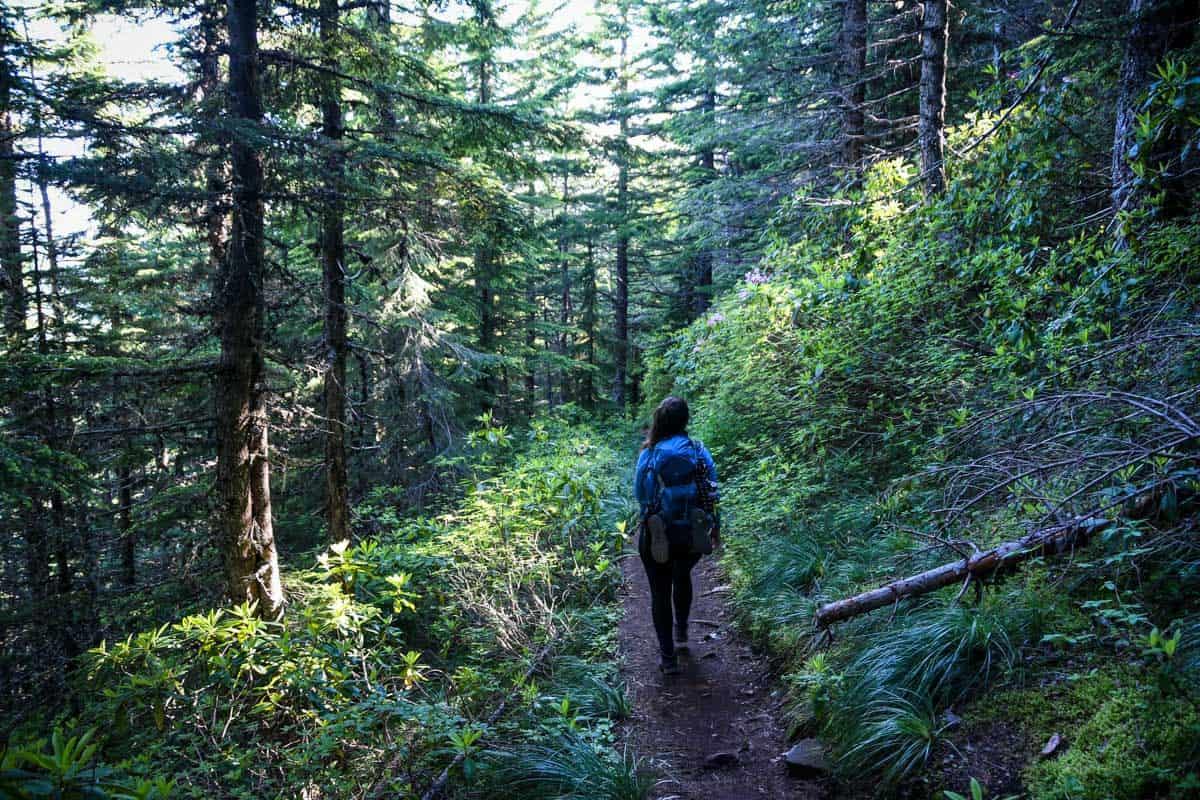 We think Tom Dick and Harry Mountain is a solid "moderate level" hike. You'll find a lot of conflicting opinions online about the trail's difficulty, with AllTrails rating it "hard" and some folks on the other end of the spectrum calling it easy.
As avid hikers, we recognize that the nearly nine-mile distance and 1,700-plus feet of elevation gain aren't exactly the ingredients for an easy hike, but we wouldn't call it hard, either, and it's easily do-able for anyone who's attempted similar trails or who hikes regularly.
The steep sections are manageable and the trail's elevation gain is gradual. The trickiest section comes right after the first viewpoint, where it's necessary to scramble over some large loose rocks.
While many people (including us!) enjoy this rock scramble, it can be a bit intimidating for others. If you fall into the latter category, there's no shame in turning around — there are fantastic views along the entire trail anyway!
Psst! Check out our beginner's guide to backpacking for everything you need to know to prepare for your first backpacking trip.
The route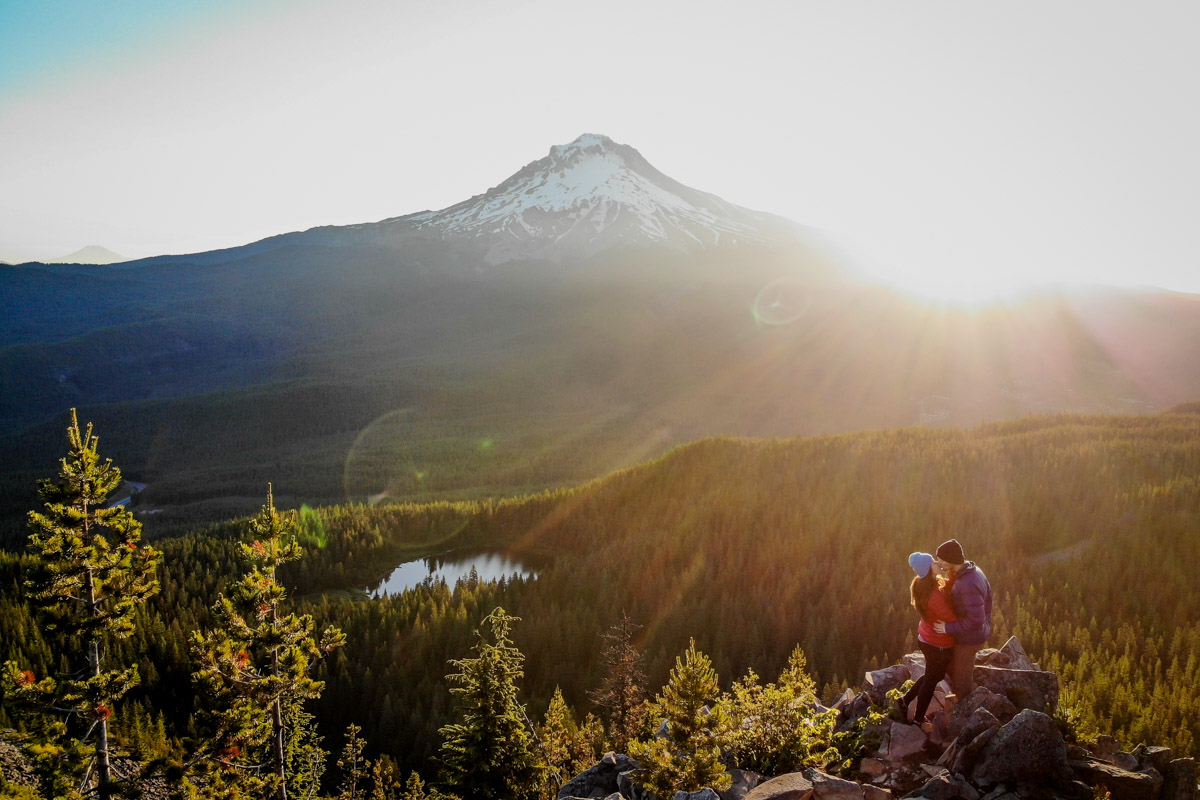 The Tom Dick and Harry Mountain hike starts at the Mirror Lake trailhead, following a wide paved road for about a quarter-mile. You'll actually start by heading downhill and once you cross the first bridge, the trail becomes dirt, meandering through a canopy of shady pines while crossing several creeks.
After a handful of gentle switchbacks, you'll come to the first intersection with the Mirror Lake Loop. We recommend skipping this one (trust us!), continuing straight along the Tom Dick and Harry Mountain trail to the second turnoff at the top of the lake.
Once you pass the campsites, take the next left on Mirror Lake Loop. This leads you directly to one of the best head-on views of Mount Hood from the shores of Mirror Lake (and hopefully, conditions cooperate and the lake lives up to its name with a mirror-still reflection!).
Insider Tip: If you want to add a bit of mileage to your hike, feel free to make the entire loop, turning off the main trail at the first intersection. This adds about half a mile. We recommend skipping it in favor of the second turnoff because it's a more direct route to the best viewpoint, and the lower part of the lake also tends to be rather busy. Lots of people (maybe even most!) come here solely to visit the lakeshore, then turn back.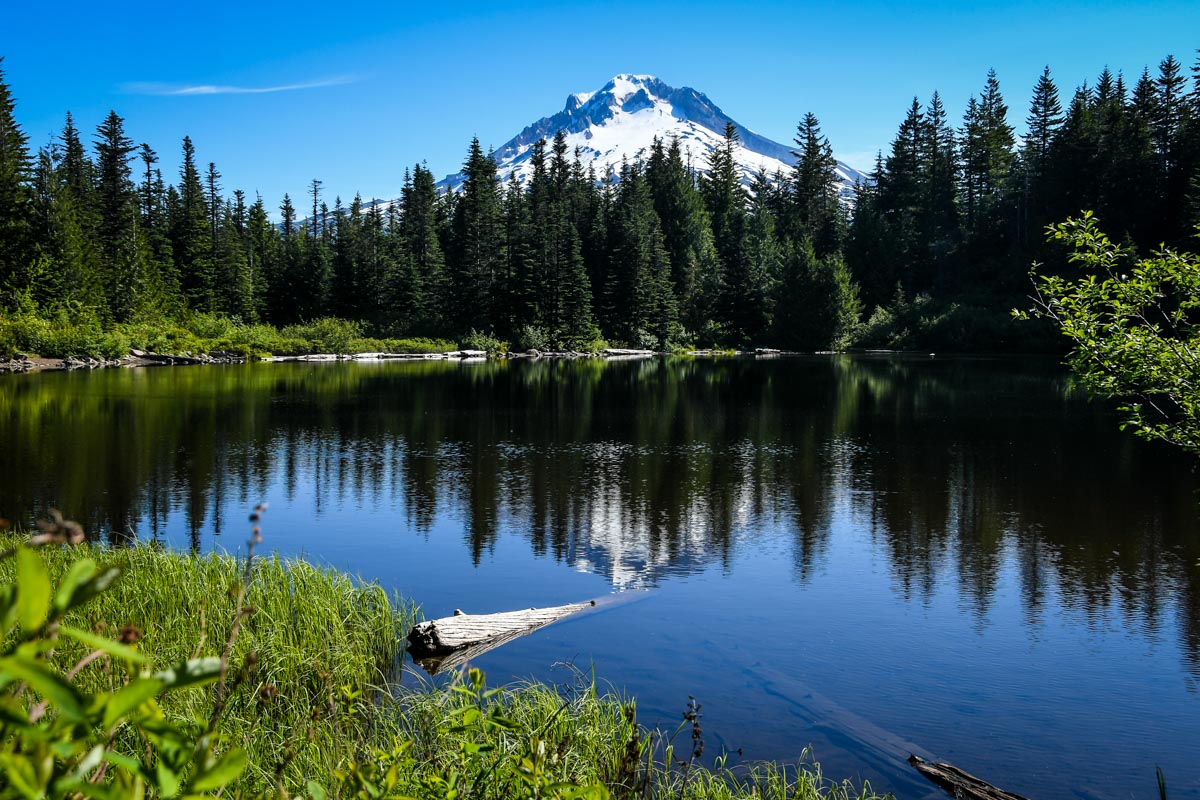 Have a snack and snap some photos at Mirror Lake, and get ready for the more strenuous part of the hike up ahead. The trail gets narrower, and watching your footing becomes increasingly important.
Once you hit the very obvious loose rock piles, take a sharp left to stay on the trail. This is the spot where you'll likely need to do some scrambling. Really keep your eyes open here, as the rocks completely obstruct the path. You'll also be able to see Highway 26 far below as the trees start to thin out.
Before you know it, you'll run into the first viewpoint on the Tom Dick and Harry trail which boasts a stunning in-your-face view of Mount Hood. While it's a super photogenic spot, we recommend you keep moving along the ridge — just a few minutes further up is an even more impressive vista, where you can see Mirror Lake as well.
Most people turn around after taking pictures at that first viewpoint, so if you need more motivation to continue on, you'll likely have the next one all to yourselves!
On the way to the second epic viewing area, beware of large boulders dotting the trail, and curious chipmunks who like to follow hikers. You'll know when you're at the second viewpoint because the trees perfectly frame Mount Hood. Seriously, it looks almost intentional!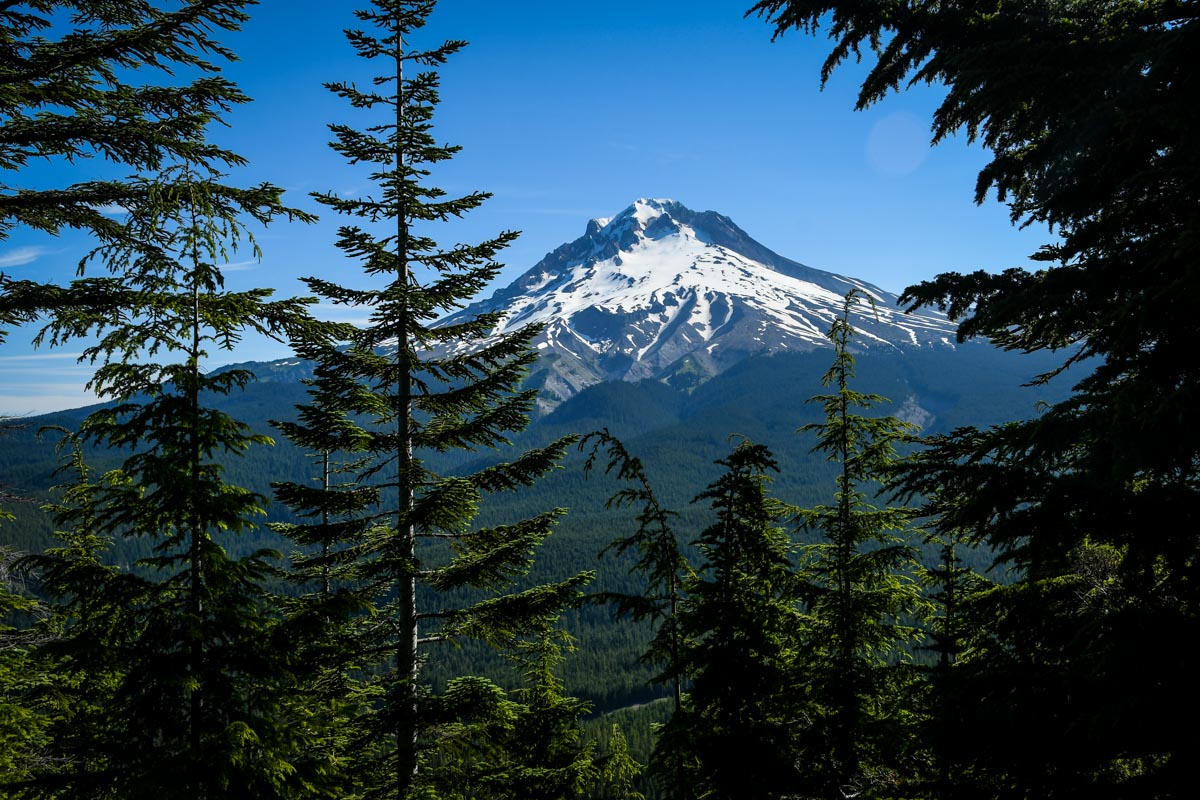 This is another decent place to turn around if you're not planning to summit Tom Dick and Harry Mountain.
In our opinion, you should push on — it's not much further and you've made it this far already!
It is a bit more challenging as rocks cover much of the trail (watch your step!) and the path is hard to follow, but it comes with a great reward. Once you navigate the loose rock, the summit view is once again perfectly framed by trees. Colorful flags and a log bench add to the scene, so you'll definitely want to take some photos here.
Obtaining a permit for your Tom Dick and Harry Mountain hike
You'll need to have either a Northwest Forest Pass ($30 a year or $5 per vehicle, per day, purchased ahead of time online) or a national park annual pass (aka the America the Beautiful Pass — $80 a year) to hike Tom Dick and Harry Mountain. Both types of passes must be acquired ahead of time from Forest Service offices in the PNW or select local businesses, as they aren't sold at the trailhead.
If you're visiting Tom Dick and Harry Mountain between November 1 and April 30, you'll also need to have an Oregon Sno-Park permit. The entire state requires you to have one of these for visiting designated winter recreation areas. You can get a day pass ($4), 3-day pass ($9), or a season pass ($25) from official Sno-Park permit agents throughout the state.
Wildlife on the trail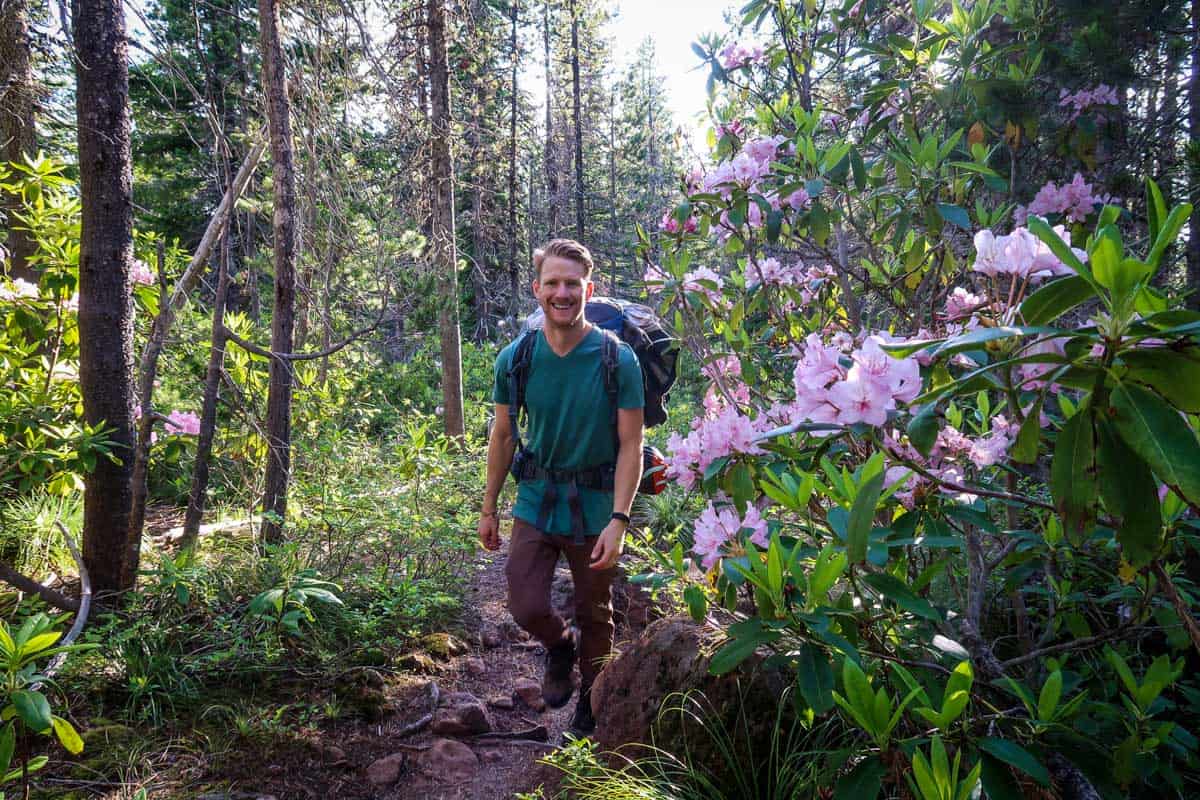 The most common animals on the trail are chipmunks, believe it or not! Especially at the viewpoints, the little critters provide entertainment as they scurry around looking for food scraps.
Like much of the rest of western Oregon, snakes, raccoons, mountain lions, black bears, and deer also inhabit the area. In fact, the summit has signs warning of the presence of mountain lions.
Encounters with these potentially dangerous animals are uncommon, but it's always a good idea to keep a close eye and ear out for signs of wildlife nearby. You may also want to bring bear spray, as it can be effective on a wide variety of wildlife.
Of course, if you do encounter any animals on Tom Dick and Harry Mountain, practice the Leave No Trace principles and keep a very safe distance.
Tips for hiking Tom Dick and Harry Mountain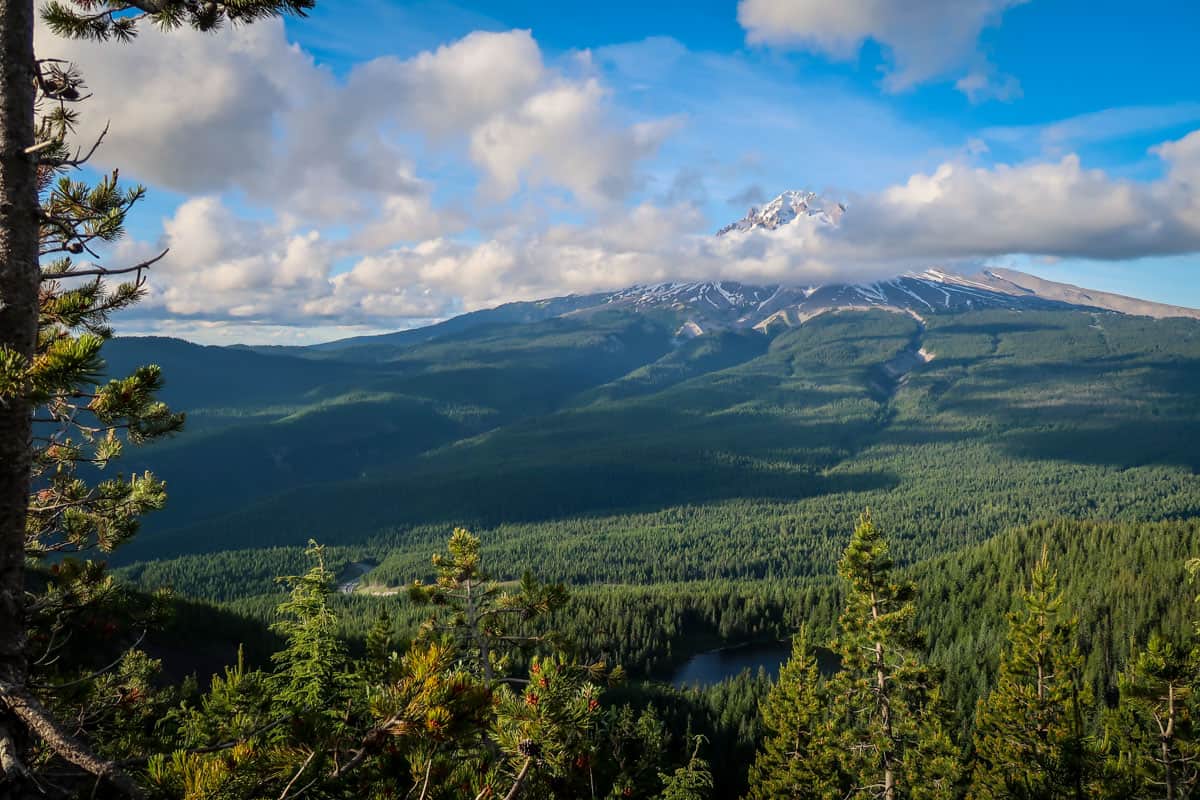 Arrive very early or in the late afternoon, because the trailhead parking lot can get very crowded, especially on weekends.
If you're short on time, consider turning around at the second intersection with Mirror Lake Loop or after the first viewpoint on the main trail. The views are stunning regardless!
If you have plenty of time, continue past the first viewpoint for even better scenery and fewer crowds.
Wear your best closed-toe hiking footwear; this rocky trail isn't one where you want to be wearing Chacos or any type of open-toed shoes.
Tom Dick and Harry Mountain is wildly popular with trail runners, so be sure to watch for them and move out of their way on the trail.
There's a restroom at the trailhead, but no water anywhere along the route, so be sure to pack enough water for your entire hike.
The trail is technically (leashed) dog-friendly, but the rocks become too difficult for most pups to navigate after the ridge.
Don't leave valuables in your car; unfortunately, break-ins are common due to the trail's popularity.
Where to camp at Tom Dick and Harry Mountain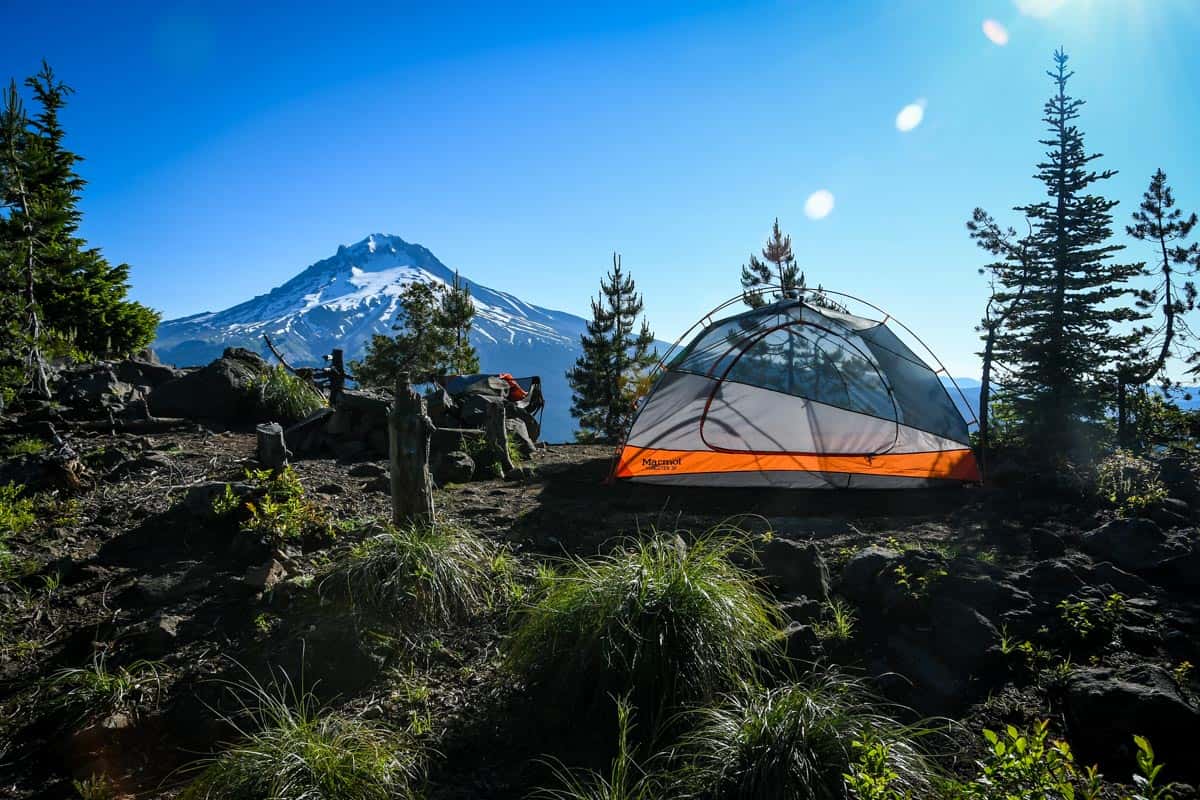 Although Tom Dick and Harry Mountain isn't exceptionally long or difficult, the area is spectacularly beautiful and the six primitive campsites are unforgettable. Plus, spending the night at Mirror Lake lets you experience a glorious sunrise over Mount Hood without having to hike in the dark!
The campsites are right on Mirror Lake and they're first-come, first-served, so they fill up quickly on weekends. Consider setting up camp early and then hiking the rest of the way to the summit, or spending the night and hitting the trail at sunrise.
Note that you'll have to carry in all your camping gear and the hike is two miles, although it's a relatively easy two miles.
If you want to camp nearby but not necessarily on the trail, the entire Mount Hood area is filled with some of the most scenic campsites in Oregon. A short drive from the Tom Dick and Harry Mountain trailhead, a couple of great options are Still Creek and Camp Creek Campground, both with 20-some sites, vault toilets, and potable water.
What to pack for hiking Tom Dick and Harry Mountain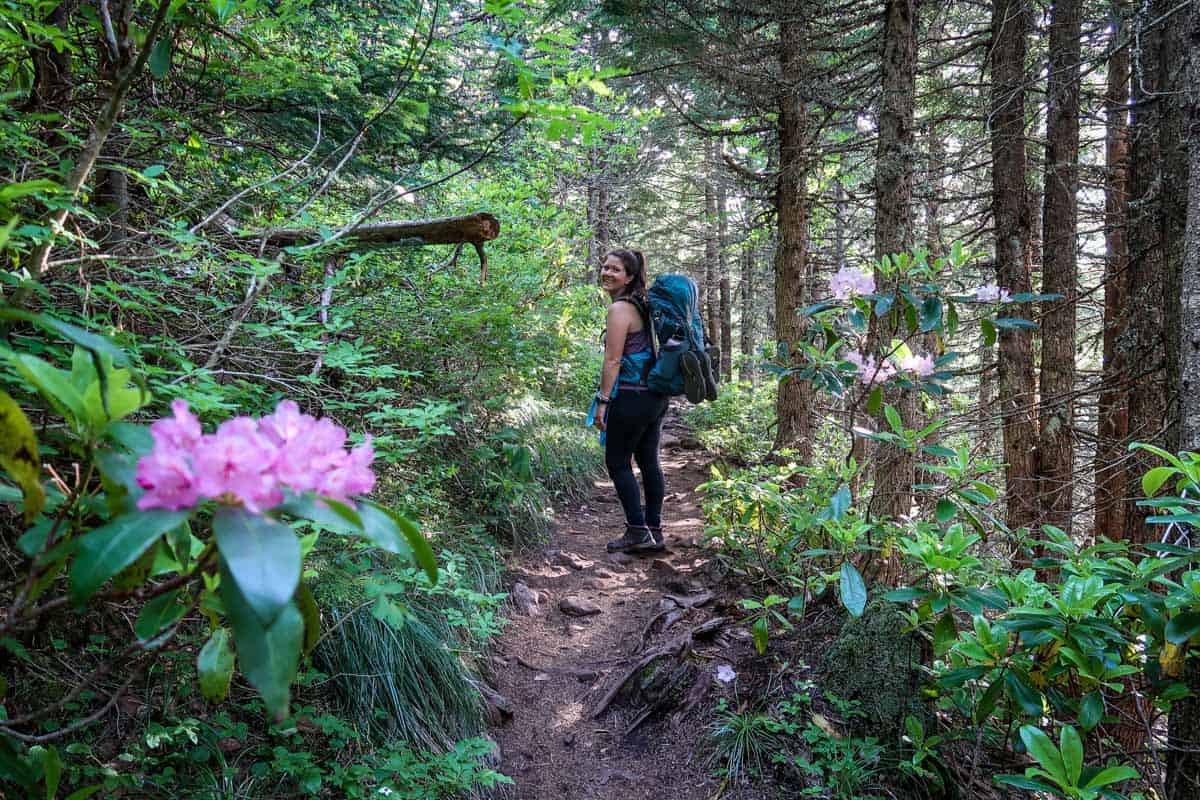 Water bottle(s) and/or bladder for your Camelbak
Optional: some way to purify your water (we love our Grayl water bottles, and before them we always brought along our Steripen)
Navigation: we recommend using Alltrails+ to download the offline trail map
Battery pack (if you are relying on your phone)
*Permit (your Northwest Forest Pass or National Park annual pass)
Plenty of layers (here is a great resource if you're wondering what to wear hiking)
Rain jacket
Hiking boots or decent closed-tied hiking shoes
Microspikes (if there is any chance of snow and ice)
Hiking poles (optional)
Bug spray
Sun protection: sunscreen, hat, sun glasses
Camera and tripod (this is our favorite for hiking)
Bear spray (just in case)
Multi-tool
Toilet kit: toilet paper, small shovel, bag for packing out TP, hand sanitizer
Plenty of snacks: check out our favorite hiking snacks here!
Optional: backpacking/camping gear and backpacking meals if you plan to spend the night
*Don't forget to pack your permit!
Be sure to grab our ultimate hiking packing list includes our must-have gear for any hiking trail!


You may also like…
Save this post to Pinterest for later!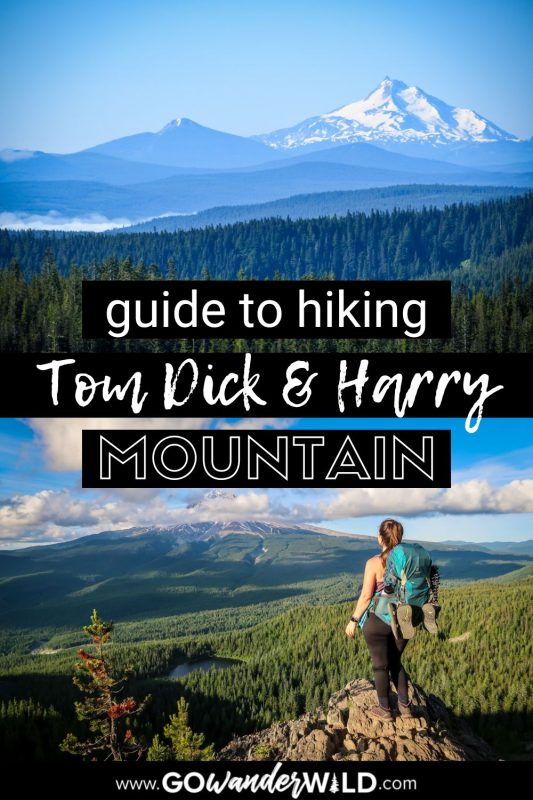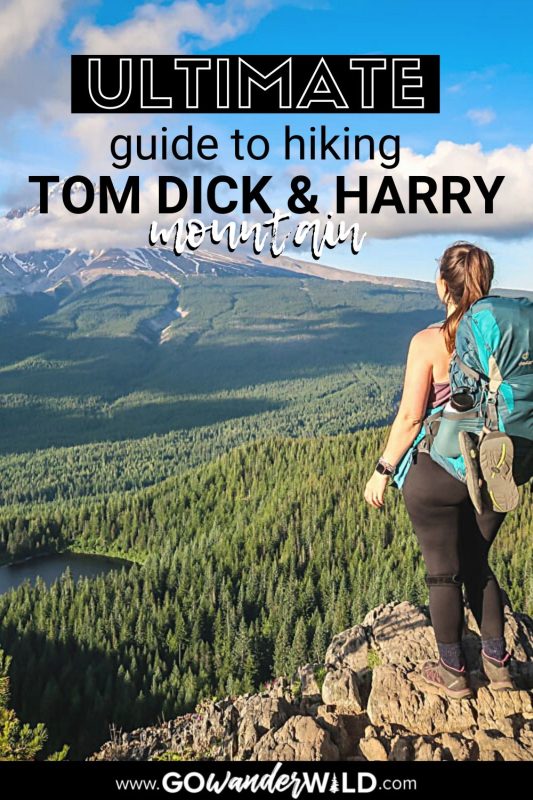 We want to hear from you!
Have you ever done the Tom Dick and Harry Mountain hike in Oregon? What was your experience like? Do you have more questions about doing the hike? Comment below and let us know!