With over 700 miles of trails, we've rounded up the best hikes in Glacier National Park to help you plan your trip, and we've added insider tips on things to know before visiting and what to expect from each hike.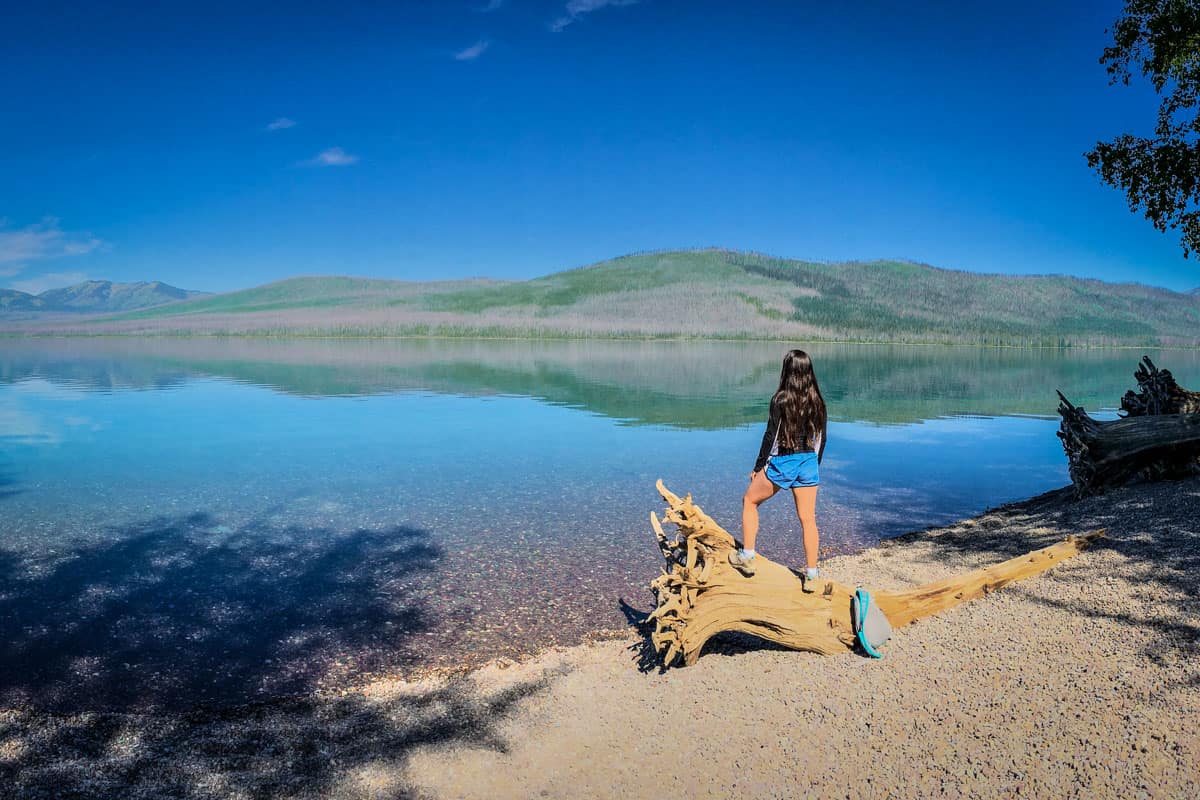 Written by guest authors: Sylvia and Satish
Nestled in the northwest of Montana, Glacier National Park and its neighboring towns are bursting with adventure. From hiking and backpacking to fishing, boating, biking, camping and more, you could easily spend weeks exploring the park.
Psst! We have a complete guide to planning your Glacier National Park adventure on our sister site.
The best hikes in Glacier National Park will take you to crystal-clear lakes, turquoise waterfalls, views of glaciers, and through unique tunnels. With over 700 miles of trails to pick from, planning your Glacier hiking adventure can be daunting, which is where we come in.
In this article, we've rounded up the top hikes in Glacier, organized by region and difficulty, to help you plan your routes and hit the trails.
Guide to Hiking in Glacier National Park

Know before you go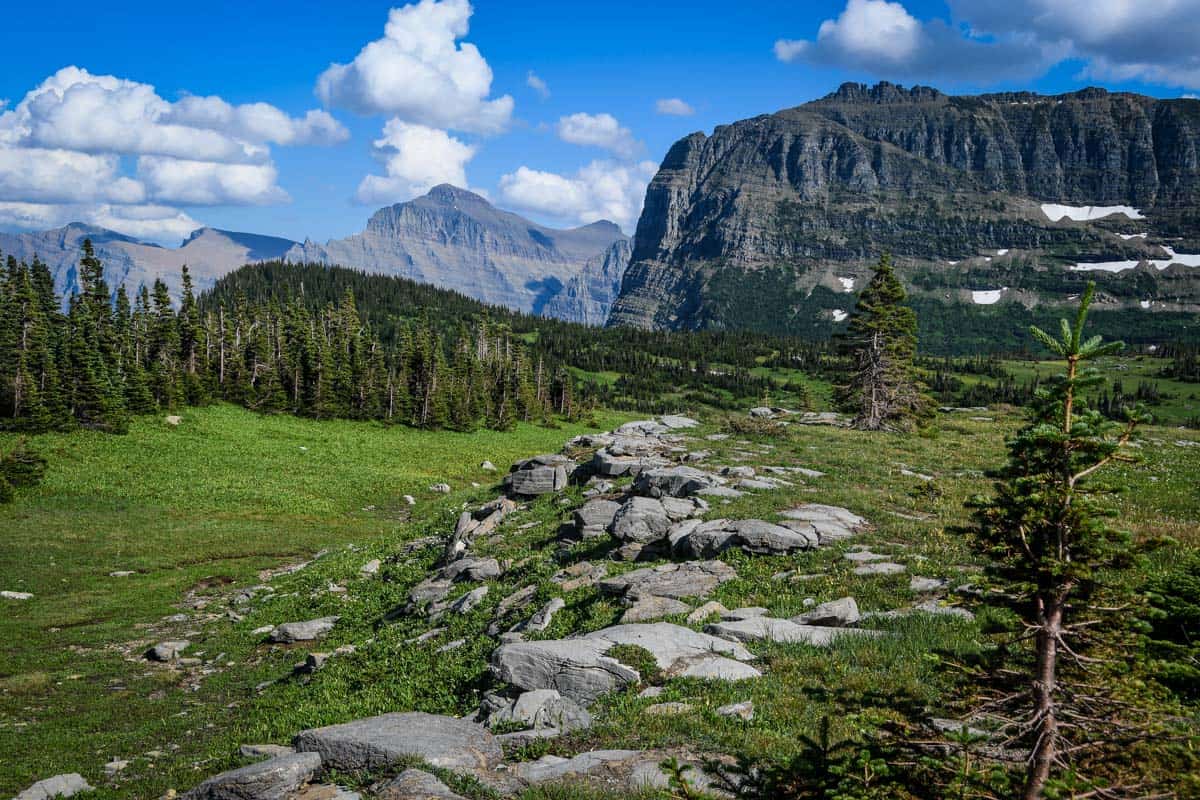 There are a few important details you should know before you head to Glacier National Park to start hiking.
Best Time to Visit Glacier National Park
True to its name, Glacier National Park has plenty of snow, even year round. This is sometimes inconvenient for hiking and even driving through the Park.
GTTSR, the main road that stretches from the western edge to eastern edge of the park, doesn't fully open until late June, sometimes early July. Many trails are also closed due to weather (snow) and sometimes wildlife activity. For this reason, we recommend visiting in late July through early September.
Visiting in the winter months, though may not be ideal to see many highlights of the park, offers its own unique experience. If you're up for snowshoeing or cross-country skiing through trails, this might still be a good option for you. Make sure to check the trail status before you head out on a hike, regardless of the season. Some trails are closed due to snow even in August!
Vehicle Reservations: May – Sep
As of summer 2022, Glacier implemented a vehicle registration for entrance to Going-to-the-Sun Road (GTTSR) and North Fork Areas. Those entering the park between May 27 – Sep 11 2022 (high season) were required to purchase a timed-entry ticket in advance.
Due to the increase in park traffic and the fact that there is one main road for the majority of the park, we fully expect this to be in effect for future summer seasons. Reservations are released at 8 a.m. MDT the day before and sell out quickly, so book early!
To book your timed-entry vehicle reservation, visit Recreation.gov.
America the Beautiful Annual Park Pass

If you're planning to visit more than one of the U.S. National Parks, we'd highly encourage you to look into getting an annual park pass. At $35 per vehicle, entering Glacier along with other national parks in the U.S. can be expensive.
For just $80 per year, you can purchase the America the Beautiful annual pass. This pass grants you free access to all of the national parks. Plus it also covers your entrance to over 2,000 natural, historical, and recreational sites across the United States.
If you still need convincing, check out our article: America the Beautiful Annual Park Pass: Is it Worthwhile?
Psst! Check out some of our other favorite national parks on the west coast & Western U.S. that make great hiking destinations.

Best hikes in Glacier National Park
Glacier National Park is very large (40 miles wide!) and has many different areas for hiking that take you to different peaks, glaciers, and lakes throughout the park. While there are tons of hiking opportunities, we've narrowed down our top picks for the best hikes in Glacier National Park to add to your itinerary.
Hikes Along Going to the Sun Road
Like we mentioned above, GTTSR can get busy with traffic during peak season in July and August. We've listed and detailed the best hikes along the road below.
Curious as to how to fit this into a complete itinerary for 1, 2, or 3 days? Check out this guide to Going to the Sun Road.
1. Avalanche Lake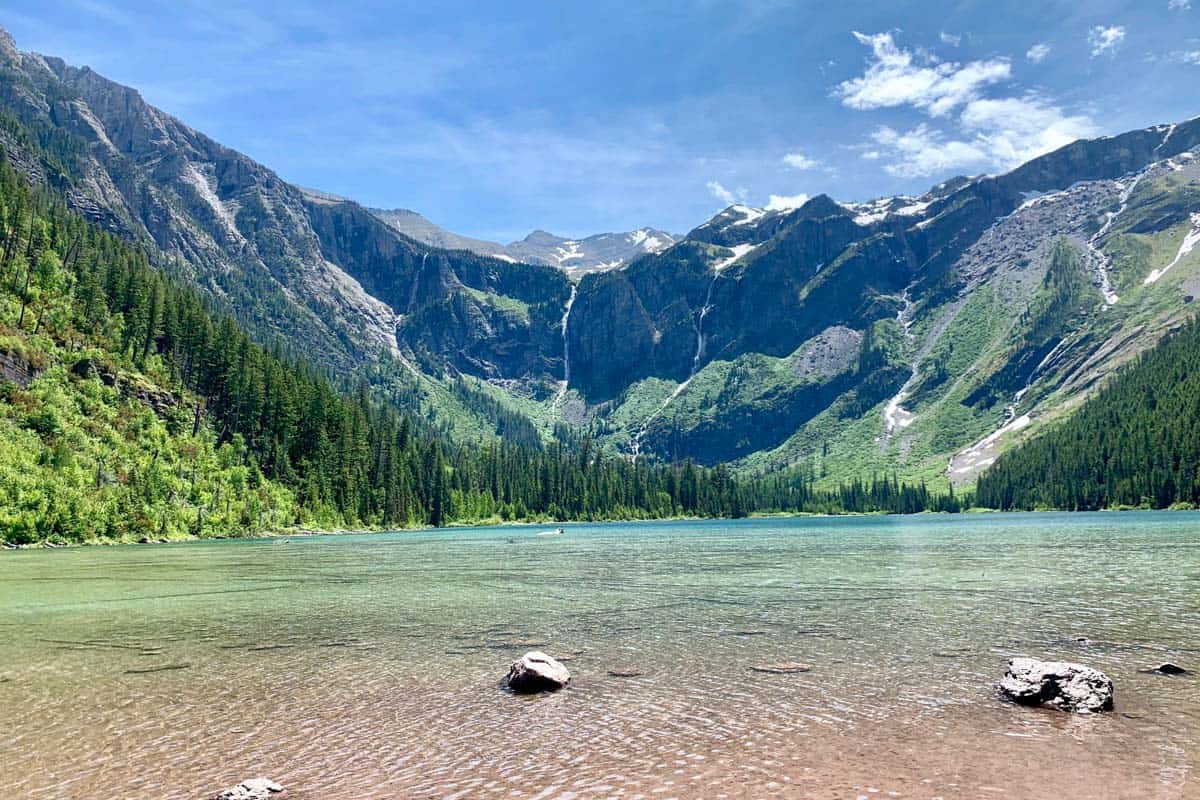 The hike to Avalanche Lake is popular and the parking lot is shared with the Trail of Cedars, so make sure to get there early before it fills up.
This trail will lead you to stunning views of the lake, which is known for its clear blue waters and panoramic mountains. The first bit of the trail is actually shared with the Trail of Cedars (listed below) which is covered by a boardwalk. Afterwards, it climbs upwards along Avalanche creek, flattening at the lake.
Alongside Lake McDonald and St. Mary Lake, Avalanche Lake is one of the most popular lakes in the park, which is why we've ranked this at the top of our list of hikes. The best views of Avalanche Lake are viewable via this trail, whereas the other two lakes are easily accessible from lookout points along GTTSR.
Psst! Want to combine your trip to Glacier with another of America's greatest national parks, check out our 5 Day Glacier National Park to Yellowstone itinerary to help you plan an epic road trip!
2. Highline Trail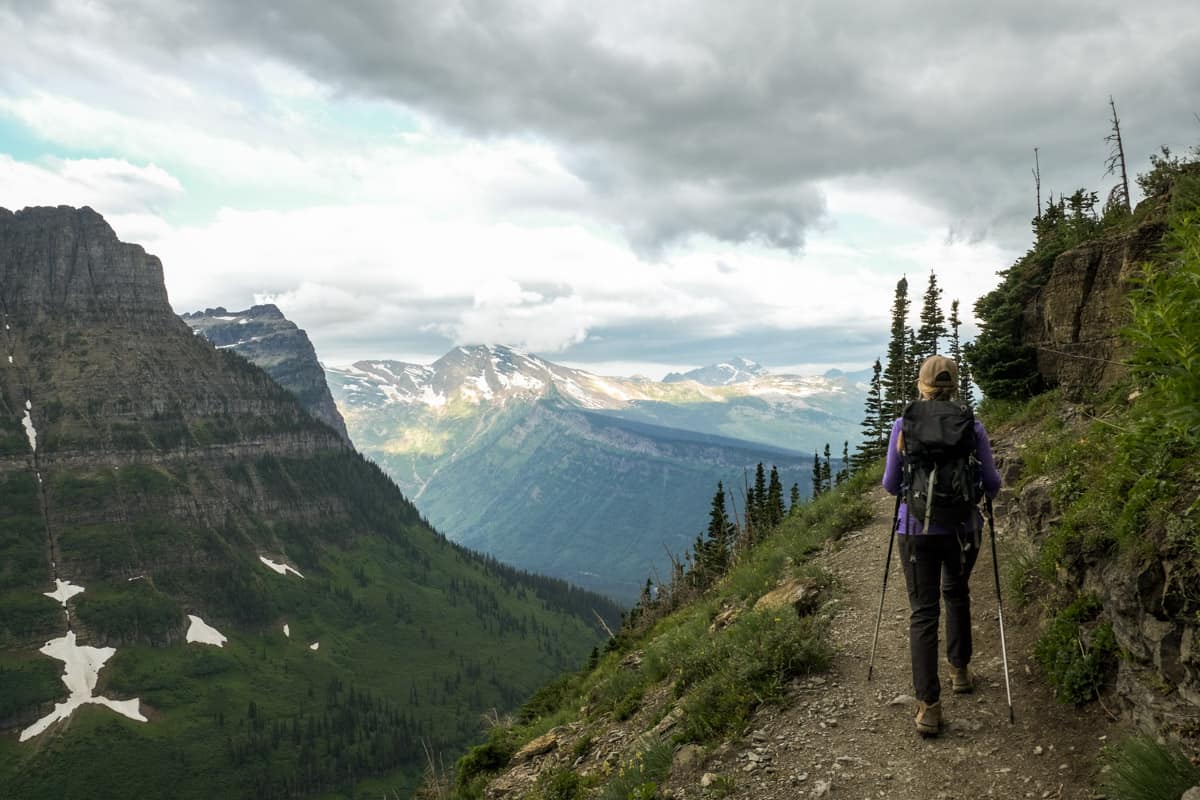 The Highline Trail is one of the best hikes in Glacier National Park, but also one of the more difficult ones.
There are actually a couple of ways to hike the Highline Trail. The most popular route is to leave from Logan Pass Visitor's Center and hike to Granite Park Chalet, or turn around whenever you get too tired.
Alternatively, if you hike one-way to the Loop Trailhead, you can take a shuttle back to Logan Pass.
Insider tip: If you have the energy, do the Garden Wall Route (listed below) for the best views.
Wildlife is all over this trail, which is one of the reasons it's so popular. Bring your bear spray and enjoy the views of the mountain goats.
Also an important note, this trail can be closed from heavy snowfall all the way through early July. Your best chance at hiking the Highline Trail is in late July – September.
We have a complete guide to hiking the Highline Trail in Glacier with everything you need to know to prepare for this incredible hike.
3. Hidden Lake Trail
The Hidden Lake Trail is an extension of the Hidden Lake Overlook path (listed below), which is a steep uphill, but short climb on paved and boardwalk surfaces. For these reasons, this trail is packed with tourists, especially families.
The trail also starts at Logan Pass, which is a hub for many trails, including the Highline Trail above.
If you have time, we definitely recommend going past the overlook and heading downwards to the lake. While the views of the lake above are beautiful, nothing beats being at water level with the scenery!
4. Hidden Lake Overlook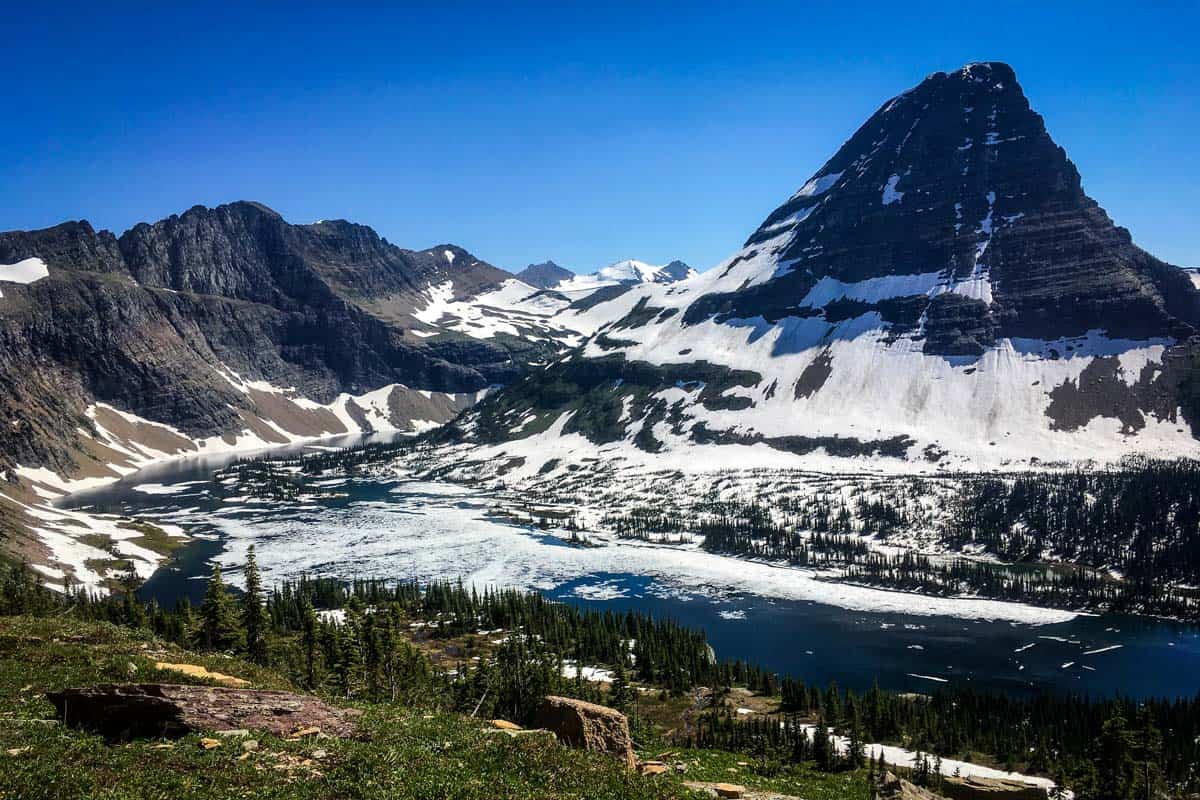 Like we mentioned above, the overlook is the first half of the Hidden Lake Trail, but with pavement and boardwalk. There's still plenty of snow even in July and the trail is very steep, so we recommend good hiking shoes that can dig into snow and ice.
5. St. Mary and Virginia Falls Trail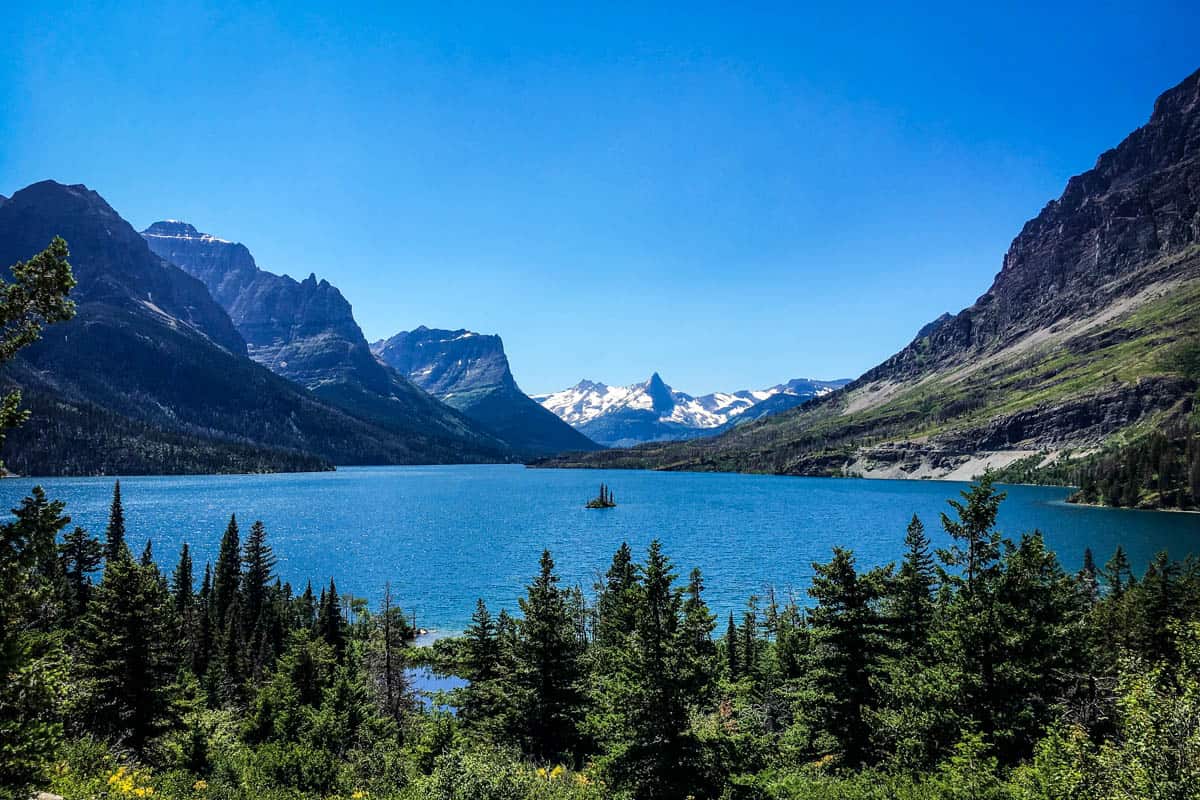 Like the trail name suggests, this trail takes you to beautiful views of St. Mary and Virginia Falls, and fairly quickly, too.
This is one of the best hikes in Glacier National Park if you're looking for a short trip to see the falls, trees, creeks and panoramic views of the park. Most people finish this hike in less than 1.5 hours.
6. Trail of Cedars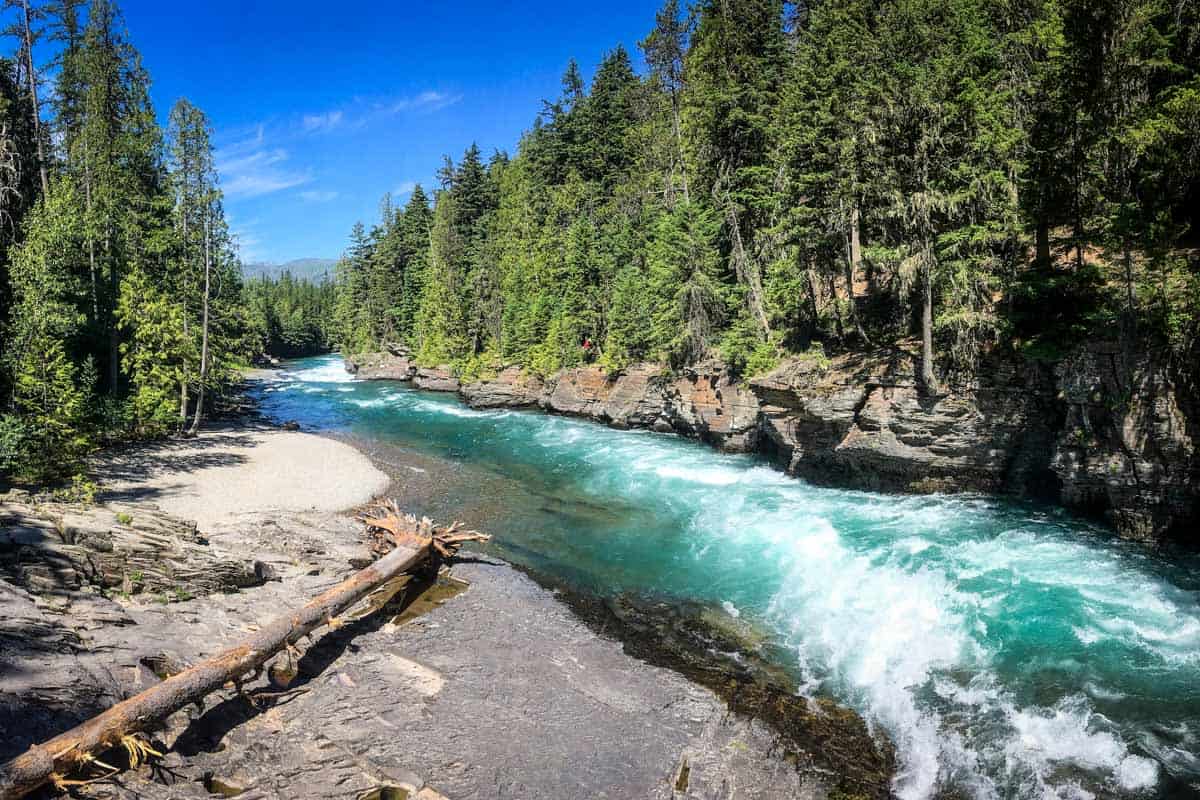 Really more of a scenic stroll, this "hike" is so easy, you almost have to do it. Combine it with the Avalanche Trail for something a bit more adventurous.
Note: The Trail of Cedars is paved and fitted with a boardwalk, which makes it wheelchair accessible!
7. Johns Lake Loop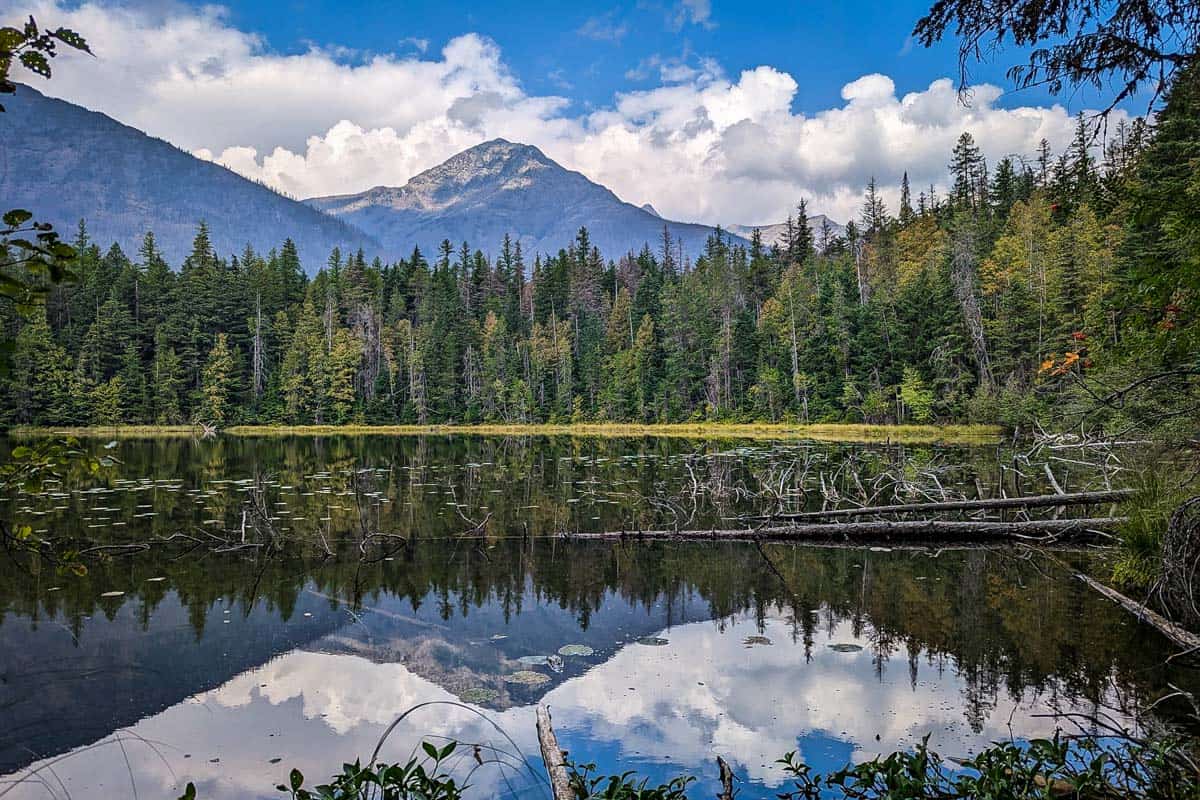 Similar to the Trail of Cedars, Johns Lake Loop is a relatively easy hike, with boardwalk bridges that provide great views of the creek and falls. The water is so turquoise you wonder how it's even possible!
8. Upper McDonald Creek Trail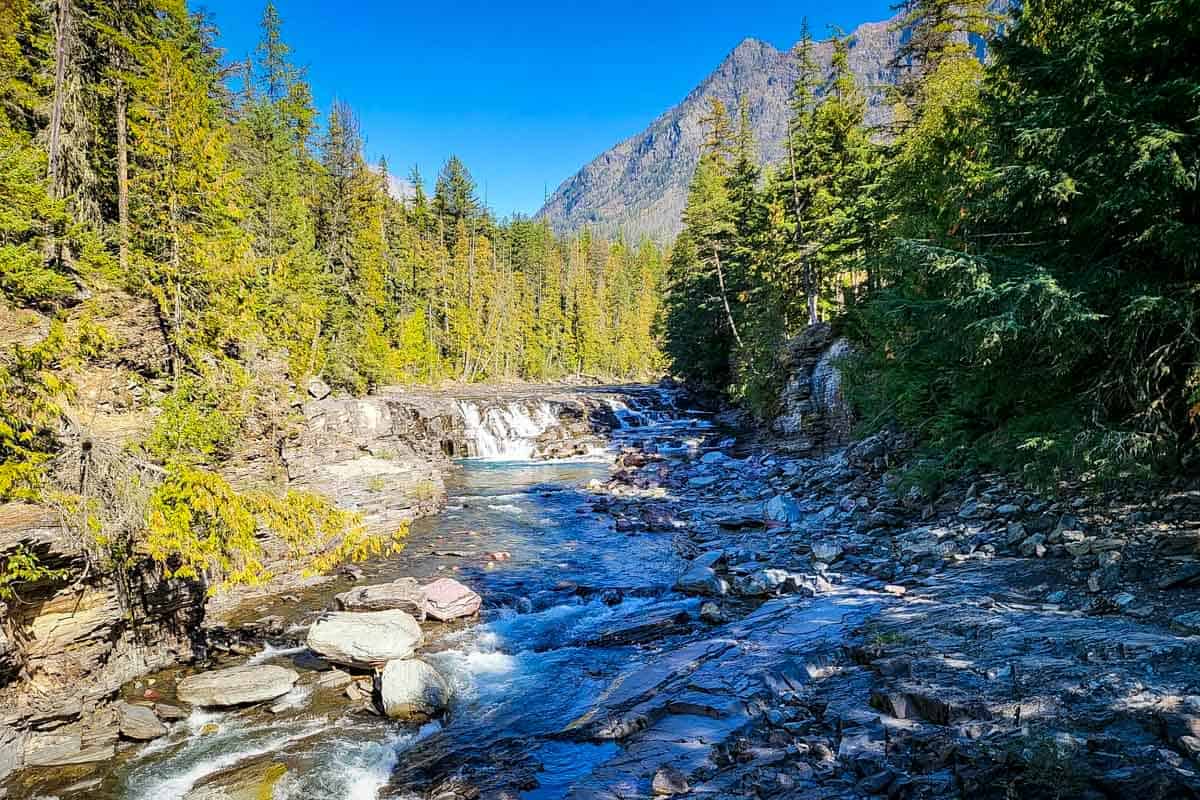 Upper McDonald and Johns Lake share a trailhead and path, but Upper McDonald extends farther north along the creek. If you have more time and energy, take this trail instead of Johns Lake Loop.
9. The Garden Wall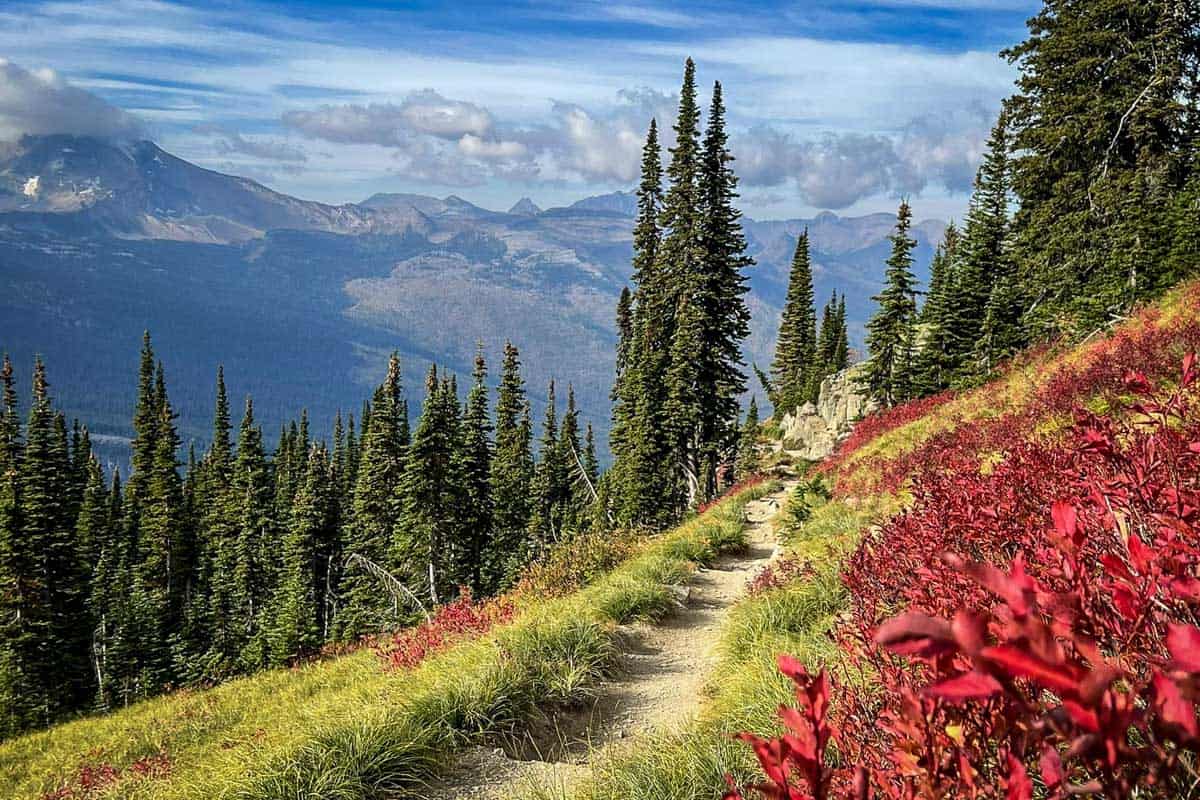 The Garden Wall is actually a variation of the famous Highline Trail, where you take a side trail out to Grinnell Overlook.
Grinnell Overlook adds significant steepness to the trip. Therefore, only attempt this side trail if you have enough energy to make it back.
The trail also has a few narrow sections with drop-offs on the edge. Luckily, if you're scared of heights, they've installed a wire handrail for safety.
10. Rocky Point via Lake McDonald Trail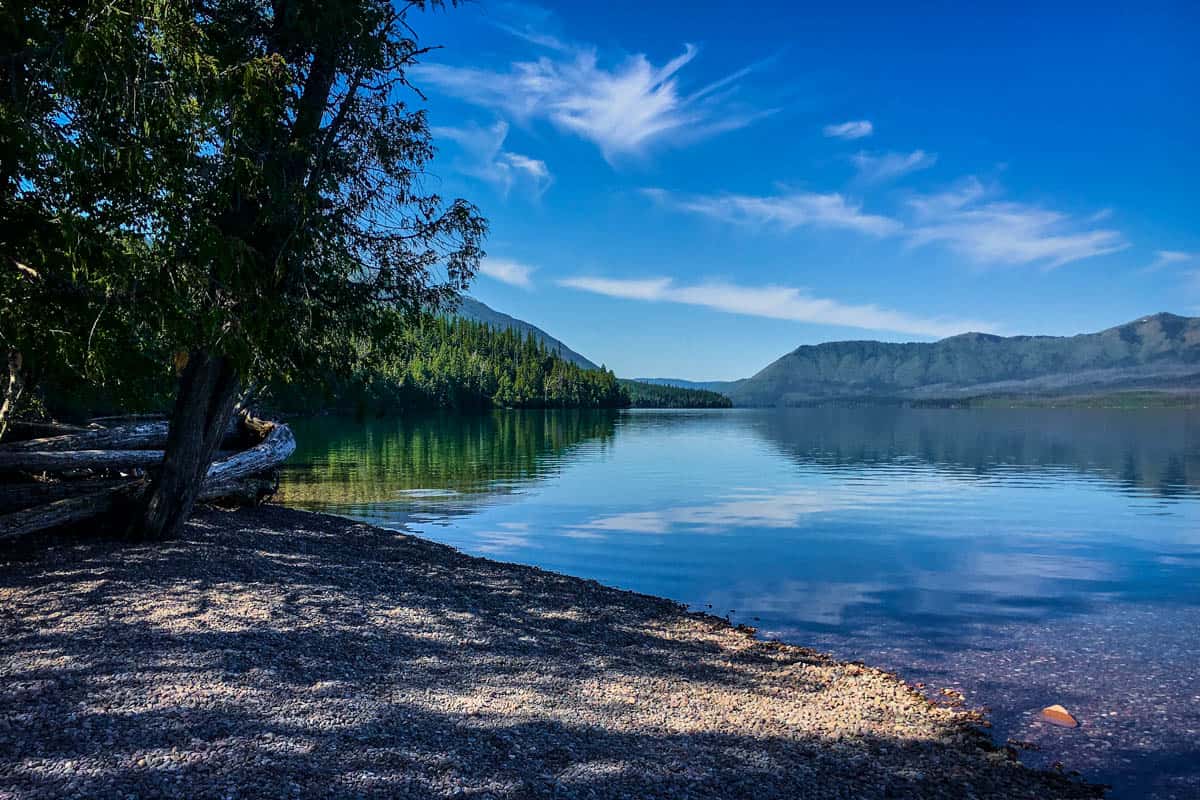 Lake McDonald might be one of the most beautiful, tranquil lakes in the country, or at least it was for us! Especially in the morning, when the water hasn't been disturbed, the lake is a soft blue mirror.
While there are a few look-out points on the southeast side of the lake from GTTSR, this trail gives you views from the northwest. Bring a swimsuit if it's warm enough to swim!
11. Siyeh Pass Trail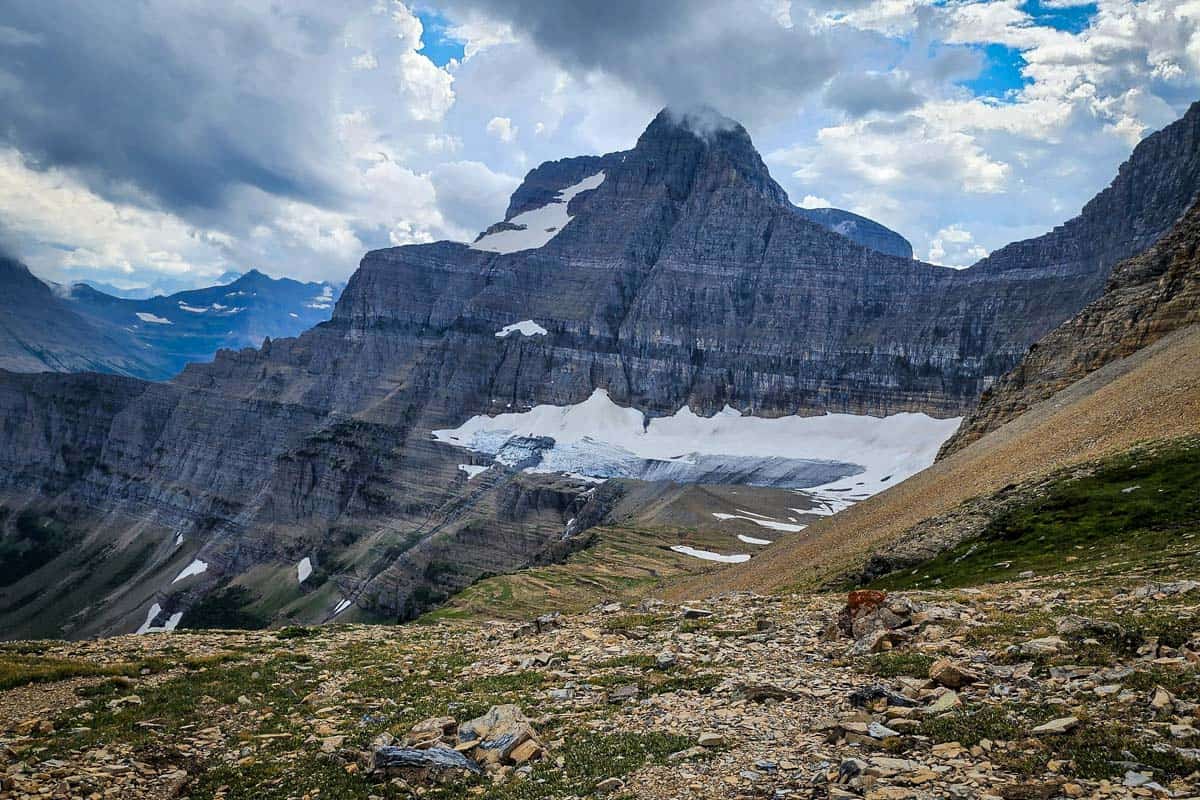 Siyeh Pass is another spectacular, but difficult hike that rivals the Highline Trail. The Highline Trail, however, is much more popular, which means Siyeh Pass is better if you want to see less people.
The trail also takes you to a huge valley below Mt. Siyeh that opens up into an alpine meadow. This is a great trail for those looking for a challenging off-the-beaten-path hike with peaceful views.

Hikes in Many Glacier
Many Glacier is an area on the northeast end of the park with a separate entrance from GTTSR.
From the Saint Mary Visitor Center, the entrance is about 24 minutes away.
If you prefer less people on the trails, Many Glacier is perfect for you. These trails typically have fewer people. The best hikes are also usually tougher and longer, but worth it.
12. Grinnell Glacier Trail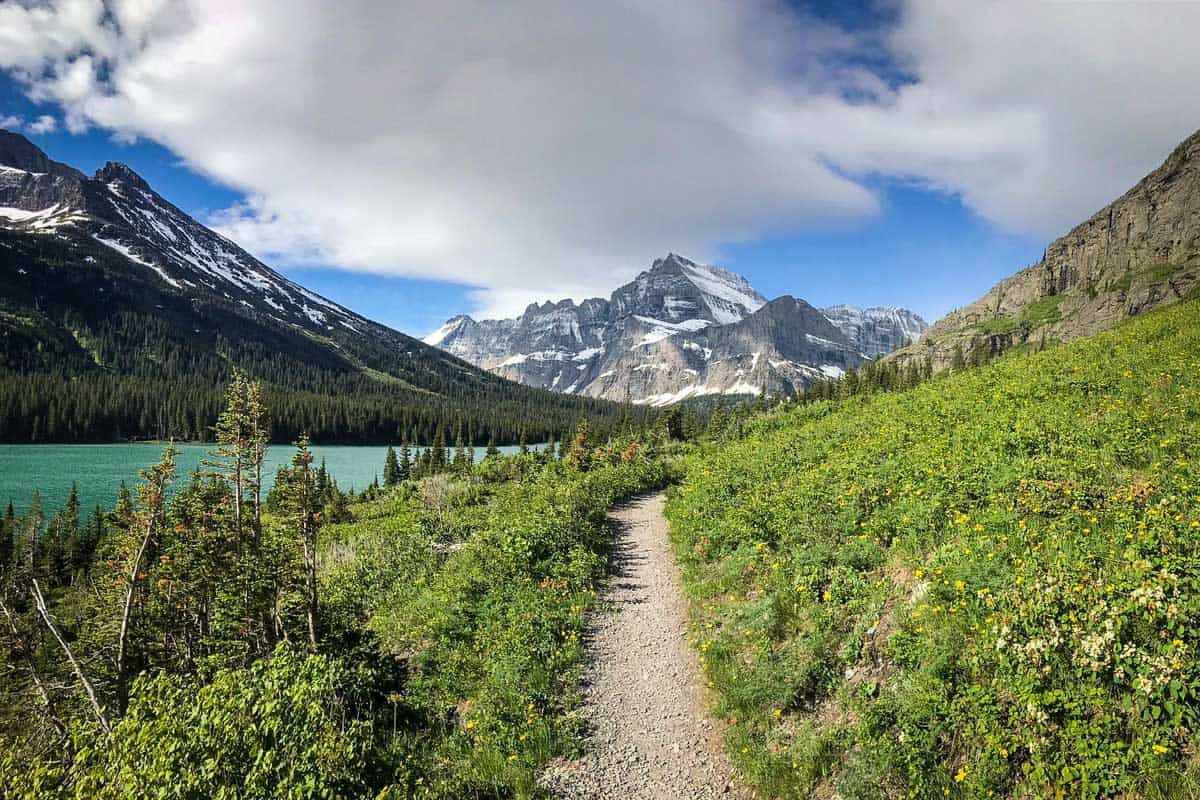 Looking for a perfect blend of glaciers, wildlife, gorgeous lakes, peaceful forest, and panoramic views? Grinnell Glacier Trail has it all and is probably one of the best hikes in Glacier National Park overall.
If 11 miles is too long or you're short on time, you can take a boat to cross the lakes and cut out 3.5 miles.
Note: This trail is commonly closed due to snow, even well into August some years.
13. Iceberg Lake Trail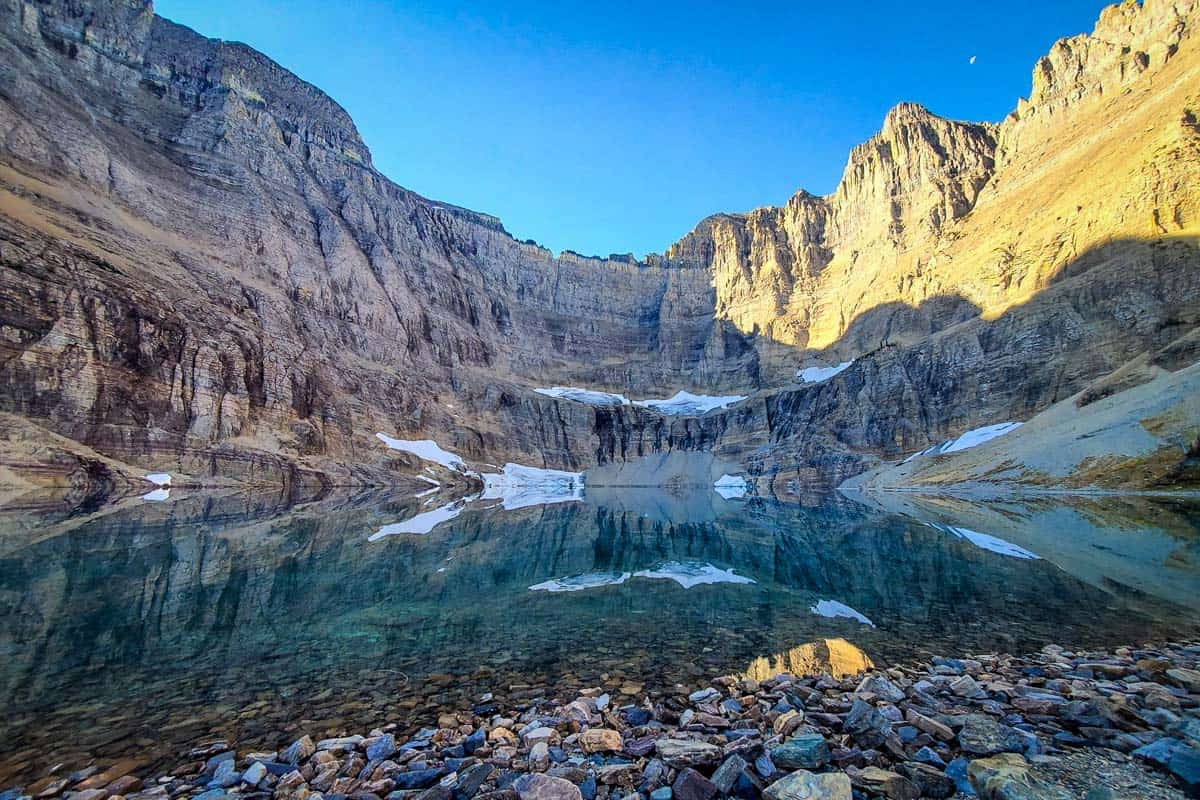 Iceberg Lake Trail takes you to… you guessed it: Iceberg Lake. And true to its name, the water stays cold enough to host floating icebergs even in summer.
Dip your hand or foot in when you get to the lake to test the temperature, and enjoy a high chance of viewing a bear (don't forget your bear spray!).
14. Ptarmigan Tunnel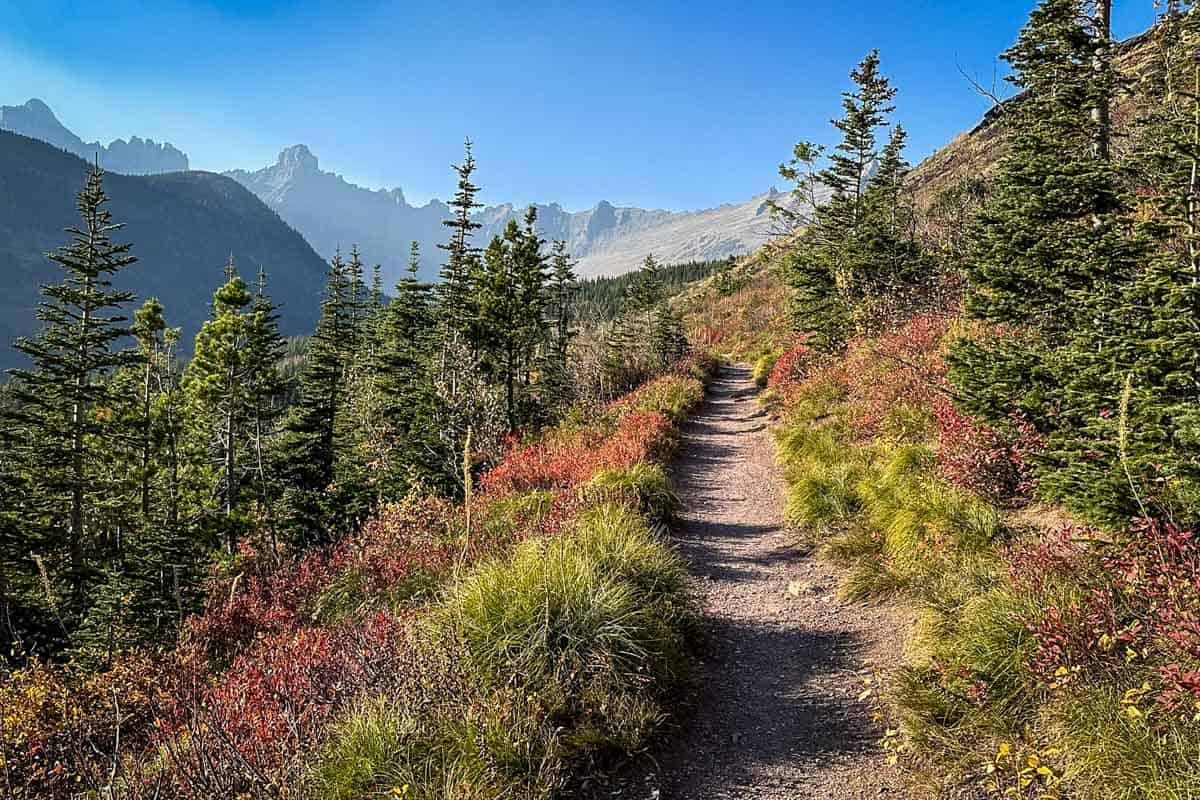 Ptarmigan Tunnel shares the first 2.8 miles of trail with Iceberg Lake Trail. If you're short on time or prioritizing hiking trails, do Iceberg and Grinnell before Ptarmigan Tunnel.
Another option is to do Ptarmigan Tunnel trail outbound and add Iceberg Lake on the way back for a total of 15 miles (two of the best hikes in Glacier National Park for one!).
15. Grinnell Lake Trail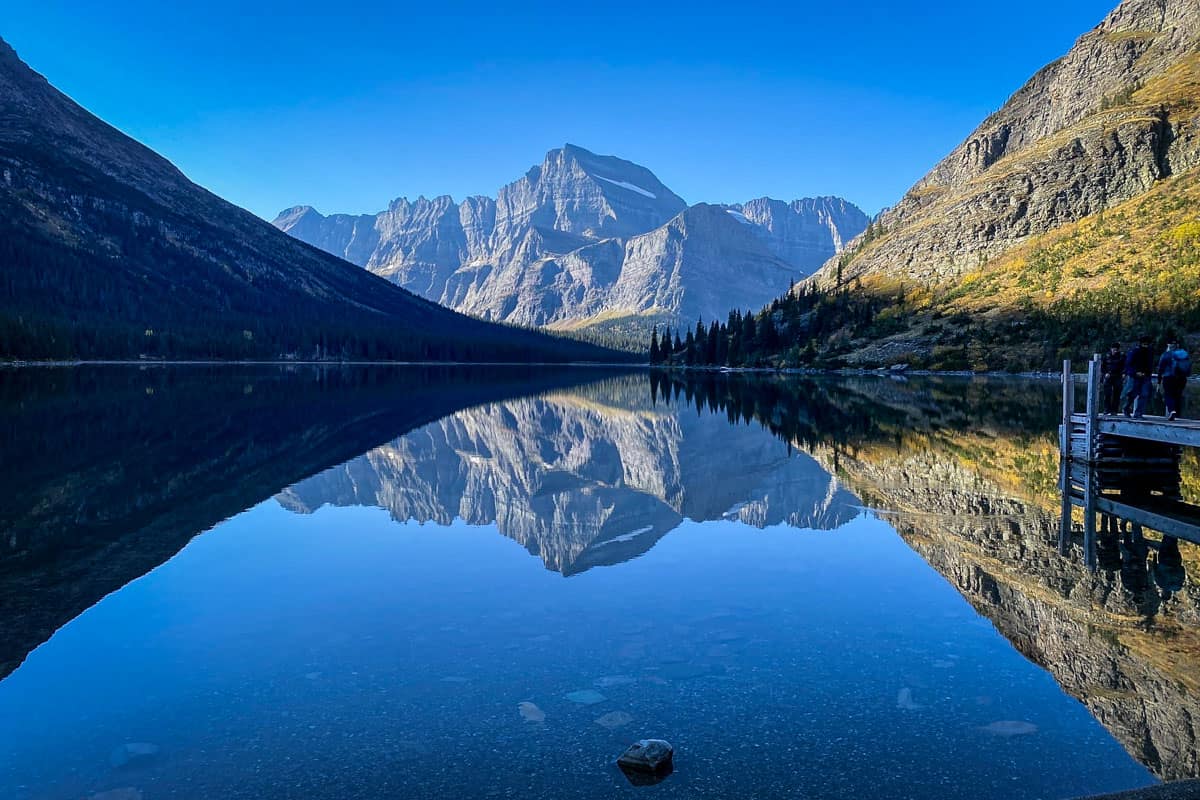 Though they share similar names, Grinnell Lake Trail should not be confused with Grinnell Glacier Trail. The Grinnell Lake Trail loops around Lake Josephine so you can see both sides of the lake, and goes out to Grinnell Lake.
The Grinnell Glacier Trail, on the other hand, hikes above Grinnell Lake with an endpoint at Upper Grinnell Lake. The two trails meet at Josephine Lake, so if you're really ambitious you could combine both.
16. Cracker Lake Trail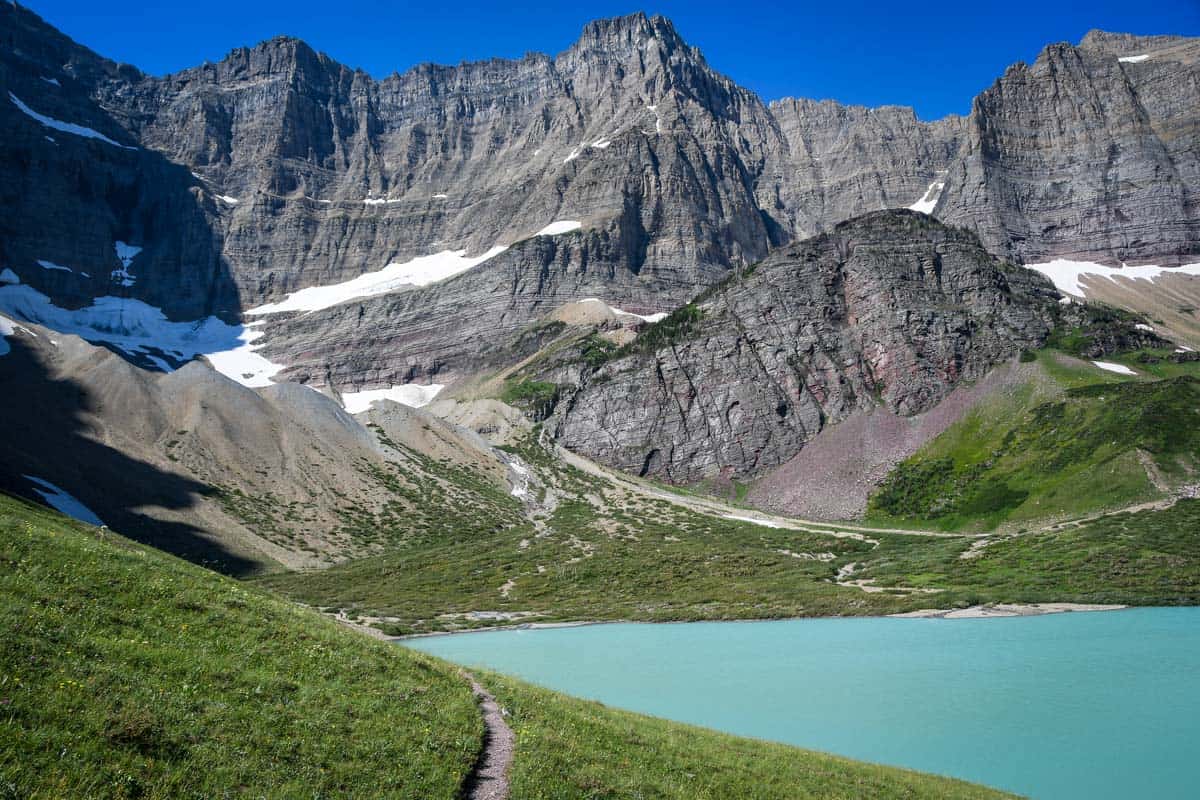 Everyone raves about the clear, mirror-like waters in Glacier. But, Cracker Lake is unique because the water is a beautiful milky turquoise.
The milkiness comes from rock flour or clay particles in the water that reflect the blue color. It's the appeal of this lake color that takes everyone's breath away and makes this one of the best hikes in Glacier.
We have a complete guide to hiking to Cracker Lake with everything you need to know to prepare for this incredible hike.
17. Redrock Falls via Swiftcurrent Pass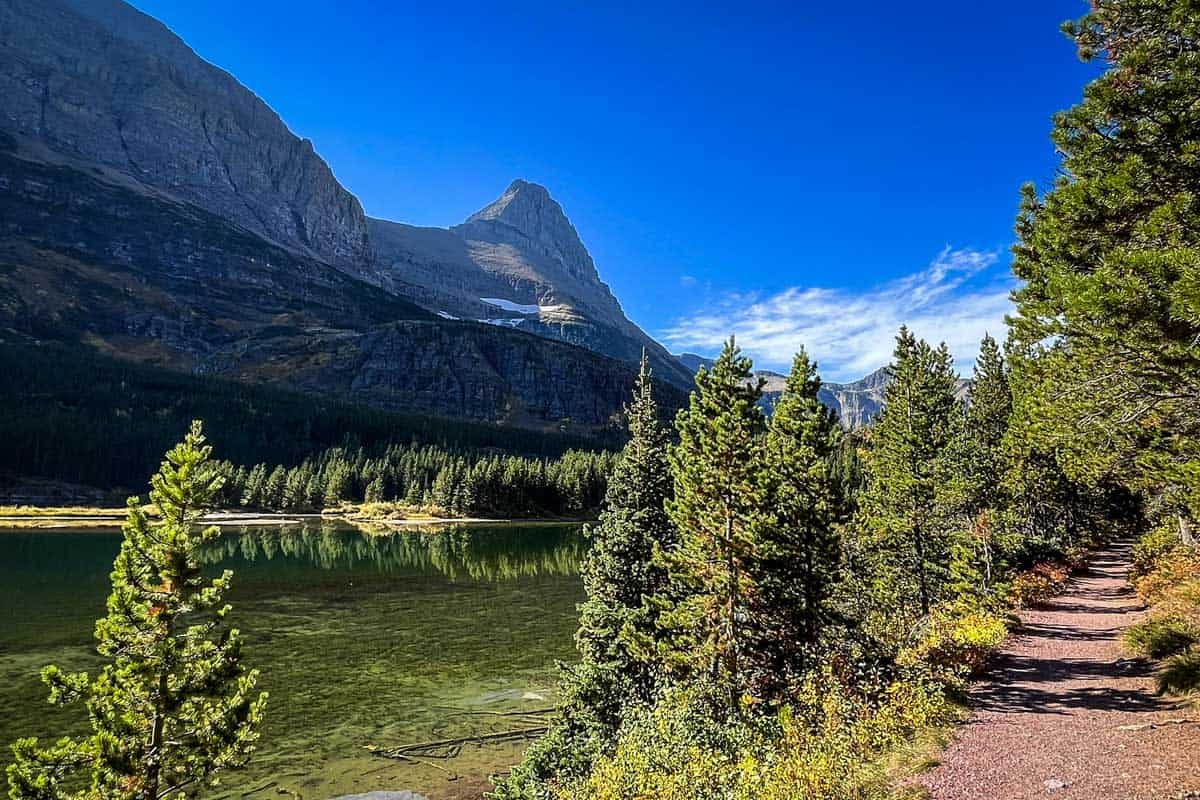 A lot of the top hikes in Many Glacier are long and hard, but Redrock Falls offers a high return for a shorter, easier effort. It's rocky, so wear good hiking shoes!

What to pack for hiking in Glacier
The best hikes in Glacier National Park vary from less than a mile to multiple days, so pack accordingly. Regardless of the length of hike, there are a few things we'd recommend packing for any trip:
Be sure to grab our ultimate hiking packing list includes our must-have gear for any hiking trail!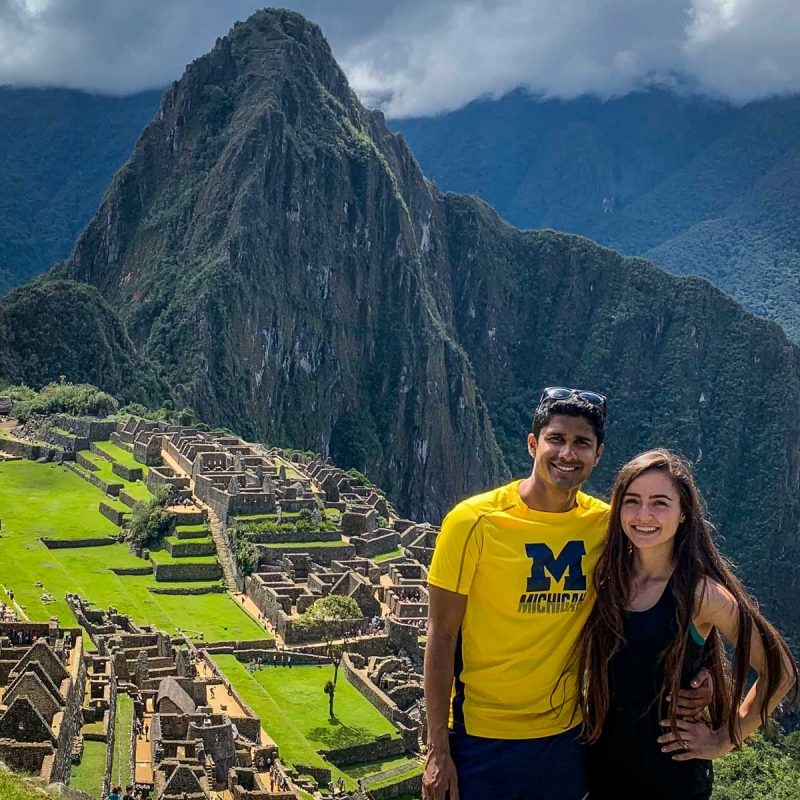 Sylvia and Satish met as engineering students at the University of Michigan, where they graduated only to find themselves in a long-distance relationship. During their time apart, they visited each other by traveling the world and have not stopped. They created MGoTravelBlog to share their itineraries and destinations with others, with a focus on maximizing time and money on international travel. They want to visit as many countries as possible in their lifetime, so time is precious!

You may also like…
Save this article on Pinterest for later!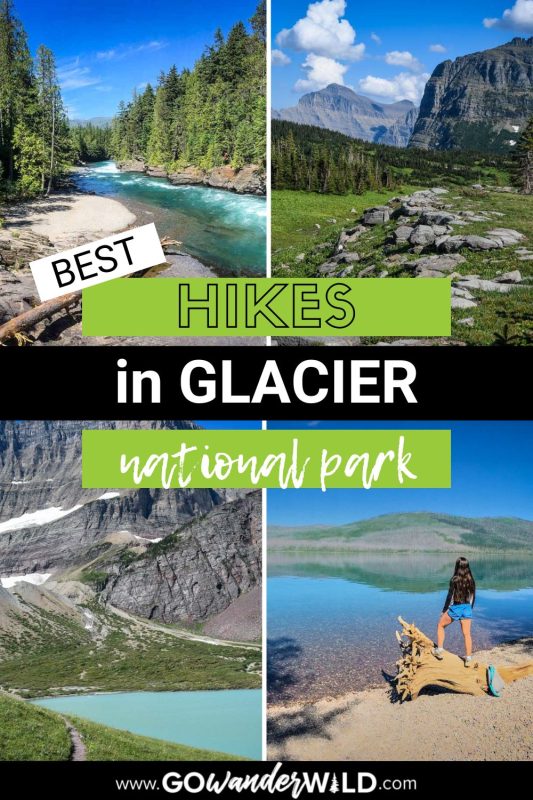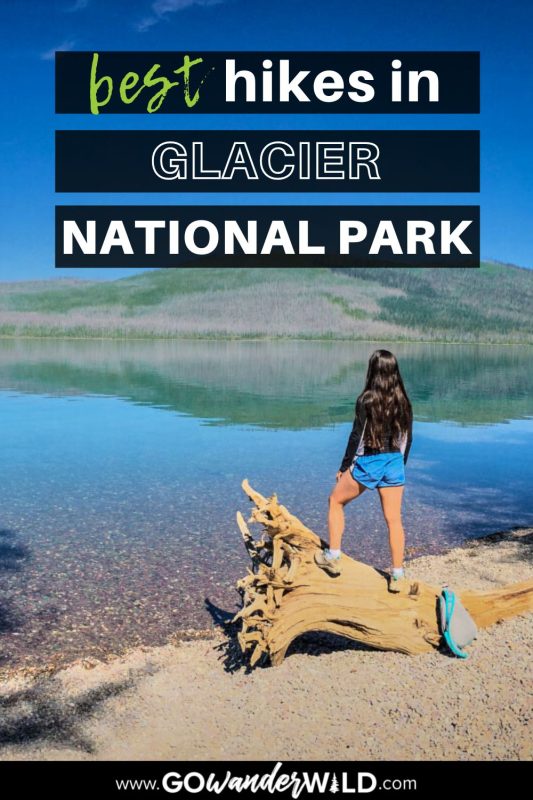 We want to hear from you!
Which of the best hikes in Glacier National Park is going straight to the top of your list? Have you done any of the hikes on this list? What was your experience like? Leave your comment below and we'll do our best to get back to you!