Protecting a stunningly beautiful patch of the north Oregon Coast, Oswald West State Park combines several quintessential Pacific Northwest sights, including rainforest, rugged sea cliffs, waterfalls, and beach. This guide will help you plan a trip to the coastal paradise!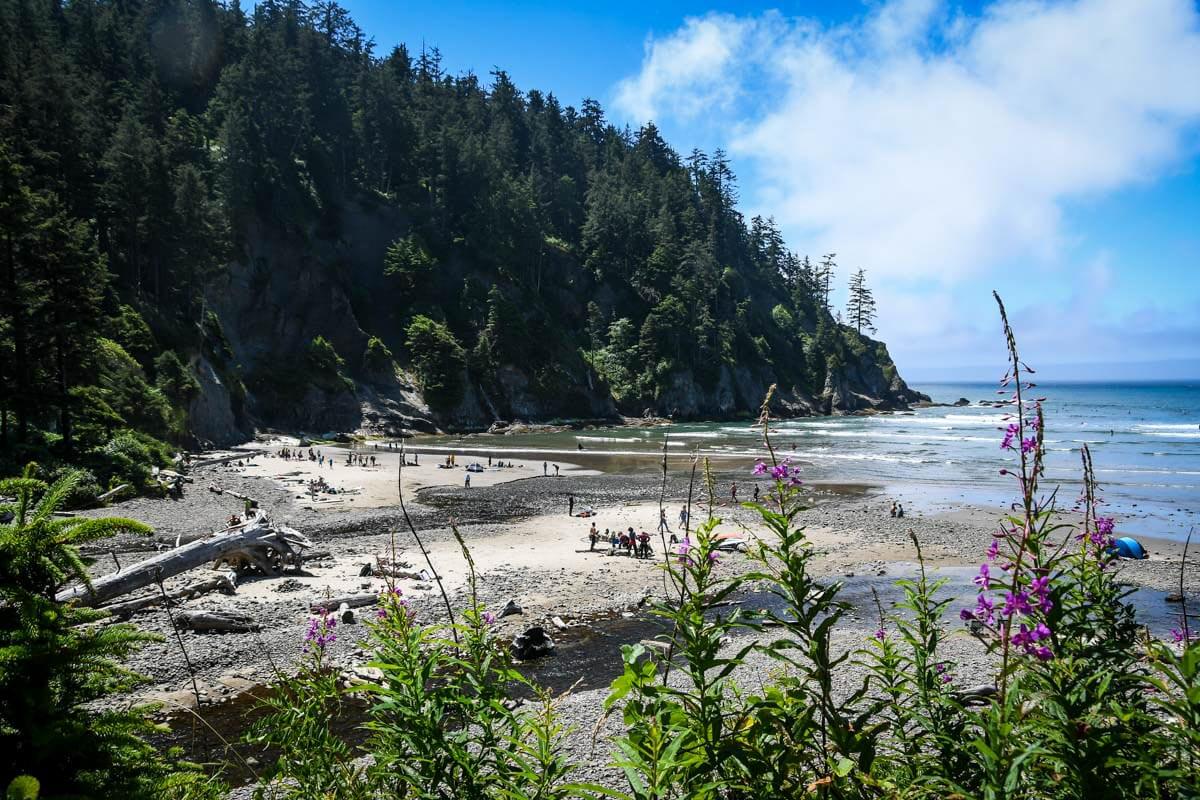 Encompassing 2,500 acres of temperate rainforest, old-growth forest, headlands, beach, and creeks, Oswald West State Park is a jewel along the Oregon Coast.
The park is just 10 miles south of wildly popular Cannon Beach and attracts decent crowds in its own right. But you'd never know it looking out at the expansive beach or summiting 1,680-foot Neahkahnie Mountain.
Well-known for its pristine natural beauty and proximity to Portland, it's easy to see why Oswald West State Park is one of Oregon's most loved.
Interestingly, the park holds yet another unique honor: it's home to Smuggler's Cove and Short Sand Beach, widely considered the best surfing beach in the state.
Epic surfing and hiking, rainforest and the rugged coast…it doesn't get much more quintessentially Oregon than that!
As you might expect, one of the best ways to experience this beautiful state park is by hitting the trails. Oswald West has a handful to choose from, and every one of them is pretty fantastic.
Whether you want an easygoing stroll to the beach or prefer to sweat it out on a summit hike, Oswald West State Park has a trail for you. Don't forget to build in time to enjoy the beach before or after your hike!
Article Contents

Oswald West State Park overview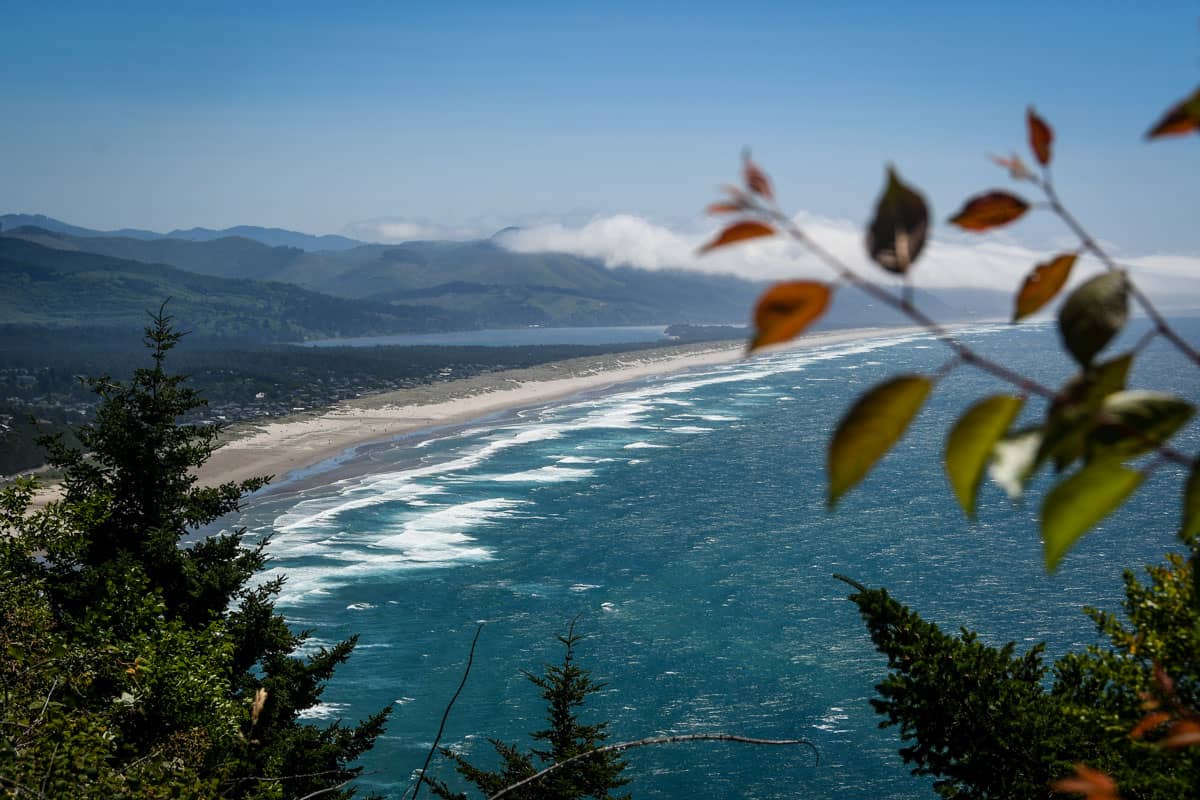 Parking: One large parking lot that tends to fill up on weekends and holidays
Parking fee: None
Crowds: It gets crowded in the summer and on holidays, plus particularly nice days
Family-friendly: Both the beach and hikes are great for families!
Dogs: Leashed dogs are welcome everywhere in the park, and dogs aren't required to be leashed at the shoreline
Cell signal: Most carriers have good signal in Oswald West State Park
Oswald West packs a tremendous amount of variety into a small area. There's the picturesque beach and waterfall, legendary surfing, coastal trails with creeks and enormous Sitka spruce, and a summit hike. Plus you may even spot the occasional elk or whales.
The park is situated just minutes from both Cannon Beach and Manzanita, some of Oregon's most popular coastal towns. Expect an eclectic and vibrant West Coast atmosphere, with vanlifers, surfers, boogie boarders, hikers, trail runners, and dog walkers all flocking to Oswald West State Park to enjoy the sand, surf, and trails.
Even if it does sometimes get a bit crowded, the atmosphere is always jovial and very family-friendly. Not to mention the views along the hikes are unforgettable!
Facilities at Oswald West State Park
You'll find the usual amenities of Oregon State Parks here, including two picnic areas, two well-maintained public restrooms, and a large parking lot, plus a few smaller parking areas.
Oswald West State Park does not have any campsites, but there are tons of places to camp at Cannon Beach nearby.
Best time to visit Oswald West State Park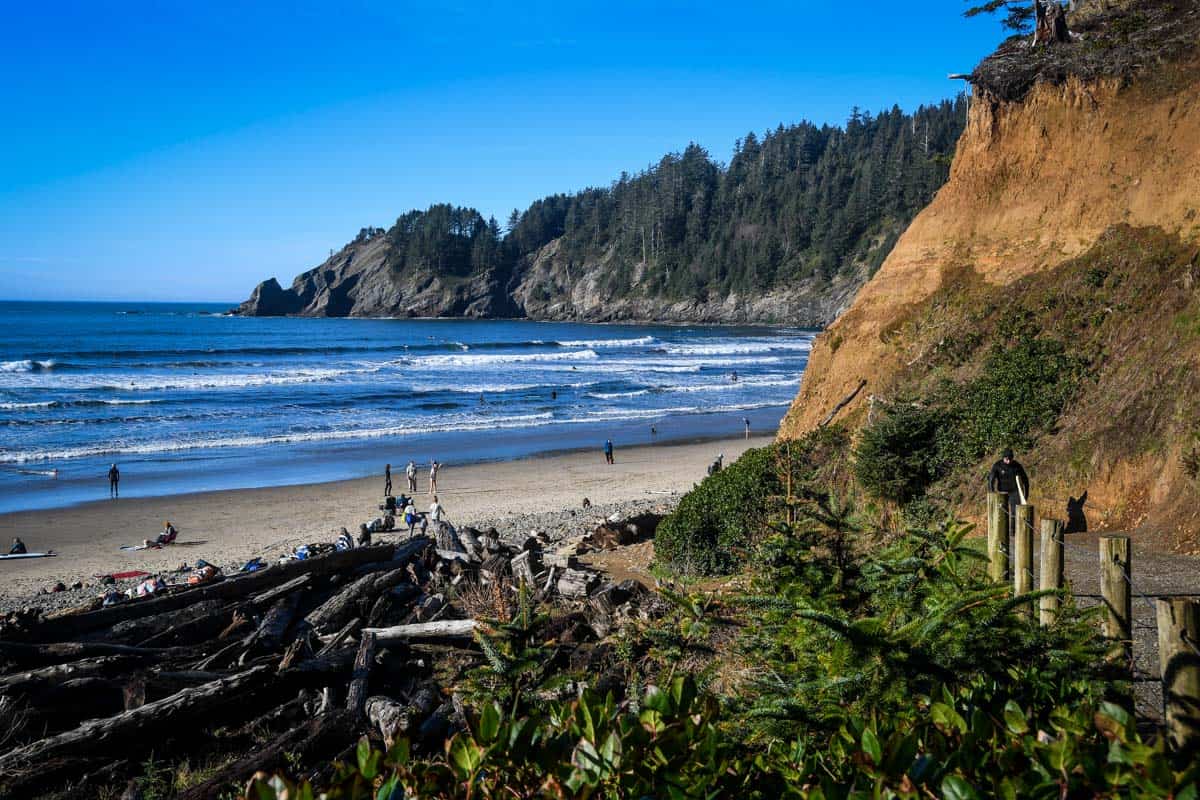 Oswald West State Park (and the Oregon Coast as a whole) is at its best in the summer, when it's usually sunny, the temperatures are warmer, and taking a swim in the ocean is more feasible (although the water is always chilly!).
Of course, this also means that there are more crowds and traffic. Hiking trails, the beach, and parking are all bustling with people, so arrive as early as possible and avoid weekends and holidays if you prefer less crowds.
In the fall and spring, the weather is a bit more volatile, but even on rainy days, the landscape is breathtakingly beautiful—maybe even more so, when you add fog into the mix! Year-round, but especially in these transitional seasons, be prepared for high winds and muddy trails—two of the biggest hurdles to enjoying the coast.
With that in mind, September and October offer the best of both worlds, with warm temperatures and fewer crowds.
How to get to Oswald West
Oswald West State Park is on Highway 101 just a few miles north of Manzanita and 10 miles south of hotspot Cannon Beach. Only an hour and a half from Portland, the state park makes for a great day trip or a stopover on an epic Oregon Coast road trip.
The drive to this beautiful slice of the coast is fairly straightforward and in fact, it's one of the closest beaches to Portland. Simply head west on Highway 26, then turn south onto Highway 101 just north of Cannon Beach.
There's also a bus that runs to Cannon Beach, so combined with a short taxi or Uber ride, it's possible to reach Oswald West State Park even without a car.
Best hikes at Oswald West State Park
If you're a hiking enthusiast, you'll find plenty of great trails at Oswald West State Park. Here are a few top recommended hikes.
1. Short Sand Beach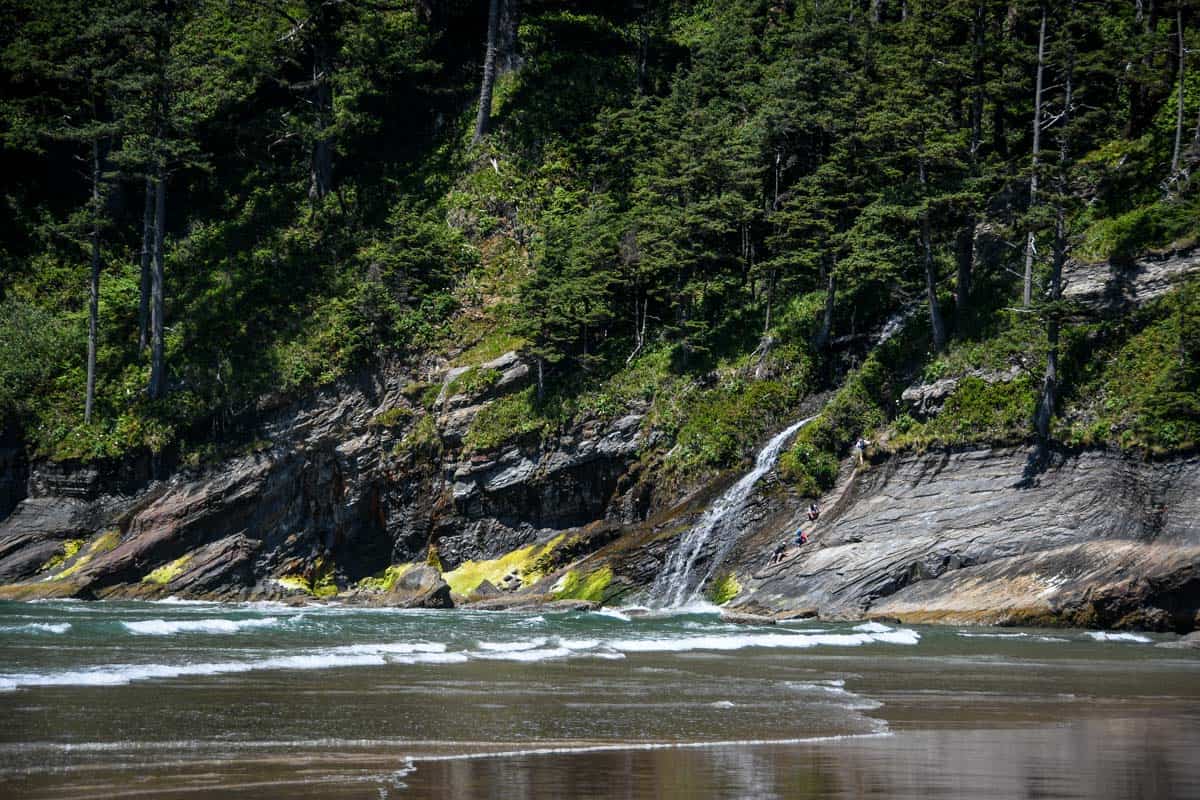 Distance: 1.2 miles out-and-back
Elevation: 82 feet
Difficulty Rating: Easy
This stunning, secluded beach in Smuggler's Cove is reached by an easygoing paved trail through an old-growth forest. Famous for its surfing and easily accessible, it's one of Oregon's best beaches. There are gorgeous cliffs, verdant greenery, a babbling creek, and even a waterfall!
Blumenthal Falls is seasonal, often drying up in the summer months, but spills right onto the beach and into the ocean when it's flowing. If you only have time for one hike in Oswald West State Park, make it this one — its popularity is justifiable!
2. Cape Falcon Trail
Distance: 5.2 miles out-and-back
Elevation: 597 feet
Difficulty Rating: Moderate
Connecting to Short Sand Beach, this moderate Oswald West State Park hike weaves through old-growth forest to reveal gorgeous dramatic coastal scenery — and sometimes even whales! Look out for fabulous vantage points to Neahkahnie Mountain and Short Sand Beach.
Cape Falcon typically takes at least a few hours, making it the perfect complement to a relaxing beach day. The trail isn't particularly difficult or technical, but it is steep in sections, often muddy, and filled with roots and rocks, so be sure to wear adequate sturdy footwear. The trail's slightly rugged nature is part of the fun!
3. Neahkahnie Mountain (via South Trailhead)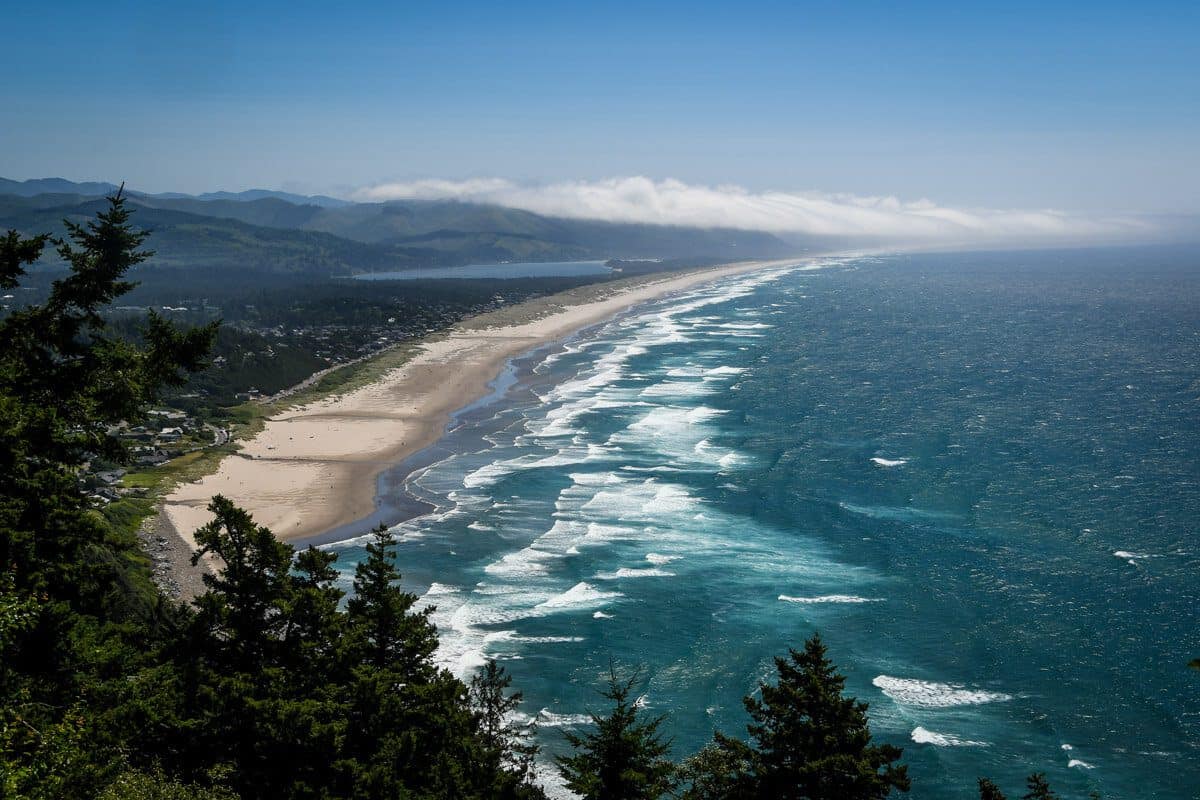 Distance: 2.5-mile loop
Elevation: 886 feet
Difficulty Rating: Challenging
To get your blood pumping, head up this steep trail to the summit of Neahkahnie Mountain. Don't be fooled by the hike's short distance; it's challenging!
The view at the top is well worth it, showcasing shimmering blue surf and neighboring peaks from high above. Its name, "place of supreme deity" in Native Tillamook language, is certainly fitting.
Especially enjoyable on sunny days, this trail weaves through switchbacks in an old-growth forest, providing plenty of shade.
Note that there are two approaches to Neahkahnie Mountain, via the south and north. While they're fairly equally challenging, the southern route is shorter, not to mention a more scenic and well-trodden path suitable for all hikers. The north route is significantly longer and steeper, about five miles total and gaining 1,450 feet in elevation.
4. Elk Flats Trail and Devil's Cauldron Overlook
Distance: 2.9 miles out-and-back
Elevation: 616 feet
Difficulty Rating: Moderate
For a short hike that's incredibly scenic and memorable, take Elk Flats Trail to the Devil's Cauldron Overlook. With ocean vistas, rugged cliffs, and a very unique secluded cove, the views along this hike are stunning in any weather.
Prepare for perpetually muddy conditions and watch your footing, as roots and rocks abound on this trail.
Devil's Cauldron itself is a cove surrounded by sheer cliffs. As water rushes into the cove, it often sounds like thunder as it makes contact with the cliffs, then swirls around in bubbly foam — hence the name.
Elk Flats connects Oswald West State Park's major attractions, so it's possible to check off Neahkahnie Mountain, Short Sand Beach, and Cape Falcon all on one longer trail!
Other things to do at Oswald West State Park
Hiking is just the beginning…there are plenty more fun things to do at Oswald West State Park.
Surf or boogie board Short Sand Beach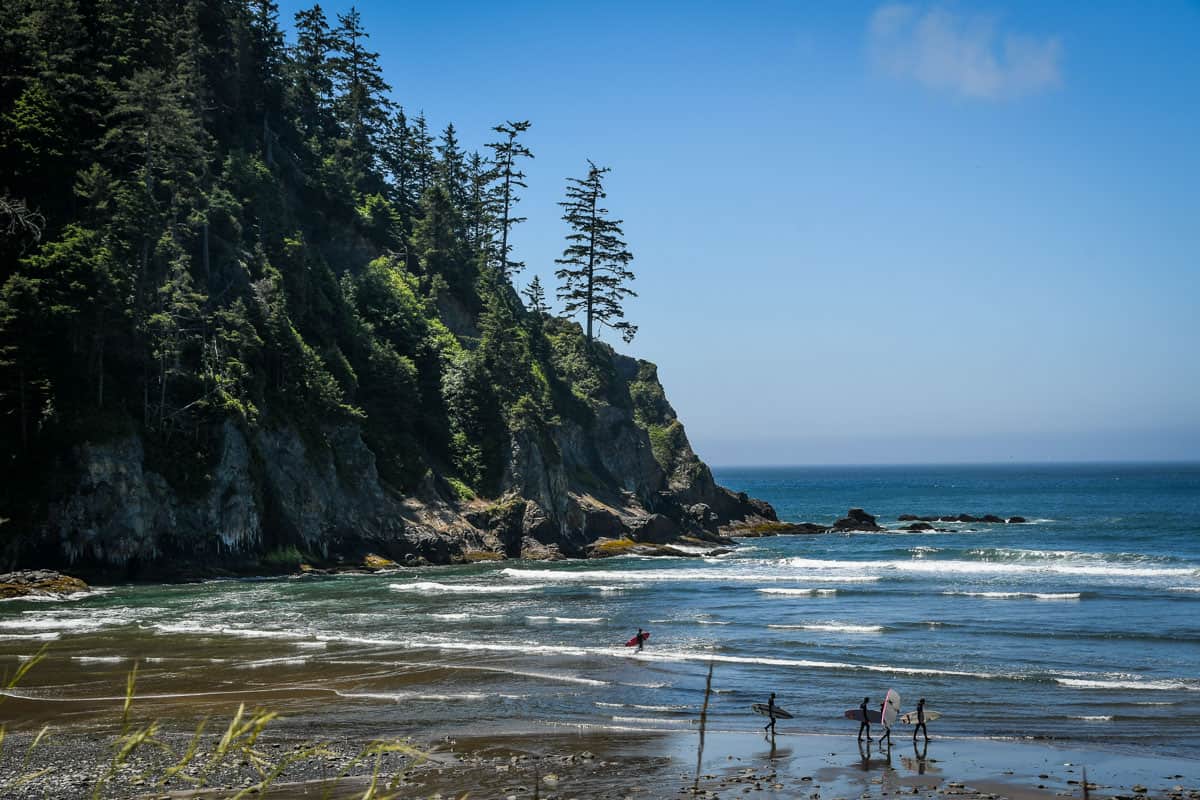 Smuggler's Cove is well-sheltered from wind, providing predictable waters with consistent waves. Short Sand Beach sits in the heart of the cove, nestled between the park's two headlands, so it's no wonder it's considered Oregon's best for surfing and boogie or paddle boarding.
If you don't have your own board, inexpensive hourly or daily rentals are available in Cannon Beach.
Go tidepooling
If you're more comfortable on land than in the water, Short Sand Beach is a great place to go tidepooling. At low tide, tons of tiny little "pools" are revealed on the shore, most of them with all sorts of sea creatures living inside!
If this interests you, check the Oswald West State Park tide tables HERE.
Bird or whale watch
Especially from the Devil's Cauldron overlook, there's a ton of wildlife to be seen in Oswald West State Park. Pack a pair of binoculars and a snack, and watch the sea from this spot along your hike. If you're really lucky, you may even spot migrating whales!
Have a picnic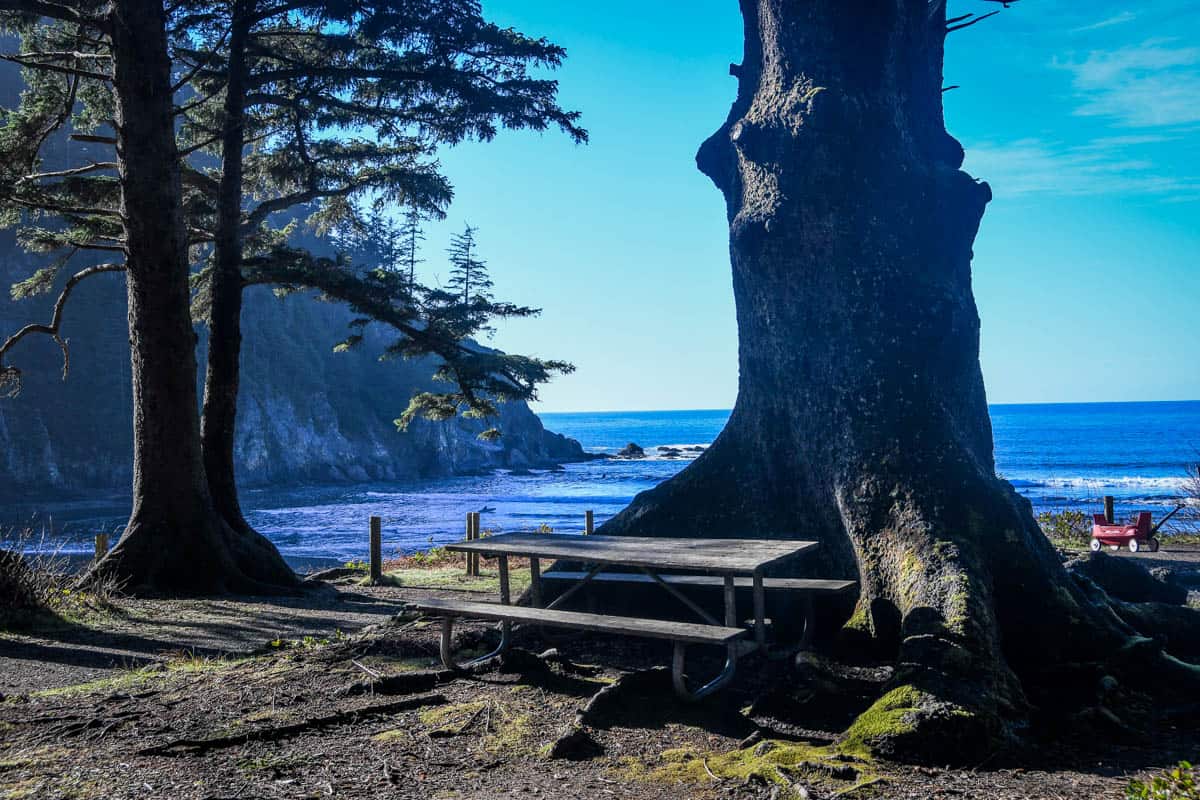 One of the best ways to enjoy Oswald West is to relax and soak up all the sights, sounds, and smells of the coast. Pack some drinks and snacks and find a favorite viewpoint to enjoy the salty ocean air. There are several scenic picnic tables sprinkled throughout the park, or you can head down to the beach.
What to pack
No matter what your purpose for visiting Oswald West State Park, there are a few things you'll want to have in your pack if you spend the day there.
Hydration pack and/or water bottles
Bug spray (we prefer the natural stuff)
Sun protection: sunscreen, sunglasses, hat (even when it's cloudy!)
Decent walking or hiking shoes; or if you prefer Chacos
Comfortable hiking clothes (dress in layers!)
A windbreaker or rain jacket in case of inclement weather
Swimwear if you intend to swim
AllTrails Pro (or download Google Maps offline for the area in case you lose service)

You may also like…
Save this article on Pinterest for later!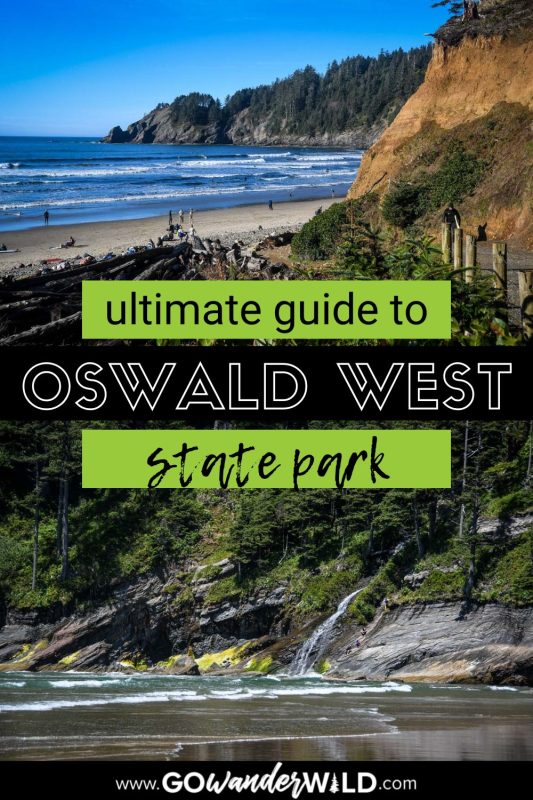 We want to hear from you!
Have you ever been to Oswald West State Park on the Oregon Coast? What was your experience like? Do you have more questions for us about visiting? Leave your comment below and we'll do our best to get back to you!