Hiking to the historic Gobblers Knob fire lookout in Mount Rainier National Park offers unbeatable views and a truly unique experience. This trail guide will help you plan out all the details for this unforgettable adventure in Washington state.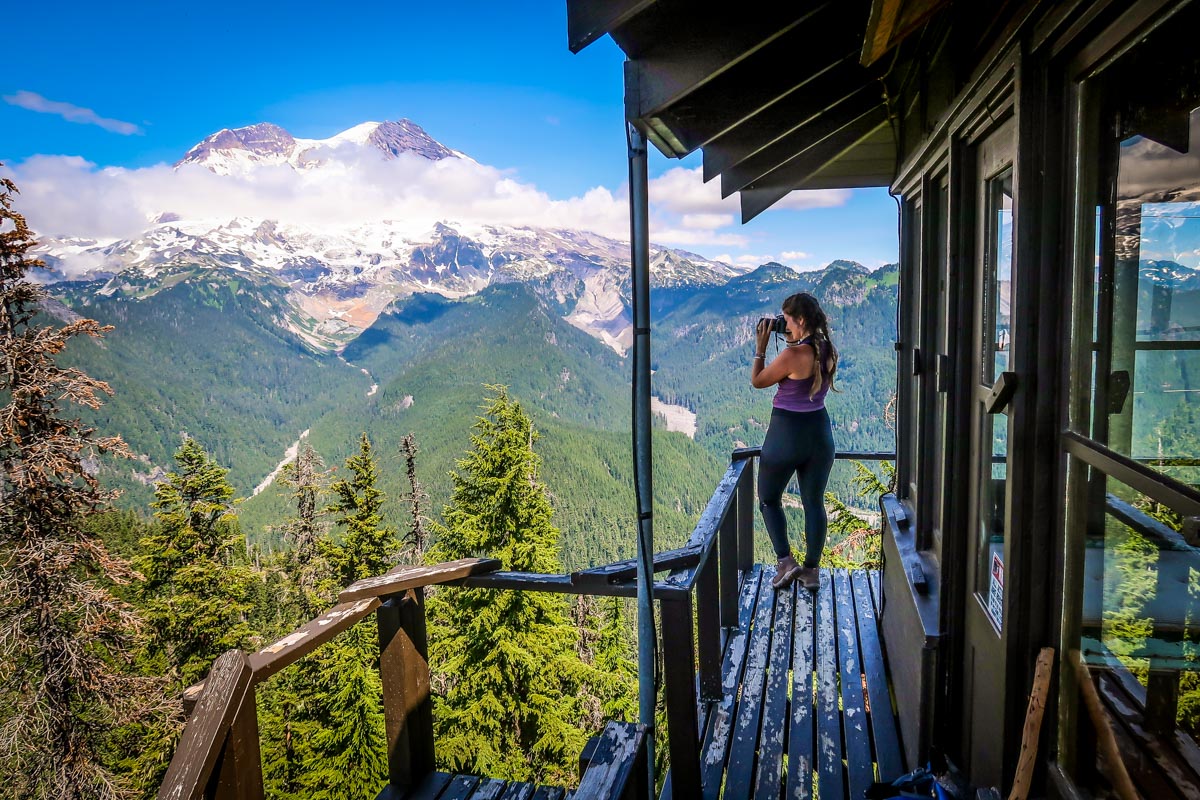 One of over 90 fire lookouts in the state of Washington — and four in Mount Rainier National Park, Gobblers Knob involves a moderately challenging hike and million-dollar views.
Many people consider the in-your-face view from the fire tower one of the best in the state!
The hike to get there is fittingly impressive, including a visit to glassy emerald green Lake George, lush old-growth forest, and wildflowers galore.
While Gobblers Knob is fairly accessible, there's still some logistical planning, such as deciding whether to do it as a day hike or overnight it. In this trail guide, we break down all the details for both options.
Article Contents

Gobblers Knob trail stats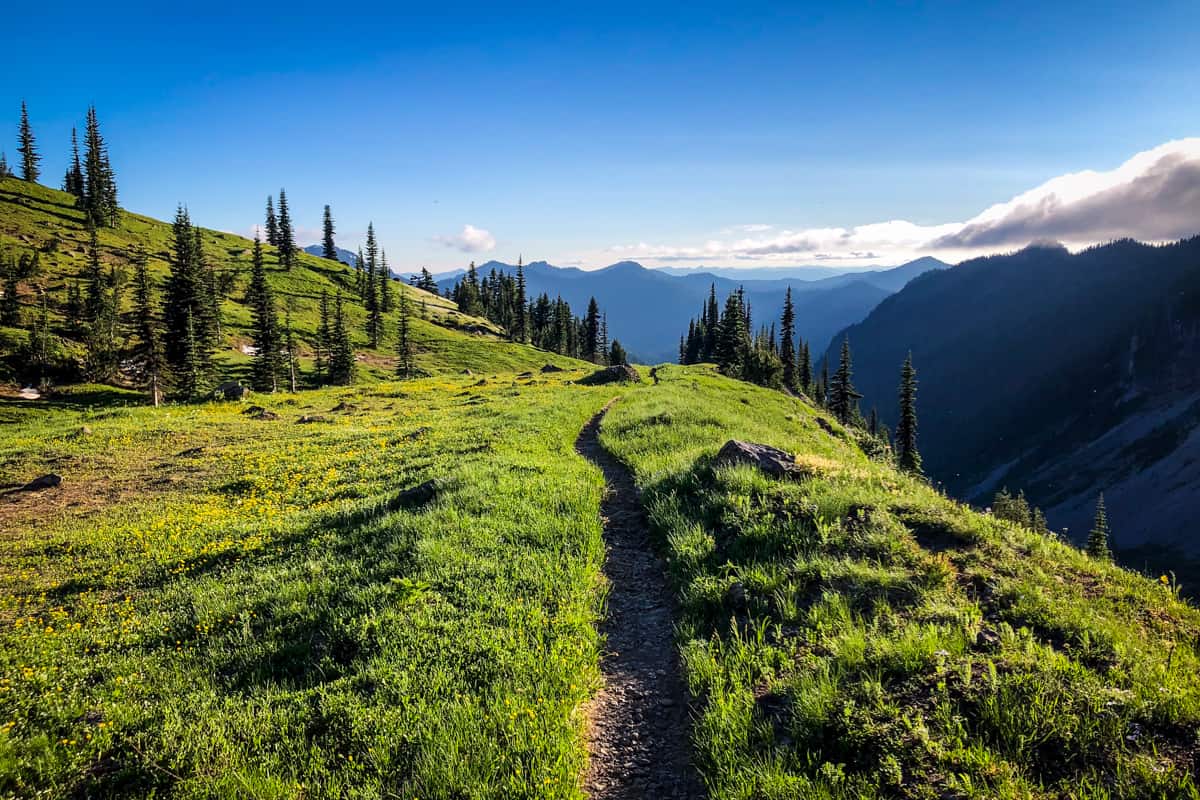 Gobblers Knob hike overview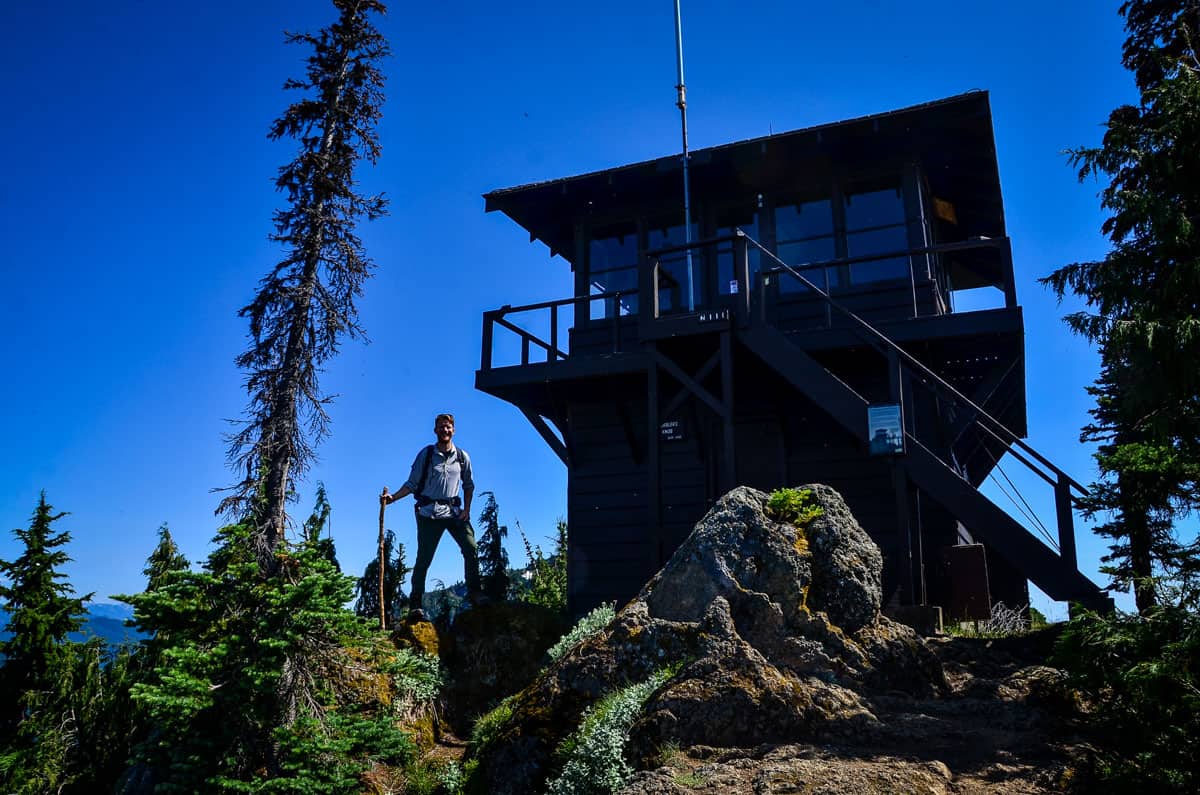 Gobblers Knob is considered the easiest fire lookout to reach within Mount Rainier National Park. But don't let 'easiest' mislead you; the hike isn't exactly easy! It's the lowest in elevation and at one time, it also involved the shortest hike.
Due to a combination of factors, including frequent flooding and rock falls, the road to the Gobblers Knob trailhead, Westside Road, was never completed.
This means a decent chunk of the hike—nearly 4 miles each way— is on this road, walking or biking from your vehicle to the trailhead itself (and back).
Once you're on the trailhead to Gobblers Knob, the hike to the fire tower is less than two miles. You'll walk through beautiful, lush forest, enjoy peek-a-boo views of Mount Rainier, and pass by one end of Lake George on the route.
Up until Lake George, the trail is straightforward and even relatively easy. From there on, however, the last leg of the hike involves a strenuous climb.
While the fire lookout isn't open to the public for overnight stays, there are backcountry campsites at the lake. Gobblers Knob makes an excellent one-night backpacking trip, but can also easily be done as a day hike.
Note that the trail we cover here is the Westside Road route, but another option is the Glacier View trail to Gobblers Knob. The Westside Road route is typically preferred because it takes you past Lake George.
Things to know before you go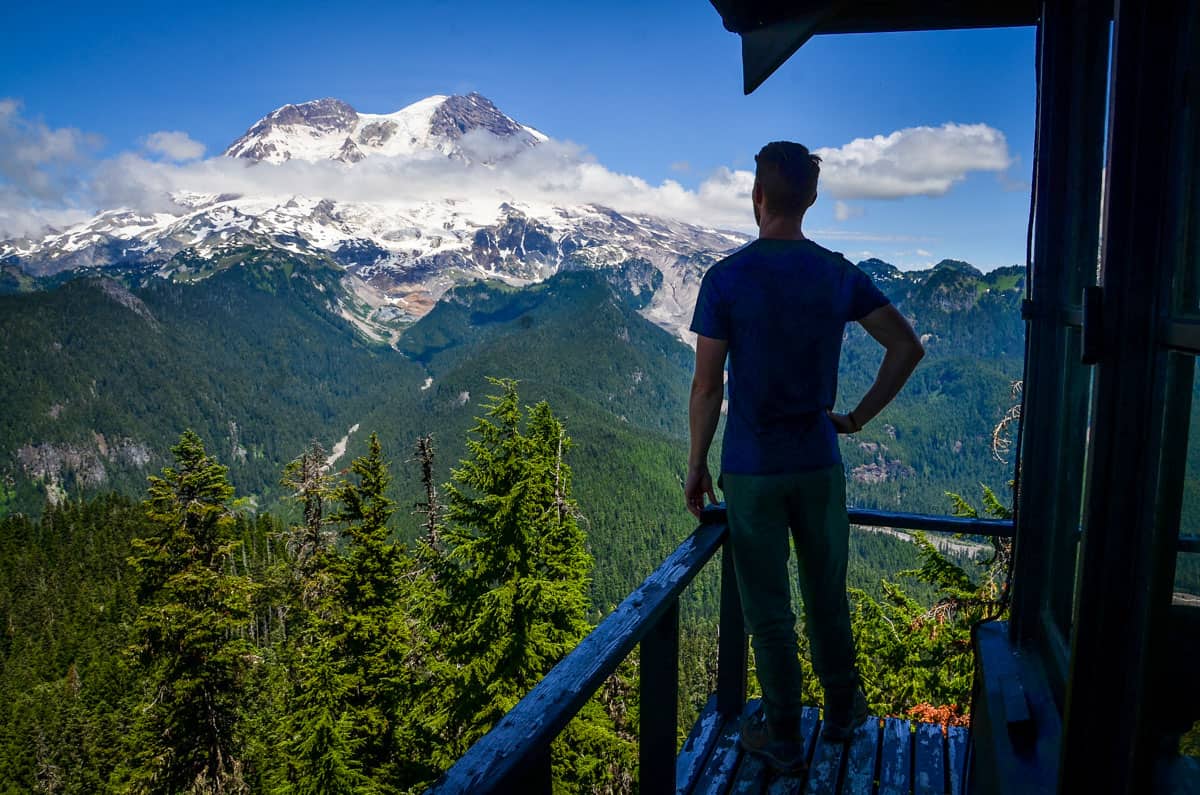 With multiple routes to choose from, a steep final ascent, and wilderness permits required for camping, there are several logistics to plan before hiking Gobblers Knob.
Best time of year to hike to Gobblers Knob
Summer into early fall is the best time of year for this hike. Westside Road is well-maintained during this time, the trail is typically clear of snow by mid-June, and you'll enjoy wildflowers galore — plus fall foliage starting in late September!
The road is technically accessible to foot traffic in the winter and some people snowshoe, but it's a long trek. We'd only recommend it if you have quite a bit of experience in the backcountry in winter conditions.
How long does it take to hike to Gobblers Knob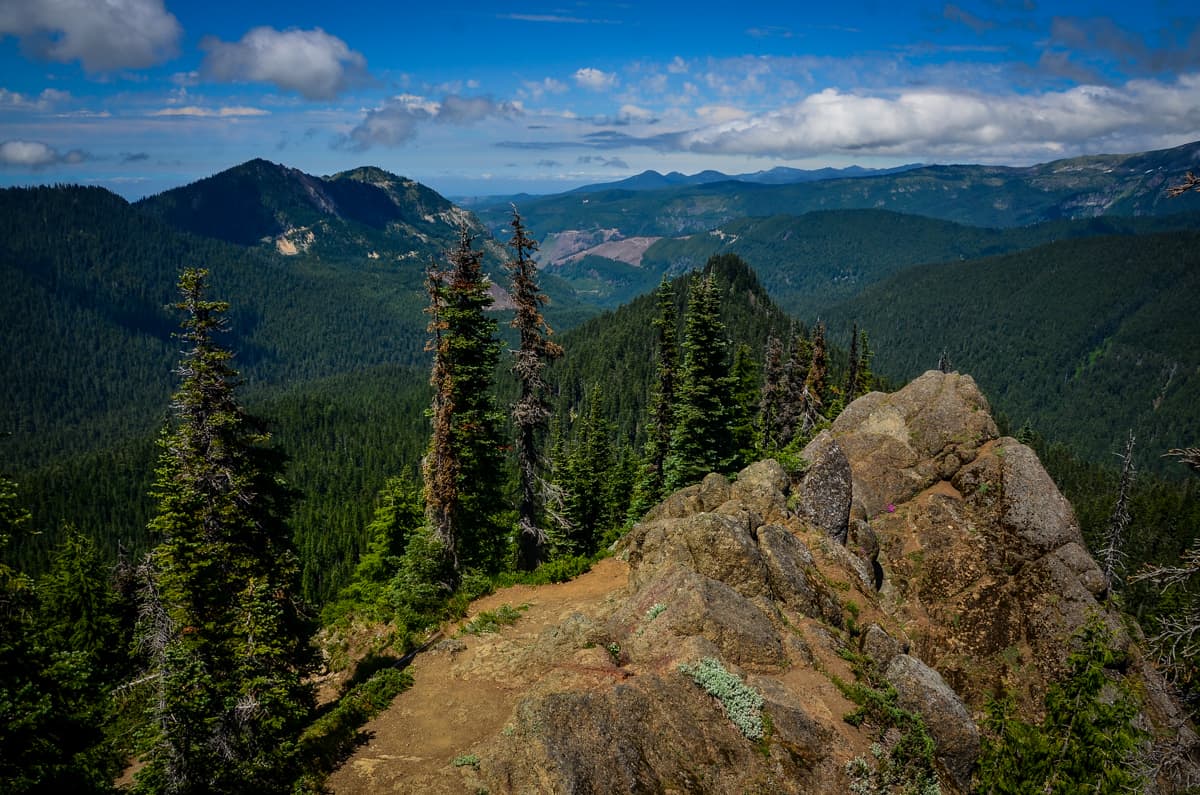 A solid average is 5-8 hours to complete this hike, but several factors affect that.
Bringing a bicycle for Westside Road will significantly reduce your time. Plus, some people also choose to camp at Lake George and turn this hike into an overnight adventure.
How difficult is the Gobblers Knob trail?
Despite its length (and the general perception that fire lookout hikes are strenuous), Gobblers Knob isn't crazy difficult. While the hike involves a steep final ascent with a handful of switchbacks, you won't encounter anything technical or particularly strenuous.
Just about anyone with previous hiking experience should find Gobblers Knob only moderately challenging.
National Park Annual Pass

If you're planning to visit more than one of the Washington national parks, we'd highly encourage you to look into getting an annual park pass. At $30 per vehicle for the entrance fee, visiting Mount Rainier National Park along with most other national parks in the U.S. can get expensive.
For just $80 per year, you can purchase the America the Beautiful Park Pass. This pass grants you free access to all of the national parks. Plus it also covers your entrance to over 2,000 natural, historical, and recreational sites across the United States.
If you still need convincing, check out our article: America the Beautiful Annual Park Pass: Is it Worthwhile?
Psst! Check out some of our other favorite national parks on the west coast that make great hiking destinations.
Obtaining a permit for your Gobblers Knob Fire Lookout hike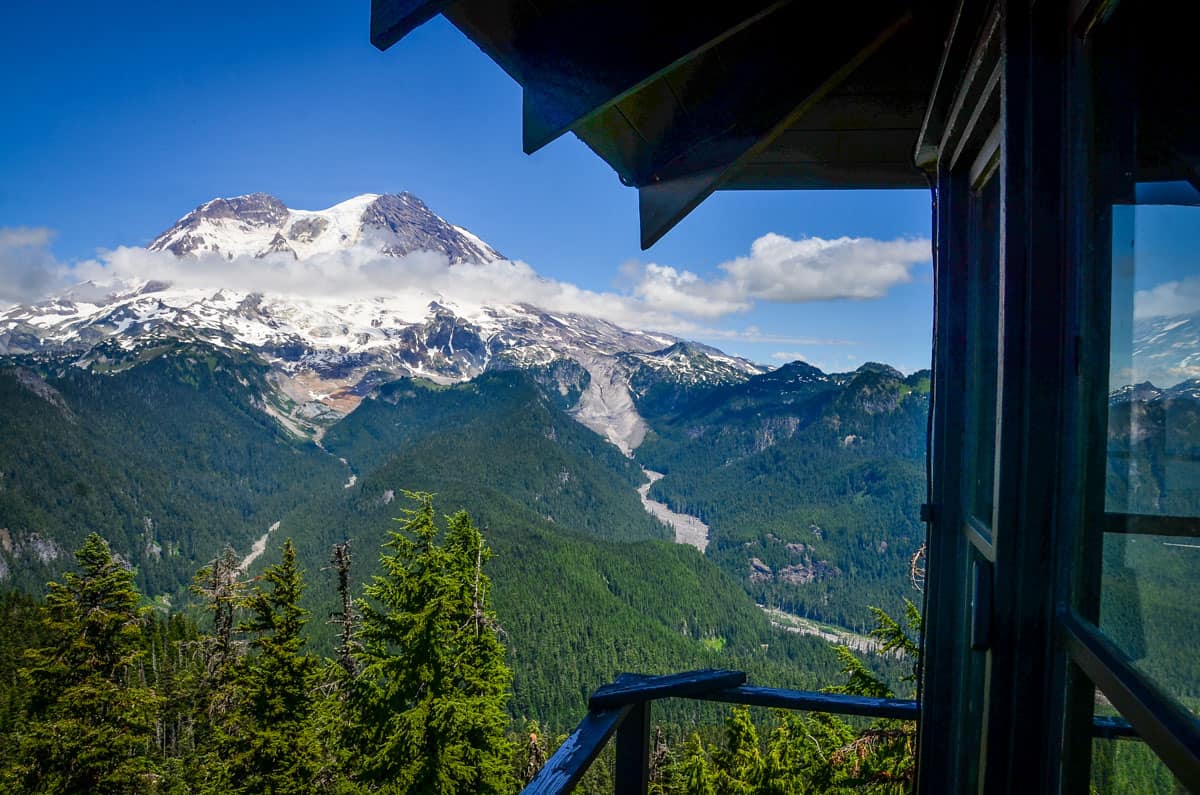 The first thing you'll need to hike to Gobblers Knob is a pass to enter Mount Rainier National Park, whether it's a day pass ($30) or an America the Beautiful annual pass.
Other than that, unless you plan to camp overnight at Lake George, you don't need anything special — day hikers don't need any sort of permit. A wilderness permit is required year-round for those who do choose to camp at the lake overnight. 
Advance campsite reservations are available through Recreation.gov during peak season, June through September (you want "Longmire Area Camps"). If you're unable to get a permit ahead of time, you can also try your luck with walk-up permits in the park the day before.
Outside of that summer timeframe, hikers must visit a park visitor center or Wilderness Information Center to obtain walk-up permits the day before or of their intended hike.
The route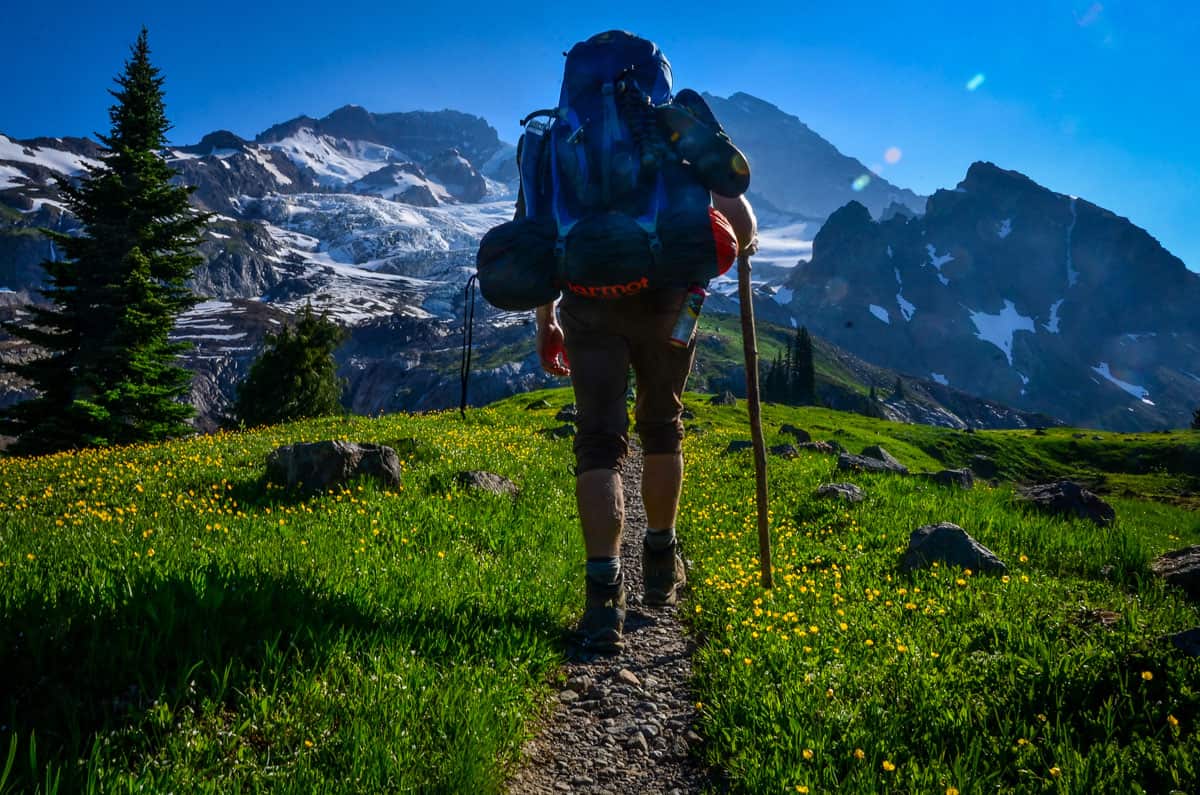 We broke down the route for hiking to Gobblers Knob into parts to give you an idea of what to expect on the trail.
Westside Road
Enter the national park at the Nisqually entrance, drive one mile, and then take Westside Road for three miles. Here, you'll encounter a gate at the Dry Creek trailhead.
Park your vehicle here and either walk or bike (more on that later) the 3.8 miles to Round Pass, the start of the trail to Gobblers Knob.
Be aware that this barricade exists because of the high danger of falling rocks, so NPS advises visitors not to linger. Once you start on the road, send it!
Westside Road is wide and well-graded, and makes up more than half of the distance of the entire hike. Although this stretch isn't particularly exciting, it does make for relatively quick, easy progress. The road has a gradual incline, gaining 1,100 feet over the nearly four miles.
Insider tip: many people bring a bicycle along specifically for the road. There are even a few bike racks cut from logs along the road for locking up your bike (they aren't allowed on trails, just Westside Road).
Hiking to Gobblers Knob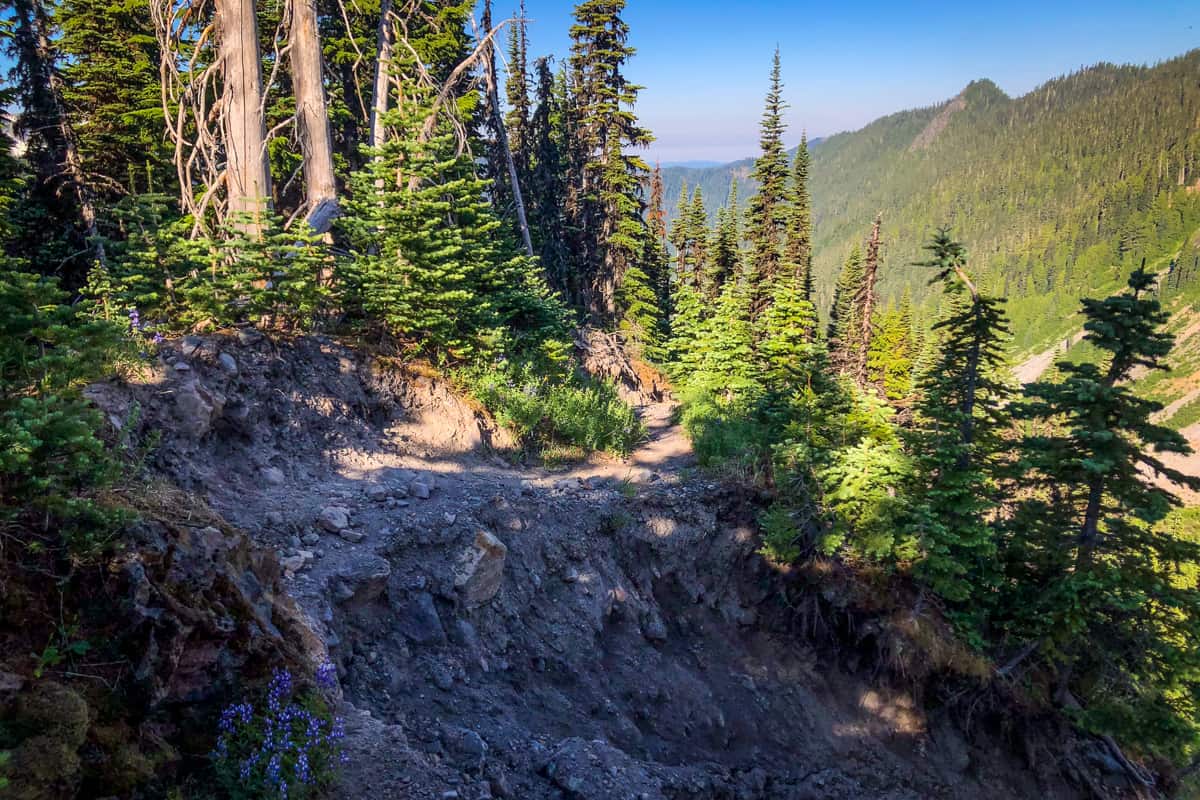 At the 3.8-mile mark, look for the trailhead to Lake George and Gobblers Knob on your left, at a now-defunct parking area.
Once you make it to the trailhead, it's 0.8 miles to Lake George and one additional mile to Gobblers Knob. The official trail is spectacular. Hiking to Lake George is easy-going with minimal incline, taking you through canopies of old-growth forest and across a few boardwalks.
Lake George is glassy and stunning, sitting at the base of aptly-named Mount Wow. Be sure to scan the mountain for mountain goats. Look for the moving white dots!
The majority of the route to the fire tower is shaded (once you get off the road), making it an ideal hike for hot summer days. Plus, you can take a refreshing dip in the emerald green lake!
You'll find a historic patrol cabin at Lake George, as well as backcountry campsites. From the patrol cabin, the lookout tower is exactly one mile. This mile is quite steep, gaining over 1,000 feet in elevation. Essentially, you'll be stair-stepping the entire mile.
A break in the forest gives way to a lush meadow, where you'll get your first glimpse of the trail's crown jewel: the Gobblers Knob lookout. Shortly after this first view, you'll get another near a pond.
The final push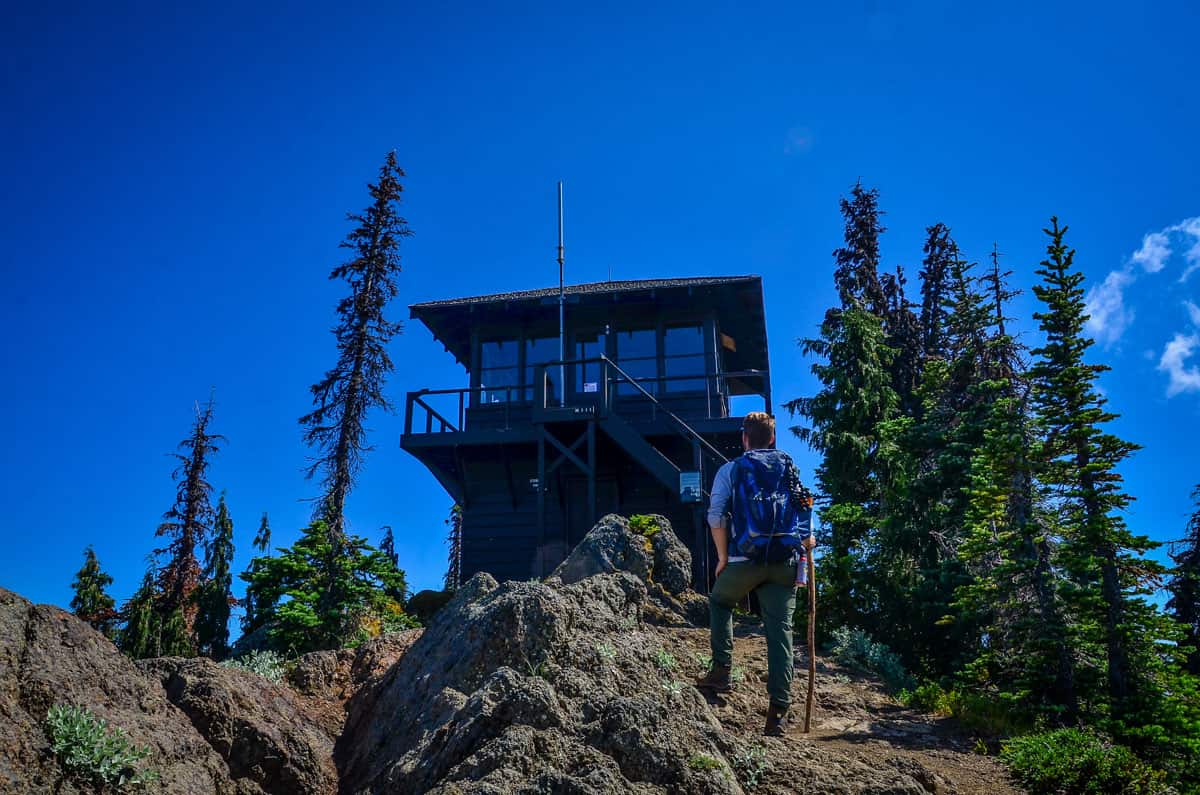 Take note of the trail junction just before reaching the fire tower. A left leads to Goat Lake, along the Puyallup Trail, aka the Glacier View trail. Hang a right, ooh and ahh at the wildflowers, tackle a few more rocky switchbacks, and you'll be there!
On clear days, you practically stare Mount Rainier in the face from Gobblers Knob. It is truly one of the best views of the icon in the entire state. You may also have excellent views of the Tahoma Glacier, Mount St. Helens, Mount Adams, and Mount Hood.
You can climb the steps to the lookout, walk its catwalk, and enjoy the views for as long as you wish, but you can't spend the night. So when you're able to finally tear yourself away, simply hike back the way you came.
Fun fact: of all the park's fire lookouts, this one is closest to Rainier!
Tips for hiking to Gobblers Knob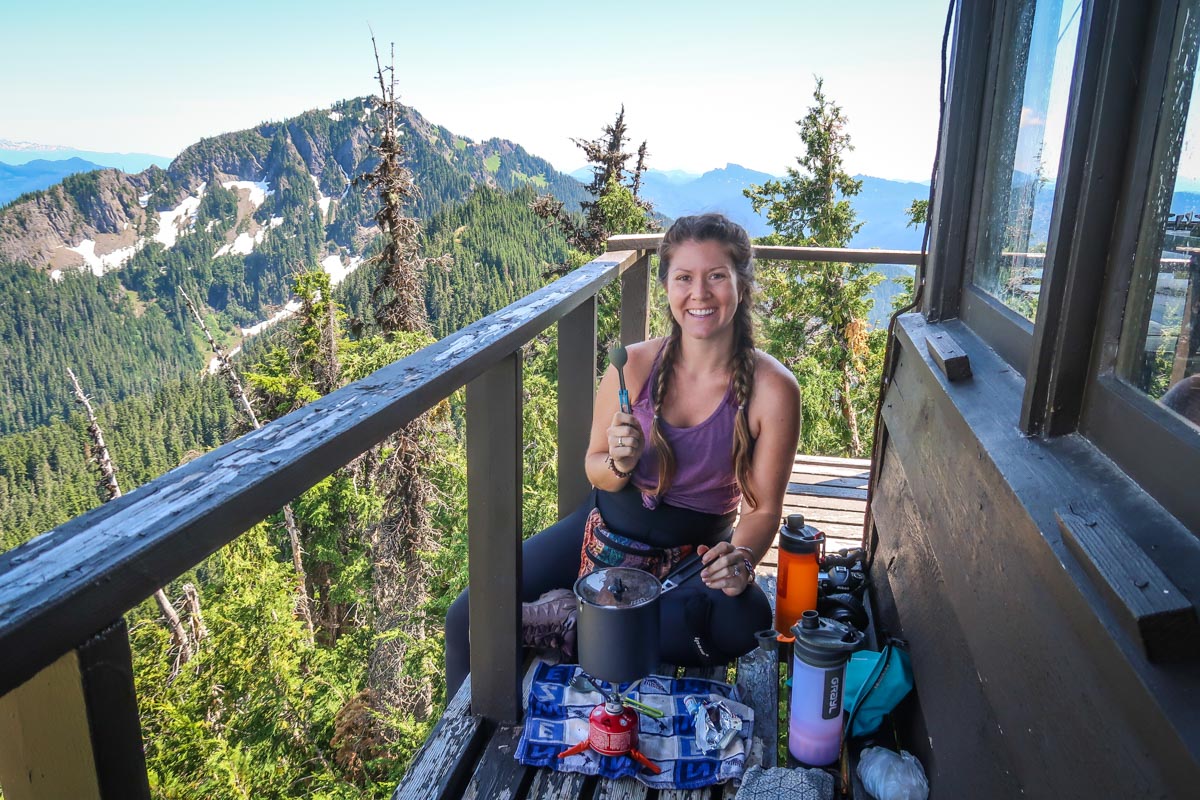 Follow these tips to ensure your hike to Gobblers Knob is uncomplicated.
Where to stay near Gobblers Knob Fire Lookout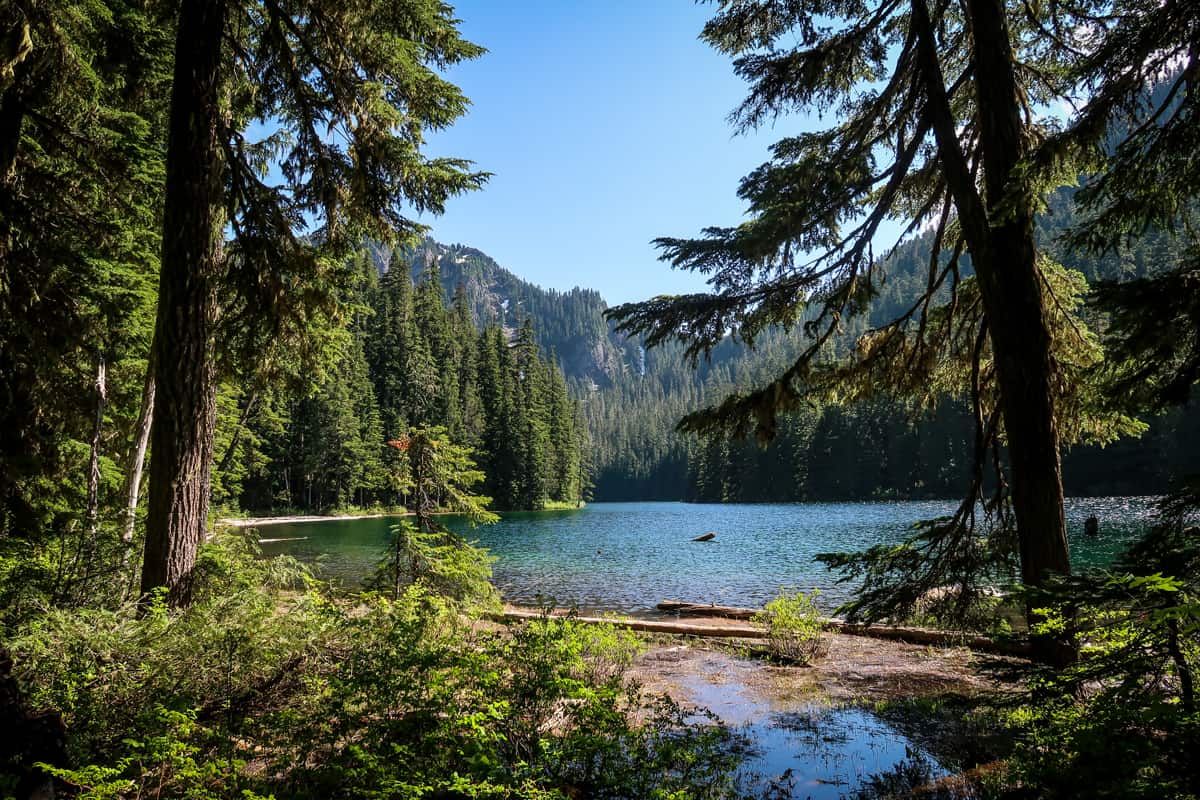 Gobblers Knob does not allow overnight stays. Hikers can climb the stairs and hang out on the lookout's catwalk, but entrance is not permitted inside.
If you want to stay in the area overnight, consider dispersed camping at Lake George. You will need a wilderness permit to camp in the backcountry in Mount Rainier National Park. The permit costs $6.
Two-thirds of the permits are made available for advanced reservation during intervals throughout the year on Recreation.gov. The remaining one-third of wilderness permits are issued on a first-come, first-served basis at the park's Wilderness Information Centers. 
What to pack for hiking to Gobblers Knob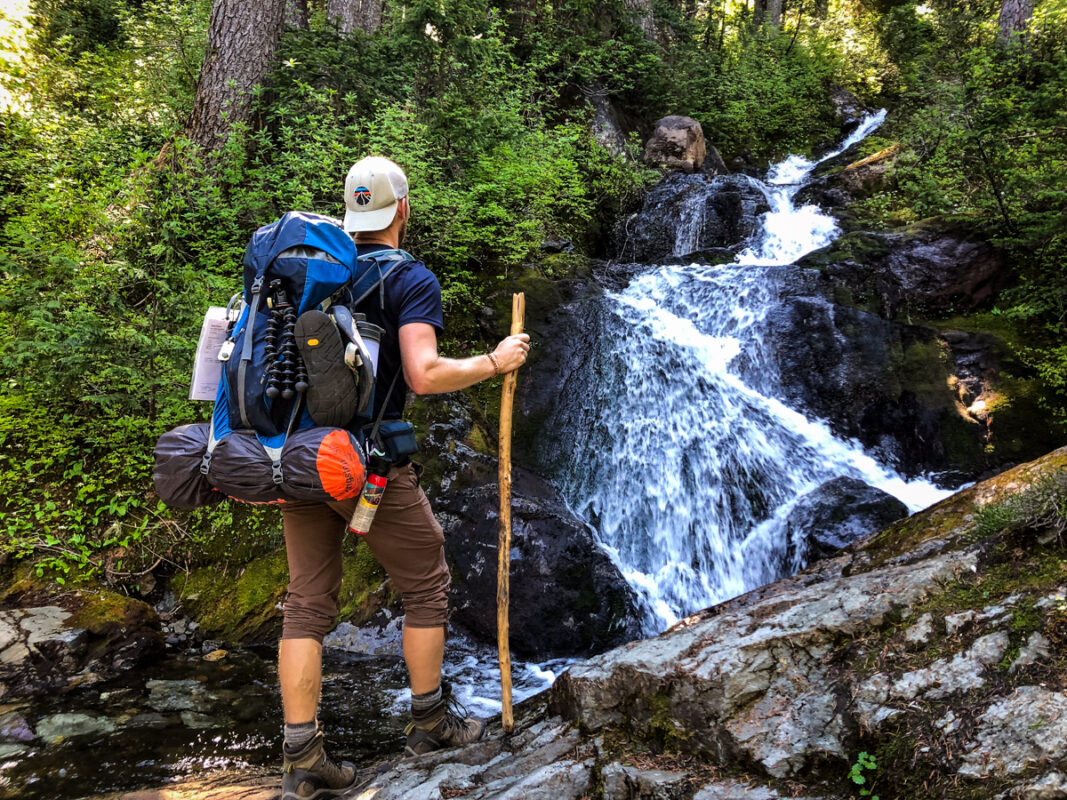 If you do plan to make it an overnight trip, check out our backpacking guide for a complete list of what to pack.


You may also like…
Save this article on Pinterest for later!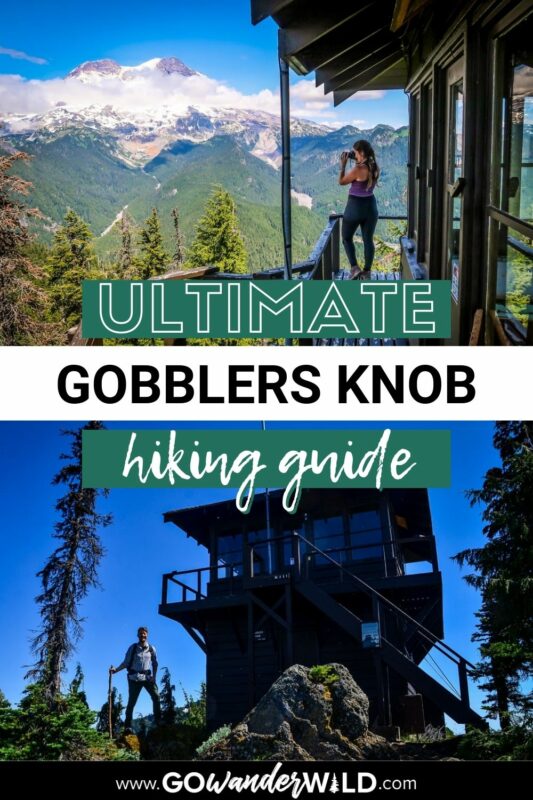 We want to hear from you!
Comment below if you have questions about hiking the Wonderland Trail at Mount Rainier in Washington state and we'll do our best to get back to you!