The Multnomah Falls hike is one of Oregon's most popular adventures, and for good reason! To help you experience this iconic waterfall for yourself, we put together this detailed guide.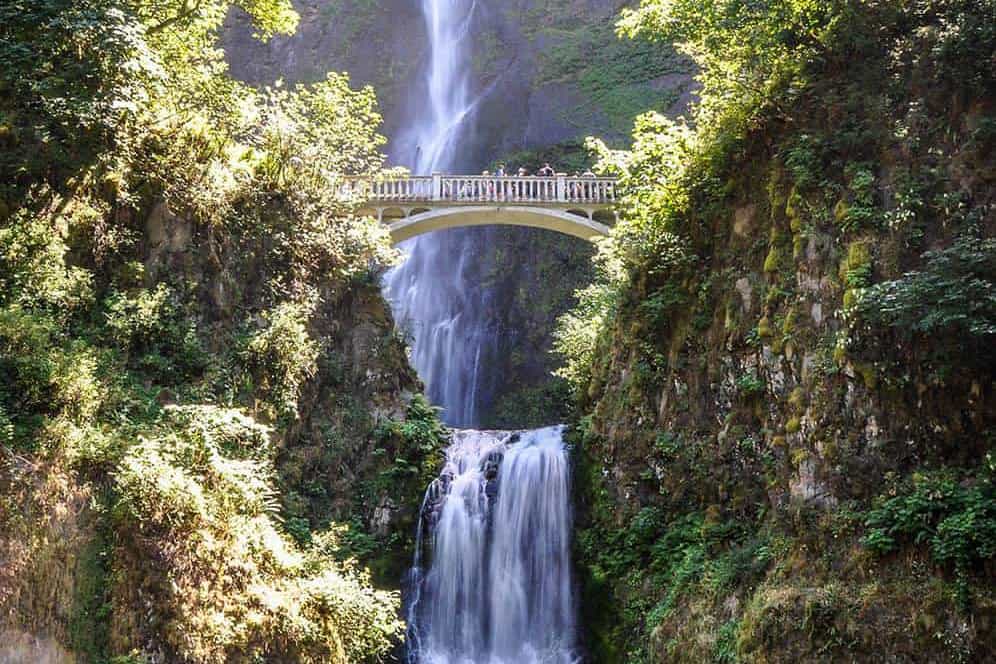 Multnomah Falls…it's hard to think of a more iconic Oregon landmark. In fact, the thundering cascades together make this Oregon's most visited attraction, drawing millions of visitors each year!
The upper falls drops a lofty 542 feet, while the lower fall is about 78 feet, making 620-foot Multnomah Falls the tallest waterfall in Oregon.
To see a gorgeous full view of both cascades, visitors only need to walk about five minutes from the parking lot. It's also just 30 minutes from Portland, largely explaining the waterfall's popularity.
However, one of the best ways to see the falls, from different angles and closer-up perspectives, is to embark on the Multnomah Falls hike. Although it's a short distance, the steep elevation gain keeps crowds to a minimum. That alone is a reason to take this hike!
Read on to learn about everything you should expect on this beautiful trail.
Multnomah Falls Hike Guide

Multnomah Falls hike at a glance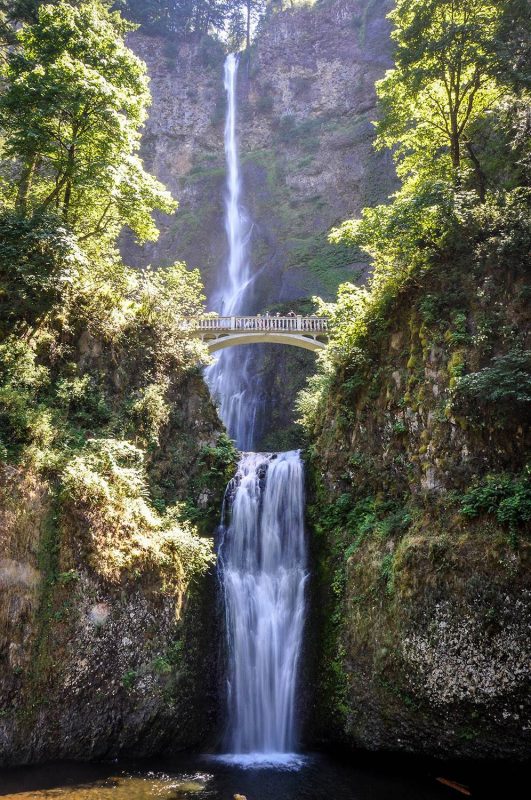 Location: Columbia River Gorge, about 30 minutes from Portland
Distance: 2.6 miles out and back
Elevation gain: 813 feet
Difficulty rating: Moderate
Timing: 1.5 hours
Pets: Yes, leashed only
Permits: Timed-use permits required from Memorial Day through Labor Day
One of the main reasons to do the Multnomah Falls hike is to see the cascade from several impressive vantage points.
In addition to the iconic spot featuring the bridge, the hike also has top-down views of the lower drop, as well as a close-up of the 500-plus-foot upper falls. Plus, there are also lots of panoramic vistas over the Columbia River Gorge en route!
The short Multnomah Falls trail is certainly steep; however, the payoff is well worth the effort. Just be sure to pack for a "normal" hike, and not just a quick walk. Some visitors continue on past the bridge without realizing the strenuous nature of this trail!
Things to know before you go
To have the best experience on the Multnomah Falls hike (and avoid any unpleasant surprises!), it's a good idea to consider a few details beforehand.
Best time of year for the Multnomah Falls Hike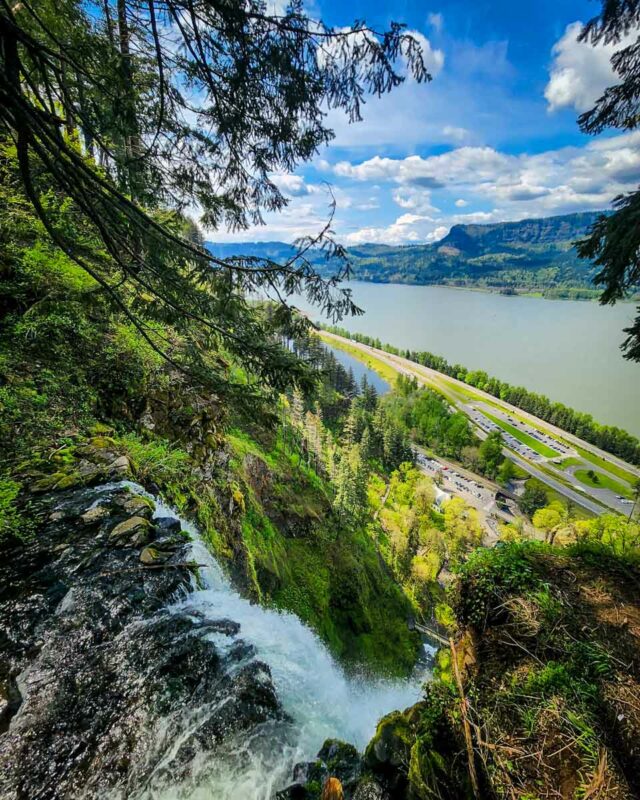 Multnomah Falls is open year-round, so there's no need to worry about seasonal closures. However, as one of the most popular places in Oregon, it's instead a matter of trying to minimize the crowds.
To see Multnomah Falls with the most impressive, thunderous volume, visit during the springtime, from March through May.
The trail (and the entire area, for that matter, known as Oregon's "waterfall corridor") is busiest in July and August, when visitors flock to the Columbia River Gorge to escape the city heat.
While this time of year has the sunniest skies and best weather, lower amounts of precipitation mean the falls aren't at peak flow. Keep in mind you'll also need a timed-entry permit during the summer months.
Alternatively, the waterfall is perfectly framed by bright fall foliage in late October. And in the wintertime, the falls look spectacular cascading down surrounded by sparkling white snow! Just don't attempt the Multnomah Falls hike right after rain or when there's an abundance of ice.
There's truly no bad time to visit, with each season offering a unique experience, but off-season will offer the most peaceful experience.
How long does it take to hike the Multnomah Falls trail?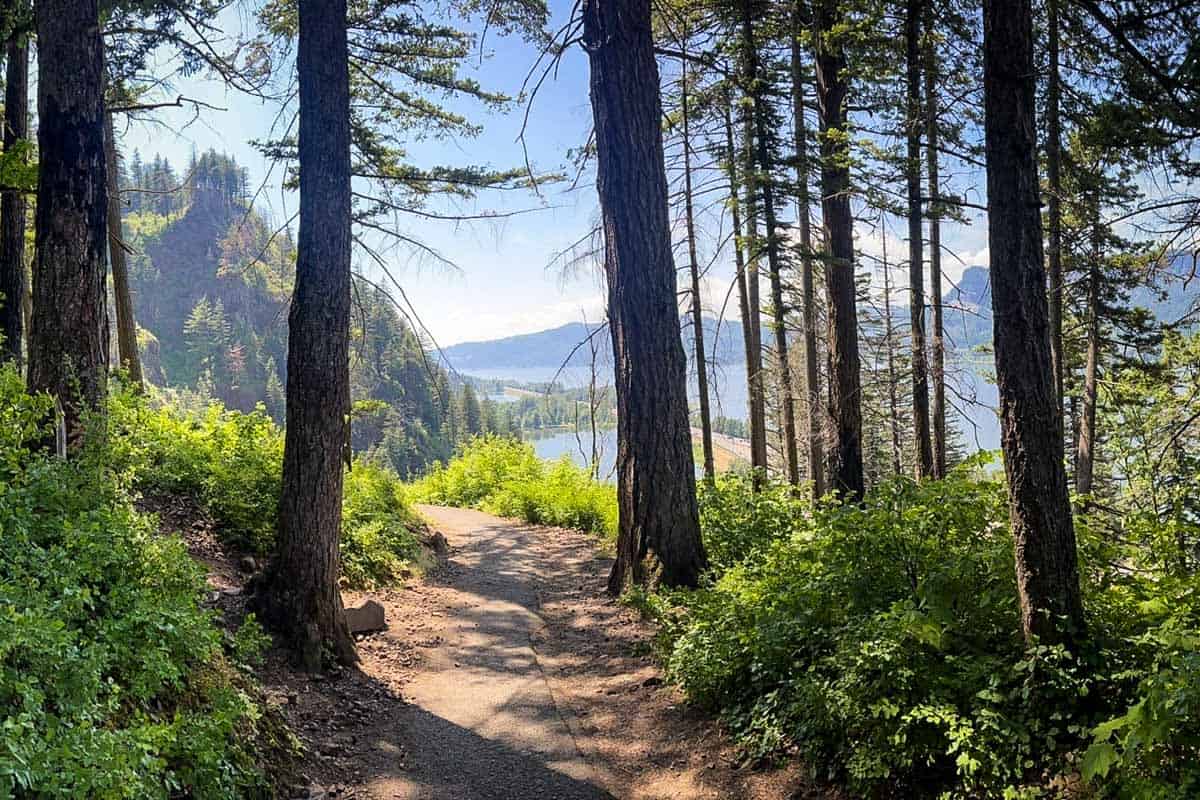 The longer hike (1.3 miles one way) to the top of Multnomah Falls typically takes 1.5-2 hours on average. That includes plenty of stops for photo-ops en route!
For non-hikers or days when you're simply not feelin' it, there's a much shorter option to one of the most iconic views of the falls. Always-bustling Benson Bridge is just 0.2 miles from the parking lot, a short 5-10 minute walk.
How difficult is the Multnomah Falls hike?
The Multnomah Falls hike is on the moderate side, not at all technical but quite steep. Its difficulty largely depends on your comfort level with ascents, but fortunately, the entire trail is either paved or very well-packed.
The hike does involve about 800 feet of elevation gain in just over a mile. Again, it's nothing unmanageable, even for new hikers, but it will almost certainly have you out of breath! Trekking poles come in handy for helping to tackle both the climb and the descent.
The route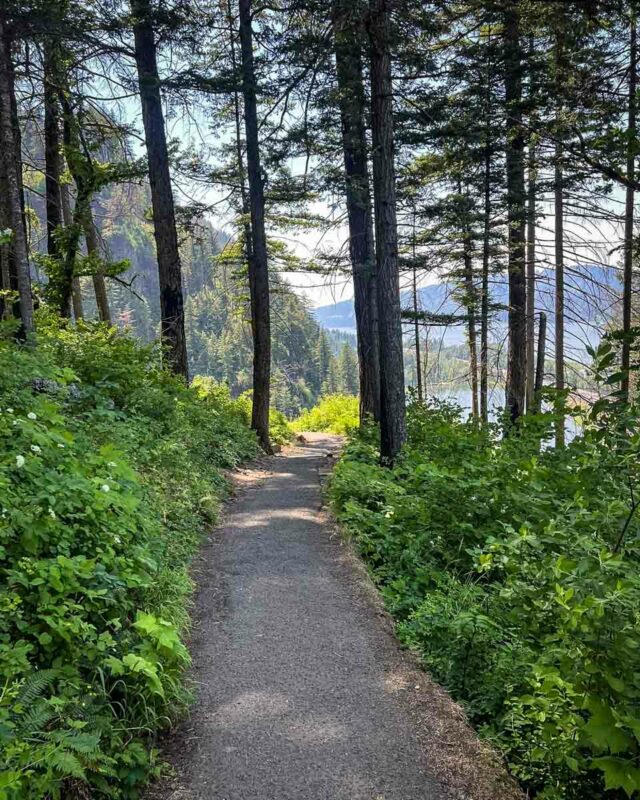 This hike starts from the same trailhead as Multnomah Falls' famous Benson Bridge lookout. Go in expecting there to be thick crowds at the beginning, but luckily, they fizzle out the further you get from the bridge.
After the jaw-dropping bridge viewpoint, the trail remains paved, but the challenging steep ascent starts up almost immediately.
You'll quickly tackle 11 thigh-burning switchbacks (trust us, though, it doesn't feel quick!) before being rewarded with a bench perched on a ridge. The view of the falls here is phenomenal, making it the perfect spot for a rest and a snack.
In the next stretch of the Multnomah Falls hike, the trail changes over to loose scree. There are also a lot of sheer drop-offs in this section, so be sure to watch your footing!
Peek-a-boo views of the Columbia River Gorge start to reveal themselves amid the foliage, and after just a little more effort, the stunning top-down view of the waterfall finally appears! Continue on to the small platform looking over the top of the falls.
This is the major payoff of the trail, so linger for photo ops (or more snacks!) as long as you'd like. You more than earned the extra few minutes!
Obtaining a permit for your Multnomah Falls hike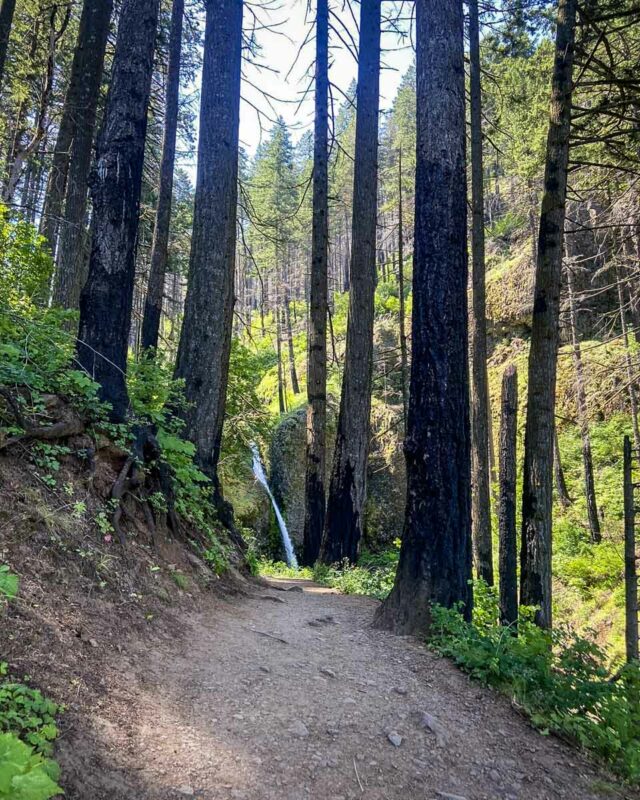 Timed-use permits are required to visit Multnomah Falls between Memorial Day and Labor Day weekends (May 26 – September 4, 2023).
As one of the most popular attractions in all of the Pacific Northwest, parking has long been an issue, backing up the highway. The permit system aims to minimize that, requiring reservations during the peak hours of 8:00 a.m. and 5:00 p.m.
Permits are issued via Recreation.gov in two waves, both at 7:00 a.m. PST: on a rolling 14-day basis and two days beforehand. So for example, permits for June 12 are released on May 29 (two weeks prior) and again on June 10. Be aware that weekend permits sell out quickly!
NO permits are issued onsite; you MUST have an advance reservation to visit between Memorial Day and Labor Day. You will also be required to show your permit upon arrival.
Tips for hiking Multnomah Falls Trail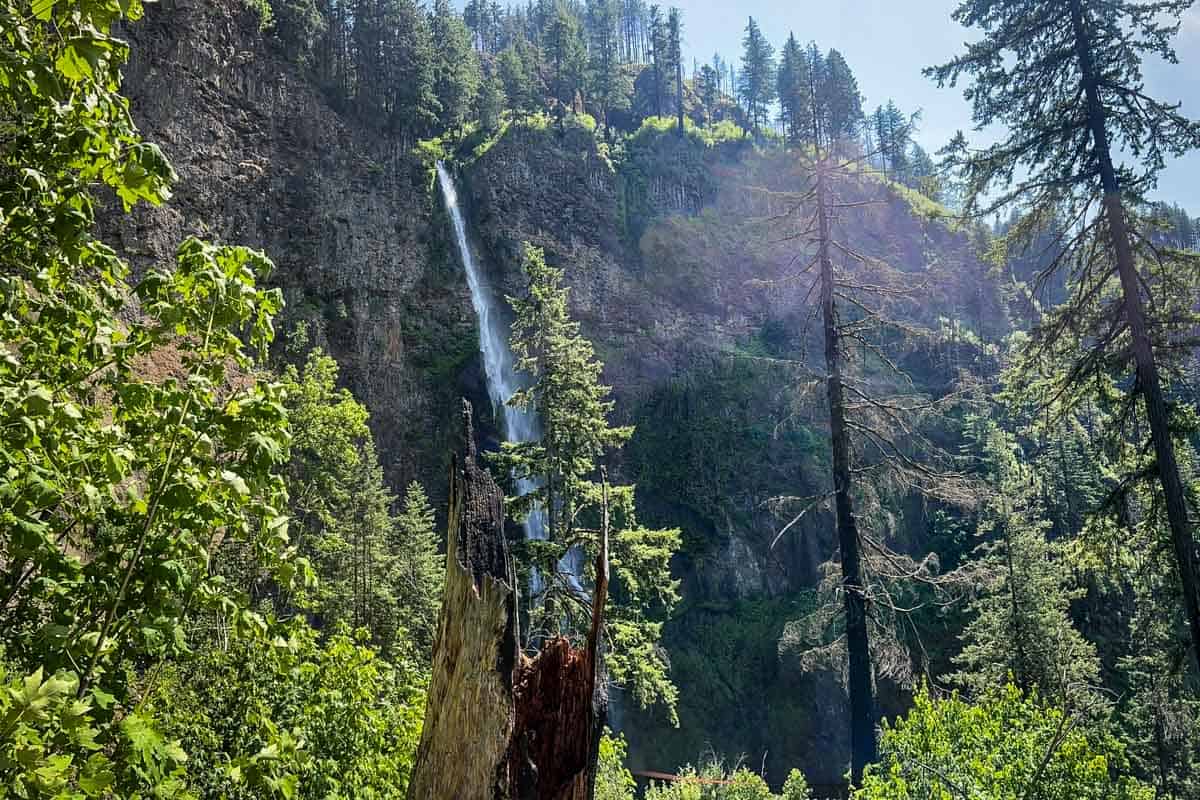 Don't forget your timed-use permit. Remember, you absolutely MUST get a permit in advance to visit between 8:00 a.m. and 5:00 p.m. in the summer.
Be prepared for muddy conditions. Pack a backup pair of shoes to change into when you're done, to keep the car clean!
Exercise extreme caution with dogs and kiddos. The Multnomah Falls hike is both family- and dog-friendly, but there are some very steep drop-offs.
Stay on the trail. With the sheer, exposed edges, slippery muddy conditions, and poison oak growing along the path, you won't want to do any off-trail exploring here!
Stop into the Multnomah Falls Lodge. There's a cool US Forest Service interpretive visitor center, gift shop, and a restaurant and coffee shop with unbeatable views.
Where to stay nearby
Multnomah Falls is in the heart of the Columbia River Gorge, 30 minutes from both Portland and Hood River. This gives you a ton of flexibility in terms of where to stay, whether you're day-tripping from Portland or making a whole weekend out of it!
Psst! If you're coming from the city, don't miss this list of the coolest Airbnbs in Portland!
What to pack for hiking the Multnomah Falls trail

Navigation: we recommend using Alltrails+ to download the offline trail map
Permit**
Water bottles and bladder for your Camelbak
Dry bag (we always carry one with us for our valuables in case of rain)
Bug repellant
Sun protection: sunscreen, hat, sunglasses
Camera/tripod (this one's our favorite for hiking)
Lots of layers (here is a great resource if you're wondering what to wear hiking)
Rain jacket
Comfortable hiking boots or shoes
Plenty of snacks: check out our favorite hiking snacks here!
**Don't forget to pack your permit! 
Be sure to grab our ultimate hiking packing list includes our must-have gear for any hiking trail!

You may also like…
Save this article on Pinterest for later!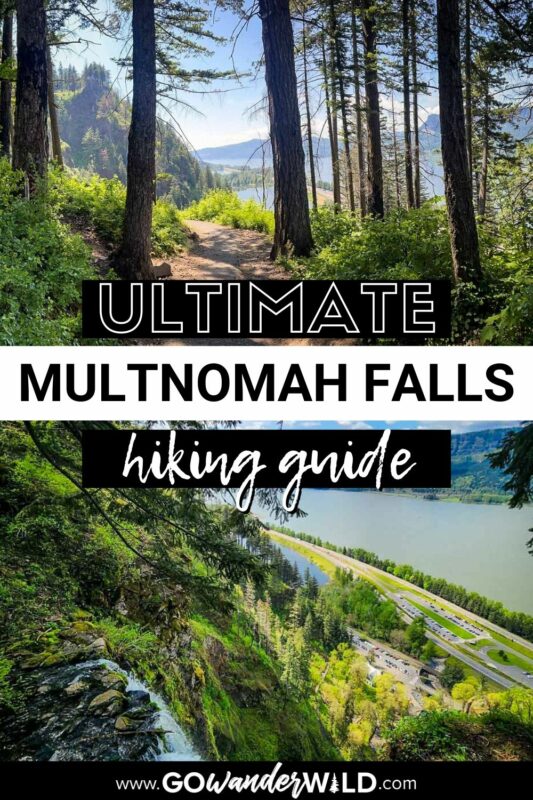 We want to hear from you!
Have you done the Multnomah Falls hike? What was your experience like? Do you have more questions about planning your experience? Comment below and let us know!