With so many mountain ranges and forests, not to mention all that rain, it's no surprise there are dozens of spectacular Oregon waterfall hikes. We've rounded up a list showcasing the full variety, from coastal falls to 600-foot drops and secluded swimming holes. Explore them all, and get ready to be mesmerized by the beauty of waterfall hikes in Oregon.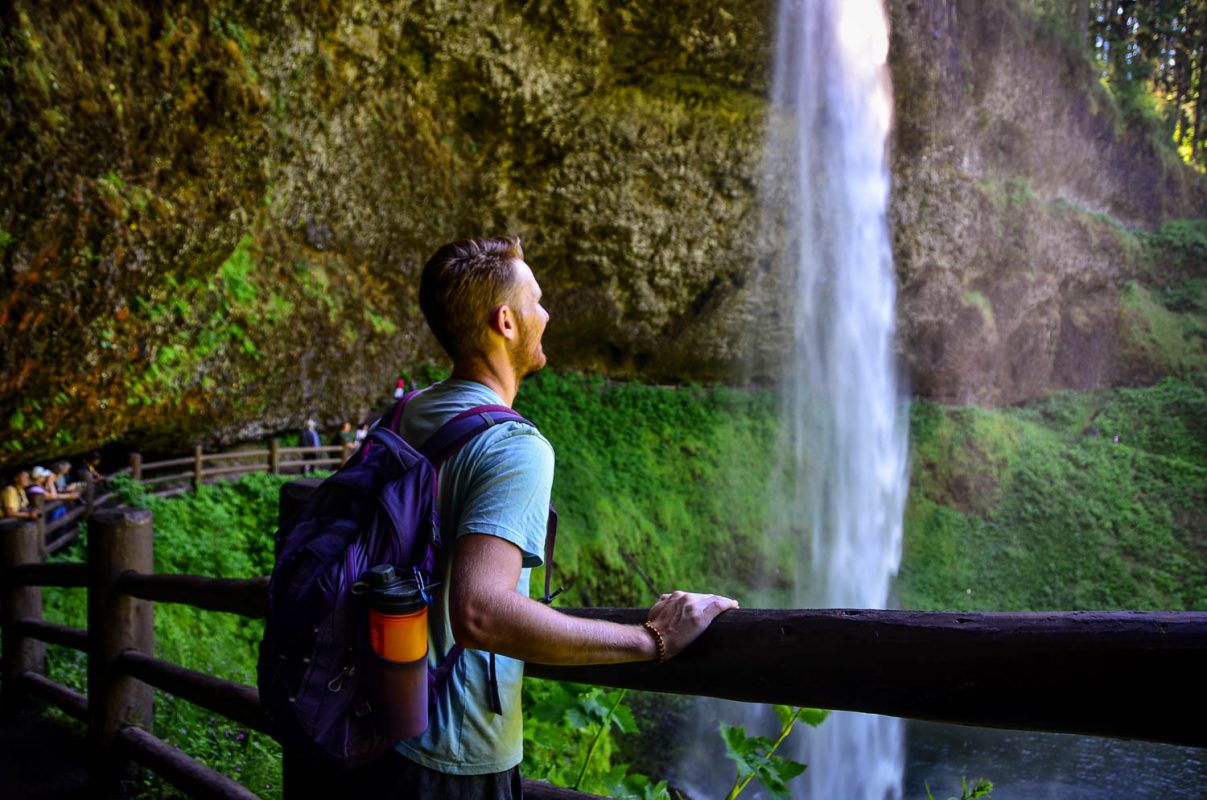 Rainy old-growth forests, magnificent mountains, hundreds of miles of coastline, and stunning canyons: the perfect recipe for an impressive variety of waterfall hikes in Oregon. From secluded gems to cascading falls that flow right off a major highway, there's a breathtaking waterfall for everyone here.
To help you find your favorite, we've assembled a list of the most memorable Oregon waterfall hikes, organized by region and in ascending order of difficulty.
Article Contents
---
Waterfall hikes in the Columbia River Gorge
30 minutes from Portland, spectacular Columbia River Gorge is surrounded by dramatic mountains, lush forests, and hundreds of waterfalls. With so many options, it's no surprise The Gorge boasts some of the best waterfall hikes in Oregon. Many are even located just off major roads!
1. Horsetail Falls and Ponytail Falls
Short and rocky, this trail climbs through a forest and gives hikers the unique opportunity to stand behind Ponytail Falls. You'll also pass picturesque Horsetail Falls on the way, giving this short hike a major payoff.
2. Multnomah Falls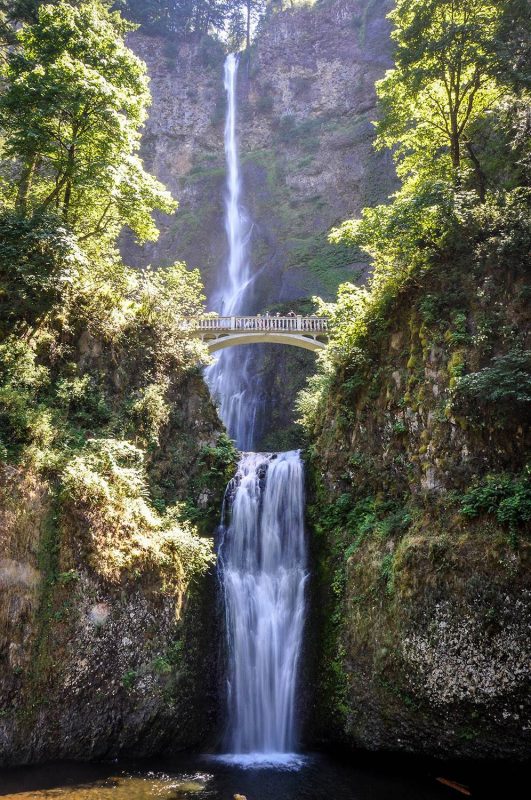 Oregon's tallest and most famous waterfall may not be secluded, but its iconic 620-foot drop is still an extraordinary sight. Follow the easy, paved path to the observation deck, but keep going to the top for far-better views — without the crowds.
3. Oneonta Gorge to Lower Oneonta Falls
Another great hike in the Columbia River Gorge is the Oneonta Gorge trail. Be prepared to get a little wet on this unique Oregon waterfall hike! This trail has you hiking through a gorge in waist to chest deep water to discover the prize at the end of this jaw-dropping trail, Lower Oneonta Falls.
This trail is best hiked in the summer months on a week day to avoid crowds and for favorable water temperature in the gorge. Check for an updated trail status here.
4. Mosier Plateau Trail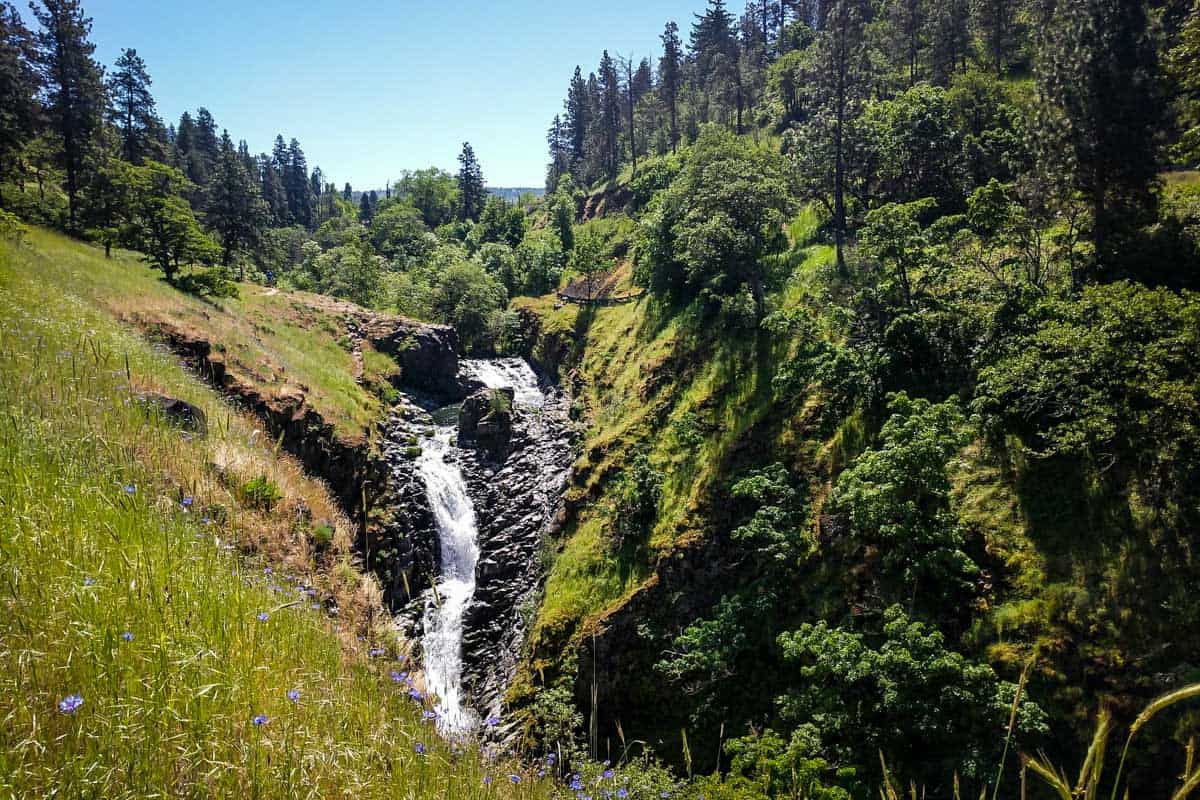 Get away from typical PNW wet, mossy forests and enjoy expansive Gorge vistas on the entire hike to Mosier Creek Falls. In the summer, relish in the colorful wildflowers along the trail. This hike is much less slippery and rocky than other Oregon waterfall hikes, making it ideal for pets and kiddos.
5. Dry Creek Falls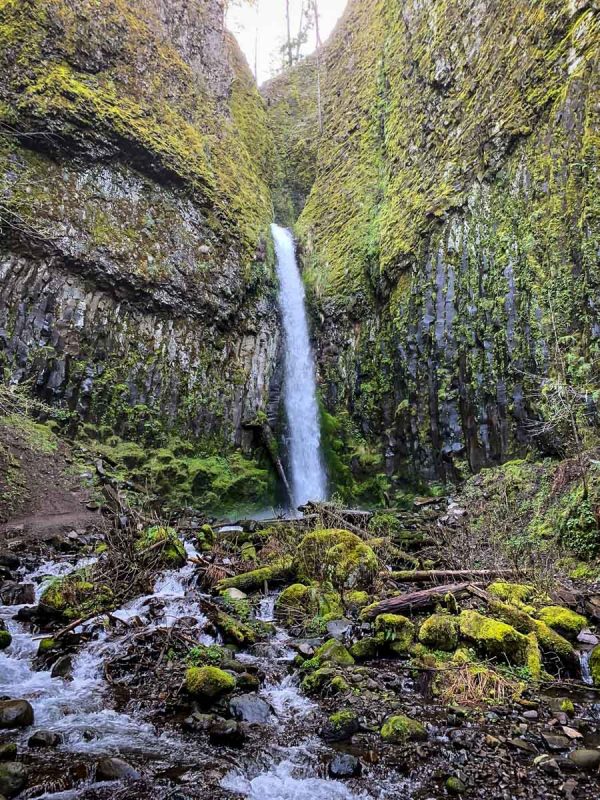 On this leisurely hike, you'll follow the PCT through dense forest to a secluded 75-foot waterfall, plunging down over a dramatic basalt amphitheater. This trail only takes a couple of hours and is easily-accessible for children and pups, but feels like complete immersion into the wilderness.
6. Eagle Creek Trail to Punch Bowl Falls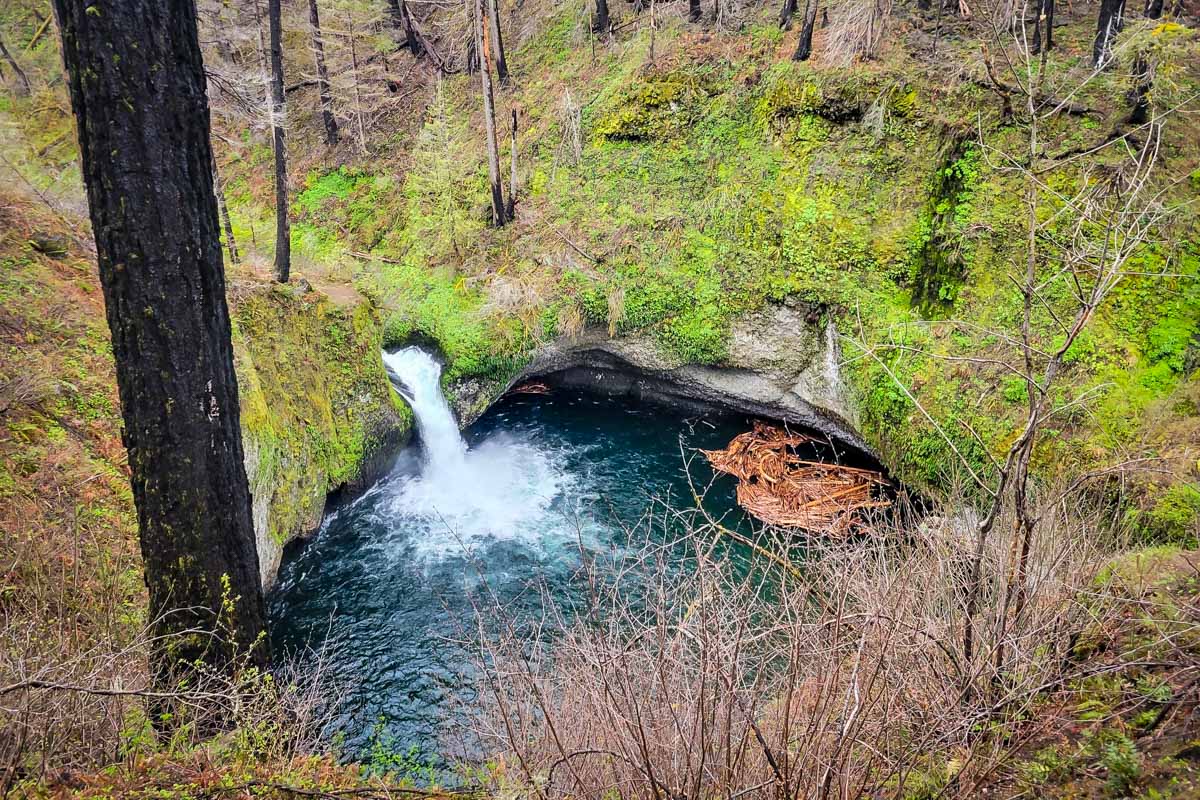 Stunning Eagle Creek Trail follows the raging river and has several rapids and small waterfalls dottings its cliffside path. Punch Bowl Falls is the most common turnaround point on this hike and it makes a great swimming spot. However, the trail continues for 10 miles, so it's also an excellent overnight backpacking option.
---
Central Oregon Waterfall Hikes
Sure, there's no coastline, but central Oregon has its own dazzling diversity of natural beauty: idyllic lakes, unique rock formations, lava fields, volcanoes, and mossy green forests. Charming, quirky Bend is in the center of the action, with every outdoor activity imaginable at its doorstep — including several waterfall hikes.
7. Proxy Falls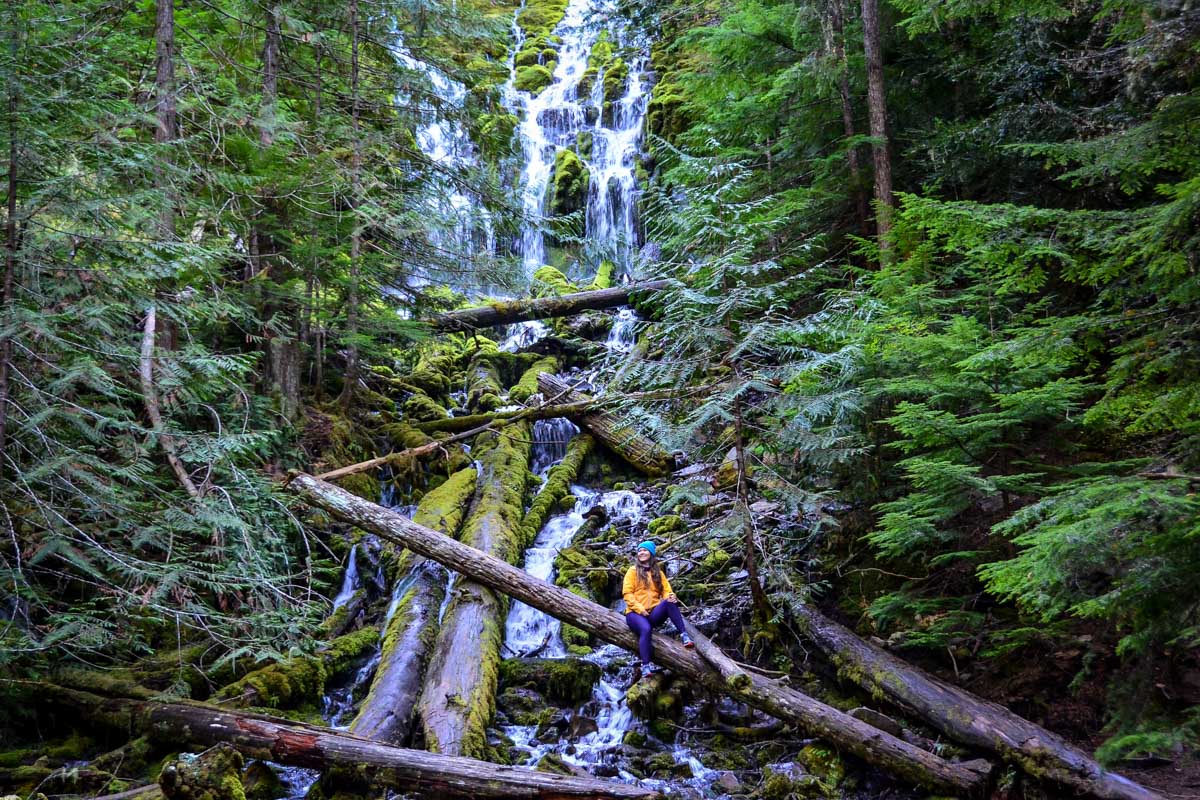 With two parallel streams cascading 226 feet down a mossy cliff and then disappearing into the volcanic rock below, Proxy Falls is one of the most memorable Oregon waterfall hikes. The short, easy loop trail is also pet-friendly. Note that the road to the trailhead closes from mid-November to mid-June, so save this one for your summer bucket list!
8. Steelhead Falls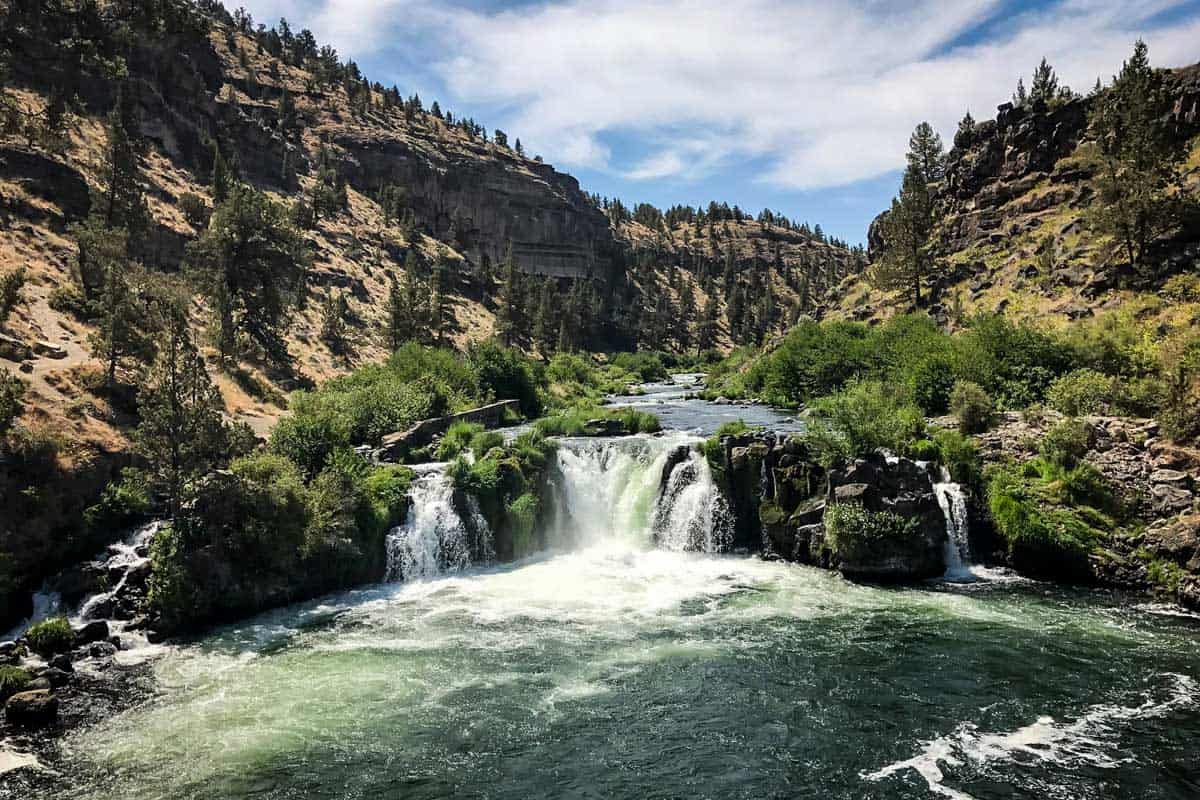 Set in an arid canyon, Steelhead Falls makes a great year-round destination for fishing and swimming along the Deschutes River. The hike is short and relatively sweet, save for one steep section. You'll come to the roaring 20-foot falls after a one-mile hike through distinct rock formations and desert-like vegetation.
Since hiking to the falls doesn't take long, you can easily combine it with a visit to Smith Rock State Park!
9. Koosah and Sahalie Falls Trail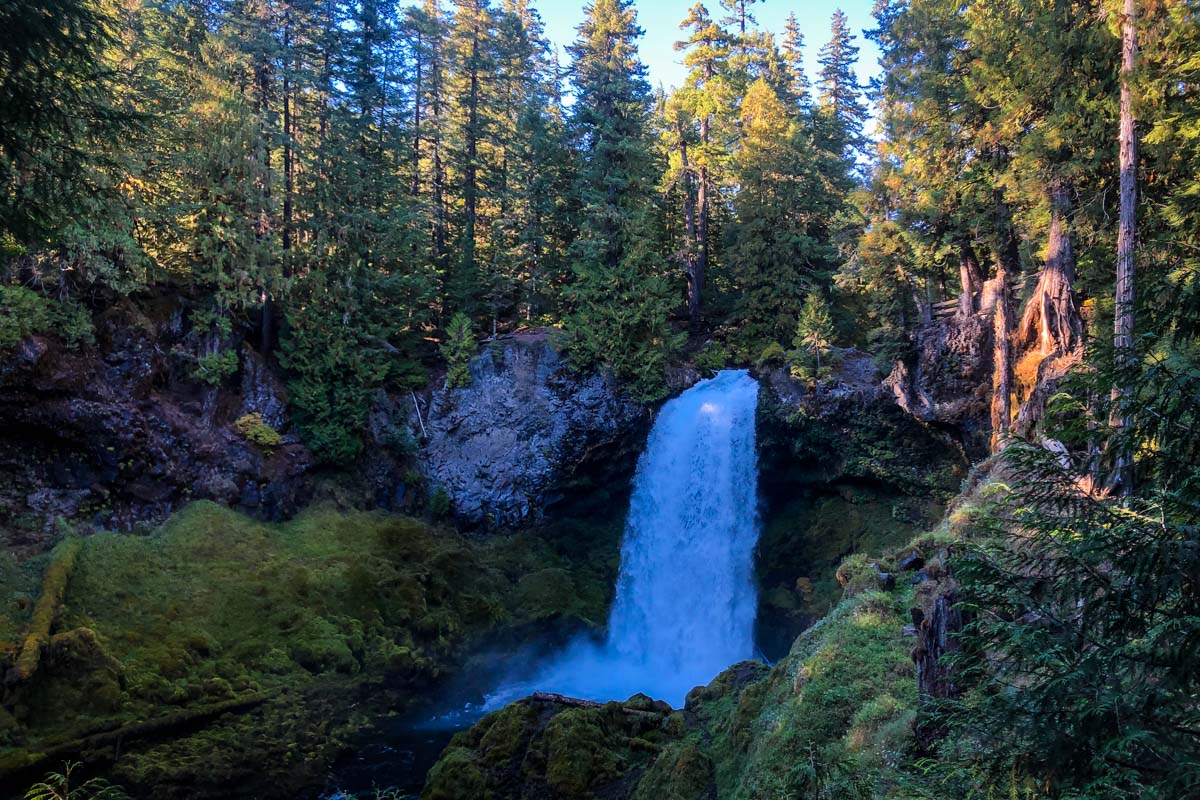 With two picturesque, ultra-blue cascades and a leisurely, family-friendly trail, this is one of the best waterfall hikes in Oregon. You'll likely hear Sahalie Falls from the parking lot (it's probably only 100 yards away!). It connects to Koosah Falls via an easy loop trail along the river, with several photo ops and picnic spots along the way.
Check out our other favorite Mount Hood hikes if you're in the area!
10. Marion Falls and Gatch Falls
Let's be honest, finding a "hidden gem" among Oregon waterfall hikes is rare. This one is different.
On this remote trail deep in a Willamette National Forest Wilderness Area, you'll start at picturesque Marion Lake and follow the river downstream to a series of stunning waterfalls.
The trail is a unique adventure, with few signs but lots of volcanic rocks, mud, and creek crossings. Once you find Marion Falls, continue downstream just a little further to find Gatch Falls. The view of the two-tiered waterfall is incredible!
11. Tumalo Falls Loop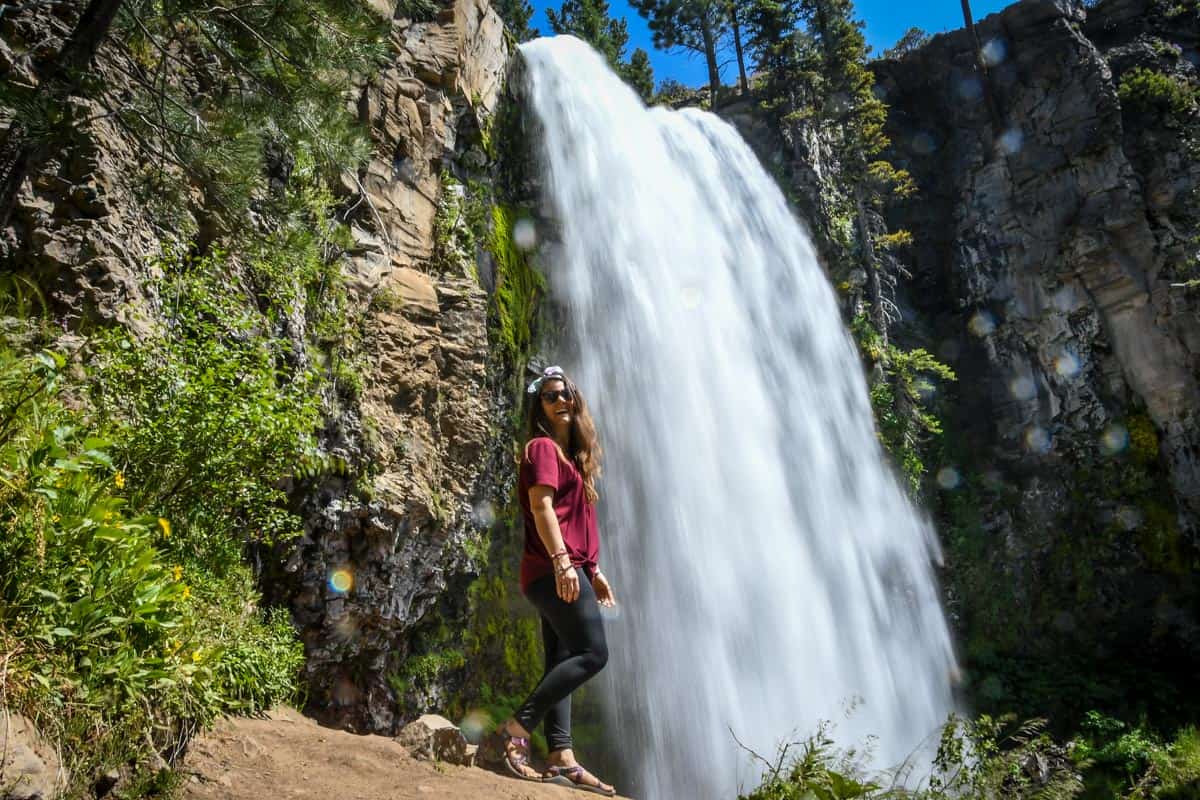 Due to both its accessibility and stunning beauty, Tumalo Falls is one of the most famous Oregon waterfall hikes.
The 97-foot cascade is only a few minutes from the parking lot, but you can embark on a slightly longer adventure to reach several other waterfalls, including photogenic Double Falls. As a bonus, the further you hike, the fewer the crowds.
---
Waterfall hikes near the Oregon Coast
Driving the Oregon Coast is a quintessential road trip experience, with beautiful beaches and cute beach towns. Where the Coast Range meets the Pacific, many Oregon waterfalls drop down to sea level, some even directly on the beach!
12. Munson Creek Falls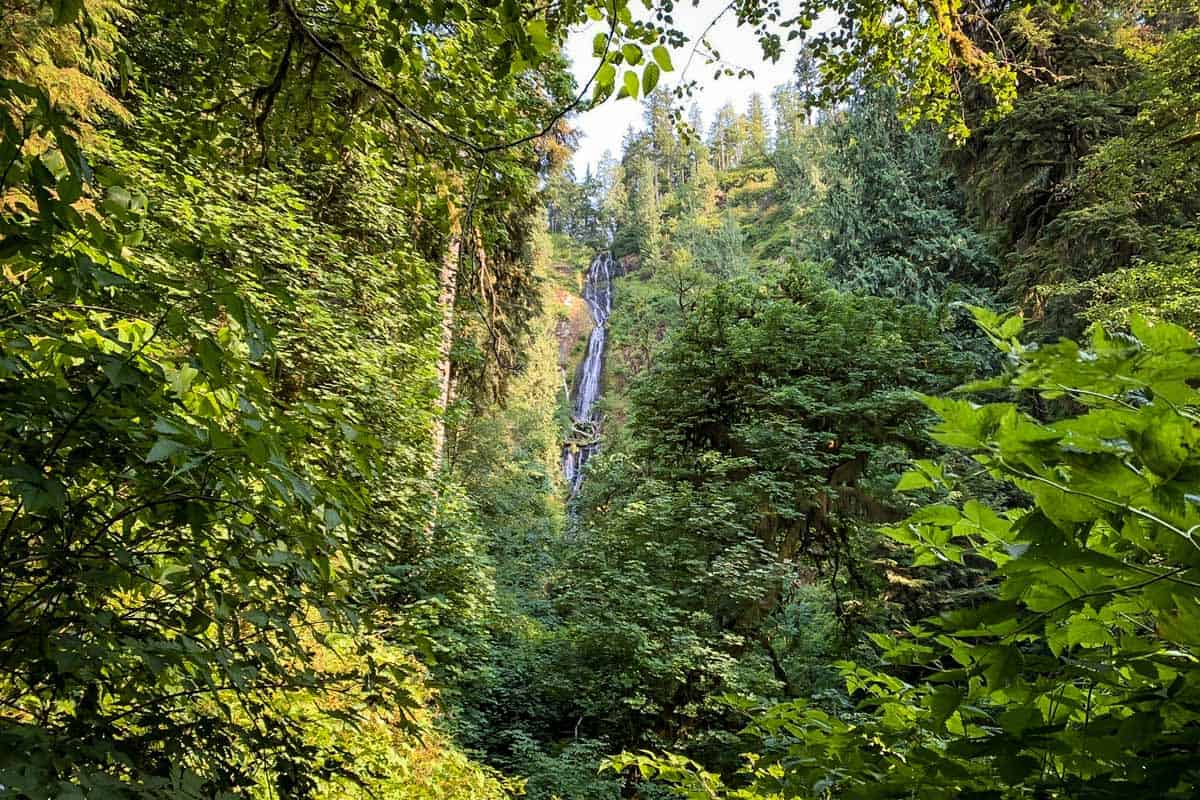 Hardly a hike, this simple trail not far off the highway brings you to the tallest waterfall on the Oregon coast. Munson Creek is great for stretching your legs and viewing the scenic waterfall. You can even get to the base of the falls here by (carefully!) scrambling over downed trees.
13. Hug Point Waterfall
Hug Point is a stunning beach on the northern coast best known for its sea caves and picturesque waterfall flowing right into the ocean. Just minutes from Cannon Beach, you can explore the falls and tide pools at the same time. Try to plan your visit for low tide if possible!
14. Secret Beach Waterfall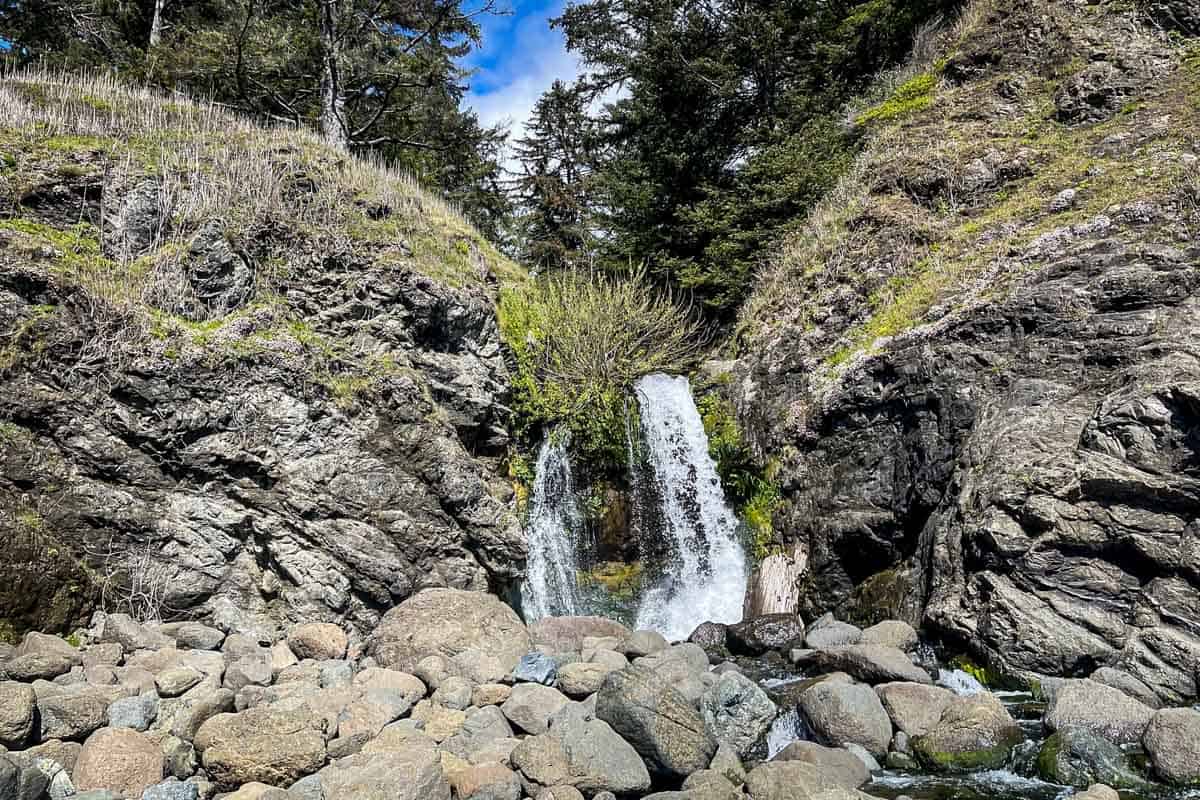 Secret Beach lives up to its name — the trailhead is easy to miss, and not many people hike down the steep path to the coast.
The reward is stunning once you find Secret Beach, however, complete with a small waterfall spilling right onto the beach. Dramatic sea stacks, lofty pine trees, and often, fog, add to the spectacular scenery.
15. Drift Creek Falls Trail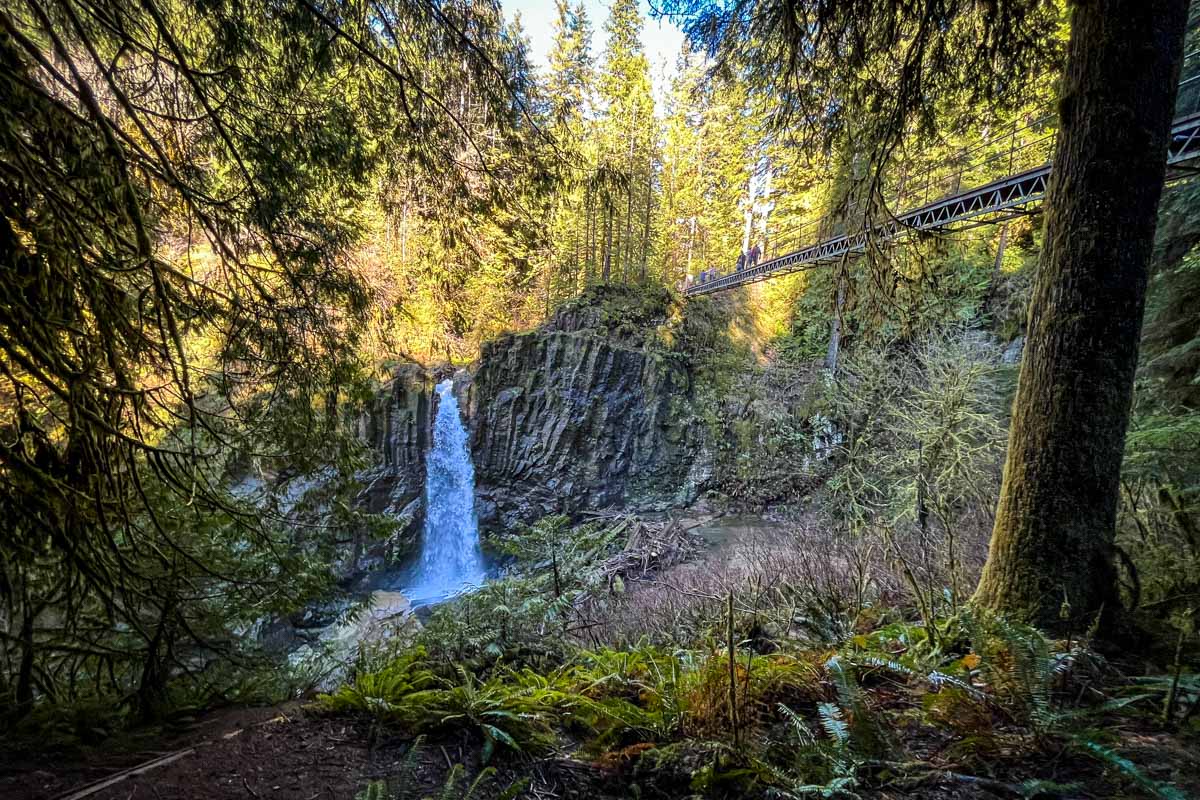 An excellent trail for the entire family, Drift Creek Falls is in the lush Coast Range and features stream and bridge crossings. The trail's star attraction is the 240-foot-long suspension bridge, the longest in the state. Whereas on many Oregon waterfall hikes you hike to the base of the falls, at Drift Creek Falls, you actually hike so you're looking down at them.
16. Kentucky Falls Trail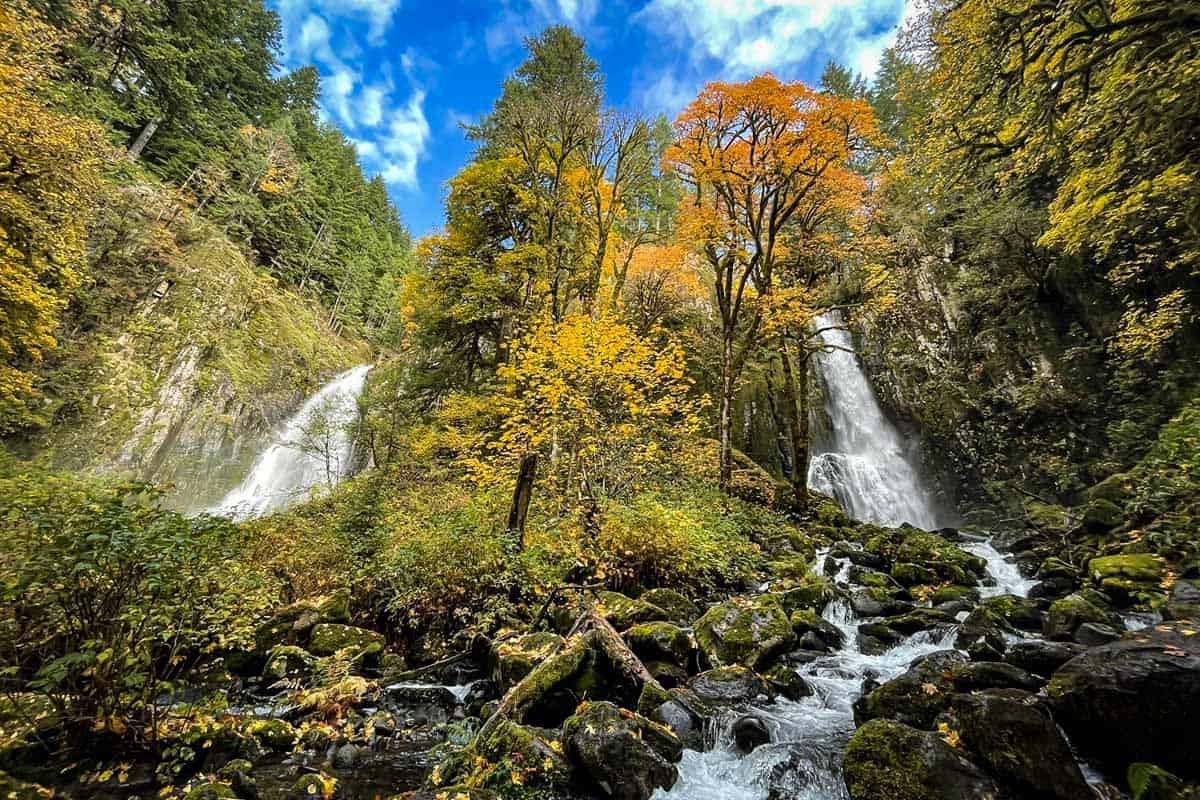 Although driving the winding road to the trailhead is challenging, your efforts will be greatly rewarded with three secluded Oregon waterfalls. Tucked deep in the Siuslaw National Forest, the hike to Kentucky Falls starts downhill and descends into a beautiful moss-covered forest.
One mile in, you'll come to 88-foot Upper Kentucky Falls. Another mile, and the trail ends at a wooden viewing platform with views of not one but two waterfalls, side by side: 117-foot Lower Kentucky Falls and 125-foot North Fork Falls.
---
Waterfall hikes near Eugene
In spite of its small size, Eugene packs a big punch. A fun-loving, outdoor-oriented city nestled between the coast and the Cascade Mountains, the quintessentially PNW vibe comes complete with many Oregon waterfall hikes.
17. McDowell Creek Falls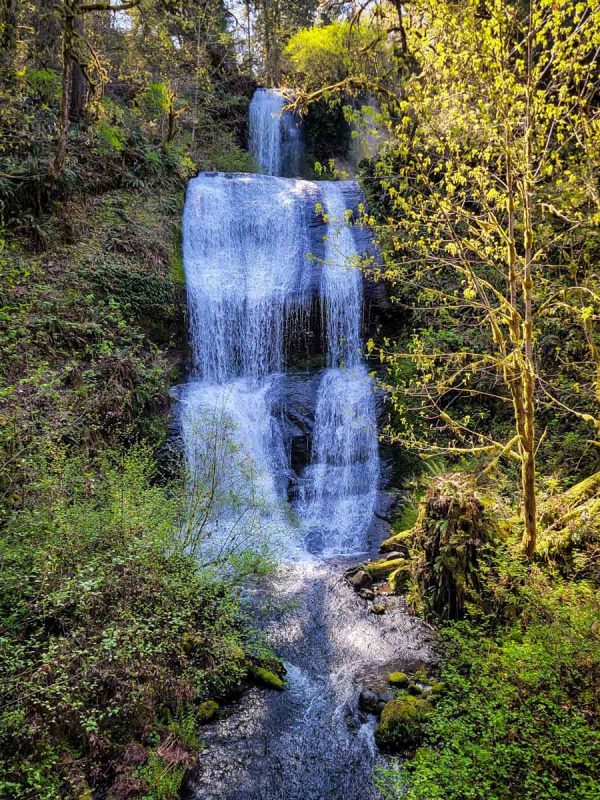 Within an easy two-mile creekside hike, McDowell Creek Falls lets you see two large and two small waterfalls (Majestic Falls and Crystal Falls and Royal Terrace Falls and Lower McDowell Creek Falls, respectively), plus several smaller, unnamed cascades. These falls are within 110-acre McDowell Creek Falls County Park, considered a hidden gem itself.
18. Abiqua Falls Trail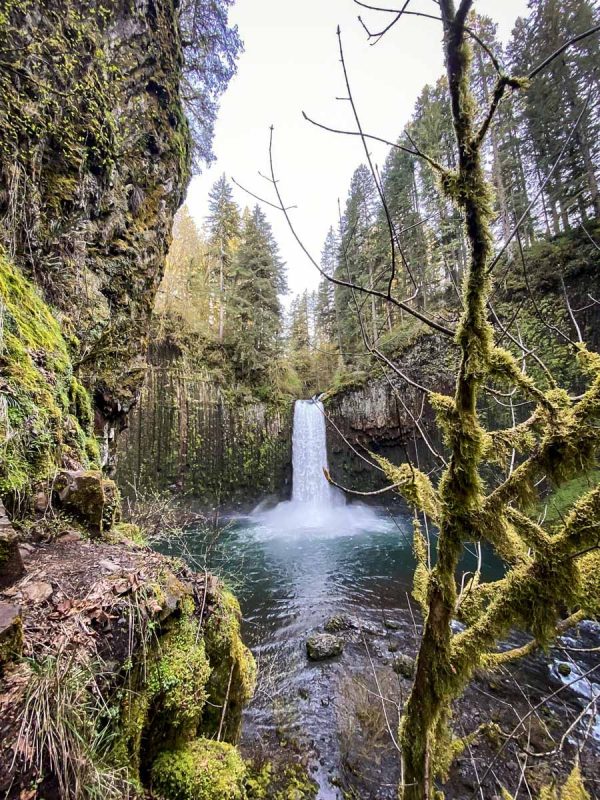 The drive to Abiqua Falls is slightly more difficult than the hike, but you'll be rewarded with stunning falls erupting from a unique basalt column formation. The hike itself is mostly downhill, although it's often wet and muddy, complicating matters slightly. There is a rope trail in one section and we highly recommend using it!
19. Salt Creek – Diamond Creek Falls Trail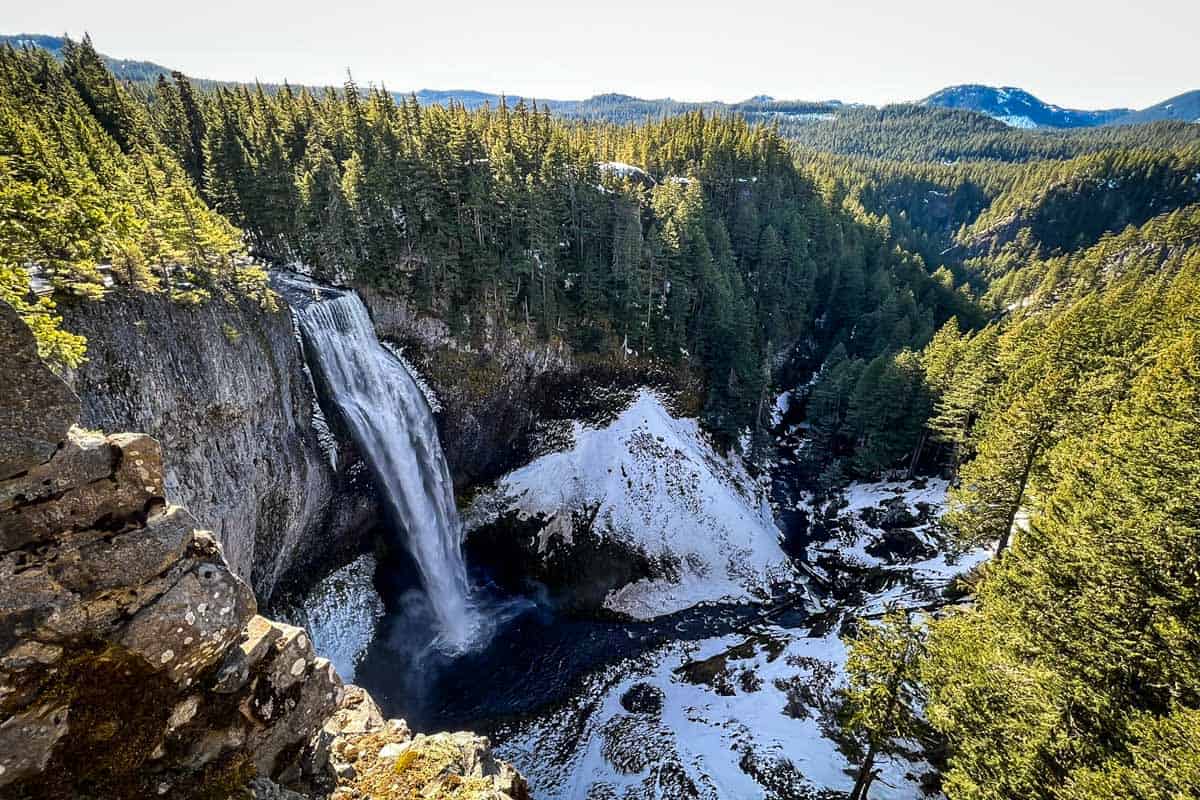 On this hike, you'll go through dense forest to a jaw-dropping lookout of Salt Creek Falls, one of Oregon's tallest (286 feet), as well as get a great viewpoint of broad Diamond Creek Falls. While both waterfalls have their own observation areas, the loop trail to both makes for an enjoyable half-day trip.
20. Trail of Ten Falls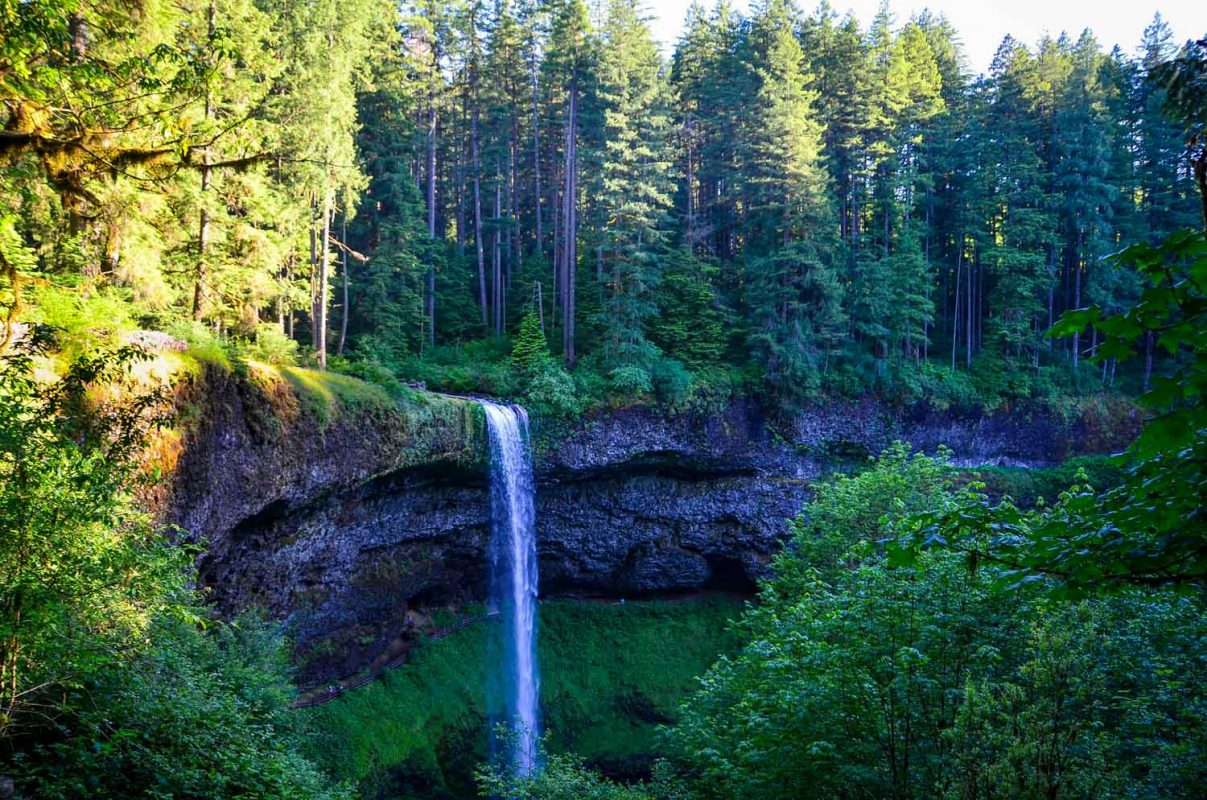 Passing next to, behind, and sometimes even through no less than 10 waterfalls, this aptly-named trail is a strong candidate for one of the best Oregon waterfall hikes.
Located in Silver Falls State Park, the hike is well-maintained with benches and clear signage. While hiking the loop showcases all the cascades, you can easily skip sections.

What to pack for waterfalls hikes in Oregon
Although Oregon waterfall hikes vary tremendously and there are several easy trails, you'll still want to have some key items in your pack.
Be sure to grab our ultimate hiking packing list includes our must-have gear for any hiking trail!

You may also like…
Save this article on Pinterest for later!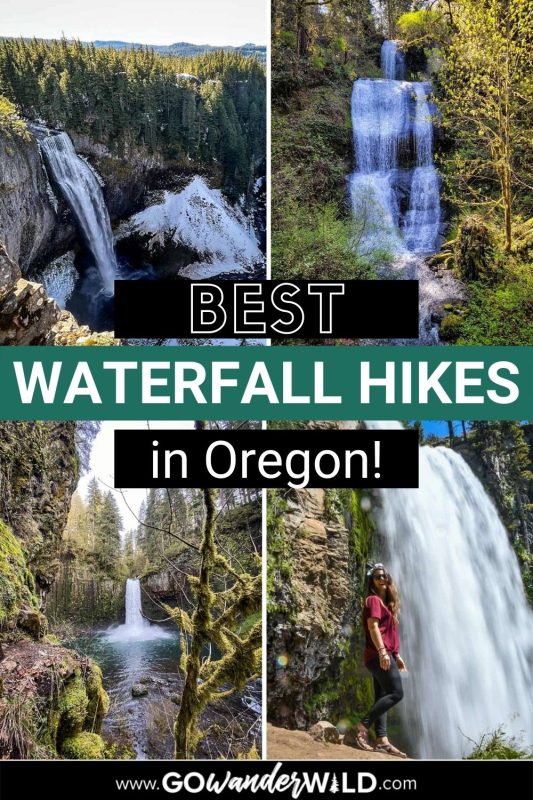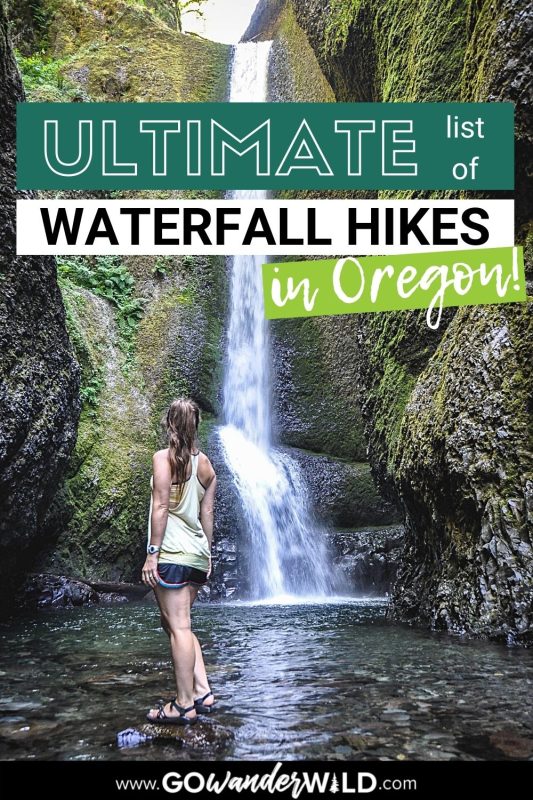 We want to hear from you!
Have you done any of the Oregon waterfall hikes on this list? What was your experience like? Are you planning on doing some hiking in Oregon and want more advice? Comment below and let us know!