The three Washington National Parks are known as some of the best in the nation, and bucket list-worthy destinations that visitors flock to every year. Use this guide to the parks to get all the information you need about planning an amazing trip, from the best hikes, viewpoints, scenic drives, and more!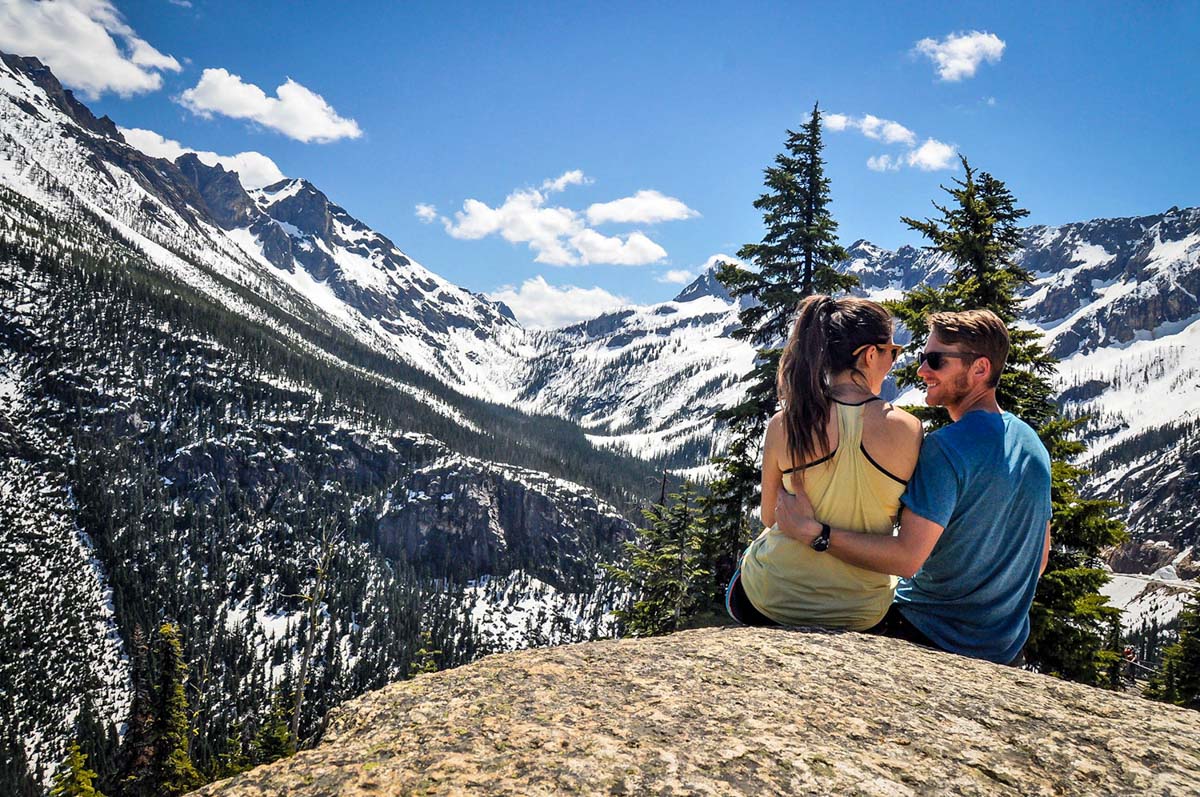 Washington state is home to three of America's incredible national parks. In fact they are known as some of the best national parks on the west coast.
Olympic National Park takes over the Olympic Peninsula on the northwestern most corner of the United States. North Cascades National Park covers the northern park of the Cascades Mountain Range in the north central part of the state. And Mount Rainier National Park, surrounding the tallest stratovolcano in the lower 48, is just about 90 miles south of Seattle.
In this article we've gathered all the important information you need to know about the national parks in Washington, so you can plan your own epic adventure. We've even covered the top things to do in each park to help you narrow down which hikes and viewpoints are worth the effort.
Article contents


Washington National Parks Map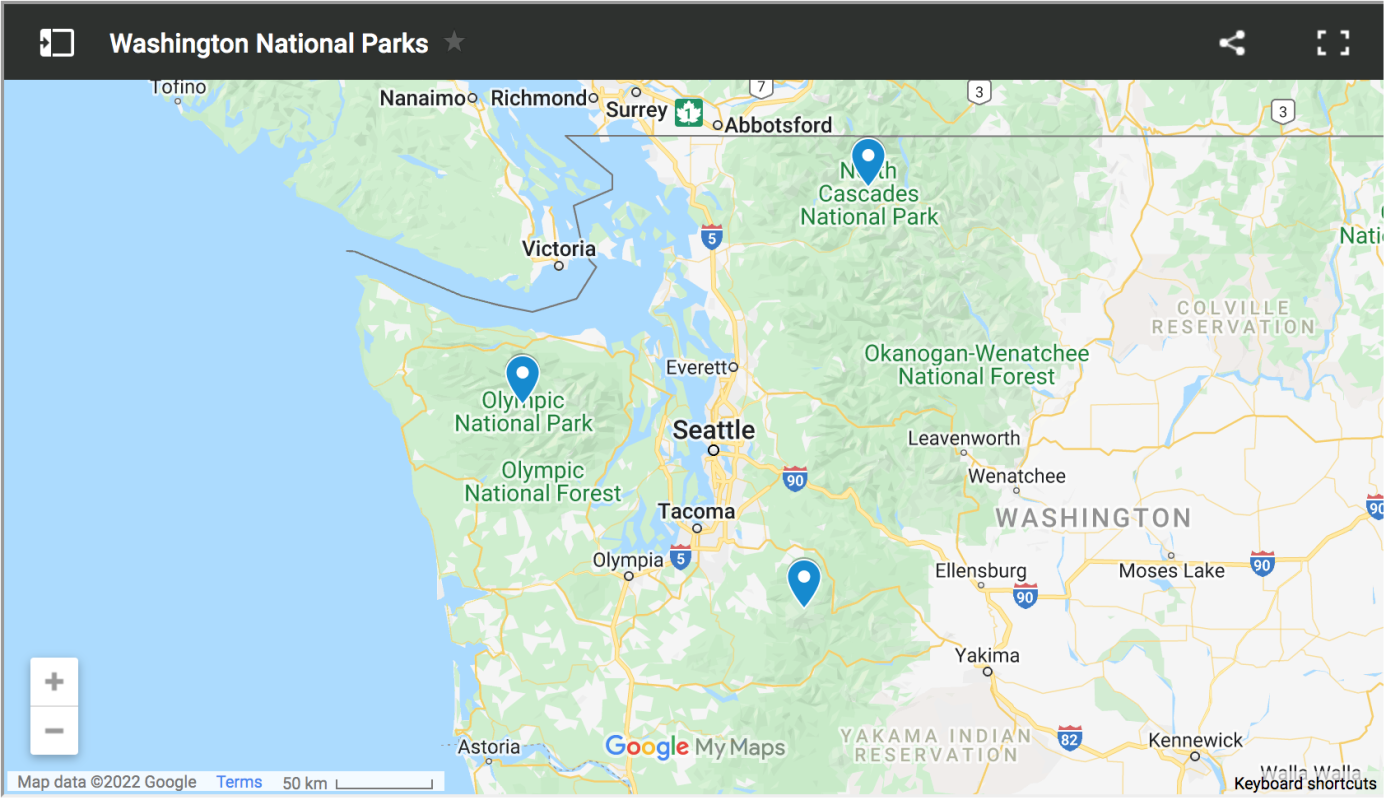 One of the best ways to experience all of the Washington national parks is on an epic road trip. Use this map to locate each park and craft your own road trip route. And if you're looking for more inspiration, check out all these other things to do in Washington you won't want to miss!
Want to try out vanlife while visiting the Washington National Parks?
It's no secret we're obsessed with #vanlife. However, if you don't have the time (or interest!) in building your own conversion but you still want to give vanlife a test drive, we've got options for you…
Check out our list of top companies for USA Campervan Rentals, from budget to bougie, we've even included some exclusive discounts for our readers.
One company we'd recommend looking into is Escape Campervans. They have 12 different locations across North America (including Seattle) and come fully loaded with all the gear you need for an epic road trip. Plus, their rates are fair and affordable.
BONUS: We've partnered with them to give you a 10% off discount when you use our link!
America the Beautiful Annual Park Pass

If you're planning to visit more than one of the Washington national parks, we'd highly encourage you to look into getting an annual park pass. While North Cascades is free to the public, the other two national parks in Washington (and most other national parks throughout the U.S.) have steep entrance fees of $30+ per vehicle.
For just $80 per year, you can purchase the America the Beautiful park pass. This pass grants you free access to all of the national parks. Plus it also covers your entrance to over 2,000 natural, historical, and recreational sites across the United States.
If you still need convincing, check out our article: America the Beautiful Annual Park Pass: Is it Worthwhile?

Olympic National Park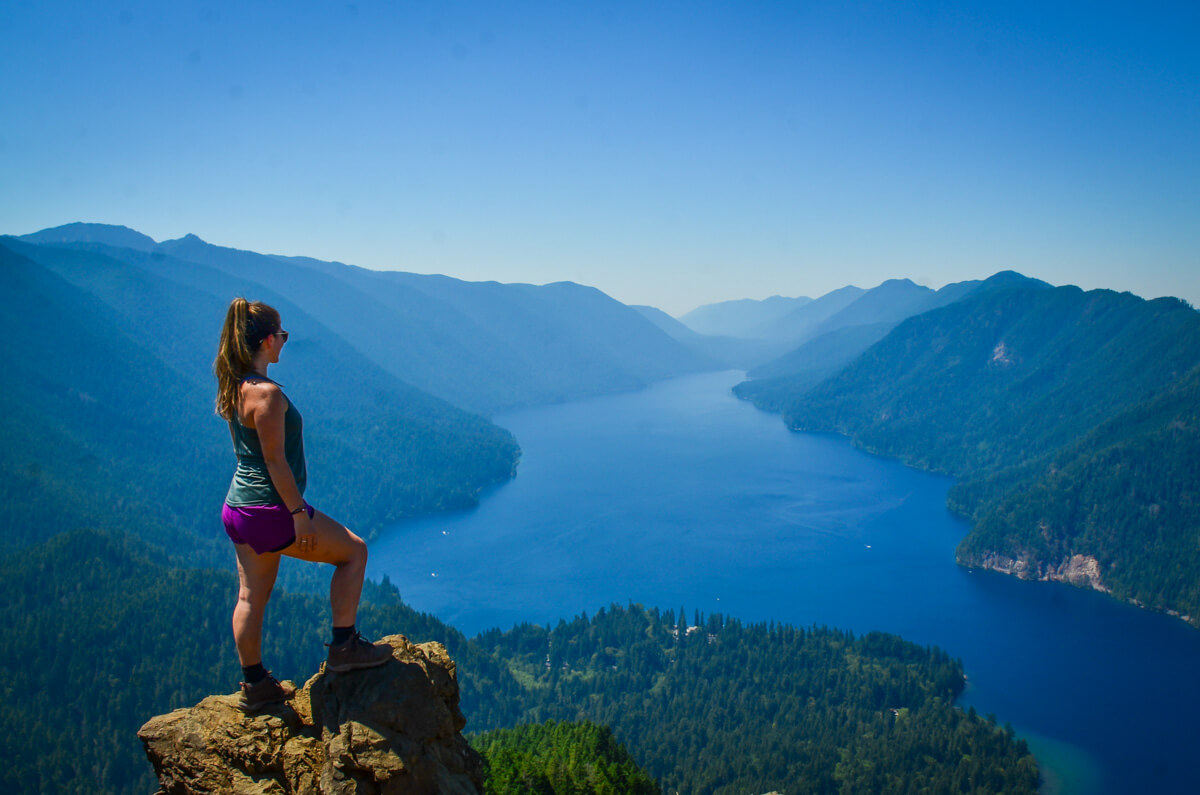 Olympic National Park is the most diverse of all the Washington National Parks. The park's nearly one-million acres cover 70 miles of wild coastline, old-growth temperate rainforests, and glacier-capped mountains. Not to mention thousands of years of human history.
It's safe to say this park has something for everyone!
Walk through the Hall of Mosses in the Hoh Rainforest, one of the quietest places in the United States. Enjoy a bonfire on the beach as you watch the sunset while camping along the rugged coastline. Or find your adventure on one of the many scenic trails on the Olympic Peninsula.
July and August are two of the best months to visit Olympic National Park because the weather on the OP has the best chances of being dry, sunny, and warm. Keep in mind that the park will be busier in those months since the weather tends to be more favorable.
Even if you can't manage a summer visit, the mist that often engulfs the park during the spring, fall, and winter months adds to the park's beauty and mysterious aura. It's definitely a sight to behold.
At just about a 2-hour drive west of the city, you can easily visit Olympic National Park on a day trip from Seattle. Keeping in mind you'll really only get the chance to discover one region of the park in a single day.
Since the park is so massive and diverse, three to five days allows you to cover plenty, but a weekend trip wouldn't leave you unsatisfied if you prioritize where you plan to explore.
Top things to do in Olympic National Park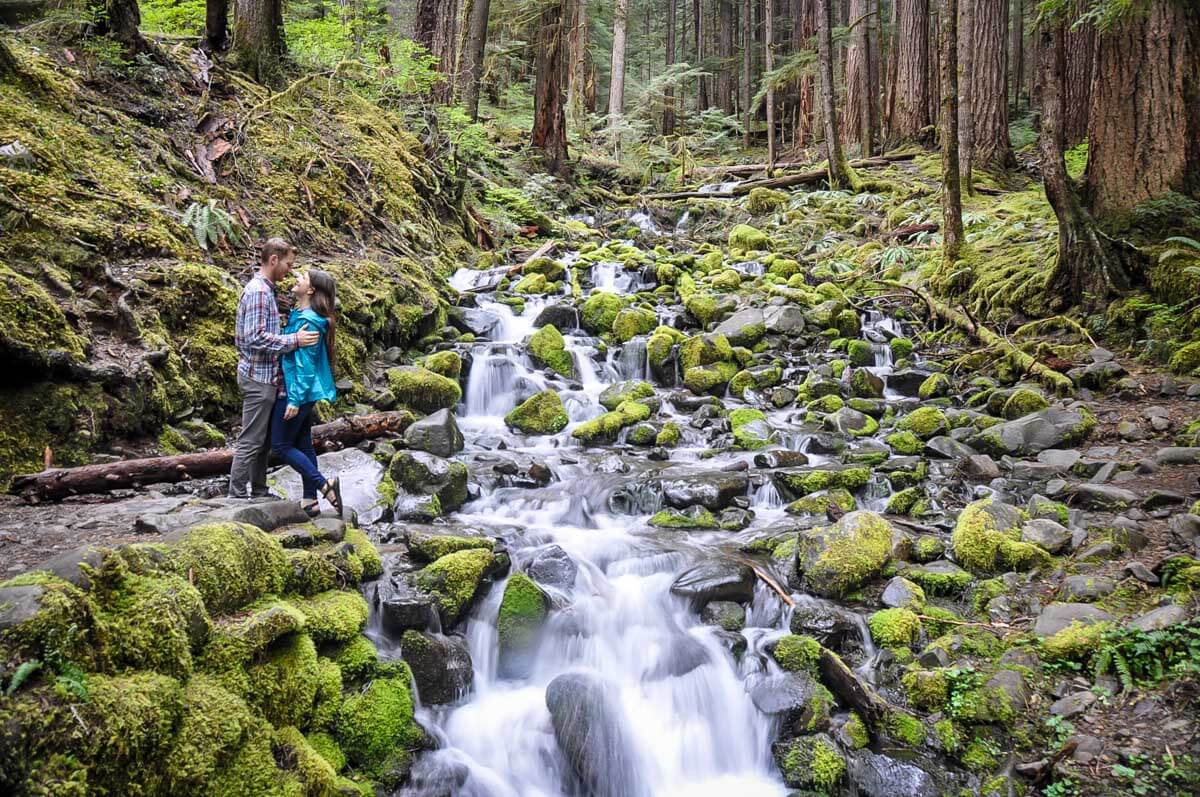 Sol Duc Falls: Walk through thick old-growth rainforests and discover one of the best waterfalls in Washington nestled right in the Sol Duc Valley.
Hoh Rainforest: Discover a beautiful, vibrant rainforest on one of the best Olympic National Park hikes. The Hall of Mosses is known for being one of the quietest places in the United States! Walk along the vibrant green tones in this moody destination.
Hurricane Ridge: Hike along a scenic ridge and discover expansive views of Mount Baker, Victoria, BC, and the Strait of Juan De Fuca at this famous Olympic viewpoint.
Shi Shi Beach: This famous beach is one of the coolest places to camp in Washington or can be explored on a nice day hike. Camping on Shi Shi Beach is one of the best things to do while in Olympic National Park.
Enchanted Valley: Follow the Quinault River into the beautiful Enchanted Valley lined with snow capped mountains. If you're up for a backpacking trip, this is our top recommendation!
Check out our entire Olympic National Park guide for more information about the park and what you can expect as a first-time visitor!
Mount Rainier National Park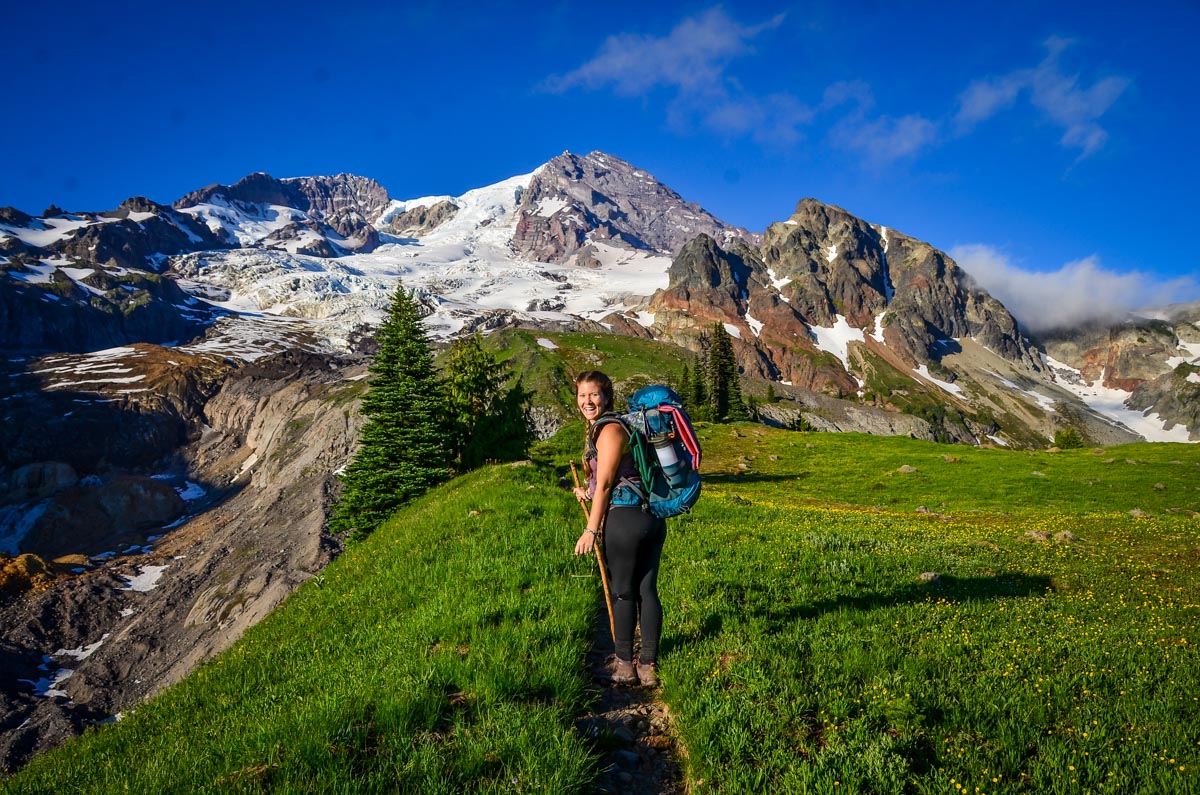 Open: 24/7, year round
Entrance Fee: $30 for a private vehicle, good for 7 days.
Established: March 1899
Area: 236,381 acres / 369.3 square miles
As the most popular of the national parks in Washington, Mount Rainier National Park is made up of 97% wilderness. The namesake of the park, Mount Rainier is actually the highest volcanic peak in the lower 48 states, and can be seen all the way from Seattle on a clear day.
This mountain has shaped the physical environment and defines the identity of the Pacific Northwest.
Travelers, hikers, climbers, ecologists, and scientists flock to this beautiful place to experience alpine and subalpine wilderness, study evidence of more than 9,000 years of human existence, and bear witness to some of the most jaw-dropping views in Washington State.
You'll find the best views in the regions of the park known as Paradise and Sunrise. Photograph the beautiful Myrtle Falls against the towering backdrop of Mount Rainier, and discover why so many people fought to protect this park on the network of stunning hiking trails.
July through October are typically the best months to visit Mount Rainier National Park because the weather is so favorable. This timing will also guarantee the trails to be snow-free. You will also experience the magic of wildflower season when visiting during late-July and early-August.
It's best to do a bit of research before you go since this park can experience rather dramatic weather changes, as well as trail and road closures in the spring and winter months.
Mount Rainier National Park is about 2 hours southeast of Seattle and is best explored with your own vehicle as it is so vast. This will allow you to take the scenic drives and explore the park thoroughly.
Portland is another popular city to visit from as it's only a 3-hour drive to get to Mount Rainier.
As with all of the Washington National Parks, you can go for just a day, but you'd be doing yourself a disservice. Give yourself 3-5 days in Mount Rainier to see the highlights and explore all of the different regions thoroughly.
Things to do in Mount Rainier National Park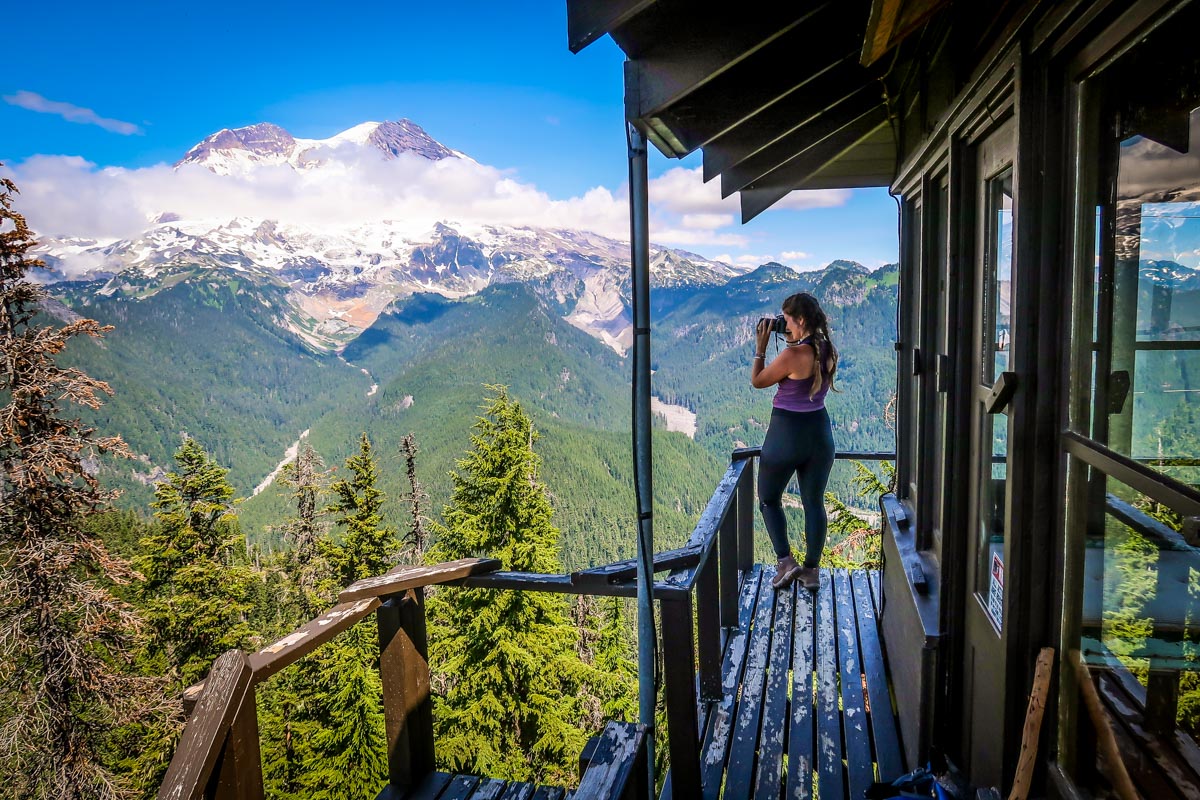 Skyline Trail: On one of the most popular Mount Rainier hikes, experience lush green flora and fauna, glacier views, waterfalls, rivers, and one of the best views of Mount Rainier.
Paradise: This is one of the most beautiful parts of Mount Rainier National Park. It's filled with scenic trails, historic buildings, wildflower meadows, and views of snow-capped peaks.
Mount Fremont Lookout: Enjoy views of Mount Rainier, the Cascade Mountain Range, and Olympic Mountains, all from this former fire lookout station. The herd of mountain goats you'll encounter, paired with these views, makes this one of the best hikes in Washington State.
Tolmie Peak Trail: One of the most scenic hikes in the park. Experience alpine lakes, subalpine meadows, a fire lookout, and glittering lakes on a backdrop of towering Mount Rainier.
Sunrise: This is the highest point you can reach inside the park by car. Along the road leading to Sunrise Point is a fantastic network of trails and viewpoints.
North Cascades National Park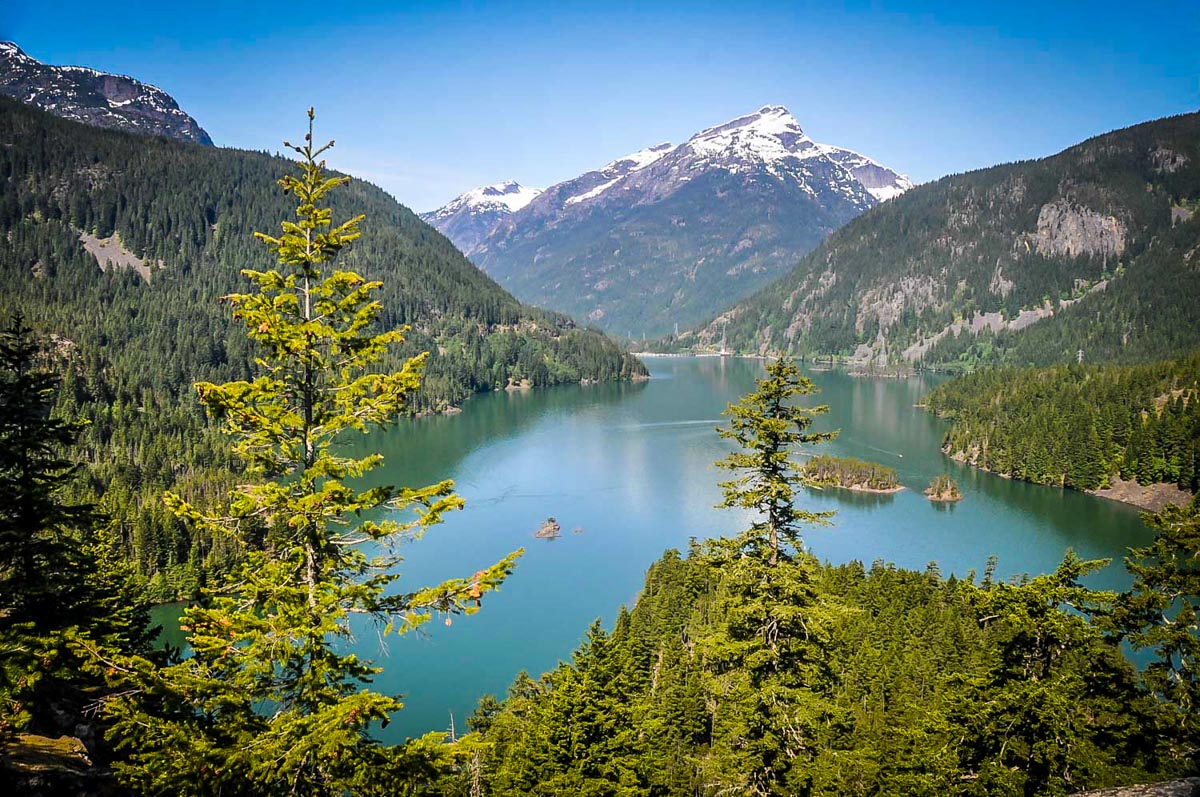 Open: 24/7, year round
Entrance Fee: Free
Established: October 1968
Area: 504,654 acres / 1,070 square miles
Nicknamed "America's Alps", North Cascades is the least visited of the Washington National Parks and of the entire National Park system in the U.S. This park is best seen on foot by hiking one of the many of the incredible hiking trails.
Highlights include views of jagged mountain peaks crowned by over 300 glaciers and the largest collection of flora biodiversity out of all the U.S. National Parks.
Experienced hikers will enjoy the thrill of the Sourdough Mountain Trail and Maple Pass Loop. Those looking for a casual stroll with beautiful views will love Trail of the Cedars and the Washington Pass Overlook.
Don't skip a drive on the North Cascades Scenic Byway, one of the most scenic drives in the United States.
The best time to visit North Cascades National Park is in the late summer, August and September.
Good to know: In the Cascade Mountains, the snow melts later in the year than other ranges in the region. Since there aren't many roads in the park and most of the trails hit higher elevations, you want to ensure the roads are open and trails are snow-free to have the best experience.
North Cascades National Park is 2-3 hours northeast of Seattle, near the U.S./Canadian Border.
Plan to spend at least 2-3 days exploring this national park, but 1-2 more if you're an experienced hiker looking for more trail exploration. Known as a hikers paradise, the network of trails is where the park truly shines. 
Check out our entire North Cascades National Park guide for more information about the park and what you can expect as a first-time visitor!
Things to do in North Cascades National Park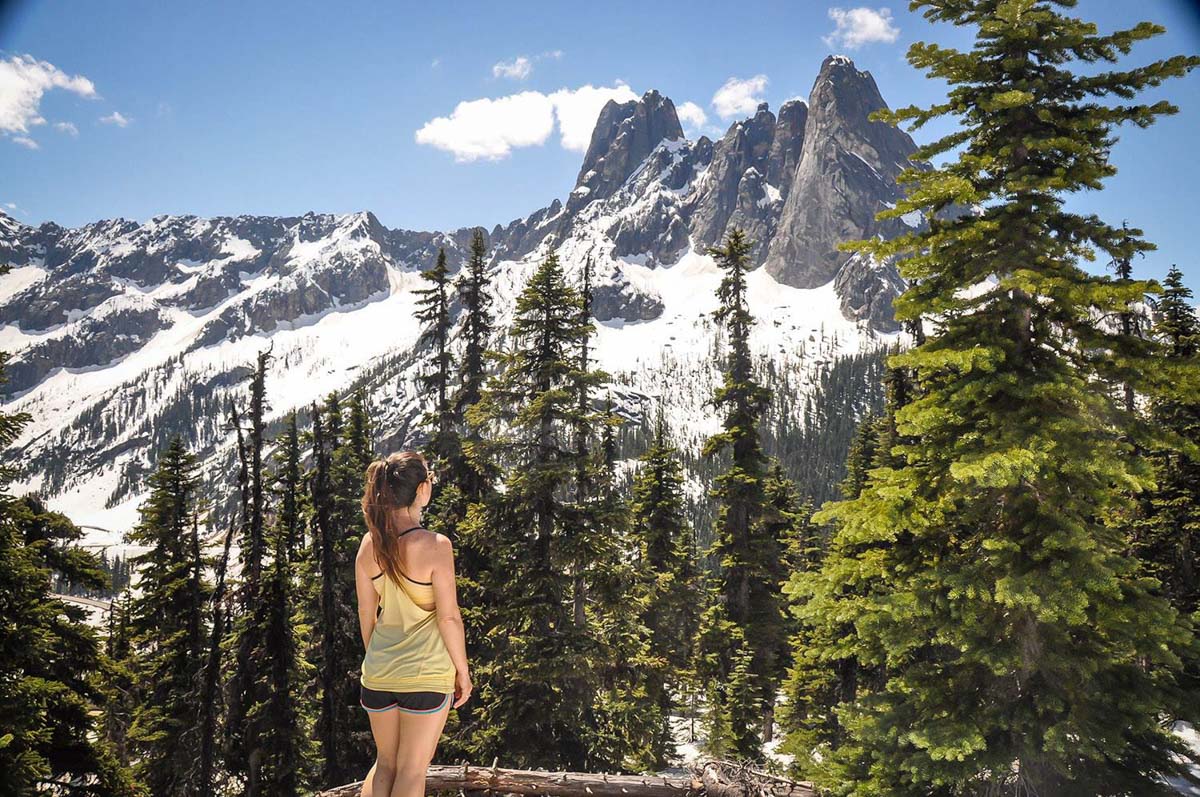 North Cascades Scenic Byway: This 127-mile scenic drive begins in Sedro-Wooley, goes through North Cascades, and ends in Winthrop, WA. Pass through the scenic Methow Valley, stop at the Washington and Diablo Lake Overlooks on this stunning route.
Washington Pass Overlook: Witness towering granite peaks over dense conifer forests at this popular 0.25-mile trail to this scenic viewpoint.
Trail of the Cedars: This nature trail is full of a variety of flora and fauna. The footbridge going over Avalanche Creek is one of the hikes' many highlights.
Maple Pass Loop: Hike one of the most beautiful trails in the Cascades with views over Lake Ann, snow-capped mountains, wildflowers, waterfalls, and an abundance of wildlife.
Sourdough Mountain Trail: Take on this difficult hike to one of the first lookouts established by the U.S. Forest Service in 1915. Look out over layers of snow-capped peaks, stark blue lakes, and dense forests.
---
Where to stay in and around the National Parks in Washington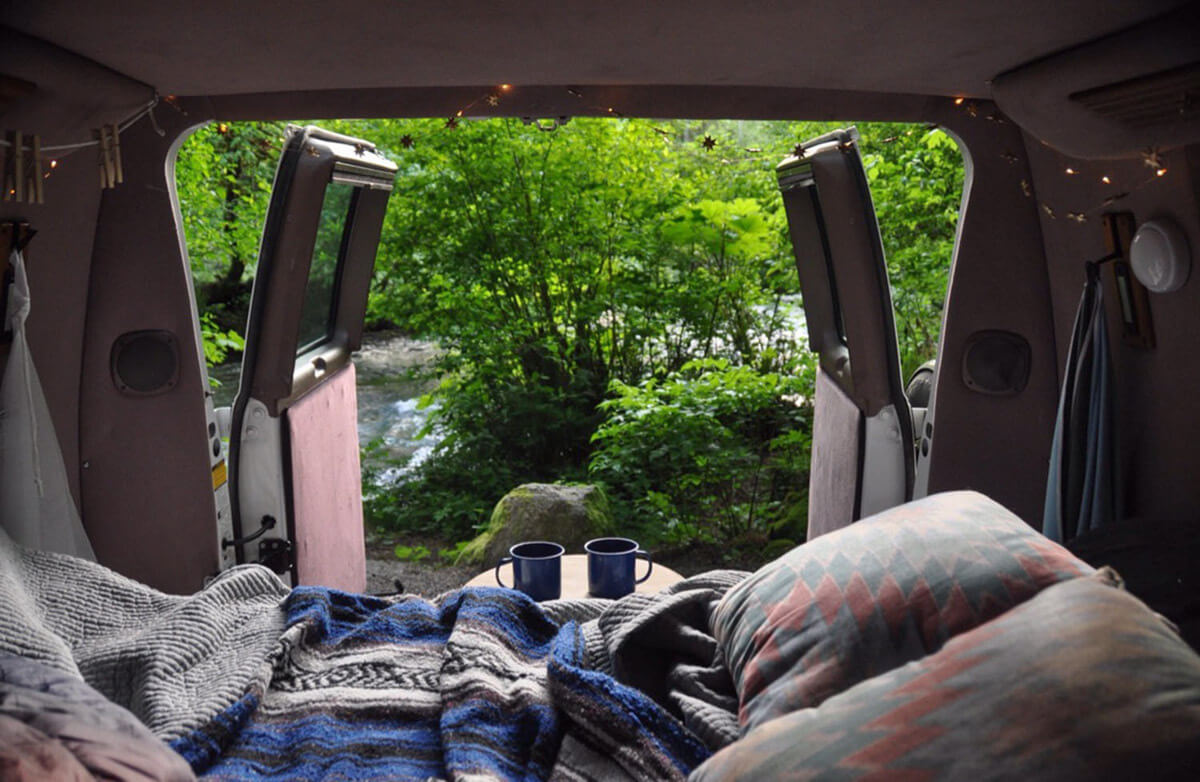 If you're traveling in a campervan or simply hoping to save money on your visit to the Washington national parks by camping along the way, you're in luck. Some of the best campsites in Washington can be found in and around the national parks.
We use The Dyrt app, to locate campsites while on the road. With the largest database of campgrounds (44,000+ campsites and counting!) and over 1 million user-submitted reviews, it's a no-brainer.
Plus, it's super user-friendly, and has some pretty cool features, like outdoor gear contests and forums to connect and seek advice from fellow campers, that you won't find on any other camping app.
Try their Pro Membership for FREE for 90 days and gain access to the offline version of the app, utilize their trip planning feature AND get exclusive discounts on campsites and gear!
Before you go…
Get your FREE National Parks checklist to keep track of all of the National Parks you've visited through the United States!

You may also like…
Save this article on Pinterest for later!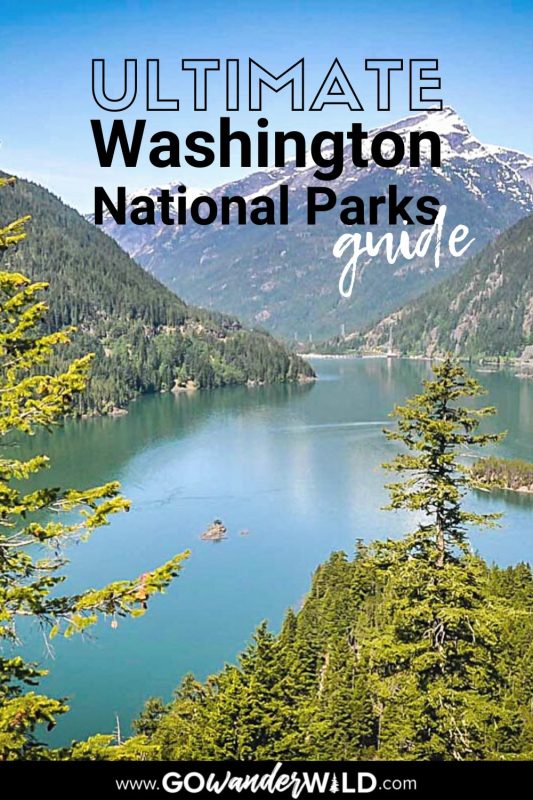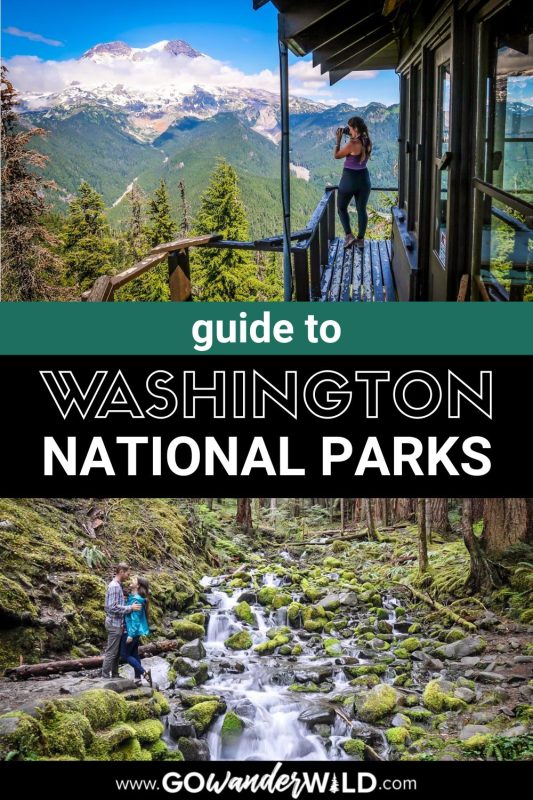 We want to hear from you!
Which is your favorite Washington national park and which can you not wait to explore? Leave your comment below and let us know!