The Grassi Lakes trail in Canmore shows off two stunning mountain lakes, an impressive waterfall, and panoramic views, all in a short-and-sweet hike. This trail guide breaks down the route, exactly what to expect on your hike, and other important details.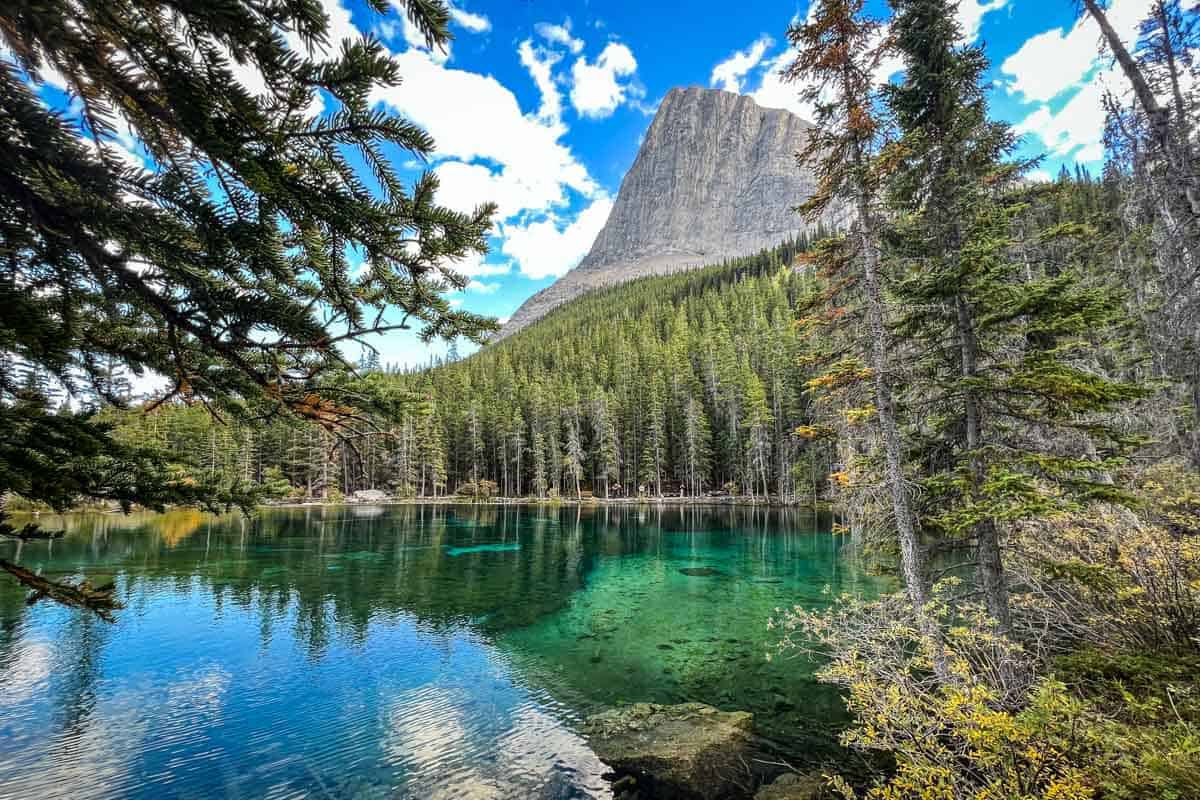 Wildly popular for good reason, the Grassi Lakes trail in Canmore, Alberta, Canada takes you past two sparkling, crystal clear alpine lakes and a waterfall. Afterall, it's known as one of the best hikes near Banff National Park for good reason.
But the best part? It's an accessible, short, and relatively easy hike. In fact, it's one of the easiest hikes near Banff!
Don't let that trick you into thinking hiking the Grassi Lakes trail isn't worth it. The hike has a surprisingly big bang for the buck, with a tremendous payoff despite being easy. Plus, you have a choice of two routes, offering a bigger challenge to those up for something a bit tougher. 
Article Contents

Grassi Lakes trail stats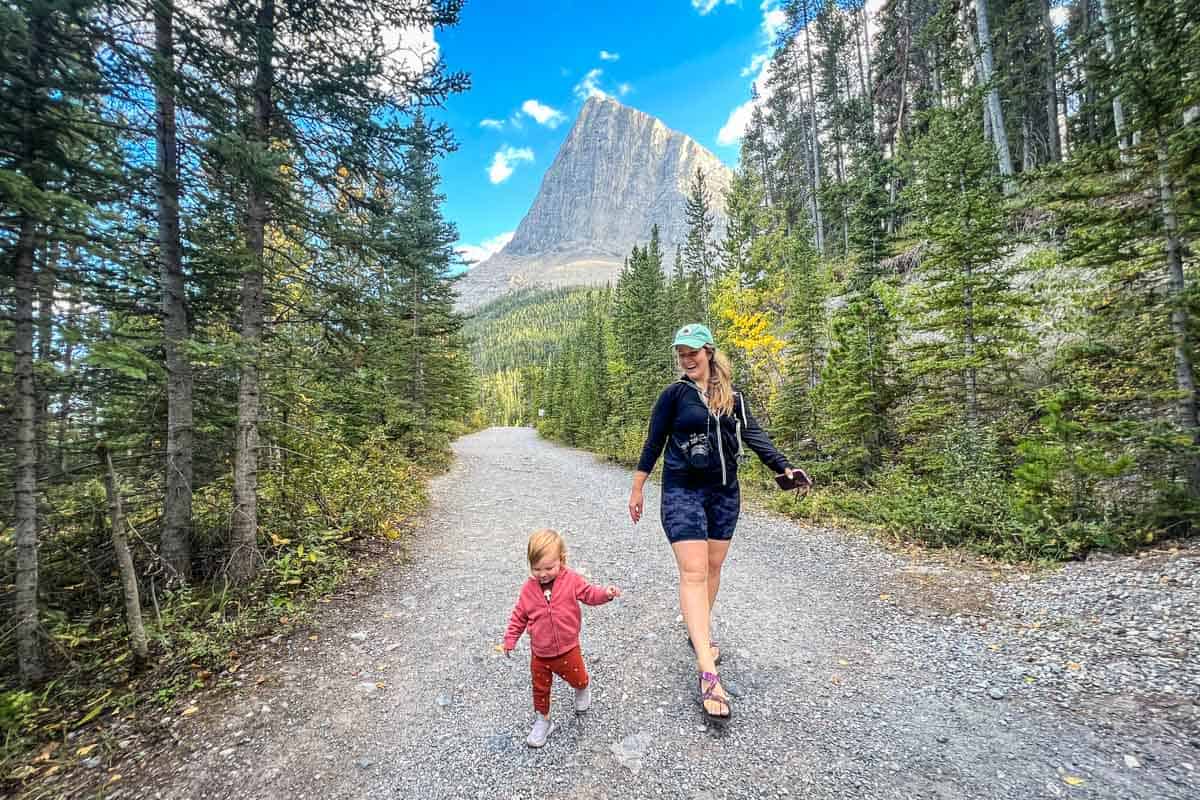 Grassi Lakes hike overview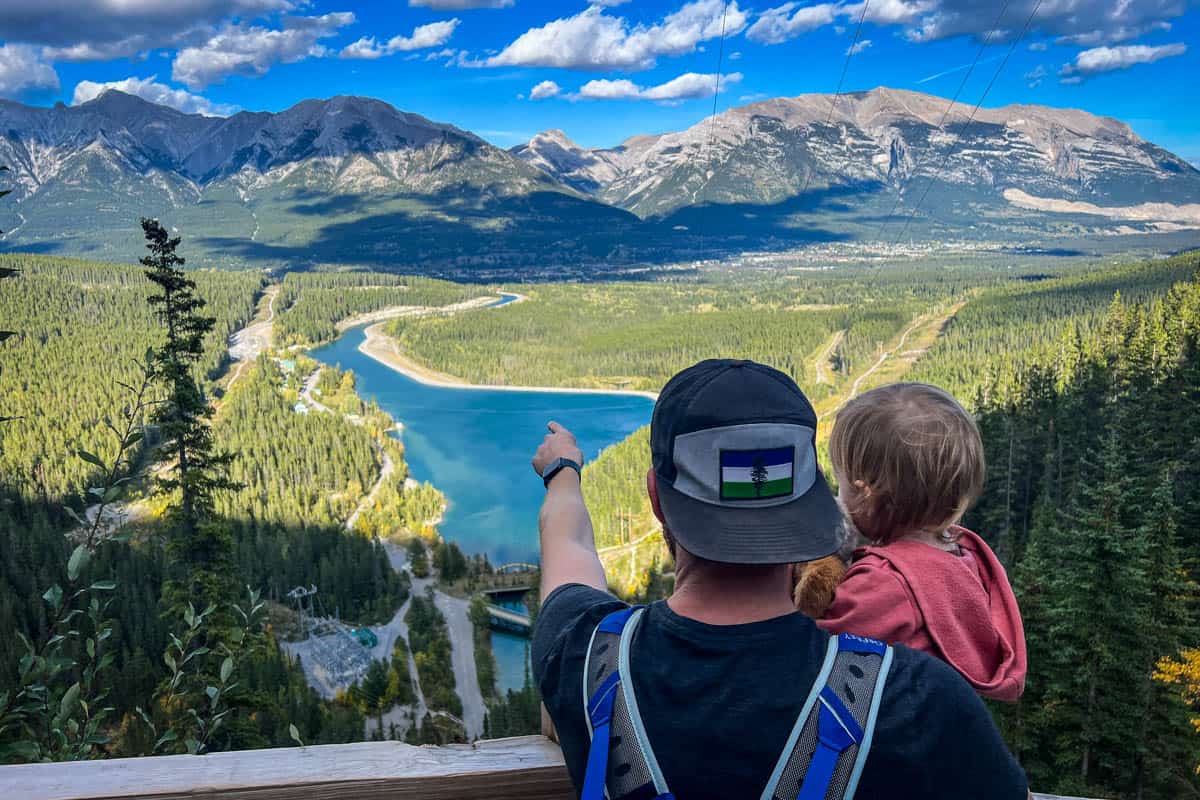 Located within Canmore Nordic Centre Provincial Park just a short distance from Banff, the Grassi Lakes trail is one of the best—and prettiest—hikes in the area.
It's actually two separate trails, the easy Grassi Lakes Upper Trail and the slightly more challenging (but still pretty easy) Grassi Lakes Interpretive Trail. Whichever one you choose, both lead to Grassi Lakes themselves, a pair of absolutely stunning shallow lakes.
When you see them in person, especially on a sunny day, you won't believe the color!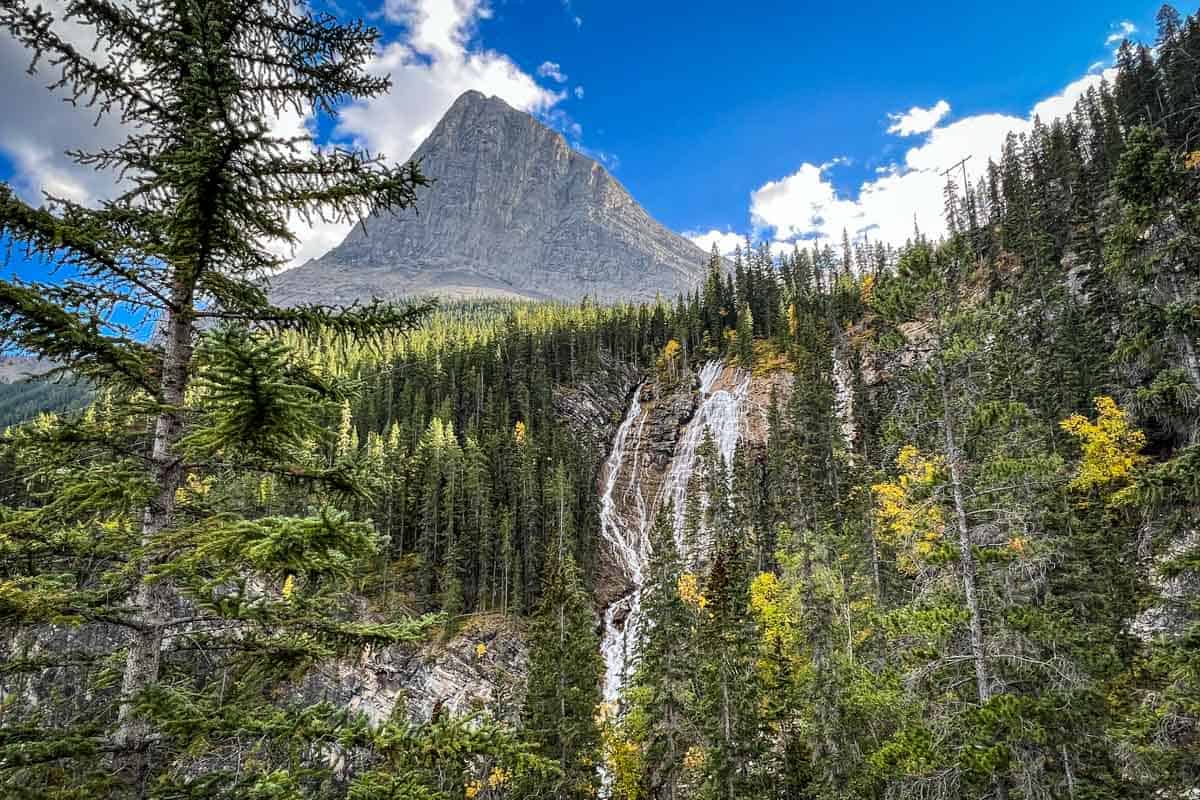 Getting to Grassi Lakes is easy and enjoyable, so it's understandable that this is one of the most popular hikes in the region. No, you won't have the trail all to yourself, but the views more than make up for that.
Notably, the trail was closed for an extended period in 2022 to make improvements. These include new railings, benches, and overlooks along both trails. The main upgrade was a stone staircase on the more challenging trail.
So even if you've previously hiked Grassi Lakes, you may want to consider doing it again!
Things to know before you go
There are several things to take into consideration before hitting the trail to Grassi Lakes.
Best time of year for hiking the Grassi Lakes trail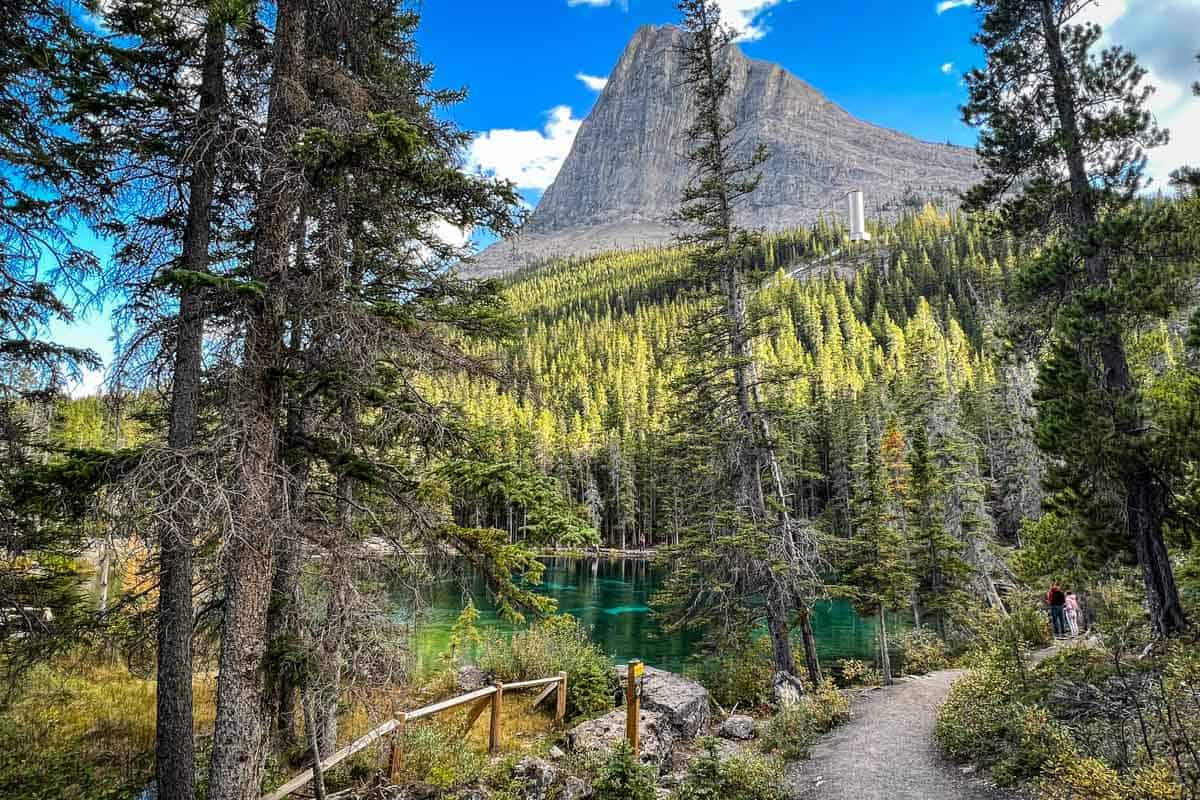 The best time to hike Grassi Lakes is summer through late fall. This overlaps with the busy summer season, but it's worth the trade-off of some crowds.
That gorgeous turquoise blue water you see in all the photos is at its brightest and deepest on clear summer days!
Avalanche danger in this area is very real in the winter and spring. That doesn't necessarily mean you can't hike to Grassi Lakes at all, but you absolutely should check current avalanche conditions before heading out.
Another thing to be aware of is that the more challenging trail closes in the winter when ice accumulation becomes too dangerous. You can still hike the easier Upper Grassi Lakes trail during winter, though.
If you're after an epic photo op, try to time your hike for right after the season's first snowfall — typically in late autumn. The weather will still be nice, and you'll get amazing contrasts, between fall foliage, color of the lake, and glimmering white of freshly-fallen snow.
How difficult is the Grassi Lakes hike?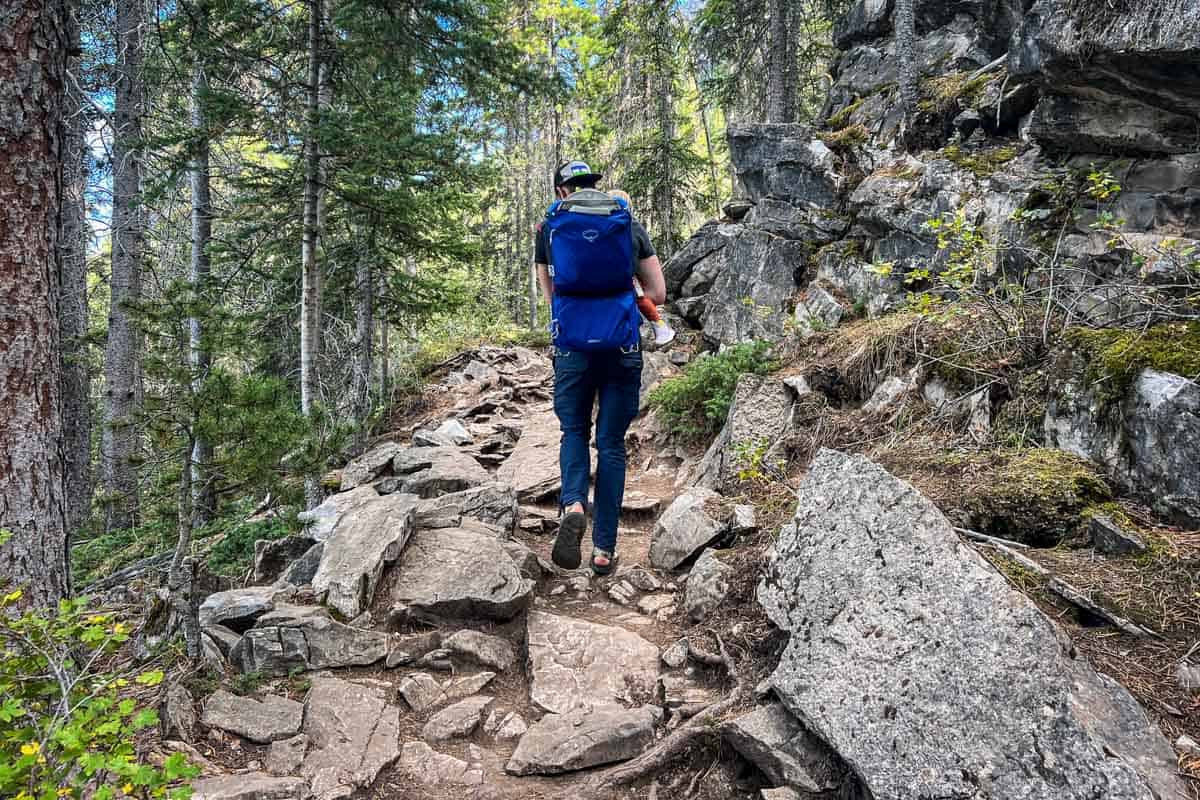 Even the "more difficult" Grassi Lakes hike isn't terribly difficult. It's rated as moderate, but we (and many others!) consider it to be on the easier end of the spectrum. You'll likely see several families, as well as dogs, on both trails.
The most difficult stretch of the harder hike involves steep stairs and slippery, uneven rocks to navigate. That's about as technical as it gets, so even beginner hikers should fare just fine hiking either Grassi Lakes trail.
How long does it take to hike the Grassi Lakes trail?
Hiking the Grassi Lakes trail should take 2-3 hours, even if you're hiking at a fairly leisurely pace. This will give you enough time for the hike itself, plus a few photo and snack stops, or even lunch.
Obtaining a permit for the Grassi Lakes trail
You don't need a permit to hike to Grassi Lakes, but you do need to have a Kananaskis Conservation Pass to park a vehicle. A single-day pass is $15 per vehicle, while an annual pass is $90.
You can buy this online or in person at the Canmore Nordic Centre Day Lodge. Getting it online ahead of time is recommended, so that you're not tethered to the lodge's open hours.
Wildlife on the trail
Bear, mountain goat, and bighorn sheep sightings on the Grassi Lakes trail are fairly common. In fact, the park occasionally shuts the trail down due to bear activity.
Don't let that deter you from doing this amazing hike, though. Remember, humans are exploring the bears' home. Most of the time when people spot bears, they're simply moving along.
Actual encounters are much less common than sightings, of course, but it's still a good idea to take some precautions — and of course, be bear aware.
Make lots of noise on the trail, and consider hiking with bear spray. Just be sure that you actually familiarize yourself with it and learn how to use it properly, before you need to!
The route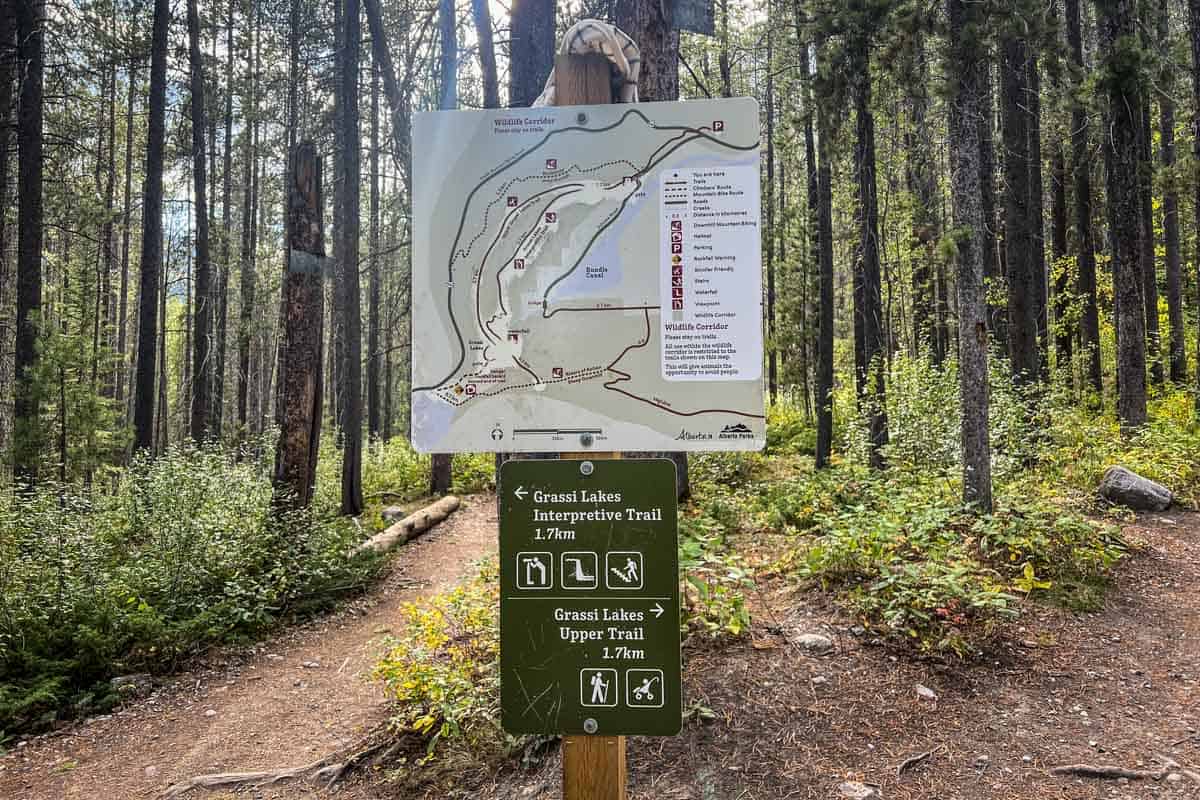 The Grassi Lakes hike starts off Ken Ritchie Way, just past the Canmore Nordic Centre. Drive about 1.25 miles further and park in the large lot. Remember that all vehicles are required to have a Kananaskis Conservation Pass.
There are pit toilets in the parking lot, and the trail starts just beyond them. Right off the bat, you have a gentle ascent through the forest and fairly quickly, you'll come to a "Y" where the trail splits.
Choose between the easier Grassi Lakes Upper Trail to the right, or the more difficult Grassi Lakes Interpretive Trail to the left.
Both trails lead to the same place, and you can always take one up and the other back. If you want to do that, always hike the harder trail up. That way, your descent will basically be a cake walk.
Keep in mind that the harder trail closes during the winter because of unsafe icy conditions.
Upper Grassi Lakes Trail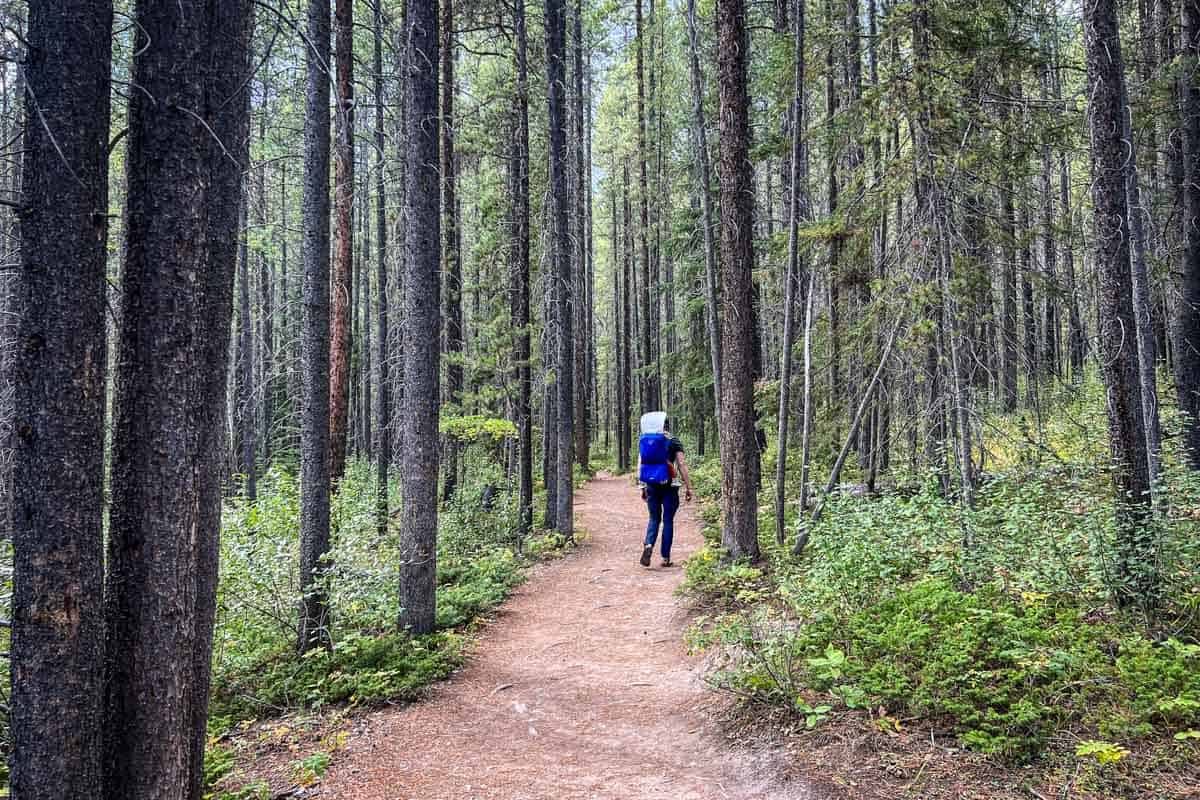 The "easy" trail, known as Upper Grassi Lakes, is indeed pleasantly easy. On this trail, you enjoy a very gradual climb through the forest from start to finish. It follows an old road, so it's smooth and wide, with no obstacles whatsoever to be concerned about.
While the scenery is undeniably more impressive on the harder trail, this is a great option for families with young kids or during the winter. Plus, you still end up at Grassi Lakes and get peek-a-boo mountain views along the way.
Grassi Lakes Interpretive Trail
The "regular" Grassi Lakes Trail is the one labeled "Interpretive Trail" on the sign at the Y. Even casual hikers and kiddos should manage just fine on this trail, but it is more challenging than Upper Grassi Lakes, along one steep stretch in particular.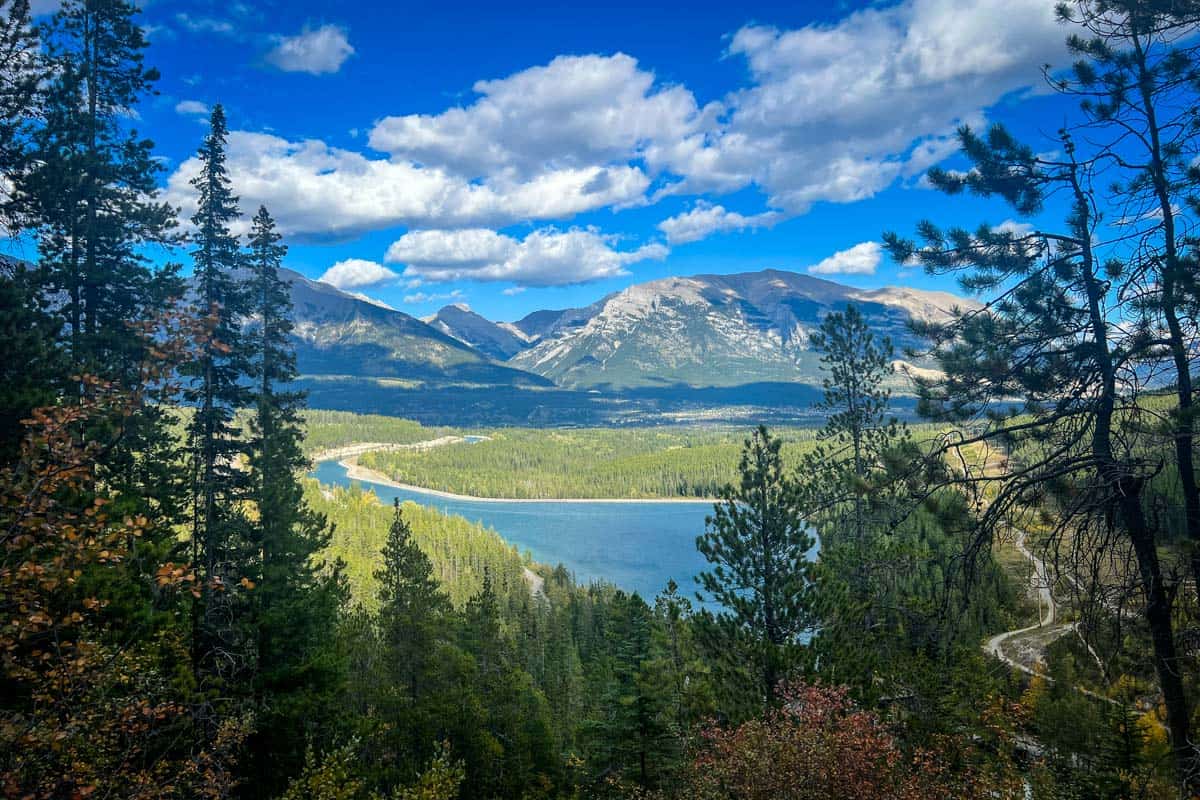 Before reaching the challenging section, you'll climb gradually, cross a few streams, and take in gorgeous views. Look for dramatic Ha Ling Peak throughout, and Rundle Forebay Reservoir around the 0.7-mile mark.
At 0.8 miles, you'll see that as with most things in life, the greater challenge on this trail comes with a greater reward. Just a half-hour into your hike, you'll come to the beautiful Lawrence Grassi Waterfall.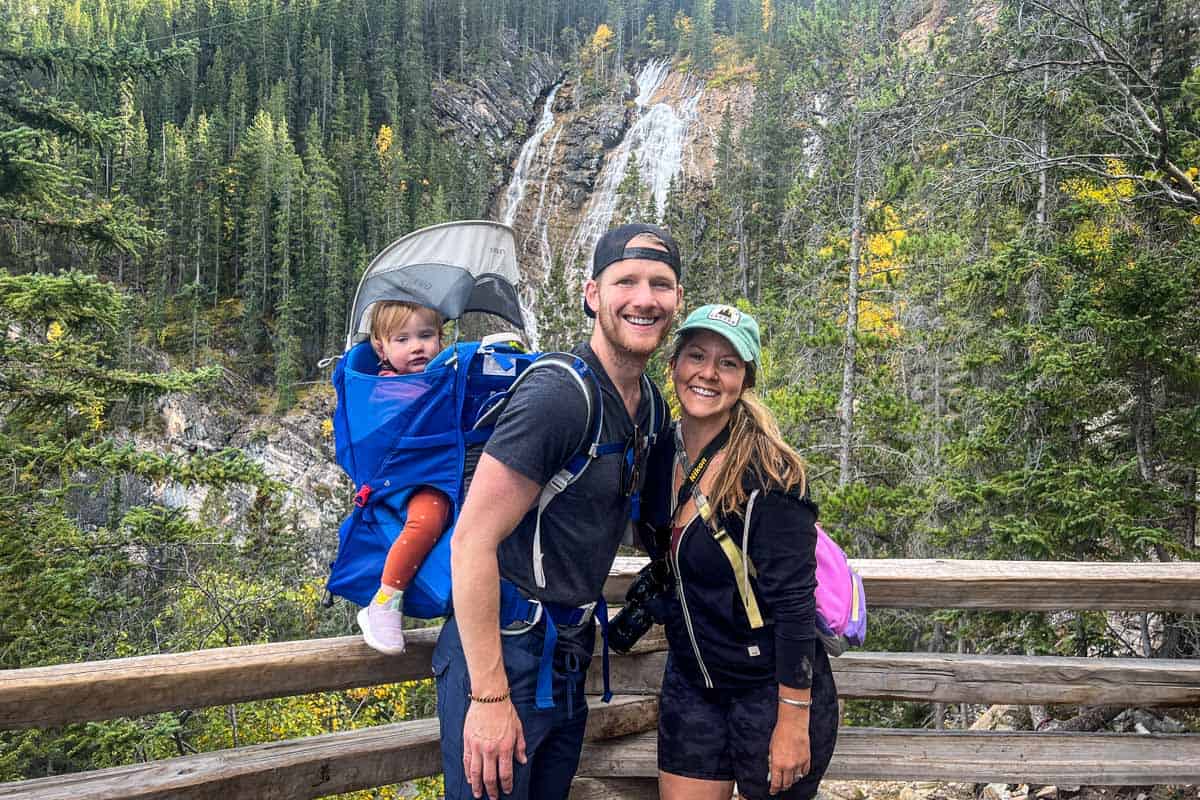 During the 2022 improvements along Grassi Lakes trail, the park created a lovely overlook with excellent views of the waterfall. Prior to that, you actually had to do some scrambling to get a good view. You'll also be able to look down on Canmore and the Bow Valley below.
Just beyond the falls is where the trail becomes quite steep, and you'll come to several switchbacks. You'll also find a set of newly-built steep stone stairs.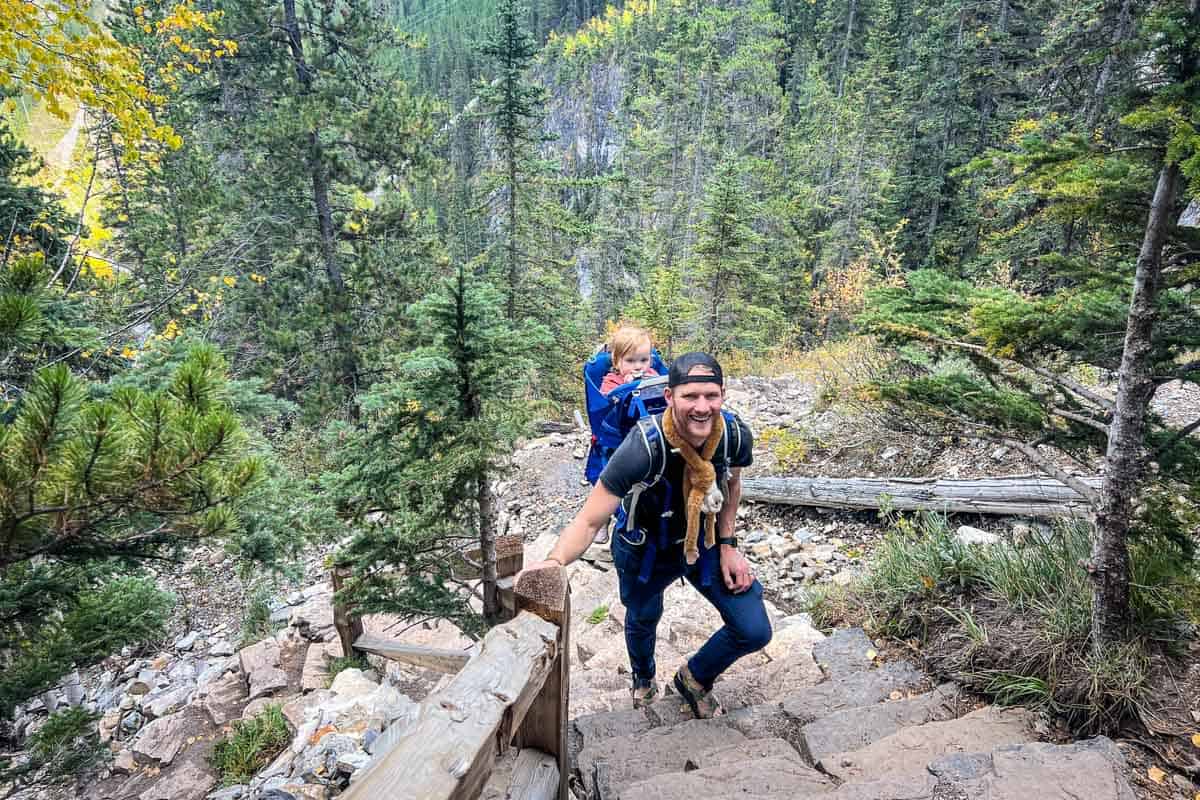 Although this is the steepest section of the Grassi Lakes trail, keep in mind that it's short. Plus, there are several benches dotting the trail if you need a break (or if you simply want to enjoy the views!).
Just take your time and, if it's rained or snowed recently, consider bringing trekking poles or wearing microspikes.
Once you're at Grassi Lakes (Upper and Lower), explore the paths around them to find a spot for lunch — log or beach. Remember, it's often crowded, but the further you go from the main trail (to the far side of the lakes), the fewer people you'll compete against for that perfect spot.
Finally, despite how inviting it may look, you cannot swim at Grassi Lakes. We agree, it's a bummer!
Beyond Upper Grassi Lake
Many (probably most) people simply head back to the parking lot after relaxing by Grassi Lakes for a bit. However, the trail actually continues past the upper lake, and it's well worth your time to continue.
After 10-15 minutes of hiking beyond Upper Grassi Lake, you'll come to a spectacular overlook. There's absolutely no question why many people consider this one of the best photo spots in Canmore!
Head back to the parking lot when you manage to tear yourself away from the view.
Tips for hiking the Grassi Lakes trail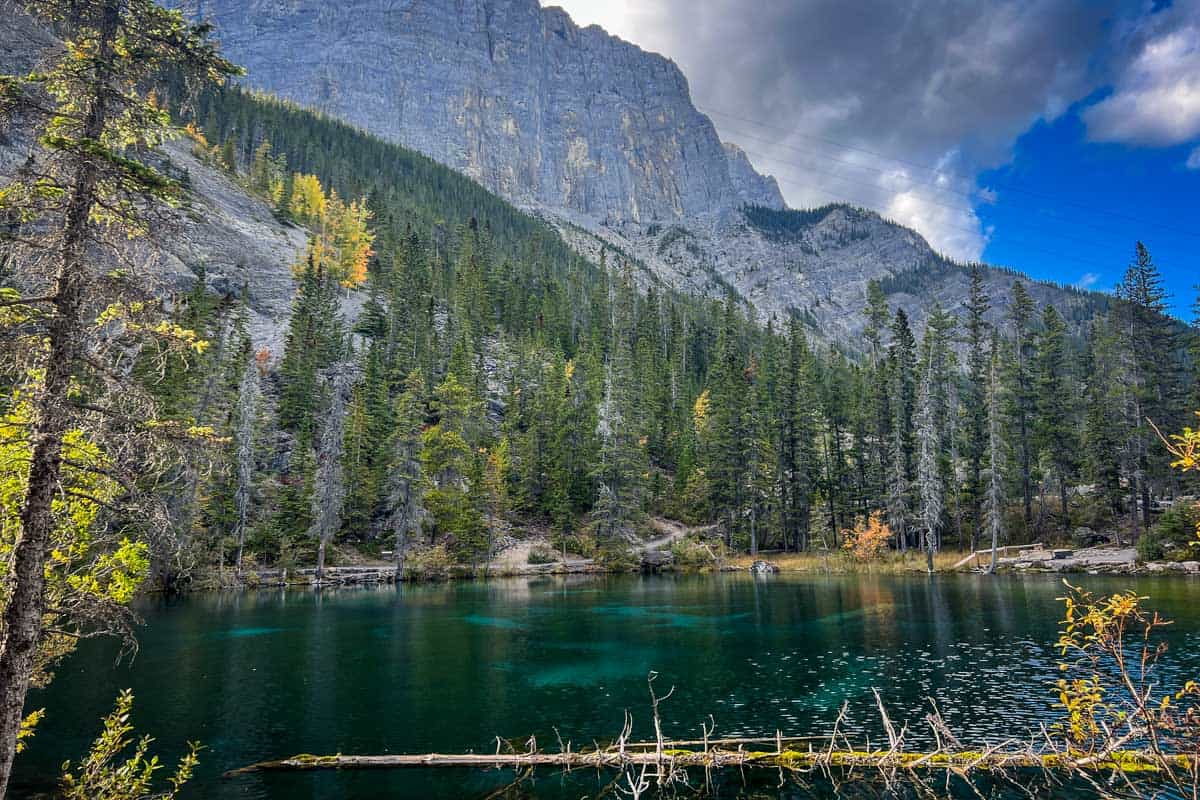 What to pack for hiking Grassi Lakes trail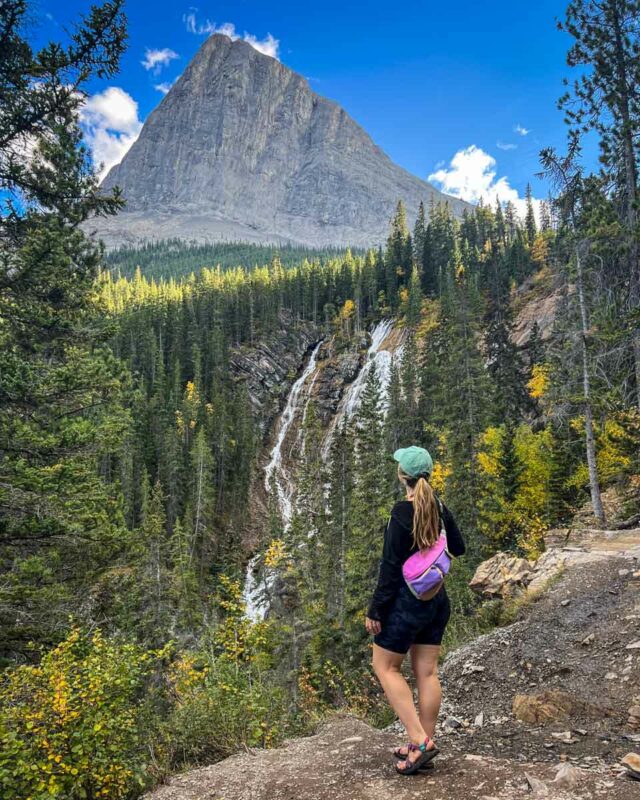 Be sure to download our FREE hiking packing list before your next trip and never leave another essential behind again!


You may also like…
Save this article on Pinterest for later!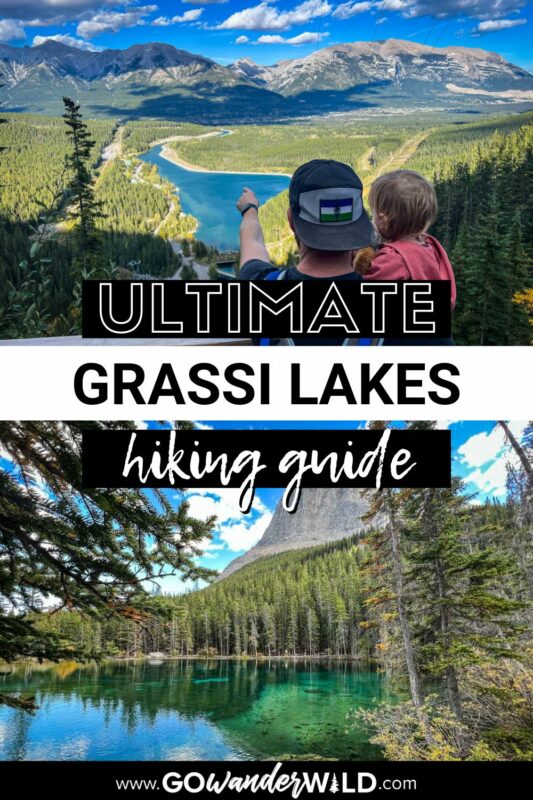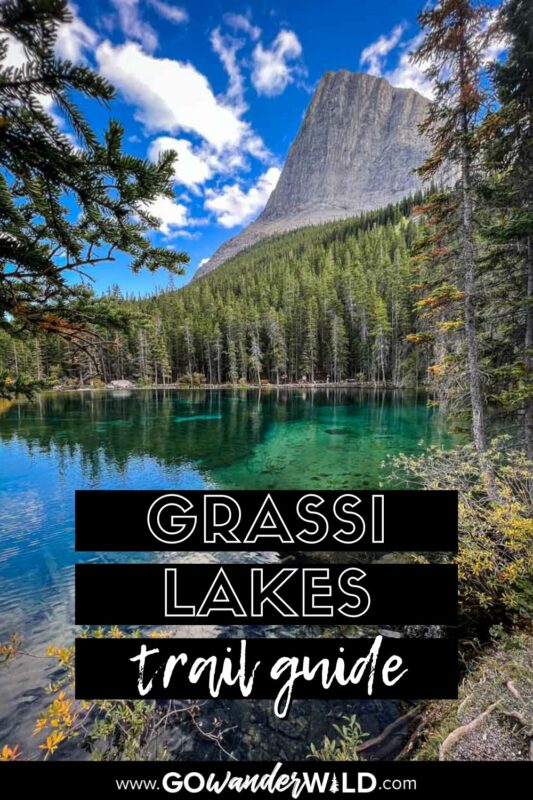 We want to hear from you!
Have you ever hiked the Grassi Lakes trail in Canmore, Alberta, Canada? What was your experience like? Do you have more questions about doing the hike? Comment below and let us know!