If you're planning to visit Lussier Hot Springs in British Columbia, Canada, this guide will tell you everything you should know. From how to get there and the best time of year, to exactly what to expect, we're sharing everything you need to have an unforgettable trip.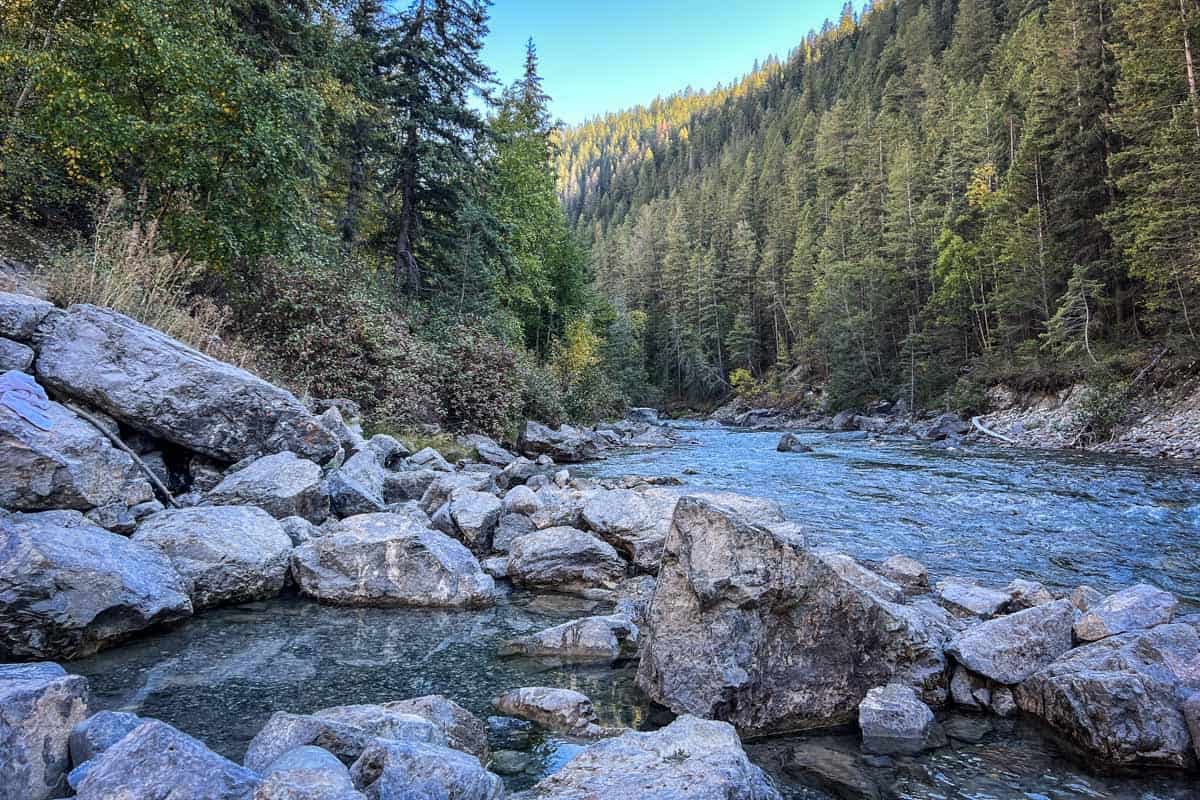 It's no secret that there are several amazing hot springs in British Columbia, but the beautiful, undeveloped Lussier Hot Springs are a bit of a hidden gem.
Nestled along the crystal-clear Lussier River in BC's East Kootenays region, it's hard to believe these hot springs are in Whiteswan Lake Provincial Park and even managed by BC Parks.
The drive down a 10.5-mile (17 kilometers) gravel logging road and complete lack of services makes Lussier Hot Springs feel incredibly remote…and that's exactly their appeal.
If you're someone—like us—who's always up for an adventure and loves a good soak in a natural hot spring, keep reading.
Lussier Hot Springs Guide

Lussier Hot Springs overview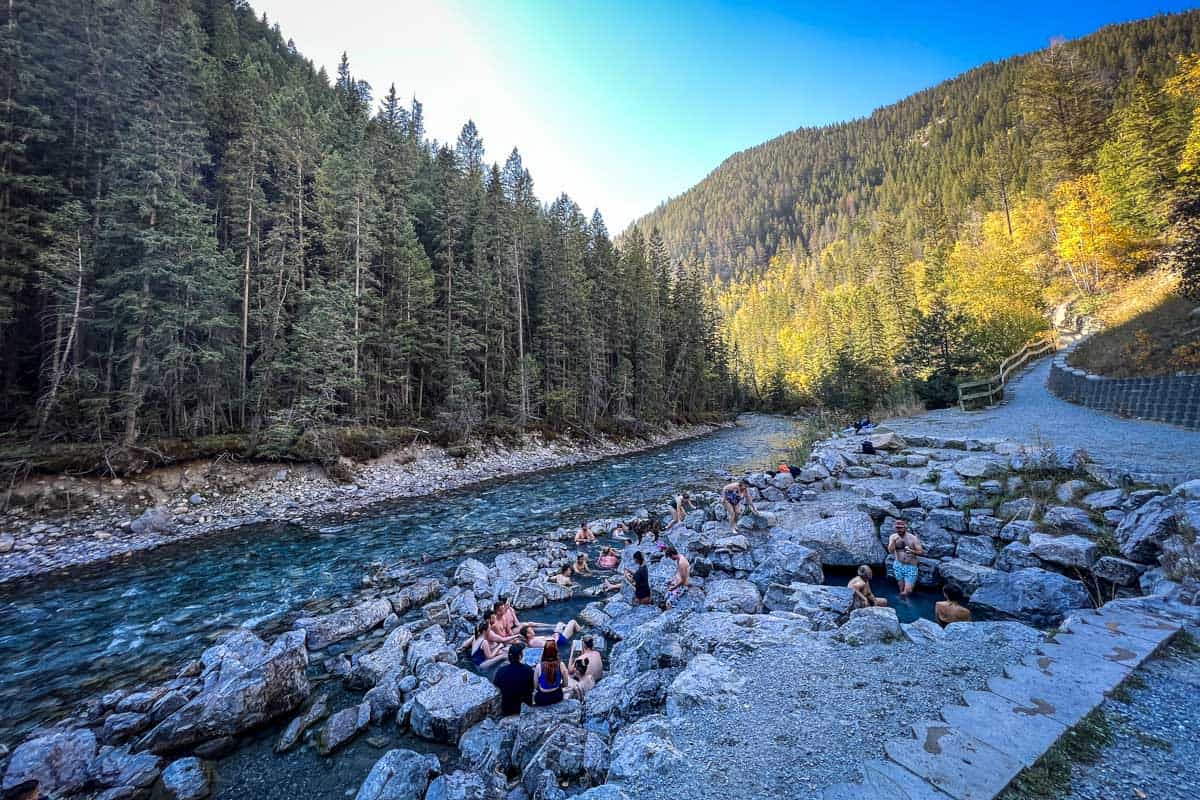 Perched along the banks of the Lussier River with stunning, clear turquoise water, it's no surprise that people compare Lussier Hot Springs to Oregon's Umpqua Hot Springs.
The rock pools are on a hillside and have varying degrees of heat. Slightly staggered, the further the pools are from the cold river, the hotter.
Getting to this natural paradise is an adventure in itself, requiring a long drive down a gravel road and a short trek.
Your efforts are rewarded, though, because it's typically far less crowded than other nearby hot springs. If you time it right, you may even have them all to yourself!
Lussier Hot Springs stats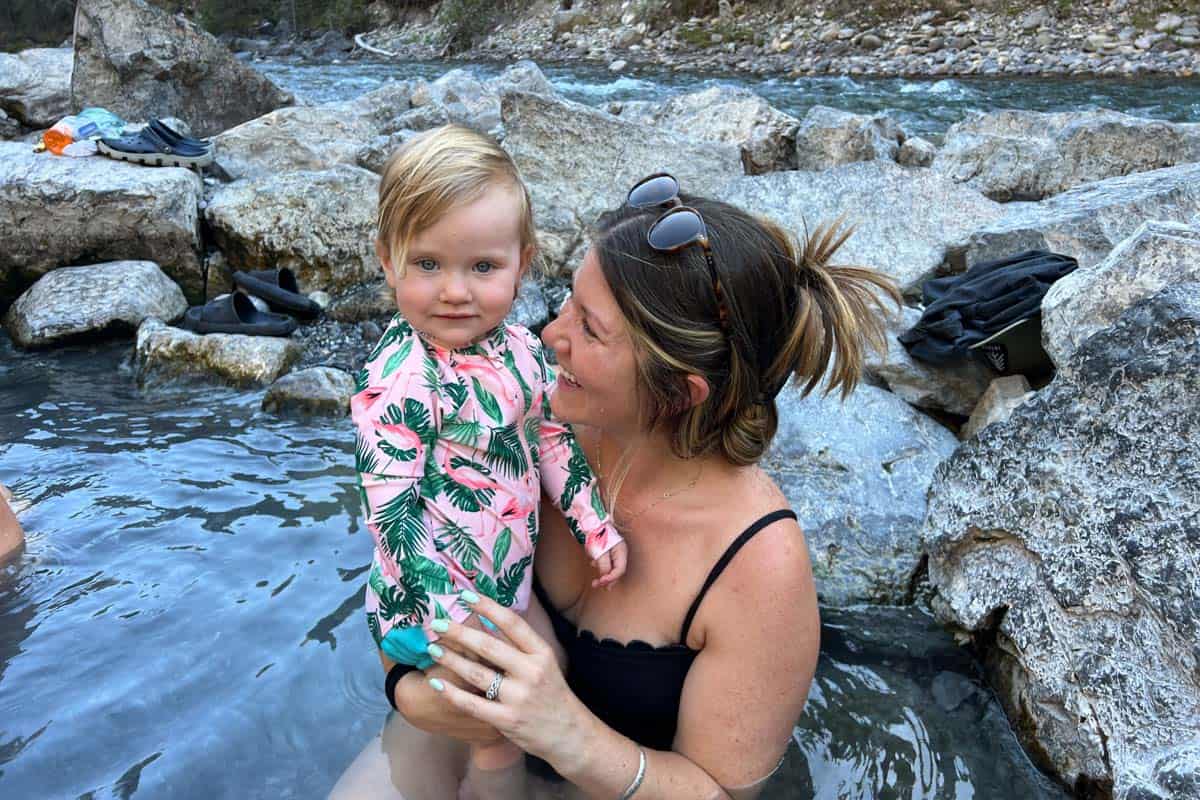 Here are all the important things to know about Lussier Hot Springs:
Location: Whiteswan Lake Provincial Park, just off Whiteswan Forestry Road
Exact Location: Google maps location
Nearest moderately-sized town: Invermere, BC, which is 46 miles / 74.5 km away, or about one hour (technically, the teeny-tiny village of Canal Flats is closer at just 14.5 miles / 23.4 km, but services are extremely limited)
Access: Moderate, involving a long drive on a gravel road and a short but steep hike
Time of year: Year-round
Lodging: None nearby, but there are a handful of campsites in the park
Type of hot spring: Natural/undeveloped
Number of pools: 3-4, depending on the river's level
Water clarity: Crystal clear, although some algae may be present in the warmer pools
Temperature (at source): Varies from pool to pool, from 110-112°F (47°C) in the uppermost pool down to around 94°F (34°C)
Depth: Very shallow (1-2 feet, just enough to comfortably sit in)
Clothing: Required, being a provincial park
Suitable for children? Totally dependent on individual parents — while the springs are in a provincial park, some people do "party" in the springs
How to get to Lussier Hot Springs
Lussier Hot Springs is pretty isolated. Despite many people referring to it as being "near Banff," they're actually nearly three hours away. Still, most people travel to the springs from the Banff area.
From Banff, take the Trans-Canada Highway (TCH) toward Castle Junction. Hop on Highway 93 South, toward Radium Hot Springs. You'll stay on the 93-S, but in Radium itself, you need to take a left at the stop sign right outside the main gas station.
Stay on the 93-S until you see signs for Whiteswan Lake Provincial Park on your left. Once you turn, you'll be on the Whiteswan Lake Forestry Road, the infamous gravel logging road. Follow it for just over 10.5 miles (17 kilometers), to the hot springs parking lot on the right.
The road is rough even in ideal conditions, and often described as "treacherous" in the dead of both winter and summer (when it's dry and dusty, and visibility is low).
On the last stretch of the road, you'll follow a narrow exposed cliff. This leg isn't for the faint of heart, but thankfully, it's quite short. Take your time and hug the inside of the road as much as possible.
It's extremely important to know the road is actively used for logging. It's busy with huge, heavy logging trucks in every season, all year long, which means that you often have to find a way to yield to them. On a narrow road with hairpin turns, this is no easy task!
Despite being rough, any vehicle can travel the forest service road. Of course, it's a more comfortable ride in a vehicle with more clearance, but 4-wheel-drive isn't required.
Hike to Lussier Hot Springs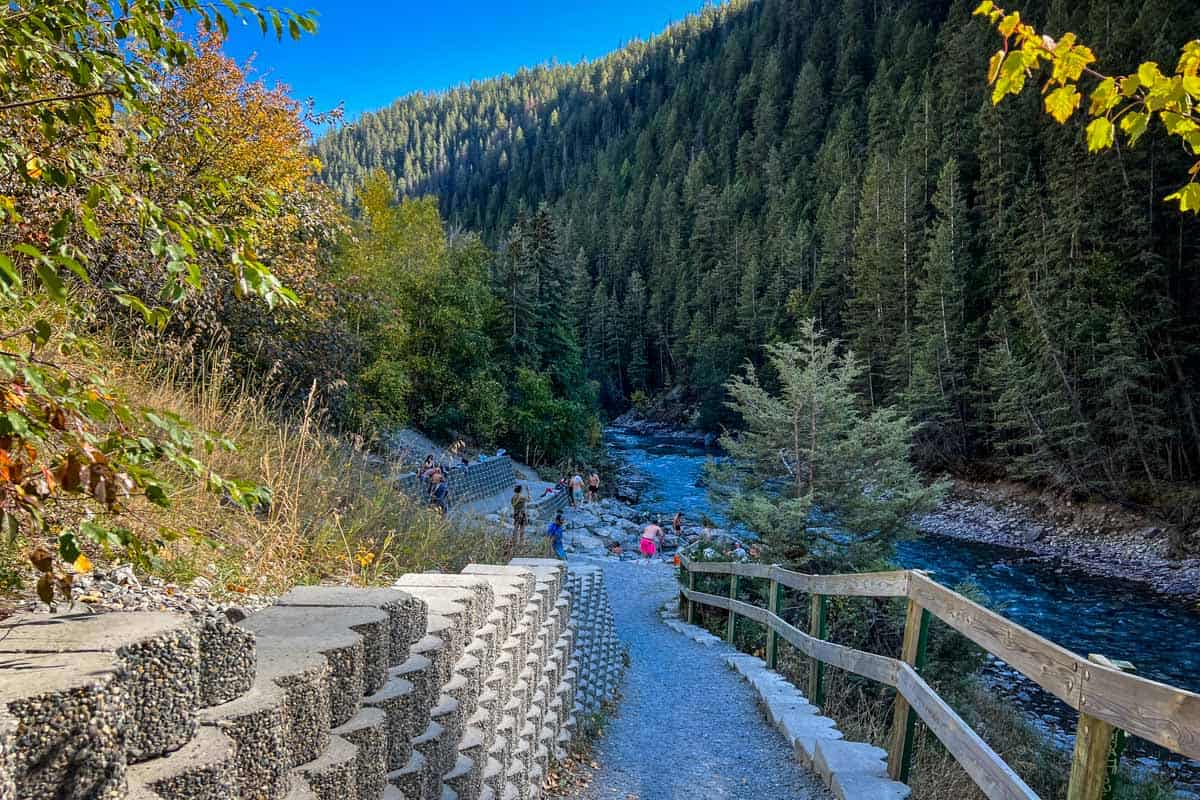 Distance: 0.3 miles (0.48 km) out and back
Elevation gain: 50 feet
Difficulty rating: Easy to moderate
While we wouldn't call it a "hike" exactly, you also don't simply park and walk right up to Lussier Hot Springs.
Once you park your vehicle, you'll walk just over a quarter-mile down to the springs. The path is wide and well-maintained, although it is steep and can get icy in the winter and spring. Trekking poles or crampons come in handy, particularly when ice is present.
Things to know about visiting Lussier Hot Springs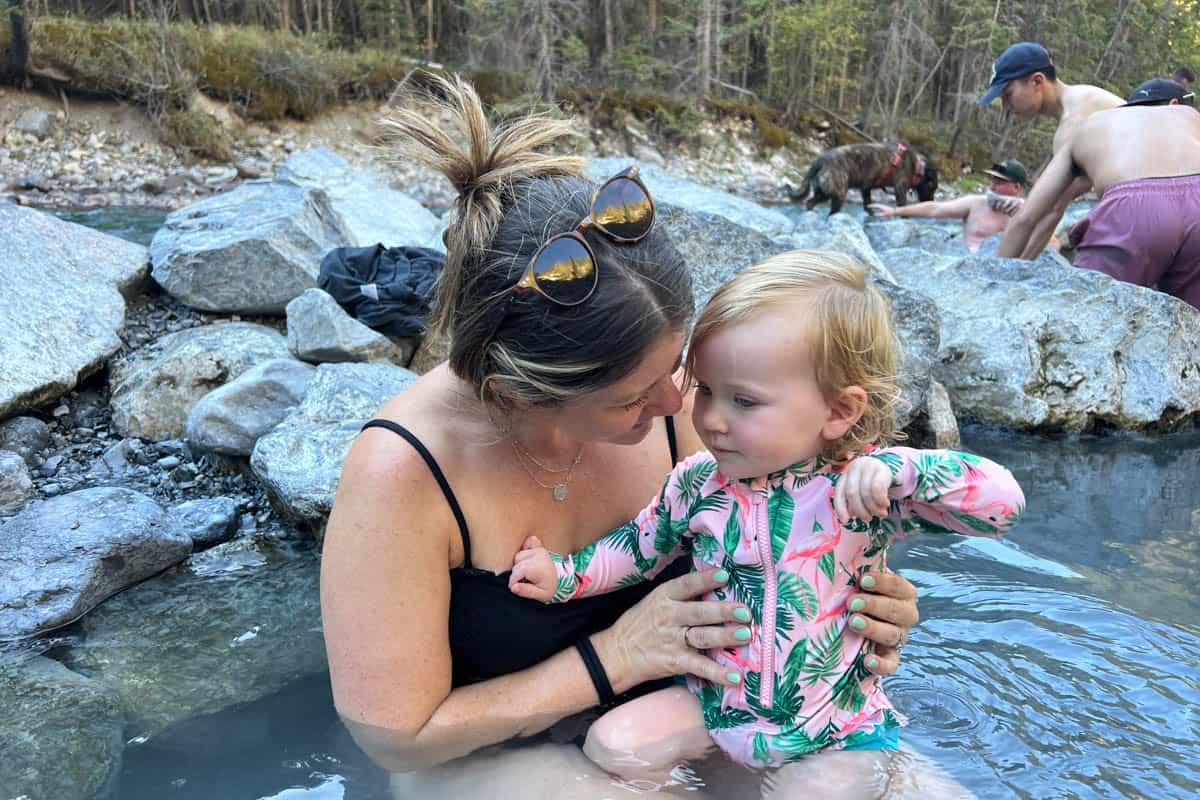 The road really is rough. We know we sound like a broken record, but it's worth emphasizing again. Go slow and stay alert!
Fuel up before heading out. Tiny Canal Flats is the only thing remotely near Lussier Hot Springs, and while it has one gas station, it's your only option (and it's pricey).
Consider visiting in the evening. The middle of the day is busy at the springs, and more recently, so are early mornings — but evenings are typically uncrowded.
Wear shoes. Footwear, whether water shoes or hiking sandals, come in handy for walking over the rocks surrounding the pools.
Dogs and alcohol are not permitted. This is a strict Parks Canada rule.
…but clothing is actually required. Again, because Lussier Hot Springs is inside a provincial park, clothes are mandatory.
There are two pit toilets in the parking lot.
Practice Leave No Trace. There are no facilities down at the pools, but there are trash cans near the bathrooms. Bring everything back up top when you leave!
Lussier Hot Springs FAQs
These are common questions asked about visiting Lussier Hot Springs.
How many pools are there?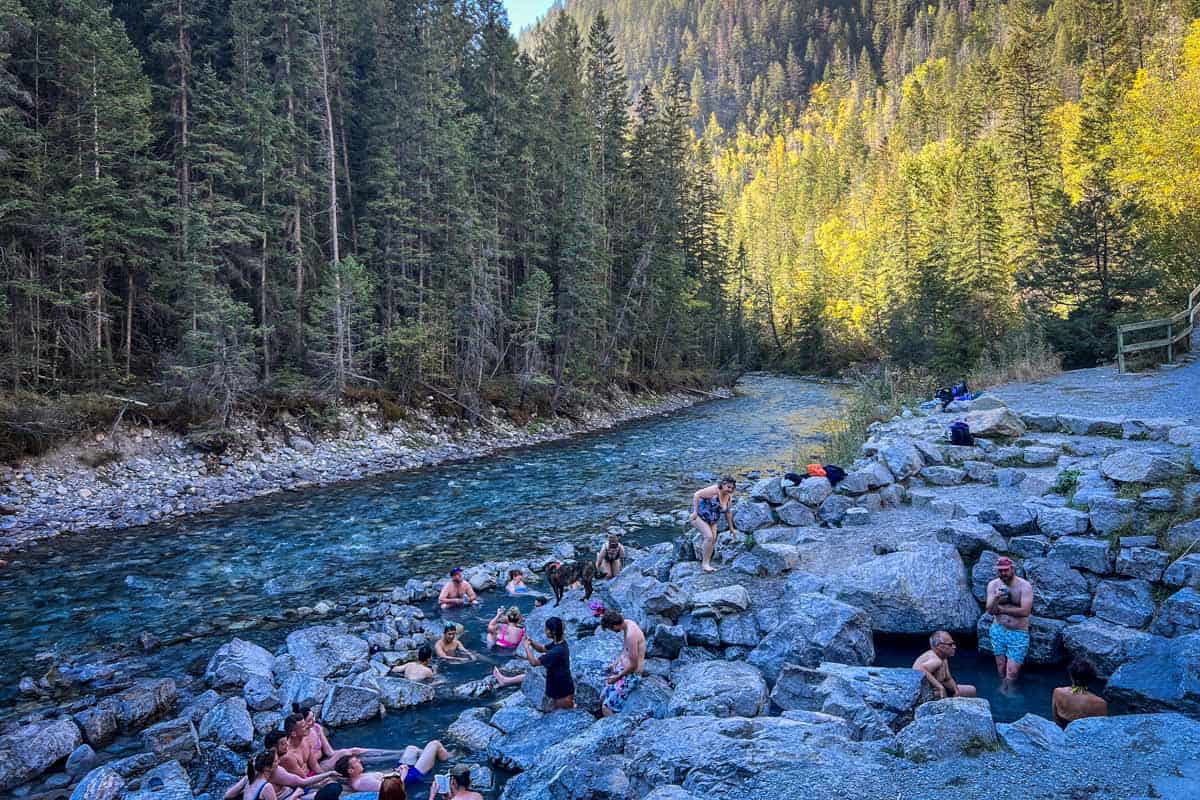 Lussier Hot Springs has four pools, but when the river is especially low in the fall and early winter, there are sometimes only three.
The rock pools vary in size and temperature. Furthest from the river, the uppermost pool is the hottest and largest, easily accommodating a dozen or so people. Because it's the hottest, this pool also has a noticeable sulphuric scent.
As you move closer to the river, the lower pools are a bit smaller and noticeably cooler. This is due to the cold river water mixing with the hot spring water.
How crowded is Lussier Hot Springs?
Like other natural hot springs, Lussier sometimes gets crowded. This is especially true on weekends and in the middle of the day.
In this case, though, "crowded" is relative. The pools are small enough that 10-15 people seem like a packed house. Thankfully, even when the springs are busy, there are several places to sit nearby and wait for some space to open up.
The main pool is almost always the most crowded. Even if there's a bit of a wait, you can always hang out in one of the warm pools to kill some time.
To avoid the "crowds" (and possibly soak in the springs all by yourself!), be there at sunrise or in the evening.
When's the best time of year to visit?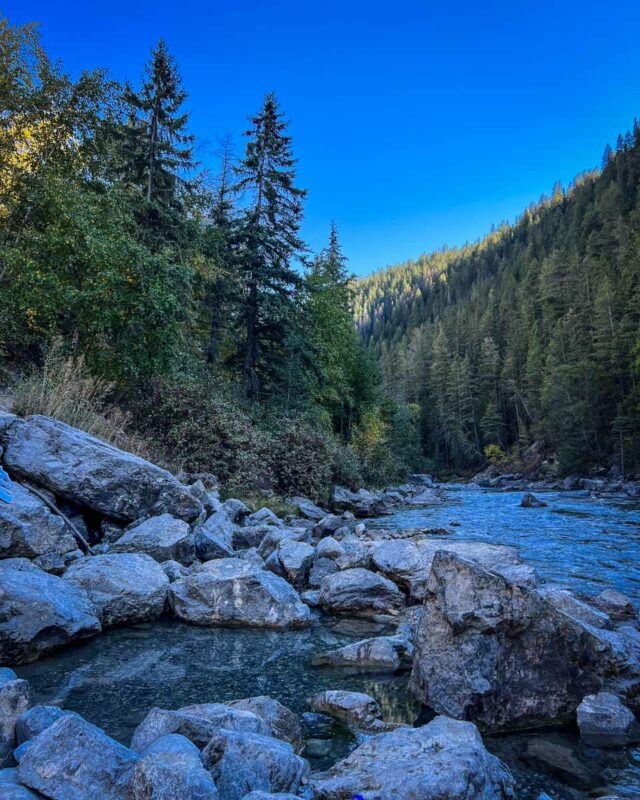 Lussier Hot Springs is accessible year-round, but the best time to go is winter. There's something magical about soaking in a steamy hot spring in the middle of a snowy winter wonderland!
In this case, the road is also more intimidating in the winter, which keeps crowds to a minimum.
With that said, it's also great to visit during the fall when foliage is popping or in the summer when you can take a refreshing dip in the river.
If you do visit in the summer, check river conditions ahead of time by calling BC Parks. If the flow rate increases enough due to snow melt, the river could potentially come up so high that it completely submerges the pools!
This doesn't happen regularly, but it's also not unheard of. When it does, the park closes access to the hot springs.
Is Lussier Hot Springs worth visiting?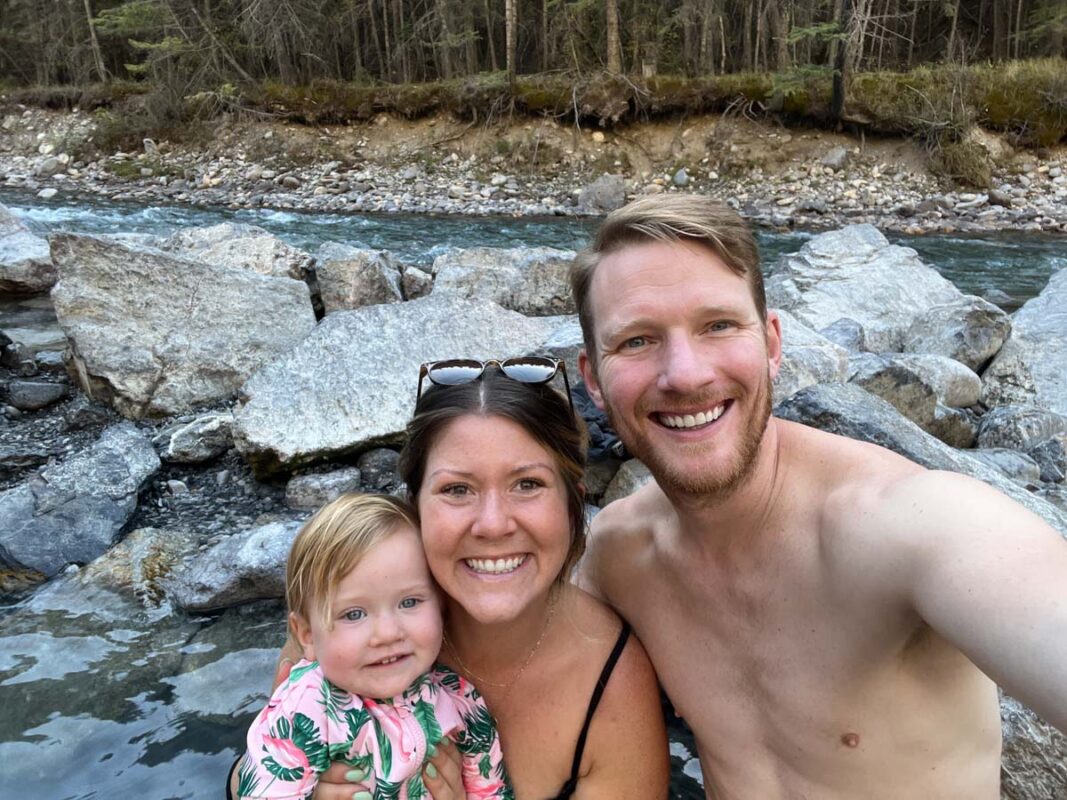 Yes! Combining an adventurous road trip, stunning scenery, and several pools to choose from, Lussier Hot Springs is well worth a visit.
It's also one of the most accessible natural hot springs in all of British Columbia, so that alone makes it appealing.
The not-so-great parts about Lussier Hot Springs:
The rough road to get there. Some people don't mind this at all, while others hate it. It's totally manageable, but if you get car sick, bring some ginger chews or wear a nausea bracelet.
Isolated location with no services. Of course, to some, this is a major "plus," but getting to Lussier Hot Springs requires some advance planning.
Although short, the path down to the springs is deceivingly steep. In the winter, it essentially becomes a sheet of ice (that's exactly why there's a railing!).
There's nowhere to stash your stuff. Lussier Hot Springs is out in the open, so there's no cover of any sort to protect your belongings while you soak. Because of this, we recommend packing rain covers for your bags or a beach umbrella.
…which means there's also no good place to change. In the summer, this isn't a big deal. But when it's cold out, heading back to the car or attempting to change discreetly when you're freezing and wet is no fun.
The good parts about Lussier Hot Springs:
They're free!
It's possible to visit without crowds. Especially at off times, like weekday evenings, you may have the springs to yourself.
There are multiple pools. Ranging in size and temperature, there's a spot to soak in any season and for any group size. It's also easy to spread out!
Despite being remote, it's still accessible. Although the forestry road can be quite the adventure, once you arrive, the hot springs are just five minutes down a path.
There's a lot to do nearby. Being in a provincial park and just a few hours from Banff, you can plan a whole getaway around Lussier Hot Springs.
How much time should you spend at Lussier Hot Springs?
Everyone is different, but plan on 1-2 hours at the hot springs. That gives you time to soak and enjoy the scenery, even if you have to wait for a pool to open up.
With that said, the biggest chunk of time will be spent driving, so don't forget to factor that in. Depending on where you drive from, this could easily be a full day!
What to pack for Lussier Hot Springs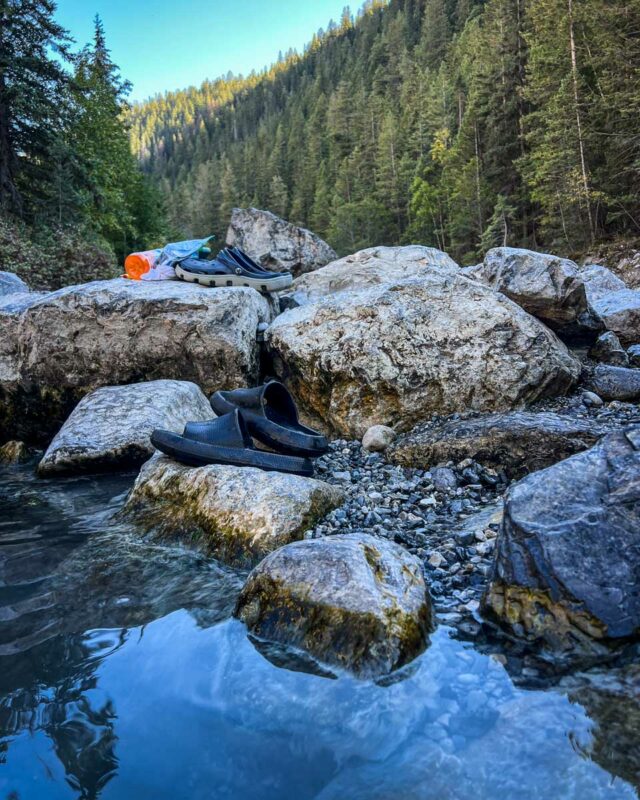 Insulated water bottles + lots of water (minerals in hot springs quickly dehydrate you)
Water shoes or hiking sandals (we wore our Chacos and they worked great!)
Microfiber towel (we love our Nomadix towels)
Dry change of clothes
Ice cleats or microspikes is there is ice on the trail
Waterproof rain cover for your pack, or a beach umbrella to pitch as a shelter
Things to do nearby
Being in a fairly undeveloped provincial park, there's a ton to do near Lussier Hot Springs.
Visit other hot springs
The East Kootenays are a "hot spot" (ha!) for hot springs. Within an hour's drive from Lussier, you'll also find Ram Creek and the uber-famous Radium and Fairmont Hot Springs.
Check out nearby lakes
Just a bit further than the springs, Whiteswan and Alces Lakes provide excellent fishing, swimming, and paddling opportunities.
Hike Whiteswan North Shore Trail Loop
This gorgeous 12.4-mile (20 km) trail takes you around the perimeter of the lake. If you're not up for the full distance, do any section as an out-and-back.
Camp overnight
Since you're in this remote area anyway, turn it into an overnight trip! There are no campsites at the springs, but there are excellent ones nearby. These include Alces Lake, Packrat Point, Home Basin, Inlet Creek, and White River campgrounds.

You may also like…
Save this article on Pinterest for later!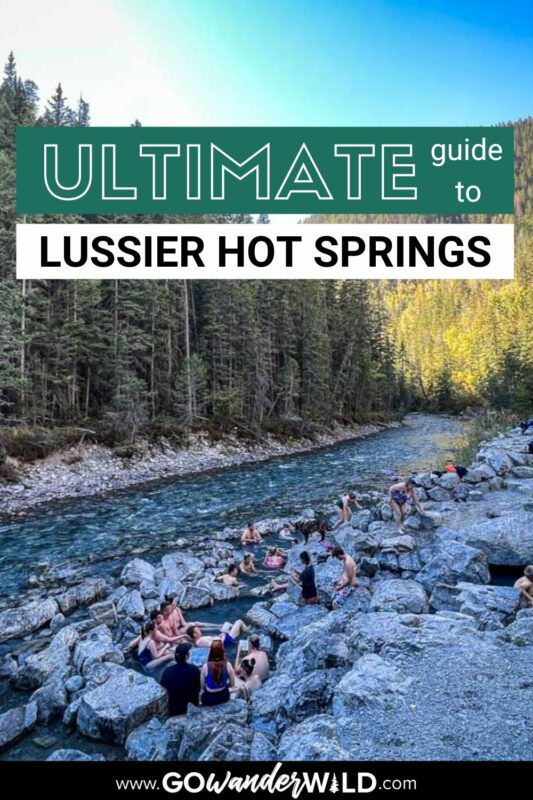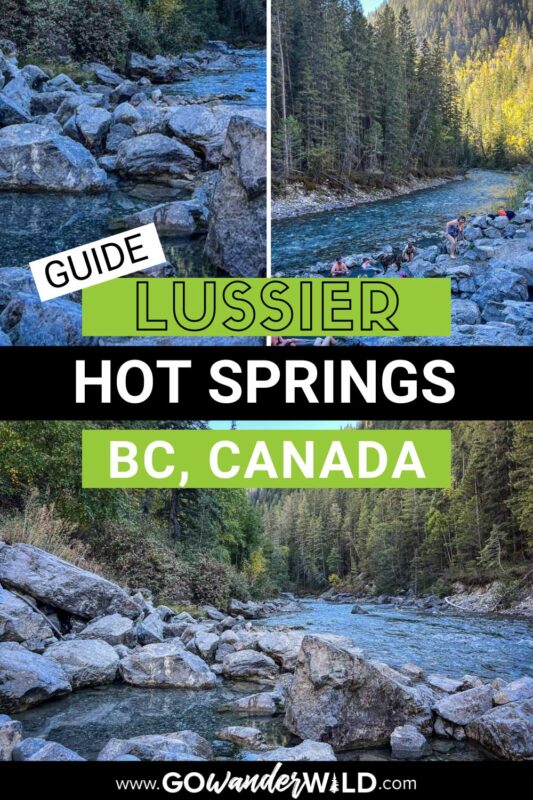 We want to hear from you!
Are you planning a trip to Lussier Hot Springs in BC, Canada? Do you have any other questions for us? Comment below and we'll do out best to track down answers for you!