The epic Howe Sound Crest Trail in Canada offers an authentic backcountry experience while also being easily accessible from Vancouver. This trail guide covers everything you need to know, from planning and preparation to what to expect on the hike.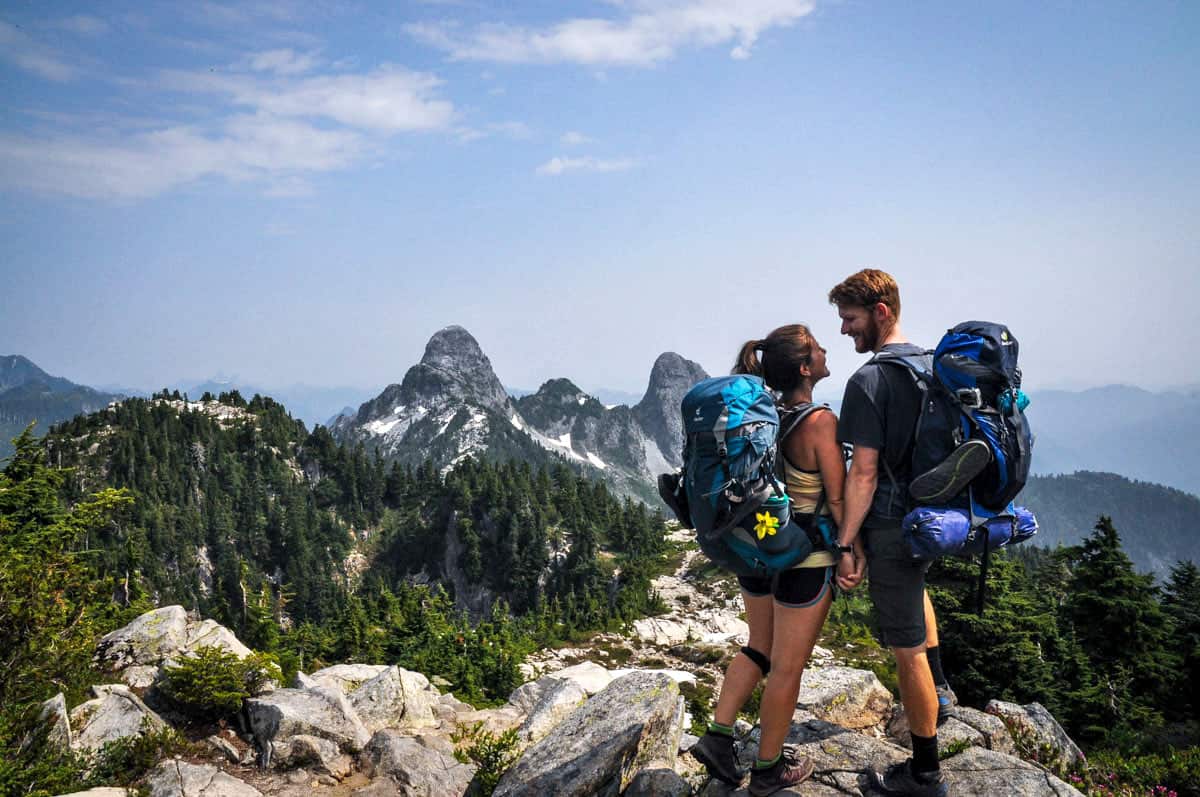 The Howe Sound Crest Trail (HSCT) highlights the stunning natural beauty of British Columbia, with rugged mountains, sparkling alpine lakes, and jaw-dropping 360-degree views in true undeveloped backcountry. And amazingly, it's just a half an hour drive from downtown Vancouver.
Although the trailhead is practically right in town, don't underestimate the HSCT. It's a difficult hike — even in perfect conditions and for hikers who hit the trail regularly.
If you're up for the challenge, keep reading to learn everything you need to know about hiking the Howe Sound Crest Trail.
Article Contents

Howe Sound Crest Trail stats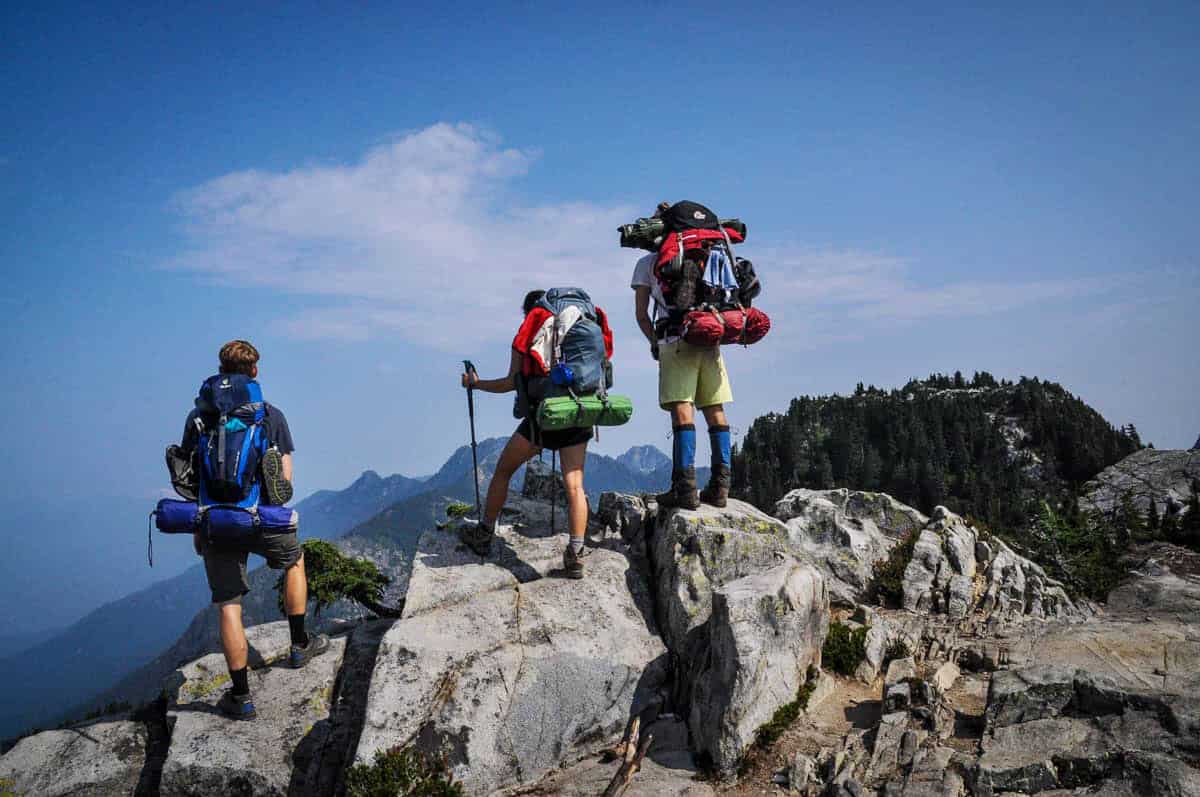 Location: Cypress Provincial Park, Vancouver, BC
Distance: 18.1 miles (29 kilometers) point-to-point
Elevation gain: 8,250 feet (2,514 meters)
Difficulty rating: Challenging
Timing: 2-3 days
Pets: Technically allowed, but not recommended due to extremely rugged, steep terrain
Permits: No
Howe Sound Crest Trail Overview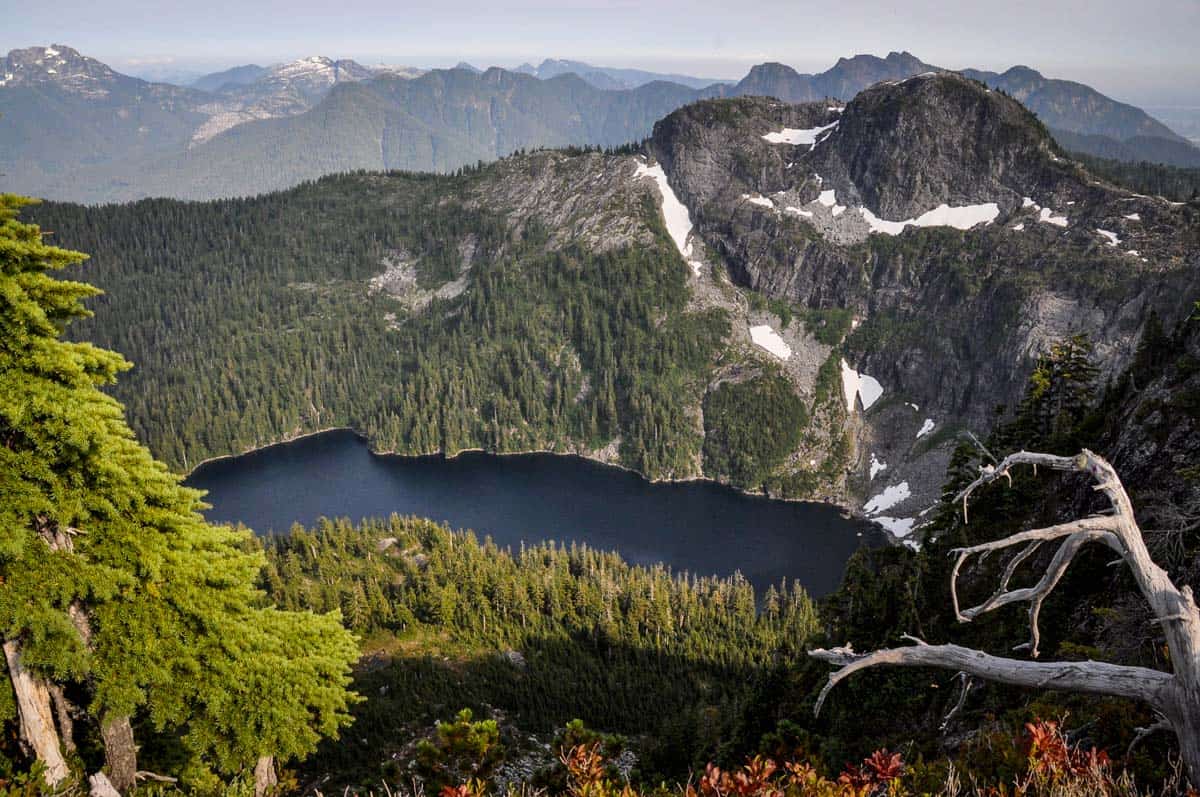 Starting from Cypress Mountain Resort, the Howe Sound Crest Trail traverses a dramatic ridgeline across Cypress Provincial Park, constantly gaining and losing elevation.
As you trek 18 miles (nearly 29 km), you'll come across pristine mountain lakes and streams, enjoy views across the Coast Range and Howe Sound, navigate narrow ridges using ropes and chains, and have the opportunity to bag several peaks.
It's no wonder many people consider this one of the most difficult hikes in Vancouver!
For experienced hikers, however, the rewards are well worth the effort. The views on the HSCT are some of the best in the province. Plus, being able to get into the true backcountry with barely leaving the city is pretty incredible!
Things to know before you go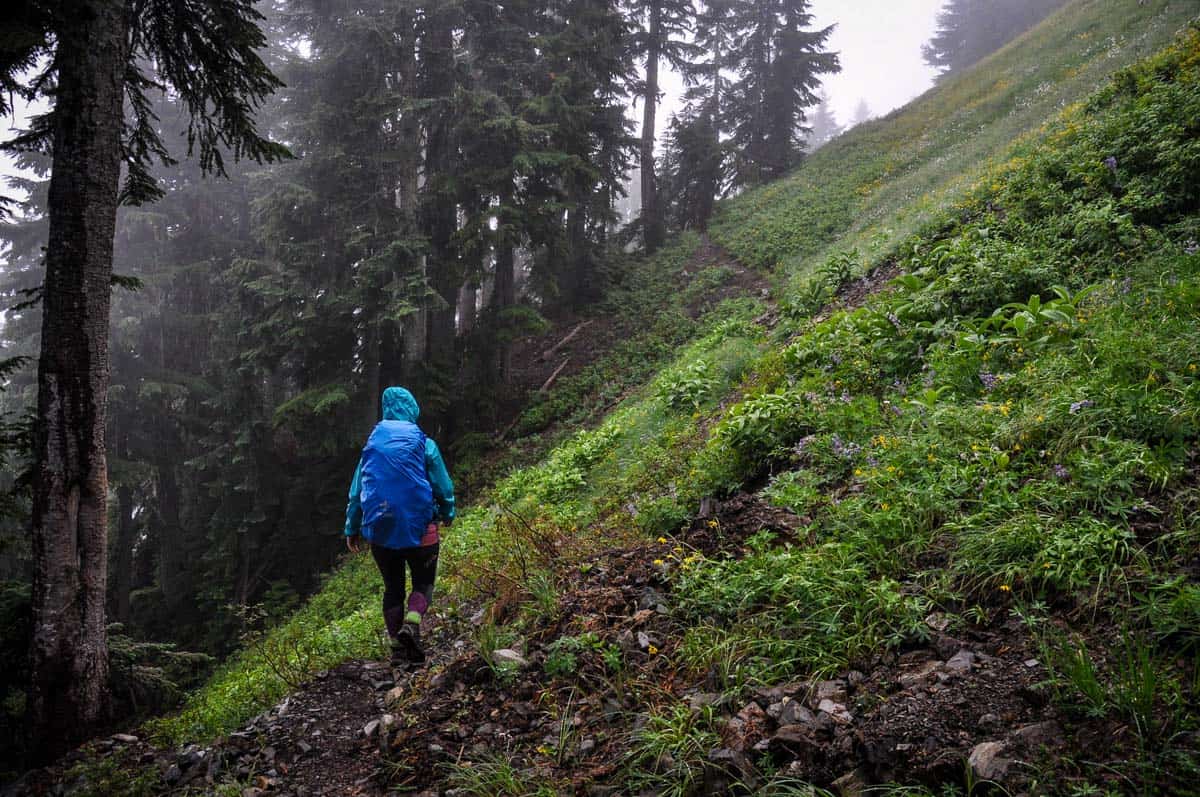 Before tackling the Howe Sound Crest Trail, there are several things you should know.
Best time of year for hiking the Howe Sound Crest Trail
Late summer into early fall, July through October, is the best time to hike the HSCT.
Outside of those months, aside from being more challenging weather-wise, the trail becomes harder to follow due to mud and snow, and avalanche risk is significantly higher.
We hiked the HSCT in early August and there were still large patches of snow we had to navigate through. We also encountered Canadian wildfire smoke while on the trail which seems harder and harder to avoid in August these days.
With that said, it is worth noting that the first section of the trail, up to Bowen Lookout, is a popular winter snowshoeing route. To be clear, going beyond the lookout in winter is NOT recommended unless you have advanced mountaineering skills and avalanche training.
How long does it take to hike the Howe Sound Crest Trail?
While some people complete the Howe Sound Crest Trail in a single day (most of those people are trail runners), the vast majority take 2 to 3 days and camp overnight on the way. Between the terrain and elevation gain and loss, even tackling 5-6 miles per day is fairly challenging.
Plus, there are tons of places to stop and take in the view or even go for a dip!
How difficult is the Howe Sound Crest hike?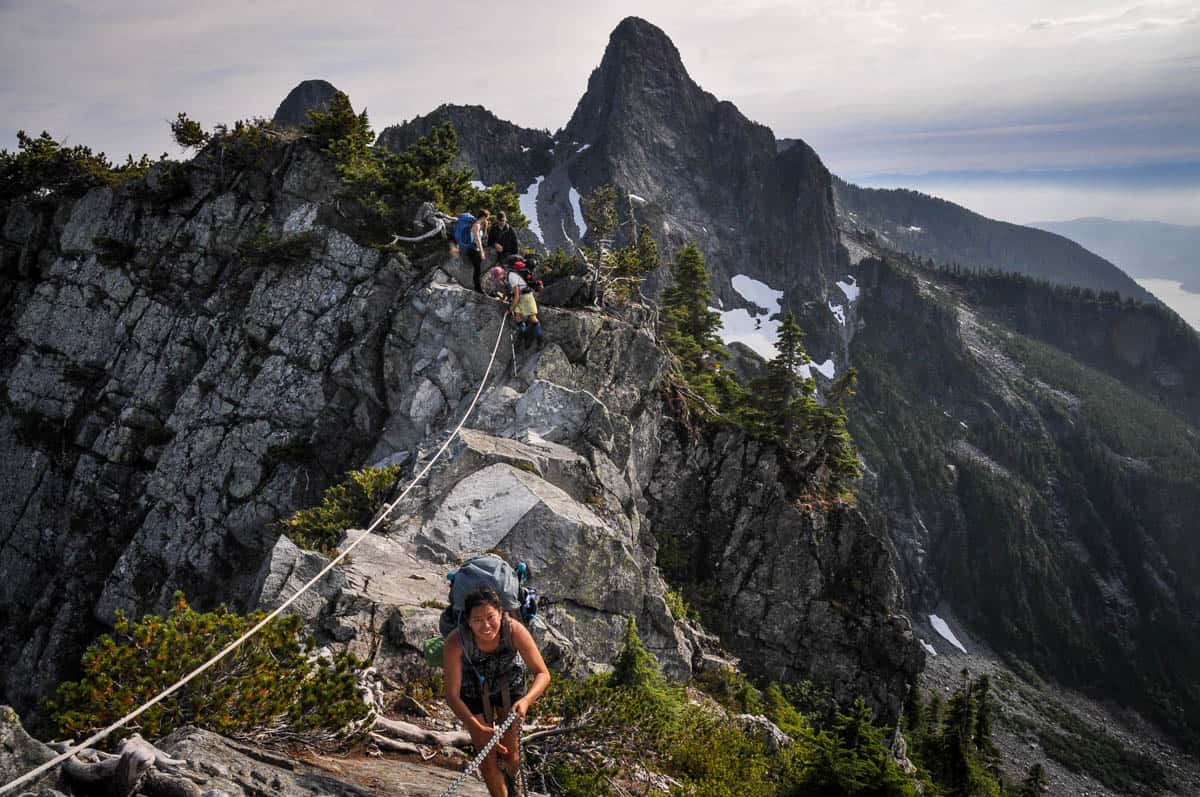 There is no sugar-coating it — the Howe Sound Crest Trail is grueling. With its length, steepness, and huge elevation gain (and loss), this hike challenges even the most experienced hikers.
We wouldn't recommend this for your first hike ever, but if you take your time over a couple of days and properly prepare with the right gear, newer hikers should do just fine.
Wildlife on the trail
You'll likely see common woodland critters like raccoons and coyotes on the Howe Sound Crest Trail, but bears are the major concern. The area is home to a large population of black bears, although grizzly bears are also occasionally spotted.
Bring bear spray and make lots of noise on the trail, and if you do encounter a bear, give it plenty of room so that it doesn't feel threatened.
The HSCT route
We broke down the route for hiking the Howe Sound Crest Trail into parts to give you an idea of what to expect on the route.
First leg to St. Marks Summit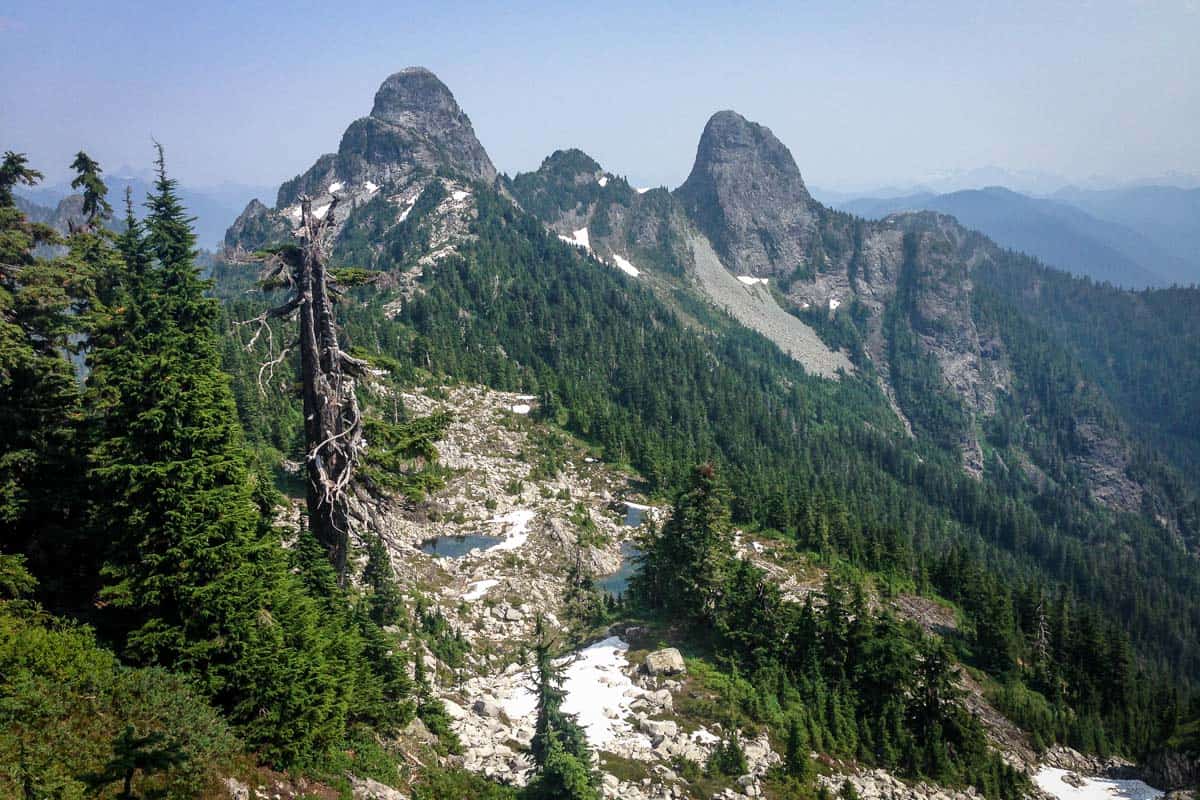 Although it's doable in either direction, most people tackle the Howe Sound Crest Trail from south-to-north. This option has you start at Cypress Mountain Resort and finish at a parking lot on Porteau Rd.
The first 3 miles (5 km) or so of your adventure take you across Mount Strachan, a relatively flat stretch of trail. When you reach Strachan Meadows, you'll take an important left. It's quite obvious in the summer, but easily missed when there's snow on the ground.
From Strachan Meadows, a steady uphill climb of about two hours takes you to St. Marks. It's mostly straightforward, but the final approach to St. Marks Summit is filled with gnarly roots and large, slick rocks.
This summit is a common turnaround point for day hikers, as the trail becomes significantly tougher beyond this point. It's an ideal spot to evaluate conditions and decide whether or not to continue. If the weather looks sketchy or you're feeling any less than 100%, turn around here.
Mount Unnecessary & The Lions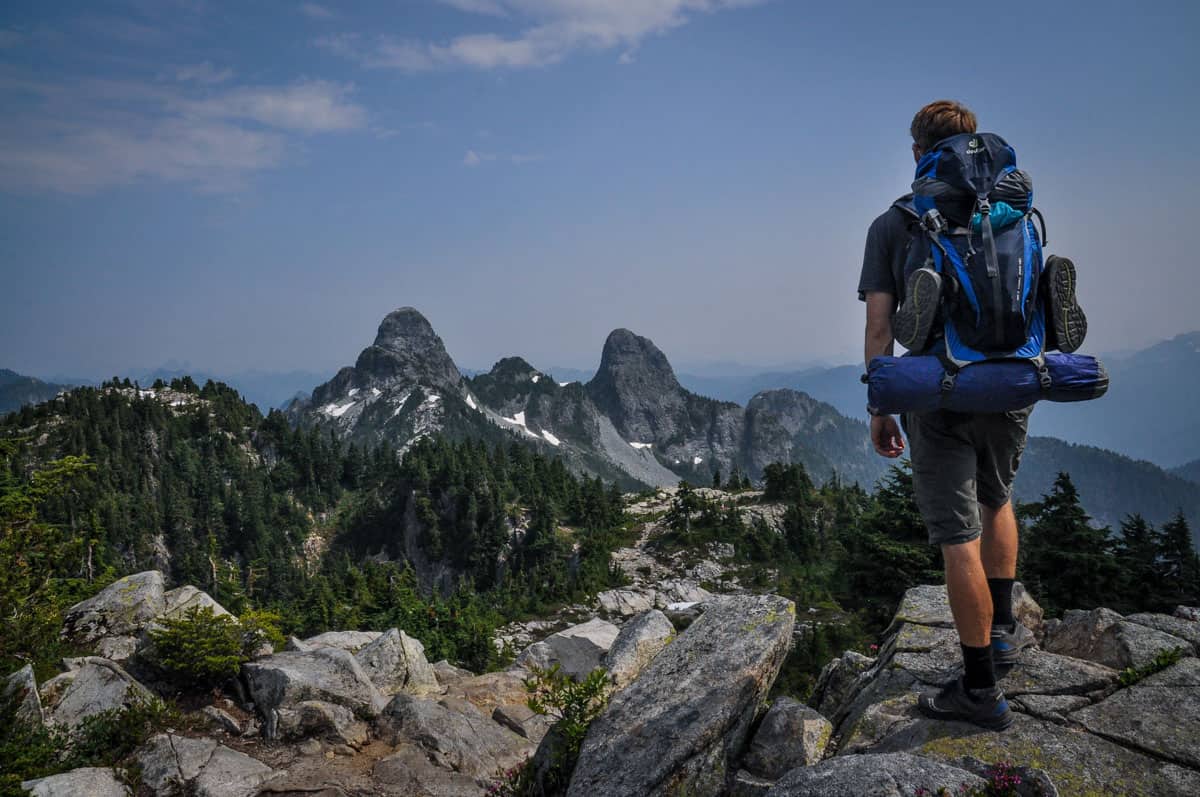 Leaving the crowds behind at St. Marks Summit and continuing on, your next milestone is Mount Unnecessary — so named because you go down it just to go back up.
As you make your ascent, the trees give way to wide-open paths on granite. On this stretch in spring and early summer, be especially mindful of dangerous cornices, which are difficult to spot.
From Mt. Unnecessary's peak, you'll have a clear view of the ridge leading to "the Lions," officially East and West Lion.
Note: If conditions are less than favorable, descending Unnecessary Mountain Trail down to Lions Bay is an option — although not an easy one. The descent is incredibly steep and treacherous, so take this route only if truly necessary.
If you continue to the Lions, you'll initially have to scramble on all-fours. After this section, a straightforward ridge line with views over Howe Sound leads to West Lion, the second-tallest peak in the range. Again, be on the lookout for cornices, particularly on the west side.
Notably, just before West Lion, the intersection with the Binker Trail offers another potential bailout option down to Lions Bay.
At West Lion, the trail doesn't lead directly to the summit. You can summit, but it's a technical, super-exposed route, recommended only for the most experienced hikers on perfect, dry days. Do not underestimate West Lion! The summit detour should take about one hour.
For those skipping the West Lion summit, the trail descends sharply, then heads east. This section involves more scrambling and passes directly under West Lion, onto the exposed saddle between it and East Lion.
Take your time here, as this saddle is one of the most challenging parts of the trail.
James & David Peaks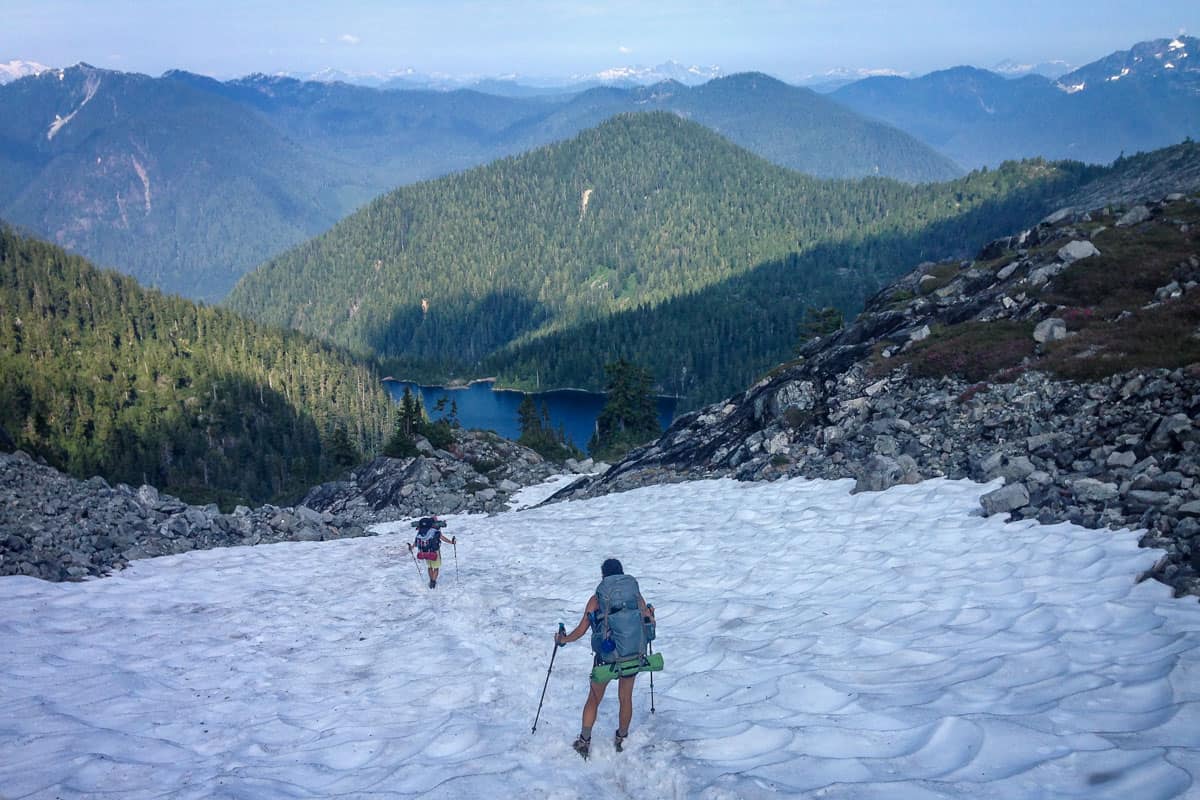 The next segment, roughly two hours, connects The Lions and James Peak. This stretch mainly follows an open ridge line, descending to a talus field. Look for the bright orange trail markers here, as following the path can be tricky.
The ridge to James Peak becomes extremely narrow and exposed (think Angels Landing in Zion National Park!), with chains and ropes on the final 30 feet. They're there specifically for hikers, so use them!
From the summit of James Peak, the trail drops considerably. Before descending, take a good look around – a misleading trail over the ridge leads you to a steep dead-end on the side of the mountain. The correct path is down and to the left.
At the base of James Peak is a meadow perfect for a snack and rest. From here, you'll scramble over loose scree straight up to David Peak.
Take care here, as an old, no longer maintained trail drops down to the right and around. You want the one going over the top of the ridge.
Magnesia Meadows to Mount Brunswick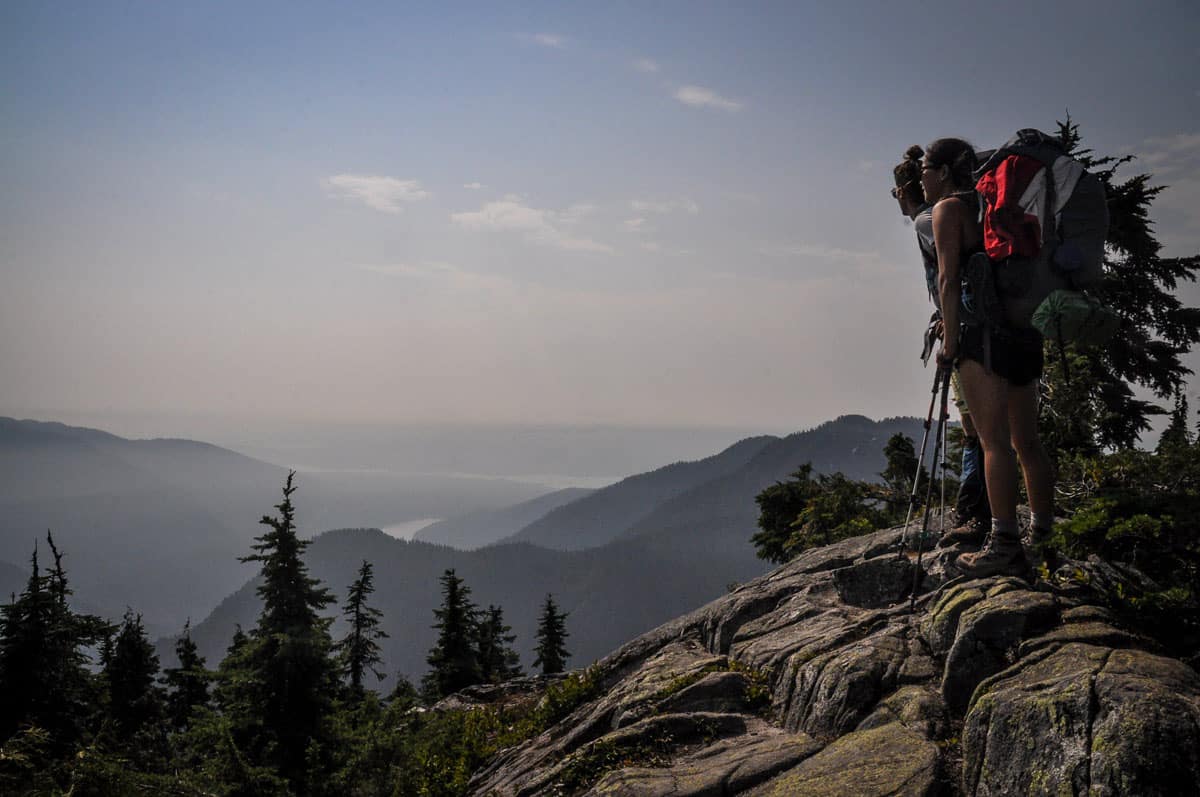 After the Mount Harvey Saddle, you'll reach stunning Magnesia Meadows. This small mountain lake is one of the few water sources on the Howe Sound Crest Trail, so it's a mandatory stop. Unsurprisingly, it's also a popular camping spot.
Magnesia Meadows also has a red emergency shelter and an "outhouse." We're using quotations here because it's really just a green bucket-style compost toilet out in the open. Hey, when nature calls…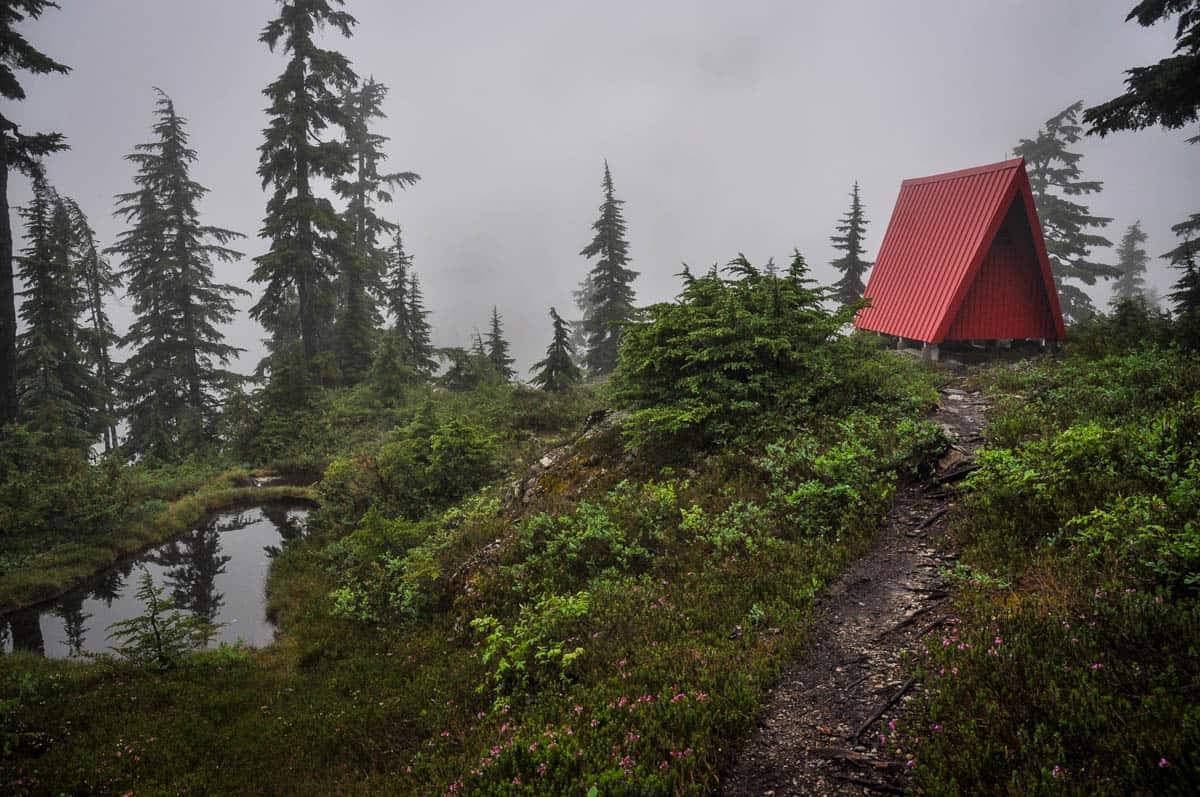 From Magnesia Meadows, you'll tackle the highest peak on the trail: Mount Brunswick. Luckily, though, the most technical parts of the trail are officially behind you!
Traversing the mountain, which is known bear territory, leads you to a trail junction with Brunswick Mountain Trail, a final option for cutting your hike short and descending to Lions Bay.
At the top of Mount Brunswick, take a few minutes to enjoy some of the best views on the trail. You can also look back toward Magnesia Meadows and see the trail you hiked up.
The Final Stretch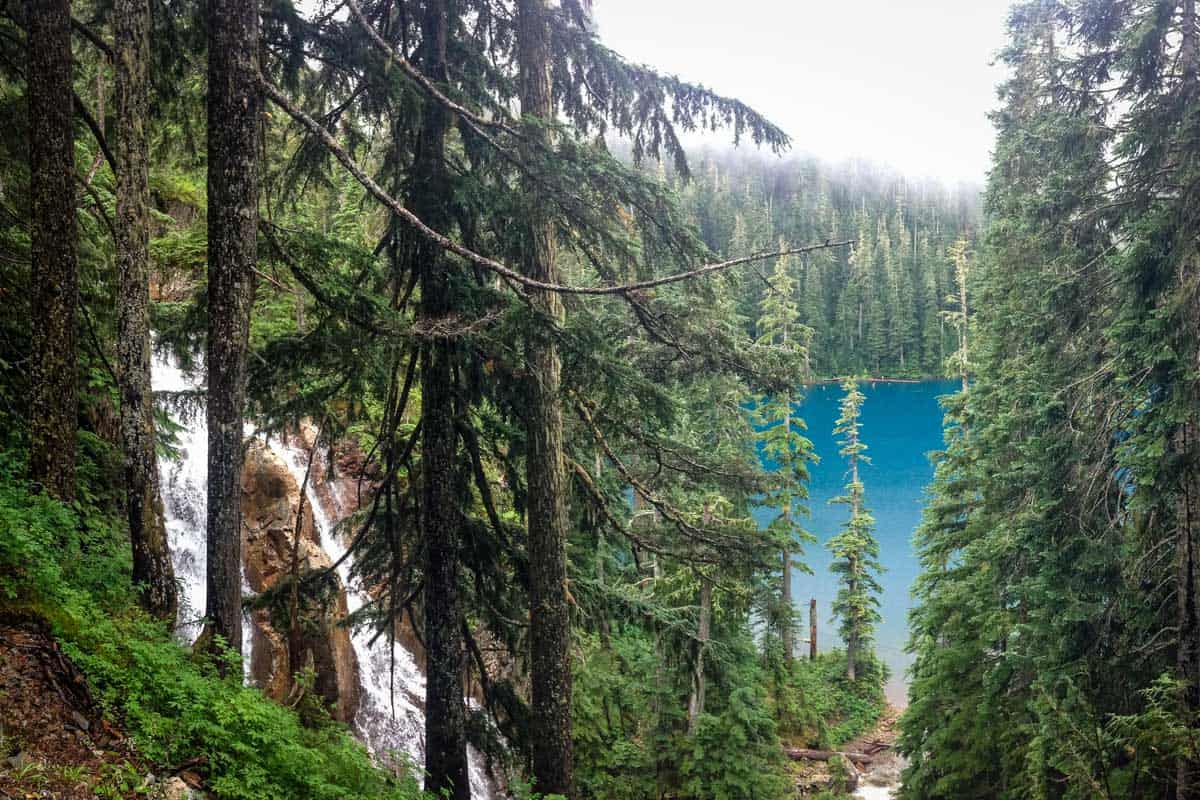 You'll follow the narrow, exposed ridge line for what feels like an eternity. After the Hat Mountain Saddle, the trail finally leaves it and descends. The descent is rapid and steep, so don't get too excited — it's far from easy!
Your next stop is crystal-clear Brunswick Lake, another popular campsite and water source. If you have time, take a dip. It's one of the Howe Sound Crest Trail's highlights!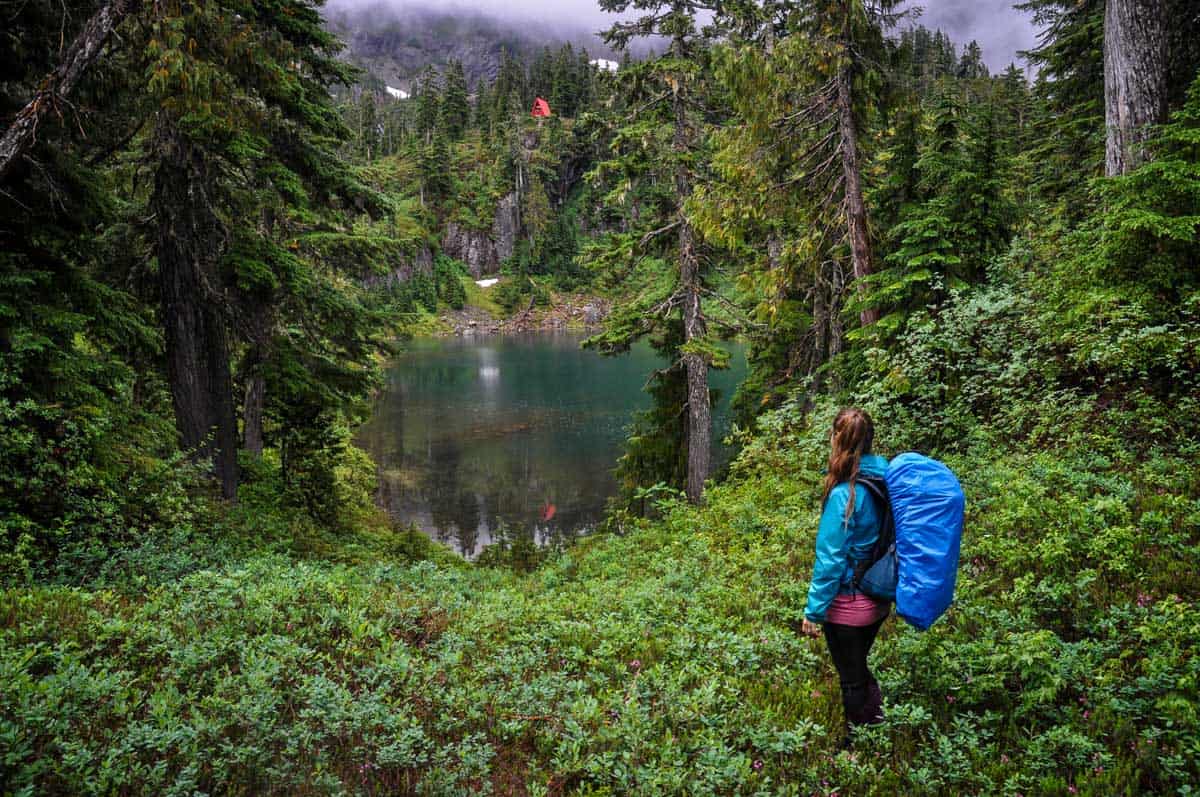 From the lake, you'll navigate multiple stream crossings en route to Deeks Lake. A small campsite rests at the lake's southern end and this is a popular day hike, so expect to see others.
The final descent is approximately 4.5 miles (7 km) from Deeks Lake to the highway, including just over 2 miles (3.5 km) on the road itself. Although it's all downhill, the trail is covered in slippery scree and can be challenging.
Tips for hiking the Howe Sound Crest Trail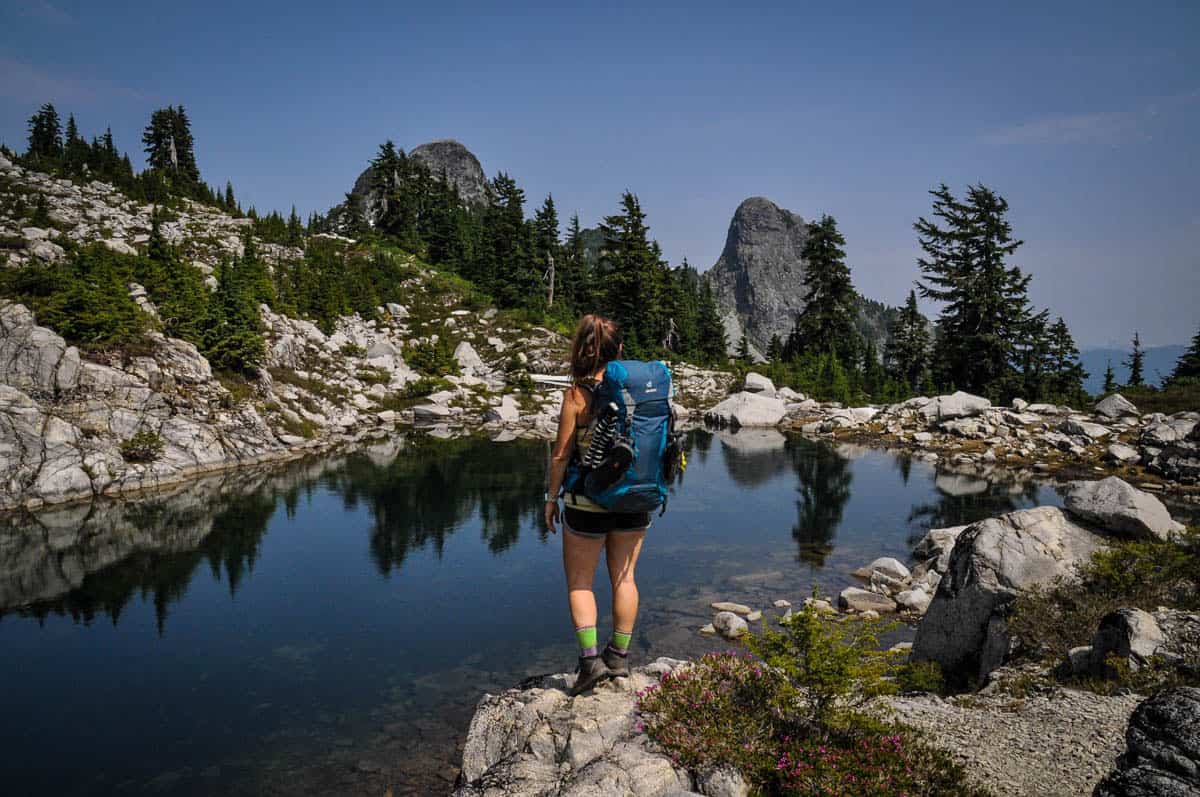 You'll need to arrange a shuttle. Shuttle two vehicles at the start and endpoints or arrange for someone to drop you off and pick you up.
Bring LOTS of water. There's very little water on the HSCT during the summer. If you're hiking south to north, there's none at all until you get to the halfway point.
Bring trekking poles and microspikes. With steep terrain, plus snow and ice present for much of the year, they're helpful in any season.
Look for bright orange trail markers. The trail can sometimes be hard to follow, so look for blazes that could be attached to trees, painted on rocks, or tied to branches.
Don't bring your dog. There's conflicting information about whether they're technically allowed to begin with, but the terrain (and in particular, the scrambling sections) really isn't suitable for dogs.
Where to camp on the Howe Sound Crest Trail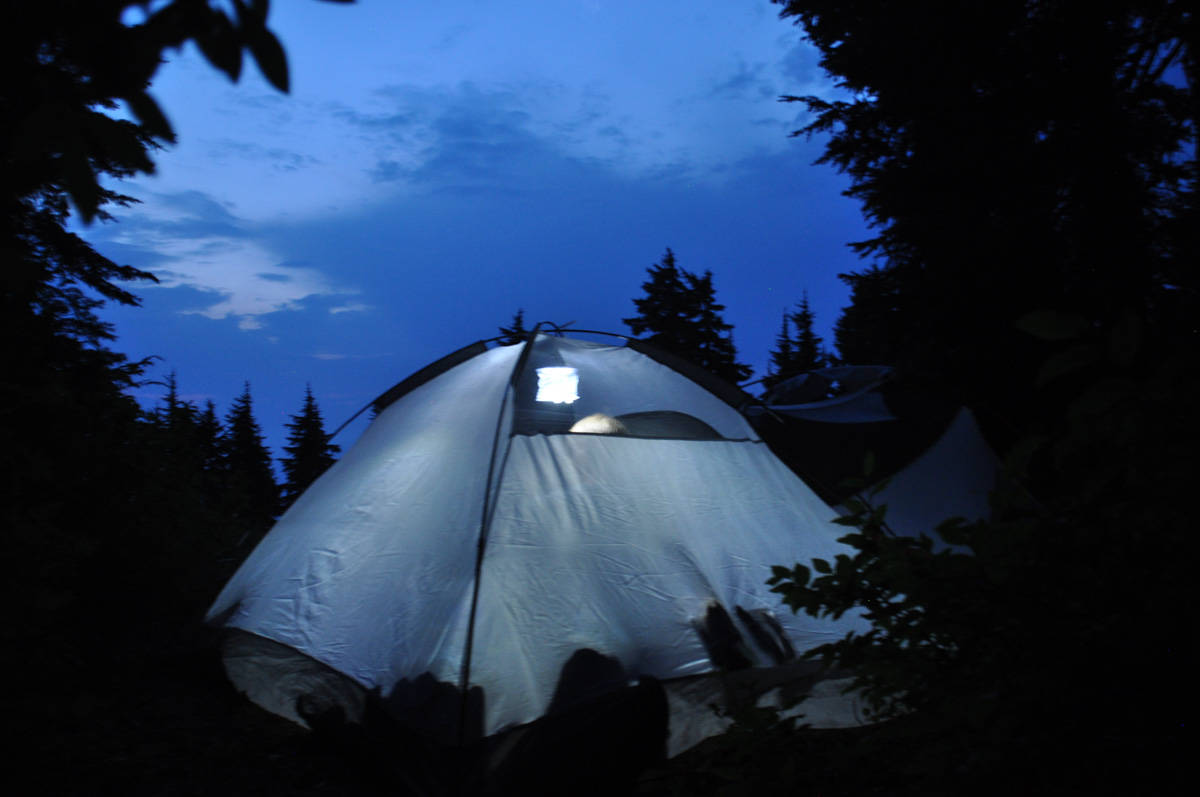 There are no established campsites on the Howe Sound Crest Trail; only dispersed camping. That said, there are a few popular spots along the trail to camp, all near water sources.
Magnesia Meadows: 9.3 miles (15 km) from the trailhead
Brunswick Lake: 11.8 miles (19 km) from the trailhead
Deeks Lake: 13.7 miles (22 km) from the trailhead
Note that campfires are not allowed anywhere on the trail.
What to pack for hiking the Howe Sound Crest Trail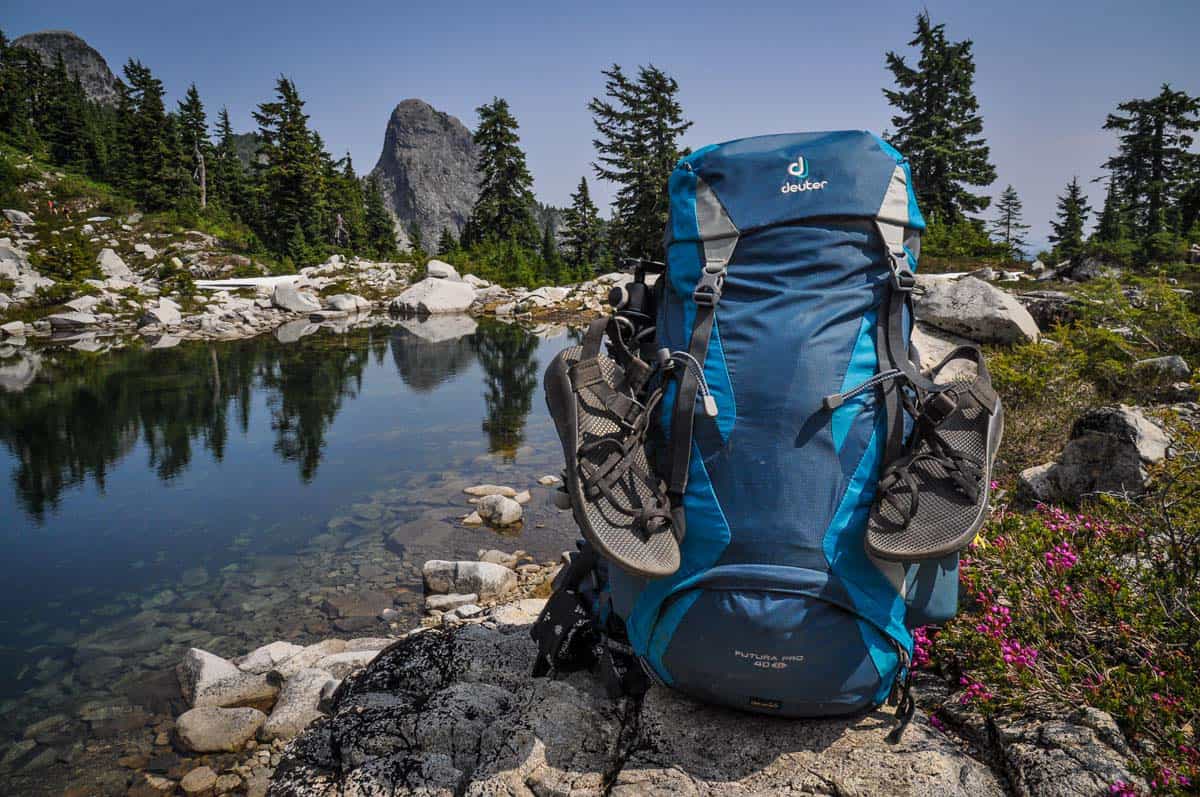 Navigation*: we recommend using Alltrails+ to download the offline trail map
Water bottles and bladder for your Camelbak
Way to purify your water (we love our Grayl water bottles, and before them we always brought along our Steripen)
Lightweight tent: find out the best 2-person tents for camping and backpacking
Sleeping bag
Sleeping pad
Dry bag (we always carry one with us for our valuables in case of rain)
Bug repellant
Sun protection: sunscreen, hat, sun glasses
Camera/tripod (this one's our favorite for hiking)
Lots of layers (here is a great resource if you're wondering what to wear hiking)
Rain jacket
Comfortable hiking boots or shoes
Hiking poles (optional)
Battery pack (if you are relying on your phone)
Bear spray (just in case)
Bear canister (to properly store your food)
Multi-tool
Toilet kit: toilet paper, small shovel, bag for packing out TP, hand sanitizer
Bag for your trash
Backpacking meals (we like making our own backpacking food with dehydrated ingredients, but you can pick up a decent variety at most outdoor stores)
Coffee (find out how to make the best camping coffee!) or tea
Camp stove/fuel (we love our Jetboil!)
Mess kit
Biodegradable soap and towel
Plenty of snacks: check out our favorite hiking snacks here!
*If you choose to use your phone for navigation, be sure to bring a reliable battery pack to charge your phone!
Be sure to grab our ultimate hiking packing list includes our must-have gear for any hiking trail!


You may also like…
Save this article on Pinterest for later!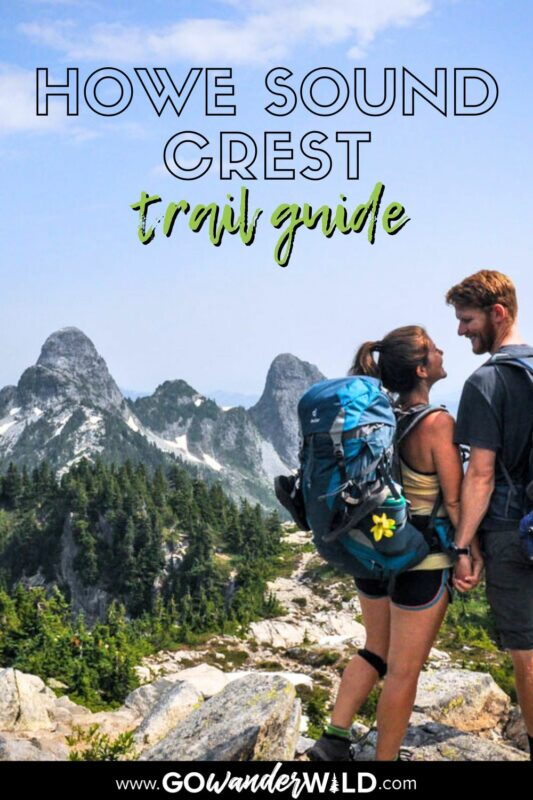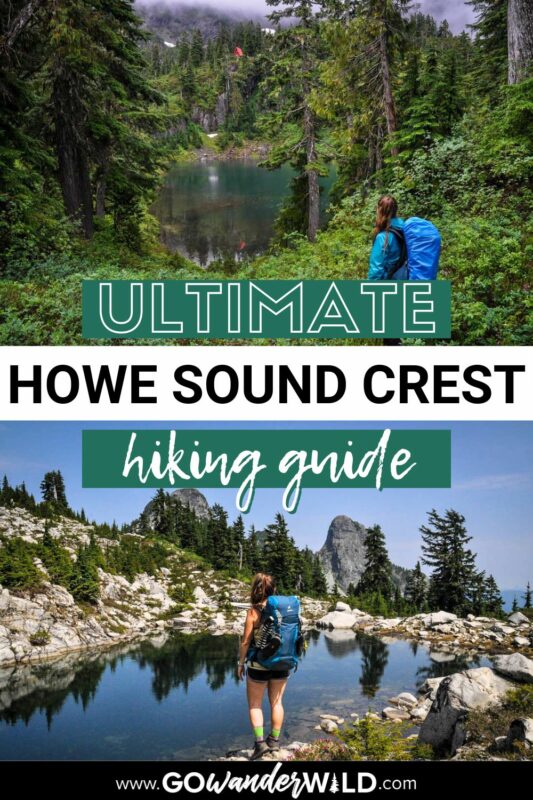 We want to hear from you!
Have you hiked the Howe Sound Crest Trail in BC, Canada? Got more questions about planning your hike? Let us know in the comments below!