With expansive views across central Oregon and a jaw-dropping look over the Crooked River, Misery Ridge Trail showcases the best of Smith Rock State Park. We put together this detailed trail guide to help plan your hike.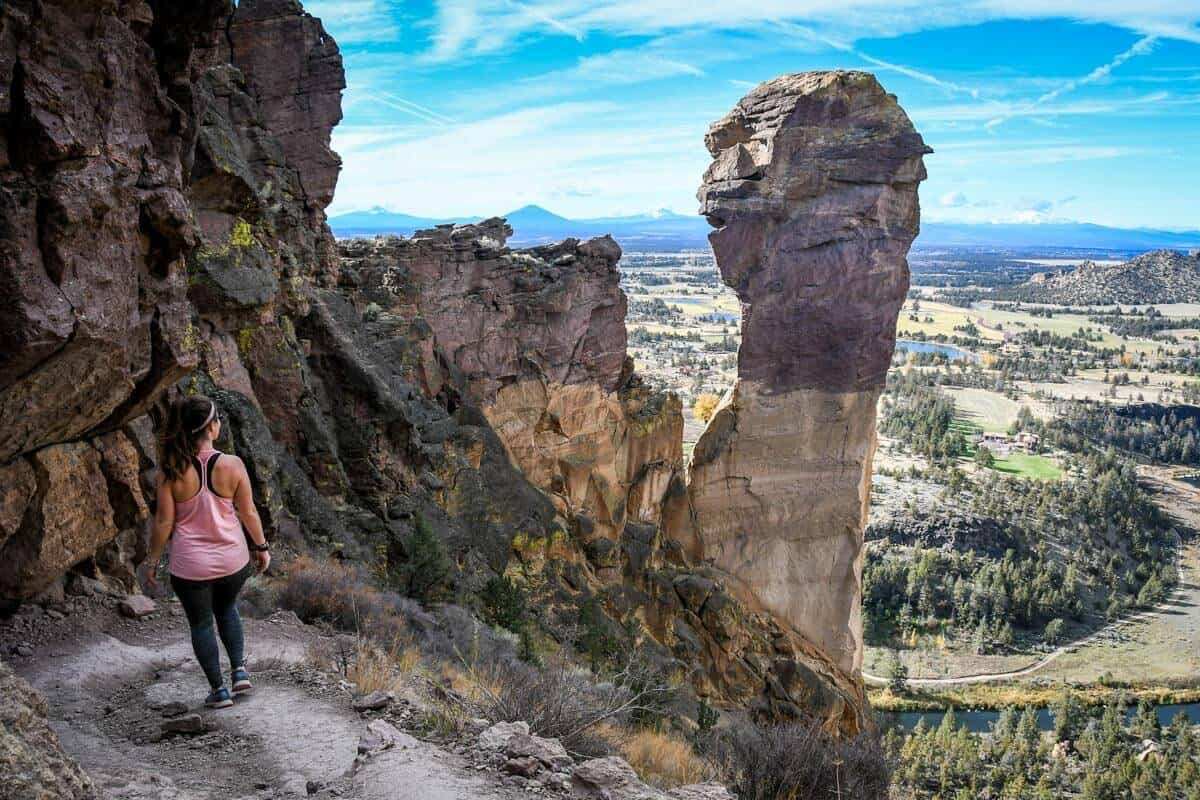 Looking very different from the rest of the state, central Oregon's Smith Rock State Park was formed by a massive volcanic explosion 30 million years ago. The park's signature sheer 600-foot cliffs are actually part of an eroded caldera, the collapsed walls of a volcano.
The Misery Ridge Trail takes you along their spine just over one mile, right to the top, offering plenty of dramatic views en route.
While the trail is ominous-sounding, we certainly wouldn't call it miserable! Sure, reaching the top requires some effort, but the views keep you distracted. Plus, it's short! Let's unpack what hiking Misery Ridge Trail entails.
Misery Ridge Guide

Misery Ridge trail stats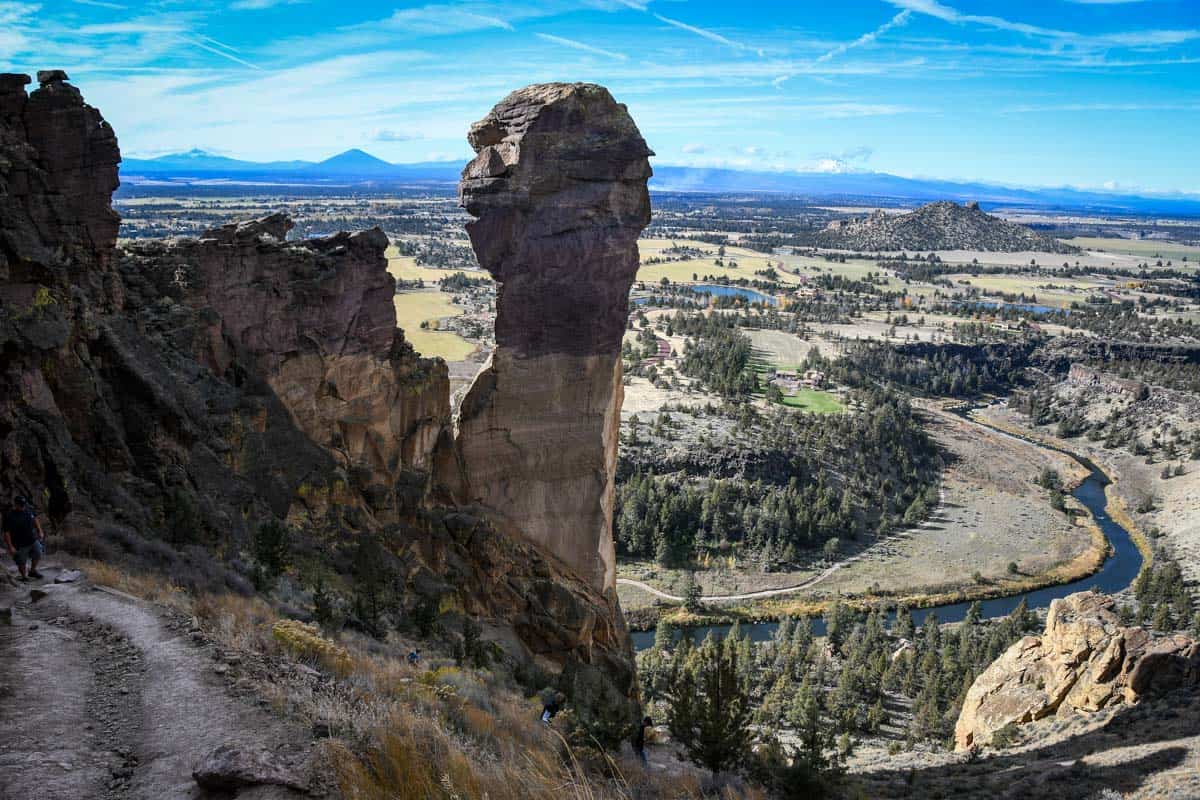 Location: Smith Rock State Park, 30 minutes north of Bend in central Oregon
Distance: 2.2 miles out and back (additional options for a 3.6-mile or 6-mile loop)
Elevation gain: 1,115 feet
Difficulty rating: Challenging
Timing: 2-3 hours
Pets: Leashed pets welcome
Permits: $5 day use parking permit OR Oregon State Parks annual pass
Misery Ridge trail overview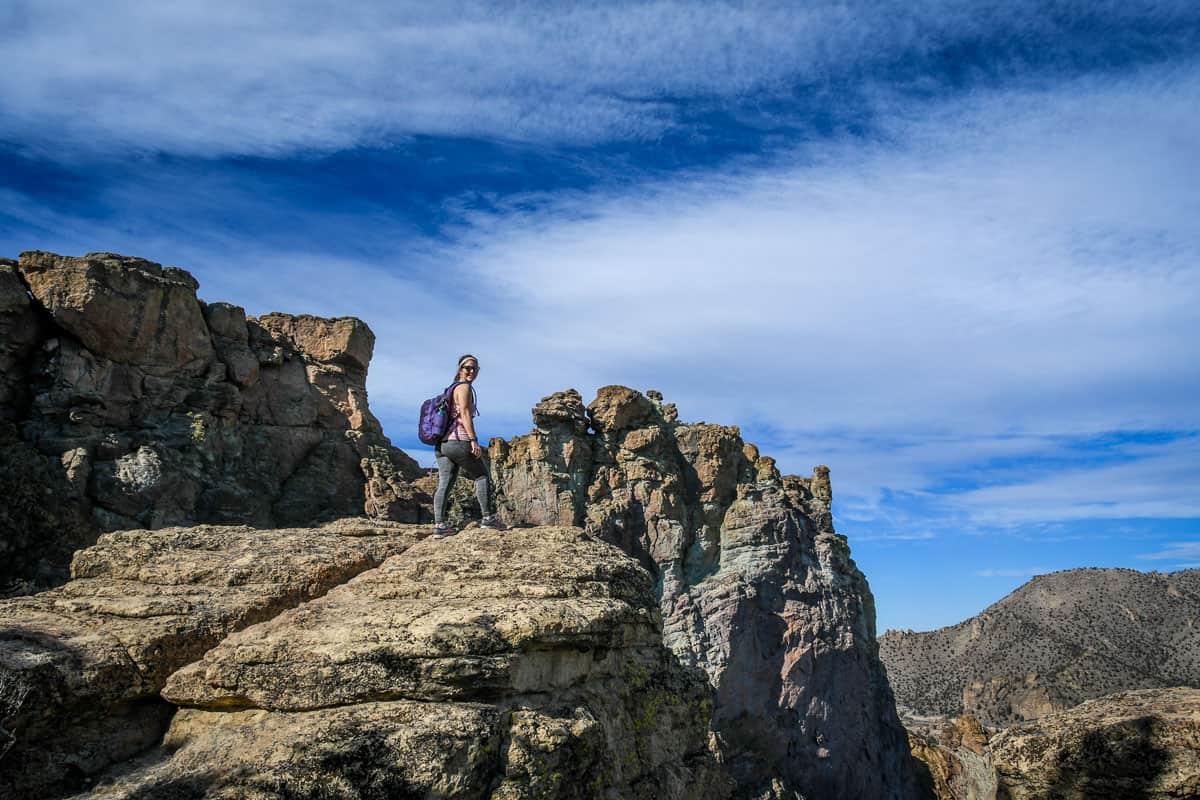 Short but intense, the ascent up the Misery Ridge Trail takes some grit. Rest assured, however, it's definitely worthwhile — few trails of this short length offer up such incredible views, especially from the very start!
You'll get to see Oregon's high desert from above, including a volcanic valley and the Crooked River. Plus, it's fun to watch adventurous slackliners and rock climbers scaling the lofty cliffs along the way.
It's no wonder Misery Ridge is widely considered at the top of the list of best hikes in Smith Rock State Park.
The park has a whole network of trails, totaling about 11 miles. Misery Ridge's location makes it easy to combine with another hike, adding some distance or getting a different perspective.
Whatever route you choose, be aware that the exposed rocks and steep ascents at Smith Rock add a whole other layer of challenge, making hiking here somewhat challenging. Don't be fooled by the trails' short lengths!
Things to know before you go
It's always a good idea to consider a few details and plan ahead before embarking on the Misery Ridge Trail.
Best time of year to hike Misery Ridge trail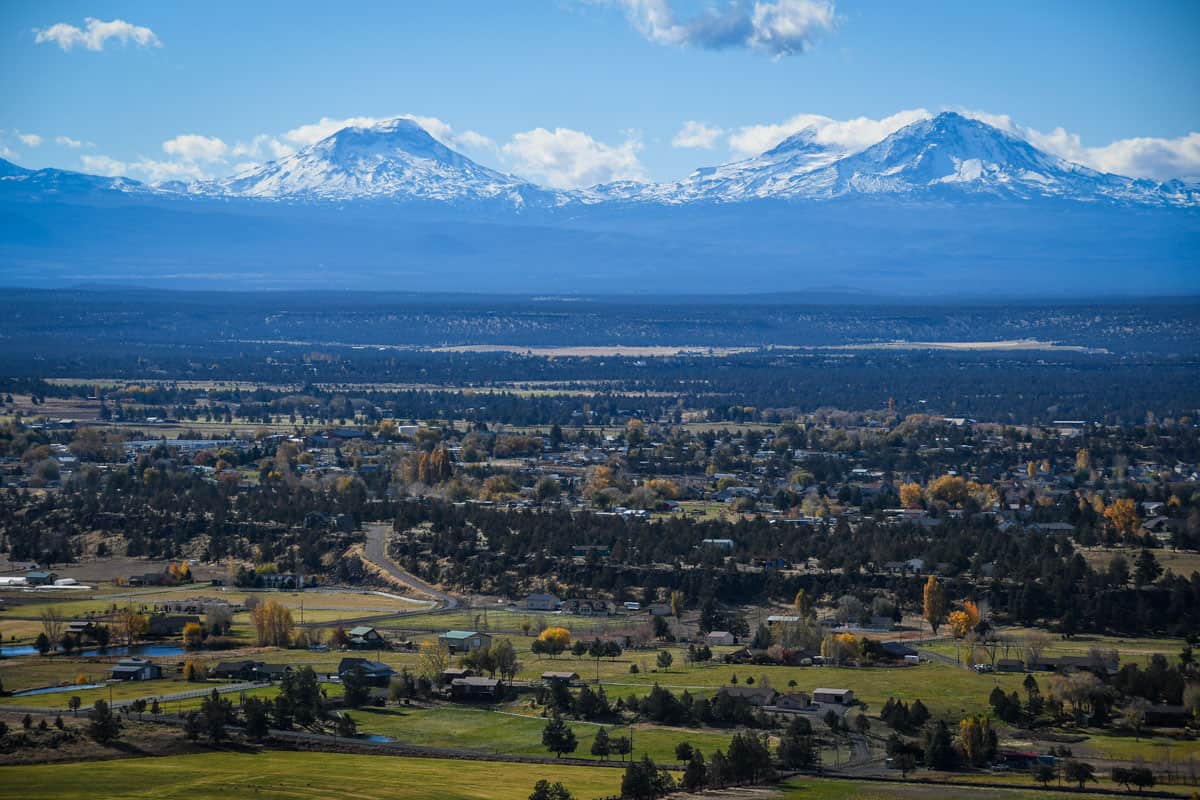 Smith Rock State Park is open year-round, so the Misery Ridge Trail is accessible nearly every day. However, central Oregon has an arid high desert climate, so the middle of summer is the most unpleasant time to hike here.
Temperatures consistently soar to over 100℉ come July and August. Misery Ridge is completely exposed with no shade, so it can be particularly brutal in the summer.
Otherwise, there's no bad time to hike Smith Rock's most popular trail. Rainy days occur mostly in fall and spring, but they're FAR less frequent than in western Oregon. Cool, cloudless days are common in the shoulder months!
In wintertime, snow isn't uncommon, but it's rarely enough to completely cover the trail. Plus, seeing the rocks with a dusting of snow adds its own magic. Just be cautious after an icy cold snap, since the trail may be slippery.
How long does it take to hike Misery Ridge trail?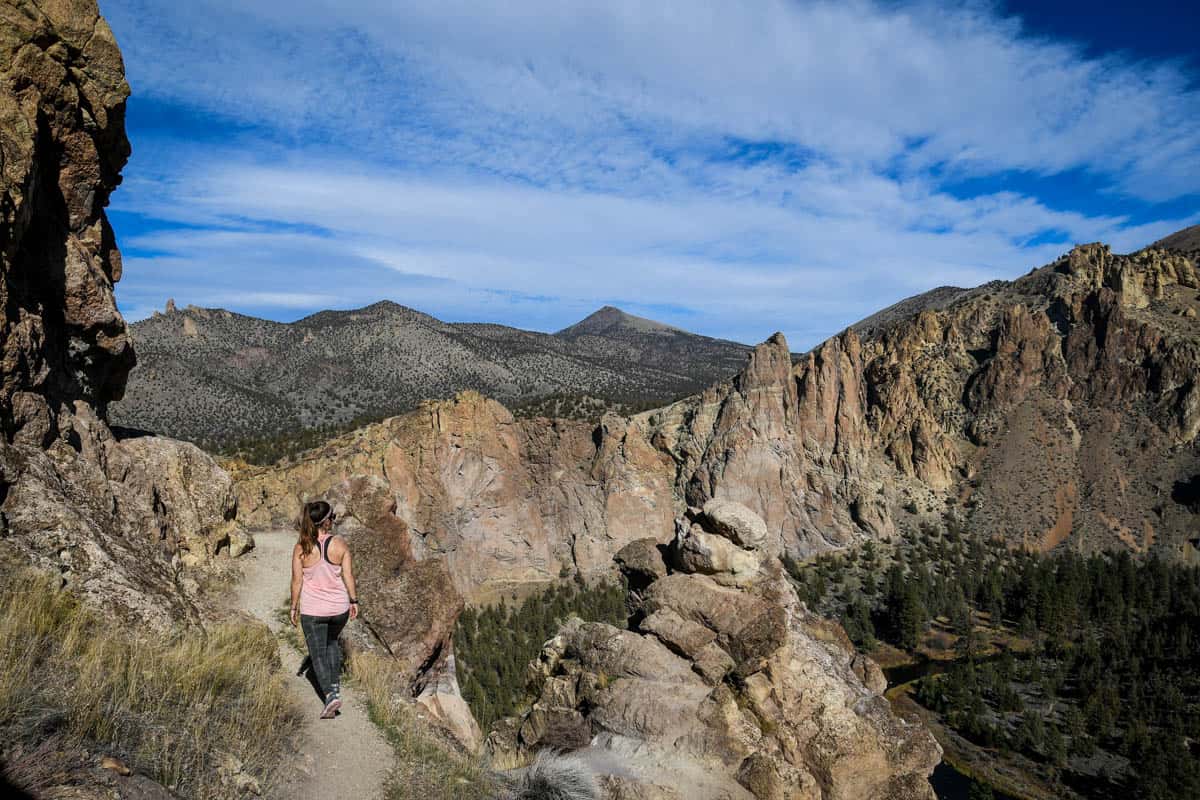 The hike's duration is largely dependent on your fitness level. It's certainly possible to do the trail in about an hour, but for average hikers, 2-3 hours is far more realistic. That also allows you plenty of time to sit and enjoy the view at the top!
How difficult is Misery Ridge trail?
Don't let the name scare you; this hike doesn't have to be, well, miserable! Most hikers with even minimal experience on steep trails will be able to tackle Misery Ridge Trail.
Yes, the ascent is quite steep, gaining over 1,000 feet while navigating steps and slippery scree. However, if you take a few breaks to catch your breath, the climb is totally doable — especially because it's short. Just make sure to pack plenty of water and avoid peak heat.
Misery Ridge Trail route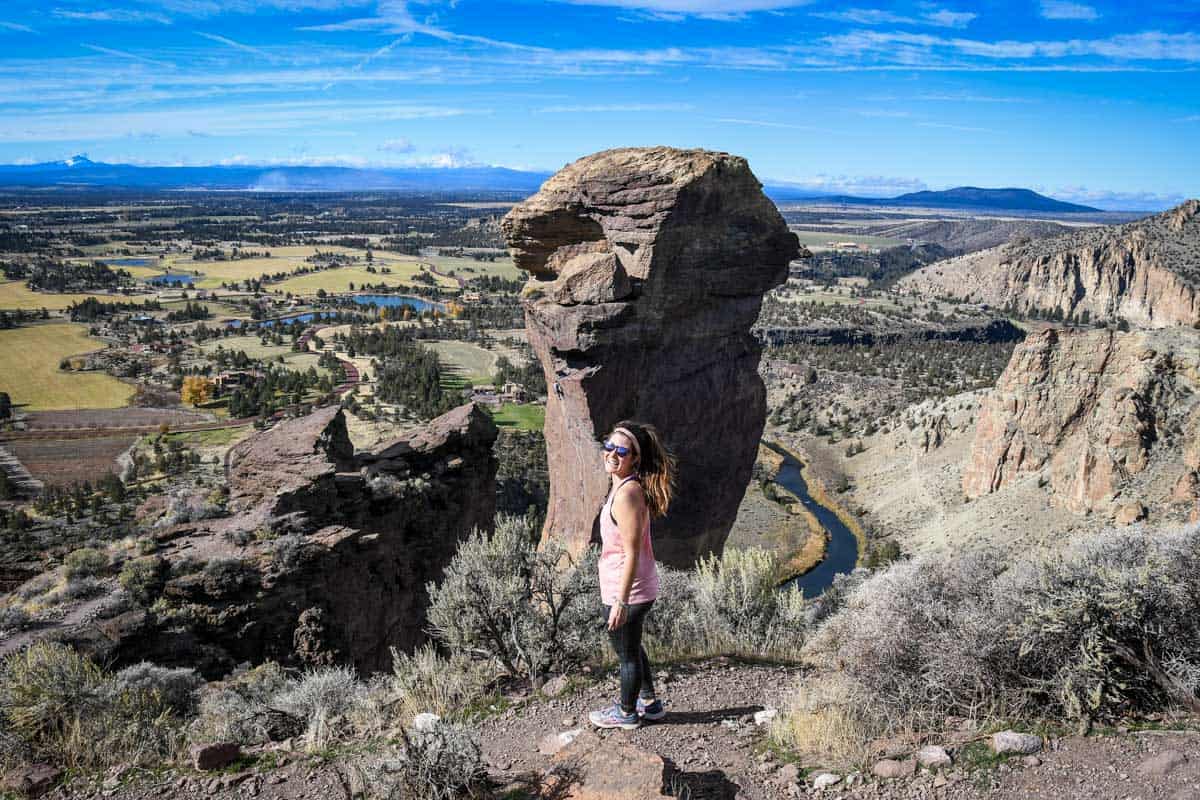 We broke down the route for hiking the Cascade Canyon Trail into parts to give you an idea of what to expect on the trail.
Part 1: Getting to the trailhead
The Misery Ridge Trail technically starts at the Crooked River footbridge, but you'll take a different short trail to get there from the parking lot.
Follow the signs for the Canyon Trail and after the viewpoint, take either the Chute or Canyon Trail. The Chute Trail is only one-tenth of a mile long but steep, while the Canyon Trail is a laid-back 0.4 miles.
Either way, you'll end up at the footbridge, facing the jagged rocks you're about to ascend. Before crossing, stop at the bathroom and fill up your water bottles — this is the only place to do so!
Part 2: The climb
Once you're on the other side of the bridge, there are three different trails to choose from. Continue heading straight uphill (look for the steps) for Misery Ridge. Take a quick moment to look up, also, to see if you spot any rock climbers!
Now, the intense climbing starts, via a combination of switchbacks and stairs. The more elevation you gain, the better the views over the Smith Rock Valley. Take plenty of breaks (and pictures!) here, because this initial 0.6-mile section feels much longer!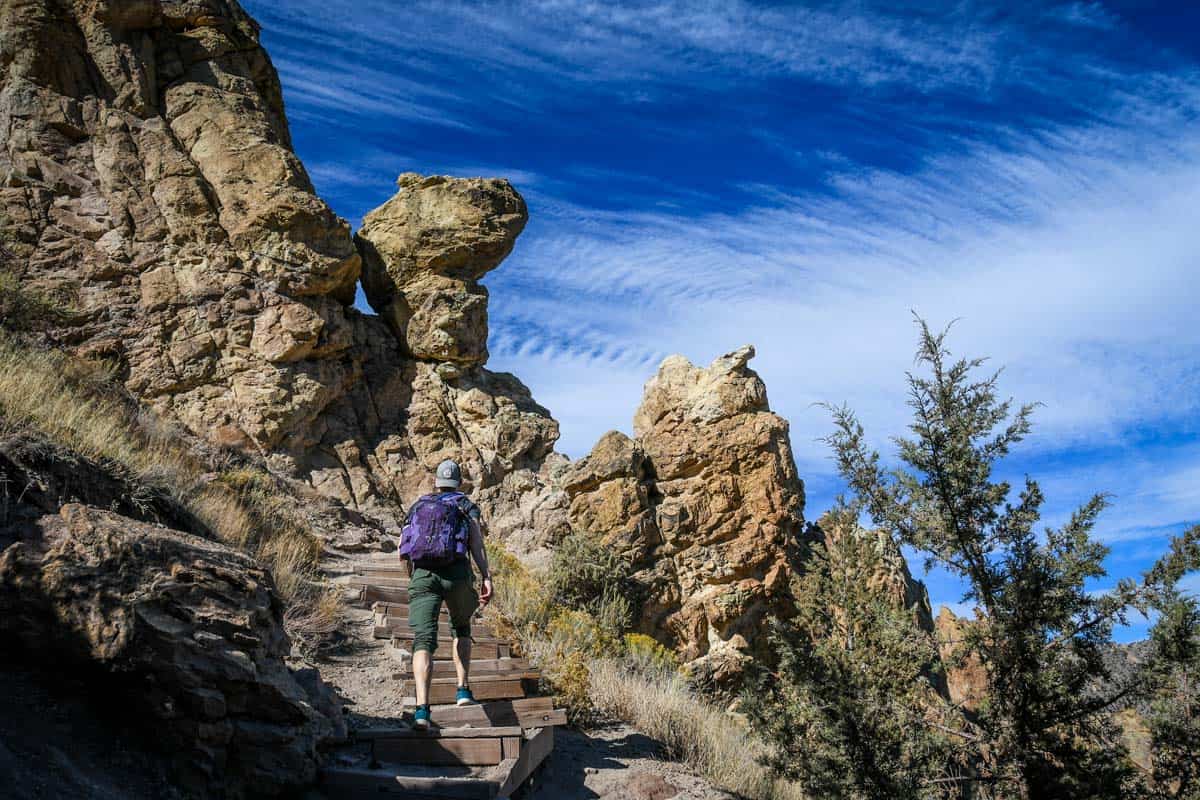 Part 3: The ridge
Finally, the trail passes over the ridge, and it takes only a handful of steps to reach the final vista. At the highest point, you'll find plenty of places to take in the views, including a couple of benches alongside the trail.
The view extends across the high desert, to some of Oregon's most iconic peaks. Mount Bachelor, Mount Jefferson, the Three Sisters, and sometimes even Mount Hood are visible. Up-close, there's also the aptly-named Monkey Face, a unique 350-foot rock spire.
Part 4: Return
From the top of the trail, you'll descend down a particularly steep 0.3-mile section that wraps around Monkey Face. When you come to the Mesa Verde Trail junction, you've officially finished the Misery Ridge Trail.
Return the same way, retracing your original route, or add on a bit of distance by taking another trail back.
Following the river trail adds an additional 1.5 miles (and gives you a new perspective from the valley floor!), while the Summit Trail more than doubles the hike distance. In fact, the Misery Ridge-Summit Trail loop is the longest hike in the state park!
Both of these alternate routes take you back to the original parking lot where you started.
Tips for hiking Misery Ridge trail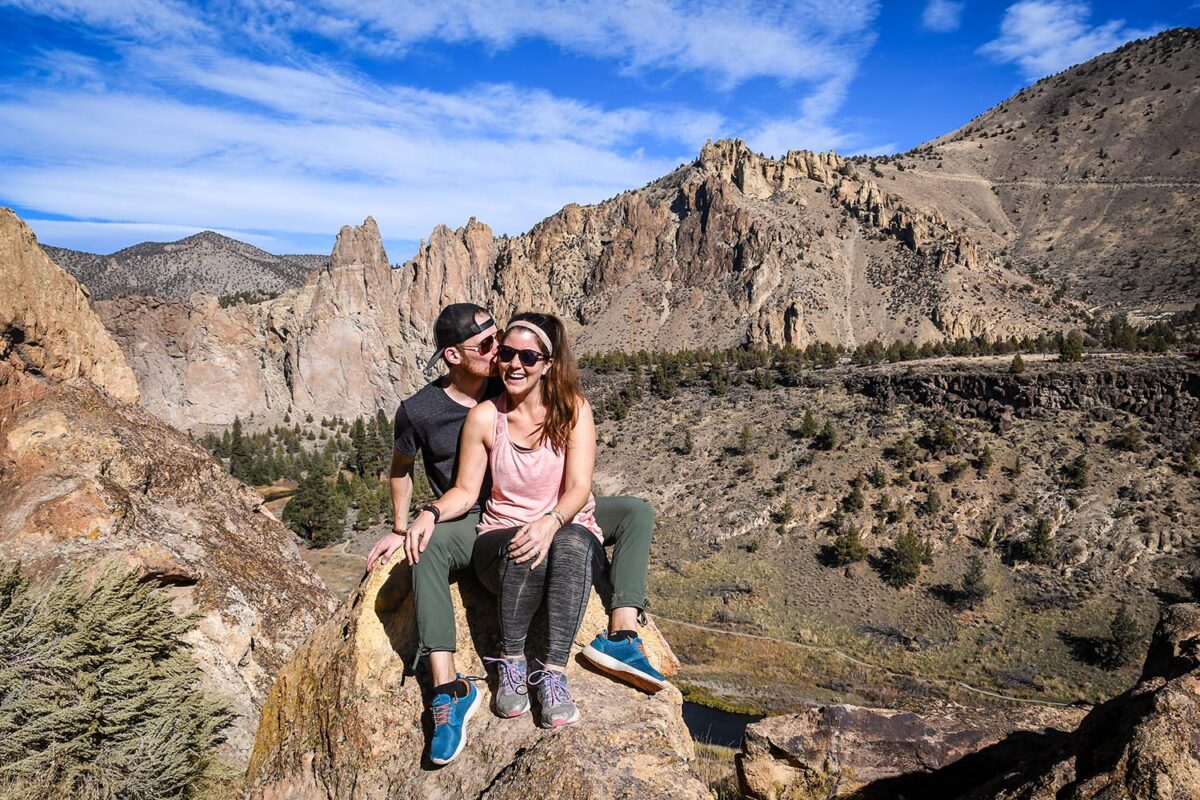 Double up on sun protection. Bring a hat and wear sunscreen and/or layers, because the hike is very exposed.
Use trekking poles. They're helpful navigating the scree going up and down.
Explore the rest of Smith Rock State Park. Allot a couple of extra hours to relax, have a picnic, or check out other trails.
Aim for sunset. The top of Misery Ridge is an excellent sunset spot!
Watch for rattlesnakes. Particularly in the summer, they're frequently seen along or near the trail.
Exercise extreme caution with kids and dogs. While manageable, keep a very close eye since there are several steep sections and sheer drop-offs.
Bring a card. If you don't have an Oregon State Parks annual pass, you can use a card to purchase a day pass at the kiosks in the parking lot.
Where to stay nearby
Located near Highway 97 in central Oregon and less than 30 miles from Bend, Smith Rock State Park is easily accessible.
The park does have a small campground, but it's bivouac or "bivvy" camping, meaning that it's very rustic. Camping is walk-in only (no advance reservations accepted), and only for tents.
If you like the idea of camping but want a bit more security and flexibility, there are TONS of awesome campsites all around the Bend area, in every direction.
There are also a few cabin rentals and Airbnbs located right outside the park boundaries. Most are in the tiny town of Terrebonne, a 5-minute drive. It has a store, although not much else.
For slightly more luxurious digs or a traditional hotel, drive 15 minutes to Redmond. The town also has some great breweries and restaurants!
Redmond hotels
Redmond Inn: Simple hotel with a surprising amount of amenities, including complimentary breakfast, seasonal outdoor pool, and free nightly cookies
The Lodge at Eagle Crest: Golf resort accommodation with an onsite spa and restaurants
SCP Redmond Hotel: Chic, sustainability-focused hotel in the heart of Redmond
What to pack for hiking Misery Ridge trail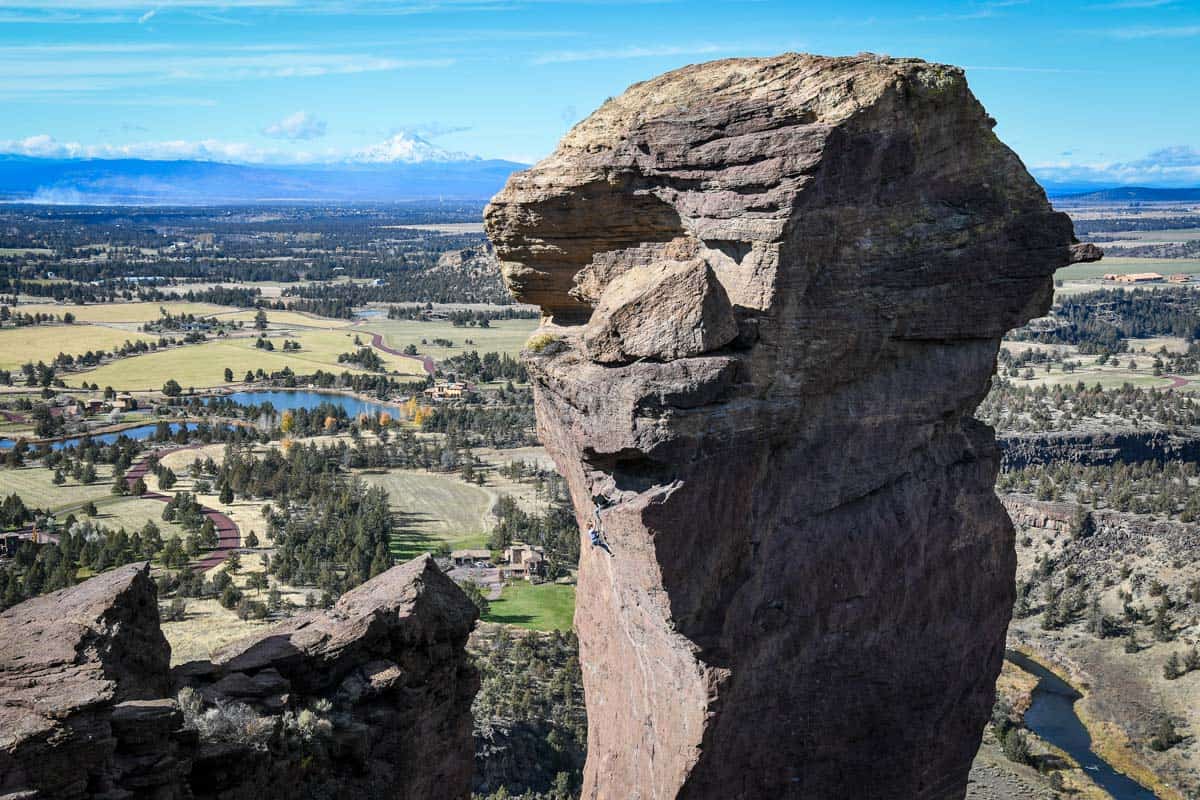 Navigation*: we recommend using Alltrails+ to download the offline trail map
Water bottles and bladder for your Camelbak
Dry bag (we always carry one with us for our valuables in case of rain)
Bug repellant
Sun protection: sunscreen, hat, sun glasses
Camera/tripod (this one's our favorite for hiking)
Lots of layers (here is a great resource if you're wondering what to wear hiking)
Rain jacket
Comfortable hiking boots or shoes
Plenty of snacks: check out our favorite hiking snacks here!
Be sure to grab our ultimate hiking packing list includes our must-have gear for any hiking trail!


You may also like…
Save this article on Pinterest for later!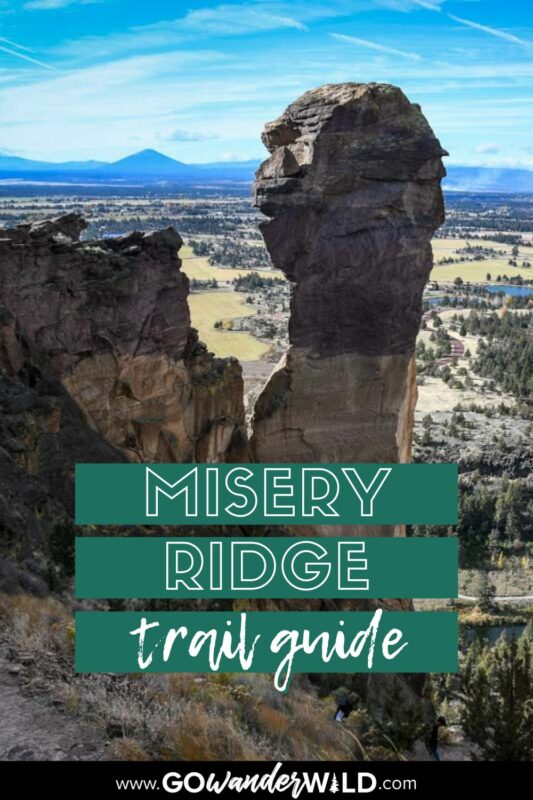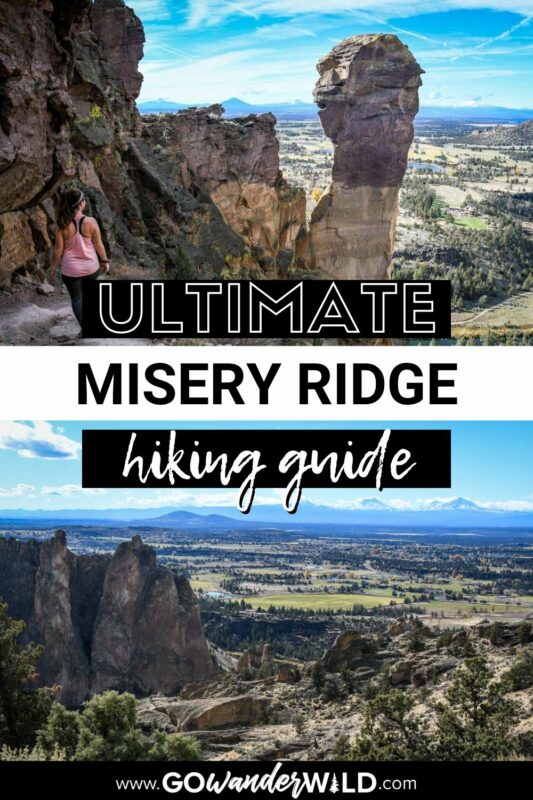 We want to hear from you!
Comment below if you have questions about hiking the Misery Ridge Trail at Smith Rock State Park in Oregon and we'll do our best to get back to you!