With incredible mountain views, gorgeous hiking trails, tons of wildlife, and one of the only official ski areas in a national park, Hurricane Ridge stands out as a highlight of Olympic National Park. This guide covers tips, some of the best hikes, where to stay, and more.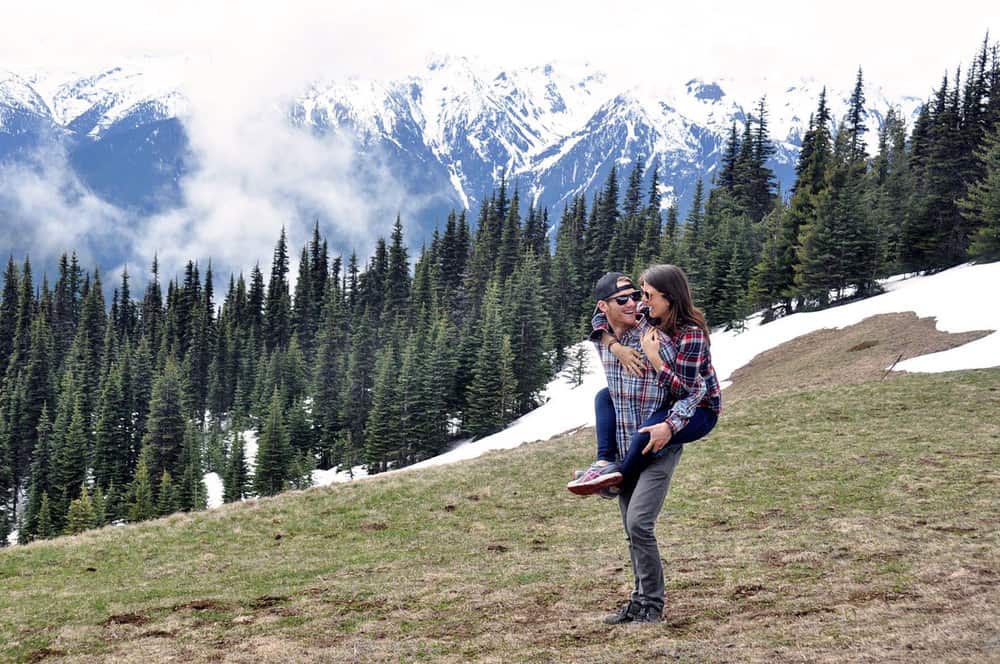 Hurricane Ridge offers a serious one-two punch, with outstanding views, a variety of hikes for all experience levels, and relatively easy access. In fact, it's one of the most easily accessible alpine areas in all of Olympic National Park, just 45 minutes south of Port Angeles!
Visitors enjoy the surrounding Olympic Mountains, old-growth forest, ridges and meadows, lakes, and waterfalls, all in this one corner of the park. Unsurprisingly, the best way to experience all these gems is going on a Hurricane Ridge hike.
There are several trails to choose from, starting at less than one mile. Combine that with the convenient access and plenty of nearby accommodation options, and it's easy to explore Hurricane Ridge even if you're short on time.
Keep reading for everything you need to know about visiting this stunning area!
Hurricane Ridge Guide


Best time to visit Hurricane Ridge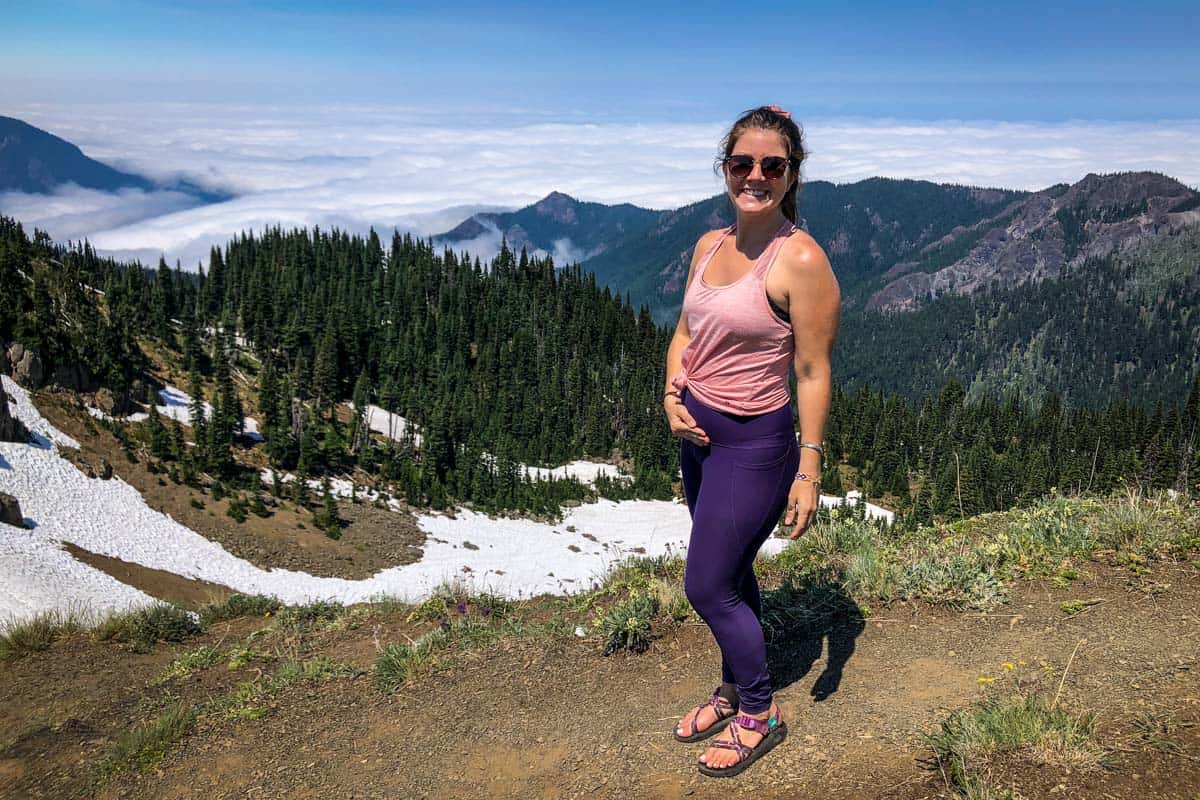 The best time to visit Hurricane Ridge in Olympic National Park really depends on what activities you want to do there.
The best time to do the Hurricane Ridge hike is the summer — and the later in the season, the better. The road is open daily during the summer months, and only on weekends in the winter for ski season (weather conditions permitting).
Due to the high elevation, snow covers the Hurricane Ridge trail for much of the year, including well into the summer.
That being said, if you plan to go skiing or snowboarding, visiting Hurricane Ridge during the winter is obviously best. For the most ideal mountain conditions, plan your visit in January or February.
How to get to Hurricane Ridge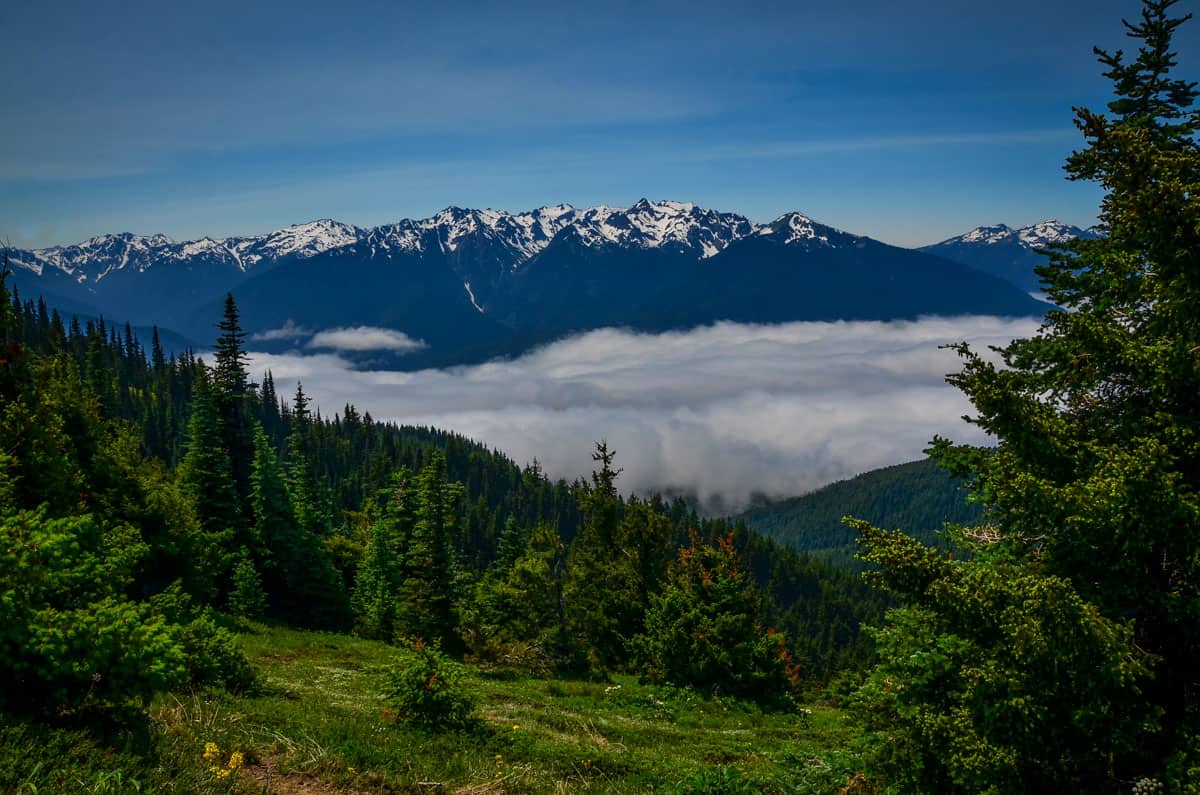 Hurricane Ridge is 18 miles south of Port Angeles. Most people travel to the national park from Seattle, which is about three hours away regardless of the route you take.
Driving through Tacoma is just over 150 miles, and there are two ferry options: Bainbridge Island or Kingston/Edmonds. Both ferries shave off about 50 miles, but still take three hours.
Alternatively, visitors without a vehicle can get to Hurricane Ridge via public transportation. Olympic Bus Lines' Dungeness Bus Line service runs from the Sea-Tac airport to Port Angeles. From there, Clallam Transit operates a Hurricane Ridge shuttle in the summer.

Wanna try out vanlife while visiting Olympic National Park?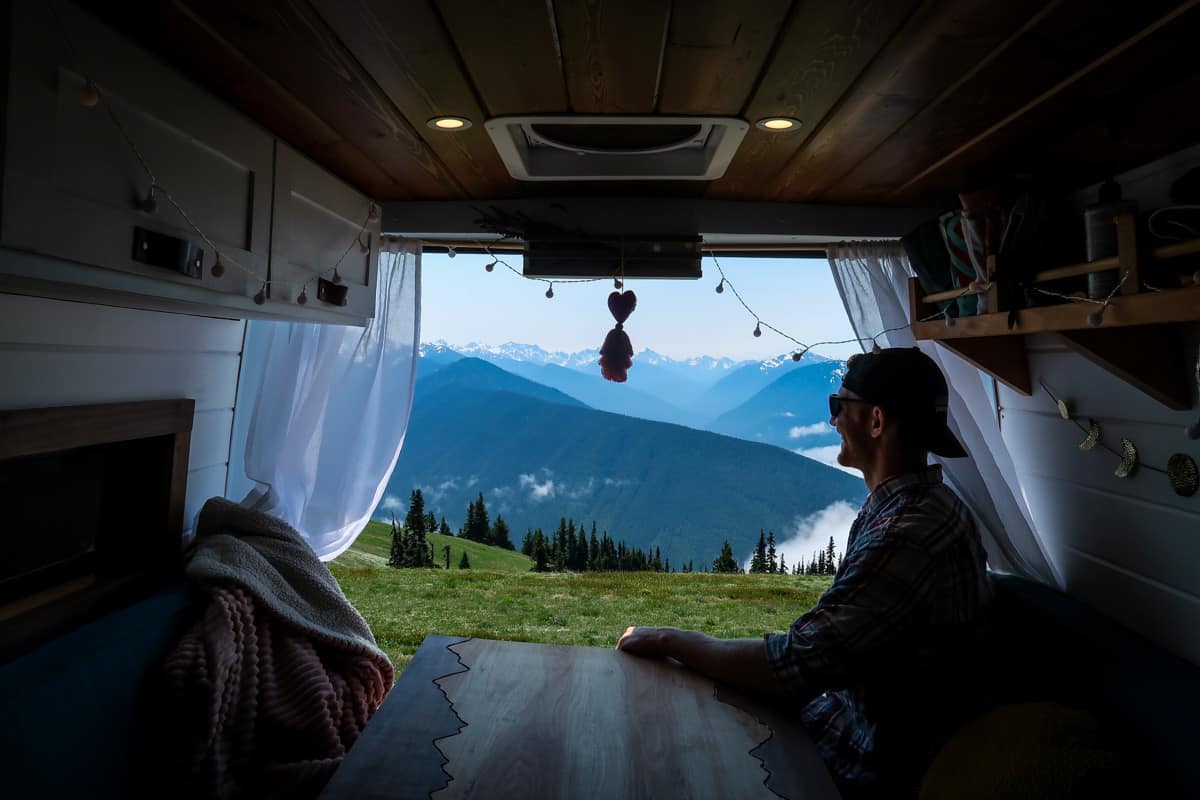 It's no secret we're obsessed with #vanlife. If you don't have the time (or interest!) in building your own conversion but you still want to give van life a test drive, we've got some ideas for you…
Check out our list of top companies for USA Campervan Rentals, from budget to bougie, we've even included some exclusive discounts for our readers!
One company we'd recommend looking into is Escape Campervans. They have 12 different locations across North America (including Seattle, Portland and Vancouver!) and come fully loaded with all the gear you need for an epic road trip. Plus, their rates are fair and affordable.
BONUS: We've partnered with them to give you a 10% off discount when you use our link!
We have recommendations for campervan-friendly campsites in the where to stay section below.

Park Entrance tickets and fees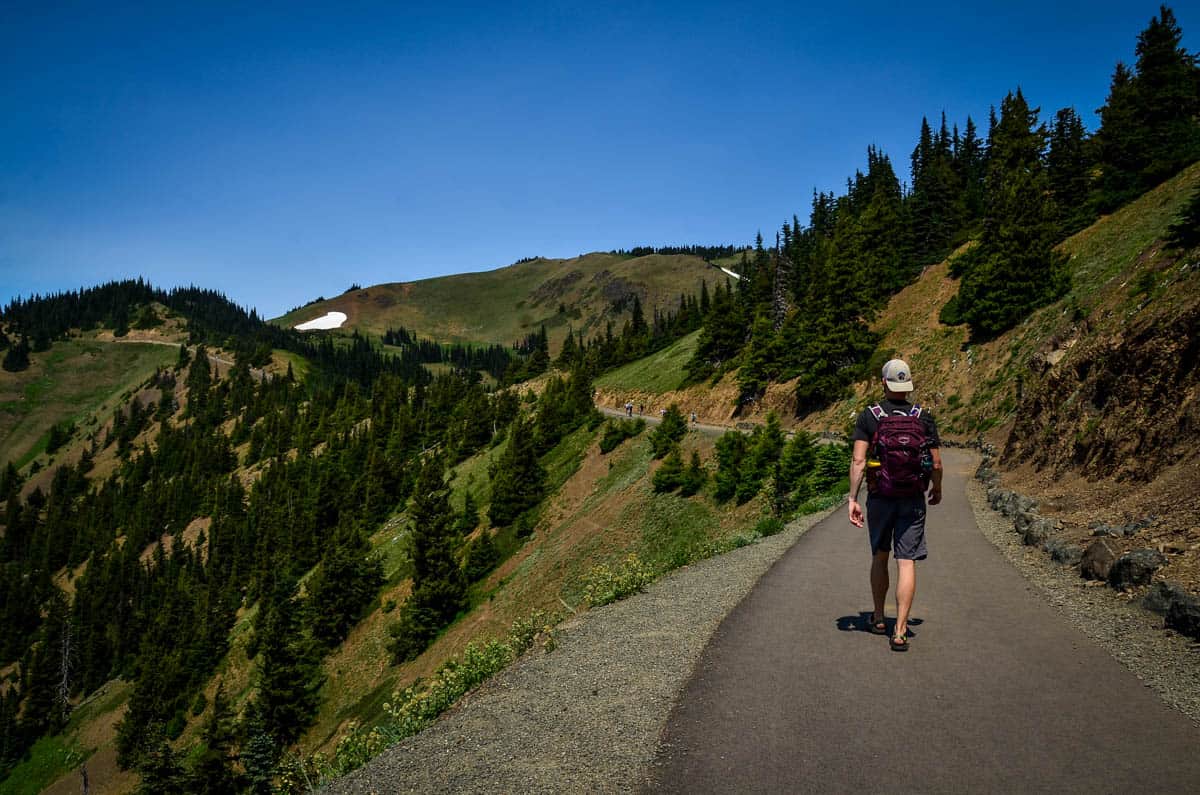 Private vehicle: $30, valid for 7 days
Motorcycle: $25, valid for 7 days
Per pedestrian: $15, valid for 7 days
If you're planning to visit more than one of the U.S. National Parks, we'd highly encourage you to look into getting an annual park pass. At $30 per vehicle, entering Rocky Mountain along with other national parks in the U.S. can get expensive.
For just $80 per year, you can purchase the America the Beautiful park pass. This pass grants you free access to all of the national parks. Plus it also covers your entrance to over 2,000 natural, historical, and recreational sites across the United States.
If you still need convincing, check out our article: America the Beautiful Annual Park Pass: Is it Worthwhile?

Hurricane Ridge trail map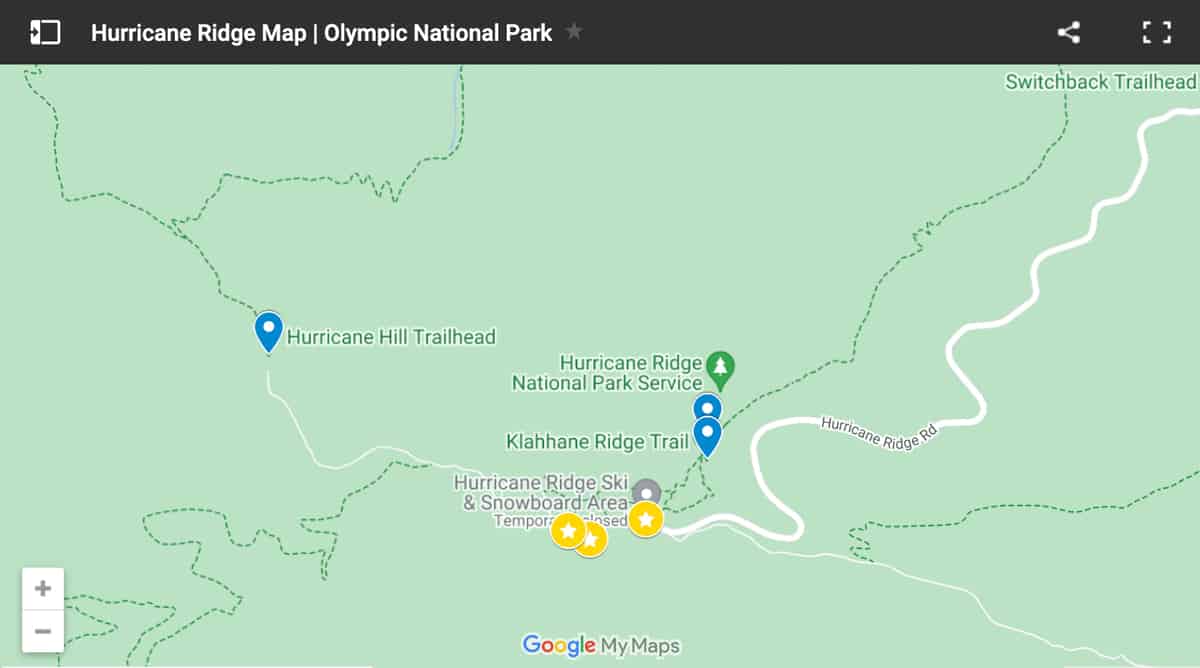 This map gives a detailed look at the Hurricane Ridge area and some of its best trails, as well as picnic areas, parking lots, and the visitor center.
Hurricane Ridge Hike: Hurricane Hill Via Hurricane Ridge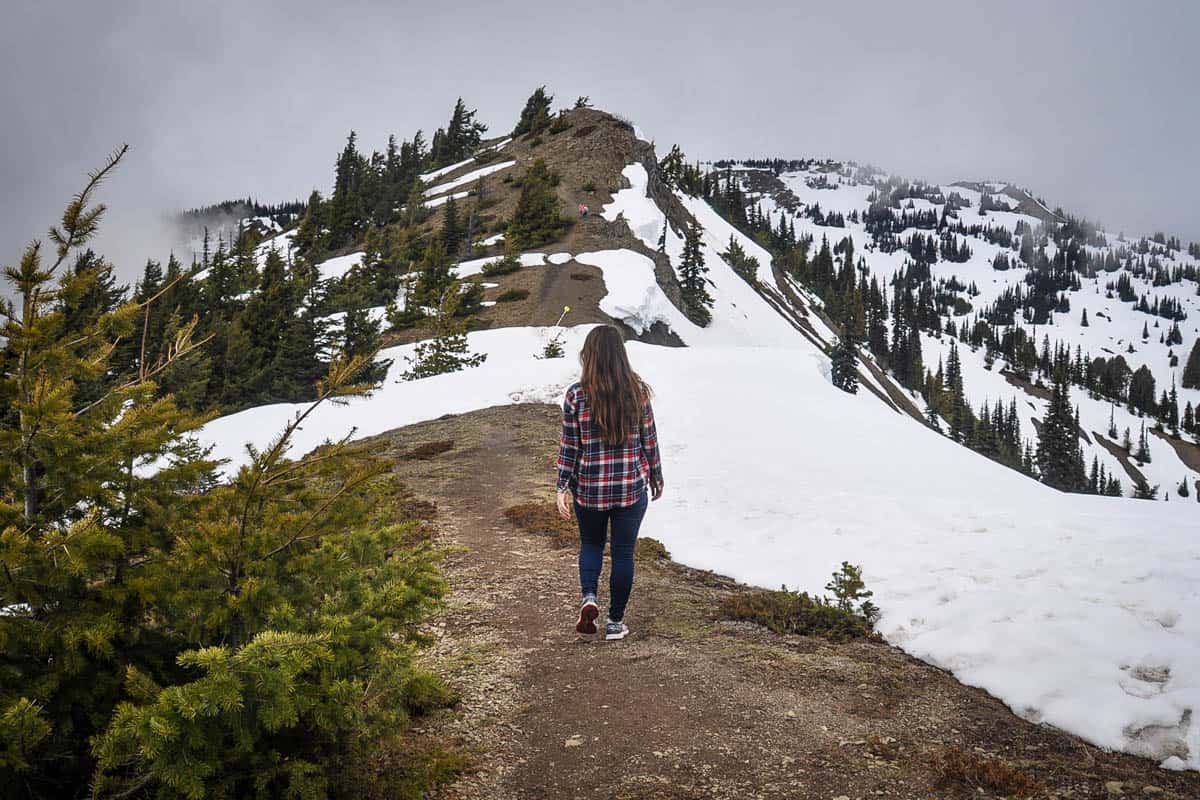 Distance: 3.4 miles out and back
Elevation gain: 826 feet
Difficulty rating: Moderate
A moderate hike with jaw-dropping views the entire way, Hurricane Hill is understandably one of the most popular trails in the entire park. If you only have time for one Hurricane Ridge hike, give this one strong consideration!
Almost the entire trail is paved, although that doesn't necessarily make it "easy." Remember that you gain over 800 feet of elevation in just over 1.5 miles, so there are sections that are quite steep (up to 12% grade).
With that said, this Hurricane Ridge hike is manageable for most hikers, even those with somewhat limited trail experience.
The trail starts its gradual climb almost immediately from the trailhead. When you reach the obvious trail junction, bear right to the Hurricane Hill viewpoint. Although the whole trail is gorgeous, this is the trail's crown jewel, with 360-degree views.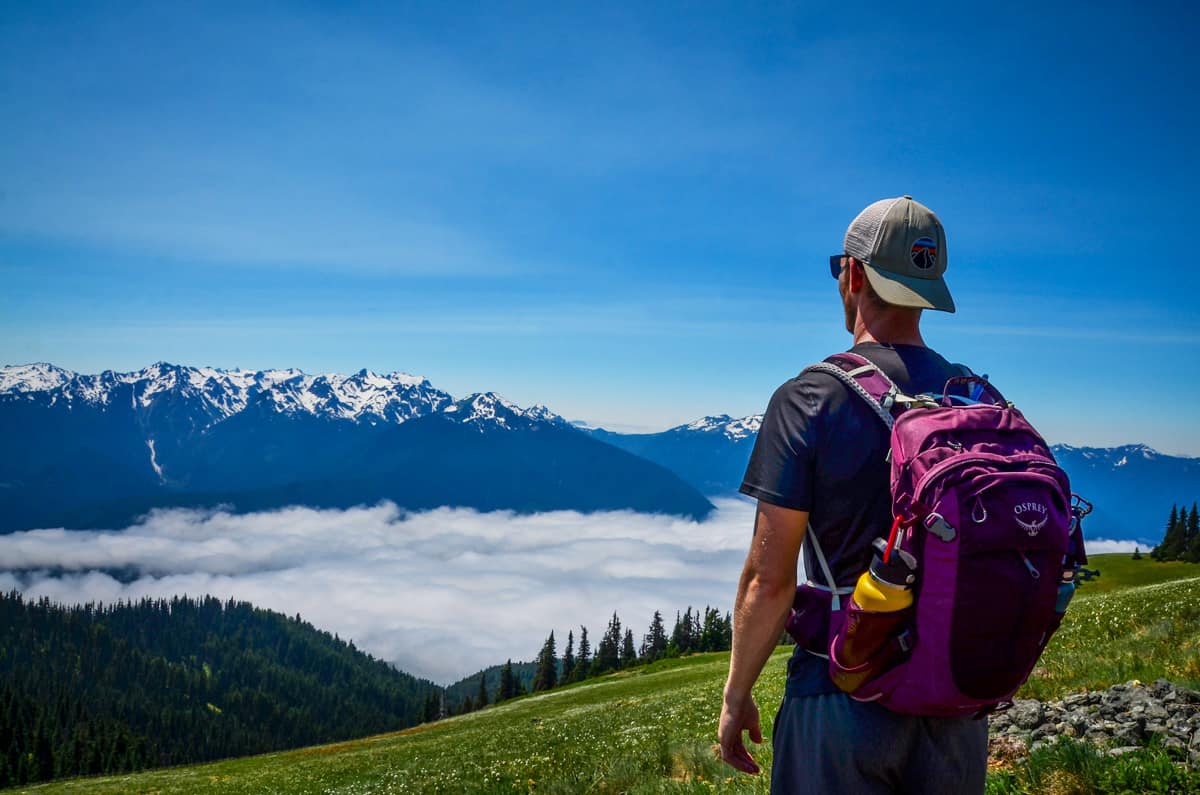 At the summit — on clear days — you'll take in expansive views of the Puget Sound and Strait of Juan de Fuca, out over the Olympic Range, Elwha River, and Vancouver Island.
Clouds and rapidly-changing weather do often obstruct the best views, but don't let that deter you. The mountains often play "peak-a-boo," and patient hikers will be rewarded with surprise views! Also, keep your eyes open for wildlife like mountain goats and marmots.
Note that the Hurricane Hill parking lot often fills up early in the day. If you can't find parking, you can start this hike from the visitor center, but you'll add 3 miles to your total distance (1.5 miles each way).
Hurricane Hill is also a super popular snowshoeing route in the spring. Keep in mind that until the summer season (depending on the year, mid-May to mid-June), Hurricane Ridge Road is only open on weekends. Even then, you'll have to start from the visitor center in winter.
Other Hurricane Ridge hikes
Hurricane Hill may be one of the most popular hikes in this area, but there are others that are well worth your time, as well.
Sunrise View Point via High Ridge Nature Trail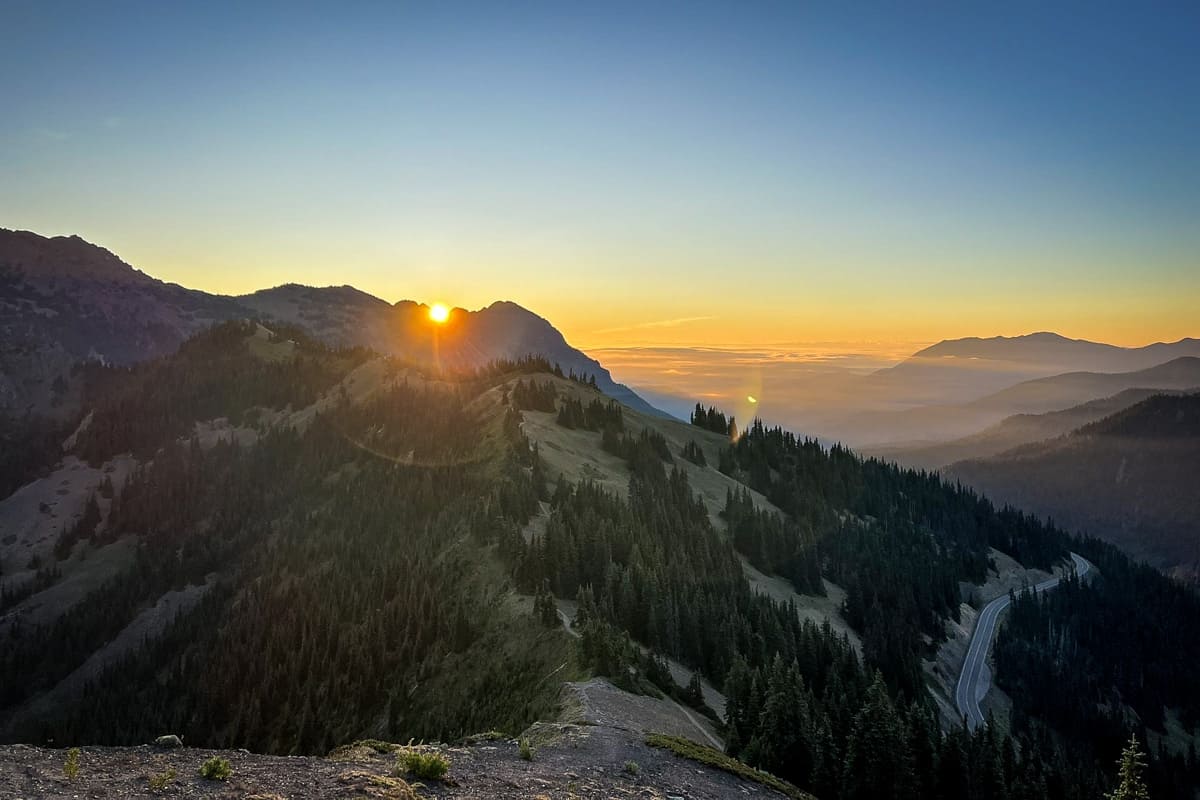 Distance: 0.9-mile loop
Elevation gain: 219 feet
Difficulty rating: Easy to moderate
One of the easiest Hurricane Ridge hikes, Sunrise View Point offers a tremendous effort-to-reward ratio. The well-maintained, gentle uphill trail offers outstanding views and wildlife galore, and it's manageable for all members of the family.
Mount Angeles via Klahhane Ridge Trail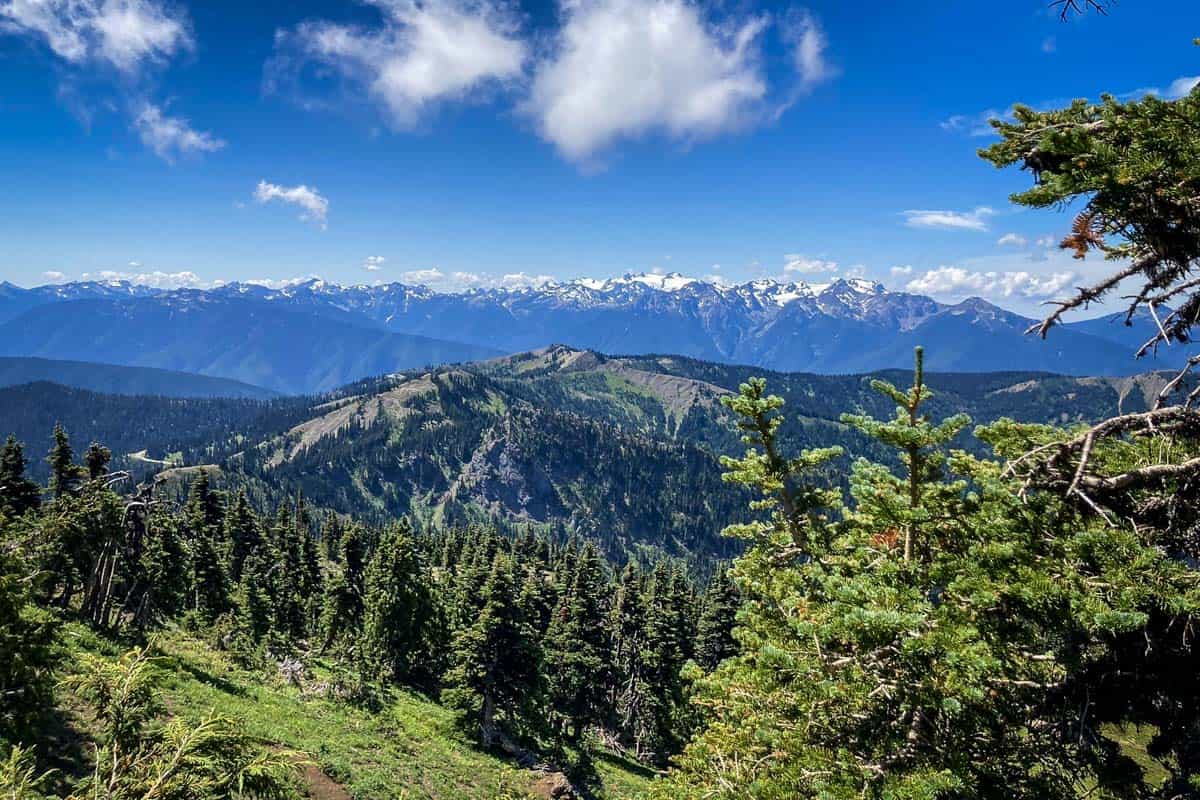 Distance: 5.5 miles out and back
Elevation gain: 2,017 feet
Difficulty rating: Challenging
This popular route for summiting 6,454-foot Mount Angeles Peak, the highest peak in Hurricane Ridge, is for experienced hikers. The trail is steep, narrow, covered in loose scree, and difficult to follow at times, but those who tackle it are rewarded with breathtaking views.
Psst! Check out our round up of the best Olympic National Park hikes if you're looking for more hiking opportunities in the park!
Hurricane Ridge Ski & Snowboard Area
Hurricane Ridge is home to the only ski and snowboard area located inside a US national park. Situated at nearly a mile high, Hurricane Ridge boasts great conditions for winter recreation. According to their official website, the average snowfall is 400-plus inches annually.
The ski and snowboard area is open each year from December through March. Check the official website for exact opening and closing dates, which depend on conditions each year.
Psst! Check out our list of what to wear skiing so you know exactly what to pack during this time of year.
Where to stay near Hurricane Ridge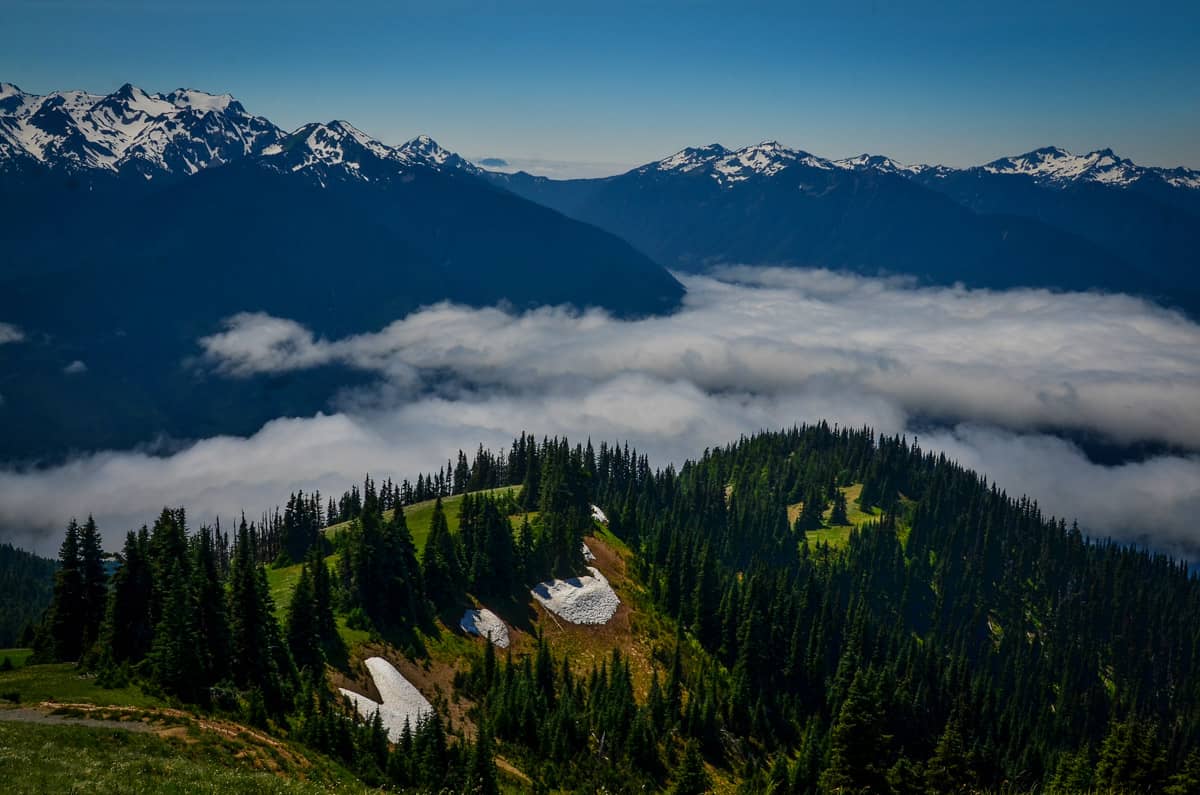 Port Angeles is the nearest town to Hurricane Ridge, about 45 minutes north (18 miles). Many people base themselves here, as the small city has a wide variety of accommodation and restaurant options.
Here are our top recommendations for staying in Port Angeles, for every budget and preference.
Heart O' the Hills Campground: First-come, first-served 105-site campground near Hurricane Ridge Road, open year-round (walk-in only in winter) for $20 per night. Best for small RVs and campervans under 21 feet, although there are a handful that accommodate 30-foot rigs.
Olympic Lodge by Ayres: The closest hotel to Hurricane Ridge and considered one of the best in the area. There's a seasonal outdoor pool and spa, plus fitness center, and the lodge offers complimentary breakfast guests rave about.
Black Diamond Micro Lodge: Just outside the park boundary, this rustic chic micro lodge is perfect for four people. Highlights include an outdoor fire pit, oversized front deck, gorgeous mural of the Olympic Mountains, and cornhole for unwinding after active days.
What to pack for visiting Hurricane Ridge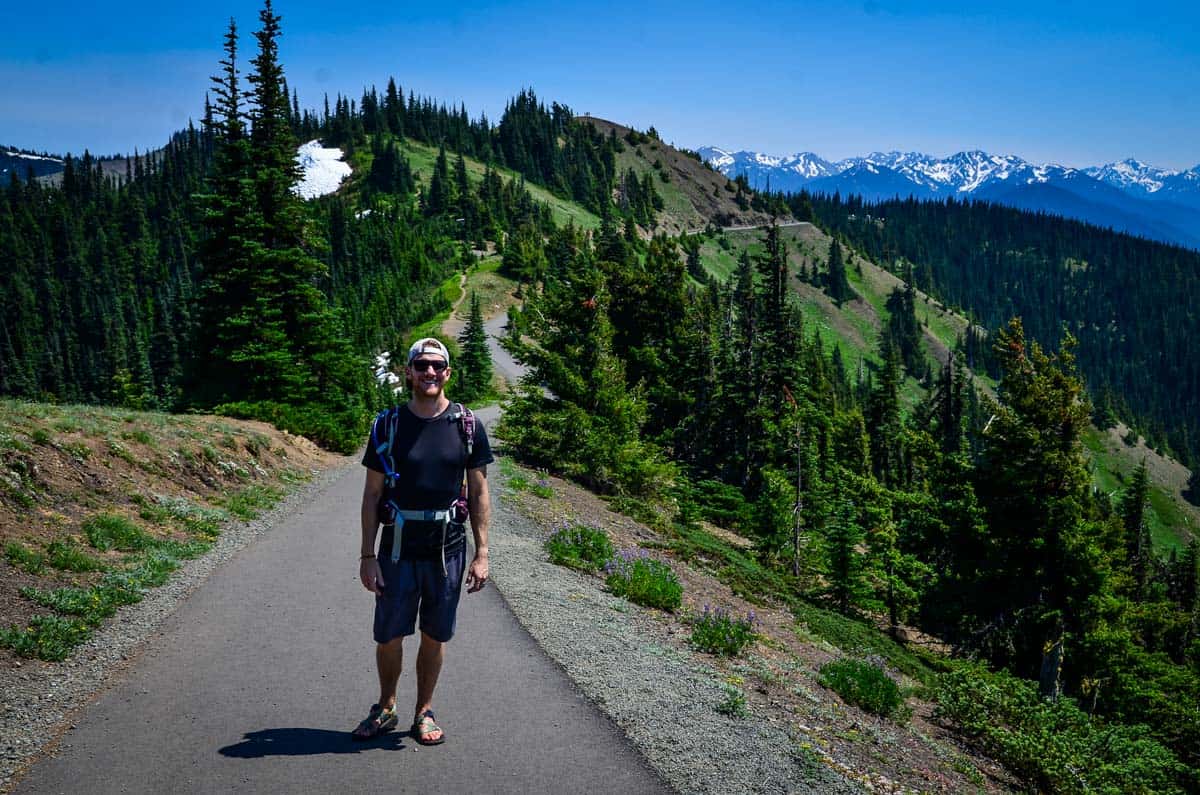 Navigation: we recommend using Alltrails+ to download the offline trail map
Water bottles and/or bladder for your Camelbak
Bug repellant
Sun protection: sunscreen, hat, sun glasses
Camera/tripod (this one's our favorite for hiking)
Lots of layers (here is a great resource if you're wondering what to wear hiking)
Rain jacket
Comfortable hiking boots or shoes
Hiking poles (optional)
Battery pack (if you are relying on your phone)
Bear spray (just in case)
Plenty of snacks: check out our favorite hiking snacks here!
Be sure to grab our ultimate hiking packing list includes our must-have gear for any hiking trail!

Other things to do in Olympic National Park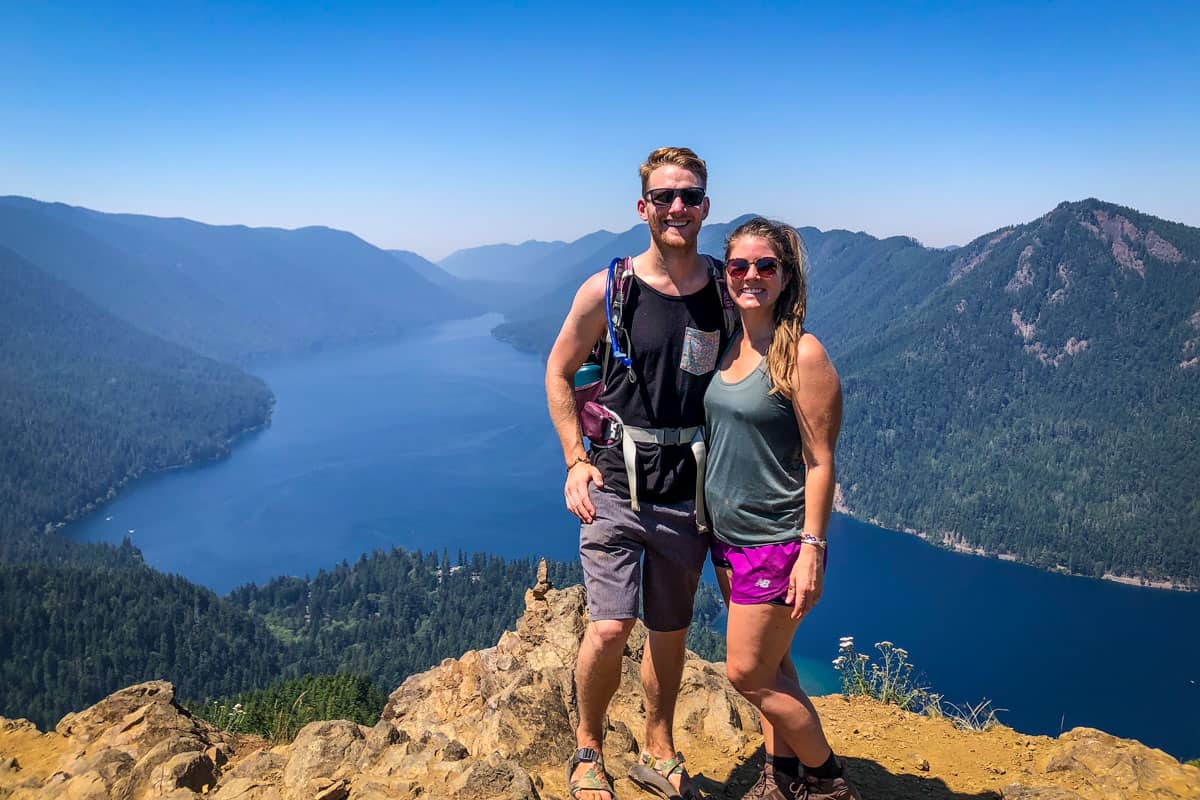 Aside from exploring Hurricane Ridge, there are many other worthwhile things to do and see in Olympic National Park. This park is incredibly diverse, including temperate rainforest and beach along with the high alpine terrain!
Sol Duc Falls: Bright green, moss-covered falls tucked in the forest, reached by a short and enjoyable 1.6-mile round-trip hike.
Hoh Rainforest: A UNESCO World Heritage Site and Biosphere Reserve, this magical area is a must. There are several short trails, but beware that it's one of Olympic National Park's busiest areas, so you won't have them to yourself.
Mount Storm King trail: Short but challenging hike that involves a ropes section and unforgettable water views.
Shi Shi Beach: Gorgeous rugged, remote beach with quintessentially PNW sea stacks, requiring a 2-4 mile hike. Campsites at Shi Shi Beach are some of the best in the state!
Enchanted Valley: A stunning (and highly underrated!) 27-mile backpacking route following the Quinalt River to the historic Enchanted Valley Chalet.
Lake Crescent: This remote glacial lake is home to Lake Crescent Lodge, as well as several popular trailheads, including Marymere Falls and Mount Storm King.

You may also like…
Save this article on Pinterest for later!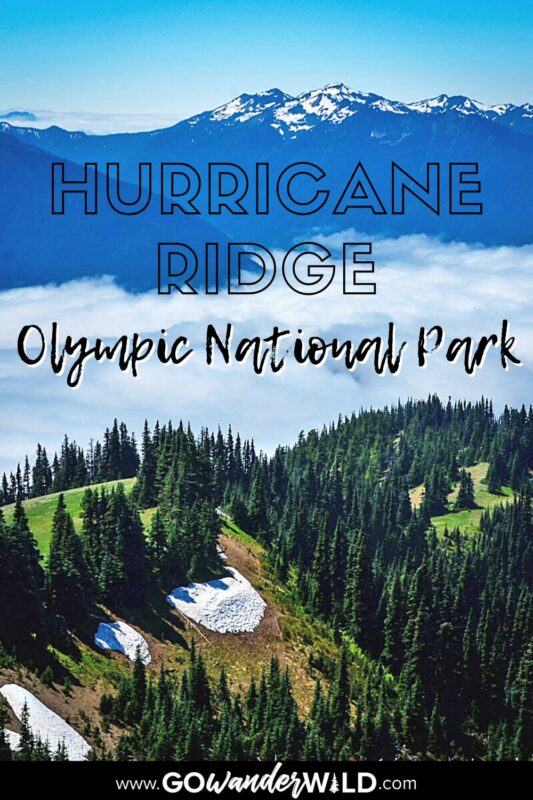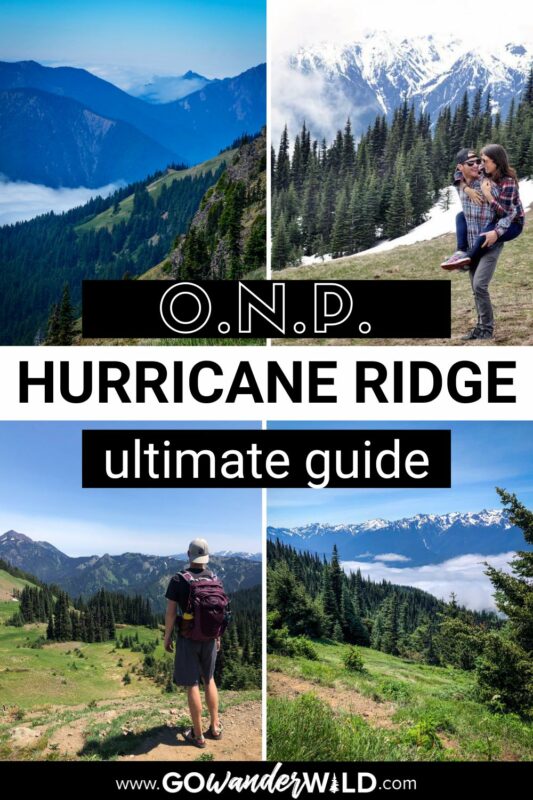 We want to hear from you!
Have you ever been to Hurricane Ridge in Olympic National Park? What was your experience like? Are you planning a trip and still have questions? Let us know in the comments below!