From red rock canyons and snow-capped summits to sparkling alpine lakes and waterfalls, there are tons of hikes near Denver to explore. In this article we've rounded up the best day hikes within a 2-hour drive of the Mile High City.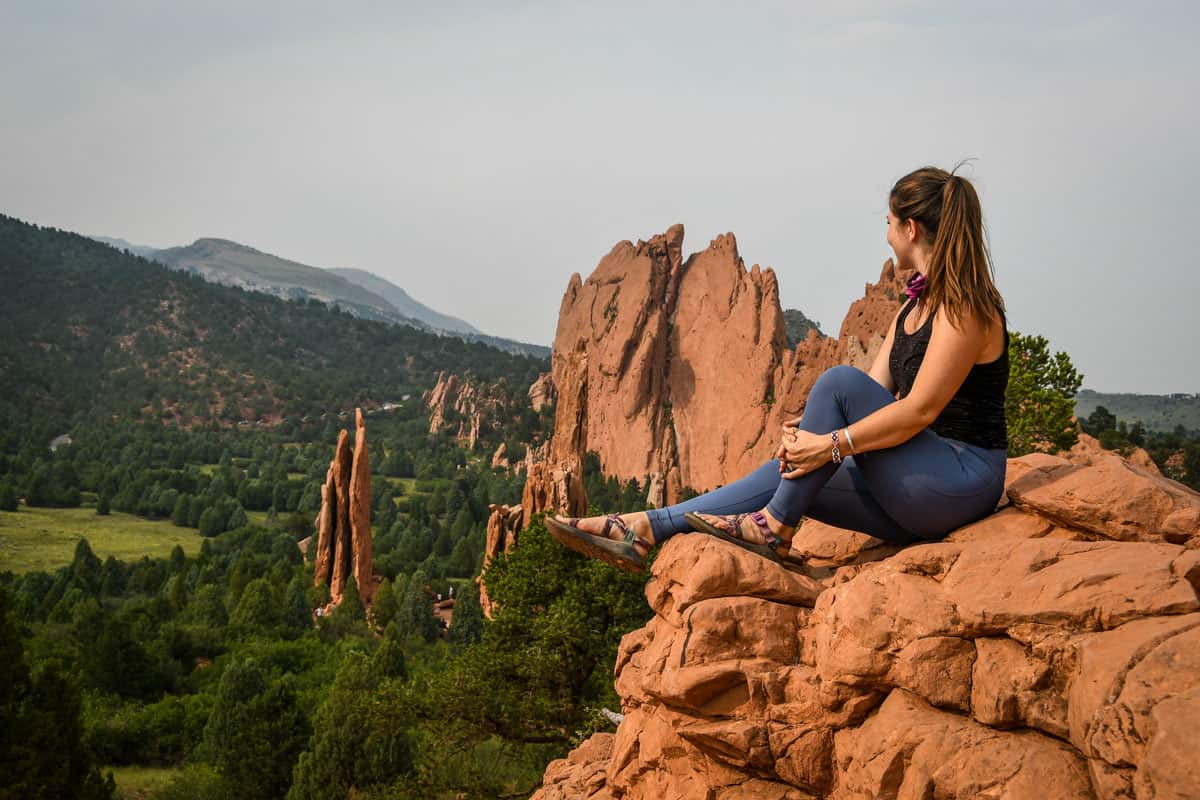 Less than two hours of driving from Denver immerses you in incredibly diverse scenery, with flavors of the Southwest, lush forests, and plenty of high-alpine summits.
The best way to experience it all? Tackling some of the best hikes near Denver!
With trails ranging from short and scenic, to all-day (or multi-day) summit hikes with over 7,000 ft in elevation, there are hiking opportunities for absolutely everyone.
Best of all, many of the landscapes are surprisingly all-season, do-able with snowshoes or trekking poles in the winter!
In this article we've rounded up the best hikes near Denver, organized by region to help you hit the trails faster.
Regions

What to pack for hiking near Denver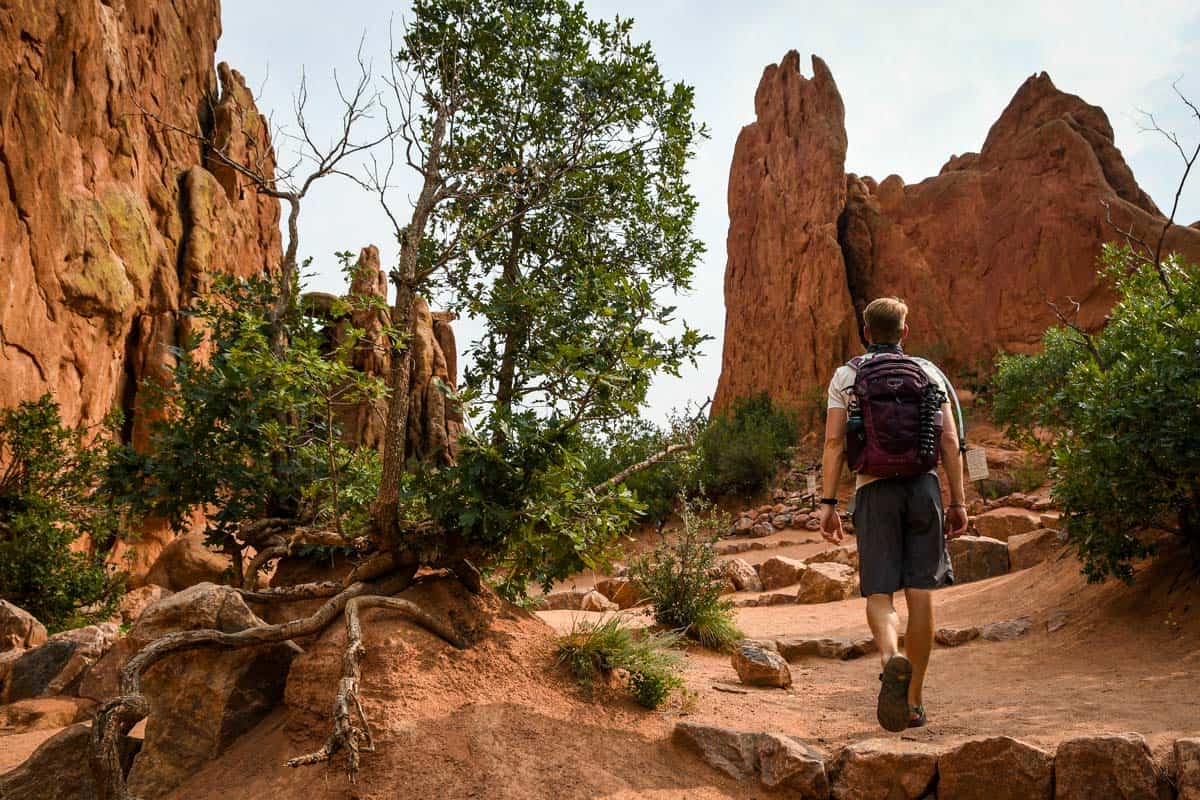 Be sure to grab our ultimate hiking packing list includes our must-have gear for any hiking trail!


Boulder
Situated at the foothills of the Rocky Mountain range, Boulder is a destination with excellent hiking opportunities near Denver.
1. Mount Sanitas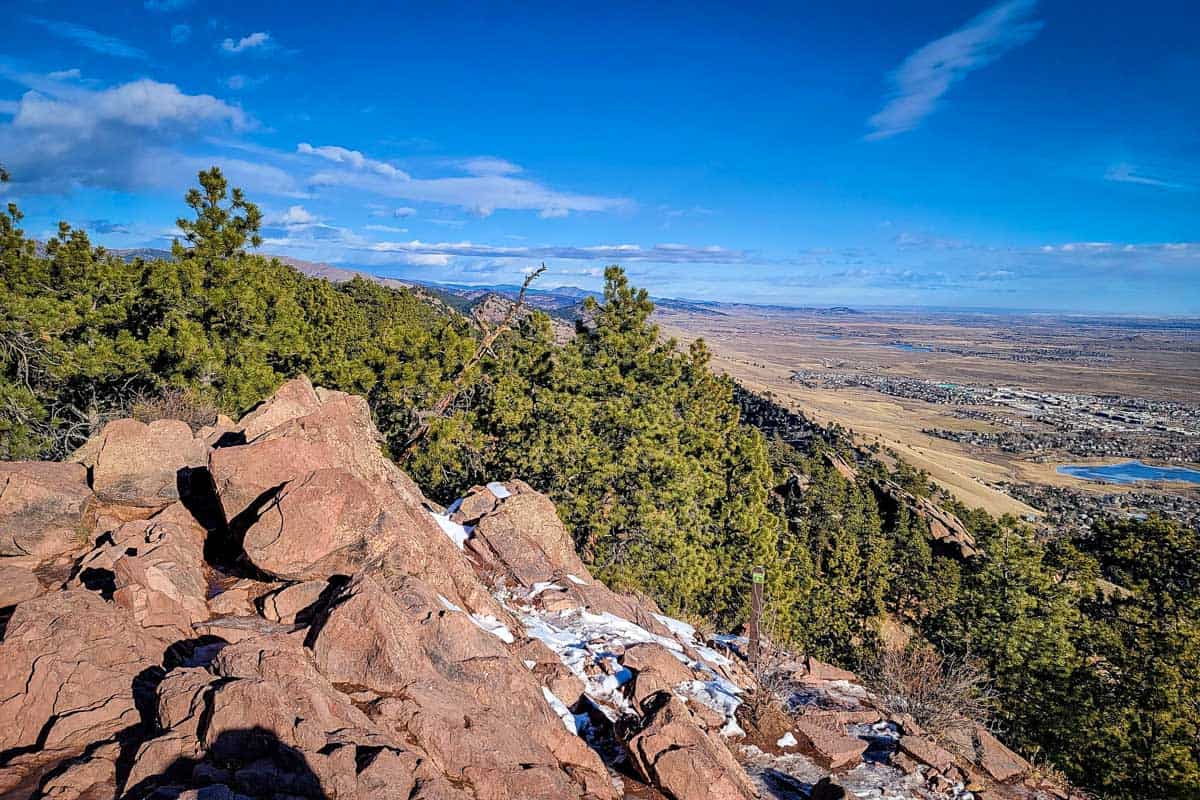 This heavily-used trail system peaks at Mount Sanitas, offering fabulous views over Boulder. Although it's on the edge of town, this hike is hardly a walk in the park — expect some huffing and puffing en route to the top.
2. Royal Arch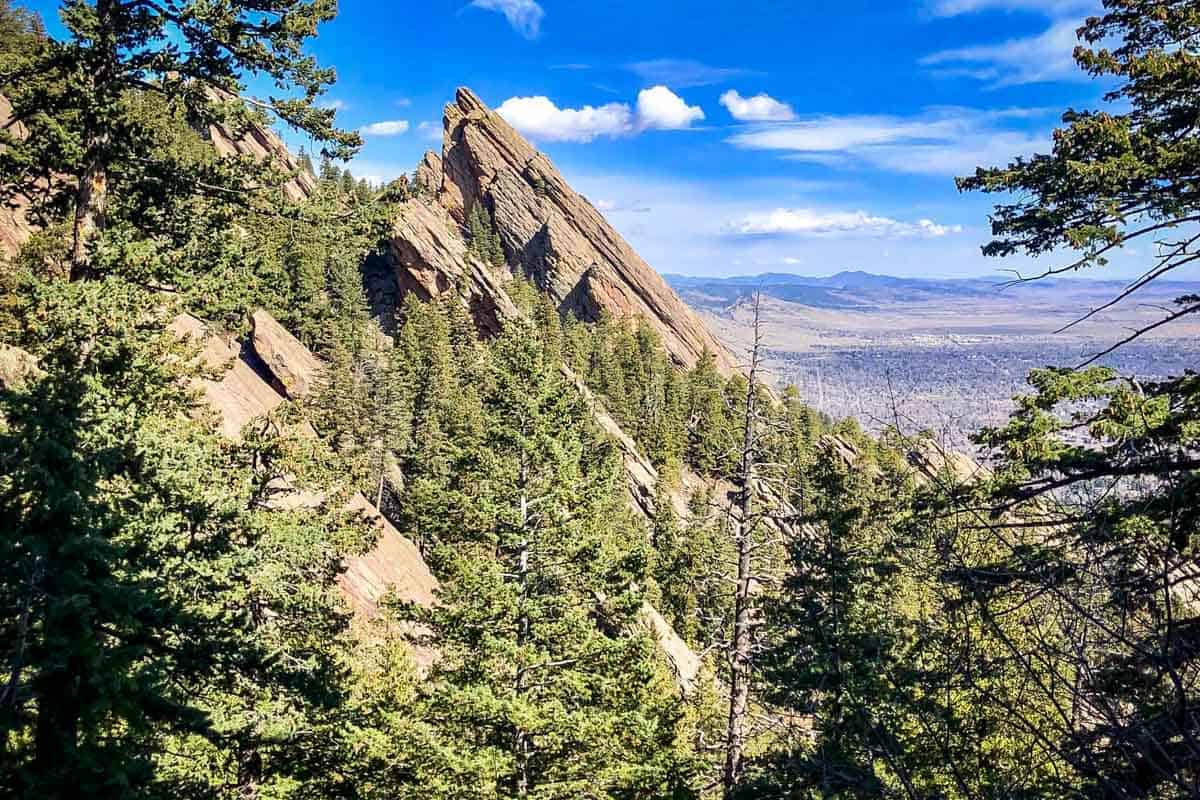 While short, the hike to Royal Arch packs a punch (thanks to numerous switchbacks!)! This trail delivers great views of the Flatirons and the namesake natural rock formation, making it one of the best hikes near Denver.
3. The Mesa Trail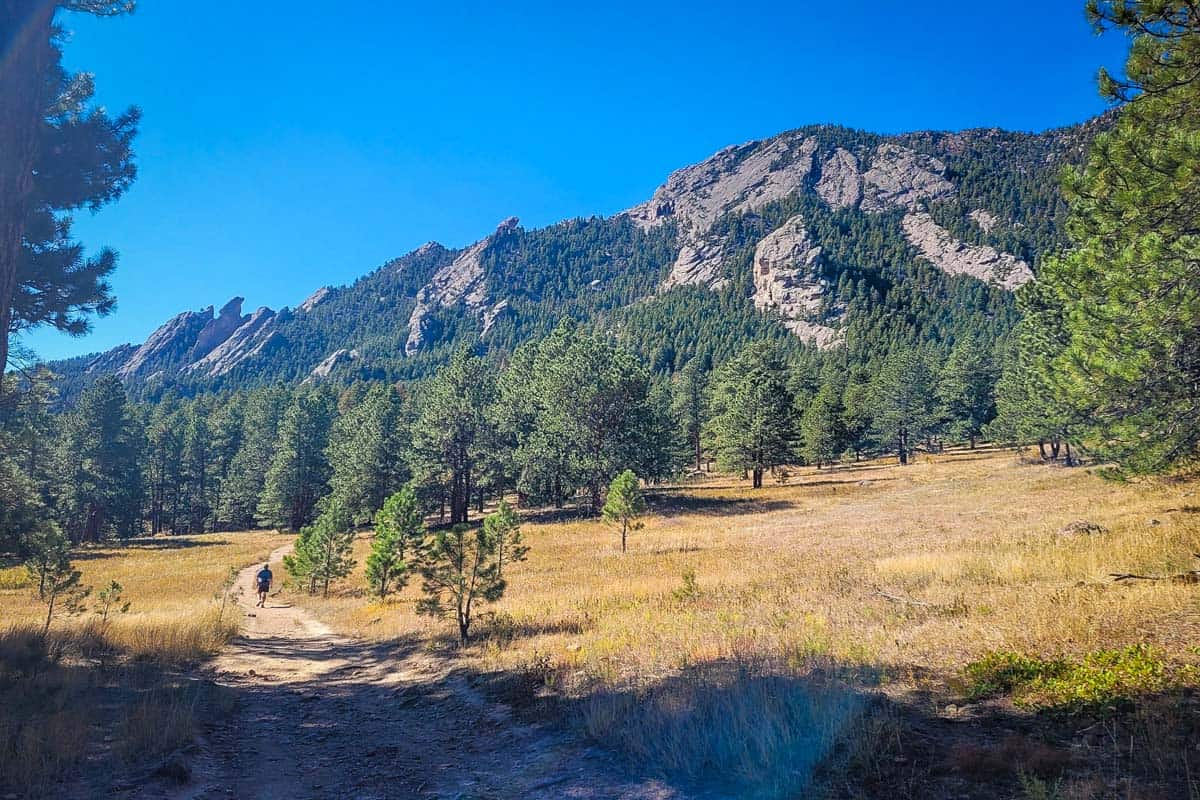 Winding through grasslands, canyons, and pine forest, this trail highlights the best of Boulder. The length deters many, so it's one of the most uncrowded hikes near Denver. The elevation gain, however, is gradual, making it perfect for a trail run or a long, mind-clearing hike.
4. First and Second Flatirons Loop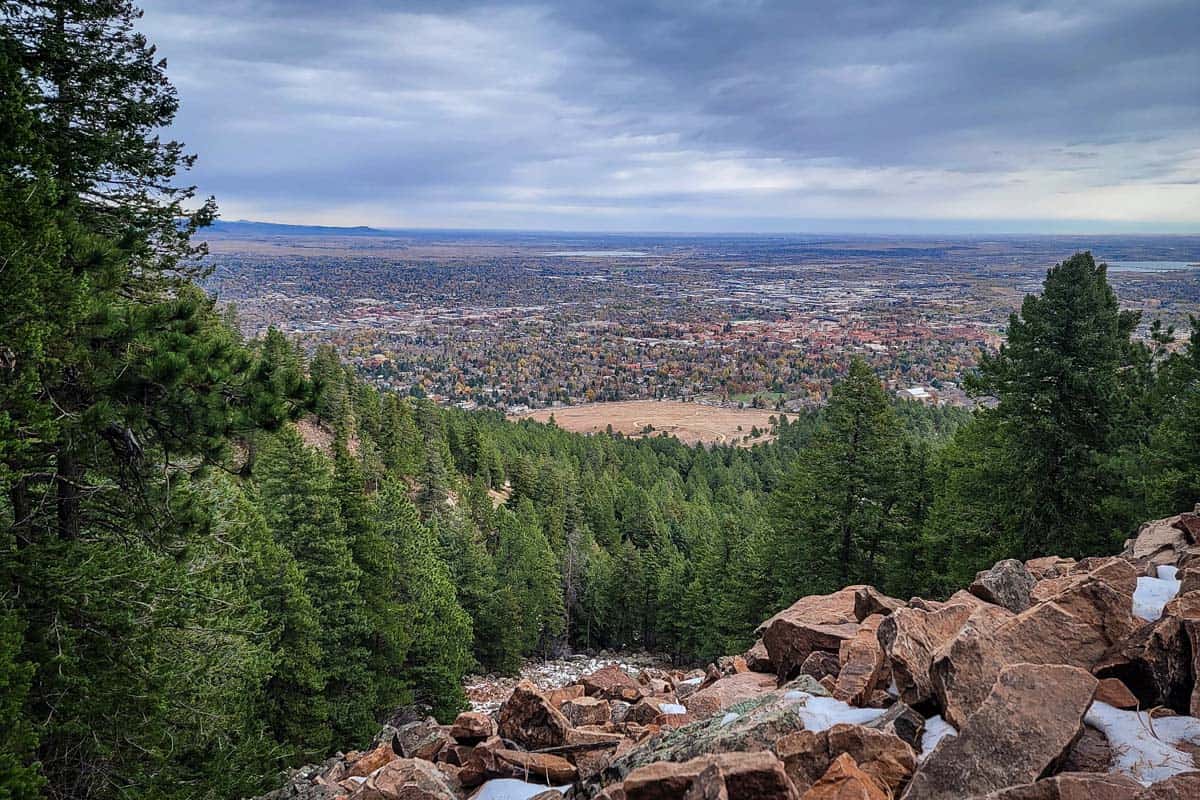 Boulder's most iconic trail gets hikers up close and personal to the equally iconic sandstone formations. There are also overlooks toward Boulder and magnificent snow-capped peaks. Despite its short distance, a steep incline and loose scree present a serious challenge requiring sturdy hiking shoes.

Golden
The former Gold Rush town is located west of Denver in the Rocky Mountain foothills and has plenty of hiking trails to keep you busy outdoors.
5. Panorama Point Trail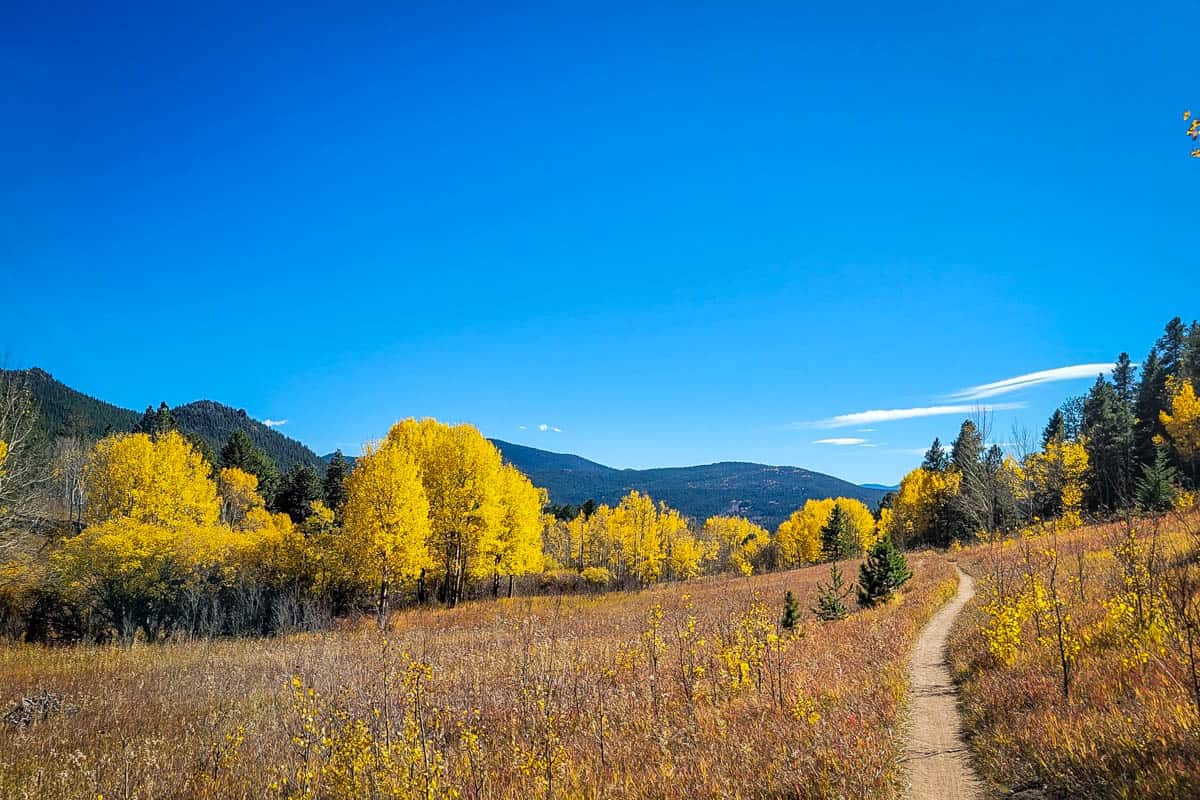 Passing through dense forest, this trail is the perfect escape for some fresh mountain air. In the fall, the aspens turn bright gold, making it a great seasonal hike! Panorama Point opens up to an expansive view of surrounding mountains — and without much elevation gain.
6. North Table Mountain and Rim Rock Loop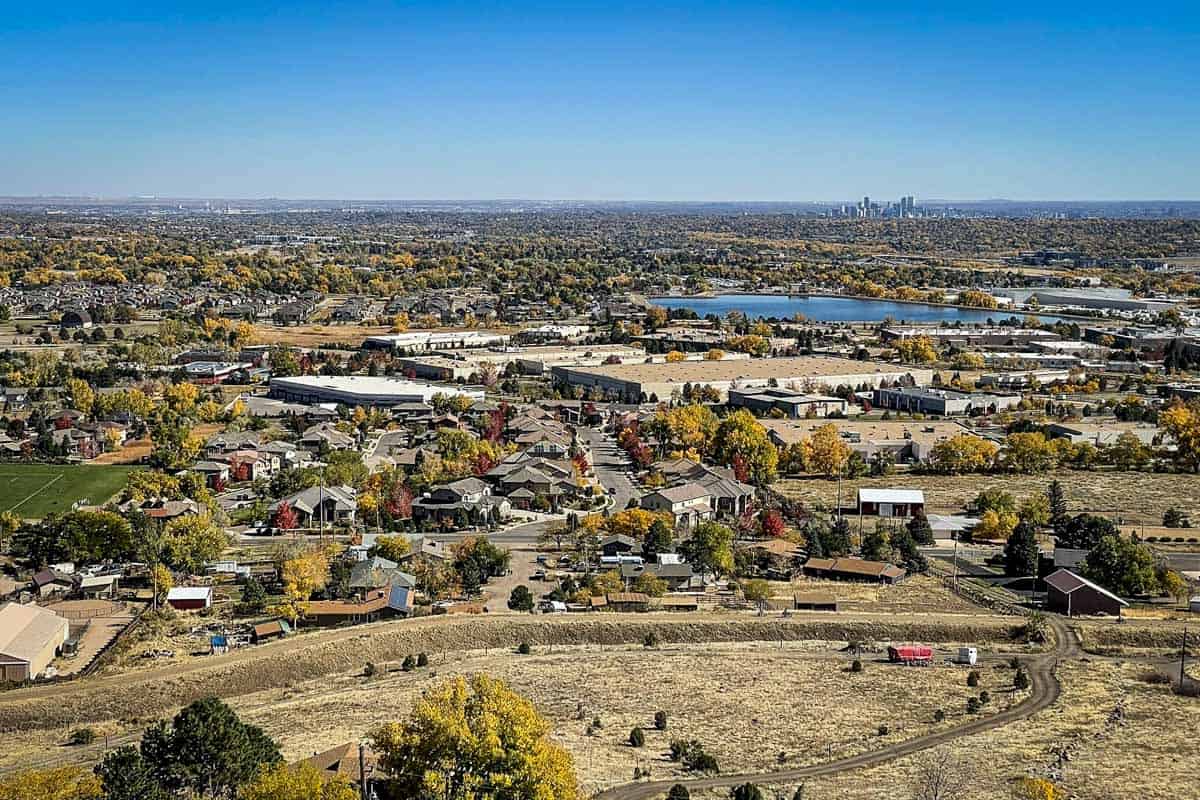 This Golden trail features excellent mountain and city views, plus fun canyons, making it one of the most accessible longer hikes near Denver. With dry, sun-baked terrain, snow generally melts quickly, so the trail is often open through the winter. Note that it is notoriously very windy!
7. Mesa Top & Cottonwood Canyon Loop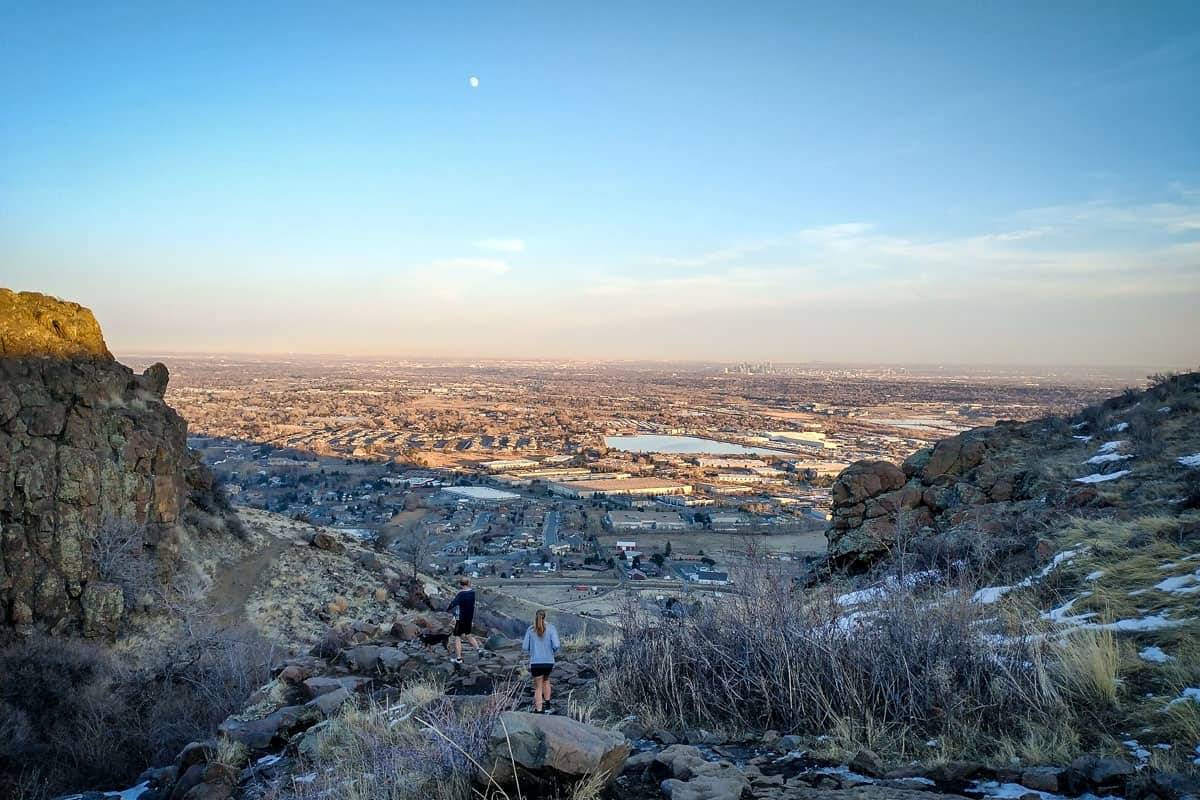 This trail shares much of the same scenery as North Table Mountain, but has a smaller mileage commitment. It's extremely popular amongst mountain bikers and dog walkers due to its easygoing grade, so don't expect a lot of solitude – but the views more than make up for it!

Red Rocks Park
A unique park and outdoor amphitheater situated in Morrison Colorado, Red Rocks is a popular hiking destination near Denver.
12. Red Rocks Trading Post Trail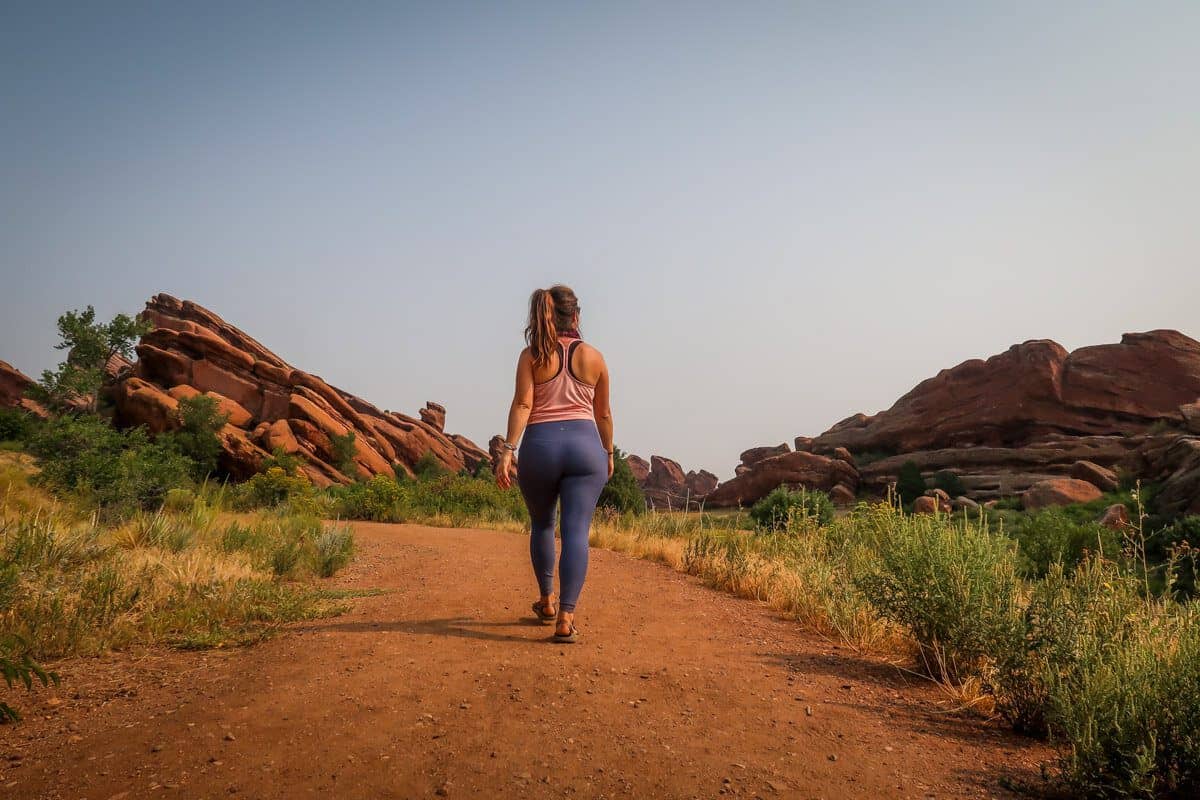 While this easygoing trail is widely considered one of the best hikes near Denver, it feels like a world away. As its name implies, there are plenty of red rocks, including a canyon and intricately carved washes. Due to the proximity to the city, don't expect to have it to yourself.
13. Red Rocks and Morrison Slide Trails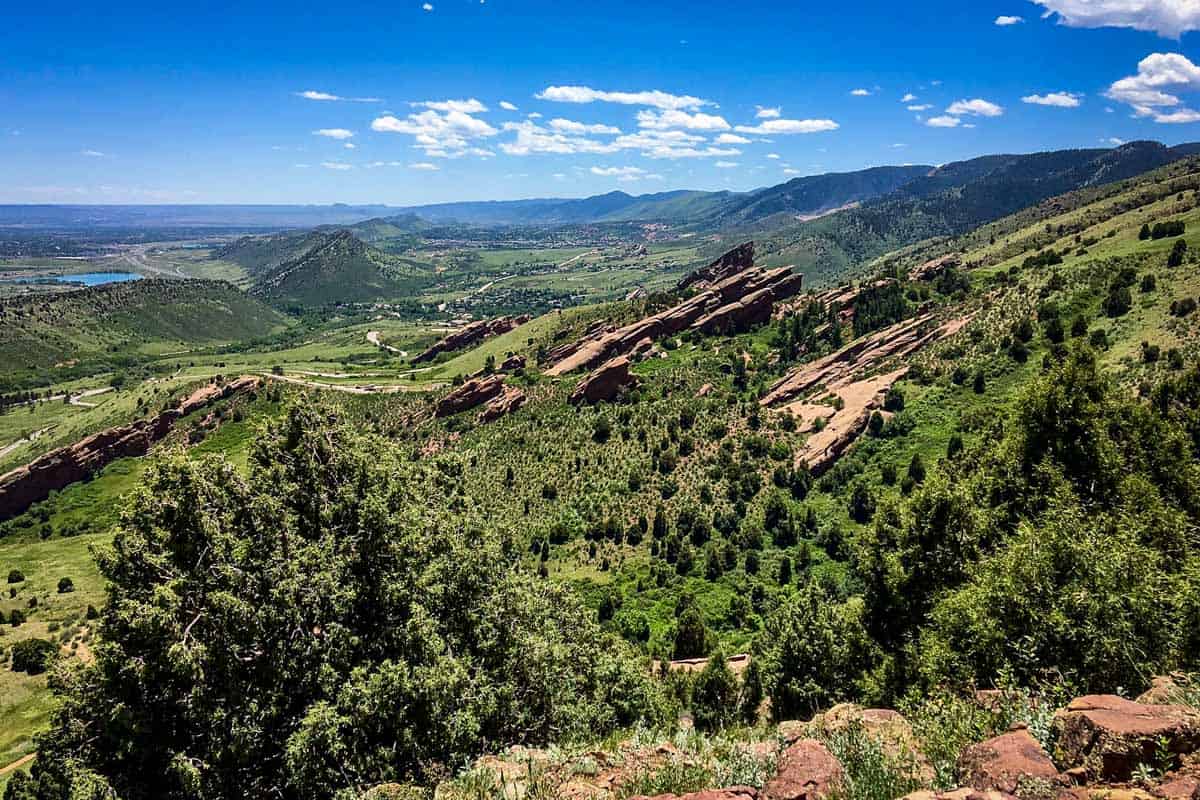 This hike ascends past the rock formations to lofty views of the surrounding valley. Especially popular with trail runners and mountain bikers, the elevation is just enough to get the heart pumping without making it feel like a tiring endeavor.

Brainard Lake Recreation Area
About an hour northwest of Denver, just south of Rocky Mountain National Park, this designated recreation area is full of hiking opportunities.
21. Isabelle Glacier Trail Full Loop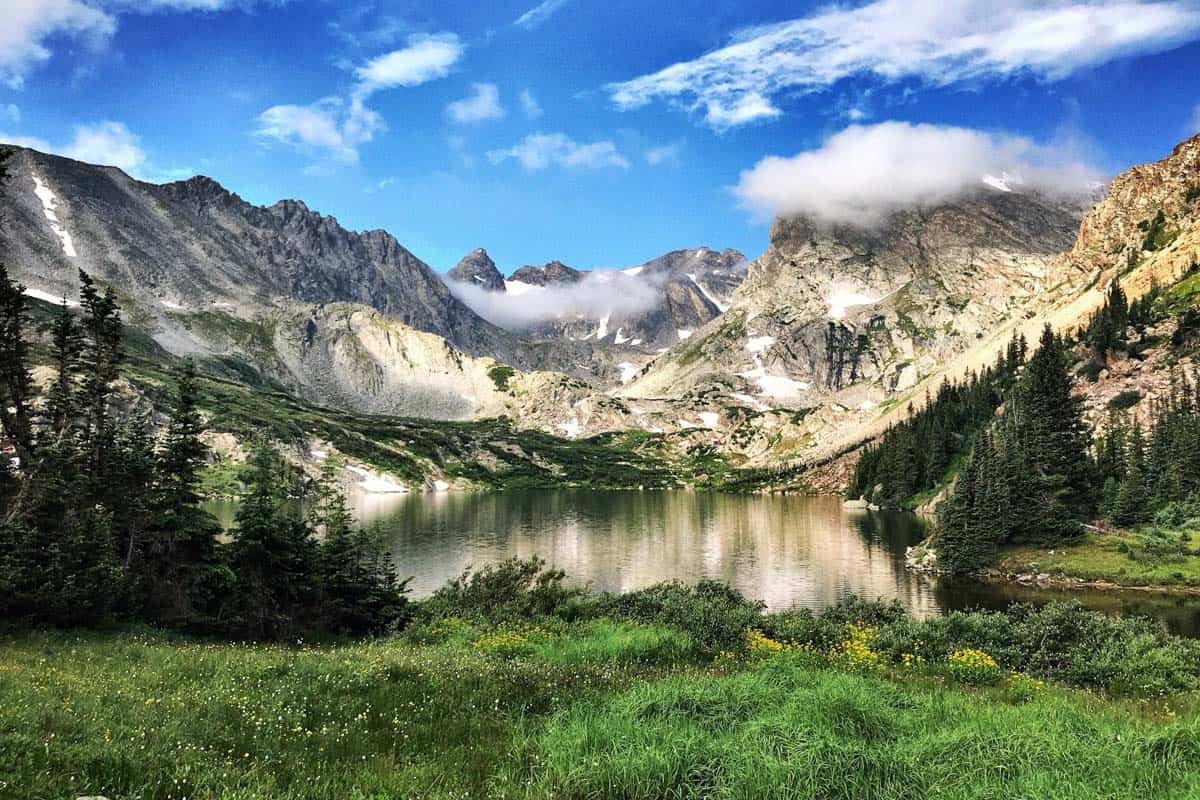 This trail has a short season, generally only passable from July to September. However, when conditions are right, this is one hike near Denver you'll never forget: alpine meadows, lakes, and an up-close look at a glacier. Arrive early to snag parking, and keep your eyes peeled for moose!
22. Mount Audubon Trail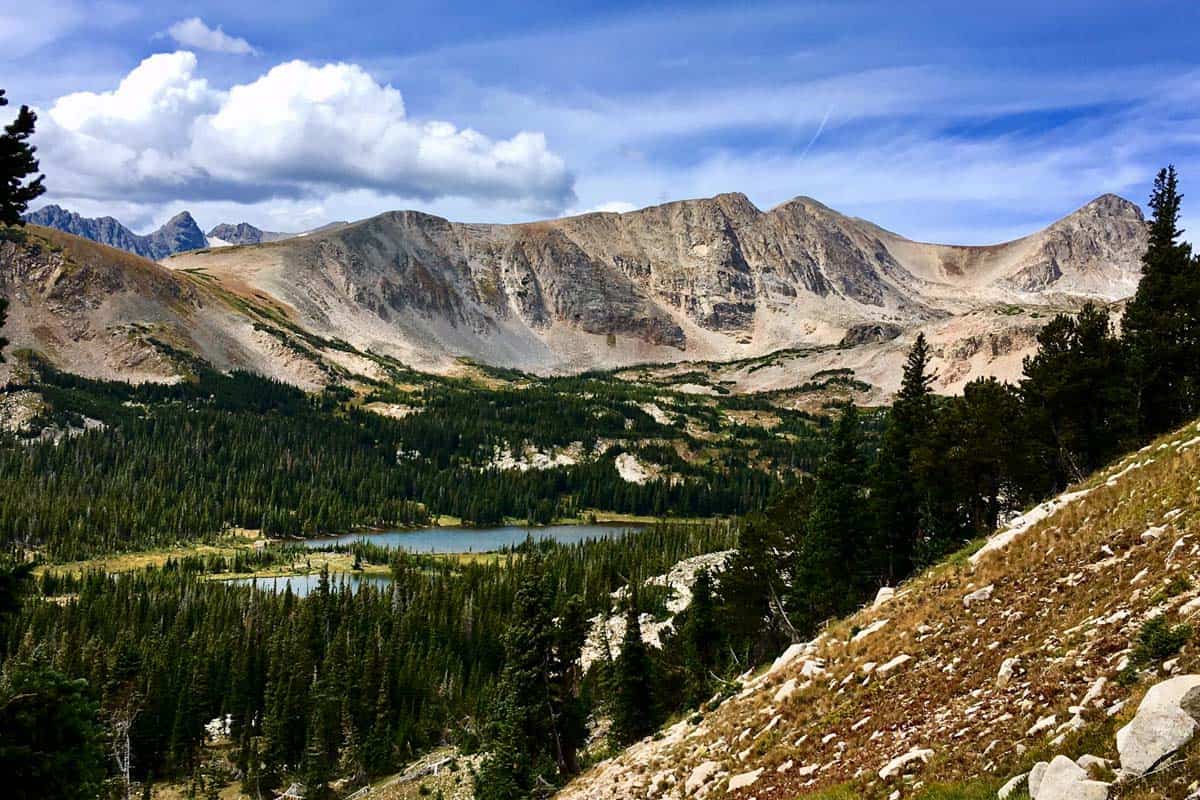 On the Continental Divide, this 13,000-foot mountain is an unforgettable climb. With forest, alpine meadows, and panoramic views, it's the perfect hike near Denver for a nature-fueled reset. Although the elevation gain is sizable, it's well spread out, with no scrambling.

Evergreen
Travel straight west from Denver for about an hour and you'll run into the small but popular mountain town of Evergreen. Situated in the Rocky Mountain foothills, there's ample hiking here.
23. Hicks Mountain Overlook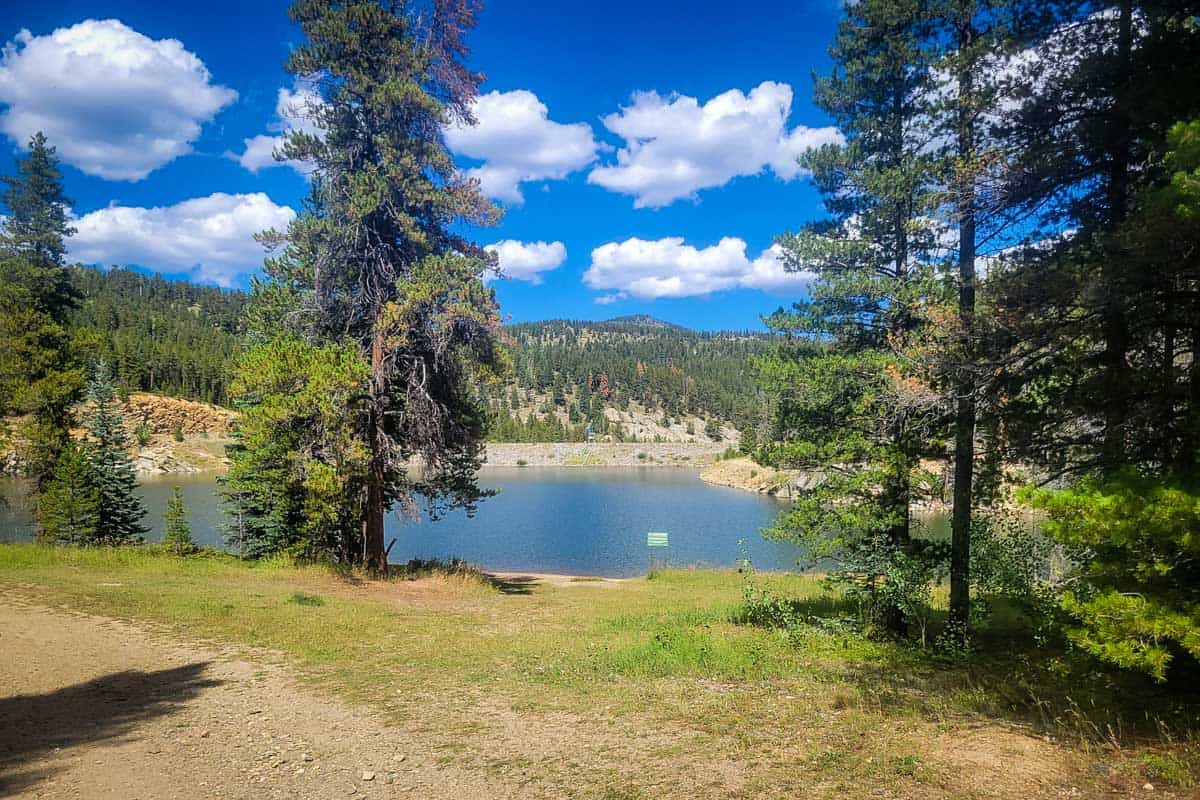 One of the less-visited hikes near Denver, the trail to Hicks Mountain weaves through woods to reveal a scenic mountain view. Popular with snowshoers in the winter, the pet-friendly area is accessible year-round, making it perfect for a spontaneous day trip from the city.
24. Maxwell Falls Lower Trail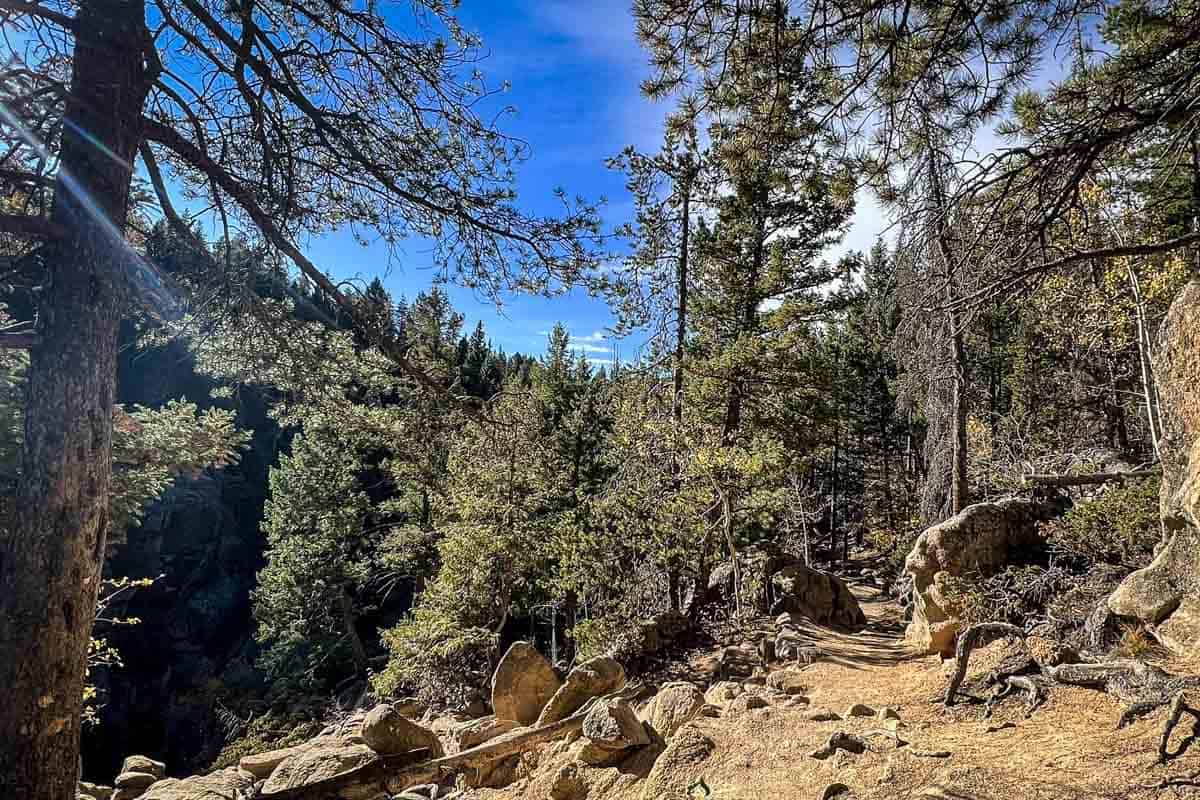 An easy introductory hike, Maxwell Falls can get overly crowded, especially on summer weekends. But hit up this trail during a weekday and it's easy to see the appeal. A gentle trail weaves through the forest, with some cascading creeks along the way to Maxwell Falls.
25. Evergreen Mountain Trail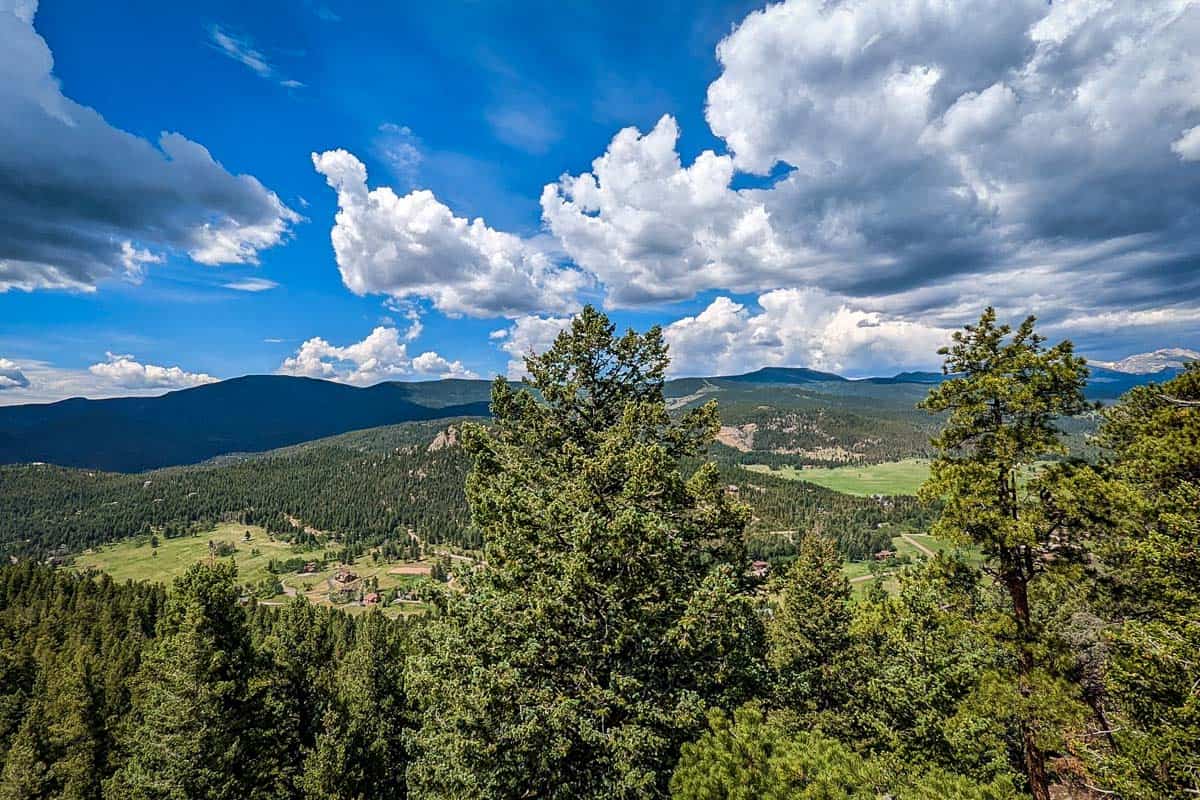 An easy summit hike with picturesque views – what's not to like? Weaving through a pine forest, this hike is accessible in every season, with the trail well-signed for snowy, low-visibility days. The views open up on the saddle, but add the extra mile to the summit — it's worth it.

Rocky Mountain National Park & Estes Park
Denver's most well-known national park draws millions of visitors a year to experience the majestic peaks, pristine lakes, and abundant wildlife. At just 1.5 hours northwest of Denver, it's an excellent destination for some epic hiking.
14. Dream Lake Trail
Popular with both hikers in summer and snowshoers in winter, Dream Lake lives up to its name – a magical lake nestled deep in a valley. The hike to get there doesn't take long, but weaves through enough forest to feel like a true escape.
15. Emerald Lake Trail
To reach Emerald Lake, start on the same trailhead as Dream Lake, but continue on to the valley terminus. You'll understand why this is one of RMNP's most heavily-trafficked trails — the finale, highlighting the namesake lake, is a sight to behold.
16. Sky Pond via Glacier Gorge Trail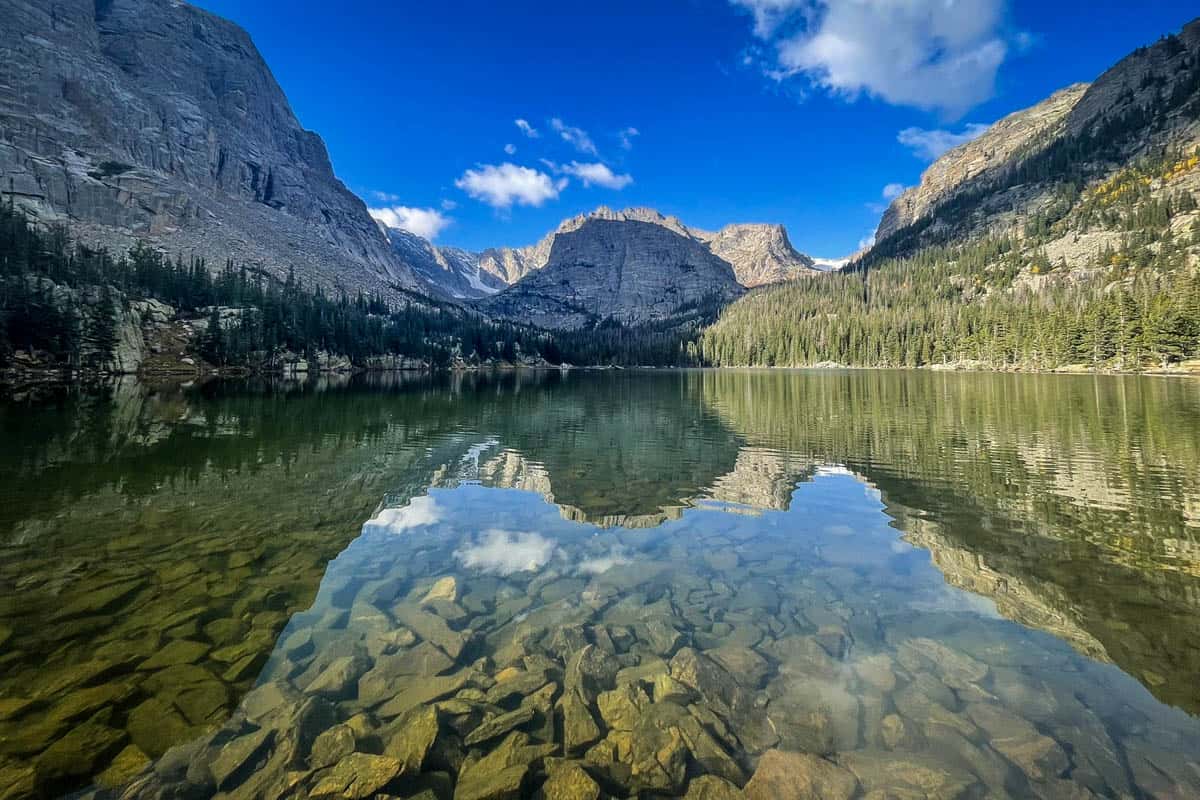 Sky Pond is a breathtakingly beautiful alpine lake surrounded by peaks and sitting at nearly 11,000 ft elevation, earning it a top spot among hikes near Denver. The strenuous trail includes stream crossings, a scramble up a waterfall, and plenty of switchbacks, but the reward is well worth it.
17. Deer Mountain Trail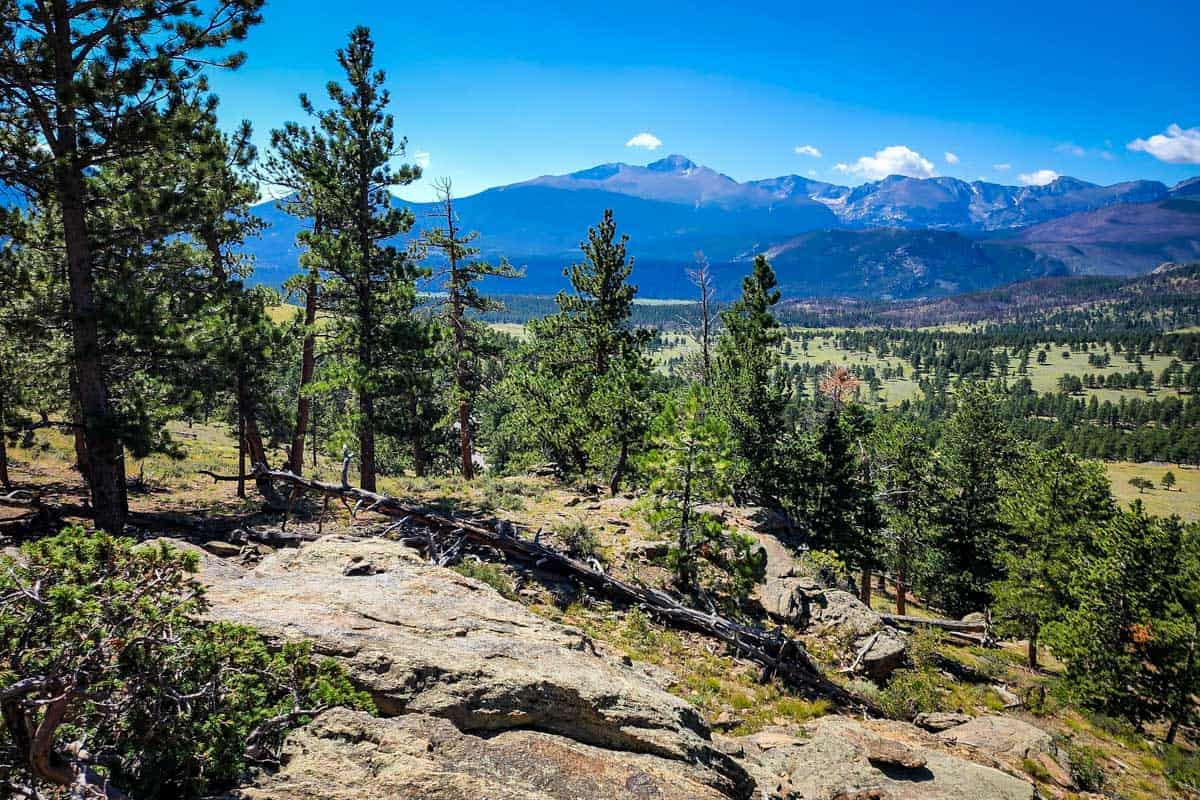 Deer Mountain is a perennial classic summit hike in Rocky Mountain National Park, with a three-mile hike leading to 360-degree views. The trail's ponderosa pine forest offers a wonderfully sweet-smelling respite from the sun. Speaking of sun, avoid Deer Mountain in poor weather — it's often struck by lightning.

Garden of the Gods / Roxborough
South of Denver, you'll run into Roxborough State Park just outside the metro area and then Garden of the Gods down near Colorado Springs.
8. Perkins Central Garden Loop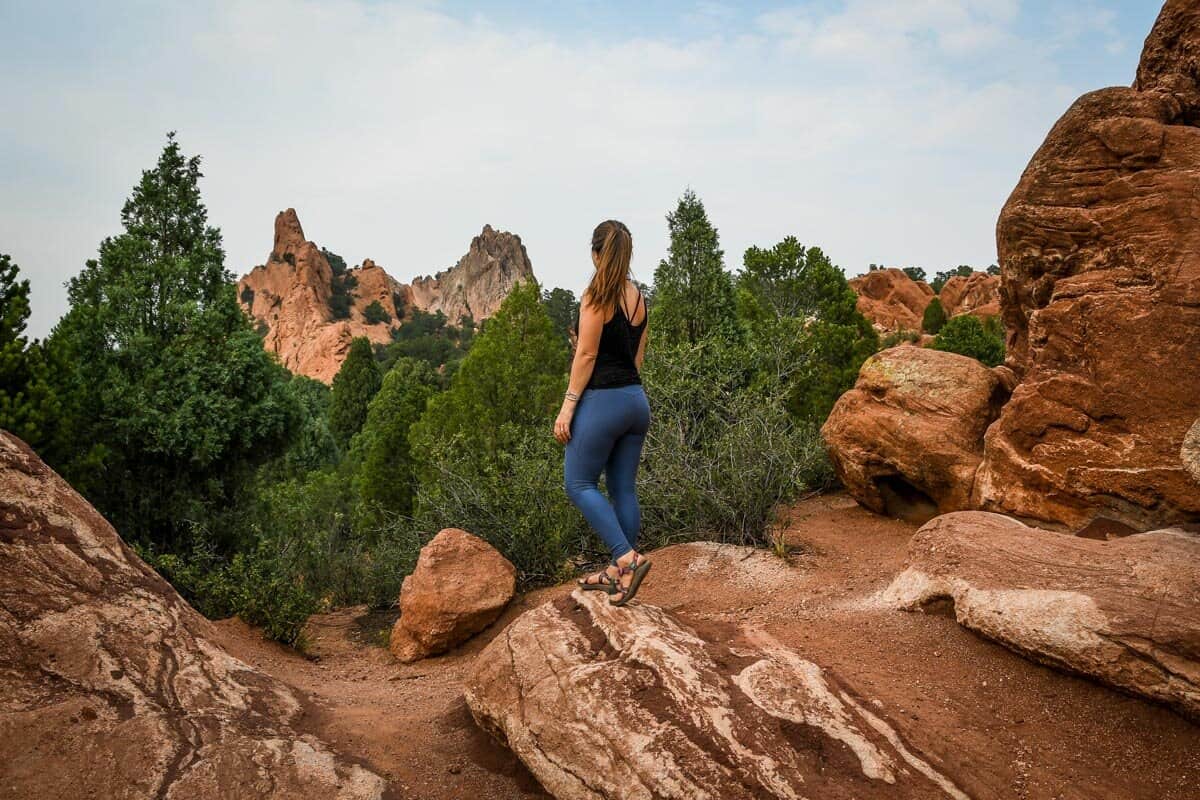 This short, accessible paved trail showcases the striking red rock formations in Garden of the Gods. One of the best easy hikes near Denver for any hiking ability, this picturesque trail offers a pleasant spot for sightseeing.
9. Palmer, Buckskin-Charley, Niobrara, and Bretag Trail Loop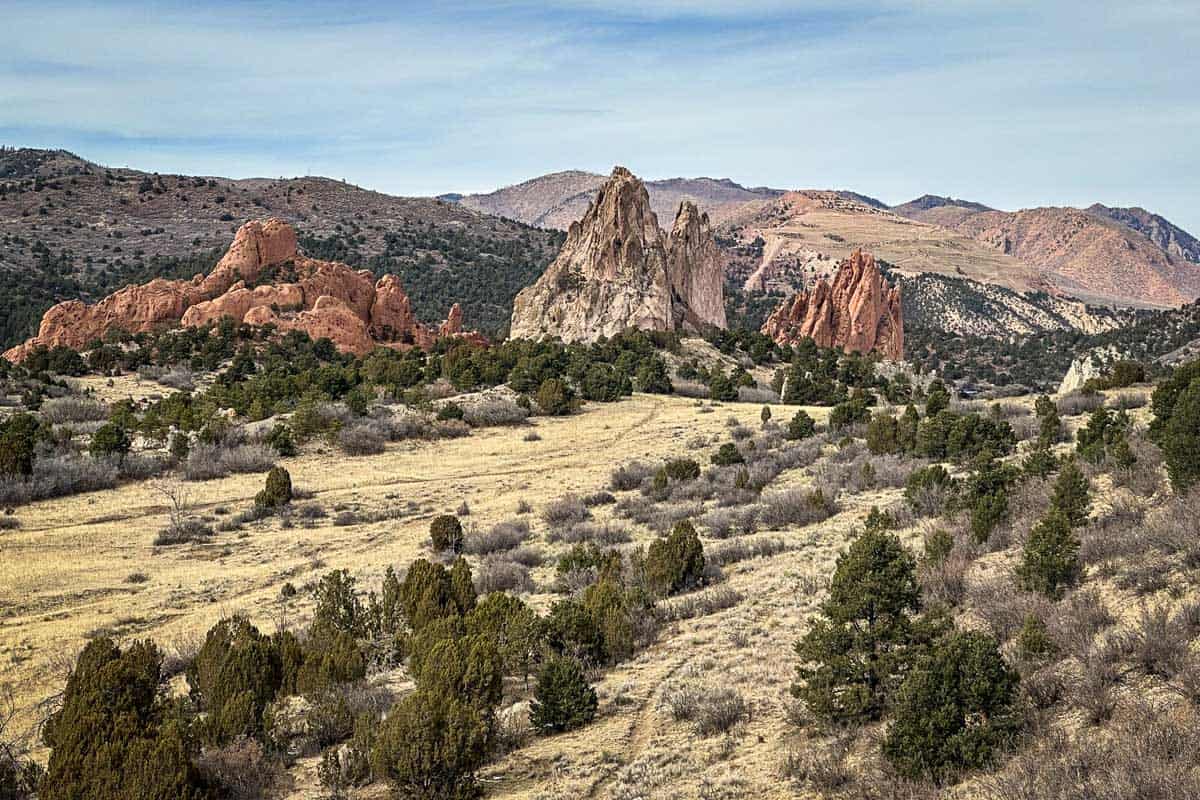 The most engaging trail in Garden of the Gods (that's also dog-friendly!) winds around the monoliths from afar and gets close to several fun rock formations. Wildlife sightings are abundant and on sunny days, the surrounding snowy peaks look extra majestic.
10. Fountain Valley Loop Trail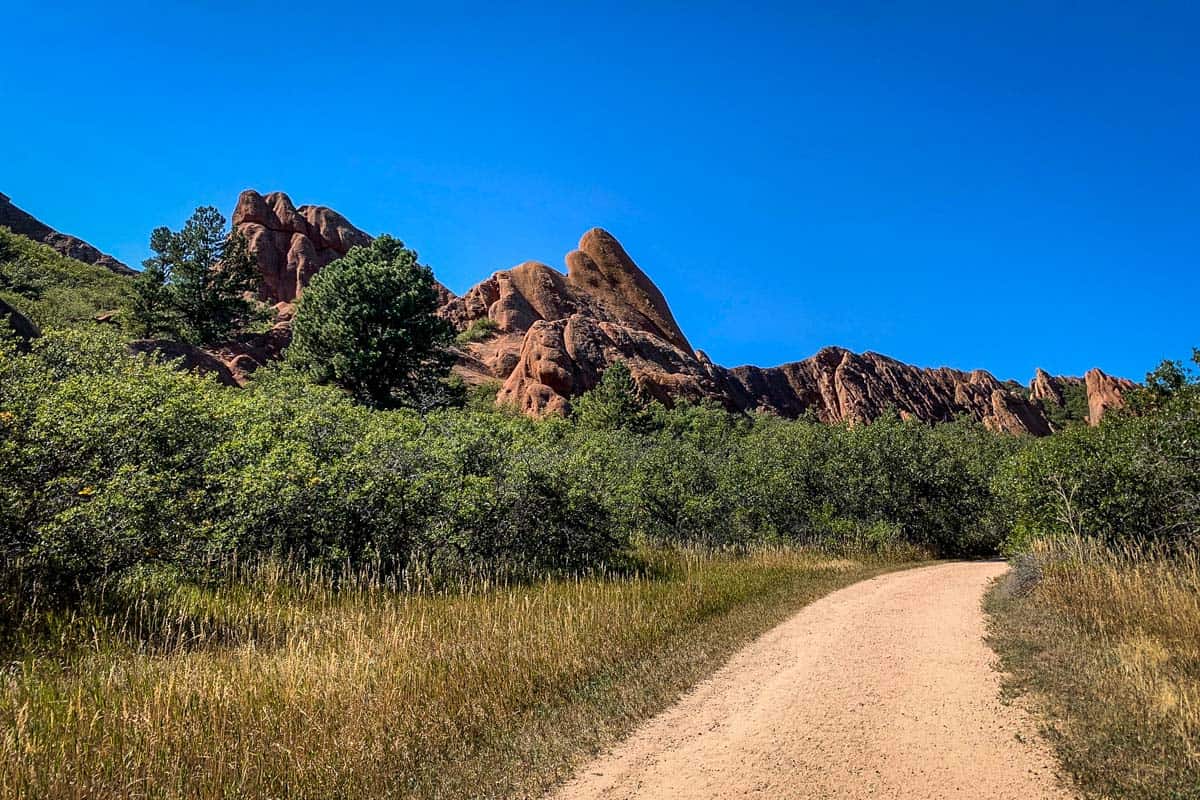 With a gentle grade, unique views of the rock formations in Roxborough State Park, and a historic homestead, Fountain Valley Loop makes a quick excursion feel like an adventure. There are many places for photo-ops, especially during early morning or evening Golden Hour.
11. Carpenter Peak Trail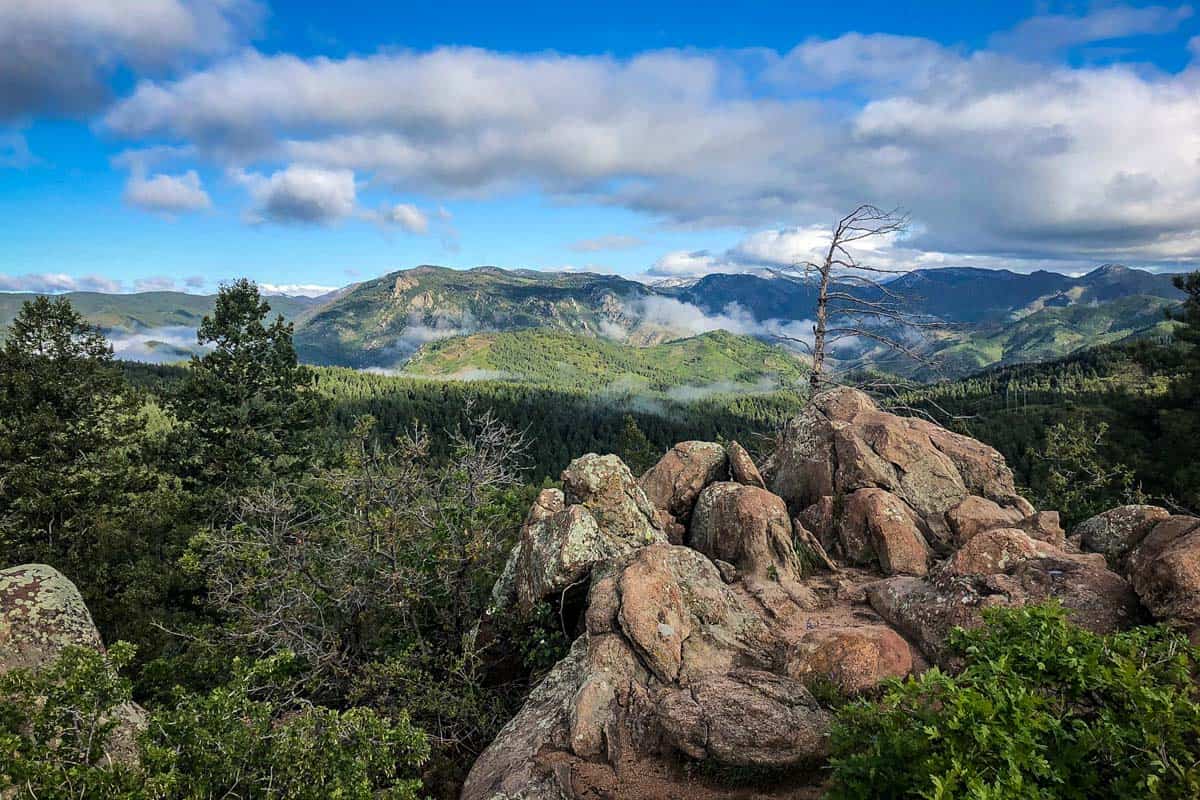 Packing in dense forest, views of rock formations, and mountain vistas, Carpenter Peak Trail features an impressive range of scenery. The view at the top reveals where the Rockies meet the plains, with Roxborough's unique red-rock geology, distant peaks, and Denver metro.

Fourteeners Near Denver
Did you know Colorado has more peaks over 14,000 ft than any other state? Coloradians affectionately refer to these challenging peaks as "fourteeners" and there are lots to tackle within a short drive from Denver.
18. Pikes Peak via Barr Trail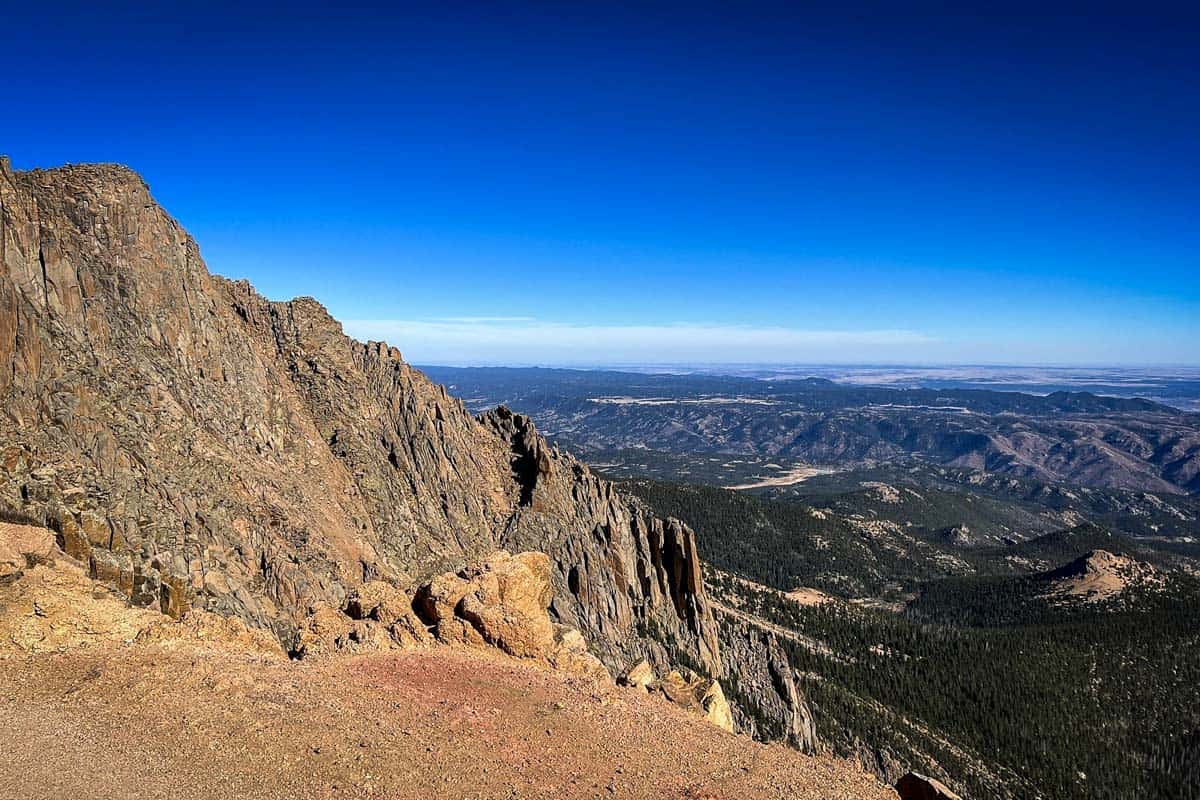 Although Pikes Peak is accessible by car, hiking this uber-famous 14er is a completely different adventure! Passing through several distinct environments, the ascent is not easy, with a 13% grade in many sections. The mountain is also prone to the elements, sun-baked one moment and covered by snow the next.
Insider tip: hike up, then arrange for a ride down!
19. Pikes Peak via Crags Campground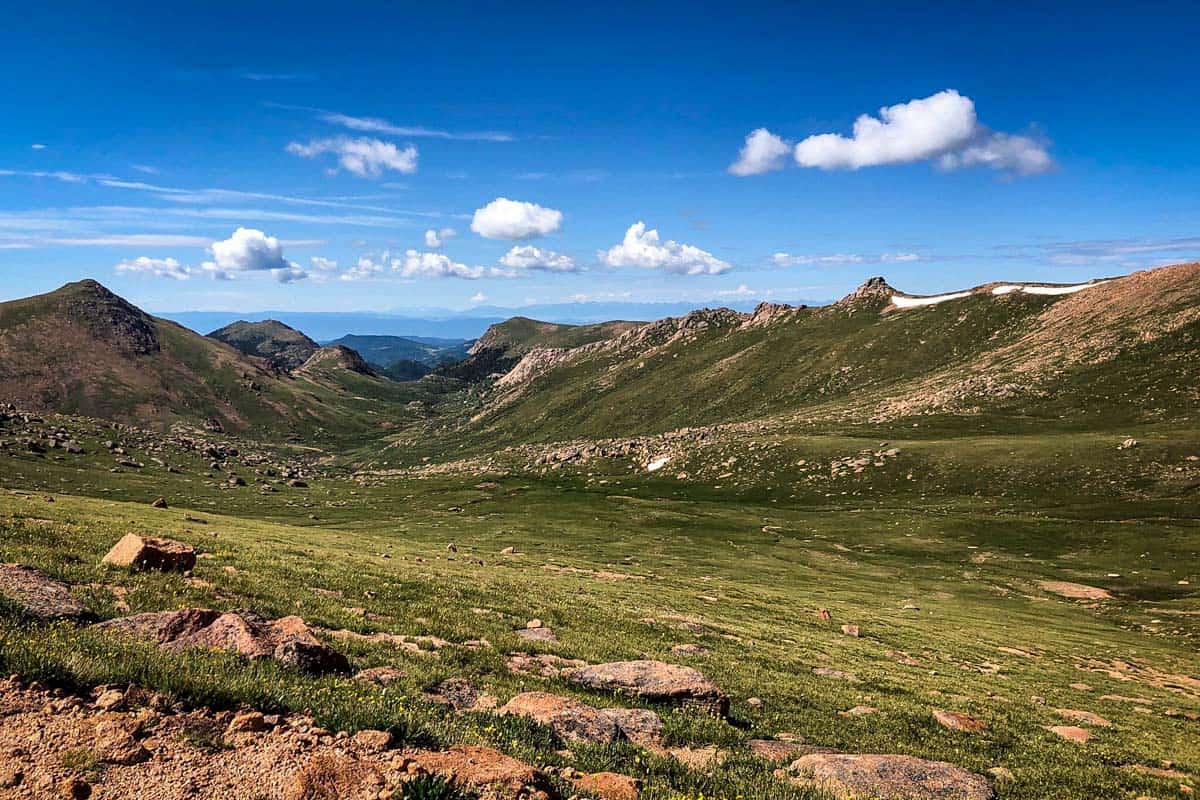 The less popular of the two approaches to Pikes Peak, this route is both shorter and less steep. As a western approach, there are some great views of the Continental Divide above the tree line. Remember, this is high-altitude territory, so be sure to properly acclimate and hydrate!
20. Mount Bierstadt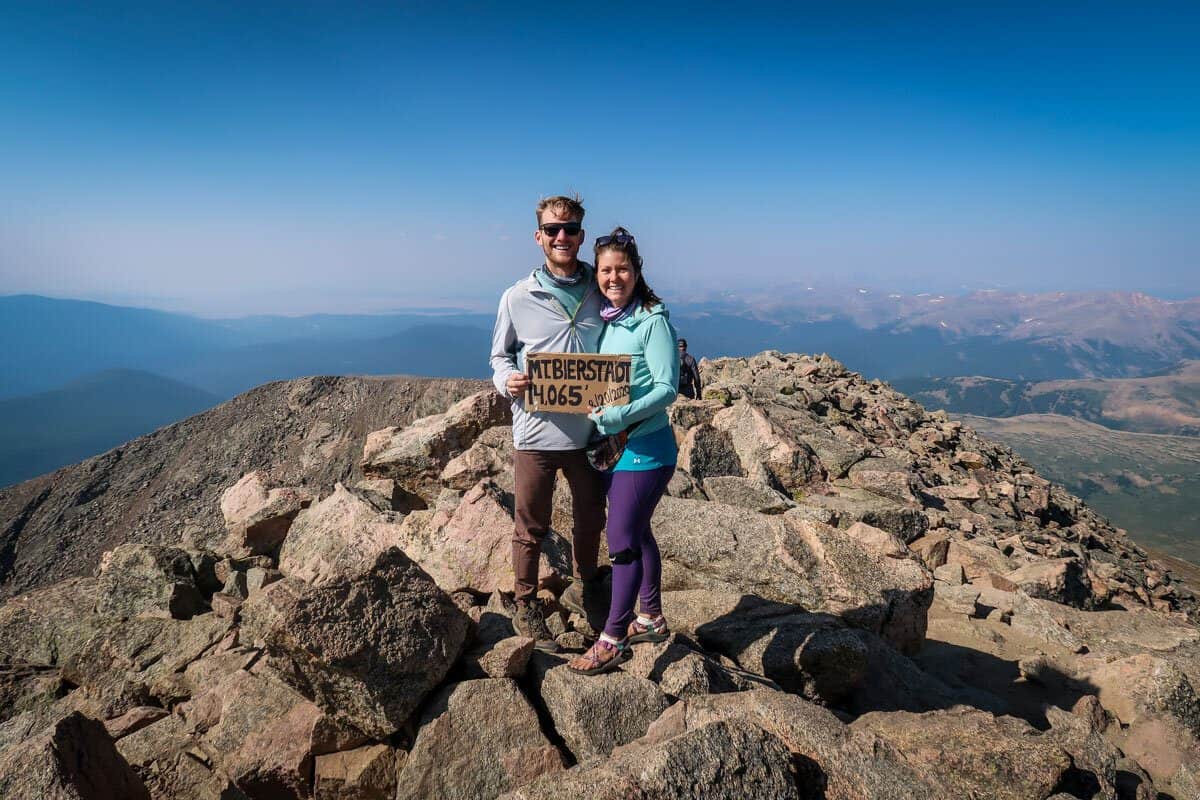 Mount Bierstadt is easily one of the best hikes near Denver (and most popular, so brace yourself for crowds!). The trailhead to the easily-accessible 14er kicks off above the treeline, so the scenery is beautiful from the get-go. The trail is rocky but never sketchy, with no scrambling.

You may also like…
Save this article on Pinterest for later!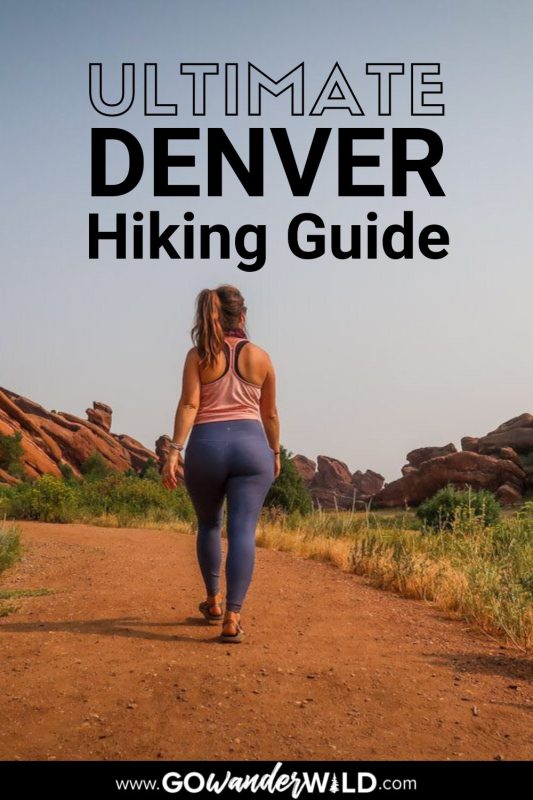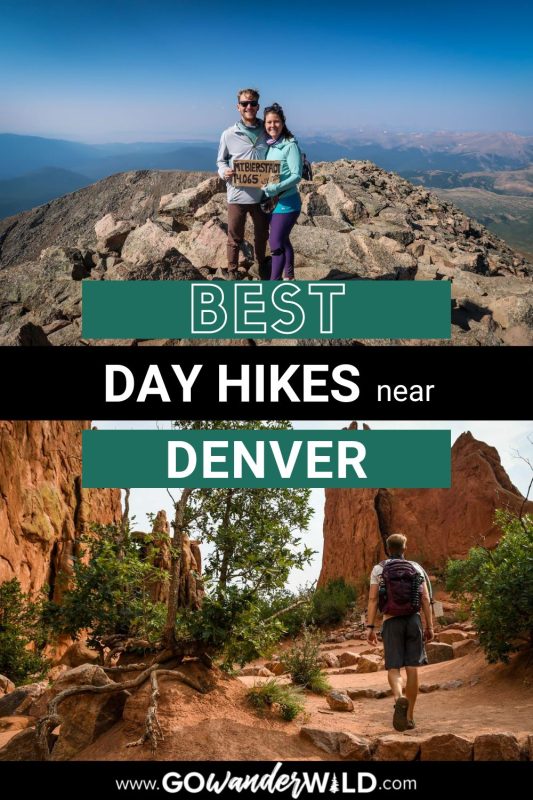 We want to hear from you!
Have you done any of the best hikes near Denver? What was your experience like? Are you planning a trip to the Mile High City and want more advice? Comment below and let us know!