The hike of a lifetime, the 96-mile Wonderland Trail weaves through the best of Mount Rainier's spectacular scenery. There are tons of logistics to consider before attempting this hike, including wilderness permits, campsites, routes, and supplies. This detailed guide will help you plan it all out!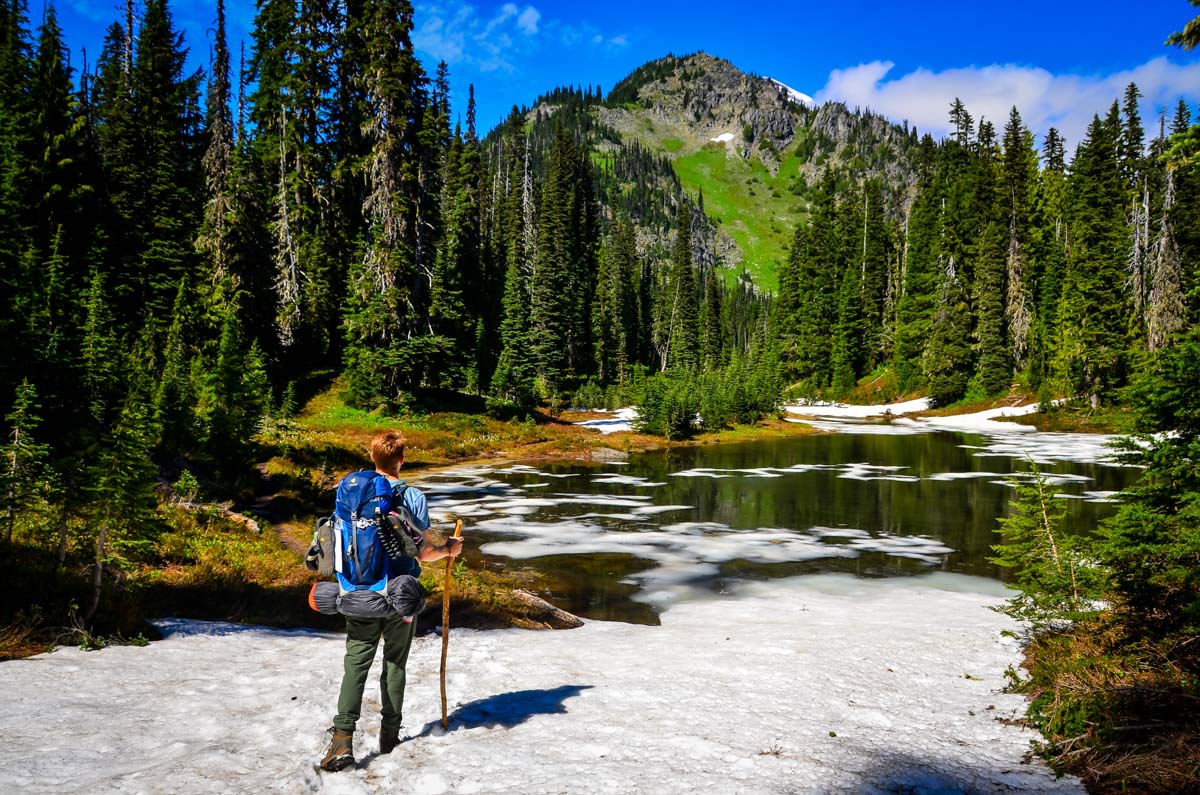 This 96-mile trail circumnavigates Mount Rainier, making one of the most epic multi-day hiking trips in the USA. With wildflower-dotted alpine meadows, glacial lakes, and up close views of the majestic Mount Rainier, the Wonderland Trail is a nature-lover's fantasy.
While Mount Rainier National Park can get crowded in places (like the Skyline Trail) and parking lots in Paradise can feel like a bit of a zoo, it is possible to get away from the hordes of people. Get into the backcountry and the crowds will quickly thin out as you experience a piece of this park that few visitors see.
The best way to experience this kind of peace and solitude in the park is undoubtedly on the Wonderland Trail. This hike was on our radar for many years, and we can say that it is absolutely worth a spot on any hiking enthusiast's bucket list.
The Wonderland trail has a healthy amount of ascents and descents—hiking the entire Wonderland Trail requires a decent level of fitness and experience. Plus, if you plan to do the entire trail, you'll need to carry the proper gear and plenty of food.
However, it is possible to hike a portion of the Wonderland Trail as a day hike or just a few days on trail to get a taste of this incredible experience.
Whether you plan to do a section or the whole thing, this guide will help prepare you with everything you need to know about hiking the Wonderland Trail.
Article Contents

Wonderland Trail hike at a glance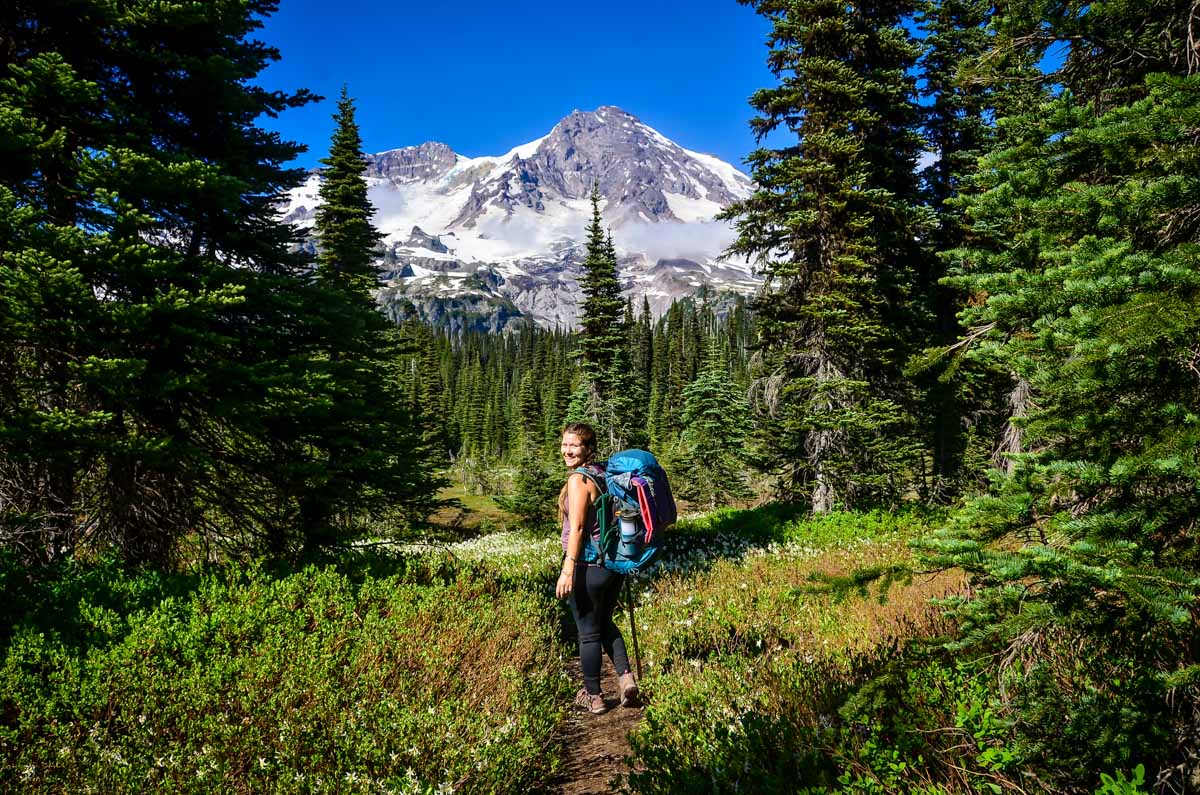 Location: Mount Rainier National Park
Distance: 96-mile loop
Elevation: 25,341 feet
Difficulty Rating: Extremely challenging
Timing: 6-8 days
Pets: No
Permits: Wilderness permits required for camping overnight in the park
Meandering up and down (and up and down, and up and down…) in a 96-mile loop around Mount Rainier, the Wonderland Trail is worthy of all the superlatives. Filled with glaciers, alpine meadows, raging rivers, dramatic mountain peaks, and of course, an abundance of spectacular Rainier views, this hike truly shows off what makes the national park such a gem.
The Wonderland Trail is incredibly varied, and it seems there's a whole new biome to explore each day of hiking. The trail itself is in pristine condition, campsites along the way are well-spaced out, and the scenery is ever-changing, keeping you motivated to continue on even when you're certain you have nothing left.
The competitive permit system and complexity of choosing a series of (available) campsites if you win a highly-coveted permit, as well as figuring out the food cache system, is tricky. With a bit of luck and a ton of planning and preparation, however, the Wonderland Trail will be a backpacking trip you'll never forget.
Things to know before you go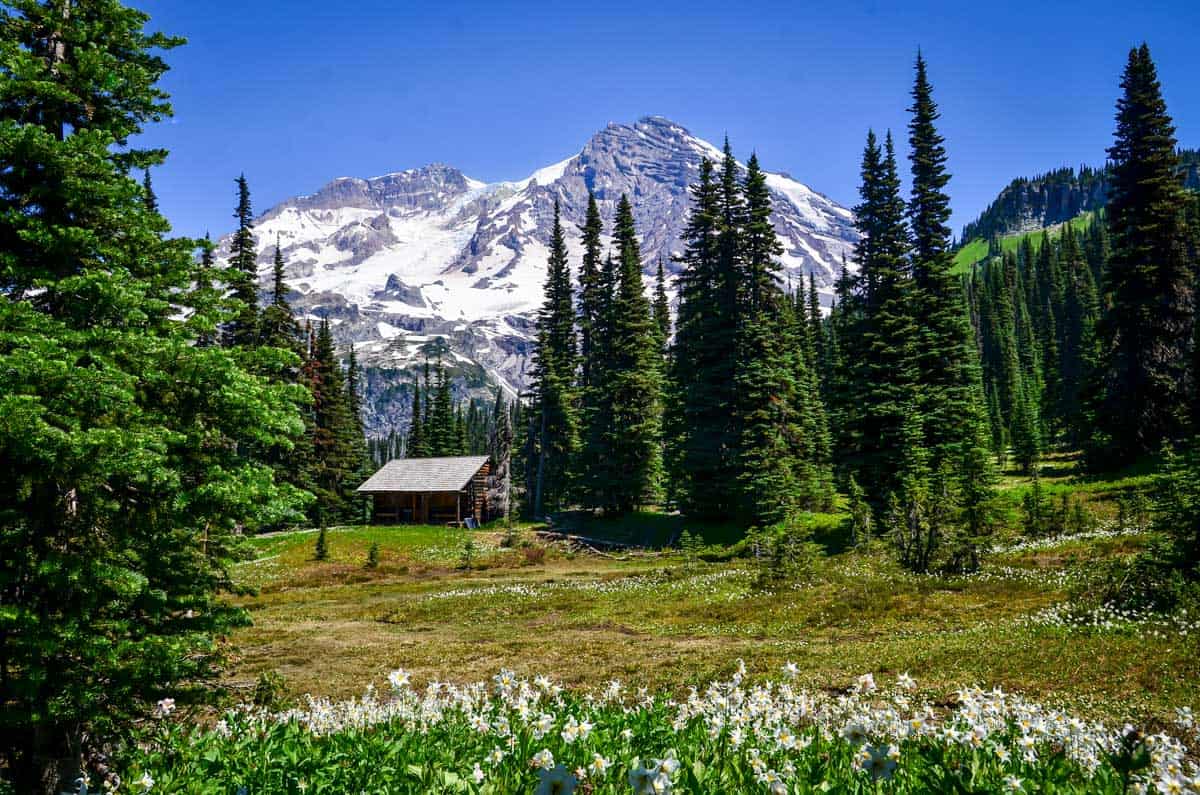 Being such a long, challenging route, there are many logistics to consider before tackling the Wonderland Trail. We've broken down all the important details for you below.
Best time of year for the Wonderland Trail Hike
The Wonderland Trail is accessible to hikers from mid- to late July through September. Mount Rainier gets hit hard with rain and snow most of the year, and snow lingers on much of the trail until late July. Heavy rains start up again toward the end of September, and the first major snow usually falls by the beginning of October.
In August, you can expect mostly picture-perfect sunny days, with highs in the 70s. However, this is also peak hiking season, especially leading up to Labor Day. The Wonderland Trail is most crowded at this time, and permits for August are also the most difficult to secure (more on that later).
Personally, we recommend hiking the Wonderland Trail in September — ideally right after Labor Day. Not only are the wilderness permits slightly less competitive in September, but the trail and campsites are noticeably less crowded and you may also catch some spectacular fall foliage.
This is good advice for all outdoor excursions, but especially for this particular hike: understand the seasonal (and sometimes even daily or heck, hourly!) variations at Mount Rainier are extreme. Freak blizzards are possible at literally any time of year!
Do your homework and check weather conditions for the entire duration of your hike, before you even leave your house. Once you actually get to the park, ranger stations also provide detailed daily forecasts and meteorological conditions.
How long does it take to hike the Wonderland Trail?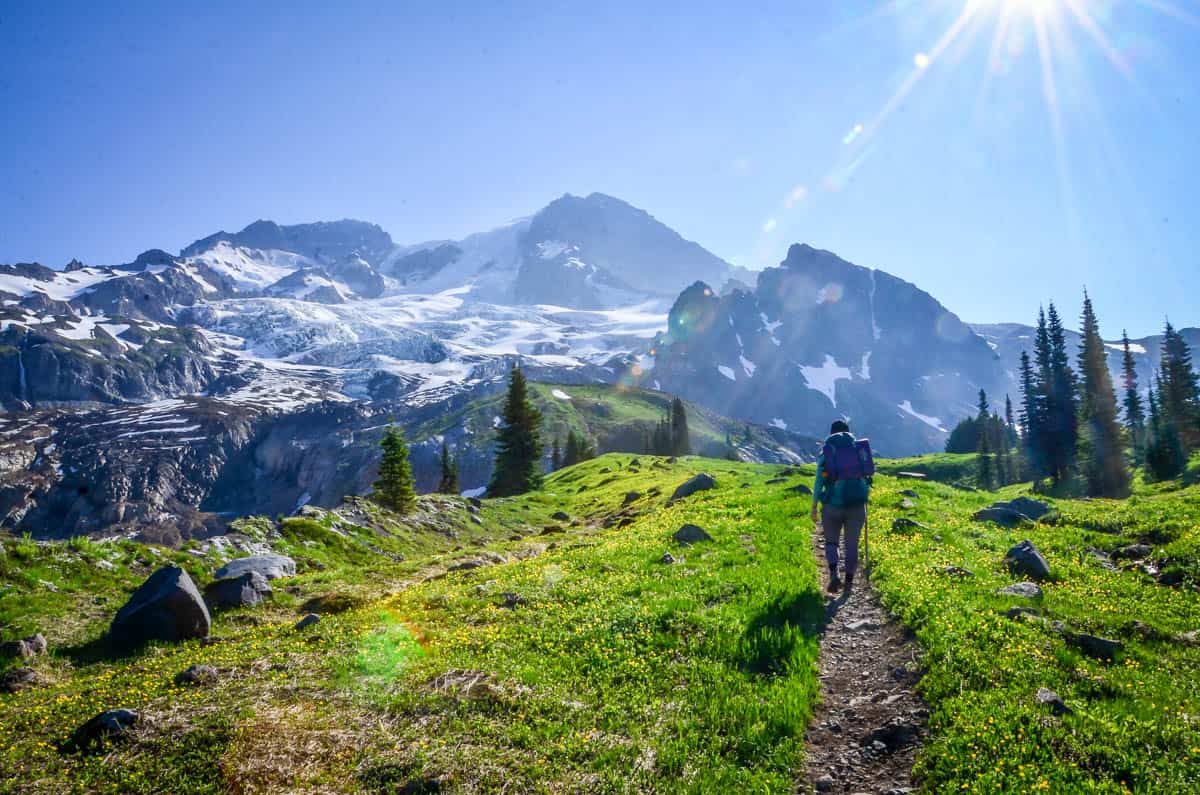 Regardless of your fitness level or hiking experience, the Wonderland Trail requires a ton of hiking — 96 miles, all with continuous elevation changes. The amount of time necessary for this hike ultimately depends on your abilities, campsite permits, and the type of experience you're looking for.
Some ultra-fit, experienced trail runners who pack ultra-light manage to complete the Wonderland Trail in just three days. The main advantage of such a speedy trip is avoiding the permit system, as you can camp at the Cougar Rock, Mowich Lake, and White River campgrounds without needing a wilderness permit. However, such an aggressive pace is unattainable by most hikers and there will be constant pressure to hurry and get to camp.
A 6-8 day timeframe is much more realistic. This length of time aligns well with the distances between campsites and prevents 20-plus-mile days on the trail.
Make no mistake, there will still be some challenging stretches, but the sights and sounds of Mt. Rainier will keep you going! Of course, not everyone can take a week off from daily responsibilities to hike, but if you can swing it, this is definitely the sweet spot.
If you do have the time and would like to immerse yourself even further into the Wonderland Trail, 10- or 14-day itineraries are also popular. This pace lets you keep hiking days to under 10 miles, with several well-distributed campsites.
You'll still have the feeling of making continuous progress, but with more time to rest and enjoy the sights. Taking more time on the trail also makes it more convenient to resupply at Mowich or Sunrise.
Permit/campsite availability and personal schedules often determine what length of trip is possible, so you may not hike the Wonderland Trail the way you originally imagined.
One thing to consider is backpacking just a portion of the trail. There are some seriously stunning sections that could easily be organized as a long weekend trip and over time, you could hike every section to complete it. This is known as "section hiking."
How difficult is the Wonderland Trail hike?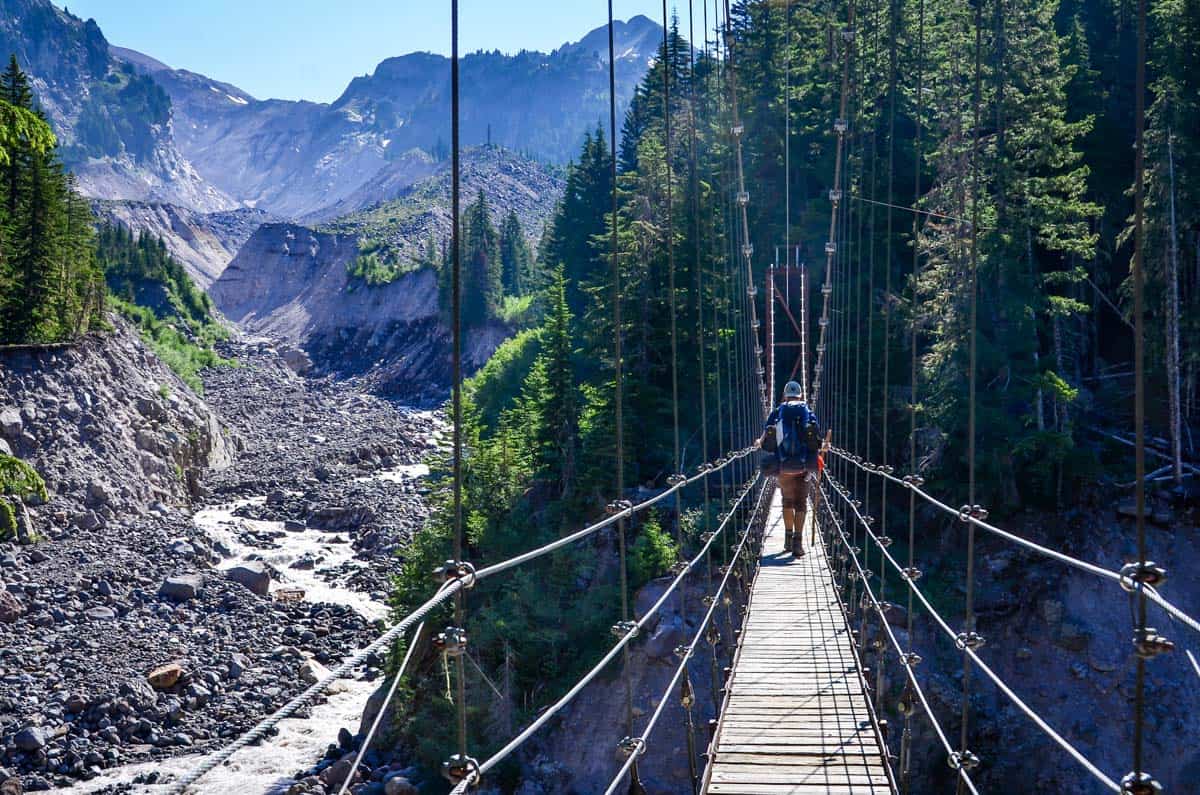 We'll let the stats speak for themselves here — with 25,000-plus feet of cumulative elevation gain, the Wonderland Trail is intense!
Keep in mind also that you'll make the ascents with a backpack full of gear, water, and food.
Fortunately, the ups and downs are distributed fairly consistently throughout the miles. The highest elevation on the route is just shy of 6,800 feet and the lowest about 2,500 feet, so rather than consecutive days of scaling a mountain, there's almost always some downhill respite.
Plus, the trail is wonderfully maintained and there are bridges over all stream crossings. No scrambling is required, so there's also no need to worry about sketchy ascents.
It's about as good as it gets for backpacking: diverse landscapes, varied trail intensity, and abundant natural beauty. Especially over a week-long itinerary, anyone comfortable with a lot of hiking would enjoy it!
Obtaining a permit for your Wonderland Trail hike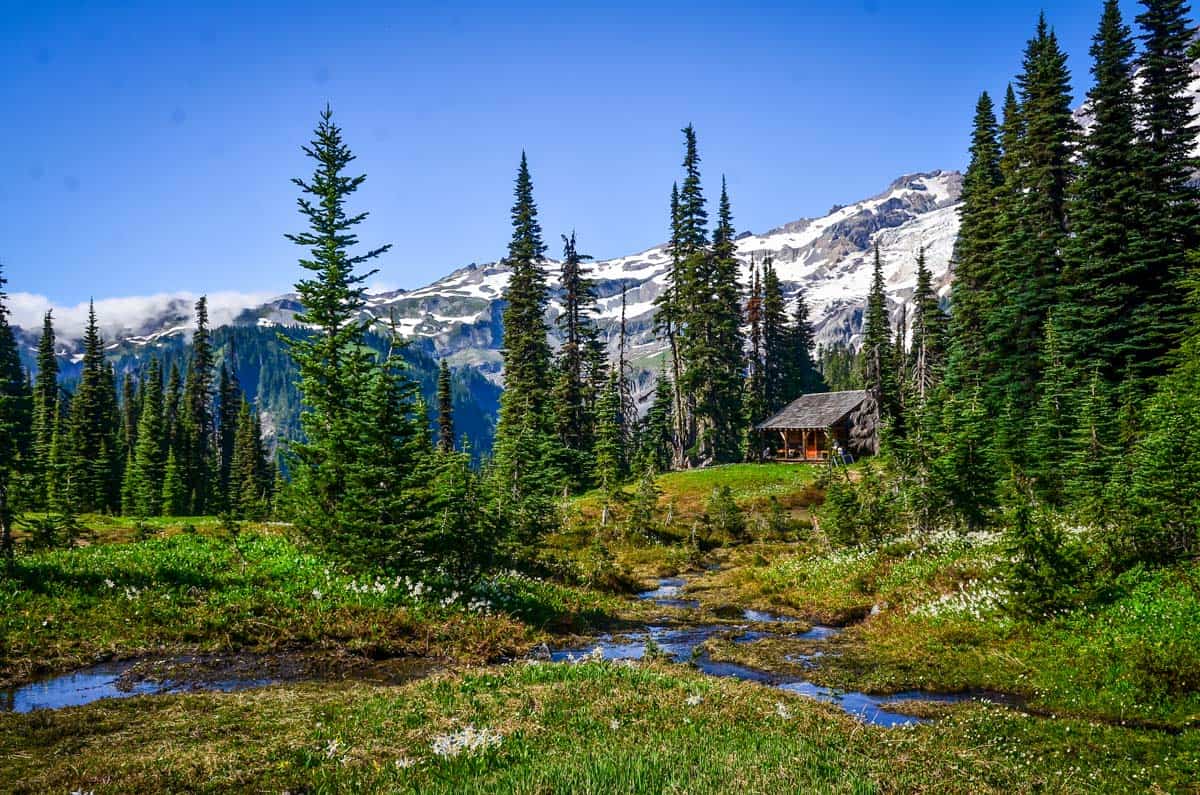 There are two basic things everyone needs in order to hike the Wonderland Trail, in terms of permits: a national park pass for entry into the park and a wilderness permit for camping overnight.
Most hikers apply for campsite permits through one of two application windows, the online lottery or the general on-sale reservations system. Both are accessible via recreation.gov.
Hopeful hikers can apply for the early-access lottery during a two-week window in late February or early March every year, and successful applicants are notified in late April.
Notably, successful permit winners may only reserve ONE campsite during this early access period. In other words, if you have an itinerary planned around six campsites, you'll only be able to reserve one during the early access window. We highly suggest you choose your first night's campsite during your reservation, and you'll understand why in just a moment.
On April 25, general on-sale permits become available to anyone. This is where things really get competitive. Only "remaining reservable inventory" is available, but now you have both early-access permit winners and the general public vying for remaining campsites.
If you're hoping to scoop up some campsites during this general on-sale period, here's a tip: keep checking back. The system gets flooded during the first several hours, but then things calm down. Keep checking back! This is also true for further into the season, as cancellations do occasionally happen.
Two-thirds of Wonderland Trail campsite permits are administered through the web, but the other ⅓ are given out on a first-come, first-served basis via a walk-up window the day of or the day before your hike starts.
This sounds easy, we know, but trust us, it isn't. Hikers form lines literal days in advance and stay camped out nearby, hoping to get a permit each day.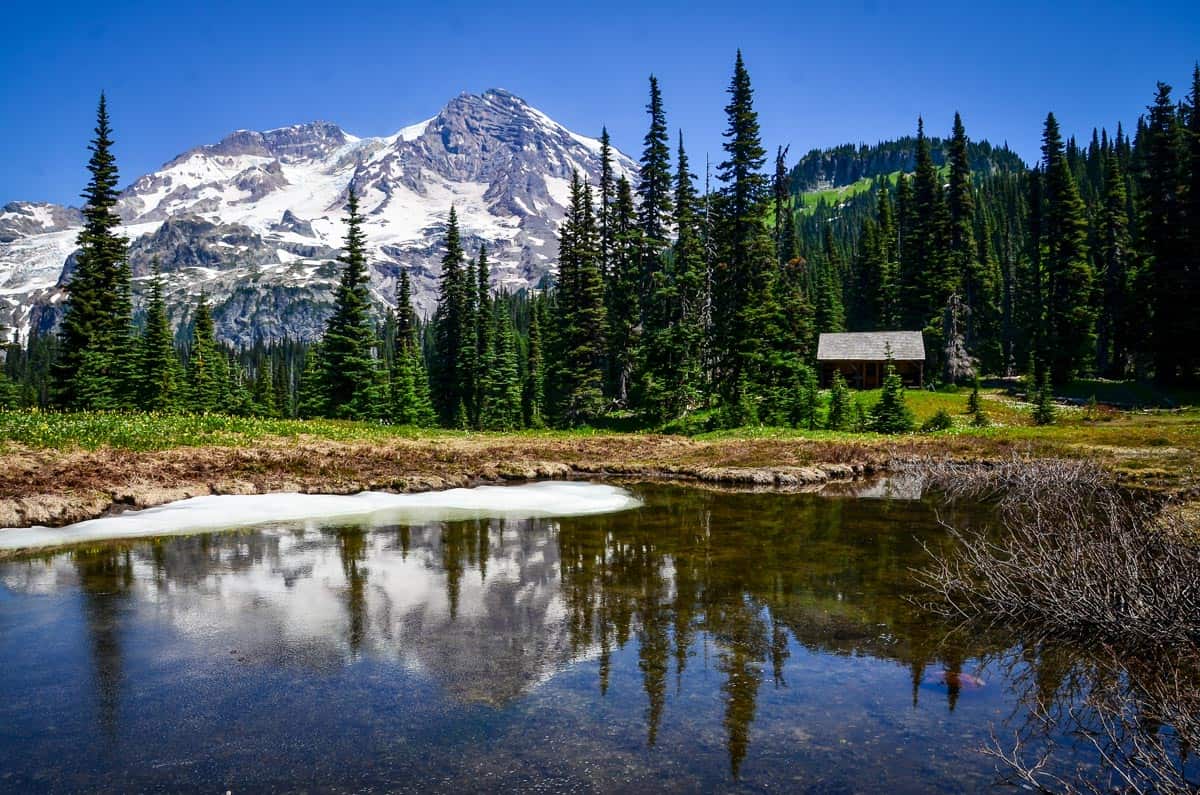 Four different ranger stations issue permits:
Paradise Wilderness Information Center
White River Wilderness Information Center
Carbon River Ranger Station
Longmire Wilderness Information Center
Note that wilderness permits are only issued using the lottery system for hikes between June 1 – October 10th (peak season and the best conditions for the trail). Wilderness permits are required year-round, but during the off-season, you can get one by simply stopping by a ranger station.
Insider tip: Any time of year, even if you have a secured reservation, it's a good idea to stop by a ranger station. The staff will provide up-to-date information about weather conditions, the trail, and other information.
Another important thing to note (we warned you that there are a ton of logistics with this trail!) is that if any campsite on the route is full, the entire route is rejected. As a result, it benefits you to plan multiple route options.
Study which campsites have the most openings (park rangers usually post an updated list each morning) and pick alternates. Also consider other, non-wilderness campsites not on the Wonderland trail but close by (like Spray Park).
Note: The sole exception to the wilderness permits, which we mentioned earlier, is a pretty rare situation where hikers would camp only at the three non-wilderness sites. These campsites include:
Mowich Lake Campground
White River Campground
Cougar Rock Campground
Of course, this means completing the entire trail in just three days, which is why it's a fairly unusual situation. However, it may be a good idea to include at least one of these sites in your Wonderland Trail itinerary due to their better availability.
Wildlife on the trail
On such a long trail, wildlife encounters are practically guaranteed. More hopeful sightings include bald eagles, marmots, elk, and beautiful stellar jays.
Black bears and mountain lions do inhabit the area, but keep in mind, human-involved incidents are exceedingly rare. However, make sure to store food properly in a bear canister, especially at camp, and carry bear spray as an additional precaution.
If you spot any wildlife, back away slowly instead of running.
The route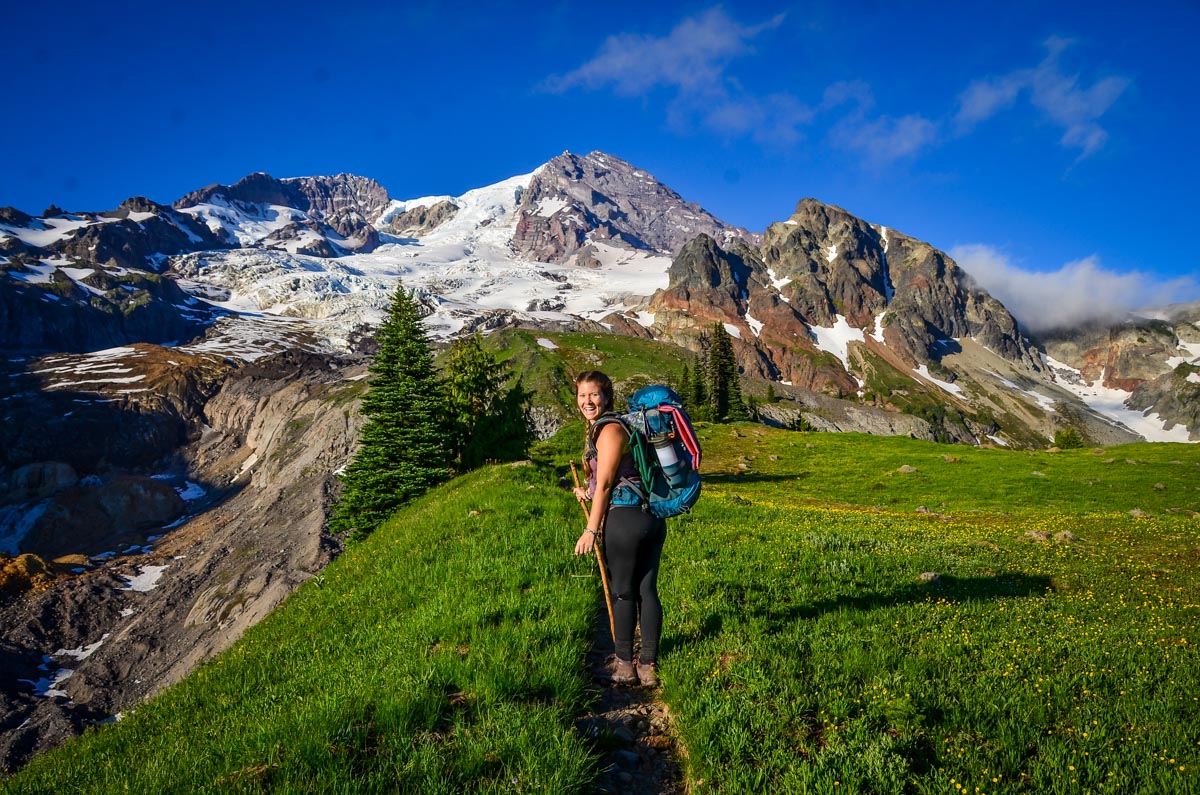 A loop encircling Mt. Rainier, the Wonderland Trail doesn't have an "official" start or end point and it can be hiked in either direction. The vast majority of hikers start at Longmire or Sunrise and go clockwise, however, the direction usually depends on the permits the group secures.
Here, we'll focus on the route starting from Longmire:
From Longmire, the trail weaves through old-growth forests, numerous streams, and ridges full of wildflower-covered meadows. The jaw-dropping nature of the Wonderland Trail presents itself quickly and you'll understand exactly how it got its name.
One of the first picture-perfect spots is Indian Henry's Hunting Grounds, an old ranger log cabin framed perfectly by Rainier's silhouette.
Other highlights along this part of the hike include the hair-raising Tahoma Creek Suspension Bridge, stretching and swinging 200 feet across the glacier-fed creek. There are signs warning hikers to cross one at a time, and we highly recommend you obey them.
A little less than 20 miles from Longmire, the trail approaches Klapatche Park, widely considered one of the best campsites on the Wonderland Trail. This is an excellent first-night spot for hikers planning at least 4 or 5 days on the trail.
From here, the trail descends past the North Puyallup River, through abundant wildflowers in the summer and colorful foliage in autumn.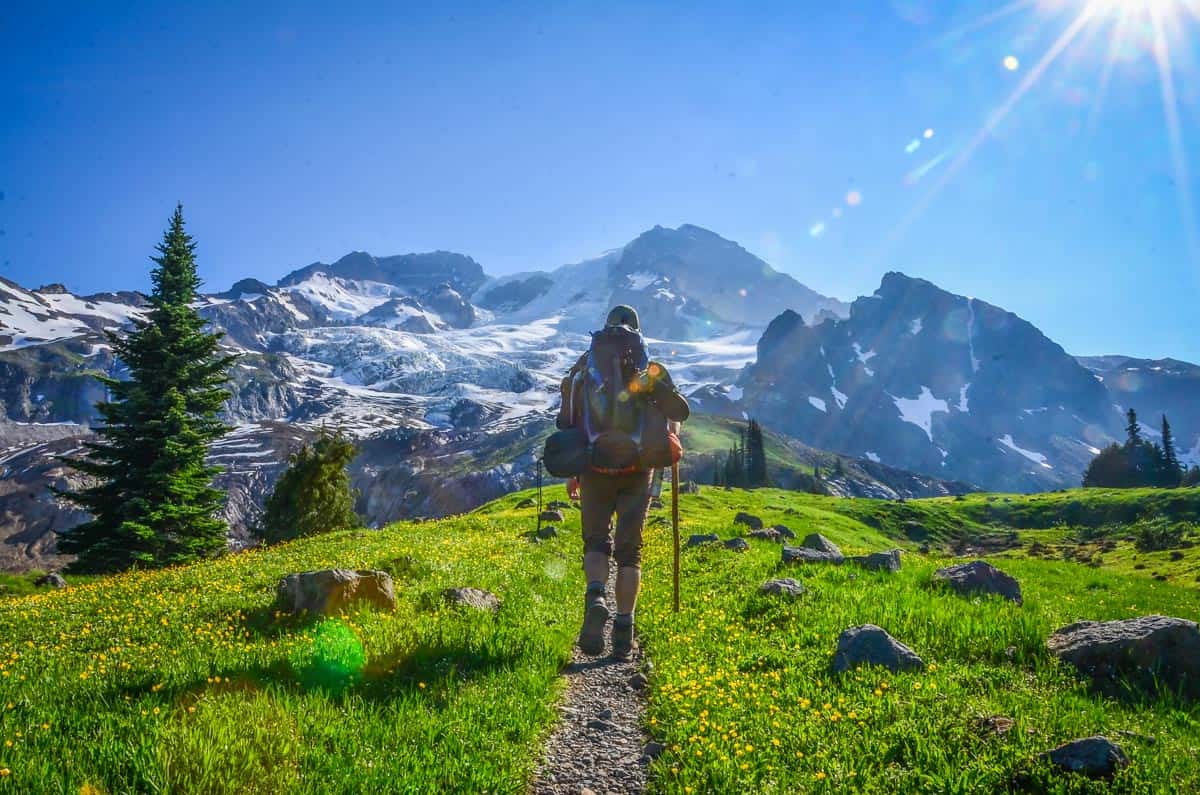 A few miles ahead is Mowich Lake, a scenic area with a bustling ranger station ideal for a resupply. There's a postal checkpoint, picnic tables, and many side trails. It almost feels like re-entry into civilization!
From Mowich, there are two options: the official Wonderland Trail Route, which deviates north through Ipsut Pass, or the more popular Spray Park alternative.
Unless weather isn't on your side, we wholeheartedly recommend the extra elevation to Spray Park. Passing through meadows above the treeline, the draw of this magnificent alpine section is Spray Falls itself, a mesmerizing 350-foot-tall cascade!
The alternate trail reconnects with the main route at Carbon River and continues through a lush valley to Mystic Lake, another great campsite and swim spot. This section is relatively flat, offering a much-needed rest before the climb through the Burroughs Mountains.
The rock-strewn alpine peaks of the Burroughs offer unbeatable views of Rainier's glaciers in an otherworldly, lunar-like section. Unless you're unlucky with weather, this section is one of the trail's highlights! Your efforts will be rewarded at Sunrise, a popular camping area and resupply point.
The Wonderland Trail leaves the crowds behind at Sunrise for experiences unique to thru-hikers.
After dense forest along the White River, the trail climbs through Summerland to its tallest point, the Panhandle Gap. A rocky pass with jaw-dropping vistas of Mt. Rainier and Mt. Adams, the gap is almost always devoid of crowds — a definite highlight. Watch out for snow up here, and schedule extra time to savor the views!
After following a ridge with even more epic views of Rainier, the trail sneaks back into the forest. From here, it's more or less classic backpacking to reach Longmire, completing the loop.
Don't worry, there are some highlights in this section, too, like Box Canyon and Reflection Lake. When the crowds start to reappear near Paradise, you know you're nearly done.
Tips for hiking the Wonderland Trail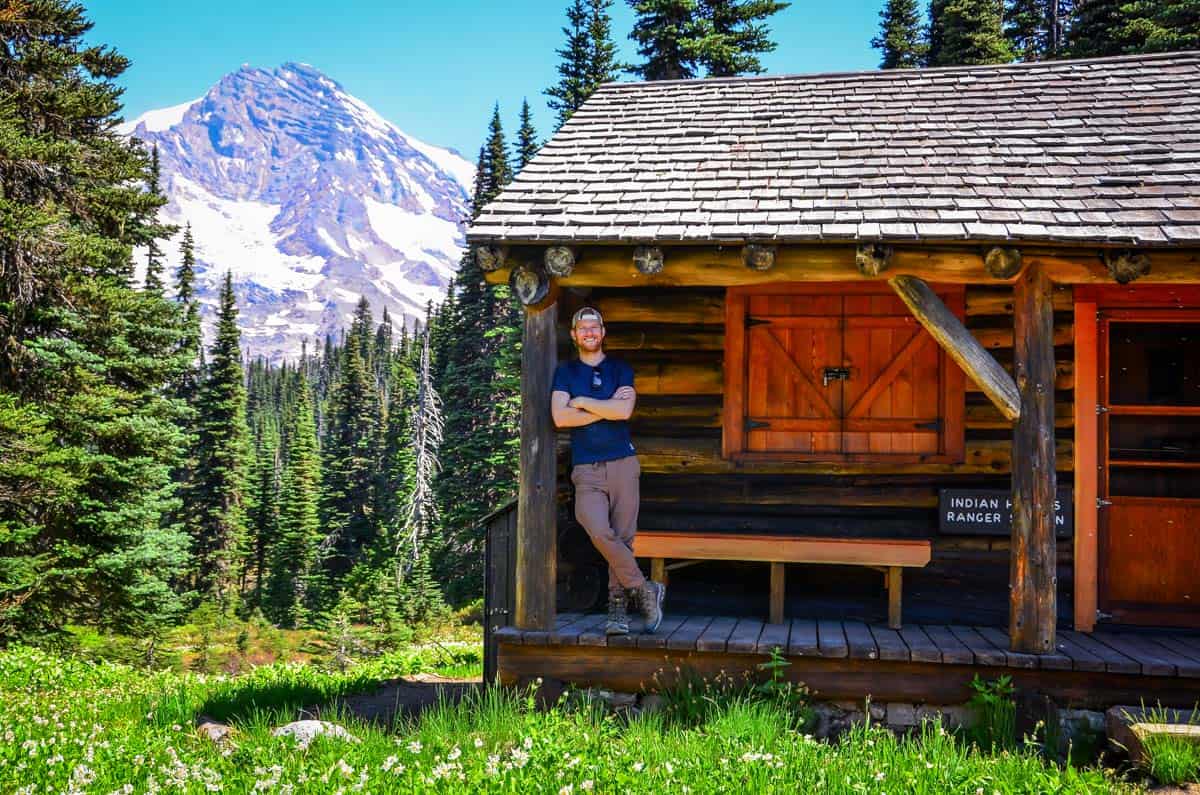 Even if you're not a first-timer, consult park rangers before embarking on this hike. They'll provide the most up-to-date information on trail and weather conditions, plus usually have helpful tips.
Always bring more water than necessary, as well as a personal filtration device. There are plenty of water sources en route, but dehydration is always a serious risk, especially at high altitude!
Pack bug spray. There's a lot of water on the Wonderland Trail and critters can get pesky!
If your desired permits don't work out, attempt securing a permit via walk-up!
Allot time for rest and enjoying the views. There's nothing more stressful than rushing to camp when sundown is approaching after a long day on the trail.
Enlist friends and family to meet you at resupply points. Not only can they deliver supplies, but you can relax at the picnic areas or even hike for awhile together.
Practice hiking with a loaded backpack before starting the Wonderland Trail.
Have flexibility when you plan your hike dates. It'll be much easier to secure your desired campsites!
Always bring a rain jacket, insulating layers, gloves, and warm headwear; conditions change quickly!
Don't let the trail length intimidate you. Yes, it's a physical challenge, but life on the trail is immensely rewarding!
Where to camp on the Wonderland Trail
With over 20 campsites along the route, figuring out where to crash overnight can seem overwhelming. Keep in mind that planning out an entire trail itinerary is dependent not only on which permits you secure, but also on your starting point and the pace you can realistically maintain.
Every campground on the Wonderland Trail features a pit toilet and a bear-proof food storage system. Beyond that, though, all sites are certainly not created equal. While it's a blessing to have permits for any campsite to make this hike possible, we've highlighted several of the best.
What to pack for hiking the Wonderland Trail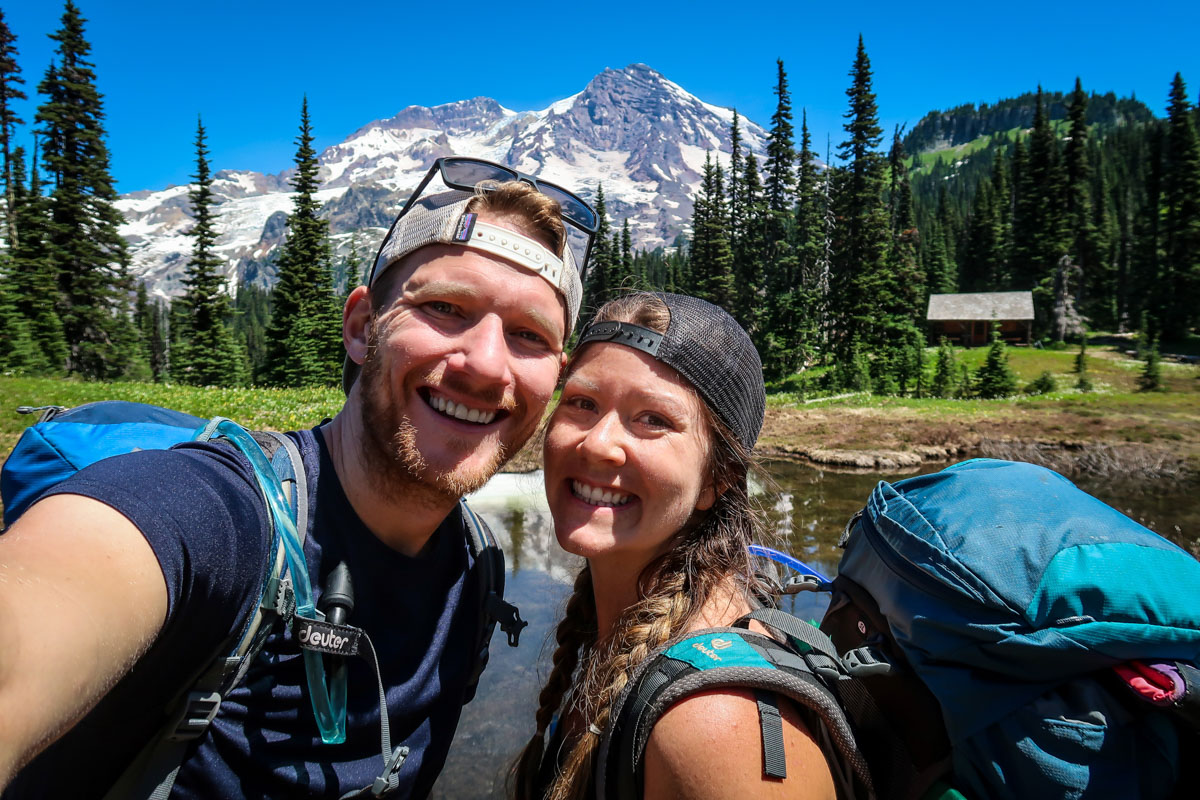 Navigation: physical map, phone* with offline maps downloaded (or both)

We recommend using Alltrails+ to download the offline trail map

Permit**
Water bottle(s) and/or bladder for your Camelbak
Way to purify your water (we love our Grayl water bottles, and before them we always brought along our Steripen)
Warm layers (here is a great resource if you're wondering what to wear hiking)
Rain jacket
Hiking boots
Microspikes (if there is any chance of snow and ice)
Bug spray
Sun protection: sunscreen, hat, sun glasses
Battery pack (if you are relying on your phone)
Bear spray (just in case)
Toilet kit: toilet paper, small shovel, bag for packing out TP, hand sanitizer
Plenty of snacks: check out our favorite hiking snacks here!
*If you choose to us your phone for navigation, be sure to bring a reliable battery pack to charge your phone
**Don't forget to pack your permit!
Optional gear
Camp chairs (we like our Crazy Creek chairs)
Fire starter
Deck of cards
Camera and tripod (this is our favorite for hiking)
Binoculars
ENO hammock (we love our 2-person ENO shown above!)
Book or Kindle
Notebook and pen/pencil
Hiking poles
Shoes for at camp: We like to wear our Chacos sandals at camp as it's nice to be able to change out of the boots we've been wearing all day. Some people like hiking with lightweight Crocs or flip flops for a comfy option at camp.
Inflatable camping pillow
Kula cloth: reusable pee cloth for women (Yep, sounds weird, but it has a cult following. I'm new to this, but am loving it so far!)
Food
Be sure to grab our ultimate hiking packing list includes our must-have gear for any hiking trail!


You may also like…
Save this article on Pinterest for later!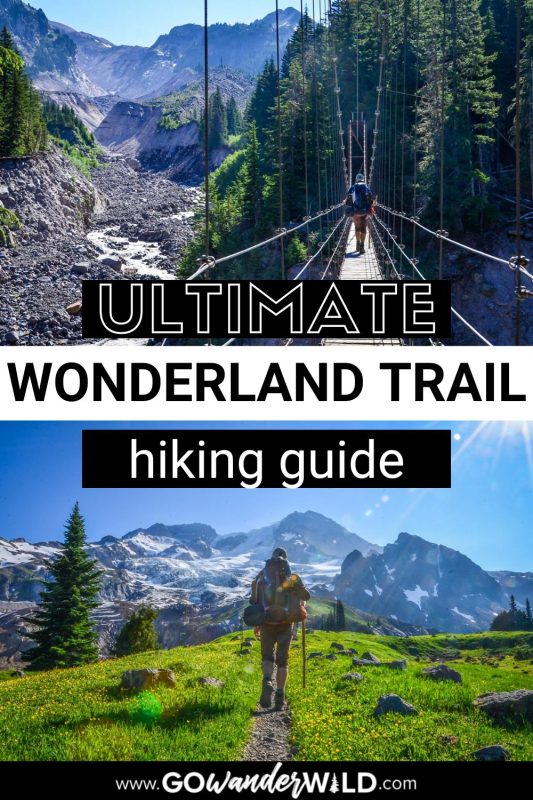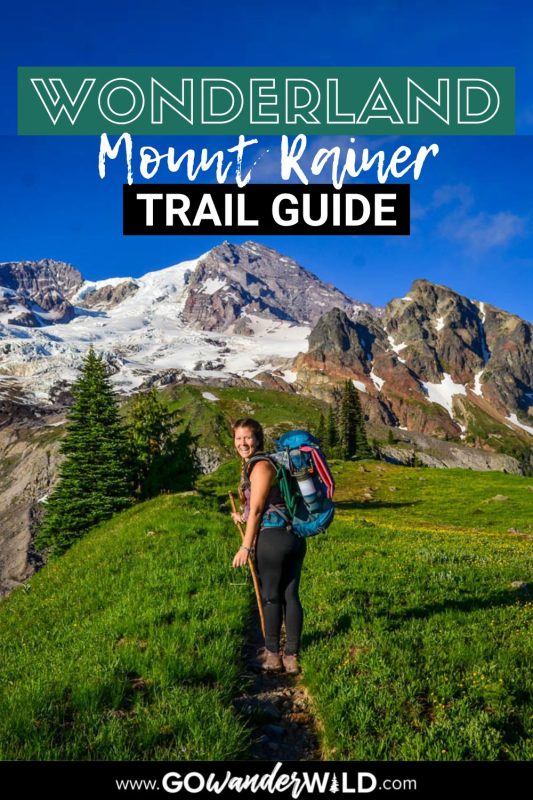 We want to hear from you!
Comment below if you have questions about hiking the Wonderland Trail at Mount Rainier in Washington state and we'll do our best to get back to you!