Oregon has its fair share of scenic natural "hot tubs," but none quite like Paulina Lake Hot Springs. Situated on a small beach along the lake, these springs offer a rustic experience complemented by beautiful views. In this guide, we break down exactly how to plan your visit.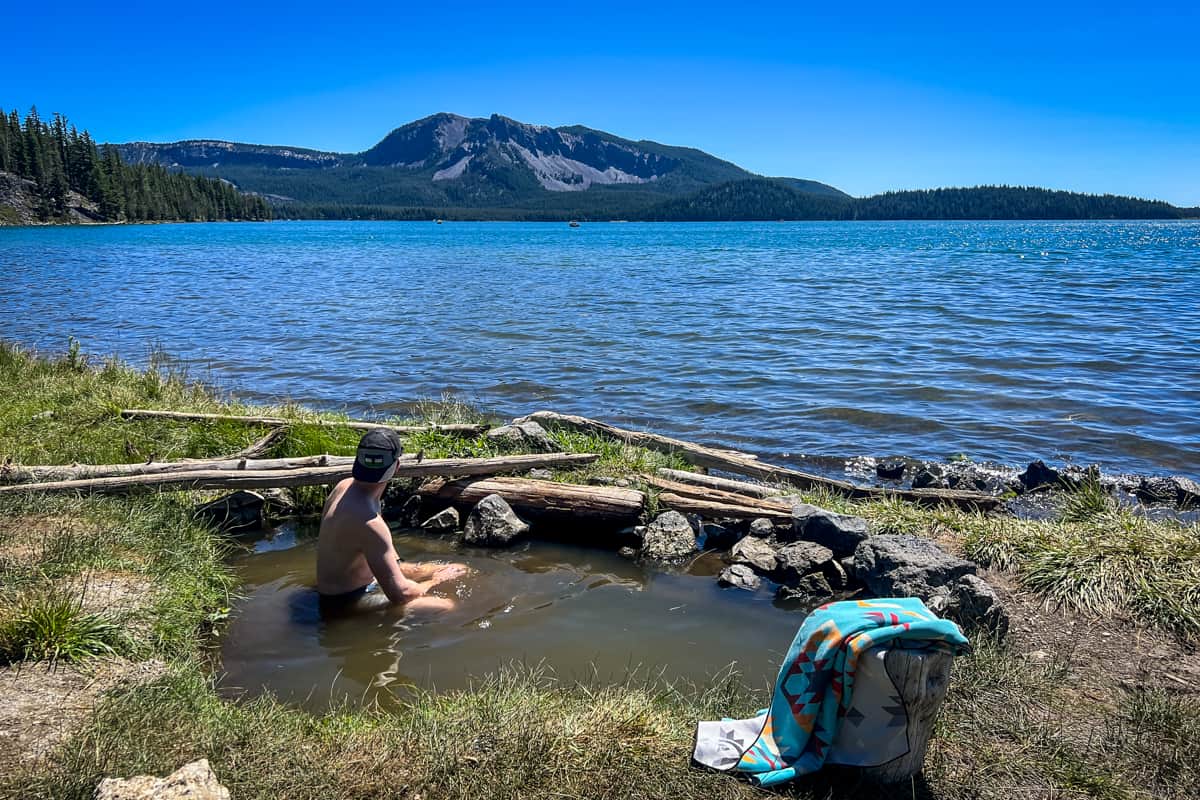 With so many amazing hikes near Bend, it's no surprise that some simply get overlooked.
That's the case with Paulina Lake Hot Springs and the surrounding Newberry National Volcanic Monument. The scenery is wonderful and dramatic – in addition to the hot springs, it contains lakes, volcanoes, and lava flows – but it's still a bit of a hidden gem.
To experience this natural soak and its front-and-center lake views, all you have to do is take a short, easy hike along the shoreline. As a bonus, Paulina Lake Hot Springs are near several other natural attractions.
We lived in Bend for 4 years before making it here, and after soaking we wondered why it took us so long!
I do know one thing that kept us away for a while was the lack of information out there on this particular hot spring. We love a good hidden gem, but it was a little confusing trying to figure out exactly how to get to this hot spring and if the pools would be there or if we'd have to dig them…
Spoiler Alert: It is now forbidden to dig holes. Please respect the rules put in place by the National Forest to protect this fragile riparian environment.
After our visit, we decided to compile all our tips and directions into a guide to Paulina Hot Springs.
Let's dive into everything you should expect from the experience!
Paulina Lake Hot Springs Guide

Paulina Lake Hot Springs overview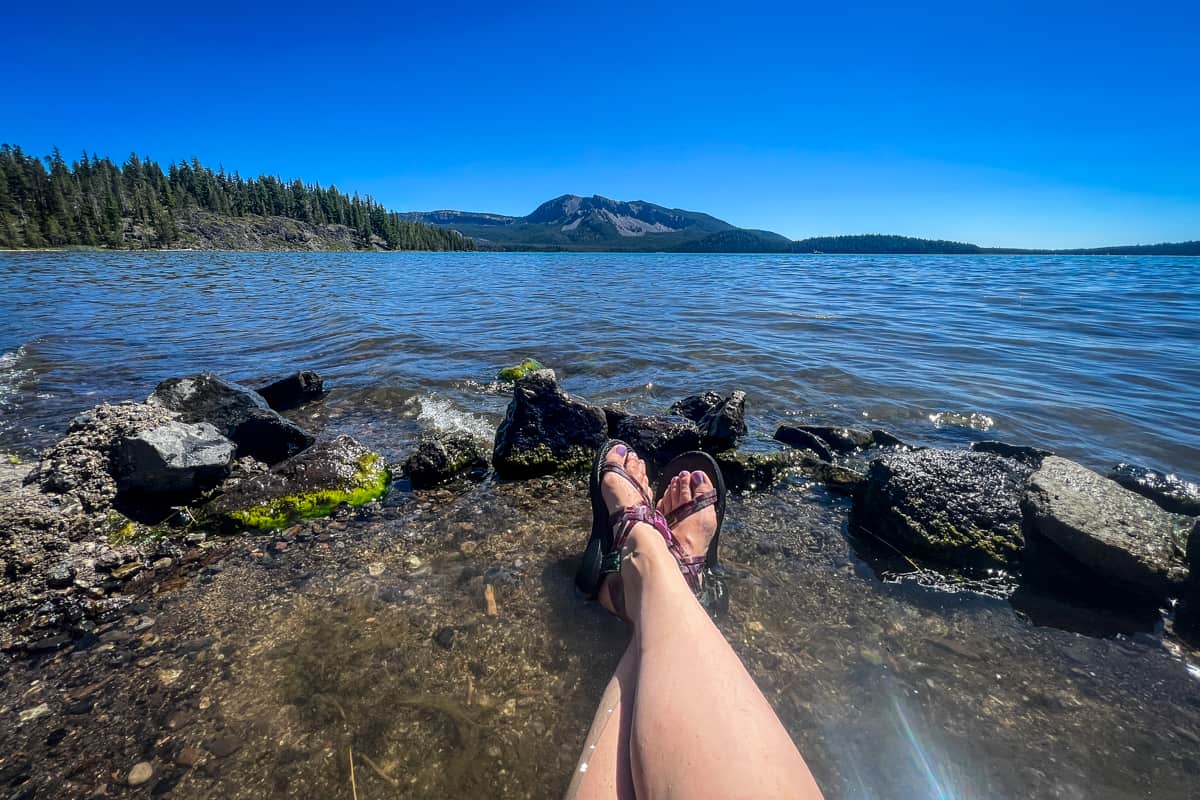 The Paulina Lake Hot Springs are small pools situated right on the edge of the lake, in an area known as Hot Springs Beach.
Like most hot springs, they're created by hot groundwater that's discharged through small cracks in the earth. However, here, the spring water mixes with lake water.
As a result, the pools can vary quite a bit in both volume, temperature, and their exact location.
This hot spring is kind of like a grab bag – you never know exactly what you're going to get. Which adds to the adventure of it!
When the water in the pools is high, the chilly lake water can make them less hot tub-like than other springs.
When we visited in July, they were more "very warm" than hot (which was nice, given the heat). A few months later, a friend of ours visited in late September and said they were very hot and they needed to take breaks from soaking due to the heat.
Even with its unique natural quirks (or perhaps especially with them!), Paulina Lake Hot Springs makes for an incredible, scenic, and often uncrowded soak.
Paulina Lake Hot Springs stats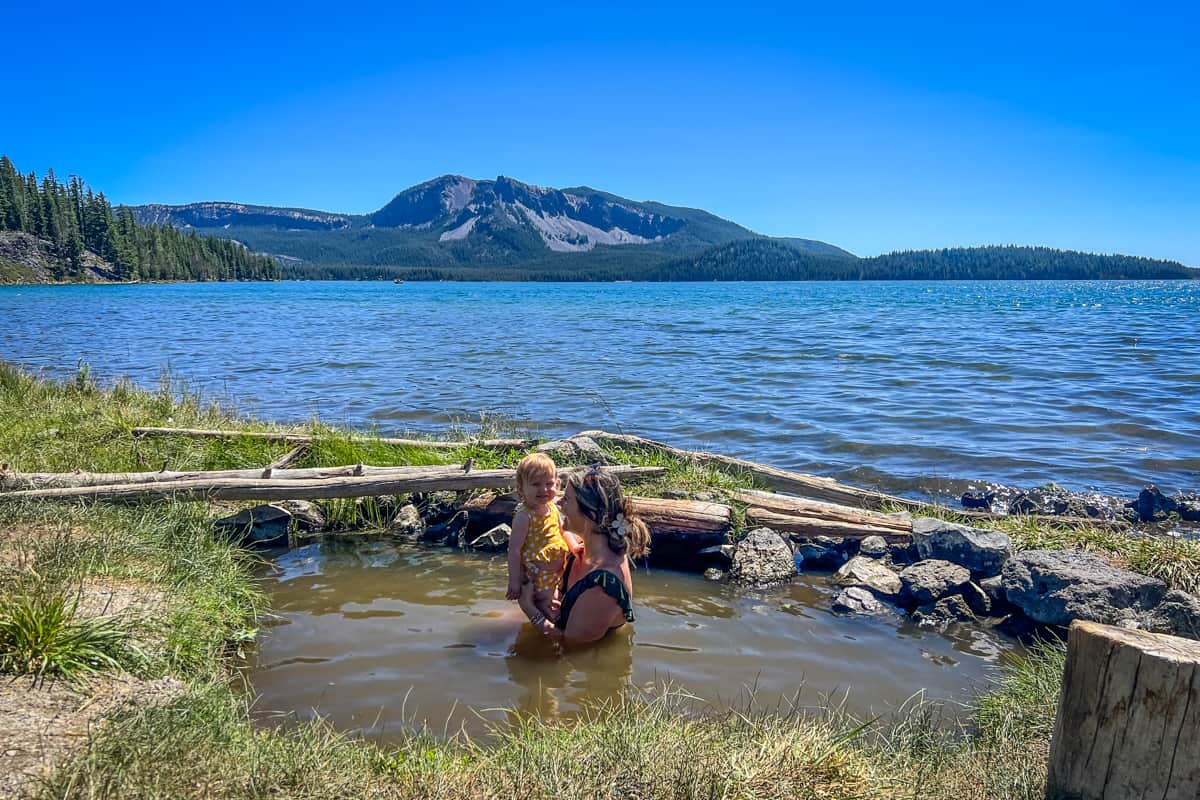 Here are all the important things to know about Paulina Lake Hot Springs:
Location: 43.7321° N, 121.2523° W
Nearest moderately-sized town: Bend, Oregon
Access: Easy, 1.4-mile hike
Time of year: April to October
Lodging: Several campsites nearby (Paulina Lake and Little Crater are the two closest), and the closest hotel is around 30 minutes away
Type of hot spring: Natural/undeveloped
Number of pools: 5*
Water clarity: Moderate
Temperature (at source): 90-115℉
Depth: Variable, but rarely more than a couple of feet
Clothing: Optional, but soakers here are typically clothed
Suitable for children? Yes
*In the past, it has been said that there are five pools. However, when we were there recently we searched pretty hard and only found 2 pools. More on that below.
How to get to Paulina Lake Hot Springs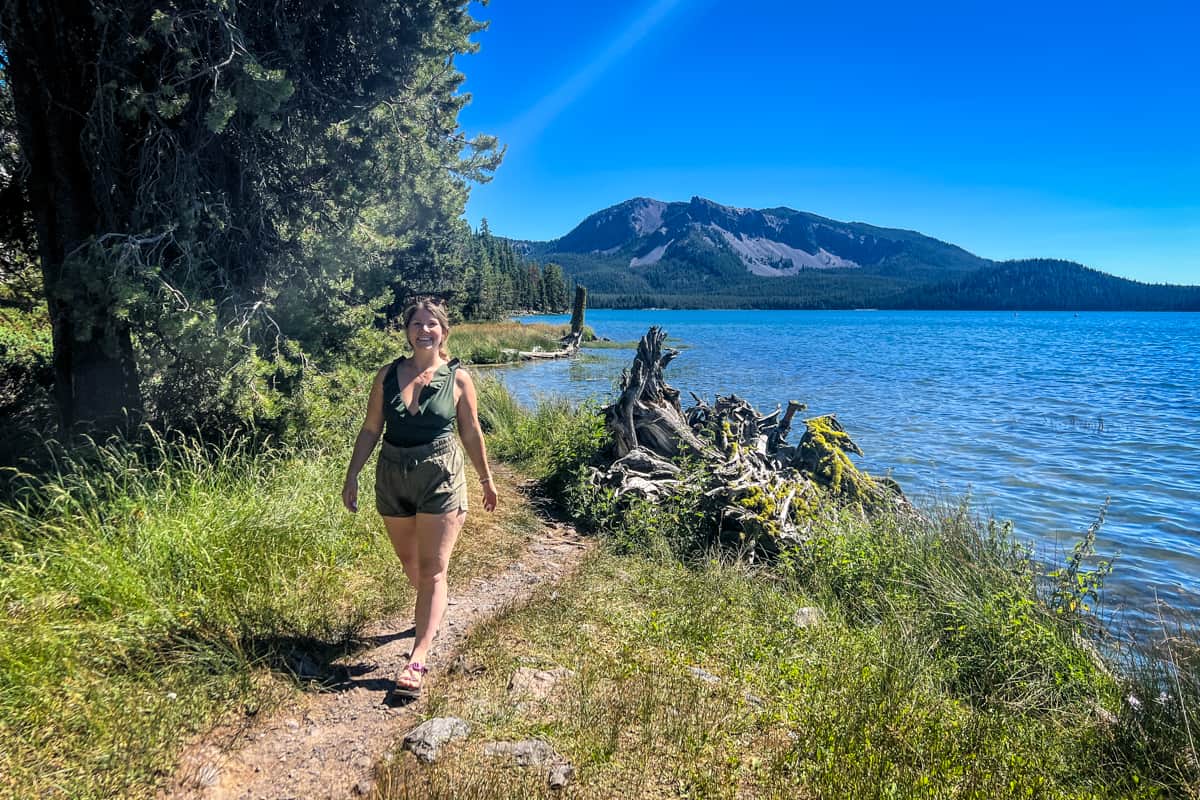 Unlike many other remote natural hot springs in Oregon, reaching these is straightforward.
Most travelers will be coming from Bend. Drive south along US 97 for 23 miles, then turn left onto Paulina-East Lake Road – look for the sign. Follow this past the visitor center and then turn left into Little Crater Campground to reach the trailhead.
Directions to Paulina Lake Hot Springs
Distance from Bend: 39 miles, 50 minutes
Distance from Eugene: 131 miles, 2 hours 30 minutes
Distance from Salem: 170 miles, 3 hours 18 minutes
Distance from Portland: 201 miles, 3 hours 55 minutes
Hike to Paulina Lake Hot Springs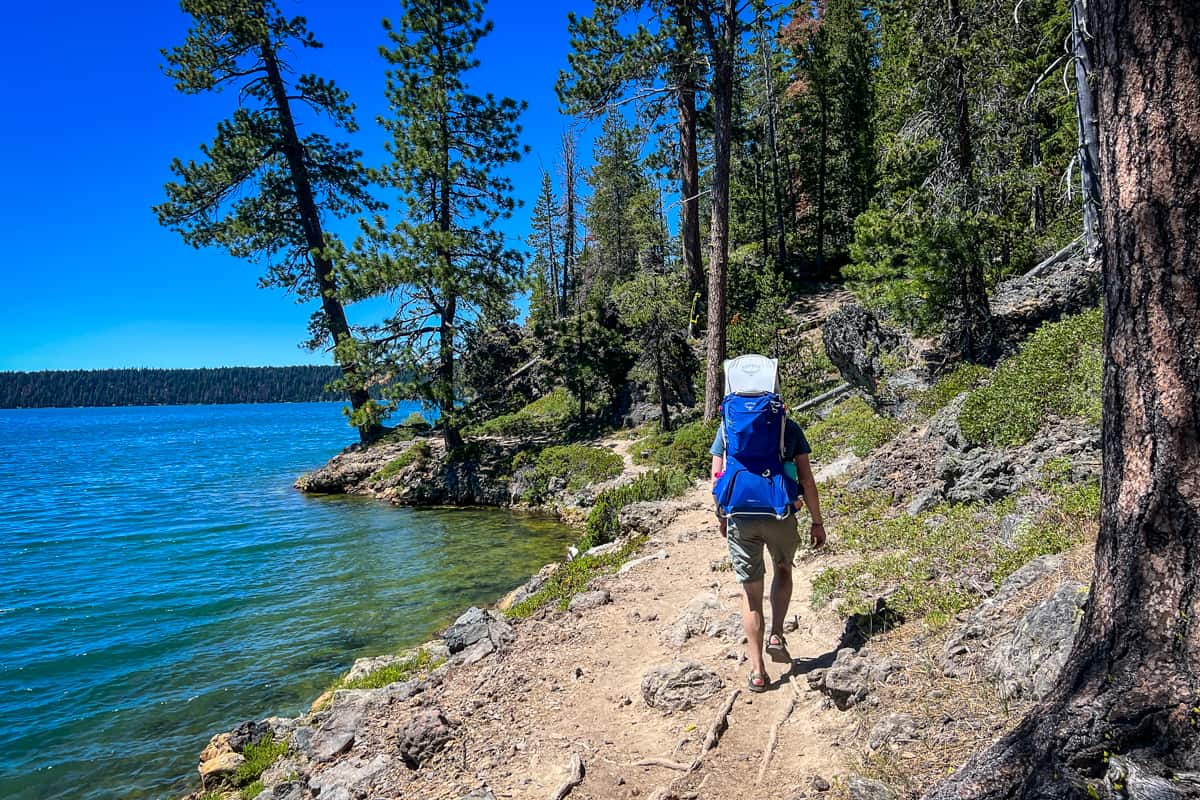 Distance: 2.8 miles out and back
Elevation gain: 131 feet*
Difficulty rating: Easy
The short trail to reach Paulina Lake Hot Springs is really enjoyable.
It's nearly flat (*we personally clocked only 56 feet of elevation gain) and follows the shoreline, with consistent beautiful views along the way. Mud is the only real obstacle, especially after recent rain.
The closest parking is at the boat launch area in Little Crater Campground (where there are plenty of places). However, when we were there recently, we saw signs asking hikers to park at the day use area, which will make your hike a bit longer.
Walk toward the end of the campground and look for the sign that indicates the lakeside trail (that leads to the hot springs).
You may see a small fork in the path (it's easy to miss). Take the more well-trodden trail to the left.
For a longer excursion, you can also reach the springs by hiking in the opposite direction from the campground. Paulina Lakeshore Loop goes around the lake for 7.5 miles, meeting the hot springs toward the end of the trail.
Some people also kayak or boat to the pools from other parts of the lake!
Things to know about visiting Paulina Lake Hot Springs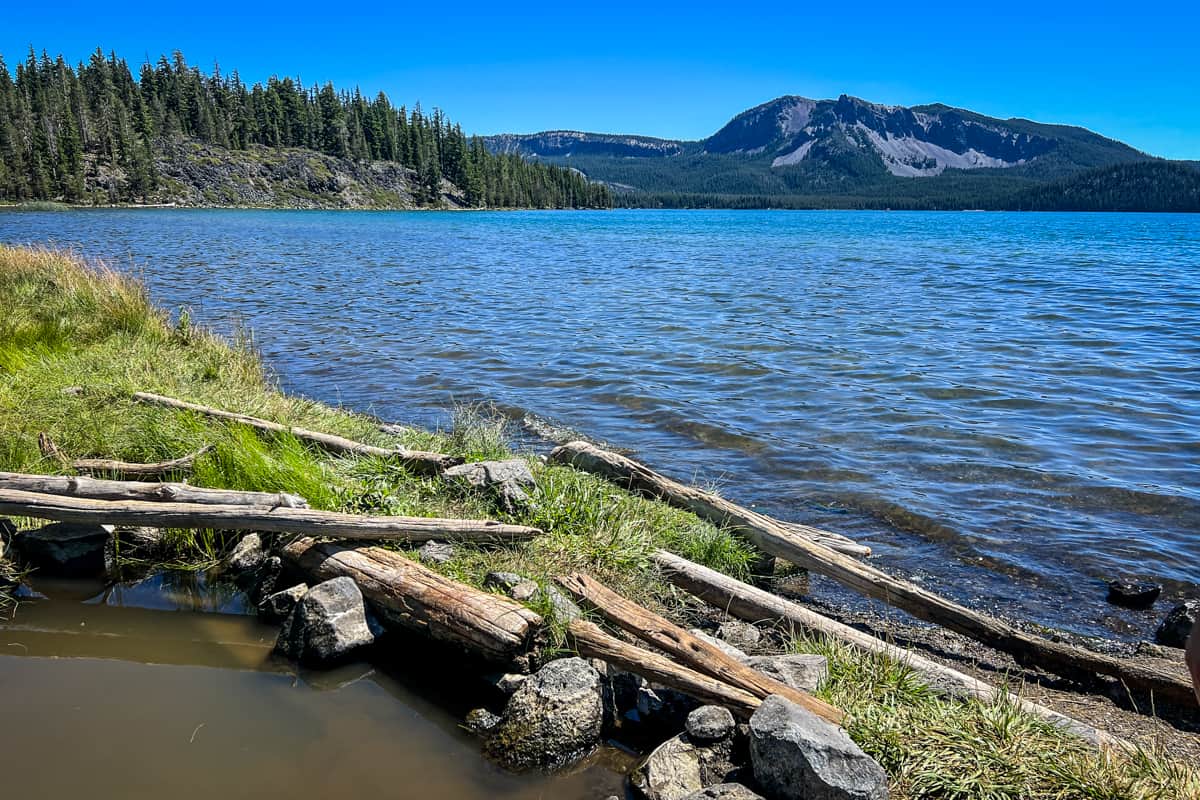 The pools often change. Seasonally, based on weather and water conditions, the hot springs may look dramatically different.
Laid-back atmosphere. These pools attract less of a party crowd than other hot springs, and you may even see families soaking. (We brought our toddler here!)
Wear sturdy shoes. We've read that people often find broken glass on the beach around the hot springs, so you definitely want to protect your feet!
Be prepared for gnats. Unfortunately, there are a ton of pesky bugs at Paulina Lake Hot Springs, so make sure to bring a natural bug spray.
Don't take the obsidian. These shiny black rocks (sometimes called "volcanic glass") are stunning. It can be tempting to take one as a souvenir but please refrain.There are signs around that prohibit removing these rare and special rocks from where you find them.
Practice Leave No Trace. Trash getting left behind at hot springs is becoming increasingly common. Practice Leave No Trace and pack out everything you bring in (and for brownie points, pick up a few random pieces of trash, too!).
There are no toilets available. The only restroom is at the trailhead, so use it before hiking to the hot springs.
Paulina Lake Hot Springs FAQs
These are common questions asked about visiting Paulina Lake Hot Springs.
How many pools are there?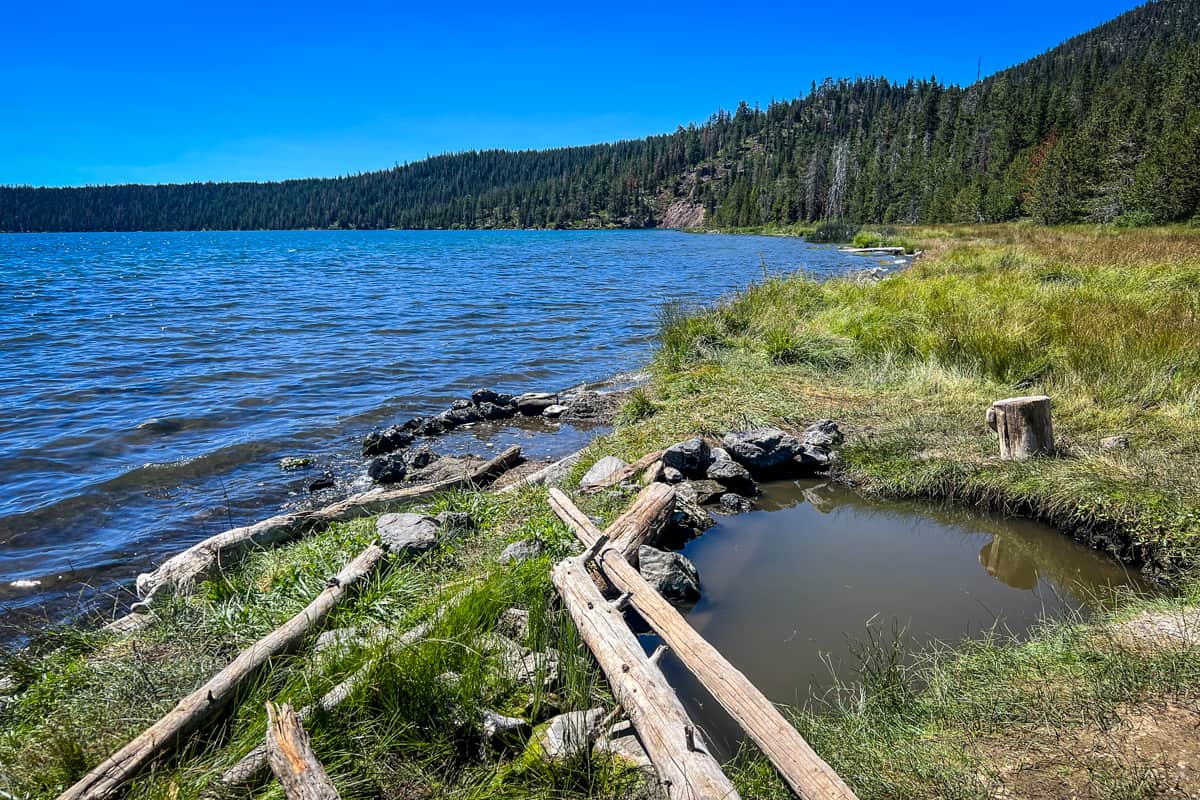 In the past, it has been said that there are five pools at Paulina Lake Hot Springs. It is said that the exact number of pools varies based on the lake's water level and other atmospheric conditions, like snowmelt.
However, when we were there recently we searched pretty hard and only found 2 pools.
The larger of the two can fit 6-8 people comfortably, while the other is just beside the lake and very small and shallow.
Good to know: In the past, people used to dig holes to create more places to soak and you'll find this recommended elsewhere online. But please refrain from doing this. The National Forest has strictly prohibited digging more pools in order to protect the fragile environment of this area.
How hot is the water?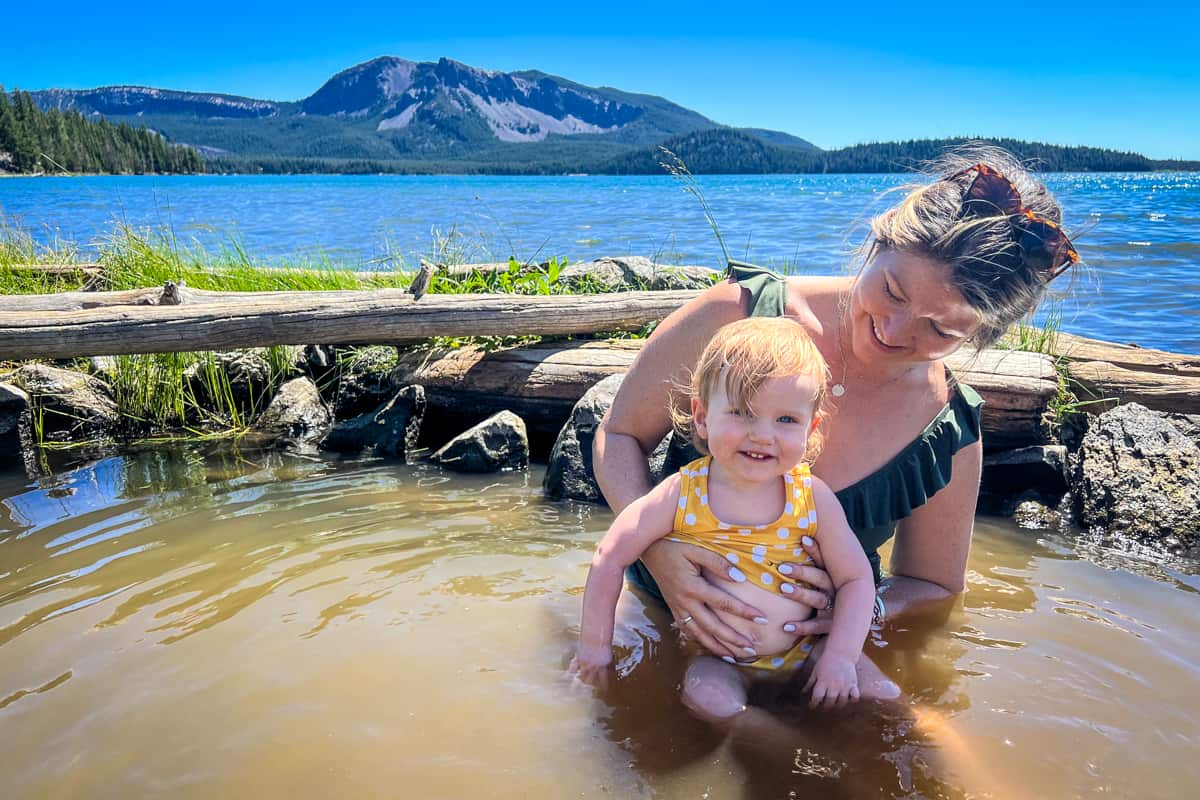 The heated groundwater that forms the springs is released in and under Paulina Lake, and because the two water sources mix, conditions here change frequently.
When we visited in mid-July it was more warm than hot, but a friend who visited in September claimed it was very hot.
How crowded is Paulina Lake Hot Springs?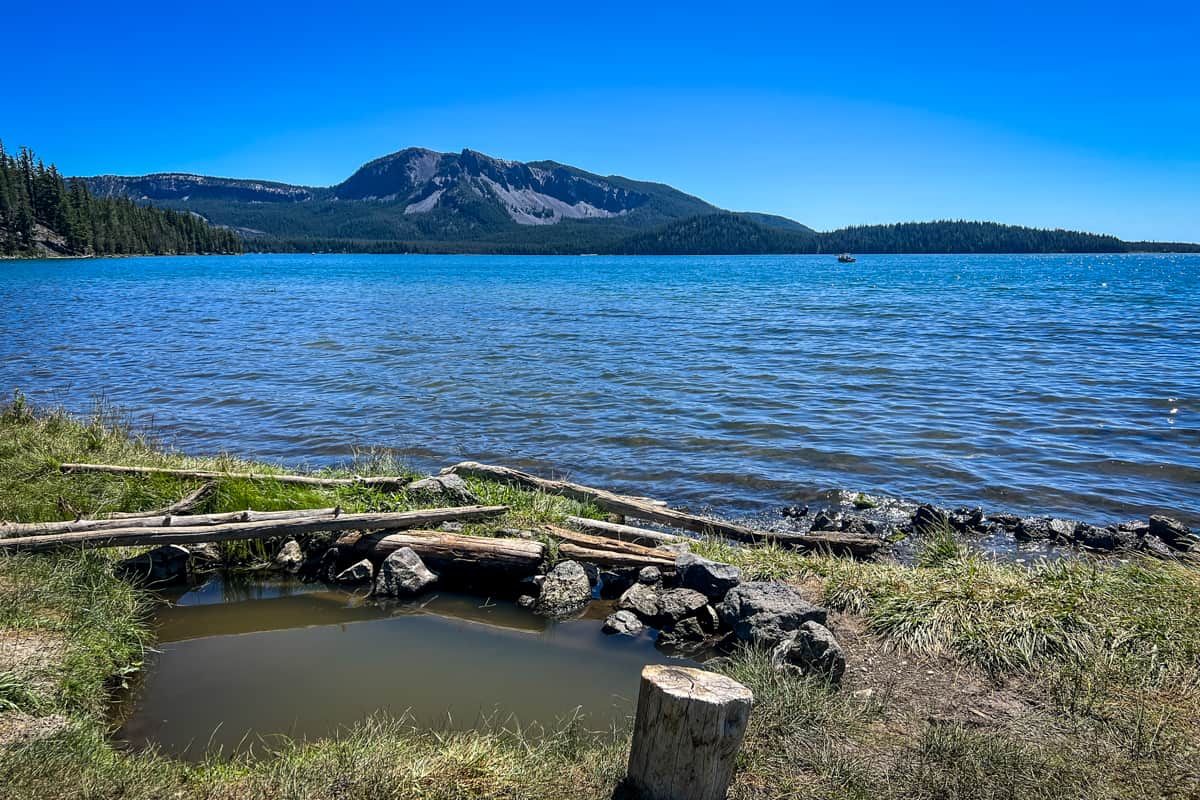 Since Paulina Lake receives far fewer visitors than other attractions in Oregon, the springs are typically only moderately busy. And during off times, such as weekday mornings, there's a good chance they'll be completely empty!
This said, since the pools aren't very large, you may need to wait (or get very cozy!) if there's another group already there.
When's the best time of year to visit?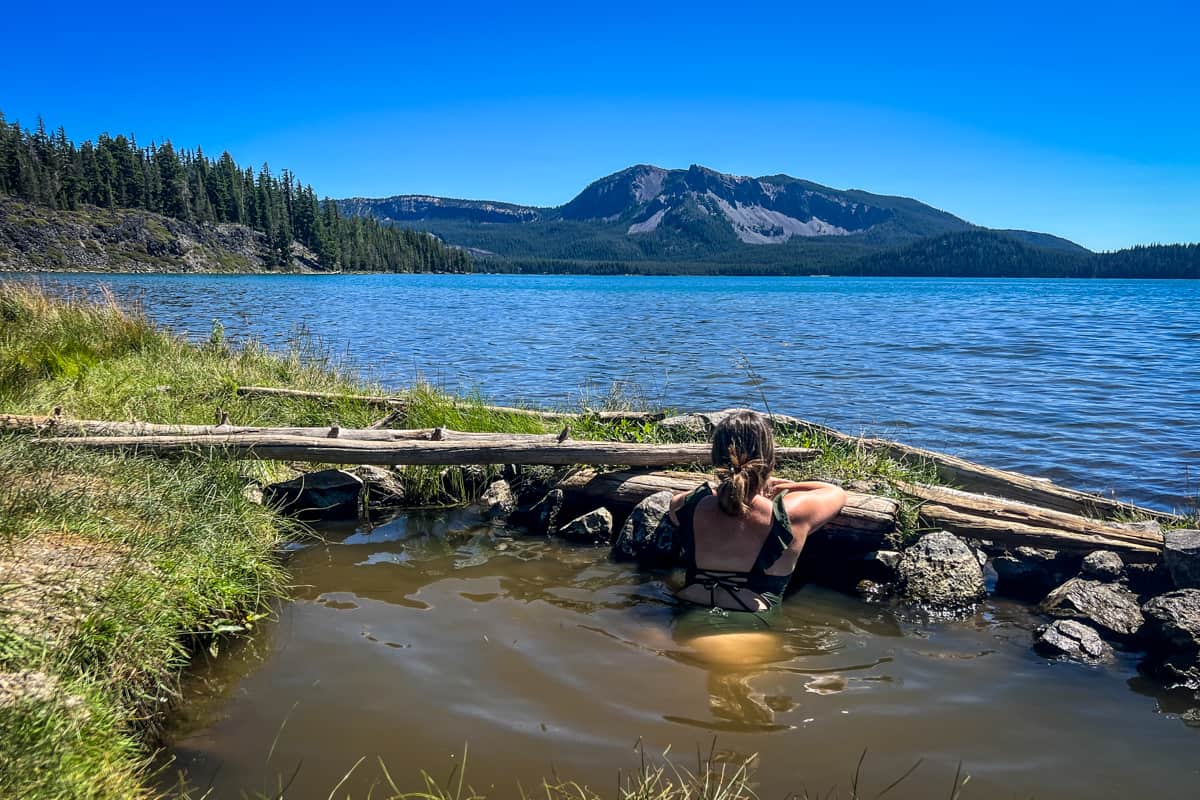 Although the trail to the pools is accessible year-round, the best time to visit Paulina Lake Hot Springs is from May through October. The park roads close in the winter months, requiring you to take an alternate 4-wheel-drive-only route.
The hot springs' water level can drop too low in the fall to really be able to soak. Then in the early spring once snowmelt accumulates, the pools usually get submerged under the lake, rendering them basically invisible.
However, with all of that said, note that environmental factors (like heavy rainfall) can vary widely from season to season. Some visitors have been able to enjoy the hot springs during winter months!
Is there swimming in Paulina Lake?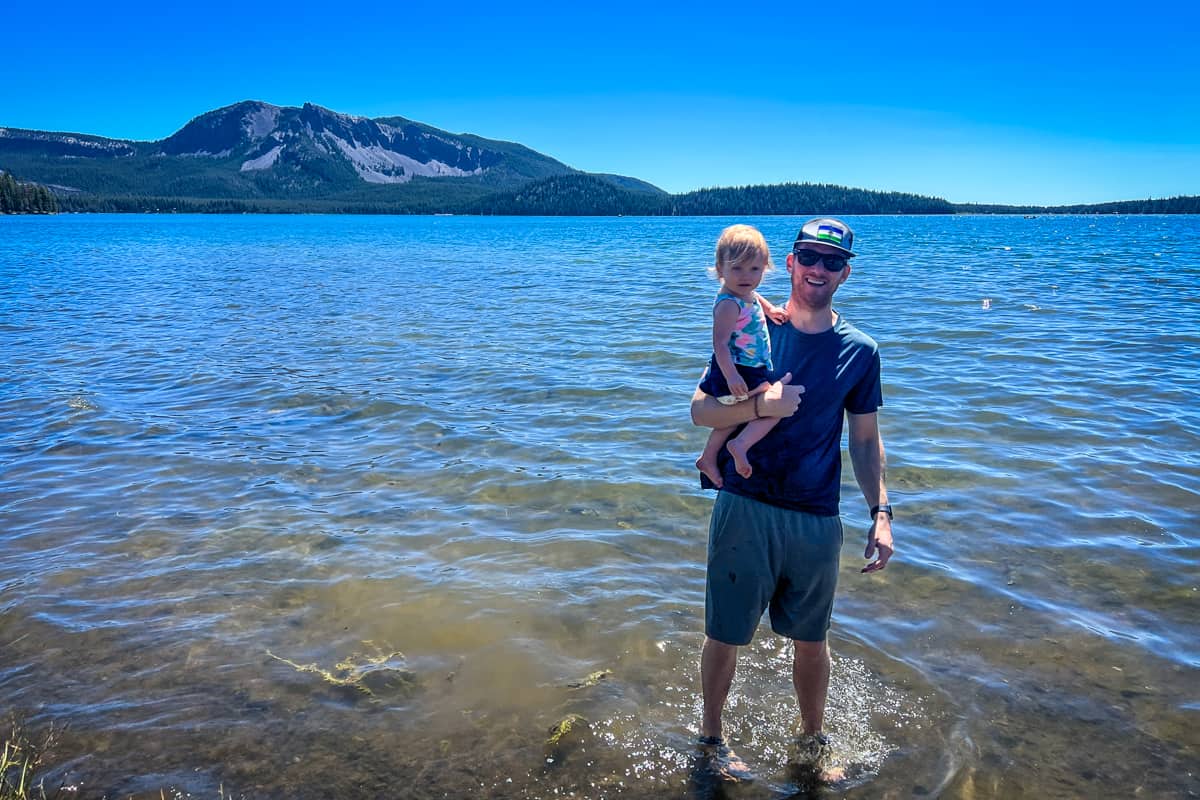 Swimming is allowed in Paulina Lake; however, its water is typically frigid cold until late summer. It makes for the perfect cold plunge between soaks, though!
Can you dig pools at Paulina Lake Hot Springs?
While this used to be something people did, it is no longer allowed. Please be respectful of the rules instituted by the National Forest Service.
Is Paulina Lake Hot Springs worth visiting?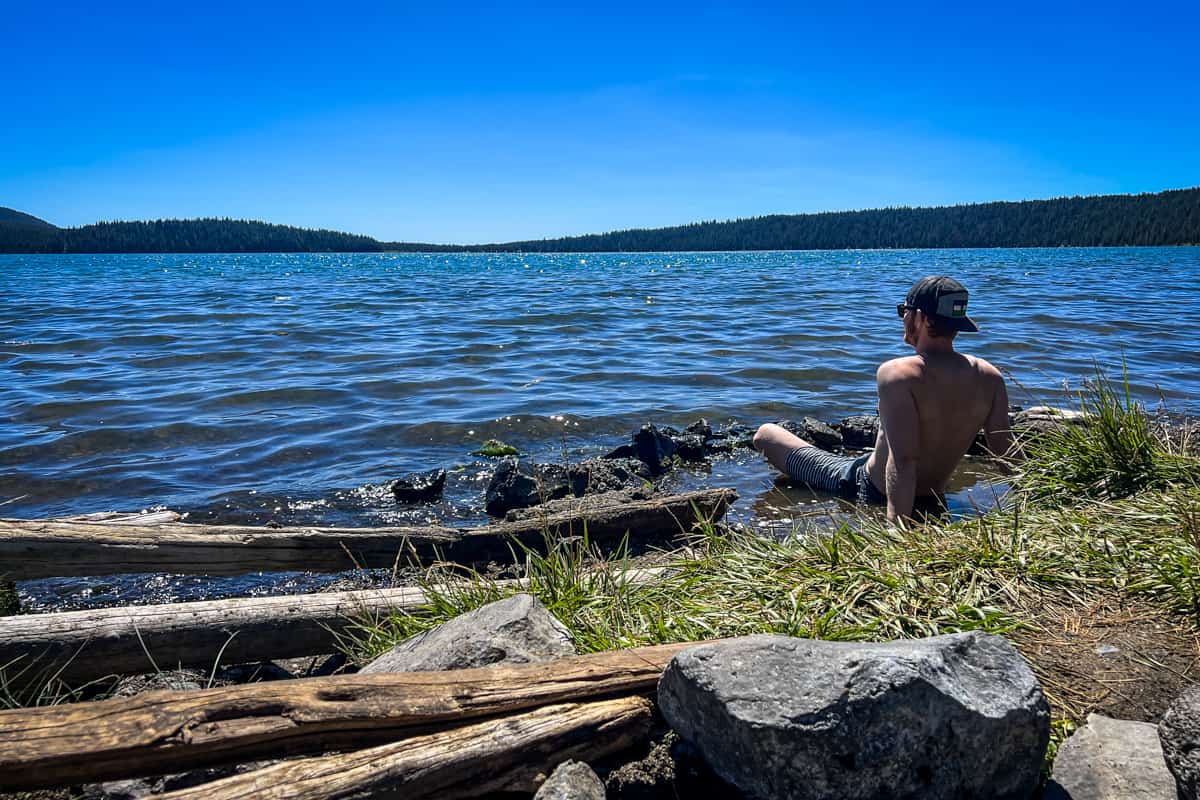 These unique, little-visited pools are definitely worth a visit! — don't be deterred by the fact that they're not all over Instagram! Plus, Paulina Lake itself makes for a memorable adventure and there are several other volcanic attractions nearby.
The not-so-great parts about Paulina Lake Hot Springs:
The water of the main (deepest) pool is brown due to the mud bottom
Some of the pools are really shallow (like sometimes just inches deep!), especially in late summer
Lots of bugs call this area home. We didn't get bothered at the actual pools themselves, but the gnats were bothersome on certain sections of the hike.
There are no services whatsoever, including toilet facilities (of course, this can also be considered a "plus!")
The good parts about Paulina Lake Hot Springs:
The pools have excellent, unobstructed views of the lake and Paulina Peak
Paulina Lake Hot Springs pools don't have a strong sulfur smell
The hike to the pools is easy and picturesque
The atmosphere is family-friendly
How much time should you spend at Paulina Lake Hot Springs?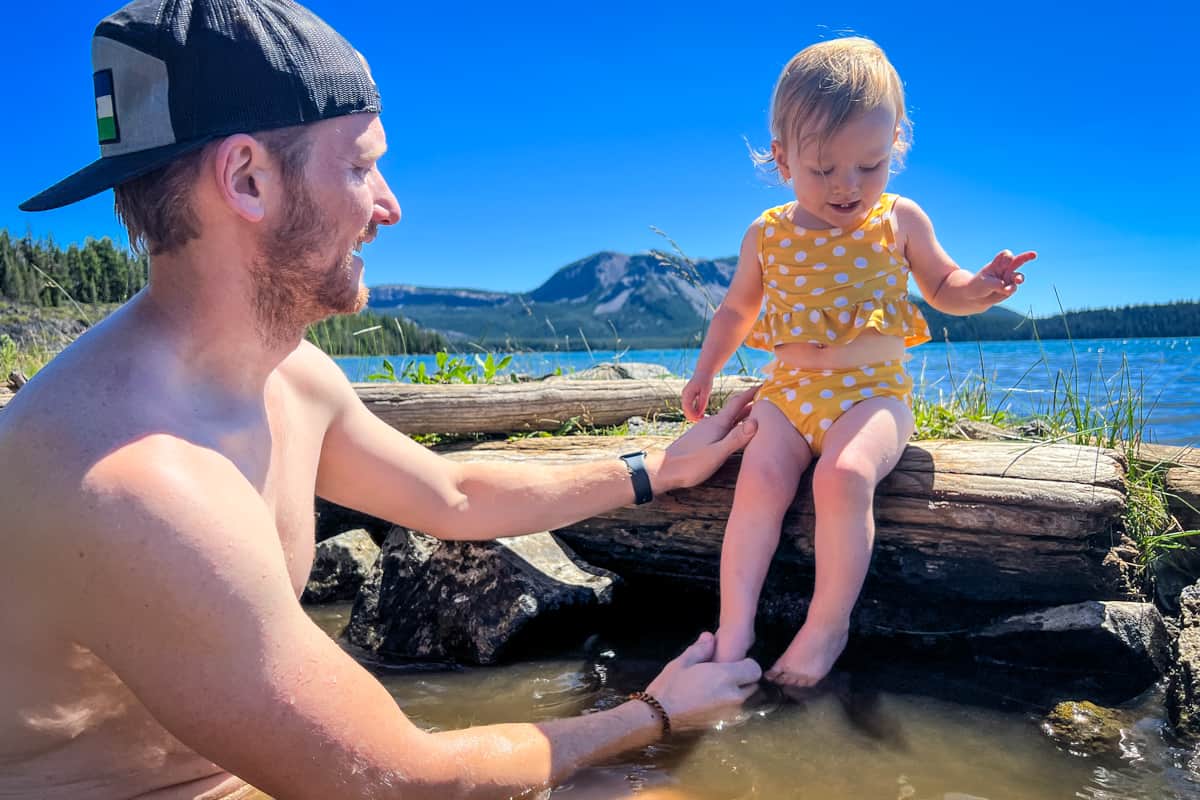 Paulina Lake Hot Springs requires a few hours, especially when you factor in getting to and from the lake.
If you're coming from Bend, you'll want to factor in roughly 1 hour of driving time (50 minutes, to be more precise) in each direction.
The hike should take roughly 30-40 minutes each way.
We'd recommend allotting an hour or so for enjoying the pools. Of course, how long you'd like to soak depends on your personal preferences!
When you add all that up, it takes roughly 3 to 3.5 hours getting to and from the hot spring from Bend. Add in an hour of soaking, and you're looking at a 4.5-hour excursion (with a bit of butter room).
What to pack for Paulina Lake Hot Springs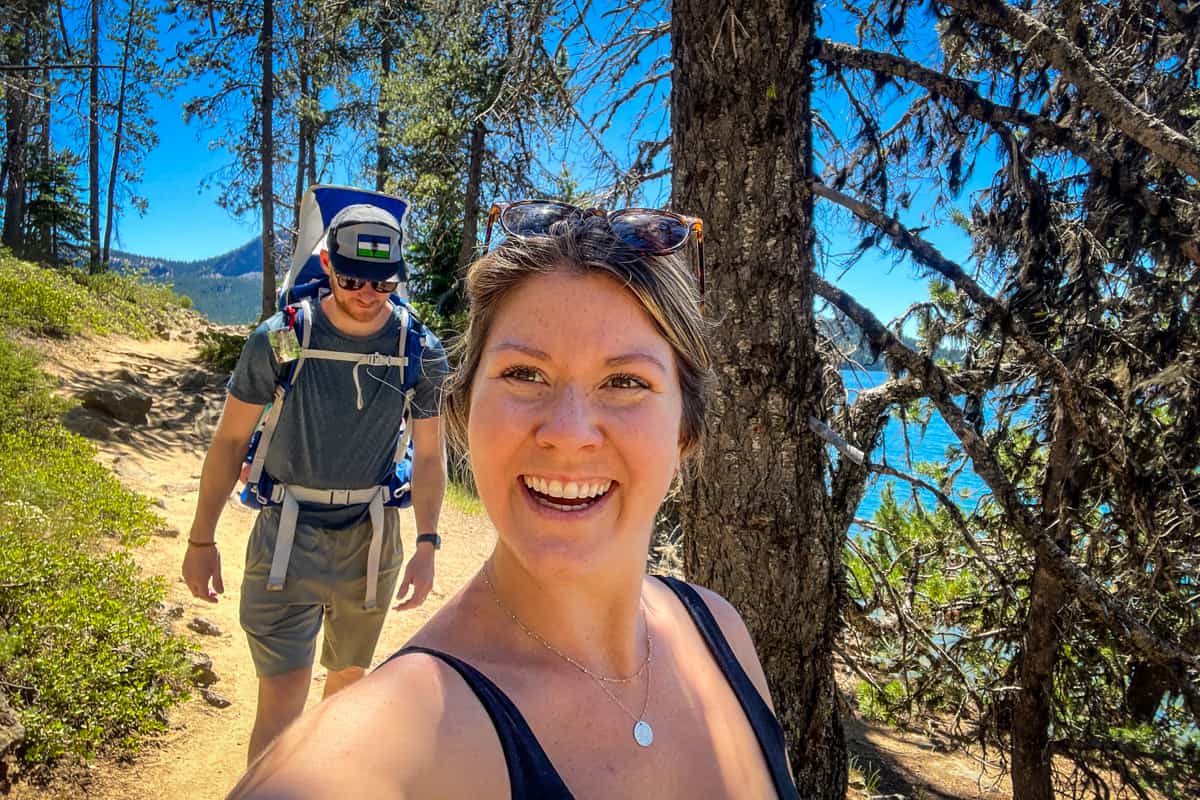 There are a few things you'll want to be sure you don't forget when you head out to visit Paulina Lake Hot Springs.
Navigation: we recommend using Alltrails+ to download the offline trail map
Water bottle and plenty of drinking water
Sturdy shoes for walking around the beach area
Bug spray
Bathing suit, although nudity is acceptable

Personal note: When we were here, the groups before and after us wore bathing suits, as did we. We've been to a lot of PNW hot springs, and personally feel like this one is not as nude-friendly as others. But you do you!

Microfiber towel to dry off
Sun protection, including sunscreen, a hat, and layers
Camera and tripod for snapping pics (this one's our favorite for hiking)
Plenty of snacks: check out our favorite hiking snacks here!
An extra bag for packing out trash

Things to do nearby
Located inside the Newberry National Volcanic Monument, there's tons more to see in this area beyond Paulina Lake Hot Springs.
Paulina Creek Falls: Located near the lodge and day use area, this is a beautiful waterfall that is less known than many others in Oregon. A super short, easy half-mile hike leads you to an 80-foot cascade!
Paulina Lodge restaurant: We have cross country skied into this restaurant twice, and it's always a fun and unique experience. The food, in our opinion, is mediocre, but it is a picturesque place to fuel up (or just grab a beer!).
Big Obsidian Flow: Oregon's "youngest" lava flow at 1,300 years old. Take the 1-mile loop hike to see it up close and even walk on top of it.
Paulina Peak: A challenging 6-mile hike with incredible views of the surrounding volcanoes and Paulina Lake. If you're not up for the hike, you can also drive to the summit.
Hidden Forest Cave and Boyd Cave aren't too far away.
Natural Water Slide: We haven't personally made it here (yet!), but it's on our list as it's pretty close to the hot springs.
Crater Lake National Park: Just 75 miles away, you could make it into a weekend trip!

You may also like…
Save this article on Pinterest for later!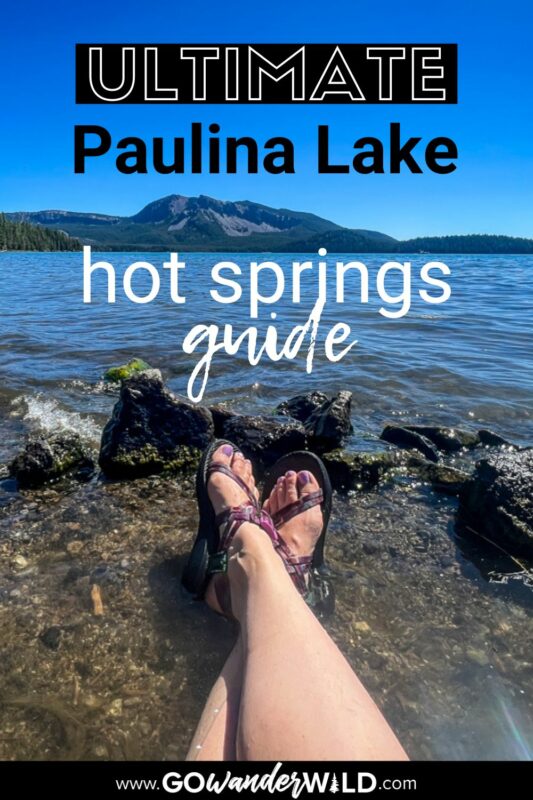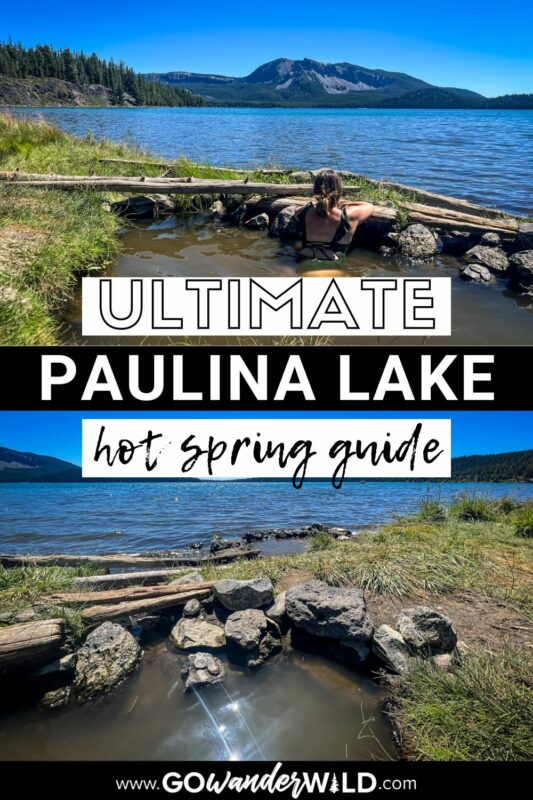 We want to hear from you!
Are you planning a trip to Paulina Lake Hot Springs in Oregon? Do you have any other questions for us? Comment below and we'll do out best to track down answers for you!