With vast pine forests, vibrant alpine meadows, and cascading waterfalls, hiking in Mount Hood is every nature lover's dream. We've rounded up the best Mount Hood hikes to highlight the variety of scenic trails, waterfall hikes, and backpacking trips you can experience in this mountain wilderness.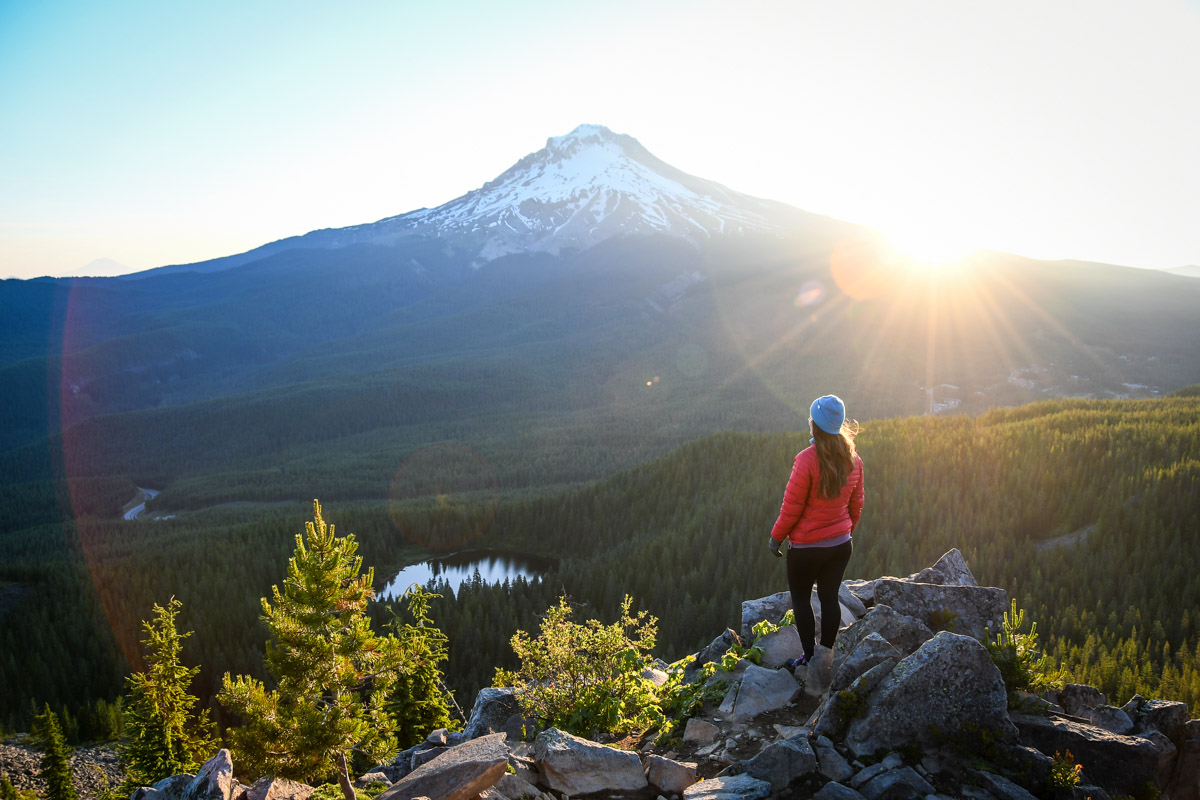 Just south of the scenic Columbia River Gorge in Oregon is a hiker's paradise. As the tallest peak in Oregon, towering 11,250 feet tall, Mount Hood can be seen on a clear day all the way from Portland and from Bend.
An iconic symbol of the Pacific Northwest, this snow-capped peak sits at the center of the federally designated Mount Hood National Forest and Wilderness Area where there are endless trails and outdoor adventures to be found.
We've put together a list of the best Mount Hood hikes, covering trails for beginners all the way up to challenging hikes for serious backpackers only.
1. Tom Dick and Harry Mountain Trail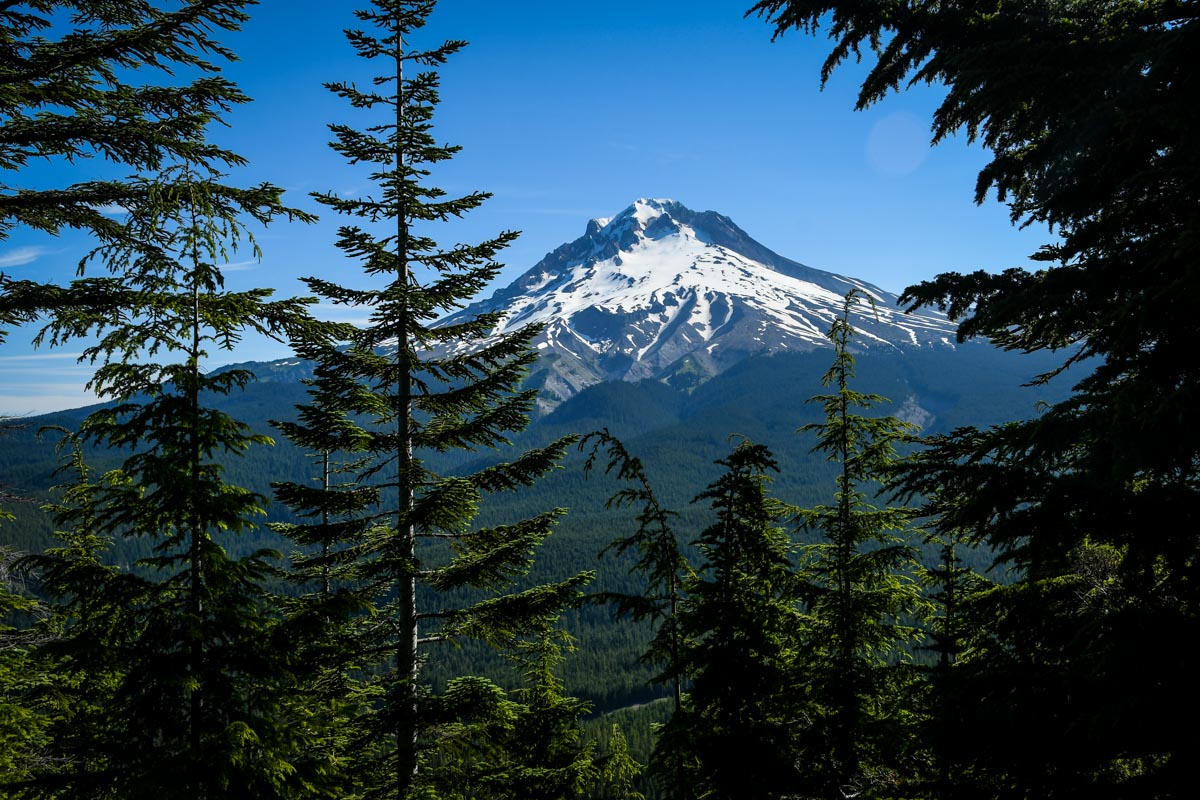 The trail up Tom, Dick, and Harry Mountain is one of the most scenic hikes in Mount Hood with unobstructed views of 4 separate peaks: Mount Hood, Mount Rainier, Mount St. Helens, and Mount Jefferson.
Starting at the Mirror Lake Trailhead near Government Camp, follow the trail to Mirror Lake and make your way up to viewpoints overlooking old-growth forests with a snowcapped Mount Hood towering over the Salmon-Huckleberry Wilderness. This trail is best hiked during the summer and fall, and takes around 4.5 hours to complete.
We put together a detailed guide to hiking Tom Dick and Harry Mountain so you'll know exactly how to prepare and what to expect.
2. Tamanawas Falls Trail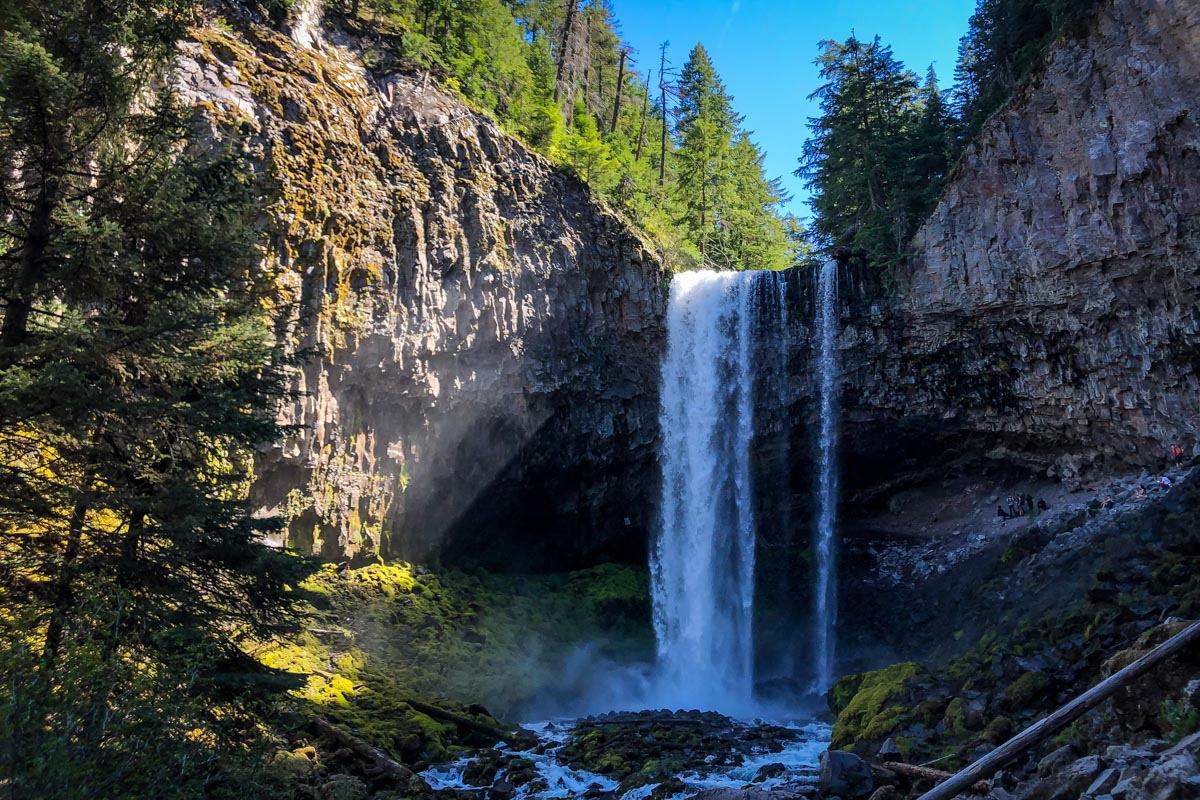 Just east of Mount Hood is where Cold Water Creek falls over a 110-foot lava cliffside deep in the Mount Hood Wilderness. Follow the North Fork of Cold Spring Creek up to this beautiful cascading waterfall. Near the end of the hike, there is a small boulder field where hiking poles are recommended since it can be challenging depending on your hiking experience.
During the late summer and fall months, the waterfall is pretty thin, but the summer wildflowers make the views to the falls worth it. In the winter months you can experience a frozen waterfall with a bit of snowshoeing to get there. This is a great trail to pair with other scenic Mount Hood hikes because it only takes 1.5 hours to complete, leaving a lot of room for more adventures.
3. McNeil Point Trail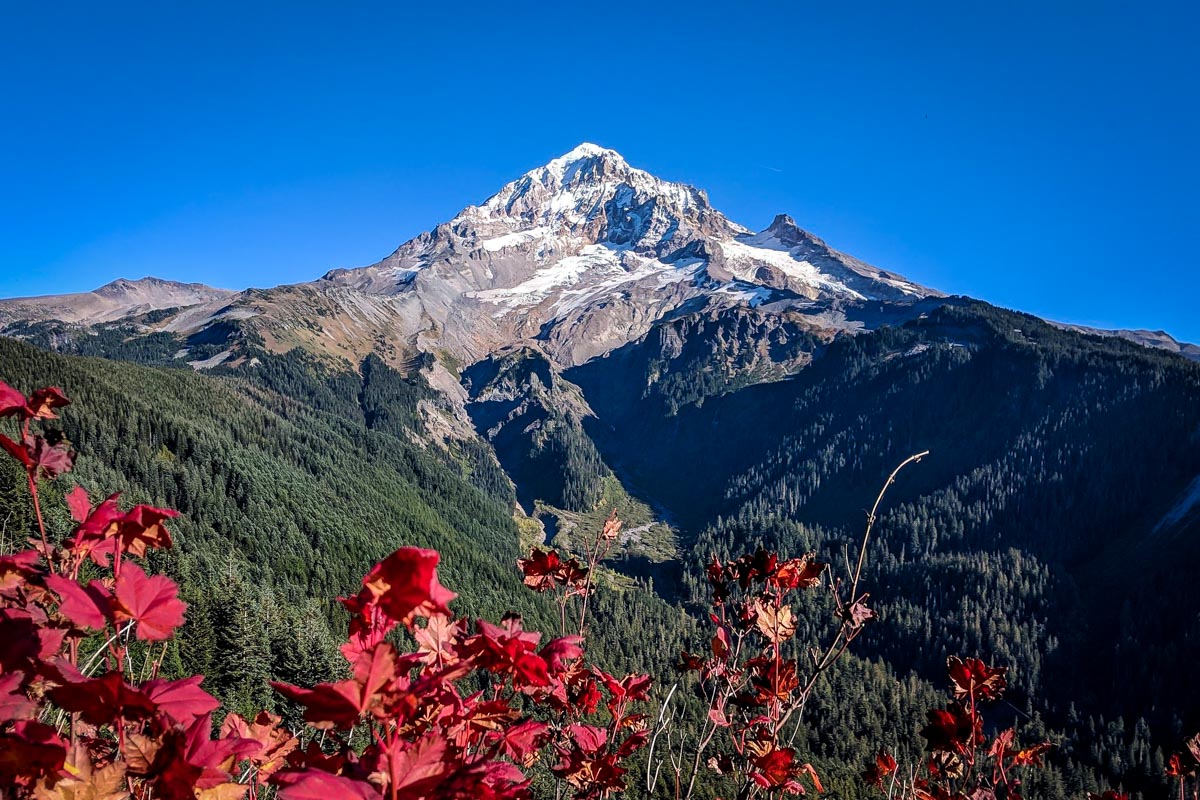 Beginning at the Top Spur Trailhead, the McNeil Point Trail has arguably one of the most unmatched views of Mount Hood you can find in the Pacific Northwest. This scenic trail is a follows two major hikes in Oregon, the Timberline Trail and the Pacific Crest Trail, and takes around 5.5-6 hours to complete.
Begin your hike through old-growth forest, around Bald Mountain, and watch as the trail opens up to reveal views of Mount Hood, and Mount Saint Helens and Mount Rainier on a clear day. At McNeil Point, lookout for the historic rocky shelter at the top.
4. Trillium Lake Loop Trail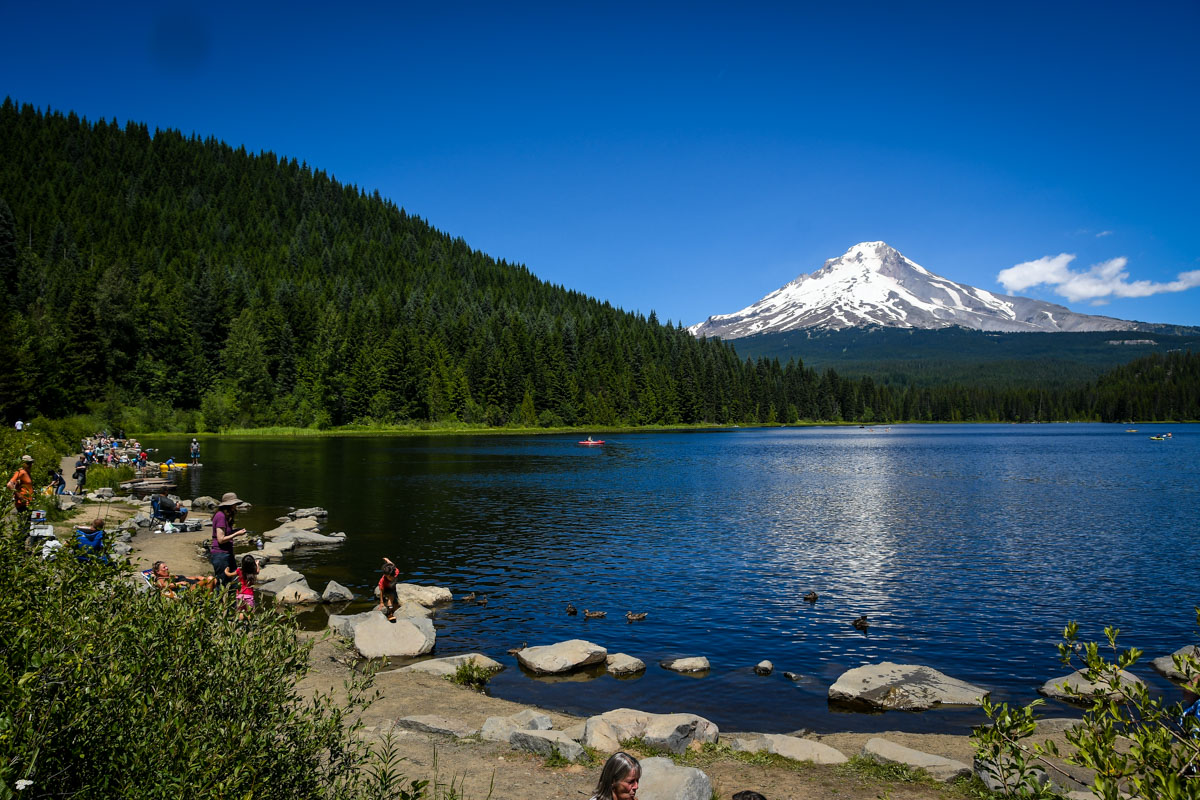 The Trillium Lake Trail is one of the most popular Mount Hood hikes. It's an, easy scenic day hike that features a snowcapped Mount Hood as the backdrop of a still alpine lake. Since this trail is postcard worthy, you'll share it with other day hikers, kayakers, swimmers, windsurfers, and more on a nice day.
Along the trail, hike over scenic boardwalks, through spruce-filled woods, and in the summer months, dozens of wildflower pockets among the forest floor. Since this trail is so trafficked, aim to arrive here early before the crowds.
5. Little Crater Lake Trail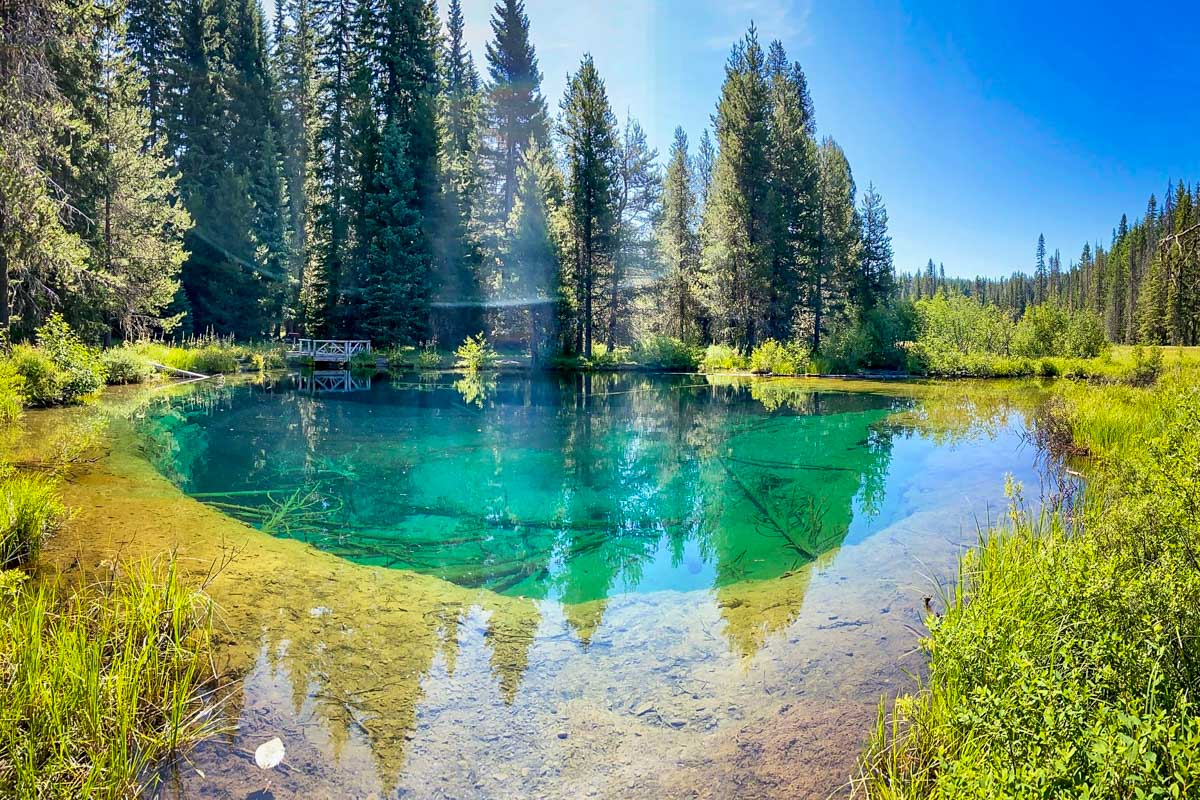 One of the easiest hikes in Mount Hood is the Little Crater Lake Trail. This small spring developed in a layer of siltstone that slightly resembles the hot spring pools in Yellowstone National Park, but these are around 100-degrees cooler!
This short trail takes less than ten minutes to complete and takes you through lush alpine meadows to a crystal clear, turquoise pool. Just past this trail, you can connect onto the Pacific Crest Trail and see more lush meadows and streams in the area.
6. Frog Lake Trail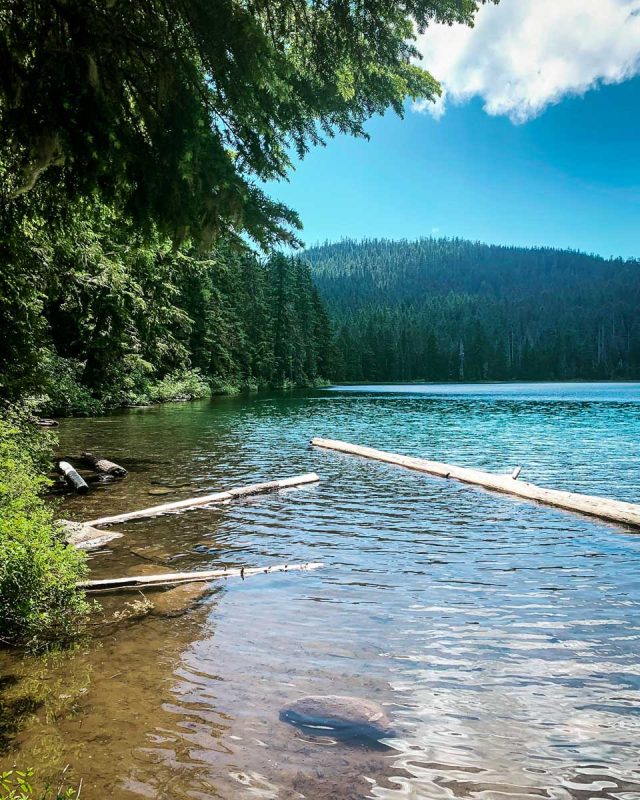 Unlike most lake hikes, Frog Lake doesn't have a trail around the lake, but it does serve as trailhead for a variety of other adventures on the Frog Lakes Butte Trail, Twin Lakes Trail, and the Pacific Crest Trail. Explore these variety of trails or explore the lakeside among willow, huckleberry, lodgepole pine, cedar, hemlock, and other flora and fauna.
This short Mount Hood hike only takes around 30-minutes to complete, which is perfect if you're exploring other hikes in the area south of Government Camp.
7. Lost Lake Loop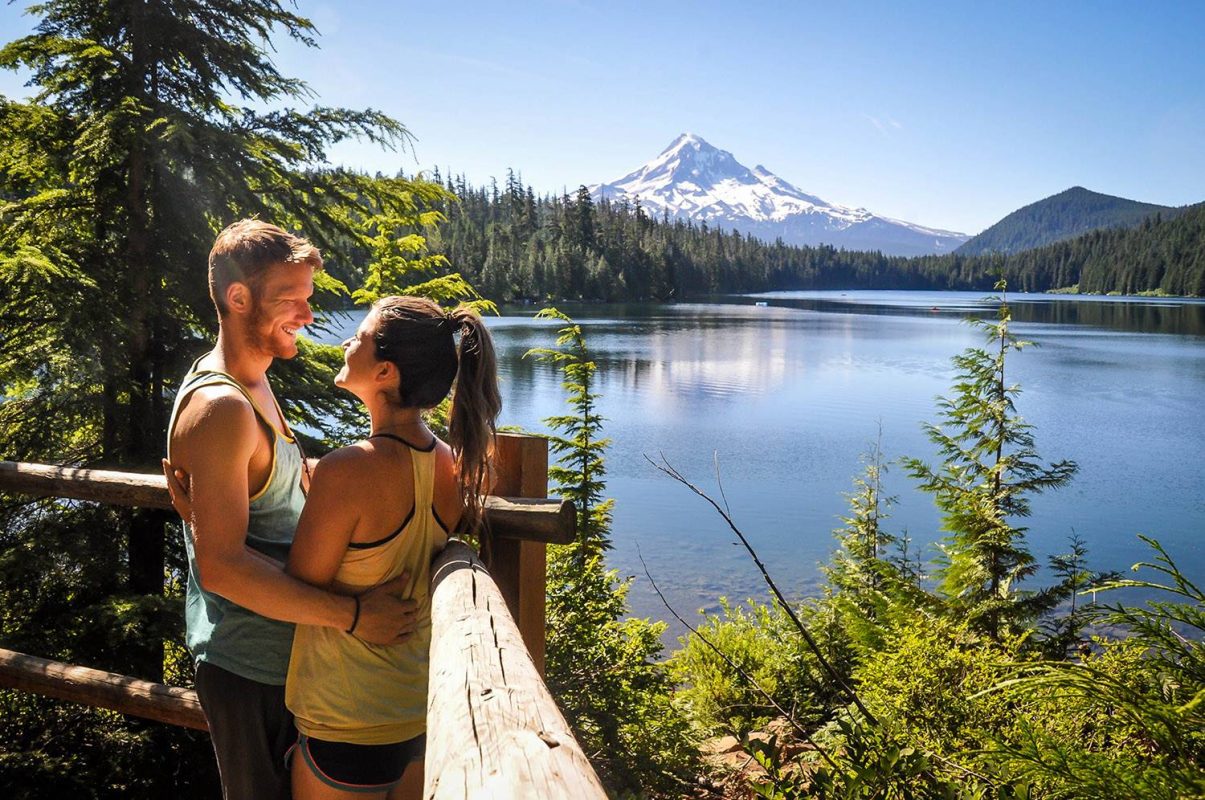 The Lost Lake Loop is another picturesque day hike that, as you could have guessed, offers Mount Hood as a magnificent backdrop to your adventurous hiking trip in this National Forest. One of the last miles of this trail features a popular photo spot and one of the best views of the mountain top.
This is one of the best hikes in Mount Hood for families and little ones since it's relatively flat throughout and offers small spurs with lake access to explore. Please note: you cannot access the lake from Late November into the Late Spring.
8. Cooper Spur Trail
Explore this bucketlist-worthy hike that takes you to the highest point on Mount Hood on a formal trail. From the top, you can gaze up at the snowcapped mountain and dream about your next adventure to the summit, watch ice fall from Elliot Glacier in the North, or look for Oregon's remote desert wilderness in the East.
This is one of the most difficult hikes in the area and takes around nine hours to complete, but will be the adventure of a lifetime for experienced hikers looking to get their hands dirty.
9. Mirror Lake Loop Trail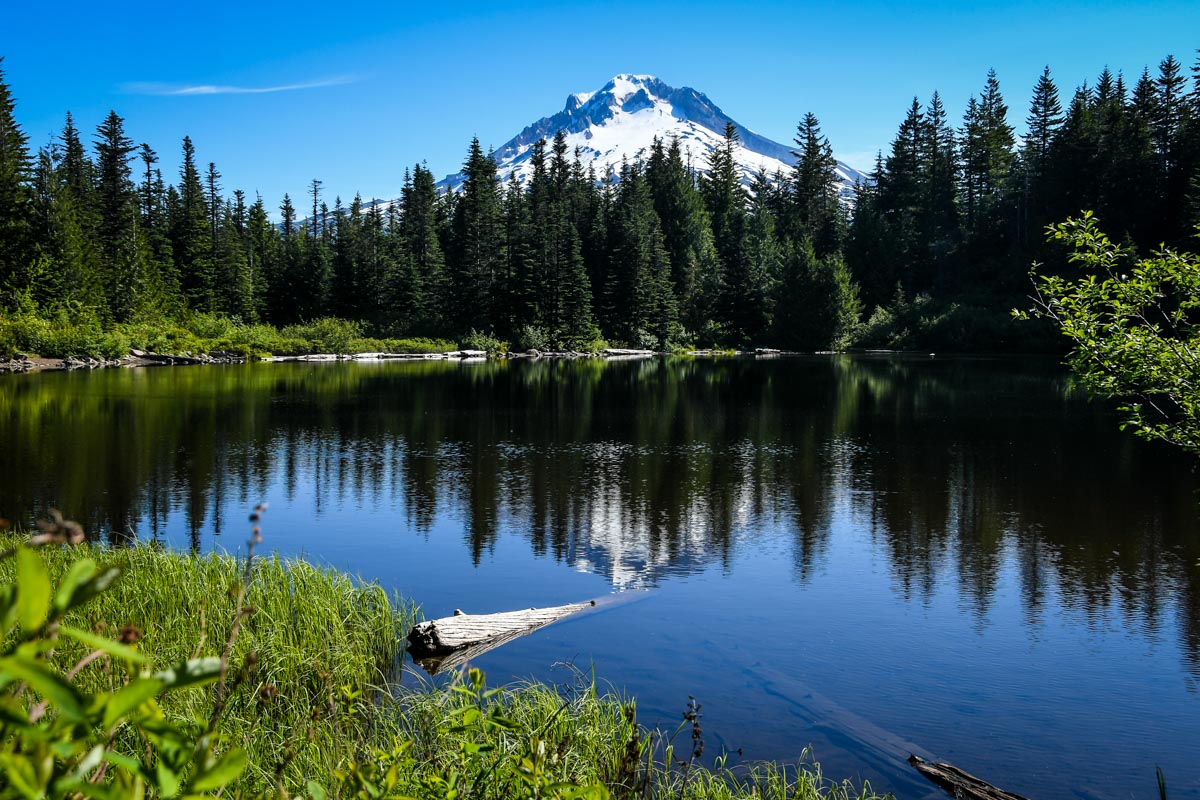 Hike to a serene alpine lake with views of Mount Hood and Tom, Dick, and Harry Mountain. On still days, you can see the reflection of Mount Hood in the water among pine forests. You'll cross many scenic footbridges over streams and pockets of wildflowers in the summer months.
This trail is one of the most accessible trails off Highway 26, so come early during the week to avoid the crowds. This day hike takes around 2 hours to complete. If you're in the area during the winter, this is an awesome trail for a snowshoe.
10. Umbrella Falls and Sahalie Falls Trail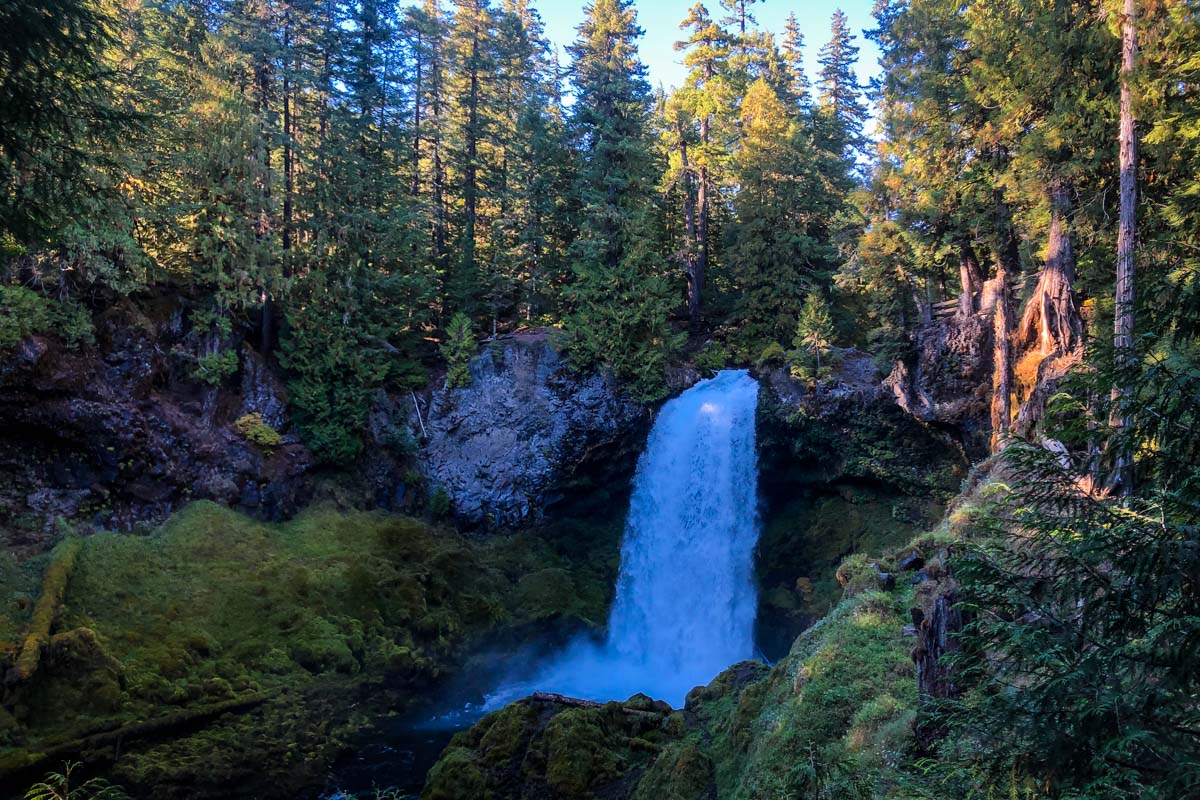 One of the most beautiful waterfall hikes in the Mount Hood area is along the Umbrella and Sahalie Falls Trail. Hike in the picturesque Hood River Meadows to Umbrella Falls, a 60-foot cascading waterfall, and Sahalie Falls, the 100-foot waterfall pouring into the East Fork Hood River.
This is a jaw-dropping trail in the summer months as you can spot lupine, gold pea, aster, subalpine daisies, and paintbrush wildflowers blooming along this trail. Keep in mind this trail is located in the Mount Hood Wilderness, so you will be sharing the trail with mountain bikers.
11. Timberline Lodge to Zig Zag Canyon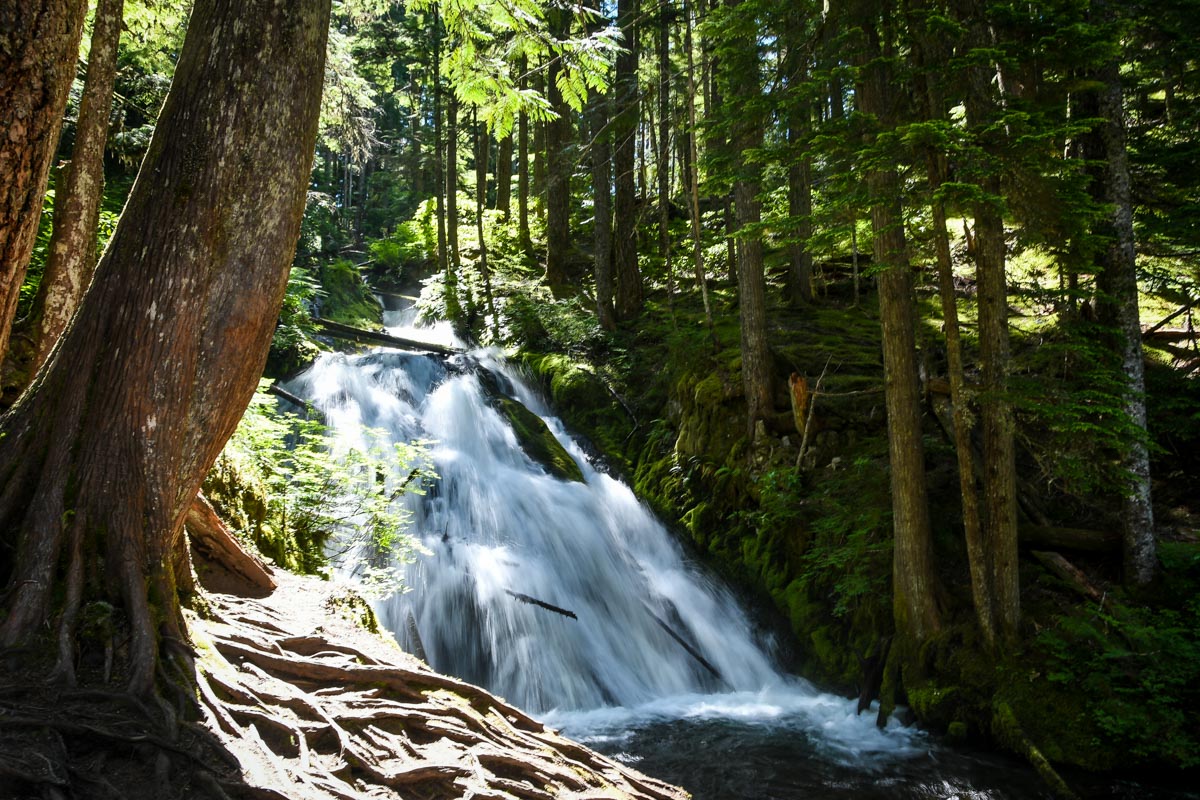 Walk along the alpine and subalpine areas on Mount Hood's south side to discover the deeply gouged, Zig Zag River Canyon. Begin at the historic Timberline Lodge and hike along the Pacific Crest Trail, to sweeping views.
Because this trail is widely accessible from the lodge, this day hike gets very popular in the summer, on weekends, and holidays. It takes around 2 hours to complete. This trail also makes for a beautiful winter snowshoe to pair with skiing just north of Government Camp.
12. Old Salmon River Trail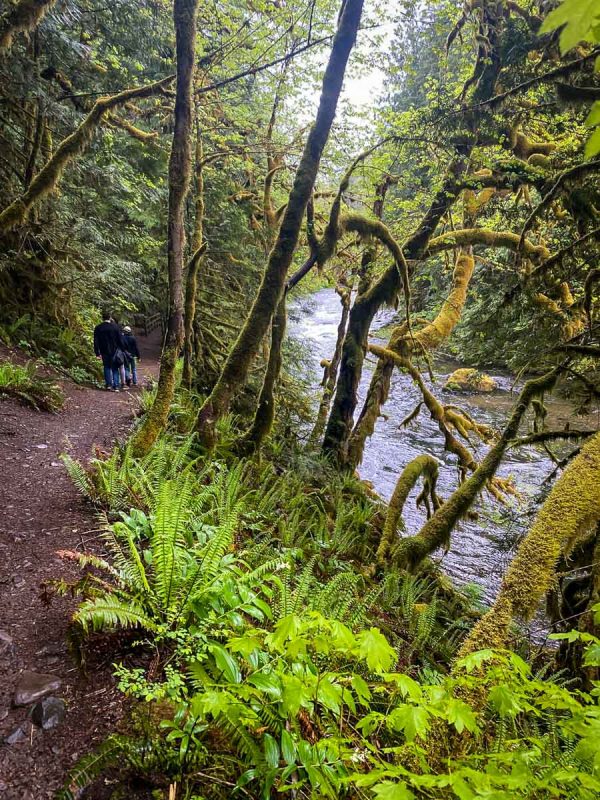 Feel immersed in the wilderness just off Highway 26 along the Old Salmon River Trail. This quiet, riverside hike takes you through 10-foot wide red cedar trees and passes by many small sandy spots to access the river for an optional summer dip.
This trail is essentially flat so it's perfect for a stroll with the family or little ones. The hike through this mossy forest should take around an hour.
13. Elk Meadows Trail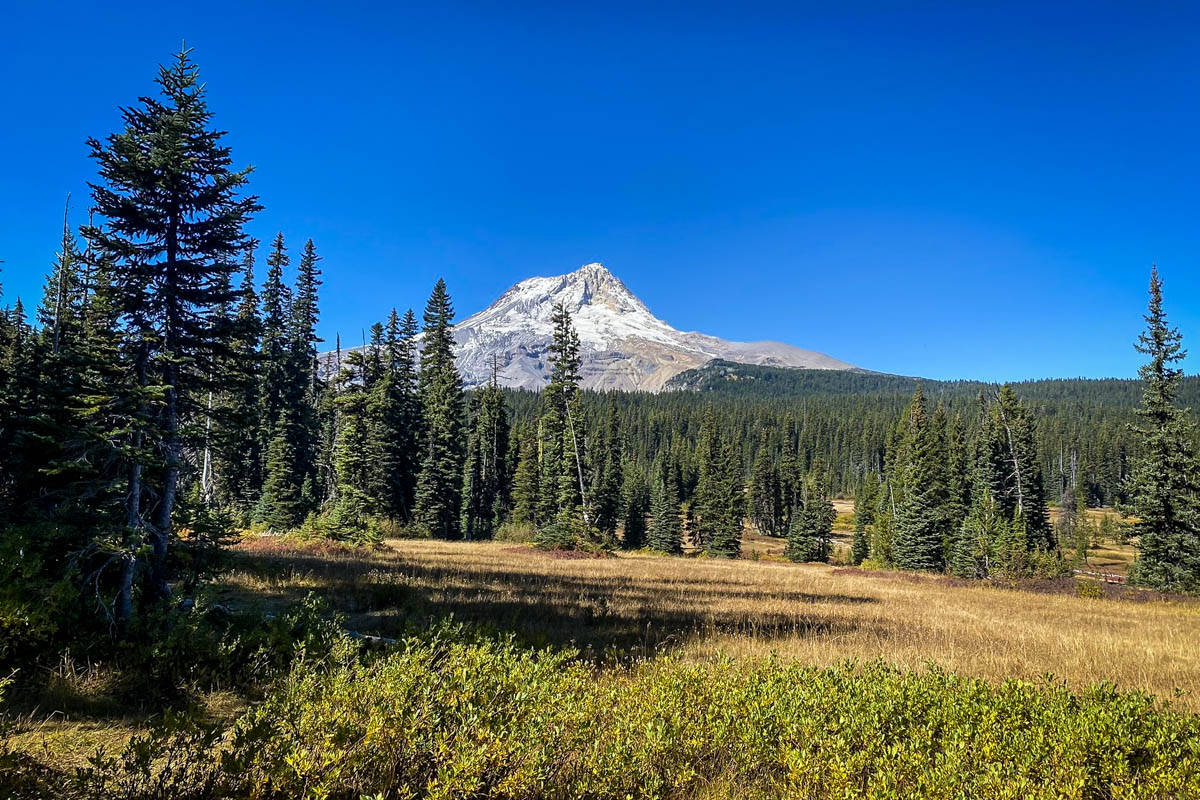 Explore the Elk Meadows Trail for one of the best Mount Hood hikes to see wildflowers and pick huckleberries in the summer months. Cross glacial streams, hike through old growth forests to witness spectacular vistas over the east side of Mount Hood.
Complete this hike in just three hours or choose to explore many of the spur trails along the route for even more adventure in the Elk Meadows area. Along this trail, you'll enter the Mount Hood Wilderness, so make sure to fill out the free permit before continuing into the area.
14. Ramona Falls Trail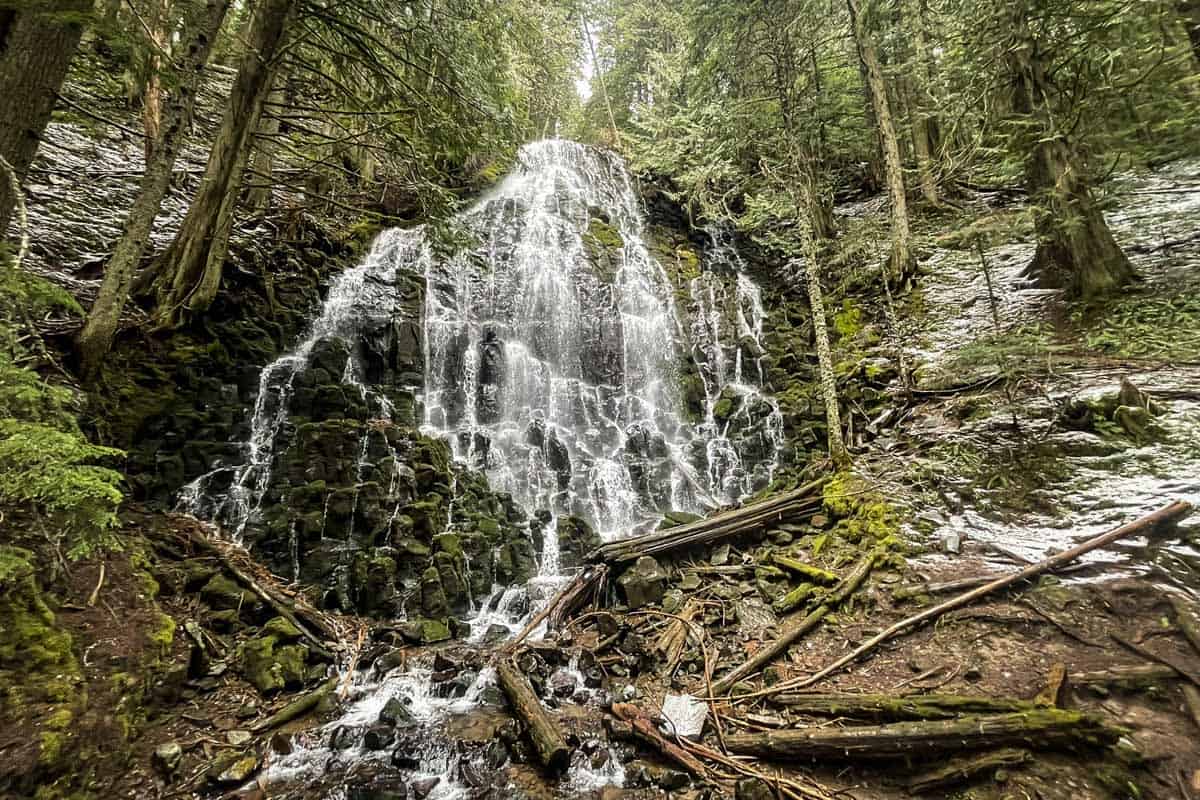 Ramona Falls is arguably one of the most scenic waterfalls in Mount Hood and is considered a centerpiece for the mountains wilderness area. This trail includes popular Pacific Northwest flora and fauna like Douglas fir trees, Rhododendron, mountain Hemlock, Reindeer lichen, Pinemat manzanita, and Lodgepole pine.
This trail links the Pacific Crest Trail and the Timberline Trail so you can expect a variety of hikers taking in the beauty at this 120-foot cascading waterfall. Be aware that this trail requires a crossing over the Sandy River so check conditions before heading out.
15. Bald Mountain via Lolo Pass Trail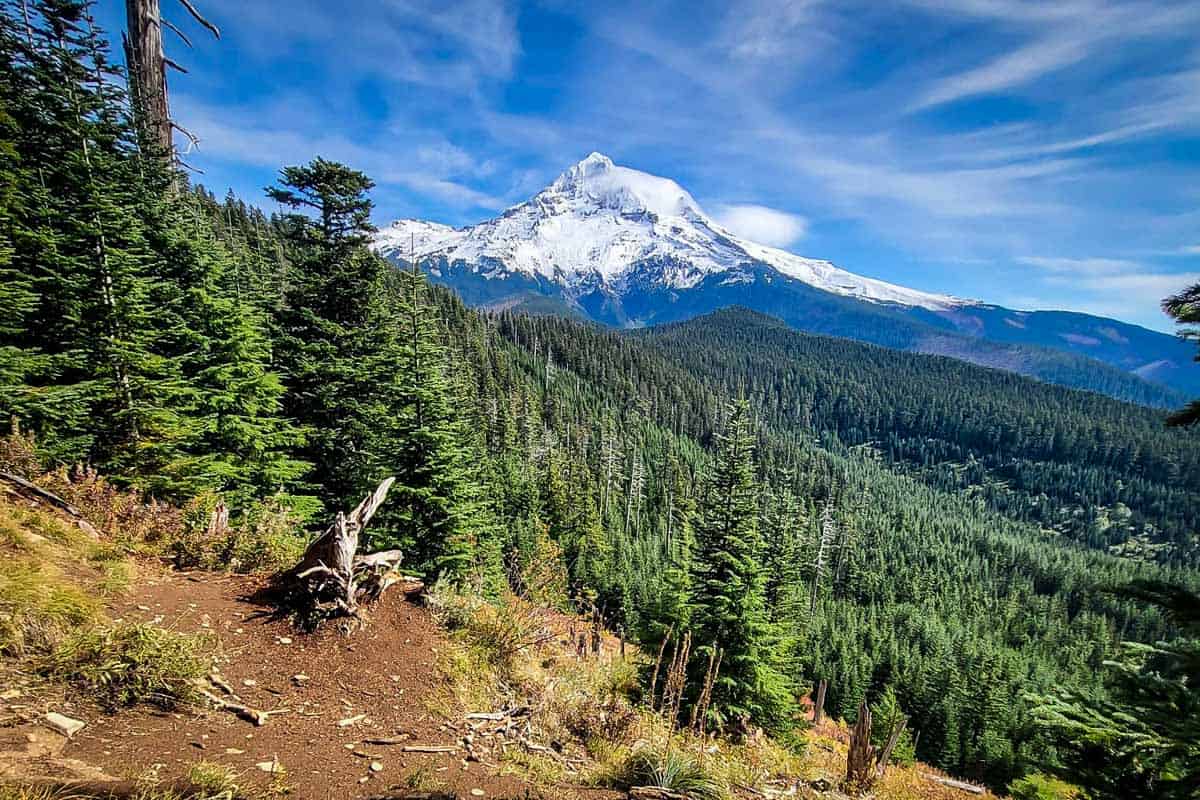 Hike along an uncrowded portion of the Pacific Crest Trail to take in a view of Mount Hood towering over a sea of pine trees. At the top, keep an eye out for remains of a fire lookout that once stood during the 1940s.
This is an amazing trail to avoid crowds as you'll likely have the summit to yourself. In just under 4 hours to complete, it's one of the most rewarding Mount Hood hikes. It's best accessed on Lolo Pass Road at the Pacific Crest Trail entrance.
16. Paradise Park Trail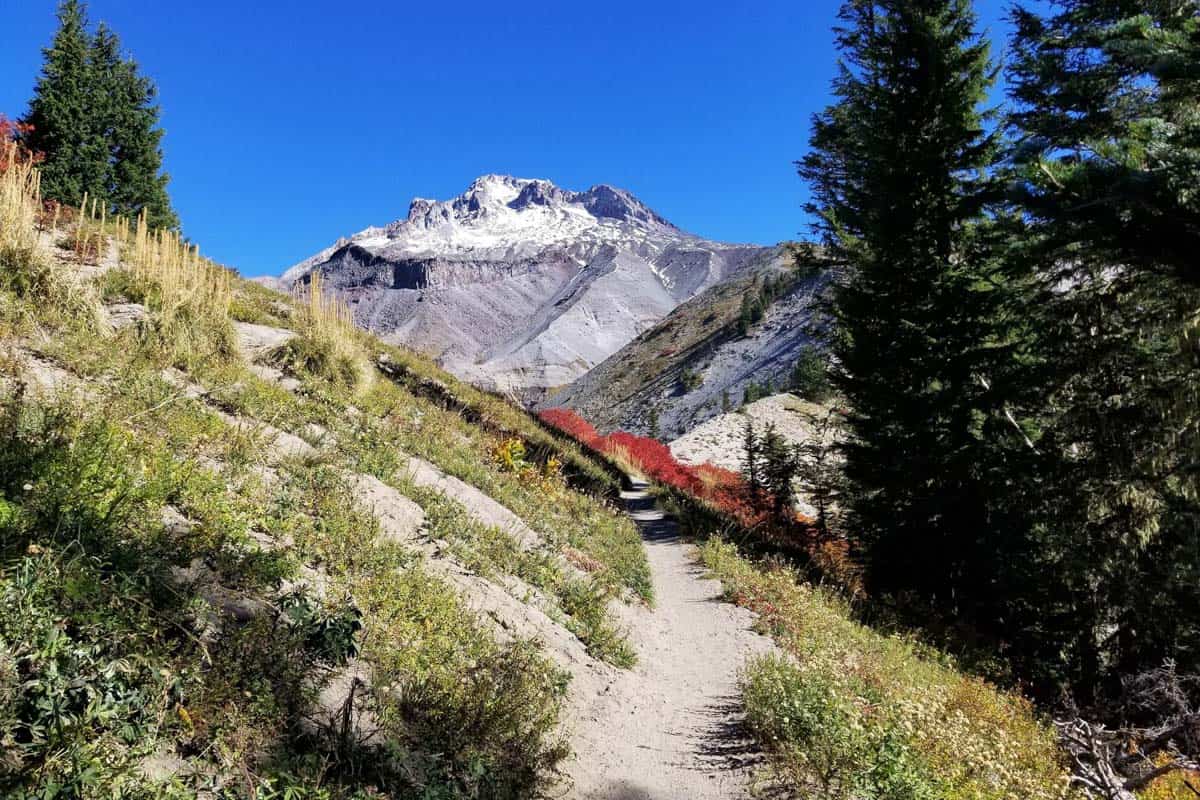 Take on the challenge of the Paradise Park Trail and explore one of the most beautiful and expansive alpine areas on Mount Hood. Surround yourself with blooming wildflowers, canopies of old-growth forests, and vast alpine meadows.
For a slightly shorter route, consider starting at the Timberline Lodge and hiking into Paradise Park. This trail is best completed as a backpacking trip or a long day hike averaging 8 hours.
17. Timberline Trail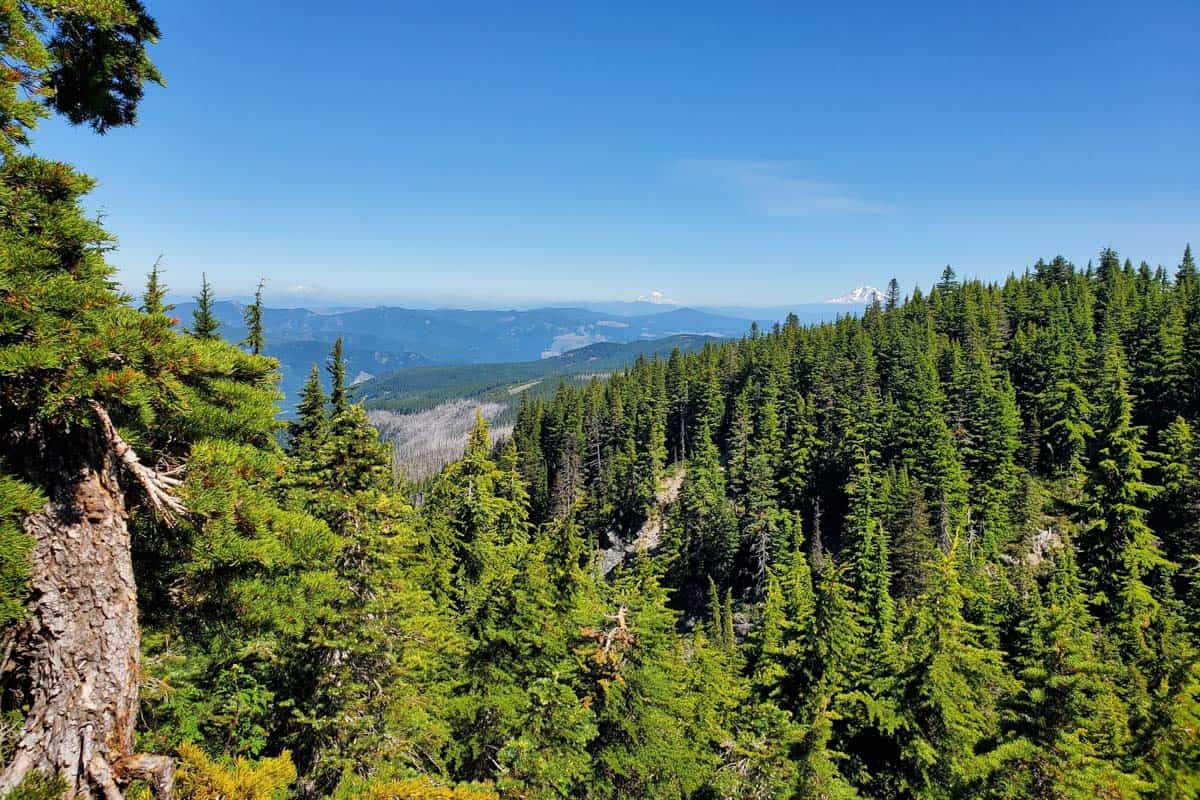 The Timberline Trail is one of the most stunning hikes in Oregon as it takes you around the base of Mount Hood, the tallest peak in Oregon. Take on this trip of a lifetime to see vibrant alpine meadows and views of many famous peaks: Mt. Rainier, Mount St. Helens, Three sisters, the Oregon Coast, and Portland.
This trail is completed as a multi-day backpacking trip through the Mount Hood Wilderness. Witness barren lava flows, craggy glaciers, massive waterfalls, and geological wonders along every mile of this spectacular trail.

What to pack for hiking at Mount Hood
Although these Mount Hood hikes vary in distance and difficulty, regardless of the trail you choose, you'll still want to have some key items in your pack.
Be sure to grab our ultimate hiking packing list includes our must-have gear for any hiking trail!


You may also like…
Save this post to Pinterest for later!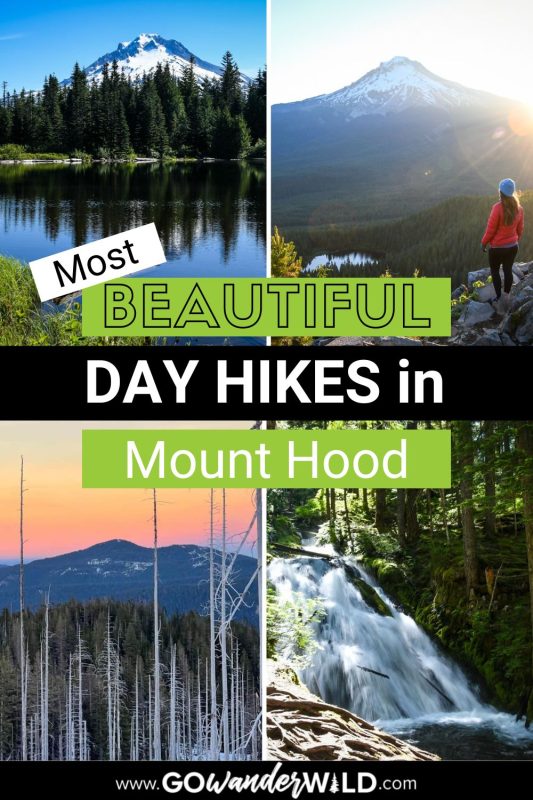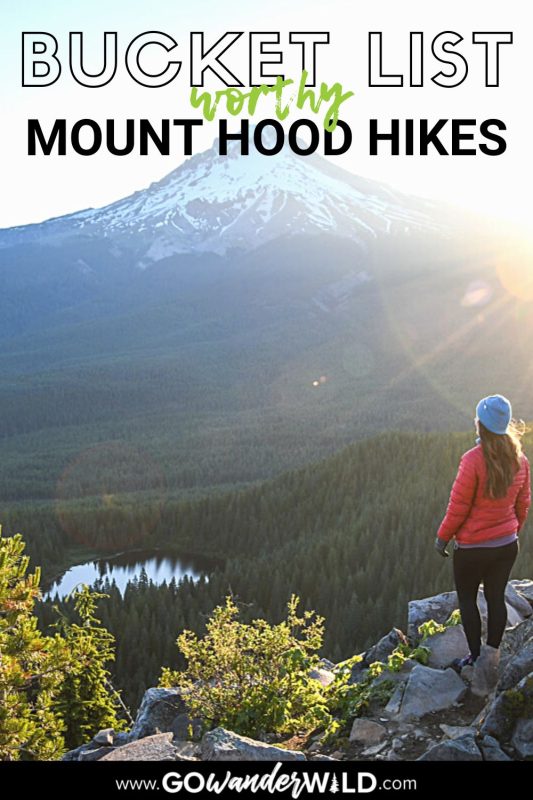 We want to hear from you…
Which Mount Hood hikes are your favorite? Are there any we should add to this list? Let us know in the comments below!