Classic PNW mountain scenery (arguably some of the best in the country!) with seemingly infinite lakes, peaks, rivers, and trails to explore makes Leavenworth a central Washington hiking hotspot. We've done the legwork — literally! — to round up the most incredible hikes near Leavenworth, regardless of your trail experience or abilities.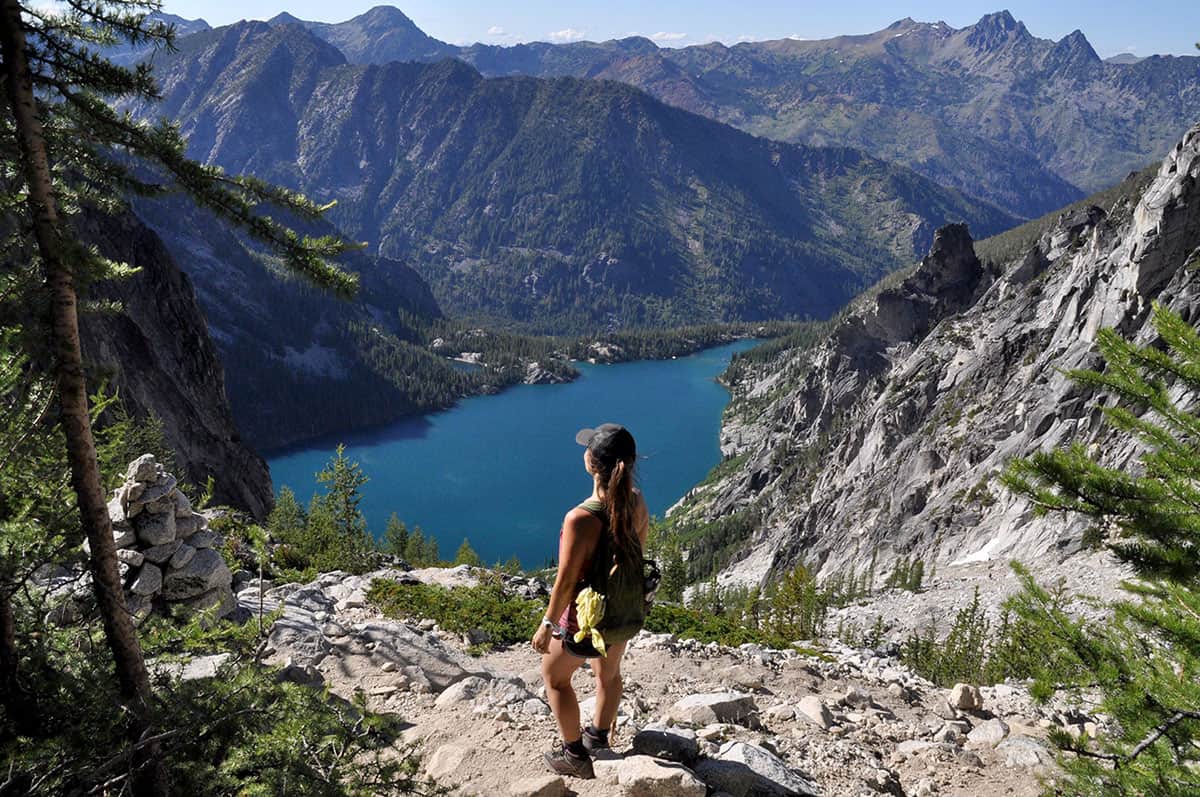 Leavenworth may be a small town in central Washington best known for its seriously adorable Bavarian village scenery, but it also happens to be located among some of the absolute best hiking in the PNW.
Nestled in the South Cascade mountain range, Leavenworth is just minutes away from dozens of trailheads ranging from leisurely walking trails along the Wenatchee River to multi-day treks through the Cascades and everything in between.
As major hiking enthusiasts and former residents of this adorable little town, here are our picks for the best hikes near Leavenworth!
Psst! If you have the time, check out our local's guide to the best things to do in Leavenworth during your stay.
1. The Enchantments Trail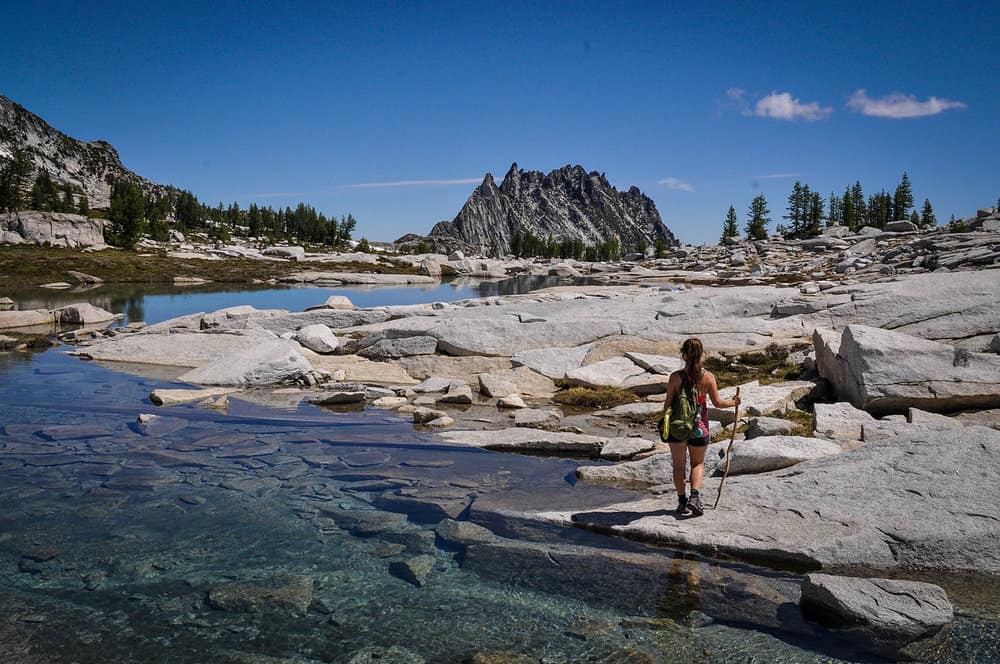 The Enchantments Trail is easily the most notable of the hikes near Leavenworth, definitely bucket list-worthy and one of our all time favorite hikes in Washington. Living up to its name, this trail takes you through challenging mountain passes with stunning views of the peaks and several pristine lakes including Colchuck, Stuart, and Isolation.
You can choose to hike the Enchantments trail in either direction. We recommend turning your hike into a backpacking trip and spreading it out over a couple of days (and there are some fantastic campsites along the way!), but serious hikers can finish it in a day. Note that between May and October, you need a permit for overnight camping.
You'll also want to arrange a shuttle service to pick you up at the end, otherwise you'll have to hike the 20.5 miles back to where you started.
2. Sauer Mountain
This moderate hike, which grants you stunning views of the Enchantments and Glacier Peak, is especially stunning in the springtime, as the mountainside is covered in a blanket of wildflowers. If you can plan your visiting to coincide, we'd highly recommend it.
Once you get to the top, you can continue hiking along the ridgeline for a bit, or you can simply turn back. The hike takes on average 3.5 hours to complete, so you'll want to be sure and plan a half day to tackle this one.
Note: The entrance to this hiking trail is on private property. The owner welcomes hikers, but asks for a donation for parking your car on his property.
3. Icicle Gorge Trail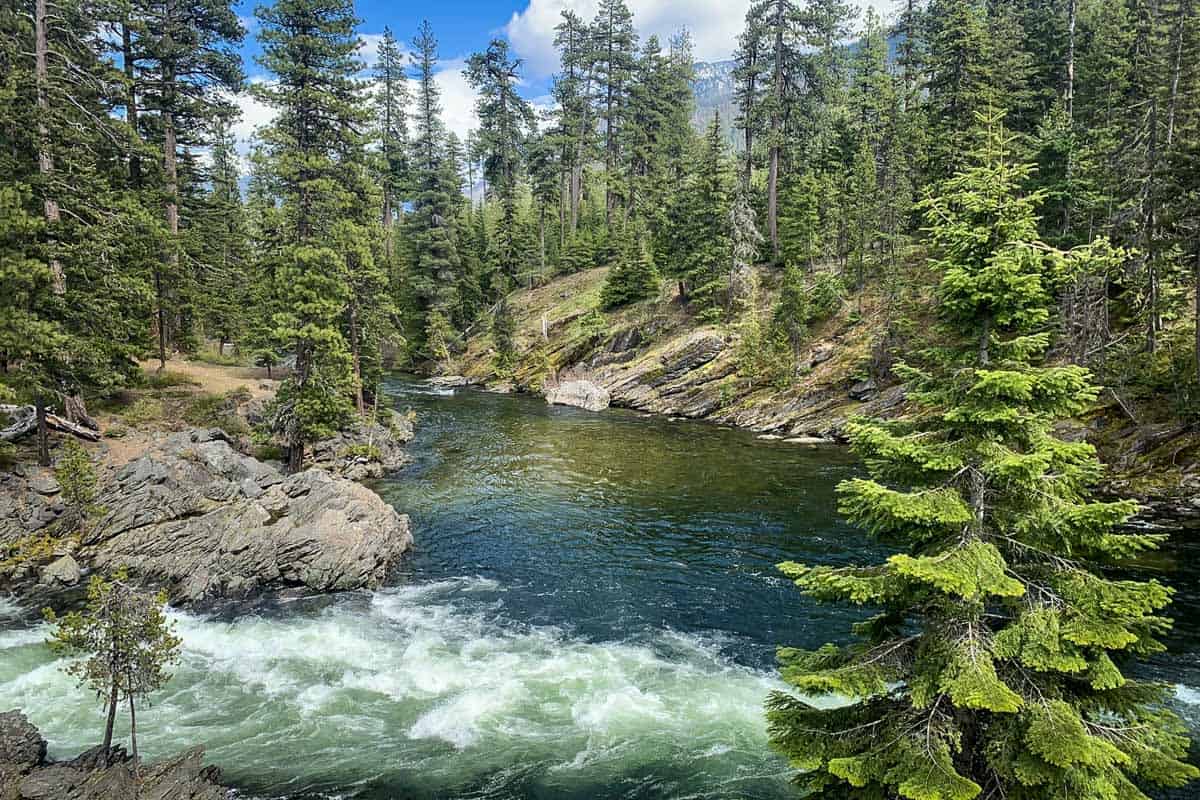 If you're looking for a family-friendly hike near Leavenworth, Icicle Gorge Trail (not to be confused with Icicle Ridge Trail, which is further down, this list!) is another excellent option. This relatively relaxing 4.5-mile loop trail has a ton to see, including crossings over Icicle Creek, wildlife, and even a small waterfall.
Note that Icicle Gorge is best visited from May through October, as the trail gets quite slippery and muddy from snow and ice, and the parking area may be difficult to access.
4. Hidden Lake Trail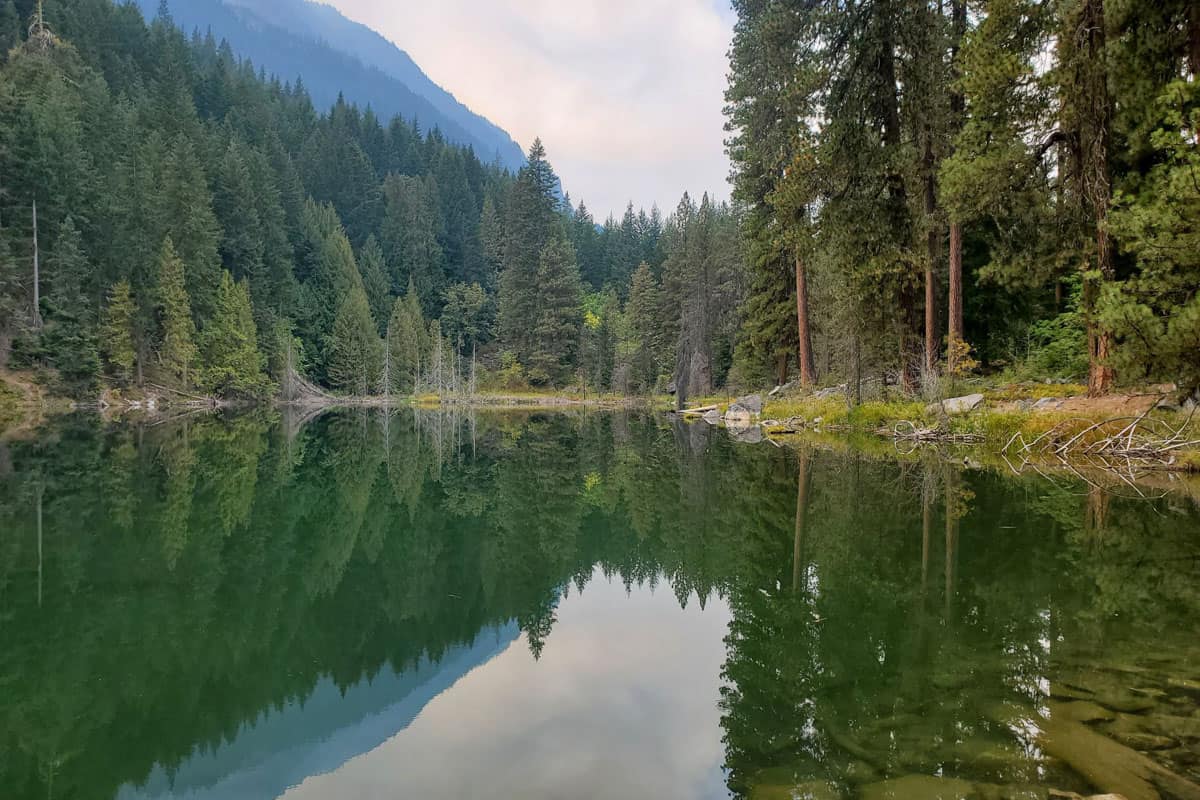 Despite its name, Hidden Lake Trail is a fantastic easy out-and-back hike near Leavenworth that takes most people less than an hour to complete. We love these trails that let us explore and still leave enough time for hanging out in town!
Both kiddo- and dog-friendly, Hidden Lake Trail is also great for birdwatching, fishing, and picnicking. In the winter, it's also an excellent trail for snowshoeing! Be aware that you will need a Discover Pass for parking.
5. Blackbird Island Trail
The Blackbird Island Trail is a casual loop located right within Leavenworth. The trail is essentially a well-beaten path that never has more than a 5% grade, so it's wheelchair-friendly and also suitable for young children on bikes.
Blackbird Island Trail takes you along the Wenatchee River and around Blackbird Island, providing postcard-worthy scenery, wild birds and fish, and interpretive signs explaining local nature and history. You can paddle the river here and there are even sandy riverfront beaches!
6. Lake Wenatchee North: Summer Route
Inside Lake Wenatchee State Park and suitable for everyone, this is one of the most popular hikes near Leavenworth. The trail brings you right to the shore of the lake, which is a perfect place to stop for a picnic or simply enjoy the view of the water and surrounding mountains.
In the summer, the water is warm enough to swim in (a rarity in the PNW!), so bring a swimsuit. Note that you will need a Discovery Pass to enter the park.
7. Lake Valhalla Trail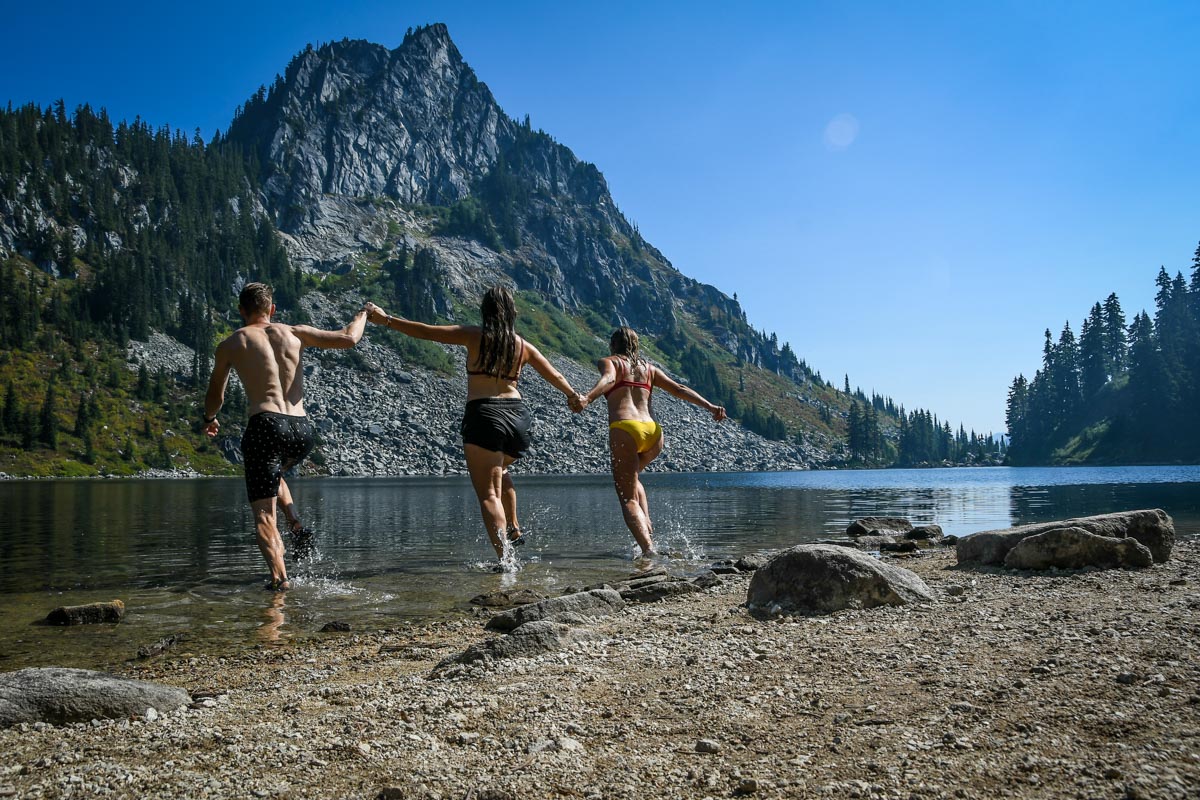 Lake Valhalla Trail is one of our favorite hikes near Leavenworth for good reason! Stunning views and beautiful wildlife everywhere you look make it a fantastic hike. The trail takes you to and from the lake in about three hours, and the elevation gain adds just enough of a challenge to get your blood pumping a bit.
The fall colors are amazing at Lake Valhalla and a little snow really turns it into a winter wonderland, but be extremely cautious in the winter and drive a capable vehicle to the trailhead.
Check out our Lake Valhalla hiking guide for all the info you need to plan your hike.
8. Eightmile Lake Trail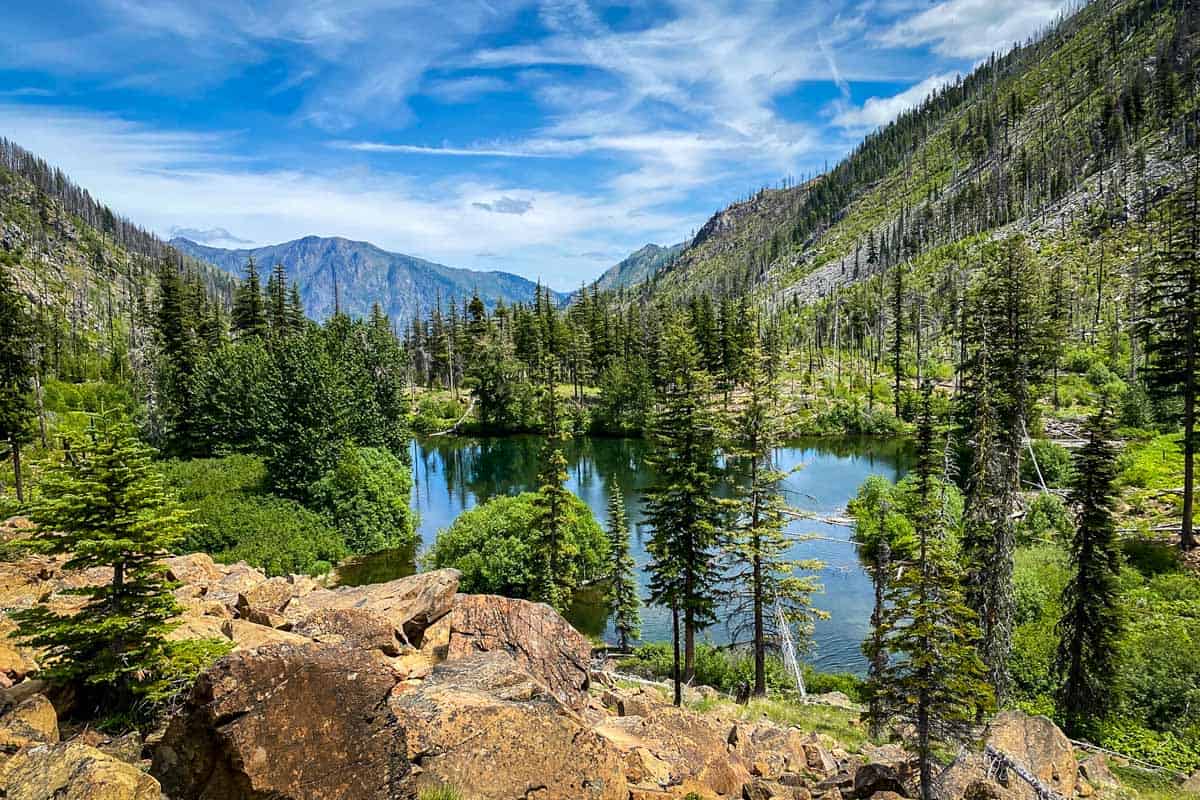 Along the way to the spectacular Alpine Lakes Wilderness Area, Eightmile Lake is reached via a somewhat challenging 7.2-mile roundtrip hike. The trail packs a punch with a fairly challenging climb right off the bat, but it levels out fairly quickly.
Before you get to your destination, you'll pass Little Eightmile Lake. While it's nice, it doesn't compare to the "real" Eightmile — you'll know when you arrive!
Note that the trailhead is about three miles from the main forest road, down a washboard road, and it's closed in the winter. It typically re-opens in late May; check road conditions before heading out.
9. Ski Hill MTB Loop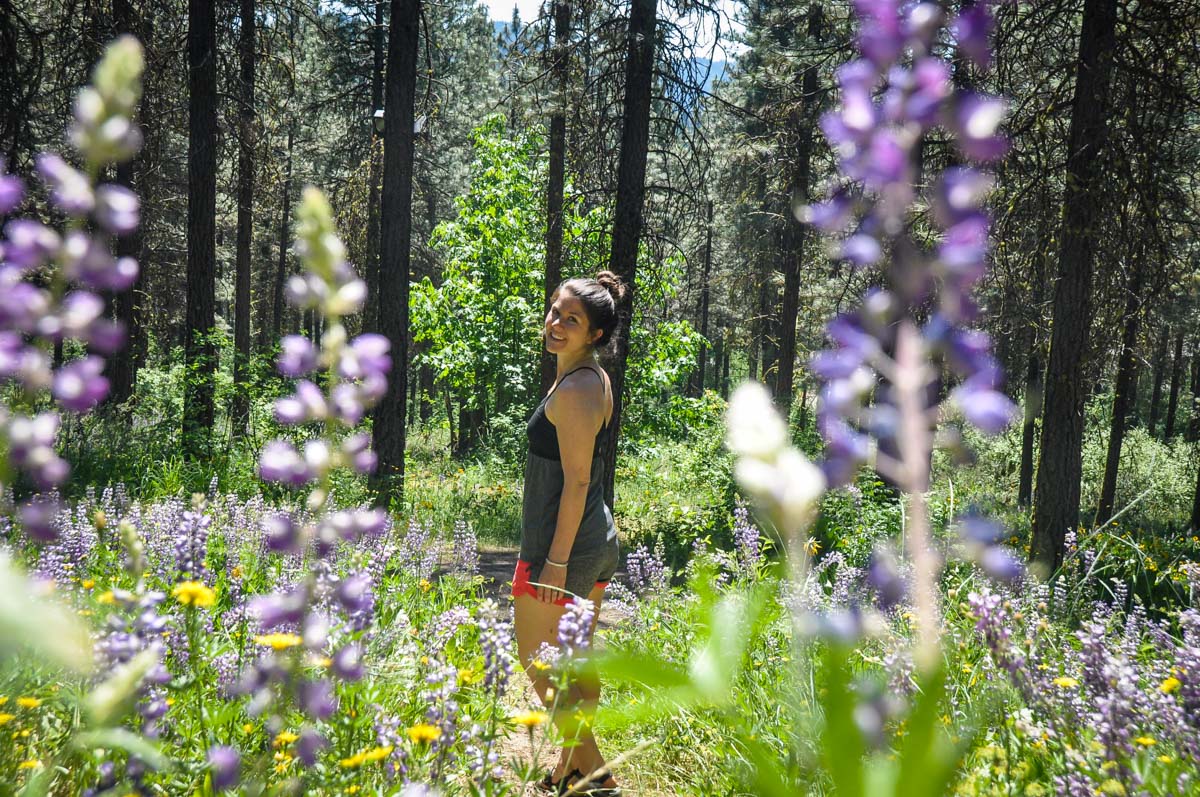 This is a popular spot for locals to go walking or trail running and another one with beautiful wildflowers in the springtime. There are also mountain bike trails here, a lodge that hosts events in the summer, and a small ski/tube hill in the winter.
10. Icicle Ridge Trail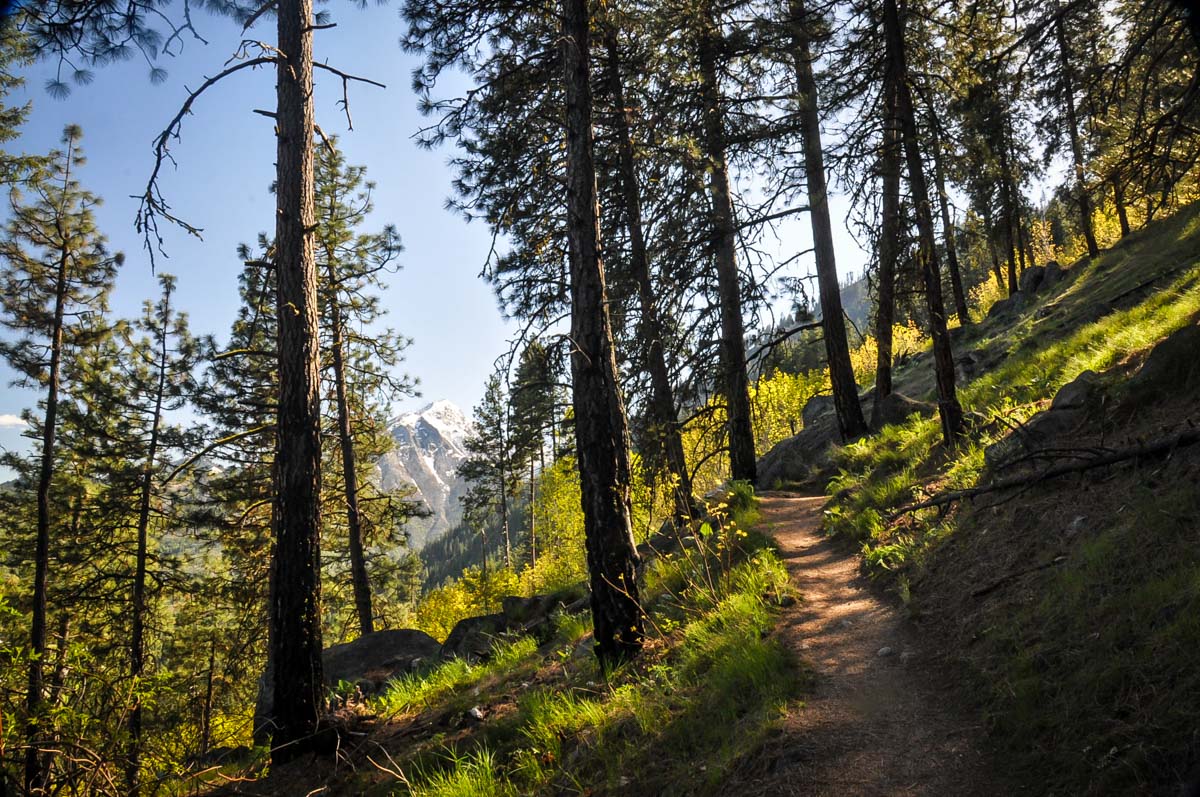 At 5.1 miles, Icicle Ridge Trail is certainly not among the longest hikes near Leavenworth, but it's quite challenging!
The trail is consistently steep the entire way up with (seemingly countless!) switchbacks, so it definitely gets your heart pounding. The expansive views from the top are incredible and well worth the climb.
Check out our Icicle Ridge Trail guide for all the info you need to plan your hike.
11. Lake Stuart Trail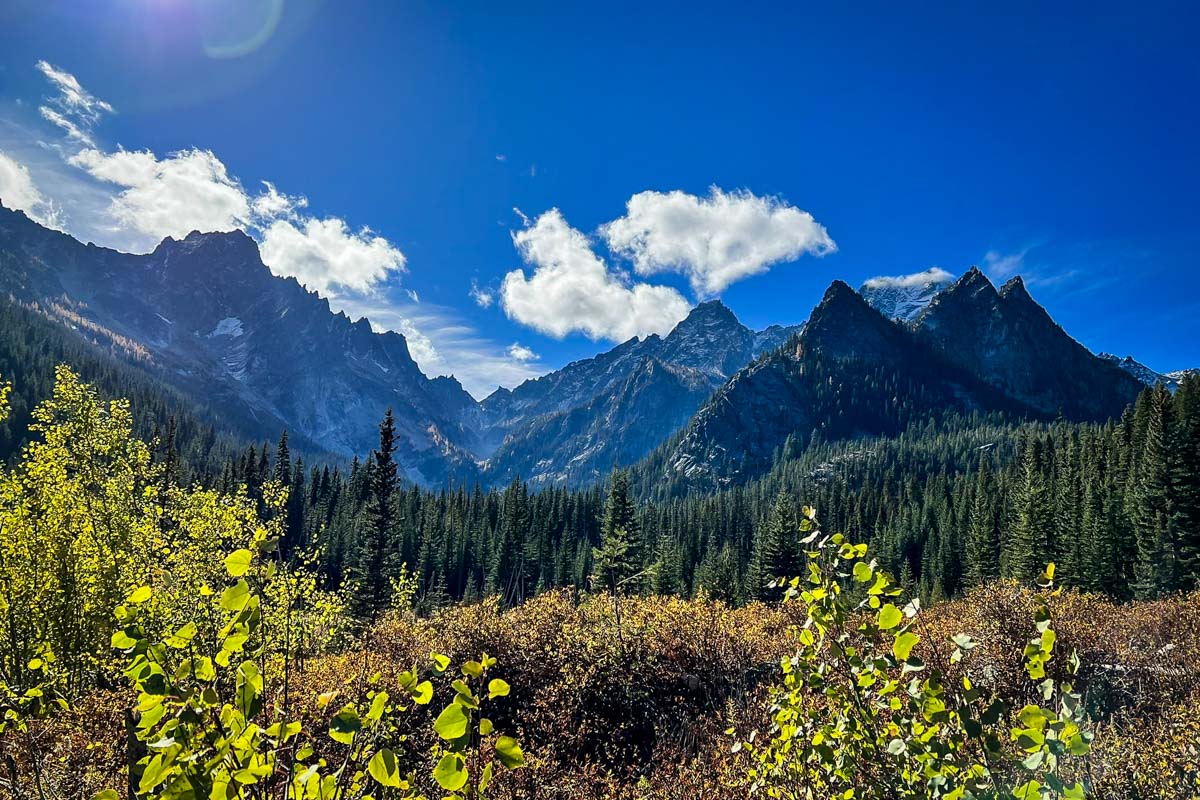 Another hike at the gateway to Alpine Lakes Wilderness Area and the Enchantments, Lake Stuart is one of the most rewarding hikes near Leavenworth. There are several steep switchbacks, but the scenery makes it well worth the climb.
The trailhead for Lake Stuart is accessed from the same forest road as Eightmile Lake, so it's closed in the winter (technically, you can park along the main forest road and hike in, but it adds about four miles each way).
12. Snow Lakes Trail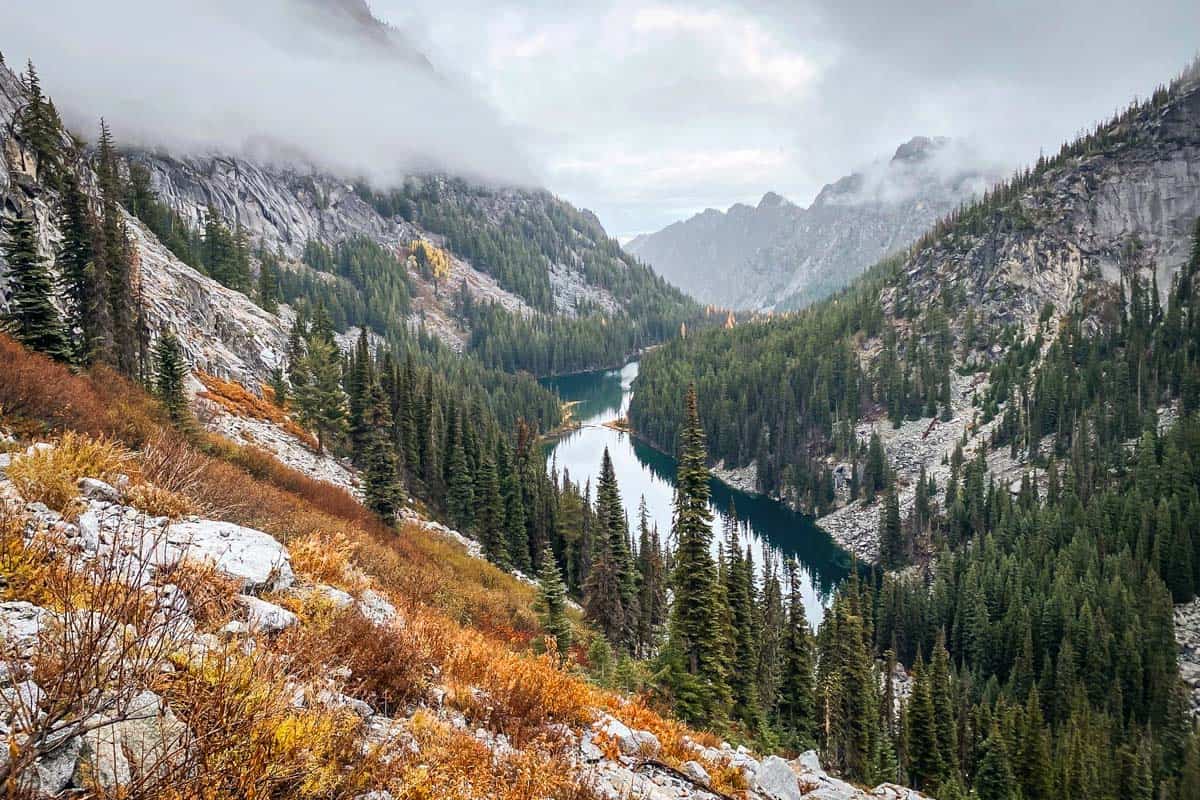 Best known as the "scenic" (i.e., long) route into The Enchantments, Snow Lakes Trail is one of the most beautiful all-day hikes near Leavenworth. It has a serious elevation gain of 4,560 feet and jaw-dropping scenery featuring several lakes, rivers, forest, and mountains.
Snow can be deep and dangerous during the winter and spring, so June-September are the best months for Snow Lakes Trail unless you are extremely confident in your hiking skills.
Note: The downhill hike on the way out is actually the most difficult part of this trail. You descend steadily for over five miles, dropping 3,600 feet in elevation. Bring trekking poles and takes lots of breaks.
13. Colchuck Lake Trail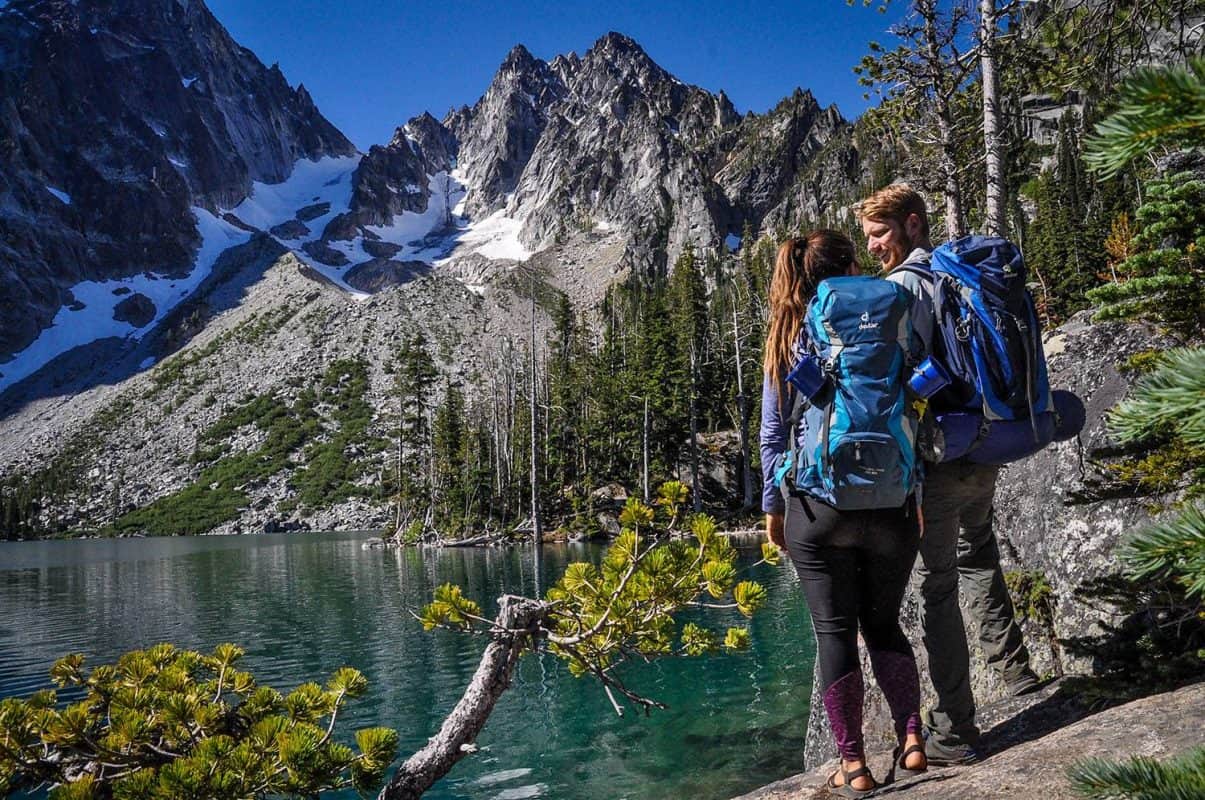 Another Alpine Lakes Wilderness Area hike, here's a slightly longer, more challenging option. Start at the Stuart Lake trailhead and enjoy taking in all of that lake before branching off and heading to pristine Colchuck Lake.
The turquoise-blue waters and surrounding scenery of Colchuck Lake are some of our favorite views in this area, well worth the effort getting there!
This hike is the entry point to the Enchantments. If you were to continue on to do the full Enchantments thru hike, you would continue from here and take Asgaard Pass (which is notoriously difficult) up to the Enchantments Core. Then as you come back down you take the Snow Lakes trail.
Check out our Colchuck Lake trail guide for all the info you need to plan your hike.
14. Skyline Lake Trail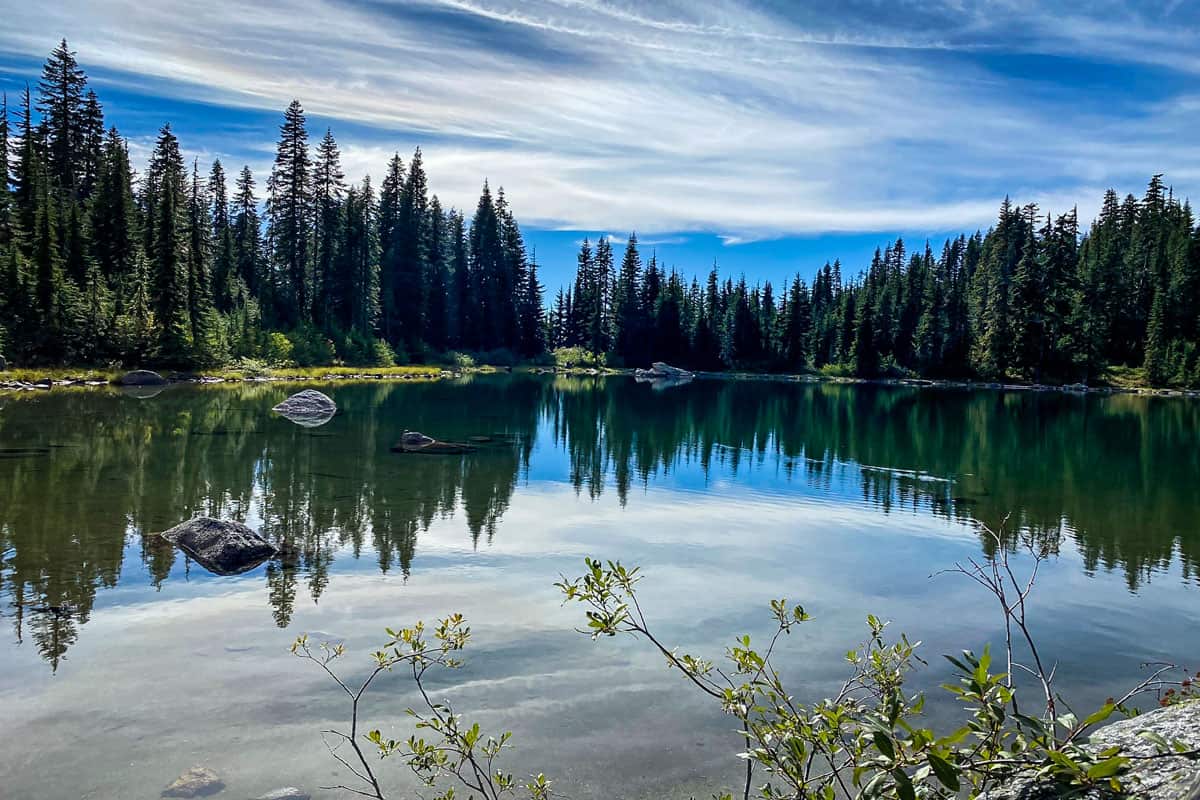 Popular in every season, the Skyline Lake Trail is a fantastic hike in Stevens Pass. The 1.25-mile one-way trail is somewhat deceiving; it's quite steep, plus covered in loose gravel. Even coming down, this one will challenge you! We highly recommend trekking poles. Skyline Lake is also a popular snowshoeing route in the winter, when the lake is typically frozen over.
Insider tip: exactly one mile from the parking lot, you'll come to a junction for the lake that's very easy to miss. Keep an eye on your distance and look to the left.
15. Little Annapurna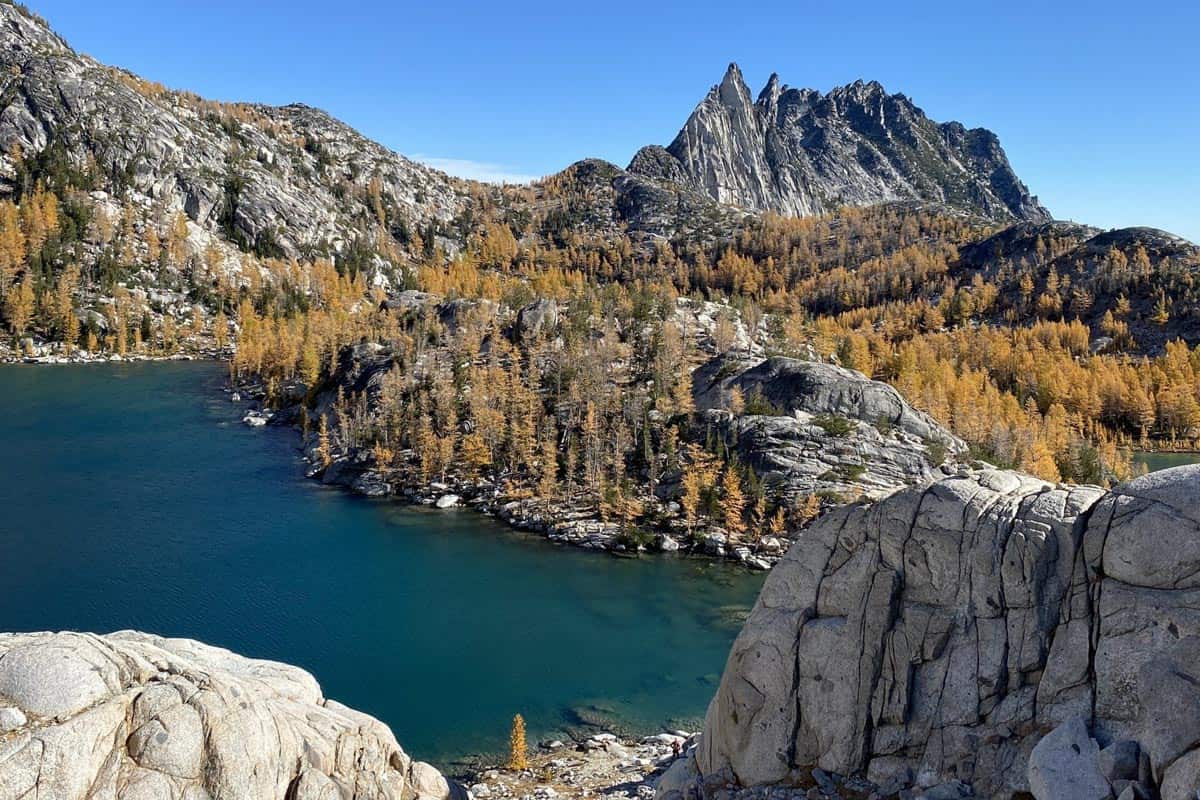 Borrowing its name from Mt. Annapurna in Nepal, Little Annapurna is easily one of the best hikes near Leavenworth. Fittingly, it's one of the most climbed mountains in Washington! The view from the summit is incredible, offering a panorama of the surrounding mountains. On clear days, you may even spot Rainier to the south!
Most people camp along the way and turn this hike into a two-day backpacking trip, although experienced hikers and trail runners may welcome the challenge of completing it in a single day.
16. Minotaur Lake Trail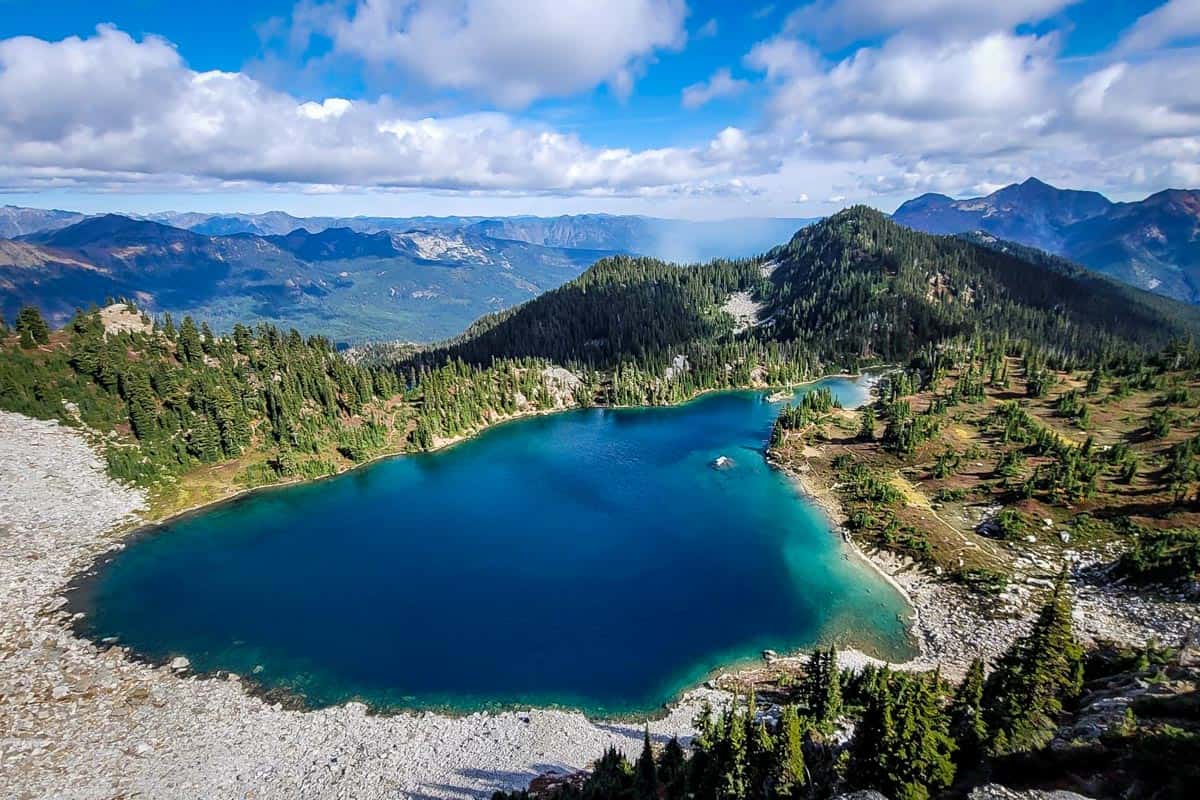 Another Stevens Pass hike (can you tell it's one of our favorite areas?!), Minotaur Lake is "tiny but mighty." The first mile involves a steep uphill ascent that, like Snow Lakes, is even more difficult coming down. In fact, 1,400 feet of the elevation gain are in the first mile!
Trust us, the crystal clear waters and surrounding scenery at Minotaur Lake make this challenging hike well worth it.
17. Old Pipeline Bed Trail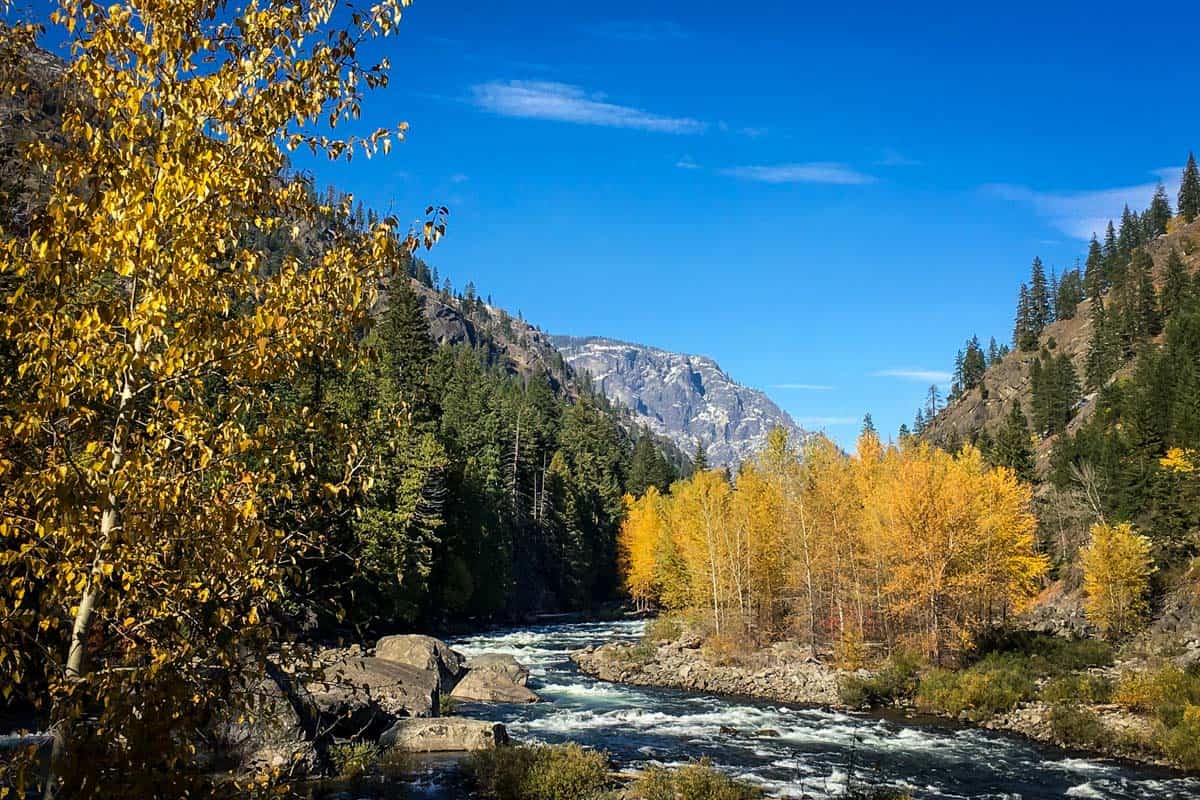 The trailhead for the Old Pipeline Bed Trail is only 2.5 easy miles away from downtown, making it one of the most popular and accessible hikes near Leavenworth. We's recommend hiking this trail before or after strolling downtown and then grabbing a beer or glass of wine at one of the many local spots!
Along the trail, you'll enjoy river and mountain views, as well as interesting rock formations on a quick 50-minute out-and-back hike. Bring the whole family out for this scenic hike year-round! Note that in the springtime and after heavy rains, the trail often becomes muddy and may flood.

What to pack for hiking near Leavenworth
Although hikes near Leavenworth vary tremendously and there are several easy trails, you'll still want to have some key items in your pack.
Be sure to grab our ultimate hiking packing list includes our must-have gear for any hiking trail!


You may also like…
Save this post to Pinterest for later!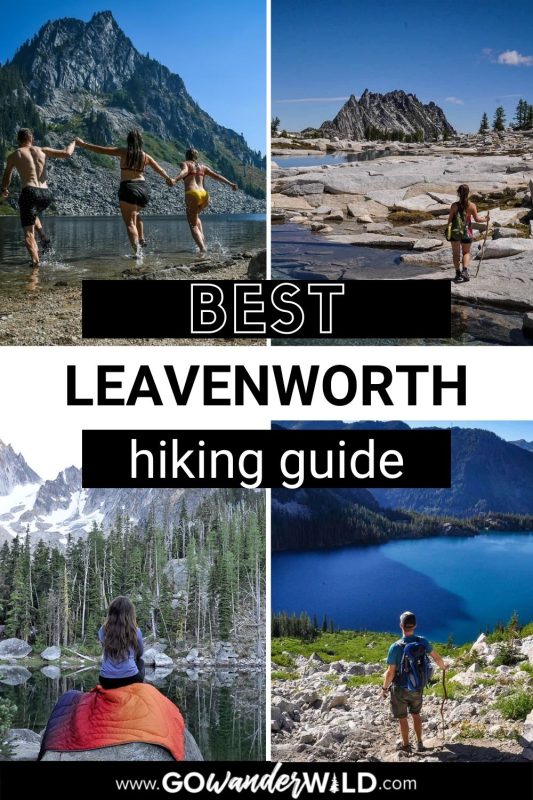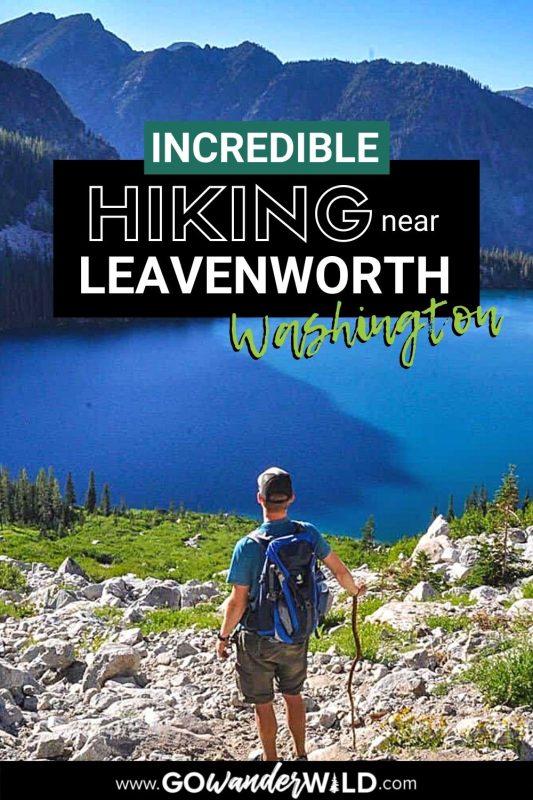 We want to hear from you…
What hikes near Leavenworth do you love the most? Are there any we should add to this list? Let us know in the comments below!