Tackling some of the best hikes in Canyonlands National Park is our top tip for immersing yourself in the otherworldly beauty of this Utah wonder. In this guide, we're sharing tips on exploring the park's five districts and epic overlooks to help you plan your visit.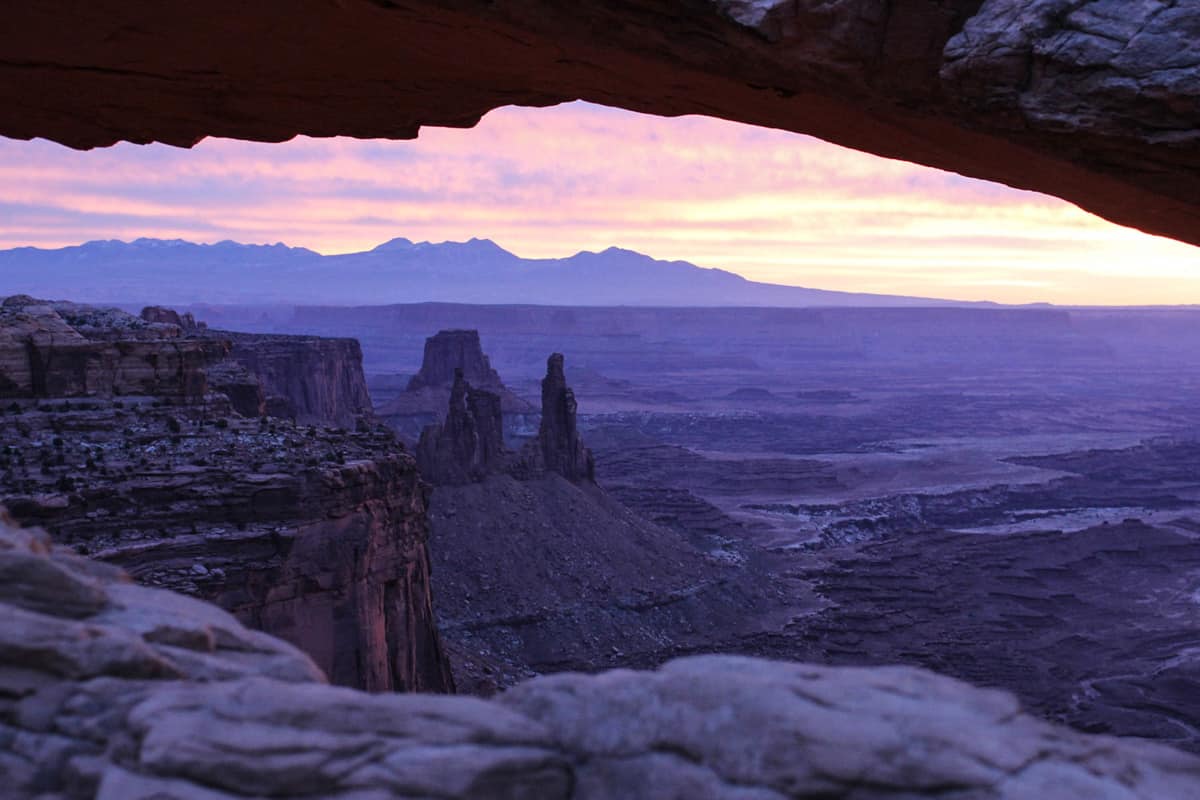 If we had to pick a few words to describe Canyonlands National Park, we'd choose rugged. Vast. Awe-inspiring. This enormous, mind-blowing park occupies nearly 340,000 acres near Moab, Utah, close to much more popular (and four times smaller!) Arches National Park.
Despite its ruggedness and being so off-the-beaten path, many of the best hikes in Canyonlands are surprisingly easy and short. Most are also family-friendly and offer unique trails and extraordinary photography opportunities.
It's easy to overlook Canyonlands, squeezing in just a quick sunrise visit to Mesa Arch, but trust us — this park is highly underrated! It deserves at least a full day of exploration.
Regardless of how much time you have and what types of trails you prefer, we've created this guide to the best hikes in Canyonlands to help you get the most out of your trip.
Article Contents
Best time to visit Canyonlands National Park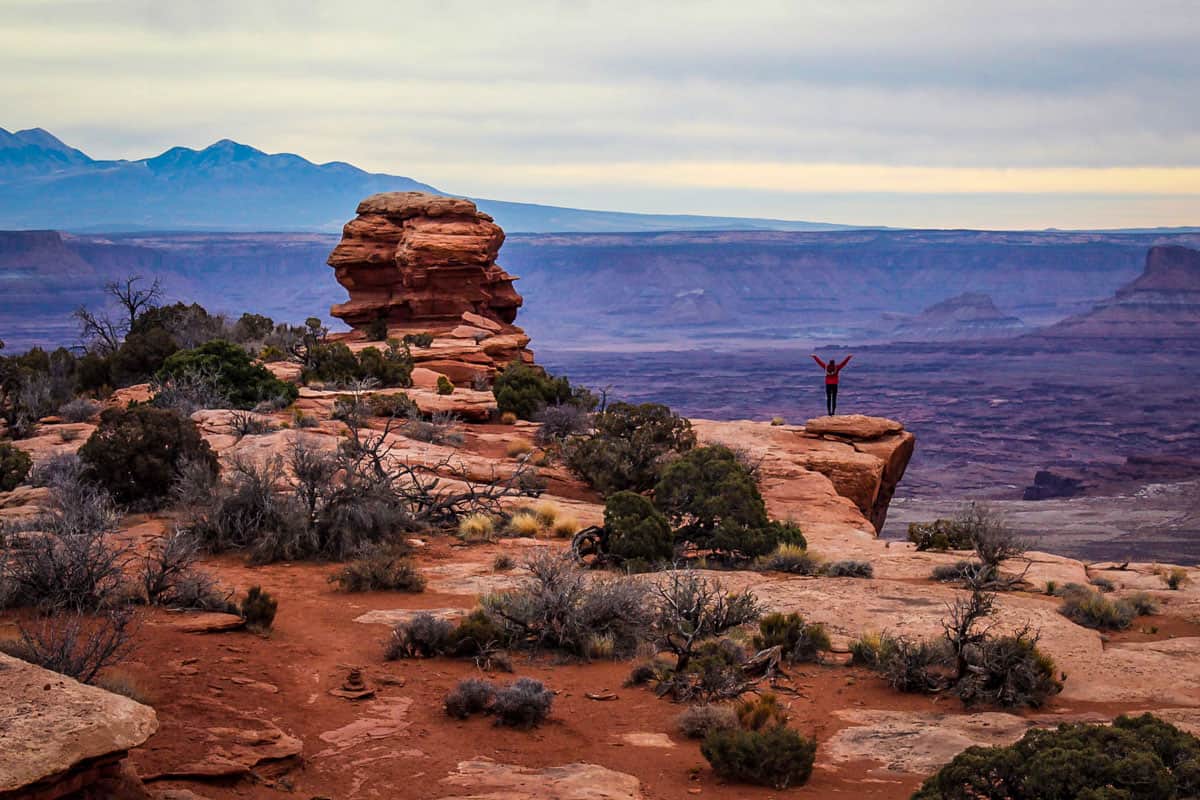 Canyonlands is best in the fall and late spring, when weather is generally predictable and daytime temperatures hover in the upper 60s to low 80s.
Summertime gets oppressively hot, with high temps frequently exceeding 100 degrees. If you must visit then, aim to be on the trails by sunrise and finished for the day by noon. And pack a rain jacket, because afternoon summer thunderstorms are common!
Winter presents a unique beauty in the park and, while heavy snow is rare, Canyonlands does get cold, especially at night.
Ice can accumulate on trails, making some dangerous or inaccessible. While it's perfectly fine to visit during this time (and you may even enjoy it mostly to yourself!), watch weather forecasts and have a backup plan.
Note that the lower-elevation Needles District is generally a few degrees warmer than Island in the Sky.
Canyonlands doesn't draw nearly the amount of visitors as Arches, so crowds really aren't a problem. Popular trails like Mesa Arch can become crowded during peak season, but it's not unbearable. As with most national parks, your best bet for avoiding crowds is to arrive early in the morning or late afternoon.
Psst! Have more time? Be sure to check out all the best hikes in Utah before your trip comes to an end!
America the Beautiful Annual Park Pass

If you're planning to visit more than one of Utah's "Mighty 5" National Parks, we'd highly encourage you to look into getting an annual park pass. At $30 per vehicle, entering Canyonlands as well as other national parks can be expensive.
For just $80 per year, you can purchase the America the Beautiful park pass. This pass grants you free access to all of the national parks. Plus it also covers your entrance to over 2,000 natural, historical, and recreational sites across the United States.
If you still need convincing, check out our article: America the Beautiful Annual Park Pass: Is it Worthwhile?
Psst! Check out some of our other favorite national parks on the west coast & Western U.S. that make great hiking destinations
Overview of the different regions of Canyonlands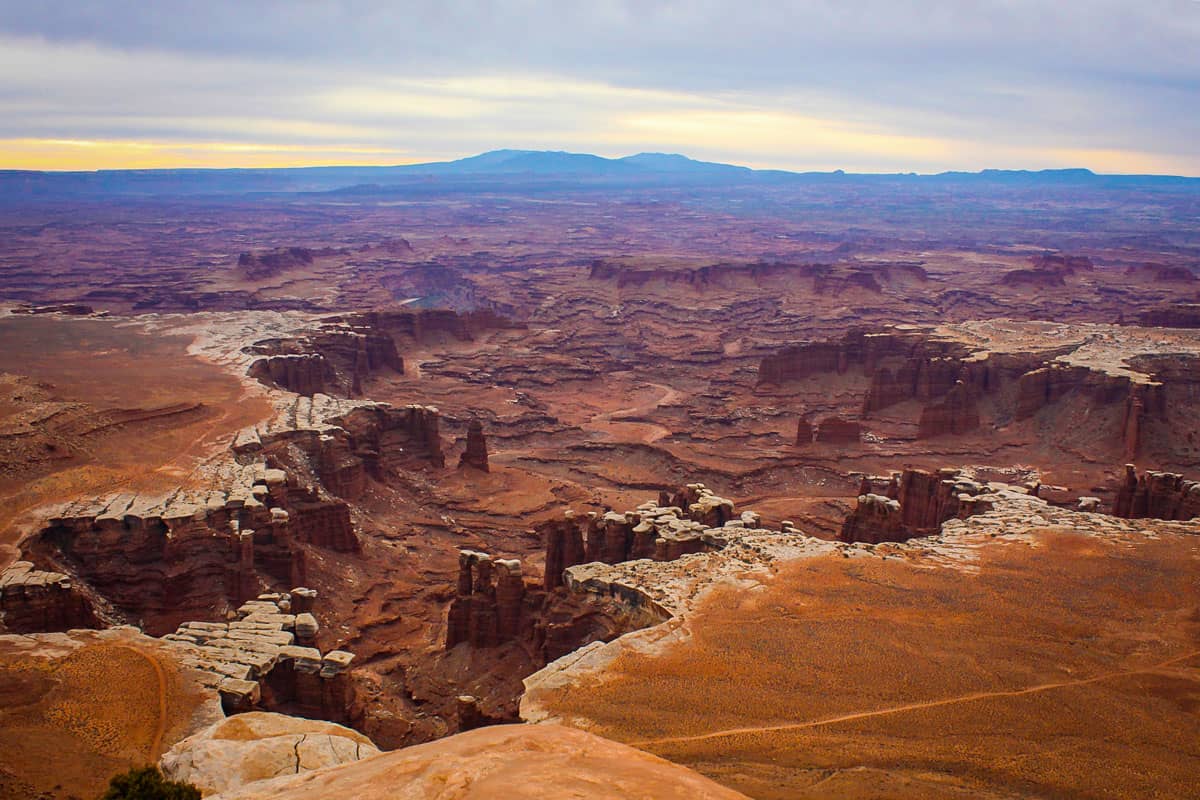 Before we deep-dive into the best hikes in Canyonlands, here's a quick overview of the park's five districts.

Best hikes in Island in the Sky
Island in the Sky got its name because it sits on top of dramatic, sheer sandstone cliffs 1,000 feet above the desert. The scenic drive and most overlooks are located on top of the mesa, but you can also explore below the rim.
1. Mesa Arch Trail
Distance: 0.5-mile loop
Elevation: 56 feet
Difficulty Rating: Easy
Mesa Arch is the quintessential Canyonlands hike. Despite being just half a mile and requiring minimal effort, the payoff is tremendous. The sweeping views of the La Sals through Mesa Arch itself are breathtaking.
Try to time your visit for sunrise and you'll see why this is one of the best hikes in Canyonlands. Watching the sun come up over the mountains, its beams shining through the arch, is unforgettable!
2. Grand View Point Trail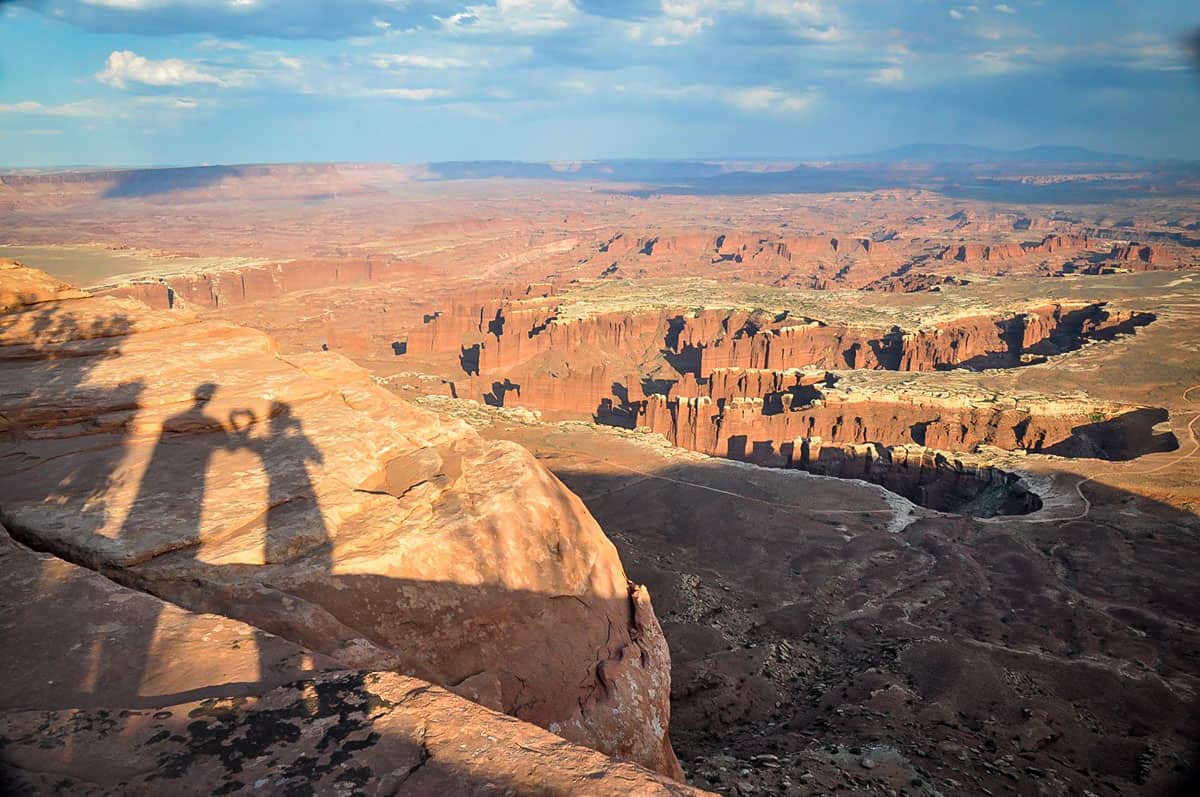 Distance: 1.8 miles, out-and-back
Elevation: 160 feet
Difficulty Rating: Easy
This knockout hike proves that even short, easy trails can blow your mind! As its name implies, Grand View Point Trail follows the canyon edge and offers panoramic views the whole way, including of both rivers.
You'll come to the Grand View Point Overlook first, and while the views are fantastic, they get way better further on! Plus, the trail is short and sweet anyway!
3. Green River Overlook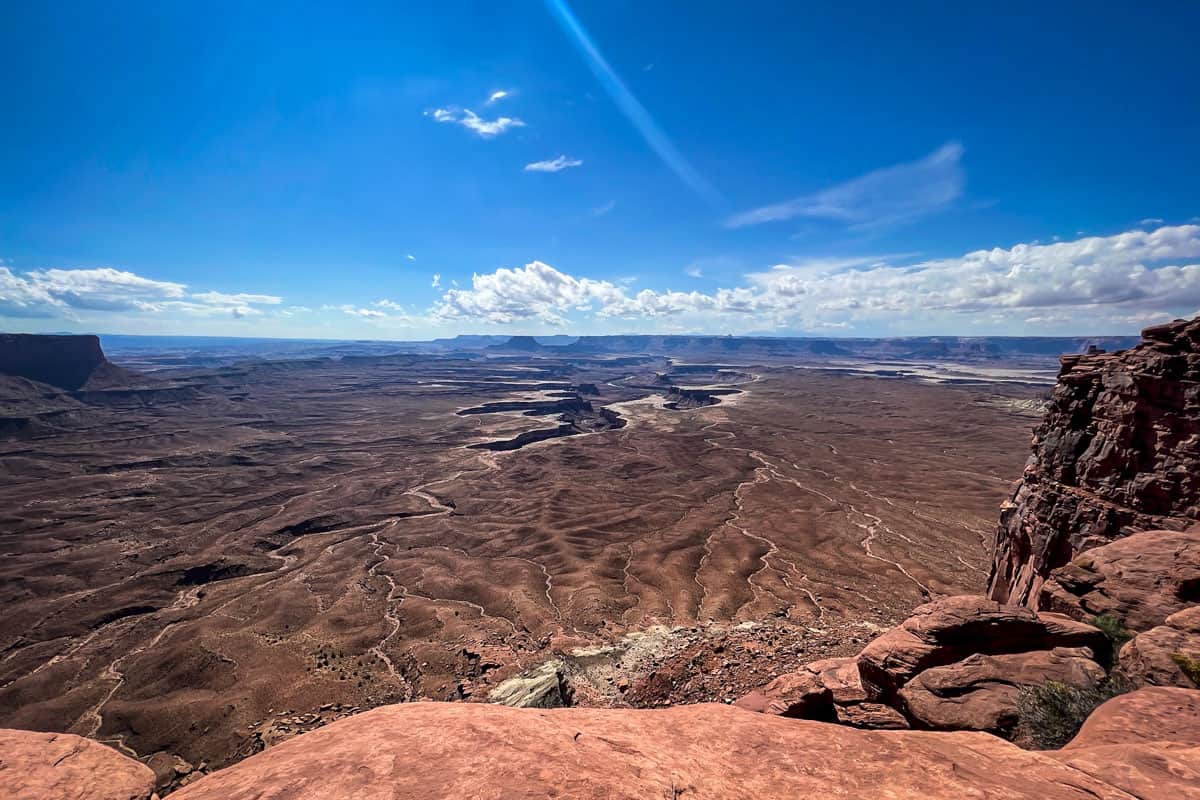 Distance: 0.2 miles, out-and-back
Elevation: 6.5 feet
Difficulty Rating: Easy
More of a short stroll than a hike, Green River Overlook is a must! The south-facing viewpoint overlooks the Green River 1,300 feet below.
Green River Overlook is widely considered one of the best places in the park for sunset. You also get excellent views of The Maze and White Rim Road in the distance, and you may even witness someone getting married! This overlook is (unsurprisingly!) a popular spot for elopements.
4. White Rim Overlook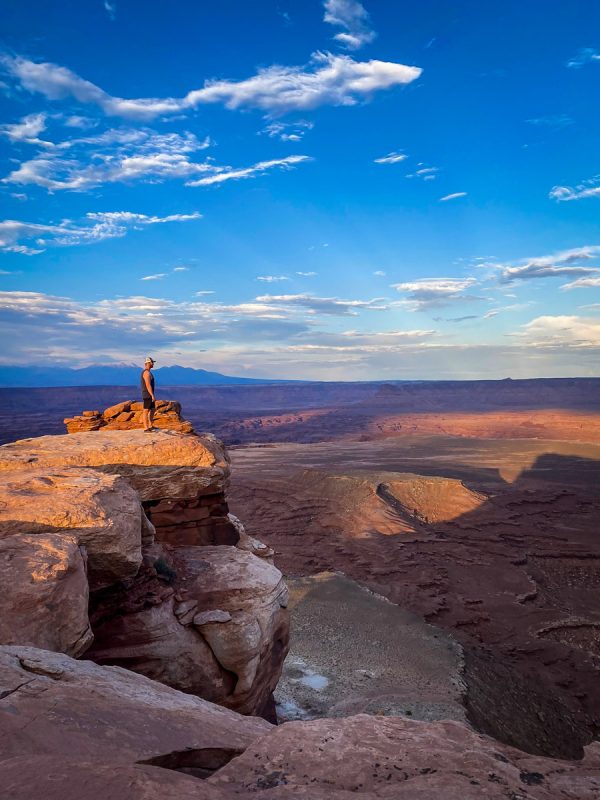 Distance: 1.8 miles, out-and-back
Elevation: 160 feet
Difficulty Rating: Easy
This is another Canyonlands hike with an impressive effort-to-reward ratio, offering jaw-dropping views at the end of a relaxed trek. Walk along the rim, enjoying peekaboo views of the Colorado and the namesake White Rim Road snaking along the canyon floor.
Really cementing White Rim Overlook as one of the best hikes in Canyonlands, it's rarely busy at all, usually overshadowed by Grand View Point.
5. Murphy Point Trail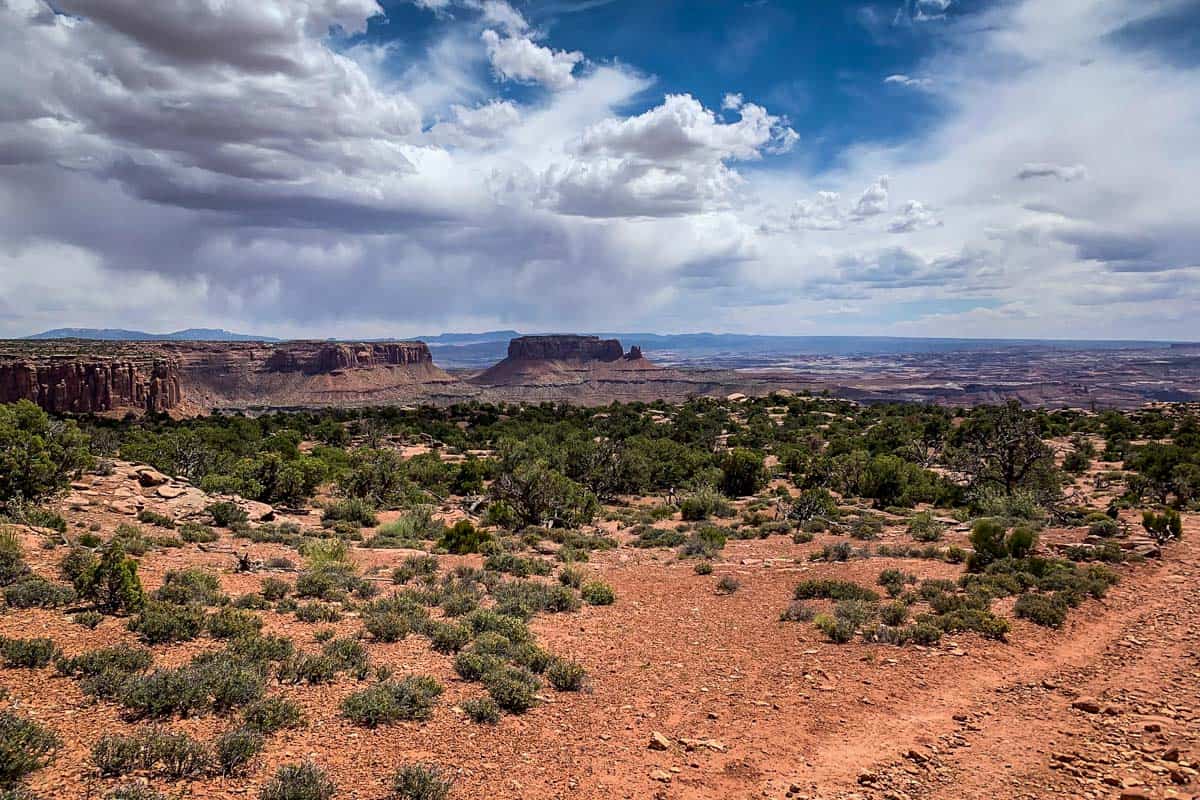 Distance: 3.6 miles, out-and-back
Elevation: 148 feet
Difficulty Rating: Easy
One of the longer trails in Canyonlands, Murphy Point is still easy and relaxed. The trail skirts the edge of the canyon, mostly passing through brush until it opens up to a striking panoramic vista of the Green River, White Rim Road, and Candlestick Tower. This would be ideal to hit right after catching sunrise at Mesa Arch!
6. Aztec Butte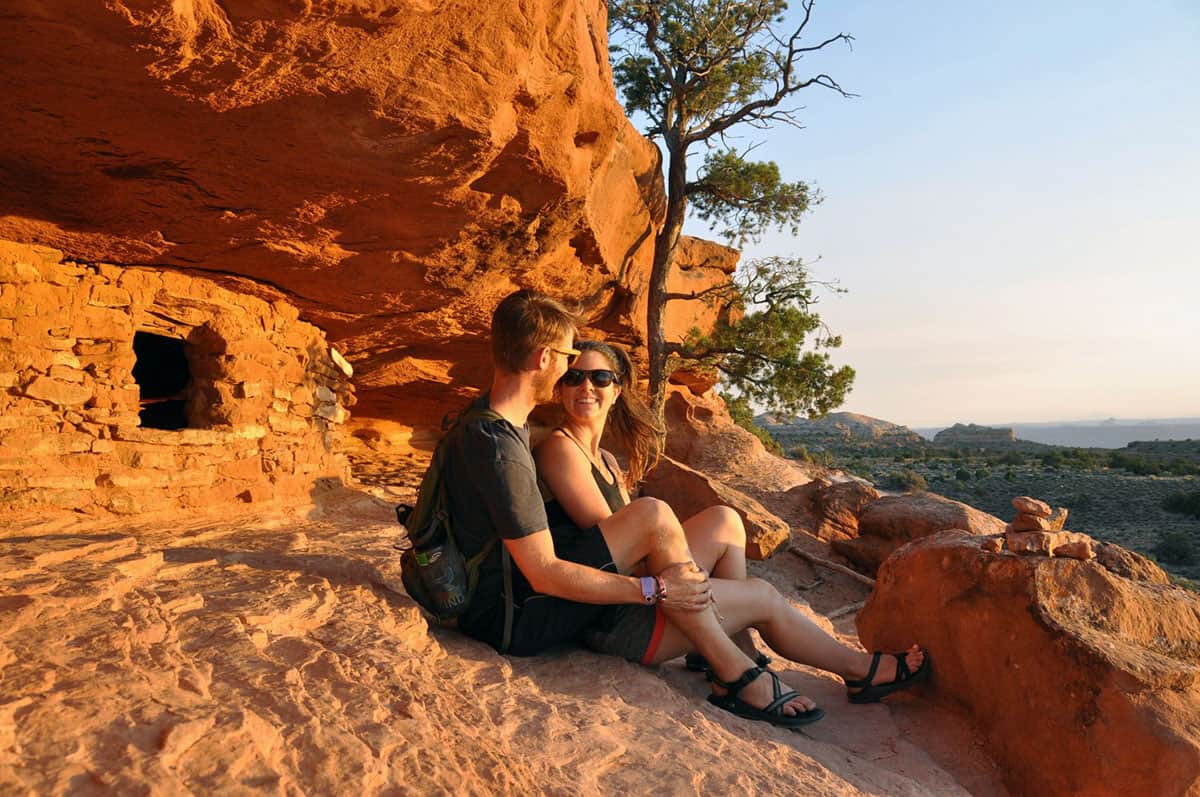 Distance: 1.8 miles, out-and-back
Elevation: 260 feet
Difficulty Rating: Moderate
Aztec Butte is one of the more unique hikes in Island in the Sky. The route goes through a sandy wash, which is likely half the reason it's rated moderate — the sand makes it very slow-going!
At the end of the sandy stretch, the trail splits. One way goes to the top of Aztec Butte, which involves some fun rock scrambling, while the other circles a shorter butte nearby. Both trails feature fascinating granaries, ancient Puebloan food storage structures.

Best hikes in The Needles
The Needles consists of over 60 miles of interlinking trails, most moderate to challenging. Terrain is rough, with steep drop-offs and narrow sections the norm. Before attempting a hike here, previous backcountry experience is highly recommended.
7. Cave Spring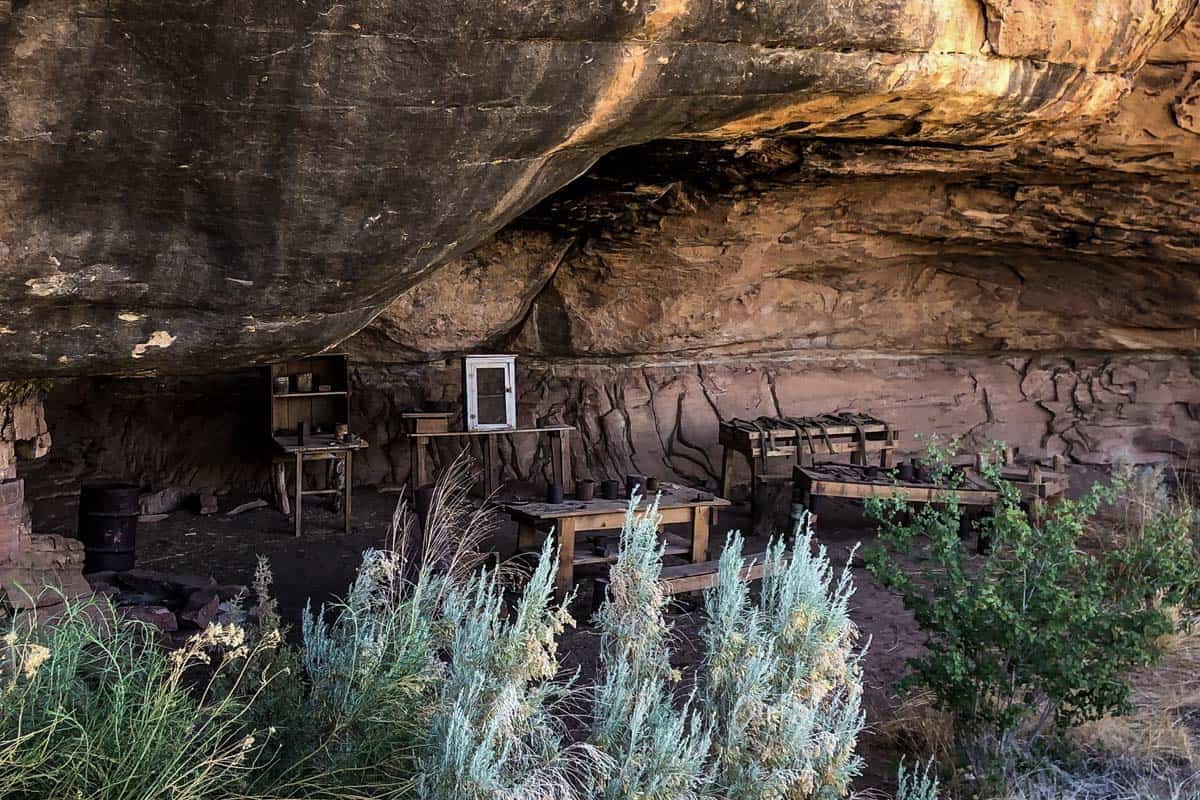 Distance: 0.6-mile loop
Elevation: 39 feet
Difficulty Rating: Easy
Cave Spring is one of the best introductory hikes to the Needles. History buffs, especially, will love it. Not only do you pass the spring and ancient rock markings, but there's also a former cowboy camp complete with original artifacts! The only remotely technical aspect are the two wooden ladders required to reach the top.
8. Pothole Point
Distance: 0.6-mile loop
Elevation: 39 feet
Difficulty Rating: Easy
Named for the "potholes" that fill with water after rain, Pothole Point is one of the best hikes in Canyonlands for families. Cairns guide you over slickrock past the potholes and offer excellent views of the Needles.
If there's water in the potholes, look carefully — you might see shrimp, snails, and worms that congregate in them!
9. Slickrock Foot Trail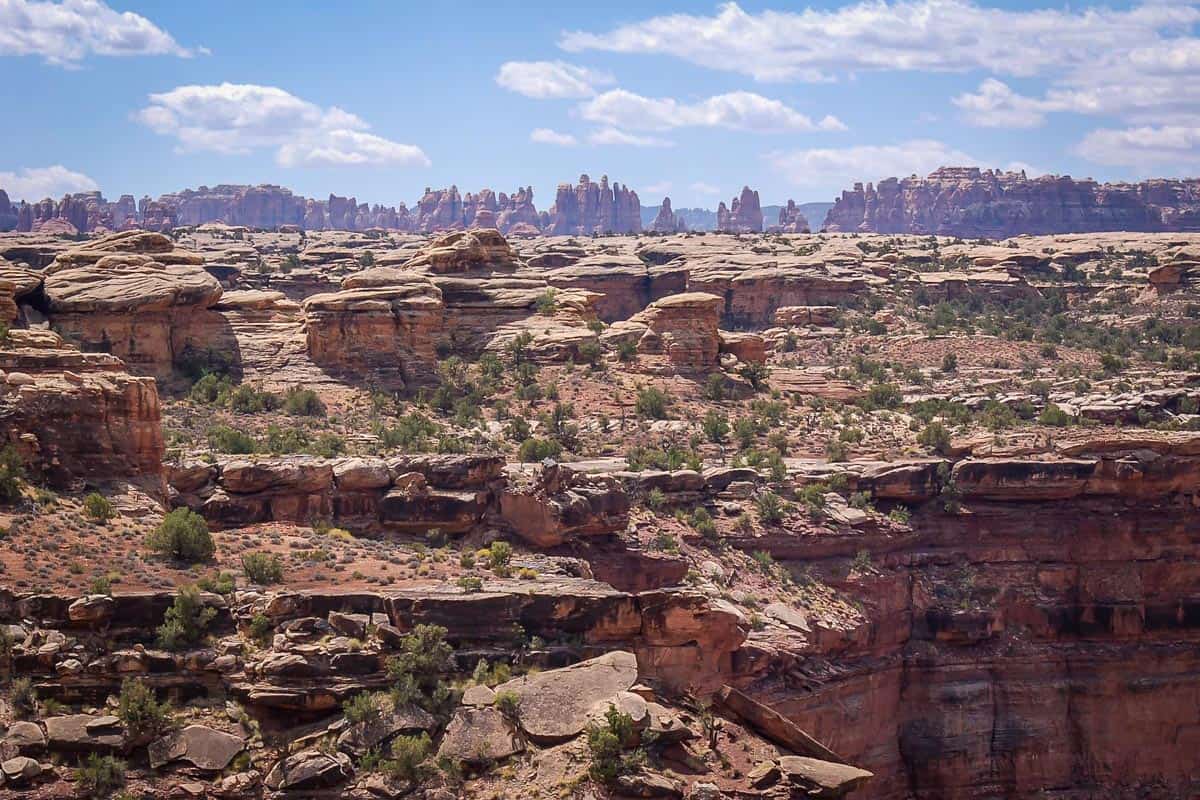 Distance: 2.4-mile loop
Elevation: 138 feet
Difficulty Rating: Moderate
One of the more popular hikes in the Needles, Slickrock Foot Trail starts at Big Spring Canyon Overlook and weaves its way to the top of a sandstone plateau. A series of interesting overlooks (the third, Lower Little Spring Canyon, is the best!) offer panoramic views over the canyon and toward the Needles.
10. Druid Arch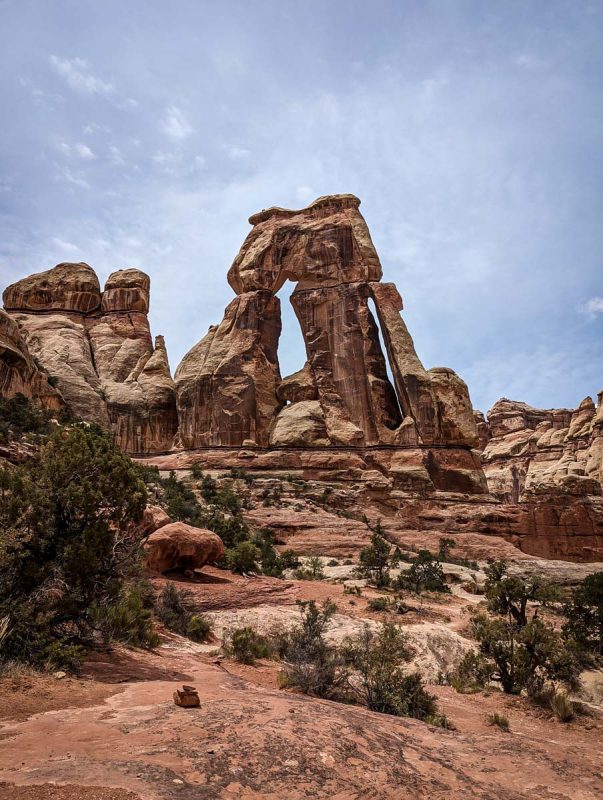 Distance: 11-mile loop
Elevation: 1,615 feet
Difficulty Rating: Challenging
If you have an all-wheel-drive vehicle, Druid Arch is one of the best hikes in Canyonlands. This secluded trail starts from the Elephant Hill Trailhead and follows Chesler Park Trail before branching off into the bottom of Elephant Canyon.
Expect to maneuver through slot canyons and wade through deep sand. The final leg is incredibly steep and challenging, requiring some scrambling and a ladder climb. The views at the top are absolutely worth it, though!
Note: if you want to split this challenging hike into multiple days, apply for an Overnight Backcountry Permit and camp at Chesler Park Campground.
11. Squaw Flat Trail to Lost Canyon (Peekaboo Trail)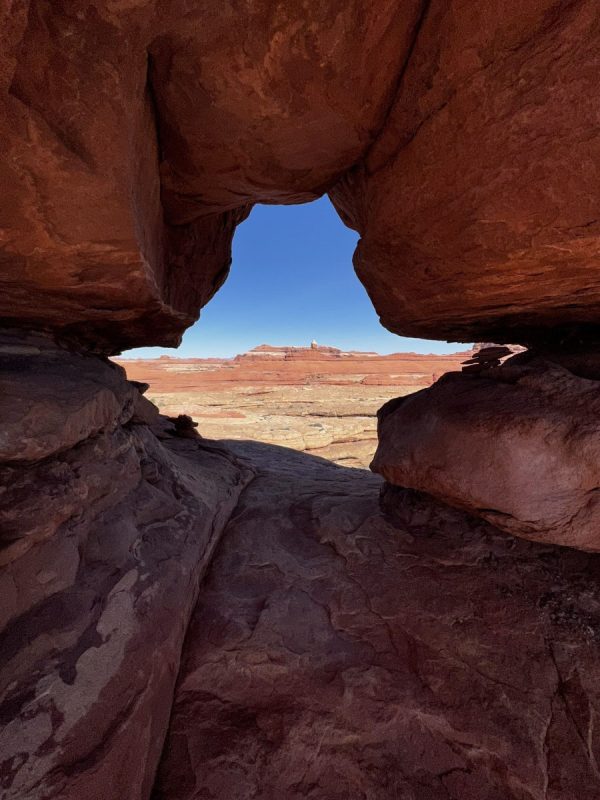 Distance: 9.5 miles, out-and-back
Elevation: 1,490 feet
Difficulty Rating: Challenging
Showcasing some especially colorful sandstone formations, this trail explores the remote western section of the Needles. Starting on Peekaboo Trail from the Squaw Flat Campground , you'll encounter bare slickrock, narrow canyons, steep drop-offs, some sand, and even a ladder in the Lost Canyon section.

Best hikes in The Maze
Trails in the Maze are extremely primitive and suited only to those with backcountry experience. Due to the canyon depth here, access is limited and some routes are completely unmarked. A 4X4 is required to access trailheads and topographic maps are essential.
12. Chocolate Drops Trail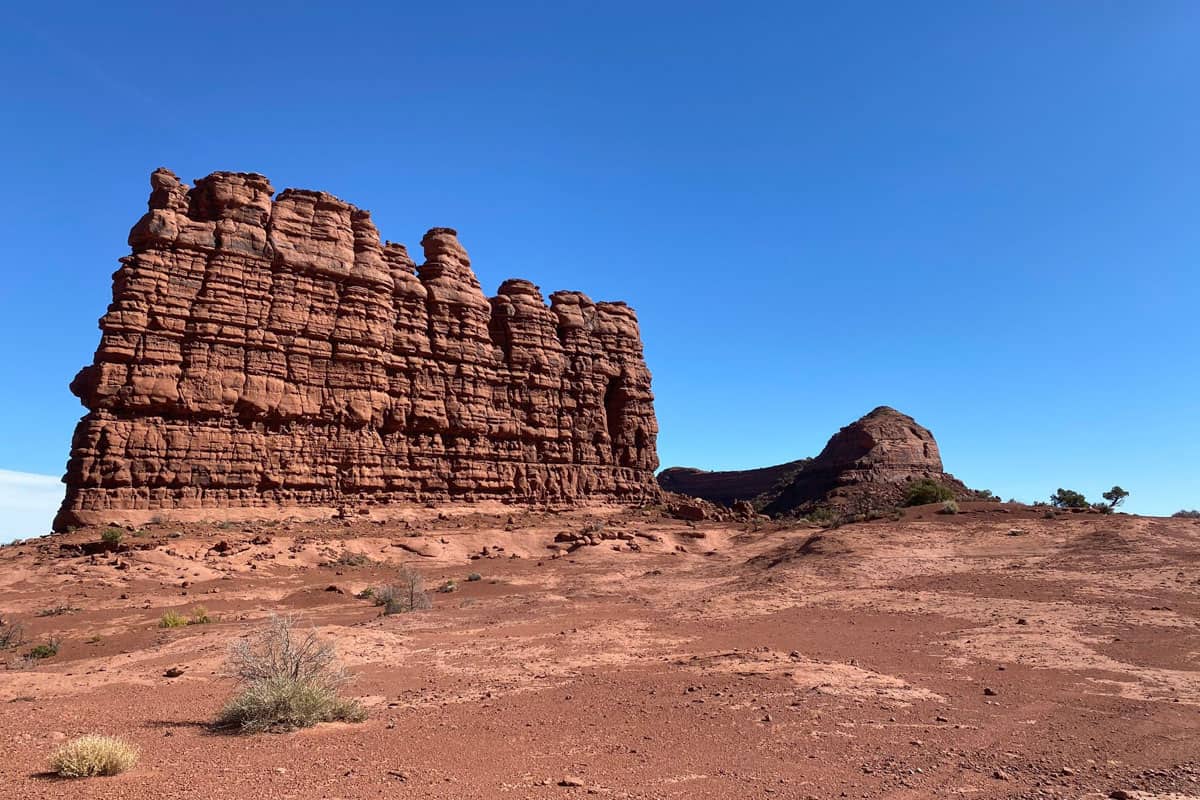 Distance: 7.3 miles, out-and-back
Elevation: 580 feet
Difficulty Rating: Easy
Despite this trail's length and the serious effort it requires to access, it's surprisingly not physically demanding. It follows a flat ridge to four colossal wall-like sandstone formations, which, in our opinion, don't resemble chocolate anything!
If you truly want to escape the crowds, this is easily one of the best hikes in Canyonlands — but you'll need 4-wheel-drive and extreme patience. The trailhead is 4-5 hours from Highway 95 and the road is rough!
13. Maze Overlook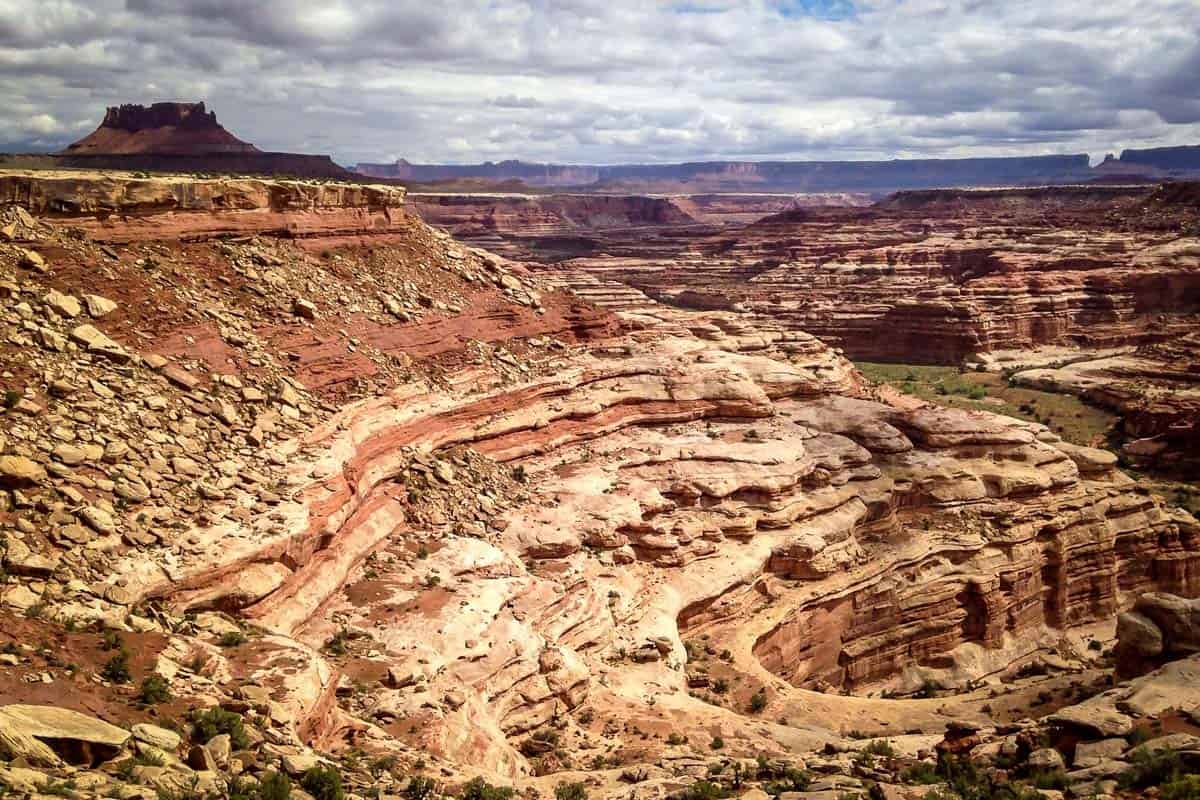 Distance: 8 miles, out-and-back
Elevation: 965 feet
Difficulty Rating: Challenging
Starting at Hans Flat Ranger Station, the Maze Overlook Trail, also a popular mountain biking route, offers a stunning view of the entire district before traversing into the labyrinth of canyons. You'll encounter several uniquely Utah adventures: slickrock, slot canyons, sand, and hoodoos. Some scrambling is required, but there are enough ledges and footholds that it's manageable.
Note that 4-wheel-drive is required beyond the ranger station.

Best hikes in Colorado & Green Rivers District
This district cuts through the heart of Canyonlands and features abundant lush greenery, contrasting the desert landscapes. There's limited hiking, but epic opportunities for kayaking and rafting.
14. Confluence Overlook Trail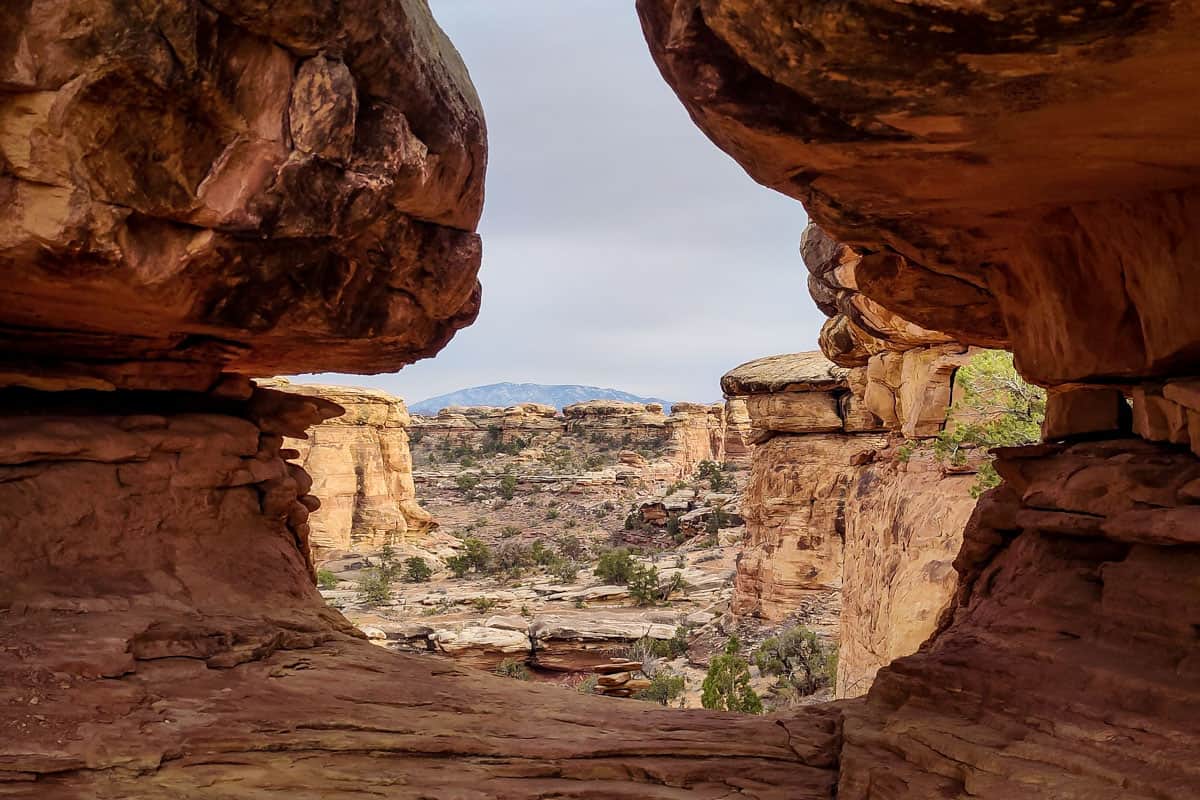 Distance: 10 miles, out-and-back
Elevation: 1,371 feet
Difficulty Rating: Moderate/Challenging
Because of Canyonlands' steep, rugged canyons, it's fairly difficult to get close to (or even a good view of!) its rivers. The Confluence Overlook Trail is a notable exception, giving hikers a bird's eye view of their confluence from 1,000 feet above. While the overall elevation gain is spread out, there are several significant ups and downs, plus sand and slickrock to traverse.

Best hikes in Horseshoe Canyon
Horseshoe Canyon is a detached, isolated section of Canyonlands. You're actually closer to Capitol Reef National Park here than Island in the Sky (really!), so consider combining your visit.
15. Great Gallery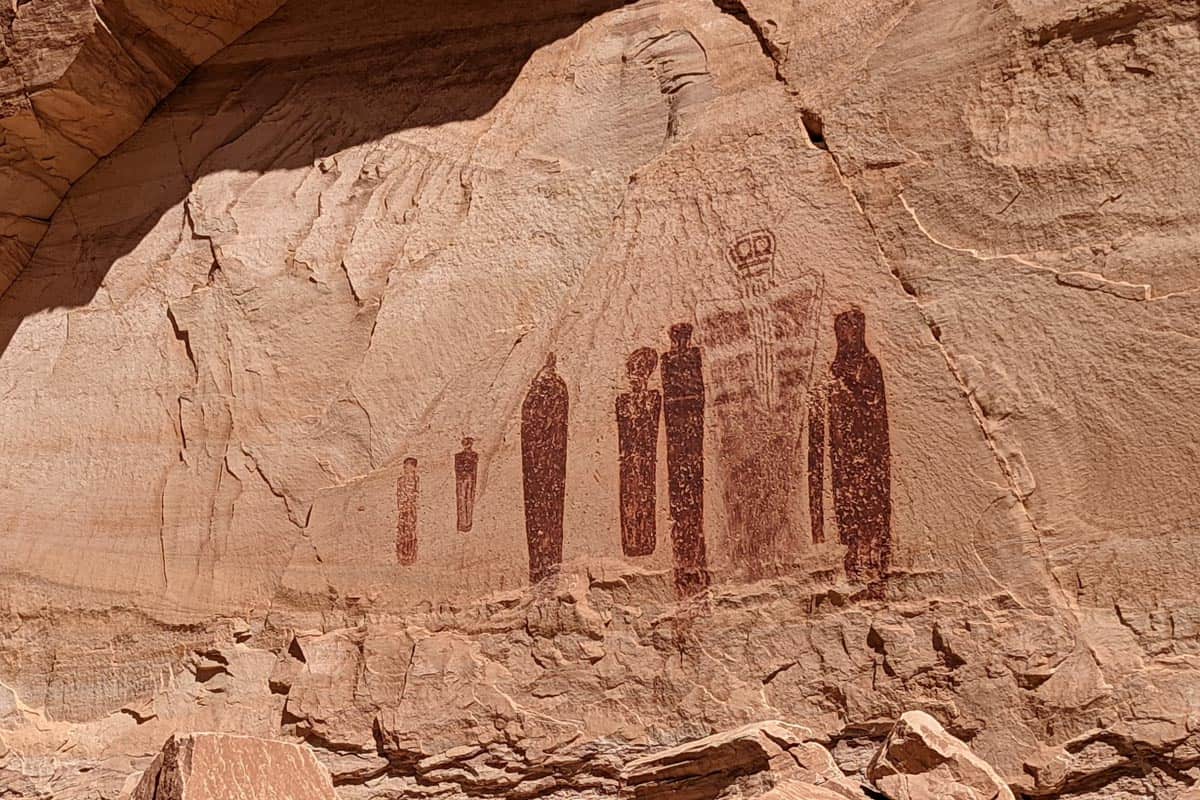 Distance: 7.2 miles, out-and-back
Elevation: 660 feet
Difficulty Rating: Challenging
This challenging hike delivers a one-of-a-kind experience as it's, seemingly, in the middle of nowhere. A steep descent and a slow, sandy trail lead to a massive rock wall (the Great Gallery) with incredibly well-preserved ancient art. Some of the figures are life-sized!

What to pack for hiking at Canyonlands National Park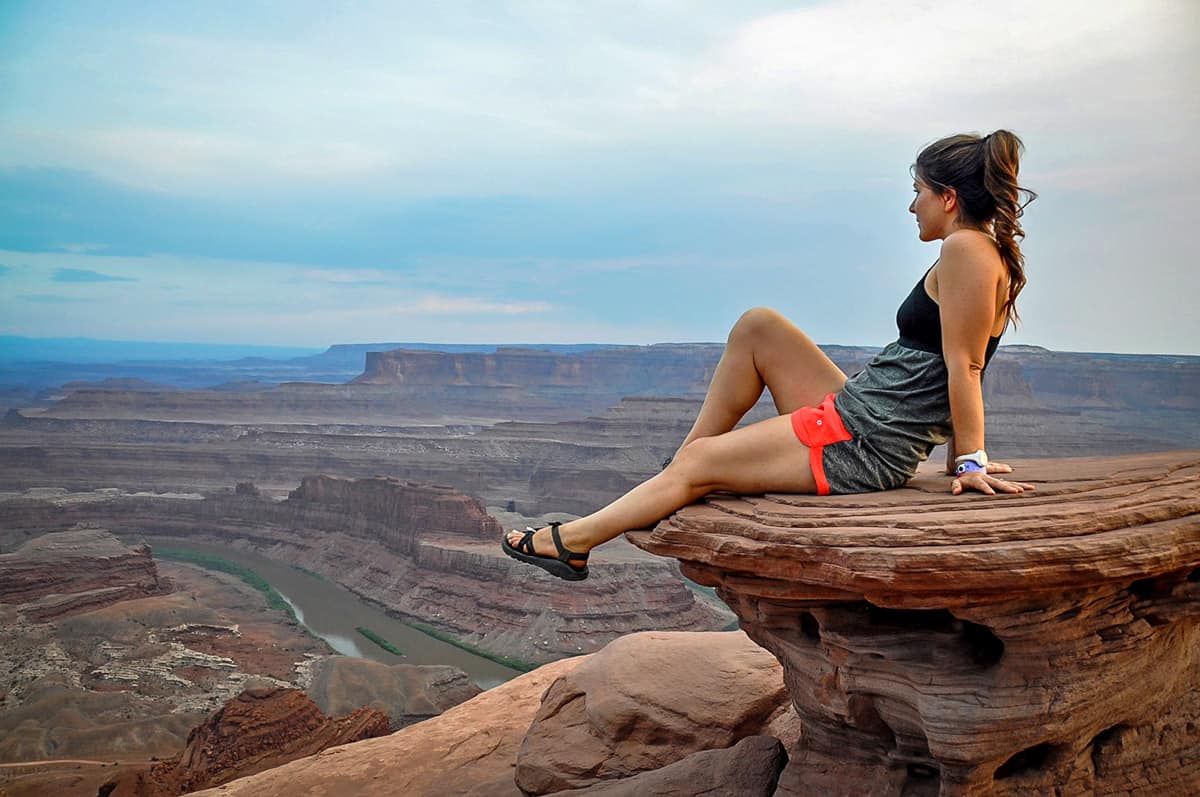 Although hikes at Canyonlands vary in distance and difficulty, there are a few key items you'll want to have in your pack no matter which hikes you choose to tackle.
Be sure to grab our ultimate hiking packing list includes our must-have gear for any hiking trail!


You may also like…
Save this article on Pinterest for later!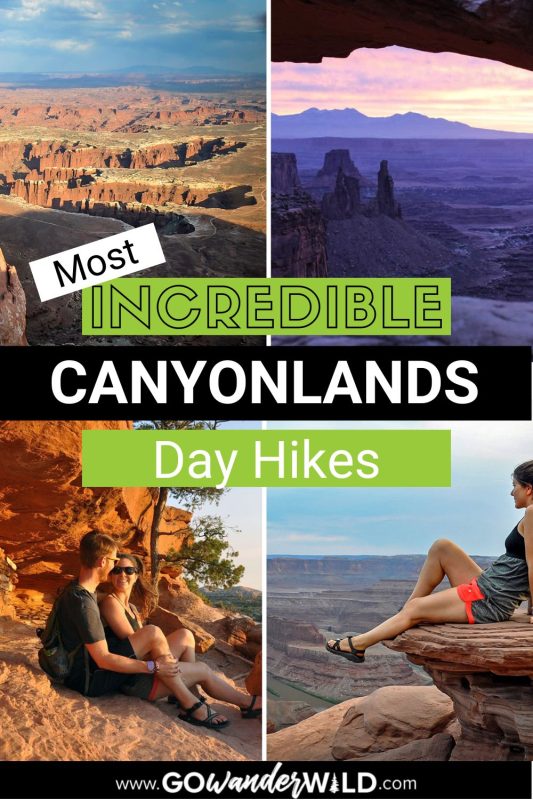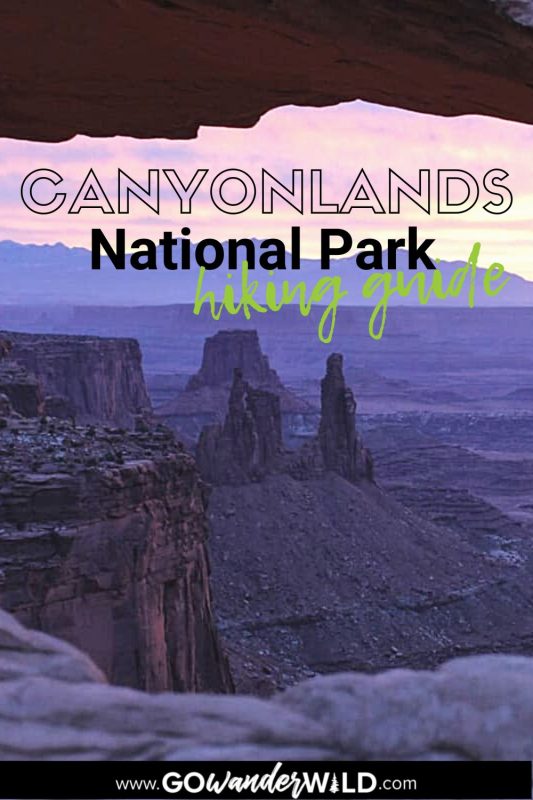 We want to hear from you!
Have you done any of these best hikes in Canyonlands? What was your experience like? Are you planning a trip to Canyonlands National Park and want more advice? Comment below and let us know!