Highlighting the many stunning natural arches scattered throughout the park, some of the best hikes in Arches National Park are also among the shortest and easiest! We're sharing our favorites, with plenty of trails that will satisfy every interest and experience level.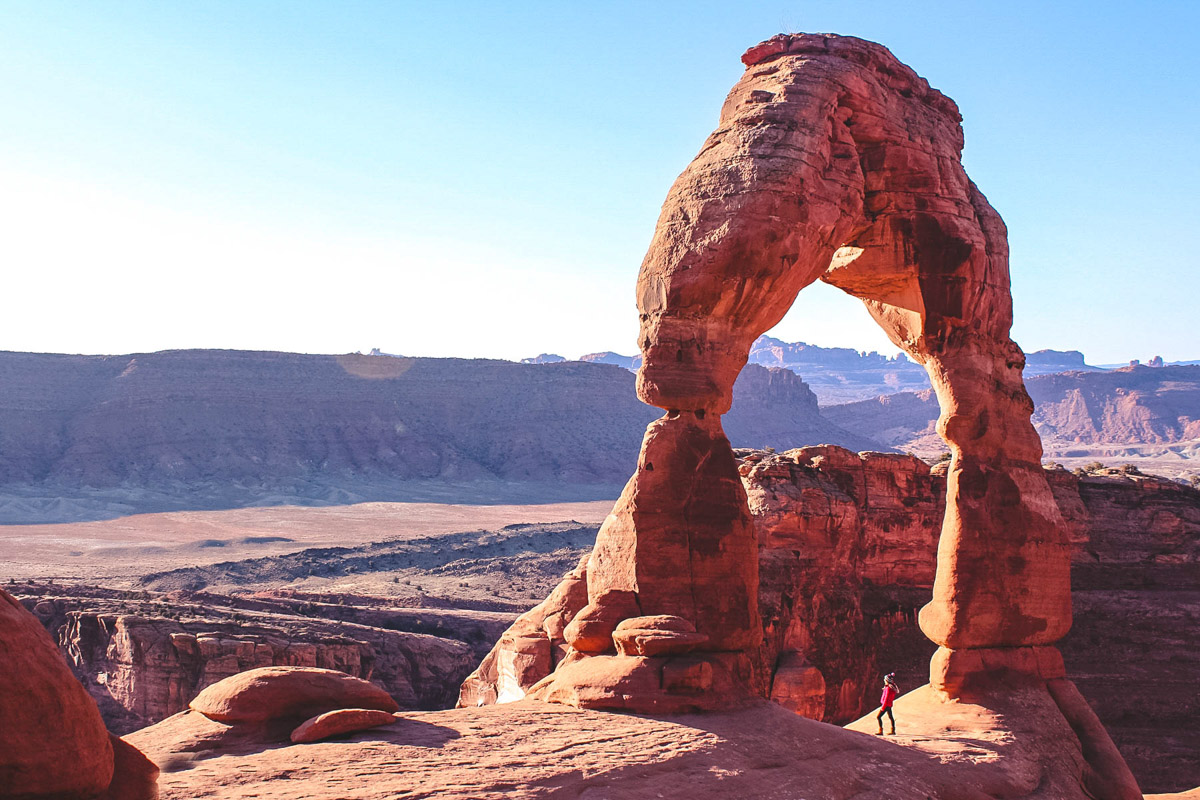 Nestled in eastern Utah near world-famous off-roading mecca Moab, Arches National Park is home to more than 2,000 ancient natural sandstone arches — the highest concentration in the world! The impressive rock formations draw over 1.5 million visitors a year, most hoping to take on at least one or two of the park's best hiking trails.
Unique among most national parks, many of the best hikes in Arches National Park are actually rated as easy or moderate in difficulty. That means regardless of your fitness level or experience with hiking, you can enjoy exploring this unique park!
Before you do, though, there are a couple of important things you should know about hiking in Arches. Timed-entry permits, or reservations, are required to enter the park between April 3 and October 3. Also, dogs are not allowed on any of the trails, but are allowed in certain areas; mainly scenic overlooks and any place that's paved.
Best time to visit Arches National Park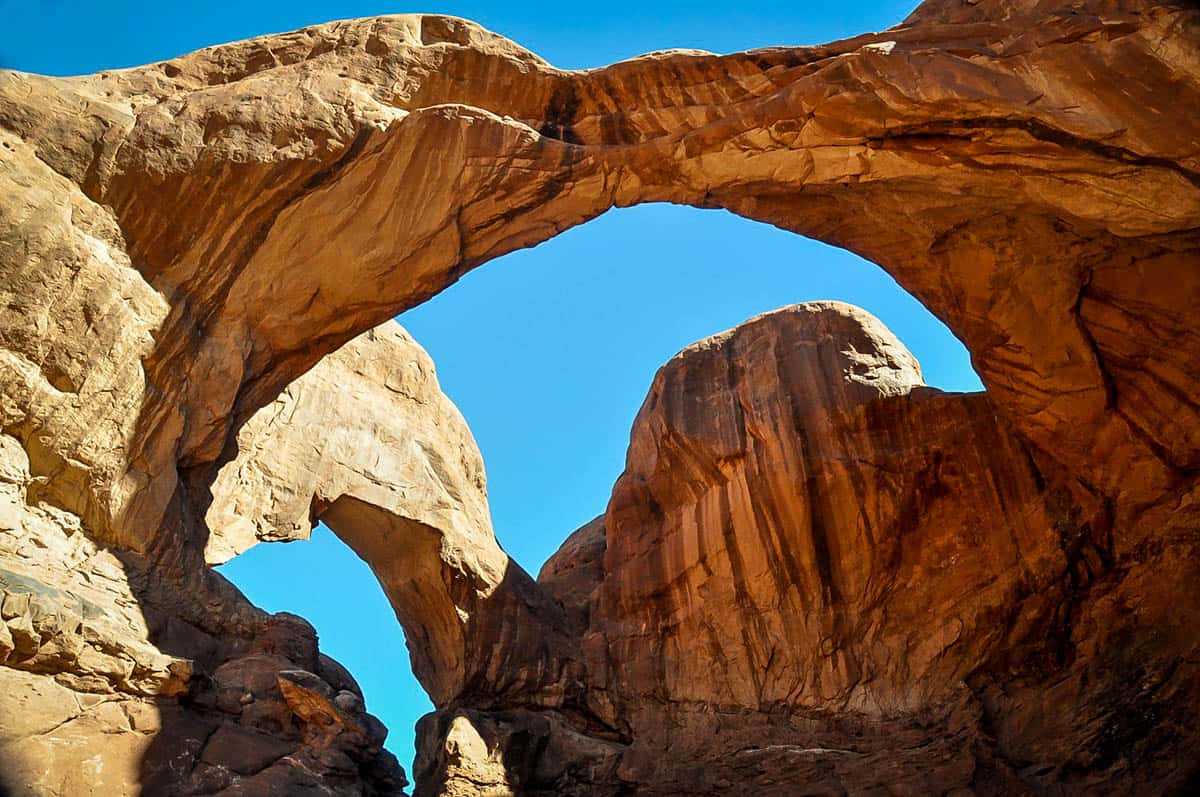 Arches National Park is open year-round and beautiful in any season, thanks to the mostly mild Utah climate.
To avoid peak crowds, visit in mid- to late fall or winter. It will be chilly and you may encounter some light snow, but it's also by far the least-busy season. Plus, there's the chance to see those iconic red arches under a light dusting of snow…dreamy!
Springtime starts to get busy, but the weather can still be unpredictable. Be prepared for cold, especially overnight or for those pre-dawn sunrise hikes!
Summer in this part of Utah is very, very hot. It's also peak season, when the best hikes in Arches National Park are jam-packed by mid-morning. If you're visiting in the summer, get an extremely early start (aim to be on the trail by sunrise) — most of the park's trails have zero shade.
Psst! Did you know Arches is one of the best national parks to visit in winter?
America the Beautiful Annual Park Pass

If you're planning to visit more than one of Utah's "Mighty 5" National Parks, we'd highly encourage you to look into getting an annual park pass. At $30 per vehicle, entering Arches, along with most other national parks in the U.S., can be expensive.
For just $80 per year, you can purchase the America the Beautiful park pass. This pass grants you free access to all of the national parks. Plus it also covers your entrance to over 2,000 natural, historical, and recreational sites across the United States.
If you still need convincing, check out our article: America the Beautiful Annual Park Pass: Is it Worthwhile?
Psst! Check out some of our other favorite national parks on the west coast & Western U.S. that make great hiking destinations.

Best day hikes in Arches National Park
There are seemingly endless hikes to choose from in this unique national park, but here are some of the top single-day trails to give you the best overall experience in Arches.
1. Landscape Arch Trail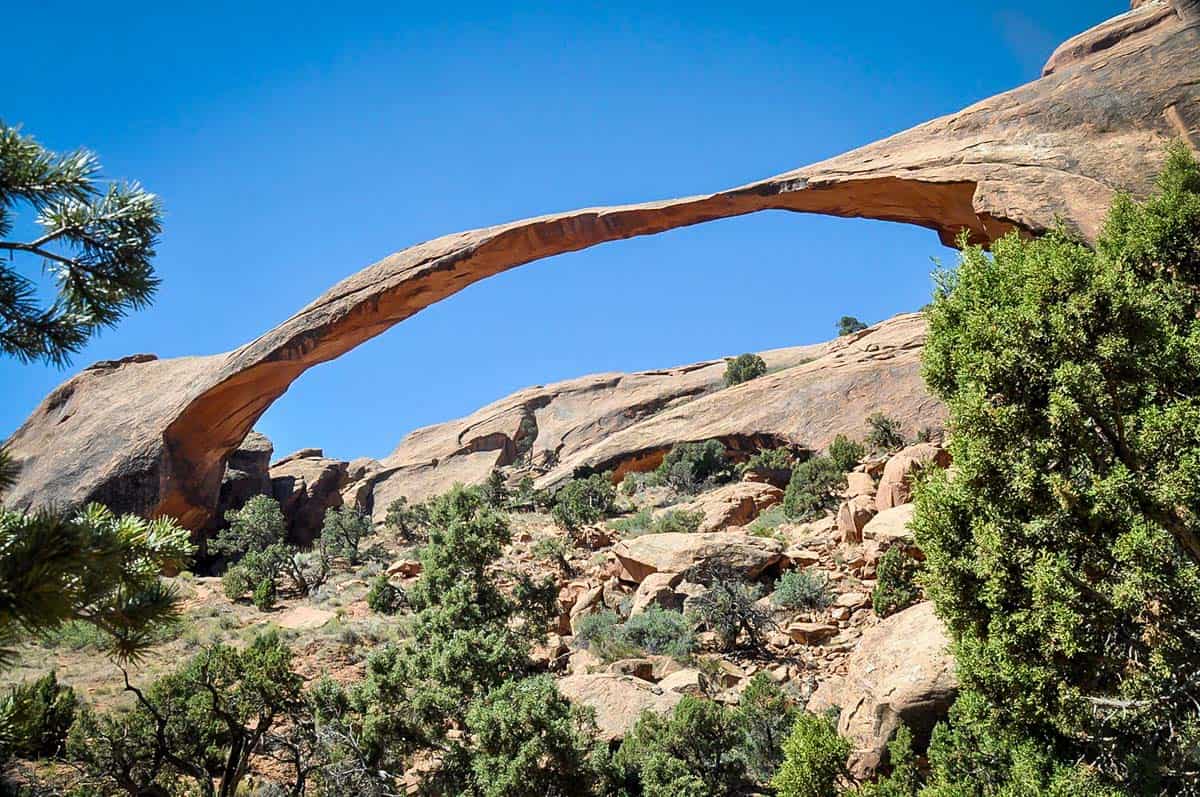 Landscape Arch is one of the longest natural arches in the world, which makes this trail an easy candidate for one of the best hikes in Arches National Park! The trail is almost entirely flat and hard-packed, so it's a great option for families or as an add-on to other hikes.
Along the way, you can also take an easy spur trail and detour to Pine Tree Arch and Tunnel Arch (more info below!).
2. Pine Tree Arch Trail and Tunnel Arch Trail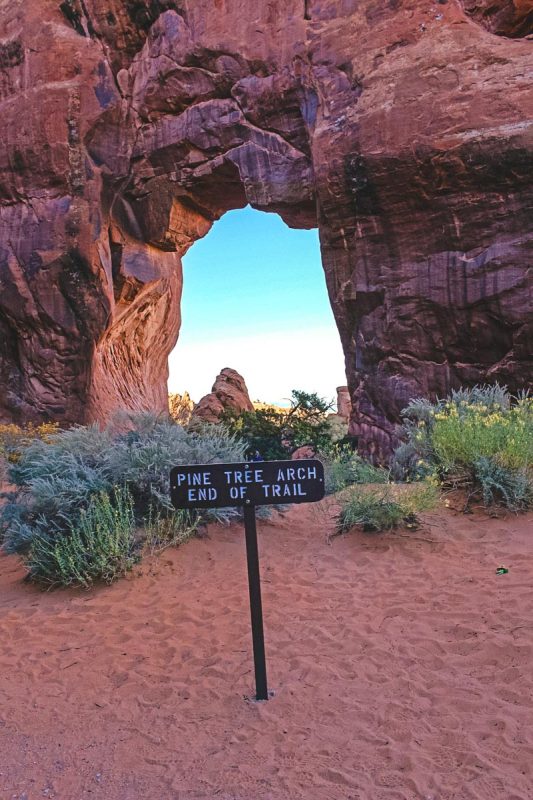 This Arches hike packs a one-two punch, letting you visit two arches on one short trail (and if you combine it with Landscape Arch, technically three!).
Part of the wildly popular, much longer Devil's Garden Trail, this hike understandably gets quite crowded. However, it's a great intro to the park, with its laid-back terrain and unique arches. Tunnel, in particular, is really neat (although it seems more like, well, a tunnel than an arch!).
3. Park Avenue Trail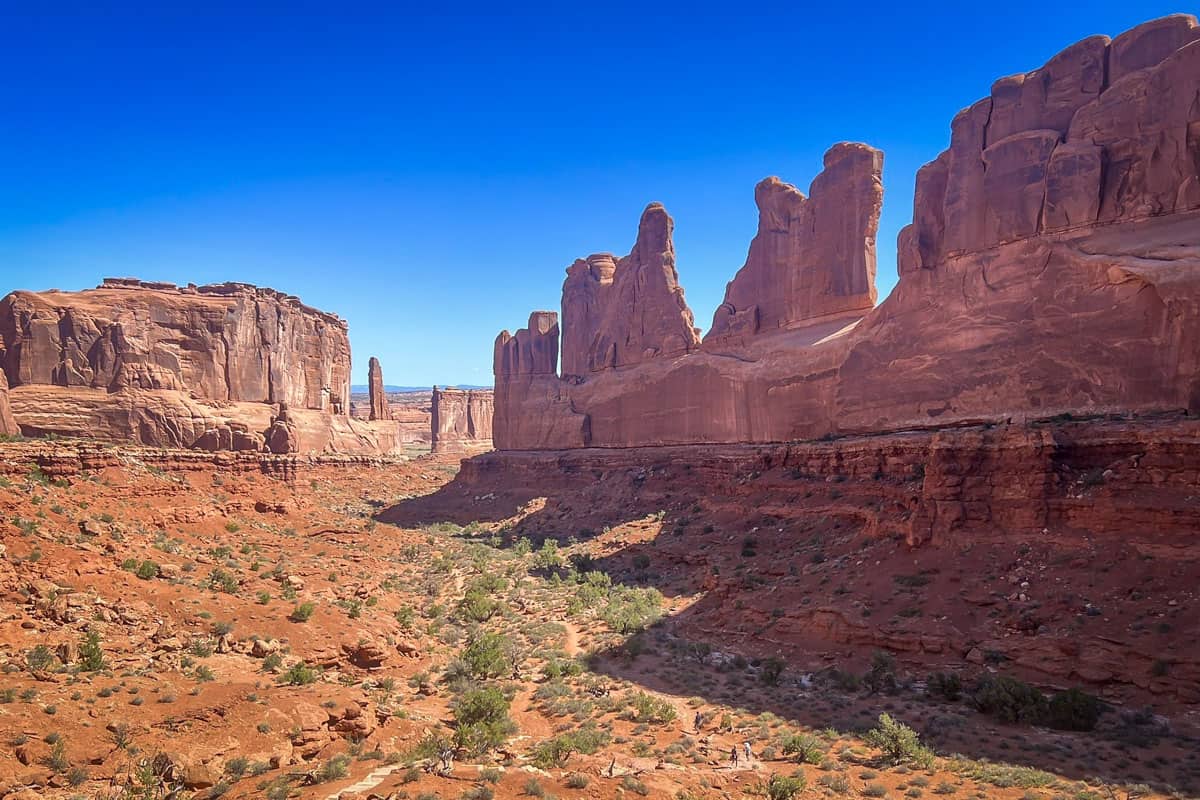 This quick hike near the visitors' center gets you up-close to several unique formations tucked into a canyon. You'll descend a steady but manageable grade right off the bat to get into that canyon, then walk the wide trail between formations, where it's easy to see how it got its name!
Note that you can do this as a round-trip or point-to-point hike, if you park a vehicle at the Courthouse Towers Viewpoint to use as a shuttle.
Psst! Have more time? Be sure to check out all the best hikes in Utah before your trip comes to an end!
4. Balanced Rock Loop Trail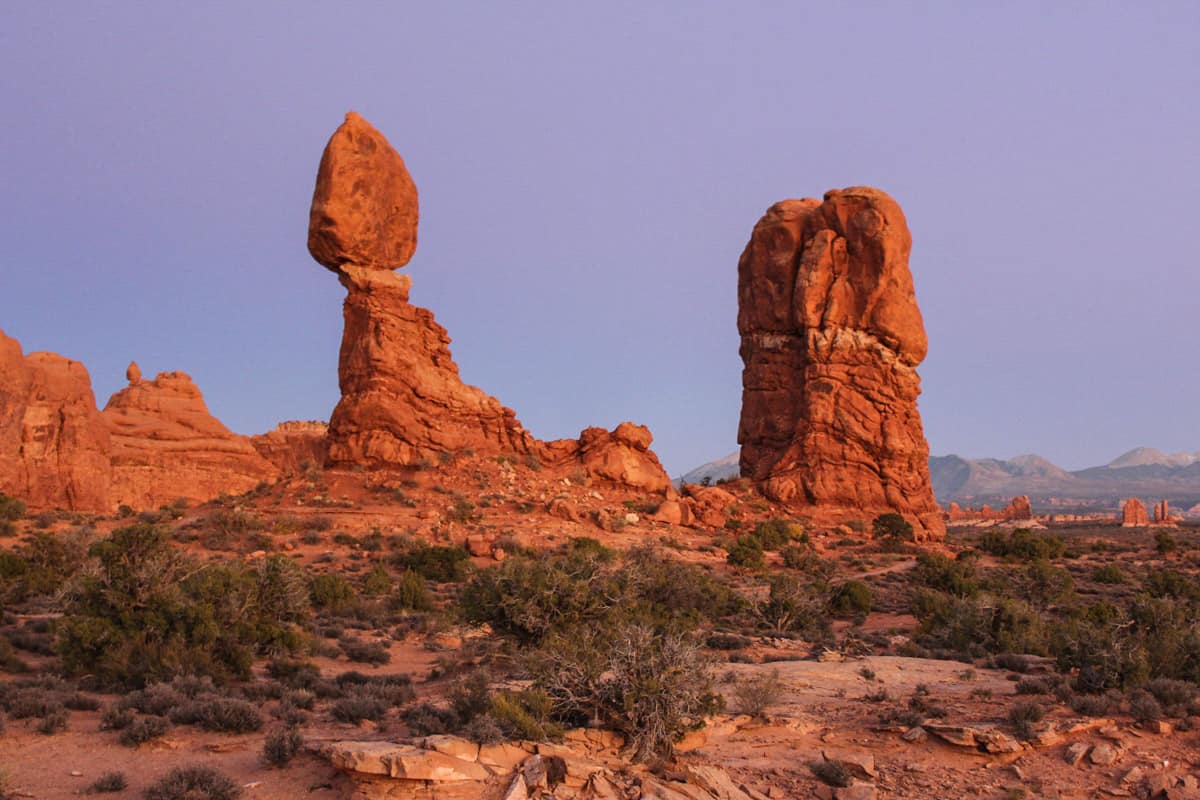 One of the park's most recognizable formations, Balanced Rock is one of our top best hikes in Arches National Park! More of a quick, easy walk, the loop trail leads you to a massive 3,600-ton boulder naturally balancing on top of a spire.
Pro tip: rather than snapping some photos and turning back the way you came, complete the loop for a 360-degree perspective of this impressive feat of balance and strength!
5. Windows Loop Trail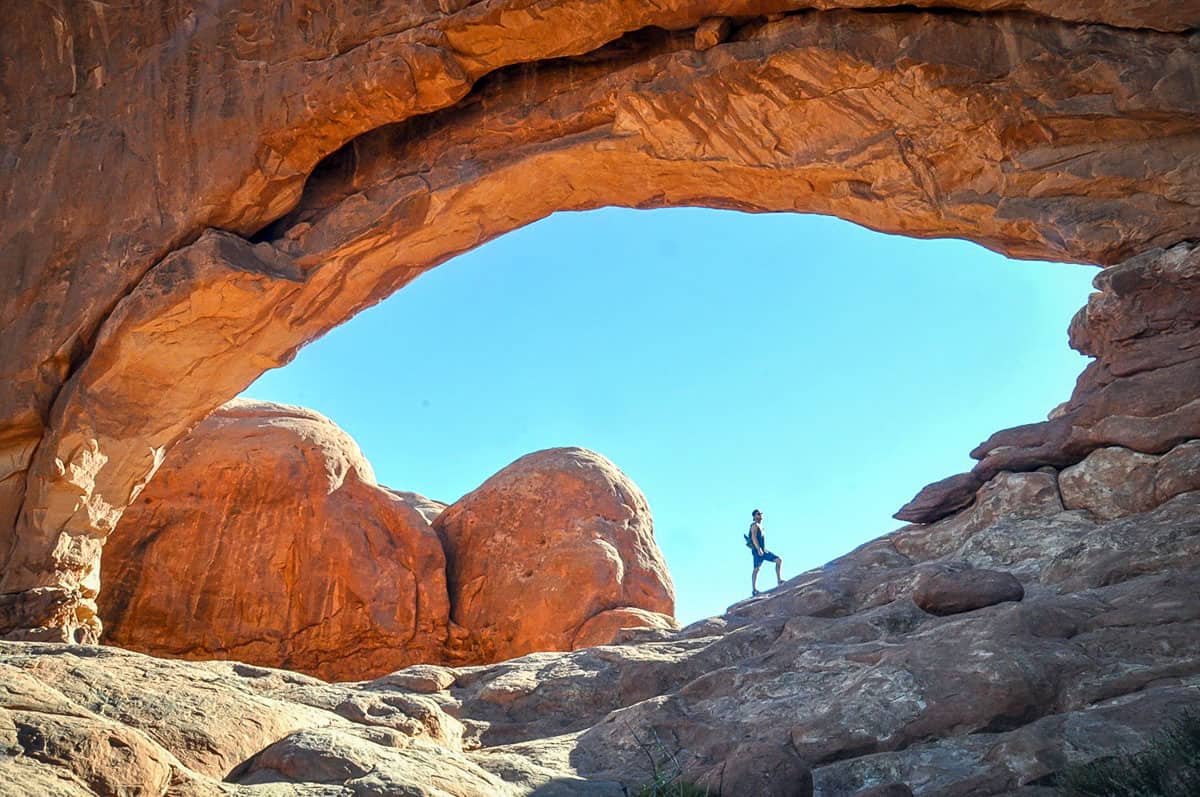 Another family-friendly option, the short Windows Loop Trail takes you to three unique formations: Turret Arch and the North and South Windows. You can actually walk through the North Window, making for some great photo ops!
Possibly because it's directly across from uber-popular Double Arch, the Windows Loop tends to be somewhat overlooked. While it can get crowded, people tend to be in and out, opting to simply snap a few photos and head back.
6. Navajo Arch Trail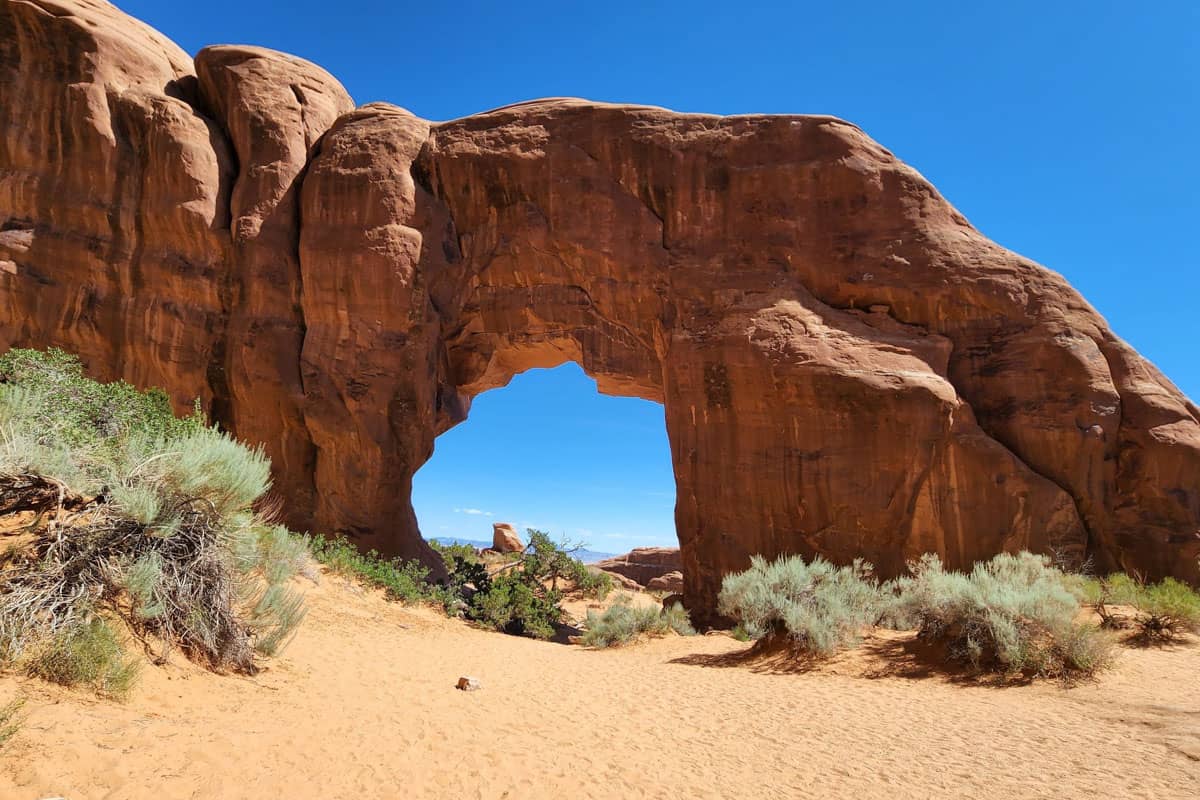 For those seeking a relatively short, easy trail that also has a bit of adventure, this is one of the best hikes in Arches National Park.
Continue on past Landscape Arch to find a more primitive trail leading to Navajo Arch. To be completely honest, the arch itself isn't the most impressive (especially when you pass the park's longest to reach it!), but the hike is fun and interesting, requiring some light scrambling.
7. Skyline Arch Trail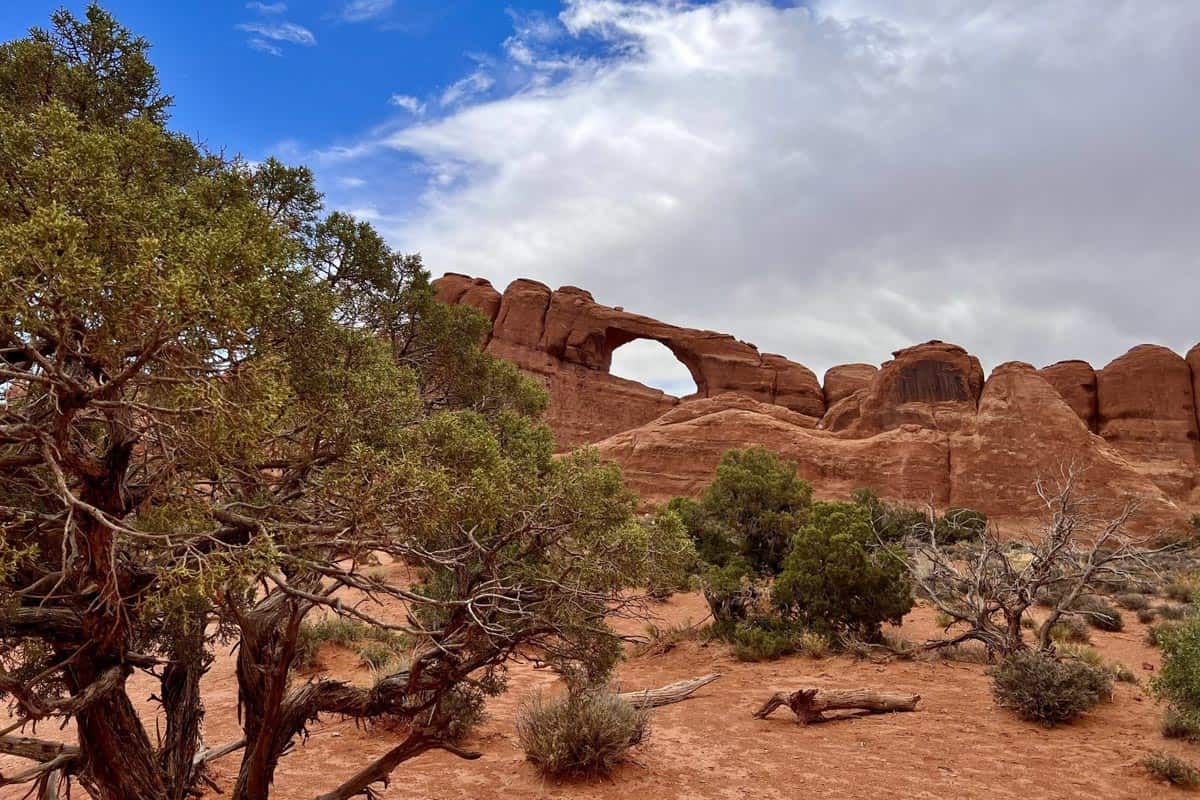 This is one of the shortest hikes in Arches National Park (like, less than 10 minutes short!), but don't let that fool you — it's a good one! The arch itself sits high up in a rock wall, offering unique photo ops for those who climb up inside.
Fun fact: the massive boulders along the trail at the foot of the arch fell out of Skyline Arch back in 1940, nearly doubling the size of its opening!
8. Delicate Arch Trail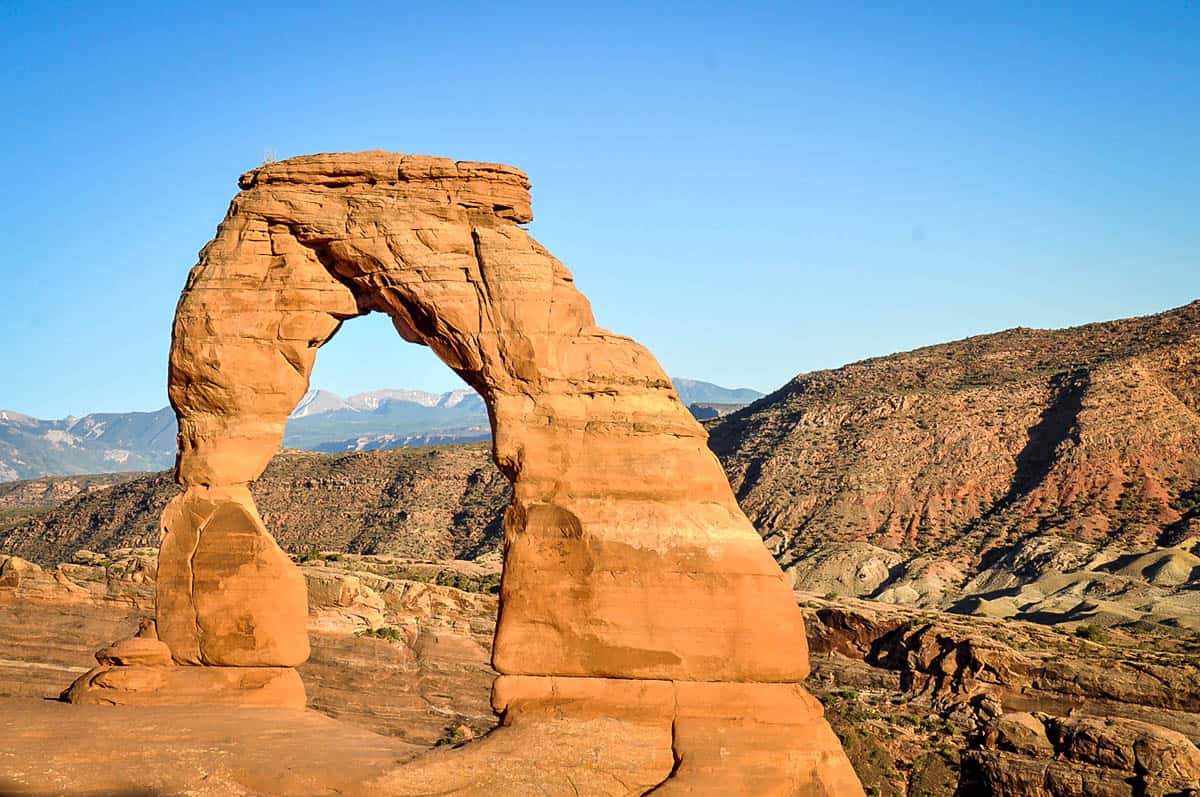 Easily the most iconic arch in the entire park, Delicate Arch is even featured on Utah's license plates! The hike to reach it involves a very steady, slightly deceptive incline going up slickrock — it's steeper than it seems!
Being that this trail is undeniably one of the best hikes in Arches National Park, prepare yourself for the crowds. Time it for sunset and it will be well worth it!
9. Tower Arch Trail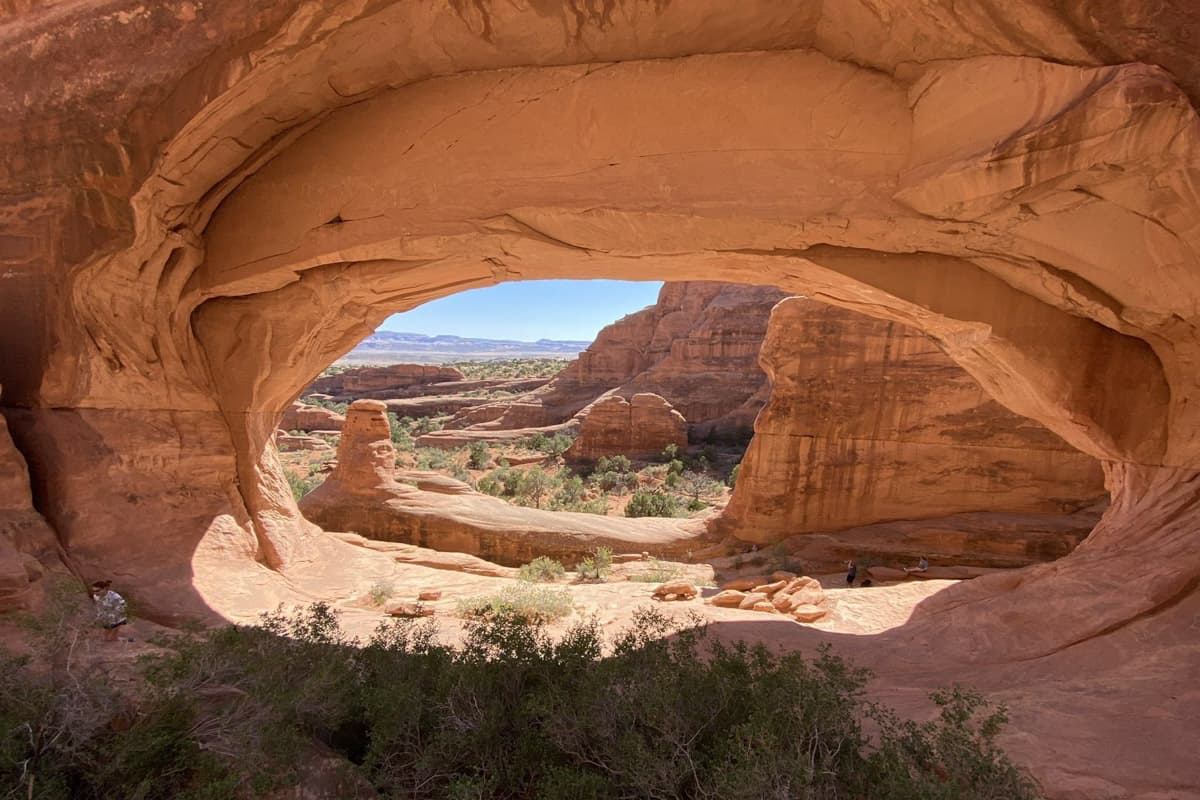 If you're looking for a break from the crowds, Tower Arch is an off-the-beaten path trail that also offers a decent workout. There's quite a bit of up and down, with a steep 200-foot ascent as soon as you step foot on the trail.
The views from the ridgelines are fantastic (as long as you're not afraid of heights!), highlighting Devils Garden in the distance and several unique red fin formations, or hoodoos.
10. Fiery Furnace and Surprise Arch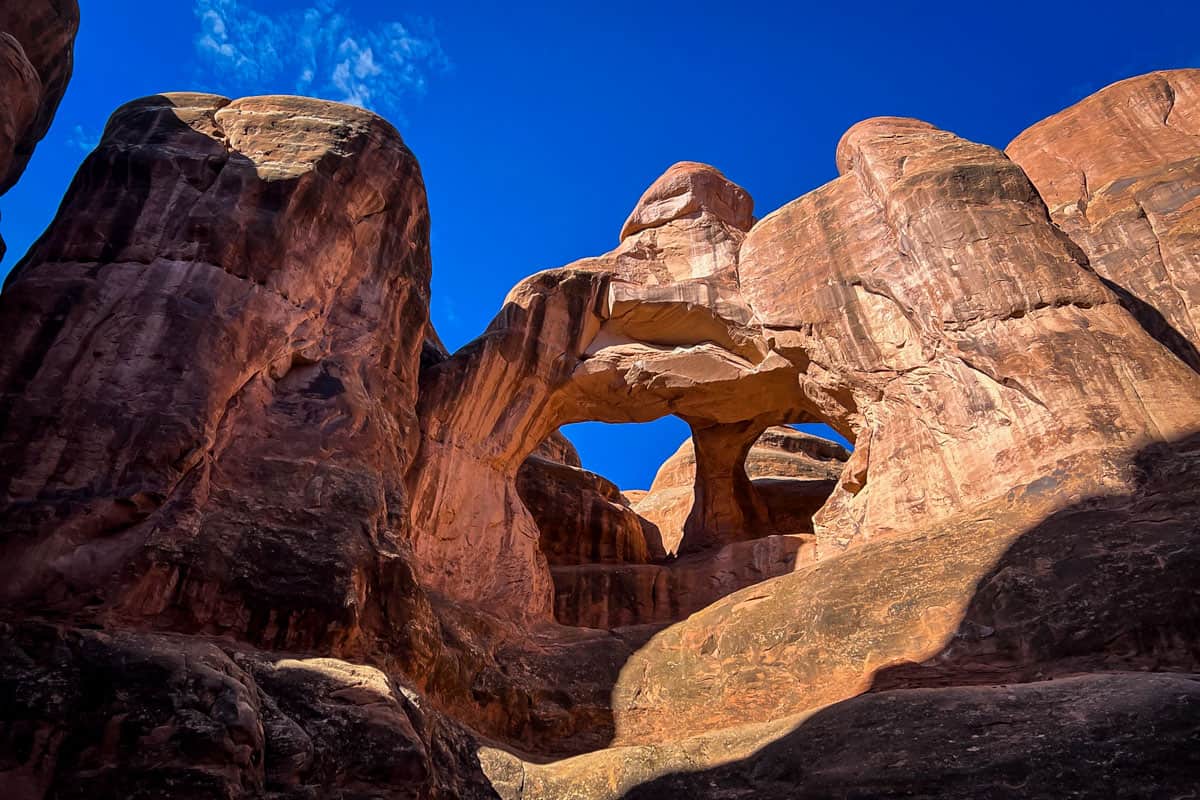 One of the only trails in Arches that requires a permit, Fiery Furnace is unique (and one of our personal favorites!). It's different than most other hikes, involving unmarked, hard-to-follow trails and a series of slot canyons, AKA the "furnace."
Although only two miles long, this trail's technical aspects make it surprisingly challenging. You'll do lots of way-finding and some boulder scrambling, enjoying fantastic views the entire time. Note that as an alternative to getting a permit, you can also attend a ranger-led hike most of the year, except for the winter months.
11. Double O Arch Trail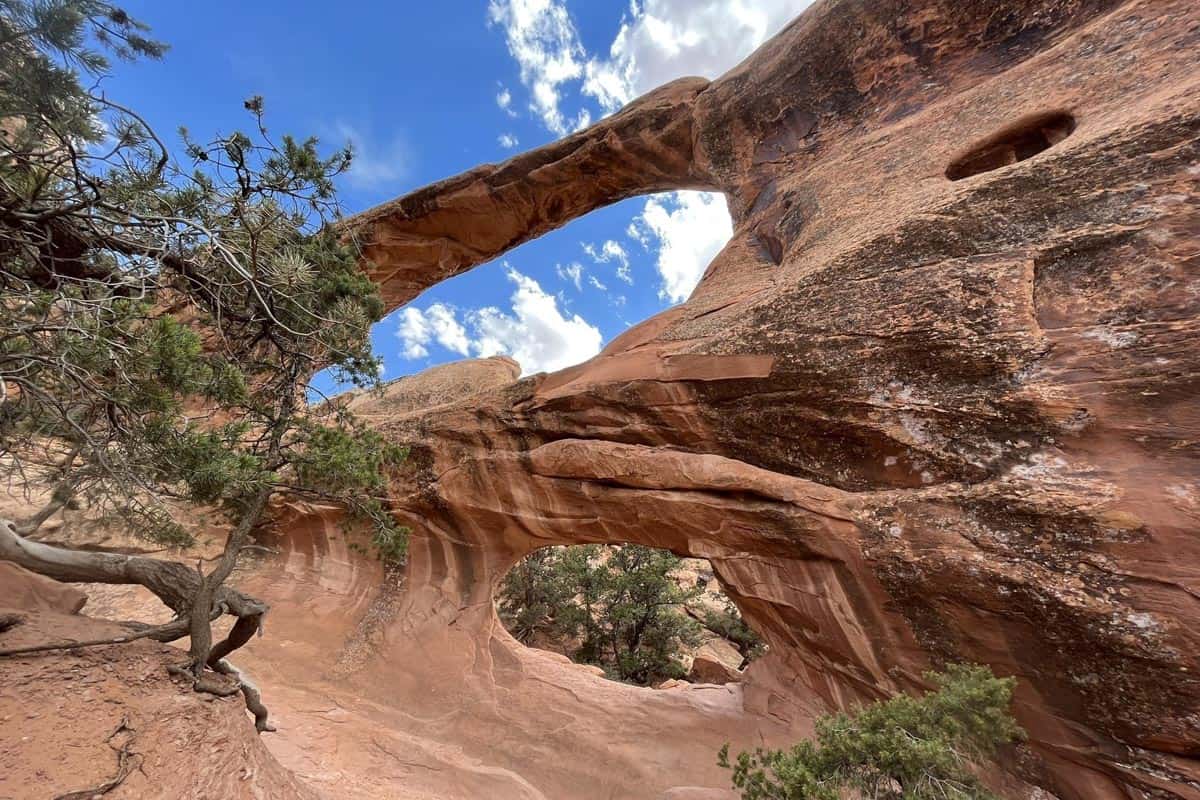 Another arch along the Devils Garden Trail, the incredibly unique Double O Arch is about three-quarters of a mile past Landscape Arch.
After passing by the first few arches on the easy part of the trail, the hike becomes a bit trickier beyond Landscape Arch. You'll have to traverse aptly-named slickrock and scramble up a few short sections that seem to be nearly vertical. It's worth it, though, to reach the unusual double-stacked arches, one on top of the other!
12. Dark Angel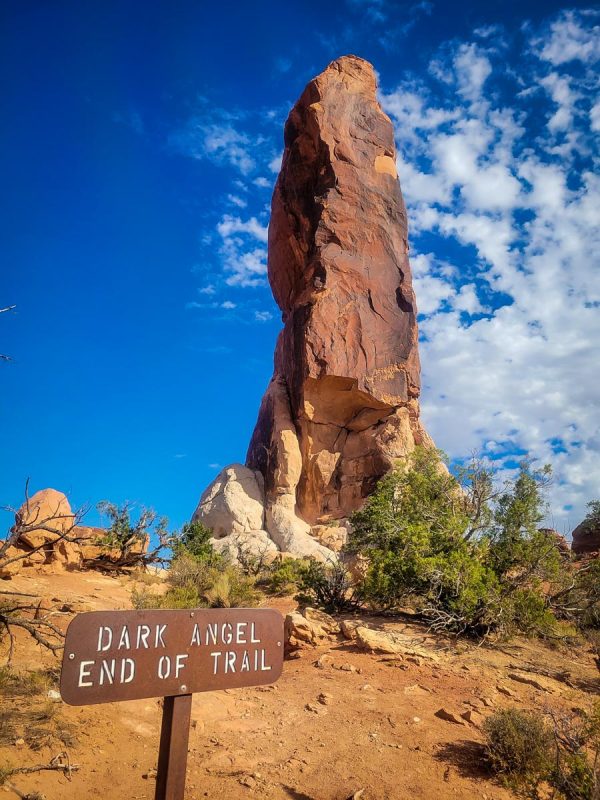 For a totally different experience in Arches, head to Dark Angel. Rather than an arch, it's actually a magnificent 150-foot-tall sandstone column, making it one of the best hikes in Arches National Park. Rising from the desert floor, it gives an excellent perspective as to just how impressive these rock formations are.
To get to Dark Angel, bypass Landscape Arch and then Double O by about a half-mile. If you have the time to spare, we highly recommend adding the bit of extra distance to see this unusual landmark!
13. Sand Dune Arch to Broken Arch Loop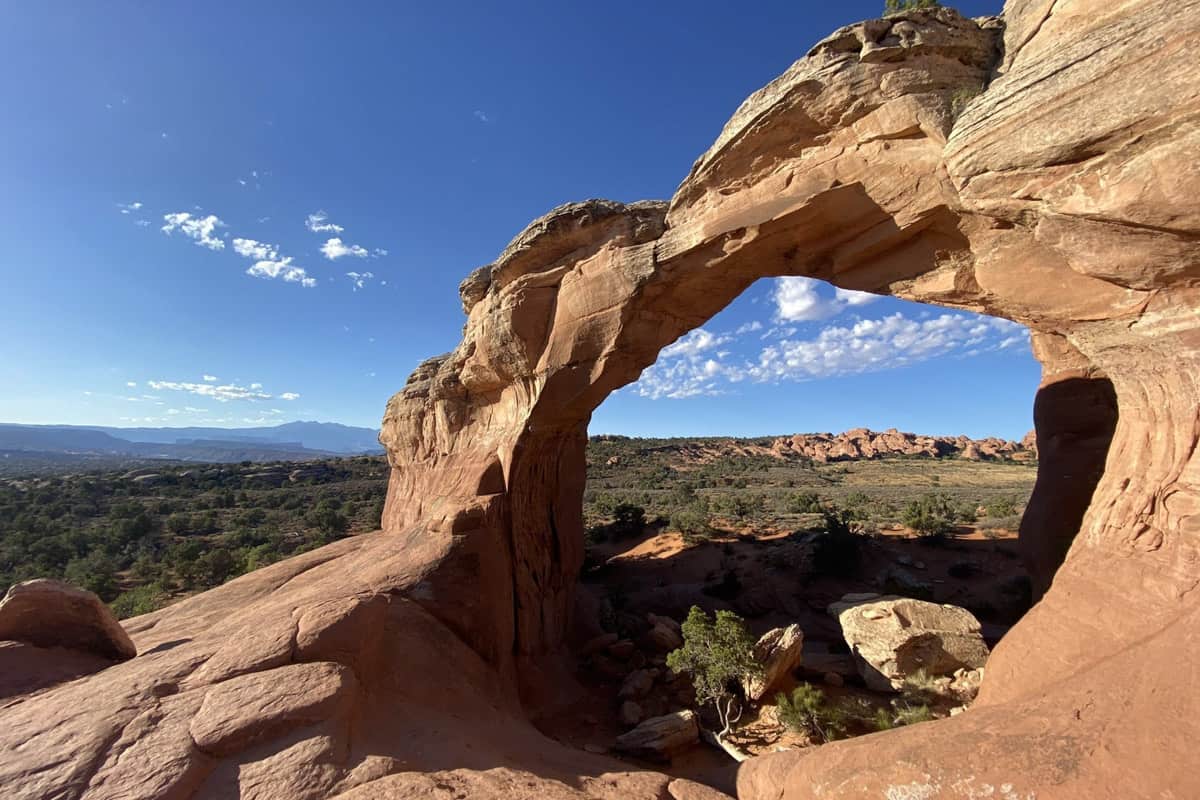 If you have adventurous little ones in tow or you're up for a bit of a challenge, this is one of the best hikes in Arches National Park!
This trail is rarely crowded and Sand Dune Arch provides tons of fun for kids with its sandy floor. That sand also presents a challenge and makes the hike rather slow-going. If you hike the loop counter-clockwise, you'll finish at Sand Dune Arch and deal with most of the sand toward the end, rather than the beginning!
14. Devils Garden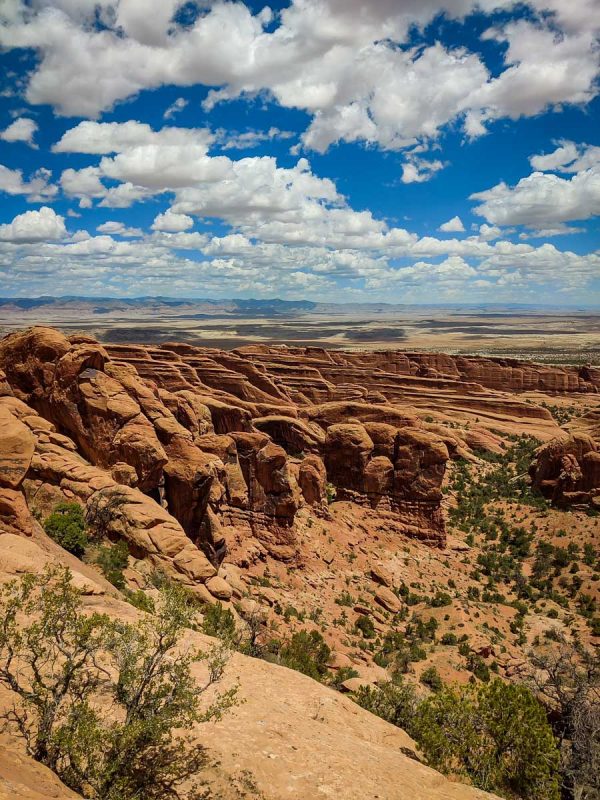 If you only have time to explore one trail in the park, we highly recommend Devils Garden! It's a "choose your own adventure" hike that allows you to do as little as 1.6 miles to Landscape Arch or as many as 7.8, passing a whopping eight arches.
Devils Garden gives a proper overview to the park as a whole: slickrock, some of the most impressive arches, fins, sand, and scrambling. Note that it is extremely popular (the parking lot in particular!), so tackle this one early in the day if possible.
15. Elephant Butte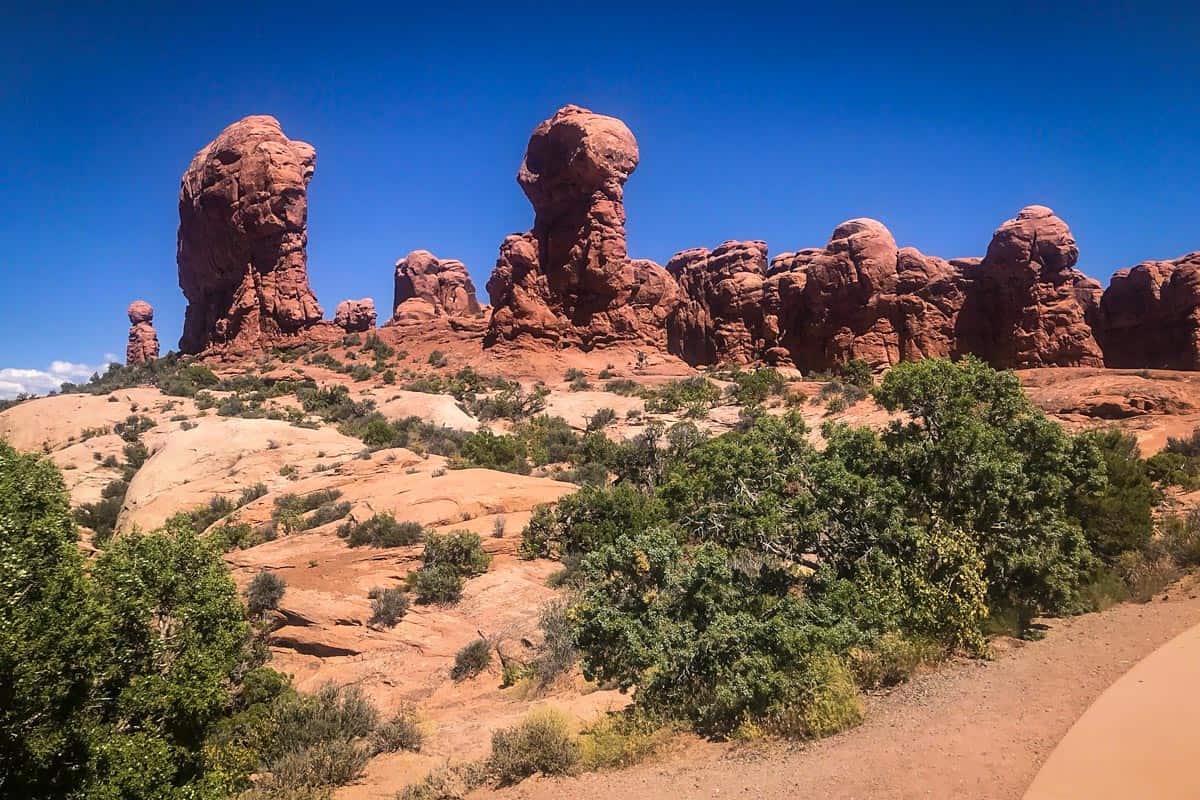 Last but certainly last is Elephant Butte, a canyoneering trail to reach the summit of highest point in Arches. While it's not recommended for newbies, those with some canyoneering and/or rock climbing experience (and proper gear, of course!) will find this to be one of the best hikes in Arches National Park.
If you do attempt it, you'll enjoy a bit of everything: climbing, rapelling, and beautiful expansive views. Note that Elephant Butte requires a canyoneering permit.

What to pack for hiking in Arches National Park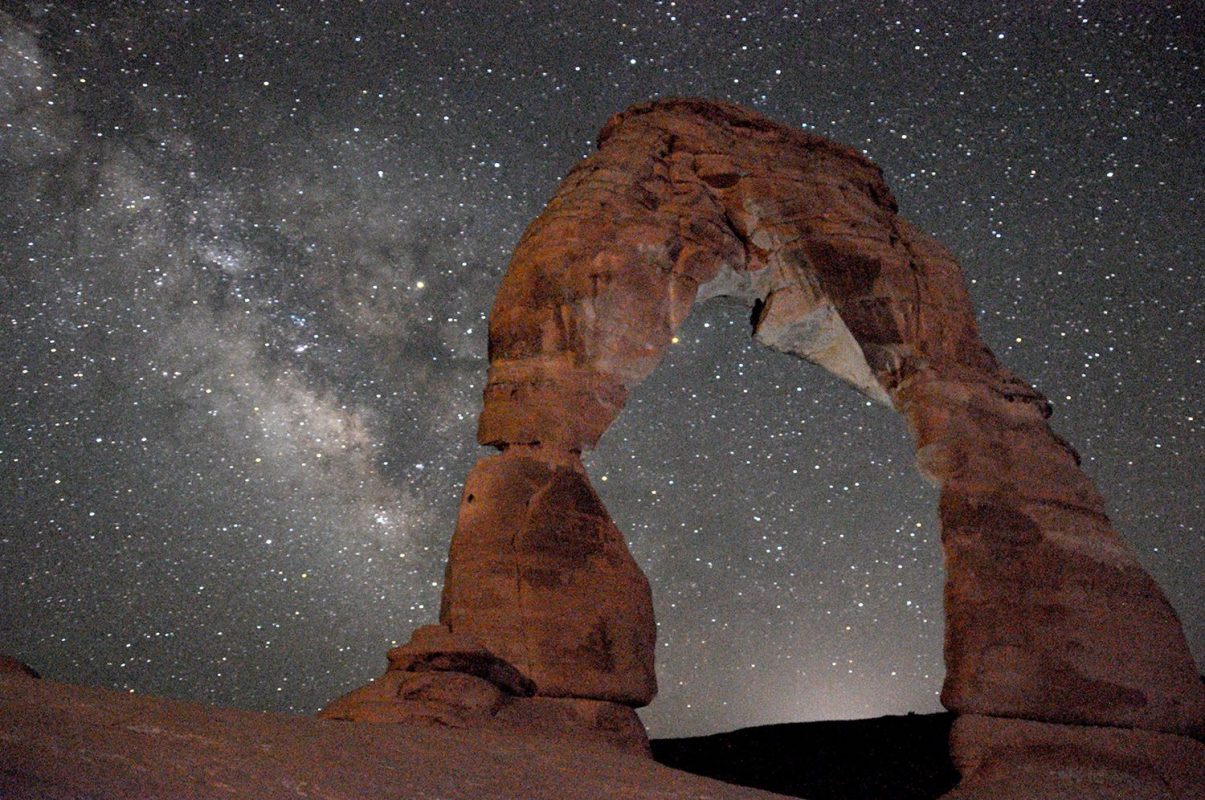 Although hiking trails at Arches can vary in length and difficulty, you'll still want to have some key items in your pack.
Be sure to grab our ultimate hiking packing list includes our must-have gear for any hiking trail!


You may also like…
Save this article on Pinterest for later!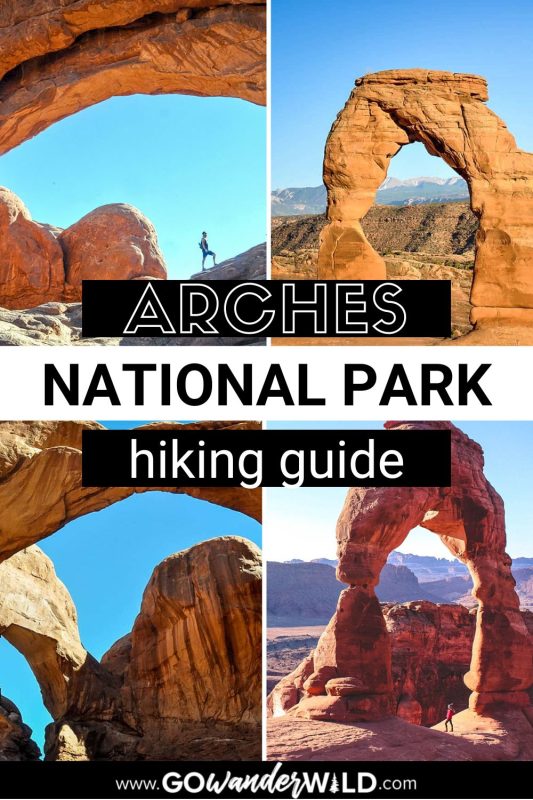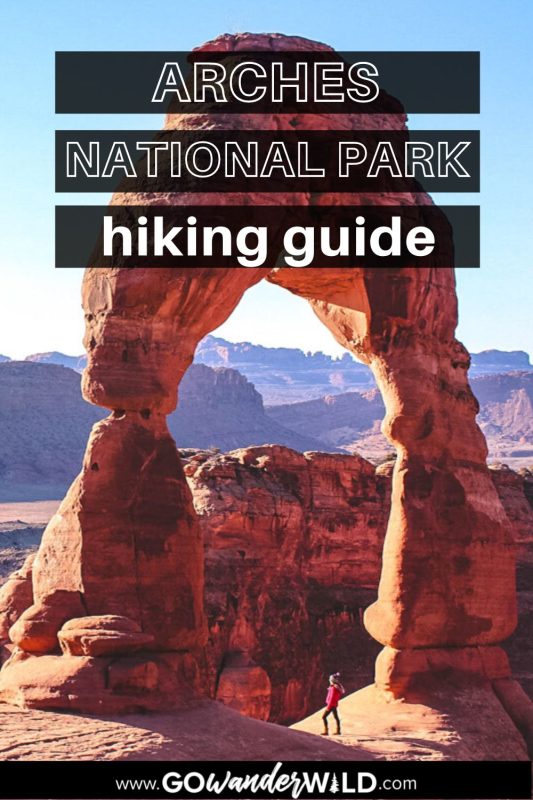 We want to hear from you!
Have you done any of the hikes in Arches from this list? What was your experience like? Are you planning a trip to Arches National Park and want more advice? Comment below and let us know!