Few places can rival Colorado's combination of natural beauty and outdoor activities. In this guide, discover the diversity and wonders of the four national parks in Colorado, along with essential tips for getting the most out of your adventure.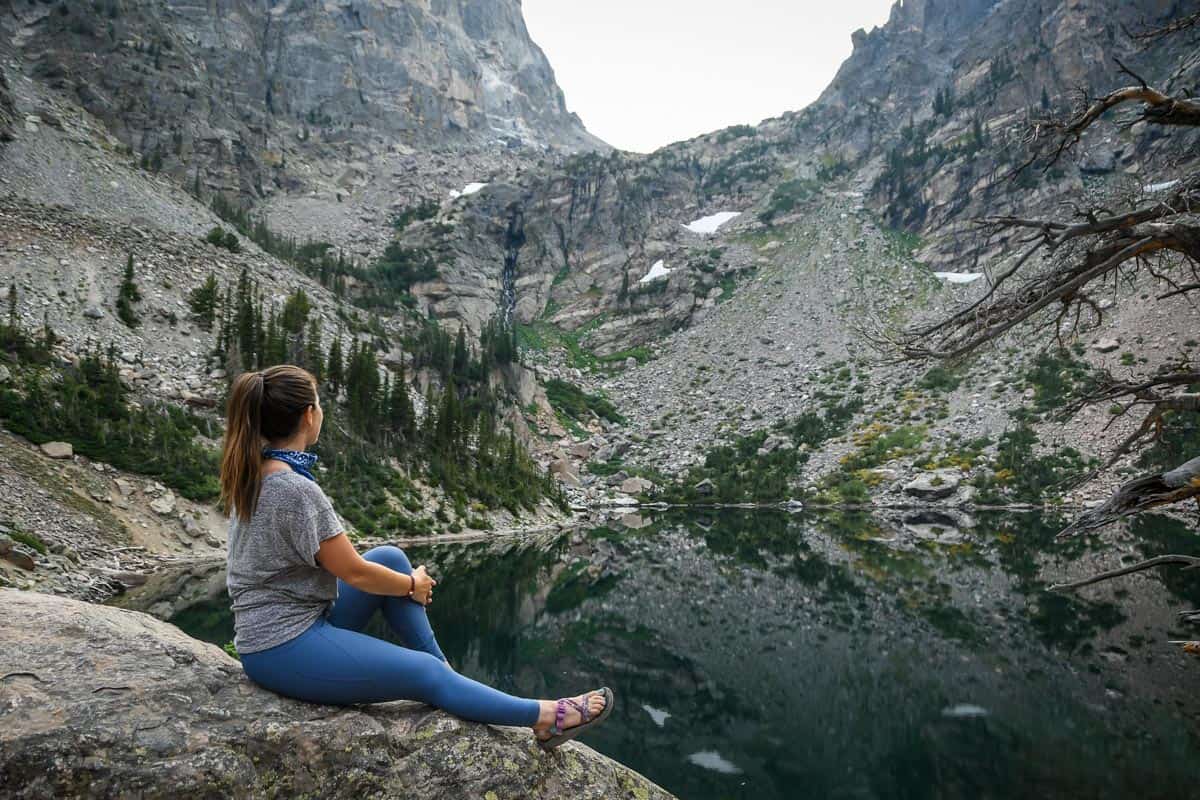 Known as "Colorful Colorado," this state is defined by diverse landscapes where the rugged grandeur of the Rockies meets the beauty of the high desert. The four national parks in Colorado are some of the country's most impressive gems.
From the tallest sand dunes on the continent to sacred ancient cliff dwellings and a chiseled black canyon, these protected sanctuaries offer visitors a chance to fully immerse in Colorado's beauty, rich history, and unparalleled outdoor adventure.
Article contents

Colorado National Parks Map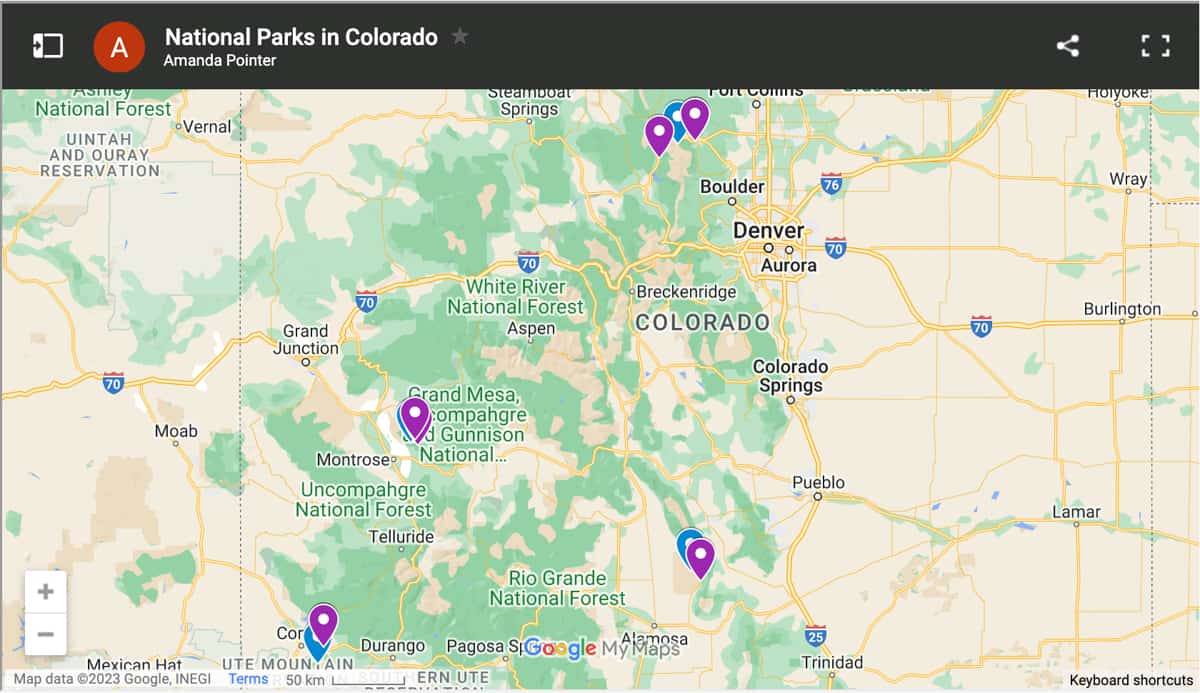 One of the best ways to experience all of the national parks in Colorado is on an epic road trip. Use this map to locate each park and craft your own road trip route. And if you're looking for more inspiration, check out all these other things to do in Colorado you won't want to miss!
Want to try out vanlife while visiting the Washington National Parks?
It's no secret we're obsessed with #vanlife. However, if you don't have the time (or interest!) in building your own conversion but you still want to give vanlife a test drive, we've got options for you…
Check out our list of top companies for USA Campervan Rentals (including rentals in Denver!) from budget to bougie, we've even included some exclusive discounts for our readers.
One company we'd recommend looking into is Escape Campervans. They have 12 different locations across North America (including Denver) and come fully loaded with all the gear you need for an epic road trip. Plus, their rates are fair and affordable.
BONUS: We've partnered with them to give you a 10% off discount when you use our link!
America the Beautiful Annual Park Pass

If you're planning to visit more than one of the national parks in Colorado, we'd highly encourage you to look into getting an annual park pass. At around $35 per entry, the entrance fees can add up.
For just $80 per year, you can purchase the America the Beautiful park pass. This pass grants you free access to all of the national parks. Plus it also covers your entrance to over 2,000 natural, historical, and recreational sites across the United States.
If you still need convincing, check out our article: America the Beautiful Annual Park Pass: Is it Worthwhile?

Rocky Mountain National Park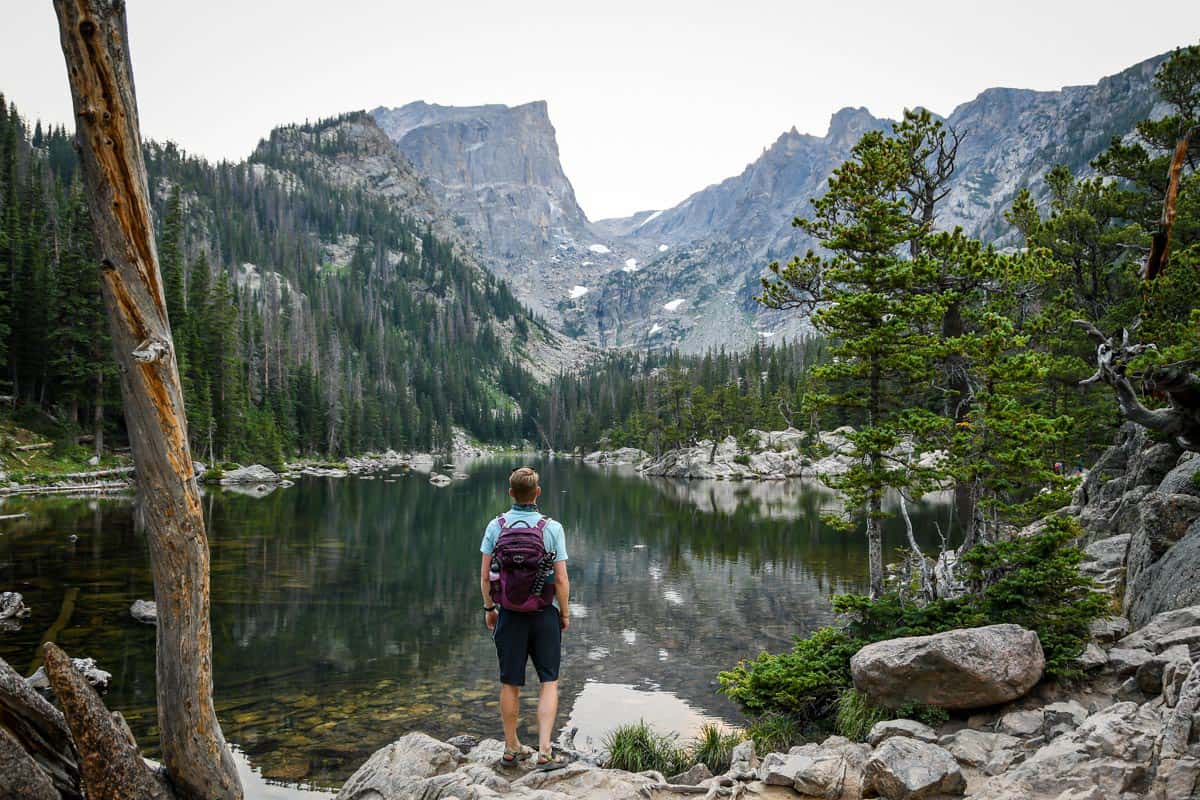 The most well-known of the four national parks in Colorado, Rocky Mountain National Park is the very definition of a stunning alpine landscape.
You'll find pristine lakes, waterfalls, rugged peaks (including the sole 14er in any Colorado national parks, Longs Peak!), a wide variety of wildlife, scenic, not-for-the-faint-of-heart drives, and even alpine tundra.
This iconic national park spans over 415 square miles, about 70 miles (2-ish hours) north of Denver. Its accessibility only adds to its popularity, so it should come as no surprise that RMNP implements a timed-entry permit system during peak season.
We highly recommend checking out the park's official website for more details, as well as any changes to the permit system.
Note that many of RMNP's roads and trails close in the winter. Although summer and fall are the busiest seasons, they're also the best times to visit, ensuring that the park is largely accessible.
Top things to do in Rocky Mountain National Park
Check out our entire Rocky Mountain National Park guide on our sister site for more information about the park and what you can expect as a first-time visitor!
Mesa Verde National Park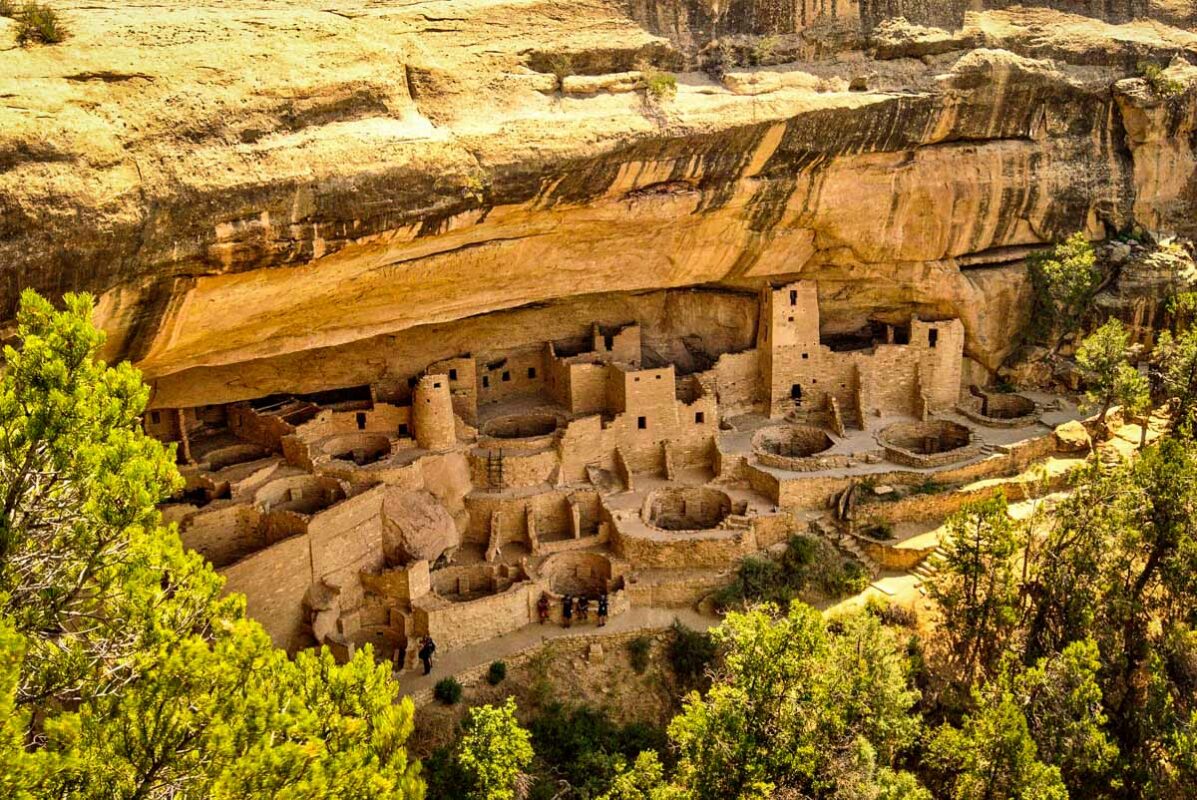 Tucked away in southwestern Colorado, where the mountains meet the high desert, Mesa Verde is arguably one of the most unique national parks in Colorado.
The park is a UNESCO World Heritage Site, best known for its stunning ancient cliff dwellings and other archaeological treasures. Visitors have the opportunity to explore, up close, the fascinating Puebloan people's rich history and enduring legacy.
You can quite literally step back in time and get an intimate look at the lives of those who once called these sacred mesas home.
By the way, a mesa is a flat-topped mountain or hill. Mesa Verde, Spanish for "Green Table," gets its name from the lush forests that cap the distinct mesa tops of the area.
A wealth of history is concealed just beneath the surface of these mesas. Mesa Verde National Park is home to nearly 5,000 archaeological sites, making it one of the most significant cultural treasures in the entire world.
Notably, while the park is open year-round, several of its major must-sees are only accessible from May through October. The general rule is that if a cliff dwelling requires a guided tour to visit (which is nearly all of them), you can only see it during this timeframe.
Top things to do in Mesa Verde National Park
Great Sand Dunes National Park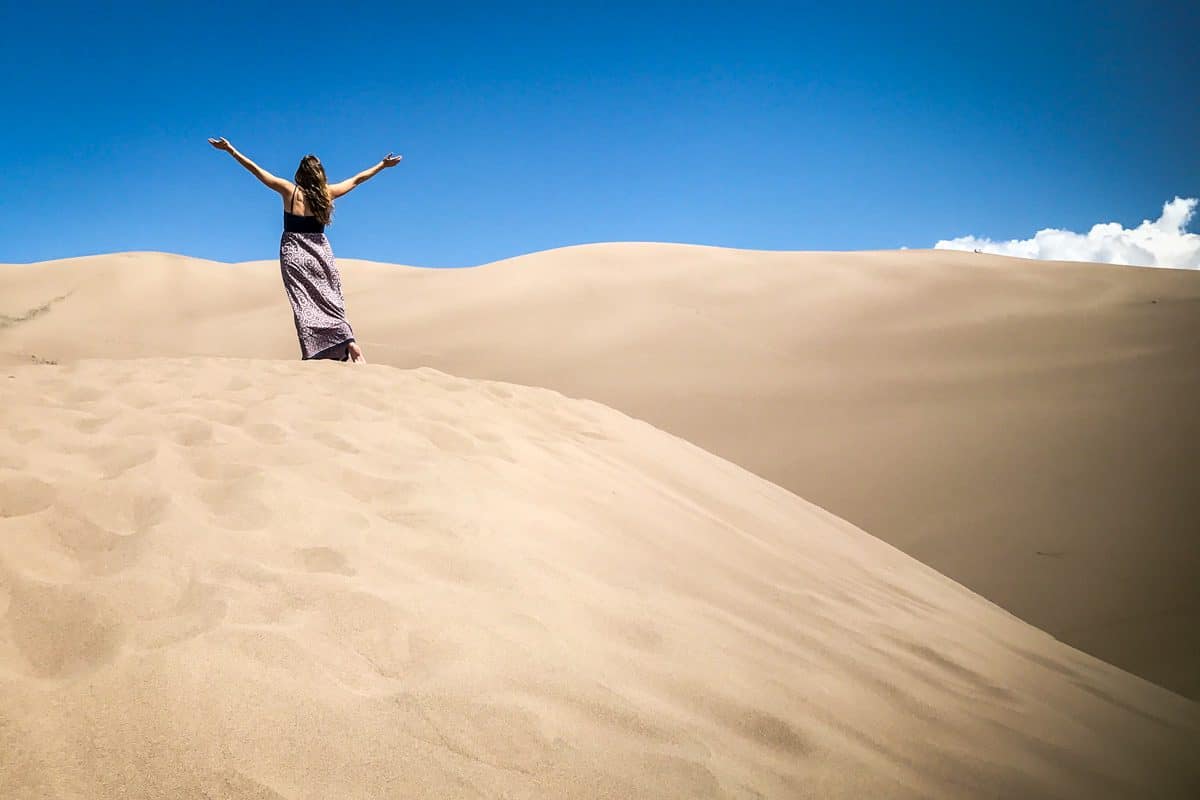 Great Sand Dunes is located in a remote part of southern Colorado, about 2.5 hours south of Colorado Springs. The park is fairly small and really only has a handful of things to do, but don't let that deter you — this truly unique national park packs a tremendous punch.
For example, the park is home to the tallest sand dunes in North America. And one of the biggest reasons to visit is the opportunity to hike on them, as well as board or sled down the sand. It's basically an excuse to let your inner-child out in a giant sand box!
Scenery is another thing that makes Great Sand Dunes one of the most unique national parks in Colorado. The dramatic landscape created by the towering dunes is made almost surreal by the soaring Sangre de Cristo Mountains in the background.
In late spring, the Medano Creek floods, creating waves that people can actually float rafts down. This is truly a unique, captivating destination worth at the very least a day trip. Fortunately, the park is small enough that you can fully experience it, even if that's all the time you have.
While Great Sand Dunes National Park is open year-round, the best times to visit are fall and late spring.
The sand can potentially freeze in the winter, making the dunes unsafe (plus, local companies won't rent boards or sleds). And in the summer, the sand temperature sometimes reaches 150℉!
Top things to do in Great Sand Dunes National Park
Black Canyon of the Gunnison National Park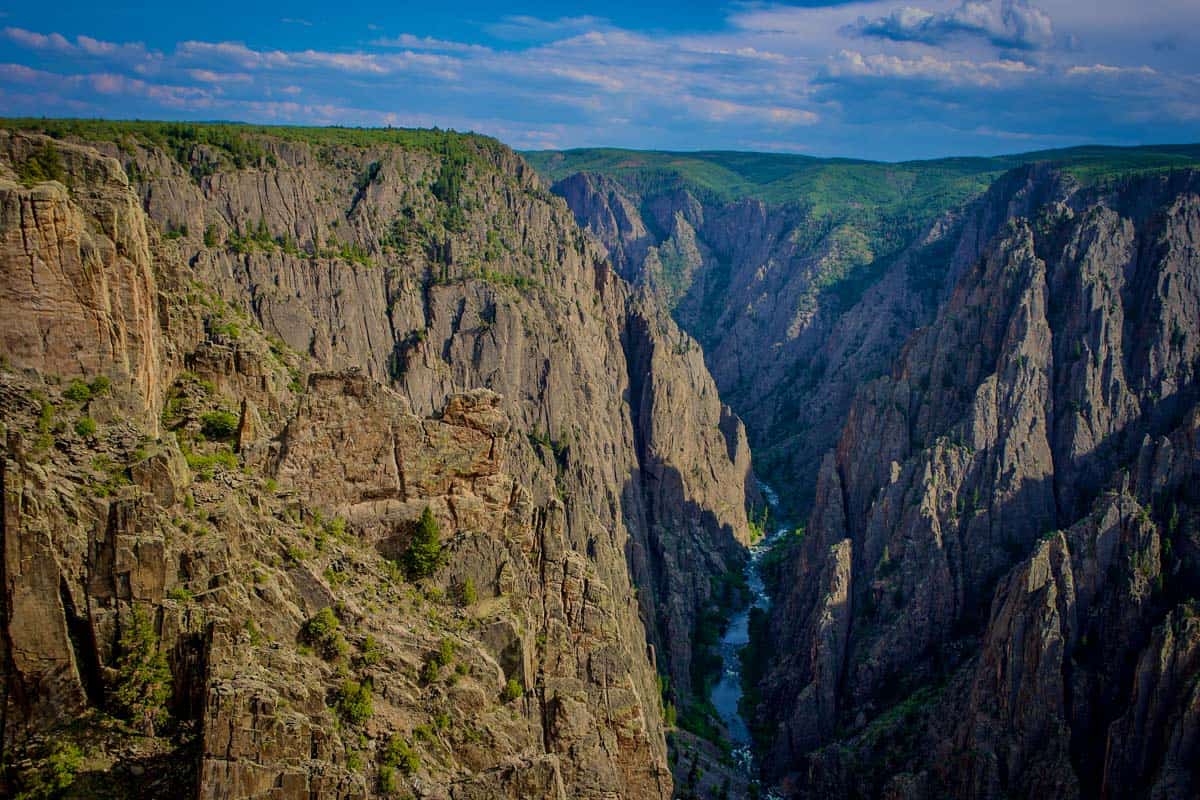 Finally, we have one of the smallest and least visited national parks in Colorado — not to mention the entire country.
Using the word "smallest" here feels wrong, though, because Black Canyon of the Gunnison is anything but. While it isn't nearly as big as the Grand Canyon, it's still enormous. Mind bogglingly so.
The mighty Gunnison River spent two million years carving a deep, dramatic chasm through the rock, creating the absolutely stunning Black Canyon. The canyon rim sits over 2,700 feet above the river, and the narrow gorge ranges from just 40 feet across to 1,100.
NPS calls Black Canyon a "vertical wilderness of rock, water, and sky," and we could not agree more!
Black Canyon of the Gunnison is in southwest Colorado, about one hour from both the rugged San Juans and the small city of Grand Junction. It's certainly not the most remote park, but it's also not on the way to anything…which may explain its low visitation.
North and South Rims
Importantly, the park is divided into the North Rim and South Rim. Although they're close to each other, they aren't connected at any point, so you can't quickly walk or drive across.
Most people choose between visiting the North or South rim. With a full day to explore, you could easily see both. The drive from one to the other is about 1 hour, 45 minutes.
The South Rim is much more popular, due to accessibility (it's close to Montrose) and it being home to the park visitor center, plus numerous overlooks. The North Rim is far quieter and less developed, and many people think the views are better.
Top things to do in Black Canyon of the Gunnison National Park

What to pack for visiting the national parks in Colorado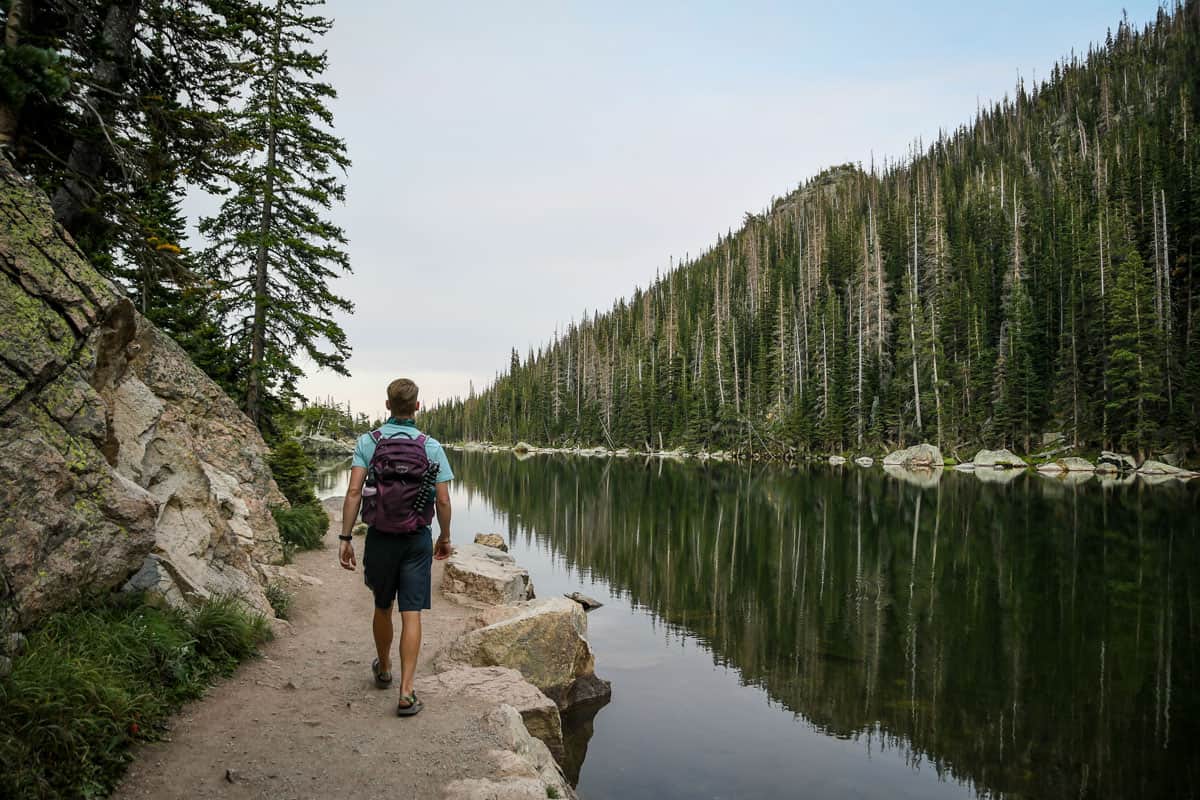 Be sure to grab our ultimate hiking packing list includes our must-have gear for any hiking trail!

Where to stay in and around the national parks in Colorado
If you're traveling in a campervan or simply hoping to save money on your visit to the national parks in Colorado by camping along the way, you're in luck. There are some pretty epic campsites in and near the national parks.
We use The Dyrt app, to locate campsites while on the road. With the largest database of campgrounds (44,000+ campsites and counting!) and over 1 million user-submitted reviews, it's a no-brainer.
Plus, it's super user-friendly, and has some pretty cool features, like outdoor gear contests and forums to connect and seek advice from fellow campers, that you won't find on any other camping app.
Try their Pro Membership for FREE for 90 days and gain access to the offline version of the app, utilize their trip planning feature AND get exclusive discounts on campsites and gear!
Before you go…

Get your FREE National Parks checklist to keep track of all of the National Parks you've visited through the United States!

You may also like…
Save this article on Pinterest for later!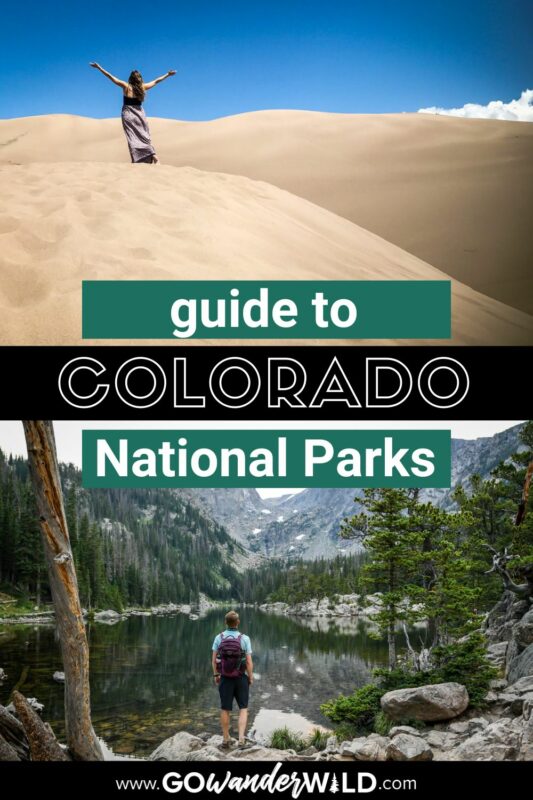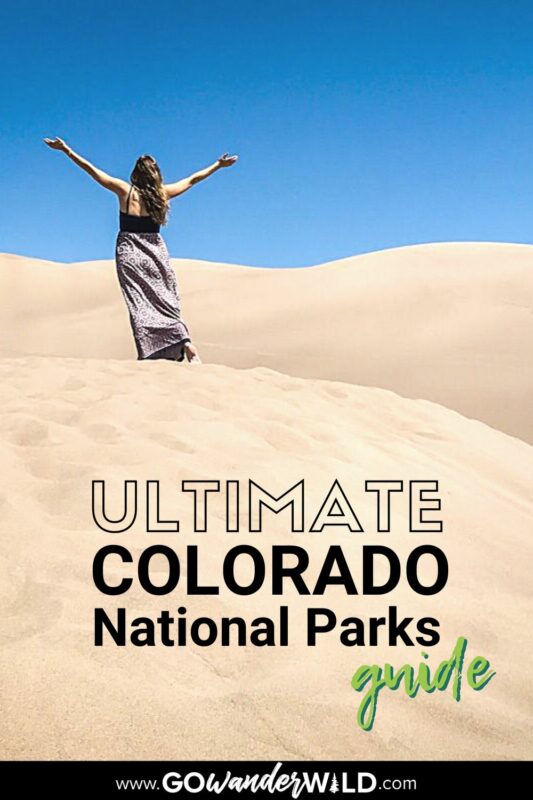 We want to hear from you!
Which is your favorite of the national parks in Colorado and which can you not wait to explore? Leave your comment below and let us know!