Hiking the Enchantments is one of the most memorable PNW experiences. The challenging 20-mile trail requires advanced planning, so we've broken it down in a comprehensive hiking guide.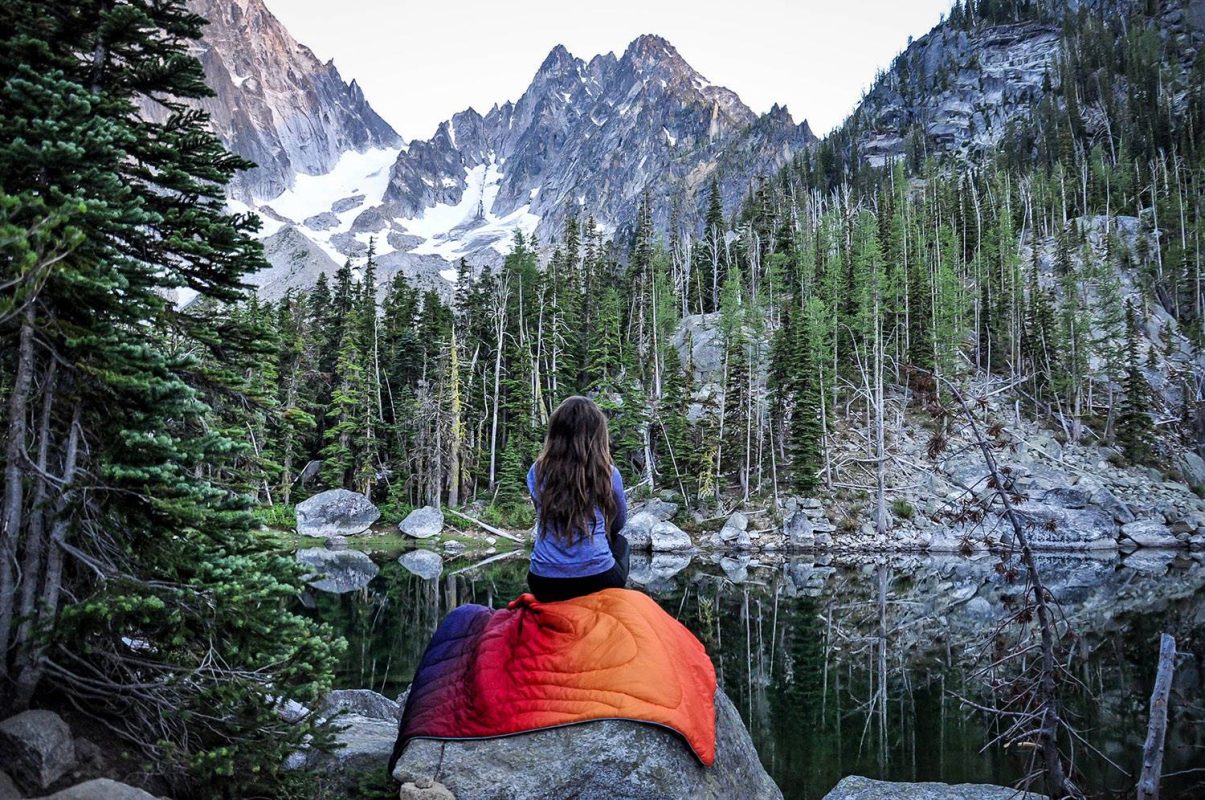 If you were to ask us what we think is the most beautiful place in the world, you'd probably get a long silence as we racked our brains… where to even start?!
Then, you'd likely get a long rambling list of epic places we've been or those we're itching to visit. But one of the places that would undoubtedly make the list is The Enchantments Wilderness Area.
With shimmering alpine lakes, glaciers, rugged mountain peaks, wildflower-dotted meadows, and the ubiquitous mountain goats, this wilderness area has a pristine, untouched beauty that is getting increasingly difficult to find.
Located in Central Washington near the small town of Leavenworth, this piece of the Cascade Mountain range is as spectacular as the name implies. At risk of sounding entirely cliche, this place is absolutely enchanting.
If you're not very familiar with the Enchantments Wilderness Area, you may be surprised to know that it requires a bit more planning and preparation than simply lacing up your hiking boots and hitting the trail.
The level of difficulty and sheer distance of the trail mean the best way to experience this area is via a multi-day hike. However, obtaining wilderness permits has become increasingly competitive in recent years, which throws in another logistical obstacle.
We lived in Leavenworth for a while, and have been lucky enough to hike in the Enchantments a few times, and each experience has been pretty different. We've done multi-day hikes in the area (after obtaining the illustrious Enchantments Wilderness Permit), and we've also thru-hiked this 19-mile trail in one day.
In this guide, we'll share how to best experience hiking the Enchantments, whether on a day trip or as a multi-day camping experience.
Article Contents
---
The Enchantments hike at a glance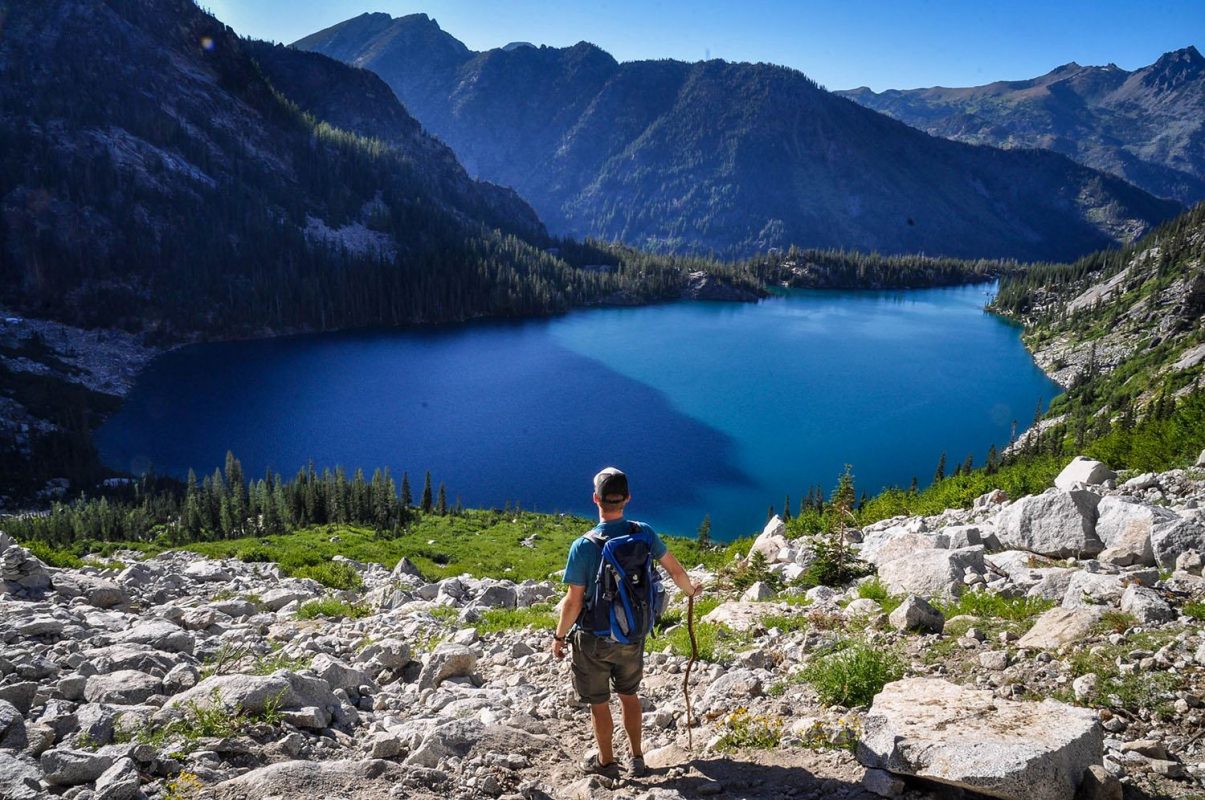 Distance: 20.5 miles, point-to-point
Elevation gain: 4,954 feet
Difficulty: Challenging
Timing: Full day hike; or broken into 2 days
Pets: no dogs allowed in the Enchantments
Permits: between May and October, you'll need a permit for overnight camping
One of Washington's best hikes, the Enchantments absolutely lives up to the hype (and its name!). The challenging trail is brimming with dramatic stunning scenery, as glacial activity has left the mountains here jagged and steep, and deposited several picturesque alpine lakes.
You'll pass through dense forests, blankets of wildflowers, and high-elevation mountain passes to reach an otherworldly tree-less environment filled only with ancient rocks molded by wind and water.
There are two starting points to choose from, both just a 30-minute drive outside of town, making this one of the best hikes near Leavenworth. Understandably, the trail gets busy and snagging an overnight permit is extremely tough. However, camping and hiking in the Enchantments is well worth all the effort!
It's also important to note there's a lot to consider before hiking the Enchantments. Tucked away in a particularly rugged area of Washington, just accessing this beautiful environment takes substantial planning.
Best time of year for hiking the Enchantments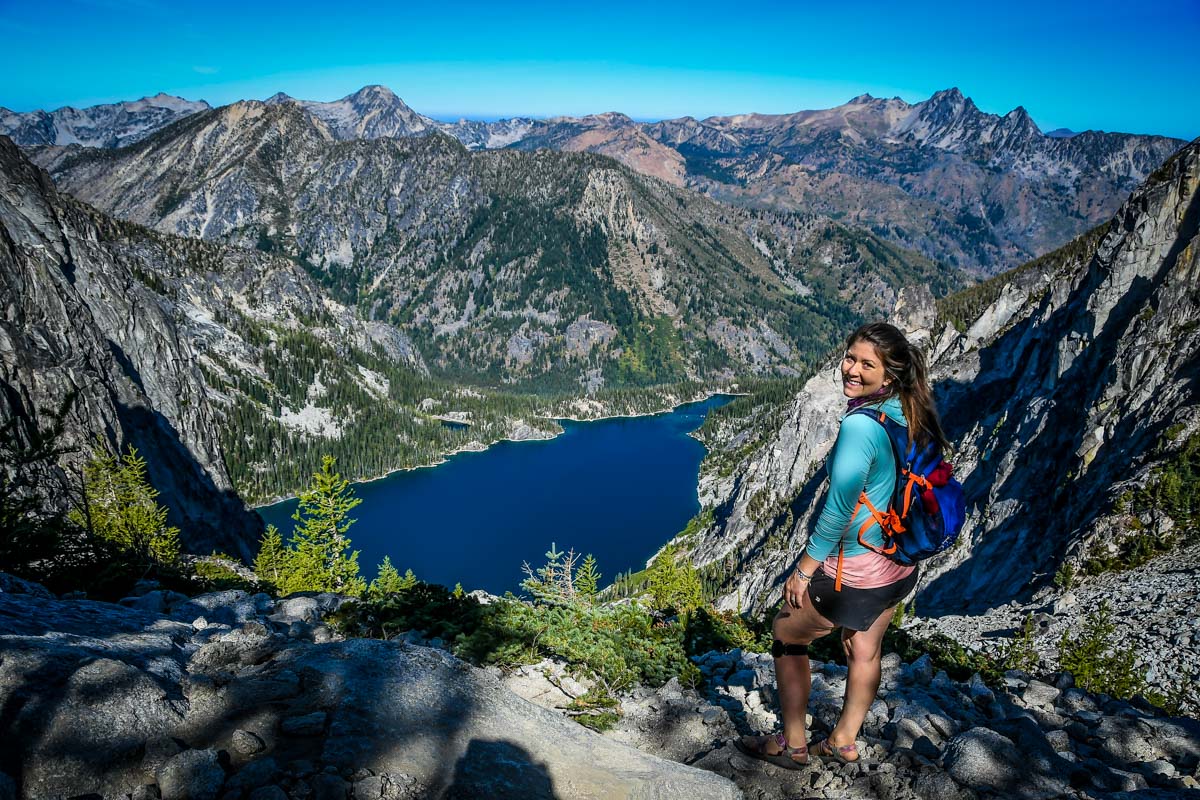 Mid-July through early October is the best season for hiking the Enchantments. Before July (and sometimes even into July!), most of the high alpine terrain is still covered in snow and the lakes are frozen.
In October, unpredictable snowstorms start to roll into the higher elevations, making the trail dangerous. Some particularly adventurous skiers and snowshoers attempt the trail during the winter, but that's only advised for very experienced winter sports enthusiasts.
Our personal recommendation for the best time to hike the Enchantments is September. The summer temperatures drop (it occasionally reaches a scorching 100 degrees in July and August!) and permits are also a little easier to come by.
Bonus: during the tail end of the month and into October, the foliage turns to a beautiful vibrant yellow-orange!
How long does it take to hike the Enchantments thru trail?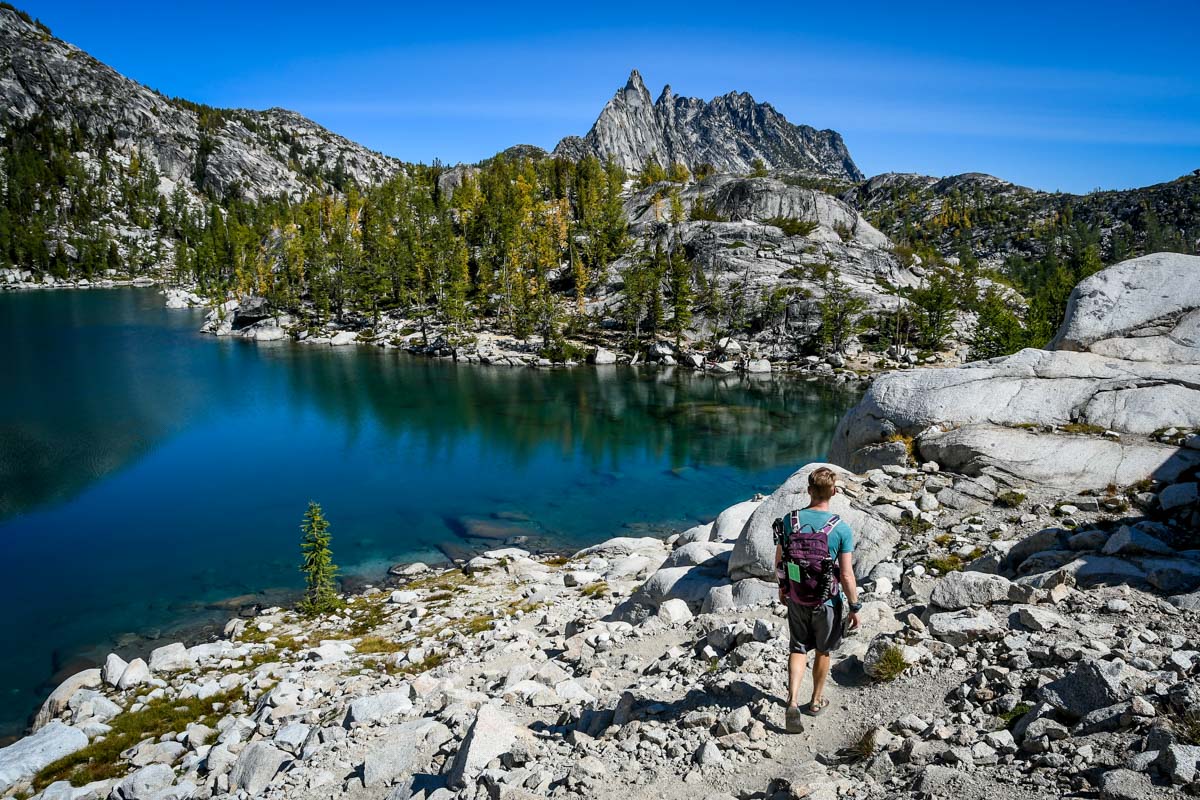 At 20 miles long and with just under 5,000 feet of elevation gain, hiking the Enchantments is a serious undertaking regardless of your fitness level. The total hiking time ranges from 8 hours for ultra-fast trail runners to about 15 for reasonably fit hikers going at a steady pace.
While it's entirely possible to hike the trail in a single day (remember, we've done it!), only experienced and fit hikers who are very confident in their abilities should attempt it. The main reason to day-hike the Enchantments is that doing so means you don't need a hard-to-get camping permit.
Additionally, an overnight or multi-day journey into the Enchantments allows you to experience swimming and relaxing on alpine lakeshores, the chance to explore side trails, and waking up in some truly stunning camping spots.
While some people spend up to five days on the trail, we think 2-3 days in the Enchantments is the sweet spot — a long weekend escape that's easy to plan and pack for.
How difficult is the Enchantments hike?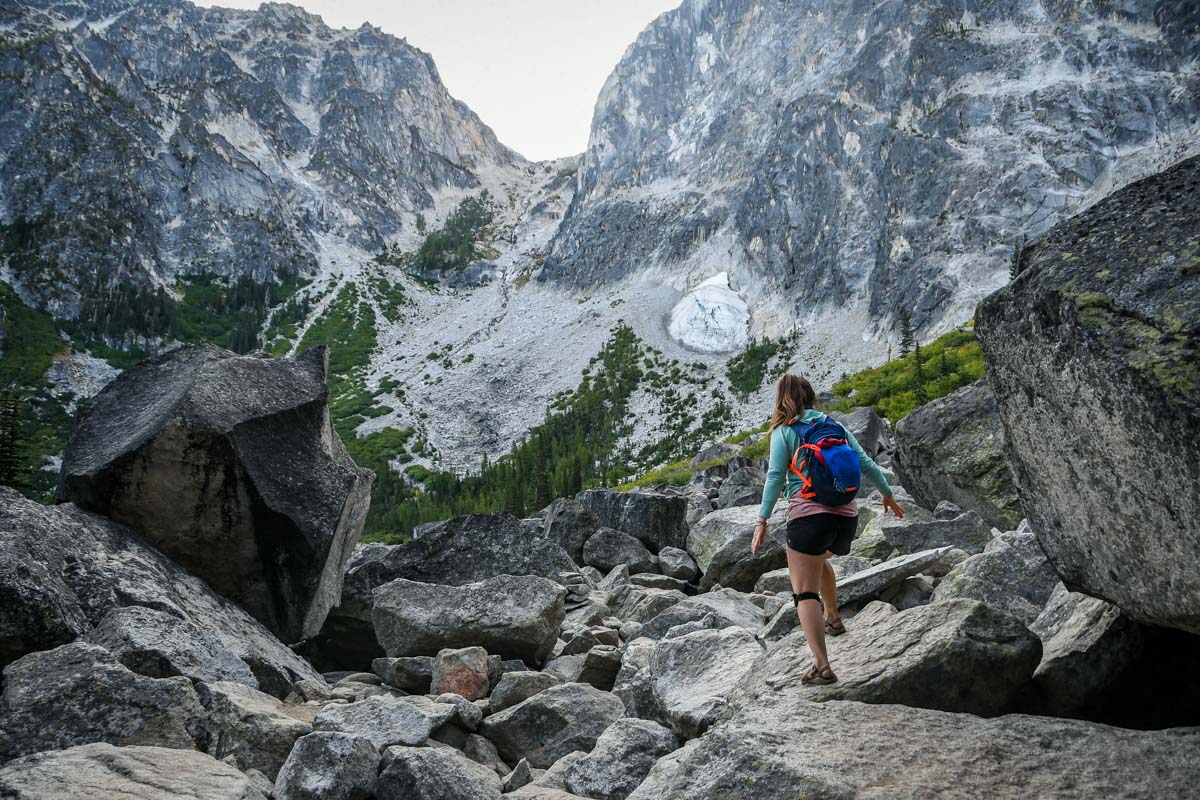 There's no sense in minimizing it: the Enchantments hike is very strenuous. The miles of steep, rocky terrain are relentless and because you're at high elevation, you often have to combat Mother Nature, too.
The infamous Aasgard Pass is the toughest part of the trail, with a heart-pumping, lung-straining 2,000-foot climb in just ¾ of a mile. Some route-finding is also necessary, as the hike becomes more of a boulder scramble with hands and feet required for balance.
Even when you're not tackling the pass, it's necessary to pay attention to your footing and maintain consistent stamina through the strenuous ups and downs. With the added weight of a pack, some training or backpacking experience is highly recommended before attempting to hike the Enchantments.
Having said that, don't let the challenge dissuade you! Spread out over a few days, it's incredibly rewarding, with once-in-a-lifetime views and experience to match your efforts.
The route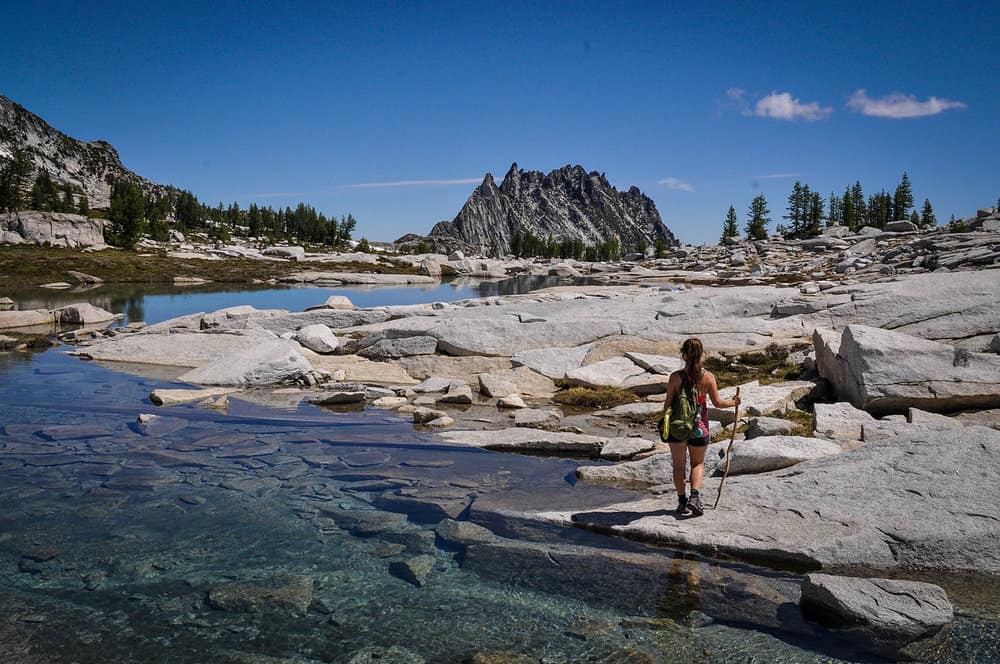 A point-to-point trail, you can start the Enchantments hike from either the Stuart Lake Trailhead or the Snow Lakes Trailhead.
Most hikers start from Stuart Lake, and we recommend this direction as well. This way, you'll knock out most of the elevation gain in the first quarter of the hike. Once you ascend the Enchantments Core, you'll be able to enjoy the spectacular scenery without constant exertion.
Plus, Stuart Lake is a couple thousand feet higher than Snow Lakes, so your total elevation gain is lower!
In either direction, the trail is stunning, offering views across the Cascades and passing by numerous bright-blue glacial lakes and chiseled mountain peaks. There are so many spots you'll want to sit and relish the view!
Transportation
Since the Enchantments hike is a point to point trail, it's necessary to consider transportation logistics.
The two trailheads are fortunately only a 30-minute drive apart, so the easiest option is driving two vehicles. Drop one off at the hike's endpoint, then drive everyone to the starting point. Once you finish hiking, you can use the vehicle at the end to go back and retrieve the other one.
If you're hiking the Enchantments by yourself or don't have two vehicles, there are other options.
Two shuttle companies, Loop Connector and Leavenworth Shuttles, will drive you from the Snow Lakes Trailhead, where you can drop off your car, to the beginning of the trail at Stuart/Colchuck Lake. However, space on the shuttles is limited and they don't always operate on weekdays, so it's best to book well in advance.
If you're hiking the Enchantments with another person but only have one vehicle, another option is to rent an additional car to drop off at the endpoint.
Finally, although it sounds funny at first, hitch-hiking is another good option. It's not at all uncommon for other hikers to help with shuttling! However, you obviously can't rely on or plan around hitch-hiking and not everyone is comfortable with it.
Obtaining a permit for hiking the Enchantments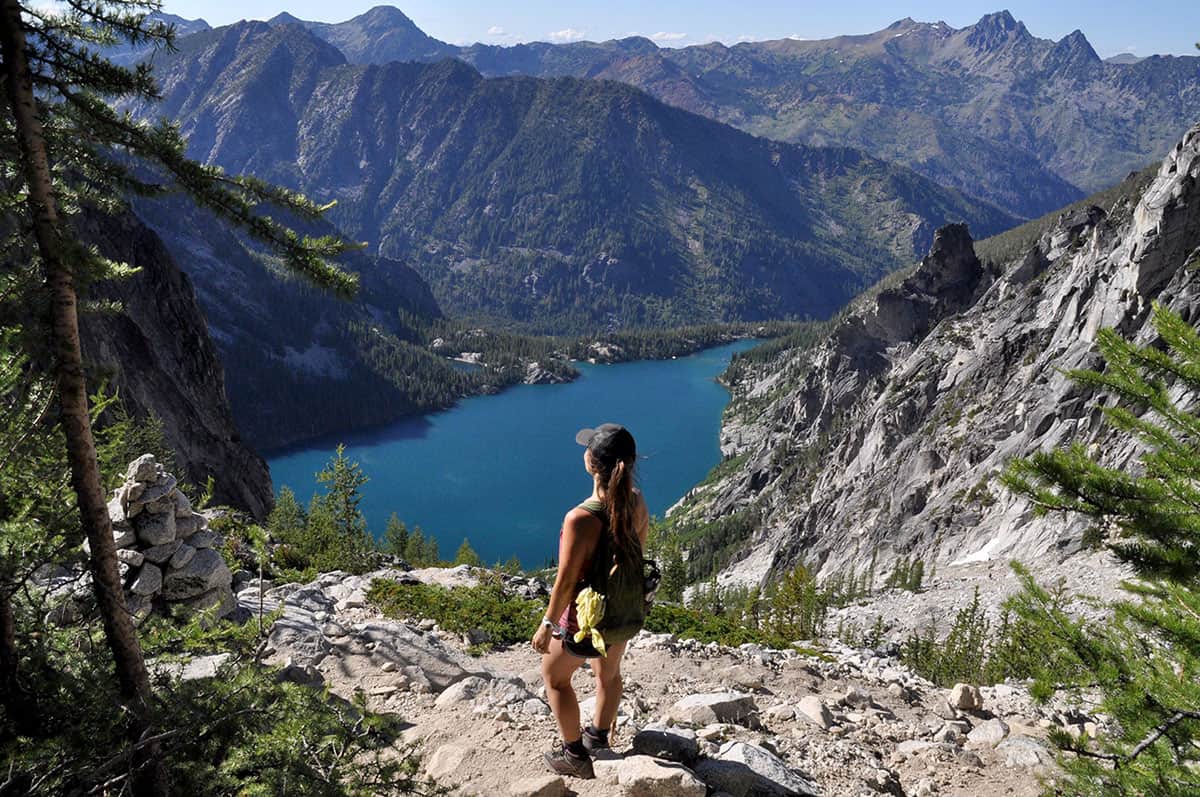 Due to the fragile environment and increasing popularity of hiking the Enchantments, a wilderness permit is necessary to camp overnight from May 15 through October 31. You can apply for permits during the second half of February through Recreation.gov, and winners are drawn, lottery-style, in early March.
Note: Winners are drawn at random, so it makes absolutely no difference when you apply, as long as it's within the application period.
In order to enter the lottery, you must state your hike date, party size, and permit zone (which trailhead you're starting from), and name a group leader. Once winners are notified, there's actually a second step — you're required to go back into Recreation.gov and claim and pay for your permit, plus provide your intended exit date.
It's a unique, labor-intensive process that has an extremely low success rate (the odds of winning a permit are about 2% at best), but well worth it.
Our first time, we were lucky enough to score camping permits and spend a few amazing days in this slice of paradise. Unfortunately, we've missed out on all our other attempts at the lottery (some locals joke that the lottery is their "annual donation").
Wildlife on the trail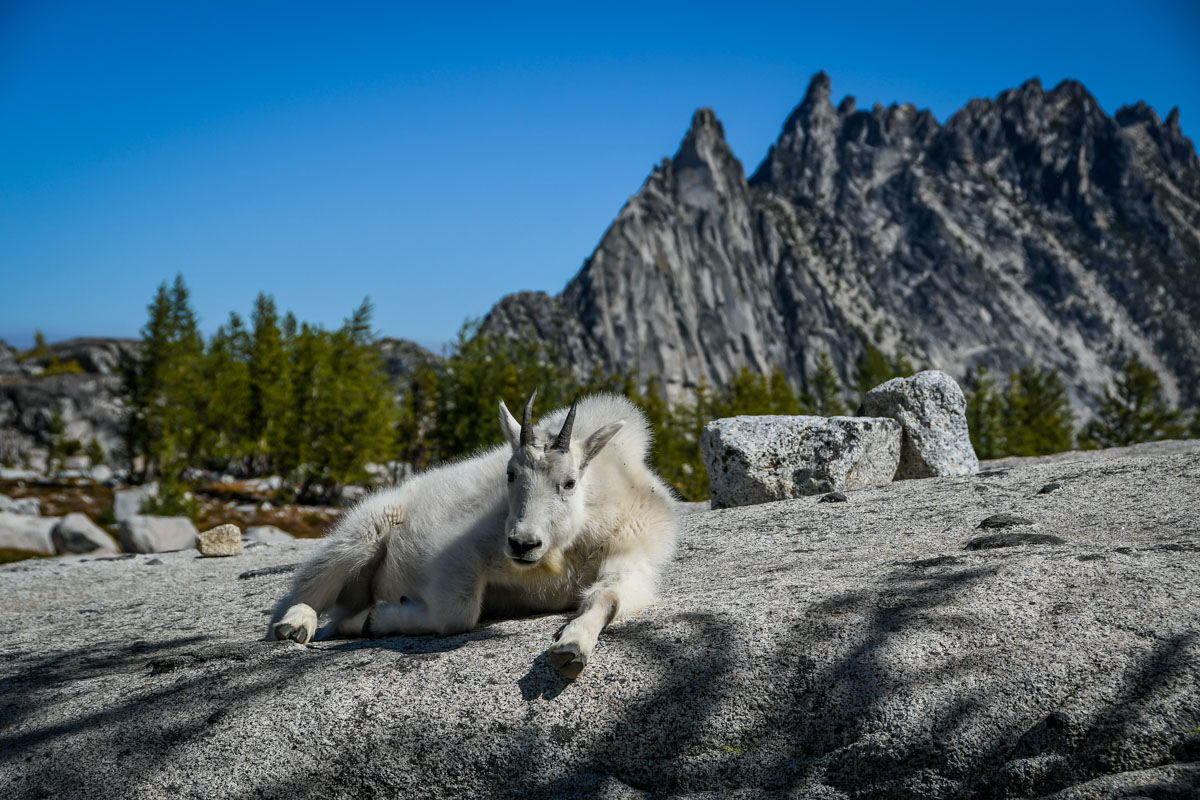 Wildlife sightings are extremely common while hiking the Enchantments, including mountain goats, marmots, deer, picas, and the very occasional black bear.
Mountain goats are the most prevalent wildlife you'll encounter. Although it's rare for them to be aggressive, we've heard of instances where mother goats have attacked hikers trying to protect their kids.
Black bear sightings are very uncommon here, but do occasionally happen. Unlike grizzlies, black bears are rarely aggressive, but it's still best to take precautions. It's a good idea to pack bear spray just to be safe.
Always maintain a very safe distance from wildlife, and take care of your "business" well away from the trail and campsites! Interestingly (and weirdly…), many wild animals are attracted to the salts in urine and actually seek it out.
What to expect hiking the Enchantments
Hiking the Enchantments takes you through a variety of diverse terrain, which can be roughly broken down into three sections. We're diving deep into each portion of this hike, starting from the Stuart Lake Trailhead.
Stuart and Colchuck Lake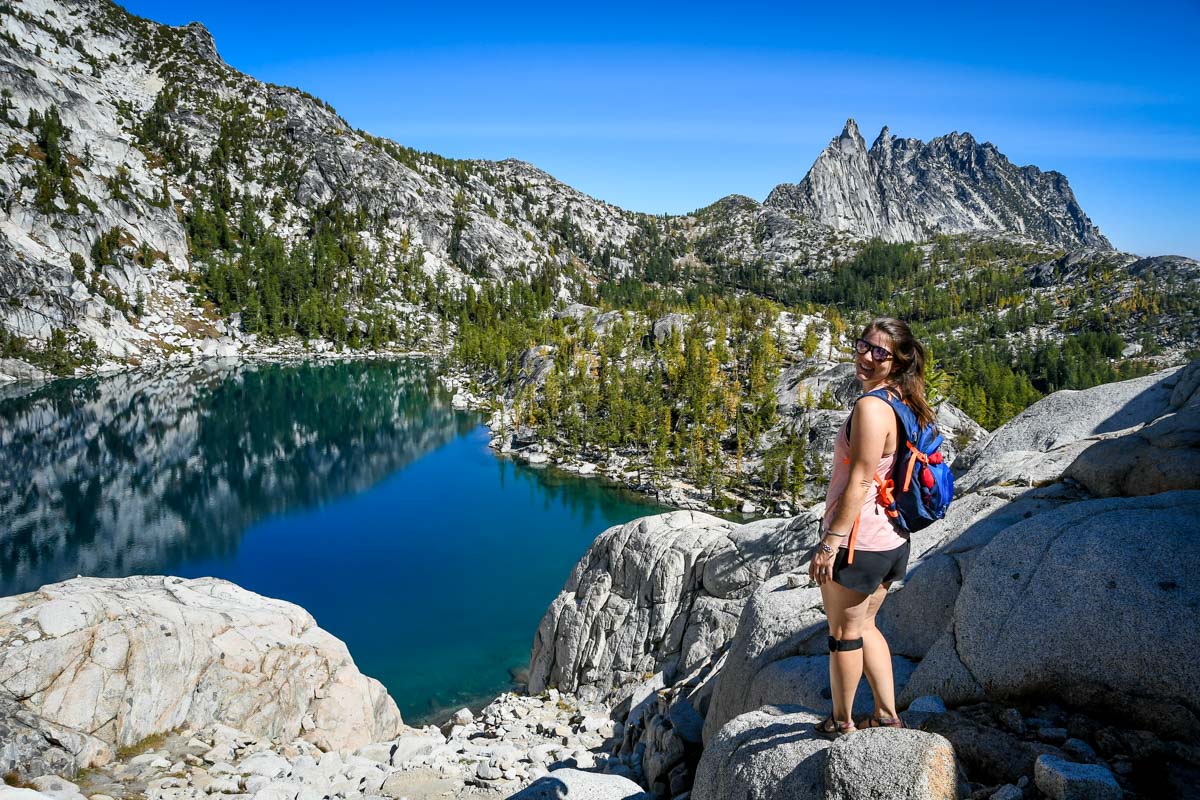 You'll share the first part of the trail into the Enchantments with many fellow hikers since it's one of the best (and closest!) day hikes near Leavenworth. The trail steadily climbs through dense forest, with increasingly picturesque views of the valley below.
Stuart Lake is at the end of this valley, but you're actually going to detour and gain a bit more elevation in order to reach stunning Colchuck Lake. This beautiful glacial gem is the perfect spot for a snack, swim, and at least a few minutes of relaxation — from here, things are going to get much harder.
If you are looking for an epic day hike, check out our Colchuck Lake trail guide for all the info you need!
Aasgard Pass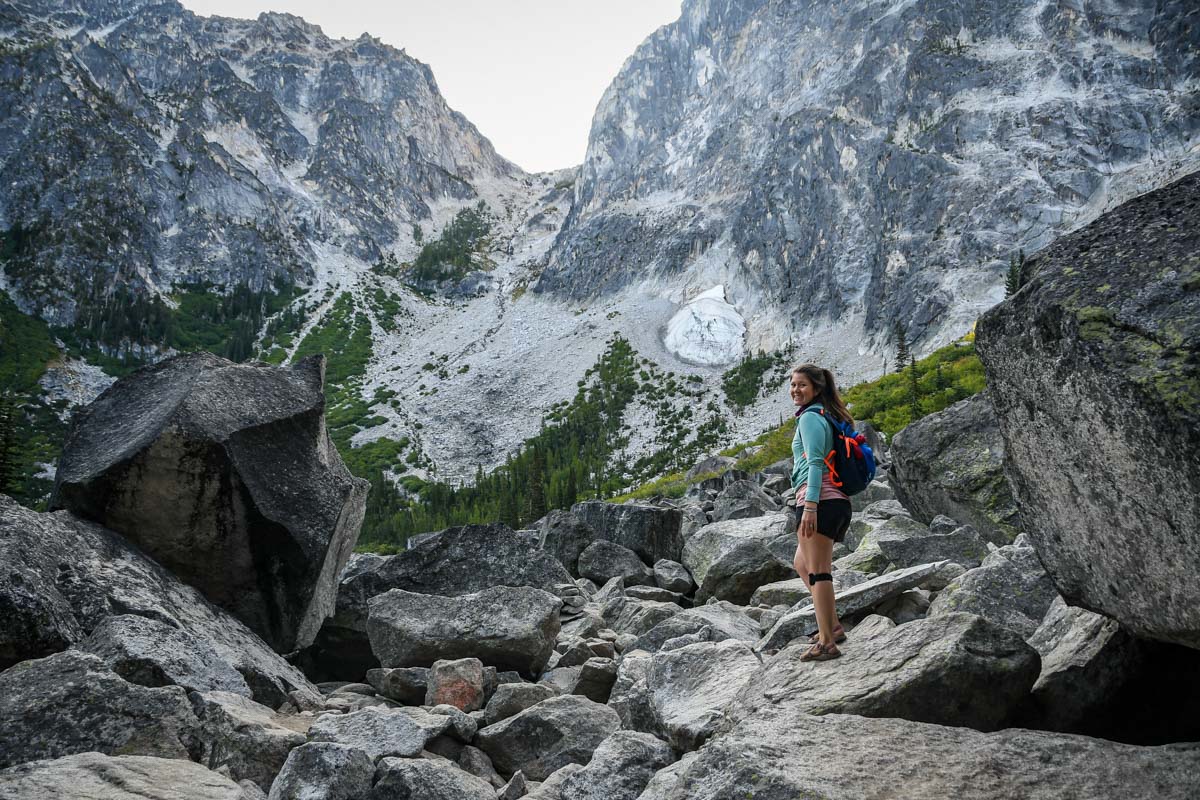 Although it may look too formidable to even attempt, the beautiful craggy peak behind Colchuck Lake is where the Enchantments hike continues. Almost immediately beyond the lake, the trail becomes littered with large boulders and scree, making a bit of route-finding a sudden necessity.
The next mile is by far the toughest of the entire trail. With over 2,000 feet of elevation gain in less than a single mile in distance, the climb challenges both stamina and determination.
We had to use our hands for balance as we slooowly clambered up what seemed like a near-vertical route. The increasingly jaw-dropping views are the only distraction from the heart-pumping exertion.
Once we reached the top of the pass, however, it was all worthwhile! The sights are spectacular, with views of surrounding peaks and Colchuck Lake dwarfed into a gleaming blue jewel far below. This is actually the highest elevation point on the entire trail, so from here, the rest of the hike is mostly downhill.
Snow Lakes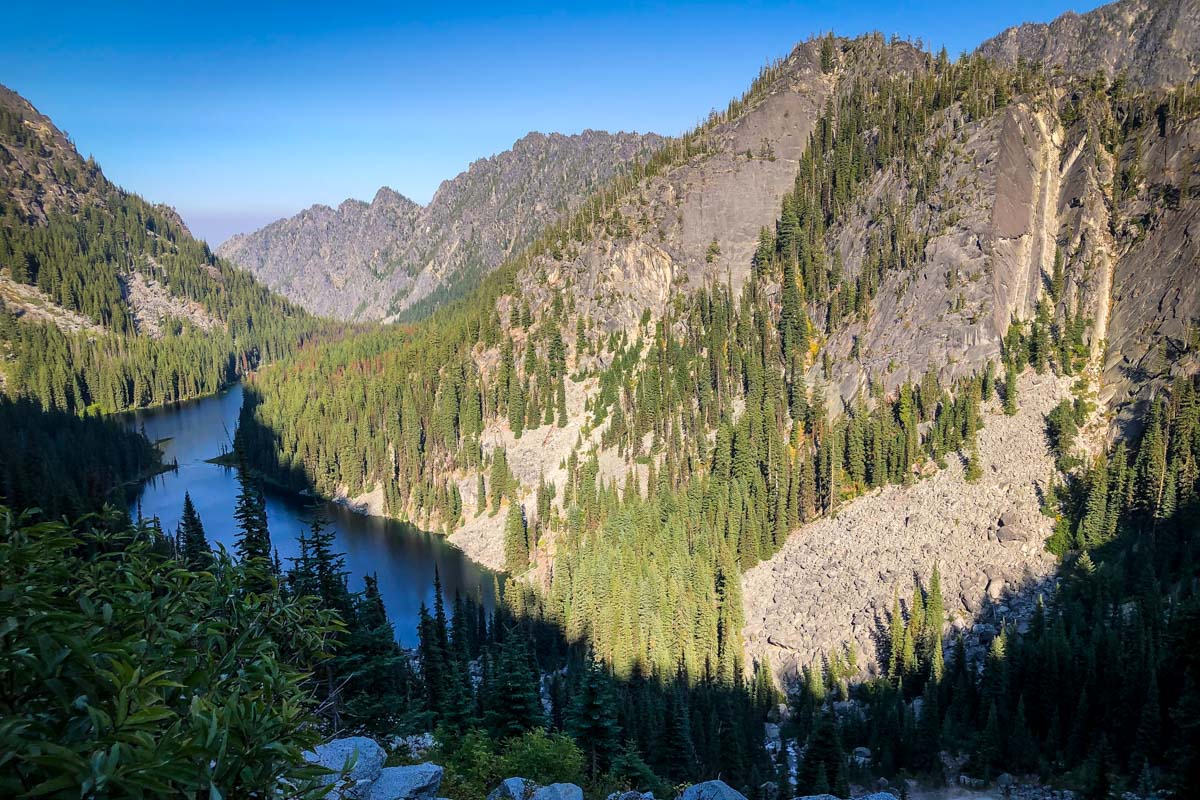 Just beyond Aasgard Pass, the area known as the Core Enchantments Zone offers otherworldly views completely different from the forest below. Nearly devoid of vegetation, the landscape has been molded by ancient glacial activity, with countless sparkling blue lakes dotting the dramatic rock formations.
We couldn't get enough of this section, and highly recommend it as the best for camping!
The trail in this area passes by stunning spots like aptly-named Lake Perfection and Lake Vivianne while continuously dropping in elevation towards Snow Lake. Soon, the forest reappears and it's a foot-battering descent down to the Snow Lake trailhead.
Where to camp while hiking the Enchantments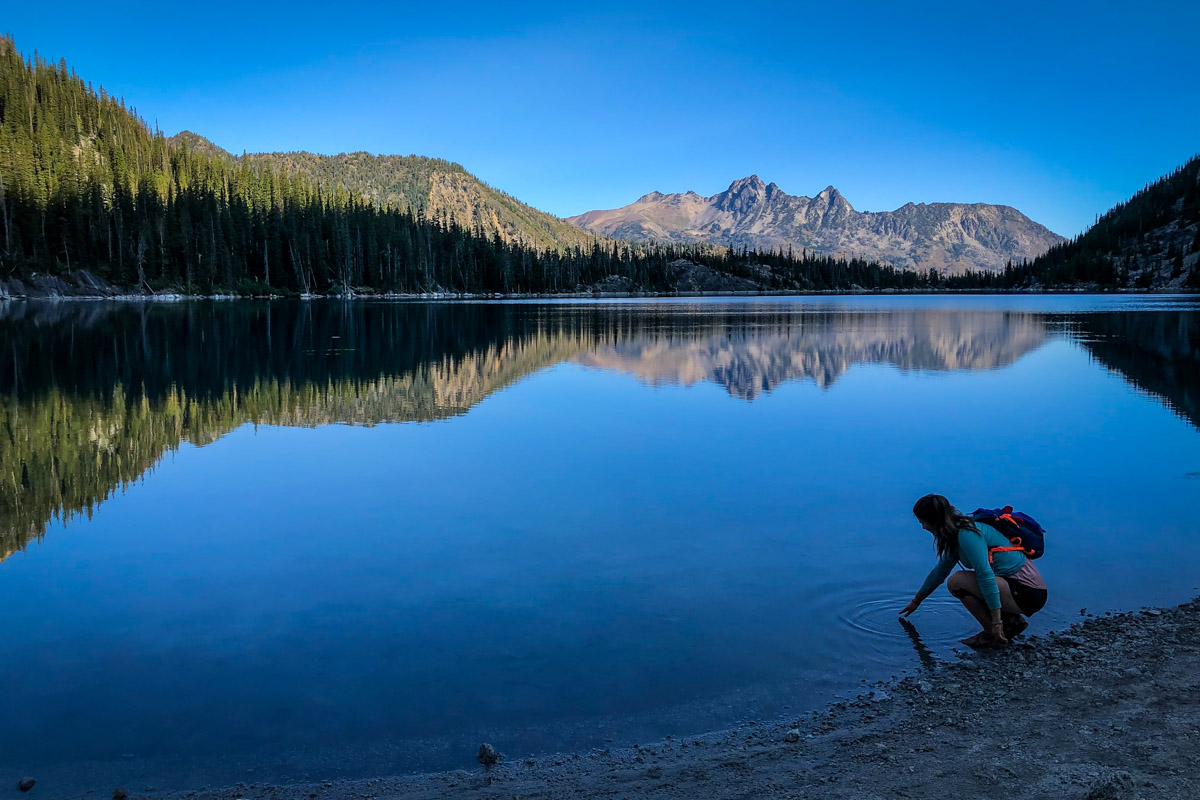 There are numerous epic campsites along the trail; however, where you can camp overnight depends strictly on the permit you receive.
The first campsites are at Lake Colchuck, about four miles into the hike. The setting is absolutely beautiful, but camping here leaves the bulk of the hike, including Aasgard Pass, for the next day. These sites are perfect if you have two nights on the trail or if you get a late start the first day.
Insider tip: Since these campsites are outside the Core Enchantment zone, they're easier to obtain and open to groups, rather than just individuals.
The next set of campsites is along the lakeshores of the five lakes situated in what is known as the Enchantments Core: Isolation Lake, Inspiration Lake, Perfection Lake, Leprechaun Lake and Lake Vivianne.
You can't go wrong with overnighting at any of the five lakes; they're all stunning!
These make for the best overnight spots in the Enchantments overall. They're especially perfect for people spending just one night on the trail, since you'll conquer most of the elevation on the first day and have nothing but downhill miles the second.
If you have two nights, spend some extra time exploring the side trails and lakes in this area.
The final group of campsites is at Snow Lake and Nada Lake, after quite a bit of descent and just a few miles from the Snow Lakes Trailhead. The setting is picture-perfect; however, hiking here in just one day from Stuart Lake is challenging. Camping here is best on two-night backpacking trips.
Alternative routes
If you aren't up to completing the entire thru-hike, there are multiple shorter trails in the Enchantments. Although many are also strenuous, they still make fantastic hikes into this stunning part of the Cascades!
Stuart Lake Trail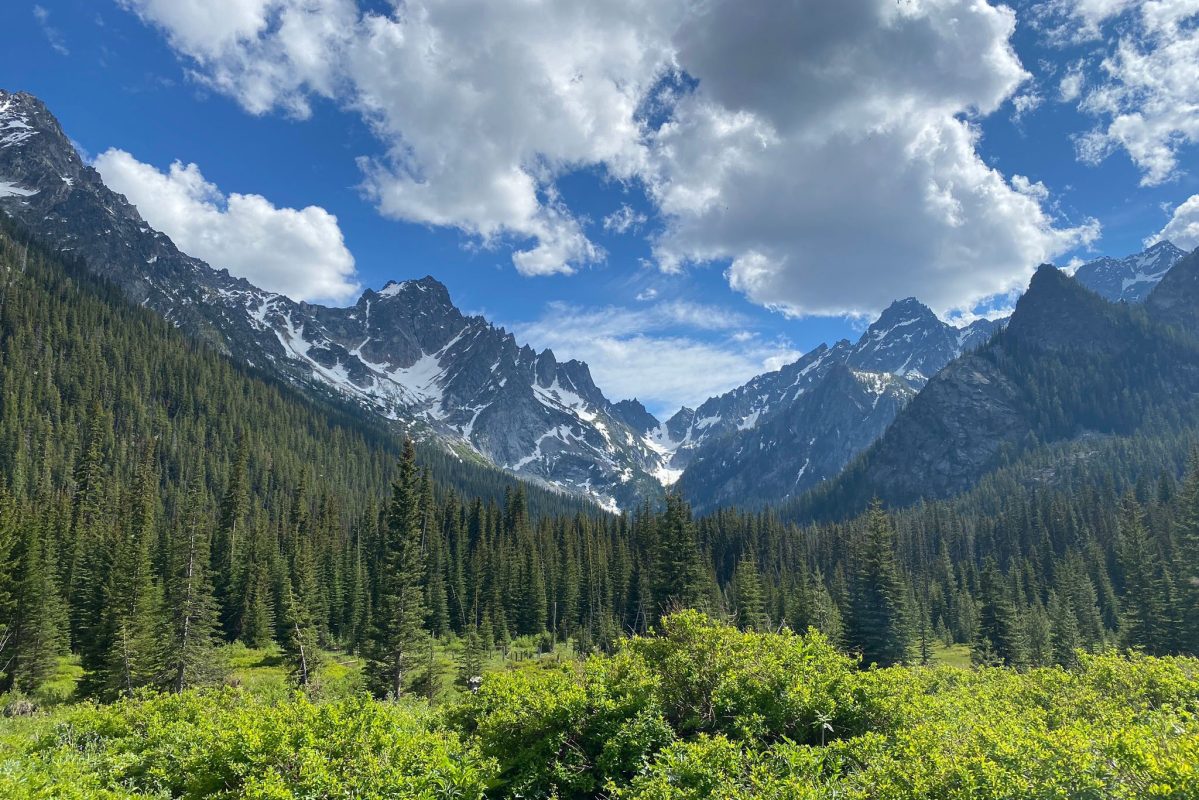 Distance: 8.7 miles
Elevation: 1,830 feet
Difficulty Rating: Moderate
This day-hike only shares a couple of miles of the Enchantments Trail, bypassing most of the crowds for solitude in a stunning valley.
There's some moderate elevation gain through gorgeous old-growth forest and a flat section in a beautiful meadow, before finishing at a stunning lake backed by even more stunning mountains! En route, you'll spot the craggy peaks of the Enchantments without a thigh-burning climb.
Colchuck Lake Trail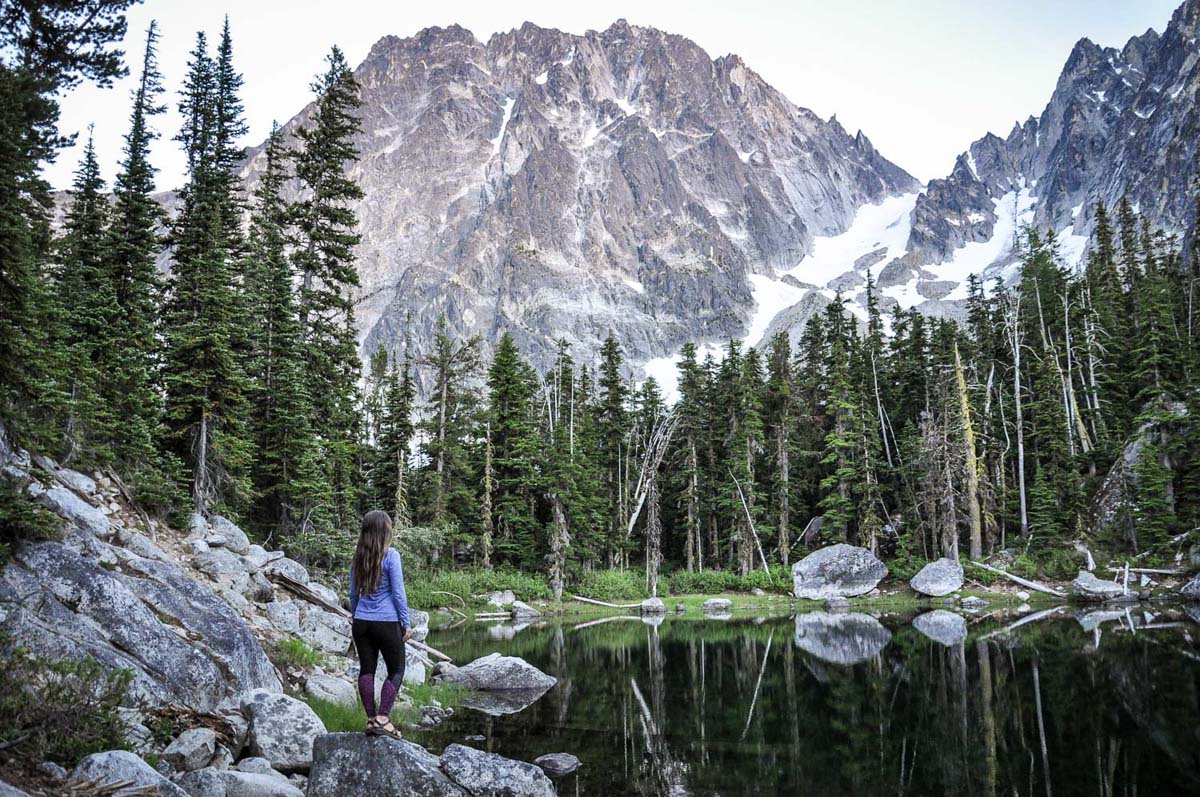 Distance: 9 miles
Elevation: 2,283 feet
Difficulty Rating: Challenging
The most popular day hike in the Enchantments leads to a breathtaking blue glacial lake right underneath Aasgard Pass. Perfect for swimming and relaxing, the lake is accessed via a steady climb, mostly through shady forest.
Although it's only 4.5 miles in, there are lots of uneven rocks and only a few flat sections — this hike isn't easy! However, we've seen young children complete it, so it could make a great family excursion!
Snow Lakes Trail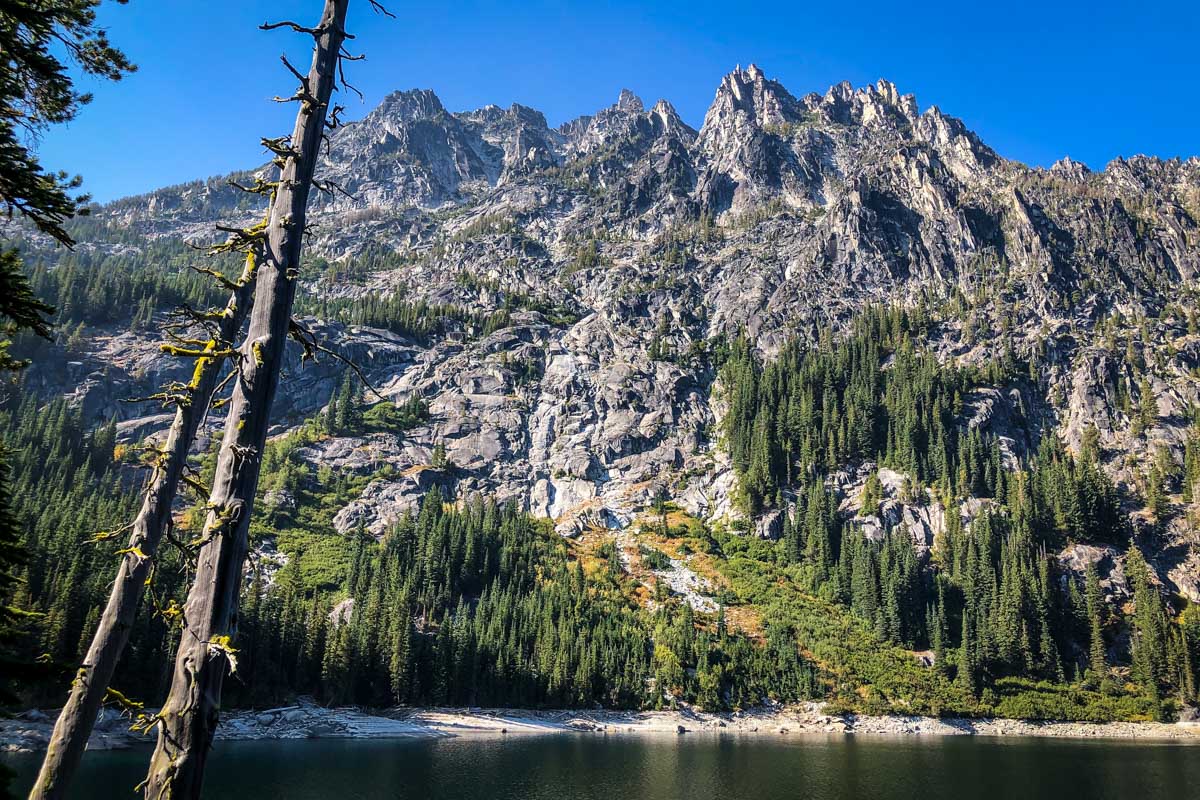 Distance: 15.2 miles
Elevation: 4,560 feet
Difficulty Rating: Challenging
One of the most scenic hikes in the region, this hike passes several waterfalls and glacial lakes before climbing to Snow Lake. The views are dramatic, but they come at a price, as the trail is a near-constant climb through rocks and forest.
Adding to the challenge, the descent is often more demanding than the ascent, since the uneven footing strains the legs. However, it's worth the effort!
What to pack for hiking the Enchantments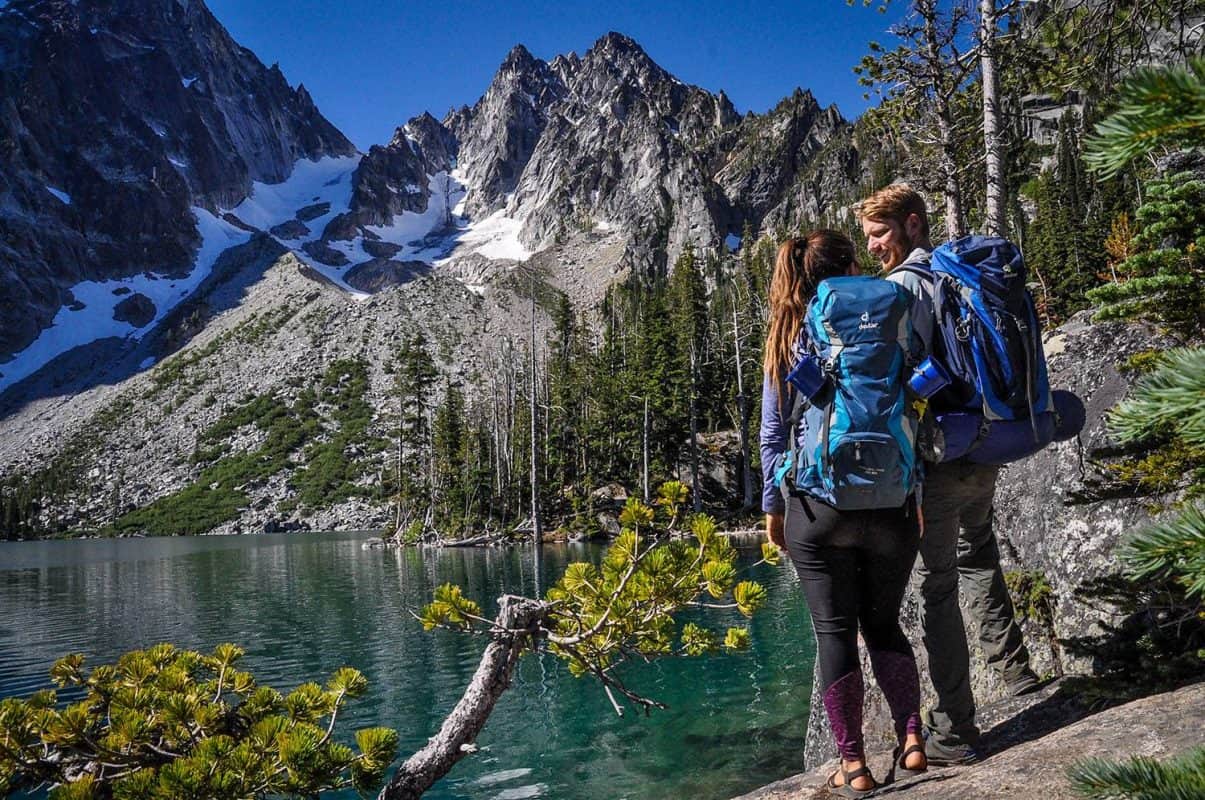 Navigation: we recommend using Alltrails+ to download the offline trail map
Battery pack (if you are relying on your phone)
permit**
Layers (here is a great resource if you're wondering what to wear hiking)
Rain jacket
Hiking shoes (boots, hiking sandals or cross trainers – depending on what works best for you in the environment you choose)
Wool hiking socks
First Aid kit
Bug repellant
Sun protection: sunscreen, hat, sun glasses
Water bottle(s) and/or bladder for your Camelbak
Water purification (we love our Steripen, but find our Grayl filtered water bottles work really well on backpacking trips!)
Lightweight tent (check out the best 2-person tents)
Sleeping bag
Sleeping pad
Dry bag (we always carry one with us for our valuables in case of rain)
Rope (if you plan to hang your food bag, or for hanging sweaty/wet clothes)
Multi-tool
Toilet kit: toilet paper, small shovel, bag for packing out TP, hand sanitizer
Bag for your trash
Lighter
Camp stove/fuel (we love our Jetboil!)
Mess kit
Food (see section below)
Biodegradable soap and small towel
*If you choose to us your phone for navigation, be sure to bring a reliable battery pack to charge your phone
**Don't forget to pack your permit!
Be sure to grab our ultimate hiking packing list includes our must-have gear for any hiking trail!


You may also like…
Save this article on Pinterest for later!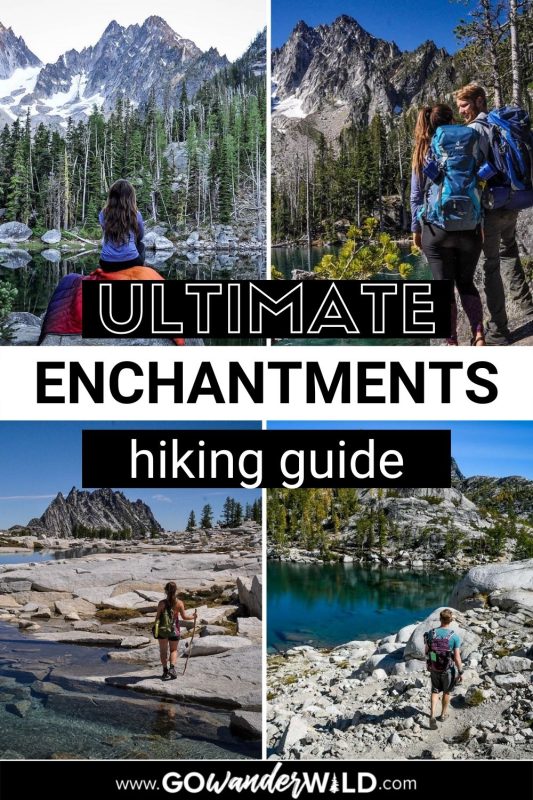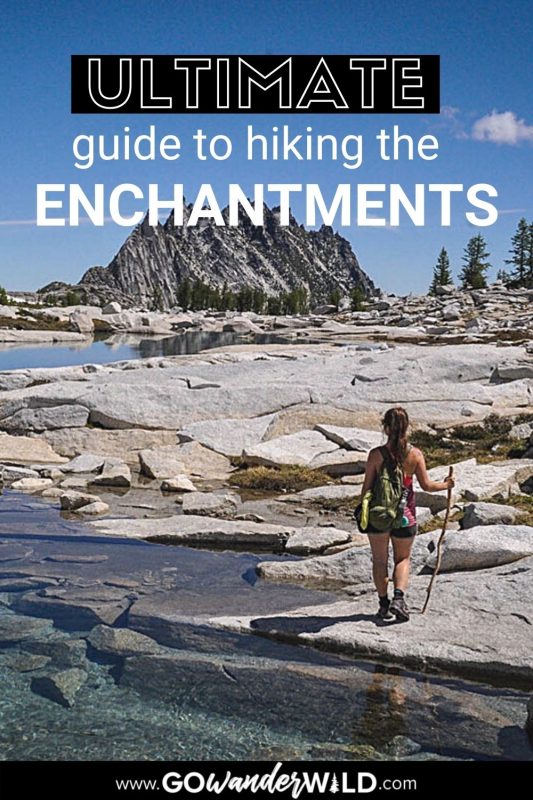 We want to hear from you!
Comment below if you have questions about hiking the Enchantments in Washington state and we'll do our best to get back to you!