Olympic National Park's Mount Storm King hike is fairly short but grueling, and certainly memorable. To help you plan and prepare for the challenging trek, we've put together this detailed Mount Storm King trail guide.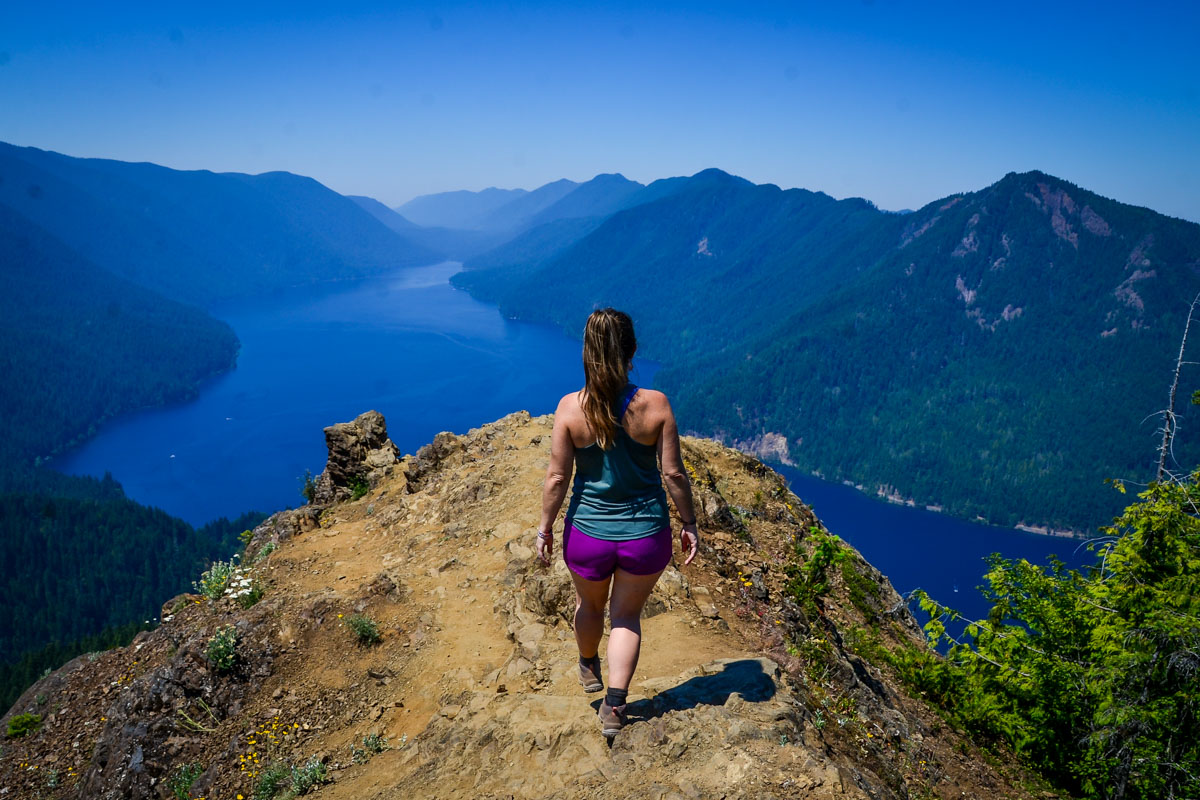 A bucket list-worthy hike in Washington's Olympic National Park, Mount Storm King is incredibly unique. It's short but extremely challenging and involves pulling yourself up using ropes in the final stretch. But the hike offers beautiful views of Crescent Lake and the Strait of Juan de Fuca from the top.
As you research the trail, you'll quickly realize that people have vastly different opinions about the Mount Storm King hike. Some say it's exceptionally difficult. Others insist that it's doable for just about anyone with any amount of hiking experience.
Truthfully, it's a bit of both – very difficult, but also manageable for most hikers.
If you're up for a challenge and want to know what the Mount Storm King hike is really like, stick around! We've put together a detailed trail guide with everything you need to know – good, bad, and ugly!
Article Contents
Psst! Check out these other great Olympic National Park hikes!

America the Beautiful Annual Park Pass

If you're planning to visit more than one of the Washington national parks, we'd highly encourage you to look into getting an annual park pass. At $30 per vehicle for the entrance fee, visiting ONP along with most other national parks in the U.S. can get expensive.
For just $80 per year, you can purchase the America the Beautiful park pass. This pass grants you free access to all of the national parks. Plus it also covers your entrance to over 2,000 natural, historical, and recreational sites across the United States.
If you still need convincing, check out our article: America the Beautiful Annual Park Pass: Is it Worthwhile?
Psst! Check out some of our other favorite national parks on the west coast that make great hiking destinations.

Mount Storm King hike at a glance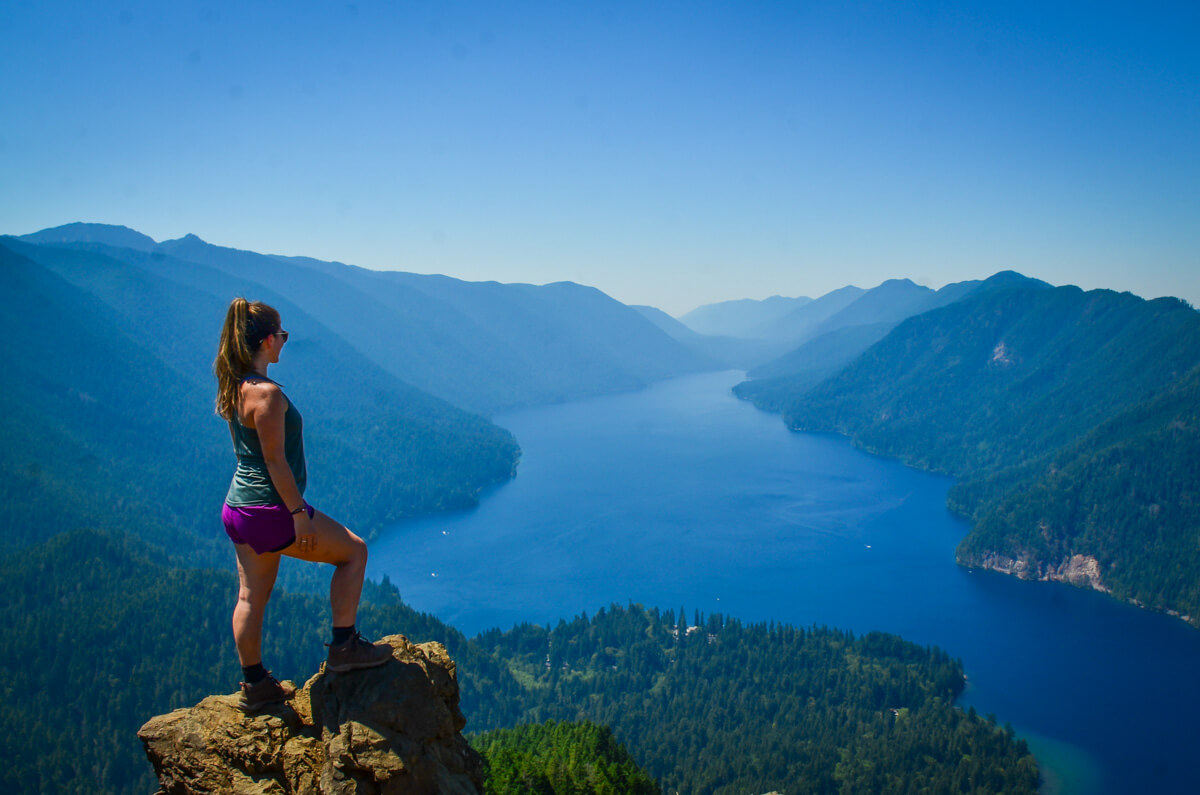 With the trailhead right near the highway next to Crescent Lake, the Mount Storm King hike starts off flat and easy. This section is short-lived, though, and virtually the entire trail is steep and slippery from there, giving even the most fit hikers a serious challenge.
This can't be emphasized enough: don't underestimate this trail because of its short distance!
The vast majority of the trail is through a dense forest, so you won't see much of anything at all until you near the end. The exception to this is the unique smooth-bark Madrona trees.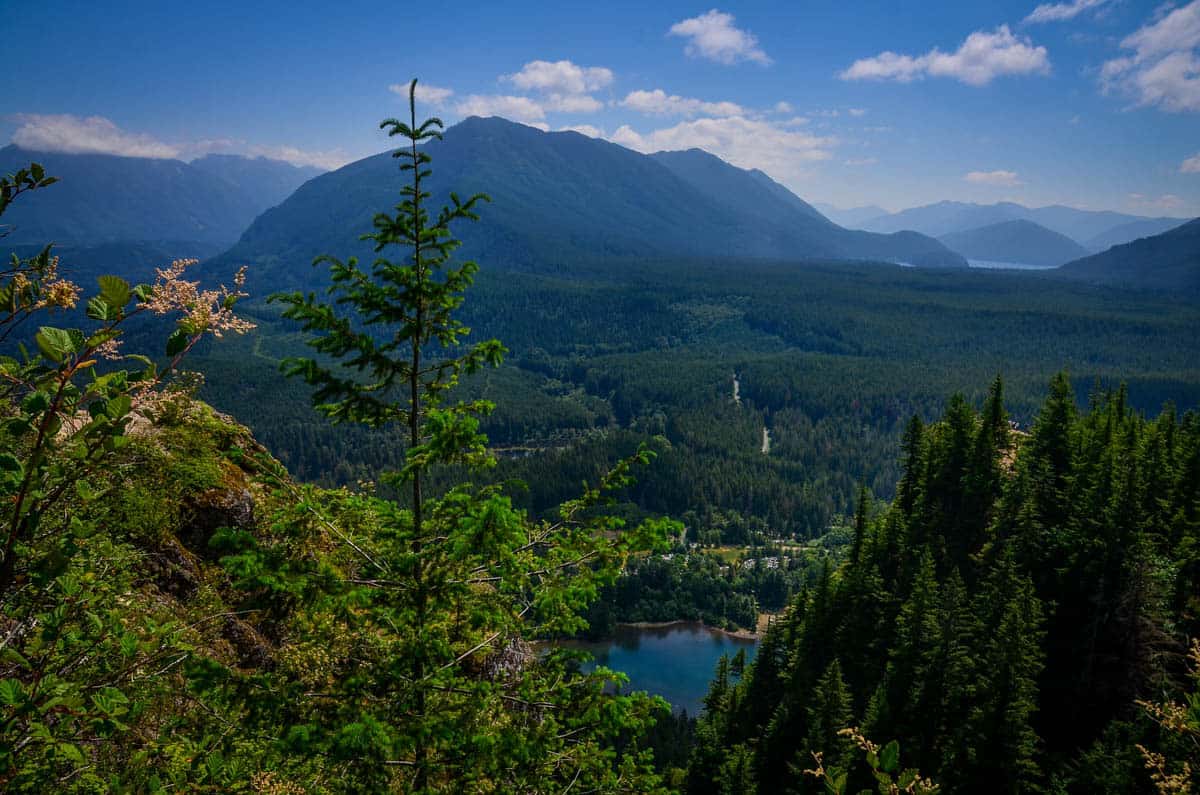 When the view does open up to show off Crescent Lake, you'll be reminded of exactly why Olympic National Park is so popular. The combination of deep blue water, rugged cliffs and rocky outcroppings, mountains far off in the distance, and lush green everything is truly breathtaking.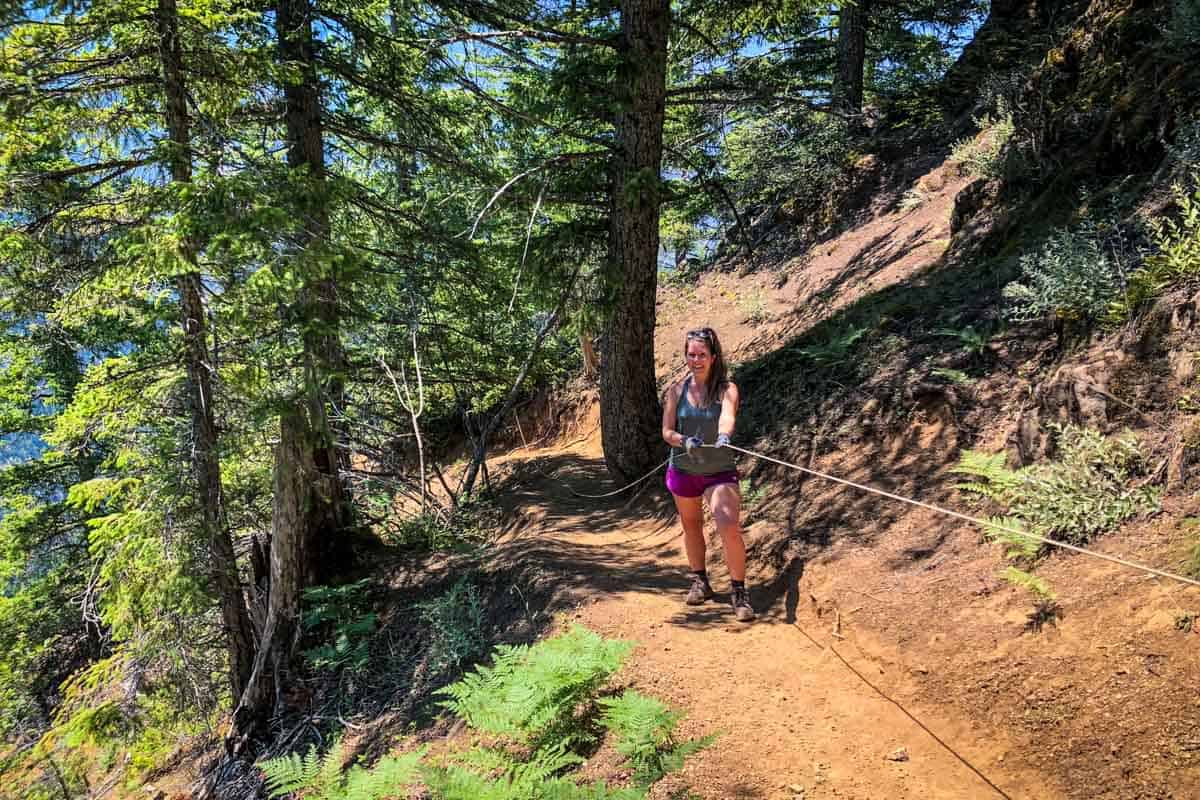 To get the best, most panoramic view, you'll of course want to climb the ropes to Mount Storm King's true summit. However, there are also a few other excellent viewpoints that are much easier to access, offering a great alternative for anyone who isn't comfortable braving the ropes section in the final ascent.
Another highlight is the short, fairly easy detour to Marymere Falls, either on your way in or out. You'll pass right by the sign for the falls and it's a flat trail, adding less than two miles total to your Mount Storm King hike (20-30 minutes each way), so you can decide if you're up for it in the moment.
Psst! Check out our entire Olympic National Park guide on our sister site for more information on visiting the national park and what you can expect.
Things to know before you go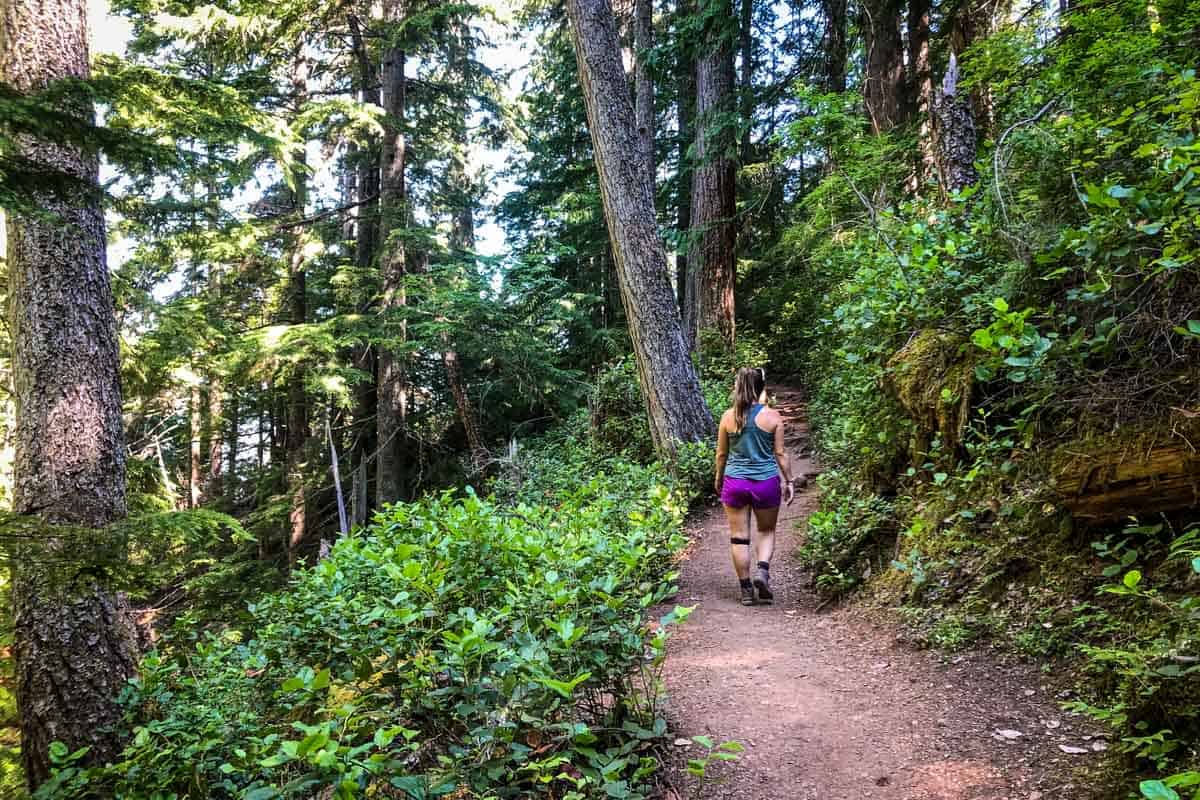 With its unique challenges, there are some things to know and consider before setting out on the Mount Storm King hike.
Best time of year for the Mount Storm King hike
The summer and fall months, May through October, are best for hiking Mount Storm King. Perhaps even more important than the time of year, though, is the weather.
On cloudy days, you may not be able to see anything at all from the summit, as clouds and fog tend to settle on Crescent Lake. So watch the weather carefully and try to time your hike for a clear day.
How long does it take to hike Mount Storm King?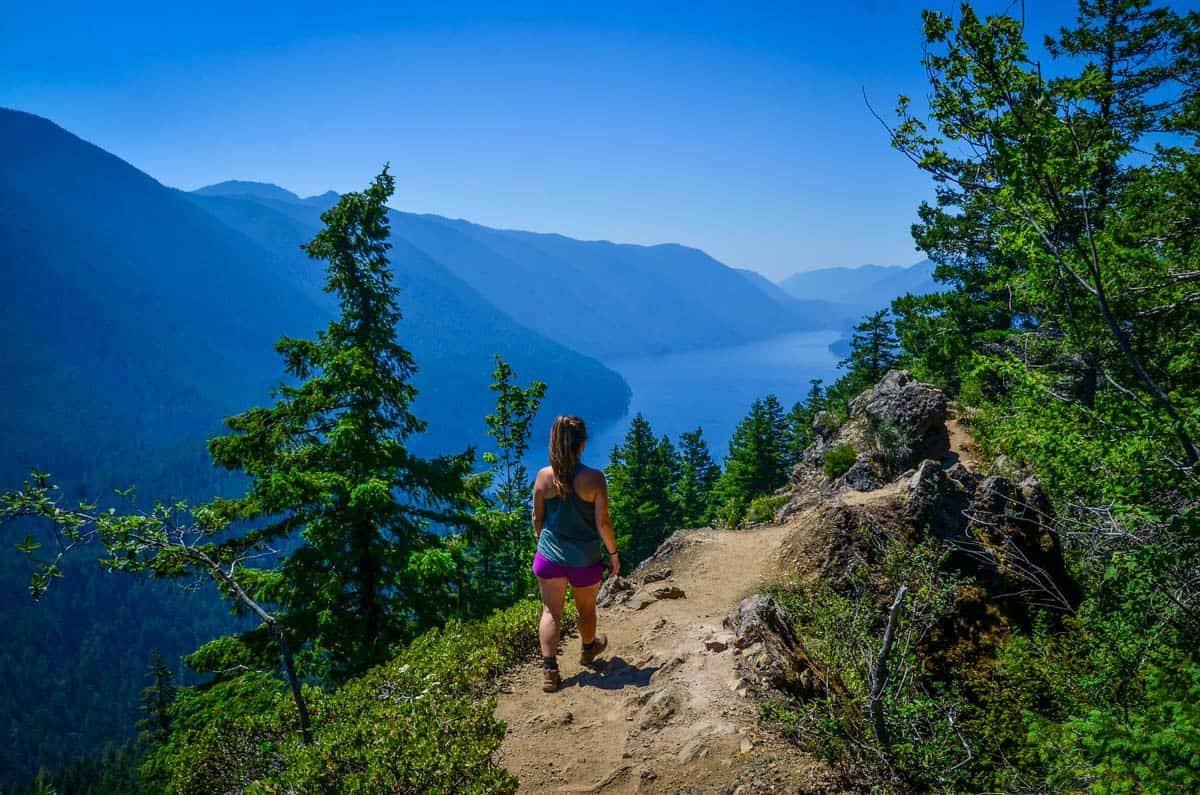 It takes most people about 2.5 to 3.5 hours to complete the Mount Storm King hike. If you know that you'll take your time stopping for photo ops and lots of snacks, allow a bit longer.
How difficult is the Mount Storm King hike?
There's no sugarcoating it; Mount Storm King is a difficult hike. Aside from having the technical ropes section at the end, it's extremely steep. In fact, the average incline is 18%!
Having said that, it should be doable for people who hike somewhat regularly. Pace yourself and go as slow as you need, especially navigating the ropes!
The route
The Mount Storm King hike starts on the south side of Lake Crescent, from the Storm King ranger station. The trail goes through a tunnel under Highway 101 almost immediately, and you'll follow the signs for Marymere Falls (you can take a quick detour to these falls—more on that below!).
It's deceptively easy for about 10 minutes at the beginning here, mostly flat and very easygoing, but don't be fooled.
At the half-mile mark, you'll take a sharp turn for Mount Storm King. It's marked by a sign leaning against an enormous boulder, so you can't miss it. This is where the hike gets serious, as you're about to begin the unrelenting steep ascent.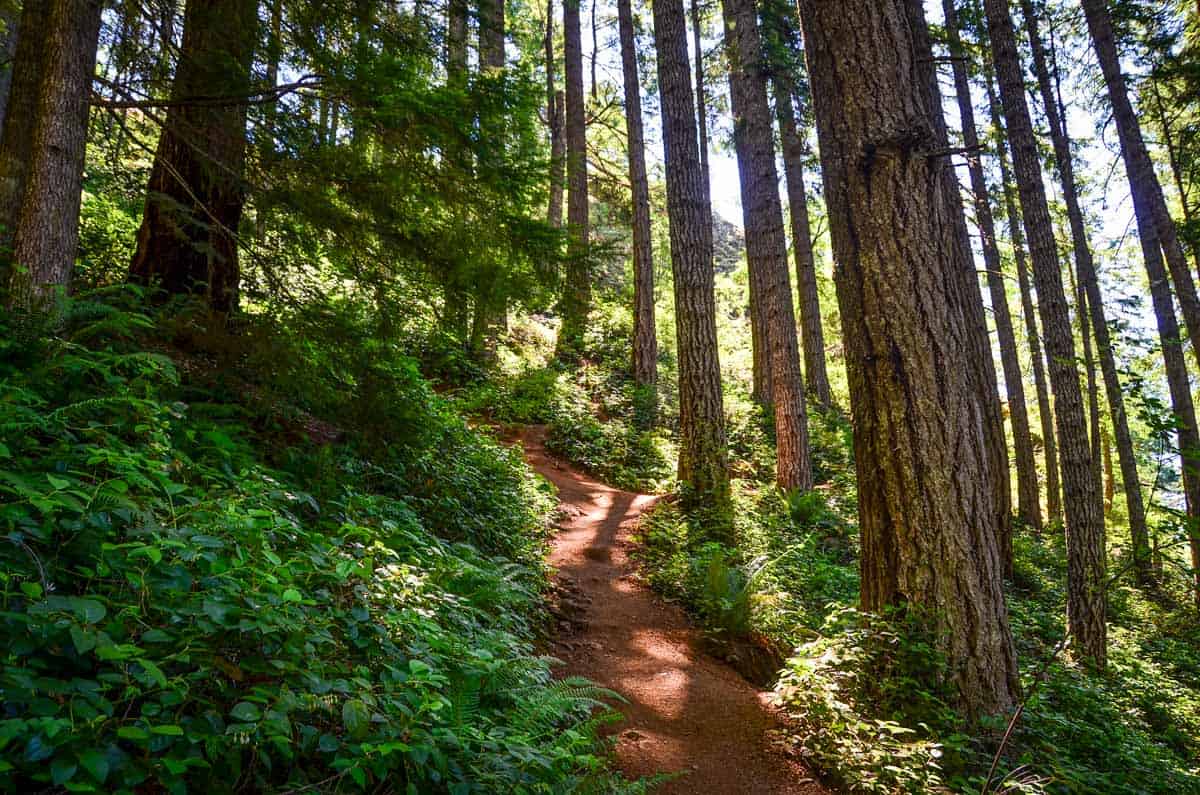 The first section of the Mount Storm King trail is full of steep switchbacks through dense forest, but you do get a bit of a break when it levels out some a half-mile in. This is truly the only flat-ish part of the entire hike, so take advantage of it and catch your breath!
Also note that the first steep area is covered in loose scree, which is especially treacherous when you come back down. Trekking poles are your friend on this trail!
After another .75 miles, you'll start to get glimpses of Lake Crescent's striking blue water and the Strait of Juan de Fuca through breaks in the forest.
Fun fact: the US-Canada border runs right down the middle of the strait here!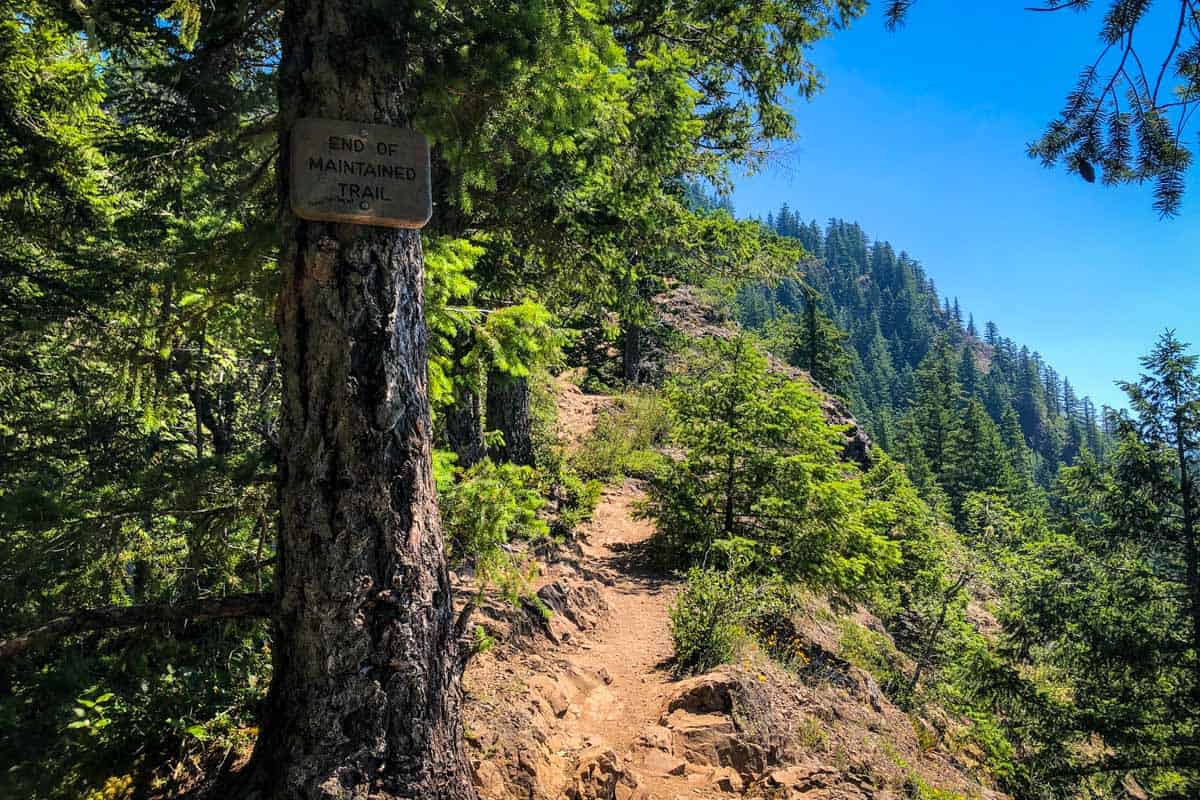 Shortly after your first peek-a-boo views, right at the 1.3-mile mark, the maintained portion of the trail officially ends (it's marked by a sign, so you don't have to guess). The trail does technically continue, but it becomes a narrow, rocky ridge that involves more climbing than hiking and the terrain gets significantly more rugged and hard to follow.
When you see the infamous ropes section (this stretch is not-so-affectionately known as the "slope with the ropes!"), you're close to the official summit of Mount Storm King. But don't get too excited just yet! Many people say this is the point where the trail really gets difficult, and it's not like it's a cake walk in the first place.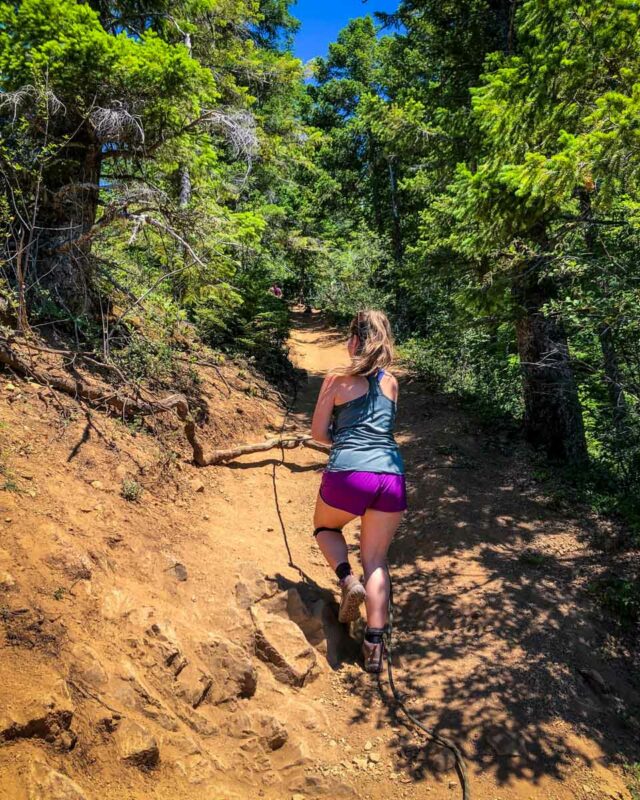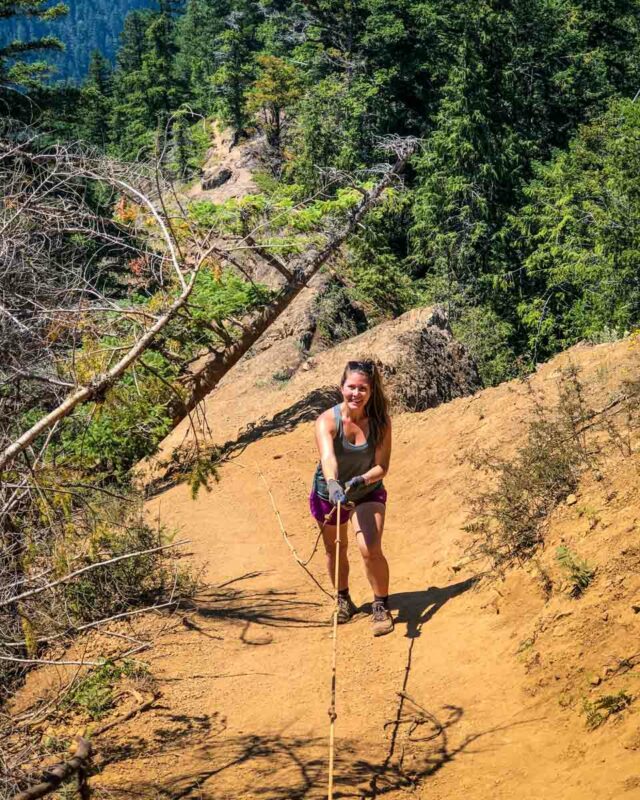 It's important to know that because the ropes are outside of the officially-maintained trail, using them is 100% at your own risk. The general consensus is that an individual or group must have installed them originally and still maintains them, but there's no way to know for sure.
Rather than bolted down into the rock like the ropes on Angels Landing in Zion, these ones are attached to trees in some places. You'll have to decide if you're comfortable with the ropes' security (or really, lack thereof).
Note that there are six separate sections of rope, and each one seems to get significantly steeper and more exposed than the previous one.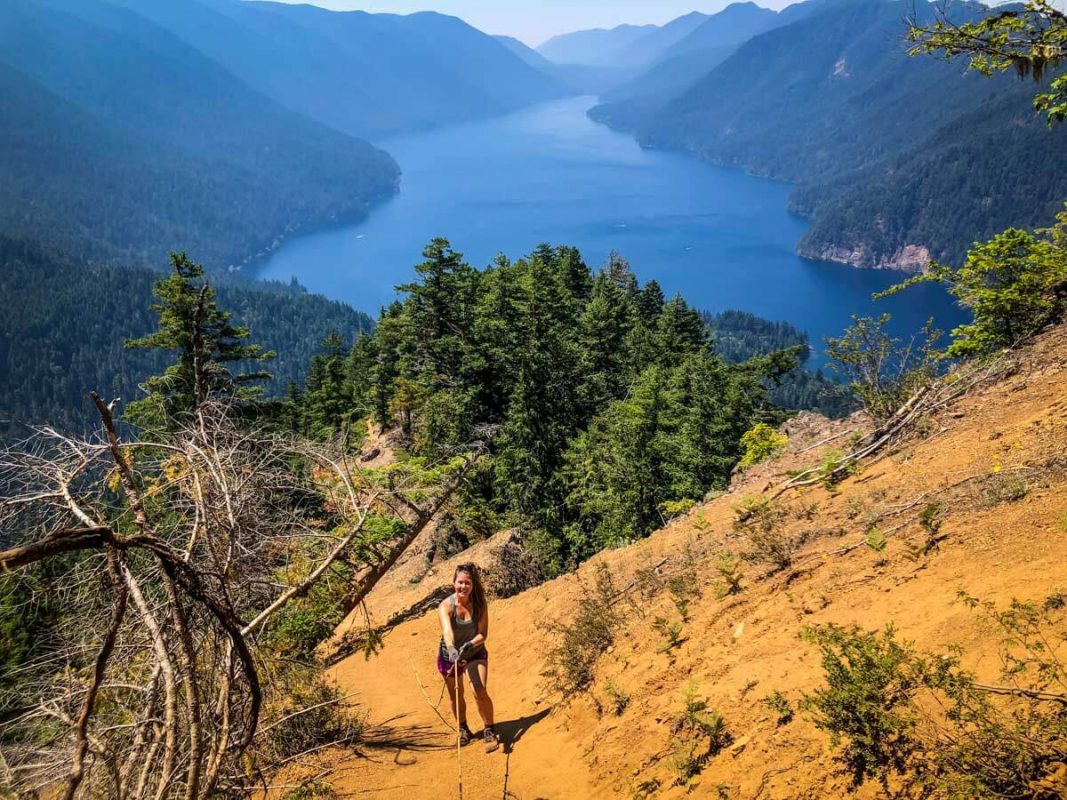 Whether you use the ropes or not, keep in mind that this final stretch to the summit is extremely exposed, involves some rock scrambling, and—most importantly—you'll have to use them to come back down, as well.
This section is slippery in any condition, whether it's wet or dry, making the descent especially tricky. Be honest with yourself about your abilities and comfort level, because if you struggle with the ropes going up, you'll have an even harder time coming down.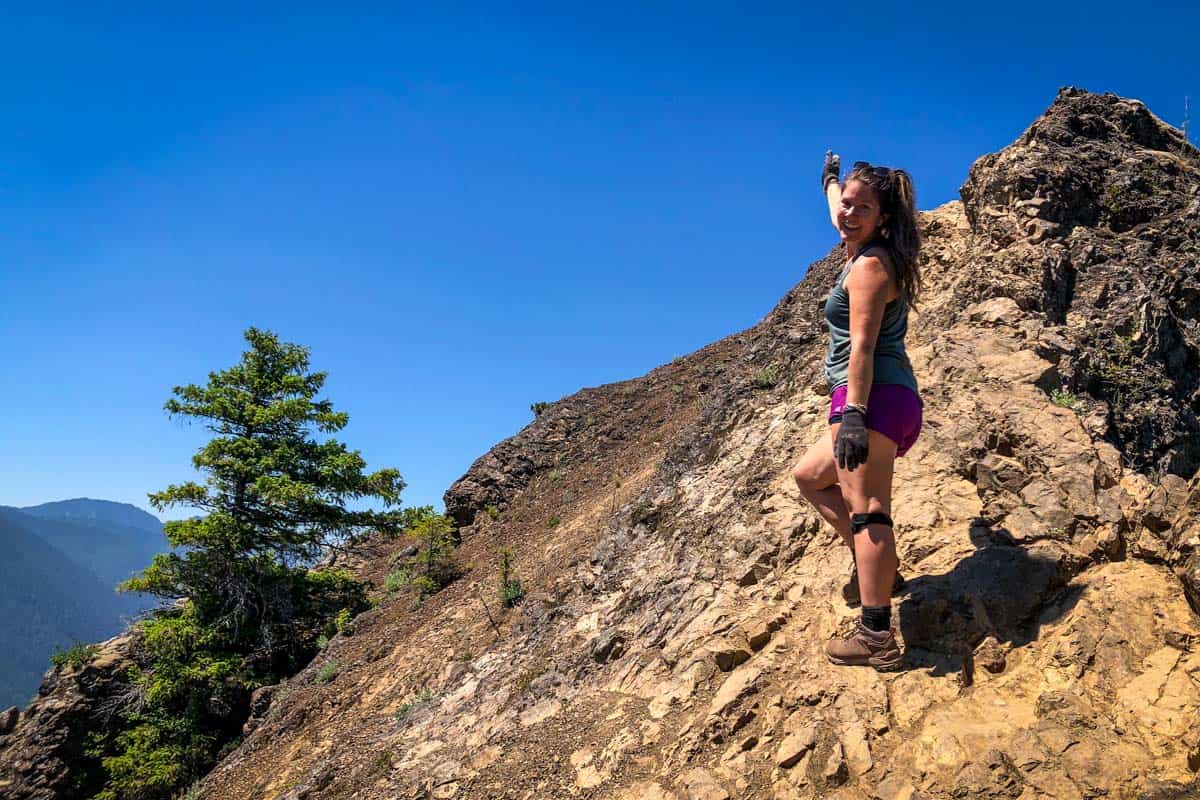 Once you successfully make it through the ropes section, it's just a short scramble up a rocky outcropping to the official summit. This scramble is short and sweet, but it is very exposed, so people with a fear of heights may find it a bit challenging.
Take in the views, then head back down carefully and slowly. Remember, the entire trail going out is a steep downhill trek!
If you have time and you didn't stop at Marymere Falls on the way in, it's worth the quick detour. Follow the signs at the trail fork, and it's just 20-30 minutes (about a mile each way) on a flat, wide path. Especially after doing Mount Storm King, it'll feel like a well-earned reward!
Tips for hiking Mount Storm King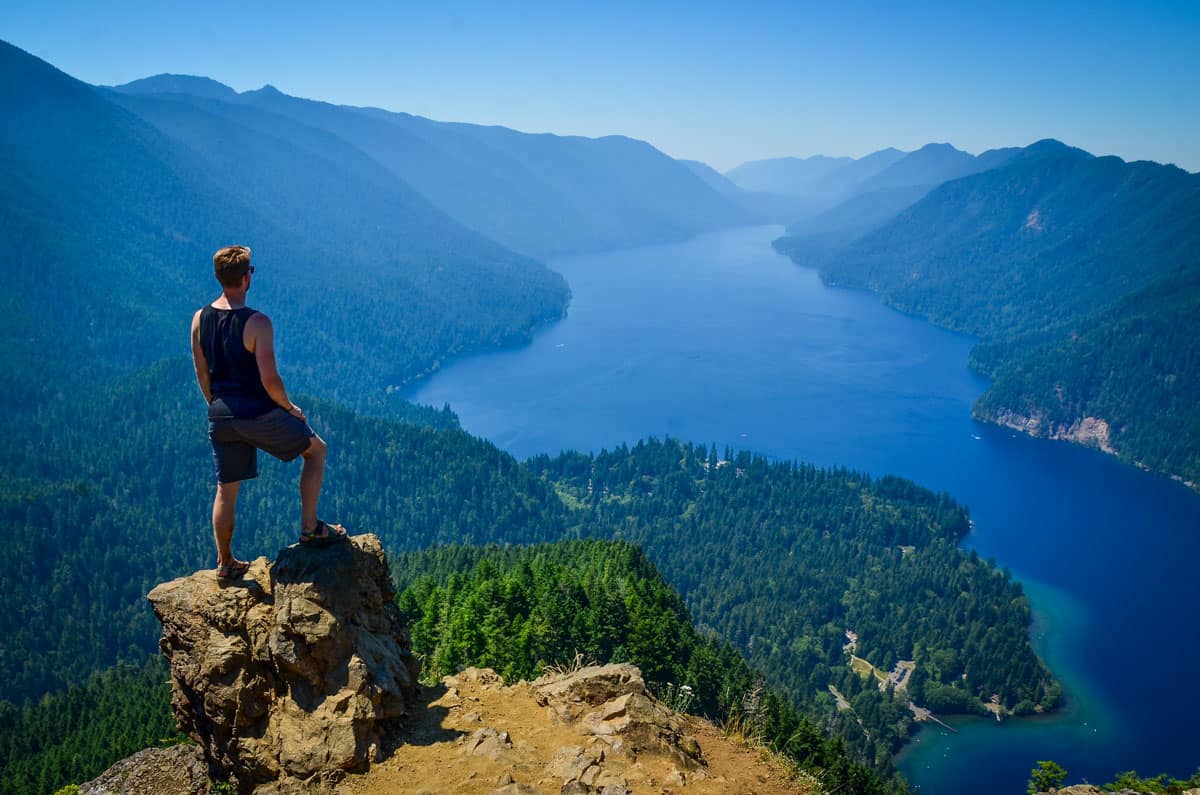 What to pack for hiking Mount Storm King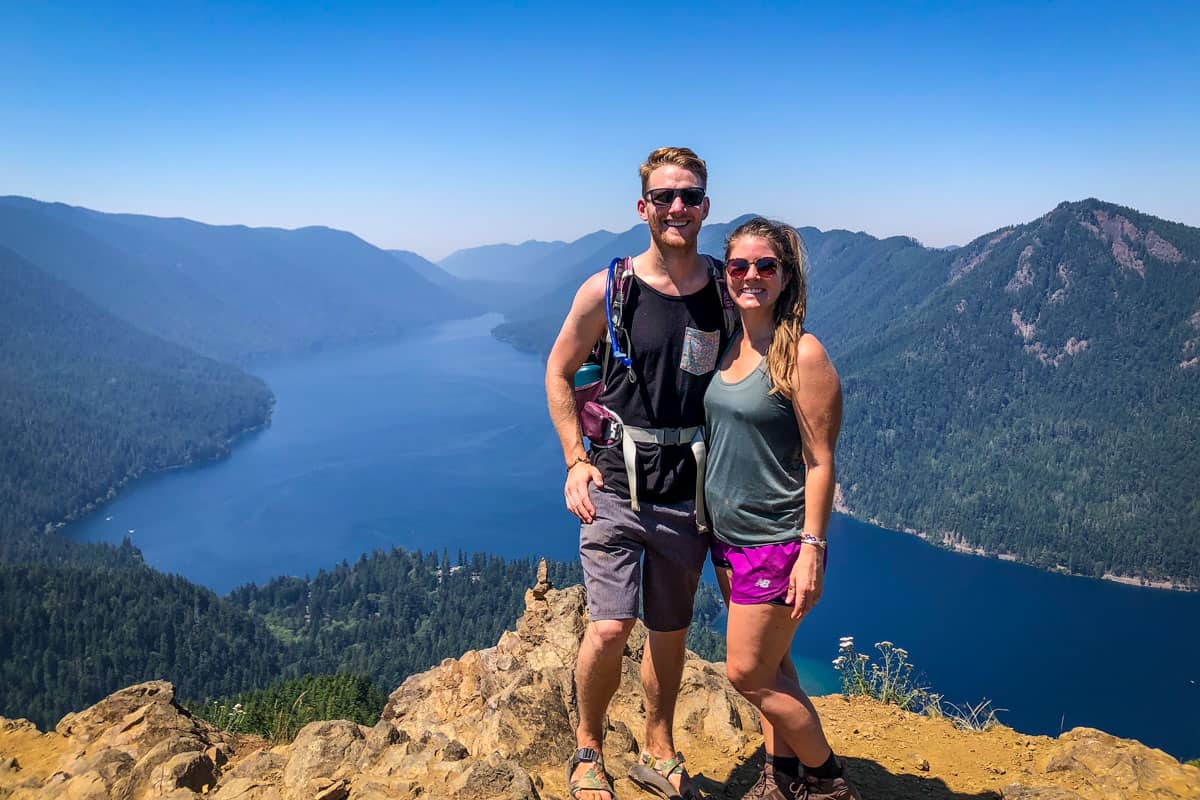 Be sure to grab our ultimate hiking packing list includes our must-have gear for any hiking trail!


You may also like…
Save this article on Pinterest for later!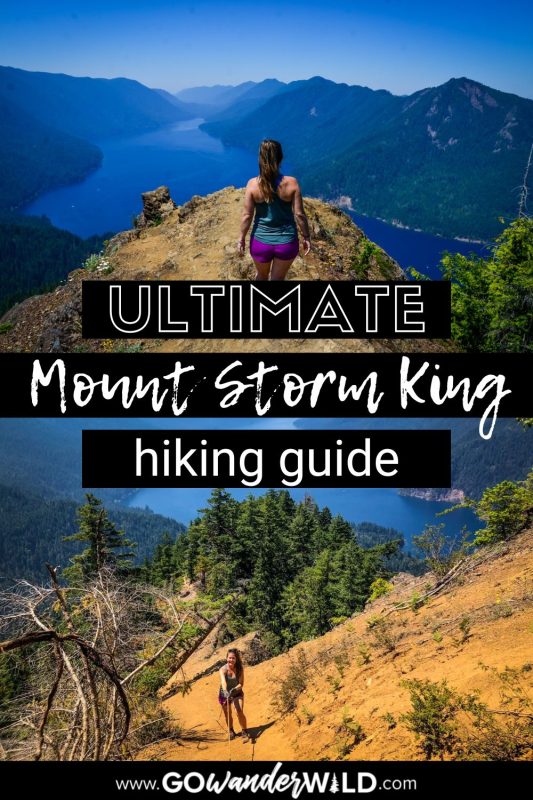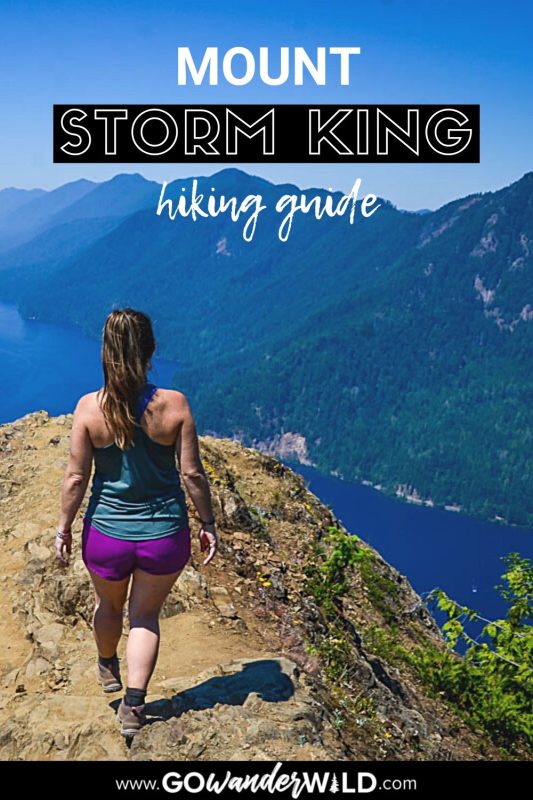 We want to hear from you!
Comment below if you have questions about doing the Mount Storm King hike at Olympic National Park in Washington state and we'll do our best to get back to you!