Yellowstone National Park is world renowned for its geysers and abundant wildlife. Enormous in size, there's a ton to take in at America's first national park. To help you plan your visit, we've rounded up the best hikes in Yellowstone!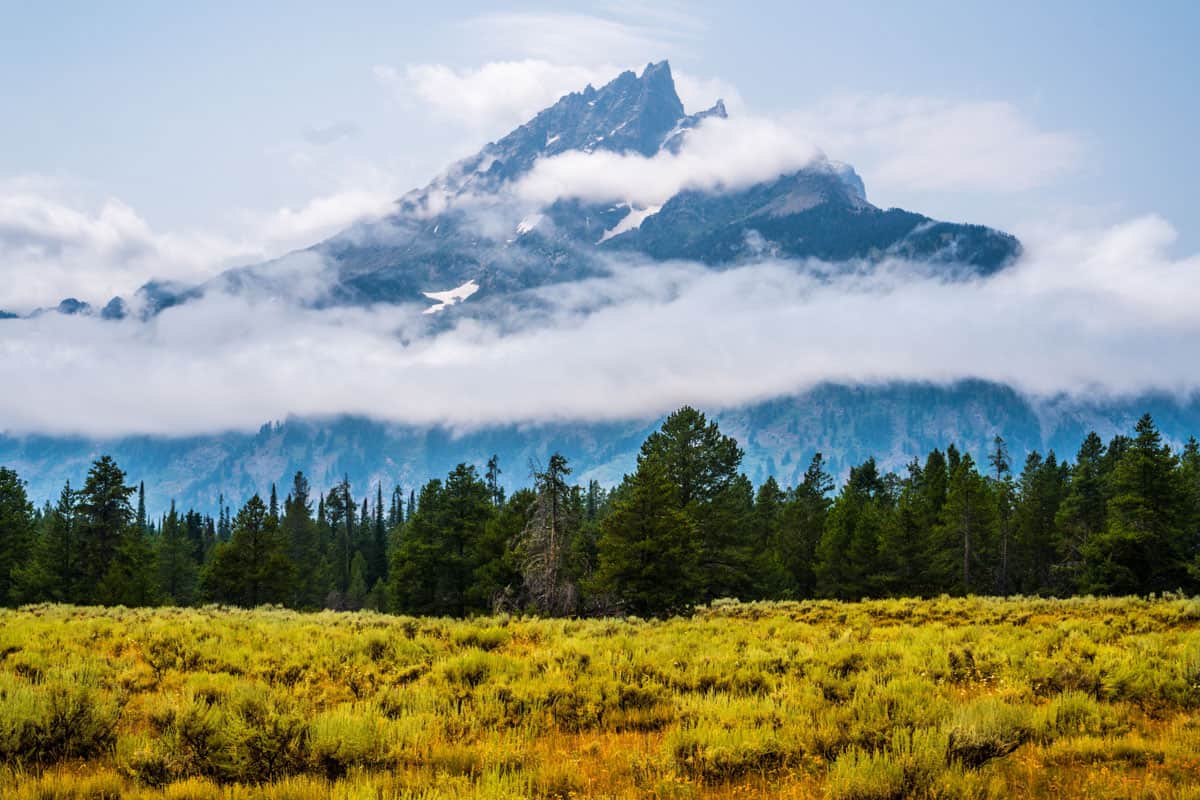 As the nation's very first national park, Yellowstone has long attracted visitors from near and far. One of the most geothermally active areas in the entire world, the park's unique ecosystem of geysers, hot springs, and volcanic formations are certainly mesmerizing.
Beyond just its scenery, there are so many fun things to do in Yellowstone, you can easily spend weeks exploring this beauty. And one of the best ways to explore and get off the beaten path is by hiking!
From stunning summits and meandering riverside trails to tranquil lakes and boardwalks that get you up-close and personal to the park's geysers and springs, some of the best hikes in Yellowstone lie well away from its star attractions. For a park of such worldwide fame, it's relatively easy to leave the crowds behind and unplug among stunning surroundings.
We've put together a list of the best Yellowstone hikes, from quick and easy loops to longer day hikes and the best backcountry routes, so you can plan out your hiking ahead of time and spend more time hitting the trails.
Best time to visit Yellowstone National Park
Located above 7,000 feet, Yellowstone is a high-elevation park blanketed in snow for much of the year. Even in the summer, temperatures can get chilly, with nighttime lows in the 40s in July and August. Snow lingers in most of the park through early June and on mountains through late July.
Such a cold climate influences park activity and accessibility, so we'd recommend a visit in summertime, unless you want to stick to seeing only the park's geothermal attractions and the canyon.
To embark on the best Yellowstone hikes specifically, we recommend visiting from late May to late September.
Although it's high season, park roads are all open during this time, trails should be mostly free of snow, and you won't need to worry much about weather conditions. Plus, if you plan to camp, temperatures won't drop too low in the evenings. Yellowstone's ecosystem is a relatively dry environment, so there's typically little need to worry about heavy rain.
Psst! Did you know Yellowstone is one of the best national parks to visit in winter?
America the Beautiful Annual Park Pass

If you're planning to visit more than one of the U.S. National Parks, we'd highly encourage you to look into getting an annual park pass. At $35 per vehicle, entering Yellowstone along with other national parks in the U.S. can be expensive.
For just $80 per year, you can purchase the America the Beautiful park pass. This pass grants you free access to all of the national parks. Plus it also covers your entrance to over 2,000 natural, historical, and recreational sites across the United States.
If you still need convincing, check out our article: America the Beautiful Annual Park Pass: Is it Worthwhile?
Psst! Check out some of our other favorite national parks on the west coast & Western U.S. that make great hiking destinations.

Best hikes in Yellowstone National Park
While there are tons of hiking opportunities in the park, we've narrowed down our top picks for the best hikes in Yellowstone National Park to add to your itinerary.
1. Lone Star Geyser Trail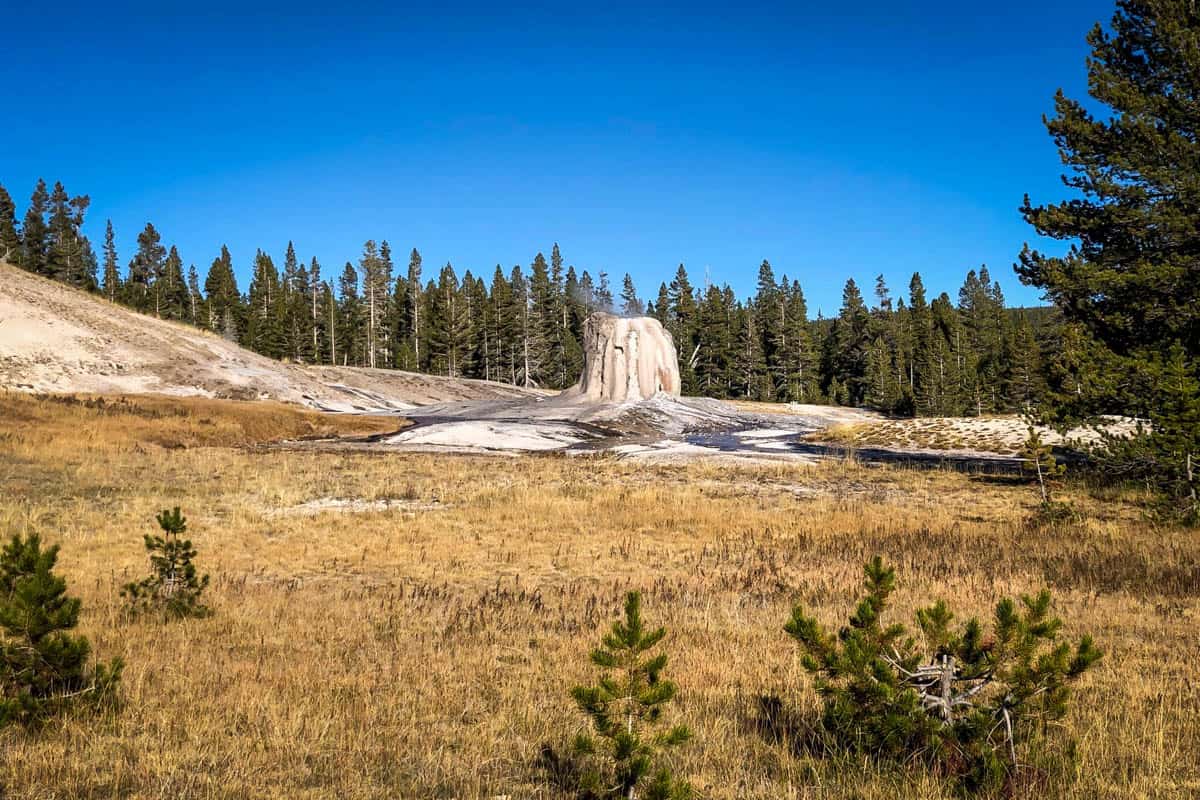 Eager to see a large geyser without the crowds? This easy-going hike leads to one of the most captivating geysers in the park.
Lone Star emits a nearly 50-foot stream into the sky from a large, uniquely shaped cone. The trail leading to the geyser is a mostly paved forest road following a babbling creek, making it one of the most accessible Yellowstone hikes for all hikers!
Psst! Want to combine your trip to Yellowstone with another of America's greatest national parks, check out our 4 day Grand Teton to Yellowstone itinerary to help you plan an epic road trip!
2. Mount Washburn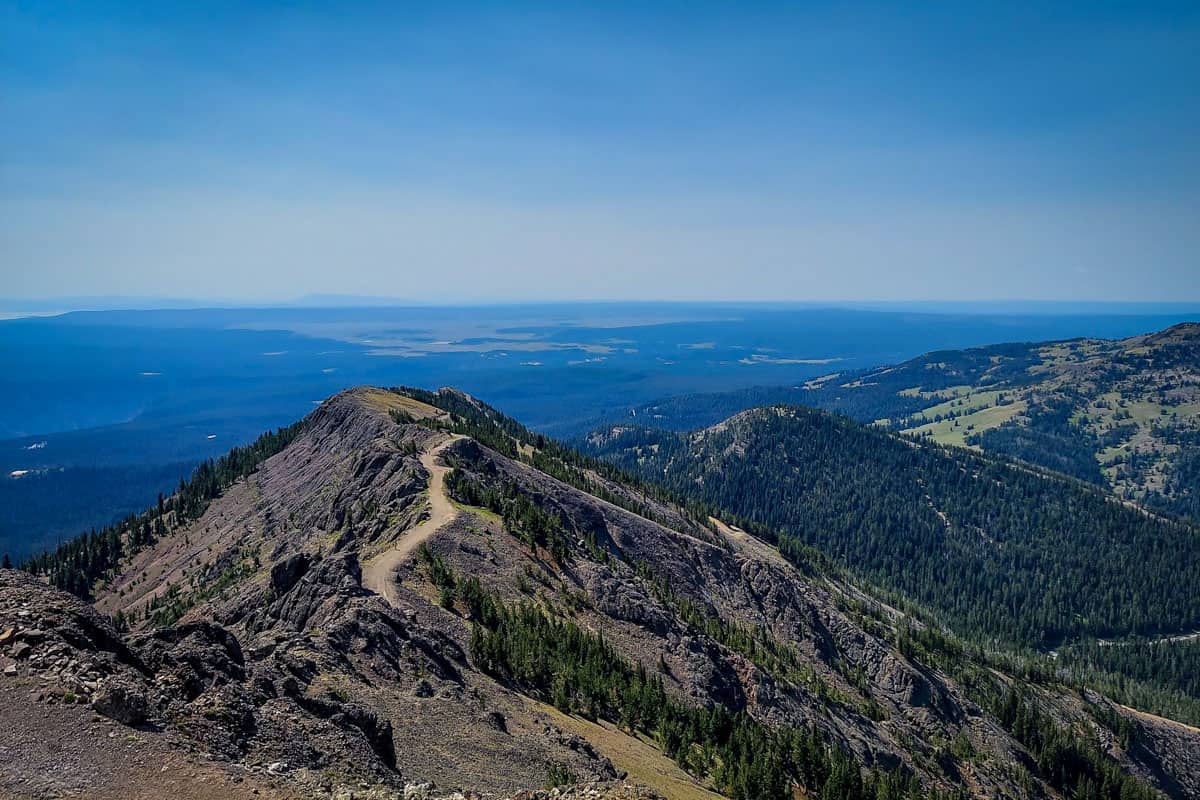 With jaw-dropping views to the Grand Tetons, 10,200-foot Mount Washburn is one of the most dramatic vistas in the park. This Yellowstone hike follows a former stagecoach route, so while the elevation gain is tiring, the path inclines at a consistent grade and isn't technical.
We recommend doing this early, as late afternoon thunderstorms often develop around the peak.
3. Point Sublime to Artist Point
A visit to Yellowstone isn't complete without a stop at the Grand Canyon of the Yellowstone. The gorge drops more than 1,000 feet!
The trail starts from Artist Point and follows the rim with continuous views. With only the sounds of Yellowstone River thundering deep in the valley below, this trail is one of the best hikes in Yellowstone.
4. Fairy Falls Trail
This aptly-named trail leads to the popular overlook of rainbow-colored Grand Prismatic Spring, the largest in the U.S. Most people turn around after the observation deck, but we recommend you continue on.
The hike continues through easy-going grasslands to Fairy Falls, a magical cascade snaking down a cliff. Half a mile further, it concludes at the Spray and Imperial Geysers. Such a diversity of sights in a short distance makes this one of the best Yellowstone hikes, especially for families.
5. Storm Point Loop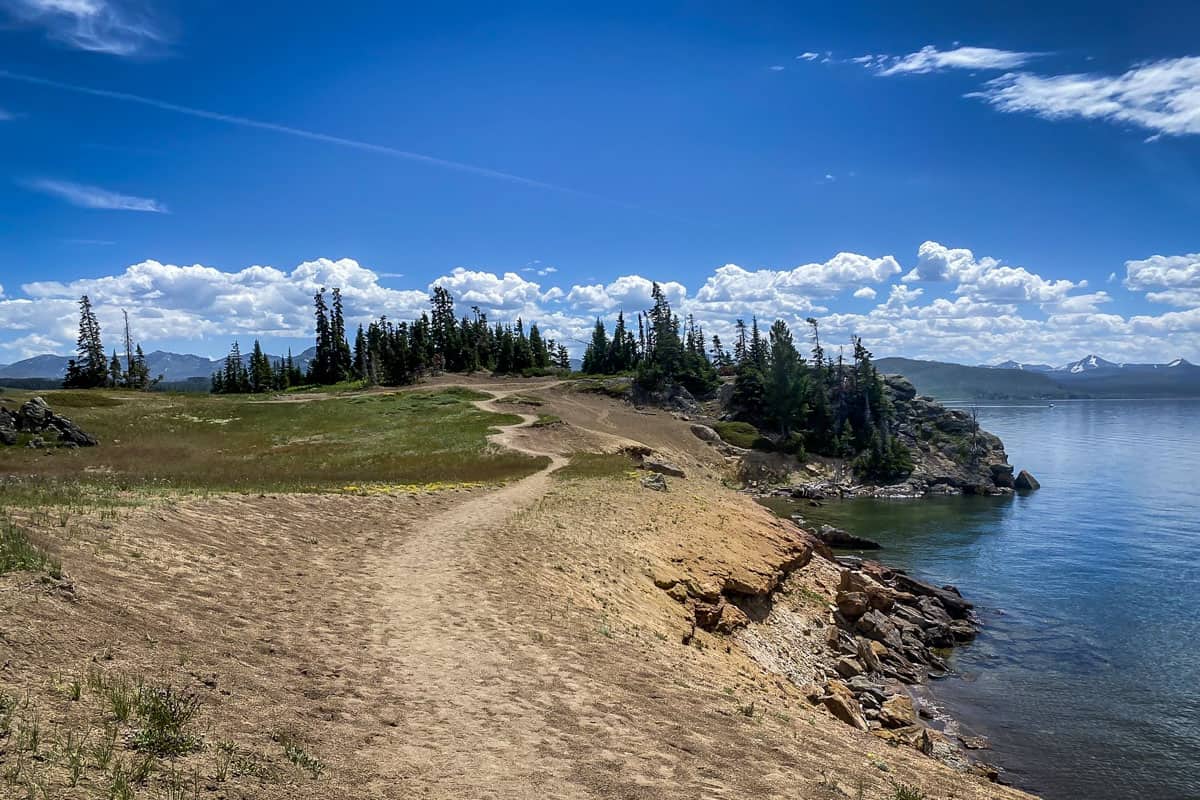 To check out Yellowstone Lake, hike Storm Point Loop. This laid-back trail meanders through woods before leading to expansive views of the largest North American freshwater lake above 7,000 feet. Although the water is too cold for swimming, it's a great place to view wildlife.
6. Avalanche Peak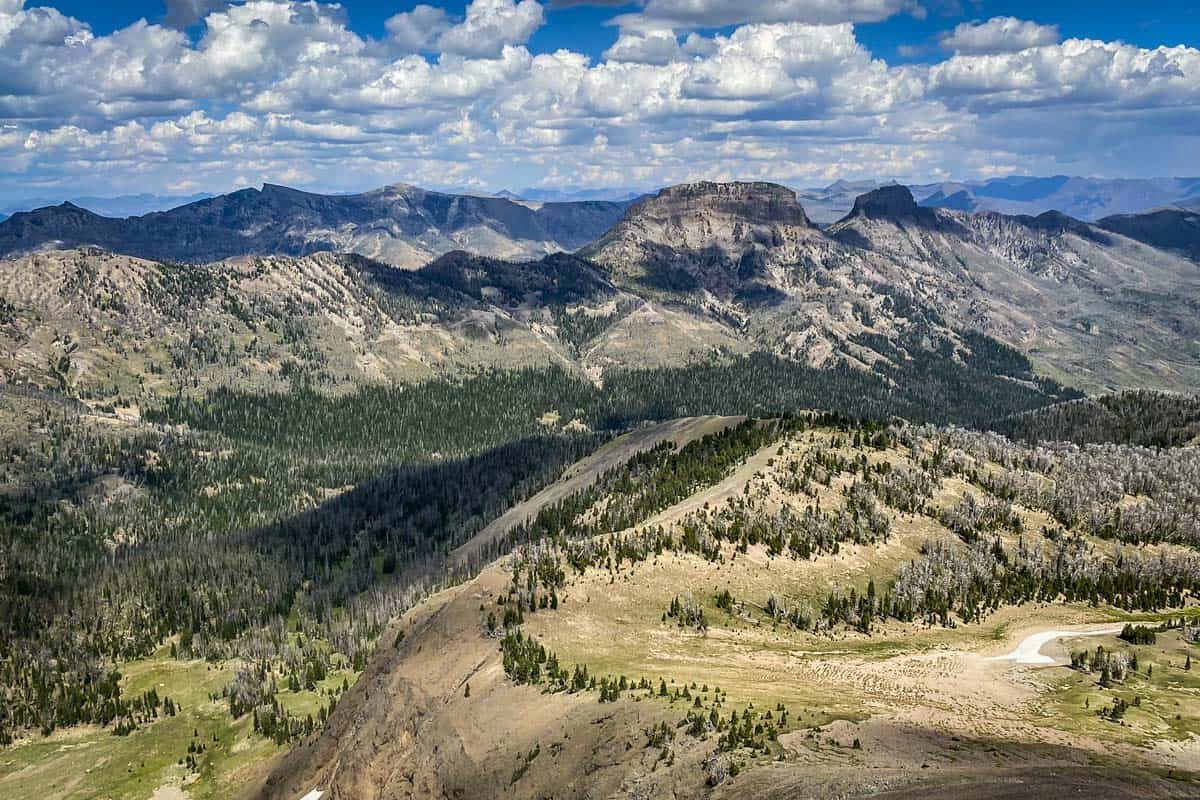 A thigh-burning yet ultimately rewarding challenge, Avalanche Peak is one of the best Yellowstone hikes. With an average incline of 20%, we really can't underestimate the steepness of this trail. It ascends 2,000 feet in the first two miles! However, all the effort is rewarded by sweeping mountains and aerial views of Yellowstone Lake.
7. Mammoth Terraces
Filled with unusual geothermal springs, vents, and rock formations, this boardwalk trail is a great overview of Yellowstone's unique environment. Suitable for all ages and abilities, there's even an alternate route with ramps for strollers and wheelchairs.
Psst! Want to combine your trip to Yellowstone with another incredible U.S. National Park? Check out our 5 Day Glacier National Park to Yellowstone on our sister site to help you plan an epic road trip!
8. Lamar Valley Trail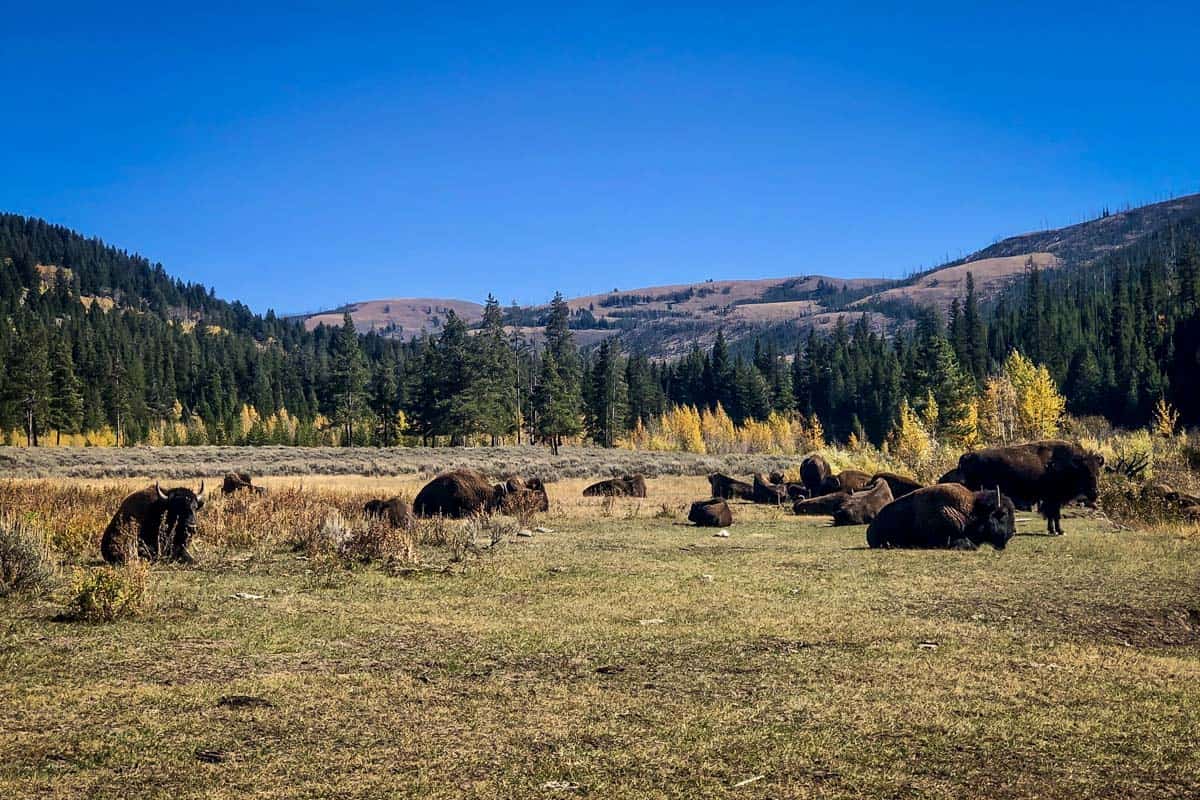 The best hiking in Yellowstone for wildlife viewing is in Lamar Valley. In this verdant green, wildflower-filled valley, there are tons of bison, pronghorns, wolves, bears, and more.
Make sure to keep a safe distance from the animals — if they're blocking a trail, simply wait until they pass.
9. Mystic Falls, Fairy Creek, and Little Firehole Loop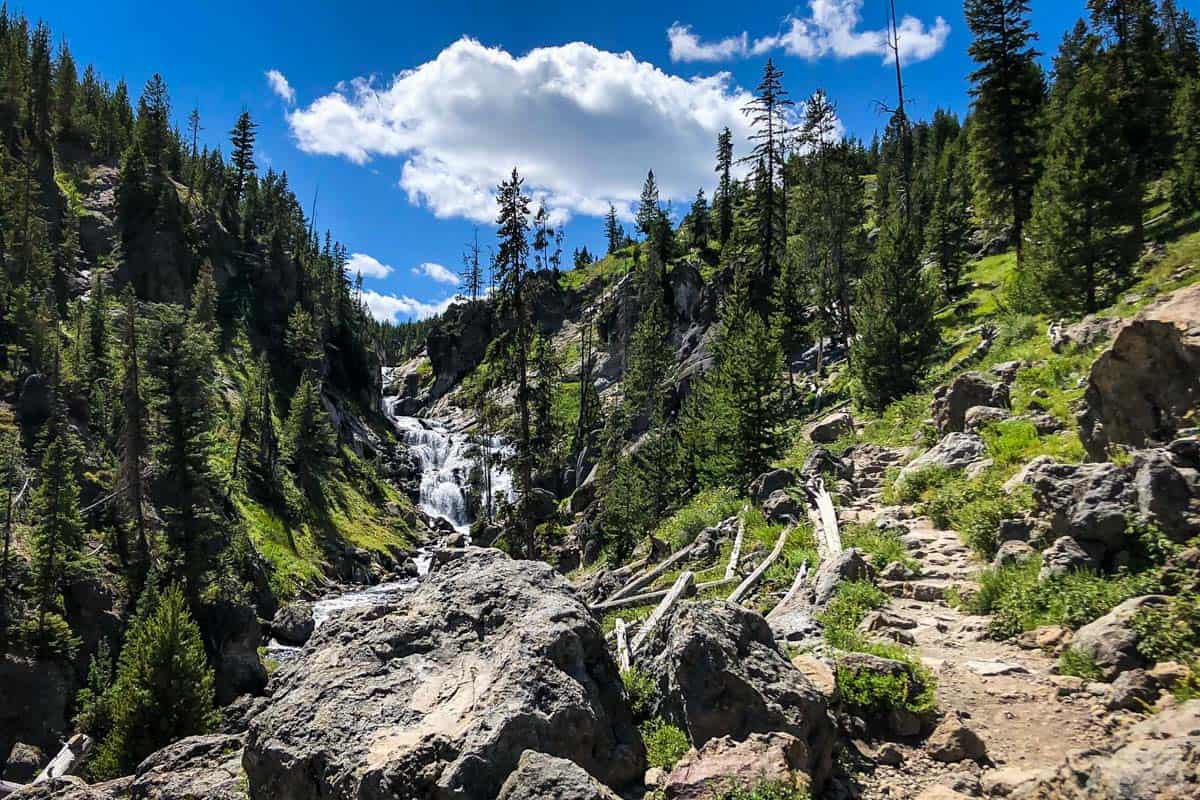 Not far from Old Faithful, one of the best Yellowstone hikes leaves the crowds for more geothermal curiosities and pretty waterfalls. Stunning Sapphire Pool, a deep-blue hot spring, is an early attraction on the trail.
The trail then climbs up a hill for an aerial view of geysers steaming into the air, and a final treat is beautiful Mystic Falls, two parallel, thundering cascades. The variety of natural beauty over such a short distance makes this some of the best hiking in Yellowstone!
10. Bunsen Peak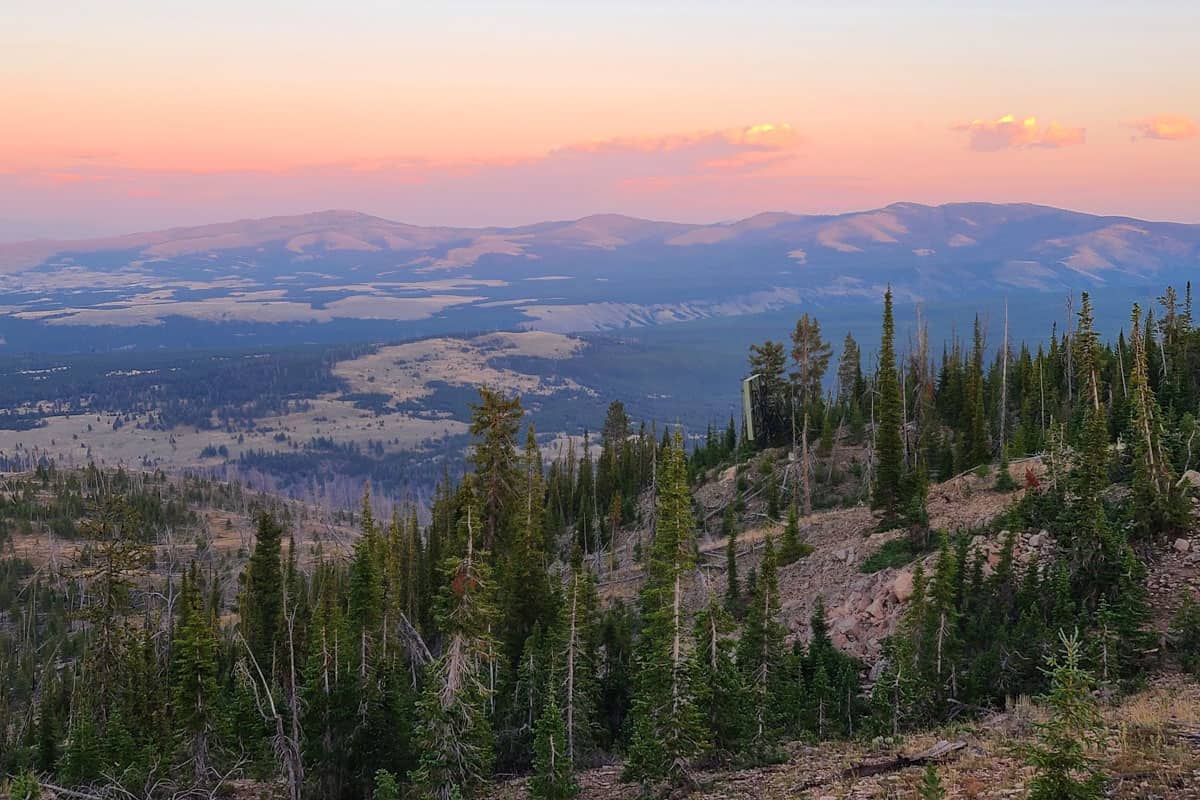 Itching to tackle a summit but don't have all day? Bunsen Peak is one of the best hikes in Yellowstone, delivering fabulous views in a relatively short distance. It's especially great at sunrise or sunset!
The mountain, an extinct volcanic cone, features cool rock formations and tons of wildflowers. The ascent is just challenging enough to get your heart pumping, but not intense like Avalanche Peak.
11. Brink of the Lower Falls Trail
Short but so fun, this hike leads to an overlook just above Lower Falls in Yellowstone Canyon. Seeing the incomprehensible volume of water cascading below is unforgettable! Being right on the edge also provides a great perspective into the multi-colored canyon, making this one of our favorite Yellowsyone hikes.
Although this is a short trail, make sure to wear adequate footwear. We've seen a few people brave the switchbacks in flip-flops or basic tennis shoes, and we would not recommend it — the trail can get slippery near the overlook!
12. Old Faithful Geyser Loop Trail
We'd be remiss not to recommend a stroll around Old Faithful, one of the most iconic aspects of Yellowstone. Erupting geysers, unusual bubbling springs, and bison!
Sure, it gets crowded, but is it a visit to Yellowstone without this world-famous attraction? The entire trail is a boardwalk, so it's accessible for all abilities, making it a top overall hike in Yellowstone.
It's worth timing your excursion to see an eruption. Old Faithful erupts frequently and on a very regular schedule, so stop into the visitor center for that day's predicted schedule of when the 180-foot stream shoots into the air!
13. Yellowstone River Trail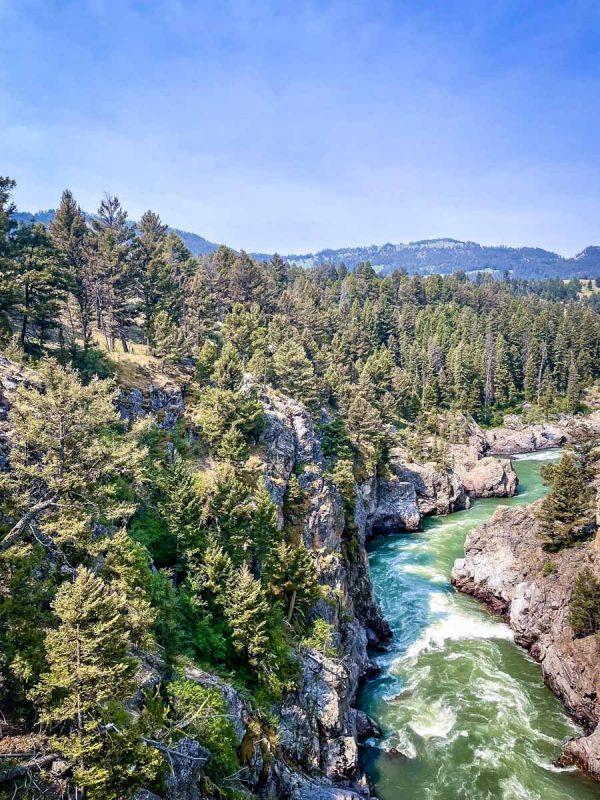 Excellent for backpacking, this lower-elevation trail follows the Yellowstone River through picturesque surroundings. Although doable in one long day, we highly recommend two or three (and we've heard of people taking up to five!).
Watch for the abundant wildlife, listen to the movement of water, and set up camp among breathtaking scenery. Don't forget to register for backcountry permits at one of the park's visitor centers before setting out! They're required, but fortunately, there's no need to worry about them selling out.
14. Mud Volcano Trail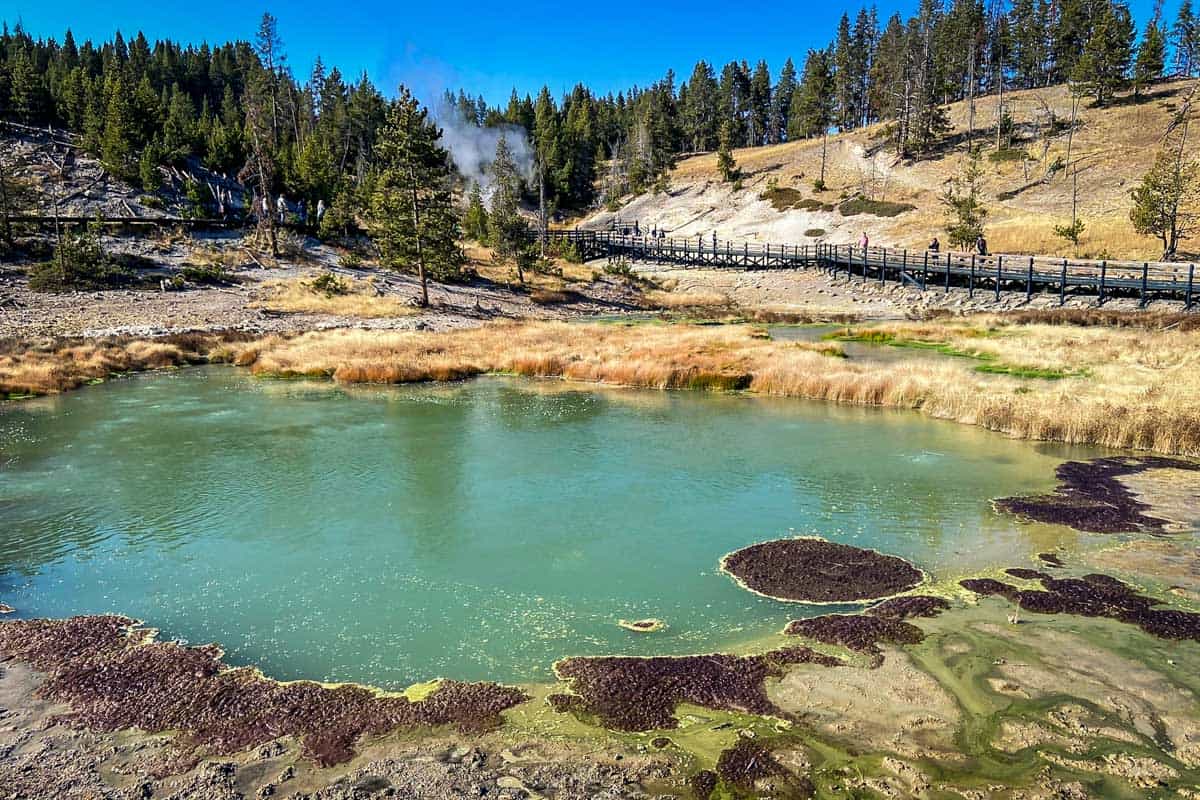 For a changeup from other geothermal features, Mud Volcano is one of the best hikes in Yellowstone. Filled with bubbling, steaming, and very smelly springs, it's one of the park's most active areas.
A short but slightly steep trail leads around these sights, with fewer crowds than in other spots. There are also bison herds frequently grazing through rolling meadows, adding an additional dash of sightseeing.
15. Shoshone Lake via Delacy Creek
For peace and quiet, hike to Yellowstone's second largest lake. With mirror-still water surrounded by pines and mountains, it's the ideal backdrop for relaxing with a picnic or book.
In fact, the best part of this hike might just be relaxing on the shore, so allot more time than you think you need. The trail is mostly flat, following a trickling stream through pretty meadows. Make sure to bring bug spray!

What to pack for hiking in Yellowstone
Although hikes in Yellowstone National Park vary in length and difficulty, there are some key items you'll want to have in your pack no matter what your hiking plans.
Be sure to grab our ultimate hiking packing list includes our must-have gear for any hiking trail!


You may also like…
Save this article on Pinterest for later!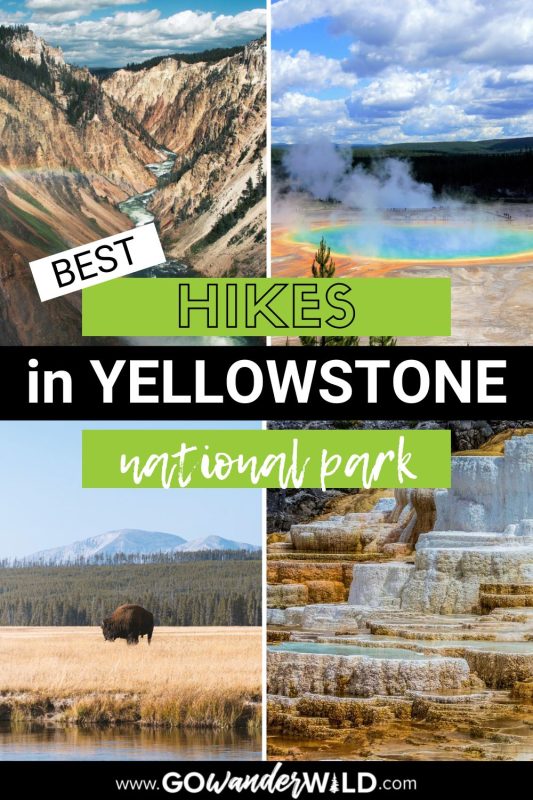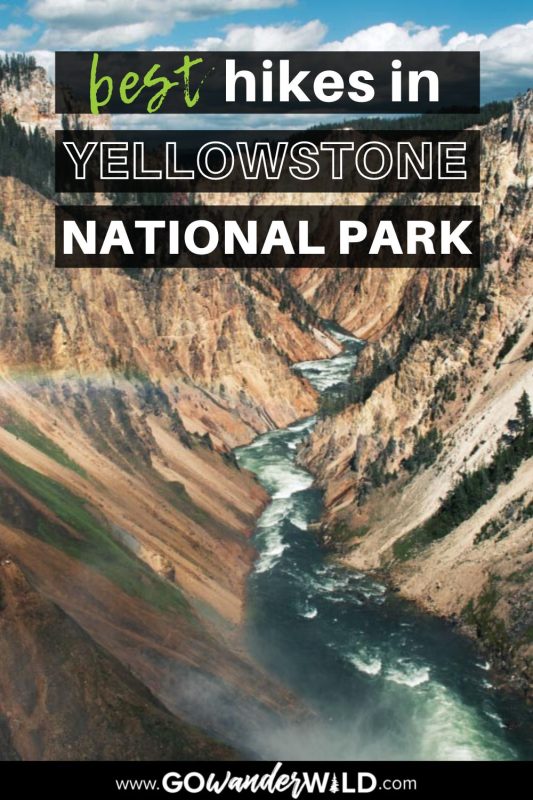 We want to hear from you!
Have you done any of the Yellowstone hikes on this list? What was your experience like? Are you planning a trip to Yellowstone National Park and want more advice? Comment below and let us know!