Washington's Lake Valhalla is a vibrant blue lake nestled underneath Lichtenberg Mountain in the Wenatchee National Forest. In this guide to the glittering alpine lake, we dish out everything you need to know about planning the perfect day hike to Lake Valhalla.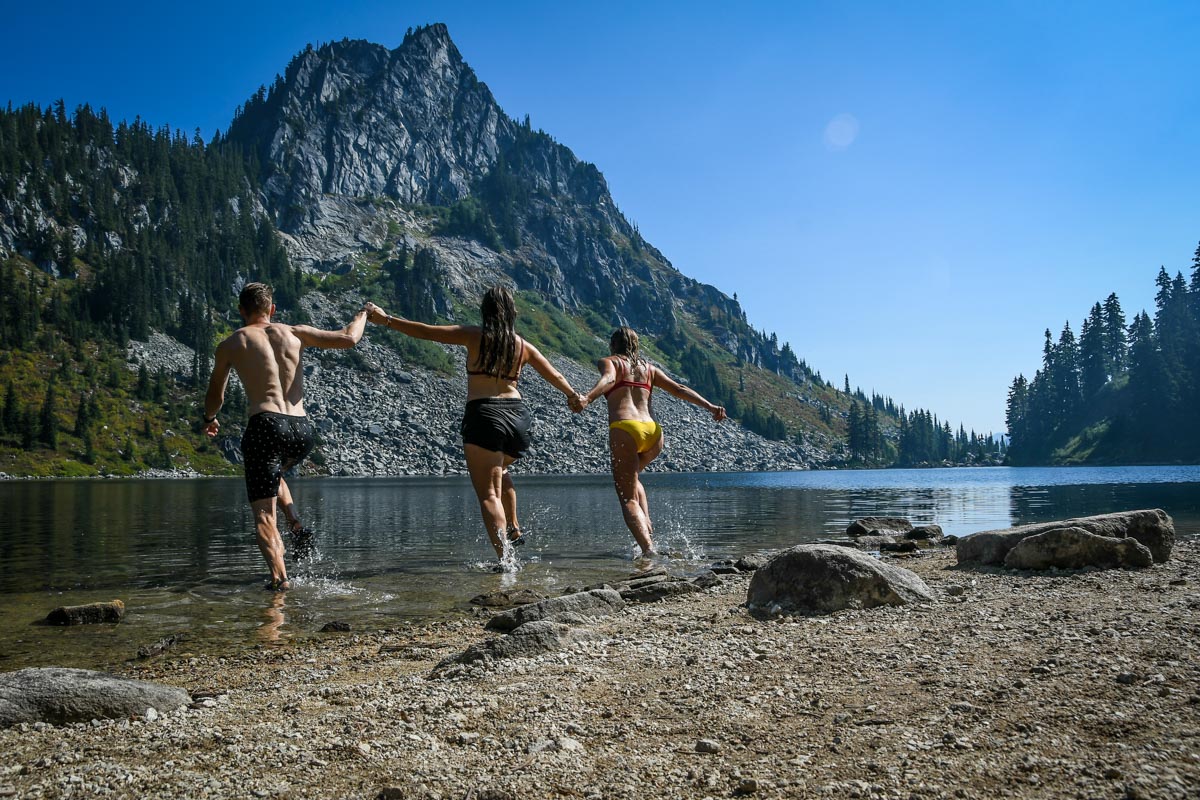 Lake Valhalla is widely known in the outdoor community for being one of the best hikes in Washington State. With sweeping vistas, switchbacks through dense pine forests, and a gorgeous alpine lake waiting at the end, this is a trail you don't want to skip on your hiking bucket list.
This alpine lake is one of the many picturesque locations along the Pacific Crest Trail, which attracts day hikers and thru hikers to come and experience its beauty.
To access Lake Valhalla, there are two main routes you can take depending on your hiking abilities and preferences. One is a summer route and the other is a winter route for snowshoers and skiers, but both can be accessed during the summer hiking season.
No matter what season you're exploring Lake Valhalla, we break down all the key things to know in this guide for a successful hike.
Article Contents

Lake Valhalla hike at a glance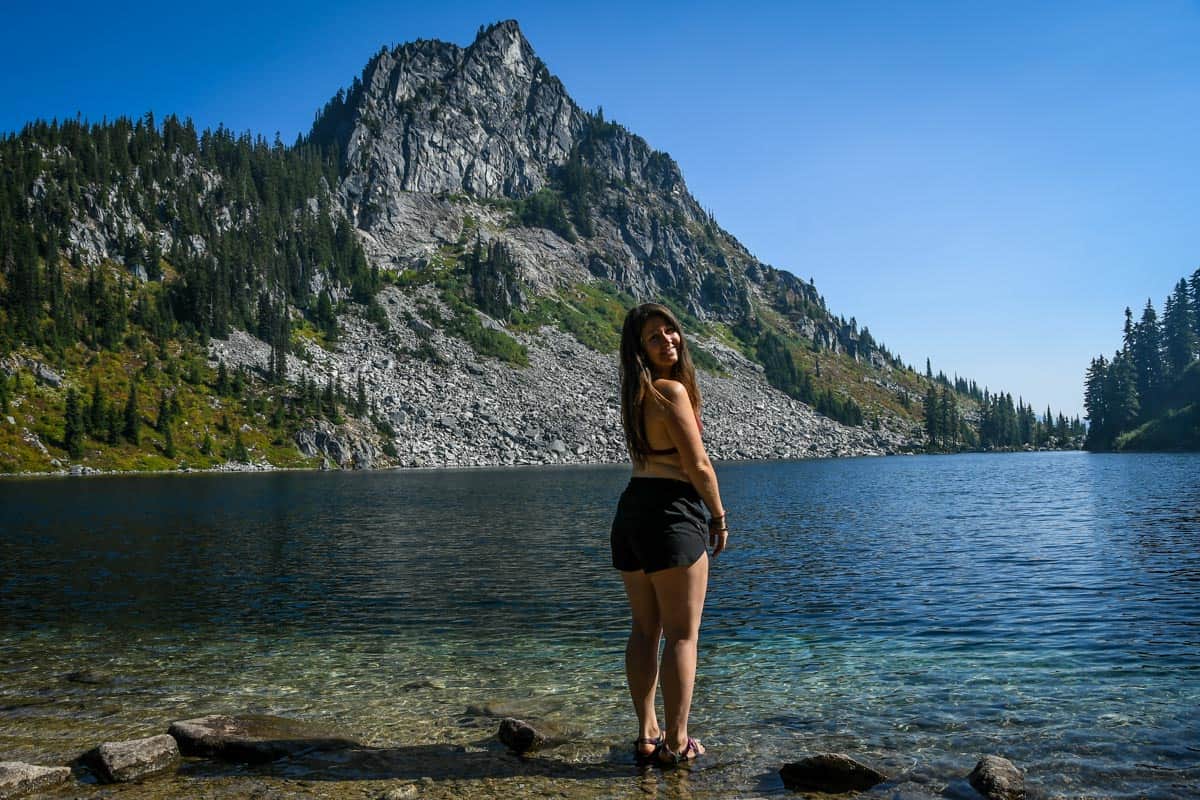 There are two main routes you can take to get to Lake Valhalla. Both routes combine with the iconic Pacific Crest Trail to access the lake and are rated as moderate. However, it's good to note the Smithbrook route gains elevation over a shorter distance therefore making it a little bit more challenging.
The route you choose largely depends on preferences and hiking ability, but both come with scenic vistas the entire way so you won't miss out by choosing one or the other. We break down both in this guide so you can choose the right one for your trip.
Smithbrook Route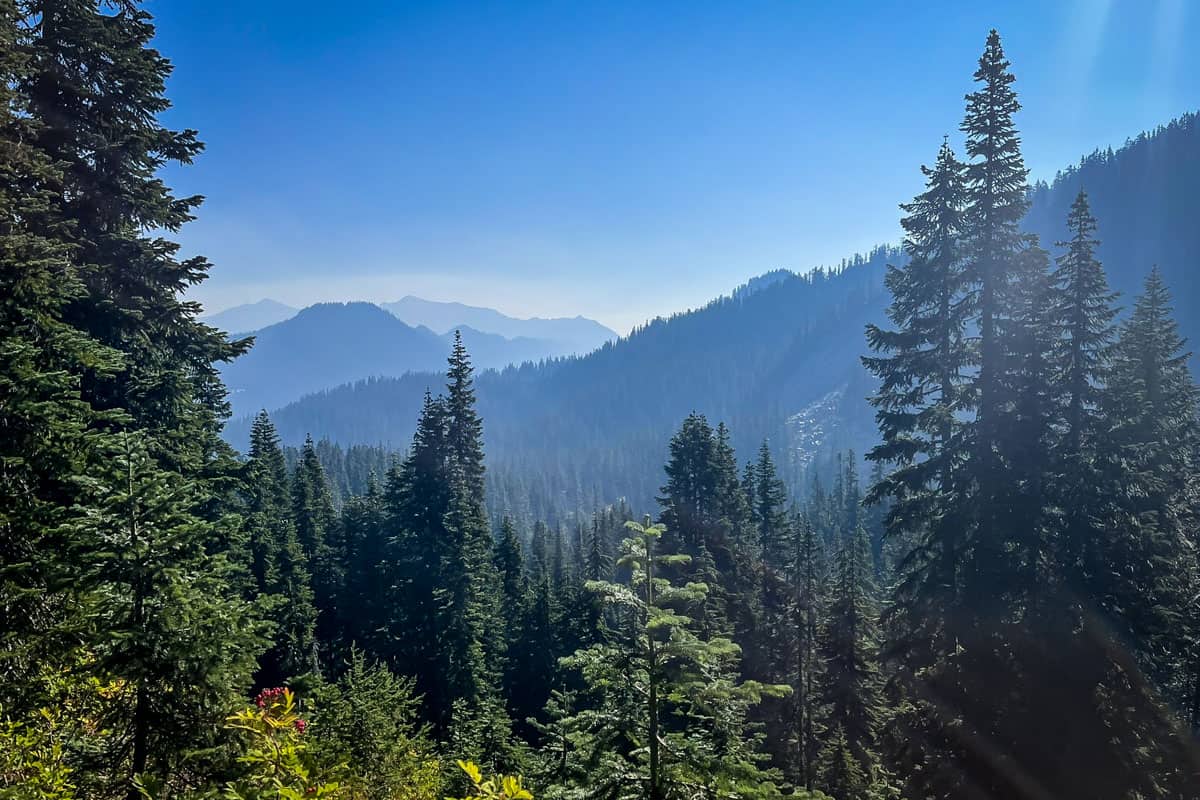 Trailhead Location: Smithbrook Trailhead
Distance: 6.1 miles, out-and-back
Elevation: 1,358 ft
Difficulty Rating: Moderate
Timing: 3 hours 10 minutes
Pets: Yes, must be leashed
Permits: No
The shortest distance to get to Lake Valhalla is on the Smithbrook Route. The beginning of the trail runs through the forest along Smithbrook Creek and takes you up a series of switchbacks for around a mile and a half.
Next you'll come to Union Gap where there is a trail junction with the Pacific Crest Trail. The trail is the steepest up until you reach this point and then mellows out for the remainder of the trail.
From this portion of the trail, you'll be able to pick fresh huckleberries seasonally, and look up at the towering pines that make up the Wenatchee National Forests.
Continuing on the trail, you'll spot Lichtenberg Mountain as the views open up. At around 3.5 miles, you'll have the option to take a spur trail to Mt McCausland for even better views of Lake Valhalla, the surrounding mountains, and on clear days you can spot Mount Rainier and Glacier Peak.
Then the trail will mellow out again and take you down to the lake. Once you spot the wooded sign that reads "lake access", you'll exit the Pacific Crest Trail and find the perfect spot along the lake to soak up the rays and take a dip.
Stevens Pass Route
Trailhead Location: Pacific Crest Trailhead
Distance: 11.4 miles, out and back
Elevation: 1,896 ft
Difficulty Rating: Moderate
Timing: 5 hours 16 minutes
Pets: Yes. Must be leashed
Permits: No
The other way to get to Lake Valhalla is by hiking the entire way on the Pacific Crest Trail from
Stevens Pass. This route, although longer, is about the same level of difficulty as the Smithbrook Route, just with more mileage.
You'll access the Pacific Crest Trail right off Highway 2 and head north for six miles until you reach Lake Valhalla on the right hand side. The elevation gain is spread out over the ten or so miles so it's very manageable and a good longer distance trail that isn't too tough for beginners.
Once you reach the lake, you can hike further up the trail to summit Mt. McCausland for an additional mile or two, and then head back down the way you came.
Insider Tip: It's not uncommon for hikers and backpackers to hike one trail to Lake Valhalla and return on the other trail. This is a great way to experience both trails and get all the best views packed into an awesome weekend backpacking trip or extended day hike. Just note you'll have to arrange your own transportation between the start trailhead and the end trailhead.
Things to know before you go
To make your Lake Valhalla hike even better, brush up on these essential things to know before you hit the trail.
Best time of year for the Lake Valhalla hike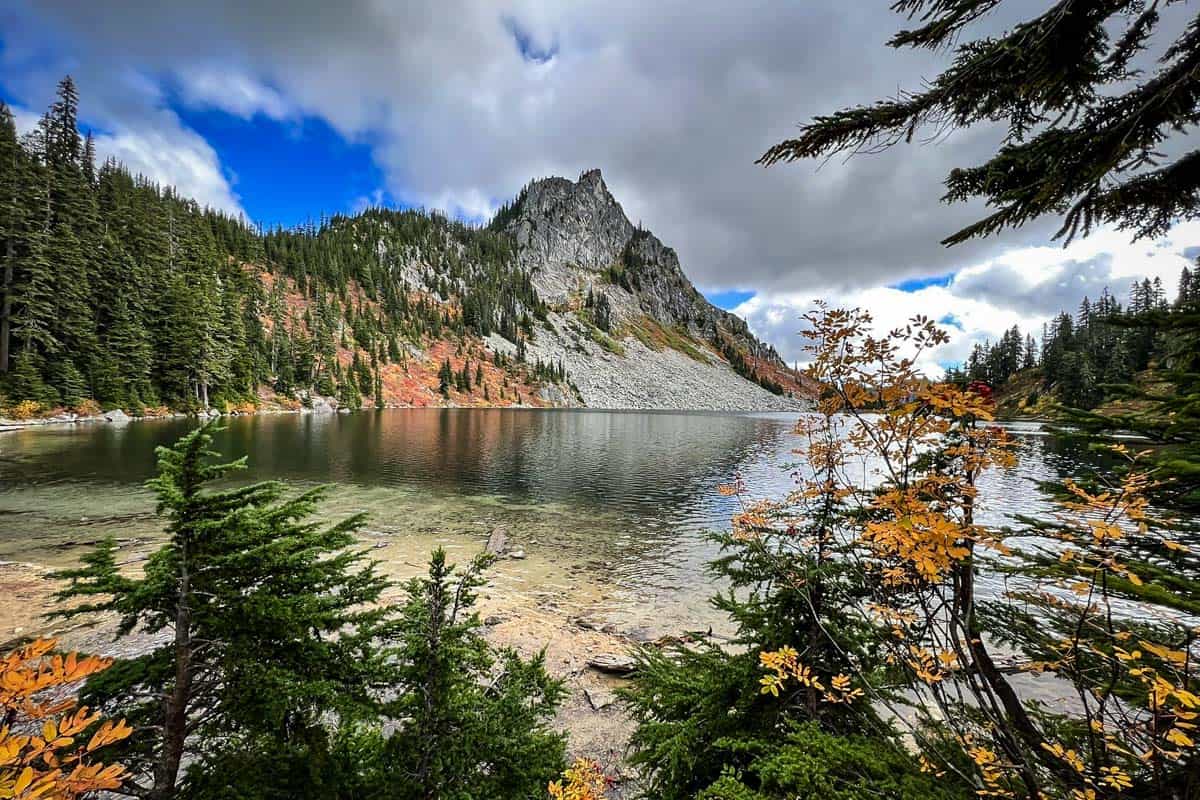 Lake Valhalla is best hiked when the lake and trail are snow-free from mid-July to mid-October. This is an ideal hike to experience in the summer months since the trail is nice and shady, and you can take a dip in the lake to cool down.
Alternatively, fall is another great time to visit Lake Valhalla since the weather is more mild, crowds are fewer, and there are usually slim to no bugs later into the season making this one of the more favorable times to go.
Another huge plus of visiting in the fall months is that you can witness all the bright and vibrant fall leaves changing colors. It's the perfect way to hold onto the last bit of good hiking weather and welcome the autumn season.
How long does it take to hike to Lake Valhalla?
The time to complete the hike to Lake Valhalla varies with whatever route you're taking. On a day hike, you can expect it to take a little over 3 hours coming from the Smithbrook Route and 5 hours coming from the south on the Pacific Crest Trail.
We loved hiking to Lake Valhalla over two days on a scenic backpacking trip. There are a variety of overnight campsites and facilities at the lake, so you can enjoy this scenic vista for longer and spread out the mileage over two days instead of a full day of hiking.
Plus, you'll be able to enjoy the sunrise and sunset at the lake if you camp, which is definitely worth it!
How difficult is the hike to Lake Valhalla?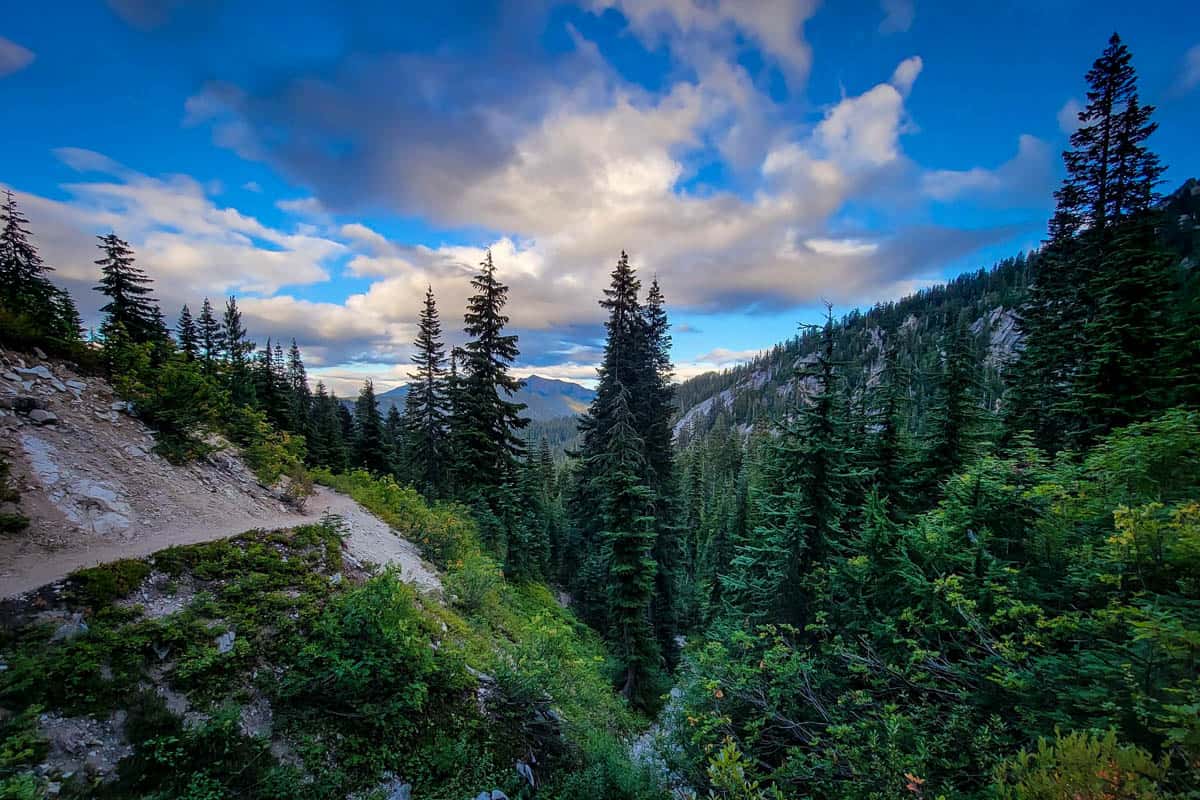 Both routes to Lake Valhalla are rated moderate due to elevation gain and distance.
The Smithbrook Route is the shorter of the two options, so the elevation gain to Lake Valhalla is over a shorter amount of mileage, whereas the Stevens Pass Route has a slightly higher amount of elevation gain over almost double the distance.
No matter which route you take, the elevation gain will be rather mild and steady, so any basic level of fitness will get you to Lake Valhalla. It may take an extra push to get to the top of Mt. McCausland, but it's well worth the extra sweat.
Wildlife on the trail
On the hike to Lake Valhalla, you can expect a lot of different wildlife experiences depending on the time of day, time of year, elevation, and weather conditions on the day you hike.
Black bears, mountain lions, goats, marmots, deer, cougars, and other species of small mammals occupy this area. The most common animals are squirrels, chipmunks, pika, marmots, and deer.
Whereas you're less likely to stumble opon a black bear, cougar, mountain or lion, but always do extended research for wild animal safety before you head out to keep you and the animals safe.
Tips for hiking to Lake Valhalla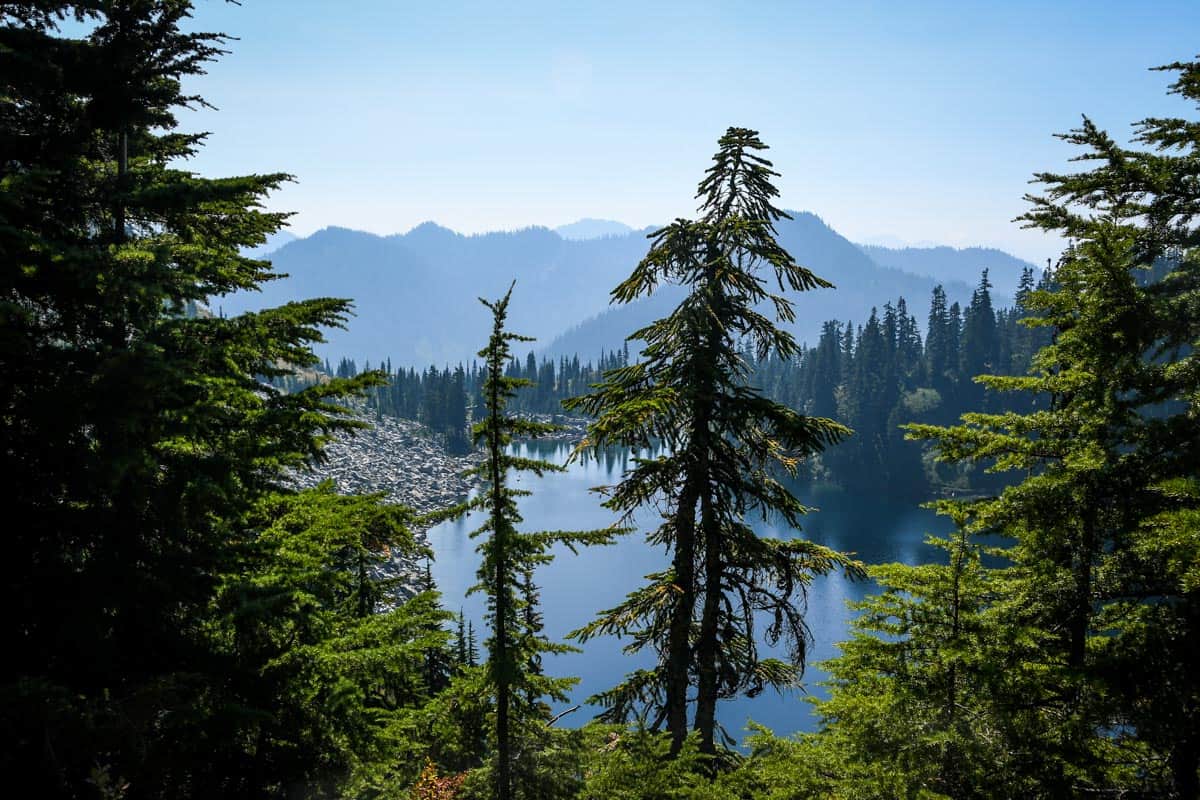 Download an offline map. There is no service on the Lake Valhalla Trail, so make sure you have a map downloaded or AllTrails Pro for navigation.
Bring bug spray. Once you arrive at the lake the mosquitos and flies can be ruthless, especially during the summer months.
Pack layers. The Lake Valhalla Trail stays shaded all year, even in the summer months, so pack some extra layers to stay warm, especially after a dip in the cold lake water!
Start early on a weekday. Because this trail is so popular, parking can get limited so get there early to secure a spot and aim for a weekday for fewer crowds.
Take the detour to Mt. McCausland. Venture to the summit of this mountain before settling at the lake to get the best view of Lake Valhalla and the surrounding area. You won't regret adding this extra mile to your day.
Where to camp near Lake Valhalla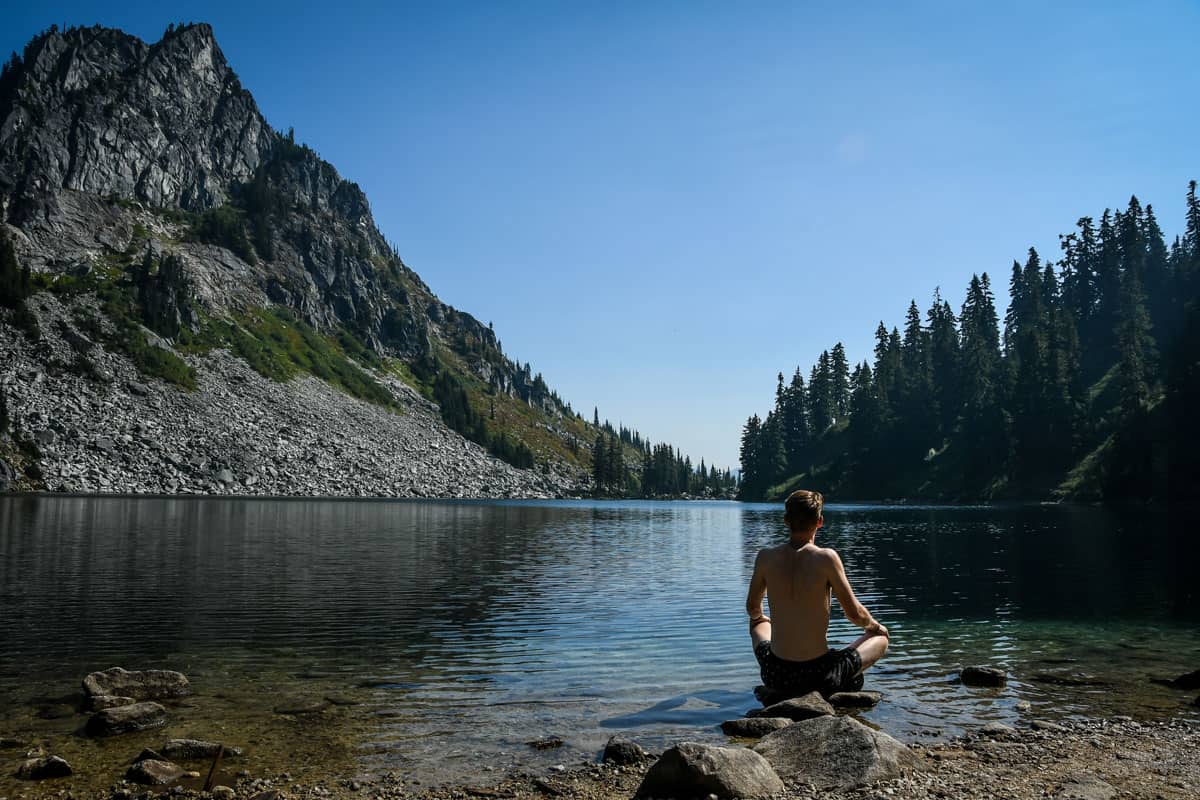 A handful of campsites are available around Lake Valhalla that are available on a first come first served basis. The lake gets busy in the summer months, especially with the influx of PCT hikers, so be sure to arrive at the lake early to grab a spot for the night.
If you're not camping at Lake Valhalla, there is camping available at the Rainy Creek Campground and the Beckler River Campground that are close to either trailhead.
The Rainy Creek Campground is a first come first served campground near the Smithbrook Trailhead. Alternatively, the Beckler River Campground is close to the Pacific Crest Trailhead entrance and is reservable.
What to pack for hiking to Lake Valhalla
Be sure to grab our ultimate hiking packing list includes our must-have gear for any hiking trail!


You may also like…
Save this article on Pinterest for later!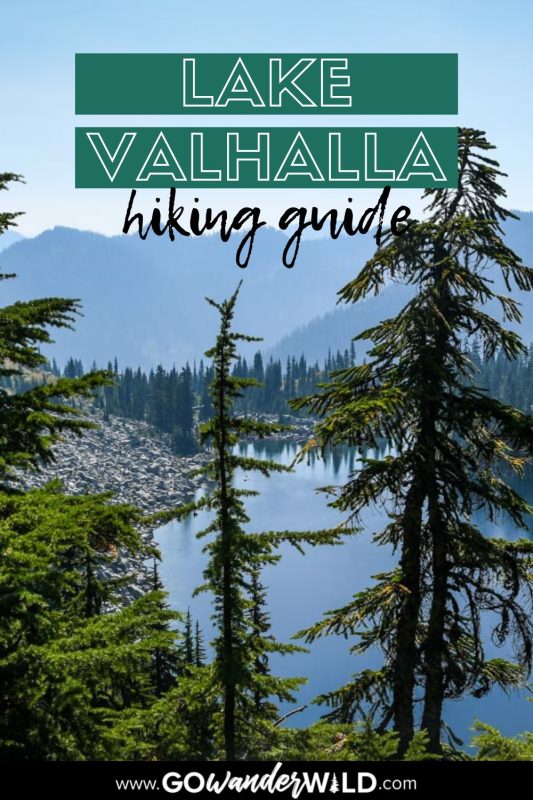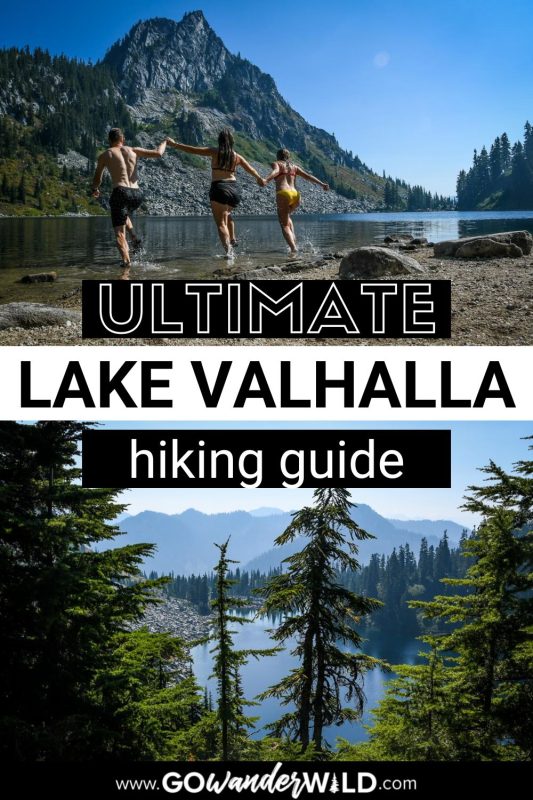 We want to hear from you!
Have you ever hiked to Lake Valhalla in Washington state? What was your experience like? Do you have more questions about doing the hike? Comment below and let us know!