We think the best way to discover the heartland of the national park system is by road trip. In this article, we've outlined the perfect 4 day Grand Teton to Yellowstone itinerary that brings you to all the best sites in each park.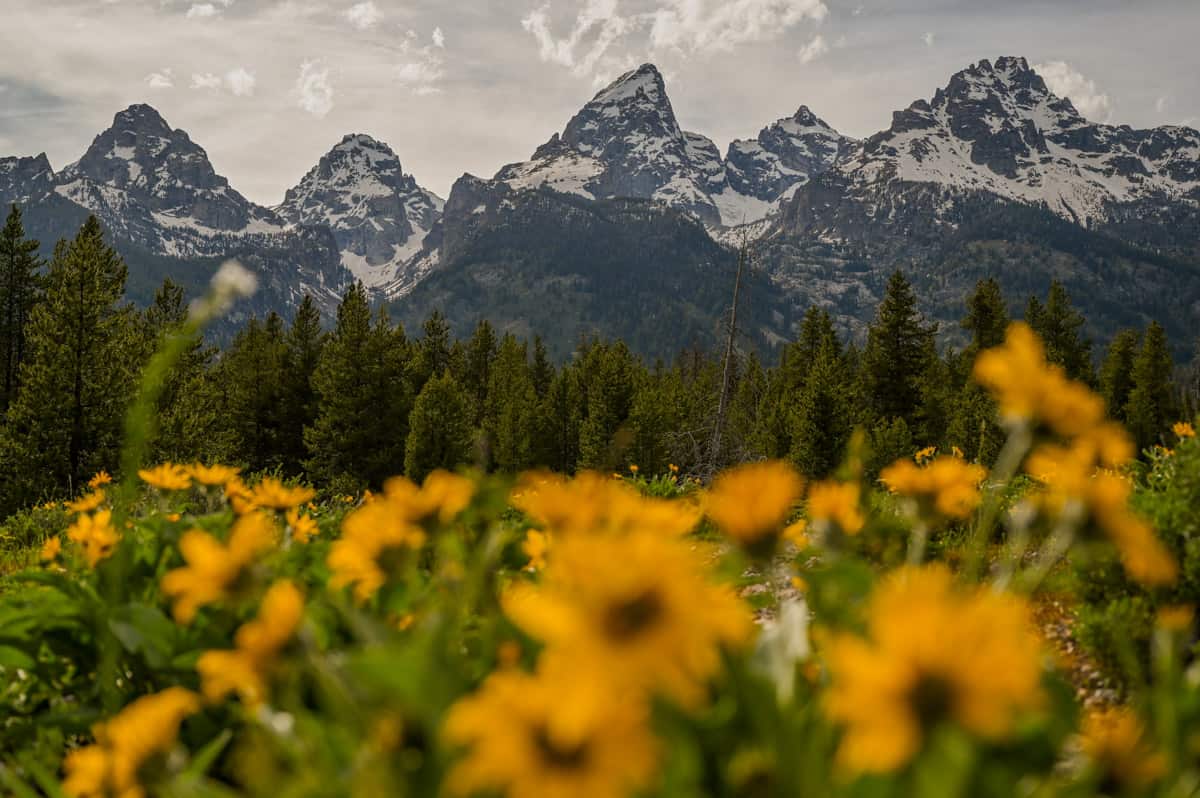 Written by Guest Contributors: Sarah Vaughan and Matthew Cafarella
A road trip from Grand Teton to Yellowstone should be on any traveler's bucket list. The heartland of the national park system, this area is known for sharp mountain peaks, alpine lakes, geysers, geothermal pools, rolling plains, bison, and bear.
But with so much to do from Grand Teton to Yellowstone, it can be overwhelming to figure out how to spend your time! Luckily, we created this fun-filled, 4 day itinerary that brings you to all of the best sites in each park!
Article contents


About Grand Teton and Yellowstone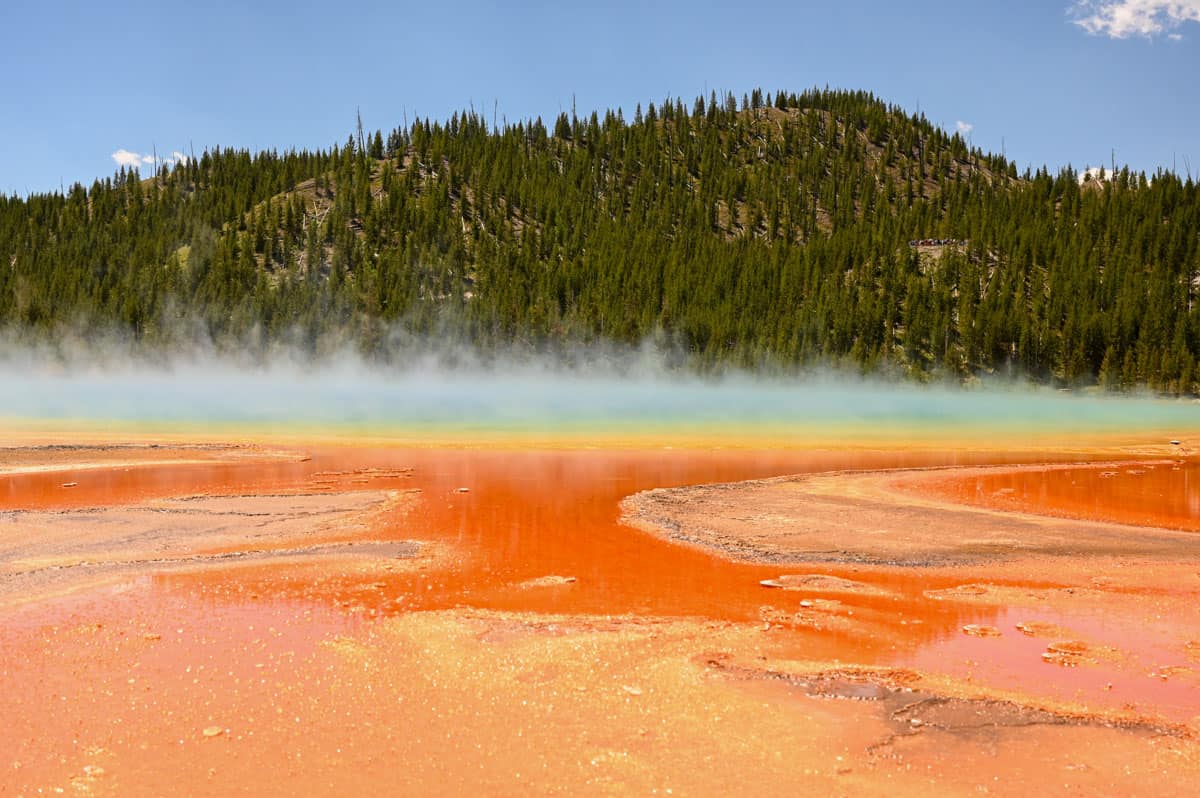 Tucked away in the northwest corner of Wyoming, Grand Teton National Park and Yellowstone National Park are two of the most magnificent, iconic, and beautiful places in the entire United States.
While each is worth a visit on its own, they are conveniently located right next to each other making it super easy to experience both parks during one amazing trip.
Spanning over 2,200,000 million acres (larger than Rhode Island and Delaware combined!) of untrampled mountains, plains, grassland, rivers, geysers, and lakes, Yellowstone National Park was the first national park designated by the U.S. government in 1872.
Today, it stands as a beacon for travelers looking for a true experience of the American West. From the herds of massive bison to the Grand Prismatic Spring to Ole Faithful to the Grand Canyon of Yellowstone and the famous Yellowstone wolf packs, the park still has a wild, western soul.
Just south of the vast plains of Yellowstone, the unmistakable jagged peaks of the Grand Tetons rise high above the surrounding flatland. With the ever so crooked peak of the Grand Teton resting prominently in the middle of the range, the Tetons are perhaps the most beautiful mountains in the contiguous U.S.
While the mountains are naturally the highlight of Grand Teton National Park, the park contains 310,000 acres of alpine lakes, diverse wildlife, twisting rivers, and colorful wildflowers.
And yet, there may be no sight quite like your first glimpse of the massive granite mountains. Few things will truly take your breath away but we guarantee your first view of the Tetons will leave your mouth open and lungs empty.
Grand Teton to Yellowstone itinerary overview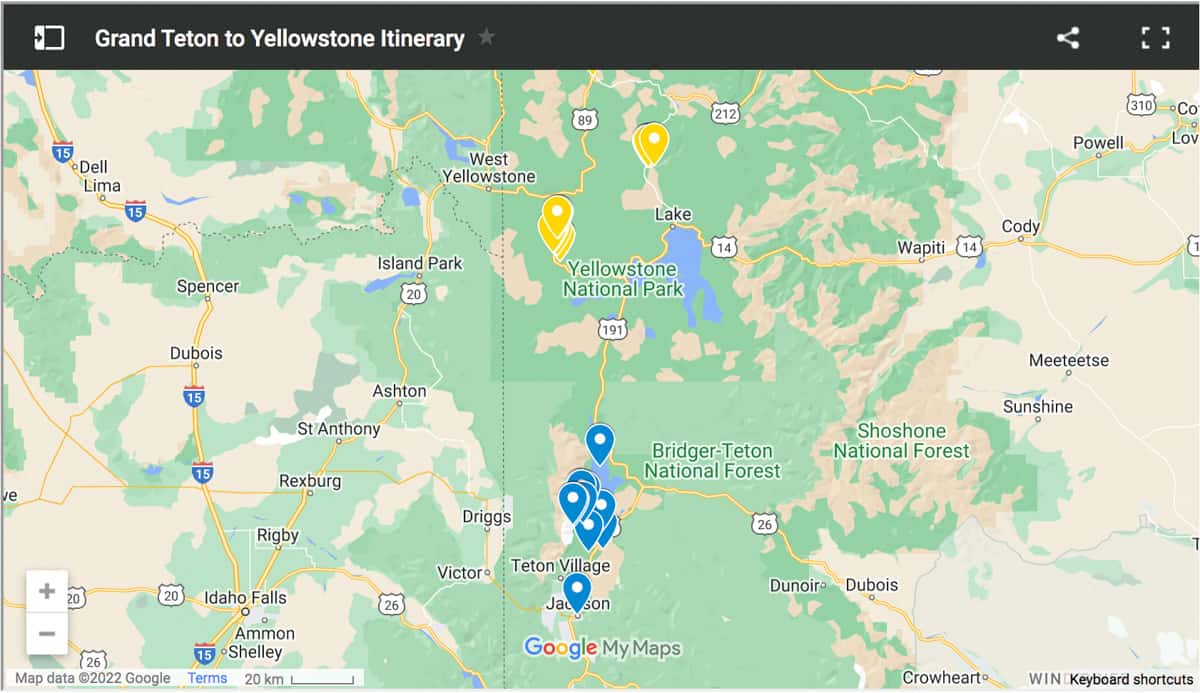 In this article, we've outlined the perfect 4 day Grand Teton to Yellowstone itinerary. This itinerary is designed for those looking to fill their days with adventure and end their trip truly feeling like they experienced each park to the fullest.
The itinerary starts with two days in Grand Teton before making the relatively short drive up the road to Yellowstone for two more days of action-packed excitement.
Of course, there are nearly endless things to do in each park and you could spend years exploring every corner of the area. But we know that isn't realistic and this itinerary prioritizes the activities we think are the most fun!
So load up the car, hit the road, and get exploring!
How much time do I need in Grand Teton and Yellowstone?
As we mentioned above, you could spend years exploring both Grand Teton and Yellowstone before you run out of things to do so it's hard to say exactly how much time is ideal. Frankly, we'd say as much time as possible!
But more realistically, you can cover a lot of ground with two days in each park and will definitely feel like you got a full experience with 4 days total.
When to go to Grand Teton and Yellowstone National Parks
The best time to complete this Grand Teton to Yellowstone itinerary is in the summer and early fall. Snow may linger in higher elevations through June. July through early September is considered the peak season.
During the summer, days will be hot (mid 80's to 90's) but the air is dry and nights are typically cool, making it the perfect summer weather.
Winters are brutally cold and the area turns into a tundra. That being said, we've heard the parks are beautiful at this time of year and you're sure to experience significantly fewer crowds.
Spring can be a nice time to visit if you get lucky with decent weather and you're not planning on hiking through higher elevations, which will still be covered in snow.
Things to know before visiting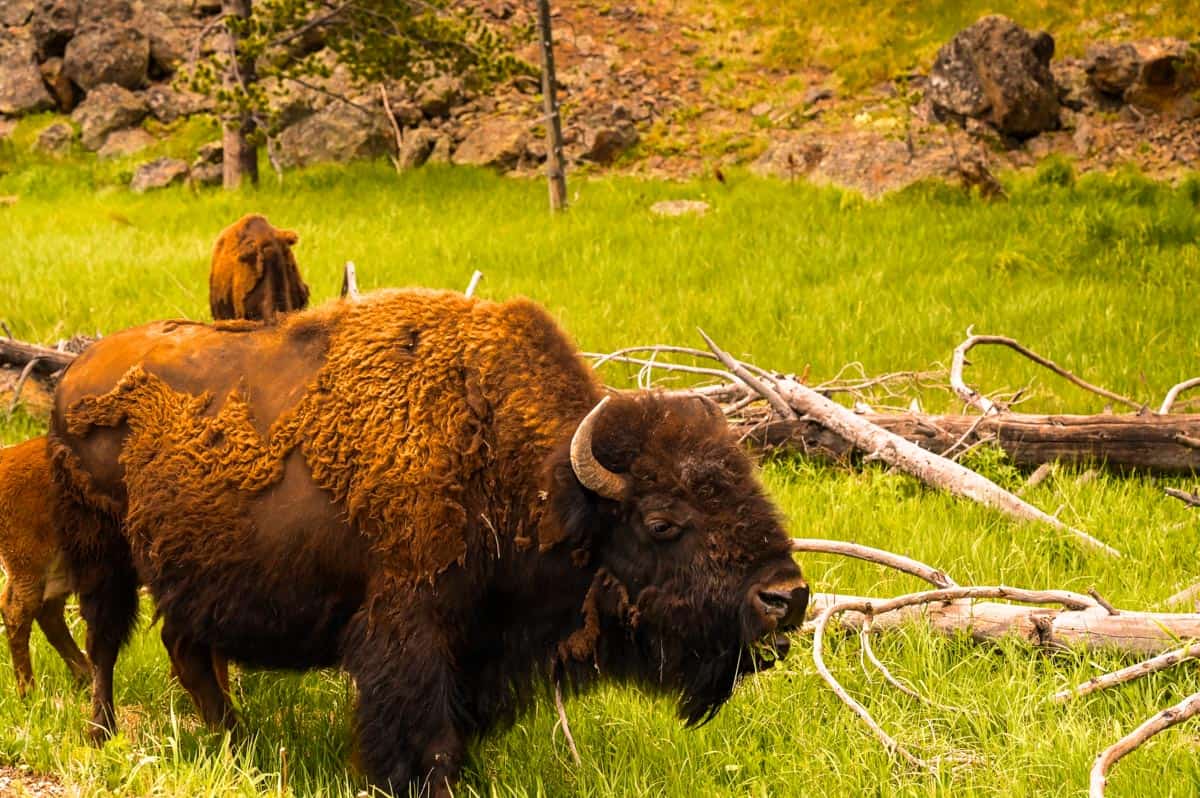 There are a few important things to remember before visiting Grand Teton and Yellowstone.
There will be crowds: Yellowstone, in particular, is known for large crowds, as it's one of the most visited national parks in the country. We'll be honest, the Yellowstone crowds can be a bit overwhelming.

Grand Teton will be less crowded, although you should certainly expect to share the trails with a number of fellow hikers and parking lots tend to fill up early.

Respect the wildlife: This is very, very important! Grand Teton and Yellowstone are home to some of the most majestic and diverse wildlife in the country. Countless herds of bison, deer, bighorn sheep, elk, bear (including grizzlies), and smaller mammals such as marmots, squirrels, and chipmunks call these parks home. All of these animals, even the cute little chipmunks can and will hurt you if you get too close. This is not a petting zoo! These are wild, unpredictable animals and remember you are a visitor to their home. A general rule of thumb to remember is that you are too close to an animal if it notices you or changes its behavior due to your presence.
Bison jams are a real thing—have patience: Yellowstone is infamous for "bison jams" which, if you're unfamiliar, is when a herd of bison takes over a road, causing long traffic jams. Usually, when this happens, the park service will come and try to herd the bison away from the road but we can say from personal experience that it can take a while – sometimes a couple hours! When driving in Yellowstone, remember to have patience and plan for your trips to take a bit longer than expected.
Buy a national park pass before you go: A 7 day entrance pass to each park costs $35 dollars. For $80, you can buy a national park pass that gives you access to all U.S. national parks for a year.
Get an early start! To avoid heavy crowds, lines at the entrance gates, and trouble finding parking, plan to enter the parks as early as possible.
Make plans well in advance. Lodging options and activity reservations often fill up months in advance in Grand Teton and Yellowstone!
America the Beautiful Annual Park Pass

If you're planning to visit more than just Grand Tetons and Yellowstone national parks, we'd highly encourage you to look into getting an annual park pass. At $30+ per vehicle upon entry, visiting the national parks in the U.S. can get expensive.
For just $80 per year, you can purchase the America the Beautiful park pass. This pass grants you free access to all of the national parks. Plus it also covers your entrance to over 2,000 natural, historical, and recreational sites across the United States.
If you still need convincing, check out our article: National Park Annual Pass: Is it Worthwhile? + How to Buy
Want to try out vanlife while visiting the national parks?
If you've been following us for a while now, you know we're obsessed with #vanlife. However, if you don't have the time (or interest!) in building your own conversion but you still want to give vanlife a test drive, we've got options for you…
Check out our list of top companies for USA Campervan Rentals, from budget to bougie, we've even included some exclusive discounts for our readers.
One company we'd recommend looking into is Escape Campervans. They have 12 different locations across North America (including Seattle) and come fully loaded with all the gear you need for an epic road trip. Plus, their rates are fair and affordable.
BONUS: We've partnered with them to give you a 10% off discount when you use our link!
---
With all that info out of the way, let's get into the fun part!
Day 1 | Grand Teton
Day 1 starts with an early sunrise from one of the best viewpoints in Grand Teton before heading to another iconic viewpoint overlooking the Snake River. The day ends with either a relaxing bike ride meandering along the base of the mountains or an afternoon kayaking on the magnificent Jackson Lake.
Sunrise at Mormon Row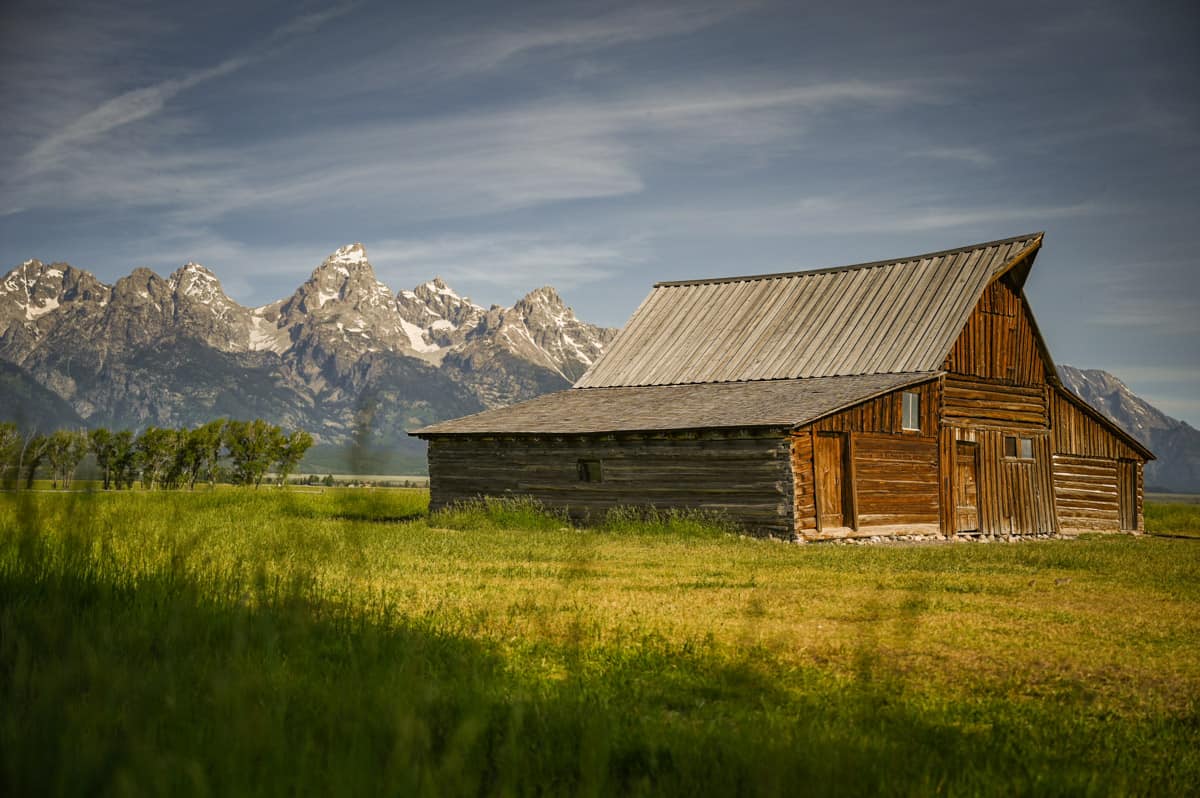 With only two days in Grand Teton, you'll want to make the most of every minute so Day 1 starts early with an epic sunrise at Mormon Row, the remaining homesteads of early 20th century Mormon settlers to the area.
In the late 1800's and early 1900's, as the population of Salt Lake City grew, Mormon families began to spread out to establish communities in new areas. Today, you can still see some of the original structures from these early settlers, with the antique barns providing the perfect foreground to the dramatic sunrise playing out on the mountains in the distance.
Visit Schwabacher's Landing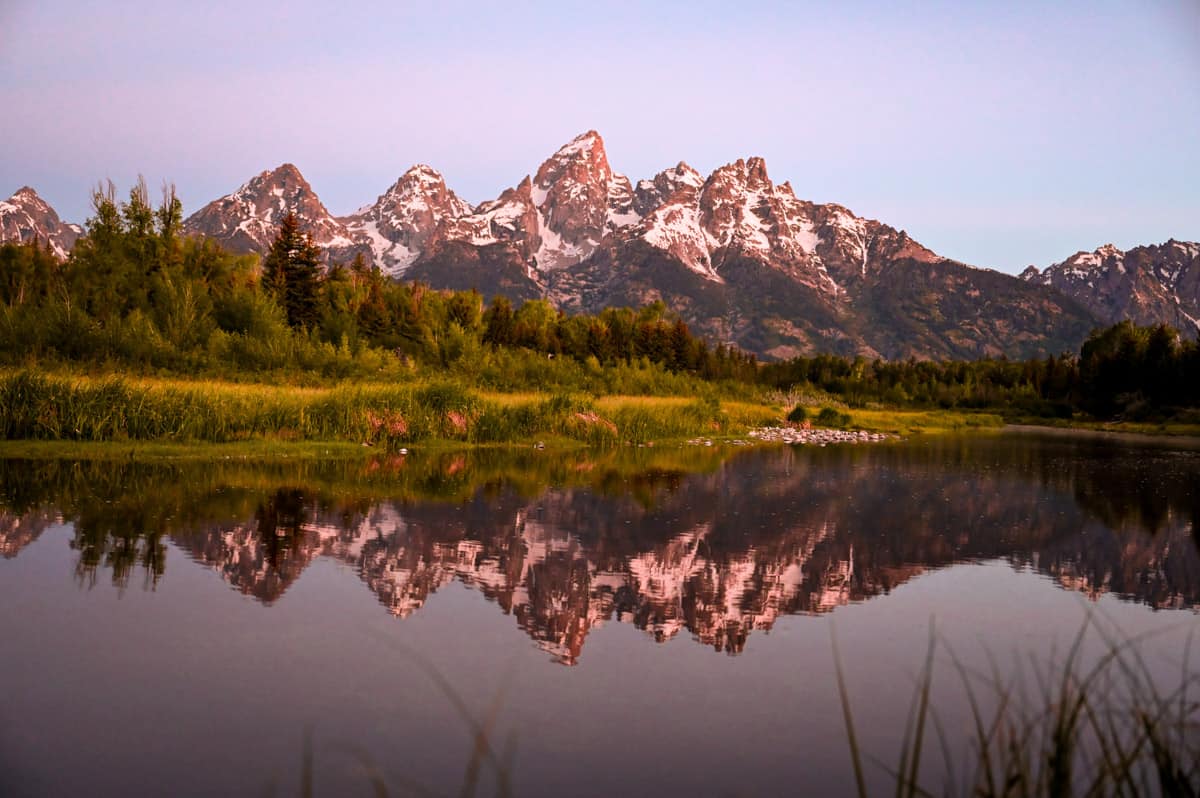 After watching the sun light up the majestic Tetons, you'll make your way over to Shwabacher's Landing, another famous viewpoint with unmatched views of the mountains reflecting in the Snake River below.
The drive from Mormon Row to Schwabacher's Landing is just over 10 minutes. We recommend hustling over to Schwabacher's Landing shortly after sunrise for the best chance of seeing a picture-perfect reflection of the Grand Tetons in the river and to bask in the last few moments of the warm dawn sky.
If you're really lucky, you'll see some wildlife enjoying the view as well!
Insider Tip: Schwabacher's Landing is one of the most popular areas in the park and there will likely be some crowds. We've found that if you're willing to walk a little farther along the river before stopping for pictures, the view is just as good, but you'll leave most of the crowds behind.
With two of the most iconic Teton sites already crossed off your bucket list, the day only gets better. We've got two great options for afternoon activities you can choose from.
Option 1: Biking from Moose to Jenny Lake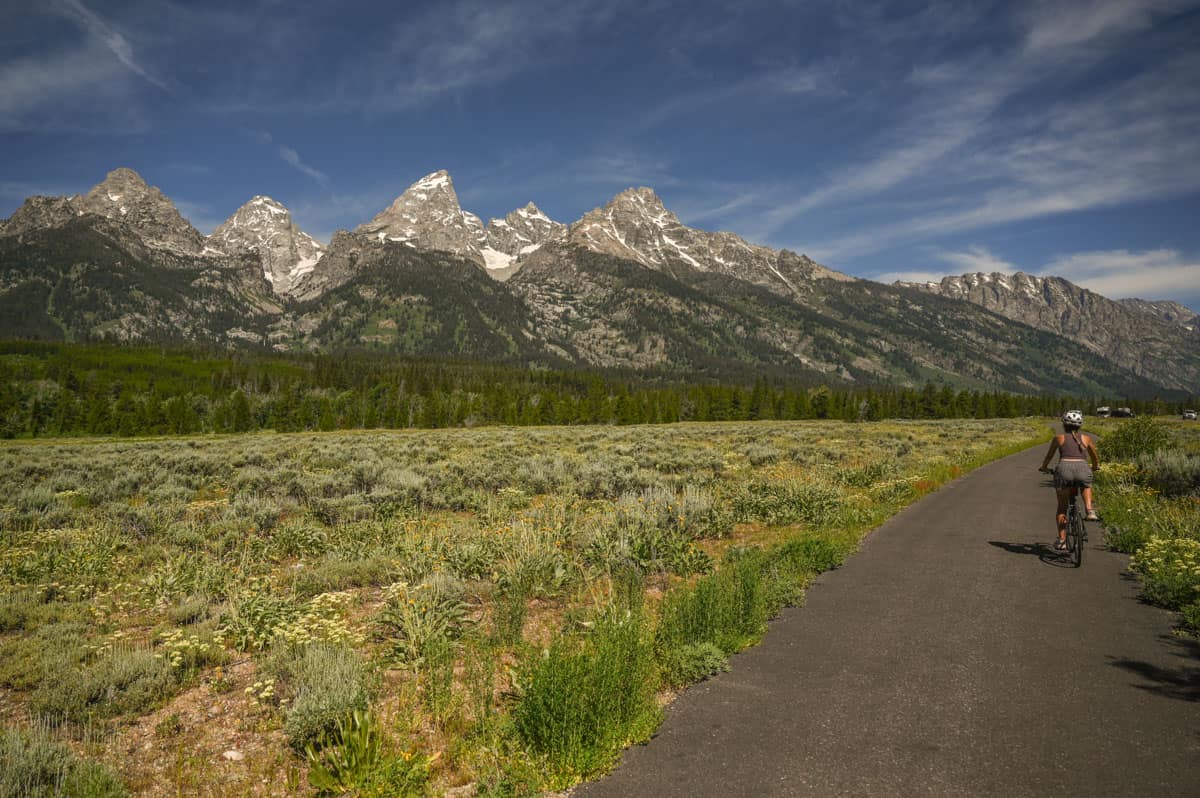 One of our favorite things about Grand Teton National Park is the paved bike path that stretches from the town of Jackson north to the southern part of Jenny Lake. The multi-use path is wide and smooth, allowing you to safely enjoy a bike ride through the fresh mountain air with peace of mind.
Pick up bikes at Adventure Sports at Dornans, which is conveniently located in Moose, just a short drive from Schwabacher's Landing. You don't even need to leave the park!
Bike rentals cost $50 per bike for the full day, and you can access the bike path directly from Dornan's. We recommend heading north towards Jenny Lake, which is an 8 mile ride that should take around 2 hours, including time for stops to soak in the views.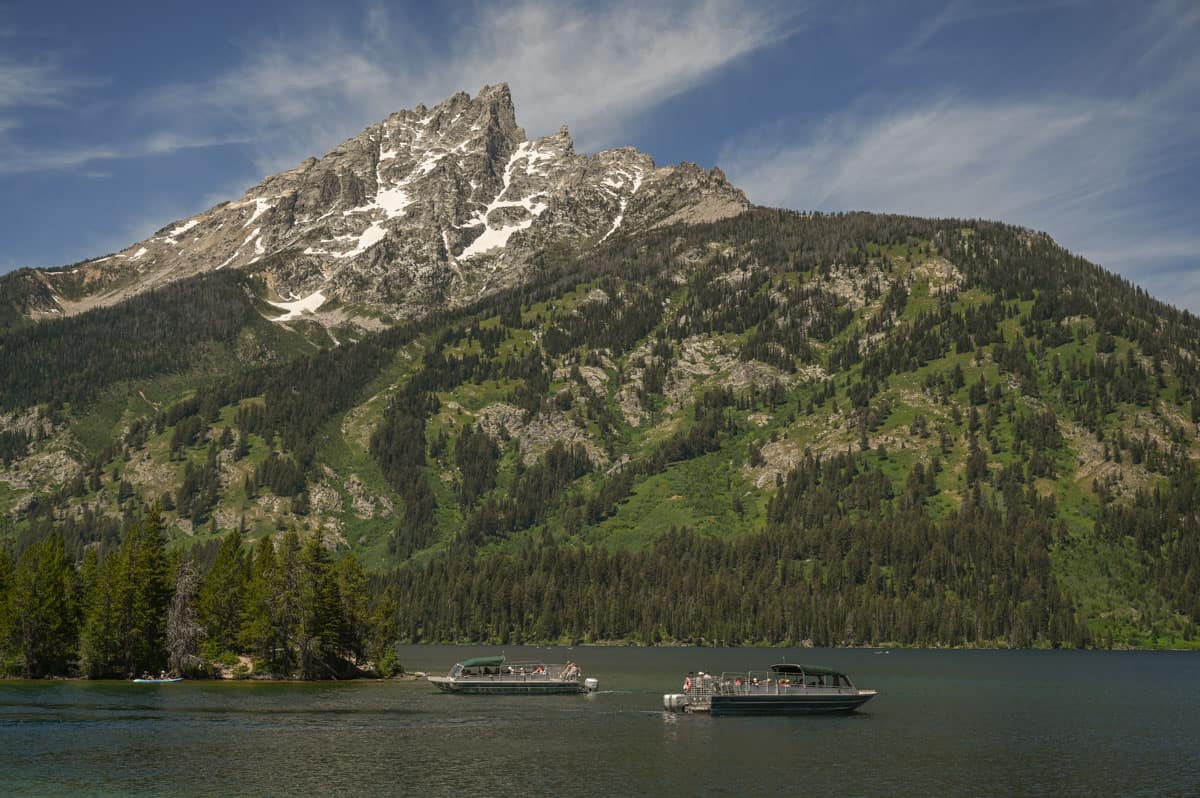 Once you get to the Jenny Lake parking area, store your bikes on the bike rack and head to the lakeshore for more mountain views. Find a nice spot along the banks of the lake to rest and enjoy a snack or picnic lunch!
If you have some extra time to kill, you can take the boat shuttle from the east side of Jenny Lake to the base of Mount Teewinot on the western side. From the western side, there are even more hiking trails including a popular path up to Hidden Falls and Inspiration Point.
The hike to Hidden Falls and Inspiration Point is a manageable 2 miles with about 550 feet of elevation gain. If you're feeling very ambitious, you can continue along the trail into Cascade Canyon, one of our favorite areas of the park!
The Jenny Lake Shuttle runs every 10-15 minutes throughout the summer. You cannot make reservations in advance. You can read more about the Jenny Lake Shuttle here.
Once you've explored enough of Jenny Lake, hop back on your bike and head back to Dornan's the same way you came!
Option 2: Kayak on Jackson Lake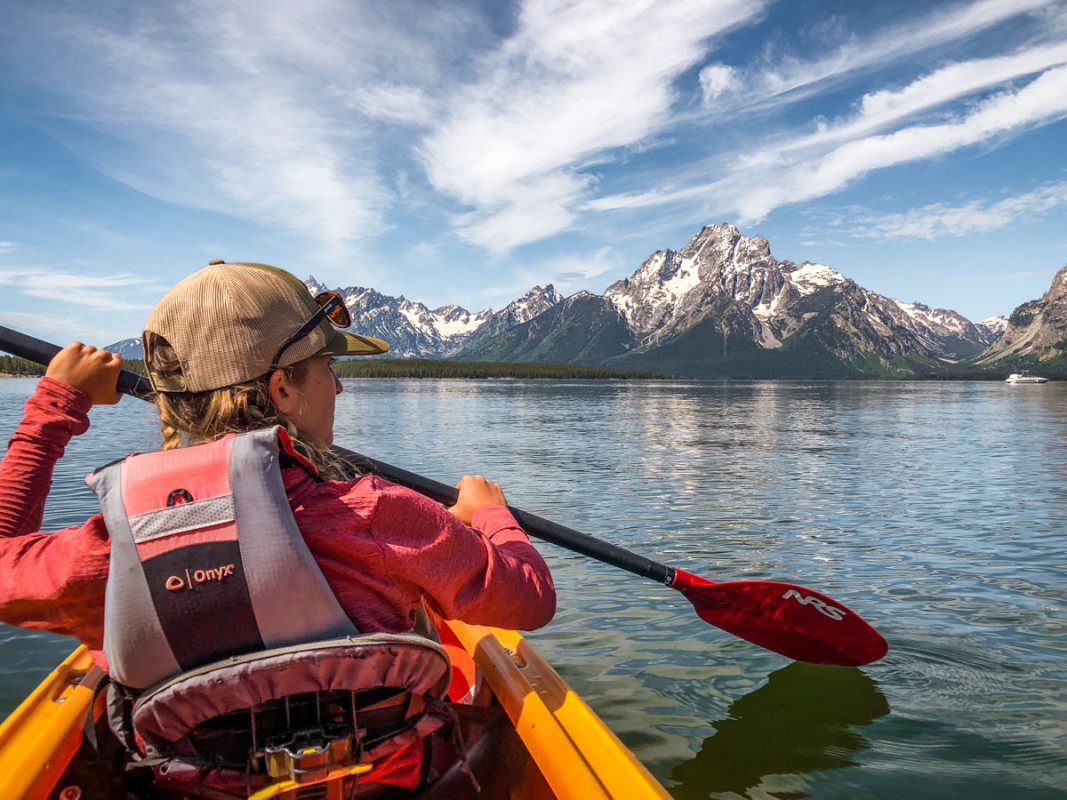 If you'd rather spend your time on the water, then consider renting kayaks and exploring Jackson Lake, the largest lake in the park! You can pick up kayaks at either Signal Mountain Lodge or Colter Bay Village, both located right on the lake.
Single and double kayaks can be rented by the hour on a first-come, first-served basis. We'd recommend packing snacks or a picnic lunch and finding a secluded beach with mountain views. Perfection!
Psst! If you're a newbie, check out our article: How to Kayak: A Guide for Beginners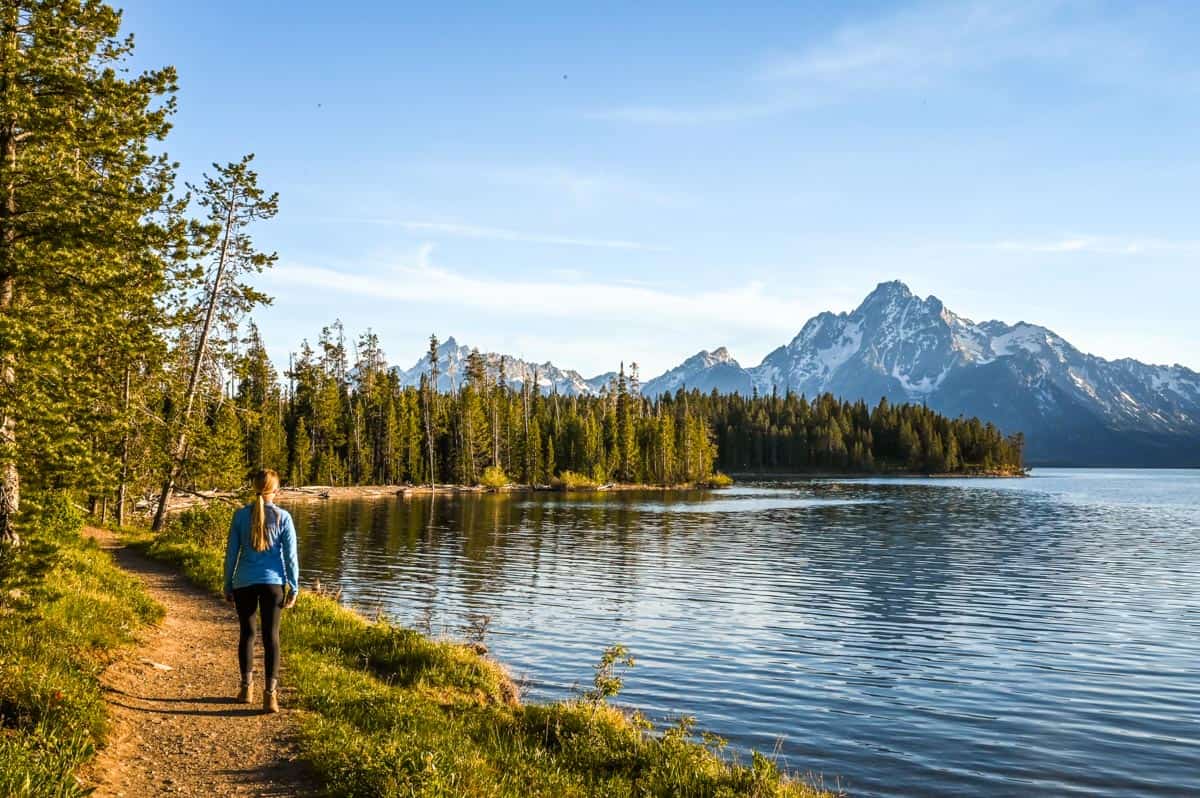 If you still have some time after you're done kayaking, you can explore the Lakeside Trail that follows along the eastern shore of Lake Jackson or find a place to relax on the surprisingly-large beach area near Colter Bay Village.
Day 2 | Grand Teton
No trip to Grand Teton would be complete without hiking and a nice dinner in swanky Jackson Hole!
Hike to Delta Lake
(option to continue to Surprise and Amphitheater Lakes)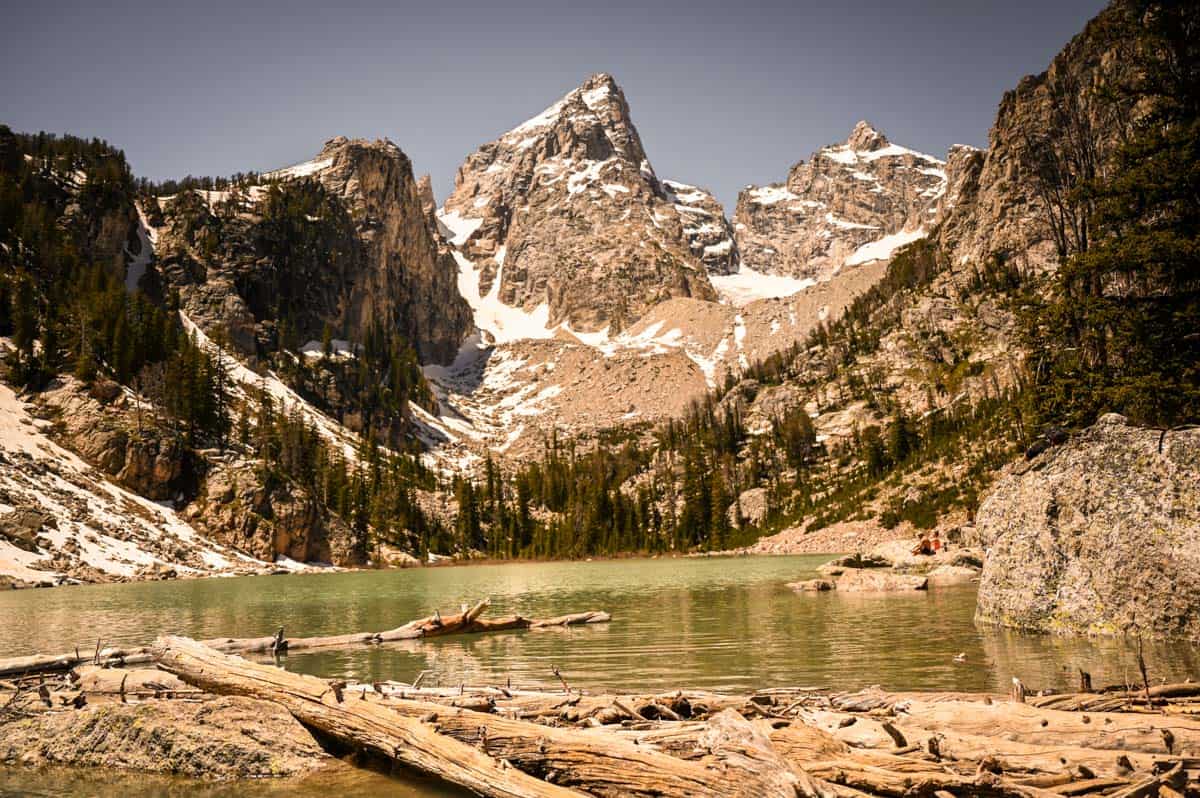 We've done almost all the day hikes in Grand Teton National Park and our favorite (by far) is the journey up to Delta Lake (7.4 miles, 2,300 feet round trip).
Be warned – this hike is steep! But trudging through the grueling switchbacks is more than worth the unbelievable view of the cerulean lake nestled at the base of the Tetons. It is one of the most beautiful lakes we've ever seen!
The hike up to Delta Lake begins at the Lupine Meadows Trailhead and shares much of the same trail with the hike to Surprise and Amphitheater Lakes. From the trailhead, you'll hike up through a series of seemingly endless switchbacks until you branch off from the main trail about 3.2 miles in.
If you thought the first 3 miles were steep, just wait until you see the last quarter mile or so. It will feel like you're going straight up the mountain, clinging on to rocks and roots as you scramble up the loose dirt. But soon you will be rewarded with one of the best views you'll ever see!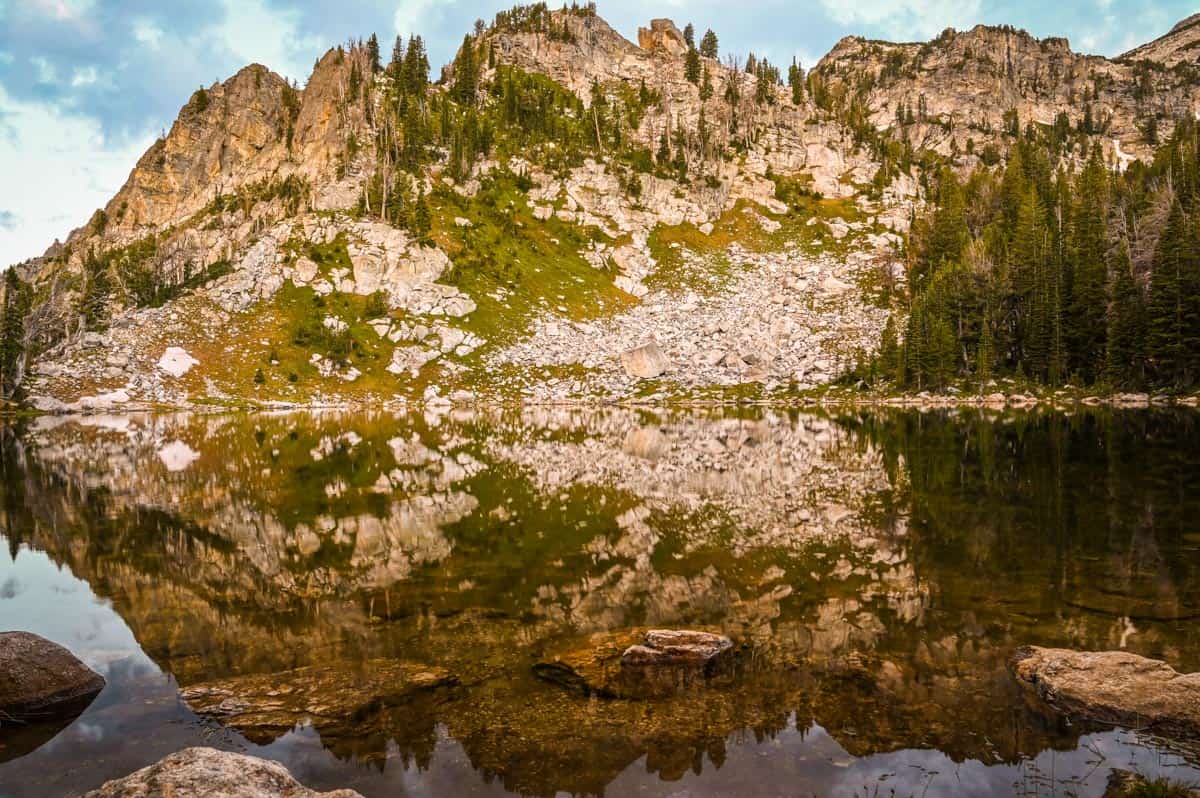 If you still have some energy left after reaching Delta Lake, you can continue on to Surprise and Amphitheater Lakes, adding another 4 miles and 1,300 feet of elevation gain (11.5 miles and 3,667 feet total).
While these lakes don't feature the same teal water or views quite as epic as Delta Lake, they are still marvelous and worth a visit if you have the energy.
Dinner and drinks in Jackson, Wyoming
After a long day on the trails, there is no better way to recover than with cold beer and good food. Luckily, both are readily available in the popular mountain town of Jackson, Wyoming.
This quaint town is a hub for western fare, cute shops, and insanely expensive art galleries. We've included a list below of some of our favorite places to grab a beer or a bite in town:
Day 3 | Yellowstone
After two adventure-packed days in Grand Teton National Park, it's time to pack the car, head north on Route 19, and enter the magical land of prismatic springs, geysers, pristine meadows, babbling mountain streams, and iconic wildlife. Otherwise known as Yellowstone National Park!
The first part of day 3 of this Grand Teton to Yellowstone itinerary begins with the scenic drive between the parks. The time you'll need to drive between the parks depends on where you're staying near Grand Teton, but it won't take too long, as the parks really are right next to each other.
See Old Faithful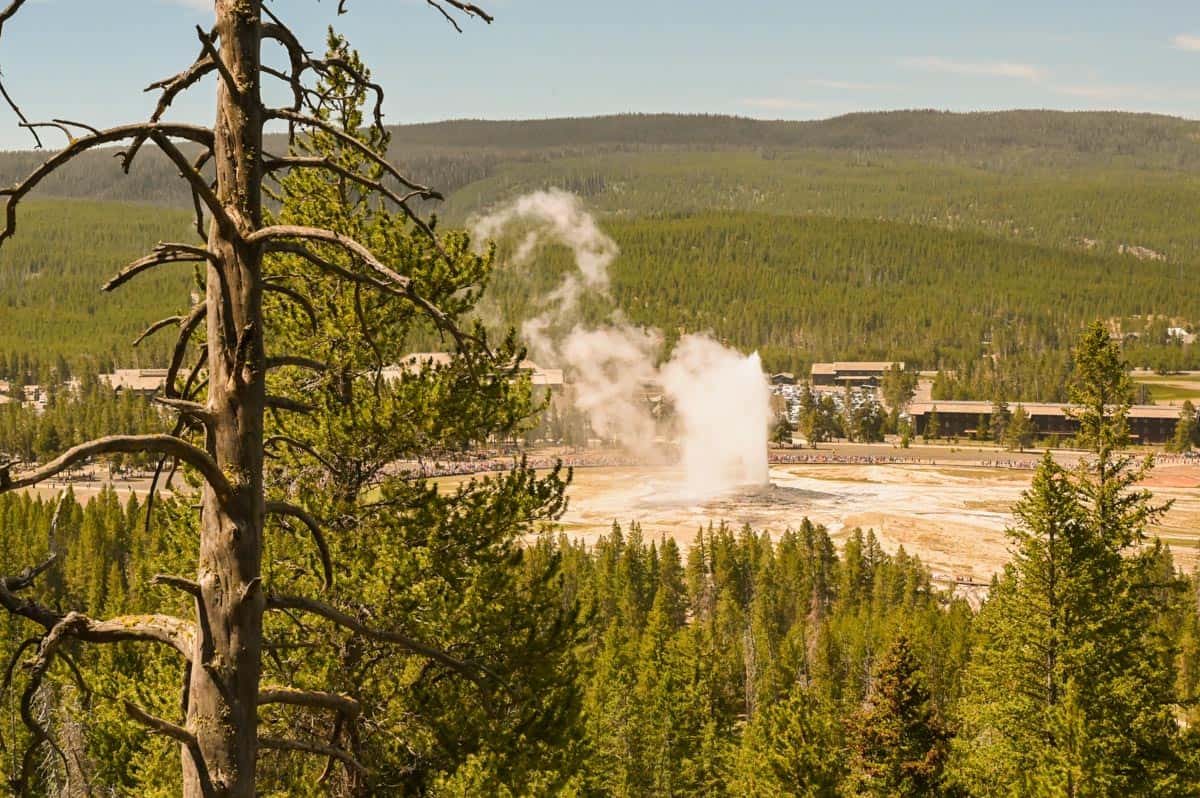 Yellowstone is known for many different attractions but perhaps the most well-known is Old Faithful, making it the perfect place to start your Yellowstone adventure.
While not the tallest nor the largest geyser in the park (that honor belongs to Steamboat Geyser), Old Faithful is known for spewing thousands of gallons of boiling water more than 100 feet in the air every 60-90 minutes.
Fun fact: the time between Old Faithful's eruptions depends on the length of each eruption. Give or take a few minutes, Old Faithful will erupt 65 minutes after an eruption lasting less than 2 and a half minutes or, if the previous eruption was longer than 2 and a half minutes, the next eruption will take place in 91 minutes.
The NPS provides live updates on when each geyser in the park is expected to erupt here.
If you'd like to escape some of the crowds you'll encounter near the viewing platform around the base of Old Faithful, we recommend hiking to Observation Point. The short, 1.5-mile round trip hike brings you to a beautiful viewpoint overlooking the geyser.
Tip: Time your hike to arrive at the viewpoint just before the geyser is expected to erupt!
Explore Upper Geyser Basin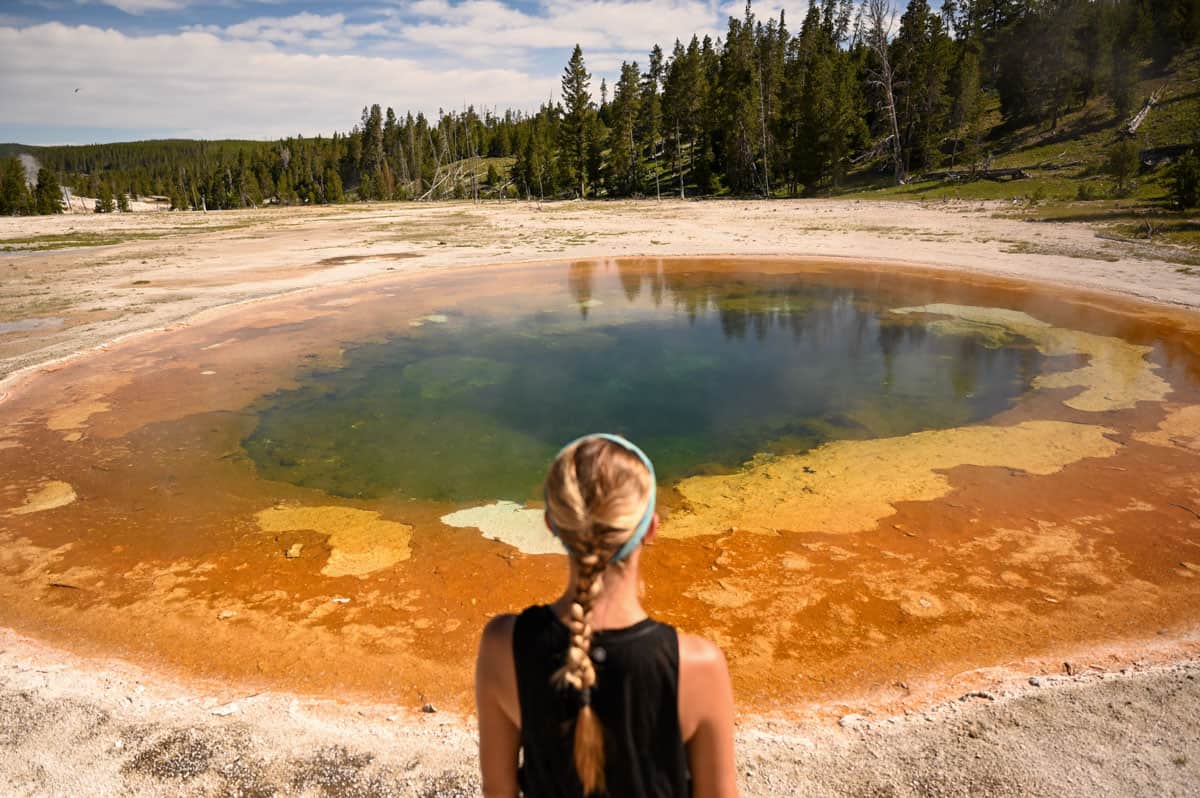 Once you watch Old Faithful spew thousands of gallons of piping hot water into the air, it's time to explore the rest of Upper Geyser Basin, which is home to the largest concentration of geysers and other geothermal features in the entire world!
Starting from the Old Faithful visitors center, make your way along the boardwalk all the way to Morning Glory Pool. Along the way, you'll see a seemingly endless array of geysers, colorful pools, hot springs, and otherworldly geothermal features.
The easily-traversed path from Old Faithful to Morning Glory is about 1.4 miles each direction, making it the perfect introduction to Yellowstone National Park.
Visit Biscuit Basin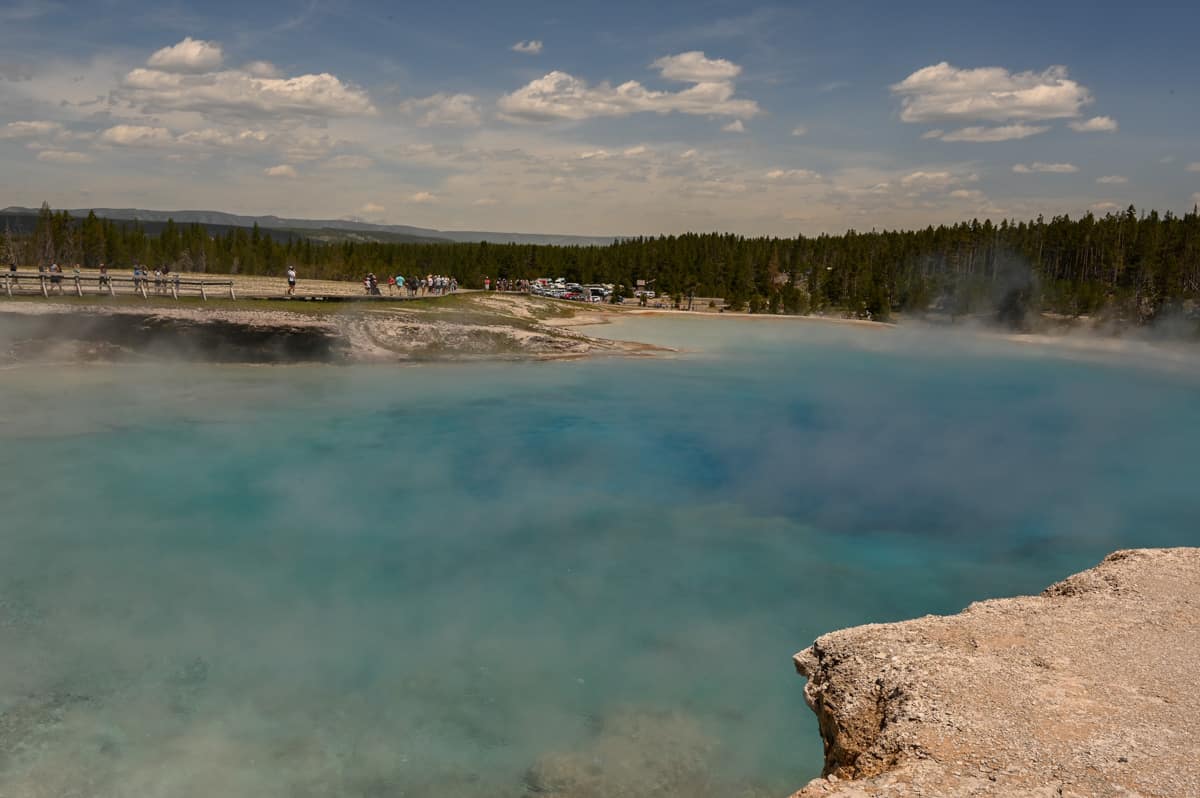 Just a few minutes drive to the northeast of Old Faithful, you'll find the Biscuit Basin area. Whereas the Upper Geyser Basin is the most visited area of the park, Biscuit Basin is much quieter yet still home to plenty of colorful pools, geysers, and other geothermal features.
The short walk along the boardwalk (two-thirds of a mile) doesn't include as many geysers or pools as Upper Geyser Basin, but we were blown away by the bright colors found in the pools here. This was one of our favorite areas in the park!
Because the geyser and pools are a bit smaller, you can tend to get a little closer to them than you can in the Upper Geyser Basin. But don't forget – do not leave the boardwalk!
If you're looking for a bit more exercise, you can hike from the Old Faithful area to Biscuit Basin via the Artemisia Trail.
Bask in the beauty of the Grand Prismatic Spring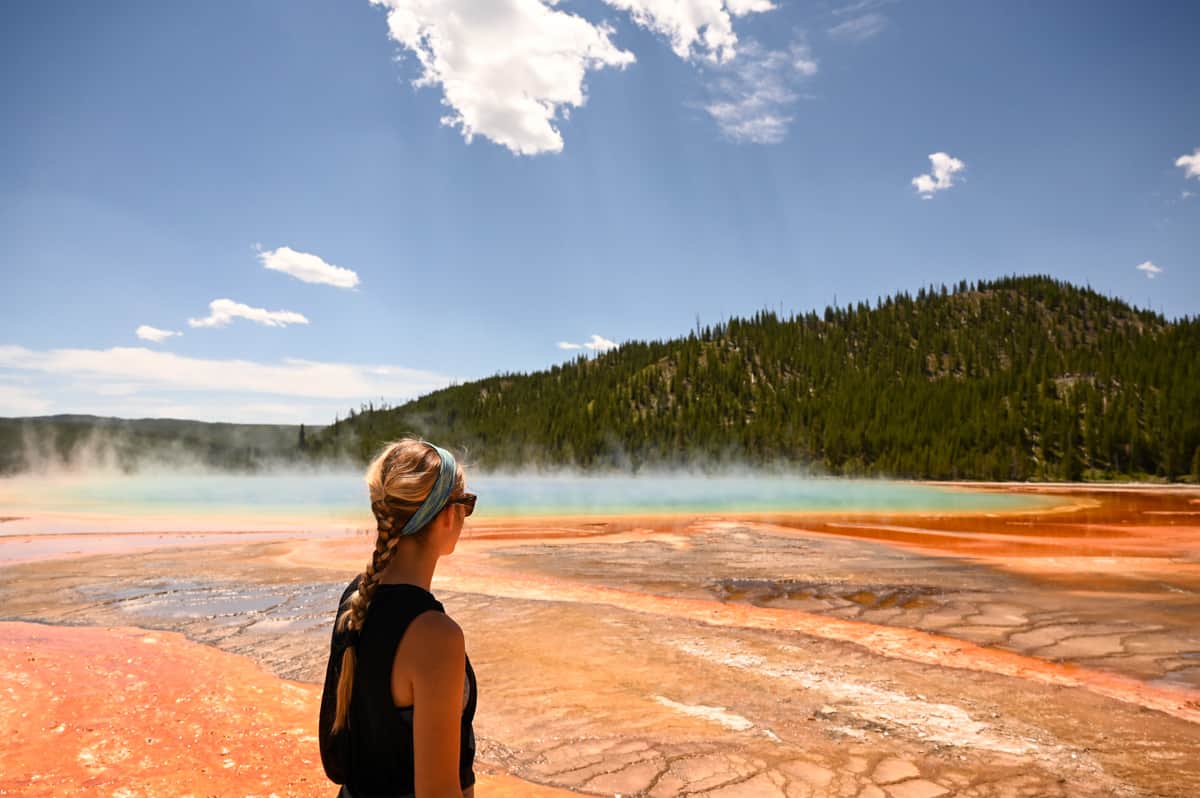 You know how firework shows on the Fourth of July always end with the grand finale? Well, ending your first day at Yellowstone with a visit to the Grand Prismatic Spring is a lot like the grand finale in a firework show.
You think you've seen the best part of the show and then BOOM – the finale!
The third largest geothermal spring in the world, Grand Prismatic Spring is larger than a football field! But it's not just the sheer size of the spring that is so striking. The rainbow of vibrant colors from bright orange and red to yellow, green, and blue, you truly can't imagine how striking the spring is until you lay eyes on it.
While you can certainly get a sense for the color and size of the spring from the boardwalk that hugs the edge of the geothermal pool, the best way to experience the true magnificence of Grand Prismatic is from above.
With just a short 1.6 mile hike that includes only 135 feet of elevation gain, you can reach the Grand Prismatic Overlook, which features unmatched views of the iconic spring below.
Day 4 | Yellowstone
During the fourth and final day of this Grand Teton to Yellowstone itinerary, you'll explore two more unforgettable areas of the park – the Grand Canyon of Yellowstone and Mammoth Hot Springs.
Visit Grand Canyon of Yellowstone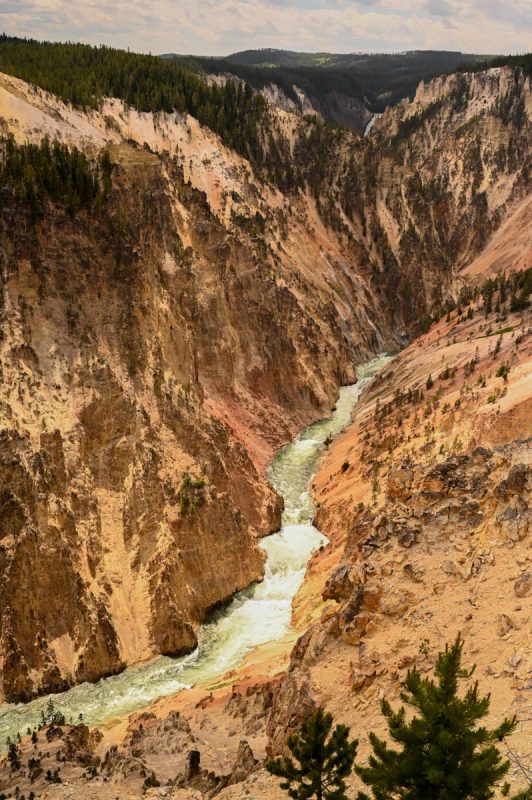 Formed by the powerful Yellowstone River, the Grand Canyon of the Yellowstone is yet another unique geological feature that will leave you breathless. The canyon sits over 20 miles long and reaches a depth of up to 1,200 feet making it quite the impressive site.
You'll notice the canyon's walls are yellow-hued and the story goes that the name "Yellowstone" (the Yellowstone River was named before the park), comes from the Minnetaree Native Americans, who called the river Yellow Rock River, likely due to the yellowish rock surrounding the Grand Canyon.
The first stop on your morning tour of the Grand Canyon is Artist's Point, one of the most iconic viewpoints of the Grand Canyon that provides a straight-on view of the powerful Lower Falls. The viewpoint is just a short walk from the parking lot, located on the southern rim of the canyon.
After that, make your way over to the trailhead for the short but steep climb down to the Brink of the Lower Falls. The trail brings you up close to the Lower Falls and is mostly paved.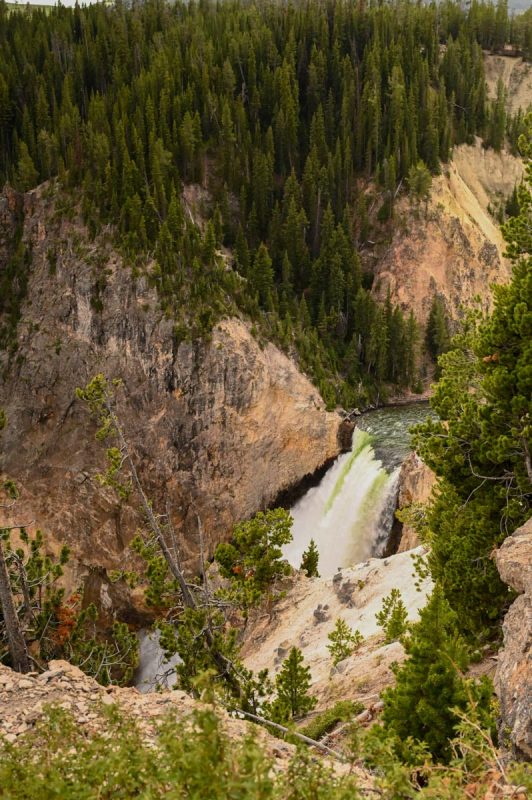 Once you enjoy the Lower Falls from up close, head over to Lookout Point to get a more zoomed out view of the falls. Make a stop at Inspiration Point and enjoy one last breathtaking view of the canyon.
If you want to get some exercise, you can do the fun out and back hike from Inspiration Point to Yellowstone Falls (or vice versa), which follows along the rim of the canyon for 3.2 miles (6.4 miles total).
Psst! Check out our round up of the best hikes in Yellowstone National Park for some more inspiration!
Explore Mammoth Hot Springs
After a "grand" morning, you'll head northeast on Route 89 to Mammoth Hot Springs, one of the largest geyser basins in the park. The "terraces" or terrace-shaped geothermal geysers are particularly unique! The boardwalk that connects the different geysers is 1.75 miles total.
If you're itching to ditch the crowds and enjoy some time in solitude with nature, there are many longer hikes that lead through the wilderness that leave from the Mammoth Spring area.
And with that, we've come to the conclusion of our 4 day Grand Teton to Yellowstone itinerary. You can spend the rest of your evening packing up to get on the road early the next morning to return home, or relax and save the packing for the morning.

What to pack for this Grand Teton to Yellowstone itinerary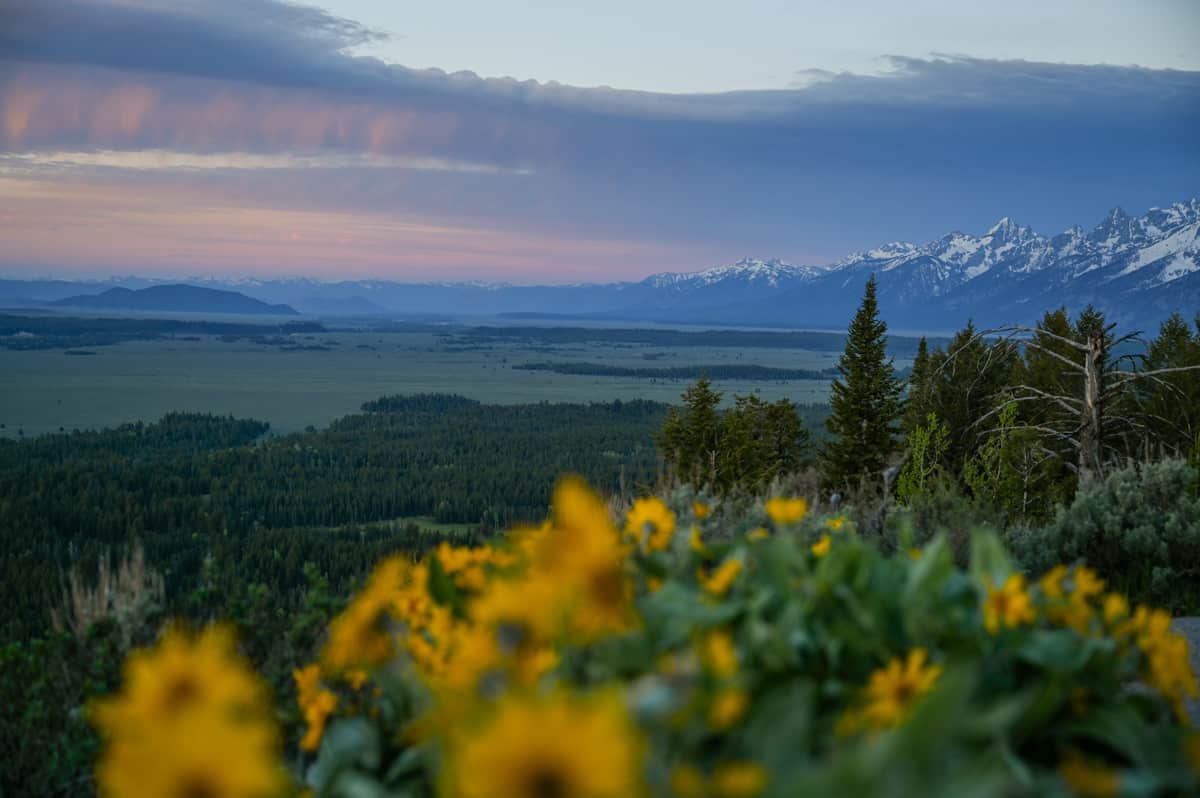 National Park Pass: If you visit just one more national park within a year of your trip, the National Park Pass will save you money. It's absolutely worth it and will save you time getting into the park. 
Camera: Of course, you have to document your epic trip! Our first camera was the Canon M100 and it was perfect. 
Packing cubes: These will make packing for your Grand Teton to Yellowstone trip infinitely easier. 
Bear spray: Remember you're in grizzly country!
Hydration pack and/or water bottles
Sun protection: sunscreen, sunglasses, hat
Bug repellant: There may be nothing more annoying than mosquitoes!
Hiking boots: Having a pair of hiking boots with good traction and stability will keep your legs feeling fresh.
Layers: The weather can change quickly and drastically. You'll want to be prepared for just about any conditions, no matter what time of year you visit. Follow these suggestions for what to wear hiking for your Grand Teton to Yellowstone trip.
Day backpack: We love the Camelbak 22L Rim Runner and 20 L Helena. Just the right size for storing the essentials.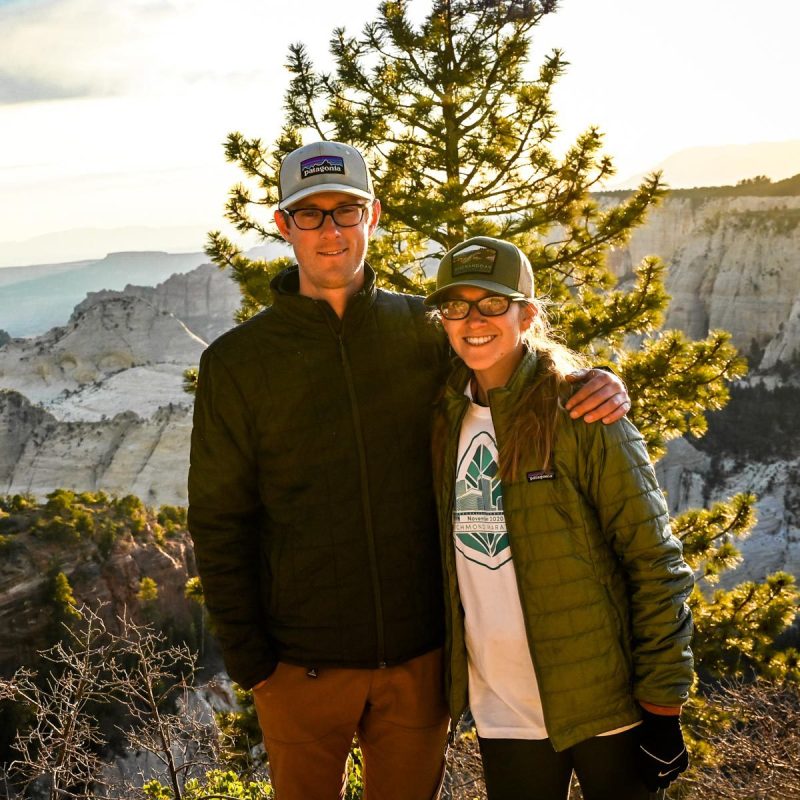 Meet our guest contributors
Sarah and Matt are two digital nomads, outdoor enthusiasts, and the creators of Two Outliers, an adventure travel and photography blog dedicated to helping you plan your next adventure! They road trip full-time across the United States along with their cat, Fitzgerald, while working full time and spending all their free time hiking, camping, backpacking, and exploring new places. They hope their experiences will inspire others to be outliers too!

You may also like…
Save this article on Pinterest for later!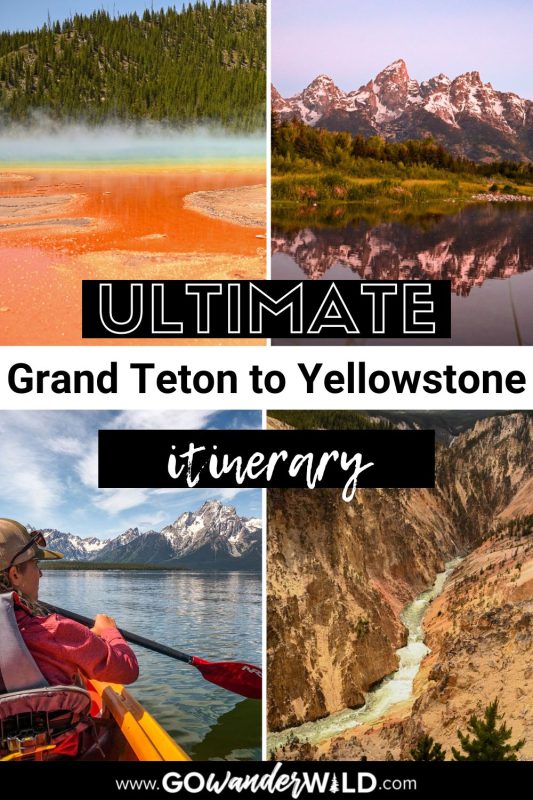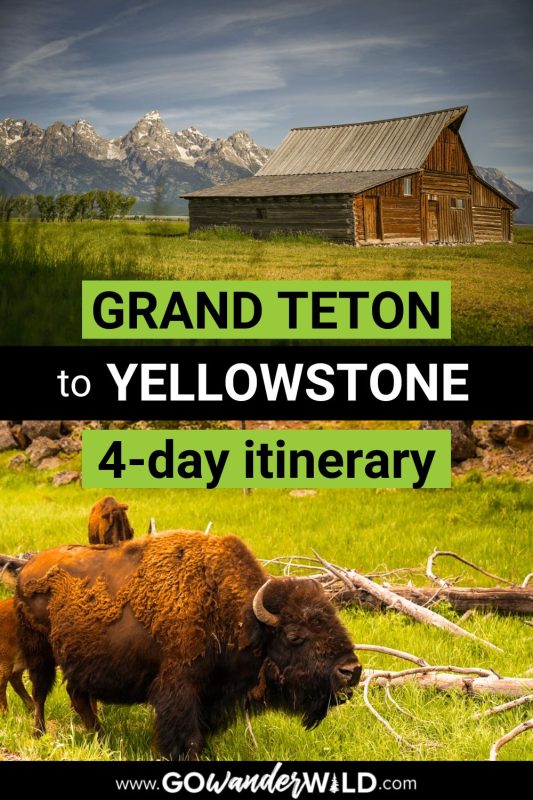 We want to hear from you!
Have you ever been to Grand Teton or Yellowstone National Park? What was your experience like? Are you planning a trip from Grand Teton to Yellowstone and still have questions? Comment below and we'll do our best to get back to you!