Just minutes from Leavenworth, Washington, the Icicle Ridge trail is an exciting half-day adventure offering wonderful views and a serious workout. This guide breaks down everything you need to know to make the most of this memorable hike.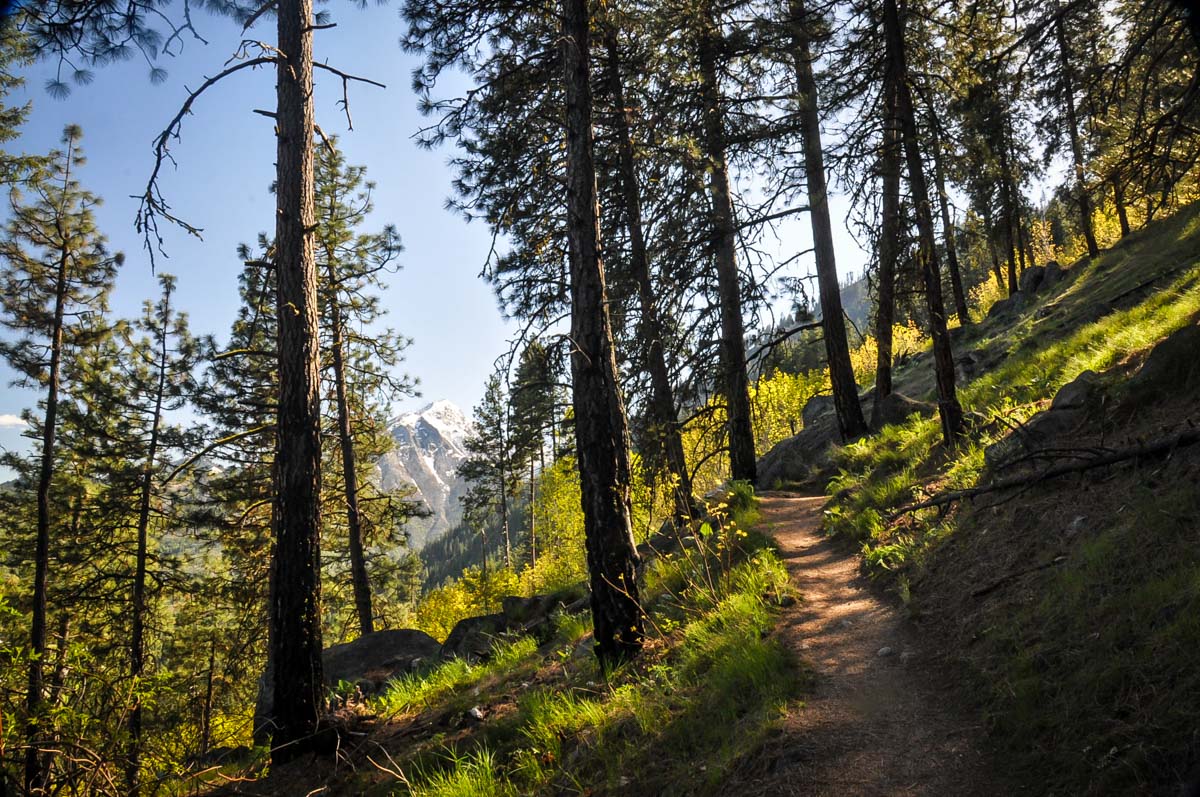 The charming Bavarian-themed town of Leavenworth, nestled in central Washington on the banks of the Wenatchee River, is both a delightful town and an excellent base for hiking.
Situated just at the town's doorstep (only a five-minute drive!), the thigh-burning Icicle Ridge trail is one of the best day hikes in Leavenworth. The hike offers a relatively short distance up to a ridge offering panoramic views of the surrounding mountains, glimpses of the town way down below, and colorful wildflowers.
We truly think hiking the Icicle Ridge trail should be on every Leavenworth itinerary.
In this guide we'll break down all the information you need to know to prepare for your hike, including what to expect on the trail and what to pack.
Article Contents
Psst! Check out our guide to Leavenworth Washington on our sister site for lots of other great ideas of things to do there.

Icicle Ridge trail at a glance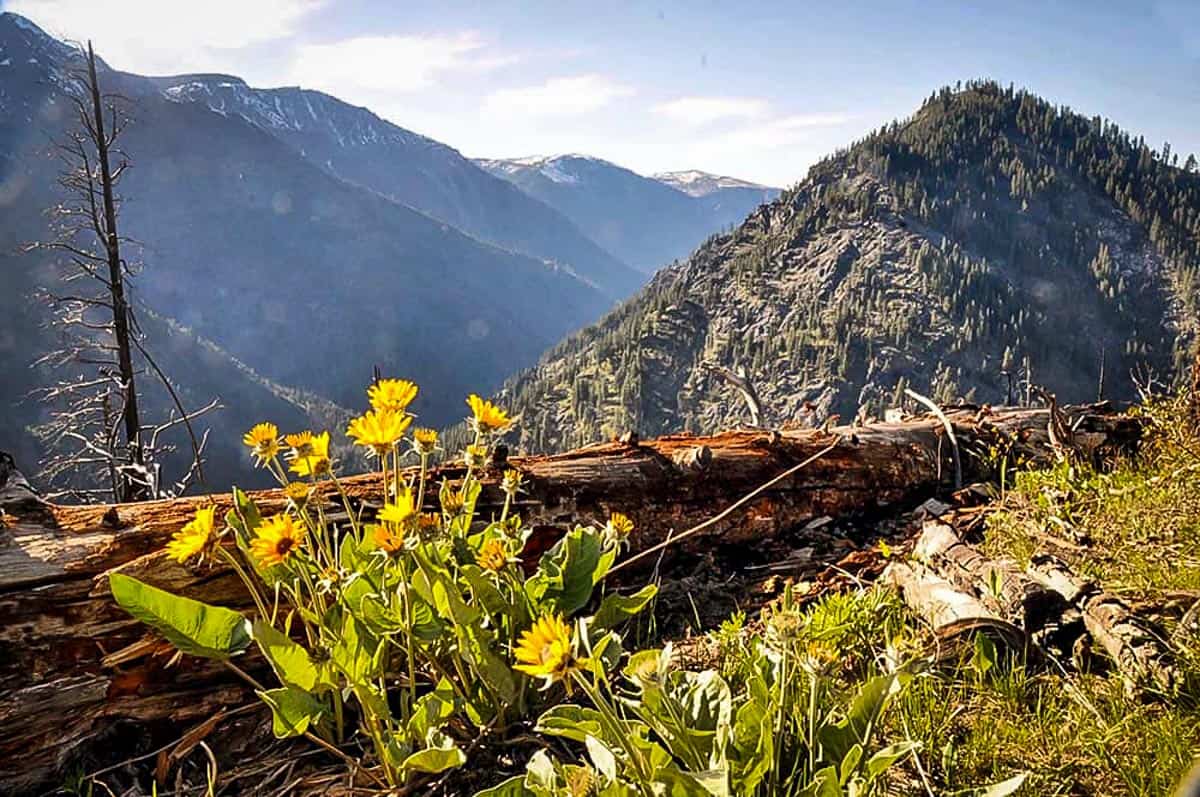 Icicle Ridge trail packs a serious punch — it's super scenic, easily accessible, and a manageable distance for most hikers at just 2.6 miles each way.
Filled with wildflowers, ponderosa pines, and sweeping views of the surrounding peaks, it's the perfect half-day escape. Plus, the trail is located right on the outskirts of Leavenworth. So close, in fact, that a car isn't even necessary to get there! You can get to the trailhead in just a few minutes by bike or opt to walk.
While it's steep in elevation gain, Icicle Ridge trail isn't technical. Instead, it's more of a thigh-burning, heart-pumping workout with a worthwhile reward. A stunning 360-degree view that dwarfs Leavenworth down below and offers a glimpse of the sparkling blue Wenatchee and Icicle Rivers, Tumalo Canyon, and the foothills of the Cascades.
It's not easy by any stretch, but the trail is enjoyable and memorable, offering one of the best vantage points of Leavenworth's picturesque surroundings.
Things to know before you go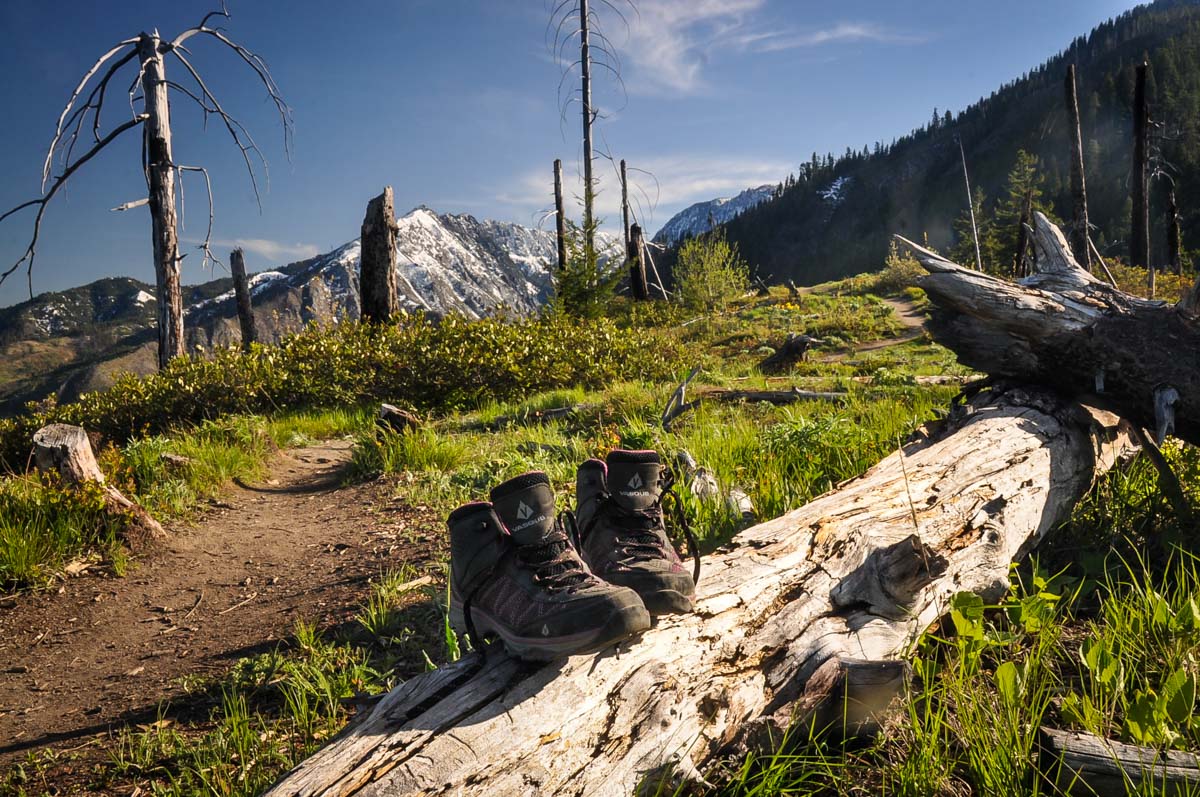 There are a few logistics to consider before setting out on the Icicle Ridge trail, to ensure you have a great experience.
Best time of year for the Icicle Ridge trail
Due to its slightly lower elevation and easy accessibility, the Icicle Ridge trail has a longer season than many of our other favorite hikes in Washington. Depending on snow conditions, it's possible to hike the Icicle Ridge trail from early April through well into October most years.
There's truthfully not a bad time of year for this trail, but if we had to pick the best, springtime and early summer are especially lovely, with pleasant cool temperatures and abundant wildflowers.
Even when it starts to really heat up, about half of the trail is shaded, so it's totally doable during the summer if you get an early start. In the fall, the trail is surrounded by beautiful changing foliage.
If you're comfortable snowshoeing, the Icicle Ridge trail is perfect for it in the winter. However, the steepness makes it pretty challenging for beginners.
How long does it take to hike the Icicle Ridge trail?
Icicle Ridge trail steadily climbs up switchbacks, accumulating almost 1,800 vertical feet in 2.6 miles. Because of that, the duration of the hike really depends on your own physical abilities.
The average completion time is 3.5 hours, but if you want to factor in a bit of extra time to snack and enjoy the views, allow 4-5 hours so as not to feel rushed. If you start in the morning, having a beer and late lunch in Leavenworth after your hike is definitely doable!
How difficult is the Icicle Ridge trail hike?
Steep and sweat-inducing, the Icicle Ridge trail isn't exactly a simple walk in the woods. However, it has no technical sections; anyone who's hiked similar trails or who hikes regularly in general will be able to tackle it.
Because the trail isn't long, the ridgeline appears right when the incline feels like it will never end, offering beautiful views as a welcome distraction.
The route
The Icicle Ridge trail launches into switchbacks pretty much right from the start. A steady and grueling yet manageable climb, the hike weaves through canopies of ponderosa pines and open meadows filled with wildflowers.
There are plenty of spots perfect for a quick rest, with alternating shady sections and clearings offering views. The trail is mostly dirt with a few rocks and roots, so trekking poles can be helpful, especially for the steep descent.
Just over two miles in, you'll finally reach the ridge you've been able to see for what seems like forever.
This natural saddle is a perfect place to stop for lunch and many people turn around here, but don't! Keep right, stopping at the various viewpoints — just as much for the photo ops as for taking a breather.
The best vista of all is just a few hundred yards up the crest of the ridge. From here, you'll be able to see Tumwater Canyon, Drury Falls, countless small peaks, and Leavenworth, all laid out in a colorful, picturesque panorama.
Wildlife on the trail
With a sweeping view into the valley below, expect to see a ton of interesting birds on Icicle Ridge trail. Grouse and bluebirds are common, but Bald Eagles also make frequent appearances.
There may be the occasional snake in warm weather and black bears do inhabit the area around Leavenworth, but encounters are rare. You're far more likely to have a run in with over-friendly chipmunks, but still, packing bear spray is never a bad idea.
Tips for hiking the Icicle Ridge trail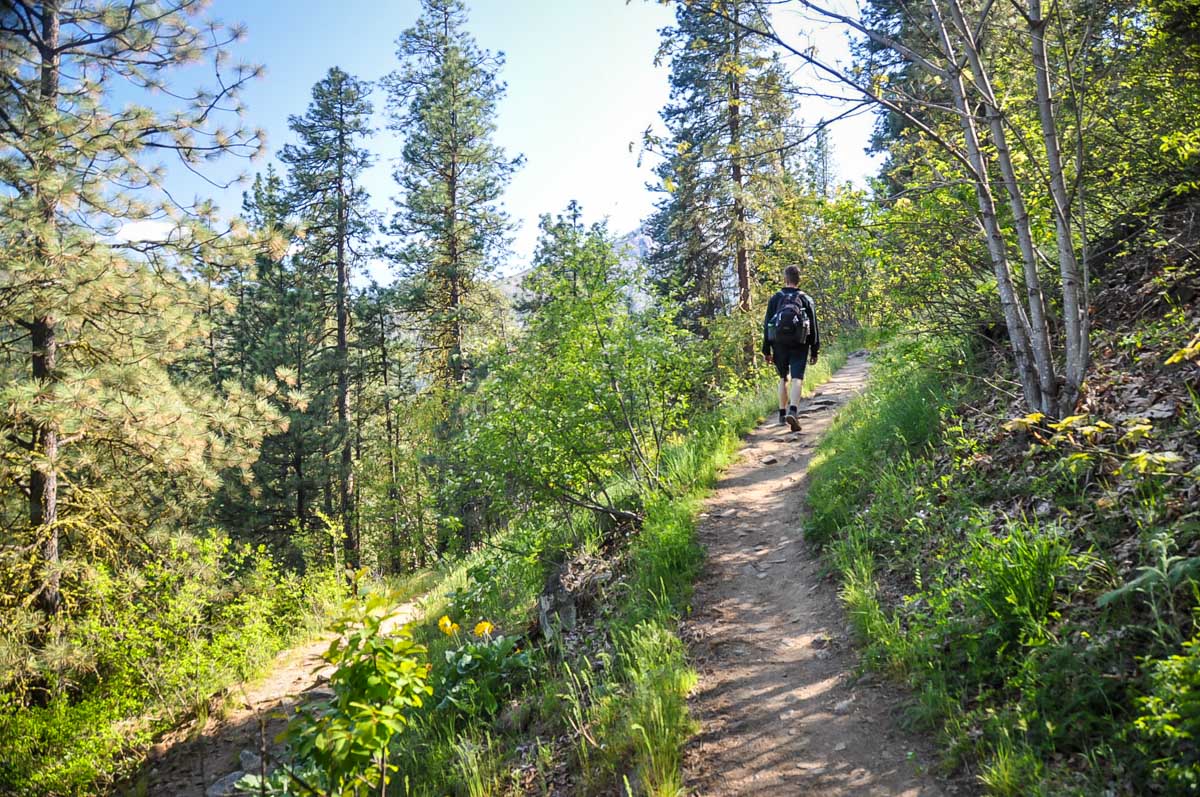 What to pack for hiking the Icicle Ridge trail
Be sure to grab our ultimate hiking packing list includes our must-have gear for any hiking trail!


You may also like…
Save this post to Pinterest for later!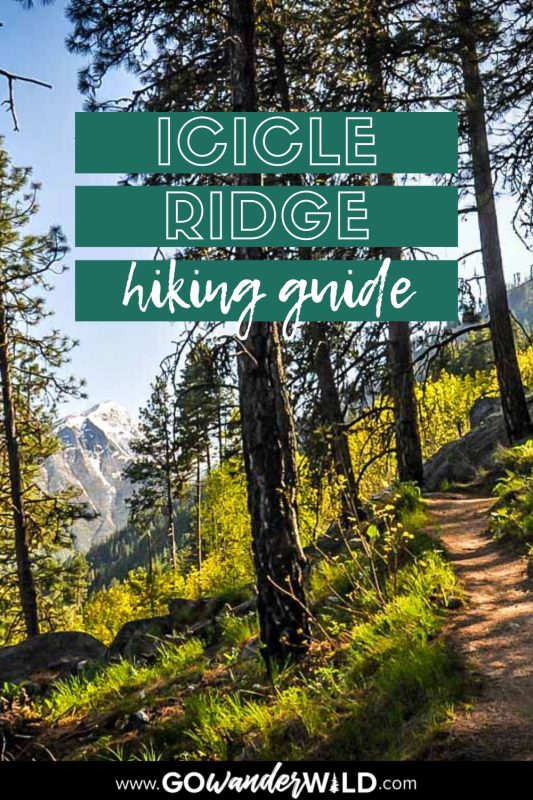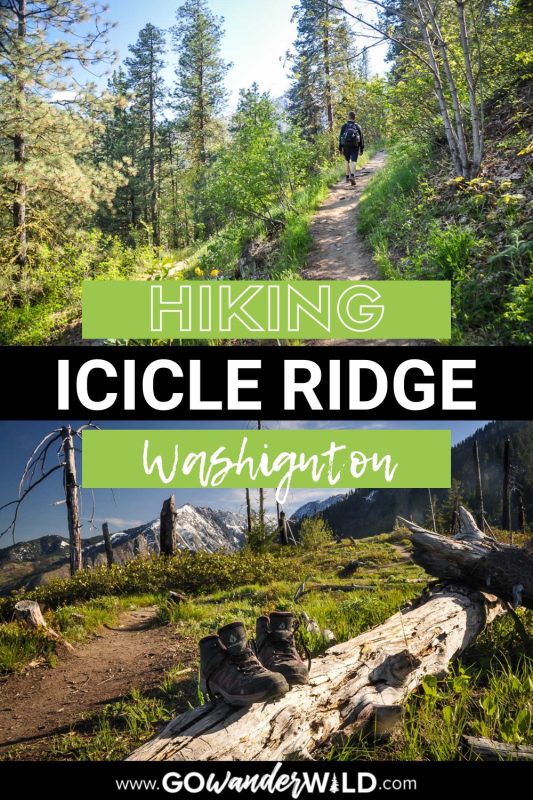 We want to hear from you!
Have you ever hiked the Icicle Ridge trail in Washington state? What was your experience like? Do you have more questions about doing the hike? Comment below and let us know!