Proxy Falls is arguably one of Oregon's most unique and impressive waterfalls — and amazingly, it requires less than a 2-mile hike. This guide covers everything you need to know about hiking to Proxy Falls Oregon, plus what exactly makes it so special!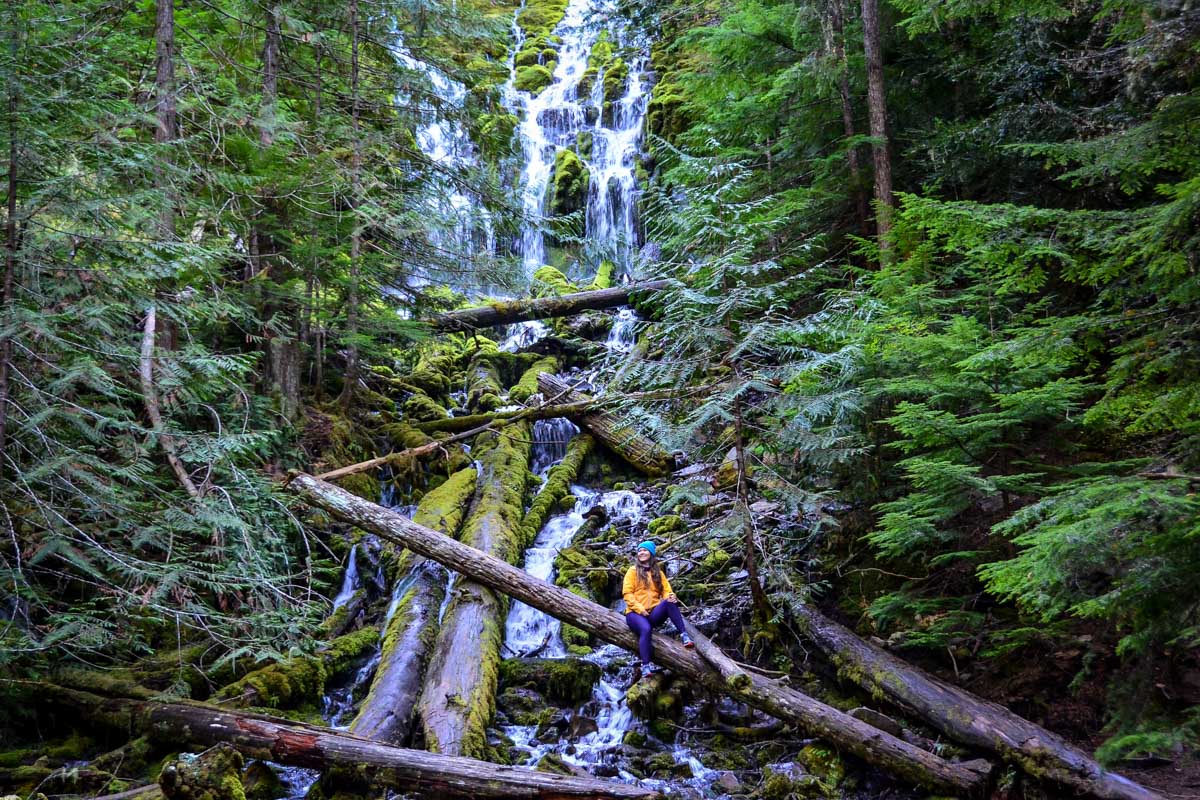 Nestled in central Oregon's Three Sisters Wilderness, Proxy Falls is a jaw-dropping natural gem with a bit of a "magic trick" in store for hikers.
The double-tiered cascade is perfectly framed in a lush, moody old growth forest. What makes it unforgettable, though, is that the water doesn't pool. Thanks to ultra-porous lava rock, it seeps right back underground!
It's no surprise this is one of the most photographed waterfalls in Oregon!
The hike is almost surprisingly short and sweet, but just getting there is a bit of a trek.
There are some other things you should know, so keep reading! We've detailed everything about hiking to Proxy Falls, including the best time to visit, insider tips, and more.
Proxy Falls Guide

Proxy Falls trail stats
Proxy Falls trail overview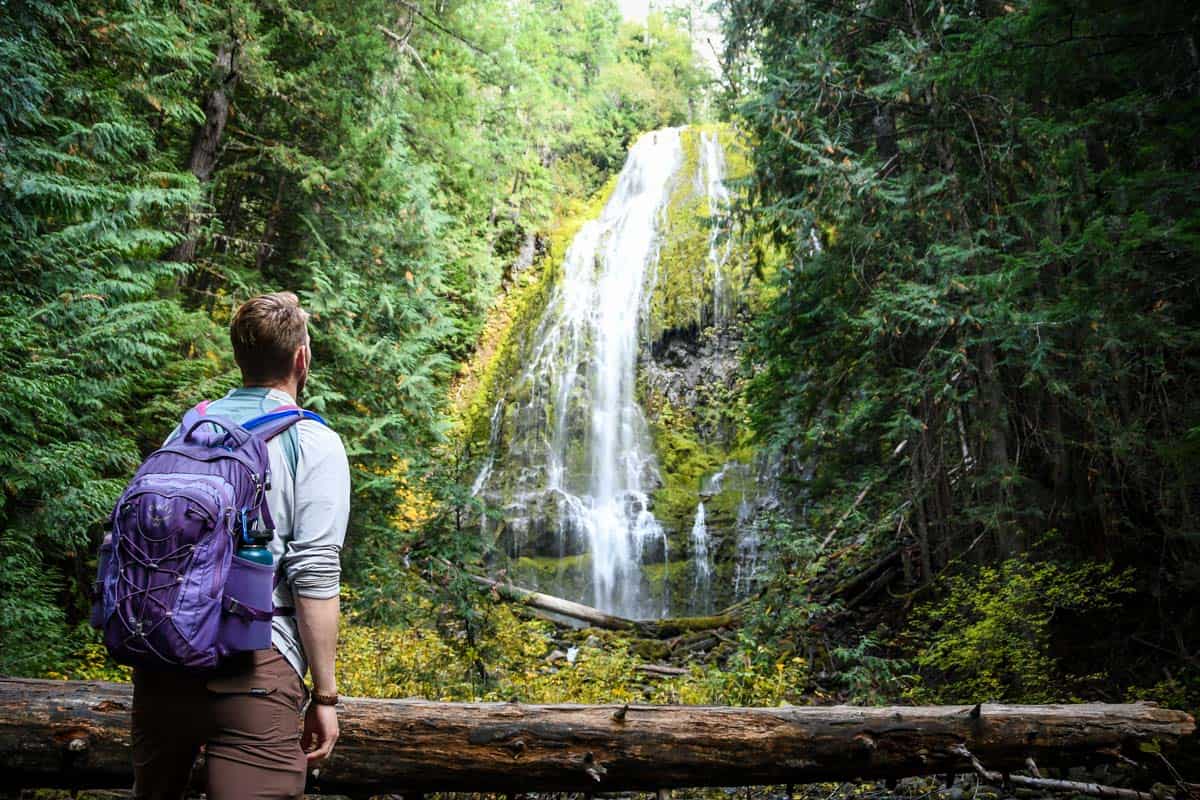 The gorgeous, multi-tiered Proxy Falls is tucked away in a particularly scenic area in the Three Sisters Wilderness, just off the McKenzie Scenic Byway.
Both the drive and 1.6-mile trail highlight quintessential PNW scenery, including lush, mossy forest, lava fields, and of course, the waterfall itself. A standout against most other waterfalls, Proxy Falls' cascades disappear underground, due to a porous lava rock base!
This fantastic, short-and-sweet family-friendly trail also presents just enough of a challenge to keep avid hikers coming back. Best of all, you can do some scrambling to find the best viewpoints and choose whether or not to go down to the base of Lower Proxy Falls.
All that variation and adventure in just over 1.5 miles makes this one of the very best hikes in Oregon!
Bonus: Belknap Hot Springs is just 6.5 miles away from Proxy Falls, so you can turn this short hike into a full-day or weekend excursion!
Things to know before you go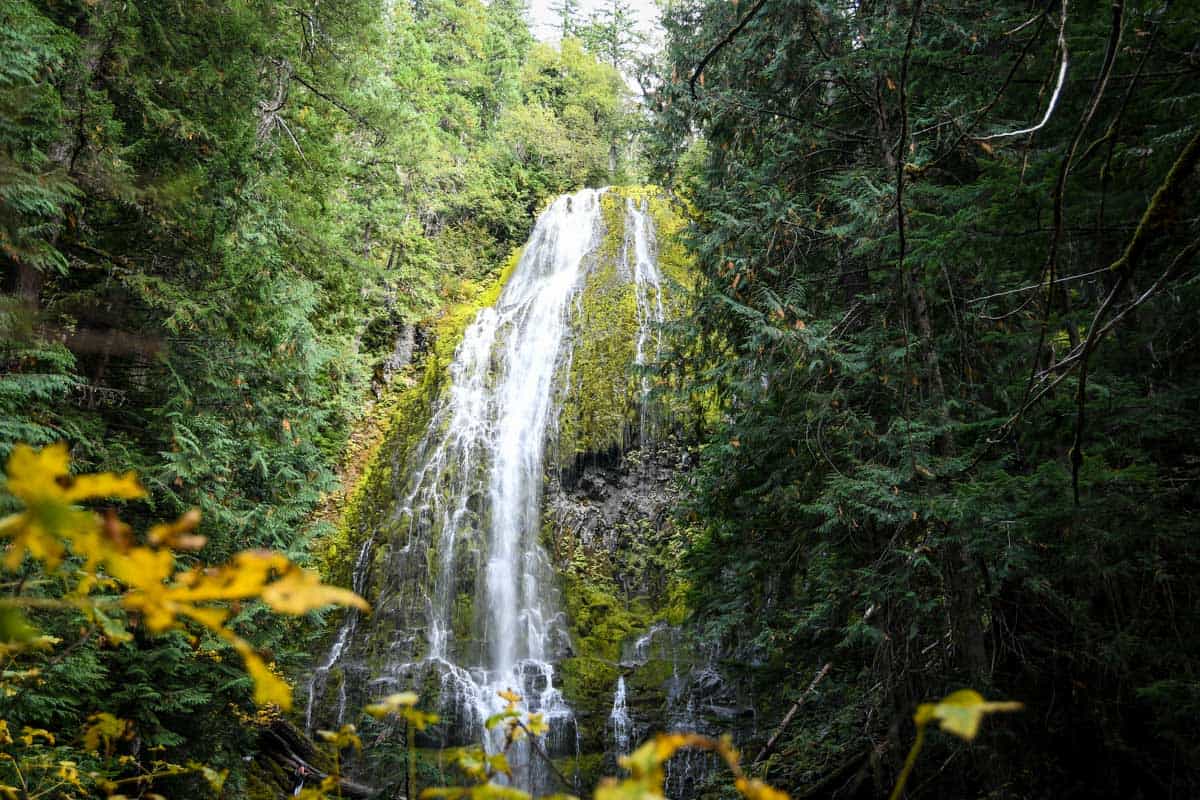 While Proxy Falls isn't a difficult or technical trail, there are a few things you should know before setting out.
Best time of year for the Proxy Falls Hike
The best months for hiking Proxy Falls are June, September, and October. In June, the waterfall is raging from peak snowmelt and if you time it just right, the road will be fully open (more on that below).
September and October are great months because while the waterfall's flow is lighter, the fall foliage along the trail is stunning.
Technically, you can do this hike year-round. However, the McKenzie Scenic Byway (Highway 242) is only open between June and early November — and when it's closed, the hike becomes a nearly 7-mile trek with over 900 feet of elevation gain.
How long does it take to hike the Proxy Falls trail?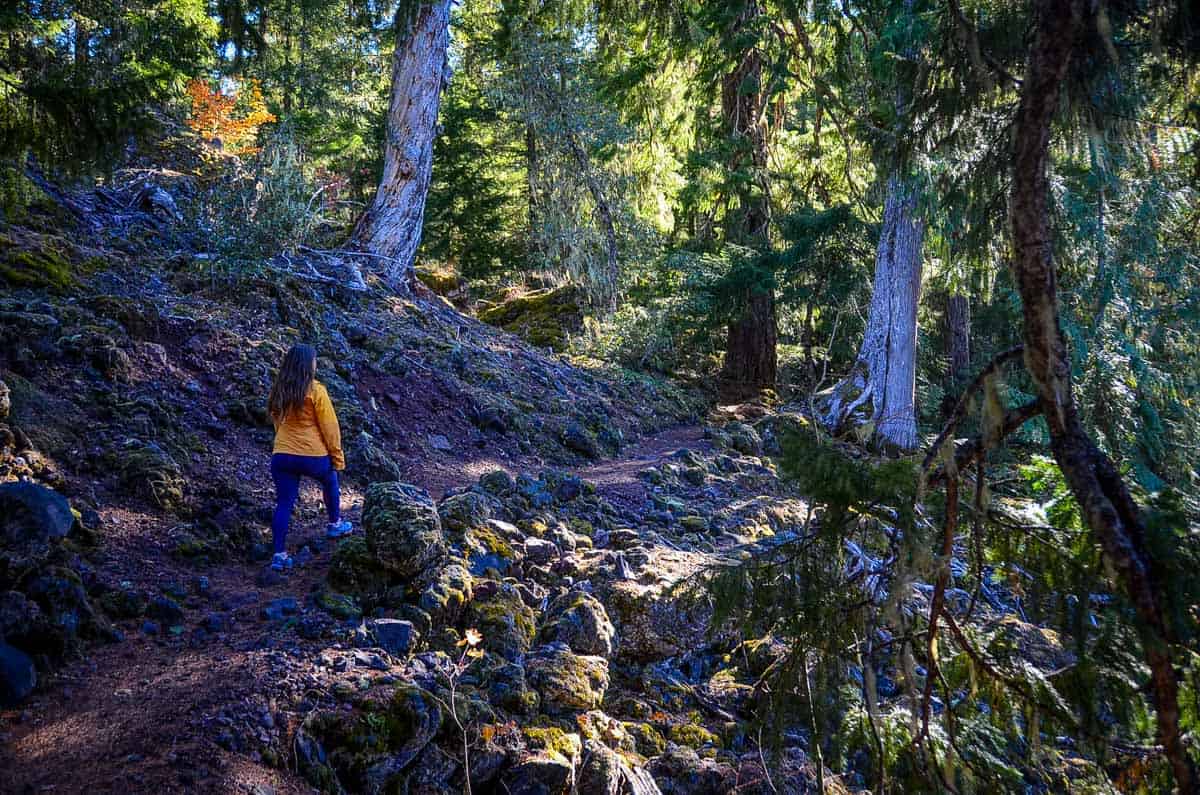 Hiking to Proxy Falls Oregon takes an average of 1-1.5 hours, depending on how much time you spend at the falls or taking photos on the trail. Fast hikers may complete the loop in well under an hour.
How difficult is the Proxy Falls trail?
Proxy Falls is a surprisingly easy hike, suitable for just about anyone with even limited prior hiking experience.
The trickiest aspects are navigating the rocky lava field at the beginning/end of the loop, and if you choose to go all the way to the base of Proxy Falls itself. This section of trail is steep, muddy, and difficult to find a real path on.
While it's an excellent hike for families and dogs overall, you should consider whether you want to take your kiddos or pup down to the base of the lower falls. All other sections of the hike are easy!
The route to Proxy Falls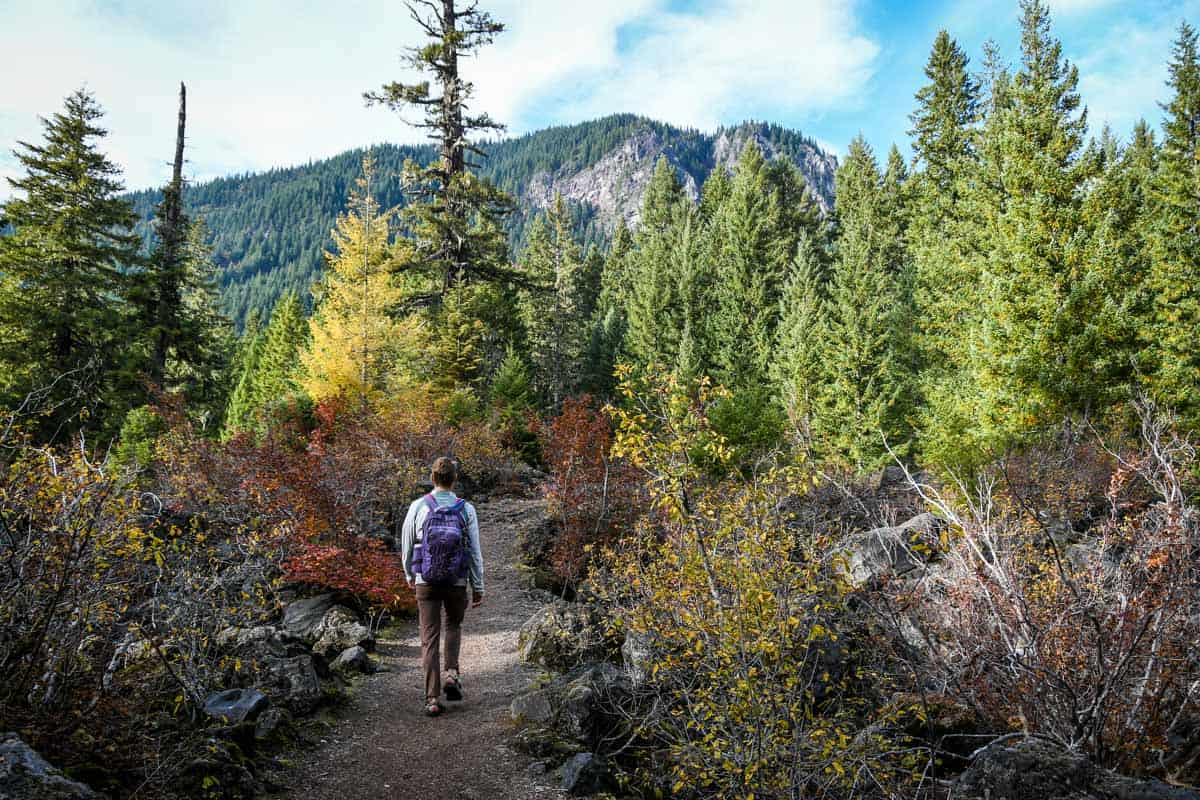 The trail to Proxy Falls starts from the parking lot. The first half-mile goes through an ancient lava field, so it's rocky and a bit uneven, but not at all steep or technical.
After the lava field, the trail splits — left takes you to Upper Proxy Falls, while right takes you to Lower Proxy Falls. Remember, the trail is a loop, so it's totally up to you which direction to go first.
To help you decide, keep in mind that the path to the lower falls is steep and often muddy in the spring and early summer, so there's a good chance you'll get wet from the waterfall's spray. If you don't want to hike the rest of the trail wet, start at the Upper Falls.
Another thing to note is that the main trail doesn't get you super close to the base of either cascade, but the views are still outstanding. If you want to get closer, you can — but again, beware that there are no well-defined trails, and it gets increasingly slippery the closer you get.
The viewpoint for Upper Proxy Falls is actually quite obstructed due to tons of trees. For the best views, you may have to scramble uphill a bit or climb onto fallen logs.
Whether you opt to check out Lower or Upper Proxy Falls first, finish your hike by completing the loop and heading back to the parking lot.
Tips for hiking the Proxy Falls trail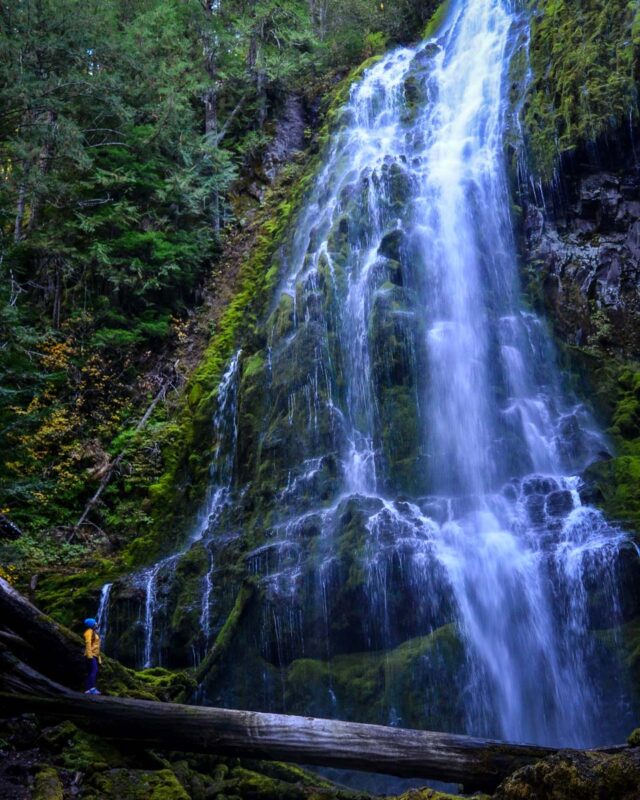 Where to stay nearby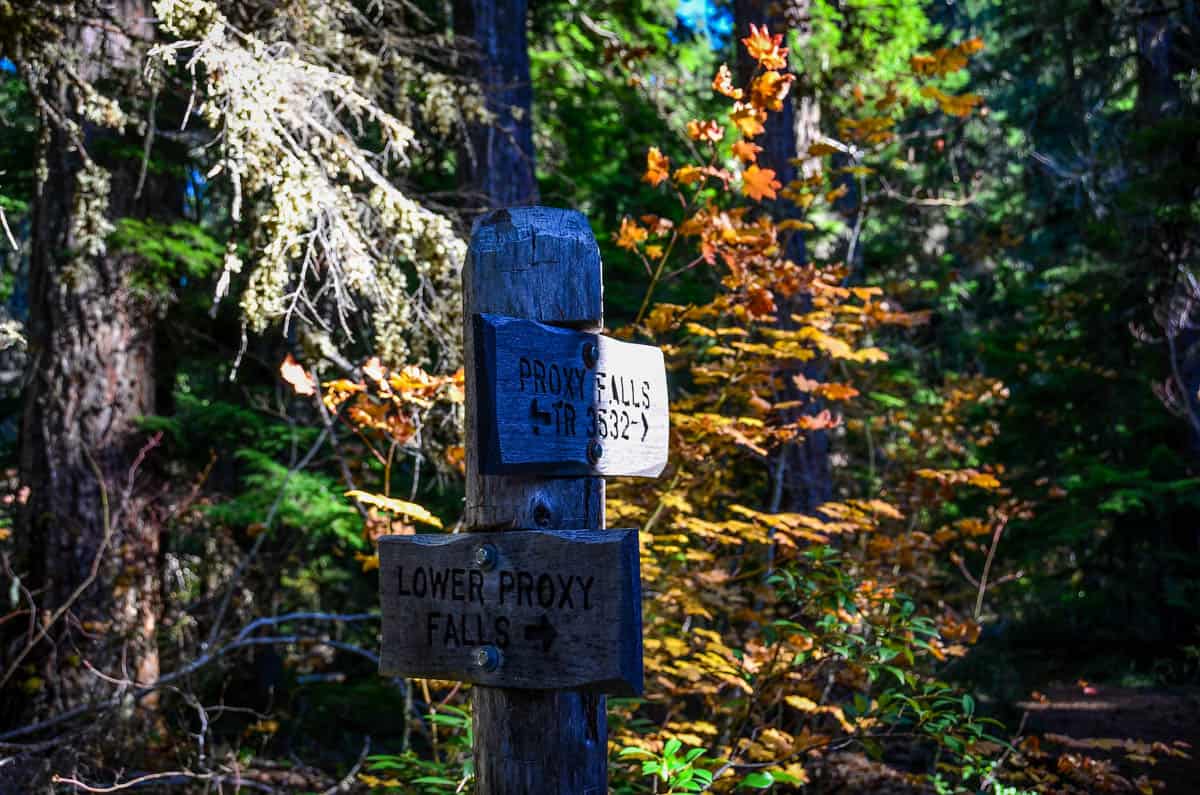 There's nowhere to stay in the immediate vicinity of Proxy Falls Oregon, including campgrounds. However, there are tons of options nearby!
The closest campground is Alder Springs, about 1.5 miles from Proxy Falls. It has six first-come, first-served sites ideal for tent camping, and small trailers up to 20 feet are welcome. Campsites are $10 per night, payable onsite or with the Recreation.gov mobile app.
If you want something a bit more posh, the two closest towns are McKenzie Bridge (12 miles) and Sisters (21 miles).
McKenzie Bridge hotels:
Sisters hotels:
Finally, if you're planning to hike Proxy Falls as part of a longer Central Oregon adventure, check out our guide to camping near Bend!
What to pack for hiking to Proxy Falls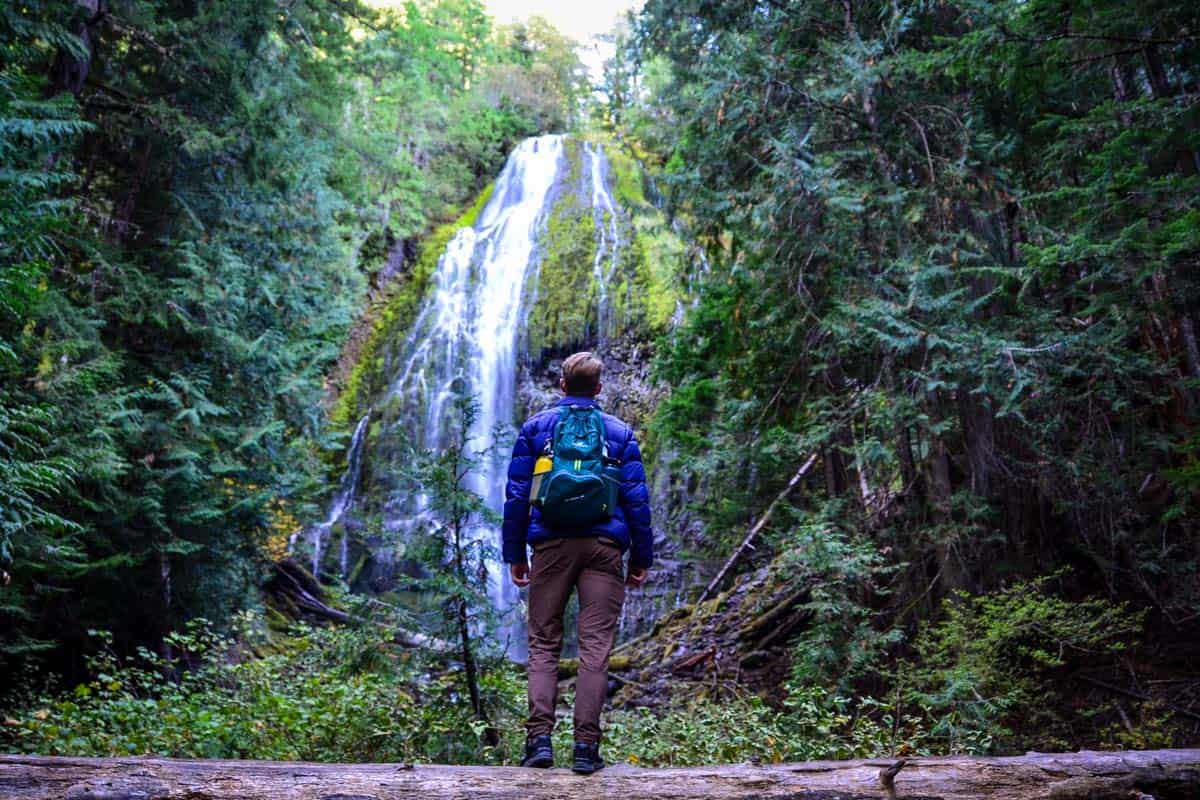 Be sure to grab our ultimate hiking packing list includes our must-have gear for any hiking trail!


You may also like…
Save this article on Pinterest for later!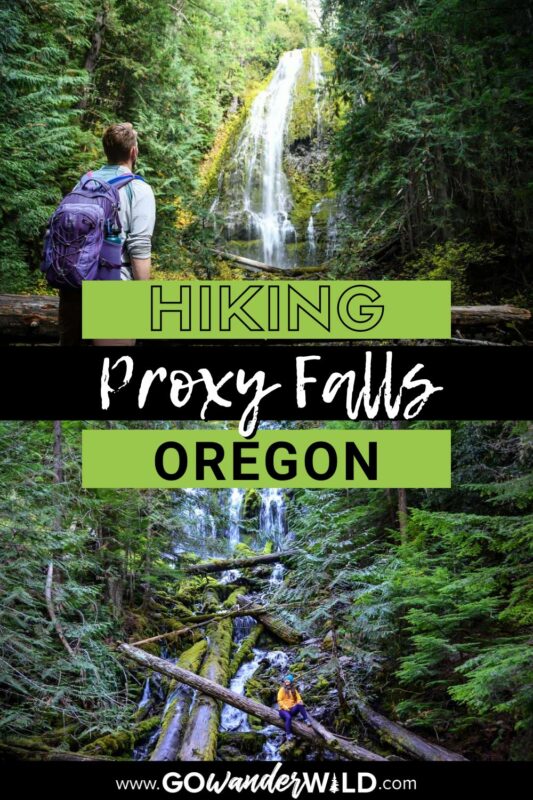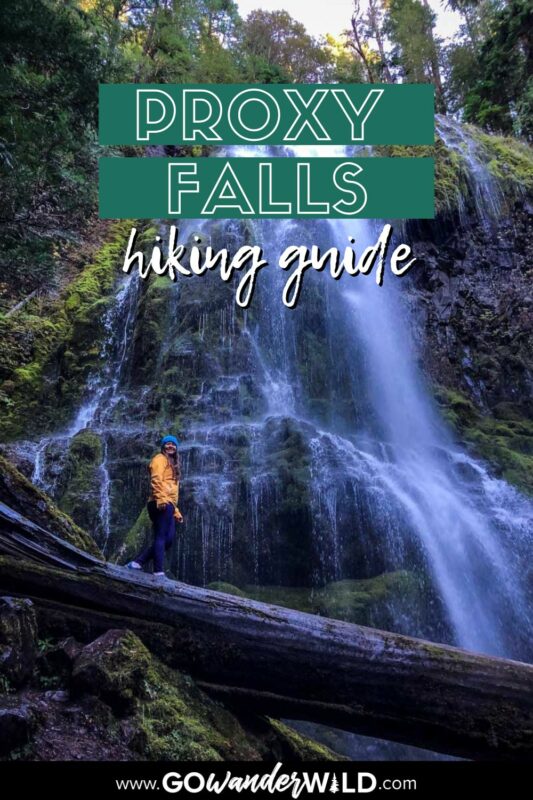 We want to hear from you!
Comment below if you have questions about hiking to Proxy Falls Oregon and we'll do our best to get back to you!