Just 12 miles west of downtown Bend, Oregon lies Tumalo Falls, a beautiful 97-foot waterfall in the Deschutes National Forest. Here is everything you need to know before your visit to the falls, including when to go, how to get there and how to do the Tumalo Falls Loop Hike.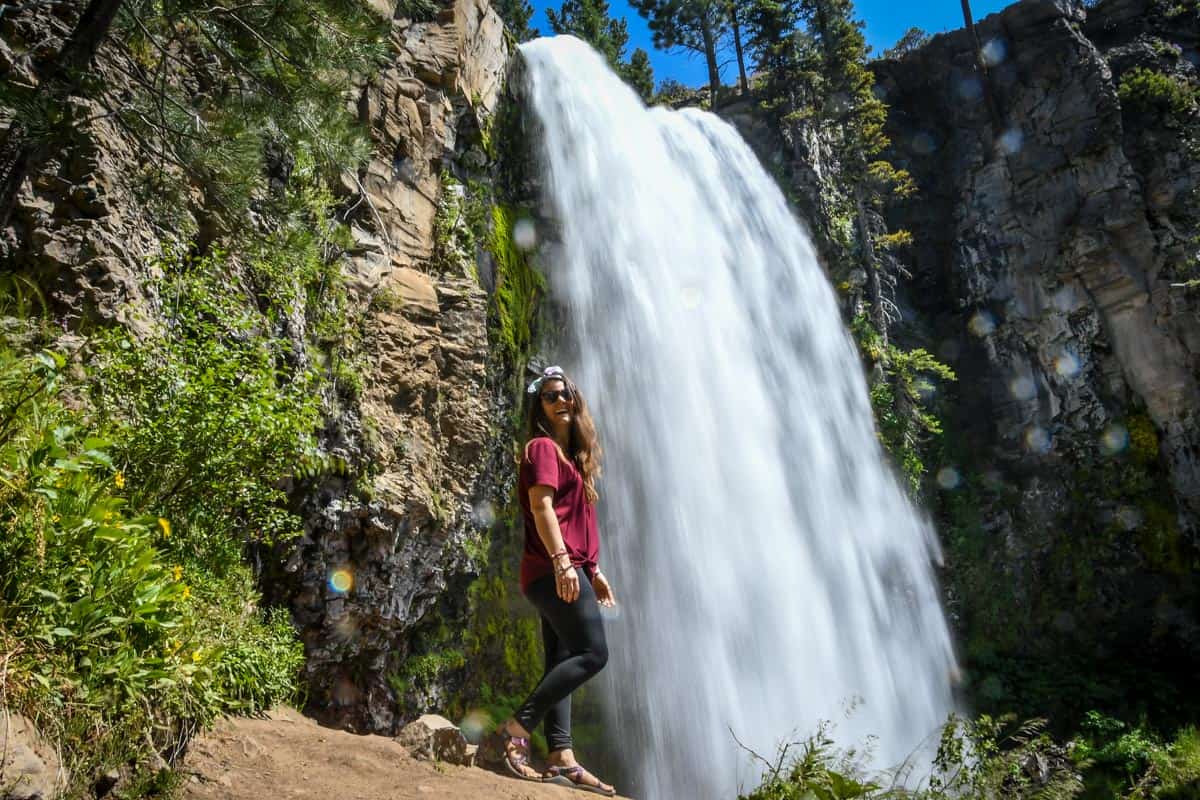 One of the major draws of Bend, Oregon is the easy access to outdoor adventures. Just 12 miles west of the brewery-lined streets of downtown lies Tumalo Falls, a beautiful 97-foot waterfall in the Deschutes National Forest. Situated on Tumalo Creek, seeing this towering beauty is one of the best things to do in Bend.
We're going to share everything you need to know before your visit so you're fully prepared!
Things to know before you go
Fee: $5 National Forest fee per vehicle; this fee is covered if you have an America the Beautiful pass.
Restrooms:

There are 2 pit toilets located in the main parking lot

Our experience: they were relatively clean and stocked with toilet paper when we were there, but no hand sanitizer

Crowds:

This is a popular place and it often gets crowded

Parking:

There is a main lot

Family friendly:

Suitable for people of all ages

Dogs:

Allowed (but must be kept on a leash)

Camping:

Overnight camping is not allowed; but there are a few picnic tables near the entrance to the parking lot (as you cross the bridge)

Cell signal:

Little to none. There is no cell service in this area, so be prepared to go off-grid for a bit! Insider

Tip: Download the offline versions of Google Maps and AllTrails if you'd like to be able to access your maps.
How to get to Tumalo Falls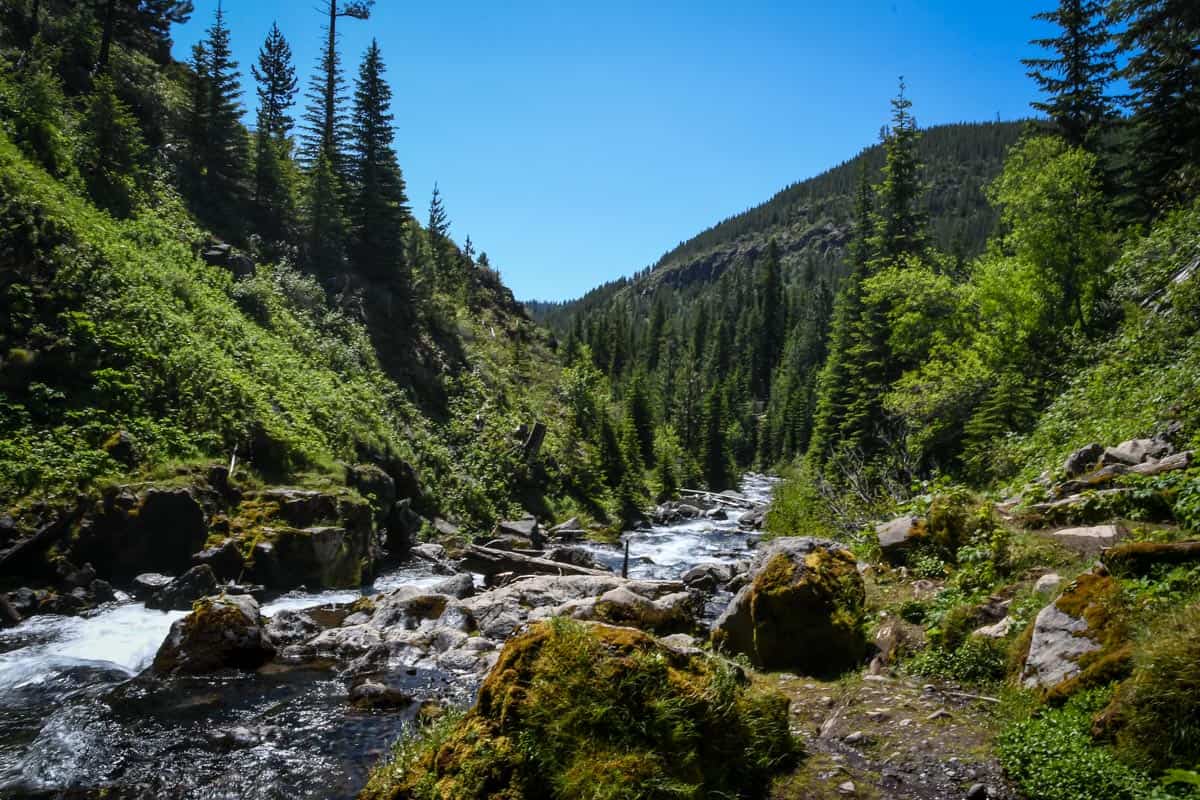 It takes roughly 30-minutes to get to Tumalo Falls from downtown Bend, so it makes a perfect day trip no matter how much time you have in town.
Head west of town on Skyliners Road until it forks into Tumalo Falls Road (to the right). It's quite straightforward. The last 2.4 miles is on a gravel road, and with our campervan, we needed to go slow (between 20-25 mph). There are a couple of pull outs for parking on the side of the road where we saw people gearing up with fly fishing gear or picnicking. We used the pull-outs to let people pass us a few times.
The parking lot is often times full, so you can park on the side of the gravel road (pay attention to signs so you know which side you can park on).
Best time of year to visit
The main entrance to the falls is open mid-May through October. During this time, it's very easy to access the falls.
If you're feeling adventurous, you can visit the falls during wintertime and get a less crowded and more unique experience.
During the winter season (dates can vary), the gate at the main road will be closed to vehicle traffic. You can still access the falls by hiking the 2.4 miles to get there and back, and if you're lucky, you may be rewarded with an epic snowy wonderland.
If there is a lot of snow, you may want to strap on snowshoes or cross country skis. This can be an epic adventure as long as you're prepared to hike the extra nearly 5 miles round trip.
New to snowshoeing? We have a beginner's guide to snowshoeing that'll help you feel prepared.
Insider Tip: If you don't have your own snowshoes, you can rent them in town at Gear Fix ($15 per day) or at REI ($22 per day).
Tumalo Falls Lower Viewpoint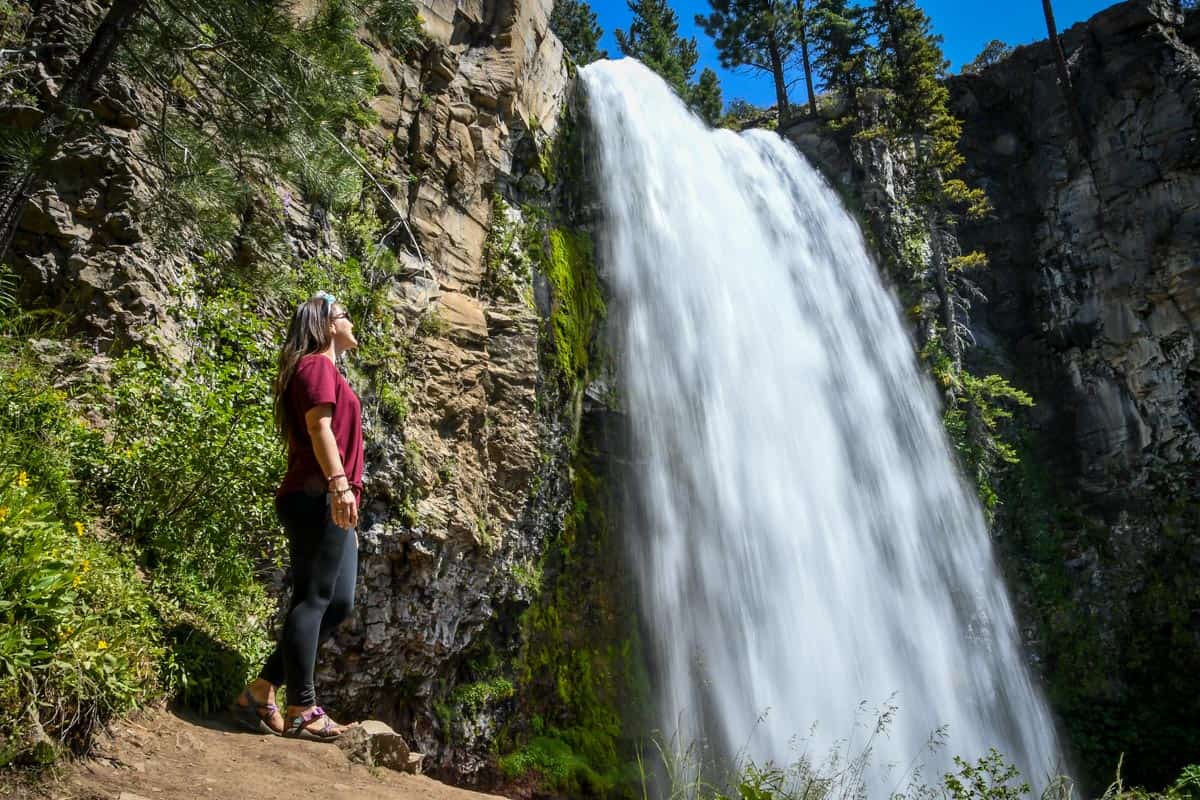 Just a short distance from the main parking lot, there is a viewpoint where you can see the falls from afar in its true scale. This is a really nice view, and it's just steps from the parking lot, making it very accessible for those who aren't able to walk long distances. 
Psst! Looking for more adventure? Check out this list of incredible Oregon waterfall hikes and see which ones you need to add to your bucket list. 
Tumalo Falls Hike to Upper Viewpoint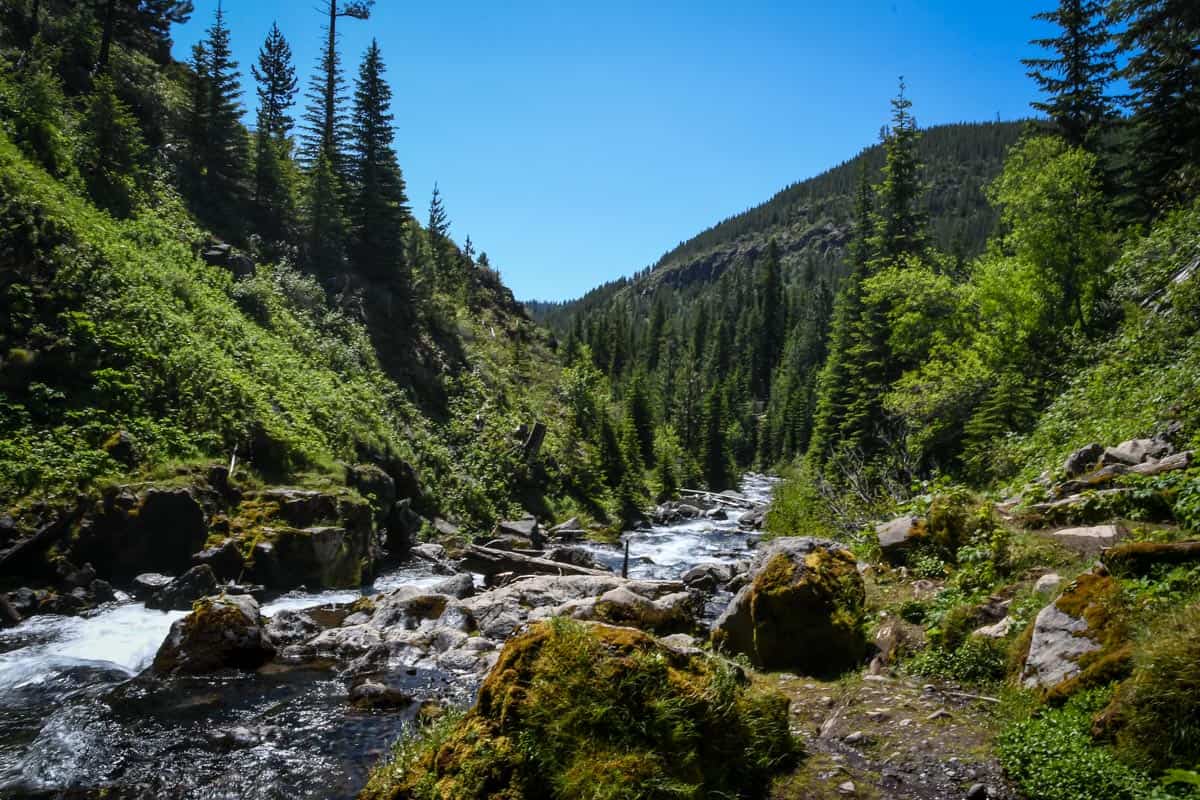 It's roughly .5 miles to hike to the upper-viewpoint, and the path is clearly marked and well-maintained. There is a somewhat steep section, but we saw hikers of all ages. The path is rather short, so it's not too difficult.
From this viewpoint, you'll be able to see the waterfall crash down below and enjoy the serene valley before you. Truly one of the most beautiful waterfalls in all of Oregon!
Our favorite part: Hike down to the falls!
About halfway up to the Upper Viewpoint, there is a trail that juts off to the right (on your way to the waterfall). Continue on this narrow path and you'll walk right up to the falls. You can also hike down to the stream to get a view of the falls below.
Good to know: The rock and path in this area can get slippery from being in the mist of the waterfall, so watch your step and wear proper shoes.
Psst! We put together a comprehensive list of the best hikes near Bend, Oregon for every level and ability.
Want more hiking?!
Tumalo Falls Loop
If you have the time and you want to explore more, you can continue on from the Upper Viewpoint to the North Fork Trail. Return via the Swampy Lakes Trail for a 7-mile hike, known as the Tumalo Falls Loop, it's considered one of the best hikes in Oregon.
This hike is less crowded and offers beautiful creekside views, wildflowers, and several smaller waterfalls all on a tree-shaded path. There is one river crossing on this trail, so be careful and take your time, as you can cross on a fallen tree.
Find more info on the Tumalo Falls Loop hike.
How much time do you need at Tumalo Falls?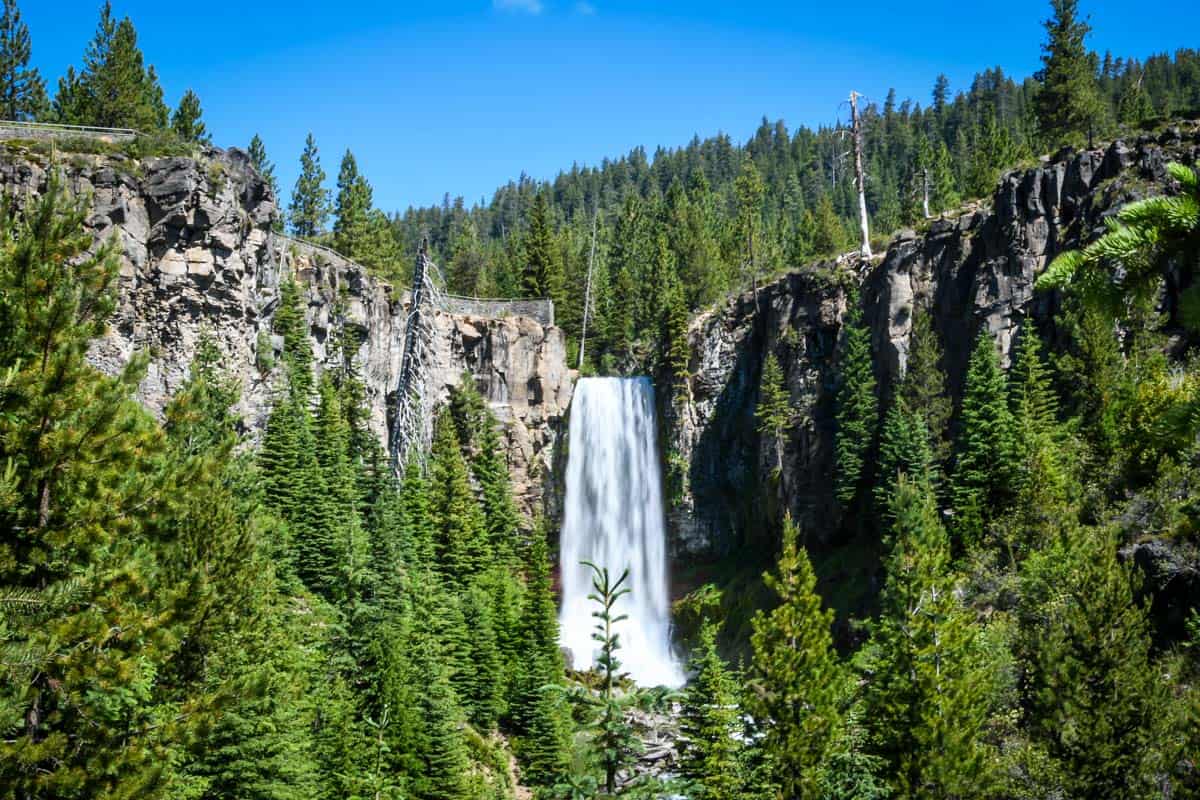 We'd recommend giving yourself 1 hour if you want to see both the upper falls and hike down to the waterfall itself.
We spent just over 1 hour and 15 minutes, and we took lots of pictures!
Don't let the adventure stop here! Check out our completely guide to Silver Falls State Park for waterfalls, hiking and camping tips.
Responsible Hiking Tips
Don't litter. Duh!
Pick up trash if you see some along the way. We try to think of it as our "payment" for being able to enjoy nature.
Stay on path so that you don't erode the ground or trample on delicate plants. The trail is there for a reason.
Keep your dog on a leash as they can put other wildlife in danger or make other hikers uncomfortable. Also, it is a rule on this trail.
Psst! Looking for more outdoor adventures in Oregon? You'll want to check out our ultimate guide to visiting Oregon's Skylight Cave.
What to Pack
water

sturdy shoes (We love Chacos for hiking in warmer climates!)

sunglasses

sunscreen and/or hat (trail is partially shaded, but you'll likely get some sun

camera

layers

snacks (here are our favorite healthy & delicious hiking snacks)

bug repellant

hand sanitizer

You may also like…
Save this article on Pinterest for later!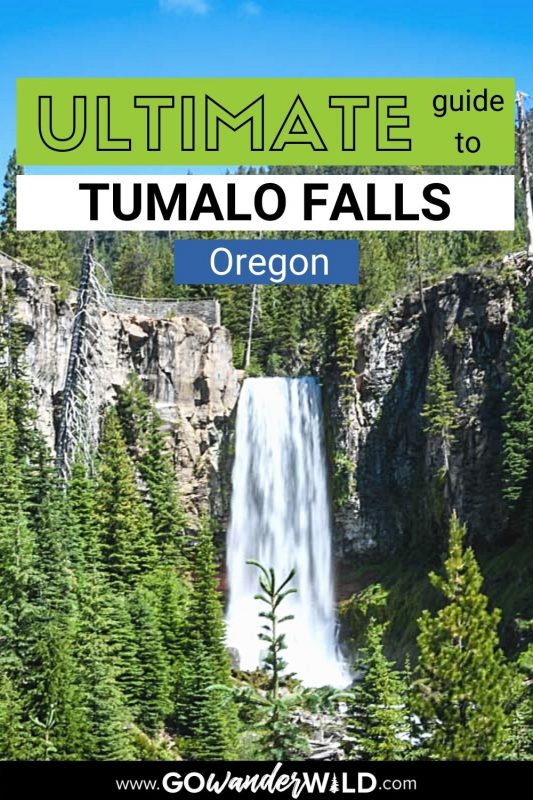 We want to hear from you!
Have you ever been to Tumalo Falls in Oregon? What was your experience like? Do you have more questions about visiting the falls? Comment below and let us know!