In this article we'll go over everything you need to know about visiting the famous Blue Pool Oregon. From exactly how to get there to trail details and nearby attractions, we've got your covered!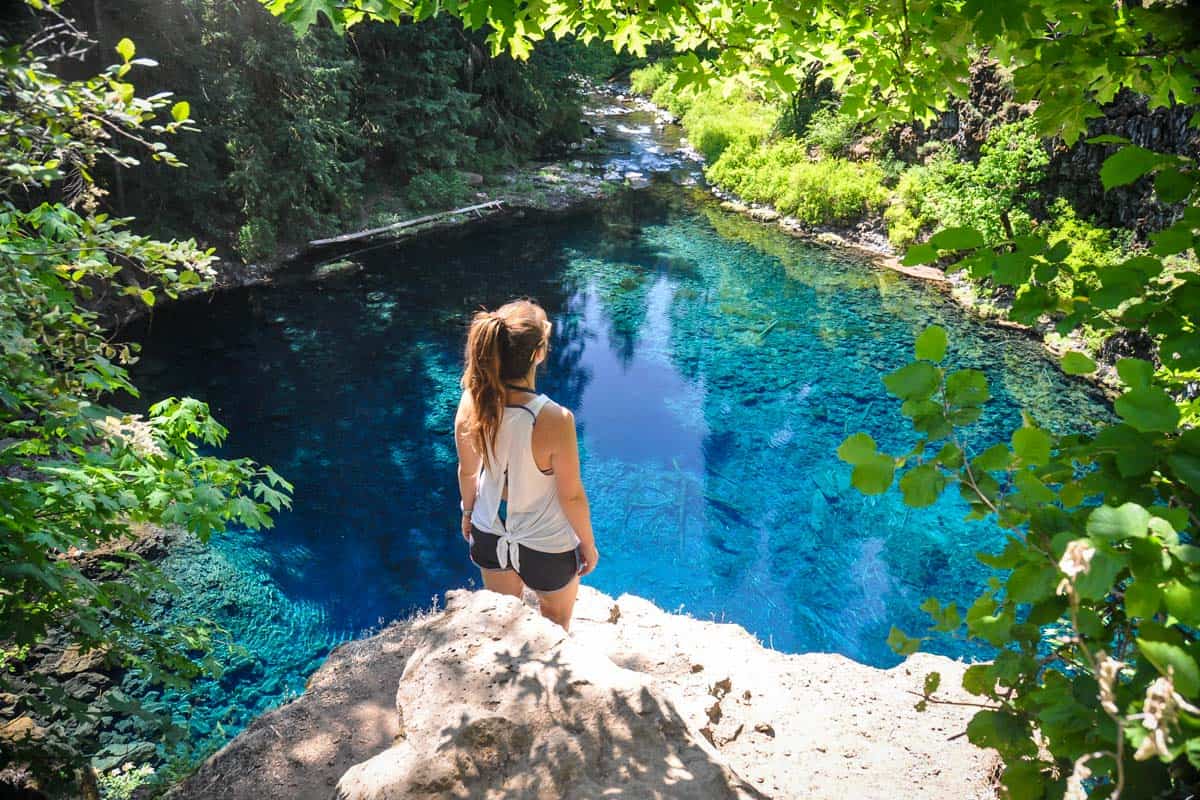 The Tamolitch Falls Blue Pools, better known as simply the "Blue Pool" nestled in Oregon's McKenzie River Valley at the foot of the seasonal Tamolitch Falls, are a sight to behold. With strikingly blue water and a pretty easy walk to get there, this magical place in Oregon is popular with photographers and hikers alike.
As one of the best hikes near Bend, we've personally visited the Blue Pool five times, in all seasons, and have lots of tips to share to make your experience better.
Before visiting Oregon's Blue Pools, be sure to read through this guide as we walk you through how to get there, what to expect, what to pack and some important information on safety in the area.
Article Contents
Best time to visit Tamolitch Blue Pool Oregon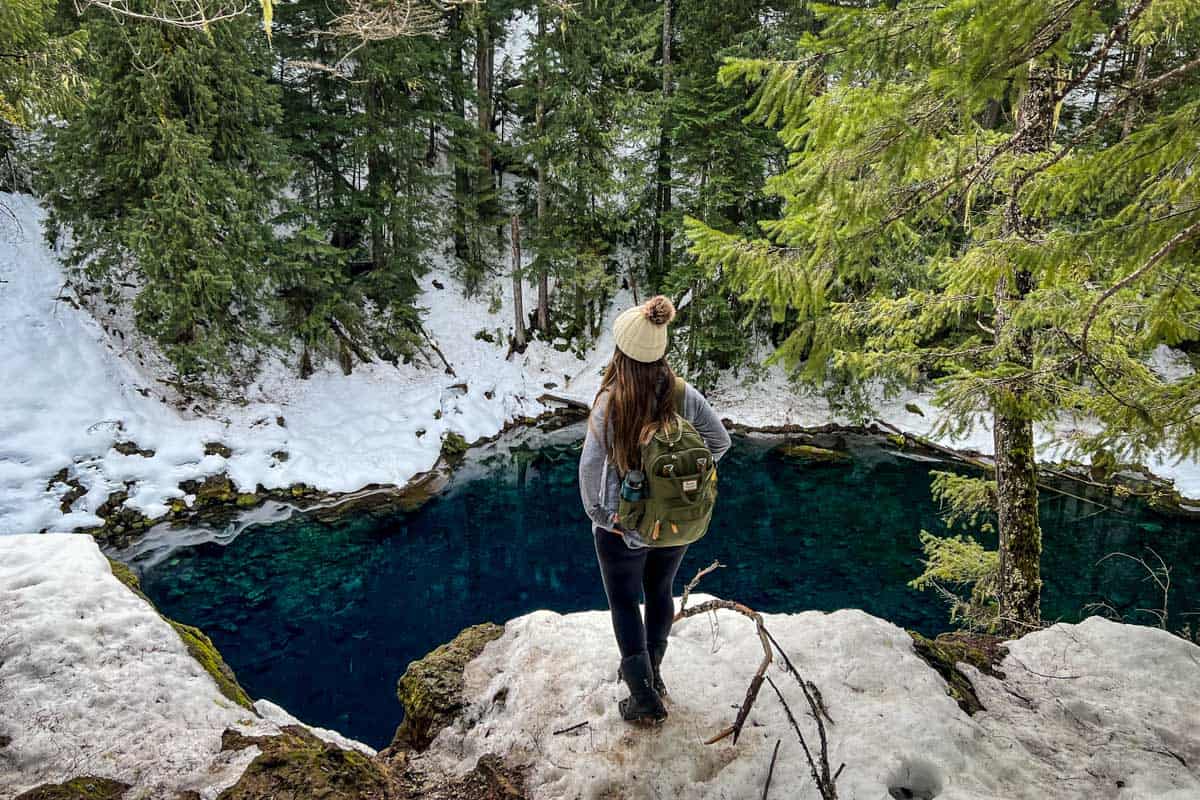 There really is no "bad" time to visit the Blue Pool in Oregon. This natural phenomenon draws visitors and inspires wonder year-round, making it one of the top-rated hikes in Oregon.
That being said, there are a few things you can keep in mind to plan your visit for the most optimal timing…
Summer has the best chance for summer weather, which makes the brilliant sapphire blue water pop against the forested backdrop. This will also be the busiest time of year at the Blue Pool, so if you can come on a weekday, early in the morning, you'll be able to avoid some of the crowds.
Winter at the Tamolitch Blue Pool can be beautiful with a fresh layer of snow and fewer people to navigate. Just be sure to dress for the weather and expect the colors to be a bit more muted if the skies are overcast.
Things to know about Tamolitch Blue Pool Oregon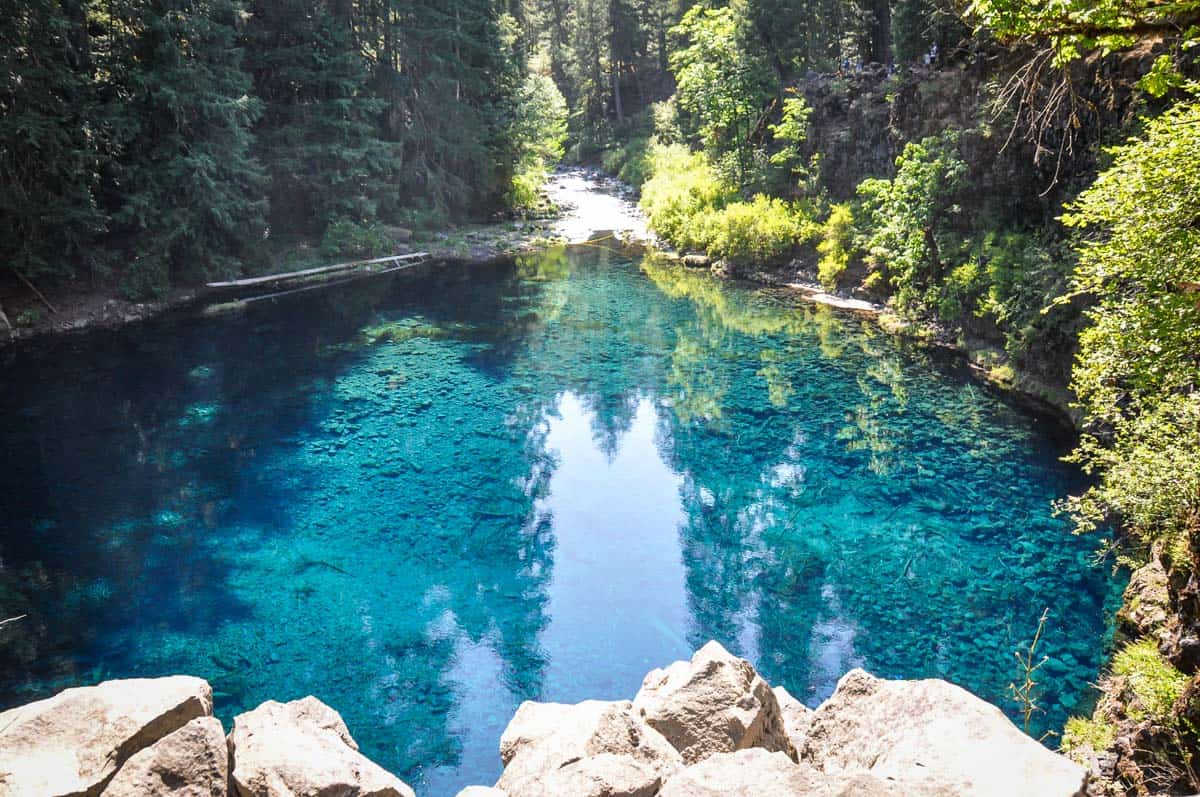 Before visiting the blue pool in Oregon, keep these tips in mind as you plan.
1. There is no cell signal in this area.
Insider Tip: Be sure to save this article and also download the offline version of Google Maps before you start your journey.
2. It can get very busy (especially in the summer and on weekends). If you'd like to avoid crowds, plan to visit outside of the summer season, or on weekdays. Also, going as early in the day as possible will mean you'll have to share the trail with fewer people.
3. The water isn't as brilliant blue on cloudy days. In our 5 visits, we've only had two days where the water was really blue. The other days were still beautiful, but the water isn't as bright when the sky is overcast.
4. The water is 30-feet deep, but looks much shallower, as you can see straight to the bottom.
The spring-fed pool is cold all year round, in fact it's nearly freezing. The water typically sits at around 38º F – so cold that even microorganisms can't survive here.
5. This walk is suitable for all ages. We've seen families (we even brought our baby when she was just 2 months old), as well as seniors. There is little elevation gain (285 feet), so as long as you're prepared for the distance (3.6 miles round trip), this hike is accessible for people of varying abilities.
6. The water isn't always flowing. The Blue Pool is fed by Tamolitch Falls, one of the most beautiful waterfalls in Oregon when it's actually flowing. The water from the McKenzie River was diverted back in the 1960's for hydroelectric use. This diversion dried up the once consistent Tamolitch Falls, which now only flows during periods of heavy runoff, making it a seasonal falls.
Safety at Oregon's Blue Pool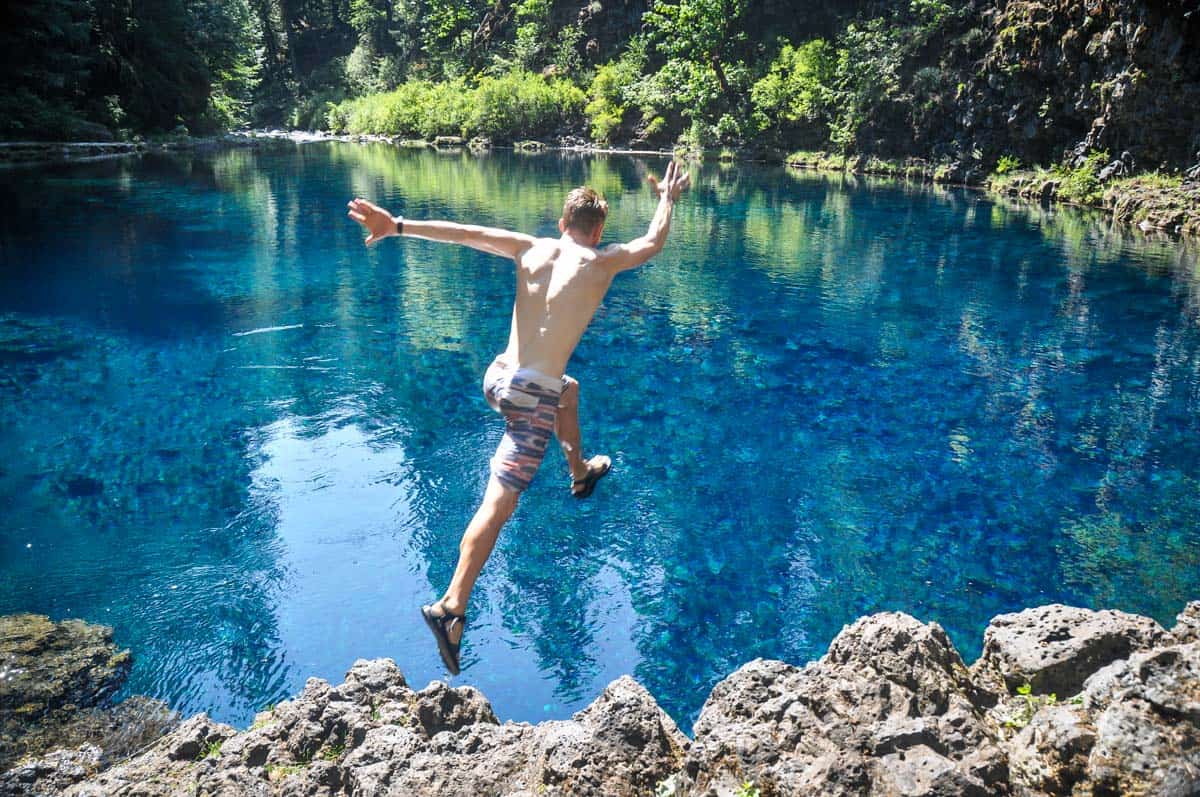 We felt it was important to include a note on safety at the Tamolitch Blue Pools as this has become a bit of a controversial topic with the growing popularity of the site. The larger crowds that have been showing up to the pools in recent years have brought accidents, injuries and even death.
As with any natural site, it's important to exercise a healthy bit of caution. The Tamolitch Blue Pool is 2 miles into the wilderness with no cell signal and no hospitals nearby. That combined with the extremely cold water and 60-foot cliffs is a recipe for trouble if you aren't being careful.
With water as cold as the Blue Pool, submersion can result in a cold shock, triggering an uncontrollable gasp reflex. If you are not extremely careful, you could inhale water and drown.
The depth of the pool is 30 feet making it much harder to propel yourself to the surface and a challenger for rescuers if something should happen to you. Not to mention the area beneath the 60-foot cliff is not as deep as it looks, and shallow rocks just below the surface are a serious hazard.
Personal Experience: We've personally witnessed people getting hurt after jumping off the cliff into this water. Even if you're a confident cliff jumper and swimmer, we wouldn't recommend diving here.
If you want to jump in, climb down to the water's edge where you'll have less chance of getting hurt. We've jumped in here and it is quite the refreshing experience!
How to get to Tamolitch Blue Pool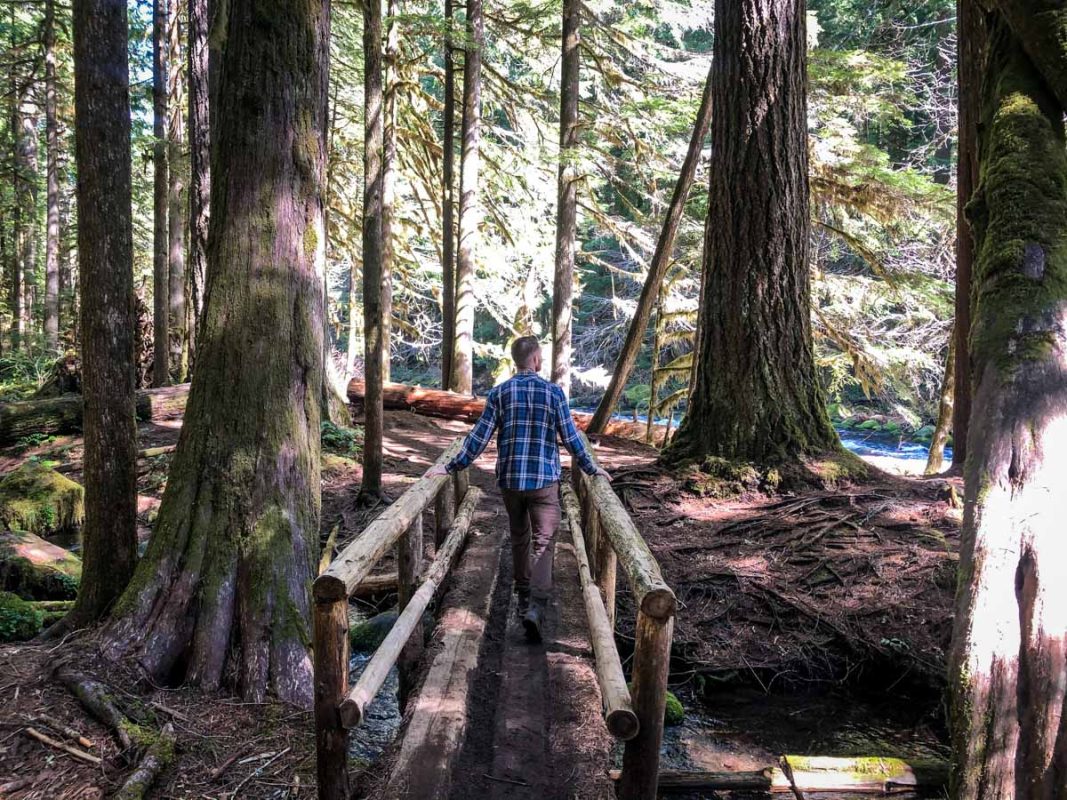 The trailhead to Tamolitch Falls Blue Pool can be accessed from Carmen Smith Reservoir from the north or the McKenzie River Trailhead from the south.
We'd recommend hiking the McKenzie River Trail north to the Blue Pool as it's a shorter, more manageable hike. The first time we visited, we hiked south from the Carmen Reservoir and it took us twice as long.
The Blue Pool is located about an hour northwest of Bend and begins at the Tamolich Trailhead just off the McKenzie Highway (OR-126). Coming from the North, the trailhead will be on your right, to the west of the road.
Cross the bridge where you will pass a hydro plant. Turn right and continue on for .25 miles to the trailhead. On busy days, cars will be parked on the side of this road all the way to the bridge.
Note: There are two drop toilets near the parking lot, but none on the trail.
Blue Pool Hike (via the McKenzie River Trail)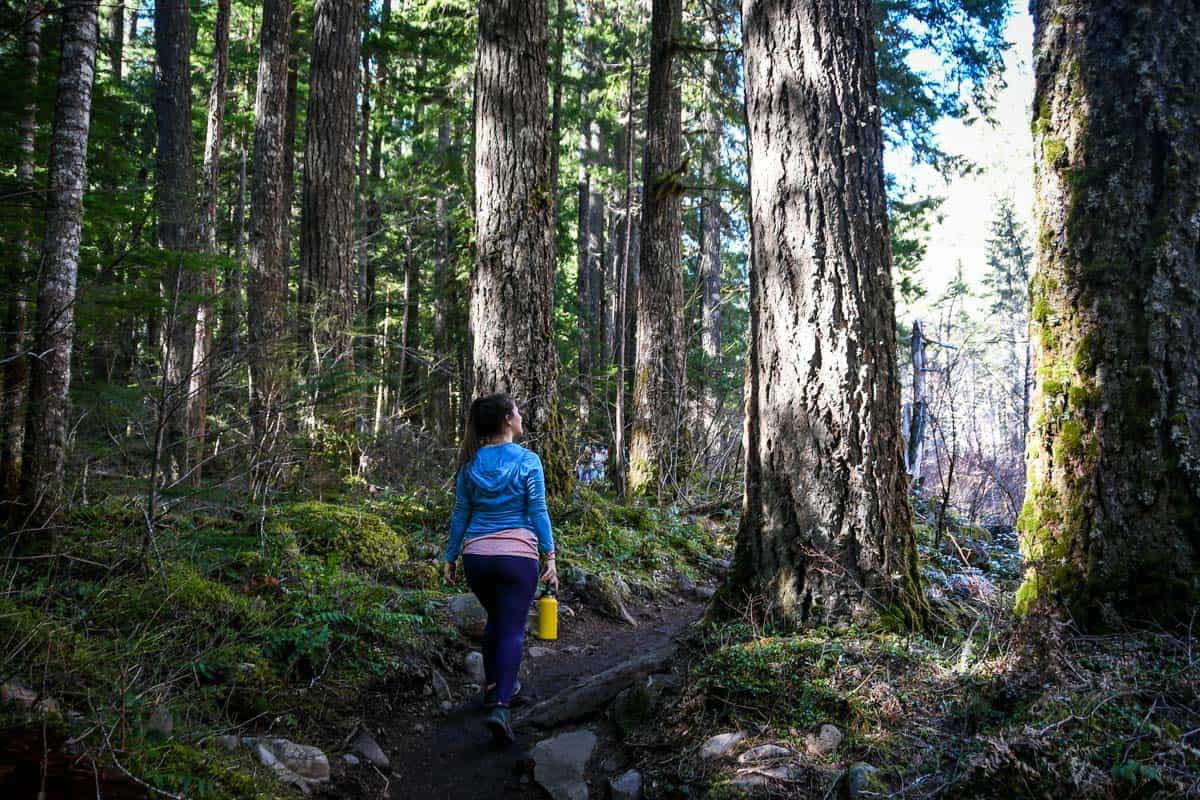 Distance: 3.6 miles, out and back
Elevation gain: 285 feet
Difficulty: Easy to moderate
Location: This hike is located in the Willamette National Forest
Pets: dogs are welcome on a leach
The hike is rated "moderate" but we'd consider it on the easy side as the trail is relatively flat.
The trail begins winding through an old growth Douglass fir forest as it follows the McKenzie River. Watch your step for tree roots and slippery rocks near the end.
Once you reach the Blue Pool, you can make your way down the steep embankment and go for a swim. Or simply enjoy the view while munching on some of your favorite hiking snacks.
What to pack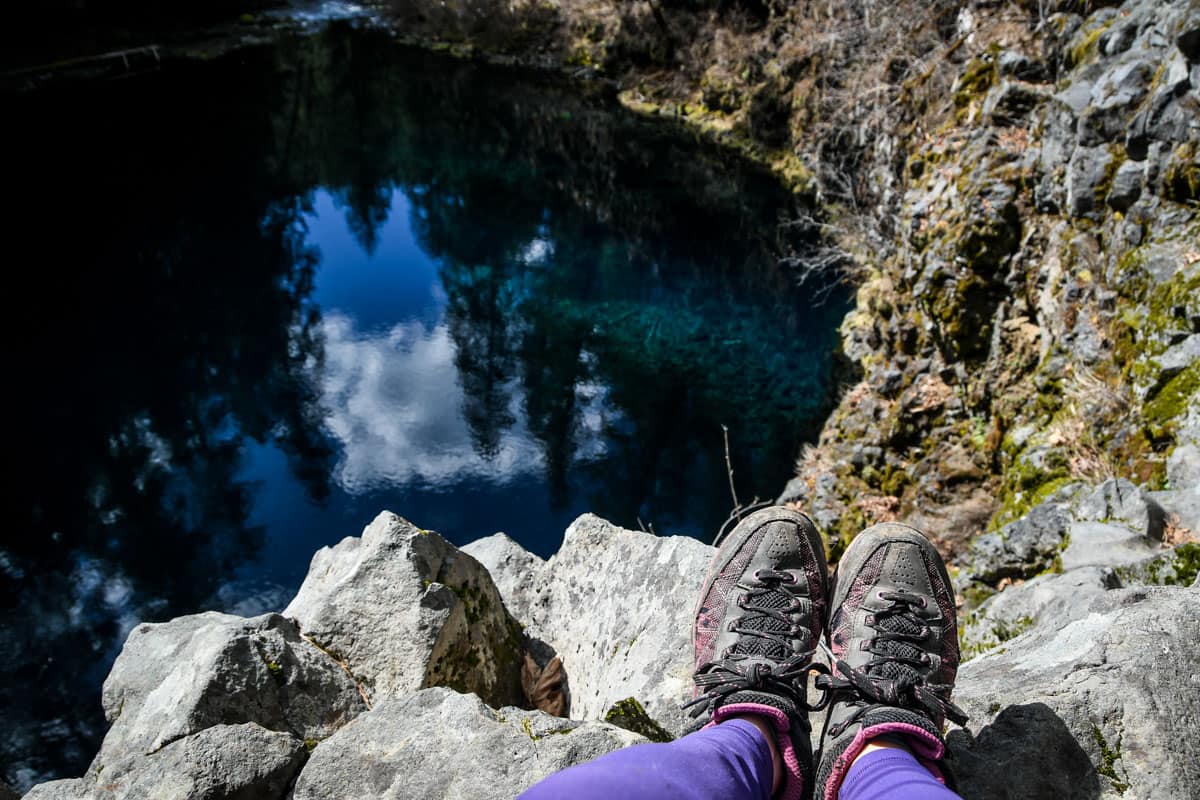 Navigation: we recommend using Alltrails+ to download the offline trail map
Layers: Temperatures can vary depending on the time of year you choose to hike to Tamolitch Blue Pool, and even change throughout the day. The best way to be prepared is by dressing in layers for this hike.
Rain gear, as this part of Oregon can get lots of precipitation.
Swimsuit and microfiber towel if you plan to jump in (read safety notes)
Hiking snacks: you'll want to make sure you're prepared with snacks to enjoy with the view of the Blue Pool
Hydration bladder and/or water bottles
Small first aid kit
Sturdy hiking boots or shoes. While the trail isn't particularly difficult, it can get muddy and there are some parts of the trail where you will climb over lava rocks.
Sun protection (sunscreen, hat, sun glasses)
Bug spray: We prefer the natural stuff
Camera/tripod (this one's our favorite for hiking)
Be sure to grab our ultimate hiking packing list includes our must-have gear for any hiking trail!

Things to see nearby
If you're making the trip to see the Blue Pool Oregon, there are a few other attractions nearby you might want to check out.
Sahalie and Koosah Falls
These two large waterfalls are just a 10-minute walk from each other and can be seen on a quick stop on your way to the Blue Pool.
With so many waterfalls in this region, you may be tempted to skip these. But trust us, they are worth a visit!
Park this lot next to Sahalie Falls and hike south to check out Koosah.
Cougar Hot Springs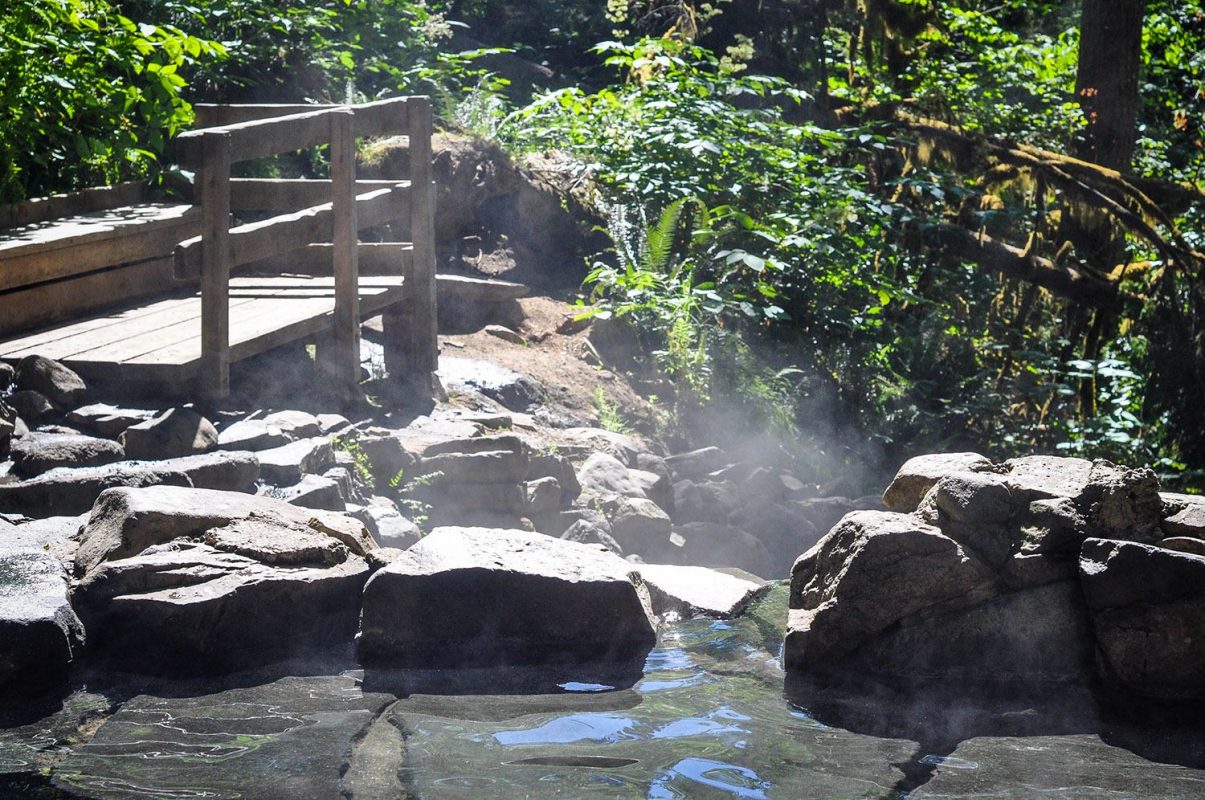 Surrounded by nature in the Willamette National Forest, Cougar Hot Springs (also known as Terwilliger Hot Springs) is somewhat of a PNW treasure. This magical spot is made up of four cascading rock-walled pools that can fit about 8 people comfortably.
We've been to this remote hot spring twice now (most recently in 2022), and can tell you from firsthand experience that it's worth the trip.
Check out our guide to Cougar Hot Springs for all the information you'll need to know to plan your visit.
Belknap Hot Springs
Another one of the best Oregon hot springs, Belknap is quite the opposite of Cougar in that it's built up as a resort. Situated right along the banks of the McKenzie River, the resort features two mineral hot spring pools kept at a perfect soaking temperature of 92°F in the summer and 102°F in the wintertime.
While the upper pool is reserved for overnight guests, you can visit the lower pool on a day pass. Entrance costs just $8 for an hour long soak, and reservations can be made on their website.
Check out our guide to Belknap Hot Springs for all the information you'll need to know to plan your visit.
Where to eat nearby
Takoda's: Featuring casual American fare, like pizza and burgers, the 2-story dining room at Takoda's makes a nice stop near the Blue Pool. We'd personally recommend the pulled pork "potato nachos," which are excellent!
McKenzie General Store: Serving up fresh, organic meals for lunch and dinner Thursday through Monday, with breakfast on weekends, this is a nice spot to have a bite before making the hike to the Blue Pool. They have outdoor seating in a sort of beer garden atmosphere with local wines and beers on tap.
Where to stay nearby
If you're visiting the Blue Pool Oregon from out of state, you'll have a few different options for accommodation nearby.
Hotels / Lodges
Loloma Lodge: We've personally stayed here and had an incredible experience. The riverside lodge was the perfect tranquil oasis, and at just a 20-minute drive south of the Blue Pool, it makes for a great jumping off point.
Eagle Rock Lodge: Located in Vida, Oregon, halfway between Eugene and the Blue Pool, this lodge is a great option for immersing yourself in nature without actually sleeping on the ground.
Camping
If you're traveling in a campervan or simply hoping to save money on your visit to the Blue Pool by camping nearby, we recommend finding campsites on The Dyrt, one of our most-used apps!
With the largest database of campgrounds (44,000+ campsites and counting!) and over 1 million user-submitted reviews, it's a no-brainer.
Plus, it's super user-friendly, and has some pretty cool features, like outdoor gear contests and forums to connect and seek advice from fellow campers, that you won't find on any other camping app. Try their Pro Membership for FREE for 90 days and gain access to the offline version of the app, utilize their trip planning feature AND get exclusive discounts on campsites and gear!

You may also like…
Save this article on Pinterest for later!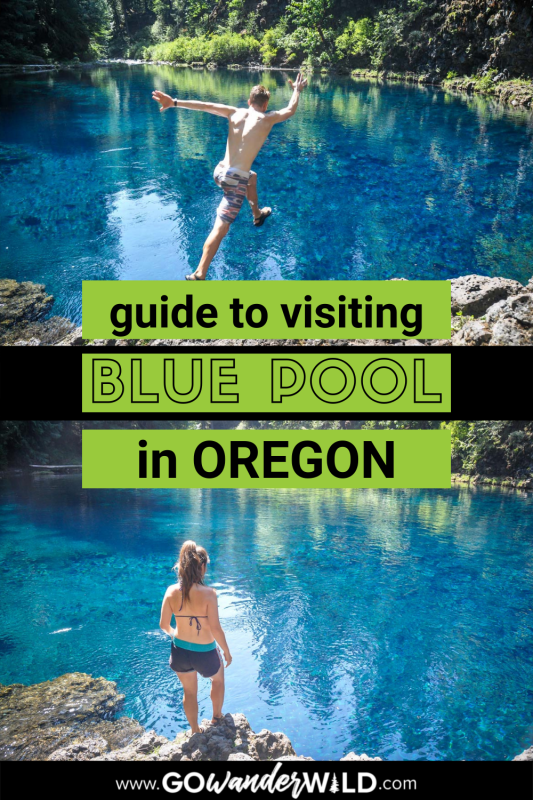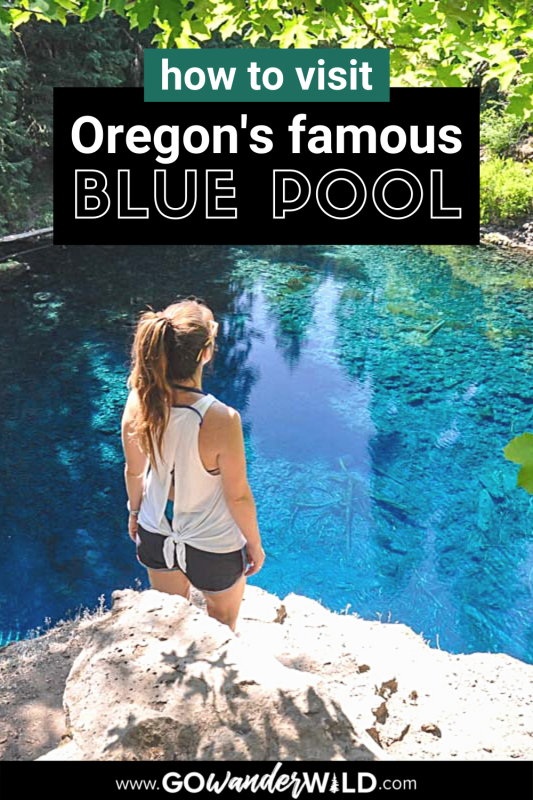 We want to hear from you!
Have you been to the Tamolitch Blue Pool in Oregon? What was your experience like? Are you planning a trip there and want more advice? Comment below and let us know!