Oregon's impressive Trail of Ten Falls is a highlight of Silver Falls State Park, taking hikers past a whopping 10 waterfalls. We put this detailed trail guide together to help you plan the best route and get the most out of your hike!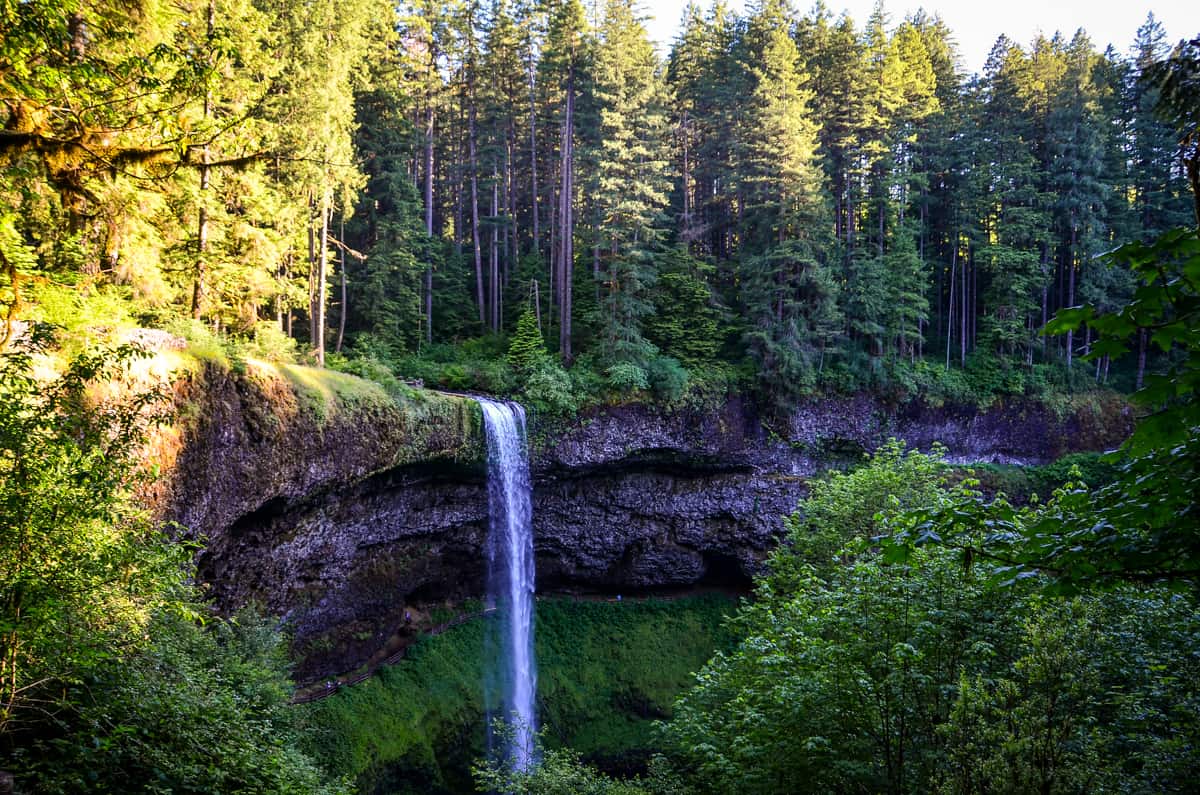 If chasing waterfalls appeals to you, it's hard to top the Trail of Ten Falls. Exactly what it sounds like—a trail connecting 10 individual waterfalls—it's easy to see why this is widely considered one of the best hikes in Oregon.
Even better, the Trail of Ten Falls is easily accessible. It's in Silver Falls State Park, Oregon's largest, just 40 minutes from Salem and 1.5 hours from Portland.
With all those waterfalls, mossy old-growth forest, and terrain that is both rocky and lush, this hike gives you a quintessential PNW experience.
Trail of Ten Falls Guide

Trail of Ten Falls trail stats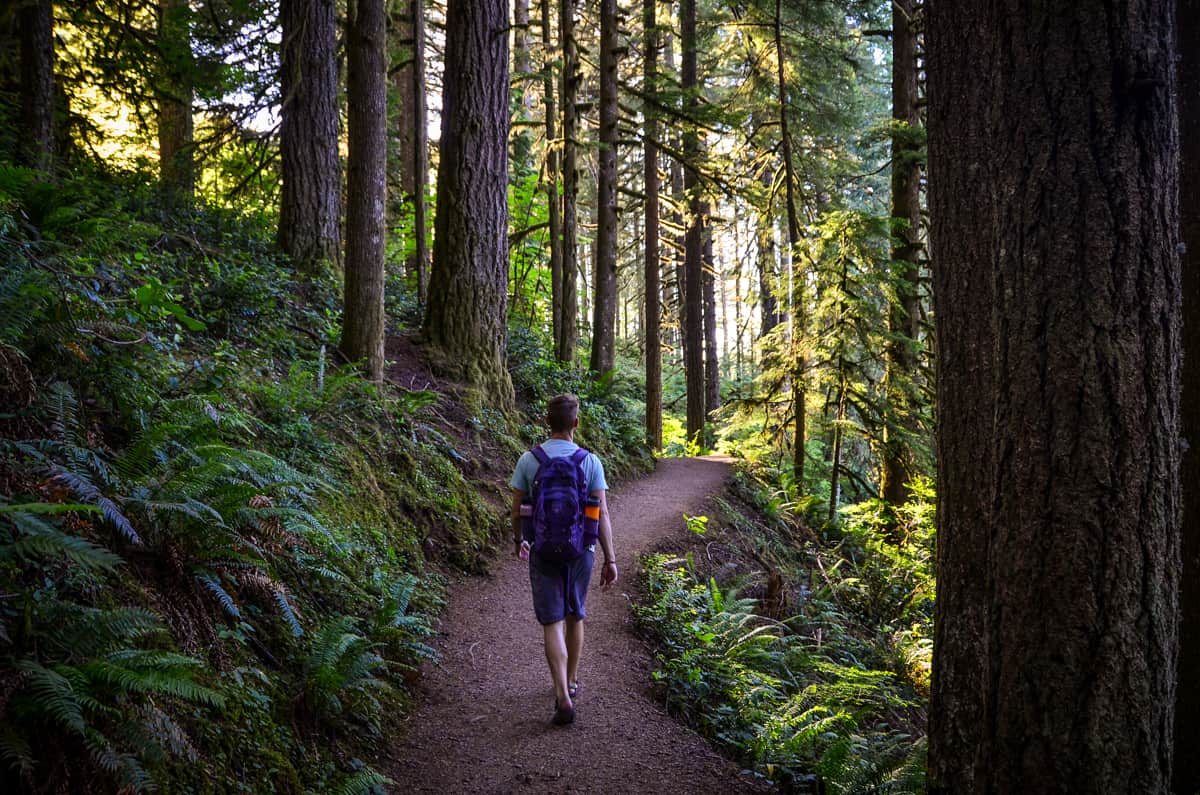 Location: Silver Falls State Park in Oregon
Distance: 7.2-mile loop
Elevation gain: 1,190 feet
Difficulty rating: Moderate
Timing: 3.5-4 hours
Pets: Not allowed
Permits: No permits necessary, but you will need a $5 day-use parking permit
Trail of Ten Falls hike overview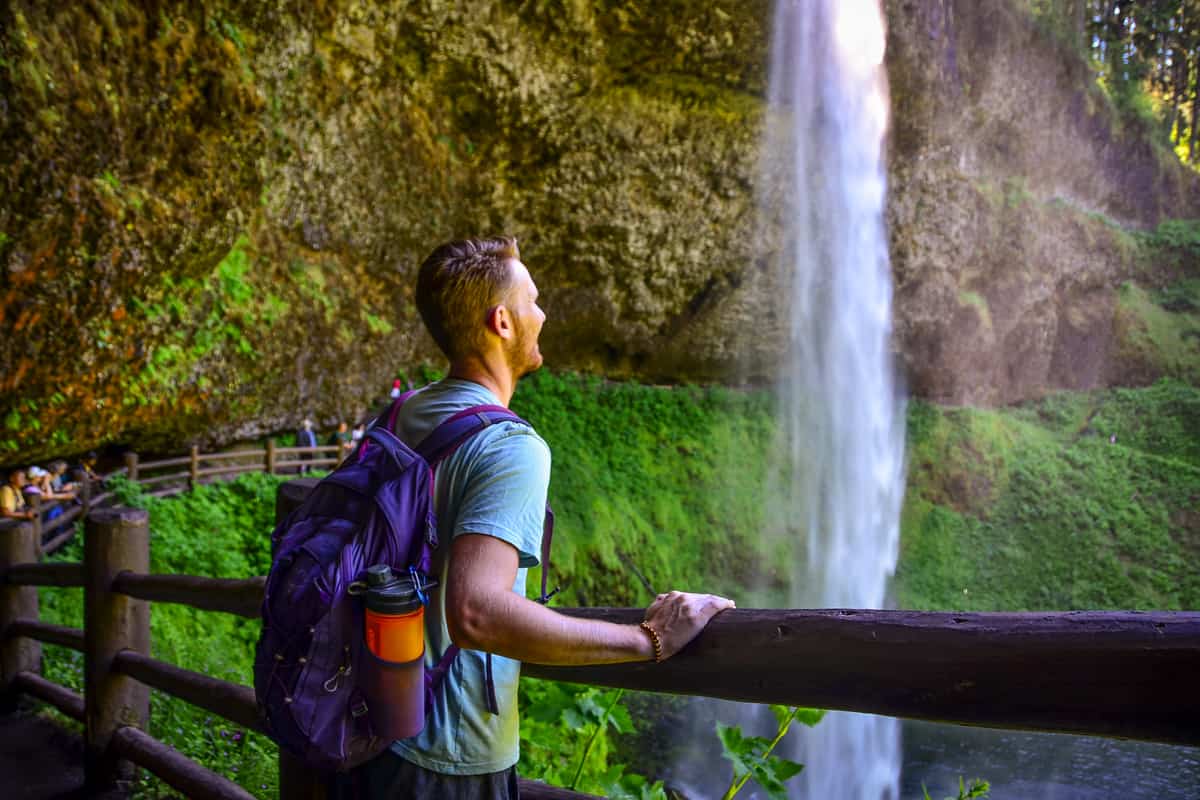 As its name implies, the Trail of Ten Falls certainly isn't short on waterfalls. The 10 cascades on the route range from 27 to 184 feet tall, and you even have the opportunity to walk behind some of them!
Another unique thing about the trail is that there isn't just one way to hike it. In fact, there are a lot of options! You can take side trails or shortcuts, or choose specific waterfalls to visit or skip.
The "choose your own adventure" vibe is awesome, but it can also be somewhat intimidating, especially for newer hikers. That's exactly why we put this trail guide together, so you know exactly what you're getting into with hiking the Trail of Ten Falls.
Things to know before you go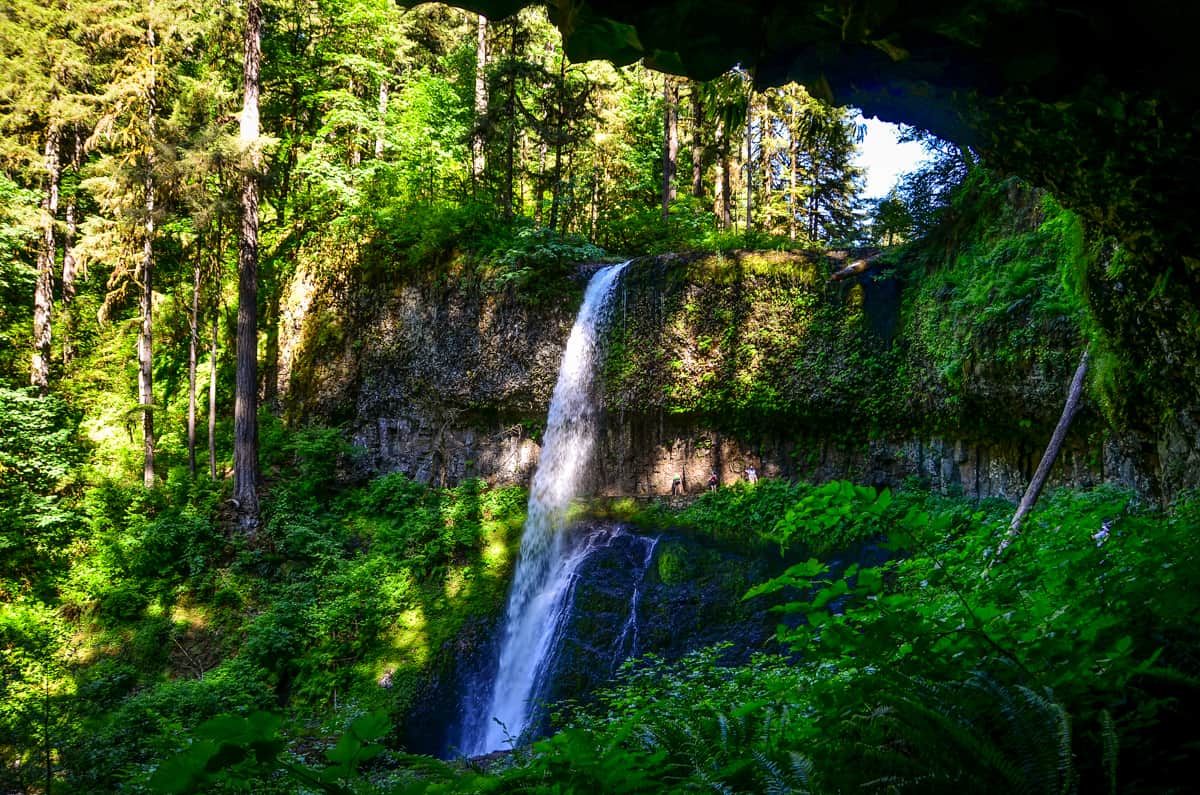 There are several helpful things to take into consideration when planning to hike the Trail of Ten Falls.
Best time of year for the Trail of Ten Falls hike
Springtime is by far the best time to hike the Trail of Ten Falls. Not only does this line up with Oregon's rainy season, but spring also means snowmelt, so the waterfalls are at peak flow.
With that being said, the trail is open year-round and it's well worth visiting at other times of year, too. Fall foliage in October is spectacular, the falls' cool mist is perfectly refreshing on summer days, and some of the cascades even freeze in the winter.
If your priority is seeing the falls at their raging best, though, stick with hiking the Trail of Ten Falls in the spring.
How long does it take to hike the Trail of Ten Falls?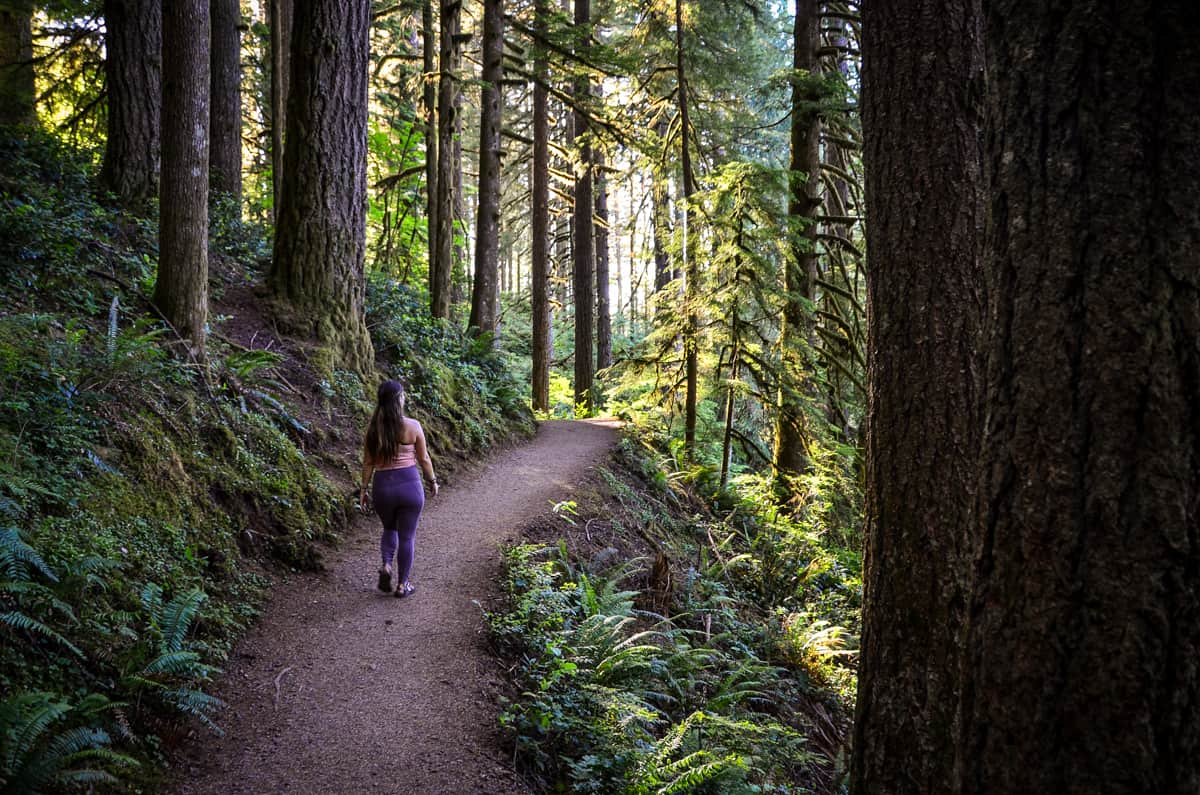 A very rough average is 3.5-4 hours. However, because of all the waterfalls and route options, the amount of time you spend on the trail will likely be very different from another group.
If you plan to see all 10 falls and take pictures at each one, you could easily spend five hours hiking. But if you have just a few main waterfalls in mind or you keep a steady pace, you may be done in as little as three hours.
How difficult is the Trail of Ten Falls hike?
One of the best things about Trail of Ten Falls is that it's not a challenging hike. Don't get us wrong, it's a great workout with plenty of varied terrain and mild ups and downs, but it's not at all technical or very steep.
The "moderate" rating on AllTrails is likely due to the length, but the trail is on the easier side. In fact, it's an extremely family-friendly trail, and you'll often see kiddos hiking alongside their parents. 
The route: Waterfalls along the trail
Because the Trail of Ten Falls is a loop, it has a handful of access points and you can hike it in either direction. The most popular starting point is the South Falls Trailhead, where there's a large parking lot and the namesake lodge.
If you hike it clockwise starting from South Falls (as mapped on AllTrails), you'll encounter the waterfalls in the following order.
1. South Falls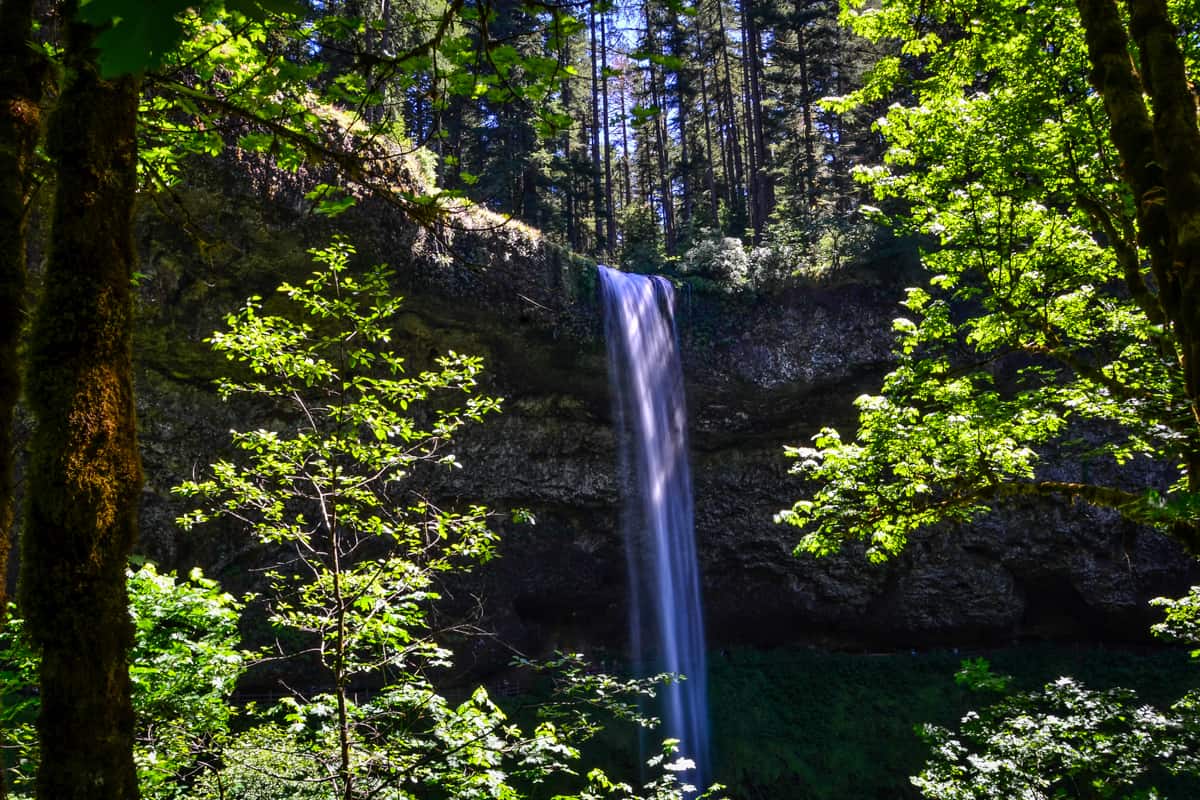 The first waterfall on the Trail of Ten Falls route is also one of the most popular. You can walk behind the 177-foot-tall cascade, and the wooden railing is especially picturesque.
You'll start from the South Falls trailhead, which puts you on the Maple Ridge Loop for a short distance. After you pass behind South Falls itself, continue on for about 0.7 miles toward Lower South Falls. At some point, you switch over to the Canyon Trail.
Note that the trail from the parking lot to South Falls is particularly busy. Due to its accessibility, many people come to the park just to hike the short 0.9-mile loop.
2. Lower South Falls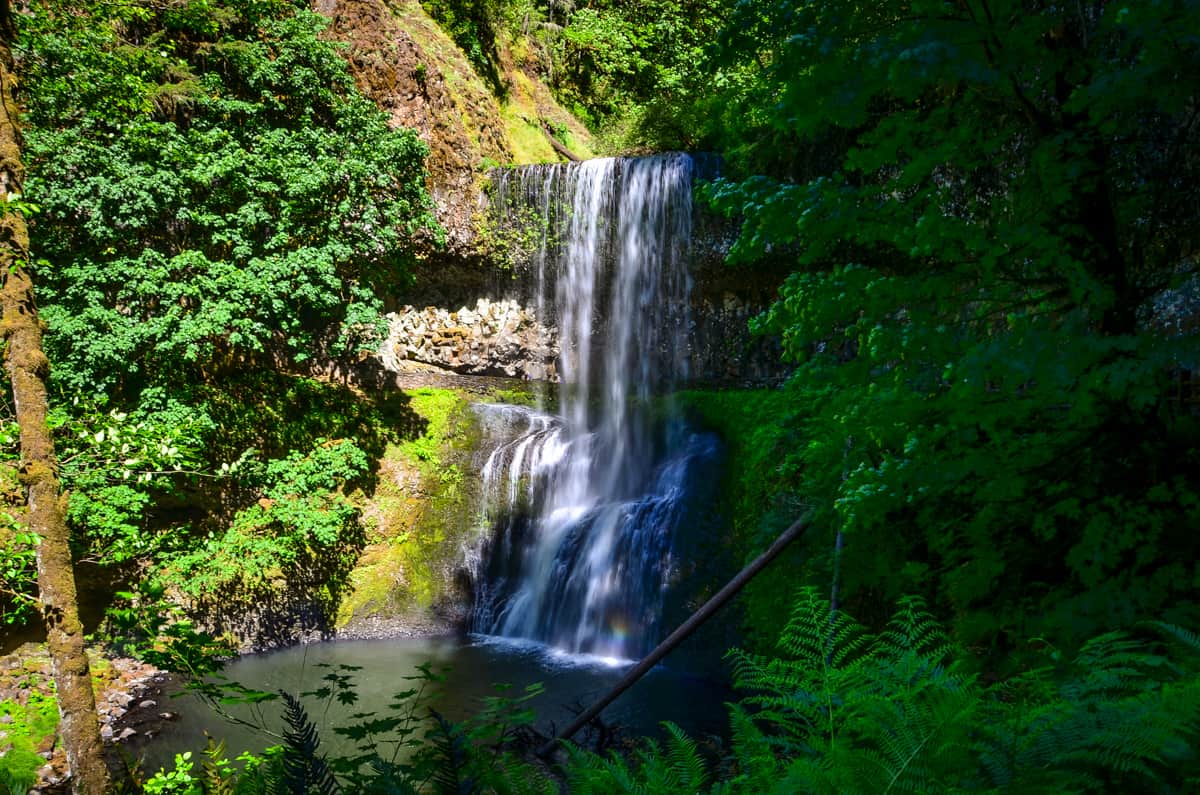 Next, descend a set of steps to 93-foot-tall Lower South Falls. This block-style waterfall has an impressive "curtain" of water, and is known to soak hikers when it's really flowing!
Like South Falls, you can walk behind this one, along a low block wall — but you actually get even closer to the water here.
Note that from the Trail of Ten Falls from here to the next waterfall can be confusing at times. You'll be on the Canyon Trail, but there are a handful of bridges, trail junction signs with the Maple Ridge Loop, and ongoing construction.
We highly, highly recommend downloading the trail map from AllTrails ahead of time, or snapping a photo of the map near the start of the trailhead at South Falls.
For the most part, minus a couple of side trail detours that we'll detail below, you want to stick to the Canyon Trail between South Falls and North Falls.
3. Lower North Falls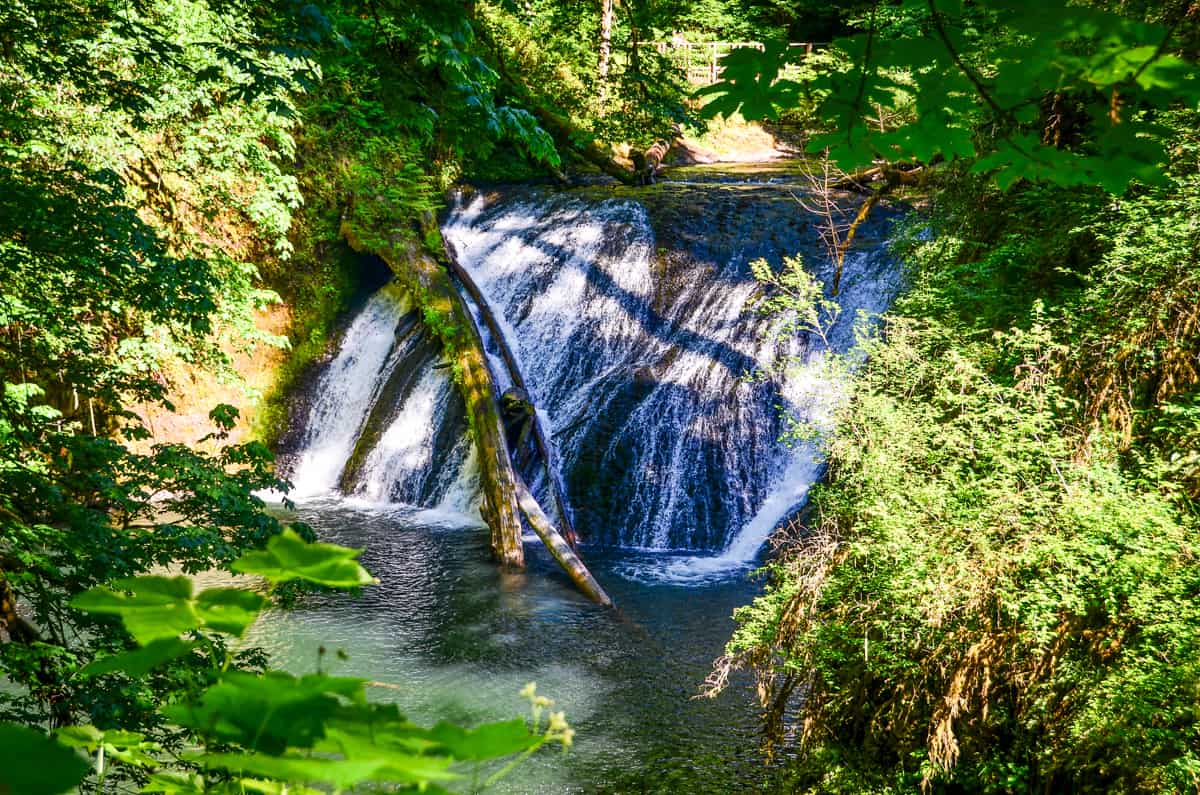 After leaving Lower South Falls, it's a 1.3-mile hike to Lower North Falls on the Canyon Trail. This stretch of the trail is fairly straightforward, although it has most of the total elevation gain.
It's well worth it, though, because your next stop features four impressive falls, one right after the other!
Lower North Falls is a totally different type of cascade than the previous two, viewed through the forest from a distance on your right side, across a creek.
Remember, there are several confusing trail junctions in this area, so keep a close eye on your map. You'll need to take a short side trail to get to Double Falls, and it's very easy to miss.
4. Double Falls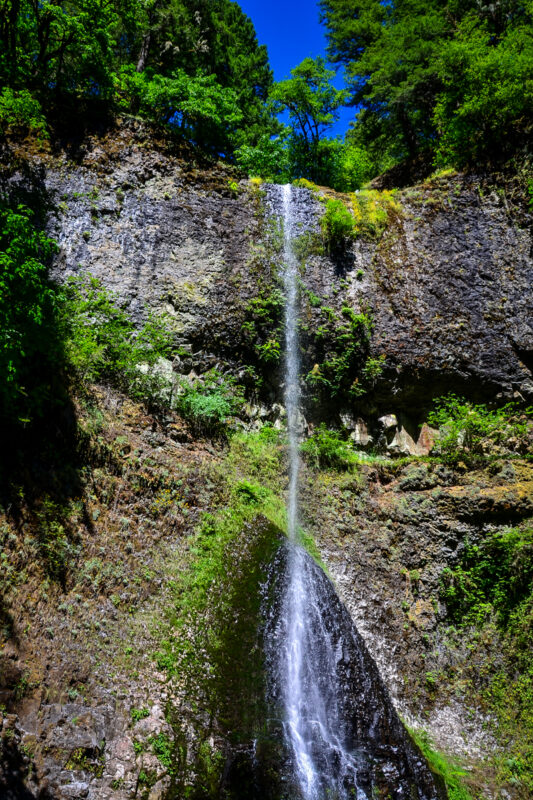 A beautiful waterfall with two distinct drops, Double Falls is the tallest waterfall in the park, at 184 feet.
To find it, look (carefully!) for a 0.1-mile spur trail just past Lower North Falls. They're less than 0.1 miles from one another, so we mean "just past" very literally!
This section of the hike tends to be much less crowded than the waterfalls closer to main parking lots. Because of that, any one of the waterfalls in this area makes the perfect lunch spot!
Head back the way you came to reconnect with the main Canyon Trail.
5. Drake Falls
Just another 0.2 miles down Canyon Trail, you'll come to Drake Falls. This is one of the smallest waterfalls in Silver Falls State Park, so it's a quick stop. Just snap some pictures from the overlook on your right side.
It's tricky to get a clear view of Drake Falls because of the dense forest growth and where it flows in relation to the trail, but depending on the time of year, it's certainly possible.
6. Middle North Falls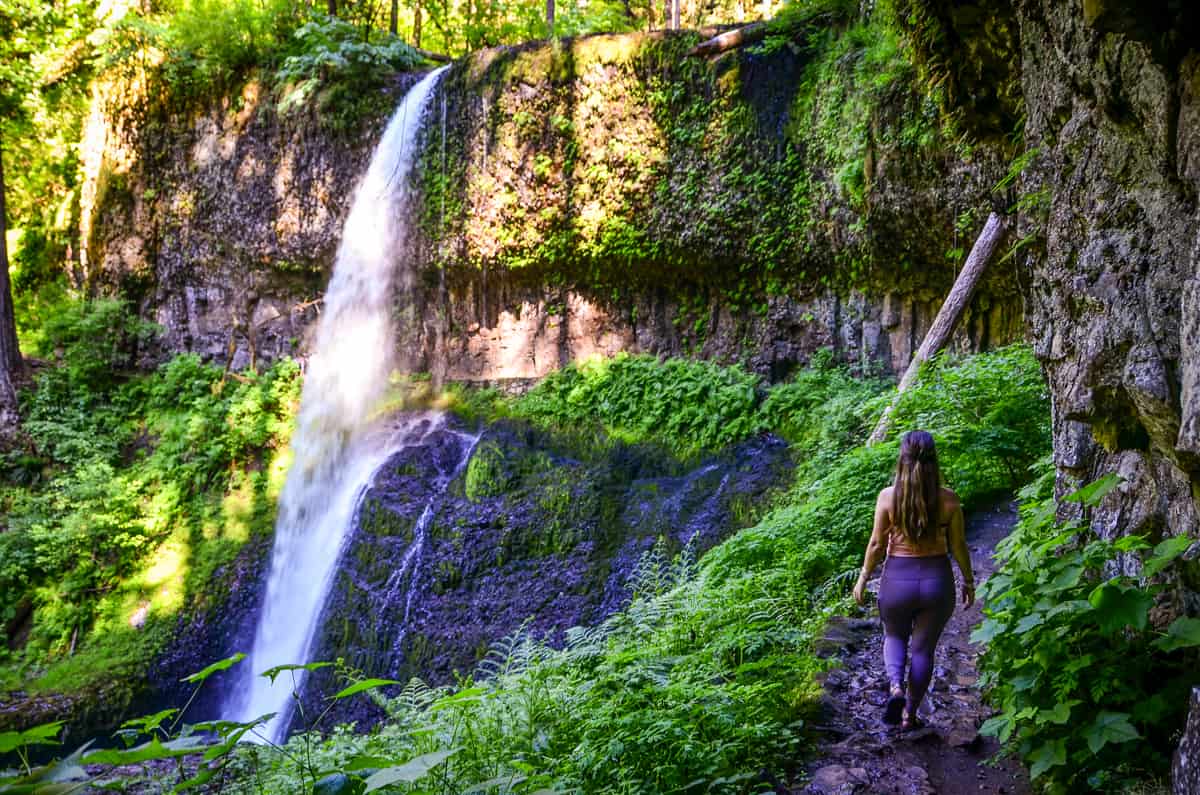 After leaving Drake Falls, head down the Trail of Ten Falls another 0.2 miles.
Even more so than other waterfalls in the park, Middle North Falls changes dramatically based on recent rainfall. Sometimes it's a wide, thick curtain of water you can't see through, and others it's a transparent trickle. It's always gorgeous, though!
You can walk behind this waterfall, but the trail doesn't technically take you there. To get behind it, leave the Canyon Trail for a very short distance, then retrace your steps back.
Notably, there's a good opportunity to cut your hike short just 0.1 miles beyond Middle North Falls, if you're short on time or just not up for the entire loop. Take a right across the bridge toward Winter Falls, which shaves off two miles and still lets you see seven waterfalls.
To complete the Trail of Ten Falls, ignore the Winter Falls junction and stay on Canyon Trail (don't worry, you'll see Winter Falls on your way out!).
7. Twin Falls
Twin Falls is 0.3 miles past Middle North Falls. It's a smaller, seasonal waterfall that almost completely dries up in the summer, so keep that in mind when planning your hike.
The waterfall will be on your right. On your left, you'll see a confusing sign with various arrows pointing to the Twin Falls Trail, back toward South Falls, the North Falls Group Camp, and the Canyon Trail…which you're already on.
Ignore just about everything on the sign and stay on Canyon Trail. In just over one mile, you'll come to one of the jewels of the Trail of Ten Falls: North Falls.
8. North Falls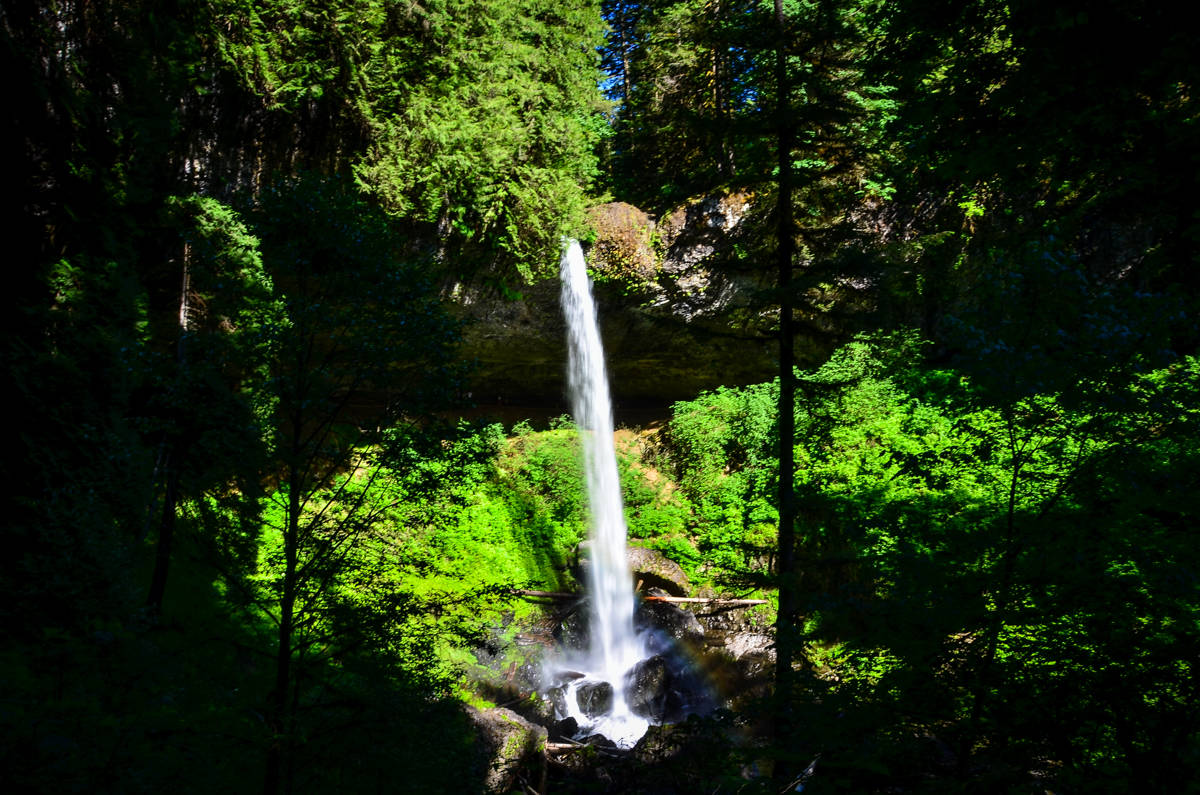 As soon as you see North Falls, you'll understand why it's one of the most famous in Silver Falls State Park — it's a stunner. North Falls tumbles down over basalt cliffs, and it's the fourth and final waterfall you can walk behind.
Understandably, this is typically a very busy area, especially because the park built a new trail and overlook just for North Falls in July 2023.
If you need a waterfall fix without the trek, you can now park in the North Canyon Day-Use Area (which also has a restroom and picnic tables) and hike 0.5 miles to the North Rim Trail.
The North Rim Trail has a compacted, gently-graded surface, so it's also one of the more accessible in Silver Falls.
9. Upper North Falls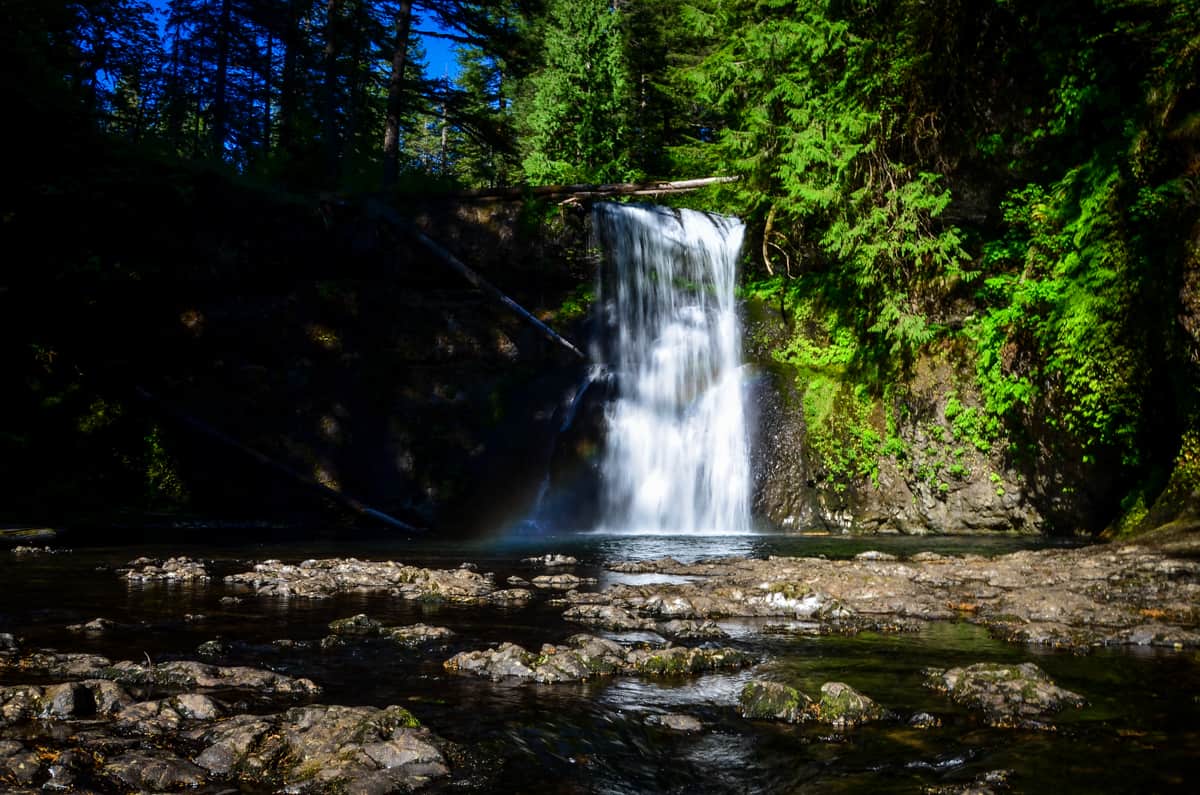 To see Upper North Falls, you'll leave the Canyon Trail and take a 0.3-mile spur trail (0.6 miles out-and-back). Because of this detour, Upper North Falls is often overlooked.
The wide curtain-like waterfall isn't even close to the biggest in the park, but it's arguably one of the most photogenic. Just walking the path to Upper North Falls is gorgeous, because the numerous small streams and cascades, and the moss everywhere, gives it a fairytale feel.
Notably, the Upper North Falls Trail permits dogs. This is why we recommend simply leaving your pups at home — they're allowed on only a few sections of the Trail of Ten Falls.
However, it's good to know that you can park at the North Falls Trailhead and do JUST this hike with your dog on a different day.
After viewing the waterfall, come back toward North Falls and the main trail. You'll want to hop on the Rim Trail now, back to the parking lot.
10. Winter Falls
Follow the Rim Trail for just over one mile. Look for the sign to Winter Falls on your right, then take the side trail 0.25 miles each way.
Winter Falls is absolutely beautiful, 134 feet tall and slim. However, it's also one of the most seasonal cascades in the park, meaning it dries up completely. If you're visiting in summer, you may want to skip it. Consider asking a park ranger about recent conditions.
Follow your steps back to the Rim Trail, then walk one mile back to the South Falls parking lot. Much of this section is on a park road. You're officially done with the Trail of Ten Falls, but we highly recommend stopping into the South Falls Lodge for a snack or drink!
Tips for hiking the Trail of Ten Falls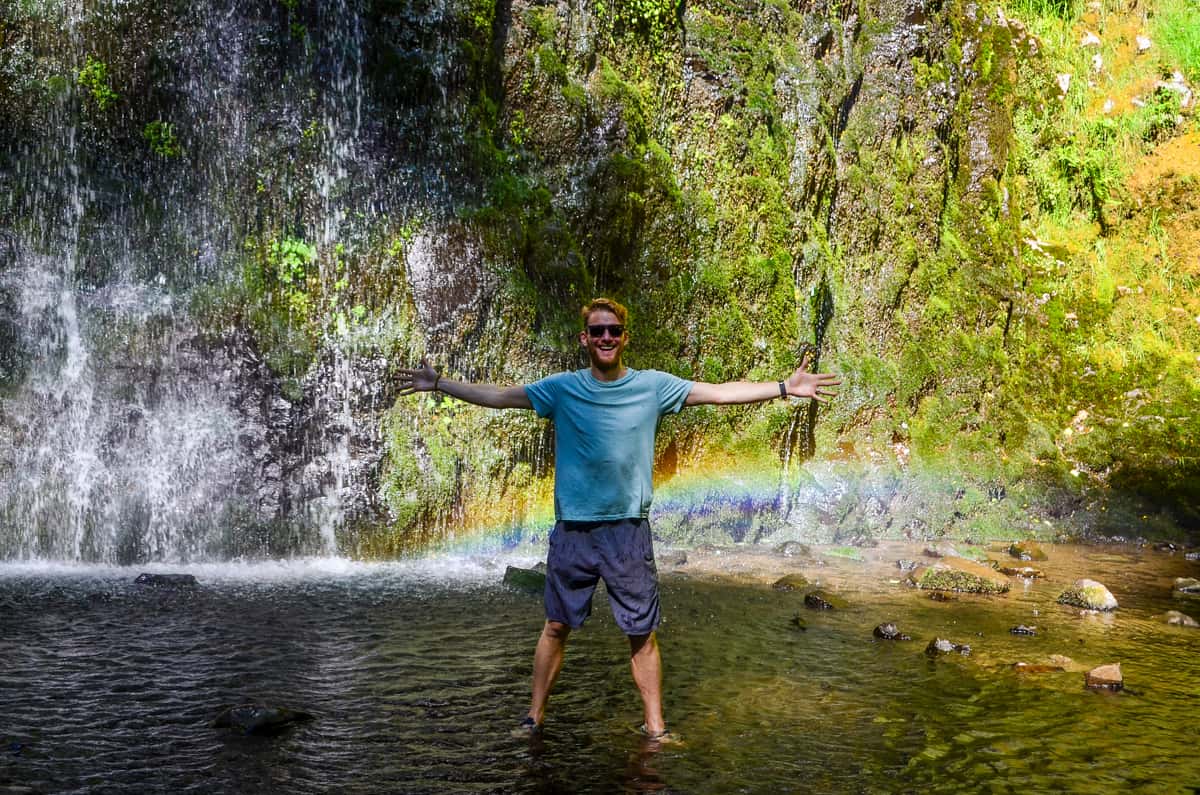 Bring a trail map. The trail can be confusing, so download the map from AllTrails, grab a paper map, or snap a pic at the trailhead.
You need a day-use parking permit. Buy the $5 permit onsite, from a yellow kiosk in the parking lot or the park ranger booth.
Wear closed-toe shoes. The Trail of Ten Falls is almost always muddy, so leave your hiking sandals at home and wear your sturdiest shoes.
Leave pets at home. It can be confusing, because dogs ARE allowed on two small sections of the trail. However, they're not permitted on the vast majority of the hike.
Stay overnight. Silver Falls State Park is an absolute gem, so consider staying the night to really explore. The park has a great campground and rental cabins open year-round.
What to pack for hiking the Trail of Ten Falls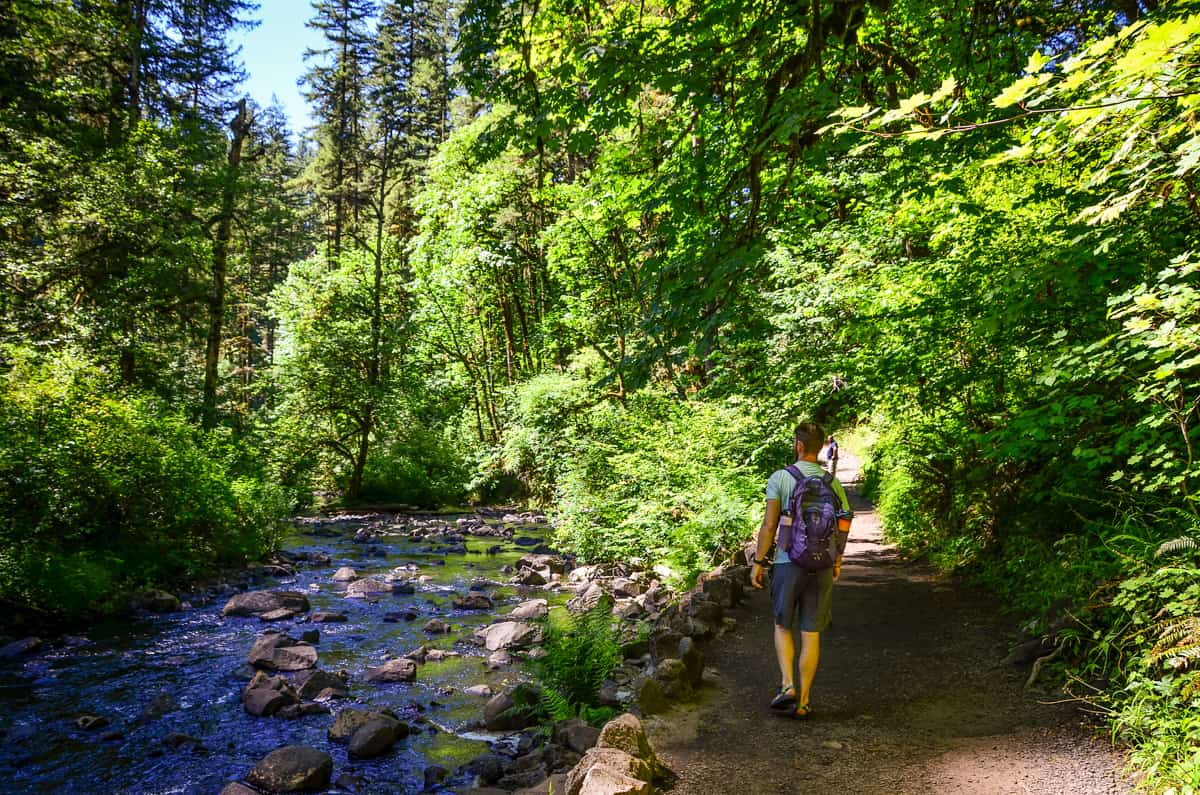 Navigation: we recommend using Alltrails+ to download the offline trail map
Water bottles and/or bladder for your Camelbak
Dry bag (we always carry one with us for our valuables in case of rain)
Sun protection: sunscreen, hat, sun glasses
Bug repellant
Camera/tripod (this one's our favorite for hiking)
Lots of layers (here is a great resource if you're wondering what to wear hiking)
Rain jacket
Comfortable hiking boots or shoes
Hiking poles (optional)
Plenty of snacks: check out our favorite hiking snacks here!


You may also like…
Save this article on Pinterest for later!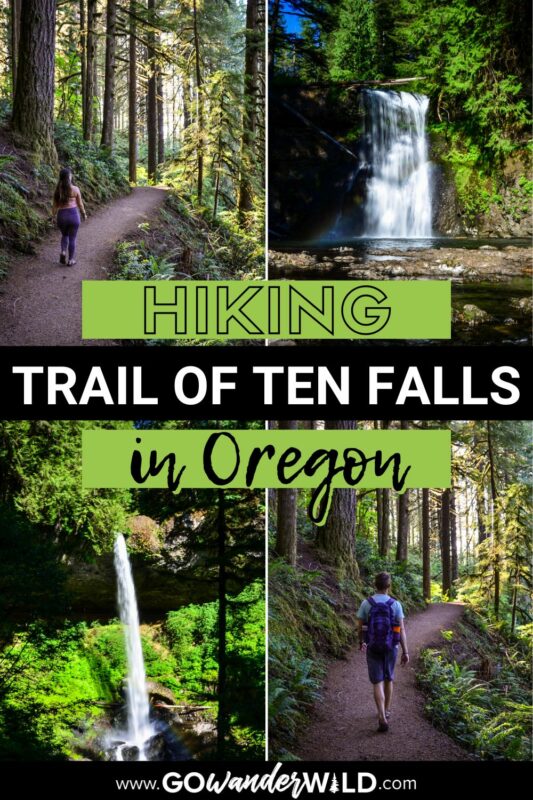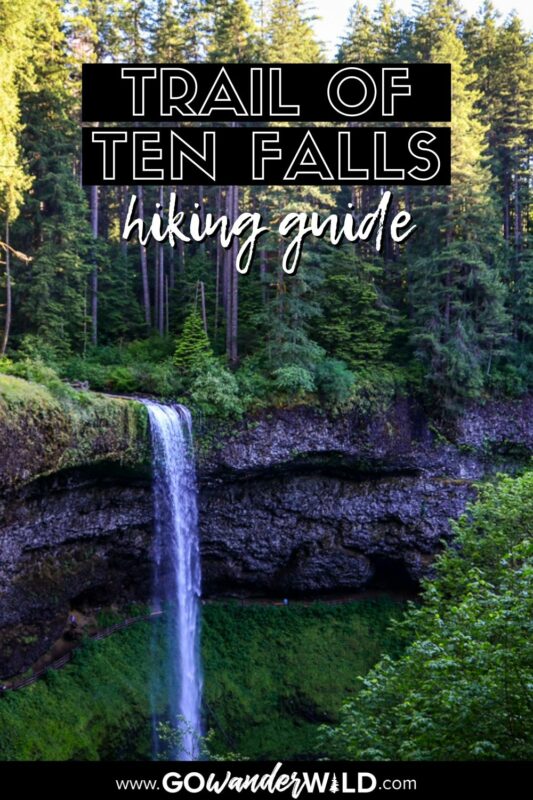 We want to hear from you!
Have you hiked the Trail of Ten Falls in Oregon? What was your experience like? Are you planning to hike in Silver Falls State Park and have more questions? Comment below and let us know!