Colorado has countless incredible hikes, but few top the one-two punch of Hanging Lake. The scenery is spectacular and feels remote, yet it's easily accessible. Although short, tackling Hanging Lake trail requires some planning, so we put together this detailed trail guide.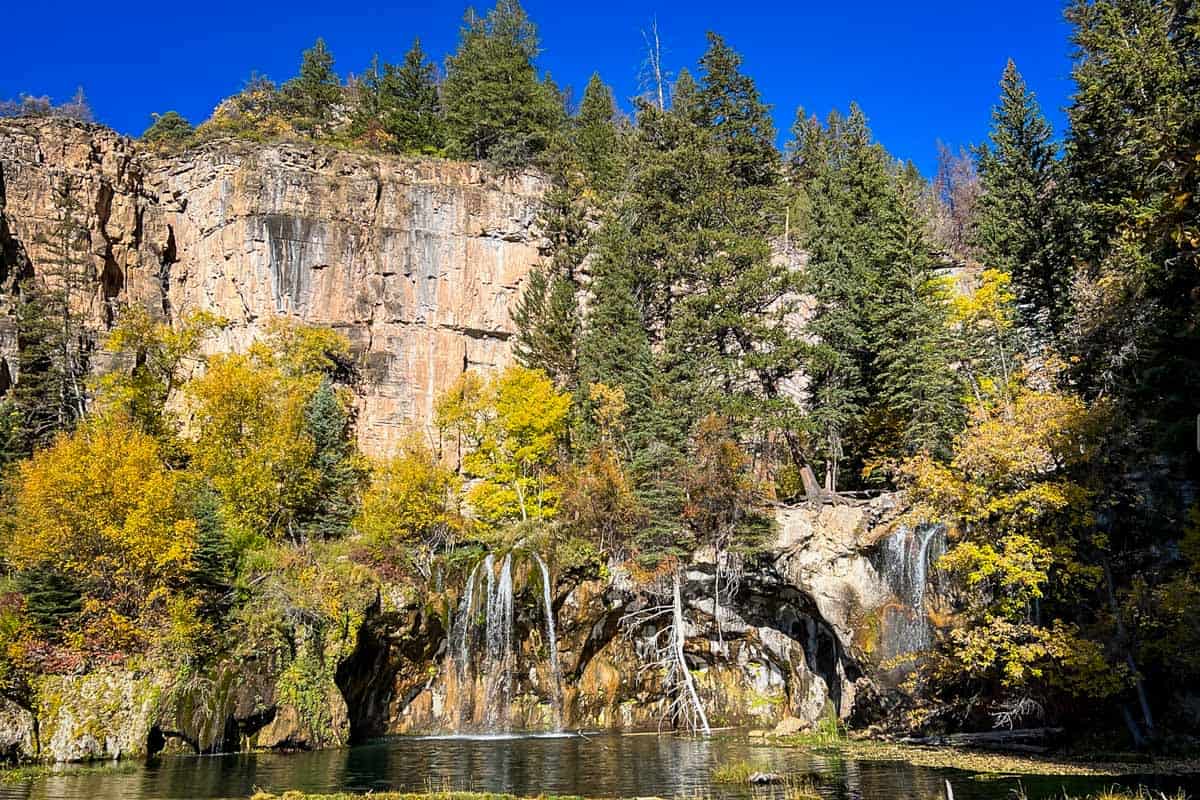 Perfectly framed by trickling waterfalls and steep red cliffs in Glenwood Canyon, the crystal-clear, bright turquoise green water of Hanging Lake is nothing short of stunning.
Accessed via a short (but steep) trail from a surprisingly convenient location along I-70, it's no surprise the Hanging Lake trail has become one of Colorado's most popular hikes. Over 100,000 people visit every year!
Despite the inevitable crowds, it's well worth the trip and effort — the views are even better in person! Let's dive into everything you need to know about hiking this iconic Colorado trail.
Article Contents

Hanging Lake trail stats
Location: Glenwood Springs, Colorado
Distance: 3.1 miles out and back
Elevation gain: 1,187 feet
Difficulty rating: Moderate
Timing: 2-4 hours
Pets: Not allowed
Permits: Yes, permits required
Hanging Lake hike overview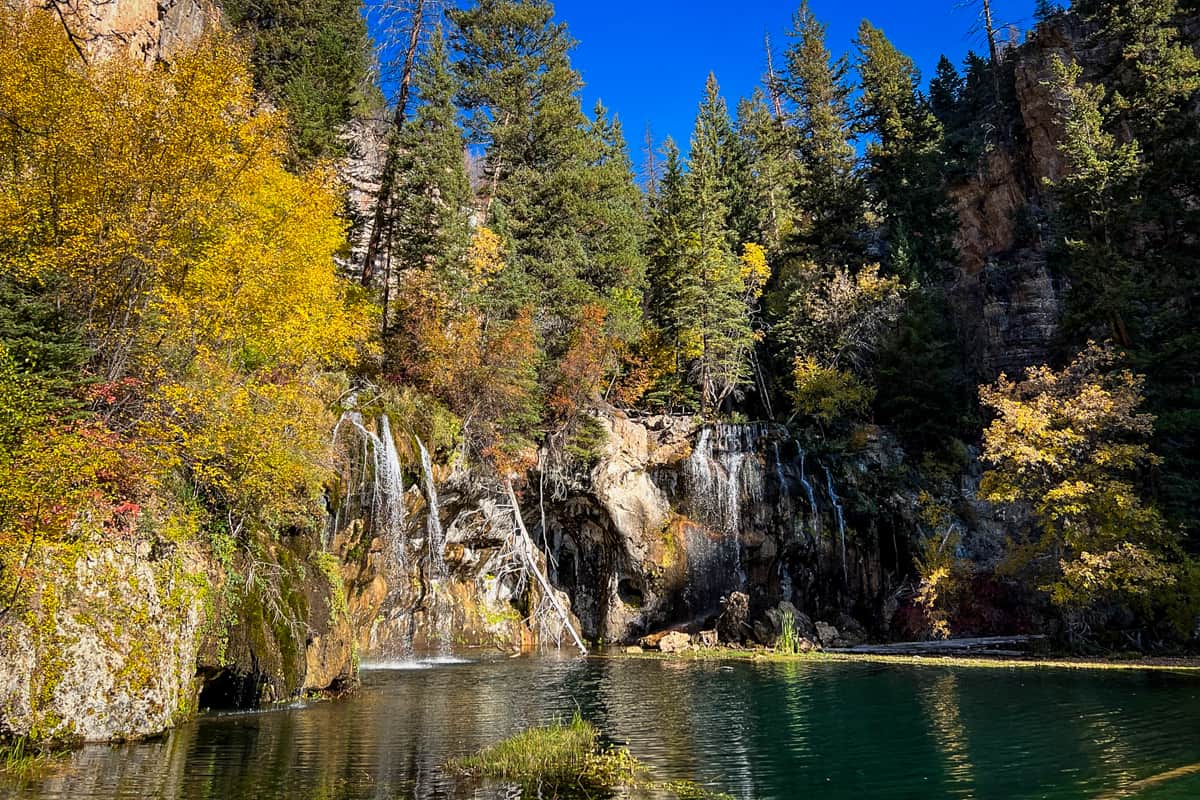 It's easy to (incorrectly!) assume the Hanging Lake trail makes a quick road trip stopover to stretch your legs. After all, it has a relatively short length and highly trafficked location just off a major interstate.
However, hiking Hanging Lake requires some advance planning. For starters, all hikers need a permit for the trail. You'll also want proper hiking attire, because the way up is steep!
Planning the logistics for Hanging Lake ahead of time is worthwhile — relaxing on the lakeshore, surrounded by rugged cliffs, is nothing short of magical.
While the ascent is a bit steep and certainly rocky, the Hanging Lake hike is a pleasant climb along a creek through dense forest. You'll even have the opportunity to stop at a second waterfall, Sprouting Rock, which you can actually go behind!
Things to know before you go
Although it's a short, popular hike, there are a few logistics to consider before heading out to hike Hanging Lake Colorado.
Best time of year to hike to Hanging Lake Colorado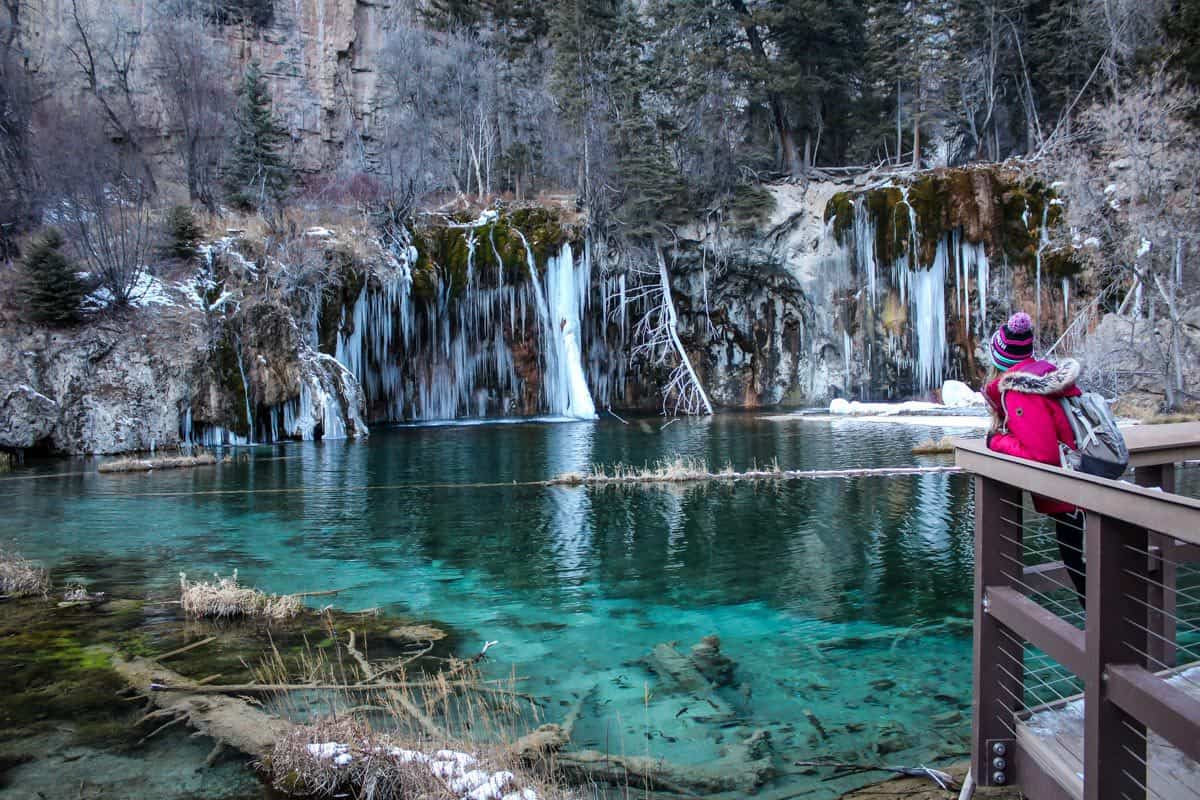 The Hanging Lake trail is open and accessible year-round, with unique experiences in every season. We recommend the "shoulder" months of May and September as the BEST times to hike, when there's typically less rain and fewer crowds.
Plus, particularly toward the end of September, you'll get some gorgeous fall foliage!
Summer is, unsurprisingly, peak season for Hanging Lake, with by far the most visitors. This also means summer is the most difficult time to obtain a permit. Days are long and largely sunny, as this is the driest season in this area.
Although summer certainly isn't a bad time for the hike, consider shoulder season for a more tranquil nature experience.
Those with winter hiking experience may want to consider heading out to Hanging Lake during the off-season.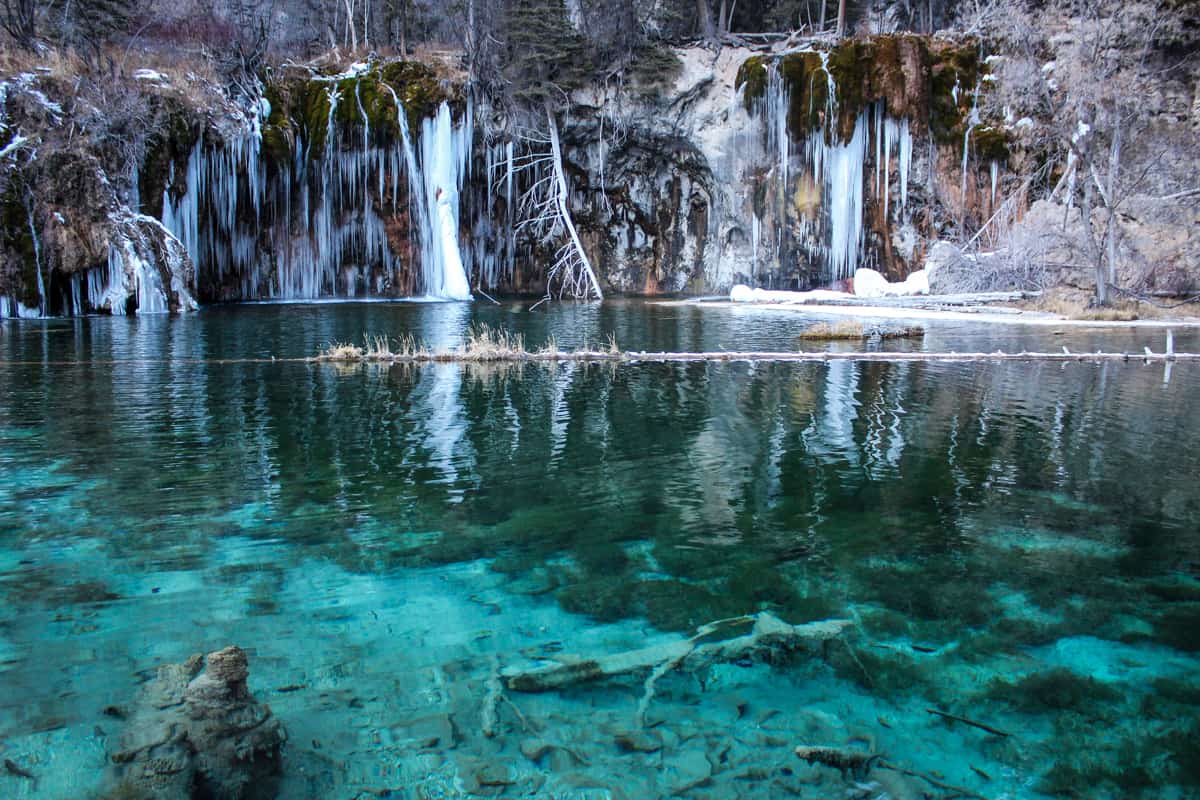 You'll need to be careful as there will likely be snow and ice on the trail to reach the lake, but your efforts will be richly rewarded. The waterfall cascades often freeze into icicles, creating an absolutely magical scene!
Even though it's a shorter trail, winter conditions can make the Hanging Lake hike a bit longer. Pay special attention to trail conditions, and if there's a significant amount of snowfall, consider rescheduling. It's VERY easy to lose the trail under a blanket of snow!
Personal experience: I hiked the Hanging Lake trail in December (pictured!) and completed the entire trail in Ugg boots (don't judge – it was a last minute thing!). While I do not recommend this (it was slippery!) the point is, trail itself isn't too complicated. The presence of snow and ice is what makes it more difficult. Since there are a lot of "stairs" to climb, this trail isn't recommended for snowshoes, however, the use of microspikes or crampons would be helpful if you are worried about slipping on the ice. 
How long does it take to hike the Hanging Lake trail?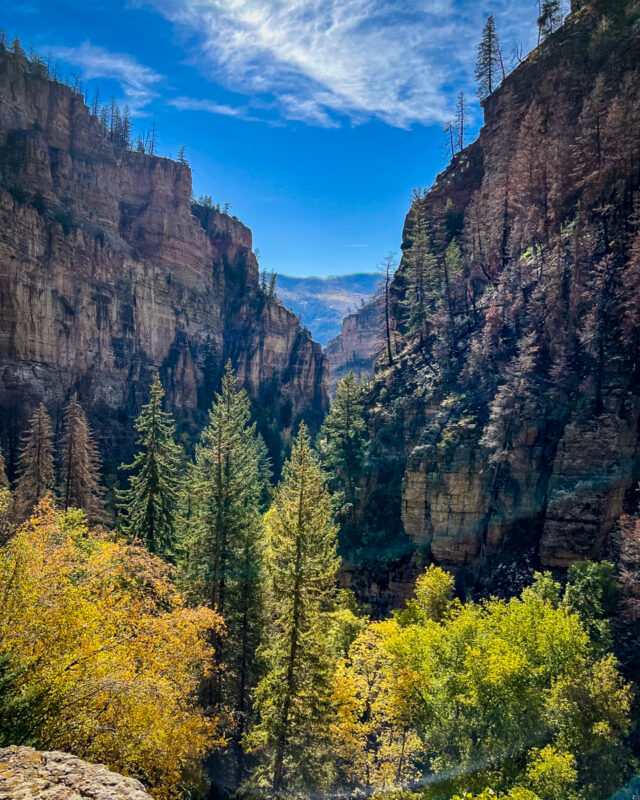 Allocate 2-3 hours for hiking to Hanging Lake. The trail is a short 1.5 miles, but most of the route is steep and there are several staircase-like sections. Plus, you'll want some time to explore the various cascades and simply sit and unwind at the picture-perfect oasis!
With that being said, it's important to note that city officials actually request that hikers come back down fairly quickly after their hike. This helps manage the limited parking situation.
How difficult is the Hanging Lake hike?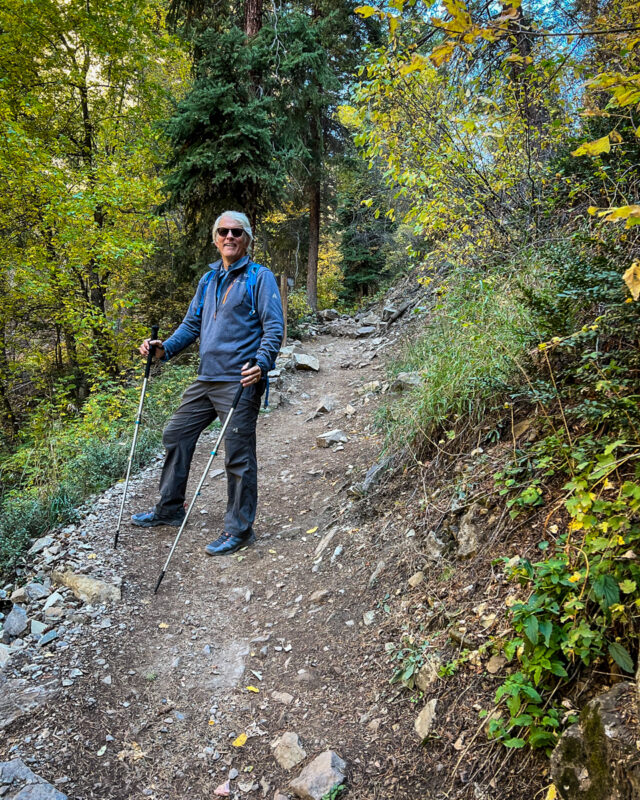 AllTrails rates the Hanging Lake trail as moderate, and we agree. You gain over 1,000 feet of elevation in just one mile, so the grade is pretty intense. The trail is also full of slippery rocks and large steps, and it's almost always muddy.
However, you don't need any technical skills and there's minimal exposure, so the trail is totally manageable for most hikers. Even young kids regularly tackle the Hanging Lake hike with some assistance! It's definitely not suitable for people with mobility concerns, though.
One other major thing to be aware of is the altitude. Much of the hike is above 7,000 feet, and if you're not acclimated to the altitude, this can make you feel winded quickly. Take your time, resting often.
Wildlife on the trail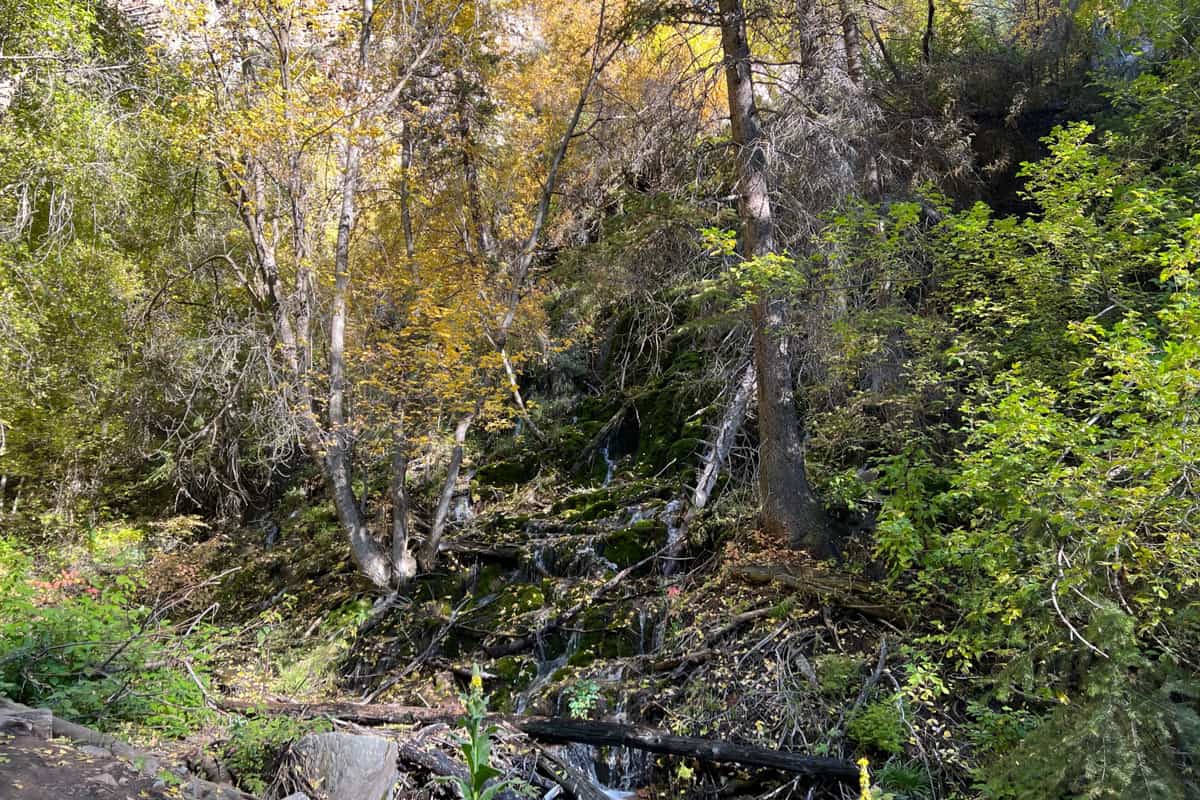 Due mostly to the popularity and frequent foot traffic on the Hanging Lake trail, you're not incredibly likely to encounter any large wildlife during your hike. However, big game including elk, bighorn sheep, and black bears do inhabit this general area, so always remain aware.
There's also an abundance of chipmunks around the lake, and they can be pretty aggressive with food. As with any other wild animals, DON'T feed them!
And recently, a group of beavers has also returned to Hanging Lake. Snap photos from a distance — their presence is a strong sign that the environment is in recovery from human damage.
Hanging Lake reservations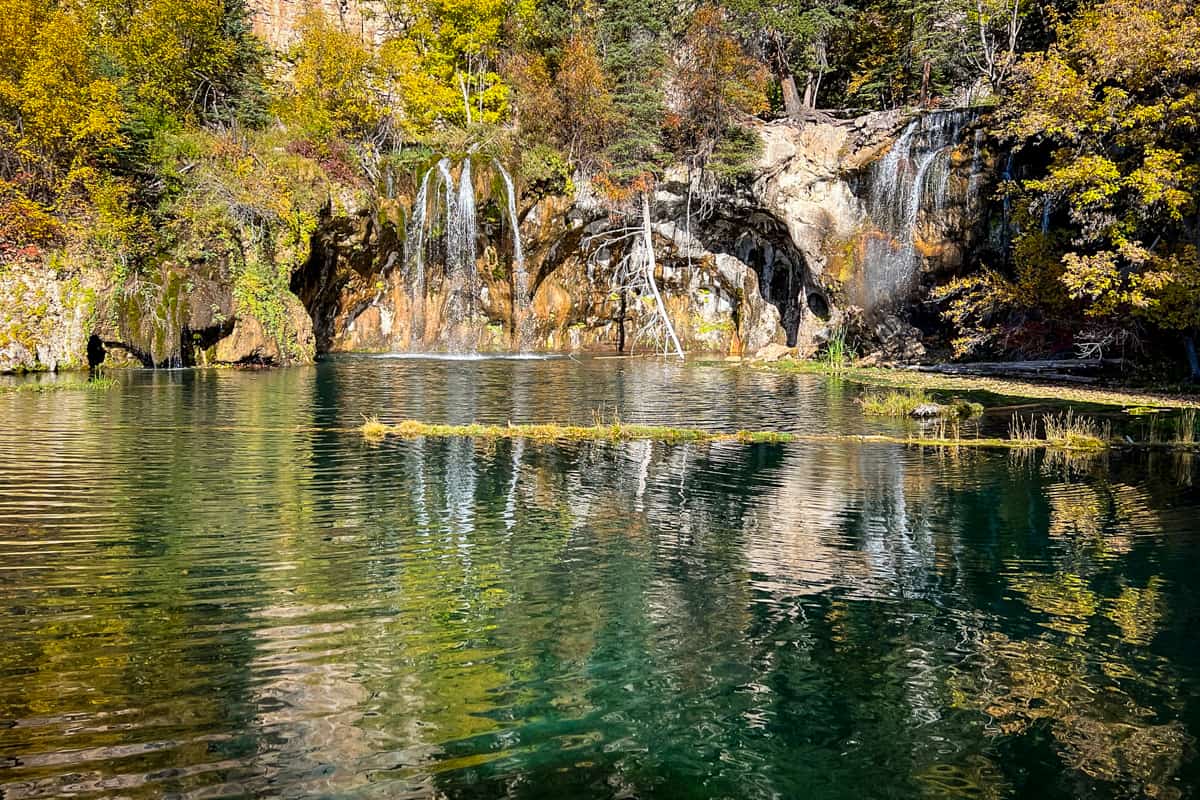 Everyone who hikes the Hanging Lake trail is required to have a permit. The local city government implemented this permit system to protect the delicate ecosystem and minimize human impact.
Getting a permit is straightforward, although weekends during the summer often sell out well in advance. However, check again a day or two before your intended hike — last-minute cancellations do happen.
Permits allow for staggered timed entry, rather than an entire date. So for example, you can choose to start your hike at 8:00 a.m. on your chosen date. There are typically 6-8 time slots offered per date, with hourly start times beginning at 7:00 or 8:00 a.m.
The trail closes at 7:30 p.m. in the summer and 5:30 p.m. in the winter, so plan accordingly when choosing your start time.
Hanging Lake permits are $12 for the summer and $10 for the winter, and can be reserved through the official city website. The summer season is May 1 – October 31, while winter is November 1 – April 30.
Note that rangers do check permits, both in the parking lot and again at the official trailhead. Every single hiker in your group must have a permit.
The route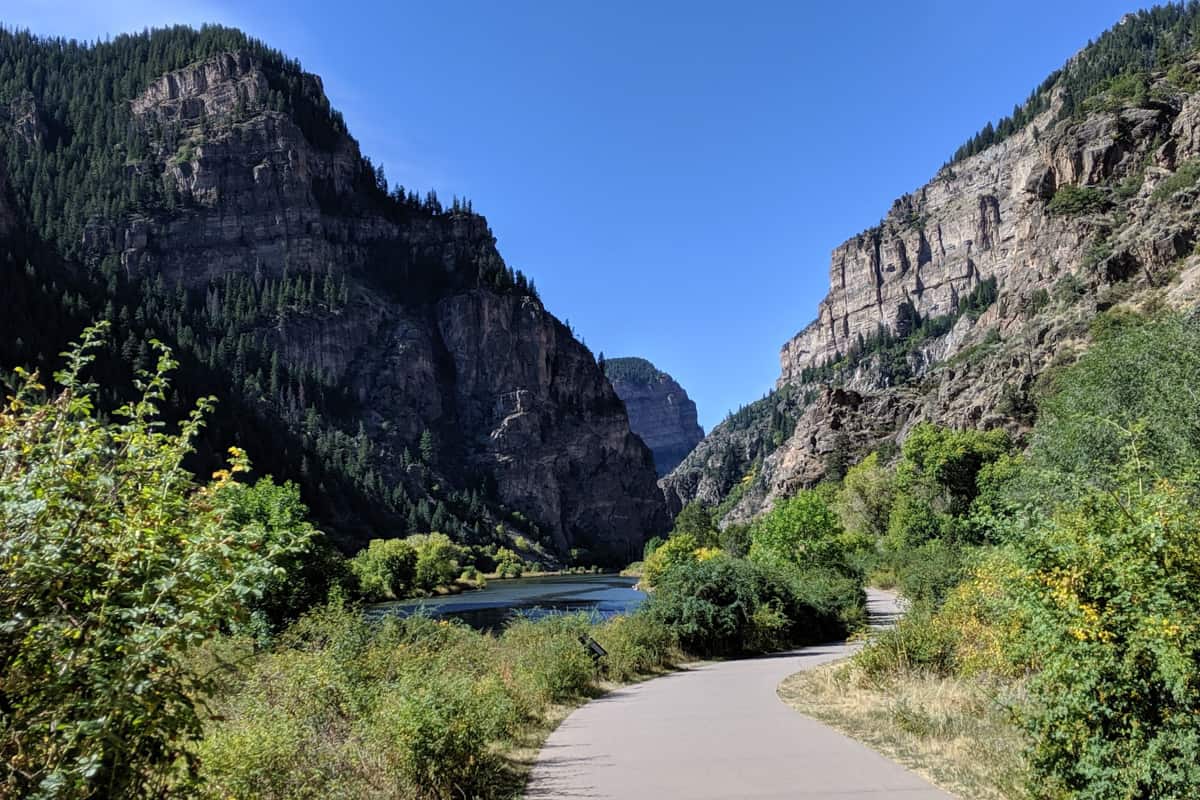 The Hanging Lake hike starts with a paved bike trail following the Colorado River, nestled between the steep walls of Glenwood Canyon.
About a quarter-mile in, you'll reach Dead Horse Creek Canyon. At this point, the terrain changes significantly and the trail turns into a true hike, taking you through the canyon itself.
You'll climb over 1,000 feet while zig-zagging across the stream several times, crossing a total of seven bridges en route. Look for smaller unnamed cascades near bridges #3 and 5.
Much of the hike's first mile is under the canopy of a dense forest. Underfoot, the ground is often muddy and slippery, with lots of loose rock. Watch your step, especially after rain. Thankfully, there are several large rocks and benches along the trail where hikers can take a quick break.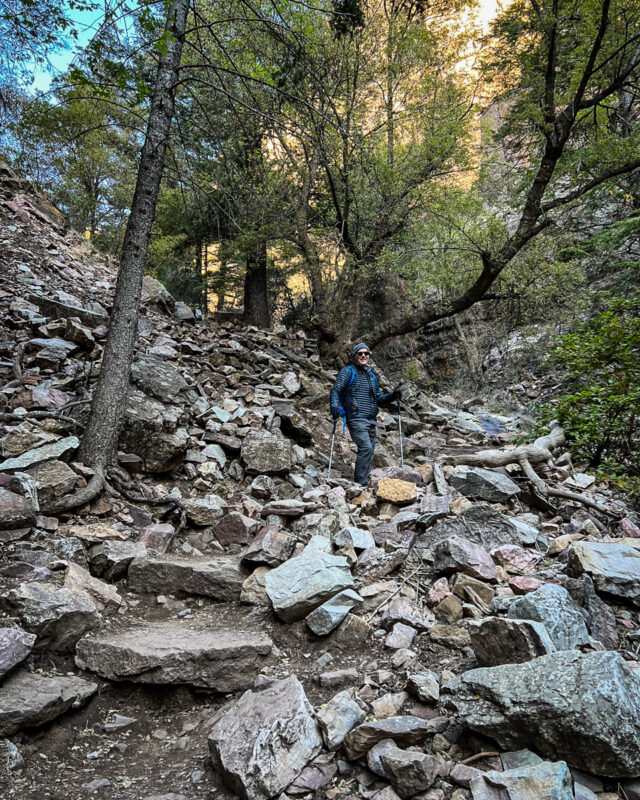 Right at the one-mile mark, you'll come to a steep stone staircase with a handrail. Climb the stairs, and you're basically at Hanging Lake!
Wander around the walkway circling the water to capture different vantage points. You can almost always see trout in the lake, also.
Head back the way you came. Remember that the trail is steep, and you'll be descending on the way out. Trekking poles can be extremely helpful for the hike out!
Spouting Rock Falls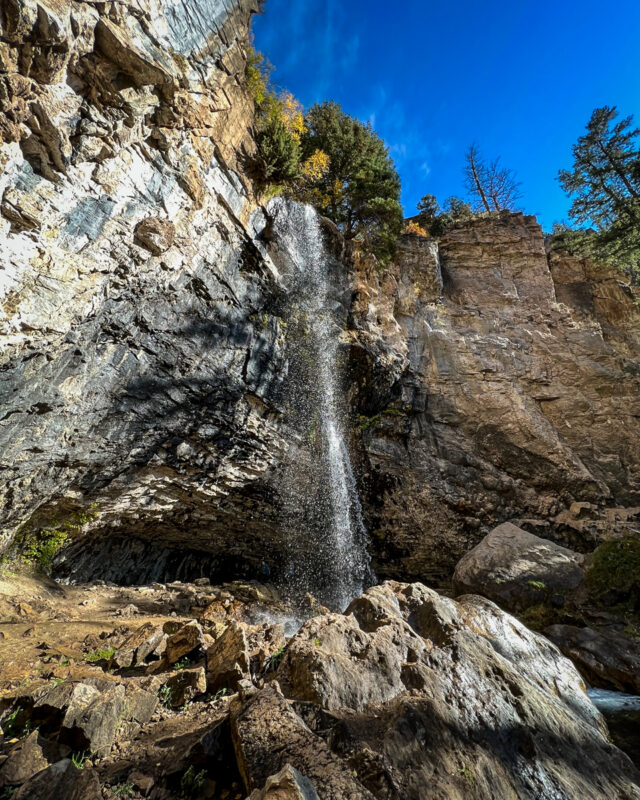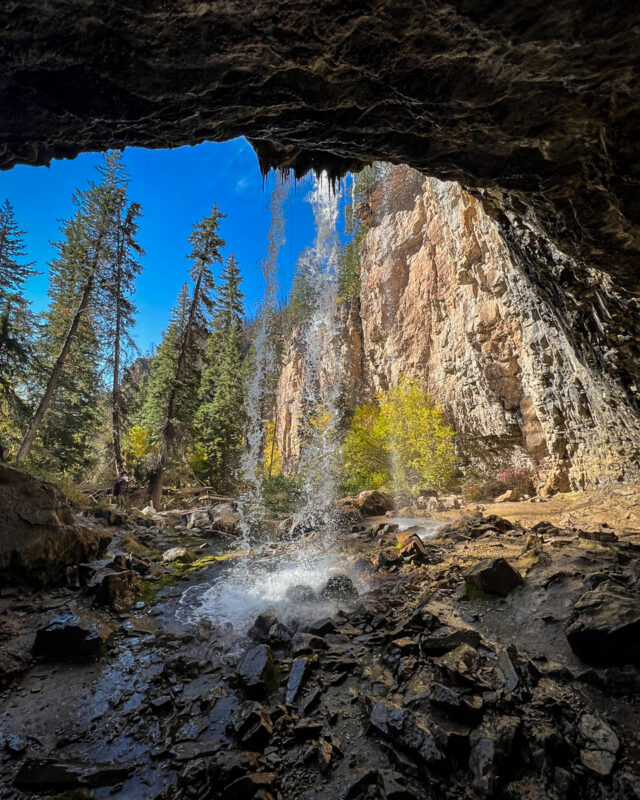 Immediately before reaching Hanging Lake itself, you'll notice a signed spur path leading to Spouting Rock Falls, a can't-miss side trip. This bonus waterfall is "hidden" just beyond Hanging Lake, but is maybe 200 yards away.
Spouting Rock Falls gets their name from the fact that, instead of cascading over a rock face like most waterfalls, they appear to shoot out of holes in the cliffs! Because of this, you can (usually) walk directly behind the falls!
Tips for hiking the Hanging Lake trail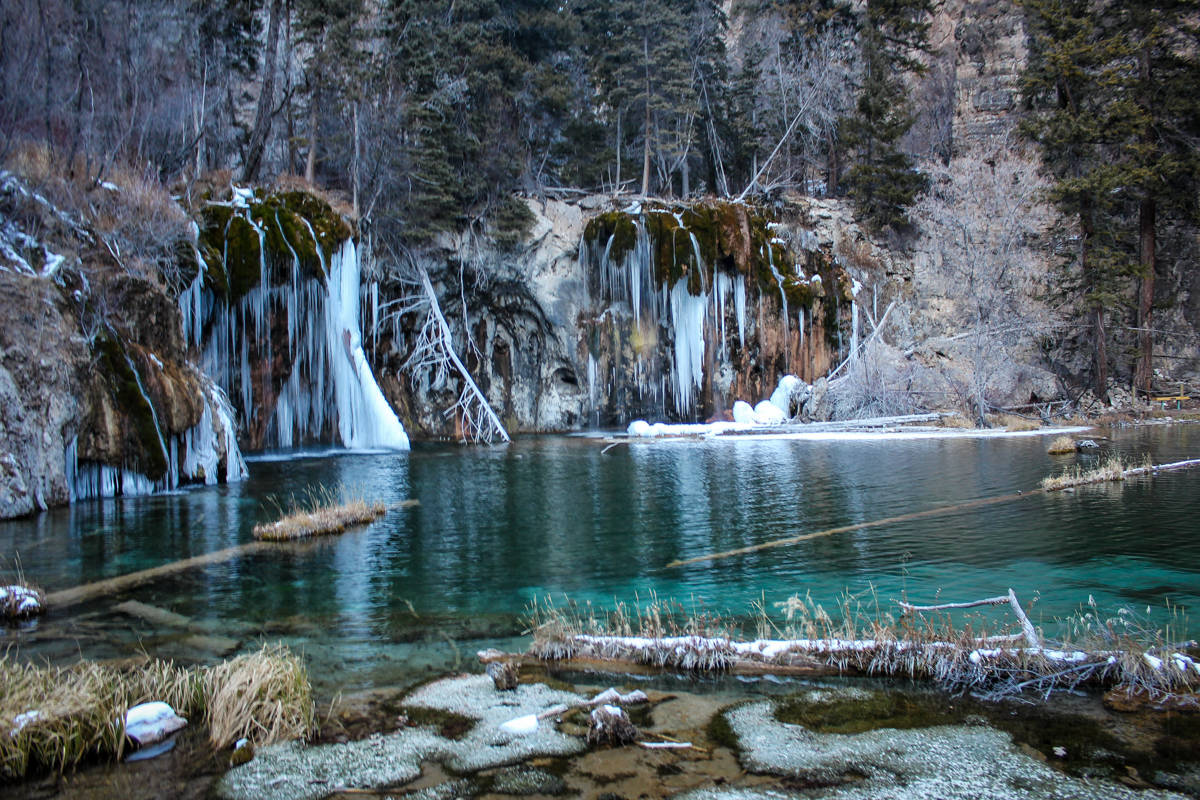 Head out early in the morning. This will give you the best lighting for photos, plus may let you beat afternoon crowds.

Just make sure you apply for an early entry time on your permit!

Stay out of the water. Due to the fragile ecosystem, there's no swimming allowed whatsoever at Hanging Lake. This includes getting on the logs floating in the water.
Time your hike carefully. The trail closes down promptly at 5:30 p.m. (winter) or 7:30 p.m. (summer), so be sure to head back with sufficient time.
"Go" before you go. There's only one restroom for Hanging Lake, at the trailhead.
Be extra diligent about Leave No Trace. Hanging Lake is a particularly fragile ecosystem, and it's been closed in the past for restoration.
Don't overlook visiting in winter. Hanging Lake has far fewer crowds in the off-season, and transforms into a stunning winter wonderland.
DON'T take a rideshare or arrange another ride. It's tempting because the parking lot fills up, but it's actually not allowed. Hanging Lake is prone to flash flooding and the trail can be evacuated without warning, so all hikers must have a vehicle at the trailhead.
Where to stay near Hanging Lake
There are many excellent campsites near the Hanging Lake trail. The closest sites are at Coffee Pot Spring Campground; however, an off-road vehicle is highly recommended to reach the area. 
Instead, we recommend finding dispersed camping in the surrounding White River National Forest. As always, practice Leave No Trace and double-check local regulations regarding fire restrictions and road access.
Hanging Lake Colorado is also only a 15-minute drive from Glenwood Springs, where there are a multitude of accommodation options.
What to pack for hiking to Hanging Lake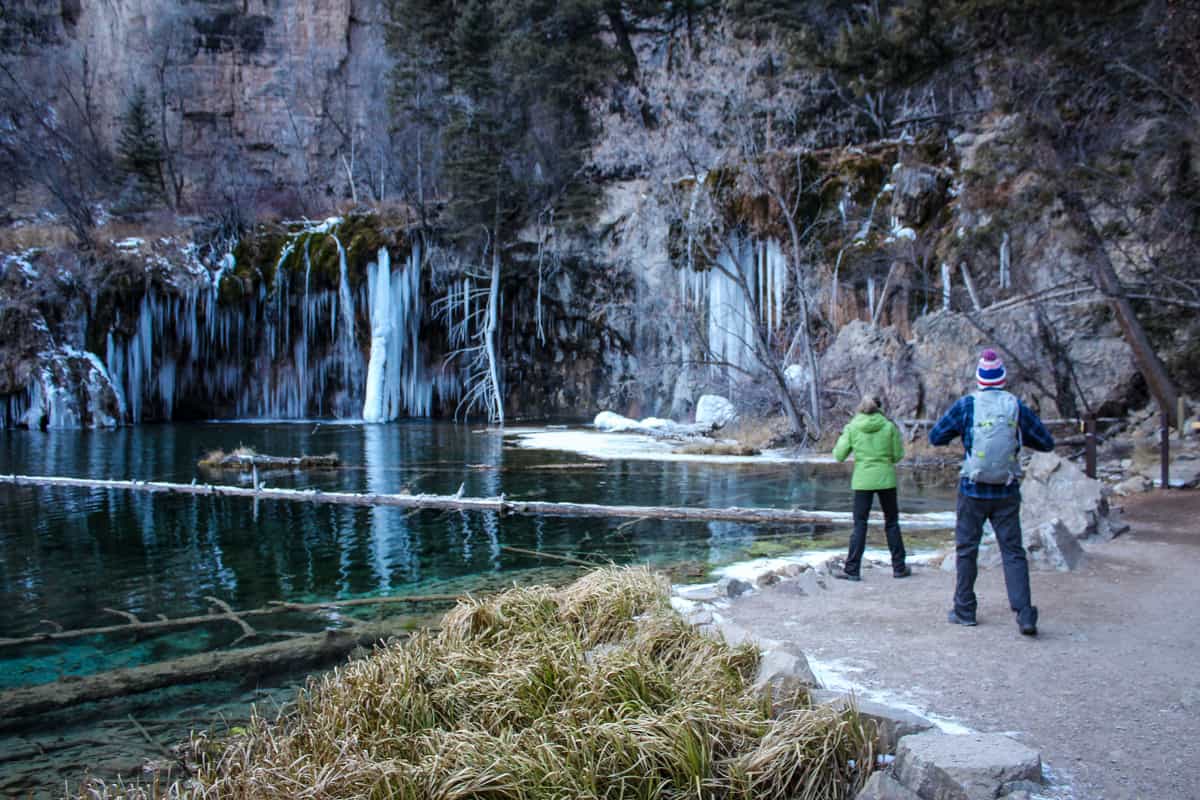 Navigation: we recommend using Alltrails+ to download the offline trail map
Sun protection: sunscreen, hat, sun glasses
Bug repellant
Camera/tripod (this one's our favorite for hiking)
Lots of layers (here is a great resource if you're wondering what to wear hiking)
Rain jacket – if it's overcast
Comfortable hiking boots or shoes
Microspikes (if there is any chance of snow and ice)
Hiking poles (optional)
Plenty of snacks: check out our favorite hiking snacks here!


You may also like…
Save this article on Pinterest for later!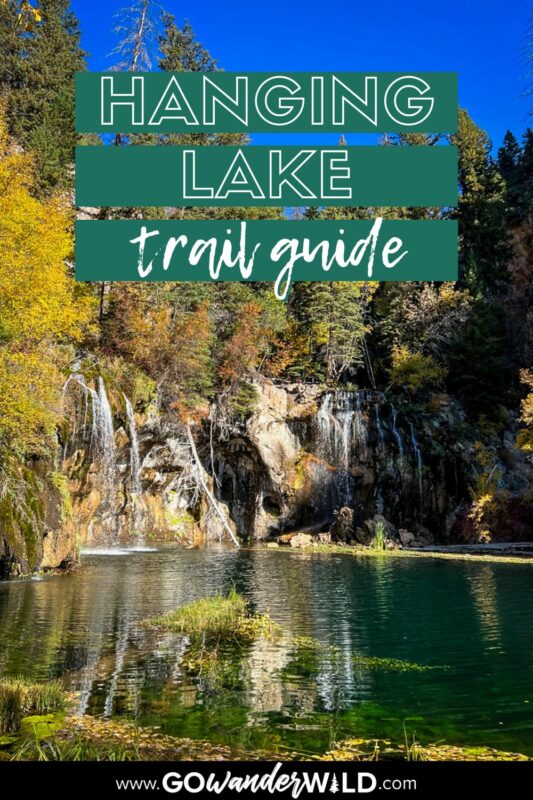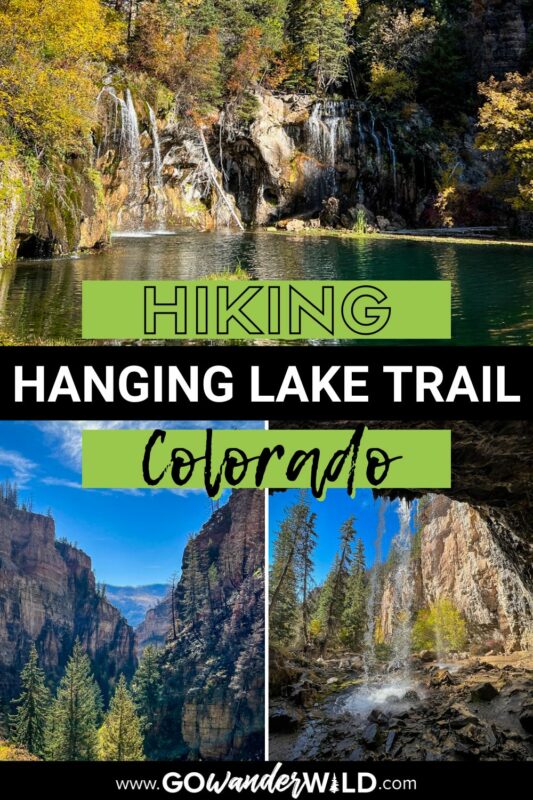 We want to hear from you!
Have you hiked the Hanging Lake trail in Colorado? What was your experience like? Are you planning to hike to Hanging Lake and have more questions? Comment below and let us know!